Version 1.1.2
24 Nov 2017
Fix:
Force check bundle plugins.
Handling plugin installation errors.
Version 1.1.1
23 Nov 2017
Version 1.1.0
21 Nov 2017
New:
Import the site content using Event Source (SSE) which ensures faithful imports.
We have divided the site import process into separate AJAX calls to reduce the possibility of timeouts.
Generated the import log file. It will be displayed in the UI if the import fails.
Improvement:
Validate all the possible errors.
Updated Astra sites HTML grid structure for WordPress v4.9 compatibility.
Updated plugin name from `Astra Sites – Lite` with `Astra Starter Sites`.
Version 1.0.14
9 Nov 2017
New:
All the linked images in a site will now be downloaded on the client server in WordPress media library. No more loading images from external URLs! This is a major improvement since imported sites will no more rely on our servers 🎉
Next, we have made it easy to preview how a website looks on small devices before importing: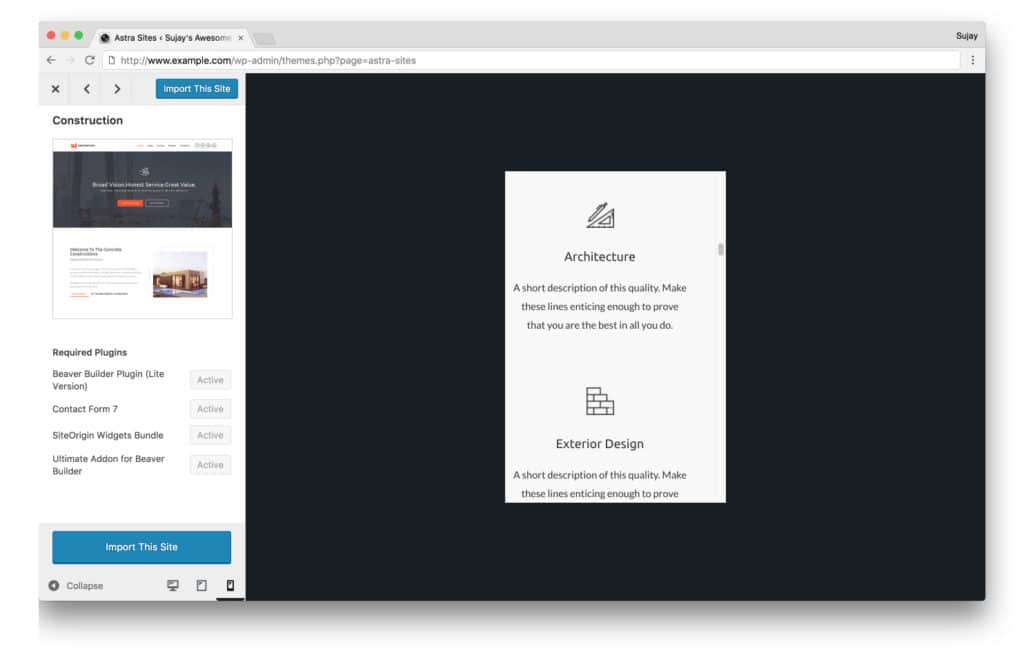 Besides these new changes, we've added a box to collect suggestions for new sites. If you have ideas, please feel free to let us know!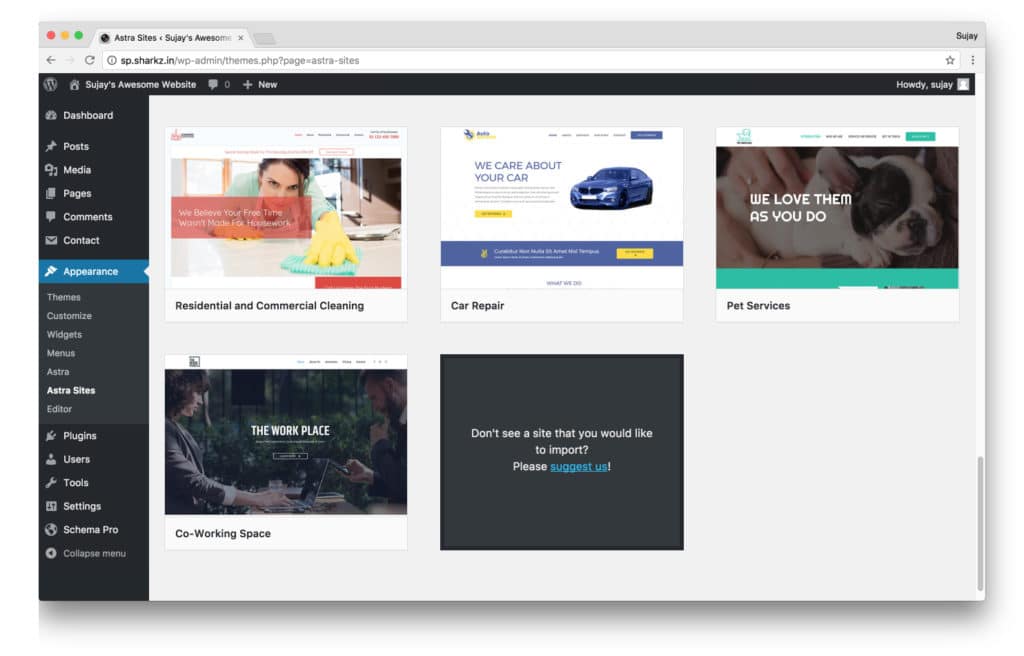 Other Improvements:
Now Search string will not be removed after switching the page builder.
Loading 15 sites instead of 6 Astra sites in the first load.
Removed LazyLoad which is not useful in admin back-end for showing Astra Sites.
Version v1.0.0-rc.10
12 Oct 2017
New:
Browsing the Astra Sites in the Admin panel is not faster with JS rendering.
Version 1.0.0-rc.9
3 Oct 2017
 Improvement:
Don't display sites from both the page builders in the same view.
Merge Whitelabel settings with the Astra Pro White label settings so that all the white label related settings can be managed from a single view.
Fix:
Astra Sites admin area not working in the Firefox.
Version v1.0.0-rc.8
22 Sep 2017
New
Added white label support.
Added filter `astra_sites_menu_item` for adding extra tabs in admin page.
Added back image import feature for `elementor` page builder. In batch image import we import all images from Astra site into client site.
Improvement
Updated JS code with object prototype.
Fix
Screen bounce on retina devices.
Version 1.0.0-rc.7
1 Sep 2017
Enhancement
Improvement: Added support for retina logo import.
Fix: Site logo image not displayed in customizer.
Bug Fix
Fix: Updated `Astra Agency` purchase link.
Version 1.0.0-rc.6
30 Aug 2017
New
New: Added page builder categories for listing sites as pre page builder.
Version 1.0.0-rc.5
28 Aug 2017
Enhancement
Enhancement: Disabled dismiss-able notice visible once for each user.
Enhancement: Showing error message for for user who have not manage_plugins capability.
Bug Fix
Fix: Beaver Builder option import.