When you're building websites for clients, you're always looking for ways to either make your life easier or make your client's life easier.
What if you could do both at the same time? I know – sounds like a bad sales pitch. But the technique I'm going to show you today is a great way to kill two birds with one stone, especially if you're dealing with clients who don't have niche needs or have smaller budgets.
Basically, you're going to learn how to create your very own, self-branded version of the Astra Ready To Import Websites page. If you've built your own website with Astra, you know that having a library of conversion-ready, tested websites makes it a lot easier to get started.
Now, you're going to learn how you can provide that same experience to your clients: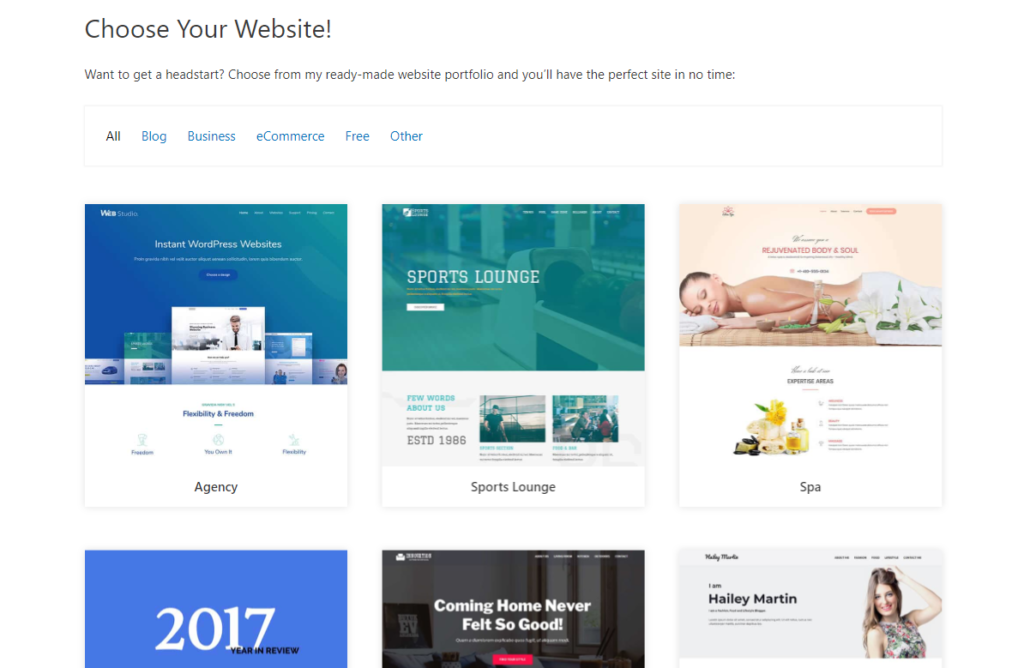 If you have one of the Astra Agency Bundles, you can actually import all of the existing Starter Templates with your own branding. Or, you can also create your own 100% unique portfolio, which is what we'll focus on in this guide.
End result? Rather than wasting time prototyping and revising, you can share your portfolio of ready-made sites with your client and let them pick the site that's right for them.
Then, you just migrate that site to your client's server, make all the necessary tweaks, and enjoy a job well done.
Sure, it won't work for all clients, but this approach can be great for budget clients or clients who otherwise just need a simple website to get online.
Learn how to create your very own library of starter templates
Step 1: Create Your Library Of Ready-Made Sites
Ok, there are two ways that you can import your portfolio of ready-made sites.
Option 1 is the easiest – you can import all Starter Templates as portfolios with just one click. You'll basically have a complete clone of the Ready to Import Websites page. This can be done using the WP Portfolio plugin that is explained in the further part of the post. Easy – but not unique.
Option 2 is to create your own set of WordPress demo sites. It's more time-consuming to get set up – but the benefit is that you'll have your own 100% unique portfolio.
If you go with Option 2, you'll need to host all the starter websites you want to include in your ready-made portfolio. You can either use subdomains (site1.yourdomain.com, etc) or subfolders (yourdomain.com/site1, etc.).
To speed up the creation process, you can still use Starter Templates as the base to build your demo sites. That's what it's there for! Just import the starter site and then make your tweaks on top.
And to make maintenance easier, you can use a unified dashboard like ManageWP so that you're not suddenly stuck managing a bunch of separate installs.
You could technically use WordPress Multisite as a third option to make maintenance easier – the only downside is that Multisite makes it much more difficult to clone your portfolio sites to your client's server.
Step 2: Display Portfolio Sites Using WP Portfolio Plugin
Once you've built your portfolio examples, you need a way to display them. That's where the WP Portfolio plugin comes into play.
It's super easy to use and will let you embed live previews of all your sites using one simple shortcode.
The plugin is available as a $49 standalone plugin. Or, you can get it as part of the Astra Mini Agency Bundle ($169) or Agency Bundle ($249).
To get started, install and activate WP Portfolio. Then, go to Portfolio → Add New to add your first portfolio item.
Enter a name and select Website from the drop-down: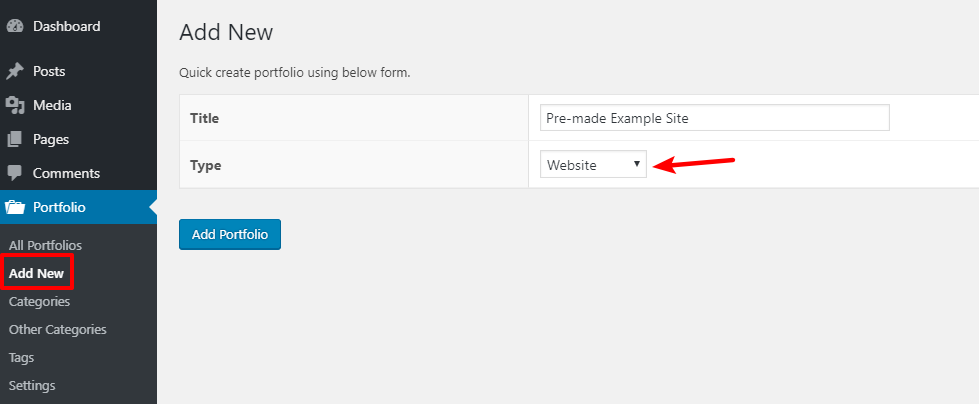 Then, click Add Portfolio to continue.
On the next screen, enter:
The title. This will appear on your main portfolio page.
A thumbnail image. This is what will appear on your portfolio page list. Typically, you'll want to make it a screenshot of the web page, though you can make it anything.
A URL to the website. This is the link to one of the demo sites you set up in Step 1.
Open in new tab. When checked, the site preview will open in a new tab.
A call to action. This displays on the live site preview. You could make it something like "Love this design? Contact me to get started today" with a link to your contact form.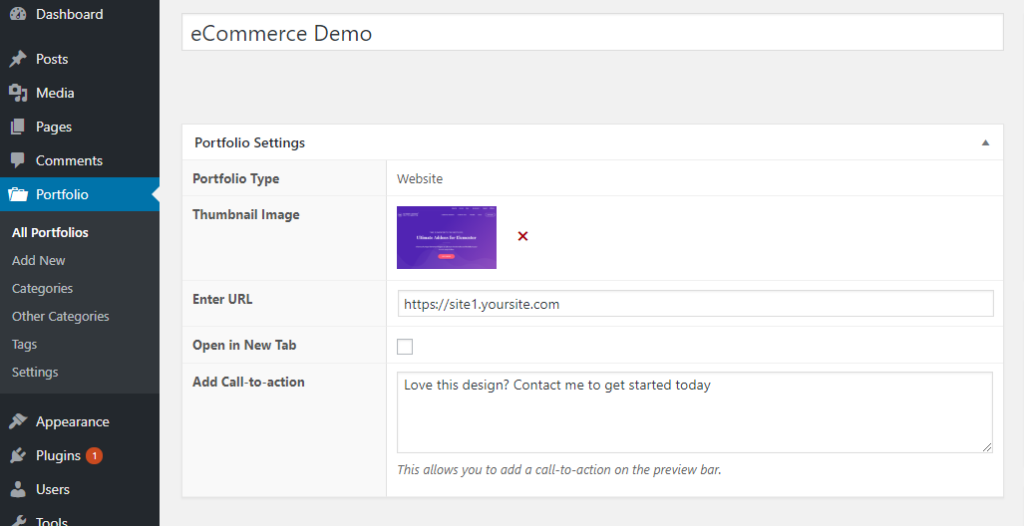 If desired, you can also add categories and tags on the right, which is helpful to organize lots of different sites.
When you're done, make sure to click Publish.
Now, you just need to repeat the process for all the sites you want to include in your portfolio.
Once you've added all your portfolio sites, you can display them anywhere on your site using the [wp_portfolio] shortcode.
Your portfolio will look something like this: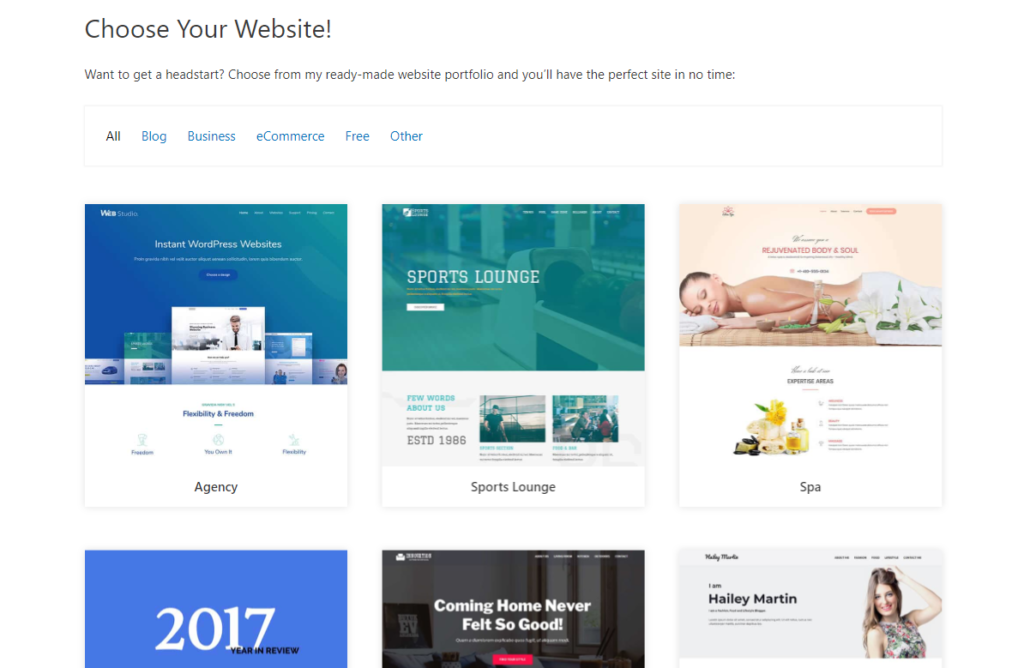 And when potential clients click on a specific site, they'll see a live preview, as well as the call to action that you added: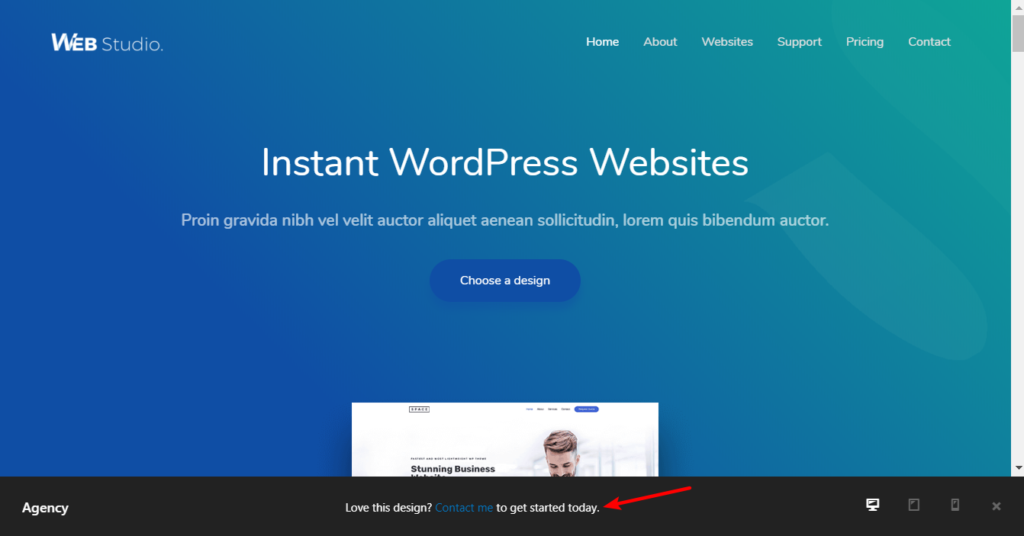 If you do want to import the entire library of Starter Templates, you can do that by going to Portfolio → Settings → Import Starter Templates.
Step 3: Share Your Portfolio With Clients
Now for the fun part – take the portfolio that you just created with WP Portfolio and share it with your prospective clients.
They'll be able to browse through all of your ready-made sites and pick the style and layout that's right for them.
Step 4: Clone Your Client's Chosen Site
Once your client chooses their favorite site, it's time to get back to work. You'll want to:
Clone the example site your client chose to your development server, or to your client's server (depending on your workflow)
Make the necessary tweaks and changes
If you chose to use separate WordPress installations for each example site, all you need to do is install the All-in-One WP Migration plugin on the portfolio site that your client chose.
Once you install and activate the plugin, go to All-in-One WP Migration → Export in your WordPress dashboard.
Use the Find…Replace With option to update the URLs from your portfolio site to the location you'll move the site to (either your client's server or a development server). Then, choose Export To…File: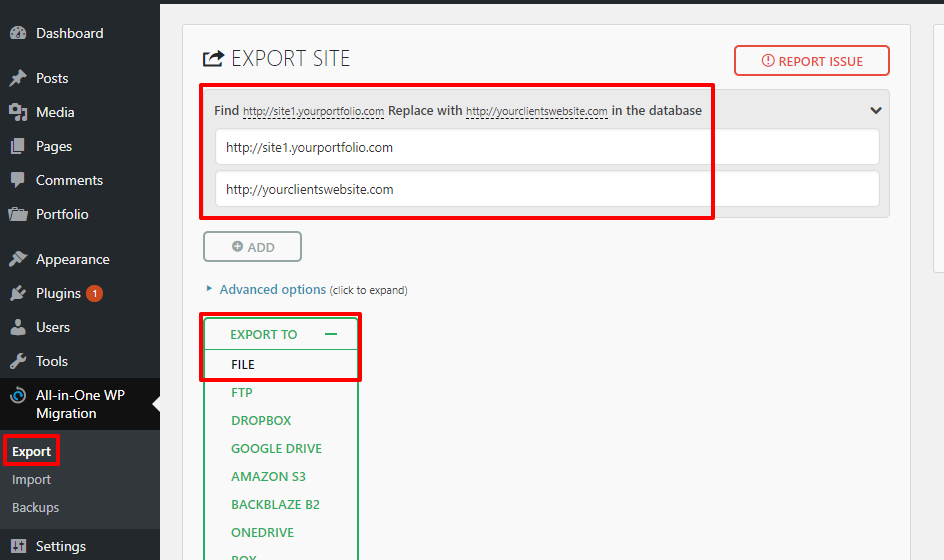 This creates a clone of the example site your client chose.
Step 5: Upload Your Cloned Site And Get Working
Once you've exported a copy of the template from your portfolio site, go to your client's site and install the same All-in-One WP Migration plugin.
Now, go to All-in-One WP Migration→ Import. Then, choose Import From…File and select the file that you just exported in the previous step: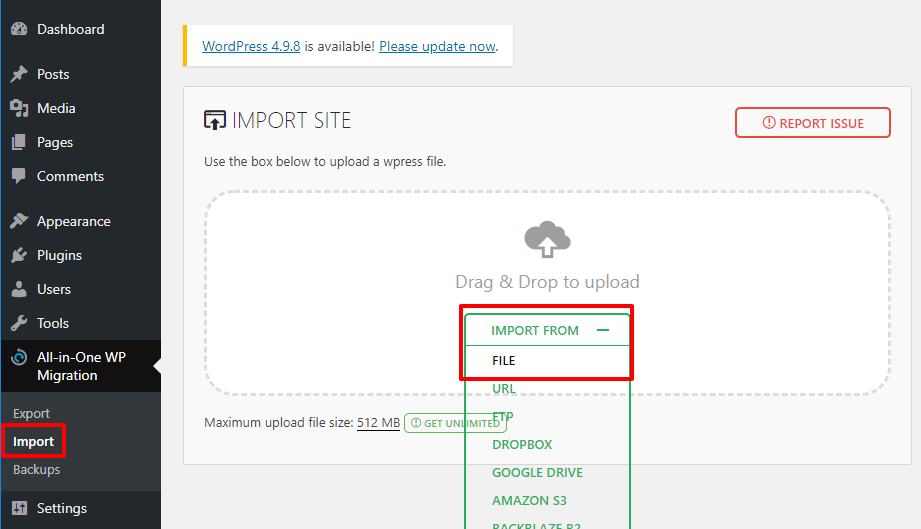 You'll need to wait a little bit while the import process runs. Then, you'll have to accept a prompt about overwriting existing content: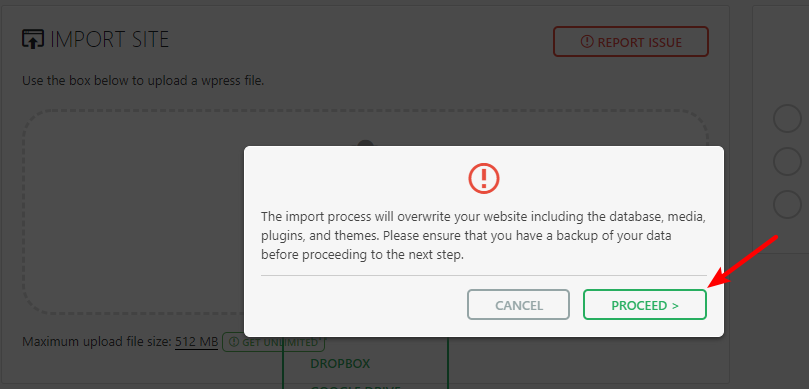 Now, you wait a little bit more…and then you're finished! Just make sure to go to Settings → Permalinks and click Save to regenerate your .htaccess file: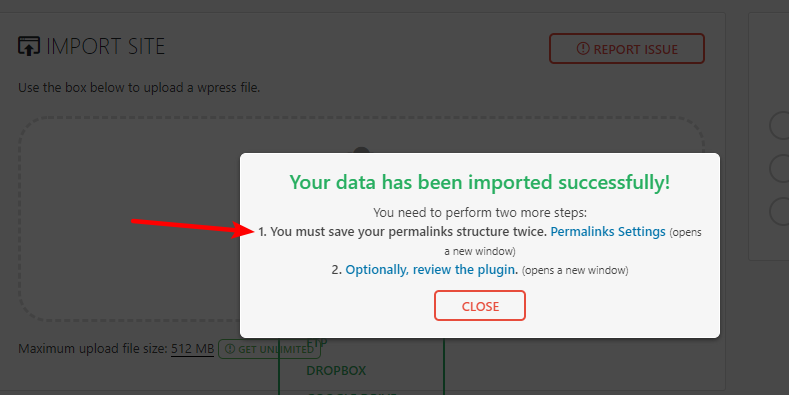 Create Your Ready-Made Portfolio Today!
Ready to get started with a portfolio of ready-made sites for your clients?
Here's how to get up and running in no time:
Purchase the Astra Mini Agency Bundle or Agency Bundle
Create your own library of ready-made sites using WP Portfolio
Share your new site library with potential clients
Export and import sites as needed to quickly get a head start on work
Now get out there and create your portfolio!