While importing a complete site or a single page template you might see a popup that says – 'Import Process Interrupted'. This article explains the possible reasons behind this notice and solutions to clear it.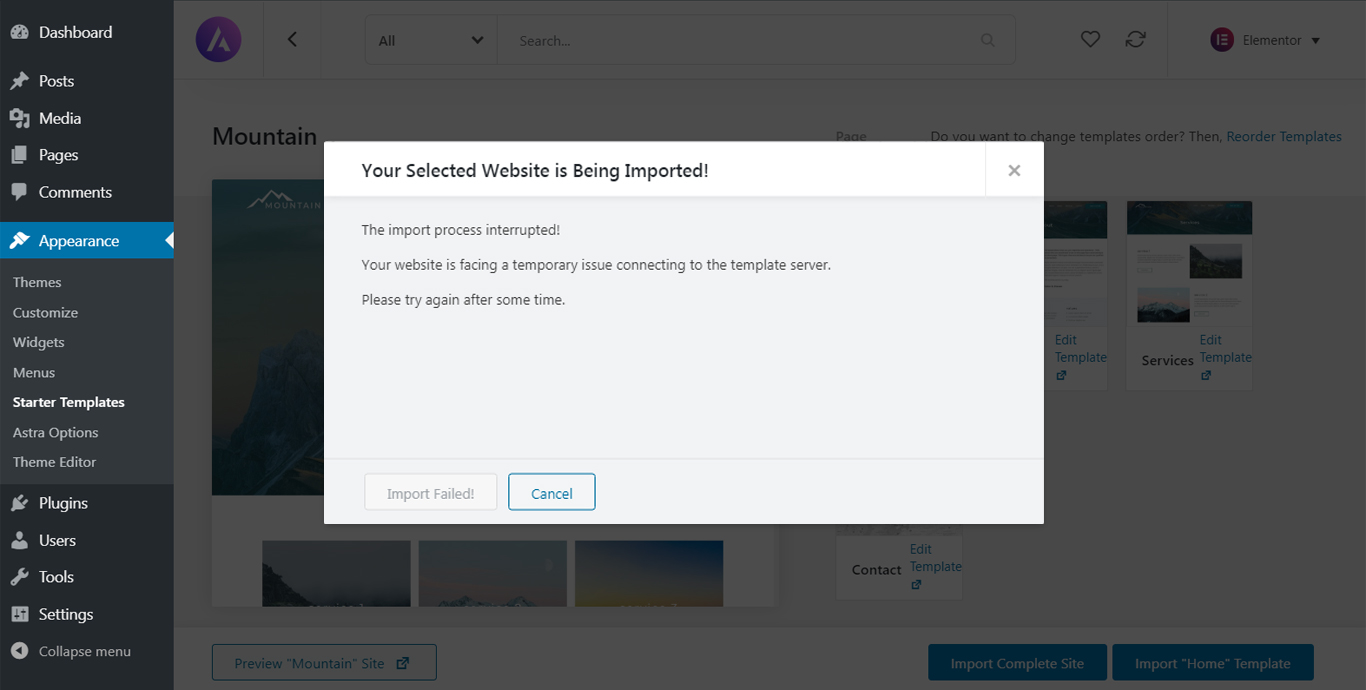 Why?
1. AJAX Request Failed – When you click on the import button, an AJAX request is sent to the server. This initiates the import process and starts downloading data from the template server to your website. This request can be interrupted sometimes.
2. Server Connection Timeout – In case after sending the AJAX request, the server takes too long to reply, and so plugin installation might fail.
3. Firewall Blocks Starter Templates – Sometimes if the firewall blocks the connection with the starter template server, you might see the error.
How to Solve It?
1. Wait for some time and try importing template again – In case AJAX request failed to connect to the server due to some congestion, this solution will help.
2. Contact host/server provider – If the above solution does not work, contact your host provider/ server administrator and request them to look at the maximum execution time.
In case, the popup displays some additional notice/error, you can share it with the server administrator. For example, sometimes you might see error – 'Error: 500 Internal Server Error' or 'Error: API Request is failed due to cURL error 7'.
Here is an email template you can send to server administrator –
Hello,

I'm facing an issue while importing template using a 'Starter Templates' plugin on my WordPress installation.

Related article says it might be server error and asks me to reach out to the server administration/hosting provider to fix this issue.

(Optional) This is the error notice I am receiving – (Paste the error/notice here)

Can you please take a look. Looking forward to hearing from you.

Thank You!

Regards,
Your name