Need help deciding between Elementor vs Elementor Pro for your website? Should you break out your wallet and pay for Elementor Pro, or will you be just fine using the free version of Elementor that's available at WordPress.org?
In this post, we want to help answer those questions so that you can create an awesome website with the right tool for you.
We'll start by discussing the differences between Elementor and Elementor Pro. Then, we'll try to help you pick between the two with some quick bullet points in each tool's favor.
Elementor vs Elementor Pro: The Main Differences
Elementor Pro is technically an add-on for the free Elementor plugin. That is, if you purchase Elementor Pro, you'll have both the free Elementor plugin and the Elementor Pro plugin active on your site.
That technicality is important because it sets up how things work:
Elementor Pro is everything you get in Elementor…plus more added on.
So what's "more"? And do you actually need "more"?
Let's discuss…
Elementor Pro Adds 30 New Widgets
First off, Elementor Pro just plain gives you more widgets to build your pages with – 30 of them to be exact. Here's the full list: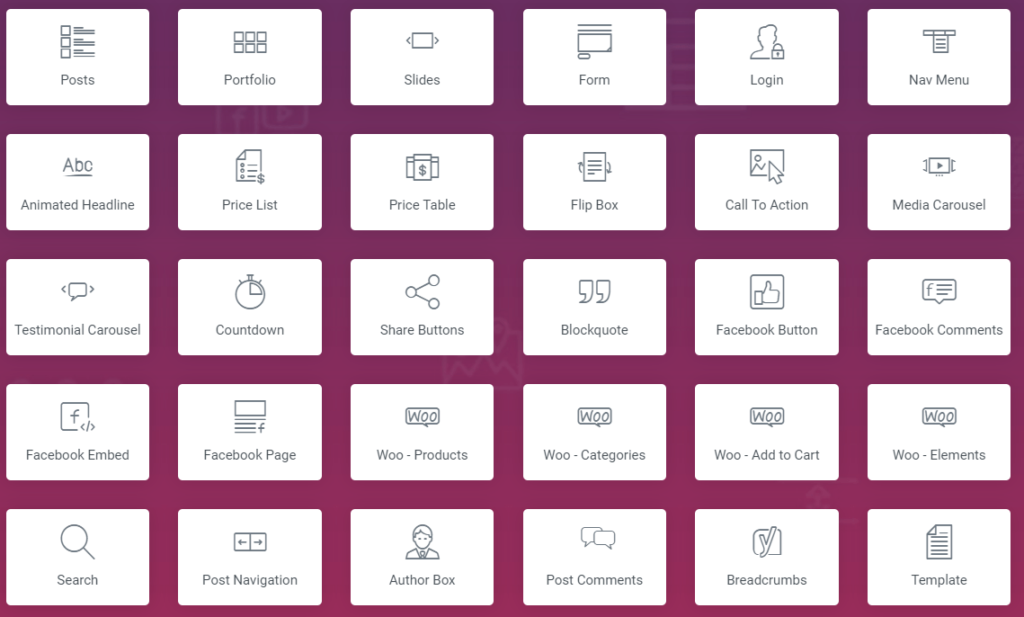 While you don't need these widgets to build pages that look great, they will make your designs more functional. And a secondary benefit is that they can actually eliminate the need for some third-party plugins.
For example, the Form widget lets you build customized forms right from the Elementor interface, the Slider widget lets you include performance-optimized sliders, and the Posts widget lets you display your latest blog posts in a grid.
Those are all things you'd otherwise need a separate plugin for.
Additionally, if you're running a WooCommerce store, you'll love the addition of a variety of WooCommerce-specific widgets.
Learn how Astra can help you build your WooCommerce store with Elementor.
Elementor Pro isn't the only way to add more widgets, though. A plugin like Ultimate Addons for Elementor also adds new widgets to the free version of Elementor (as well as Elementor Pro, if you have both).
Elementor Pro Unlocks The Full Template Library
Elementor comes with a large template library, but most of the templates are locked in the free version. Elementor Pro unlocks them. With Elementor Pro, you can use every single page template and block in the library: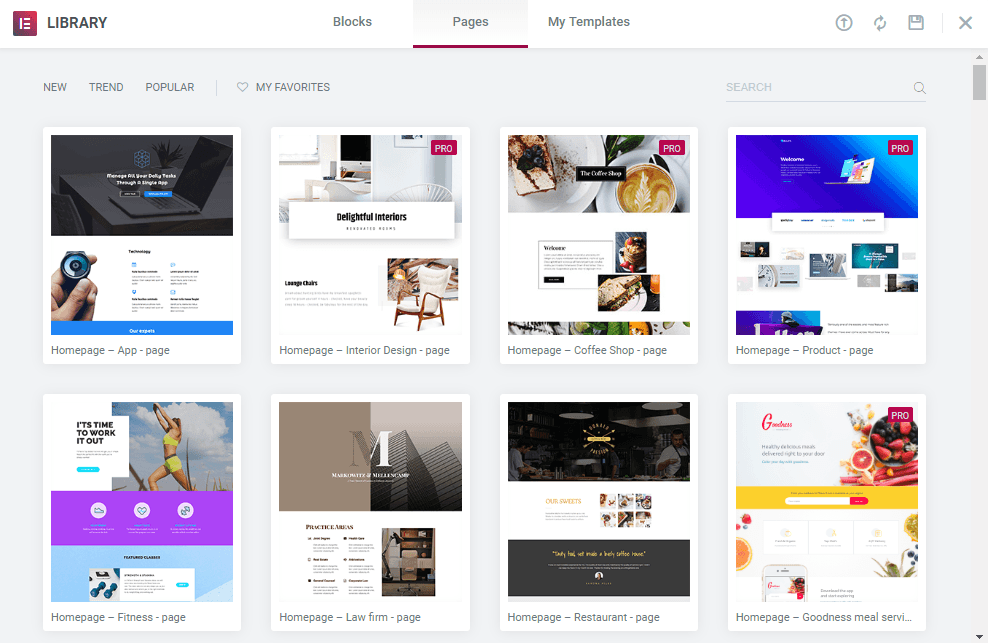 While this is a benefit, you can actually find plenty of additional templates for the regular version of Elementor without purchasing Elementor Pro.
For example, all of the Starter Templates are built with the free version of Elementor. So if you use the Astra theme, you can still access all those templates without paying for Elementor.
Elementor Pro Adds Powerful New Functionality
Beyond those new widgets and templates, this section houses the most valuable Elementor Pro additions, especially since the release of Elementor Pro 2.0.
Here are the new features that you get with Elementor Pro:
Full Theme Building Functionality
Elementor Pro lets you use the same drag-and-drop interface to build your entire theme, including your header, footer, and post templates: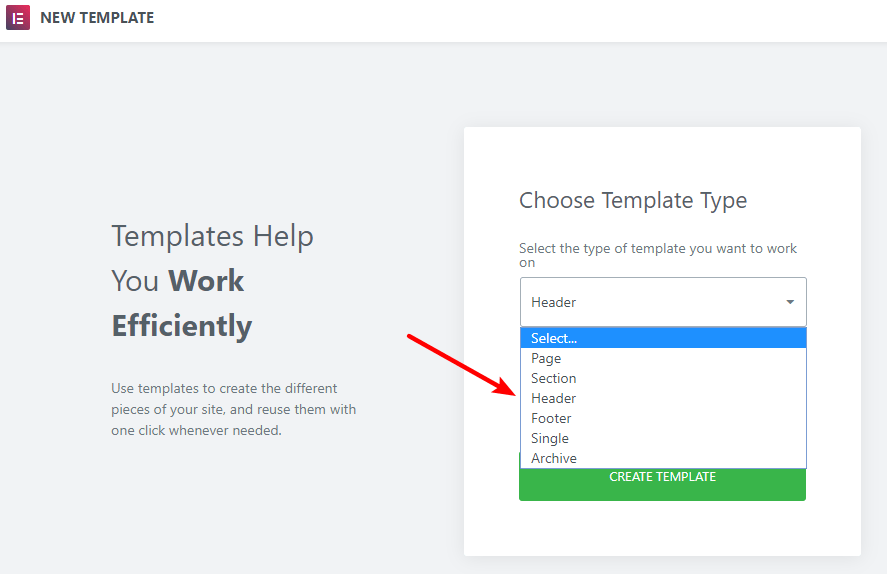 If you want to build everything with Elementor, that's a powerful reason to choose Elementor Pro.
But if you just want to, say, create a custom header or footer for your site, you don't actually need full theme building – Astra Pro's Custom Layout module lets you design your own custom header or footer without the need for Elementor Pro.
Live Custom CSS
While the free version of Elementor lets you add custom CSS classes and IDs, Elementor Pro lets you directly add CSS styles to individual widgets or sections: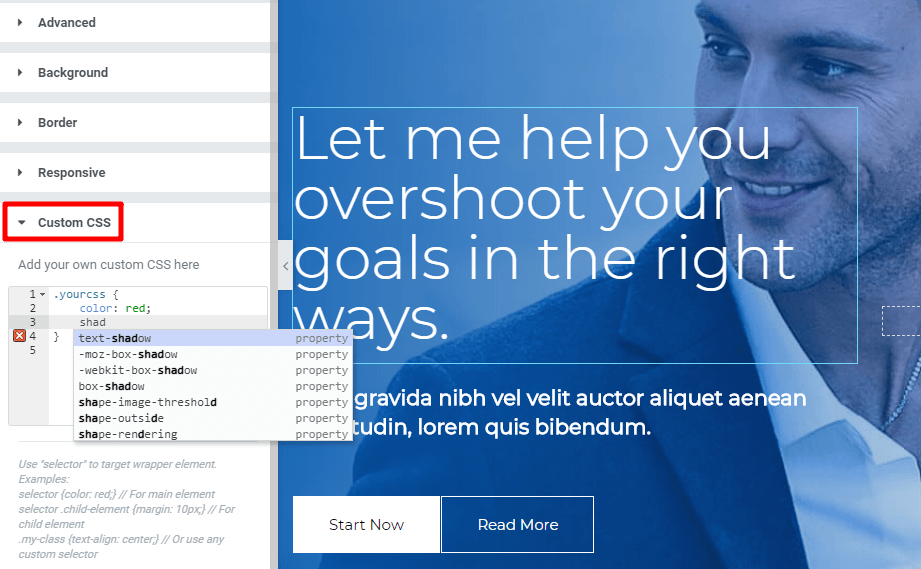 If you like to use your own custom CSS, this is a big productivity boost.
Global Widgets
Global widgets will save you a lot of time if you're planning to reuse the same widget on multiple pages.
Similar to saving a widget as a template, they let you quickly reuse the same design…but with a twist:
If you ever want to update a global widget in the future, any changes you make will automatically get pushed out to every instance of that global widget.
Embed Anywhere
Embed Anywhere lets you insert Elementor templates anywhere on your site using shortcodes or widgets.
For example, you could use this feature to design a CTA that goes in your site's sidebar via a widget.
Combined with theme building, this gives you yet another way to apply the Elementor interface to your entire website.
So do all of those new features mean you absolutely need Elementor Pro? Well, it depends…
You'll Probably Be Fine With Elementor If…
If these apply to you, you'll likely be happy with just the free version.
You:
Just want to design some "basic" but good-looking content. That is, you don't need advanced widgets like pricing tables or forms.
Don't work with custom CSS very often. You'll still be able to add custom CSS classes and IDs, you just miss out on the live code editor for individual widgets and sections.
Are already using a flexible theme. For example, Astra Pro can help give you some of the functionality you'd get in Elementor Pro, like the ability to create custom headers and footers.
You Should Definitely Get Elementor Pro If…
If these apply to you, you'll probably want to pay for Elementor Pro.
You:
Plan to build more complex content and landing pages. The extra widgets really come in handy when you start getting outside basic pages.
Are using WooCommerce. The WooCommerce widgets give you a ton of flexibility.
Like using your own CSS. Being able to add CSS directly to widgets and sections can really speed up your workflow.
Want to build your entire theme using the Elementor interface. Just remember to still pick a quality theme even if you're using Elementor's theme builder.
Like having access to all the templates, though you can still use Starter Templates with the free version of Elementor.
Plan to reuse the same widget across multiple pages. Global widgets will be your best friend!
Elementor vs Elementor Pro: It Shouldn't Be A Hard Question
Because Elementor Pro is an add-on for Elementor, you shouldn't stress about making this decision right now.
Just start with the free version of Elementor and see if it can meet your needs. If you ever feel limited, you'll be able to seamlessly upgrade to Elementor Pro just by uploading the Elementor Pro plugin – there's no configuration process and you won't lose any of your work.
And no matter which version of Elementor you choose, the Astra theme is built to be both Elementor and Elementor Pro's best friend. With Astra, you'll get:
A performance-oriented foundation to make your Elementor designs load crazy fast.
Flexible page controls that let you disable certain page/post elements so they don't get in the way of your Elementor design.
Easy global style controls via the WordPress Customizer to more easily control how your Elementor designs look.
Learn more about why Astra is the best theme for Elementor users. Then, go create something awesome with Elementor and Astra!