The internet is an amazing resource and it's actually hard to imagine a time without it. While it provides a source of information, opinion and entertainment, it's also a rich source of distraction.
Whether you're trying to work, study or want to stop your kids visiting websites they shouldn't, we are here to help.
This post will outline 18 different ways you can block websites with the Chrome browser on Windows, Mac and mobile.
Some will be permanent and some will be temporary but all can give you the time you need to study, work or play with minimal distractions!
Why Block Websites?
Website blocking is an effective way to minimize distractions or protect web users from harm. Most companies do it and the majority of schools, colleges and universities do it.
We live in the attention economy. Websites go to amazing lengths to attract your attention and keep it. Flashing apps, clickbait, push notifications, calls to action, embedded videos, games and other devices are all there to keep you on the page.
With hundreds of millions of websites out there, it's too easy to lose valuable hours wandering aimlessly across the web.
If you have work to do, that's bad news!
While some people view website blockers and parental controls negatively, they can be a power for good.
If you're studying for an exam, working to a deadline or just want to get work done, used sensibly, these website blockers can offer a valuable boost to your own willpower and let you achieve a lot more with your time.
Website blocking and parental control
Then there's safety. You likely know as well as us that there are some dark corners of the web where even angels fear to tread. Places nobody in their right mind would visit.
But there are also seemingly innocuous websites that seem innocent at first but hide nefarious content.
There are also hacked websites, malware infected sites and lots of other places you wouldn't want your family to visit.
In all these cases, website blocking is a useful tool to help maintain productivity and keep everyone safe.
What Are Web Blockers?
Web blockers are exactly what it says on the tin. They are apps or third party services or configurations you can use that block access to certain websites.
They are usually installed onto the device you want to control and will have a blacklist of the websites you don't want Chrome to visit.
Some will come with an existing basic blacklist and you will be able to add your own websites depending on your requirements.
Web blockers are not the only way to block websites. You can also change the configuration in Chrome or your computer to also block access to certain sites.
We'll cover those too.
How to Use Website Blockers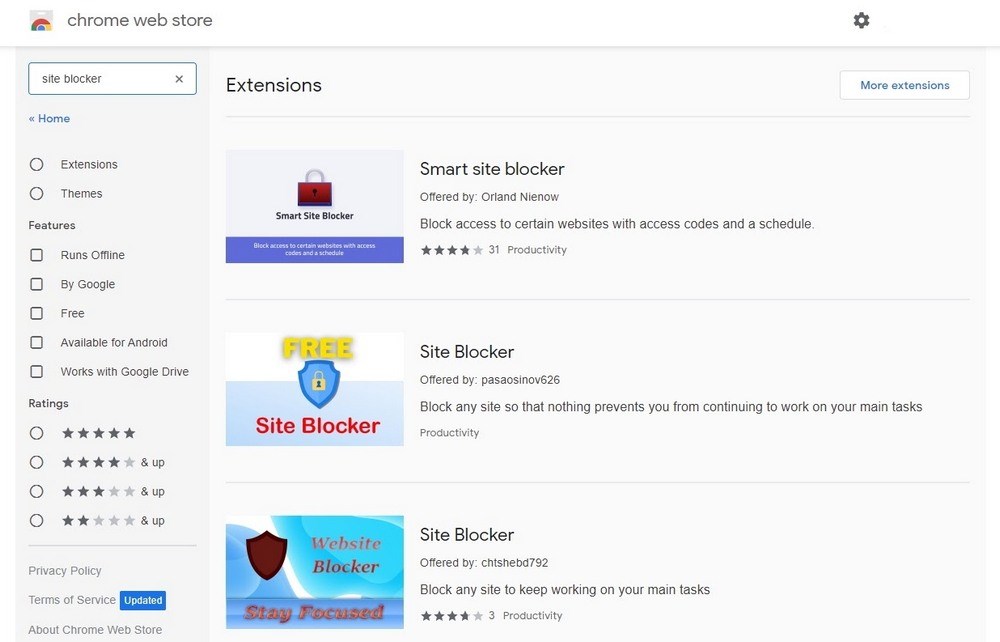 This post includes a selection of website blockers. Some are Chrome extensions, others are standalone programs or apps and a couple require configuration changes.
All can help achieve the same thing, just in slightly different ways.
To add a Chrome extension, do this:
Select the three dot menu icon at the top right of the Chrome window
Select More Tools and Extensions
Select the Extensions hamburger menu at the top left
Select Open Chrome Web Store at the bottom of the menu slider
Select an extension or use search
Select the blue Add to Chrome button within the extension details page
Agree the warning from Chrome
Once the extension is installed, you may or may not see an icon appear in the top navigation bar. Some extensions add an icon to help you manage them while others don't.
The mobile apps and programs will have their own installation methods, usually using the app store of the device.
How to Block a Website in Chrome
There are several ways to block access to certain websites in Chrome. We'll show you 18 of the most popular methods and you can choose which works best for you.
Using a Chrome Extension
Ever since Google removed the Supervised User Account from Chrome, we have had to use a Chrome extension to provide website blocking.
Fortunately, there are five decent options for controlling who does what in Chrome.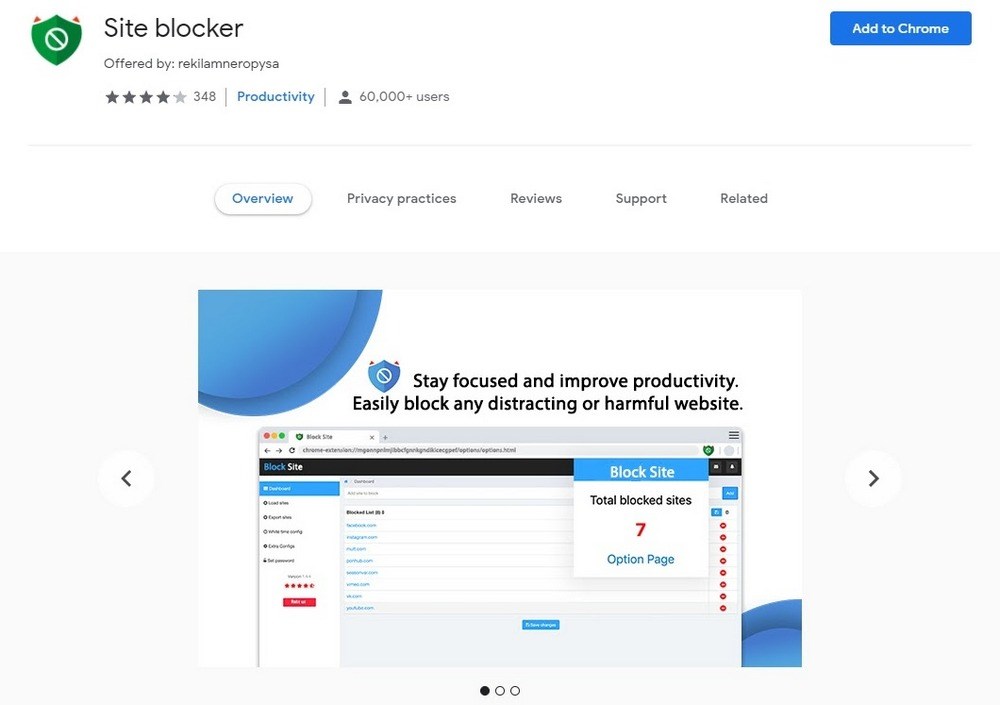 Site Blocker is a Chrome extension that includes a whitelist and blacklist to block websites. The blacklist is already preconfigured to block certain sites and you can add to that manually within the extension.
It does block some sites you wouldn't necessarily want to block though, but you can work around those.
Site Blocker also works in Chrome's Incognito Mode which is important for anyone who knows how to work around website blockers.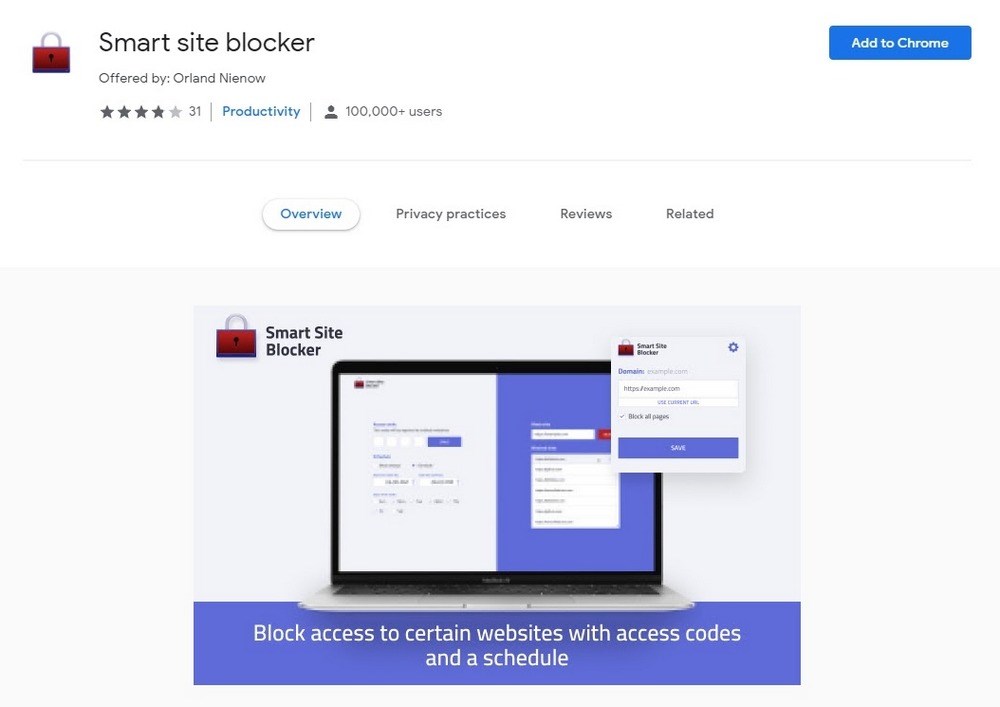 Smart Site Blocker is similar in that it can block websites using whitelists and blocklists but also adds a scheduler and a PIN code unlock feature.
The extension has a scheduler that includes weekdays and hours so you can block websites during the working or school week and open them up out of hours.
You can also add a PIN code to certain websites so you can open them up for those that have the code. That's a neat feature and can definitely come in useful.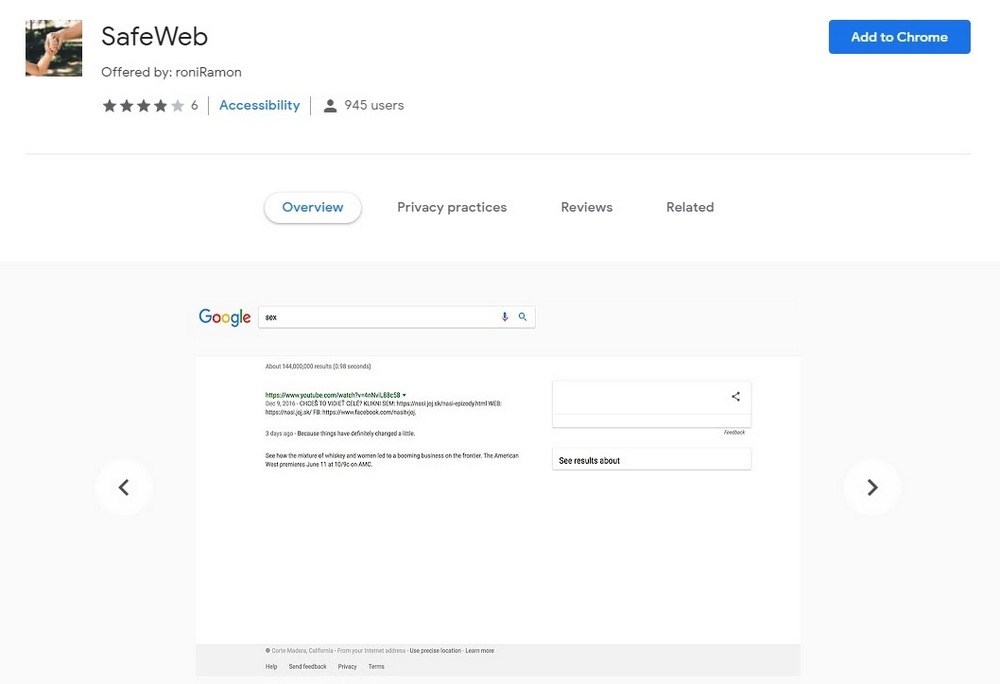 SafeWeb is another website blocker for Chrome and works more automatically than others here. It has a content filter built in that will automatically block certain websites to protect users.
It also has an internet blocker that will prevent you accessing the internet at all between certain times. There is also a blacklist for URLs for other times of day when only certain websites should be blocked.
The only downside of this blocker is that the settings aren't password protected, which leave it vulnerable to more technology-aware users.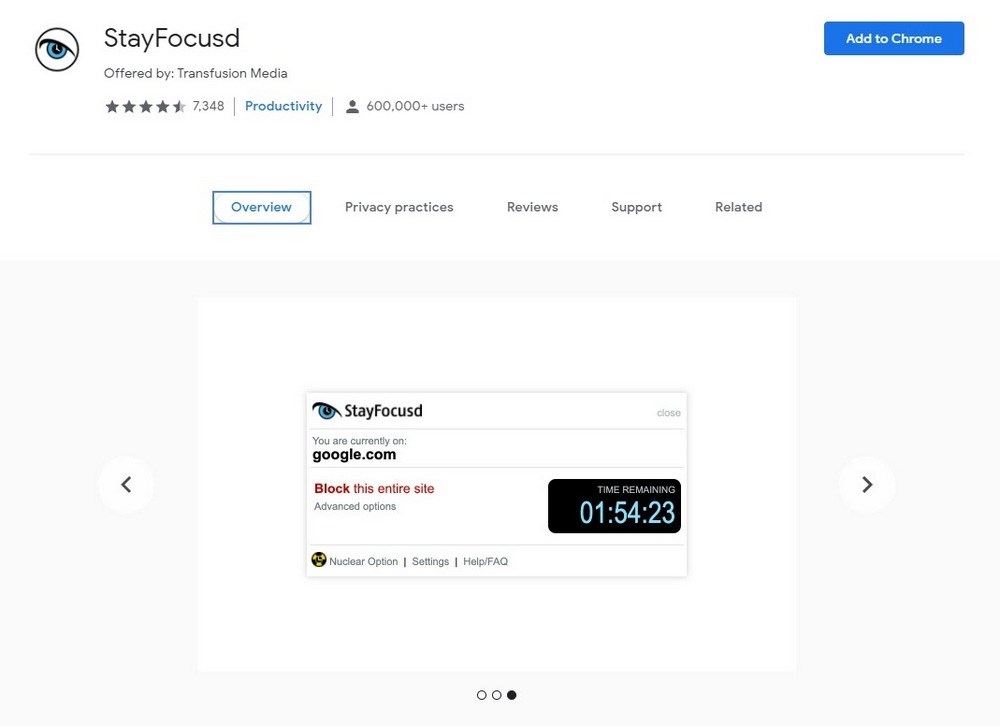 StayFocusd is another website blocker that gives you an allotted time per session for procrastination and general surfing. Once up, you're limited to only approved websites that you set in the configuration.
You can configure that blacklist using domains, subdomains, specific pages or paths and even page elements such as embedded games or videos.
It's a smart approach, offering a little time to explore the internet and relax while redirecting you back to productivity once that time is up.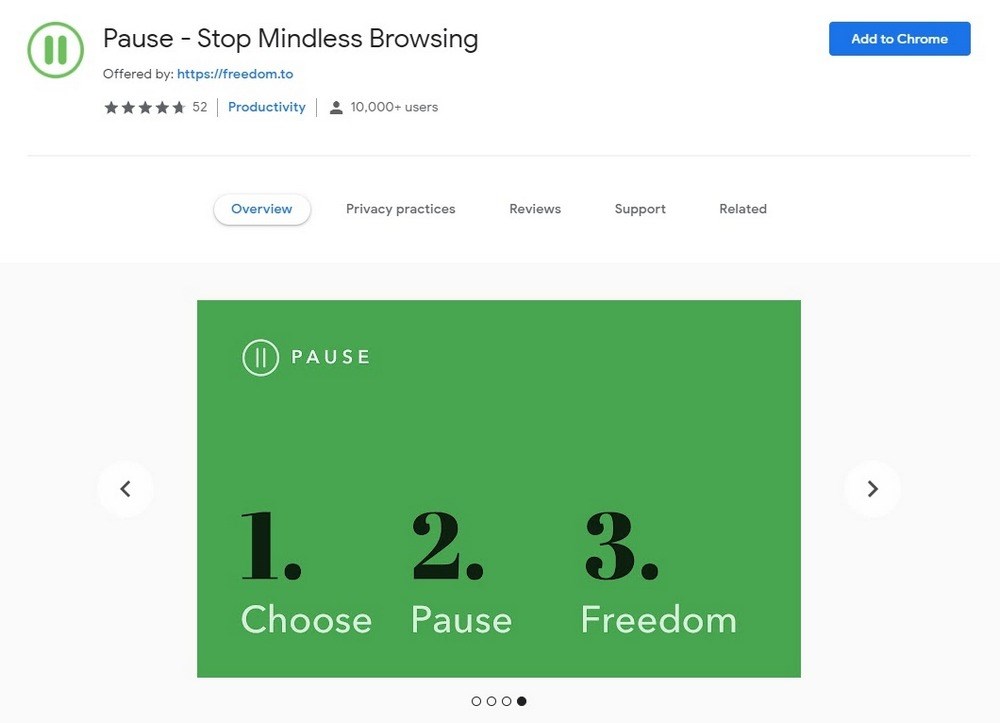 Pause goes about minimizing distractions in a slightly different way. Rather than blocking websites altogether, this extension shows a green screen before a requested web page loads.
The intent is to make you more mindful of where you go online and how much time you spend procrastinating. Rather than controlling where you go, it makes you conscious of where you're going and what you're doing.
It won't protect kids or stop you accessing websites but if you would prefer a gentle reminder to be productive, this is the extension to use.
How to Block a Website on a Computer
There are options for website blocking specific to desktops that can also help maintain focus or protect users.
Use a Third Party Software or Service
There are lots of apps that can help maintain focus. Some are free to use while others are premium. We have selected four of the best.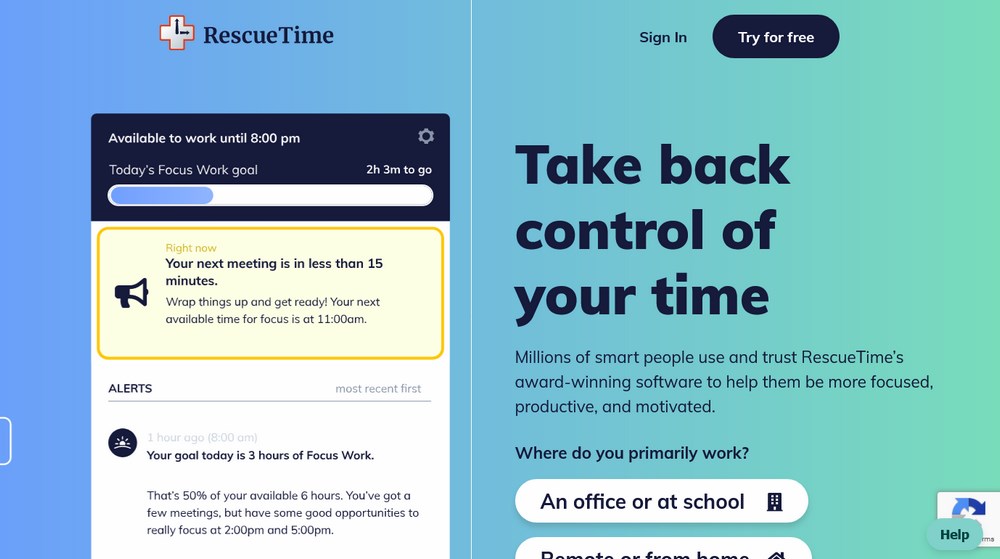 RescueTime is a premium app that also has courses and tools to help you become more productive.
The RescueTime app can track the time you spend online, the time you spend on non-productive websites, provide detailed reports on where you go and how long you go for and block websites using a blacklist.
It's a comprehensive tool designed more for freelancers or small businesses but could work for families or the terminally distracted too.
RescueTime costs $6.50 per month for time tracking but there is a 14 day free trial.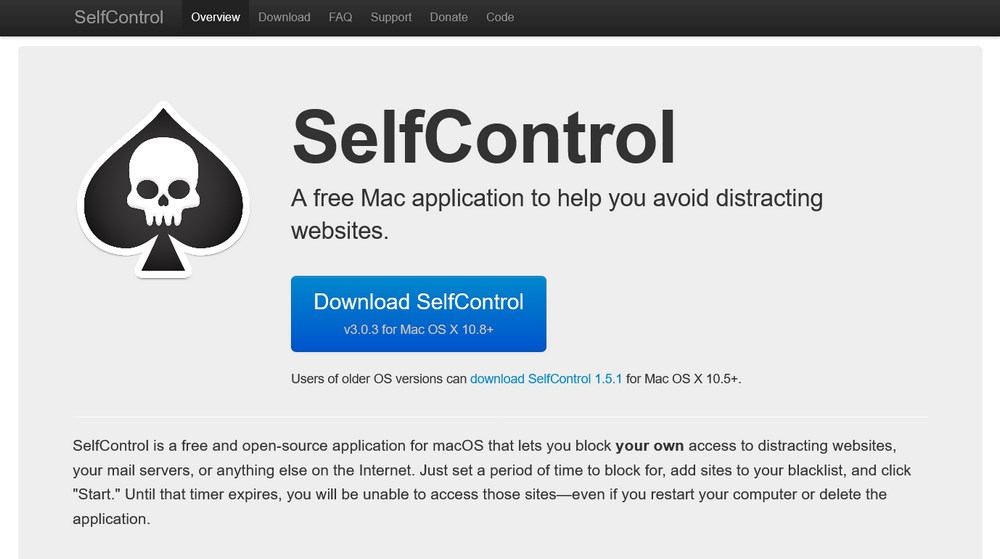 SelfControl is a Mac app designed to help you avoid distractions while online. It's a free download that adds a simple timer to macOS that can block internet access as a whole, websites or even email.
Set a time you need to be free of distractions and the app will prevent you accessing whatever you set until the timer expires.
Be aware though that once that timer is set, there's no getting out of it. Even a reboot won't stop it!
SelfControl is a simple but effective app that helps you focus without over-controlling what you do on your own computer.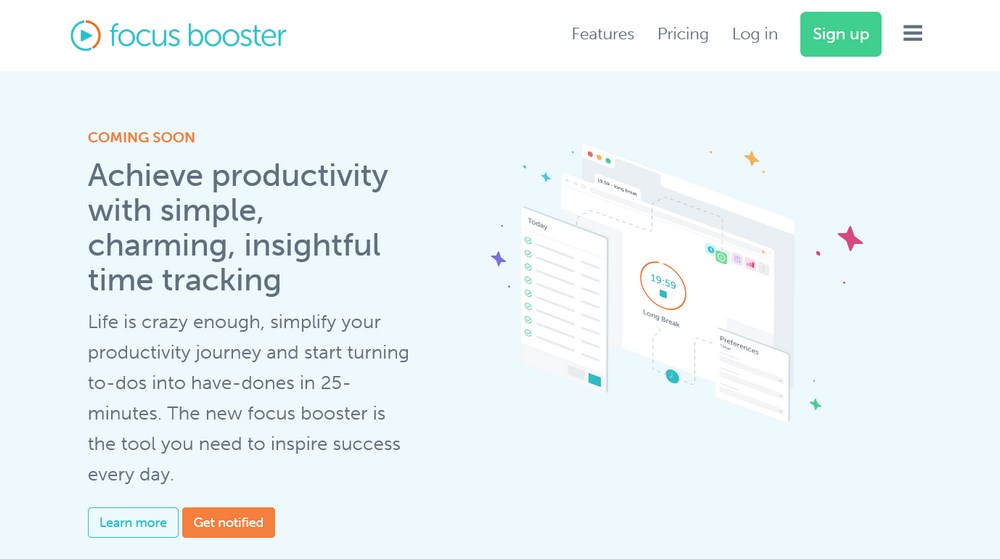 Focus Booster is another premium app that helps you maintain focus and avoid distractions. It includes a block timer to help productivity, a to-do list to help focus and time tracking to let you see where you went and for how long.
It uses a straightforward challenge-type method that gets you to maintain focus for 25 minutes before giving you 5 minutes to relax. This is part of the Pomodoro Technique that is widely known to help boost productivity and concentration.
It works on Windows, Mac and mobile and costs $4.99 per month although there is a free trial and a free version with limited capabilities.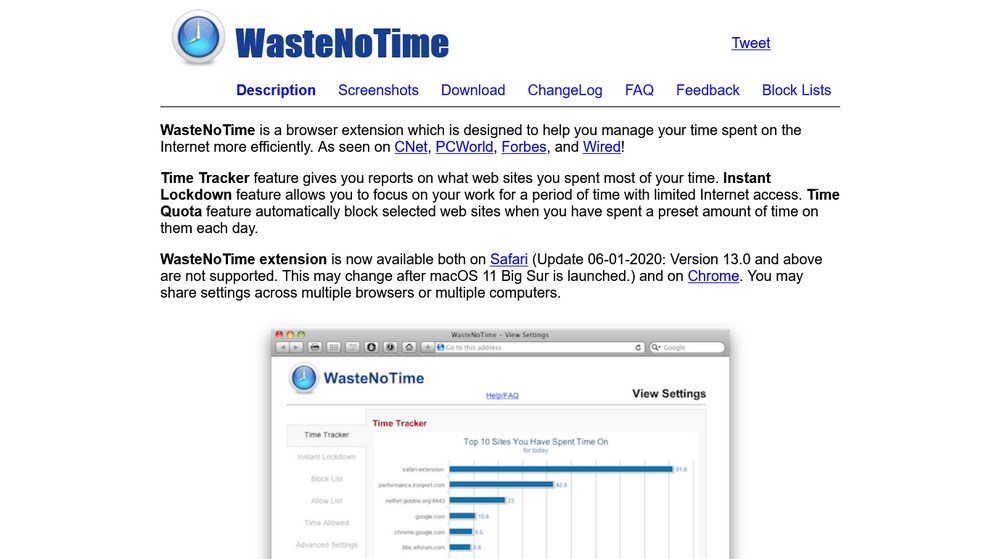 WasteNoTime is a third-party browser extension for Safari and Chrome. It provides a block timer to help you focus and a configurable blacklist to block websites.
The timer function is useful as you can allocate a certain amount of time for specific websites, set time ranges for website blocking and set non-working hours so you have free use of the internet when you're not supposed to be concentrating.
This is a well-designed extension that can block access to its own installer to prevent users removing it. It can also block URLs, domains, pages and even URL patterns.
It's a simple extension that works well.
Configuring Your Router as a Website Blocker
If you're confident enough to make configuration changes to your router, you can add websites to a blacklist if your router has one.
Not all routers will allow this but you can check in seconds to see if your router allows website blacklisting.
Type 192.168.1.1 or 192.168.0.1 into a browser to log into the router (Most routers use this address and there should be a sticker on the router somewhere telling you)
Look for Firewall, Parental Controls, Routing Rules, URL Filter or something like that
Add the URL to the blocklist or blacklist depending on terminology
Save the change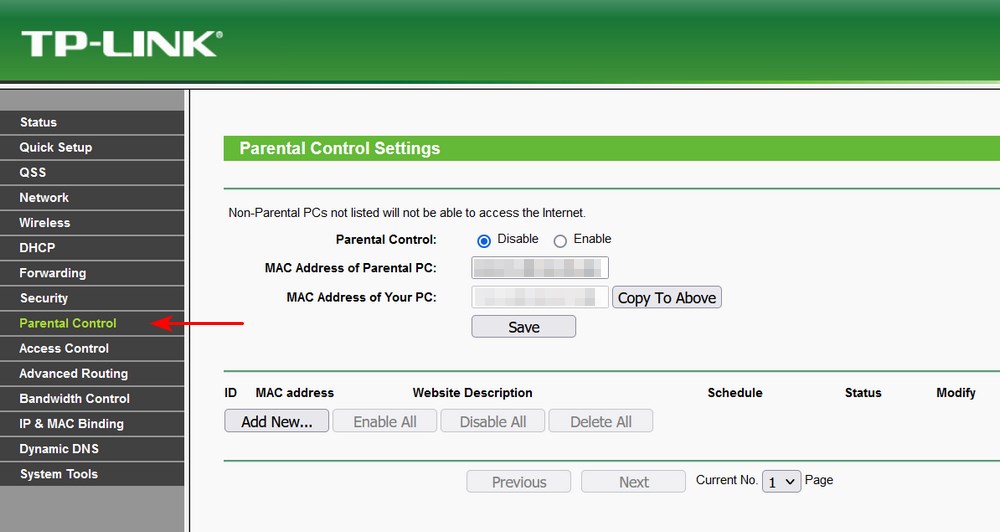 Some routers don't have URL blacklists but will allow you to block by IP address. You can still block websites using the IP.
Find the IP address of the website you want to block using this site
Add that IP address to the router blacklist
Save the change
Block Websites on a Windows Computer Using the Hosts File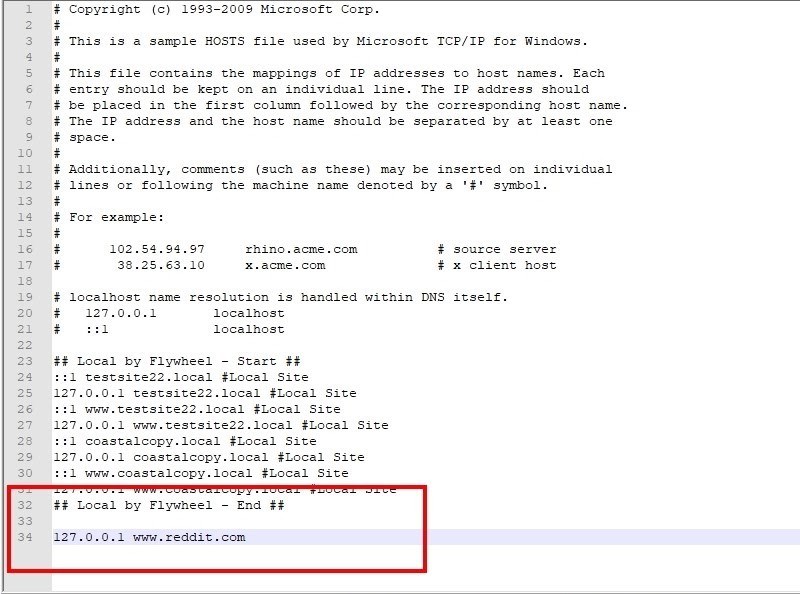 Windows uses a local hosts file that acts as a mini DNS, mapping domain names (URLs) to IP addresses. You can use this to permanently block websites quickly and easily.
You can add a URL and direct it to the Windows loopback address at 127.0.0.1 which prevents that domain from accessing the internet.
A loopback address sends any web query back on itself and is used in network testing. All traffic sent to the loopback address is sent to the network card and then discarded, so it never reaches the internet.
For example, you could add 127.0.0.1 www.reddit.com to the hosts file to permanently prevent anyone accessing Reddit.
Navigate to C:\Windows\system32\drivers\etc
Open the file called 'hosts'
Add an entry after the final '##' in the file
Save the change
The format is the IP address, single space, URL. That's all there is to it.
Block Websites on a Mac Computer Using the Hosts File
Macs also use a hosts file to map IP addresses to domains and the same principles outlined for Windows above will work here too.
The method we use to modify the file is different though.
The method we use to modify the file is different though.
Open Terminal on your Mac
Type "" and hit Enter
Add the entry at the end of the file using the same format as above (For example, 127.0.0.1 www.reddit.com)
Save the change
Once done, try accessing one of the websites you blocked and see how it works. It should block access to it immediately. If it doesn't, reboot and retry.
How to Block Websites on Android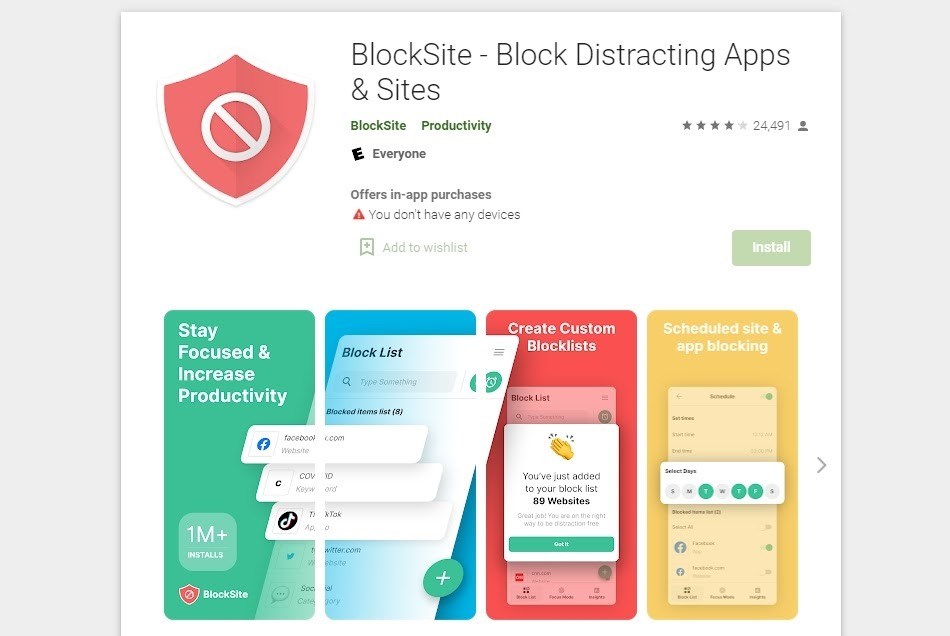 You have a couple of options for blocking websites in Android. You can use a third party app or use Google's Family Link. Both should provide the focus or protection you're looking for with minimal effort.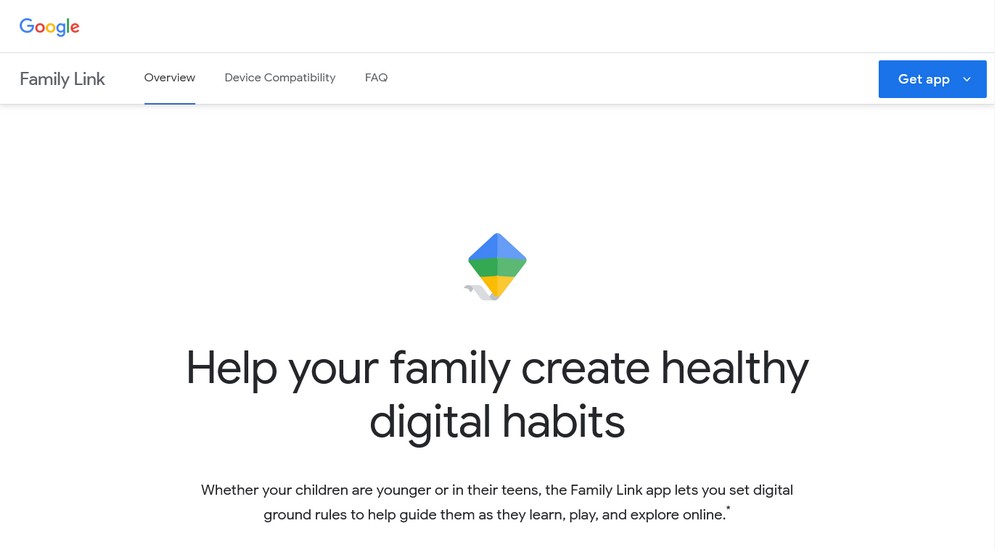 Google Family Link is the internet giant's attempt to help parents manage internet use. It works well enough and is compatible with most Android devices.
It's free to use and requires parents to download the Family Link app to their phone and set up an account for every user they want to control. As long as the user is signed into their device using their own account, you can control what they see, where they go and how long they go for.
It doesn't prevent them setting up another Google account and signing in using that though so you still have to be aware.
Android apps to block websites
There are a variety of Android apps that can block websites or help maintain focus. A couple we have already mentioned, like FocusMe and Rescue Time have Android apps.
A popular app to block websites is BlockSite. It's a simple app that uses whitelisting and blacklisting to control website access. It also has a scheduler, a focus mode, stay focused app and adult blocking features too.
The app is free but has in-app purchases.
How to Block Websites on iOS
iOS is also well served by website blocking apps that can also help you maintain focus. Many are free with ads or in-app purchases but many premium parental control apps and some website blockers also cost money.
BlockSite has an iOS version. Other options include Freedom, Forest and Self Control. There are hundreds of others but these four seem to have the best reviews.
All provide different methods of blocking websites, timers to offer freedom alongside responsibility and a range of other functions.
Block Websites Using Parental Control Software
Your final option is to use dedicated parental control software to help keep kids safe and focused. While aimed squarely at parents, you can use them for anyone who is easily distracted.
Options include Qustodio, Kaspersky Safe Kids, Norton Family and Net Nanny to name just a few. All are premium programs that provide a range of site blocking, internet scheduling and other methods of managing internet access.
Most of these programs have versions for Windows, Mac, iOS and Android to offer the widest possible protection.
Website Blockers and Distractions
Using tools to block websites may seem a little over the top but they work. If you or your family is terminally distracted or has a tendency to go off piste when online, they can be a genuine time saver.
While willpower can get you so far, we all need a little help avoiding distractions at times.
Whether it's homework, a dissertation, work or something else, when you absolutely have to maintain focus these tools can help.
Do you use any of these methods to maintain focus and avoid distraction? Have any other workable solutions to maintain productivity? Tell us about them below if you do!