Planning on launching an online store? Need help choosing your eCommerce platform? Comparing PrestaShop and WooCommerce and can't decide which is best?
Setting up your own store is both an exciting and nervous time. There are lots of decisions to be made and a lot of work to do.
One of the most important decisions you'll make is choosing the eCommerce platform you'll use for your store.
As the platform underpins everything else you do, it pays to get it right early!
That's why we put this PrestaShop vs WooCommerce guide together. You're not the only one trying to make this choice. As we have experience with both eCommerce platforms, it only seems right that we offer our expertise to help you come to a decision.
We will compare the features of PrestaShop and WooCommerce, the pricing, ease of use, payment options, support, security, customization and scalability. All those things that make a big difference when working in your store on a day to day basis.
We aren't going to make the choice for you but we are going to give you everything you need to make an informed decision!
10 Features Every eCommerce Store Should Have
Before we get into the details of PrestaShop vs WooCommerce, let's take a quick look at what a good online store should have.
We think there are 10 essential ingredients to look for in an online store.
User friendliness – All eCommerce stores should be easy to use, have a search function, logical categories and simple navigation. A customer should always know where they are and how to find what they are looking for.
Fast performance – Store pages need to load quickly, search needs to be lightning fast and everything about the store needs to perform well. Customers are impatient and have very little time for slow loading web pages.
Fully responsive – More than half of all web users now use mobile and that will increase over time. Every online store should be fully responsive and deliver the same flawless experience regardless of screen size.
Frictionless checkout – Frictionless checkout means a clear path to purchase with very little to get in the way. That can mean including shipping in the price or using payment gateways instead of requiring an account.
Guest checkout – Guest checkout is something most shoppers expect. We don't all want to create accounts for every store we shop in so offering guest checkout is essential.
Store security – Just like real stores have security to prevent loss, your online store should too. That means secure payment gateways, SSL encryption, a secure web host and sensible precautions to keep you and your customers safe.
Upsells and cross-sells – Upselling means showing a customer a higher specification or more expensive version of what they have bought or are looking at. Cross-sells are 'Shoppers who bought X also bought Y' type messages. A good online store uses both.
Customer reviews – Nothing converts like reviews. They are a very powerful inducement to buy so including them in your store should be mandatory.
FAQs – Answering questions before they get asked is a simple version of customer service but also helps reduce queries and questions through other means. Add a FAQ schema and you could even end up listed in Google for them.
Overview of PrestaShop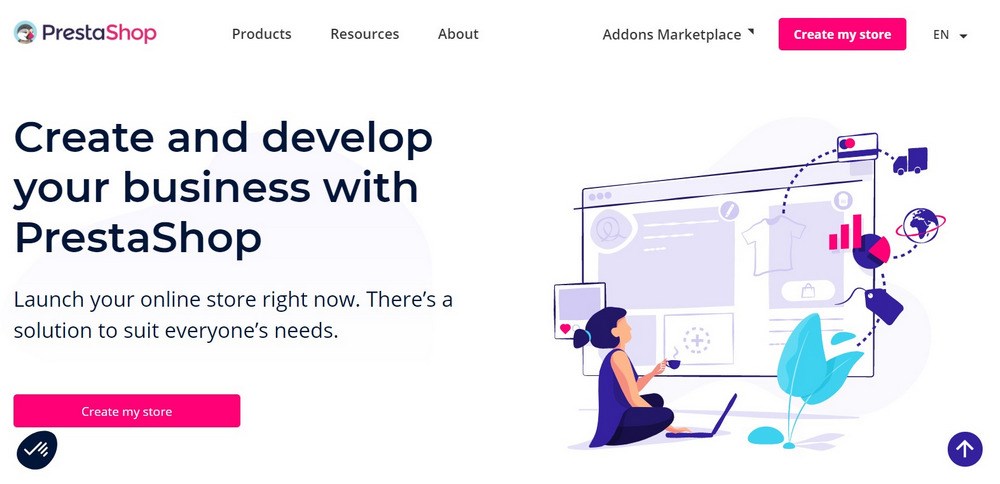 PrestaShop is a self-hosted eCommerce platform designed to provide everything you need to build an online store. It has been around since 2007 and has matured steadily over that time.
PrestaShop is free and open source and maintained by an army of volunteers overseen by a leadership team. It is based in France and has around 1.52% current eCommerce platform market share.
As PrestaShop is self-hosted, you will need to arrange your own domain and hosting but that's the same for WooCommerce. We prefer this method as it gives you much more freedom to choose your own web host, hosting plan and security tools.
PrestaShop also has its own themes and module (extensions) shop. Many are free while others cost money.
There are also third party theme marketplaces offering a wide range of themes that can give your store a unique look.
Overview of WooCommerce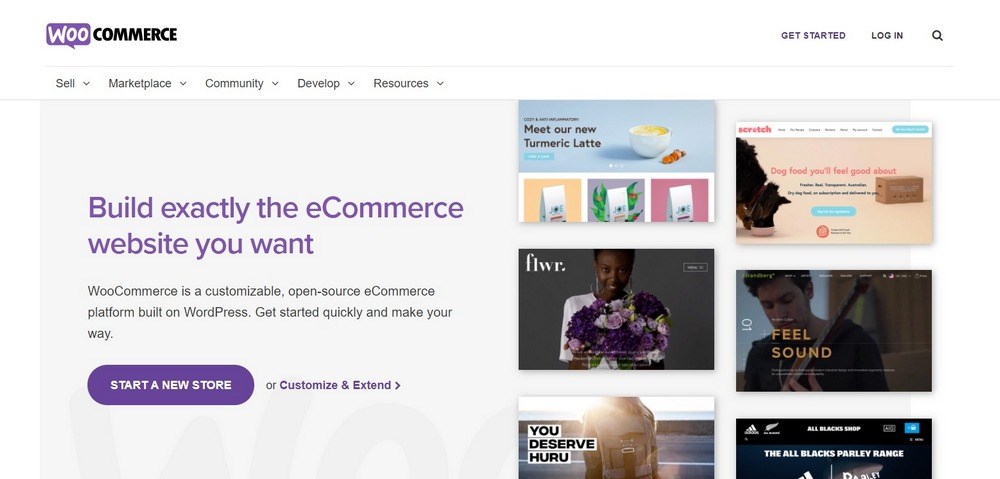 WooCommerce is a WordPress plugin that can transform any website into a fully functional online store. It's hugely popular, with around 27.88% market share.
Launched back in 2008 by WooThemes, the company began making WordPress themes before making plugins and then developing WooCommerce.
WooCommerce is free and open source and while it requires a domain and hosting, costs nothing to use or set up. It requires a fully operational WordPress instance to work, but WordPress is also free.
The core plugin is fairly barebones as WooCommerce is modular. That means there's an extension (plugin) for everything. Many of those extensions are also free to use while others cost money.
You can find most extensions on the WooCommerce Marketplace.
WooCommerce is also popular with third party theme developers. If you don't find a theme you like on the marketplace, there are lots of other places to find them.
Our very own Astra has some WooCommerce Starter Themes and can help you build a store in no time!
Quick Summary of PrestaShop vs WooCommerce
| | | |
| --- | --- | --- |
| | WooCommerce | PrestaShop |
| Features | ⭐⭐⭐⭐ | ⭐⭐⭐⭐ |
| Pricing | ⭐⭐⭐⭐ | ⭐⭐⭐⭐ |
| Ease of use | ⭐⭐⭐⭐ | ⭐⭐⭐ |
| Payment options | ⭐⭐⭐⭐ | ⭐⭐⭐⭐ |
| Support | ⭐⭐⭐⭐ | ⭐⭐⭐ |
| Security | ⭐⭐⭐⭐ | ⭐⭐⭐ |
| Customization | ⭐⭐⭐⭐ | ⭐⭐⭐ |
| Scalability | ⭐⭐⭐⭐ | ⭐⭐⭐⭐ |
| Overall winner | ⭐⭐⭐⭐ | ⭐⭐⭐ |
Detailed Comparison of PrestaShop vs WooCommerce
Now it's time to take a deeper dive into PrestaShop and WooCommerce. We are comparing them like for like against many of the core features we want from our online store.
1. PrestaShop vs WooCommerce – Features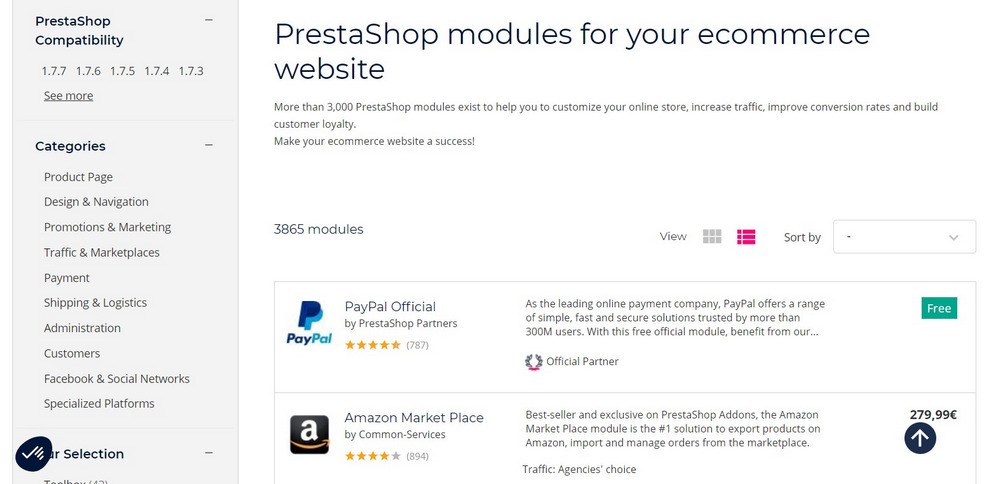 The best eCommerce platform should include all the features you need, preferably free, but for a modest price at the very least.
PrestaShop
PrestaShop has many core features built into the platform with modules to add more if required. Basic store tasks are taken care of within the platform from adding products to shipping, taking payments and managing stock. There is also a basic reporting function there too.
For everything else there is a module available from the PrestaShop module store. There are thousands of modules in the store covering every conceivable store function.
Many modules are free while some are premium. Prices range from around $49 all the way up to $200.
Themes are also offered in the store, some are free while others cost between $40 and $120.
WooCommerce
WooCommerce is fairly barebones. It is designed as a modular platform so the plugin includes core functions and then you build out your store by adding the extensions you require.
WordPress provides some of the content and product management tools while WooCommerce adds eCommerce specific elements. The two work very well together which is probably why they are so popular.
This is a very efficient way to build a store but requires a little more setup. Installation is easy though and there are thousands of free and premium extensions in the WooCommerce Marketplace.
Like with PrestaShop, the marketplace has an extension for every possible function an online store could need and then some!
Third party developers also provide extensions for WooCommerce. Our own Convert Pro, Schema Pro and WP Portfolio are examples of developers taking key elements of running an online store and making them much more powerful and more accessible.
Features – Verdict
We think this is a draw. Both PrestaShop and WooCommerce cover the basics with the core plugin while offering almost unlimited opportunities to extend using plugins.
PrestaShop does include a few more features in the box but the platform is mostly focused on products and selling. WooCommerce, because it uses WordPress, has a more rounded set of content tools.
Each marketplace has thousands of themes and plugins and have third party developers creating more independently.
2. PrestaShop vs WooCommerce – Pricing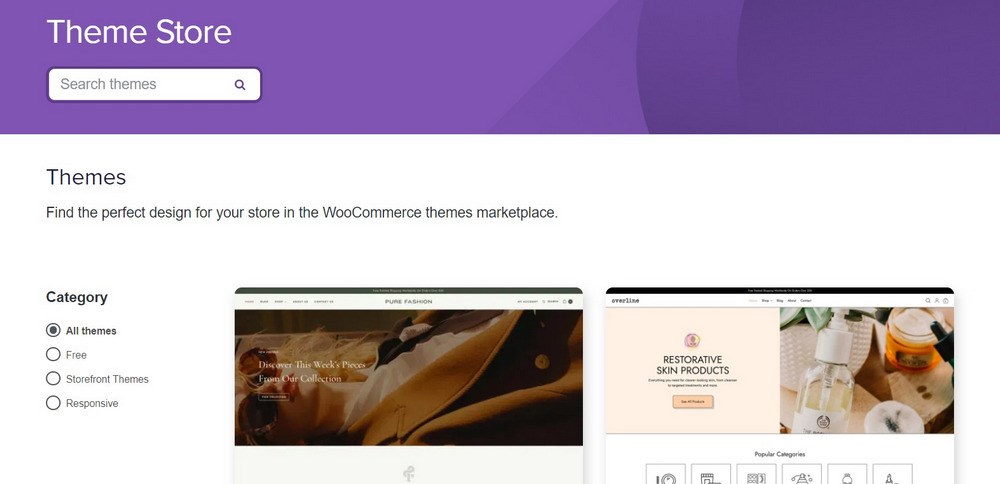 Pricing is an important consideration when you're building a store. The last thing you want to do is have to pay out all your profit to the company who runs the platform!
PrestaShop
PrestaShop is free and open source so there is nothing to pay. You will need to buy your own domain and hosting but this could be as little as $20 per year depending on the web host you choose.
We would recommend managed hosting rather than shared hosting though. Stores require significant resources when they get busy, something you don't get with shared hosting.
There are both free and premium modules to add features. PrestaShop modules cost between $49 and $200 while themes cost between $40 and $120.
WooCommerce
WooCommerce is also free and open source. There is nothing to pay here either except for domain and hosting. Again, we would recommend managed WordPress hosting for WooCommerce as it can be resource intensive when things get busy.
WooCommerce extensions are both free and premium. They can cost between $29 and $249 per year.
WooCommerce themes can cost between $20 and $200. Astra is fully WooCommerce compatible and has some store themes for free!
Pricing – Verdict
We think this is another draw. Both platforms are free and open source. Both require a domain and hosting and both have vibrant marketplaces to buy extra plugins and themes.
Both also have a selection of free plugins to offer a wide range of features so are very even when it comes to start up and running costs.
3. PrestaShop vs WooCommerce – Ease of Use
There is a lot to running an online store, setting up, adding products and managing the store. Therefore we'll split this comparison up into separate sections for each.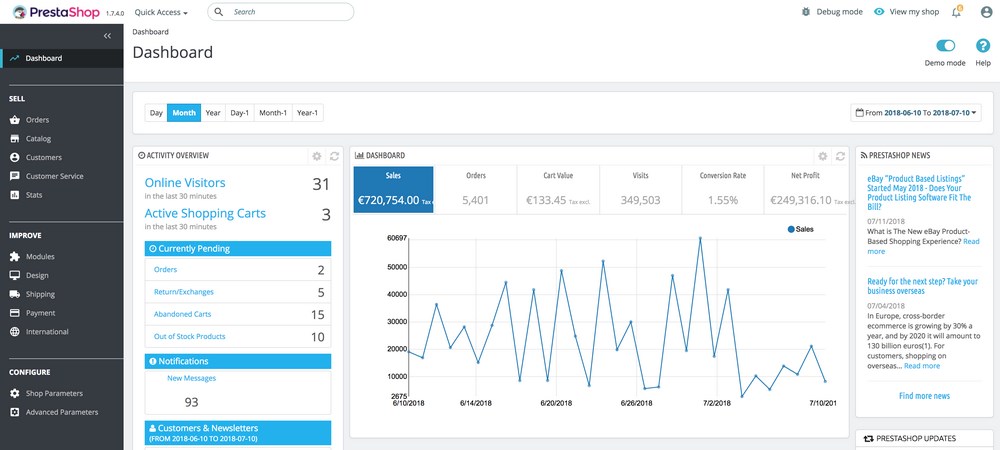 PrestaShop vs WooCommerce – Setting up
PrestaShop
PrestaShop is a download that you'll need to install onto your web host in order to get it to work. That requires familiarity with FTP but is very straightforward.
Setup goes like this:
Download the latest version of PrestaShop and upload it to your web host. Use your cPanel to create a MySQL database for your store. Access the PrestaShop setup URL that comes with the download to begin setup.
Follow the setup wizard to link your store to your MySQL database and then delete the /install folder and you can begin configuring your store.
This page on the PrestaShop website has all the details you need to set up the database and link it to the store.
WooCommerce
WooCommerce is also a download you can install yourself but many web hosts can install it for you with a managed hosting plan. Either way, you will need a fully operational WordPress instance before you can install WooCommerce.
You do not need to set up your own SQL database to make WooCommerce work.
Once you have WordPress up and running, go to Plugins and Add New, search for WooCommerce and install and activate the WooCommerce plugin.
Once activated, you can use the left menu to start the setup wizard. This wizard walks you through every aspect of setting up the core elements of your store.
Once the wizard is complete, you have the basics of a working store. You can then add themes and extensions, add products and go from there.
PrestaShop vs WooCommerce – Adding Products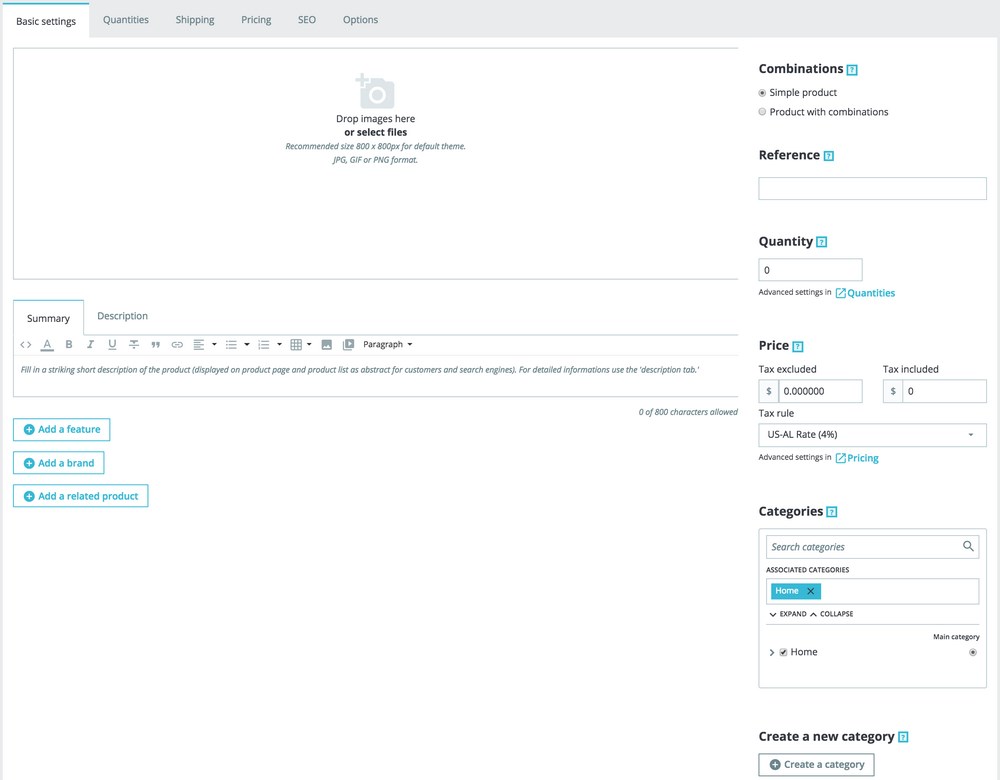 Adding products is something you'll be doing a lot, so which platform does it best?
PrestaShop
PrestaShop makes it easy to add and manage products. All products are controlled within the Catalog. Accessible from the left menu of the main dashboard, the Catalog manages all your stock.
To add a new product, select Catalog and Products and then select Add New in the top right corner. From there you add images, name the product, add features, brands, SKUs, price, tax and all the detail you need.
Where PrestaShop shines is in the ability to preview and duplicate from this window. You can create a product, preview it as it will appear in your store and then duplicate it with a single click. This is ideal for adding variations or similar products with minimal effort.
WooCommerce
WooCommerce also makes it easy to add products to your store. If you're familiar with WordPress, it uses a similar setup to adding a new blog post.
Select Products from the left menu, select Add New, name the product, add the description, images, product category and work your way through the Product Data box partway down the page.
Then you can Save Draft or Preview and then Publish when you're ready. There is no built-in ability to duplicate a product but you could use a WordPress clone plugin to achieve the same goal.
PrestaShop vs WooCommerce – Managing the Store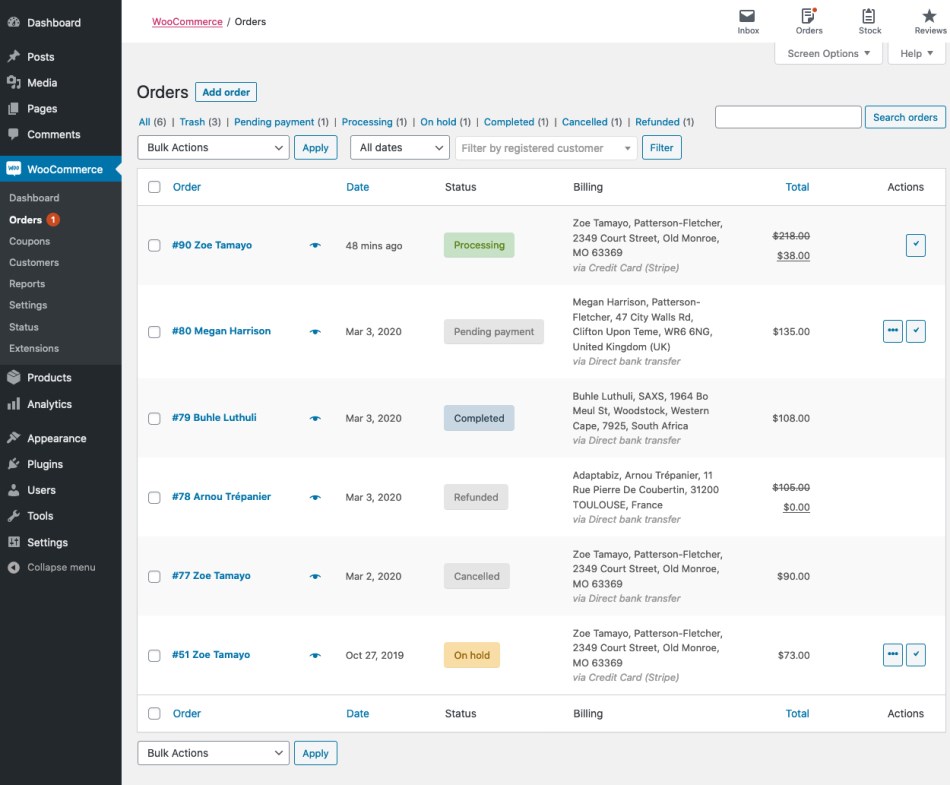 You'll spend more time managing your store than anything else so which does a better job?
PrestaShop
PrestaShop has an excellent user dashboard with a series of widgets in the centre covering most things you'll need to know. You can add widgets and change the view and it is very straightforward to use.
All other elements are accessed from the menu on the left, including the module store, reports, customer service tools and every aspect of your store.
WooCommerce
WooCommerce also has an accessible user dashboard although it doesn't look quite as good as PrestaShop. It has a single user dashboard with a central pane offering a quick overview of orders and everything that's going on.
It also has a left menu covering every aspect of managing the store, orders, shipping and so on.
Ease of use – Verdict
Choosing a winner is tough. PrestaShop makes you manually create a database and then link it to your install. WooCommerce does it all for you. But WooCommerce requires a WordPress installation.
PrestaShop has a very attractive user dashboard, simple product tools and those preview and duplicate tools. While WooCommerce is almost as easy to use, you would have to add your own duplicate tool to achieve the same thing.
Both have their pros and cons but we think making users create their own database is going to put newcomers off. WooCommerce may require WordPress, but many web hosts will set it up for you. Even if they don't, it takes 10 minutes to do.
Therefore, we give this win to WooCommerce.
4. PrestaShop vs WooCommerce – Supported Payment Options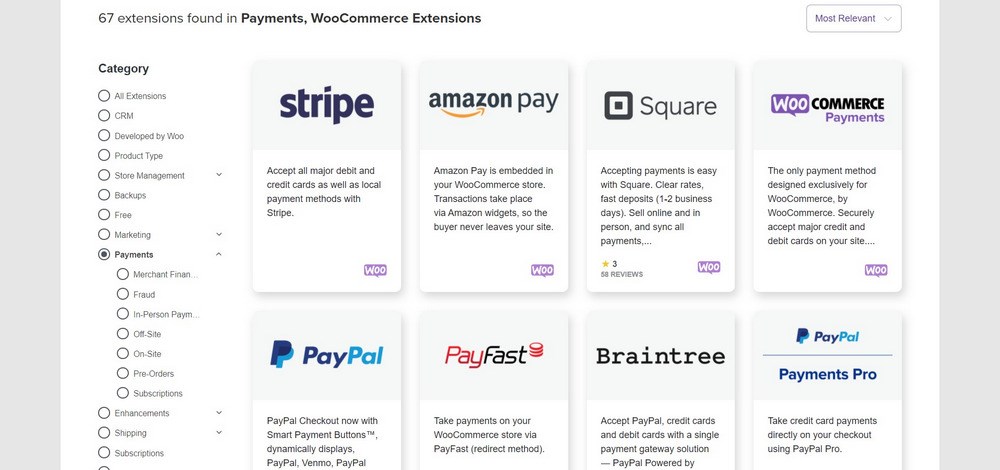 You need to let customers pay how they want for your products. That will be achieved through payment gateways. So, which offers more payment options?
PrestaShop
PrestaShop has over 250 payment gateways in the module store. It also offers its own PrestaShop Checkout option which is its own payment gateway that supports credit cards, PayPal and other payment options.
PrestaShop Checkout is free but charges 2.9% +$0.30 per transaction which is standard.
WooCommerce
WooCommerce supports over 100 payment gateways. It has a couple built in, mainly Stripe and PayPal while others are added via extensions.
Both platforms support credit cards, PayPal, Amazon Payment, Stripe, Braintree, WooCommerce Payments, Authorize.net, Apple Pay, Square, Skrill and others.
Aside from PrestaShop Checkout, neither PrestaShop nor WooCommerce charges commission or transaction. The individual payment gateways will though.
The average is the same 2.9% +$0.30 per transaction as PrestaShop Checkout but make sure to check each gateway before signing up.
Supported Payment Options – Verdict
Both PrestaShop and WooCommerce support a wide range of payment gateways. Both will offer the range of payment options a customer will look for and there is really no advantage here to either platform.
Neither platform charges commission or fees on transactions with the exception of PrestaShop Checkout.
PrestaShop Checkout is an added bonus if you didn't want to add your own payment gateway but from our experience doesn't offer anything aside from convenience.
Therefore, we'll call this a draw.
5. WooCommerce vs PrestaShop – Support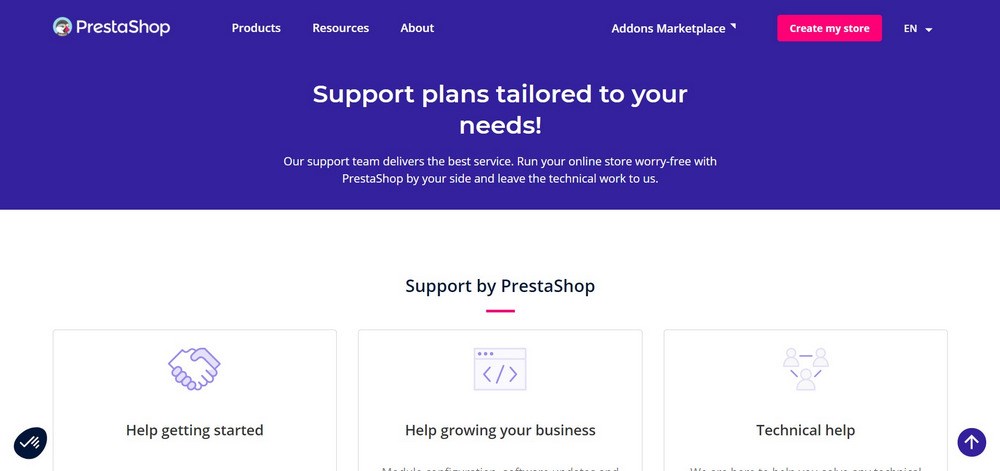 Does the store solution have the support you need when things go wrong?
PrestaShop
PrestaShop has two customer support options. The first offers free access to training materials, documentation and the user forum. The second is a premium technical support option that costs from $249 upwards depending on what you need.
The documentation and training are pretty good but not great. A lot of it is in translated English some is a little broken and some key terms are missing within the docs.
We didn't use the premium assistance option for obvious reasons but reviews seem positive.
WooCommerce
WooCommerce also provides a ton of documentation and self-help resources. The documentation is of a high quality and includes everything you're likely to need. There are also user forums with a helpful community who always seem willing to help.
There are also third party resources such as our own blog and other websites covering many WooCommerce topics.
There is currently no premium support available for WooCommerce but the company does support premium themes and extensions bought on the marketplace.
Support – Verdict
We see this as a clear win for WooCommerce. The documentation is of a higher standard. It is also easier to navigate and to find obscure topics.
The forums of both platforms are helpful and informative too.
While PrestaShop does offer technical support, the pricing puts it out of reach of many new or smaller stores so we think this actually counts against it.
6. WooCommerce vs PrestaShop – Security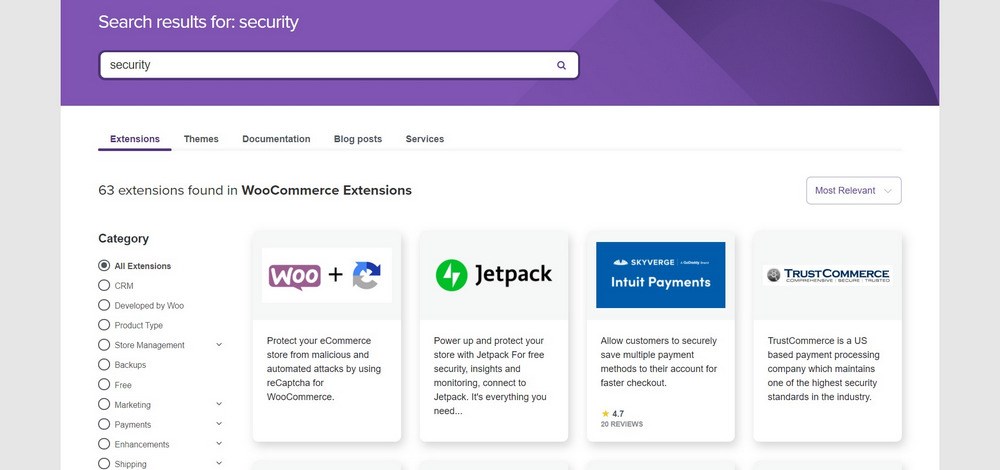 As security is everything online, which platform makes it easiest to keep your store secure?
PrestaShop
PrestaShop is open source so it will be mainly up to you to secure it. The core platform is PCI compliant and can be made GDPR compliant with a module. You will need to implement your own SSL encryption but good quality web hosts will take care of that for you.
Payments should be secured by the relevant payment gateway, so that's one less thing to worry about.
However, PrestaShop does have a number of vulnerabilities outstanding which you should bear in mind. Many can be mitigated though.
WooCommerce
WooCommerce is also open source and will require you to keep it secure. That means using WordPress security plugins, using WordPress security best practices and SSL encryption.
WooCommerce payments will also be secured by the payment gateway and as long as you use SSL, customers should be kept relatively safe.
WooCommerce also has fewer vulnerabilities than PrestaShop, which is a significant benefit.
Security – Verdict
We think this is another win for WooCommerce. While it is certainly targeted more than PrestaShop, there are more tools to secure your store and keep customers safe.
PrestaShop does have PCI compliance but the rest of the security is up to you, just like WooCommerce.
A good web host will handle SSL and keep your files secure but we are slightly concerned by the number of vulnerabilities still outstanding for PrestaShop.
7. WooCommerce vs PrestaShop – Customization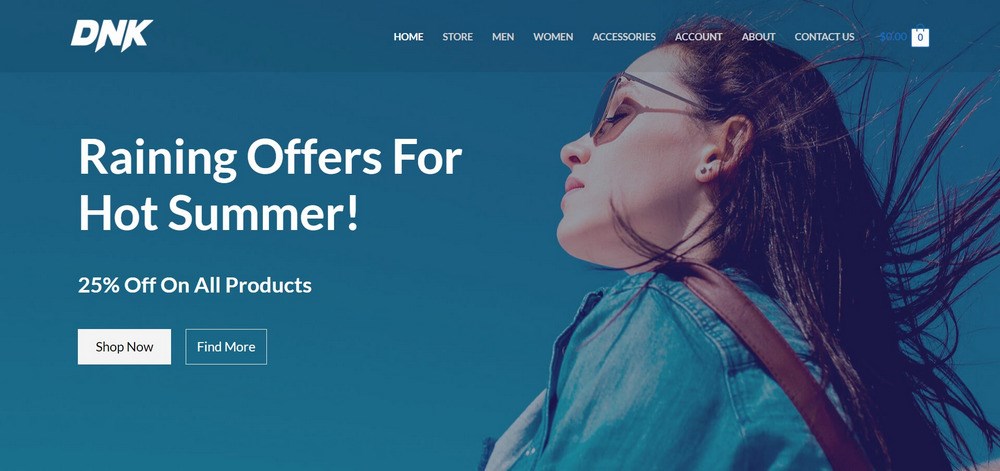 Can you make your store your own? Can you make it unique or theme it however you like?
PrestaShop
PrestaShop has a very large shop with over 2,000 themes and several thousand modules. The themes are of a good quality and cover most types of store you could think of. They install in a similar manner to WordPress and offer similar methods to change various elements of the theme.
The modules are equally easy to add and customize. You can access the store from the PrestaShop dashboard and install them directly. You can then set the various parameters from the same dashboard.
WooCommerce
WooCommerce also has a large marketplace with many thousands of extensions and themes. The collection of themes is nowhere near as large as for PrestaShop but WooCommerce is much better served in third party theme marketplaces.
Plus, there's also Astra themes!
Themes and extensions install using the WordPress dashboard and can be implemented in minutes. This gives you a significant advantage in being compatible with drag and drop page builders.
These builders mean you can add, remove or change any element on any theme without touching a line of code. This can be especially useful if you're new to websites or don't want to mess around learning PHP or CSS.
Customization – Verdict
WooCommerce clearly has better options for customization so gets the win.
PrestaShop is very well catered for in terms of volume of themes and modules. There is everything in the store you could conceivably want.
WooCommerce has its own resources but can also utilize those of WordPress, including themes and plugins. This opens up a whole new world of customization that few other platforms can compete with.
8. WooCommerce vs PrestaShop – Scalability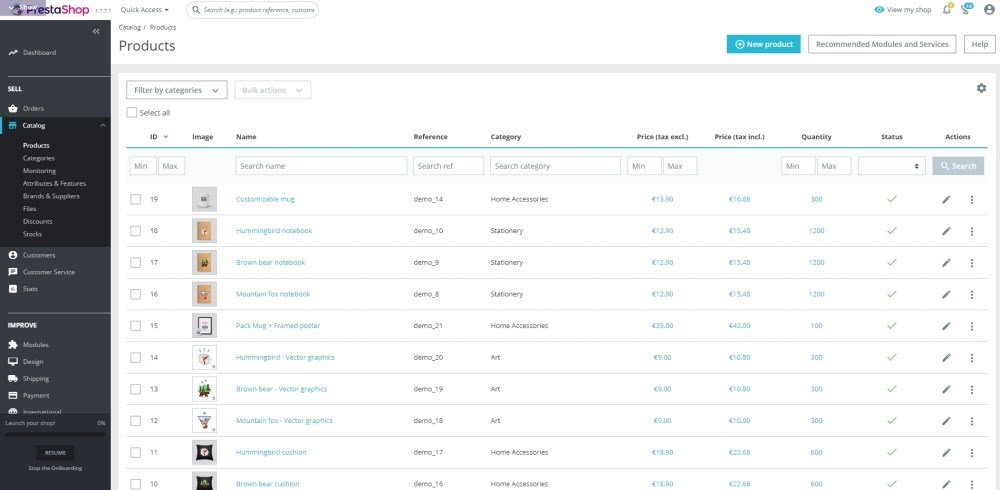 We all start small but few of us want to stay that way. Which eCommerce platform makes it easy to grow and expand your retail empire?
PrestaShop
PrestaShop is infinitely scalable as long as your web host can accommodate you. It's a database-driven platform so as long as you have sufficient resources to run the database and cope with customers, you can scale up as much as you like.
WooCommerce
WooCommerce is also infinitely scalable. It has the same dependencies as PrestaShop. It's a database-driven store platform that is dependent on having enough resources to manage everything.
As long as your web host is up to it, you can grow your store as much as you like!
Scalability– Verdict
Both platforms have the same dependencies and the same opportunities to grow so this is a draw.
9. WooCommerce vs PrestaShop – Pros and cons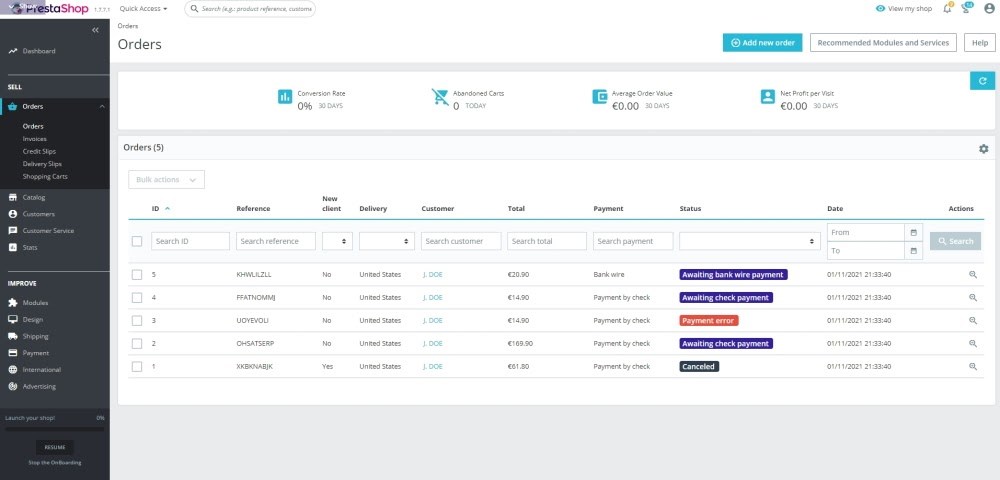 As you now know, both WooCommerce and PrestaShop have strengths and weaknesses and areas where they excel and where they could do better.
Let's have a quick recap of the pros and cons of each platform.
Pros of WooCommerce
Simple setup and store management
Ideal for existing WordPress users
Setup wizards cover most things you'll need
Thousands of WooCommerce free and premium themes and extensions
Can be made very secure using plugins
Infinitely scalable
Supports multiple payment gateways
Cons of WooCommerce
Requires a WordPress instance to work
Support is largely down to you
Core product is barebones and will require extensions for most things
Pros of PrestaShop
Free and open source
Setup is relatively straightforward
Attractive store dashboard
Intuitive elements when adding and managing products
Premium support is available at a cost
Supports multiple payment gateways
PCI compliant
Cons of PrestaShop
You have to manually create your own database
Outstanding vulnerabilities
Some of the documentation could be better
PrestaShop vs WooCommerce – Final Thoughts
There's a lot to think about when looking at eCommerce platforms. A lot to compare, contrast and a lot to consider. We hope we have helped a little with that.
To be fair, you won't be sorry if you use either PrestaShop and WooCommerce. Both are very viable platforms that make short work of building and running a store.
There are also some differences. The store management dashboard in PrestaShop is arguably better but navigation in WooCommerce is more logical. Both have extensive user documentation and a helpful community.
However, we believe WooCommerce offers significant advantages over PrestaShop.
While very good, PrestaShop is just a shop and you'll need a different suite of tools for marketing, content and all those things WordPress does so well.
It can also leverage WordPress themes and plugins and can offer a much wider suite of features and options for marketing, sales, promotion, social media integration, rich content and the activities you'll spend a lot of time on when your store is up and running.
For these reasons, we recommend using WooCommerce over PrestaShop.
Do you use either of these eCommerce platforms? Have anything to add that might help someone trying to decide? Tell us your thoughts in the comments below!