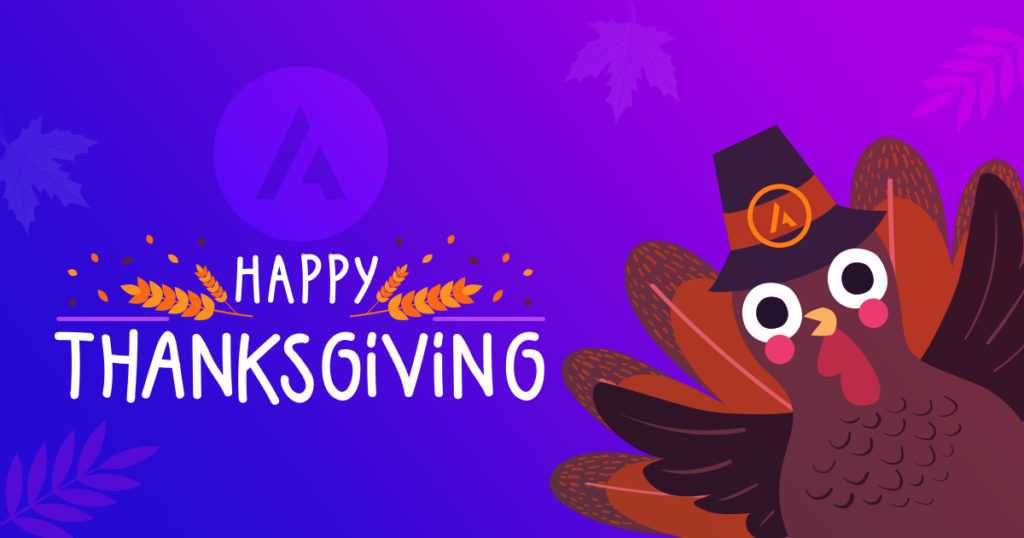 Whether or not you're celebrating Thanksgiving, I wanted to Thank you! 🙏🏻
That's the first thing I want to say to each and every one of you.
It's Thanksgiving week and I don't want to miss the opportunity to thank you all for standing by us, believing in our products, and taking us this far.
There may be several times I've said this, but each time it's special.
When I think of you, all I feel is the pride to have won so many hearts and your trust over the years. It only takes a quick glance at Astra WordPress.org reviews to see how each day the theme we built impacts people's life. It's an honor and a privilege for us all here at Brainstorm Force.
Things to Share This Thanksgiving!
Over the last couple of years, we found that Astra quickly turned into one of the most popular WordPress themes.
1282 new websites start using Astra every day. That's almost a new website every minute! 😍
Astra is one of the few themes that powers over 500,000+ websites. Not only does Astra power an incredible number of sites, but it is the most loved and fastest growing theme that has over 2,900+ 5 star reviews on WordPress.org.
All Thanks to you! 🙏🏻
Astra 2.0!
Astra is already a lightweight, blazing-fast and a highly customizable theme. But, with the new version 2.0, Astra gives you a better user experience with an easier to use and faster loading customizer.
This release was a revolutionary update in which we reinvented the theme's customizer, made it super fast and much easier to use with a better user interface. We categorized customizer settings and placed them in a way that will let you save time customizing the website.
70+ New Ready-to-use Starter Templates
Starter Templates are being loved for many reasons! They've been reducing website development time by 40%. Ever since we released these website demos, we've received a lot of appreciation and also requests for new starter templates for a few more niches. We've listened to you, and acted upon it.
All year through, we've added several starter templates that can be imported and used to build websites serving different niches. This includes a specific starter site for LearnDash too.
See ready-to-use website demos >>
10+ Creative Widgets in Ultimate Addons for Elementor
We build only unique widgets that are useful and comprehensive. Every widget of the Ultimate Addons blends completely with the Elementor interface and enhances the page building experience.
This year we released around 27 updates with new features, improvements, and fixes that contributed to making UAE what it is today. This includes widgets like the Business Review, Hotspot widget, Countdown Timer, Off-Canvas widget, and a lot more.
Here are a few UAE widgets released recently –
What's next? We are working on the Nav Menu Widget that will let you build Mega-menus with Elementor.
10+ Modules in Ultimate Addons for Beaver Builder
UABB is known as the best addon for Beaver Builder. Along with the continuous improvements, this year, we've built 10+ modules that are unique, and useful.
They include the Off-canvas Module, Business Reviews module, Price List, Particle Background, Table of Contents. etc.
Here are a few modules released in our latest updates.
Starter Templates v2.0 – Coming Soon!
The Starter Templates are already reducing website designing time by 40%. To take this a step further, we are enhancing the Starter Templates plugin so that you get a better interface and more options to further reduce your website design time.
With version 2.0 of the Starter Templates plugin, you will have –
The ability to import individual pages.
A search option to find the template.
An inbuilt image search to find the right set of images from your website backend
And more…
The Starter Templates plugin is currently in its testing phase and will be out soon!
Giving Back to the WordPress Community
This year we have released a few more free plugins to the WordPress repository.
Pre-Publish Checklist: A plugin that helps make sure a post or page is ready to go live. This post you are reading has checked all the points in our checklist!
Read Meter: A plugin that displays the reading time and a progress bar on a scroll. Did you see the reading time under the author-name and date on top? There's a progress bar too that appears just below the address bar. Just an example of how Read Meter works.
Currency Switcher: A plugin that lets users switch between currencies in real-time!
Introducing an Online Learning Platform – SkillJet Academy
We understand that growing a business is challenging.
The most crucial aspect of any business online or off is advice and mentorship.
SkillJet is a library of in-depth training courses focused on helping you build better websites, increase your marketability, learn new skills, keep clients happy and grow your business profits. We are working with renowned experts from the web design and development industry to share their knowledge and experience that will help you level-up your business.
It's our way to grow together hand-in-hand. 🙂
Read more about the SkillJet Academy >>
If you're our existing Agency Bundle customer, SkillJet is available to you at no additional costs at all!
And if you're not our Agency Bundle customer yet, TODAY is the best time to become one with our BIGGEST Ever Black Friday offer!
Thank You Again!
May You Enjoy Your Thanksgiving with Your Family and Loved Ones Around! 🍁🦃🥧
Once again, thank you for all your love, and support. From us all here at Astra, we wish you a happy upcoming holiday season!
You can take a look at a few hand-picked deals that we've listed under Black Friday and Cyber Monday Deals post.
Love Astra and all we do? The comments section is open for all the gratitude messages you can drop for us.