WordPress has grown to become one of the most powerful platforms throughout the years. It's not just for blogging anymore. Whether you're out to sell your products online, build your portfolio site, or even teach. WordPress can certainly take care of it for you.
On the subject of teaching online, a lot of professionals, entrepreneurs, and even content creators out there love the idea of being able to share their skills and make a little profit off of it on the side.
If you've ever wanted to build your own online teaching course, or simply share your knowledge to a group of online friends, LearnDash is the best way to go.
And we'll show you why.
| | | |
| --- | --- | --- |
| Theme | Price | What Makes It Stand Out? |
| Astra | Astra Pro $59 | Astra is a robust and lightweight theme that has a specifically designed starter site for LearnDash. |
| BuddyBoss for LearnDash | Single Site – $228 | An all-in-one LearnDash theme which boasts powerful features and integration. |
| eLumine | Single Site (Yearly) – $100 | eLumine is a premium theme that was built around LearnDash, giving it a competitive edge on compatibility, pricing, and even support. |
| Academy Pro | Theme + Genesis Framework – $129.95 | An especially designed Learndash theme that is fully compatible with WooCommerce for Universities. |
| Edumodo | Regular License – $39 | A low-budget one-time purchase theme with full LearnDash compatibility. |
| Education Center | Regular License – $59 | A classy yet simple LearnDash theme that is specially made for educational institutions. |
| Fernando | Theme – $79.95 | A LearnDash theme that is specially built for authors, writers, and entrepreneurs. |
| UniDash | Regular License – $47 | A multipurpose LearnDash theme, a rare one on this list. |
| Bookshelf | Regular License – $59 | A LearnDash optimized theme that is specially built for book-lovers. |
| Talemy | Regular License – $59 | A powerful LearnDash theme with stunning demos and templates. |
What Are eLearning and LMS?
The internet has come a long way from just sending emails, now even going to class can be done completely online. As you've probably guessed, eLearning is the process where you can teach or learn on the internet.
There are plenty of ways to go about doing this. You can either have a one-on-one video chat, watch a collection of videos, or simply download a couple of modules related to the course.
An LMS, on the other hand, stands for Learning Management System, it's the platform where you can run and manage an eLearning site.
Can eLearning Turn a Profit?
The answer to this question is entirely up to you. It's not all about the money after all.
But as someone who has committed to shelling out a few hundred dollars setting up and managing their own eLearning platform, I would bet you'd want to earn at least a little profit from it.
If that's what you want then, yes!
Whether you're building it for yourself, your brand, or your company, you're bound to earn from it one way or another. In fact, the global eLearning market is set to reach a record of $325 billion in value by 2025.
Is WordPress Suited for eLearning?
Absolutely!
The WordPress core is built to handle anything from eCommerce to eLearning. It's just a matter of setting it up properly.
With the right tools, you can certainly step up your eLearning game with WordPress.
While there are literally tens to hundreds of LMS platforms for WordPress, undeniably, LearnDash is by far the most popular. With the right resources and set-up, you're on your way to succeeding in your online teaching endeavor.
What Is LearnDash?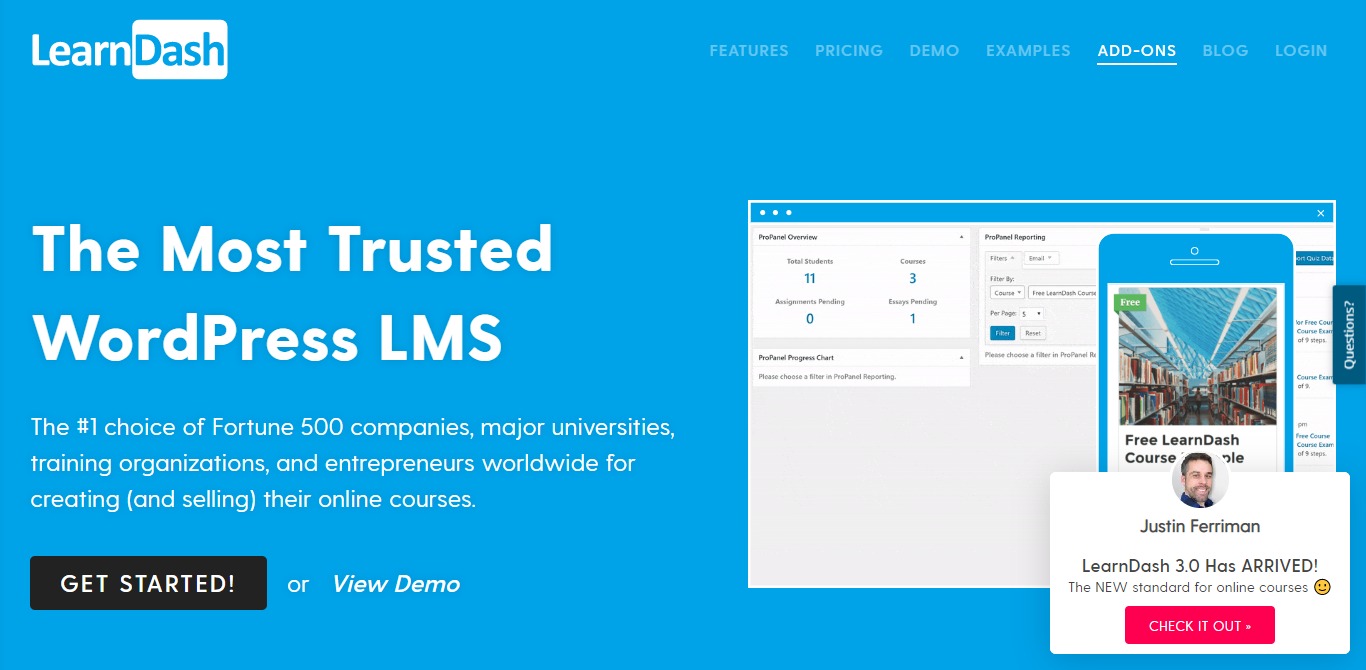 LearnDash is an all-in-one solution for WordPress eLearning. It's essentially an LMS plugin for WordPress.
It's more than just a plugin, however. LearnDash is built for a multitude of users, taking into account the different uses and reasons why one would want to have an eLearning platform.
It's built for educational institutions, non-profits, developers, entrepreneurs, companies, or anyone who would want to teach online.
It's a robust platform that spans beyond being a WordPress plugin. It's a complete solution that is built by and for eLearning professionals.
What Makes LearnDash Stand Out?
LearnDash specifically stands out because of the way it's built and the platform that it runs on. It is built specifically to run on a WordPress install.
It easily integrates with any theme because it mostly uses Custom Post Types to display its content. The way it structures it post types will seamlessly blend with any theme or structure that you think of.
LearnDash offers four custom post types: Courses, Lessons, Quizzes, and Certificates. This is essentially how you will need to structure your curriculum no matter how simple or complex you make it.
On top of that, the number of integrations that you can join it with far surpasses any other LMS out there. You can seamlessly integrate e-commerce features, membership features, and other developer and consumer tools that are readily available.
What to Look for in the Best LearnDash Theme?
While LearnDash can seamlessly work and integrate with any theme. There's still the added benefit of choosing the right one that would fit your needs.
If you're doing this to earn a profit, the experience your users and teachers get when navigating your site can be the main reason they sign up with you or not.
With hundreds of themes available out there, we've broken down what to look for when selecting your LearnDash theme:
Ease of use — How easy it is to be able to set up and manage the courses, lessons, and other related content. We will also be looking into how easy it is to be able to set up the landing page and other related pages aside from the actual eLearning platform.
Templates and Importing —The availability of templates and the ability to import them easily.
Pricing — How much does it cost to purchase and use the theme?
Support and Updates — The availability of support options, its coverage and how regularly these themes are updated.
With all these considered, I'm sure we'd be able to cover most of our bases in choosing the right theme for your LearnDash – WordPress site.
10 Best LearnDash Themes for 2020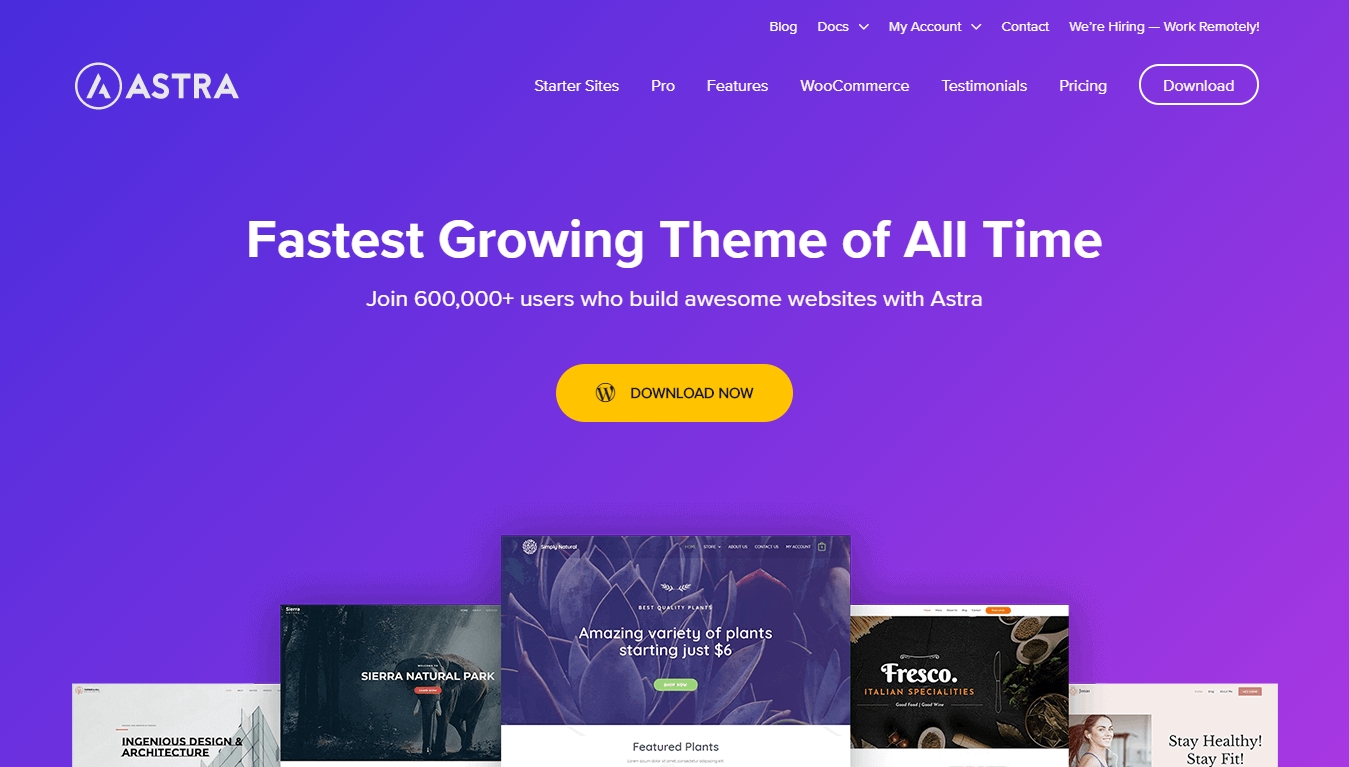 Astra is a robust and powerful theme built with user experience and usability in mind. It has over 600,000 + active installs and is clearly one that's leading the market. It's clean, versatile, and secure, among other features. And the best thing is that it's specifically optimized for LearnDash.
Astra is developed by BrainstormForce.
Ease of Use
Astra is extremely easy to use with LearnDash. In a couple of easy steps, you're all set up. Both LearnDash and Astra actually recommend each other for each of their products and have step by step guides on how to easily integrate one with the other.
Astra boasts flexible design options for whatever purpose you're building the sites for. It has incredibly vast typography options, pre-built layouts, and codes specifically designed for performance.
Astra is a very user-friendly LearnDash theme.
Templates
Astra has a plugin called Starter Templates and this plugin allows you to import its set of readymade sites a.k.a. Starter Templates. So yes, Astra does provide a multitude of template options that you can choose from. Including ones that are specifically built for LearnDash.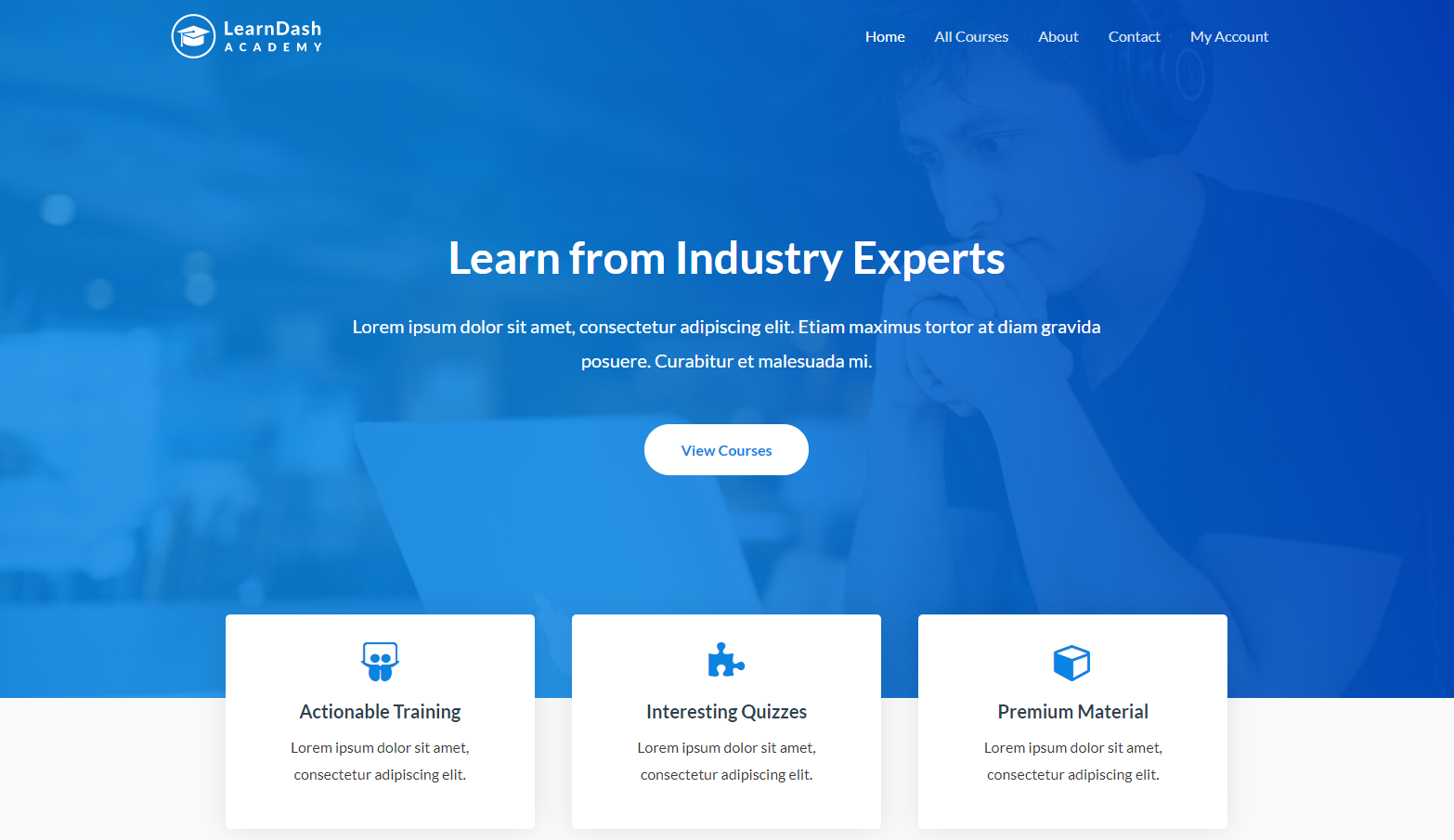 Pricing
Astra is free, but there are a couple of added benefits to purchasing the Pro add on to be able to fully integrate LearnDash.
Astra Pro – $59
Mini Agency Bundle – $169
Agency Bundle – $249
Support and Updates
Support and updates are nothing to worry about with Astra. Your updates are constant and seamless including a changelog and announcement every time an update rolls out.
Astra's support team is also always there for you. You can easily submit a ticket directly from their website. Once on the website, you'll also get different levels of support whether you've purchased the paid or free versions.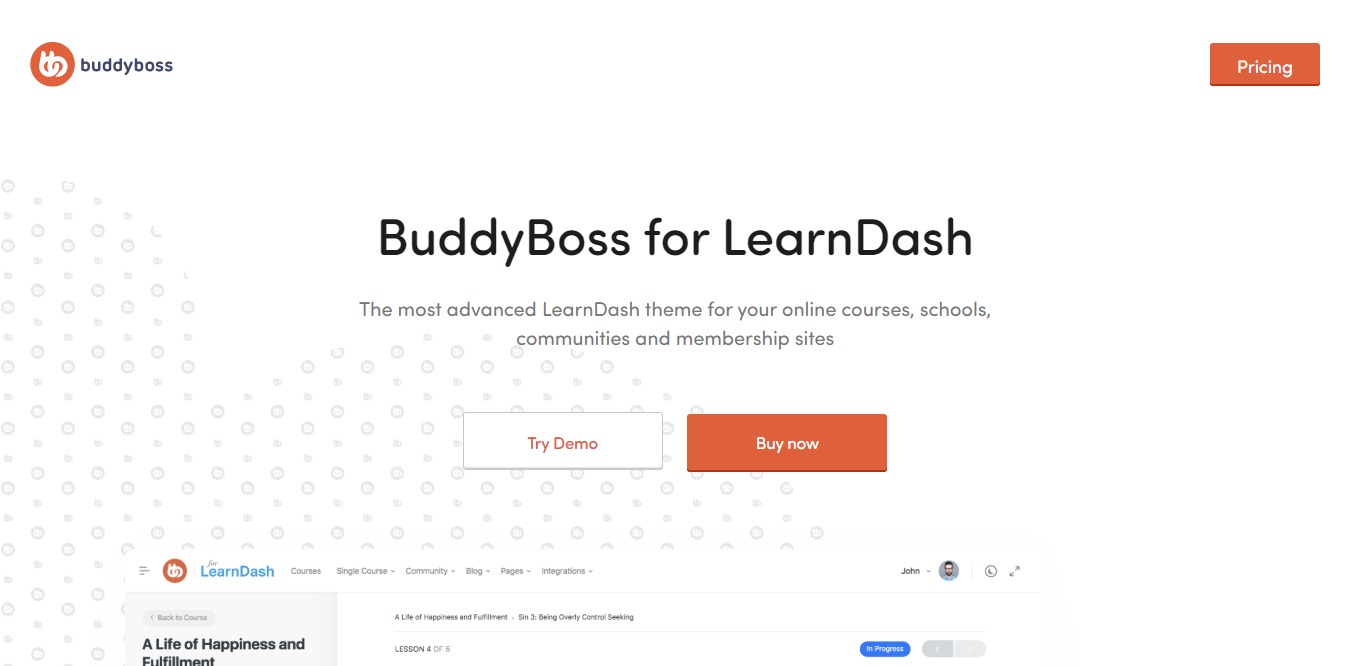 BuddyBoss for LearnDash is the newest theme by BuddyBoss that was created to easily integrate and work with LearnDash.
It boasts extremely powerful features such as:
Multi-lingual support
RTL support
Custom icons and branding
Multi-Tier Courses
Advanced Quizzes
Tin Can API support
BuddyPress features support
Social learning and other social integrations
And so much more.
Ease of Use
BuddyBoss is one of those themes that are just very easy to use. Once you have it set up, you can easily import their templates and install the required plugins and you're all set.
It comes with tons of customizations and LearnDash specific features that would surely help you upgrade your eLearning capabilities as mentioned above.
Your learners and users also get their own intuitive profiles where they can track their progress and results throughout the courses.
Templates
BuddyBoss also comes with its own importable demos. It's easy enough to generate, play around, test, and finalize your eLearning site when you have a lot of options to choose from. It's easy and quick to import, without a lot of tinkering needed on your end.
Pricing
BuddyBoss offers so much more than just the themes. Although their licenses are a little on the pricey side, the features that you're getting with them can be worth it.
$228 – Single Site Annual License
$288 – 5 Sites Annual License
$348- 10 Sites Annual License
Each license comes with annual support and theme updates. If in case you don't renew your license and it expires, you will no longer be able to get support and automatic updates.
Support and Updates
On the topic of support and updates, with the amount of money that you're going to be spending on this theme alone, you're certainly not going to be left out with no support.
As long as your license is still valid and within the term, you'll be able to get the help you need directly from the backend dashboard or their website. They're quick and responsive too. They also give you the option to purchase additional features and platforms like design and development assistance and even have your own mobile app. But for a hefty price of course.
Updates are quick and secure as well. Since it's a big part of what you're paying for, they wouldn't want to leave you in the dark after installing. So you're all covered.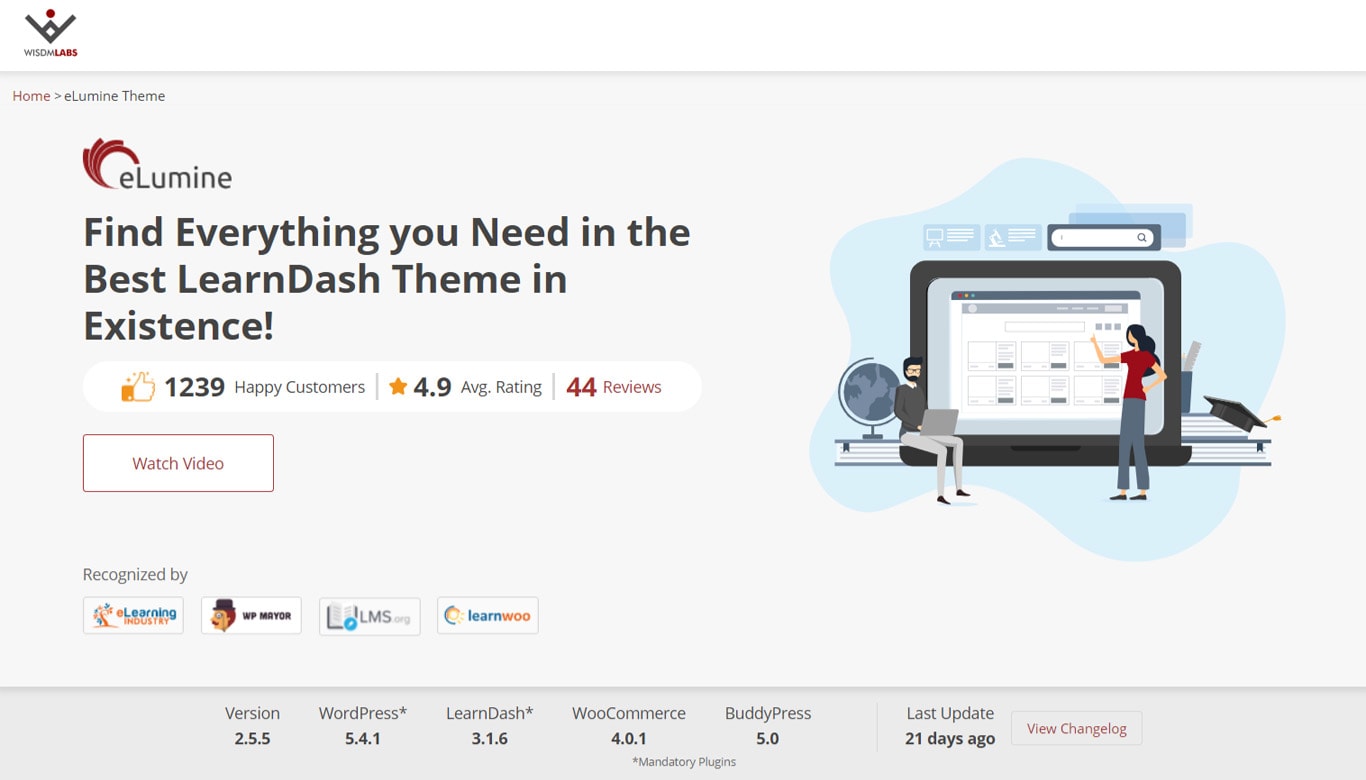 eLumine is the go-to theme for the modern LearnDasher, who needs a blend of powerful features and a sleek user interface. With its clean and organized design and built-in customization options, eLumine helps you create reader-friendly courses in no time. And if you need help starting out, it has 3 ready-to-import Starter Sites that can be set up in a snap!
Ease of Use
eLumine is specifically designed for LearnDash, so naturally, it works seamlessly with the LMS plugin making it easy to set up all your course pages and customize them according to your brand.
eLumine also has LearnDash-exclusive layouts that are reader-friendly and presents your courses and quizzes in an engaging manner.
Full-width and box-width displays, 7 distinct styling options, easily modifiable font sizes, and day/night modes are all built into eLumine to generate a learning experience like never before, for all your students!
Templates
eLumine packs 3 ready-to-import Demo Sites that can be downloaded in a snap.
These are not your run-of-the-mill basic sites with one or two pages ready and the rest left up to you. They are complete skeletal structures of your courses, lessons, topics, pages, quizzes, and more, which ensures you can start conducting your courses in practically one day post installation!
All of these templates are 100% responsive, some with integrated BuddyPress and bbPress plugins, so you have student profile pages and forums on hand too! The templates are completely customizable, with attractive fonts and color palettes at your disposal, so you can tweak the site as you need.
Pricing
eLumine has multiple pricing plans, for annual and lifetime licenses, as well as with other useful LearnDash essential add-ons bundled together.
eLumine Single Site License (Yearly) – $100
eLumine Single Site License (Lifetime) – $300
eLumine + LearnDash Essentials Addon Pack (Yearly) – $385
eLumine + LearnDash Essentials Addon Pack (Lifetime) – $995
Includes a 1-hr consultation with our LearnDash experts to help you set up the theme
Includes 4 additional plugins – WISDM Instructor Role, WISDM Ratings,Reviews, and Feedback, WISDM Group Registration, WISDM Quiz Reporting Extension, and WISDM Content Cloner
Support and Updates
eLumine boasts an impressive support structure and responsiveness. They're on top of every support issue you might need help with and are ever-ready to solve any problem you might face.
Add to that a consistent stream of updates with new features, better designs, and more options to secure your intellectual property.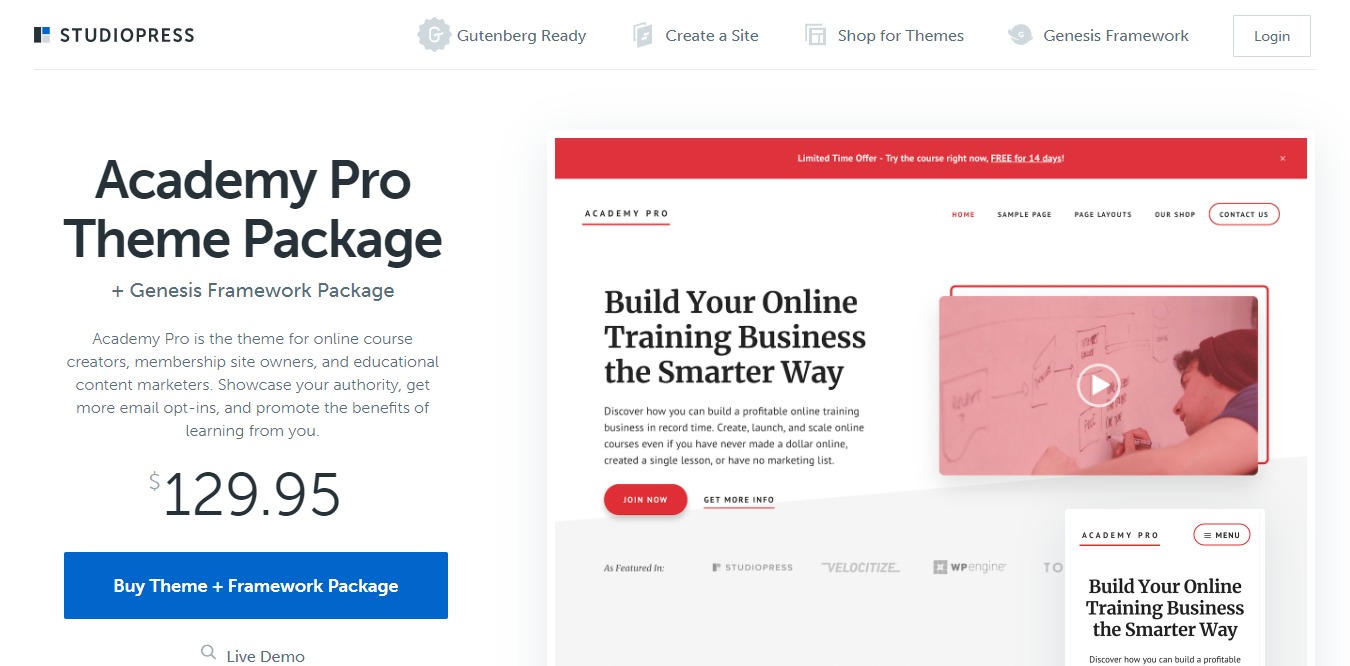 Academy Pro is built as a WooCommerce first theme that is compatible with LearnDash. It boasts features like real-time preview and is fully optimized for mobile users with any screen size. It can also be set up with just a few clicks.
Academy Pro is built and developed by StudioPress.
Ease of Use
Academy Pro is built entirely with ease of use in mind. You can easily set up and build your eLearning platform and shop with just a few clicks.
It comes pre-built with WooCommerce and features like up to 6 widget areas and an awesome Theme Customizer to help you set the right look for your platform.
Templates
The only downside of this theme is despite its extreme customizability, it doesn't have any templates that you can choose from. It's basically just the one template that it comes pre-built with.
You are, however, free to customize it however you want.
Pricing
There is no free version to Academy Pro, but you have bundled options that can be extremely worth it for the price that you're paying.
$129.95 – Theme + Genesis Framework Package (One Time Purchase Fee)
$499.95 – Unlimited Sites and Themes Package by StudioPress
You can also get it with WPEngine if you already host your site there.
Support and Updates
With the one-time fee, you never run out of updates and support. You basically just purchase it once and you're covered for life. Meaning you will receive unlimited updates and support.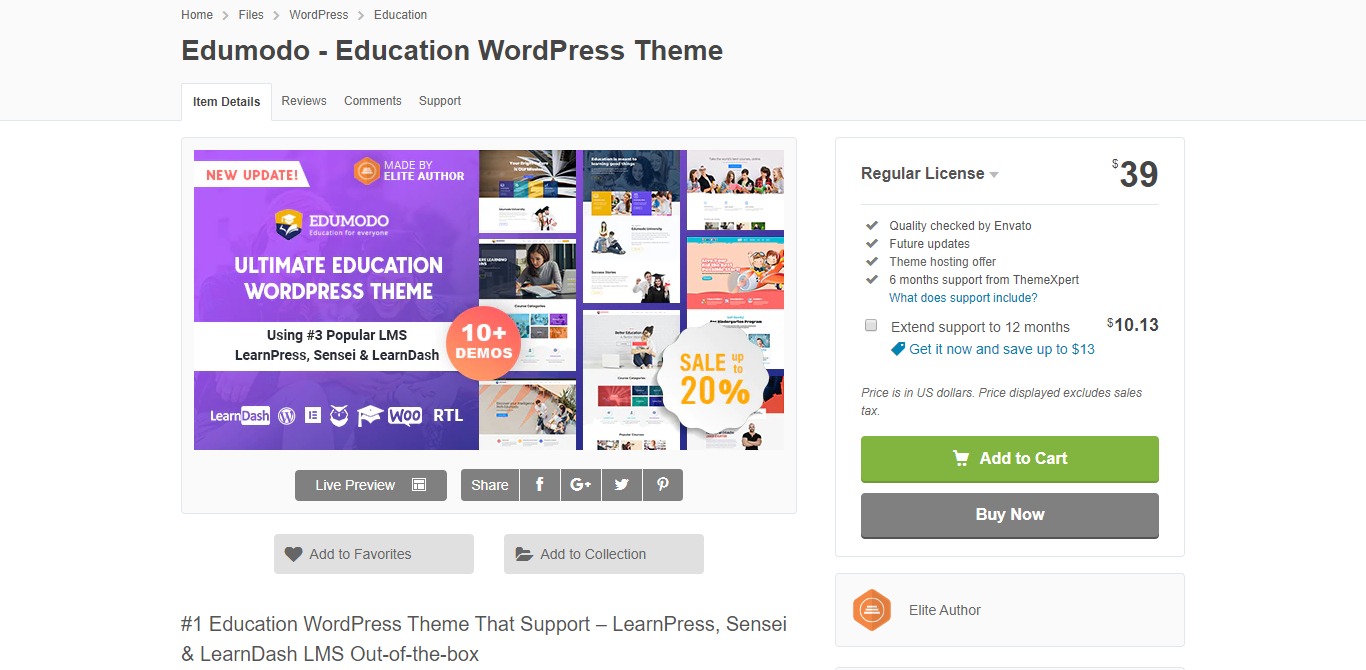 Edumodo is a theme by ThemeXpert and is a low budget one-time purchase theme that is built to work with a lot of different LMS platforms, including LearnDash.
It has pre-built themes and demos that are easily available and will definitely help you stand out in the eLearning space.
Ease of Use
Edmodo is extremely easy to use with its Elementor integration. It's basically just dragging and dropping.
With design and usability in mind, you will be able to build a stunning eLearning website in just minutes.
Among other features of it include:
Easy Youtube videos integration
A dedicated Teachers Page
RTL support
Multilingual support
Mobile optimized theme
And so much more.
Templates
Out of the box, Edumodo features 6 beautifully-designed demo templates. They also support one-click install for all of them so importing the templates is no hassle at all.
They have templates for just about anything you can think of. From university templates to corporate, they have it all.
That includes the vast number of customizations that are available that will surely make your site be as beautiful as you imagined it to be.
Pricing
Edumodo is available from ThemeForest for $39 with a Regular license. Including support for 6 months, which is extendable.
Support and Updates
In accordance with ThemeForest's policies, support is included but limited.
Item support includes:
Availability of the author to answer questions
Answering technical questions about item's features
Assistance with reported bugs and issues
Help with included 3rd party assets
However, item support does not include:
Customization services
Installation services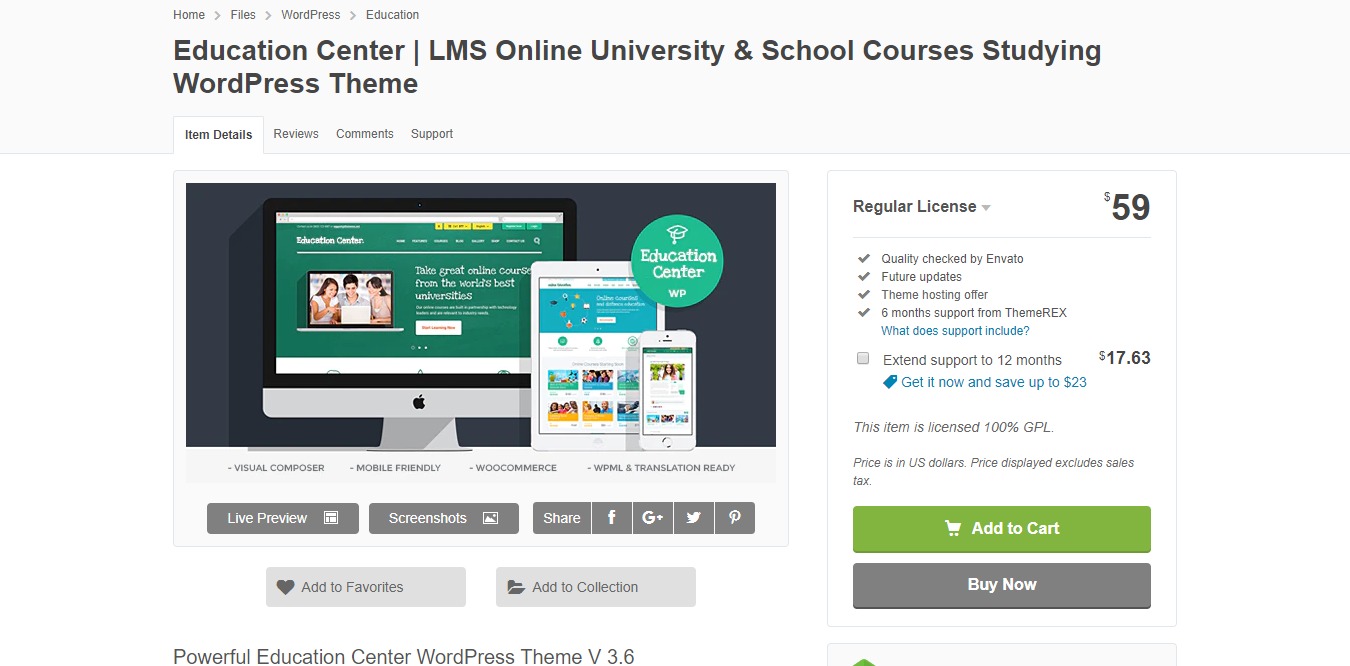 Education Center is classy yet simple theme to use with LearnDash. Although it is primarily made for the educational institutions, it doesn't shy away from boasting amazing features. It's also one of the few LMS themes that have course calendar integrations to help the learners keep track of the course schedules and availabilities.
This theme is developed by ThemeREX.
Ease of Use
The theme is extremely easy to use and is compatible with WPBakery Page Builder which can help you customize it to your heart's desire.
Aside from that, it also offers a lot of built-in customization options such as different header styles, screen layouts, hover effects, etc.
There is basically an option available for anything that you want to customize.
They are also widely compatible with a lot of the plugins and platforms that you may want to use in building your eLearning site including:
Sliders: Swiper Slider, Revolution Slider
WPML plugin
WPBakery Page Builder
Events Calendar
WooCommerce
And of course LearnDash
Templates
Education Center also offers 4 pre-made pages with one-click-demo import support. Aside from that, you have the option to choose between a multitude of header styles and 10+ blog style templates.
Pricing
Education Center offers goes for $59 and offers 6 months of support, which is also extendable depending on your needs.
Support and Updates
Theme support and updates is a guarantee by the ThemeRex team. They provide extensive theme documentation which can cover basically any issues you will encounter.
They are also happy to answer any support questions that you may have.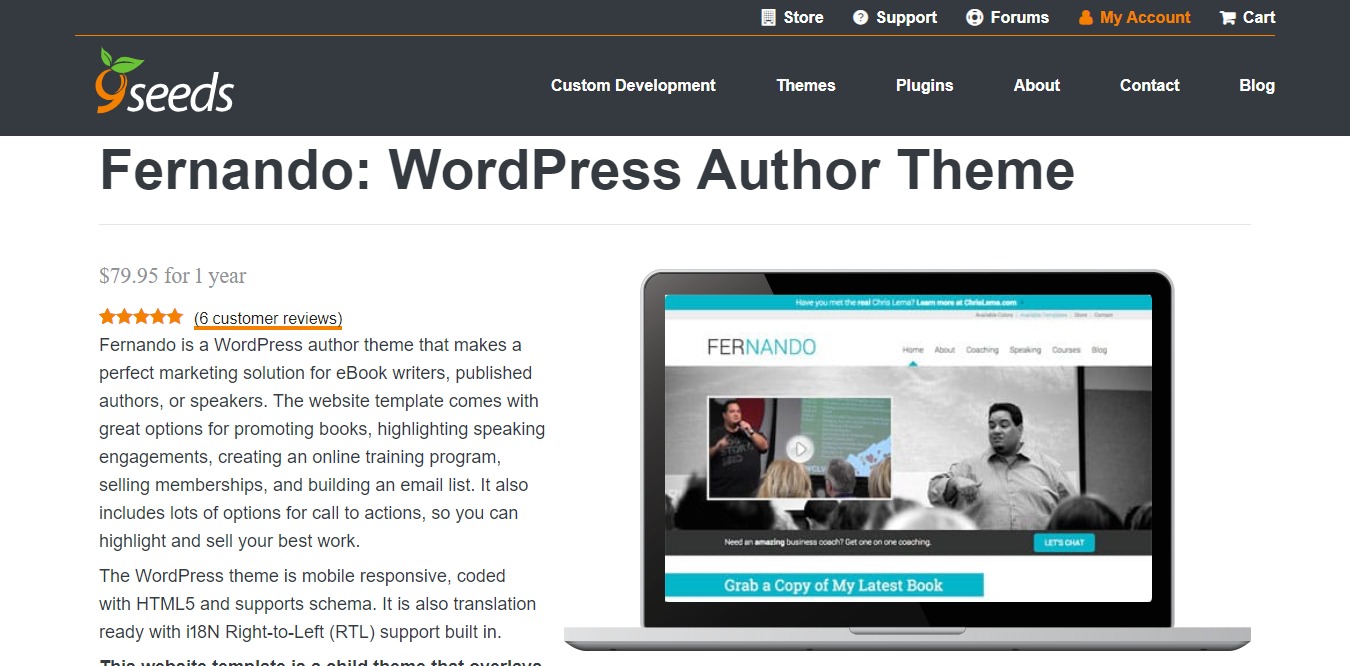 Fernando is a LearnDash compatible theme that is specifically built for authors, writers, and entrepreneurs. It's a theme made to help aspiring writer sell their books online while being able to offer online courses to their readers.
Fernando is developed by iThemesExchange.
Ease of Use
Fernando is a child theme that runs on the Genesis Framework, which makes it an extremely robust solution for being able to offer online courses.
While it's built primarily for authors and writers, it can be customized and used by almost anyone willing to be able to sell their online courses. Including speakers, entrepreneurs, and influencers. It also easily integrates seamlessly with a lot of the commonly used plugins and platforms such as.
A list of its powerful features include:
LearnDash LMS
iThemes Exchange Online Store
LearnDash LMS – iThemes Exchange
TubePress
Related posts
Email list builder
Templates
This theme, however, does not offer pre-built templates aside from what the theme provides at face value. You can, however, customize it to however you may like with the included customization features.
Pricing
The theme is priced at $79.95 for one year. And that does not include a license for the Genesis Framework, which you have to purchase yourself.
Support and Updates
While the theme page itself does not specifically mention being able to offer support for the theme, there is a way to request one from their website. They do require you to acknowledge that you have followed all the necessary support articles and documentation that is available.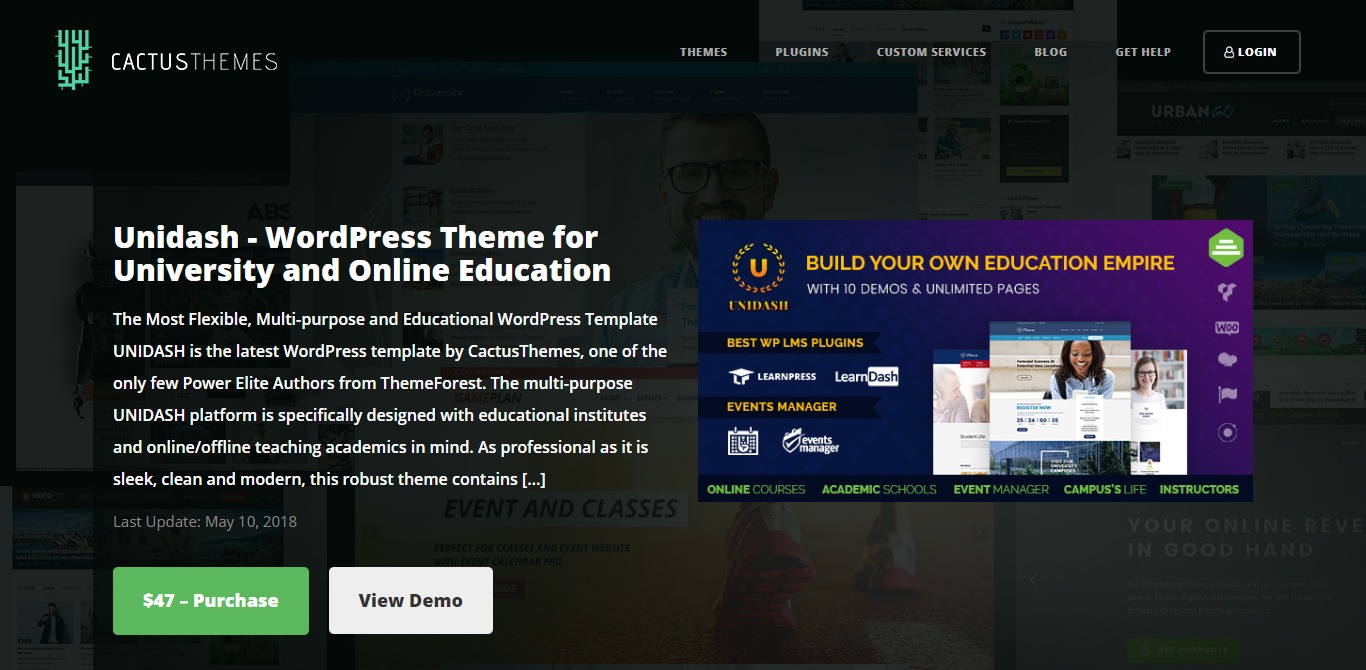 Unidash is one of the few themes on this list that is multipurpose. Meaning that not only can you use it for your eLearning site but also a lot more.
It easily integrates with LearnDash too, so whatever industry you're from, it's a breeze to be able to build the eLearning platform that suits your niche.
This theme is developed by CactusThemes
Ease of Use
UniDash uses the WPBakery page builder which is suitable for most beginners trying to manage their platforms. On top of that UniDash also offers a lot of shortcodes, widgets and customizations that would help you create the site that you need and want.
Being multi-purpose means that UniDash is ready for most anything that you want to create.
It also has dedicated areas for teachers, learners, and event managers. It has built-in styles for headers, contact forms, and even blog posts that make it extremely easy to be able to manage.
Templates
As mentioned above, Unidash offers an extensive list of headers, blog styles, and even complete demos. You don't have to worry and fuss about installing the demos too because they have a one-click-install feature.
So, you're just basically one click away from building your dream eLearning site.
Pricing
Unidash costs $47 with 6 months support which is also extendable.
Support and Updates
Support and updates are included in the price and are easy enough to get. You can get support directly from the theme developers' website via a form.
You're also guaranteed updates for the theme.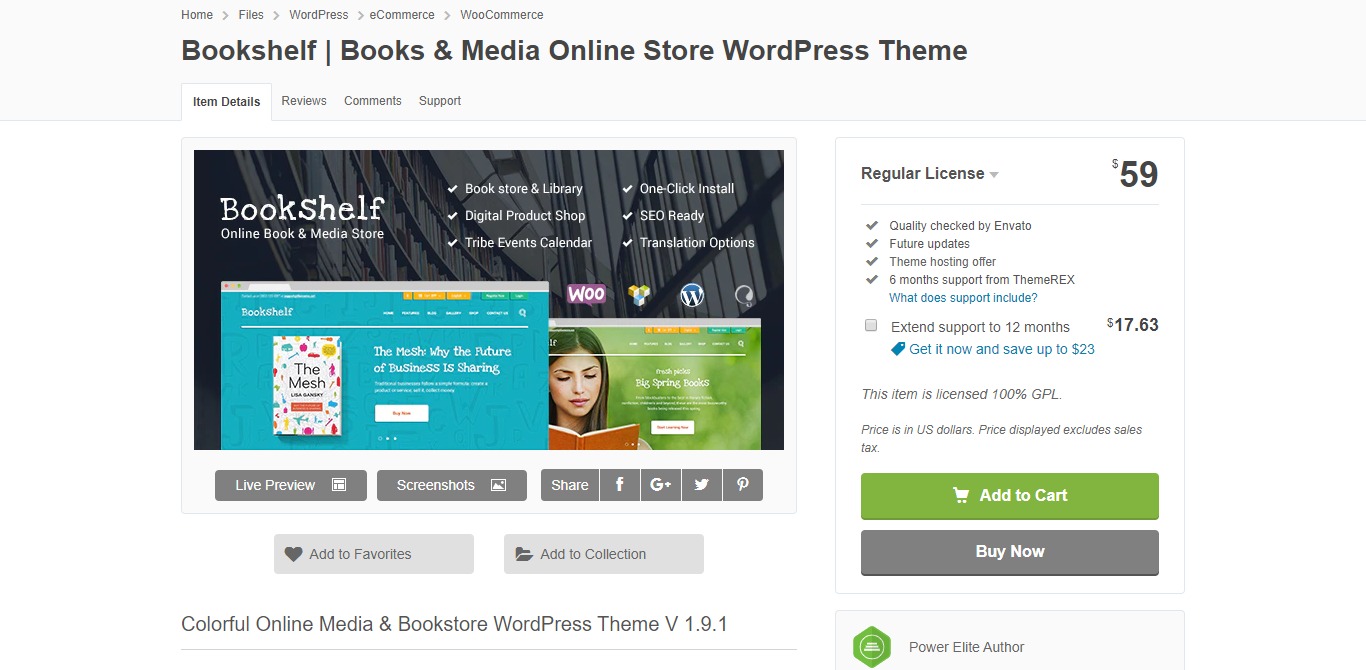 Bookshelf is a theme for all the book lovers out there. It's an online book library theme that also supports LearnDash so you can sell your online courses easily.
It's mainly built for selling books, ebooks, music, and even videos. But at the same time, you have the option to be able to make a profit from selling your courses.
Ease of Use
It uses the WPBakery page builder together with a wide array of built-in customization features to help you build your site. It's very easy to manage and make changes as much as you like.
It has multiple built-in screen layout, navigation, and slider options as well.
Some of it's highlighted features include:
Powerful Woocommerce media & book store
LearnDash advanced Courses, Lessons & Quizzes compatibility
Online layout style switcher
Events Management & Events Calendar
Amazing custom hover effects
Templates
There are also multiple templates available for you to import. From the headers, nav menus, and even blog styles. They have 5 full-page demos available for you to choose from as well.
Bookshelf also has one-click-import support.
Pricing
Bookshelf is available for $59 with 6 months support which is also extendable.
Support and Updates
Support and updates are also not a problem and are included in the purchase. You'll get continuous theme updates and support for any feature you may have problems with.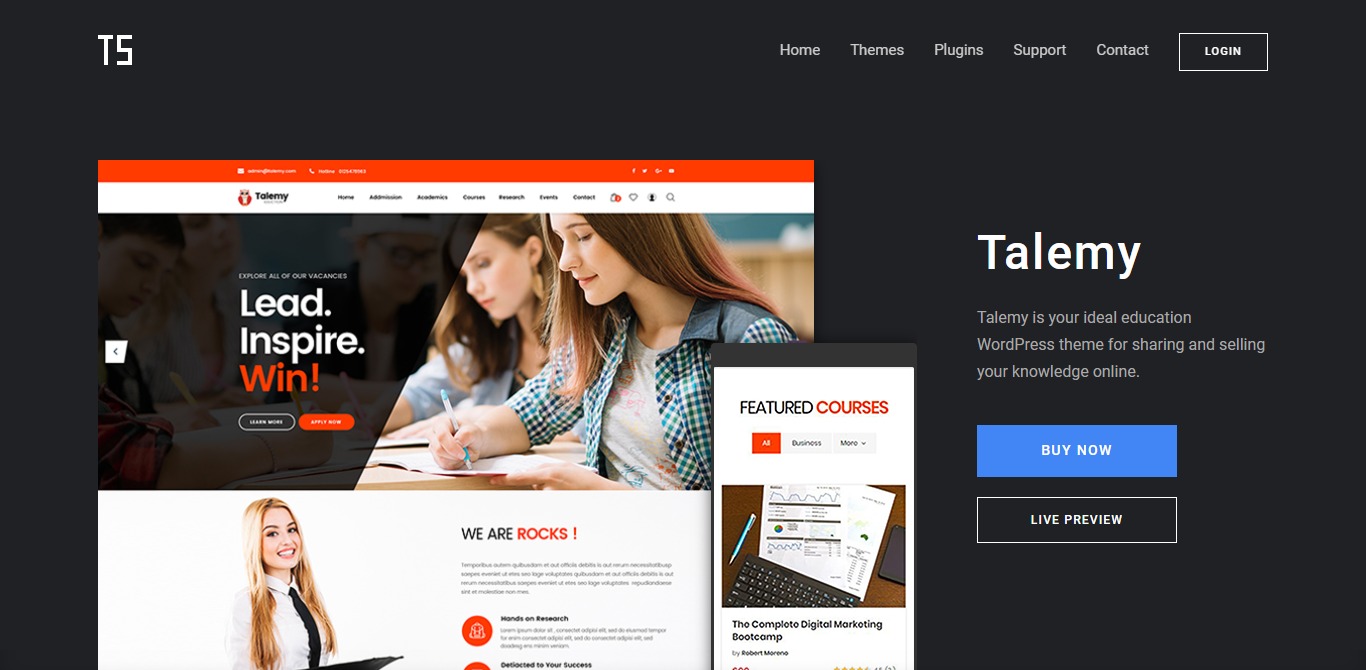 Talemy is a powerful LearnDash compatible theme that has a lot of its unique features and design. The best highlight being it's gorgeous templates and demos that are available for import.
It also has awesome features and support for integrations
It's developed by Theme-Spirit.
Ease of Use
Talemy comes pre-built with Elementor and 20+ custom widgets. It's extremely to use and be able to manage because of it. It also has tons of pre-built customizations options that will basically allow you to customize almost everything on your theme.
A few of their features list below:
Fully Responsive & Retina Ready
6 Uniquely Designed Demos
Powerful theme options on Live Customizer
One-Click Demo Import
Prebuilt Elementor Page Templates and Sections
20 + Custom Elementor widgets
8 Header Variations
5 Footer Variations
Widgetized Footer
Unlimited Sidebars
Unlimited Colors
Templates
Talemy also comes with 6 demos with one-click-import support. The demos on their own are beautifully designed and is worthy of their own praise.
Pricing
Talemy costs $59 with 6 months' support and is extendable.
Updates and Support:
Talemy has extensive documentation that is available in case you need any support on your theme. They also have outstanding support if you need anything that is not in their documentation.
Why Is Choosing the Right Theme So Important?
Obviously, you can just pick any theme and install LearnDash and go about building your site. That could work. RIght?
Technically, yes, but in order to fully take advantage of LearnDash's wonderful features, it is worth choosing and getting the right theme that would fit your use case.
You don't want to end up building everything up only to realize in the end that your theme doesn't support calendar integration, for example.
It's also a matter of being able to pick a design that you like to use and are comfortable with. It helps to get a theme that offers that amount of customization options.
LearnDash is pretty powerful on its own, but if you partner it with the perfect theme, you will not only succeed in your eLearning but also be happy in managing it.
In Conclusion
As you can see picking a theme for your new course doesn't have to be a headache.
For most use cases, we'd recommend Astra. It's blazingly fast, bloat-free and comes with ready-made demo sites you can use to get up and running quicker.
If you're looking for something with a more minimalist look then check out Academy Pro which is simple, clean and straightforward.
Finally, if you're looking for an all-singing, all-dancing then BuddyBoss is the LearnDash Theme you need!
We hope you found this guide helpful! What's your favorite LearnDash theme? Let us know in the comments below.