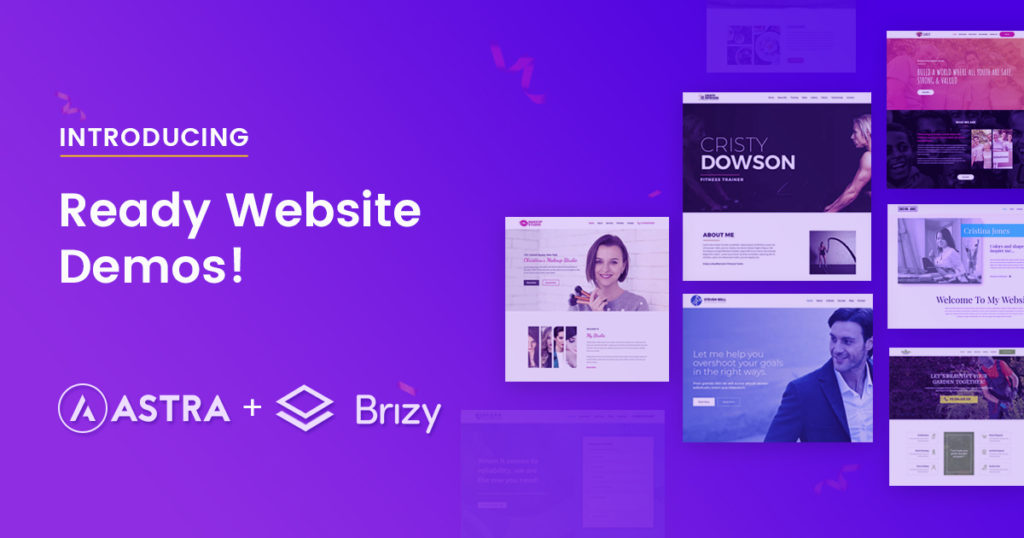 The Astra Starters Sites have already reduced website building time by 80% for hundreds and thousands of developers across the globe!
With a huge library of ready-to-use pre-made website demos that can be easily imported and tweaked to build a website in minutes, the Starter Templates is loved and is becoming a must-have tool for developers and designers building websites for clients. You can read more about the Starter Templates in the announcement blog post.
Until now, this was possible only with two popular page builders, viz. Elementor and Beaver Builder. We received a lot of requests to include websites made with Brizy. And… well, that's made possible!
Introducing Starter Templates created with the Brizy Page Builder!
We've always wanted to present all that you were looking for. And this time we are here along with the Brizy team to present you the same pixel-perfect ready-to-use full website demos that you can import and use to build websites with Brizy!
This is how you will find the starter templates built with Brizy under the specific page builder tab.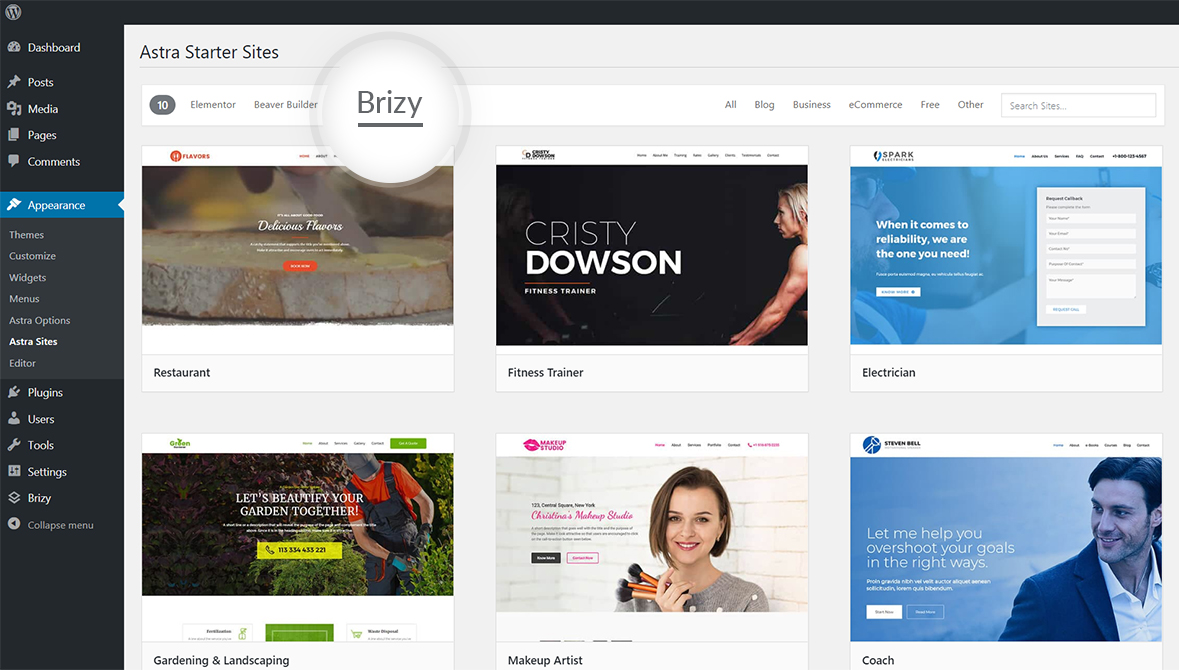 So, all who were waiting to get the Astra starter templates for Brizy, here is the time you can GO! GET THEM!
Frequently Asked Questions
Here are some questions that we've recently come across –
Will there be Ultimate Addons for Brizy?
At present, Brizy does not have a developer API. Therefore, we haven't planned the Ultimate Addons for Brizy as of yet. However, we will certainly consider it in the future when possible. 🙂
Do these Starter templates or ready-made website demos need Brizy Pro?
No! All the Starter Templates for Brizy are made using the free version of Brizy!
Will there be a Essential Bundle with Brizy Sites?
Since we haven't yet introduced the Ultimate Addons for Brizy, we won't have an Essential Bundle with Brizy. But our customers who have the Growth Bundle, get all page builder addons, sites made using all page builders, and access to plugins we will make in the future. So if you need Premium labeled sites we will create using Brizy, we recommend you to upgrade to the Growth Bundle plan.
In the Closing!
We take this opportunity to thank the Brizy team in taking an initiative to help us work closely with the page builder and present to you these websites and a theme that works flawlessly with Brizy too!
Not to forget, we do have a wonderful design team that comes up with creative stuff to build or test beautiful and responsive websites that you all are loving. It is indeed a pleasure to see their work being appreciated.
And like always, yes, we'll continue listening and coming back with many features you've been looking for.
Have any further queries apart from the ones mentioned above? Drop them in the comments below or simply write to us! 😉