With nearly a billion monthly users, Instagram is one of the most popular social media platforms in the world. It's also really fun to use, especially if you are a visually-oriented person that likes images and videos.
With a focus on photography and video, Instagram is also a great way to market your company and build your brand. But did you know that you can also connect your WooCommerce product catalog directly to your Instagram photos? It's a great way to showcase your products on Instagram and make it easy for your customers to buy them.
In this guide, we'll show you how to connect your WooCommerce store to Instagram and sell products to your followers. While the process does have a few steps, it's fairly straightforward and doesn't take a lot of time. Let's get started!
Why You Should Sell Your Products on Instagram
Before we delve into the details, let's first explore why you should sell your products on Instagram.
If you aren't a big user of social media, you may think that Instagram is only for photographers, social media influencers, or businesses focused on visual-oriented products like furniture.
However, Instagram is an effective way for all businesses to market their products, even those that aren't in the "traditional" industries found on Instagram like photography or fashion. It only takes a little creativity!
As an example, consider Iglo, a frozen food brand in Germany. They used Instagram to increase awareness of their fish products.
Here are some impressive Instagram business stats:
More than 200 million Instagram users visit a Business Profile every day and 90% of accounts follow a business
1/3 of the most viewed Instagram stories are from business
60% of people say they discover new products on Instagram
500+ million accounts use Instagram stories every day
As you might expect, most Instagram users access the app via their smartphones.
Mobile commerce is a rapidly growing market, especially during the global COVID crisis. According to Oberlo.com, mobile commerce sales are projected to reach $2.91 trillion in 2020 – 25.4 percent more than the $2.32 trillion it registered in 2019.
Needless to say, Instagram is a tremendous opportunity for selling your products!
What Is Instagram Shopping?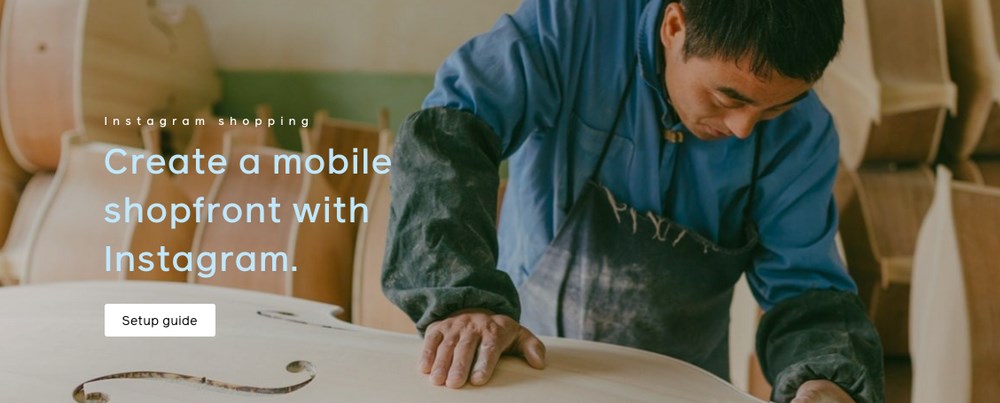 Instagram Shopping is a feature on Instagram that lets you tag and link your products directly within Instagram photos and Stories. Rather than simply linking to them in the post description, you can selectively highlight the products within a photo.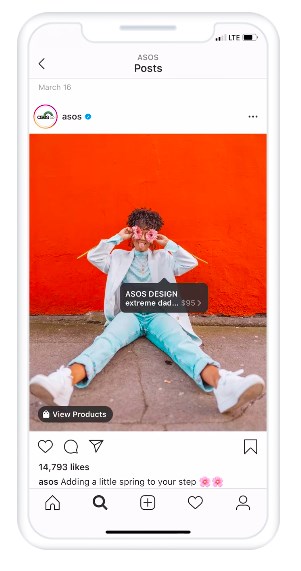 You can choose the specific area of the photo that contains the product, list its price, and then have the link go directly to your WooCommerce page. You can also display multiple products directly on your Instagram account, then have them link to your site.
As you can imagine, this is a very effective channel for selling your products, especially if they benefit from a visual presentation – clothing being displayed on a model, for example. Many companies are already using Instagram Shopping: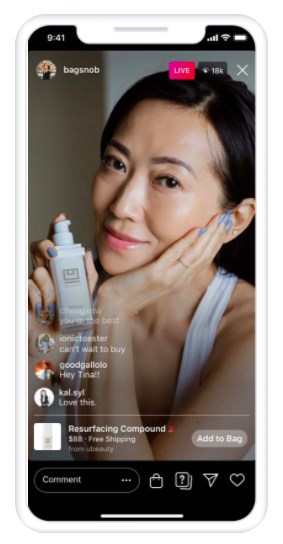 Requirements for Using Instagram Shopping
As of January 2021, there are a few requirements to use Instagram Shopping. These may change in the near future as Instagram expands its eCommerce platform.
What Is WooCommerce?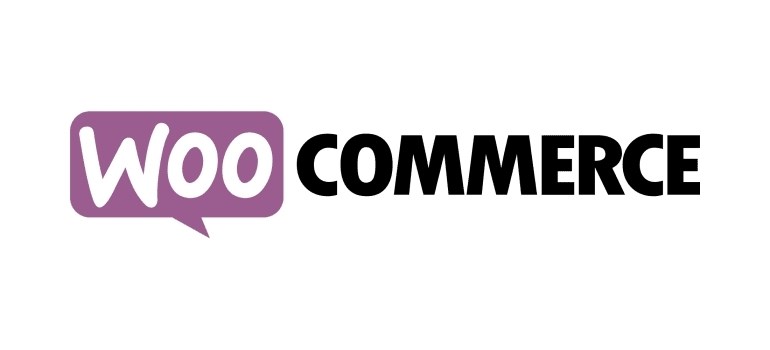 WooCommerce is the most popular eCommerce plugin for WordPress. With over 3 million active installations, it is used by pretty much every WordPress site that sells products on their site.
Some famous examples include Weber grills, Airstream travel trailers, and the All Blacks, the New Zealand national rugby team.
There are many different themes and add-on plugins available for WooCommerce, including our own Astra WooCommerce theme, which is designed to help boost your sales.
Learn more about integrating Astra with WooCommerce in this guide.
The combination of WooCommerce and Instagram is an extremely effective one as it allows you to link your photos directly to products on your site. This is really important for customers that like to see things before buying them.
How to Connect WooCommerce to Instagram
Ready to start selling your WooCommerce products on Instagram? While it can seem like a long process, it's actually quite straightforward, so don't worry if you feel overwhelmed!
The entire thing shouldn't take you more than an hour.
Let's get started!
Step 1: Set Up WooCommerce
If you don't already use WooCommerce, you'll first need to set it up on your WordPress website.
First, download the WooCommerce plugin from the WordPress Repository.
Then, install the plugin and activate it on your WordPress site.
Finally, follow the WooCommerce wizard to set up your store, payment method, and other settings.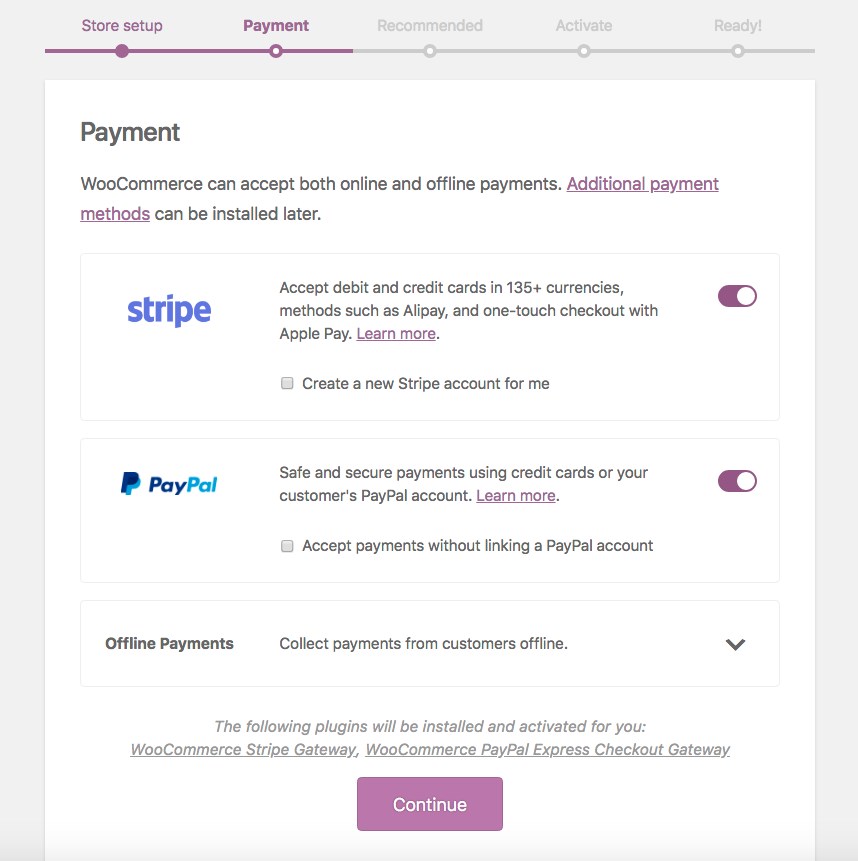 Since your choice of theme greatly affects the success of your store, be sure that your theme is optimized for eCommerce in general and WooCommerce in particular.
We recommend using our free Astra theme, which is designed specifically for WooCommerce users.
For a more in-depth look on setting up WooCommerce, follow the guide from our blog.
Step 2. Set up a Facebook Account and Create a Facebook Page for Your Business
Next, you'll need to create a Facebook account, then a page for your business. If you don't already have a Facebook account, you can create one by going to Facebook.com and filling out the form on the right-hand side.
Once you have an account, go to Facebook.com/create.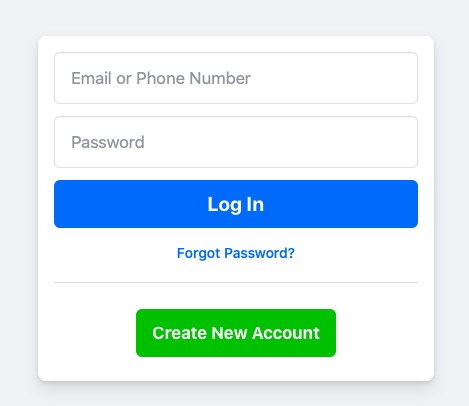 Select Business or Brand on the left-hand side. Fill out the information about your business and add photos. Don't forget anything!
Be sure to create your username, too. That's the part after the slash: facebook.com/YourUsername
Once you've finished setting up the page, press the Publish Page button. Now you've got a business page!
Step 3. Create a Business Manager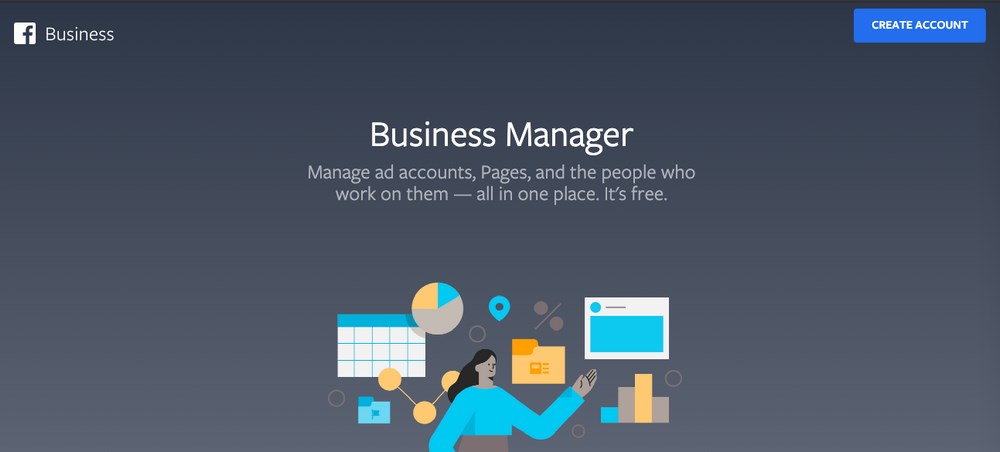 A Business Manager is simply a Facebook account that lets you manage your Facebook business pages and the people that work on them, all in one place. You'll also need this Business Manager account in order to assign the Catalog to it.
The Catalog is simply a listing of the items you want to sell or advertise on Facebook. We need to create one in order to connect Instagram to Facebook and ultimately to WooCommerce.
To create a Business Manager, go to business.facebook.com/overview and click Create Account, then follow the instructions.
Step 4: Create a Catalog
Now let's create a Catalog. First, go to Facebook.com/Commerce_Manager and select Get Started.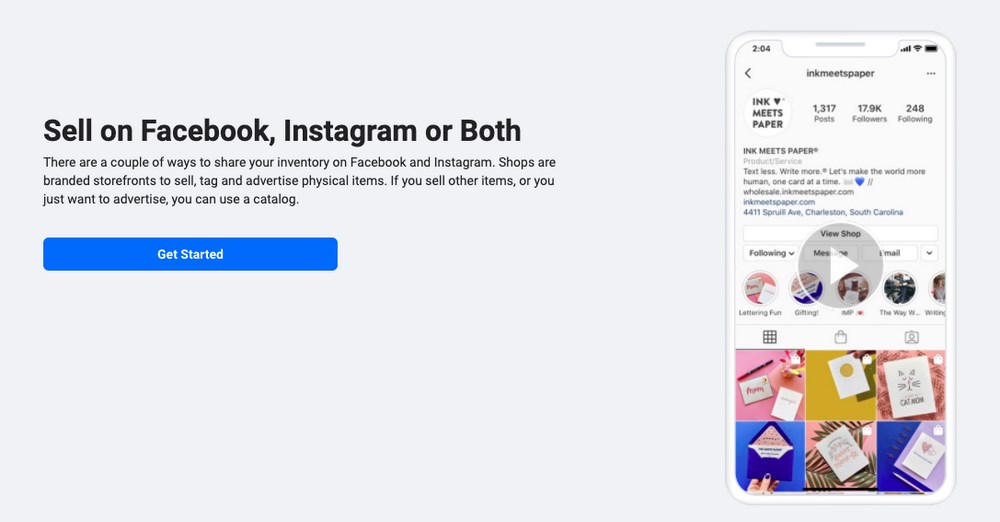 Then, choose Create a Catalog: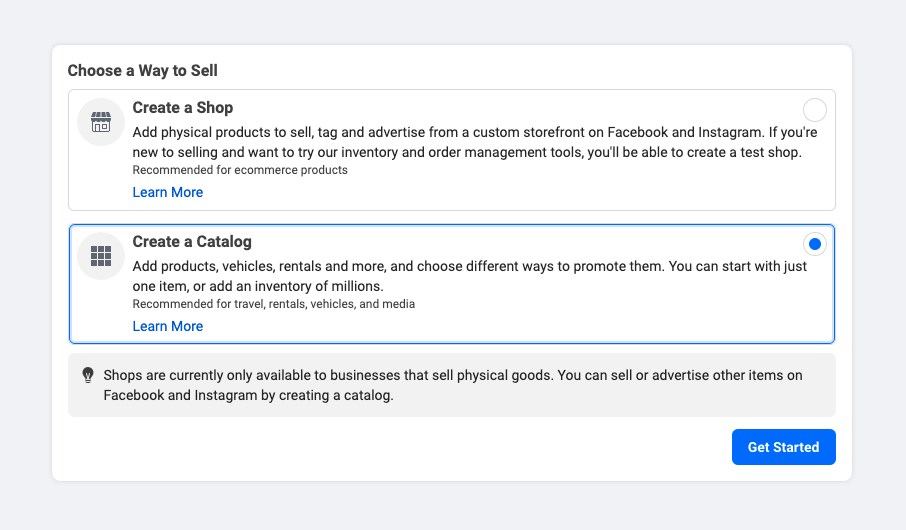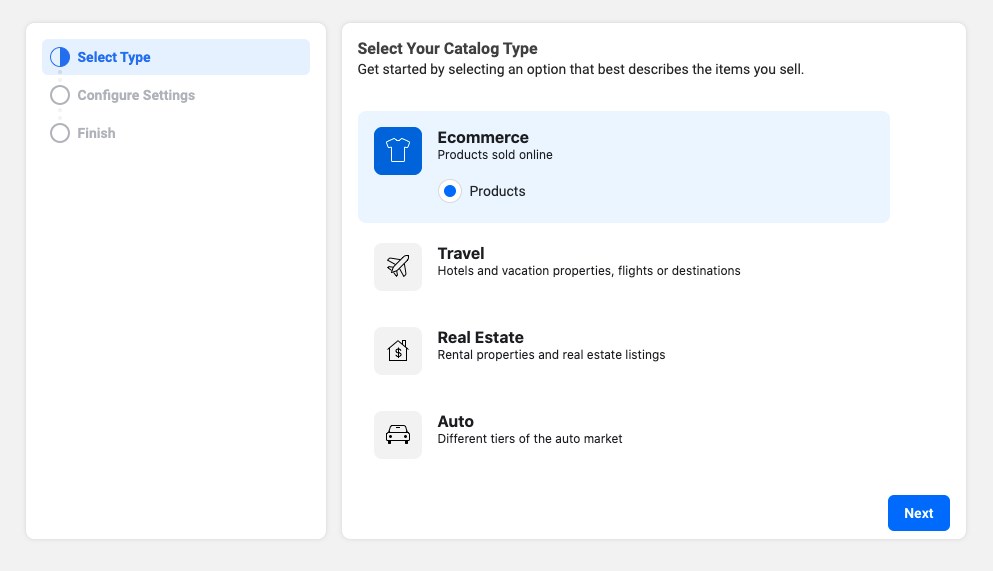 Under Upload Method, choose Connect Ecommerce Platform.
Select WooCommerce from the dropdown menu.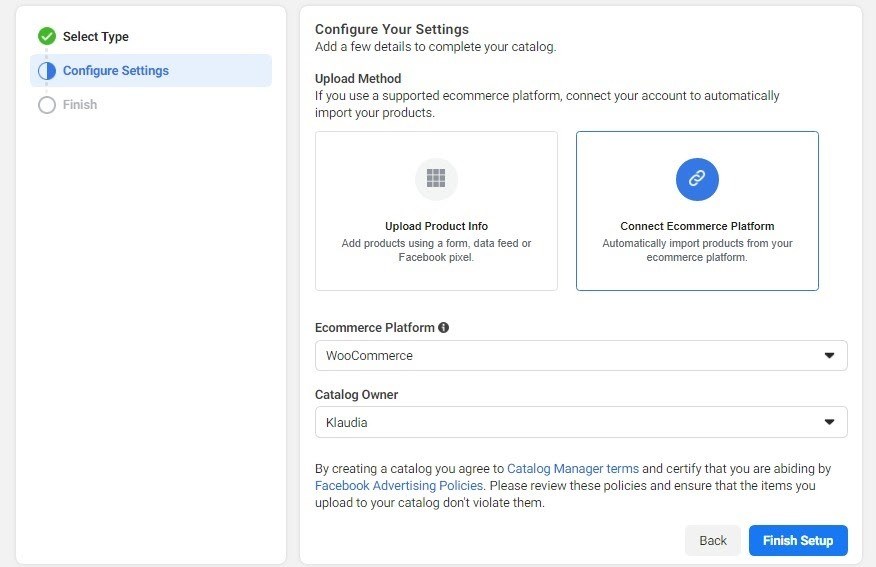 On the next step, download the plugin and follow the instructions to install the Facebook Pixel Extension on your WordPress site.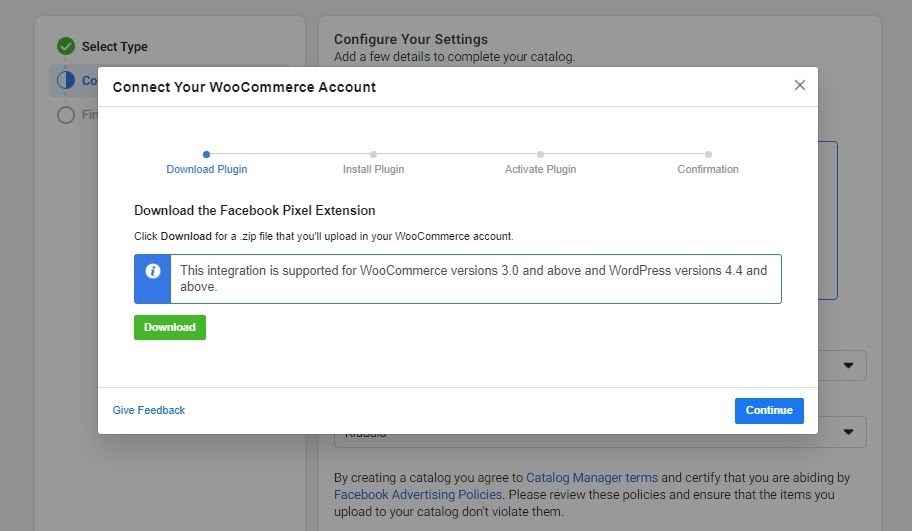 Download the plugin, install it on your WordPress site, then activate it. You can upload plugins by going to the Plugins page on your WordPress sidebar.
Once it's activated, go back to Facebook and click Continue until you reach the Confirmation page. You should receive a confirmation message.
If you've followed all of these instructions, your WooCommerce site should now be linked to your Facebook catalog.
Now we can move on to linking it up to Instagram!
Step 5: Open the Instagram App and Link Your Facebook Account
To continue the setup process, we need to open Instagram and go to the Settings panel. Select Accounts Center at the bottom of the page.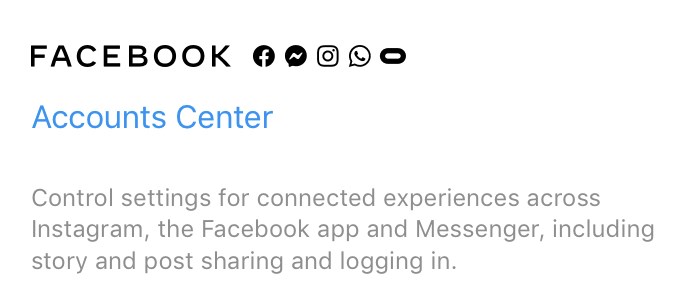 Step 6: Sign Up for Instagram Shopping
Now let's sign up for Instagram Shopping. Go back to the Settings panel, click on Business and then Set Up Instagram Shopping at the bottom of the screen.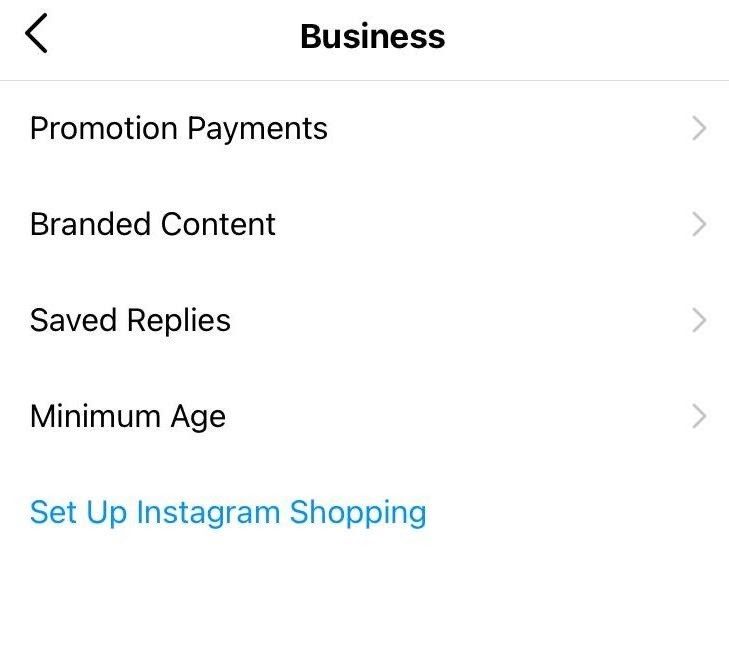 On the next screen, select Add a Shop to Your Profile: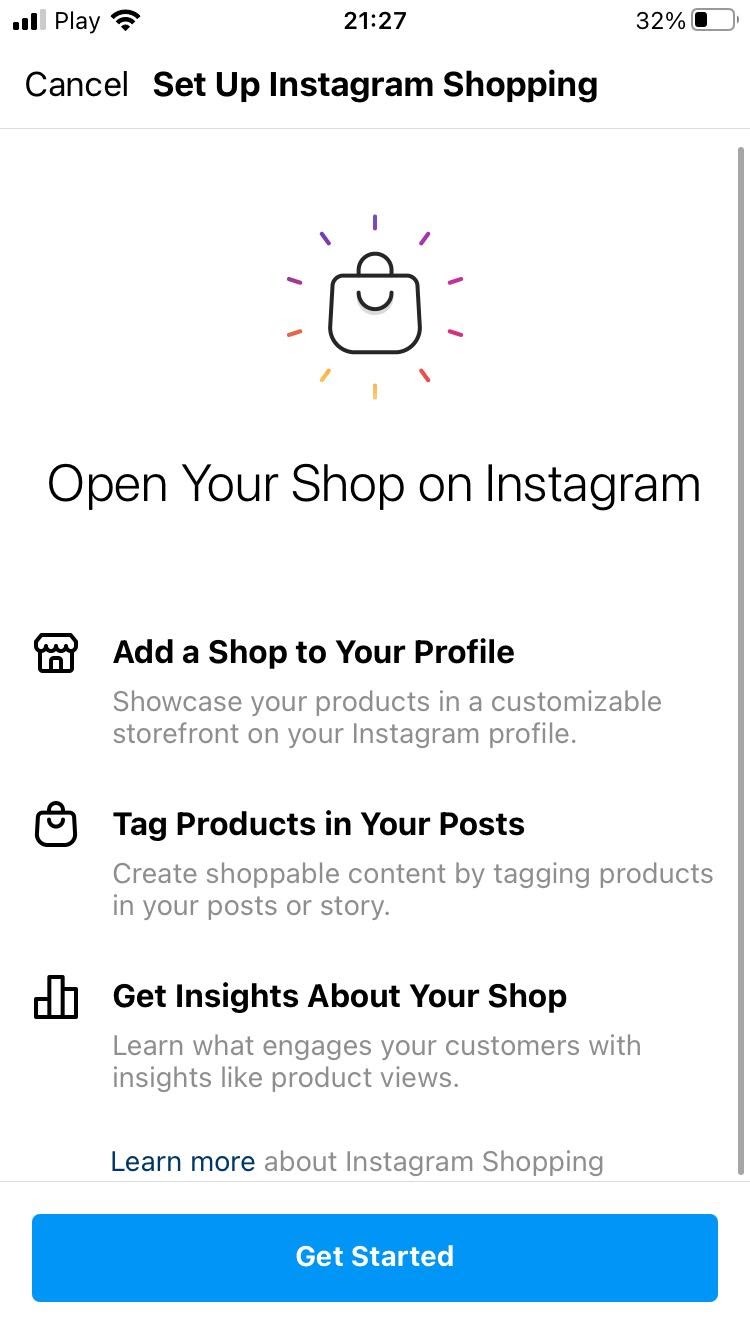 Follow the steps and submit all of your information. Facebook will take a few days to review your application before approving it.
While you're waiting, make sure that your products in WooCommerce are all set up correctly and have accurate information.
Step 7: Create an Instagram Post and Tag Your Products
Once your Instagram Shopping account has been approved, it's time to test it out!
Post a photo as you would normally, then click Tag Products. Tap on the area of the photo that has the product, search for it, then choose it from your catalog. Make sure that the photo clearly displays the product.
Voila! You've connected your WooCommerce product catalog to Instagram!
Now, anyone can tap your photo and see all of the products in it.
Don't add too many products to a photo, as it can quickly become difficult to navigate. Instead, add only two or three per photo.
You can also create a gallery, which is great for displaying multiple images or photos in a single post. If you're a fashion company, for example, you can add multiple photos to display all of the different items the model is wearing.
If you have a lot of products in your WooCommerce catalog, post them in separate photos. Opinions vary, but most social media experts recommend posting at least two or three photos per day.
Conclusion
Nice job! We just walked through the entire process of connecting your WooCommerce shop to your Instagram account. You can now access the nearly billion users that use the platform every month.
I hope you're ready to discover the awesome benefits of selling your products on Instagram!
Do you sell your WooCommerce products on Instagram? Share your store (and your story) in the comments! What challenges did you face at first? And what content can we create that helps you face them?