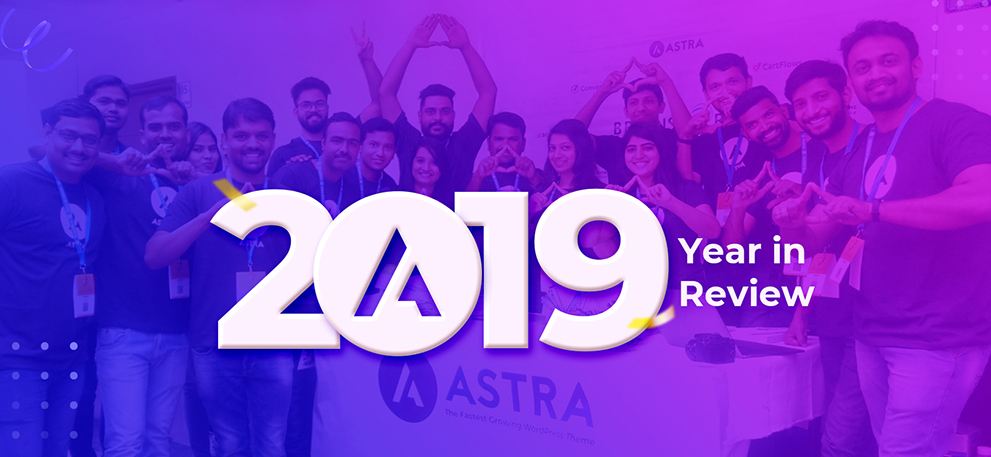 2019 has been an incredible year here at Astra with hard work and dedication by everyone on the team, we've achieved a lot! Of course, none of this would be possible without you, our users who every day show us appreciation and push us to always innovate and do better with every release.
We approached 2019 with a unique mission. To cut the development time of websites in half. No small feat, we're sure you'll agree! For the previous year, we focused all our efforts on optimizing Astra and our range of other products to perform better than ever and integrate new features and functionality continuously.
All to deliver the best website development, design, and building experience for our users, along with setting new industry standards.
This was a big one! A colossal release packed full of features, improvements, and made performance even better than before. Here are a few highlights:
Cut the Customizer loading speed from 3.83 seconds to 694 milliseconds. A tremendous performance improvement of 81.87%!

Global Options introduced the ability to make sitewide changes to numerous areas of your website in just a few clicks. 

A Simpler Layout tab. We knew our customers wanted to create websites faster, so we simplified our customizer interface while maintaining the entire feature set, making it easier than ever to build your website!
Want to learn more? Have a read of the Astra 2.0 announcement post.
We took a step back and kept thinking, why do breadcrumbs in WordPress have to be so complicated? With most themes, you often needed to use a third-party plugin, create a child theme, add custom code, and a whole heap of steps! So we set to work and built out best-in-class breadcrumb support all available directly in Astra and configurable in just a few clicks. Interested to hear more about our breadcrumb endeavors?
Check out the blog post.
Yes, yes, you did read that correctly. Once again, in WordPress, AMP was way too complicated. Because of this, we tasked our expert development team to come up with native AMP support out of the box for Astra. Needless to say, they absolutely knocked it out of the park! AMP (By Google) is crucial for ranking your website well in mobile search, and with Astra, it's easier than ever. Want to learn more about AMP? And how to use it? Check out our announcement post.
Hot off the heels of Astra 2.0 came Astra 2.1 with even more performance improvements and additional functionality. Primarily the main addition was clean HTML — this was huge! Before Astra 2.1, when you made changes in the Customizer dynamic, CSS was generated, and this was then added to the source code of every page. Astra 2.1 introduced a single style sheet with no inline styles! Allowing you to enable an option in the customizer to move Astra generated CSS into a stylesheet. Making your website even faster than before.
Have a read and see how excited we are about this in our announcement post.
If you aren't already aware, LearnDash is one of the most popular learning management systems (LMS) for WordPress. In 2019 we introduced full LearnDash 3.0 support! Allowing you to create a beautiful LMS website in a matter of hours, rather than a matter of days. Interested to learn more about our LearnDash integration and how it works?
Check out our blog post.
A massive release, WordPress 5.3, introduced a raft of changes to the Theme Customizer and Gutenberg editor. Of course, we took this in our stride and made sure Astra was fully compatible with WordPress 5.3 before it launched. This also included incorporating the new layout block for Gutenberg, which allows you to build your entire website with Astra and Gutenberg. To show what's possible, we even created a range of installable demos using both tools. Want to learn about everything we did for WordPress 5.3 compatibility, check out our blog post.
And of course, none of this would be possible without our development, design, testing, and support team. Here are their stats for the year.
Our support team was yet again fantastic. They resolved over 98,000 support tickets and wrote in excess of 250 pieces of documentation.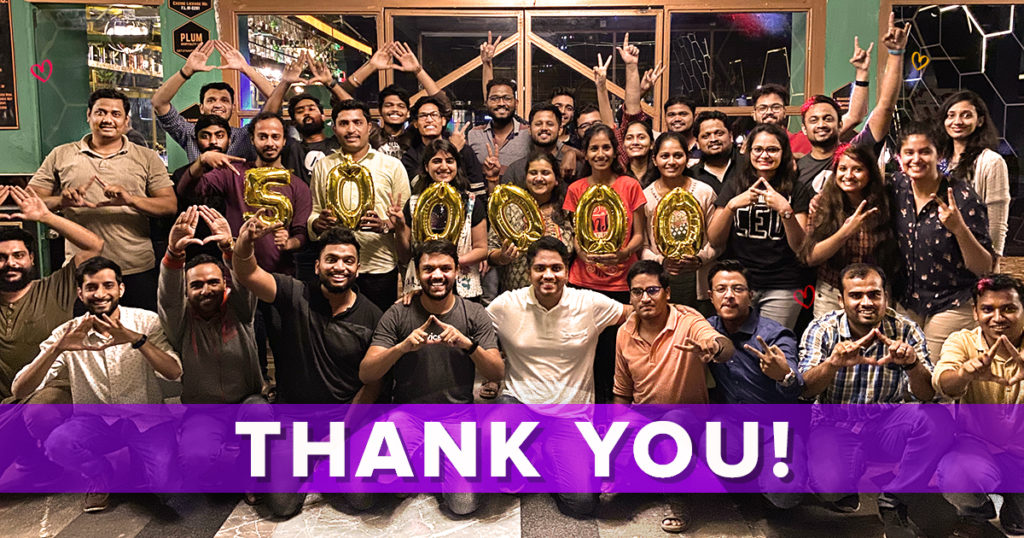 Just a few short months ago, we surpassed over 500,00 active installs thanks to your continued support. And in early January we passed 600,000 active installs!
Over 1,200 websites start using Astra each day, which is astounding, and we're proud and honored that so many of you choose Astra to power your WordPress website.
3,000 Stars in the Night sky 🤩
Here at Astra, a strong part of our DNA is giving back to the broader community of WordPress users, entrepreneurs, business owners, startups, marketers, and everyone in between.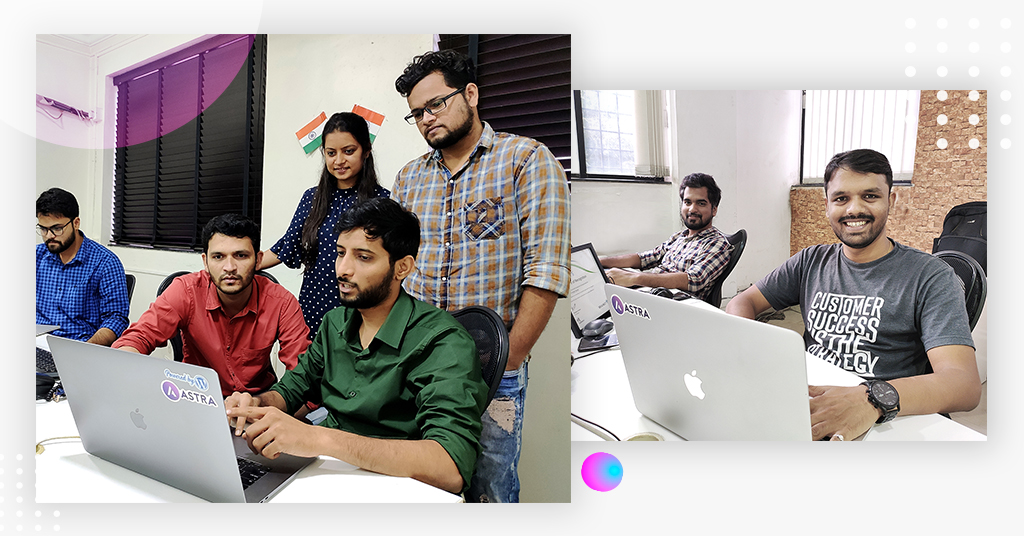 In 2019 we laid the foundations of helping even more people in 2020!
One of the most exciting developments of the year was the launch of SkillJet — SkillJet is an online academy that offers premium courses taught by Industry experts, including people like Chris Lema.
SkillJet is free for Astra Pro Agency customers. We're thrilled with the initial reception and can't wait to see how new courses are received throughout the years. Guides, Tutorials & Reviews.
Our content team published 36 pieces of content this year on our blog. And we're pleased to announce that we're stepping up our content efforts.
We're doubling down on content and education, have hired a head of content and education, and have the goal of publishing a minimum of 5 new high-quality, in-depth pieces each and every week.
Expect to see this come to fruition within the upcoming couple of months! We can't wait to share with you the excellent content we have planned.
As we mentioned, we're committed to giving back, and one of the ways we do this is by releasing free open source plugins on WordPress.org.
2019 was a massive year for new plugin releases, including the following:
Most of these plugins were developed for our own use, and we wanted to give back to the community and open source them in the hope they're useful to others.
It wasn't just new plugins though, our agency plugins received a lot of love from our entire team as well. Here are the highlights from each plugin! 
We're proud to have sponsored various WordCamps in 2019 and attended a bunch of them with our team, here are our highlights.
We sponsored WordCamp Pune at the "Editor" level as a silver sponsor. Here are some of our team. 🙂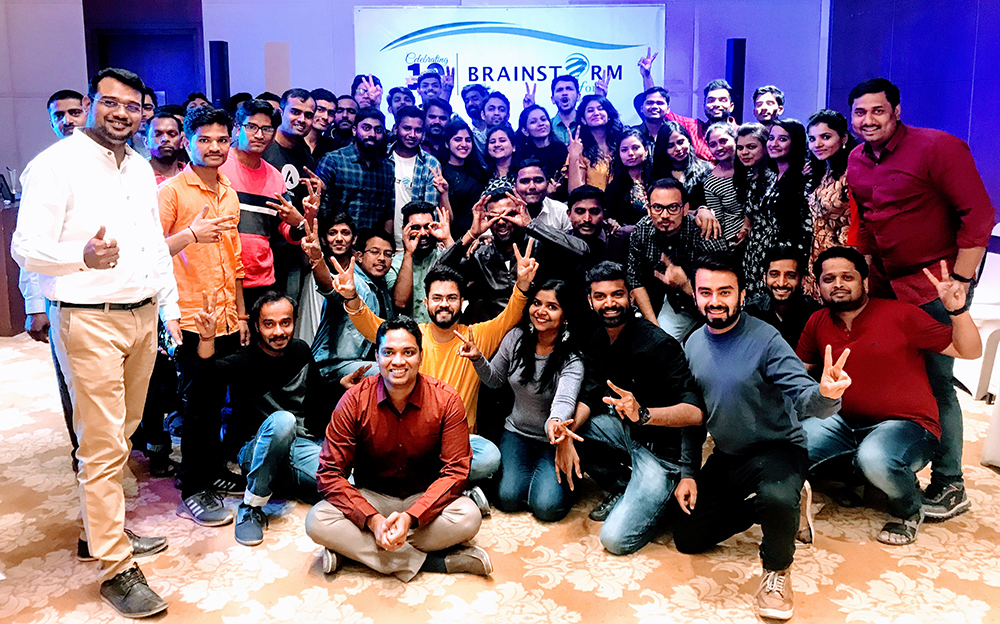 Multiple new team members joined and we're now a team of 57 creative individuals, from developers, designers, support staff, marketers, QA, content experts and everything in-between.
We're excited to continue working with you all, our incredible team, you our dedicated users and customers, and expanding Astra onwards and upwards.
In 2020 we'll be bringing you Starter Templates 2.0. More performance improvements, a range of new starter templates, brand-new and exclusive SkillJet courses, and much… much… more.
Once again, thank you to everyone for their continued faith in Astra, without you, it wouldn't be possible.