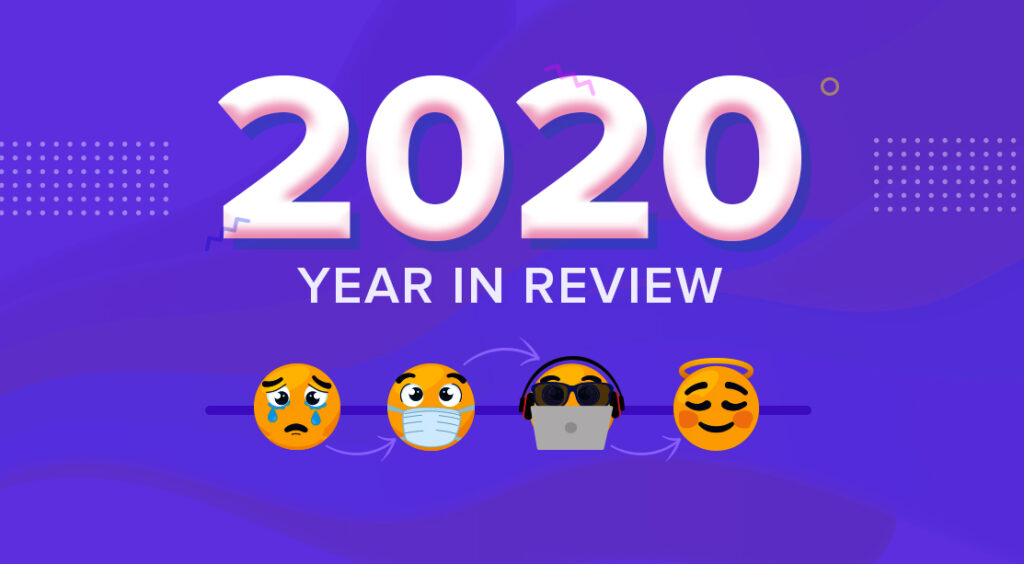 2020… what a year it has been indeed! Not just for us at Astra, but for the entire humanity. You couldn't ignore the latest buzzwords such as a pandemic, lockdown, and social distancing.
And while we made adjustments to embark on this 'new norm' of staying safe and working remotely, we marched along on our journey to deliver the best to our customers, partners, and the community, as promised.
However tough 2020 has been, our most significant achievement, with your continued support, is that we conquered mount 1 Million! (yes, we made that up – the Mount bit)
But on a more serious note, Astra reached the coveted 1 Million+ active installs in 2020. A very proud moment for all of us here at Brainstorm Force!
We also received 4700+ five-star ratings. We are ever so grateful for the continued love, encouragement, and support from the community. Thank you!
This only motivates us to continue on our journey to serve you. And we're excited to share with you a plethora of initiatives lined up in 2021.
Before that, let's recap what we accomplished in 2020.
New heading options with more design flexibility in Astra 2.2
Astra 2.2 brought in a broader impact on the way you apply the customizer settings.
This version introduced global heading colors, heading typography, new button options, and much more.
With this, customizing got more comfortable, and users got more control over the global settings.
Check How Designing Websites Just Got Easier with Astra 2.2!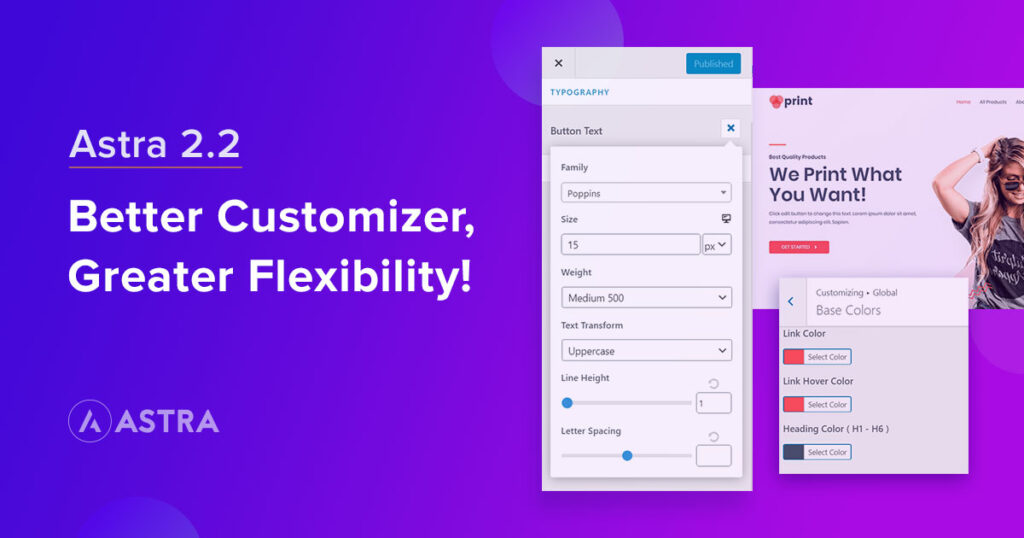 Design with block editor and place anywhere with Astra
Astra offers great flexibility while working with block editor. Astra Pro's Custom Layouts addon has made it compatible with the block editor. This allows you to design any kind of section with a block editor and place it on the website at various locations with Custom Layouts.
Custom Layouts is one of the most popular Astra Pro features that our users love. It provides excellent design flexibility and freedom by allowing you to put sections on numerous locations on the website.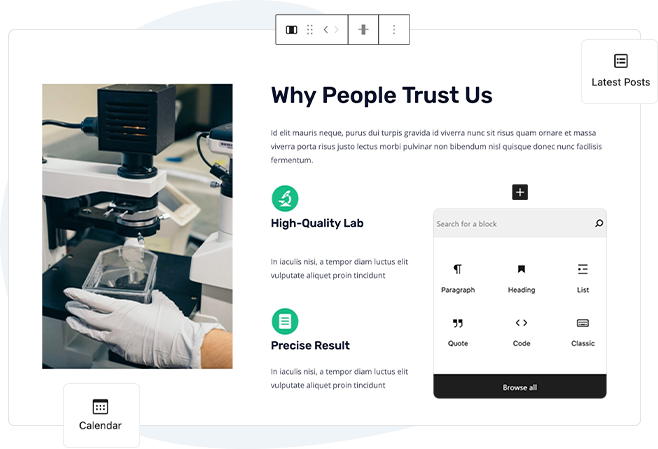 Customizer load time cut down by half in Astra 2.6
Astra customizer is already light and fast. But taking a step further we made it even quicker.
Version 2.6 enhanced the customizer loading time from 2.87 Seconds to 1 Second – that's more than a 50% reduction in time.
This means customizing your website through a customizer just got faster.
This version also improved default designs with the block editor. Any section designed with a block editor will look beautiful in Astra. You don't have to make an extra effort.
Astra 2.6 also added new and sleek color controls in the customizer.
Double Your Customizer Speed and More With the New Astra 2.6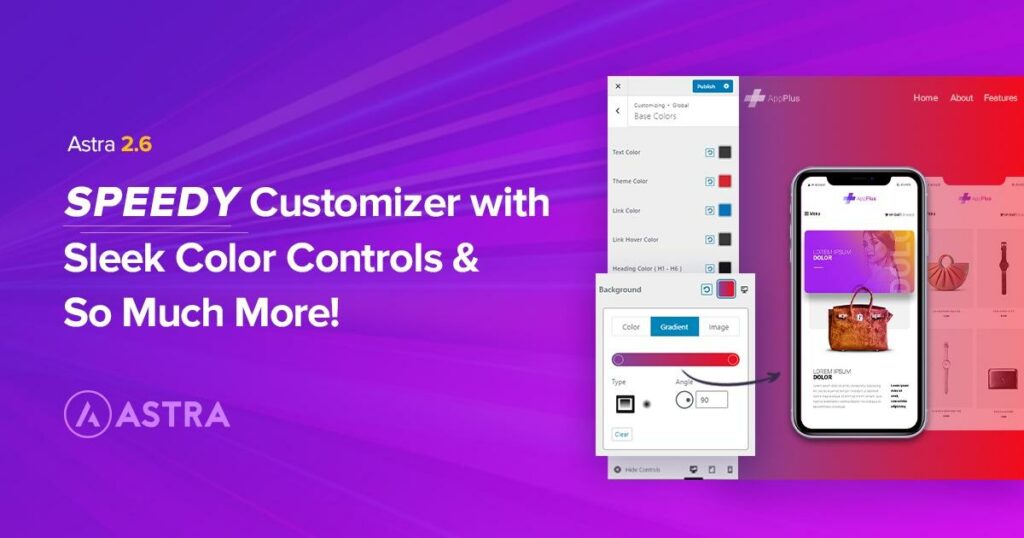 Header Footer Builder is a groundbreaking feature that opens all-new design possibilities and gives you the freedom to customize your website's navigation with a theme.
Header Footer builder is a new visual drag-n-drop builder added to the Astra customizer.
With this, you can add various elements to your header and footer easily, manage their position with a simple drag-drop, and do much more.
A beta version was released at the end of 2020 that created a buzz across the community.
Read about this Simplest Header Footer Builder with Astra!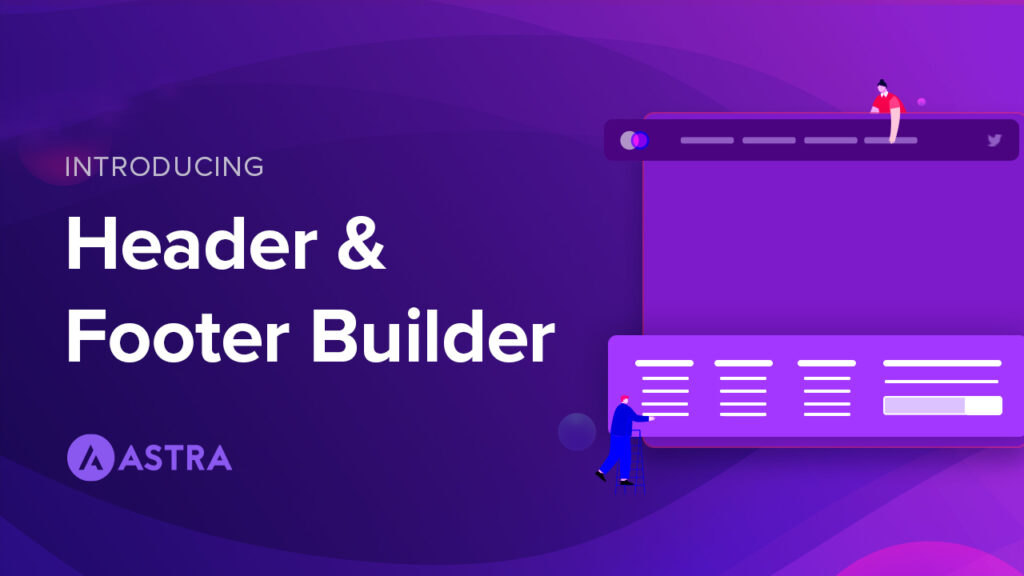 You Made Astra the Most Loved and Only Non-Default Theme on WordPress.org With 1 Million Installs
That's right!
In September 2020, Astra crossed 1 Million+ active installations on the WordPress repository. That means more than a million website owners and webmasters entrusted Astra over all the other options in the WordPress repository.
This is the highest number any non-default theme on WordPress.org has achieved. Drumrolls, please!
We express our sincere gratitude to every member of the Astra community for supporting us. A HUGE thank you to everyone who made this possible!
Astra also received more than 4700 five star reviews on WordPress.org and more than 900 five stars on Trustpilot.

We Bring You More Designs and Templates
Astra offers a library of professionally designed pixel-perfect websites with the Starter Templates plugin. This plugin gives access to 280+ pre-made full website templates and individual pages for popular page builders like Elementor, Beaver Builder, Brizy, and the WordPress default editor Gutenberg.
Starter Templates are popular among the community as your website goes live in a matter of minutes. All you need to do is select the starter template of your choice and import it. Barring the actual images and content, your website is up and running just like that.
It has 900,000+ active installs and is increasing every day. Users are loving the template designs and the ease of working with them.
Back in 2020, Starter Templates was revised with an enhanced version and many more new templates.
Starter Templates extensive library contains templates for various businesses like online store, health coach, digital marketing, furniture store, food and bars, music, art, healthcare, medical, real estate, cars, bikes, school, kindergarten, pets, hair salon, package, and movers, books, travel, church, yoga and much much more.

Enhanced UI & UX: So that you can choose the perfect template easily, mark it as your favorite and explore more templates quickly.
Ability to import single pages: This gives you the ability to mix and match different pages from different site templates. You can import them to create a new unique design.
Automatically inherit theme customizer settings: So that you don't need to invest your time in applying the same customizer settings to imported pages.
Pages and blocks import option for Elementor editor: Get entire Starter Templates library access right inside the Elementor editor.
Free and unlimited images search right inside WordPress
Read more about how website building got easier with Starter Templates 2.0!
Not just this, we also revamped the designs of many of our starter templates, giving them a fresh and sleek look. We ensure that each of our templates can be used for any business as well as match modern design trends.
Here are some numbers that you will love
119 new awesome templates added
Importing template made 60% faster with version 2.0
Only 3 clicks required to import any template
100+ templates redesigned with a fresh look
50+ Gutenberg-dedicated templates added to the library
2 new designers on-boarded
We continue in our effort to help users learn more about not just Astra but also WordPress, business growth, acquiring clients, and much more.
We stand firm in our commitment to not just sell software and products, but most importantly, to educate our audience on the various aspects of creating websites and scaling them.
To fulfill our commitment, we wrote more than 130+ blog posts on the Astra website and published many videos on the YouTube channel that helped users take their websites to the next level.
You can find useful content on our blog related to,
Various plugin reviews
Guides and tutorials
Web design articles
Tips on business growth
Inspirational stories
SkillJet Courses
SkillJet is our e-learning platform. We've worked with industry-leading experts to build a range of courses on digital marketing, WordPress, design and development, SEO, and more.
Why SkillJet? We understand the challenges of building a business from scratch. It took us years to develop from the agency we were into one of the most successful companies in the WordPress space with over 2 million users around the globe.
The most crucial aspect of any business online or offline is advice and mentorship. While professional athletes have coaches, successful businesses rely on advisers and independent consultants to help them.
That's why we've worked hard to put together SkillJet. A platform where we have only the trusted and leading industry experts to teach, help you grow, and scale your business.
Here is 2020's most viewed FREE SkillJet course
And here is the most loved premium courses
SkillJet course library is continuously growing and we are working with experts to add more and more courses.

We Supported Our Customers
Providing continuous support was the most significant aspect last year considering all the changes to our working environment. We always prioritize our support and recognize this as an important pillar towards building a stronger organization. 
In 2020, as the situation changed, we embraced ourselves for a flood of tickets and online assistance. We expanded our team and onboarded 11 new support experts. Many of the members joined us from different parts of the globe. We added 90+ documents to help customers resolve their queries at the initial stage.
Our stellar support team was working 24*7 to provide outstanding and round the clock assistance to our customers.
We received 82% positive ratings in the year 2020. But that's not all! 
Here are a few additional statistics:
The team answered 159,547 tickets. This was a 25% increase from the previous year's total ticket count.

50% of these were answered in just 4 months after the lockdown. 

32,829 tickets were resolved on the first reply. How awesome is that!

Ticket resolution time was reduced by 36%.

We helped over 50,530 customers and sent over 437 replies every day. 
We take pride in delivering the best product support and our customers are testimony to that. Here are some of the happy reviews from customers who contacted our support team and had a satisfying experience.

For the past few years, we have been contributing to the WordPress community through WordCamps, free resources, contributions in WordPress core, and so on.
In 2020, while the situation was changing we still found ways to continue the efforts with our contribution.
WordPress 5.6 was released on the 8th of December 2020. It brought in a handful of new updates, new features, and the new Twenty Twenty-One theme.
WordPress 5.6 released by an all-women squad.
Many of our team members contributed to this release. We are proud to mention that Monika Rao, who is working on our flagship product, the Astra Theme, was a test lead for the WordPress 5.6 release.

We believe learning never ends. We are eager to learn new trends and upgrade our skills. We invested in our team and everything they need to gain more knowledge.
23 new members from different countries joined the company. We're now a team of 74 creative individuals, from developers, designers, support staff, marketers, QA, content experts, and everything in-between.
We have team members working with us from the UK, Russia, Philippines, Poland, Indonesia, Bangladesh, Turkey, Serbia, Kenya, Sri Lanka in different time zones. While dealing with the COVID-19 pandemic and working remotely, we also enjoyed casual fun online-meets 🙂
At the start of 2020, we turned 11 years. We held a big birthday bash to celebrate this. Here are some crazy moments we from our celebration –
In this tough situation, we realized the importance of fitness. Team members are the building block of any successful business. To keep our team members motivated and workout regularly, we started an internal chat group.
We had discussions about a healthy lifestyle, information on exercise, a good diet, and other healthcare tips. We also had some challenges where team members participated online and had a lot of fun. Well, few lucky winners got surprise gifts sent to their homes.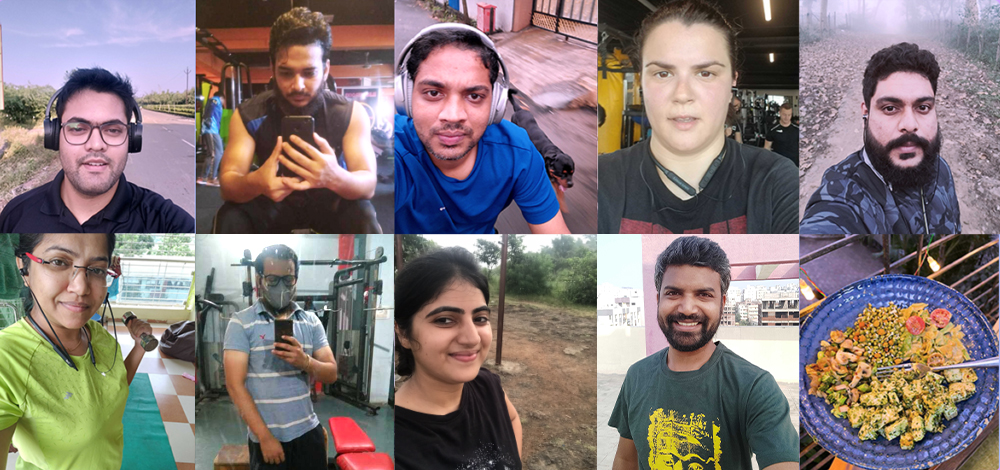 Supporting Communities During The COVID Pandemic
We understand 2020 has been tough for all of us. Since early 2020, most of us have been working remotely with a huge sense of uncertainty about the future. Livelihoods have been affected. Jobs have been lost.
We at Astra have gone the extra mile in helping our team members, clients, and those in need as much as we can.
We are donating Happiness-kits as part of the mid-day meal program. It helped to provide a meal or packed grocery kits to the marginalized and low-income segment of the society comprising of daily wage workers, migrant laborers, construction site workers, and needy people at old age homes and night shelters.
You could be a part of this greater cause and donate a Happiness Kit.
Apart from this, we continue serving 100 lunch meals daily to school children.
To help our community we contributed and spread little smiles.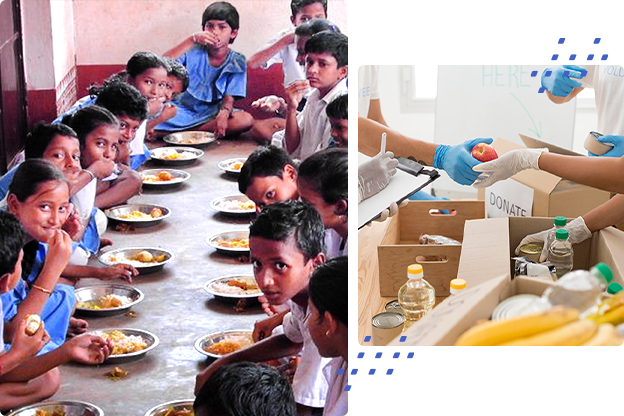 Astra in 2021 and Beyond!
We're excited to continue working with you all – our incredible team, our dedicated users, and customers, and expand Astra onwards and upwards.
In 2021, we bring you Astra 3.0 – our biggest update yet! It will provide you a powerful Header Footer builder and more performance improvements.
Besides, this new year will bring you,
Many New features in Astra: We will extend header footer builder functionality further with more control over elements. You will also see SVG icons, a new color palette, a language switcher, and many more features.
Deeper Astra – WooCommerce integration: Astra is the best WooCommerce compatible theme. In forthcoming updates, you will see more controls over your Woo store.
Range of new Starter Templates: The Starter Templates library is continuously growing and we are working on adding more professional templates to it.
More educators on SkillJet with exclusive courses: SkillJet will continue to be even more valuable for our customers in the upcoming year. We will partner with more WordPress and Business experts who will share their valuable knowledge to help you grow your WordPress business.
Growing Support team: We are expanding our phenomenal support team so that we can help our customers succeed even better.
and much… much… more.
Once again, we thank every one of you for your continued support and faith in Astra, without which all this wouldn't have been possible.
We wish you all a happy and successful 2021!