Have you found yourself in a position where you update a theme or plugin only to find your WordPress website suddenly stops working or you can't log in to the dashboard to fix things?
Or have you ever wanted to test new things on a website without touching the live site by changing the theme or try new plugins? Or simply share your website access to a support team without the risk of losing your live website?
To help reduce the risk and the fear of losing a website, it is recommended to create a staging site and test everything before rolling updates to your live website.
In this article we'll learn to create a staging site in 5 easy steps for FREE!
But, before that, you need to install the WP Staging plugin that is available for free on the WordPress repository. It also has a paid version, called WP Staging Pro that helps you push the staging website to live when you are sure of the changes made to it.
What does the WP Staging plugin do?
The WP Staging plugin is a free WordPress plugin that allows us to easily create an identical duplicate of our website and place it into a subdirectory on the same server.
But, in order to make sure that the staging and the live site behave the same, we need to be sure that the server settings are exactly the same. This means that creating a local server setup to test changes may not work since the site on the local setup may behave differently than the live one. Therefore, server settings need to be exactly the same.
Steps to Create a Staging Website
After you've installed and activated the WP Staging plugin, you can follow the steps mentioned below.
Step 1: Go to Sites / Start under the WP Staging menu
Step 2: Create a New Staging Site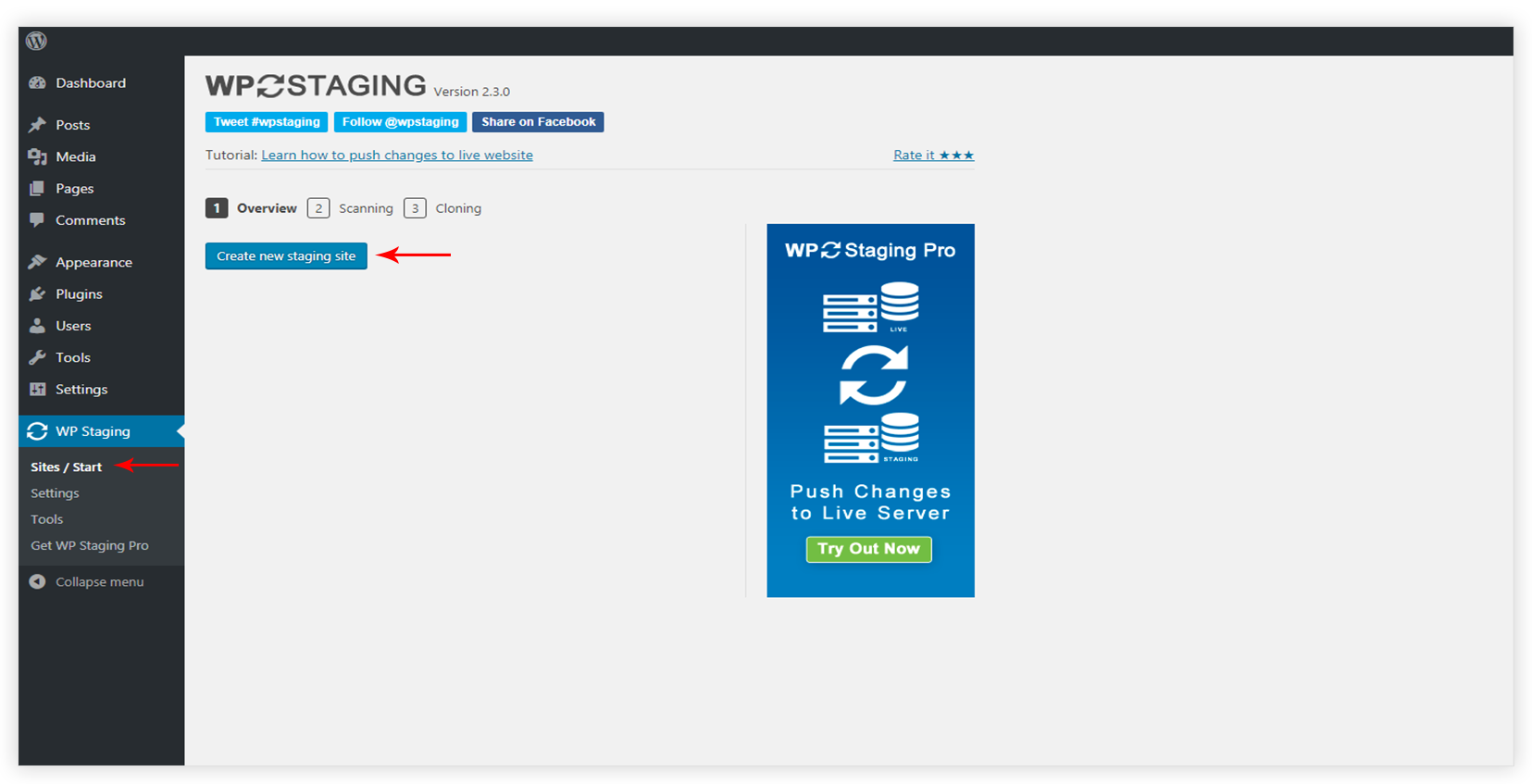 Step 3: Enter the Staging Site Name.
You can check or uncheck the database or files that you might need or wish to exempt while creating a staging site.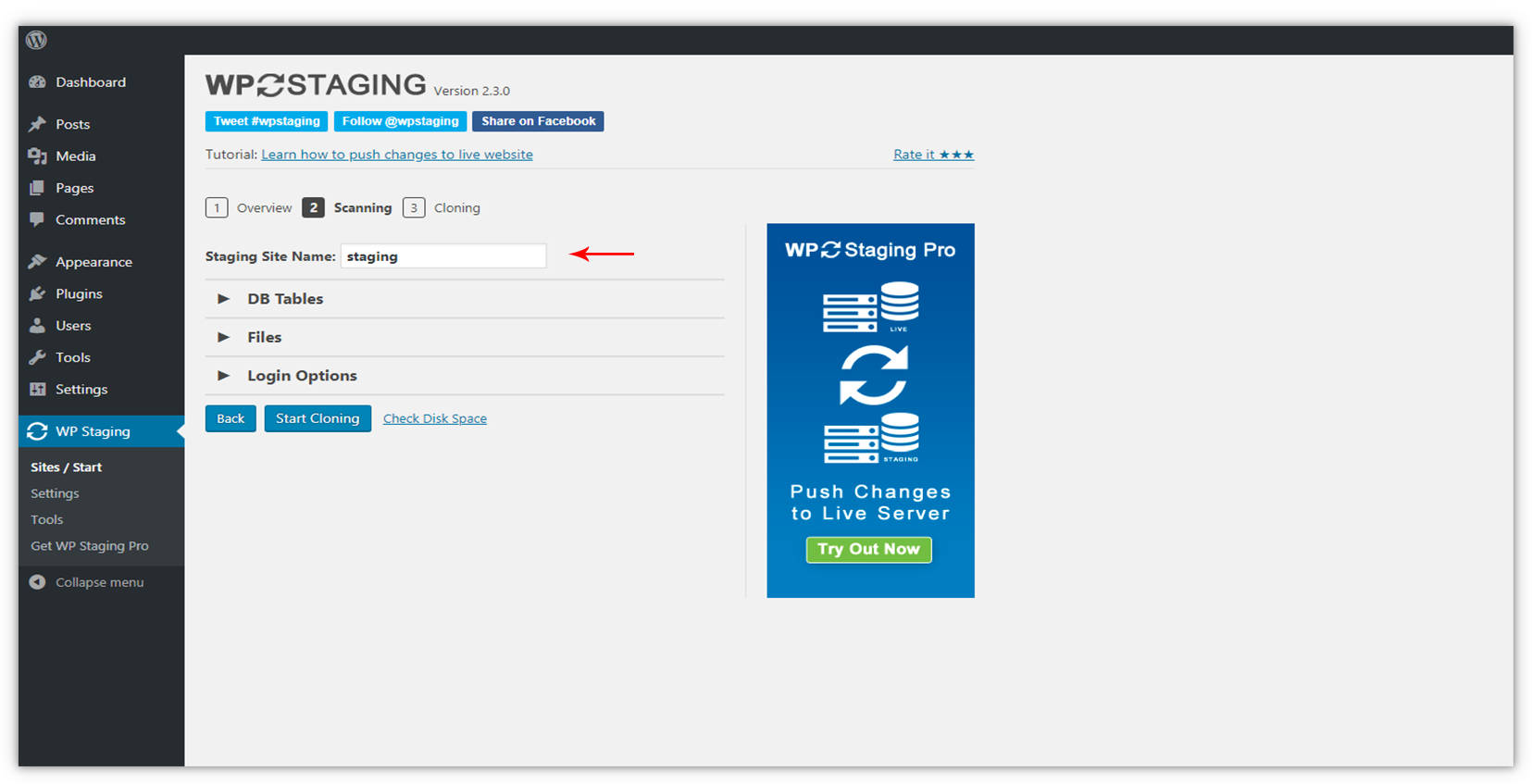 Step 4 (Optional): If you have a custom link set up for logging into your website, you will need to set that up here too. You can do that by following the link. If you have the standard WordPress login link, you need not change anything here.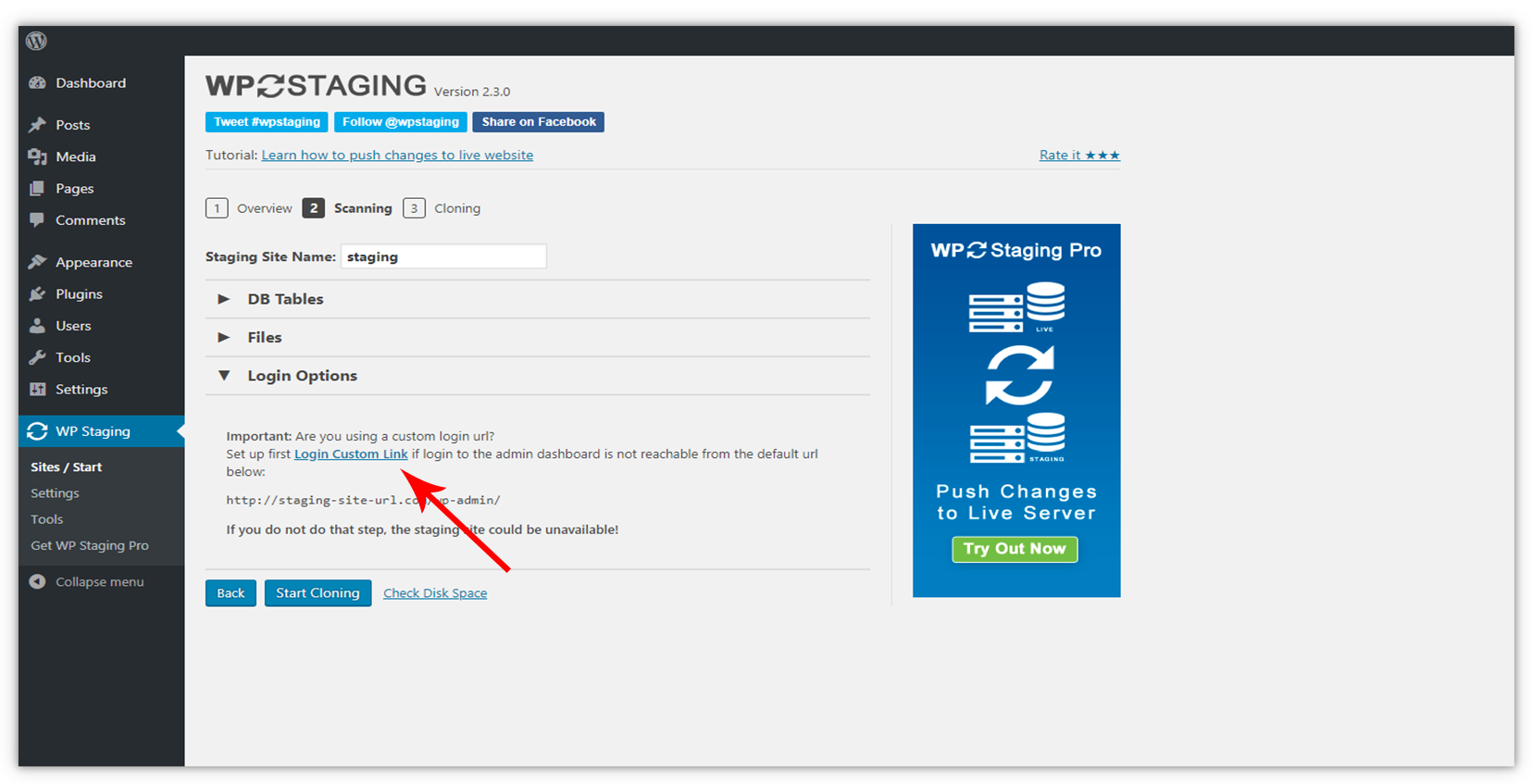 Step 5: Start Cloning
Note: If you are not sure of the amount of space you have on your server setup to be able to take a duplicate of your website, you can use the Check disk space link provided there.
Once you begin cloning, the plugin will display a list of all it is doing in order to clone your website into a staging site. The cloning process might take a while as it depends on the speed and size of your website.
You can then see a link that will take you to the stating site. It leads you to a login page of your staging site. Now login to your staging site and work on anything you need without affecting the live website.
The best part is that you can easily identify the live and staging site as the plugin adds an orange admin bar that marks it as a staging site.
You can take a look at the practical demonstration in the video here –
Whats more?
Need to push the updated Staging site to the live domain? The free version of WP Staging can only be used to clone a live site to a staging site. If you wish to push the staging site to the live domain, you will need to purchase the paid version of this plugin.
Have any questions related to this? Or need some more help with respect to creating and managing staging sites, you can post your queries in the comments below.