Astra guarantees you enhanced website speed and faster development with lots of flexibility. With this theme, you have complete freedom of creativity without touching even a single line of code. With various options that can be edited with just a single click, you can build and design websites with your favorite page builder within minutes!

Lightning Fast
Astra is a lightweight and feature rich theme that is built to be the fastest & best performing theme you have ever used.

Highly Customizable
Astra comes along with easy customizations and gives you complete control on your site content and how it looks.

No Coding Required
Astra has easy editing options that can work with or without Page Builders, making it easy to build websites without coding.
Customize Everything Visually
Astra makes the process of website building simple and insanely fast with variety of options that allow easy customizations and live editing making it all-the-more faster.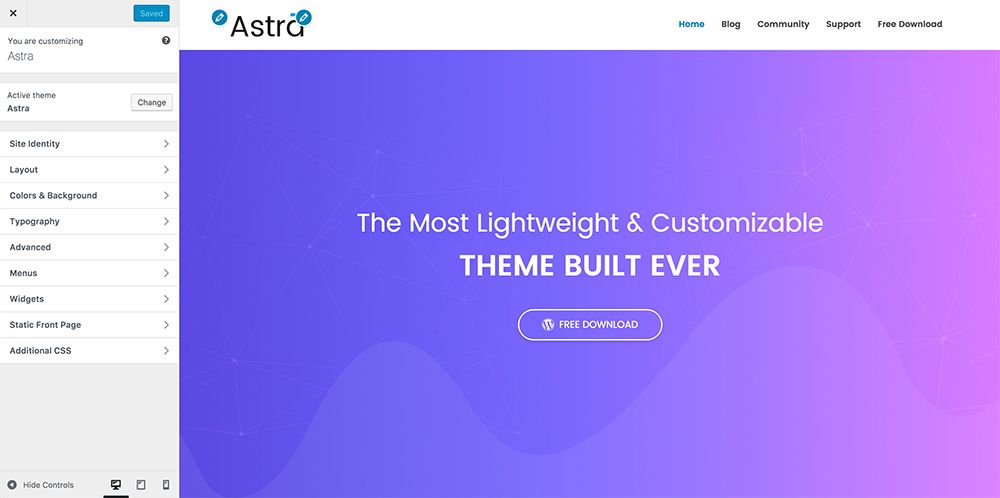 Complete Control
One click customizations that reflect on the entire website, make things fast and easy.
Live Editing
Format elements in the customizer and see the changes reflected live on the page.
Unparalleled Performance
Astra promises high speed and performance enabling you to build the fastest websites online. We have numbers to prove!

100%
Speed Grade

95%
Speed Grade

400ms
Load Time

91%
Speed Grade
Full & Seamless Integration With Your Favorite Page Builder




Any Page Builder
Instead of forcing any particular builder, Astra goes a step ahead and offers full freedom to pick your favorite page builder.
Fullwidth Template
Astra comes with a special full width page template. So you will have full flexibility design your pages without any limitations.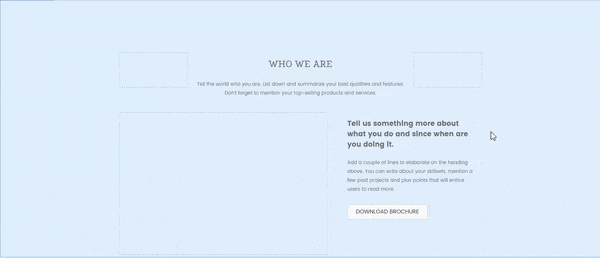 Compatibility Tested
Most of the websites nowadays are made using Page Builders. So we've ensured Astra works with all popular builders.
Disable Elements
Disable Header, Footer and Page Title if you don't need on any page. Design Beautiful sites without limitations!
Pixel Perfect Sites Created With Astra!
All these sites are designed just for reference using Beaver Builder, UABB & Astra Addon Plugin.
Web Designer's Perfect Tool
With Astra, you can design beautiful and professional designs within minutes! All this is possible without a single line of code.

Live & Front End Editing
Customize, design and format to see changes simultaneously with the live front end editor, making it easier for you to design.

Readymade Templates
Well designed, responsive and professional templates make designing an easier and faster process than ever before.

Beginner Friendly
Customize or design anything or everything without a single line of code! An easy to use interface makes things quite simple.
WooCommerce Ready
It is easy to build an online or WooCommerce store quickly! Astra is built to suit all your needs. Design, customize & publish.

Responsive Designs
Create highly responsive designs that make your website look great irrespective of the device it is accessed on.

Constant Help & Support
You are not left alone. With a wide range of articles and a dedicated support team we assure complete timely help.
Few of the Compatible plugins
Compatible with favorite tools






Extendable & Developer Friendly Theme
You no longer need coding to build a perfect website! Astra makes the process easier and faster than you ever thought!

Open Source Theme
Astra is released as an open source and GPL, giving WordPress developers the freedom to extend and enhance it further.

Additional Custom CSS
Astra supports your custom CSS code! Write and add your own custom code to rows, widgets, sections and more.

Hooks & Filters
With a number of hooks and filters, Astra gives you the freedom to overcome the limits and customize everything.

SEO Friendly
With great code, Astra is integrated with schema.org to create well structured and rich-content that ranks higher.

Clean & Quality Code
Astra is built using quality code that focuses on neatness and performance, making it a developer friendly theme.

Translation & RTL Ready
Astra is a complete translation ready theme that is compatible with WPML and supports several languages and RTL pages.
Why People Love Astra
Not Just Another WordPress Theme



Meet Our Team
We are an enthusiastic bunch of passionate developers, designers, writers, marketers, artists and creative focusing on simplicity, innovation, and care for user experience. That's what makes our DNA unique.


0
Years in Business

0
Team members

0
Product Downloads

0
Five Star Ratings