Looking for Best Theme to Pair with LifterLMS?
Astra and LifterLMS are a match made in heaven. Create membership websites and sell courses without coding skills!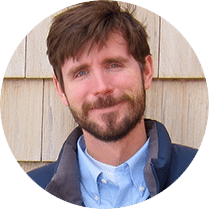 The Astra team clearly understands online course creators and membership site builders. When combined with LifterLMS, Astra unlocks powerful design controls, lighting fast website speed, and much much more. With Astra you get an amazing theme, team, community, and support!


Chris Badgett
CEO at LifterLMS


Earn More Students
Astra offers dedicated options to help you earn more students. Create conversion friendly, custom designed sales pages for your course and membership plans. Convert more visitors with optimized checkout page design.

World Class Learning Experience
Get complete control over elements that appear in LifterLMS layouts. Take that to the next level with unique features such as Distraction Free Learning, Personalized Profile Image and deliver top notch learning experience.

Rock Solid Integrations
Rest assured knowing Astra and LifterLMS integrate and blend perfectly together. Not just that, Astra has native integrations with plugins like WooCommerce, Elementor, Beaver Builder that you will need for your project.
LifterLMS is an Amazing eLearning Platform.
Present it Beautifully with Astra ?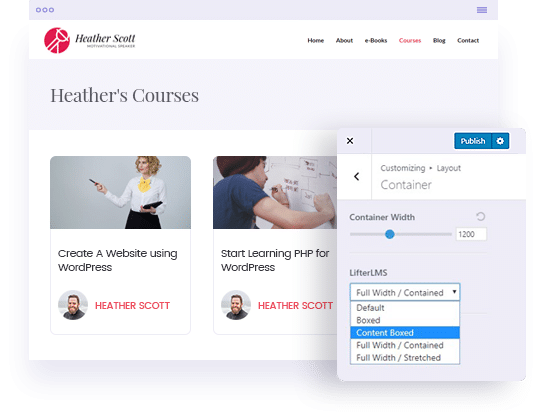 Design Freedom
Astra makes your LifterLMS layouts gorgeous out of the box! Your courses, membership plans, progress bars, account pages, widgets and sidebar will integrate consistently with your brand.
Furthermore, with dedicated options in the Customizer for LifterLMS, you will get complete control over the appearance of LifterLMS. Design beautiful LMS websites without touching a line of code!
Distraction Free Learning
PRO
Research data shows the average completion rate of online courses is as low as 2 to 10 percent. Bad presentation, unprofessional design of the LMS and online distractions are few of the reasons which contribute to these poor numbers.
That's why to eliminate distractions, Astra offers Distraction Free Learning that removes unnecessary links from the header and footer of your website automatically, allowing students to focus on the content.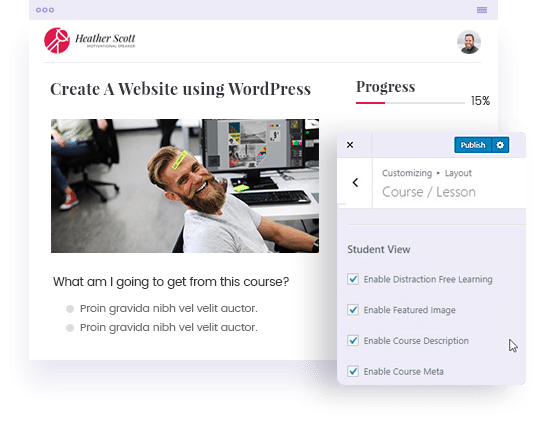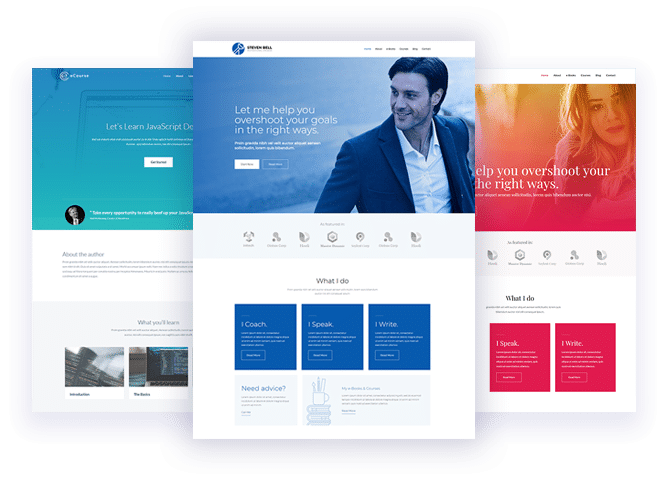 Ready to Import Starter Sites
AGENCY
Building a website to deliver an online course and not sure where to begin? Astra gives you a set of ready-made website templates that you can choose from. You no longer need to build a website from scratch! These websites are tested and ready-to-use.
You can import them in a few seconds, tweak as needed, and publish your course online!
Thoughtful LifterLMS Integration
Don't waste your time struggling with custom code to achieve the professional design for your LifterLMS courses. Leave that to Astra!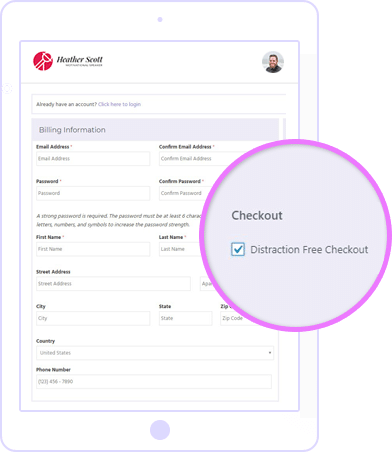 Conversion Ready Checkout
PRO
Astra takes the default LifterLMS checkout page to the next level for better conversions with clean, simple and professional design. It further offers a feature to remove distracting elements and links from checkout process so that interested students can focus on their purchase.
Reduce LifterLMS cart abandonment massively with Astra's conversion ready checkout page design!
Grid Settings
For websites that offer multiple courses and membership plans, it's important that visitors can quickly see all their options. Astra lets you display all of your courses in a grid layout so that there's no chance visitors miss out on any of your offerings.
You can also customize columns and grid functionality with just a few clicks.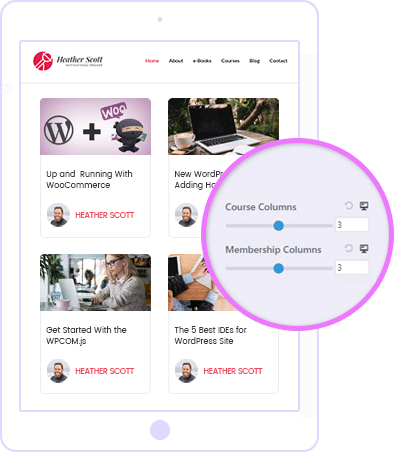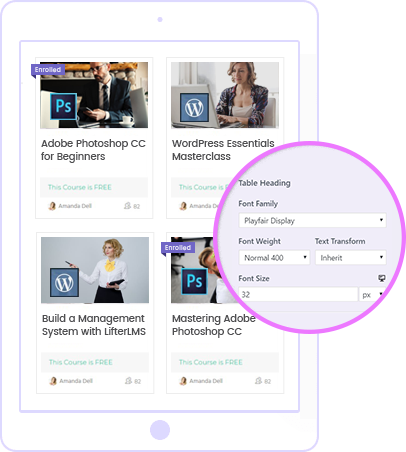 Color & Typography Options
PRO
Colors and typography play an important role in the overall look and feel of your website. Astra with its advanced designing options lets you manage the colors and typography on your website to match your course requirements.
You no longer need to hunt for the settings. Astra gives you easy options in a user friendly interface where you can manage all the colors and typography on your website.
Deliver Top Notch Learning Experience
The integration of Astra with LifterLMS gives you an easy-to-use interface that offers better user experience on all devices. With Astra you are sure to create a mobile optimized website that loads fast. With conversion oriented features like distraction free pages and progress bars you are sure to boost conversions like never before.

Clean user interface
With Astra, you can give your customers a clean user interface that won't get in the way of their learning.

Give your learners an immersive, distraction-free learning experience by hiding unnecessary information on learning pages.

Customer Dashboard
Astra gives your customers a beautiful dashboard to help them manage all the courses that they are a part of.

Customer Profile in Menu
PRO
Astra displays your customer's profile picture in the navigation menu for a more personalized experience.

Progress Bars
With Astra, you can add motivation-boosting progress bars to your course pages that encourage immediate action and conversion.

Mobile optimized
Astra lets you create 100% responsive websites so that your visitors can learn on desktops and mobiles.
WooCommerce Integration
If you use WooCommerce on your website to sell courses and other goodies, Astra offers a deep WooCommerce integration.
A Multi Functional Theme
Astra is a multi-functional theme, i.e it works with all plugins. Other plugins besides LifterLMS, will look and function great with Astra.
SEO Optimized
Build a performance-focused, SEO-friendly website that makes your courses stand out and rank higher in search engine results.
Schema Integrated
Astra lets you implement schema markup on all your course pages that create rich snippets to attract users in search engine results.
Translation Ready
Astra comes with .po and .mo files that make it easy to translate Astra into your favorite / native language.
Blog Layout
Manage your courses and display them in a nice blog layout that will suit your course needs and attract users to take a course.
Awesome Support
Whether you have a general question or a technical issue, we're always here to offer a helping hand with friendly human support and thorough documentation.

Market. Teach. Engage. Scale
Give your courses the quality foundation they deserve with Astra Pro and LearnDash.
Beautiful sales pages and better learning experience.
Unlimited Websites.
Updates & Support for One Year.
Top Features of Astra Pro:
Everything necessary for running a successful web agency!
Everything in Astra Pro with :
Beautiful sales pages and better learning experience.
Unlimited Websites.
Updates & Support for lifetime.
No renewals. One time payment.
Top Features of Astra Pro:
Everything necessary for running a successful web agency!
Everything in Astra Pro with: