Looking for Best Theme to Pair with LearnDash?
Astra is the most lightweight, intuitive and flexible free WordPress theme that extensively integrates with LearnDash LMS out of the box!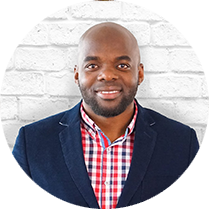 LearnDash is fantastic LMS when it comes to putting together elements that we need to make a course website but it just lacks in design side. Astra is the only theme that has extensive integration with LearnDash which allows you to achieve uniform, professional and well-branded course website straightway!

Augustine Mak
wpusertv.com


Get More Students
Astra's dedicated and conversion oriented options help you get more students. Create custom designed sales pages for your online course and membership plans, followed by an optimized distraction free checkout page to convert more.

Elevate Learning Experience
The integration of Astra with LearnDash gives you unique features like Distraction Free Learning, Personalized Profile Image and a lot more. Customize and control everything to offer top notch learning experience and take it to the next level.

Get Peace of Mind
Astra is a complete package that integrates well with WooCommerce, Elementor, Beaver Builder and more alongside LearnDash. So, rest assured knowing that you have the best WordPress theme that will cater to all your needs for your website.
Take Complete Control Over Your LearnDash
Design to Deliver an Upscale eLearning Experience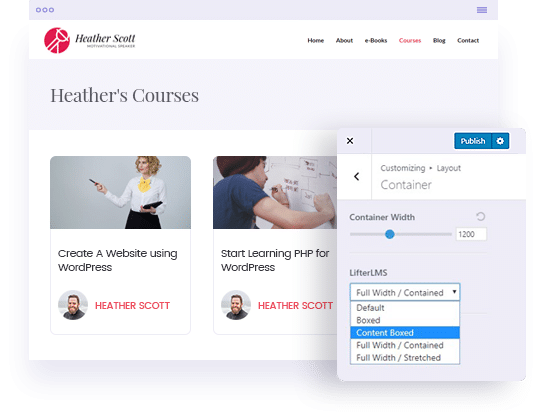 Design Freedom You Want
Need to create gorgeous LearnDash layouts without any efforts? Astra makes sure that your courses, progress bars, account pages, widgets, sidebars and more integrate consistently with your brand.
Astra gives you dedicated options that let you customize and control everything related to LearnDash. Start building beautiful LearnDash websites without touching a line of code!
Sales Page that Converts
Good courses need a better sales page to match the standards. Attract students, build interest and convince them to take up a course. All this is possible with Astra's countless options that let you customize everything.
With Astra and LearnDash, you can build a conversion friendly sales page and add all the details your students are looking for. You can enhance LearnDash layouts and create custom sales pages that look more appealing and attractive to bring in more students.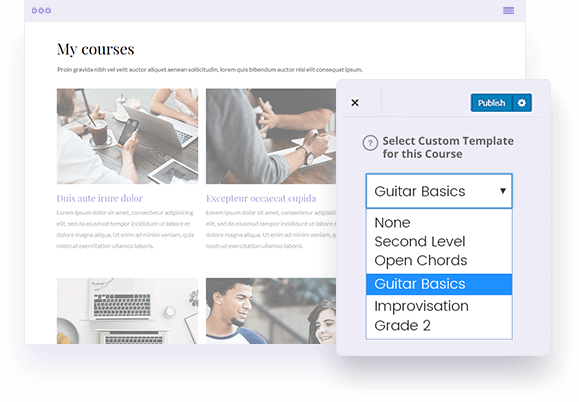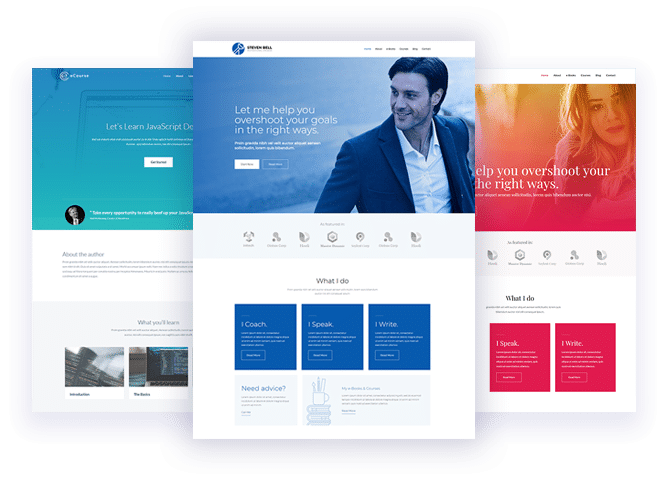 Ready to Import Starter Sites
AGENCY
Are you finding it difficult to build a website and offer an online course? Astra has got you covered! With a huge library of pre-made website templates, you are given a chance to select the best suitable one for your website. Simply import and use one of these tested demos.
Importing websites quickens the process since you just have to tweak and go live with your course!
Powerful Customization Options at Your Fingertips
Build and customize a website for an online course in minutes. Astra gives you everything you need to build professional websites without writing a line of code.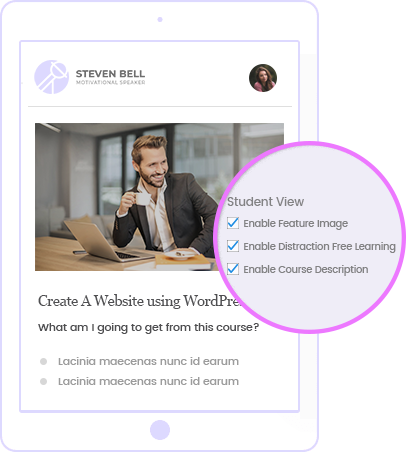 Distraction Free Learning
PRO
Want to boost the completion rate of your online course? Research proves that bad presentation, unprofessional design, and distractions are major reasons that bring down the average completion rate to as low as 2 to 10 percent.
The Distraction Free Learning feature of Astra removes unnecessary links from the header and footer of your website. This ensures that the students access only the course material and stay focused to complete the course, resulting in more engagement and recuring business for you.
Conversion Ready Checkout
[PRO]
Transform your boring checkout page and take it to the next level. Astra gives you options to customize your LearnDash checkout page for better conversions with clean, simple and professional designs. The distraction free checkout feature removes unwanted links to let students focus on their purchase.
Reduce LearnDash cart abandonment massively with Astra's conversion ready checkout page design!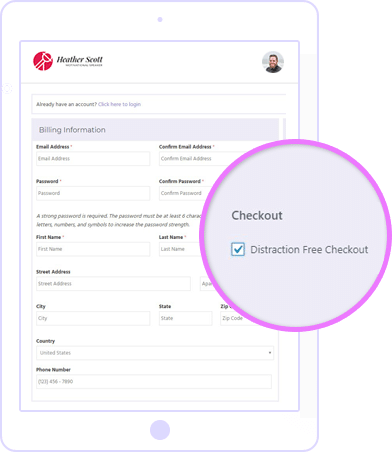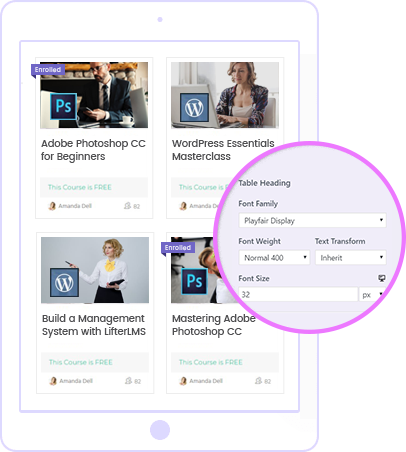 Color & Typography Options
PRO
Colors and typography play an important role in the overall look and feel of your website. Astra with its advanced designing options lets you manage the colors and typography on your website to match your course requirements.
You no longer need to hunt for the settings. Astra gives you easy options in a user friendly interface where you can manage all the colors and typography on your website.
Stand Out From Your Competition
LearnDash with Astra gives you an easy-to-use interface that helps you create a beautiful website to offer online courses. You are sure to build a fast loading responsive website with advanced conversion friendly features like distraction free pages, progress bars and a lot more to improve engagement and boost conversions like never before.

Clean user interface
Use Astra and give your customers a clean user interface where they can focus more on learning rather than distractions.

Hide unnecessary information and give your learners an immersive and distraction free learning experience on your website.

Customer Dashboard
Give your customers a beautiful dashboard created using Astra to manage all the courses that they have opted for.

Customer Profile in Menu
PRO
With Astra you can offer a personalized experience by displaying your customer's profile picture in the navigation menu.

Progress Bars
Astra lets you encourage immediate action and conversion with motivation-boosting progress bars to your course pages.

Mobile optimized
With Astra, you can create 100% responsive websites that allow students to access courses through desktops and mobiles too!
WooCommerce Integration
Do you sell online courses and goodies using WooCommerce? Astra offers deep integration with WooCommerce and related plugins.
A Multi Functional Theme
Astra is a multi-functional theme i.e. it works great with all plugins. You can combine several plugins with LearnDash without an issue.
SEO Optimized
With Astra you can create a performance focused and SEO friendly website for your courses that rank higher in SERPs.
Schema Integrated
Astra lets you add schema markup on your course pages and the others to create rich snippets to stand out in search engine results.
Translation Ready
Astra comes with .po and .mo files that make it easy to translate the theme into your favorite / native language.
Blog Layout
Astra allows you to display your courses in your favorite blog layout so that users get a clear view of everything that you offer.
Awesome Support
Whether you have a general question or a technical issue, we're always here to offer a helping hand with friendly human support and thorough documentation.

Market. Teach. Engage. Scale
Give your courses the quality foundation they deserve with Astra Pro and LearnDash.
Beautiful sales pages and better learning experience.
Unlimited Websites.
Updates & Support for One Year.
Top Features of Astra Pro:
Everything necessary for running a successful web agency!
Everything in Astra Pro with :
Beautiful sales pages and better learning experience.
Unlimited Websites.
Updates & Support for lifetime.
No renewals. One time payment.
Top Features of Astra Pro:
Everything necessary for running a successful web agency!
Everything in Astra Pro with: