Ever seen those eye-catching stars and text snippets in Google and wondered, "how can I make my website stand out like that?"
Those "extras" are called rich snippets. And it's surprisingly easy to use rich snippets in WordPress – you just need to put in a little legwork to give Google and other search engines the information they need.
In this post, we're going to give you the rundown on how to add rich snippets in WordPress. To make that happen, you're going to learn a few things:
What schema markup is and how it works behind-the-scenes to get you rich snippets
The different types of rich snippets (and how they connect to schema markup)
Step-by-step how you can add schema markup and rich snippets to your WordPress site
Let's get going so you can have your rich snippets in no time!
What Is Schema Markup? How Does It Help You Get Rich Snippets In WordPress?
Ok, this section is going to use three different, but interconnected terms:
Rich snippets
Structured data
Schema markup
I know you might not be a techie, so I'm going to keep things beginner-friendly. But it helps to know what all's happening under-the-hood, so to speak.
Let's start with the term you know – rich snippets. Rich snippets, also called rich results, are the actual additions that humans see in Google and other search engines.
They come in a lot of different formats, which I'll discuss in the next section. But some of the most common rich snippets are:
Review rating stars
Recipe information
Price
Product specs

In order to give you rich snippets, search engines rely on something called structured data. Structured data is a type of behind-the-scenes code that you can use to communicate with search engines.
Schema markup is a specific type of structured data. But if you're not a techie, it's simpler to just think of schema markup and structured data as the exact same thing. We'll exclusively refer to it as schema markup from now.
Your human visitors never see schema markup – but search engines use it to better understand the context of your site. For example, schema markup tells search engines – "that number is how long the recipe takes to cook", but "this other number is how long the prep time is".
Search engines then take this extra context and use it to give your site rich snippets.
To recap:
Schema markup gives search engines more context about your content
Search engines use the information from schema markup to give your site rich snippets
Humans see rich snippets, but not schema markup
How Many Different Rich Snippets Are There? And Why Does This Matter?
As you've probably noticed when you use Google, different types of content get different types of rich snippets.
Currently, Google supports 15 different content types for rich snippets. You can view the full list here, along with previews: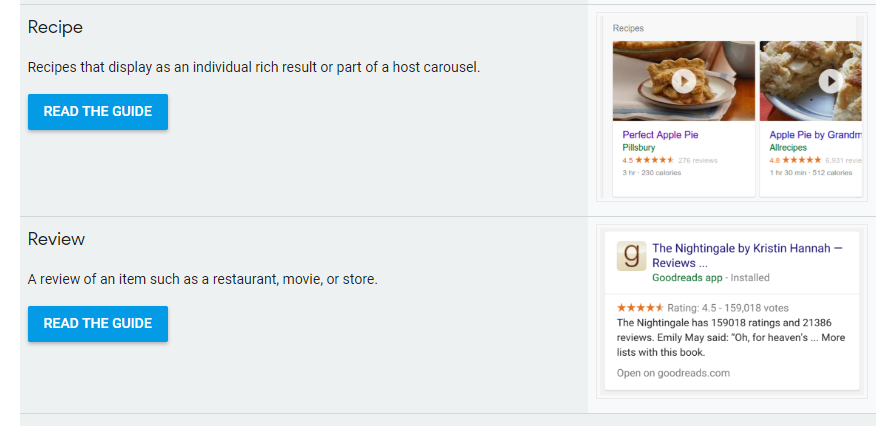 This distinction is important because each content type requires different schema markup.
For example, a Review rich snippet might only need information for the:
Item being reviewed
Reviewer name
Review rating
But if you want the Recipe rich snippet, you'll need to add stuff like:
Calories
Cook time
Prep time
Servings
Etc.
Schema Pro, which I'll use for the tutorial in the next section, saves you time by trying to automatically pull some of this information from your WordPress site.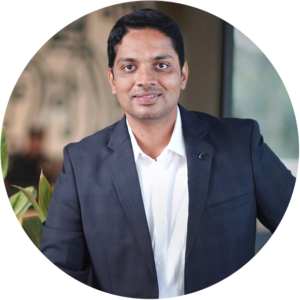 Hello! My name is Sujay and I'm CEO of Astra.
We're on a mission to help small businesses grow online with affordable software products and the education you need to succeed.
Leave a comment below if you want to join the conversation, or click here if you would like personal help or to engage with our team privately.
How To Add Rich Snippets To WordPress The Optimal Way
There are different ways that you can add schema markup to WordPress, but Google's recommended method is something called JSON-LD: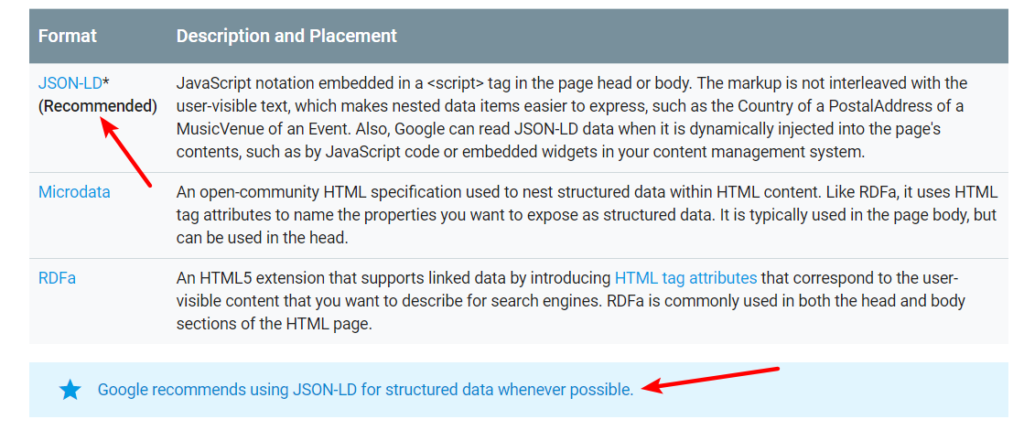 The benefit of JSON-LD over the methods that most other WordPress rich snippets plugins use is there's no need to add any new content to the front-end of your site.
On the other hand, you're forced to add a new human-visible box to your site's content just to get rich snippets with plugins that don't use JSON-LD.
To add Google-recommended JSON-LD markup to WordPress, you can use Schema Pro.
Here's the whole process, step-by-step…
Step 1: Install Schema Pro And Run The Setup Wizard
To get started, install and activate the Schema Pro plugin.
Once you activate the plugin, go to Settings → Schema Pro. Then, click on the Configuration tab and click Start setup wizard to configure your site's basic information: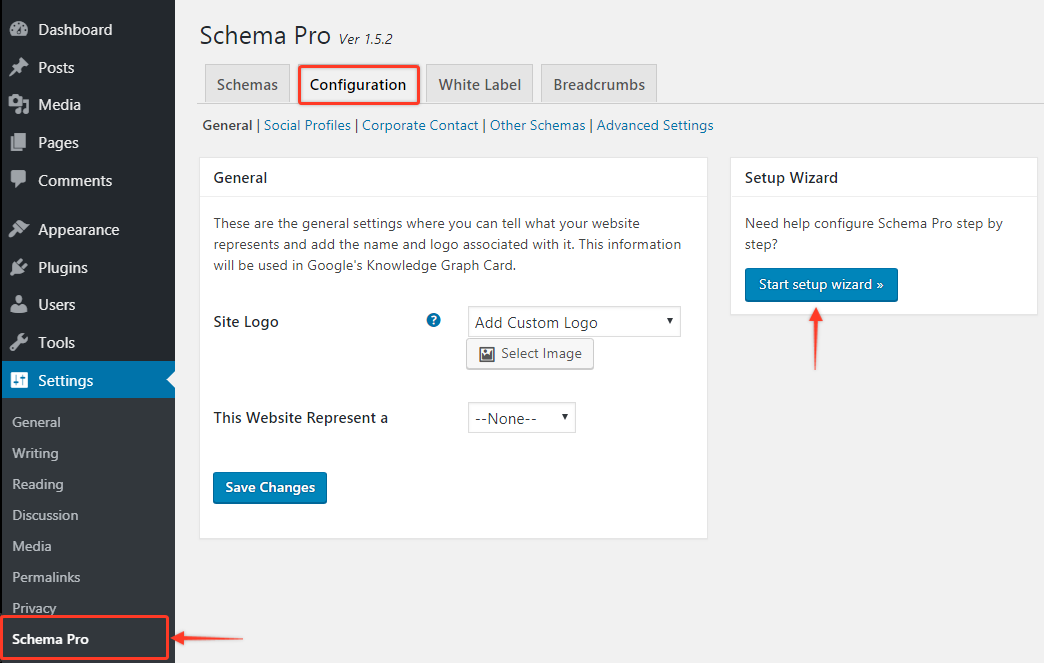 The data here won't help you directly add rich snippets to WordPress blog posts, but it's helpful for other types of rich results – like breadcrumbs and sitelinks.
The setup options are pretty simple. But if you hit any snags, just click on the question mark icon and Schema Pro will let you know what the setting does: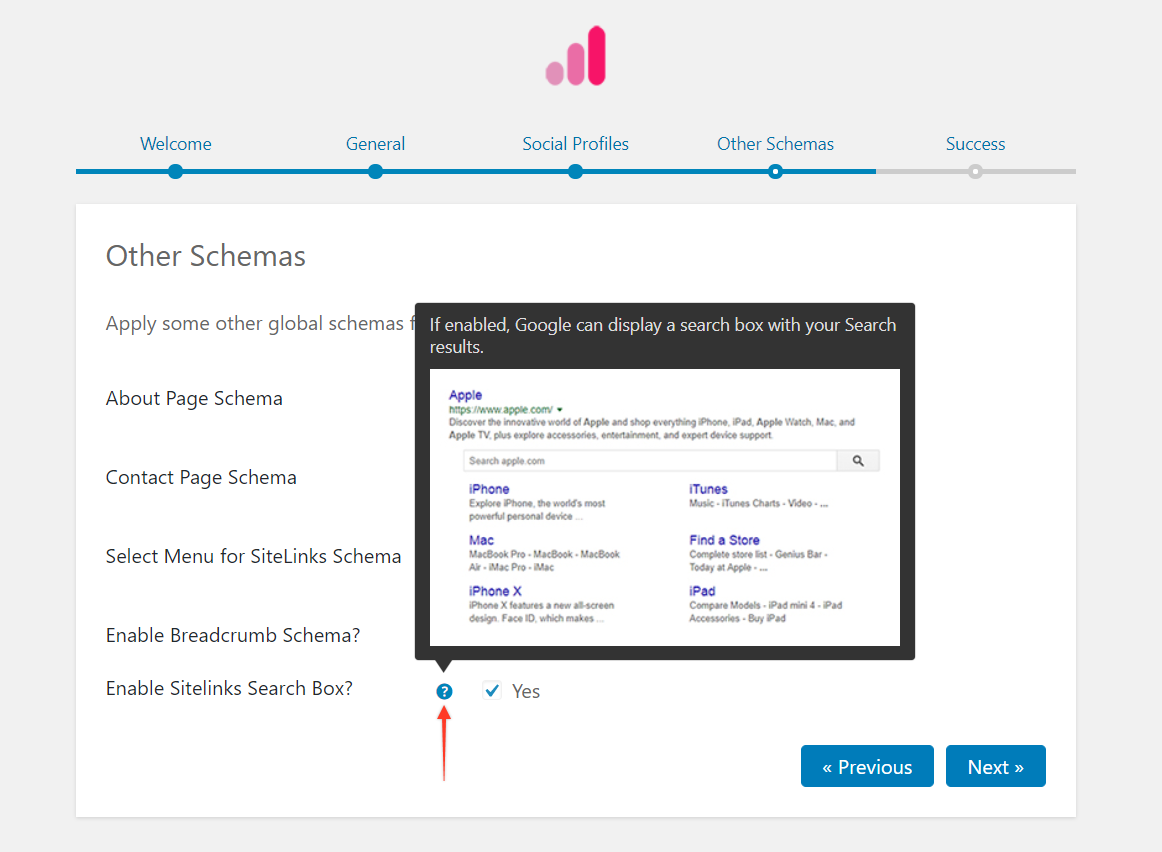 Step 2: Create A New Schema
Once you've finished the setup wizard, you're ready to add your first schema. This is the information that will help you add rich snippets to WordPress.
To get started, head to the Schemas tab and click Add New: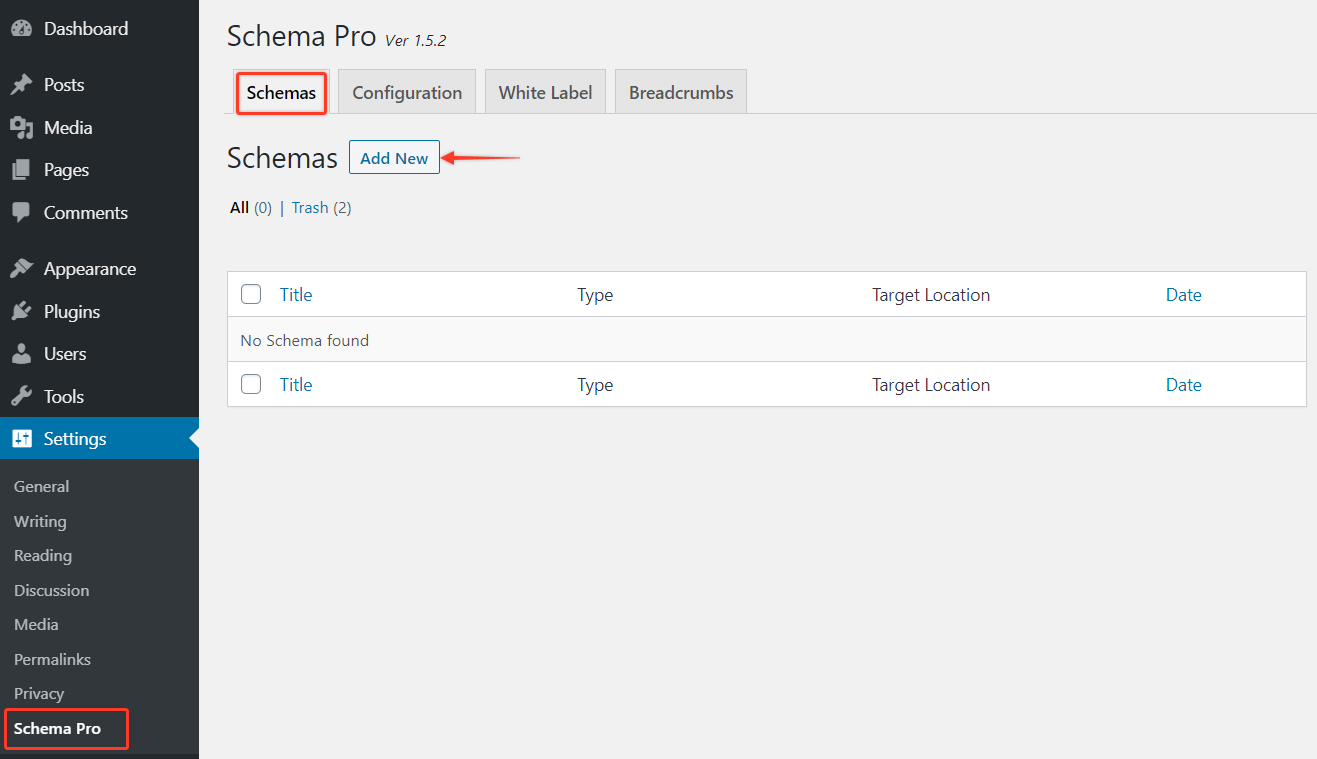 Step 3: Choose Your Schema Type
On the next screen, you'll need to choose what schema type you want to add. Remember when we talked about content types at the beginning of this article? This is where you choose what schema markup information you want to add.
Basically, just pick the content type that most closely matches the type of content you want rich snippets for.
For example, if you want to get those review rich snippets, you'd choose the Review option. Or, if you write recipes, you'd choose the Recipe type.
Schema Pro lets you create multiple different schemas and apply them to different content types. So if you publish more than one type of content, just pick one of them for now.
I'll do Review for this tutorial as that's a pretty common use: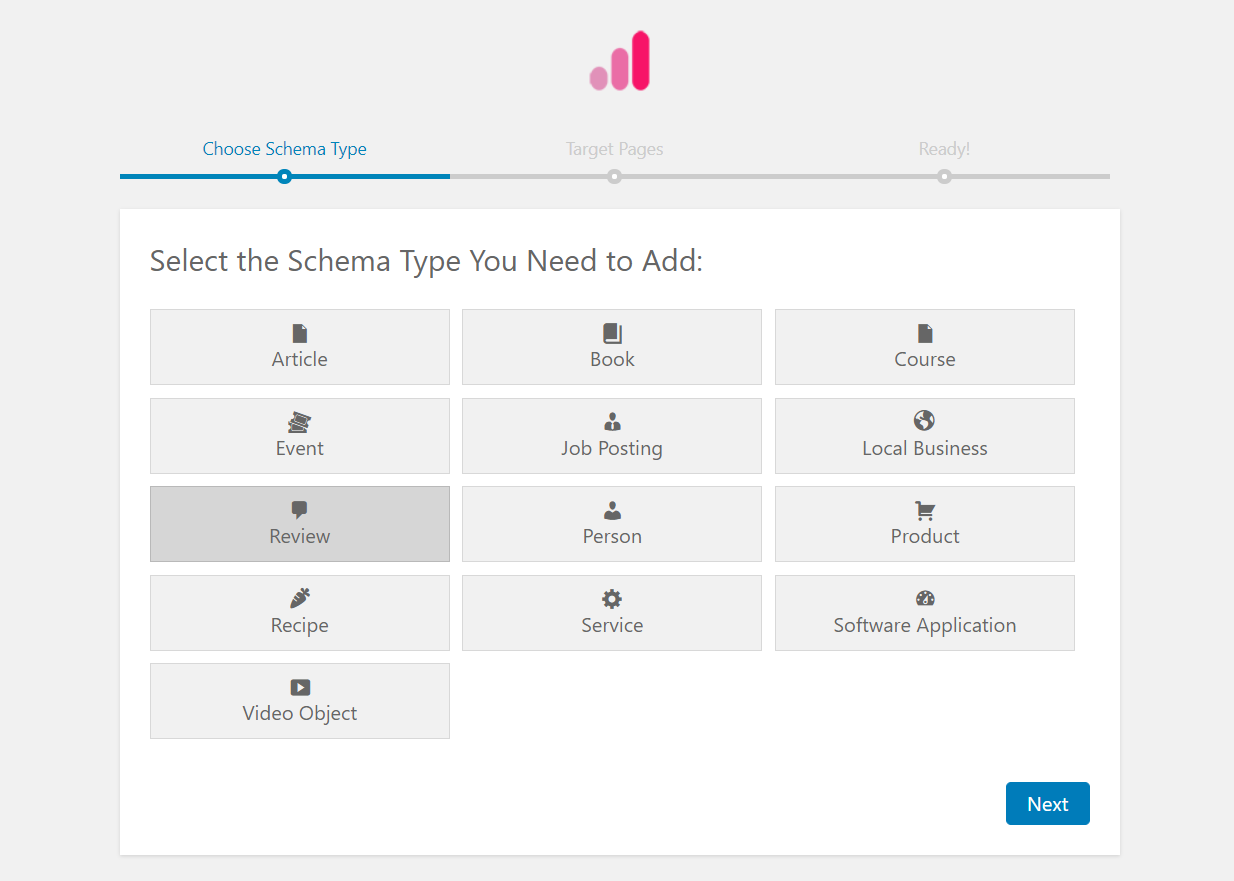 Step 4: Choose Which Pages To Target
Now, you get to decide what content you want to add this schema markup to. You have a lot of flexibility here.
You can apply the schema markup to all your content. Or, you can only apply it to:
Post types
Categories
Tags
Individual Posts
You can also mix-and-match:
Enable Rules – the schema will be added to content that meets this rule.
Exclusion Rules – the schema will not be added to content that meets this rule.
Because I'm using a Review type example, let's say that I only want to apply the review schema to posts in the "Review" category of my blog.
To do that, you would:
Select Specific Pages… from the drop-down
Search for the review category
Select the review category from the autosuggest list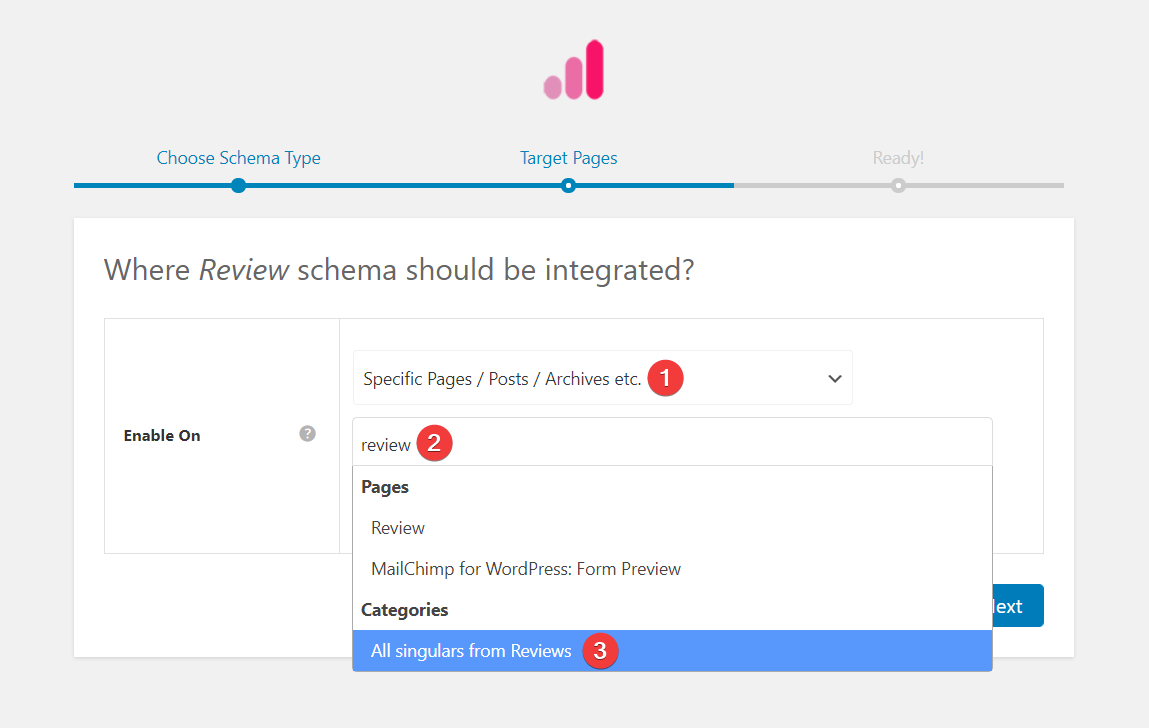 Once you've finished, click Next to finalize your location choice(s).
Step 5: Map Schema To Your Content
That finishes up the wizard! Click the Complete Setup option to finish things out: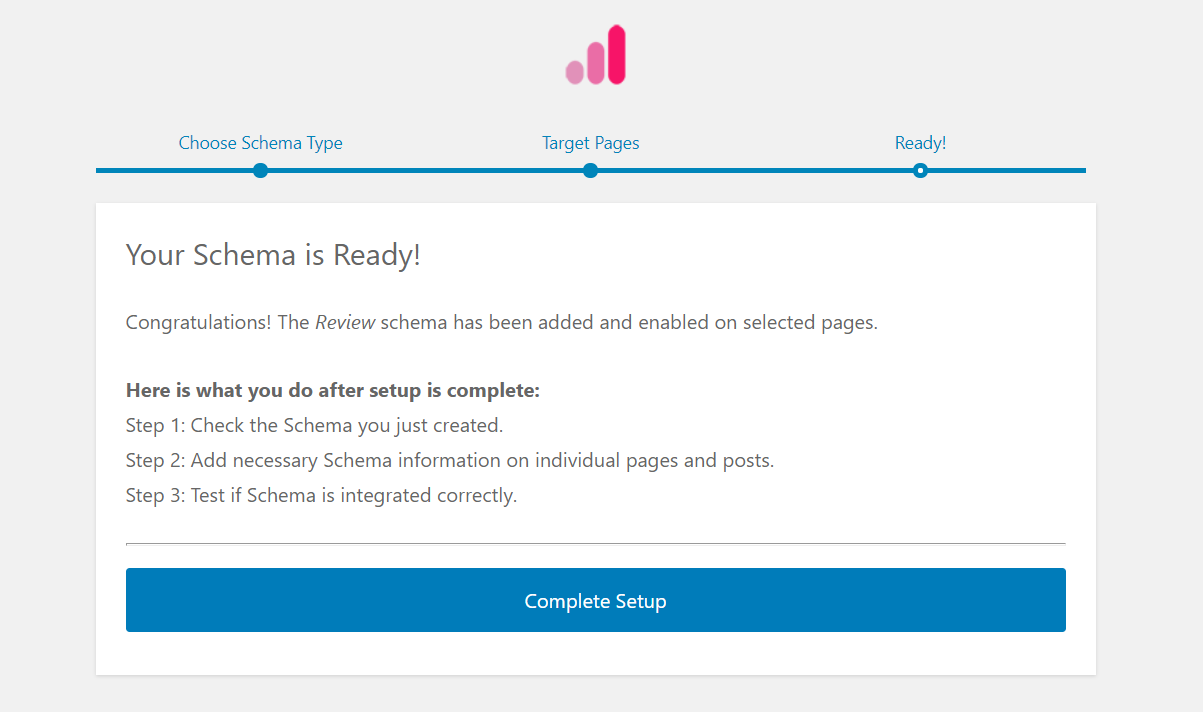 On the next screen, you'll see a list of all the information that's associated with that content type (remember – a review content type needs different information than a recipe content type, etc.).
Schema Pro will try to automatically map this information to your existing content whenever possible.
For example, you can see that Schema Pro will make the Reviewer Name the same as the Author name from WordPress. That means you don't need to manually enter the reviewer name when you publish your review.: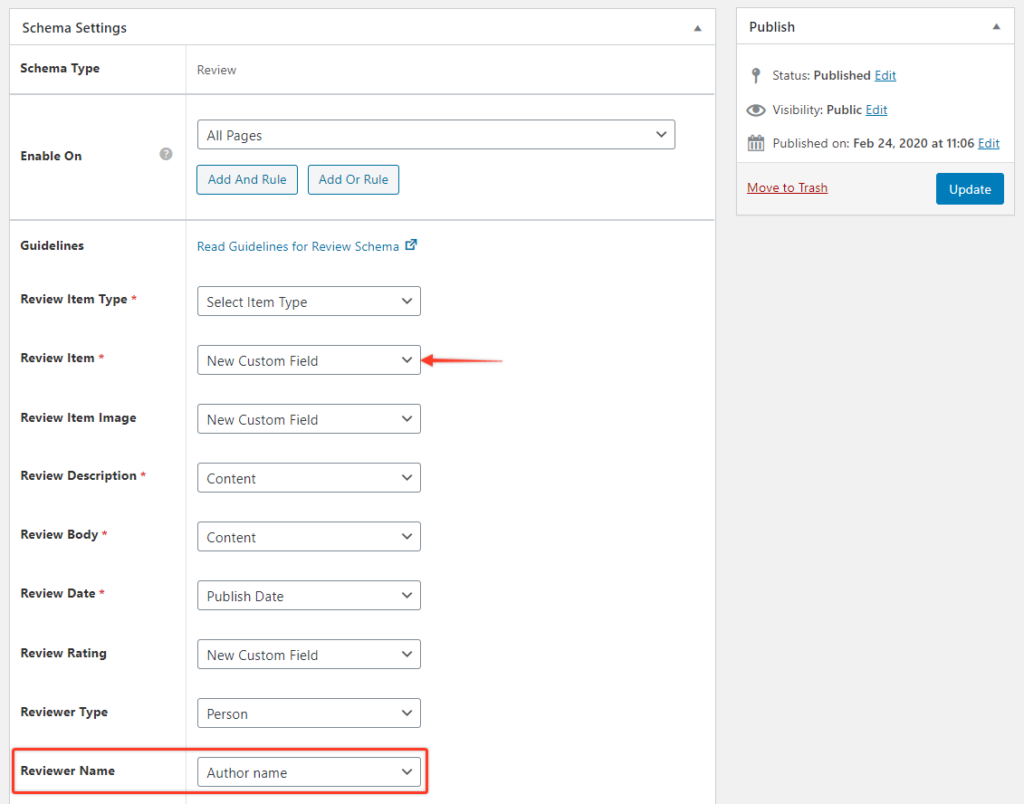 For the other information, you have a choice. You can either:
Have Schema Pro add a new custom field to the WordPress editor (this is the best option for most users – it's very simple)
Map that information to an existing custom field, including those you've added with Advanced Custom Fields or Pods (this is a great option for developers)
If you're not a techie person, you can safely leave these as the defaults, which will be to add a new custom field to the WordPress Editor.
Step 6: If Needed, Add Extra Information In The WordPress Editor
Now, when you go to create a new piece of content that meets the rules you specified, you'll see some additional custom fields where you can enter new information.
For the review rich snippet, that means the:
Item name
Item image
Review rating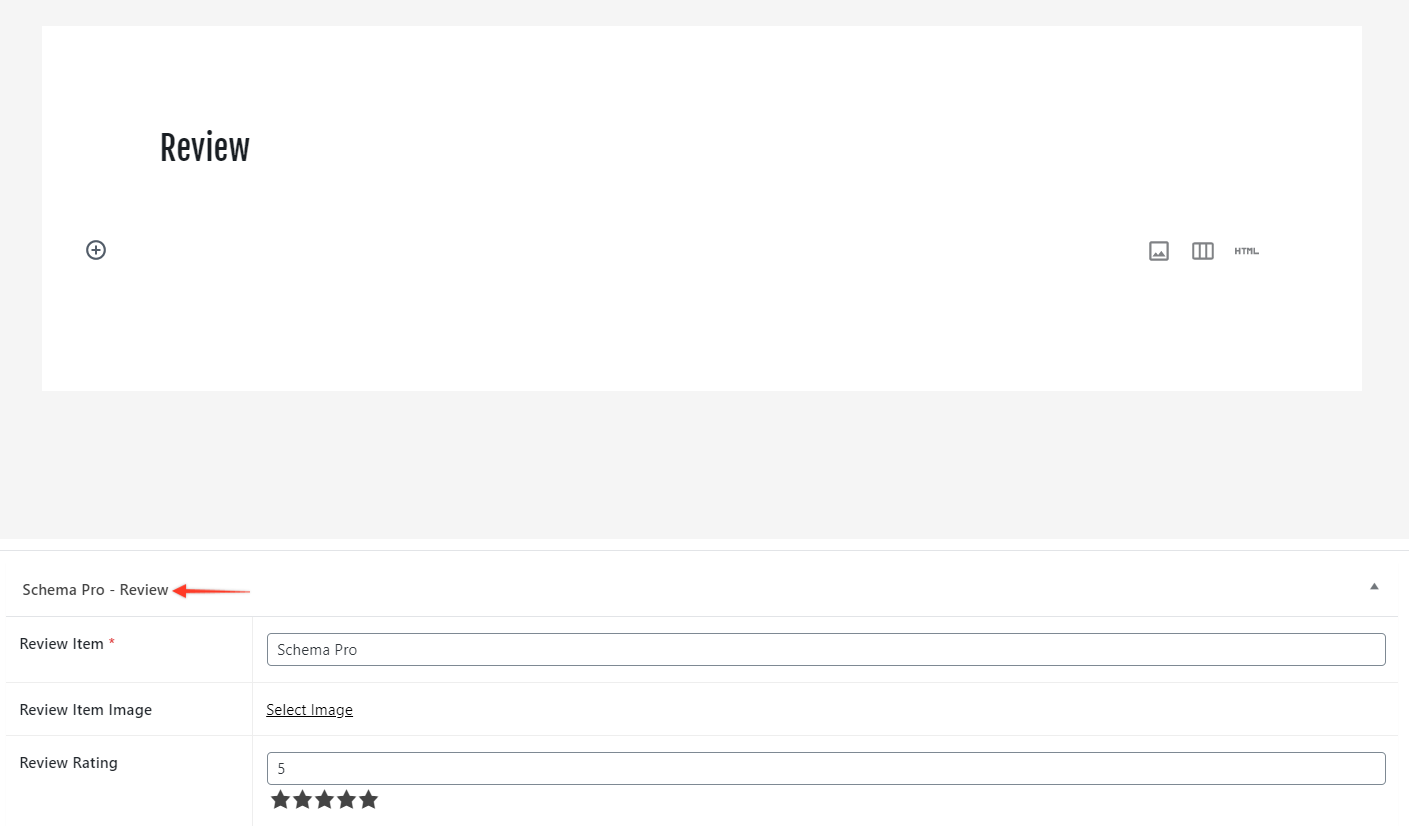 For all the other information (publish date, reviewer name, etc.), Schema Pro will automatically pull the information from your WordPress site – you don't need to do anything.
Step 7: Use Structured Data Testing Tool To Verify
You're all set now! To finish out the process, you can use Google's Structured Data Testing Tool to verify that you properly added the schema markup.
Just plug in your content's URL and Google will tell you all the schema markup it finds on the page: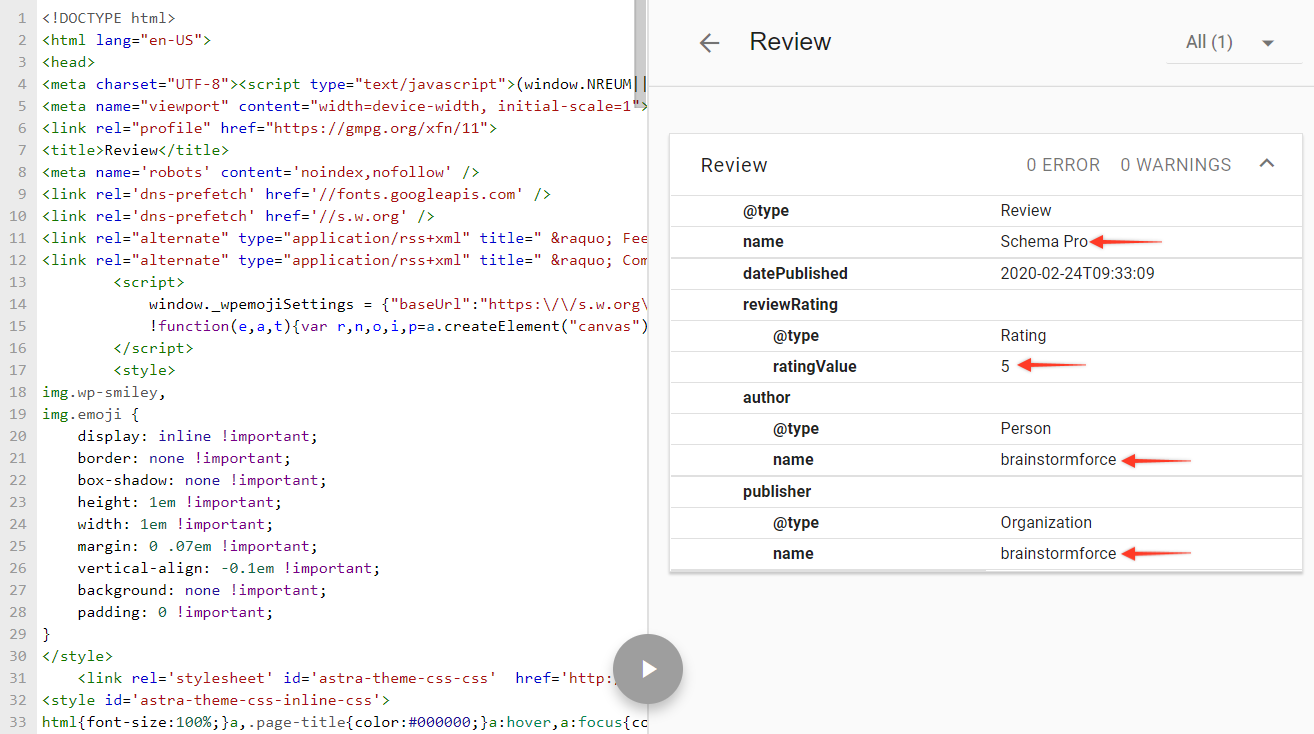 And that means Google has all the information it needs to give your site rich snippets!
Any Other Questions About How To Add Rich Snippets To WordPress?
That wraps up our guide on how to add rich snippets to WordPress. If you have any other questions, please leave them in the comments and we'll try to help out!