Version 2.0.1
Fix:
JavaScript error causing customizer to not load for a few users due to conflict with some third-party plugins.
Do not load accessibility fix for skip link in AMP endpoint as it is included in the amphtml (props @amedina)
Rename function astra_is_emp_endpoint() to astra_is_amp_endpoint() and deprecate astra_is_emp_endpoint() to fix the typo in the function name.
Version 2.0.0
New improved customizer experience is now much faster than before with over 5x speed improvements in customizer loading times.
Improved the categorization of all the customizer settings to reduce navigating through multiple sections when setting up the website.
Introduced customizer popup param to hide/categorize customizer settings and reduce overall required scrolling.
Many more fixes and improvements –
Improvement: Loading combined CSS and JS file for params in the customizer.
Improvement: Remove unnecessary role attribute from HTML.
Improvement: Crossbrowser compatibility for customizer UI.
Improvement: Optimized number of queries executed on admin pages.
Improvement: Live preview for controls.
Improvement: Optimized logic for generating settings group control data.
Fix: WooCommerce shop page cannot take fullwidth stretch layout when using Elementor/Beaver Builder page builder.
Fix: Prevent PHP warning in the customizer for PHP 7.1.
Fix: Infinite Scroll not working on WooCommerce Subcategory pages.
Fix: Fonts from custom font plugin not appearing in fonts list in the customizer.
Fix: Group popup not closing in customizer for the WooCommerce product catalog section.
Fix: Section title does not stick in the customizer.
Fix: RTL fixes for customizer options.
Version 2.0.0-RC.1
Improvement:
Improved logic that is used to save the values of options inside the new popups, Earlier all the values of options inside the popup were combined and stored in JSON objects now all the values inside the popup are stored separately similar to Astra Version 1.X.X. This simplifies the upgrade process when users update to Version 2.x.x.
Changed the images used in the customizer options such as Header Layouts etc. to new lightweight SVGs.
Updated minor UI tweaks for all the customizer controls to unify the design across all the options.
Version 2.0.0-beta.4
Improvement: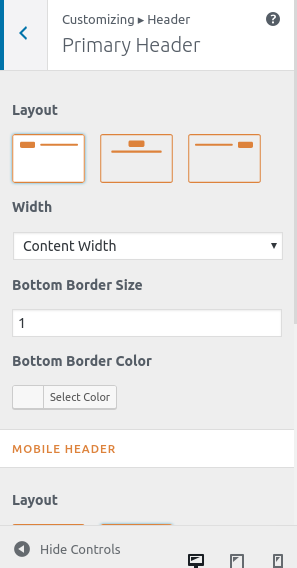 Control Sequence in WooCommerce Single Product Section in the Customizer
Distinguish Astra Sections from Default Sections in the Customizer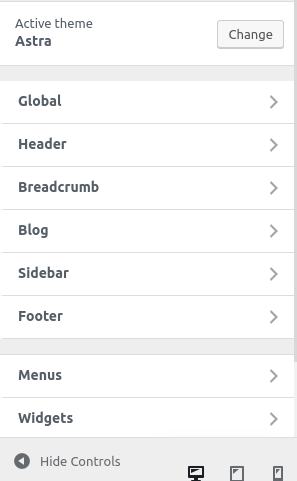 Option Labels in the Customizer
Fix:
PHP Warning in the Customizer while WooCommerce is not Active
Version 2.0.0-beta.3
New:
Added Global Section for Site Options.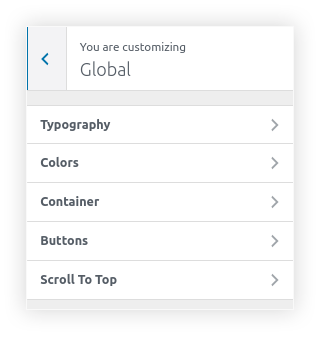 Improvement:
Categorization for Customizer – Theme Sections Listed under Main Panel.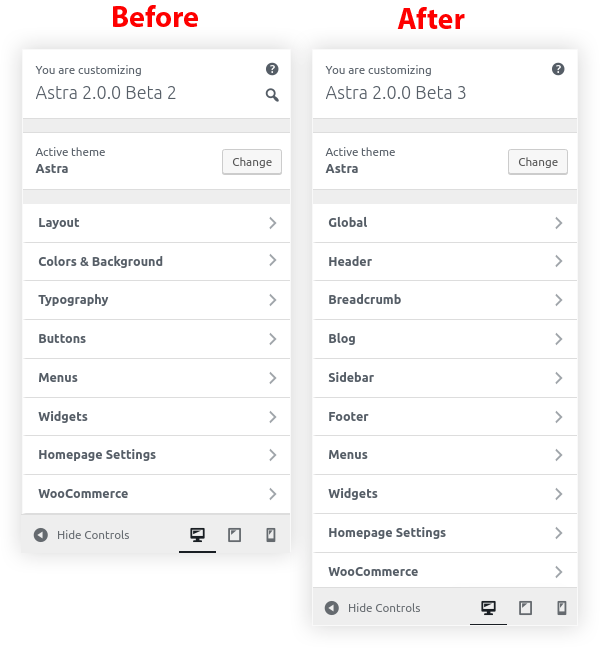 Combined Native and Astra Options for Woocommerce.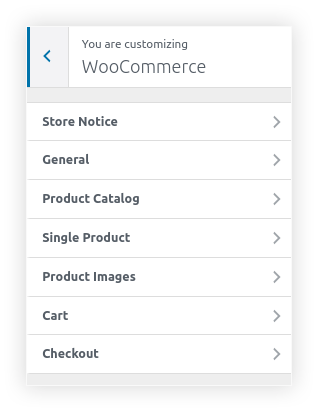 Version 2.0.0-beta.2
Improvement:
Live preview for base typography options without page refresh.
Fix:
Toggle button displays when there are no items to display in the menu.