As a company, we've been building addons for page builders for several years now. Starting with the Ultimate Addons for WPBakery Page Builder, the Ultimate Addons for Beaver Builder and later Ultimate Addons for Elementor, thousands of webmasters around the world are using our extensions to work more productively with their page builder of choice.
However, until now, it just wasn't feasible to create something similar for the native WordPress editor. Thanks to Gutenberg and its new block-based approach, things have changed!
Now, we're taking all the knowledge we've gained from building those page builder addons and applying it to the brand new WordPress block editor with Ultimate Addons for Gutenberg.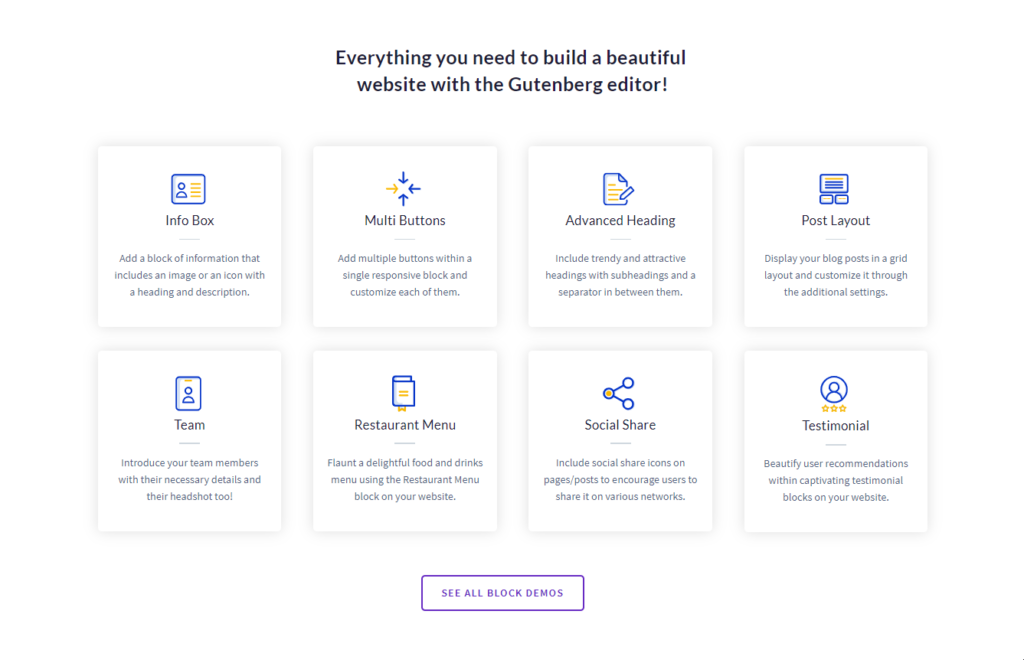 Ultimate Addons for Gutenberg extends the Gutenberg editor with a heap of helpful new blocks that let you:
Build more customized content, with info boxes, multi buttons, and more.
Display your other WordPress content in Gutenberg designs, with a variety of post grids and carousels.
Our goal with this plugin is to help you create better content and work more productively. Keep reading to learn more about Ultimate Addons for Gutenberg….

Gutenberg Provides The Block-Based Foundation –
---
The WordPress Gutenberg editor has brought a new block-based approach to WordPress content creation.

Rather than using one single text editor, you'll soon build your content with blocks, kind of like how page builders use widgets/modules.
Blocks are the basic content elements like paragraphs, headings, and images. In fact, many of the default blocks included with the editor focus on basic content and layouts.

This video from WPCrafter sums it up well:
But here's the cool thing about blocks:

They're not limited to simple things like paragraph text and images. They can also be a lot more creative…with the right tool.
Ultimate Addons for Gutenberg Gives You More Content Flexibility
---
That's what Ultimate Addons for Gutenberg does…

It extends Gutenberg with new blocks for: Click here to launch a live demo
Section
Info Box
Posts Grid
Posts Carousel
Posts Masonry
Content and Post Timeline
Multi Buttons
Icon List
Google Map
Advanced Heading
Team
Testimonials
Social Share
Restaurant Menu
All of these new blocks are available right inside the Gutenberg interface and you can use them just like any of the default Gutenberg blocks.
Once you install Ultimate Addons for Gutenberg, all you do is look for the new UAGB Blocks section or search for a block by name: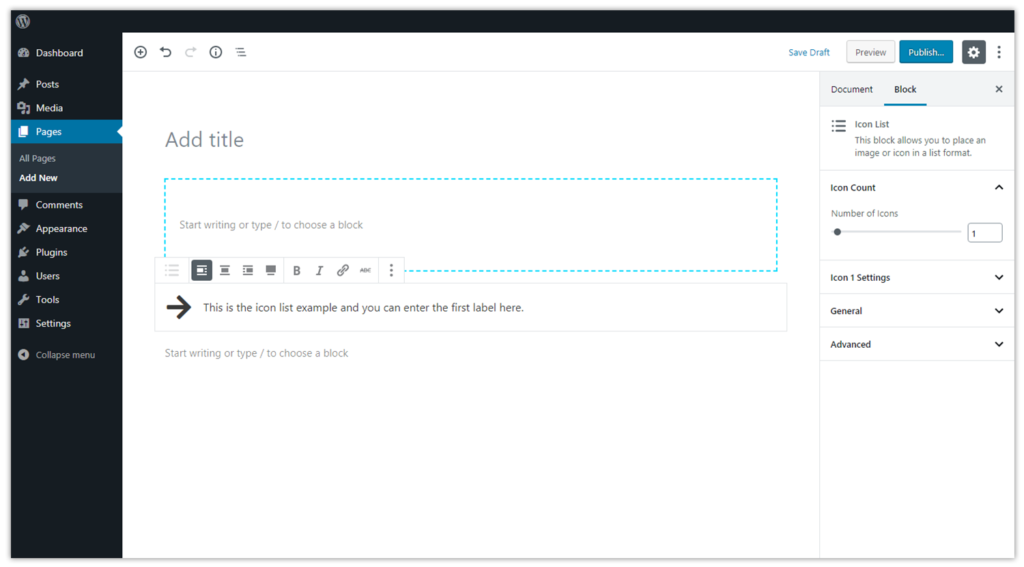 Once you insert one of Ultimate Addons for Gutenberg's blocks, you'll be able to use the sidebar area to customize its looks and functionality according to your needs.
We're Not Done Yet – There's Plenty More To Come
---
This initial incarnation of Ultimate Addons for Gutenberg is just the beginning. We believe in the vision of Gutenberg and have big plans to not just expand the number of blocks available in Ultimate Addons for Gutenberg, but also build the Gutenberg editor into our other products.

Let's start with the blocks we have in the pipeline, though!

We're already hard at work expanding what you can do with Gutenberg and Ultimate Addons for Gutenberg. Right now, our roadmap includes new blocks for:
Advanced Tables
YouTube Video
Menu
Social Sharing
Gallery
Icon List
Table of Contents
Separators
Click to Tweet
Beyond that, we're also working on ready-to-import websites built with Gutenberg and Astra.
We already have a large library of ready-made Astra sites built with Elementor and Beaver Builder.

By combining Gutenberg's functionality and our Ultimate Addons for Gutenberg blocks, we'll be able to similarly create beautiful sites based on the Gutenberg editor and Astra.

Beyond that – our Astra theme is already compatible with Gutenberg right now, so you can start building your own designs with Ultimate Addons for Gutenberg and Astra right away.
How To Get Started With Ultimate Addons for Gutenberg
---
Ready to get started with Ultimate Addons for Gutenberg? Here's what to do

Step 1: Install and Activate the Ultimate Addons for Gutenberg
The Ultimate Addons for Gutenberg is like any other WordPress plugin. You can install it direct from the WordPress repository.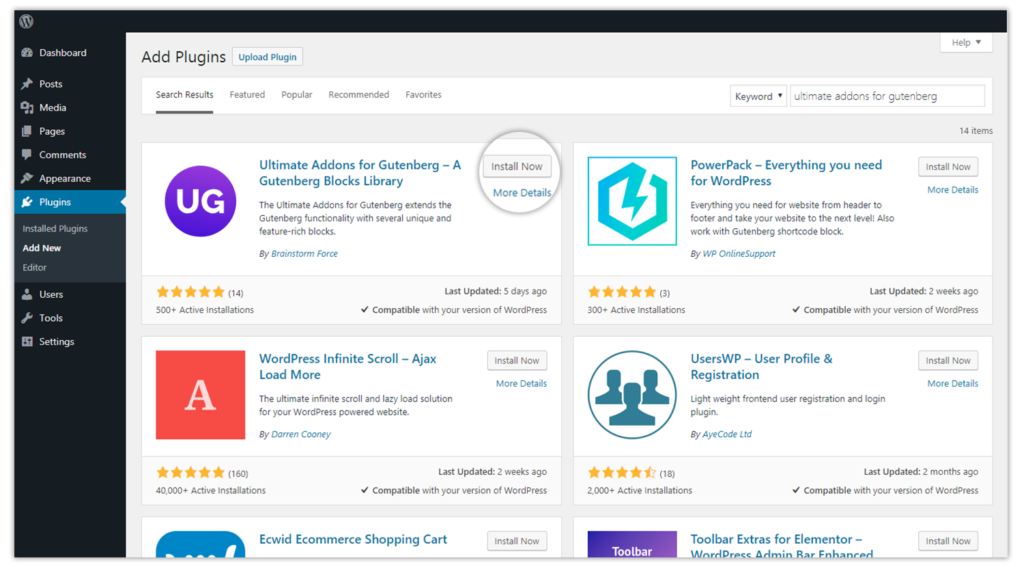 Once installed, activate the plugin on your website.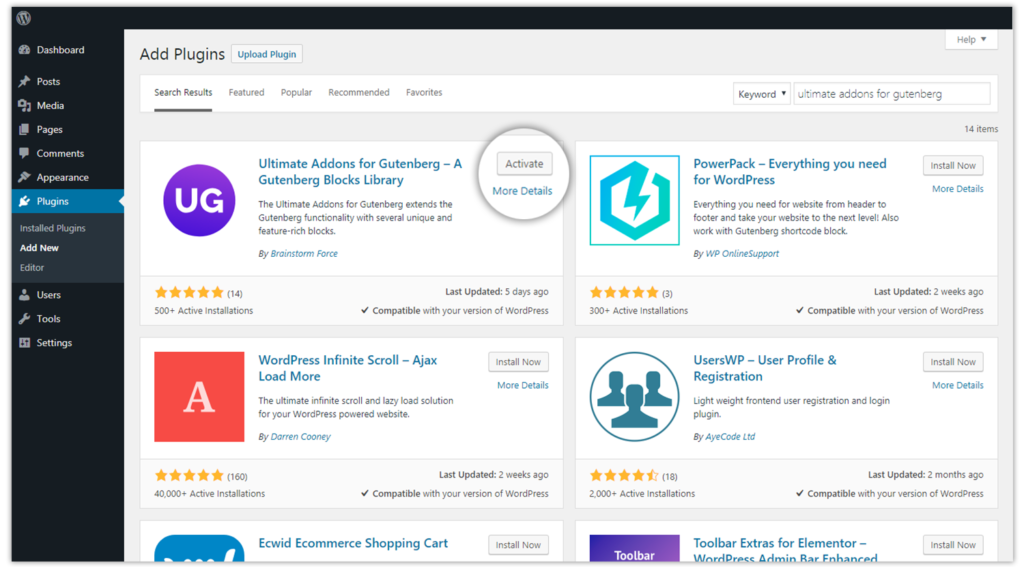 Step 2: Begin creating or editing a page or post

Step 3: Click on the + icon and scroll down to the UAGB Blocks section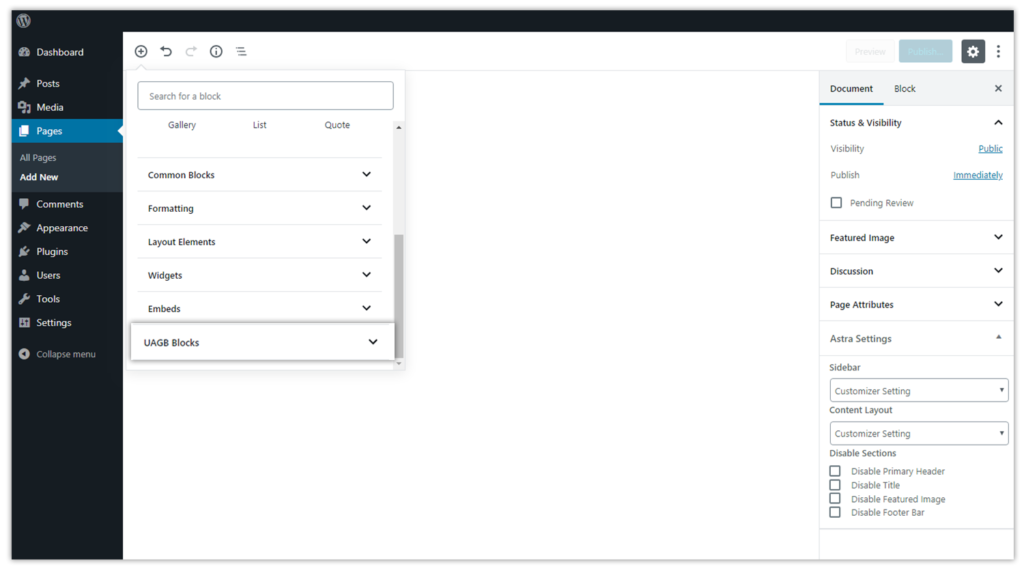 Step 4: Simply click on the block you wish to add on the page or post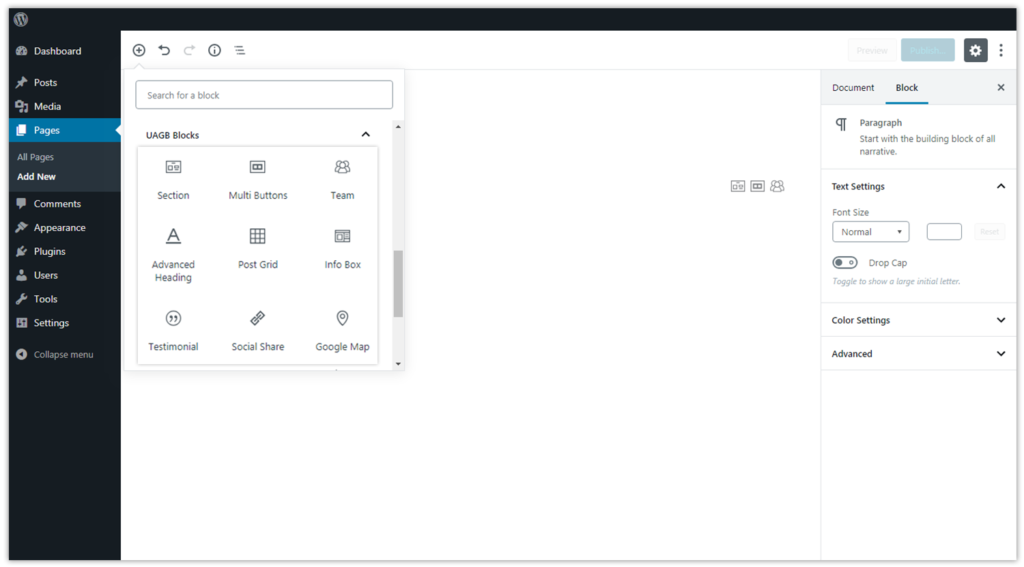 Step 5: You can manage the settings through the right panel.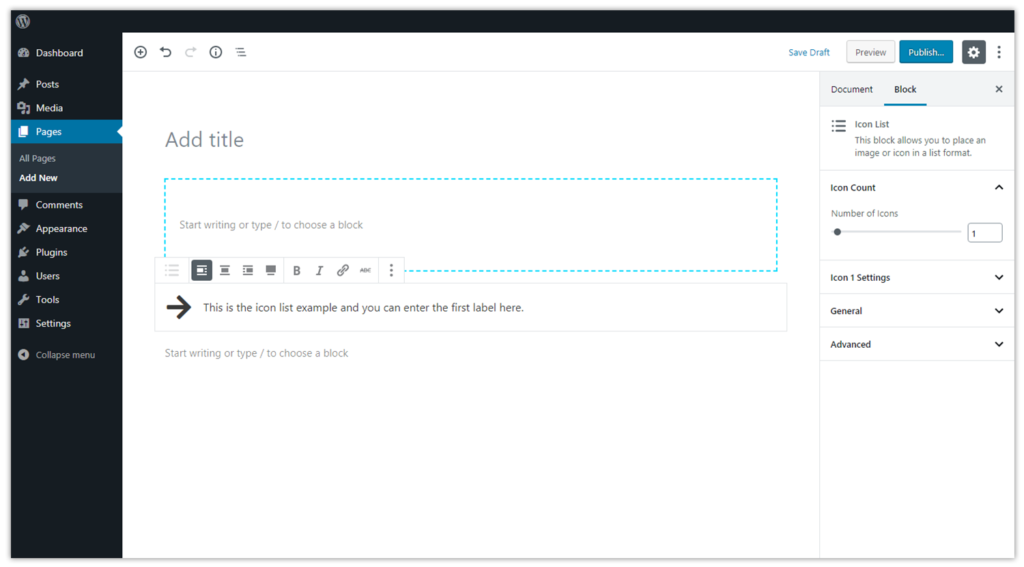 Interesting right?

We will be adding several UAGB blocks that you can fetch and use to build beautiful posts and pages.

Like I just said above, there is a lot that we are working on and we'll definitely take you on an ultimate WordPress experience with the Ultimate Addons for Gutenberg!

Have any more suggestions or ideas for us? We would love to hear from you! Please drop them in the comments below or simply write to us!