I'm excited to announce a new member of our Brainstorm Force product family – ProjectHuddle! 🎉
ProjectHuddle is a very popular tool that lets you use sticky note-style feedback on your web projects.
If you're a small agency or freelancer, I am sure you know how challenging it can be to get focused feedback from clients on your web designs. We think you will be blown away with this awesome product as it solves that problem in a simple but exceptionally effective way!
We constantly strive to bring the best tools and products to help you build stunning websites and set up a faster, more efficient workflow. We think ProjectHuddle fits right into that.
It's an exciting new chapter in our journey that will unlock more growth potential for ProjectHuddle and add more value to Brainstorm Force customers.
We also have exclusive offers on ProjectHuddle only for you! Read along to find more about it.
ProjectHuddle: What And Why
Launched 5 years ago by Andre Gagnon, ProjectHuddle solved real-world challenges for web design agencies and freelancers and became a genuine game-changer.
What Is ProjectHuddle?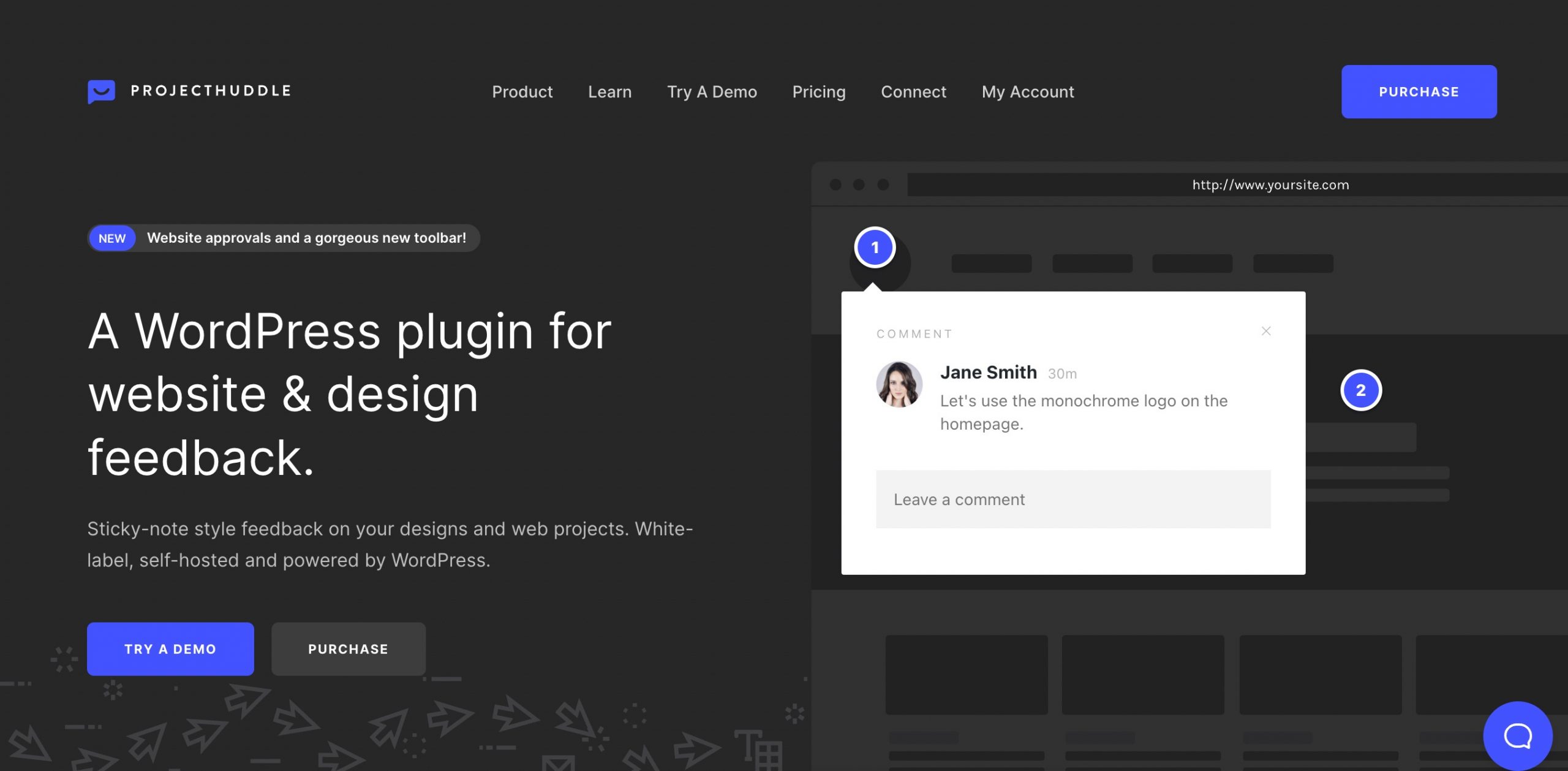 ProjectHuddle is a WordPress plugin that lets you collect sticky note-style feedback on your designs and web projects.
It's so easy to add any page or website. Clients can then select specific areas of your design, point, click, and type constructive comments on top of your mockups and site designs.
The client can show as well as tell, which provides targeted feedback for more efficient workflows.
You, as the agency, can see the what, where, and how and everyone has the information they need at their fingertips.
It's super simple and exceptionally helpful!
What's more, it works on any platform. That includes WordPress, Joomla, Drupal, Shopify, and others!
ProjectHuddle has helped over 6,000 agencies and freelancers obtain clear feedback from clients.
It has been recommended and featured by many industry leaders like Cloudways, Pagely, WPElevation, TheAdminBar, WPCrafter, WPBuilds, WPLift, WPMayor, and others.
Why ProjectHuddle?
ProjectHuddle was launched in 2016 when Andre Gagnon was freelancing and doing contract work with agencies.
Having worked a great deal with clients, Andre tried to get them to use many different tools to help streamline project management and provide feedback on wireframes or designs.
There were many solutions on the market, but nothing that was perfect for both agency and client. They were often expensive SaaS offerings that locked you into specific platforms and didn't always deliver what was needed.
Every time a client needed to learn a new tool, remember another login password, log in and check for feedback frequently, it was creating a lot of friction. After trying probably dozens of different solutions, Andre couldn't find anything that did what he needed it to do.
I am sure you must have come across such situations while working with your clients too!
But you now have the solution – ProjectHuddle!
With ProjectHuddle, there are no logins to remember. No tool to learn. Just go to your website, add a code and it's ready to use.
Highlights of ProjectHuddle include:
Works on different platforms including WordPress
Simply add page/website link or add a code to a page and it's ready to use
Helps you and clients show and tell feedback
Removes friction with a simple feedback mechanism
Speeds up review and feedback for faster development
What Does This Acquisition Mean for ProjectHuddle Customers?
The important thing we want you to know is that ProjectHuddle isn't going anywhere. In fact, it's only going to get better from here!
Your licenses and access to ProjectHuddle will not change.
You will have uninterrupted access to ProjectHuddle as you expect.
You will still receive full support from the team as you deserve.
All existing purchases including lifetime licenses will be honored.
Brainstorm Force will continuously strive in making ProjectHuddle even better!
What's More?
Our work has just started.
We will use the scale and knowledge of our new combined team to develop ProjectHuddle and build new innovative solutions to help you grow your online business.
We are determined to continue Andre's hard work and support ProjectHuddle and all its users with whatever resources they need.
As for Brainstorm Force, we remain dedicated to making our entire suite of products more powerful, more innovative, and more accessible. Our goal of making web design and growing an online business faster and easier is still the driving force behind everything we do.
We wouldn't be where we are without you. If you have any ideas on features you would like to see in ProjectHuddle or any Brainstorm Force product, our door is always open.
Just contact us through our email. We are always open to new ideas and feedback from the community!
As always, I want to thank you for your continued support of Astra and the Brainstorm Force team. We look forward to bringing you more amazing solutions to help you grow your business.
We have a lot more coming up before the end of 2021.
Other developments to look forward to including:
A new version of Starter Templates powered by AI
Spectra 2.0
Exciting widgets in Ultimate Addons for Elementor to make your holiday season awesome.
Stay tuned!