So, we'll be speaking about the most recent update of WordPress this year!
It's not just one that introduces a new default theme, but is bigger than the rest – since it is the first WordPress update released by a powerful women-only squad!
WordPress 5.6 was released on the 8th of December 2020. It brings with it a handful of new updates, new features, and the new Twenty Twenty-One theme. So while the release post is quite informative. We wanted to dig deep into the inside story too.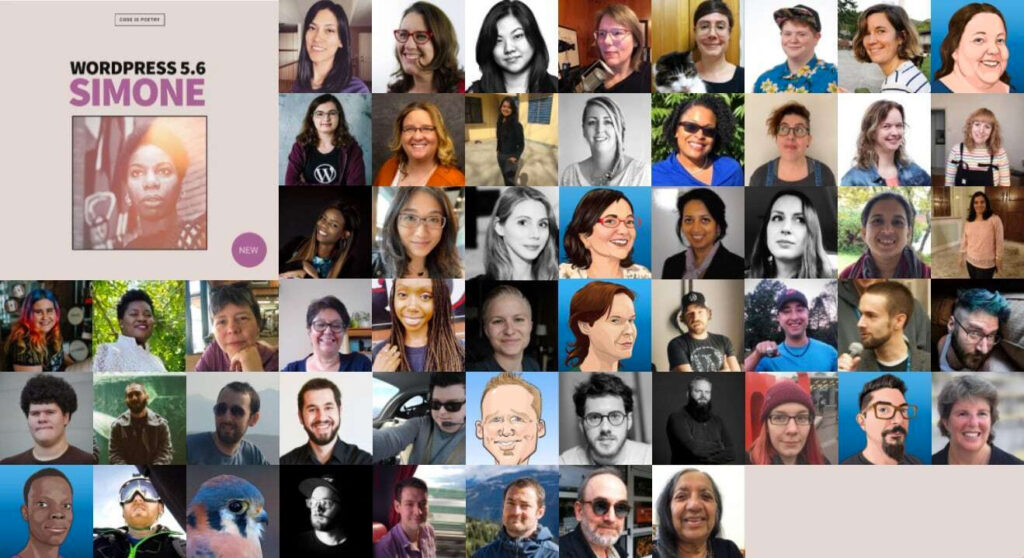 So, We caught up with Monika Rao, the test lead for the release. It wasn't difficult since she is a part of our team here at Brainstorm Force! 😉
Before we get started, I'd like to mention that Monika Rao is part of our team and is working on our flagship product, the Astra Theme. We are extremely proud of her achievements and will continue to support her in contributing more towards WordPress.
Astra, and all other Brainstorm Force Products have already been updated to support WordPress 5.6. If you're using our products exclusively, you can update with no worries.
Coming back to WordPress 5.6…
Monika was the test lead of the release, and the best one we'd talk to about it.

So, let's jump in here to know what you can expect from the latest version of WordPress and Monika's experience with the squad.
What's New in WordPress 5.6?
WordPress 5.6 brings a lot of new changes to the table. There are many front end changes, feature updates, and many updates to the code base.
Twenty Twenty-One: Not Just Another Default Theme
December updates bring in a new theme – this time Twenty Twenty-One.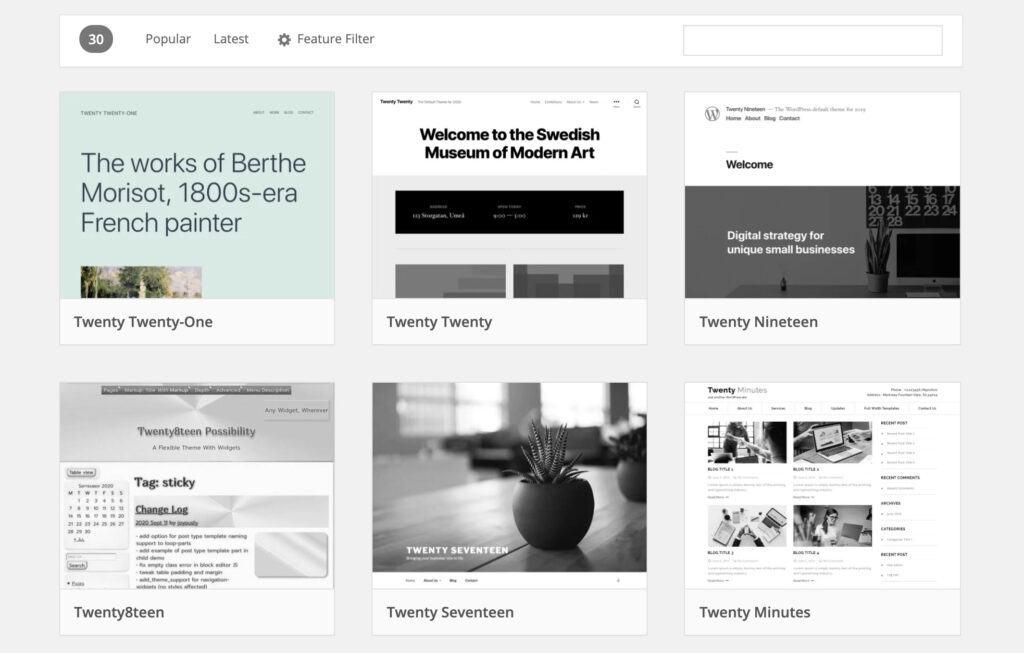 The first thing you'll notice about this new theme is that it is elegant with a modern, 2-column layout that comes with a wide range of pre-selected pastel color palettes. It also supports dark mode and is more like a blank canvas that gives you complete design freedom.
The Twenty Twenty-One theme also has a lot of accessibility features that will help website builders design an accessibility-ready website without putting in the extra effort.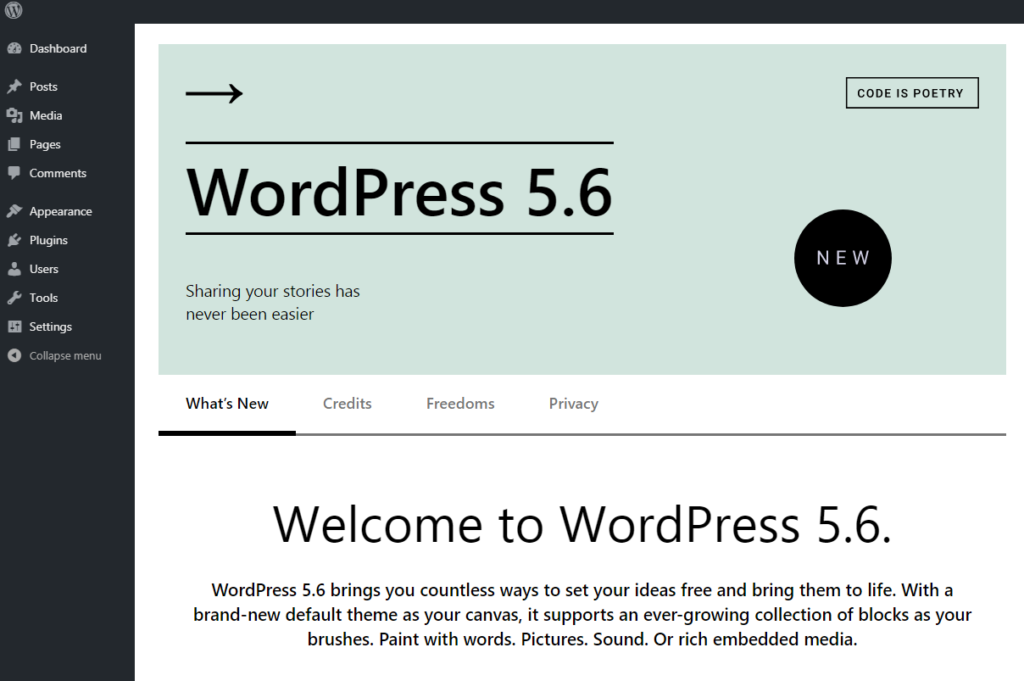 Usability Changes in Block Patterns, Layouts, Headers, and More
WordPress 5.6 introduces preconfigured block patterns that save clicks when you are setting up standard pages on your website. It gives you better layout controls with full-width headers, designs using mixed widths and columns, and a lot more.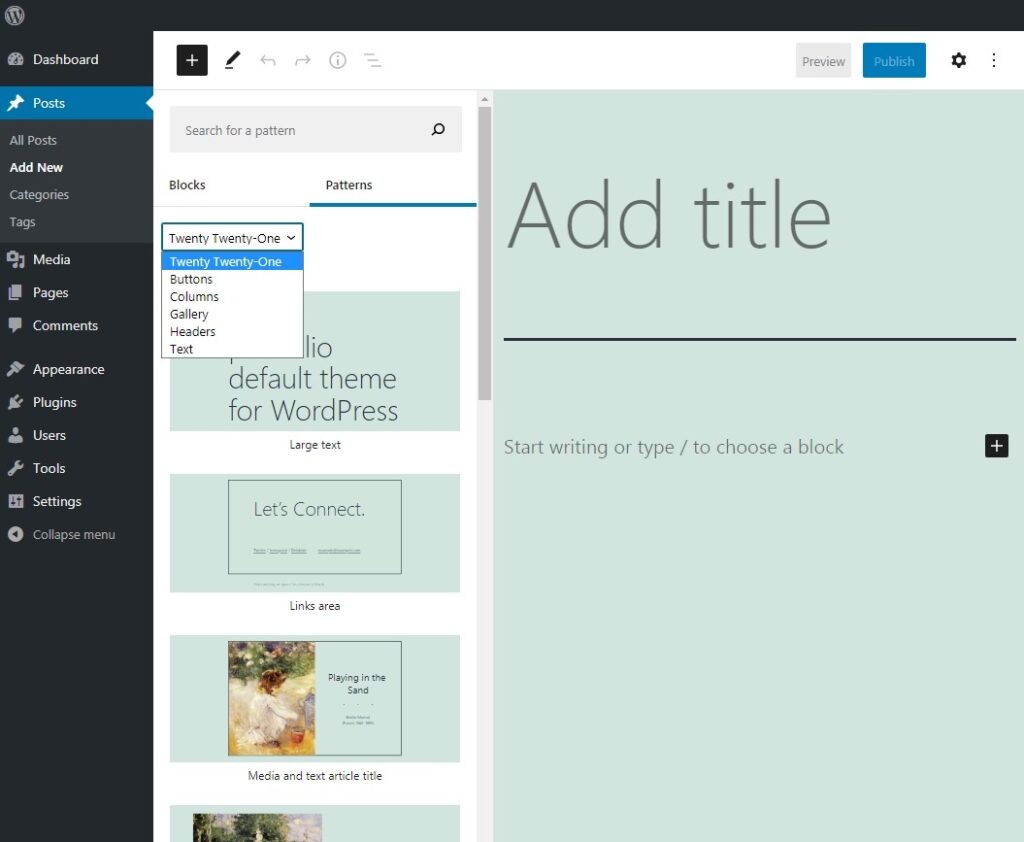 Did you know you can now add subtitles and video captions within your post? Yes, with this update they've made it easier to upload them within a post so your videos are accessible to all those who prefer having subtitles.
PHP 8 Support, Application Passwords, and More
This update is the first step towards the core support for PHP 8.
Apart from this, the release has improved the way developers can use REST API to communicate with a website from outside a WordPress installation. Yes, with the introduction of Application passwords, developers can now easily access their website through third-party apps and platforms like Facebook and Google.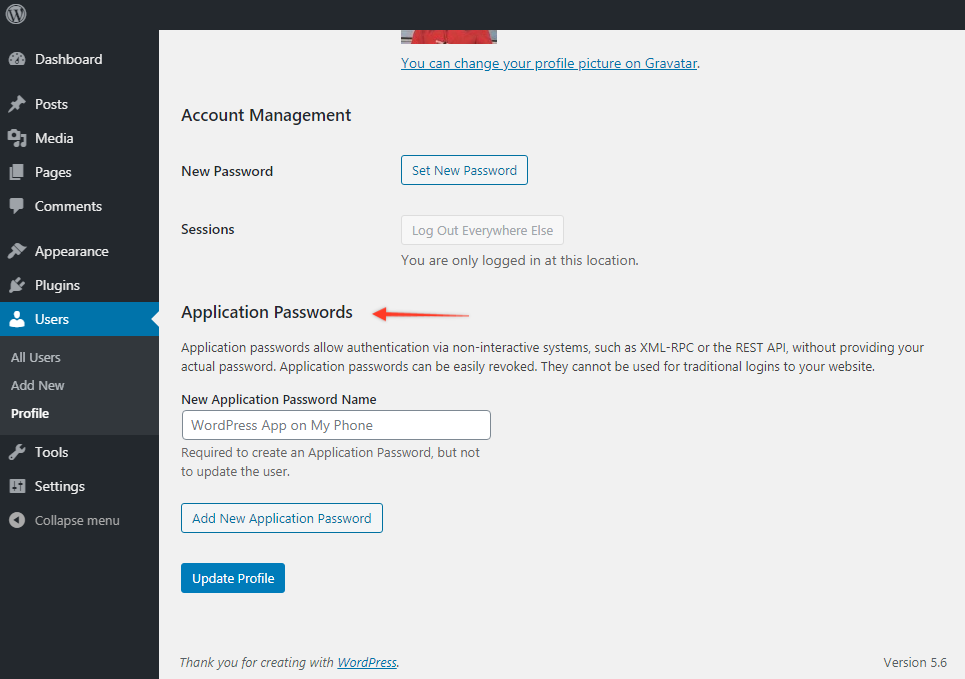 But, there has been some chatter around the new "Application Passwords" feature and the risks associated with that. When asked, here's what Monika has to say…
Yes, I too have seen some blog posts floating around which mention Application Passwords as a security risk, but I don't think it is. I think it is a great new feature that will open the WordPress ecosystem even further by allowing 3rd party apps to communicate with WordPress.
However, I do acknowledge the risks as well, but I don't agree that they are new. The risks of social engineering, phishing, and similar risks remain the same, and the entire team works hard to make sure that we make every release as secure as it can be. I think users should educate themselves and also stay vigilant. Clicking links from unknown or unrecognized emails is a bad idea, whether it is WordPress related or not.
Anyway, I am aware that some security plugins have already introduced a feature to disable Application Passwords. And if users don't plan on using it, they can very well do that.
Welcome, Auto-Updates for All Releases!
Until now, WordPress only applied auto-updates for minor releases. With WordPress 5.6, that changes. If a user has updated to 5.6 from a previous version, they will be enrolled in auto-updates for all releases, but they will be able to opt-out if they want.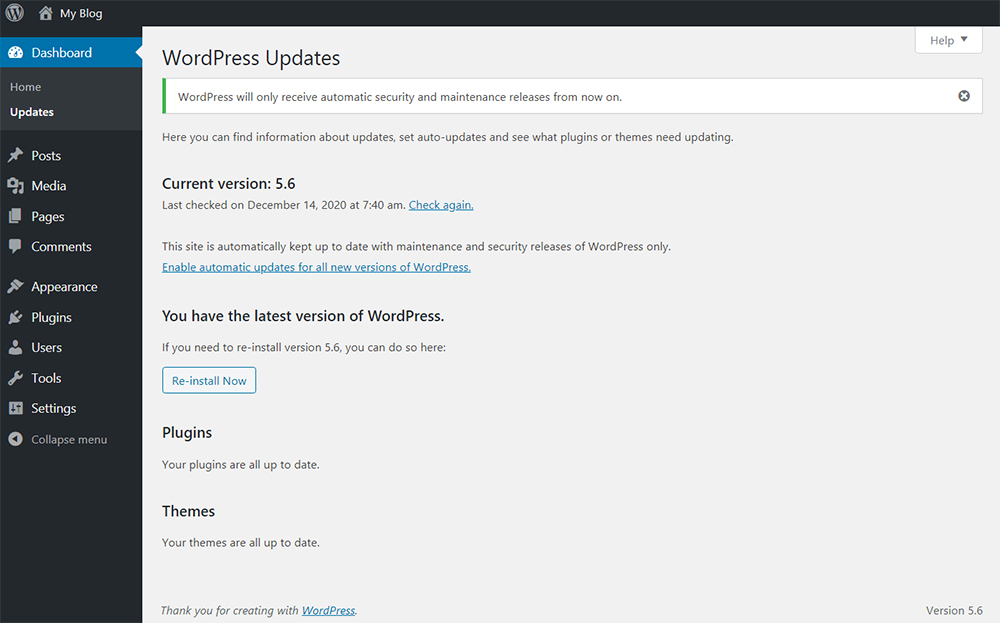 For all new websites built with WordPress 5.6, auto-updates will be enabled for major and minor updates.
So, this was what WordPress 5.6 brought in. Let's get the inside story.
Behind the Scenes With Monika Rao
Monika, congratulations on the release and also for being the test lead for WordPress 5.6. It is an honor to have you on the team. Would you like to tell us more about your responsibilities and priorities in this update?
As a test lead, my first priority was to ensure that the release would be stable and more importantly, ready for production sites. To effectively manage all the testing, we decided to run test scrubs every week, and talk about the testing areas to get the entire team involved.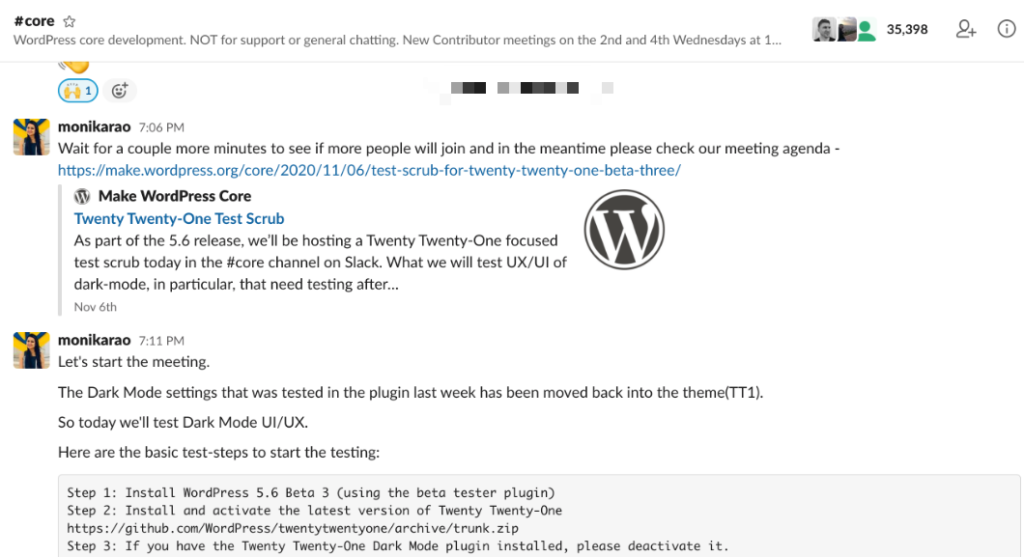 We initiated the first test scrub on 29th September and we got a great response from everyone. So, we continued to run the scrub every week and also picked up tickets that needed an immediate resolution.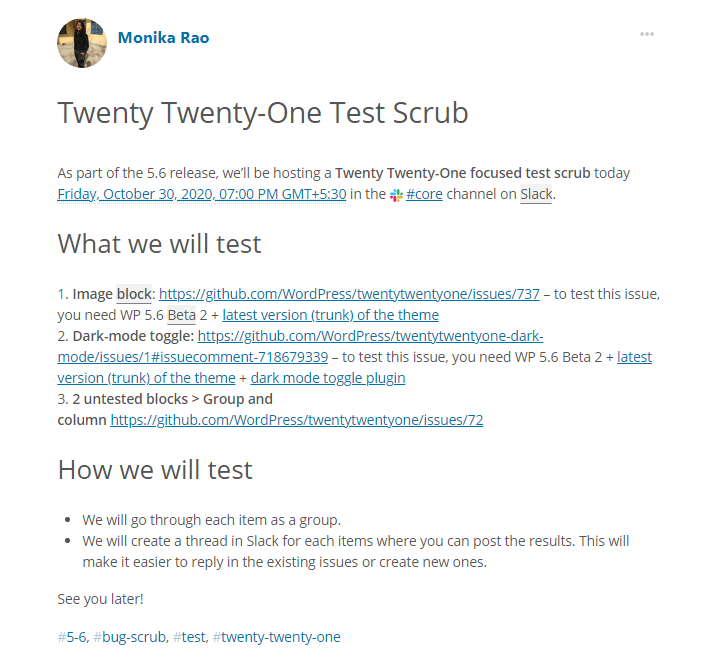 Well, according to you, what are some technical, under-the-hood changes to this release?
Broadly speaking, there are 2 major changes that users should look out for. WordPress 5.6 has better compatibility with PHP 8, which means users who are already on PHP 8 should see some performance improvements and better stability.
Also, as part of a development plan announced in June, WordPress 5.6 uses newer versions of jQuery and other libraries. This will bring a lot of improvements. And yes, users should make sure that their themes and plugins are ready for this change.
That's great! And I am sure our team has made sure Astra, our page builder addons, and the other plugins are ready for it.
So, tell us, should one update to WordPress 5.6 right away? Just like any other WordPress update…
As I mentioned, WordPress 5.6 is ready for live websites, but some themes or plugins might not be. End users and website developers should confirm compatibility with the themes and plugins they might be using before they decide to update.
Users should check the release notes of their plugins' and theme's latest builds or contact the plugin or theme developer to confirm if they're compatible.
As always, it's recommended to take a full site backup before updating to the latest version.
And like you mentioned, yes, I have also worked along with our team at Brainstorm Force making sure that we are definitely up to the mark and ready to move ahead with WordPress 5.6.
All our plugins and Astra are thoroughly tested with this latest version. 🙂
Now that we know what WordPress 5.6 has for us and that people can update to this latest version carefully, can you share some highlights about the future releases?
Well, the core team has already started working on WordPress 5.7 and is looking at feedback to prioritize tasks. There were several things planned for 5.6 which were not included, so they have been pushed to the 5.7 release. Some of them are –
FSE/Block-Based Twenty Twenty-One – This should be available in the theme repo once finished
Navigation Menu Block
Better Customizer Support
FSE Roll Out – This will be added to the Gutenberg Plugin
Drop PHP 5.6 Support – This is under discussion
Okay! Moving to your story Monika. You are a nice cheerful lady with a sweet smile. We can say that since we've worked together and spent some really good time.
But, I am sure our readers would like to know more about you. How did you start with WordPress and what brought you here up today?
Sure. I was born and brought up in Udaipur, a small town in Rajasthan, India. My parents were very supportive and encouraged me with respect to education and everything I wanted to do. So, while I was doing my graduation, I first heard about WordPress and all it could do.
My first job after graduation was with an international firm that I had to leave to move in with my parents. But, to my luck, this decision brought me to another job as a Quality Analyst with a Web development company – and this time I started working deeper with WordPress, discovered themes, plugins, and much more.
My first contribution to this platform was for WordPress 4.7 way back in 2016. The first badge on my profile got me excited to contribute more.
I also started a project to translate WordPress to my native language, Hindi, and I became the GTE (General Translation Editor) for that project. When we organized WordCamp Udaipur in 2017, I was given a chance to present, and I also met a lot of new people from my community who were also working with WordPress.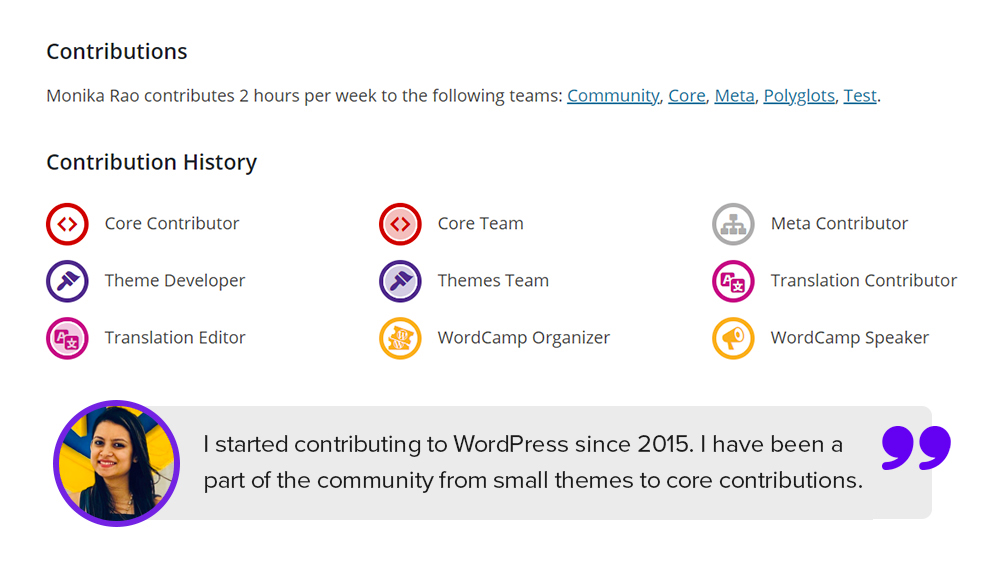 Coming to the 5.6 release, it all started with Josepha's Tweet about wanting an all women release team. I've always felt that not enough women take part in WordPress, so I decided to jump in. We talked, and I got on board as the test lead. It's been a wonderful journey— worth every second.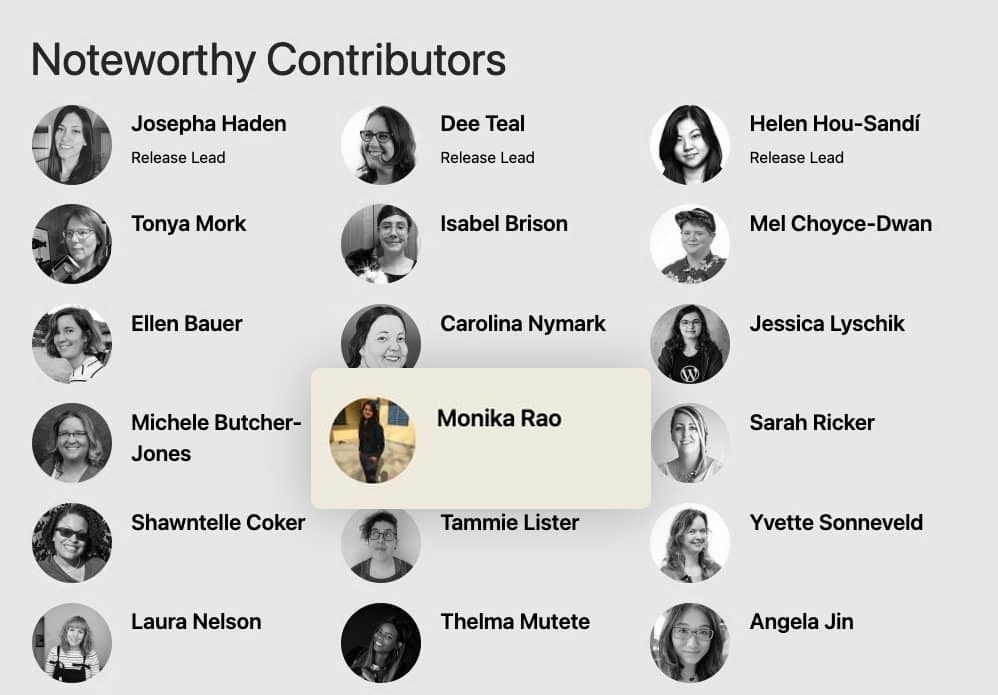 And, I do want to bring more women to the WordPress ecosystem in the future as well.
Thank you, Monika, for inspiring many more women to come ahead and take responsibilities like these. There's absolutely no doubt that you've been an inspiration and a matter of pride for us at Brainstorm Force.
I am sure you are inspiring many more contributors to volunteer for the upcoming updates to make WordPress better.
To Put It All Together!
So, this was a short, yet informative and inspiring conversation that we had with Monika, the Test Lead for WordPress 5.6. You can get in touch with Monika on WordPress Slack (@monikarao), her Twitter, Facebook, LinkedIn account, or even drop her an email.
WordPress 5.6 is a significant update that delivers some well-chosen improvements. You can read more about it in the WordPress 5.6 release post here.
As far as we are concerned, we love to be a part of WordPress and the entire ecosystem. Over the years, we're proud that many members of our team have been the core contributors to every major release of WordPress.
Do you have a thought to share about WordPress 5.6 or wish to drop in a Hi to Monika, you can do that in the comments below.