What if I told you that the already great Beaver Builder can have a lot more features? Yes, some modules and templates that make website building easier and faster?
In this post, we'll see a quick list of the most useful free and premium Beaver Builder addons that work great with the page builder and give you some great additions making it whole.
So, let's quickly move into the list –
We Begin With the Premium Beaver Builder Addons
Premium is not just a word! Although you pay for these Beaver Builder addons, you are sure to get the complete value for every penny you spend on them. Each of these premium Beaver Builder addons come with high-quality advanced set of modules and uncompared support you'll love!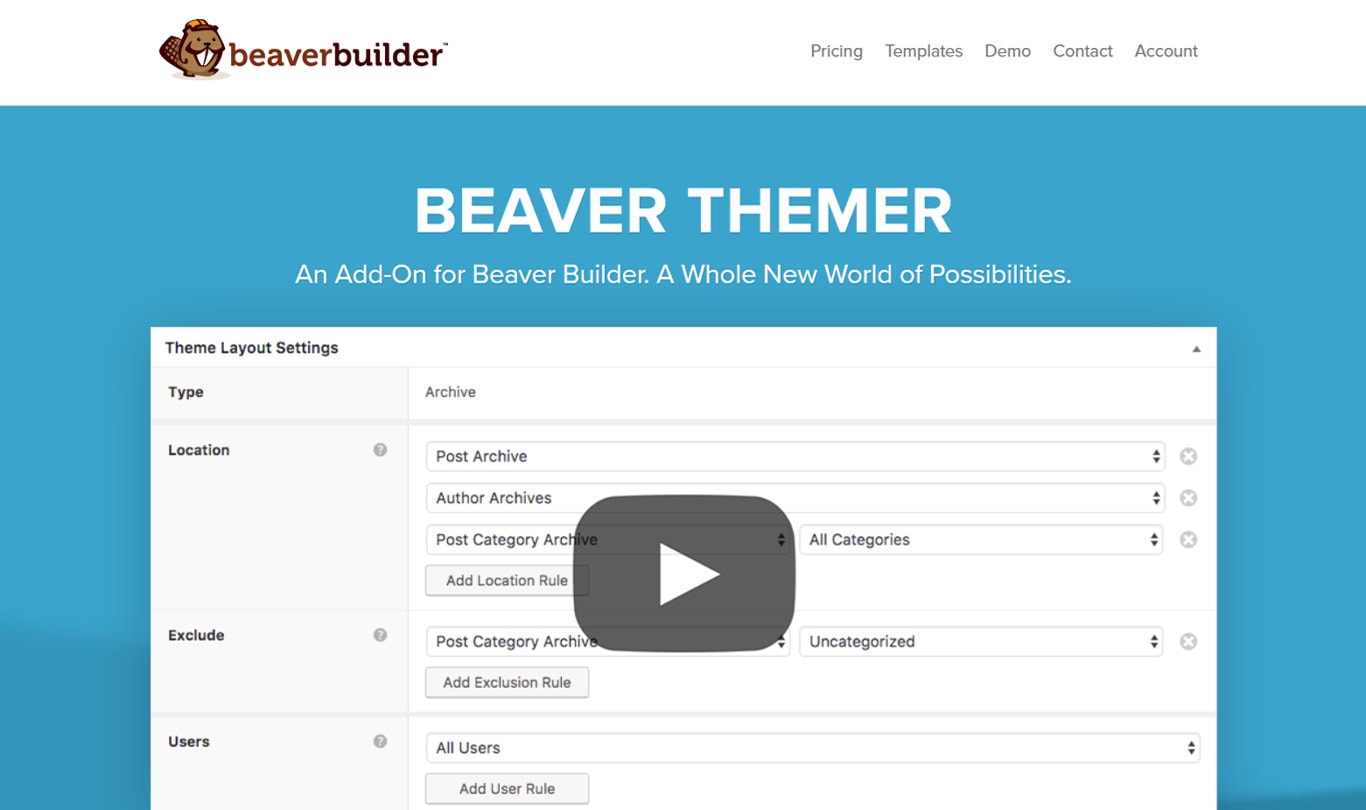 Built by the Beaver Builder team themselves, Beaver Themer is an extension for the Beaver Builder page builder. Traditionally, Beaver Builder only works on static pages and posts of your website, but not on dynamic pages such as Blog Post Archive, WooCommerce Store Page and so on. Furthermore — you're not able to use Beaver Builder in other parts of the website such as header, footer, 404 pages and so on.
Beaver Themer extension bridges this gap. Once installed, it allows you to create dynamic templates that you can implement on different parts of your website. For example, create a blog post template once and apply it throughout your entire website.
Beaver Themer costs $147 / year.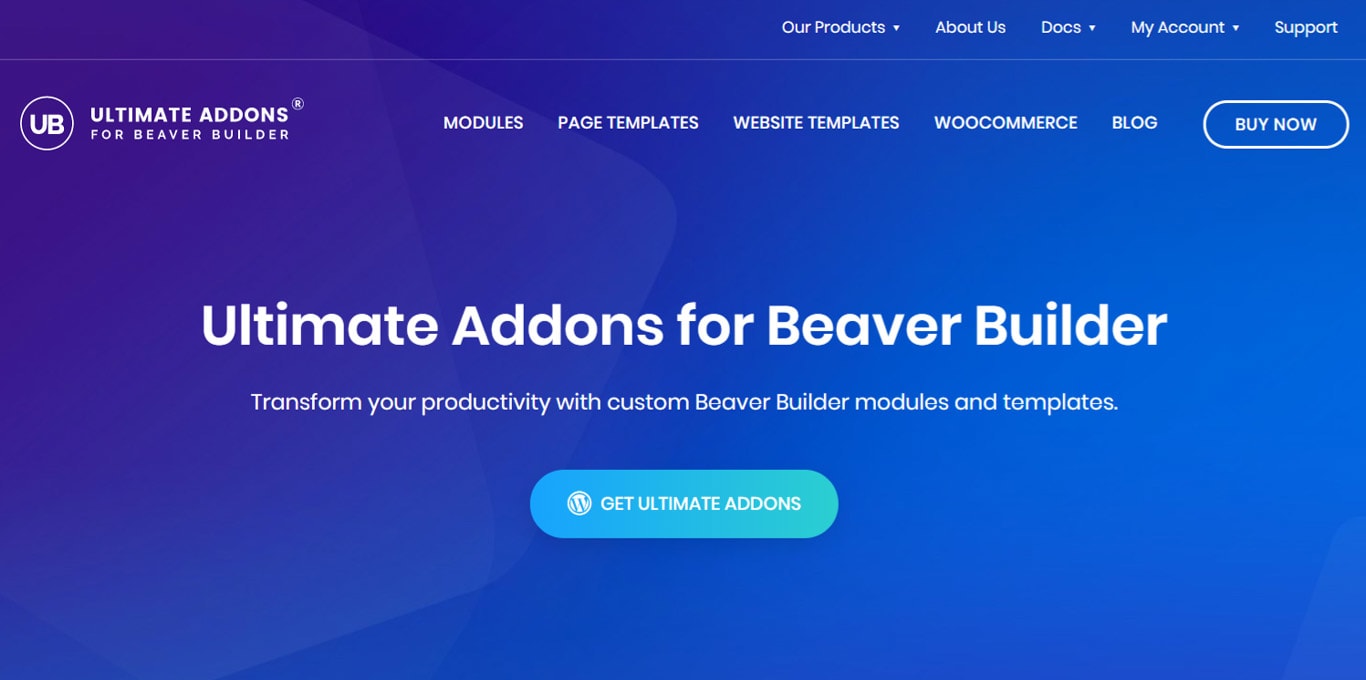 Developed by the pioneers of page builder addons, the Ultimate Addons for Beaver Builder is a promising Beaver Builder addon with over 55+ advanced modules and 300+ page and section templates to enhance the page building experience.
With a major focus on customer satisfaction and website performance, the Ultimate Addons for Beaver Builder is a complete blend of creative features built with the most optimized code – making it the most lightweight Beaver Builder addon of its kind.
Need row separators, info-boxes, hotspots on images, photo gallery, faster loading video module, etc.? You get all of this and a lot more with UABB i.e. the Ultimate Addons for Beaver Builder.
The Ultimate Addons for Beaver Builder costs $69 for an annual license and $249 for a lifetime. Learn more about Ultimate Addons for Beaver Builder.
Some Free Beaver Builder Addons
Yes! There are a series of free Beaver Builder addons too!
Hold on to see what all you can get for free and use it the Beaver Builder page builder.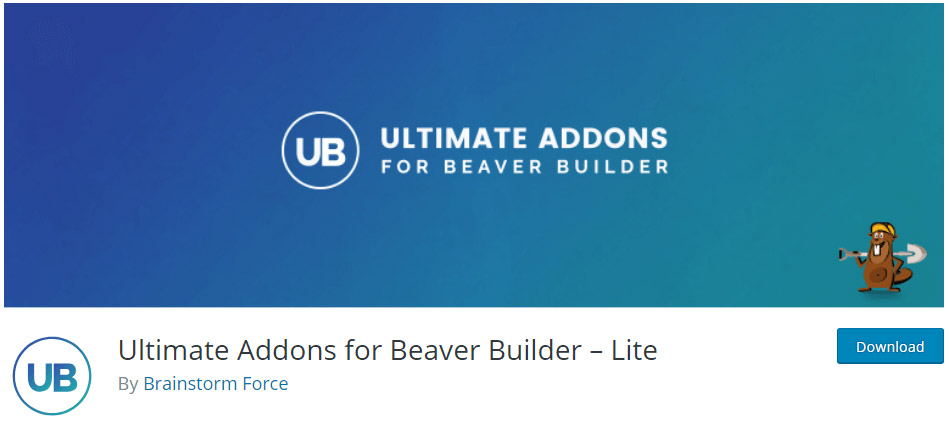 We've already read about the Ultimate Addons for Beaver Builder above. Here, I am introducing you to the Ultimate Addons for Beaver Builder – Lite.
This is the free version of UABB and gives you some necessary modules that you'll need with the page builder. You get modules such as Flip-box, Image separator, slide-box, etc. within this lite version.
UABB – Lite is available on the WordPress repository and can be installed and activated directly from the WordPress backend.
With more than 10,000 activate installs and over 250+ five star ratings, this is without any doubt, the most popular free addon for Beaver Builder.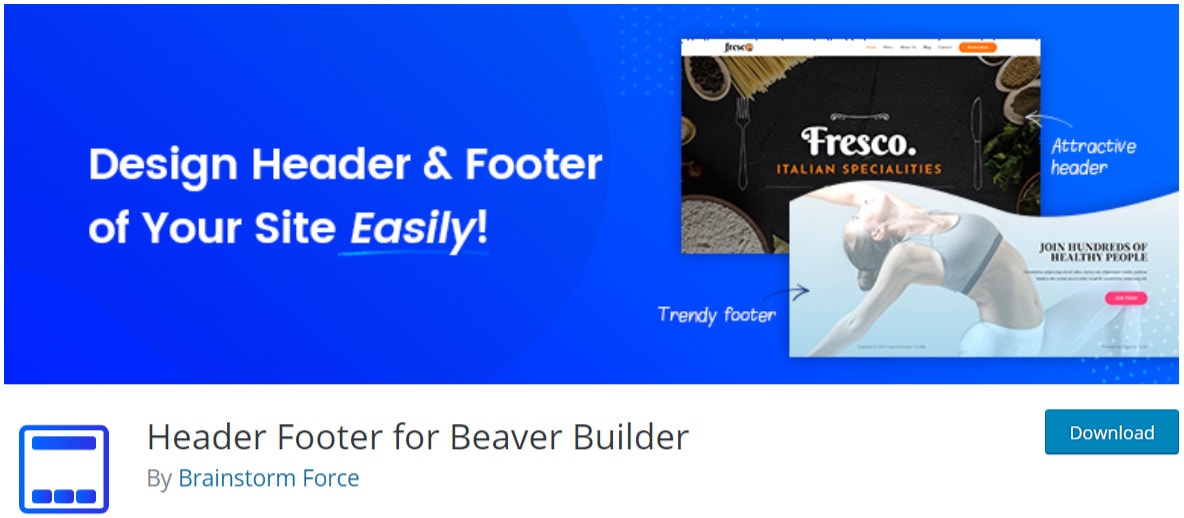 Have you ever thought of designing Headers and Footers with Beaver Builder? This free plugin lets you do that!
You can create a customized template or a page that you wish to add as a header or footer on your website without any complicated code.
You simply need to design a template that you wish to use as a header or footer, open the BB Header Footer settings on the Beaver Builder settings page and select the template you saved to be used as a header or footer.
The Header Footer for Beaver Builder works with the following WordPress themes.
Astra
Beaver Builder theme
Genesis Framework
GeneratePress Theme
Primer Theme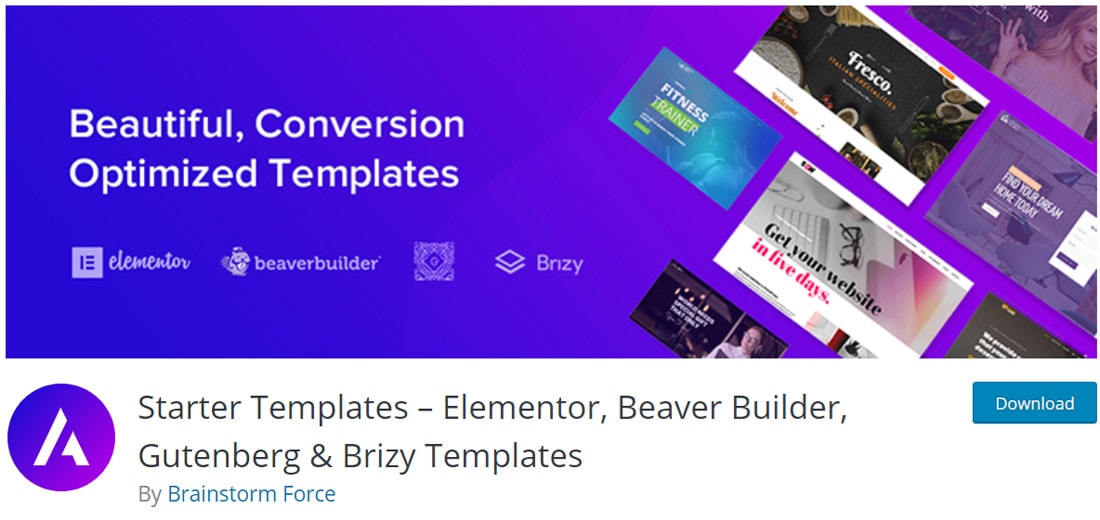 This is my favorite from the lot! Well, it does not have Beaver Builder mentioned in the name, but it's the only thing you'll need to get a complete website demo loaded on to your website!
The Starter Templates plugin allows you to select one among 35 free ready-to-use website demos, import them with a couple of clicks, tweak and use them on your website. You get a set of well-designed and well-thought websites for different niches taking away your pain of researching, designing and building websites from scratch!
Worried about how much you need to pay for it? It's completely free!
All the website demos offered by this plugin are built using 100% free resources and therefore, each demo that you get along can be used on multiple websites, for free!
Curious what kind of websites does it offer? See them on Astra themes website here. The plugin is made to work with Astra theme, but does work with other themes as well.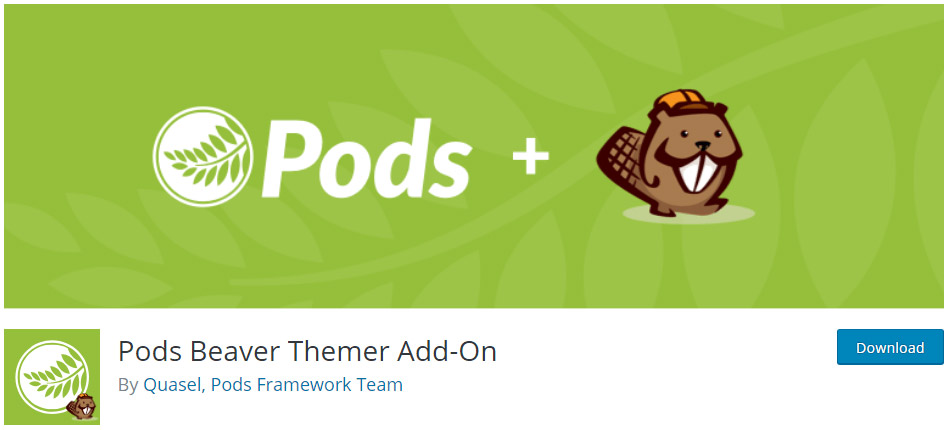 Want to craft some custom trendy content such as Custom post types, Custom Taxonomies, User profiles, etc.? The Pods Beaver Themer Addon lets you do that with ease.
With this plugin you can manage all your custom content in one place. If combined with Beaver Themer, you can design dynamic websites easily using the drag and drop feature of Beaver Builder.
This is a free plugin available on the WordPress repository!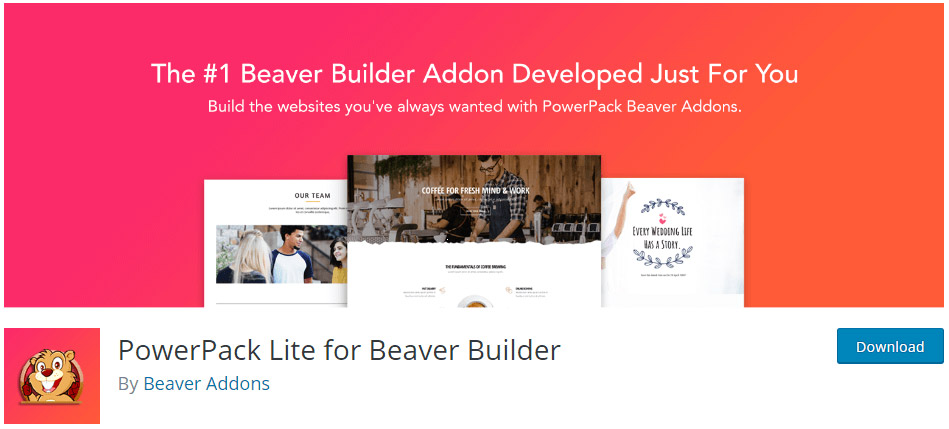 Another free addon for Beaver Builder is the PowerPack Lite for Beaver Builder. This comes with around 12 custom modules that blend with the page builder and give you a better website building experience.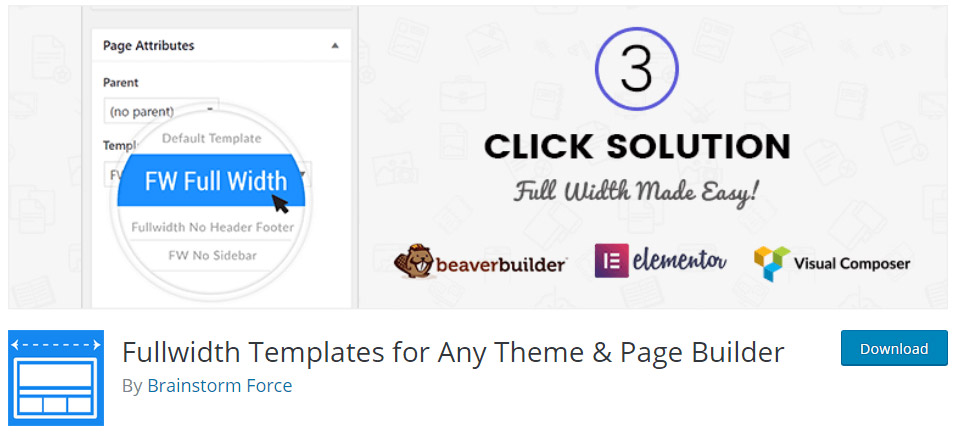 Wish to create a full-width layout with Beaver Builder? Not all themes support this! But with the Fullwidth Templates for Any Theme and Page Builder you can create full-width layouts and save all the changes you make – even if the theme is changed!
This plugin includes customizable blank website templates and no sidebar templates that you can use on your website. This is a free easy to use plugin that requires no coding skills at all!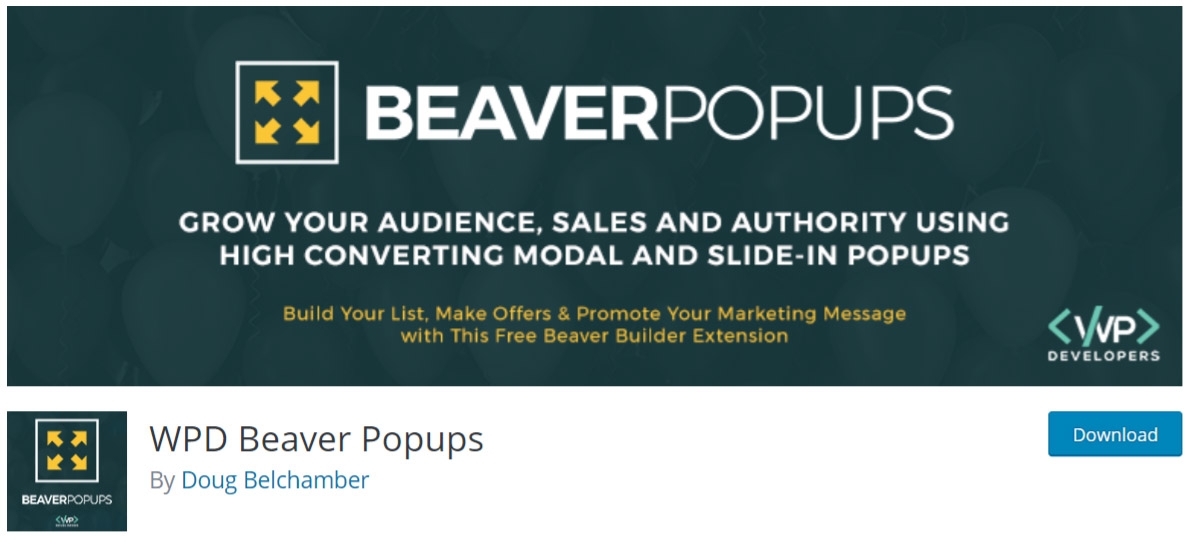 How about building popups using Beaver Builder modules within it? The WPD Beaver Popups plugin allows you to create and design popups using Beaver Builder modules within a drag and drop editor.
This plugin lets you manage all your website popups in a single place and provides triggers like the Scroll depth trigger, Time trigger, Exit intent and on-click trigger that supports Beaver Builder, UABB and PowerPack buttons.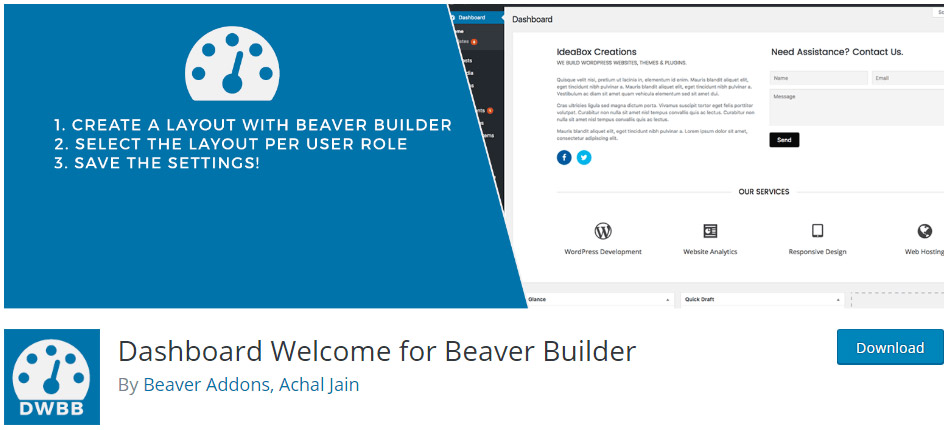 Wish to have a good looking welcome page in your WordPress dashboard? This is helpful for developers who build websites for their clients and want them to get a customized experience when they login to the WordPress backend.
The Dashboard Welcome for Beaver Builder allows you to customize the welcome page using Beaver Builder.
Wrapping It Up!
Beaver Builder is no doubt a great page builder. But, these addons will surely give you a lot more to explore and work on while building a website. You get ready-to-use modules and various other features into your website without having to write any extra code for it.
Most of these plugins come with a single or a couple of features, while the Ultimate Addons for Beaver Builder looks promising with many advanced modules and templates that make website building a joy ride.
So pick Beaver Builder today, decide what features you wish to add and select the addons that best suit your needs.