Welcome! On the hunt for the best WordPress page builder? We can help you with that, but first for those of you who are new to WordPress — a quick explanation of what WordPress page builders are and how they can help you build a beautiful website.
Category
Page Builder
Pricing
Templates
Best Option for Ease of Use
Beaver Builder
Lite: Free
Standard: $99
✔
Best Free Option
Elementor
Basic: Free
Personal: $49
✔
Best for Landing Pages
Thrive Architect
Single License: $67
✔
Why Should You Use a WordPress Page Builder?
WordPress page builders started showing up on the map around 2008, with WPBakery Page Builder thought to have been the first. Third-party companies make page builders so that non-coders like you and me can build personal or business websites quickly, easily, and affordably.
In total, there are well over thirty WordPress page builders out there, which is why articles like this one can be helpful for you to decide which one is right for you.
How Can I Decide Which WordPress Page Builder Is Right for Me?
There's room for so many different page builders in order to cater to different users — their styles, needs, and priorities. There really is no single "best" WordPress page builder out there, so the first thing you should be thinking about before moving forward is what exactly you are looking for in your ideal page builder.
We've listed our recommended options in three categories to help you decide which page builder is right for you.
Best Option for Ease of Use: This option is for new WordPress users who are looking for the easiest tool to learn and use.
Best Free Option: This option is for users whose number one priority is affordability.
Best for Landing Pages: This option is for marketing-oriented users focused on conversions.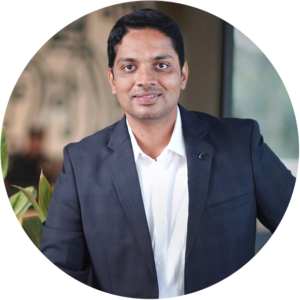 Hello! My name is Sujay and I'm CEO of Astra.
We're on a mission to help small businesses grow online with affordable software products and the education you need to succeed.
Leave a comment below if you want to join the conversation, or click here if you would like personal help or to engage with our team privately.
What Type of Sites Can I Build With a WordPress Page Builder?
Millions of beautiful websites have been built with WordPress page builders, and these sites fall into numerous categories, including:
Resume sites
Artist/Musician portfolio sites
eLearning
E-commerce
Professional Services sites such as lawyers, therapists, life coaches, etc.
Restaurants
And more!
Can I Use a WordPress Page Builder to Build an Amazing Website on My Own?
If you have a self-starting, do-it-yourself mentality, you too can absolutely build an amazing site for your business! Now, let's discuss the best WordPress Page Builders that can help you achieve this…
Best Option for Ease of Use: Beaver Builder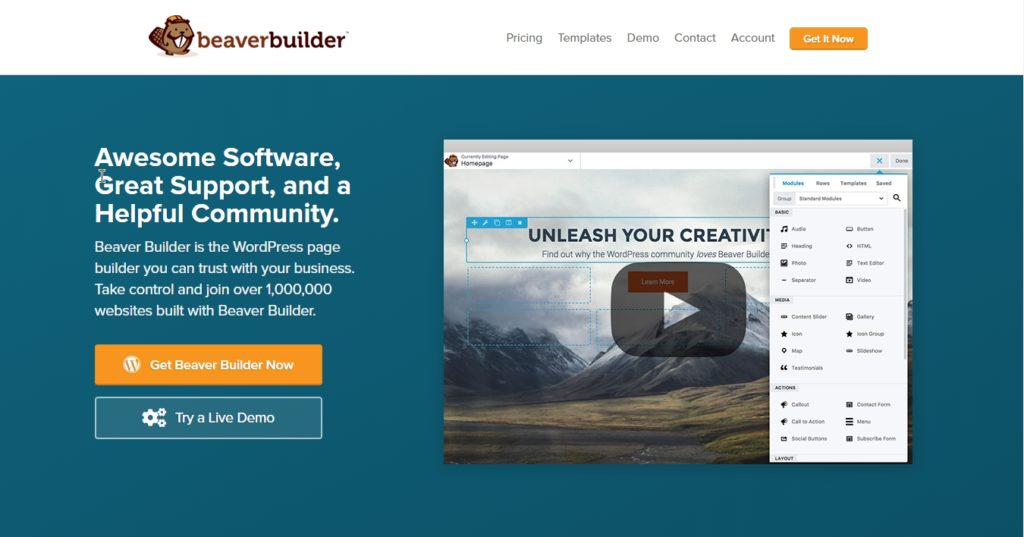 If you are completely new to the world of WordPress and building websites, we recommend you use Beaver Builder. Launched in 2014, Beaver Builder is popular amongst both developers and do-it-yourselfers, with an estimated 500,000+ users and installations on over one million websites.
Beaver Builder Ease of Use
Beaver Builder was built by a former WordPress web building agency that wanted to create a fast, efficient, and most of all, easy to use page builder for their clients. This client-first attitude has led Beaver Builder to be incredibly intuitive and they receive high marks for customer support, which really makes them stand out amongst other WordPress page builders.
Beaver Builder features a live, front-end editor that works in real-time. Check out their hosted demo where you can test their modules and user interface out for yourself and see if you like it!
Beaver Builder Templates
Beaver Builder also has an impressive library of responsive and customizable templates, making it that much easier for you to have a website up and running in no time, just swap out the content with your own. This library and Beaver Builder's collection of modules (aka widgets) positions it as an industry agnostic page builder — if you are a lawyer, artist, restaurant, small eCommerce shop — you can build your site with Beaver Builder.
Beaver Builder SEO
Beaver Builder is built with beautiful code and produces very neat code as you build out your website with it. You can definitely build out an SEO-friendly site using Building Beaver.
Beaver Builder Community
With over 500,000 users and installed on over 1,000,000 websites, Beaver Builder has an impressive community. You can interact with other users on their hosted community forum, or link up with the Beaver Builders Facebook group, where you can knowledge share with 15,000+ members.
Beaver Builder Third-Party Ecosystem
When considering a WordPress page builder, a huge vote of confidence is looking at the success of third-party addons to the builder. If third-party addons are having success, it means two things:
The user base of the builder is large and active
The builder is built on solid, clean code and integrates well
Beaver Builder is a shining example of a tool that has great third-party addons that extend its power through extra modules and templates. Examples include Starter Templates, Ultimate Addons for Beaver Builder, and PowerPack for Beaver Builder. Combined, these addons have over 330,000 installations with an average rating of over 4.5 stars.
In addition, this page builder works with almost any theme, and they even mention on their site,
"If for any reason it doesn't work, we will work with you to ensure it does!"
Just another example of their world-class support.
Beaver Builder Pricing
Be mindful, you will have to pay a premium for this user-friendliness. Starting at $99 for a standard license, Beaver Builder is one of the pricier page builders out there but still quite a bargain when it comes to investing in a beautiful website.
Beaver Builder features the following licensing options:
Standard: $99
Unlimited Sites
1 Year of Support
All Modules and Templates
Pro: $199
Everything Offered in Standard
Multisite Capable
Agency: $399
Everything offered in Pro
White Labeling
There's also a free version called Beaver Builder Lite available as a plugin on the WordPress.org repository, however, this has limited features and should more so be used as a trial as opposed to fully building out your site. If you're looking for the best free option, that's coming up next.
Final Verdict on Beaver Builder
If you're looking to build your own WordPress website and know that you could use some super helpful human support along the way, Beaver Builder is the way to go.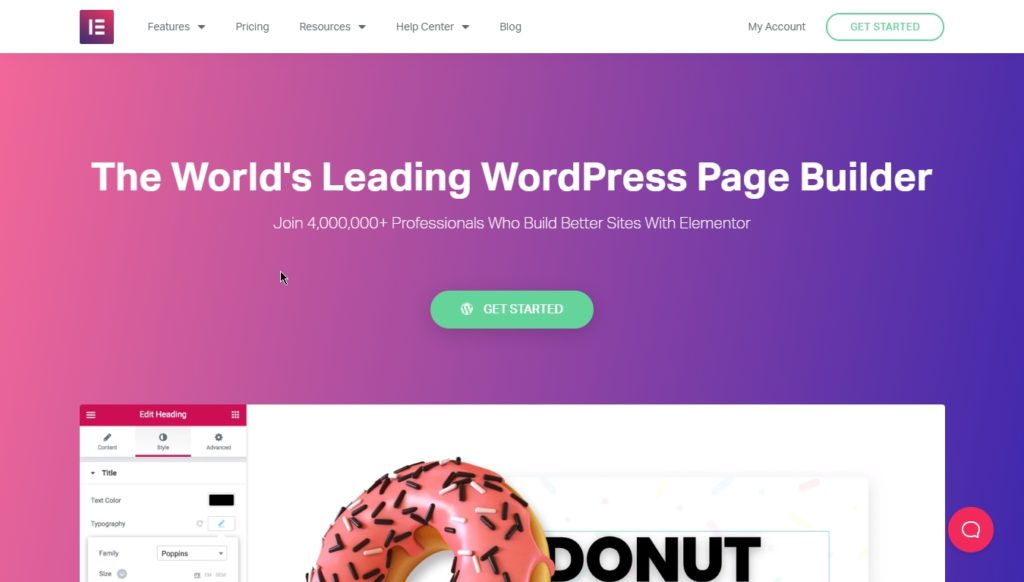 Hey, I've been there, sometimes, you just need the cheapest option. Luckily, Elementor gives us an incredible free option that, despite limited features compared to its premium plan (called Elementor Pro) allows us the ability to build absolutely amazing websites.
What is Elementor?
Launched in 2016, I believe Elementor is overall the most powerful WordPress page builder and is personally my preferred choice when building websites. With over three million active installs, Elementor is another one of the most (if not THE most) popular WordPress page builders available.
Elementor Ease of Use
Elementor works with any theme and their developers are impressively proactive, consistently releasing new widgets to allow you to keep your site modern with trendy functionality (e.g. flip boxes, media carousels, animated headlines, etc). Similar to Beaver Builder, Elementor features a live front-end editor, allowing you to make and review your updates in real-time.
With the free version, you will have access to the Elementor documentation such as the knowledge base, FAQ, and video tutorials, but you will need a license in order to access premium support, which means having someone from Elementor help you with your problem. In my experience, even with a license, I have sometimes had better luck getting help from the Elementor Facebook group than Elementor support — this is meant more as a compliment to the awesome folks making up the Elementor Facebook group than it is a slight on Elementor support.
Elementor Templates
With over 100 free templates and 300 pro templates, Elementor's template and block library is HUGE. Such a large library of templates is bittersweet. On the one hand, having so many options is always nice, on the other, it can be overwhelming. If you are someone that wants to build a site really quickly with a simplified experience, Beaver Builder might be better for that. If you are someone that is totally patient with sifting through and comparing/contrasting templates, Elementor makes more sense.
Elementor SEO
Similar to Beaver Builder, Elementor produces clean, efficient code as you build out your website, resulting in an incredibly SEO friendly website.
Elementor Community
With over three million active installs come great resources in the form of an extensive knowledge base and a very active Facebook community. The Elementor community group on Facebook has a whopping 54,000 members. Elementor does a terrific job of facilitating their community engagement, including hosting consistent community meetups that happen all over the world. They also have translating communities and a dedicated community for developers, you can learn more about all of these here.
Elementor Third-Party Ecosystem
Similar to Beaver Builder, third-parties have built some impressive addons to make Elementor even more powerful than it already is. Examples include Starter Templates, Ultimate Addons for Elementor, Essential Addons for Elementor, Premium Addons for Elementor. Combined, these options have over 600,000 installations with an average 5-star rating.
Now before you get too overwhelmed, some functionality and widgets of these various add-ons do overlap, so it won't be necessary for you to be installing on these plugins.
Elementor Pricing
In order to have access to all the trendy widgets offered by Elementor, you'll need to purchase a license, which starts at $49/year for one website (which is typically all a DIY-er will need anyway). That said, you can build a perfectly good website with the free version, and, especially when coupled with a powerful theme like Astra, you can build a beautiful website just like this one.
Here is a summary of Elementor's license options:
Free:
30 Basic Widgets
Free Page Templates and Blocks
Personal: $49
For 1 Site
Everything Offered in Free
50+ Pro Widgets
300+ Pro Templates
Popup Builder
Support & Updates for 1 Year
Plus: $99
For 3 Sites
Everything Offered in Personal
Expert: $199
For 1,000 Sites
Everything offered in Plus
That the free version of Elementor is so powerful is a huge advantage, as you can build your initial site with the free version, and as your site grows, you can upgrade to the paid version when needed.
Final Verdict on Elementor
So Elementor sounds amazing (and it is), what is the catch? As I said before, I believe overall Elementor is the most powerful page builder, and while it is user-friendly, it is not the most user-friendly. There are two considerations that should lead you to choose Elementor:
If zero cost is the biggest factor for you and you are okay with troubleshooting and researching fixes on your own via Google or searching for answers in a Facebook group.
If you are willing to sacrifice a little hand-holding and support for sheer power.
**For many of you, choosing a page builder will come down to either Beaver Builder or Elementor, so I advise you to check out this article for a more thorough comparison.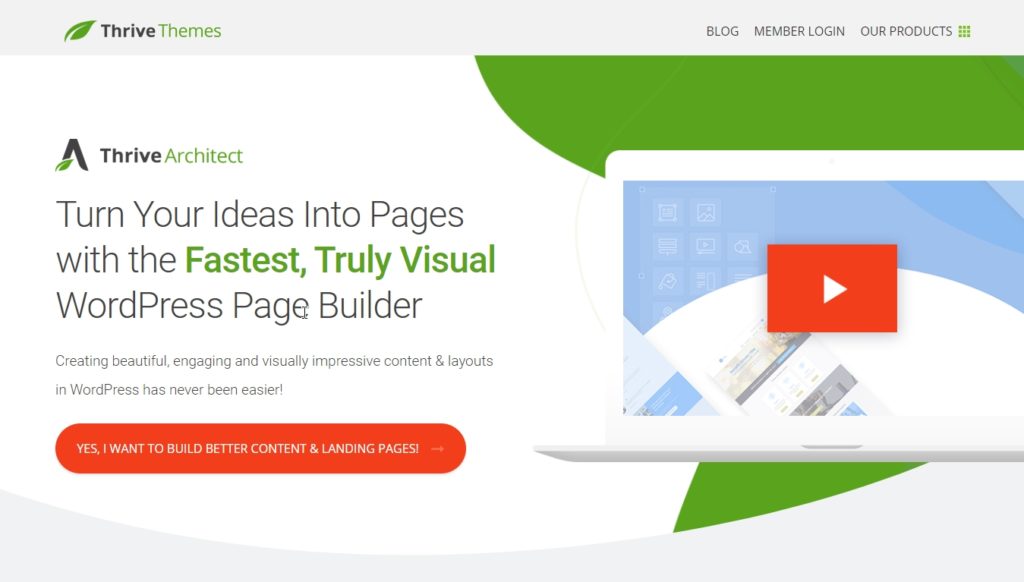 Our last category is for marketing-first users looking to build landing pages that will convert.

What is Thrive Architect?
Thrive Architect is the visual page builder offered by Thrive Themes, with a focus on conversion-focused websites. While you certainly could build these types of sites using Elementor and Beaver Builder, Thrive really thrives (sorry) in this niche. Conversely, you could use Thrive Architect to build any type of website, but ultimately, Thrive falls short of Elementor and Beaver Builder when it comes to ease of use and flexibility.
Thrive Architect Ease of Use
While Thrive Architect's user interface is not as intuitive as Beaver Builder's or Elementor's, this should be mitigated by the use of their pre-built landing page templates and conversion elements. Ultimately, the value from Thrive Architect should come by you not having to design your pages and sections from scratch.
Thrive Architect Templates
With 325 completely customizable landing page templates to choose from, it should not be difficult to find one that fits your needs and preferred style.
Thrive Architect Community
As a niche product, the Thrive Architect Community doesn't number anywhere near that of Beaver Builder and Elementor. The Thrive Themes Facebook community counts just over 4,500 members.
Thrive Architect Third-Party Ecosystem
Again, as a niche product with a smaller community, there aren't many third-party addons available for Thrive Architect. Thrive mitigates this by offering built-in elements such as Click-to-Tweet, Contact Forms, and Table Builders, so you will not have to worry as much about installing third-party plugins.
Thrive also offers a full suite of products that will integrate seamlessly with each other, so adding new functionality as your site scales will be easy. Some examples of this include Thrive Optimize for A/B testing, and Thrive Quiz Builder for building engaging online quiz and/or surveys. These add-ons do cost more, however, there is also the Thrive Membership option, which gives you access to all Thrive add-ons, unlimited updates, and unlimited support for $19/month.
Finally, Thrive's marketing focus has led it to enable numerous API (application programming interface) integrations that you won't see with other WordPress page builders. Examples include easy API integration with twenty-three different email marketing services, as well as connecting other webinars and email delivery services. With other page builders, you'll need to install additional plugins to enable these integrations.
Thrive Architect Pricing
A single site lifetime license will set you back only $67, which is very possibly the best value you will find with any website builder. This lifetime license will include unlimited lifetime updates, whereas most WordPress page builders only offer one year of updates at a time before you have to renew. Their premium support only lasts one year, however, and in order to keep it, you would have to renew at a cost of $40 per year thereafter. Here is a summary breakdown of all of Thrive Architect's license options:
Single License: $67
Install Thrive Architect on 1 Website
Includes All Features
325 Landing page Templates
Unlimited Free Updates
1 Year of Support
5 License Pack: $97
Install Thrive Architect on 5 Websites
All Other Features are the Same as Single License
Thrive Membership: $19/Month
Access to All Thrive Plugins and Themes
Install on up to 25 Websites
325 Landing Page Templates
Unlimited Free Updates
Unlimited Support
As you can see, Thrive Architect does not offer a free version. However, you do get a refund if you return the product within 30 days.
Final Verdict on Thrive Architect
If you find yourself having to Google a lot of the vocabulary used above, forget about Thrive Architect. However, if you are an online marketer by trade and your ears perk up at the sound of pre-built landing pages, lead generation forms, funnels, and email-marketing integration, give Thrive Architect ago!
While that concludes our recommendations, I think it is important to mention a few for more page builders you may have heard of, and why we chose not to recommend them as the best option.
Other Mentions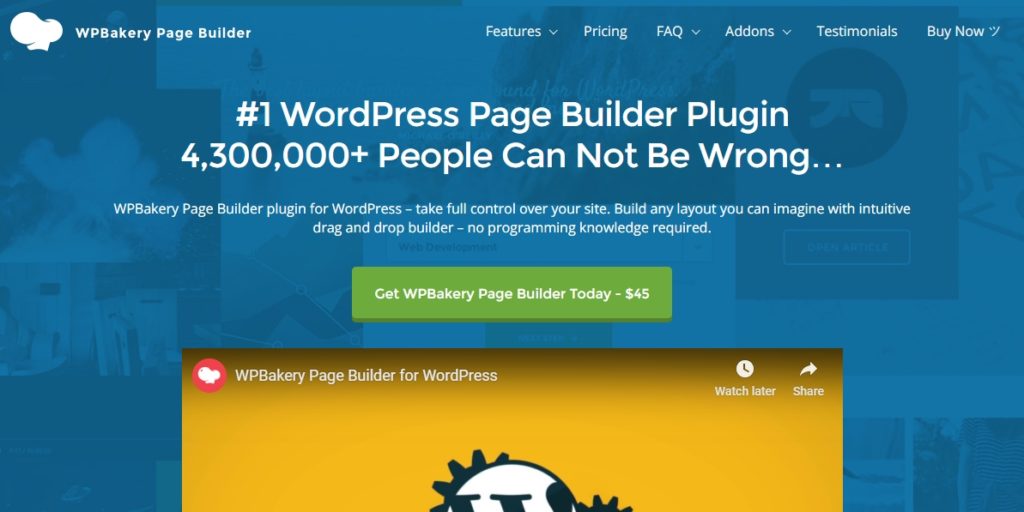 What is WPBakery Page Builder?
As one of the first and most well-known WordPress page builders on the market, I would be remiss not to mention it. If the name looks familiar, it is probably because you have seen it associated with hundreds of themes available on sites such as Themeforest and CodeCanyon.
Why isn't WPBakery Page Builder one of the Best Builders?
You will be busy enough trying to build your new site, you do not need to waste time getting frustrated trying to understand if various support documentation actually applies to you. If you are still interested in using WPBakery as your page builder, I advise you to first read this article and watch this video. This will help you to understand the differences between WPBakery Page Builder and Visual Composer Website Builder and see if it is right for you.
The user interface is simply not as good as Beaver Builder and Elementor, and for the marketing niche, it has nothing on Thrive Architect.
Final Verdict on WPBakery Page Builder
Unless you already have significant experience and have been using this tool for years, stay away from it.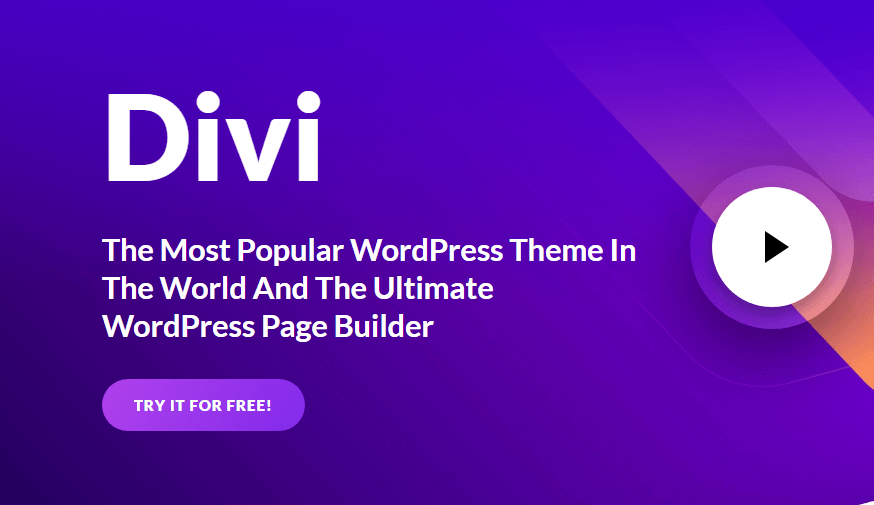 What is Divi?
One of the original page builders for WordPress built by Elegant Themes, the amount of time Divi has been on the market has given it time to accumulate a large user base. Their lifetime license, which totals $249 for unlimited websites and lifetime support, is quite a value, and having been around so long, Divi has the most features and templates of any page builder. In addition, the agility of their development team allows them to crank out new features fast.
Why isn't Divi one of the Best Builders?
Tons of features, templates and an agile development team? What's not to like? The problem with this is that their repository of features and templates has become overwhelmingly large to the point new users may go cross-eyed with all the options. On top of that, such a big repository is seemingly leading to the builder being slow to use.
Final Verdict on Divi
Much respect to this old-timer, but until they organize their extensive repository of functionality, the cons outweigh the pros.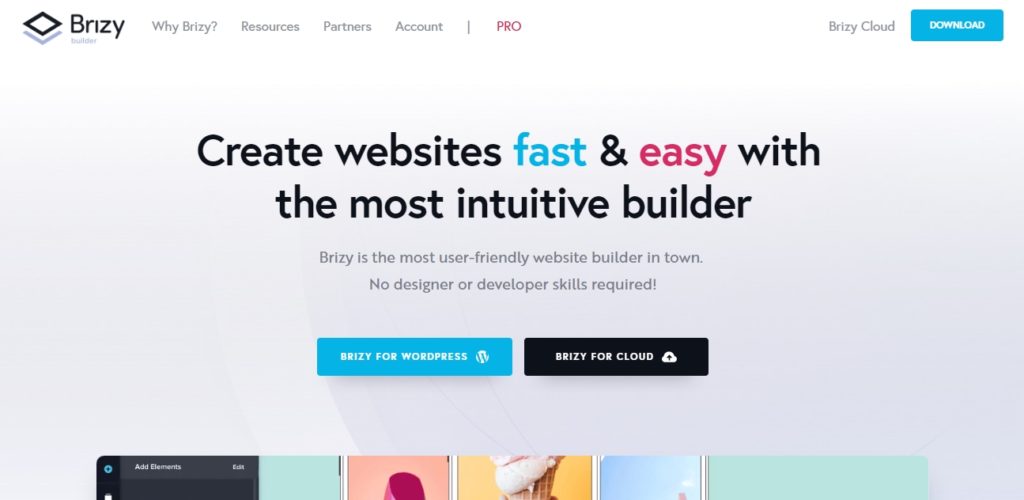 What is Brizy?
Launched in 2018, Brizy is the new kid on the block built by ThemeFusion. There are a lot of intriguing things about Brizy, a top one being that it is built on React, a JavaScript library that was developed by Facebook. This allows its user interface to be very intuitive and provides innovative features that other page builders (even our top recommendations) are lacking.
Some awesome features Brizy has included:
Front-end image zoom and sizing — This feature alone has me super excited about Brizy. Rather than having to spend time loading images to your site just to realize they do not look good and thus having to crop and re-upload them, you can adjust the zoom and size of the image directly with Brizy. This is a huge time-saver!
Global Styling — To explain this simply, Brizy allows you to categorize elements so that you can change their styling once, rather than having to navigate to each individual element to do so. For example, let's say you have a five-page website, and you decide you want the header text on each page to be blue instead of black. Rather than having to change the color on each individual page, you can globally set the color to blue, and all pages will update accordingly. Again, a huge time-saver if you have a site with multiple pages!
Popups — Only included with the pro version, the popup feature is super easy to use and is a welcome addition as many page builders require an additional plugin to achieve popup functionality.
There are other cool features offered by Brizy, but I am going to stop there. There is a free version of Brizy, and the cheapest license starts at $49/year for up to three sites. There is also a lifetime option, which totals $299 for unlimited use — a pretty good deal if you are in it for the long haul. Brizy also is transparent about their upgrades, just check out their public Trello where you can see what is in the pipeline.
Why isn't Brizy one of the Best Builders?
As such a new page builder, Brizy simply does not yet have functionality that you will get from the likes of Beaver Builder and Elementor.
Final Verdict on Brizy
Brizy offers a lot to get excited about but needs more time to mature to get to the same league as Beaver Builder and Elementor. If you are looking for the next big thing though, keep an eye on Brizy, I would not be surprised to see them listed as a top recommendation a couple of years down the road.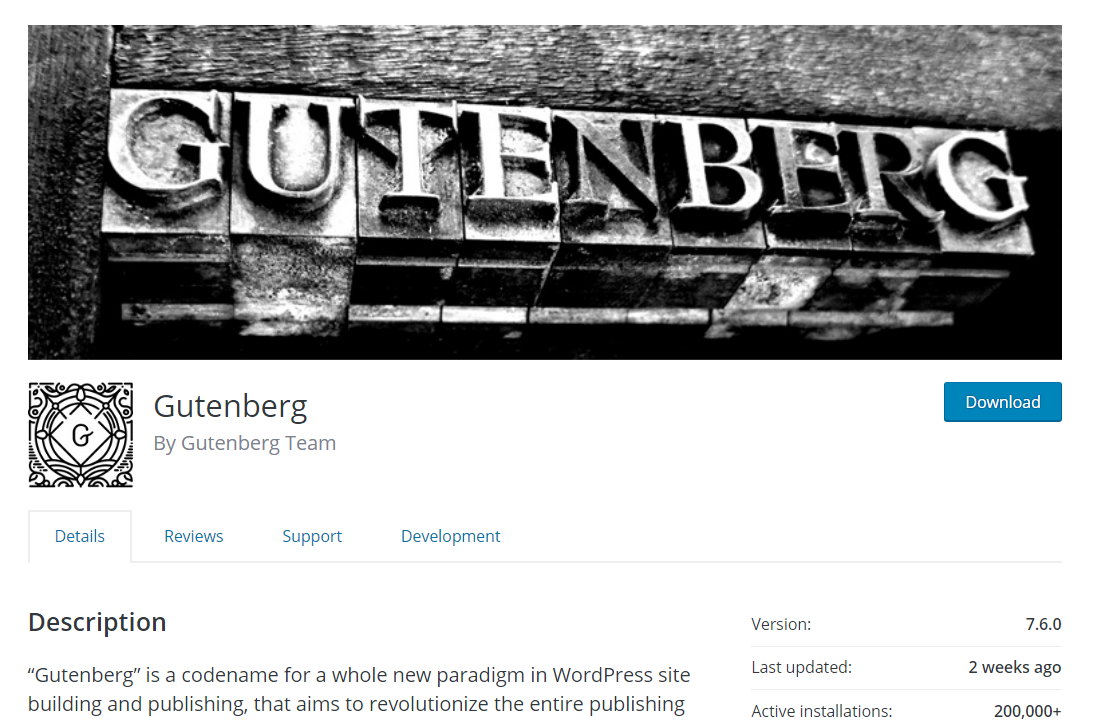 What is Gutenberg?
I will not be spending too long talking about Gutenberg. All you need to know is that it is a newish block editor introduced as part of the WordPress core, and it is not as good as the aforementioned page builders.
Why isn't Gutenberg one of the Best Builders?
To be blunt, it is just not anywhere near as good of user experience as Beaver Builder and Elementor, and doesn't come close to touching the marketing niche like Thrive Architect.
Final Verdict on Gutemberg
Do not bother trying to use Gutenberg yet. Maybe as it continues to see significant updates it will start to catch up to some of the other mentioned page builders.
Final Tips Before Making Your Decision
While there are additional WordPress page builders out there, we have covered the most important ones. Beware of analysis paralysis, you could spend hours if not days reading and watching comparison and review videos, and the more you do that, the more you are postponing the launch of your website. I recommend choosing a couple that sounds good and try them out for yourself! All of our recommendations have refund policies of thirty days.
Before getting started, here are some other helpful things to know as you build your site with one of our recommended WordPress Page Builders:
SEO
SEO (Search Engine Optimization) is a big deal for all websites, after all, you do want your site to rank well on Google. Simply put, all of the page builders we mentioned are not going to impact negatively. In the past, there was concern about page builders muddying up code, impacting load times, and causing sites built on them to rank lower on search engines. The page builders we mention, especially the top-recommended builders are built with clean code that won't affect the speed of your site, and won't impact your SEO.
Responsiveness
In 2018, 52.2 percent of web traffic was generated via mobile browsing, and this number will only continue to rise. It is vital that any page builder you use has mobile and tablet editing so you can ensure that visitors to your website will have a good experience regardless of the device they use. Fortunately, all three of our top recommendations allow you to preview your site on tablet and mobile and give you control to adjust sizes, location, and hide components, allowing your site to be fully responsive.
Expedite Your Build
If you want to build your site even faster, consider integrating these page builders with a theme like Astra. While page builder templates and blocks are certainly faster than building from scratch, nothing will be faster than utilizing starter templates provided by Astra. For example, with a combination of Astra starter templates and a page builder like Elementor, even a brand new user can have a site up in less than a week. I'm not kidding. There are options for both free and paid starter templates. All you have to do is set Astra as your theme > install the starter templates plugin > pick your site and click import. Replace the text and images as necessary with your own and boom, your site is ready to launch. For more detailed instructions on how to import the free starter templates, click here. Premium starter templates are marked as "AGENCY", for instructions on how to import one of these starter templates, click here.
Wrap Up
Well, friends, I hope that was a lot of useful information for you to venture off and build your brand new website! As a recap, here are our page builder recommendations summed up by priority:
For brand new users who care most about having the best support: Beaver Builder
For users whose most important factor is affordability: Elementor (its free version is the bomb!)
For users who care most about tools for online marketing, e.g. landing pages, funnels, and lead generation: Thrive Architect.
Please, if you have any questions, comments, suggestions for other page builders, anything at all, do let us know in the comments.
Thanks for reading, and again, best of luck to you on your web-building journey!