As you read this post, there are over 850,000 active podcasts in the world. This number is projected to go up significantly as more and more content producers start their own podcast.
Chances are that if you're here, you are considering launching a podcast or have launched one recently.
If that's the case, we bet that you have read a lot of tutorials and everything you can find about launching a podcast. Hopefully, this information will have helped you pick a platform to host your episodes.
As you upload more episodes and gain loyal fans, you'll need every advantage you can get to beat the competition and climb the charts.
That's where your own podcast website comes in.
Everyone needs a website. It doesn't matter whether you're a small business, beginner podcaster, or an established influencer with millions of listeners, you need somewhere that's your own to
do.
That's what we're discussing today. How setting up your own website complements your podcast and can help build a presence online.
Why does your podcast need a website?
There are several excellent reasons you should consider creating a website for your podcast.
Share essential details with the world
A website helps you to tell your story to the world. You can go into the details of why you started it and how the journey has been going so far without distracting listeners from why they like your podcast in the first place.
You can also share background and extra information about each show on an episode page.
Since each episode may have a different story or a different set of guests, you can use the episode page to deliver the background.
Podcast platforms allow a certain amount of space for the backstory but it's never enough. A website gives you as much space as you need to add all the details.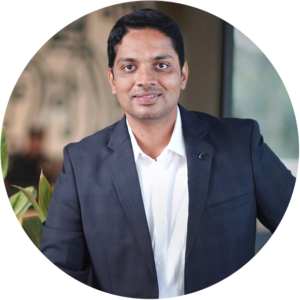 Hello! My name is Sujay and I'm CEO of Astra.
We're on a mission to help small businesses grow online with affordable software products and the education you need to succeed.
Leave a comment below if you want to join the conversation, or click here if you would like personal help or to engage with our team privately.
Capture search engine traffic
Search engines such as Google are your largest potential traffic source. In fact, more than 90% of web traffic originates from search engines. That means if you can find a way to get traffic from a search engine, you can reach new listeners and grow your footprint.
A website allows you to leverage keywords, long and short phrases that people use to find relevant information on the internet.
By adding appropriate keywords to your website content, you can make sure your pages rank higher in the search engine results.
As the common wisdom goes, the higher the pages rank in search engine results, the higher the probability that people will come to your website and listen to your shows.
Build a home for all your episodes
A website allows you to collect all your content in one place. Since you own your website, you can arrange the episodes as you see fit.
A great outcome of this freedom is that you can customize your website to focus on delivering a great experience to your loyal fans.
Another great benefit is that you can control how visitors access your content (content gates and content drips), further improving the user experience.
Let everyone contact you
As your podcast takes off, you will soon (hopefully) be drowning in messages from fans.
Social media is great, but platforms such as Facebook and YouTube have filters that can send important messages to spam. This means you could miss out on partnership offers, endorsement requests, and similar opportunities.
Having a website gives you a dedicated email address and a means to contact you directly, without having to depend on third parties.
You can include contact forms on your website, web chat, your email address, and your social media links.
That way, you provide multiple opportunities for people to get in touch!
Provide additional content for fans
The recommended length of a serial podcast episode is around 20 minutes. With your own podcast website, you have complete freedom to add any additional content you want to complement your shows.
You can use the content and background material you found while preparing the show to provide further value to listeners.
You can include bonus sections and add articles, supporting evidence, ebooks and third-party content too.
Done right, this could open up another opportunity to monetize your content behind pay-to-read and subscription elements.
What you need to create a website for your podcast
Here's a list of decisions you need to make when setting up your website.
Website domain
The journey of setting up a website for your podcast starts with the domain name. This is the web address that people enter in their browser to visit your site.
The domain you pick should either exactly match or come very close to the name of your podcast.
Once you have the main domain name, you now have to consider what extension to use. The extension is the '.com', '.net' part at the end.
When choosing the domain, you have two main options.
The first is with conventional extensions such as .com, .net, and .org.
However, given the saturation of names already using these, there's a chance your preferred domain might not be available.
In that case, why not try a second option of more recent extensions, including .fm, .audio, or .media?
A pro tip for selecting a domain for your podcast website is to keep it short and memorable so that people would remember it better.
Learn more about domain names here.
Web hosting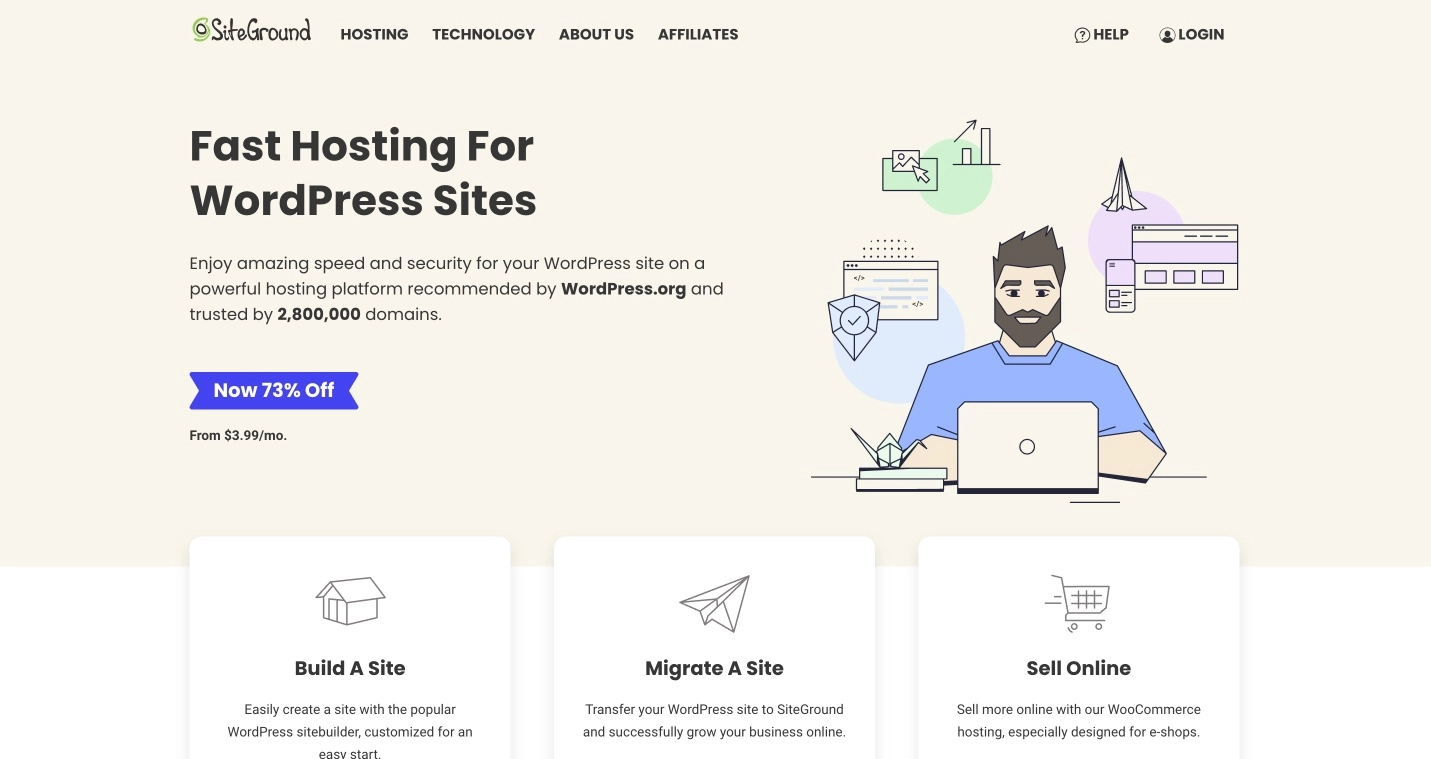 Now that you have the domain name, the next step is to get hosting. This is the actual home of your website where all the content, including the audio of the episodes, will reside.
When choosing a hosting solution, focus on performance. Also, make sure you have adequate disk space for your content.
Most web hosts offer 30GB of space or more, which should be enough to get you started. If you have big plans, consider hosting plans with unlimited storage.
If you need a recommendation, check out Kinsta or SiteGround. These providers have a great reputation for uptime and support and are great for both newbies and experts.
Here's a list of the fastest WordPress hosts to get you started.
WordPress
WordPress powers 40% of the websites on the internet because it is simple to use and highly extendable. For podcasters, WordPress offers a ready-made solution that works right out of the box.
WordPress is often a set up-and-forget solution because the CMS simplifies content management and helps you focus on marketing and distribution of your episodes.
WordPress comes with a massive lineup of themes and plugins that allow you to set up your podcast website just the way you see fit.
Astra WordPress theme
Now that you have the domain, hosting, and a website content management solution in the form of WordPress, it's time to set up shop with the Astra WordPress theme.
Our theme is built for speed and performance, two things you need for a smooth-running podcast website.
Now, Astra comes with a dedicated website templates for podcasters. You can set up a website for your podcast that comes with essential pages such as episodes, and contact us in just a click.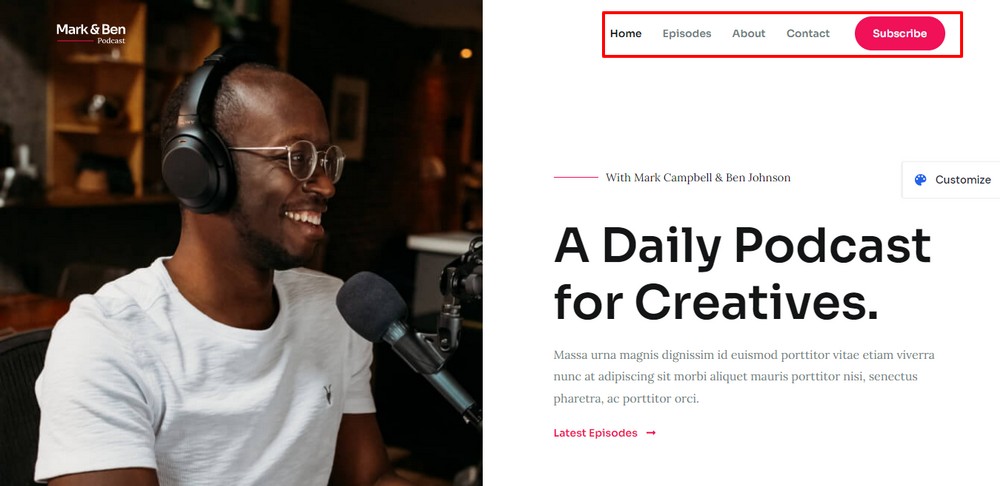 You can use the episodes page to present your content and set up a contact us page to help listeners, and visitors get in touch.
Additional plugins for your podcast website
Now that your website is up and running, you'll find that managing day-to-day operations requires a lot of your time.
Since you opted for WordPress, there are plugins that can help with many aspects of running a successful website.
We'll share a few of the good ones here.
The following list of plugins helps you manage your podcast website better by taking care of routine tasks.
All these plugins are optional, and you don't need to install all of them if you don't want to.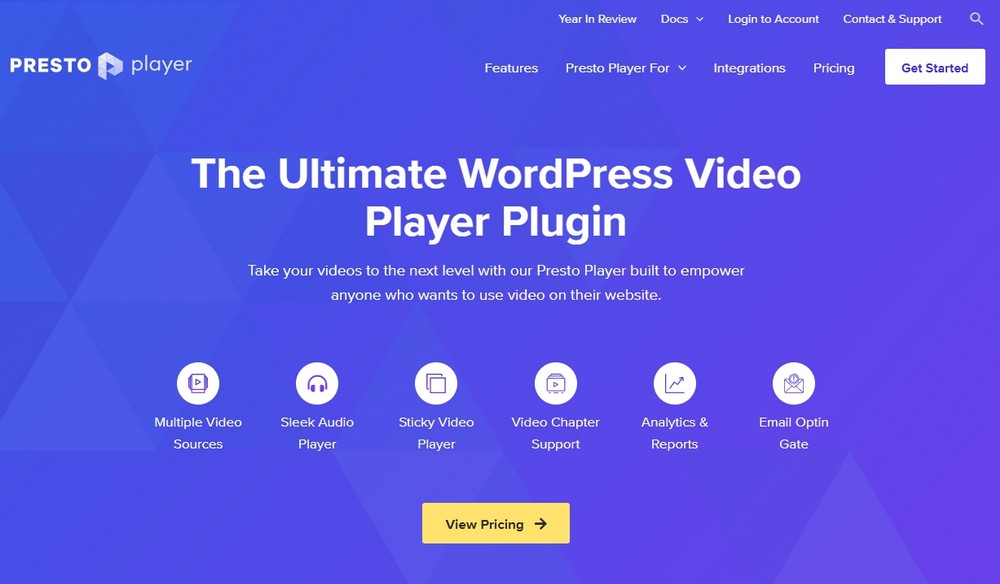 If you are looking for a versatile media player for your website, you should definitely check out Presto Player. This WordPress video plugin can handle everything from publicly available videos to self-hosted audio files.
If you have a podcast, you need more than the simple Gutenberg multimedia player. With the Presto Player audio player, you have complete control over how the player looks and behaves, thanks to the various options for setting up player controls and appearance. You can embed audio from multiple sources (pretty much any source that offers a sharable public link), add email gates, and set up an Action Bar that induces the listeners to take further action.
As you can imagine, with Presto Player, you can get more out of your podcast episodes. You can ask the listeners to subscribe, ask for their email addresses, and deliver more value to the listeners.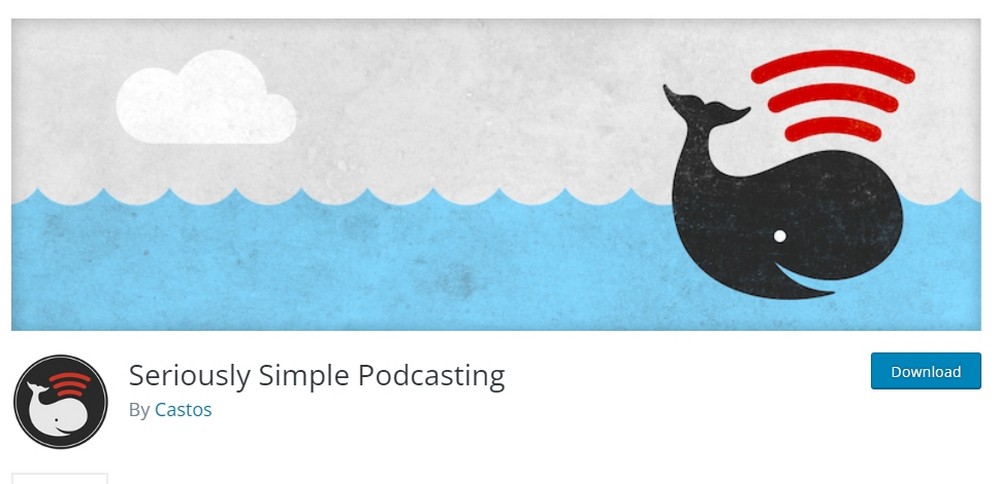 Seriously Simple Podcasting is aimed at beginners who just want to upload their episodes to their website. You get a no-frills plugin that directly uploads the episodes and lets you manage them on your website.
Once your episodes have been uploaded, you can embed them anywhere on the website using shortcodes.
A great feature of the plugin is the ability to generate podcast feeds that you can use to share your podcast on major podcast publication platforms such as iTunes and Google Play.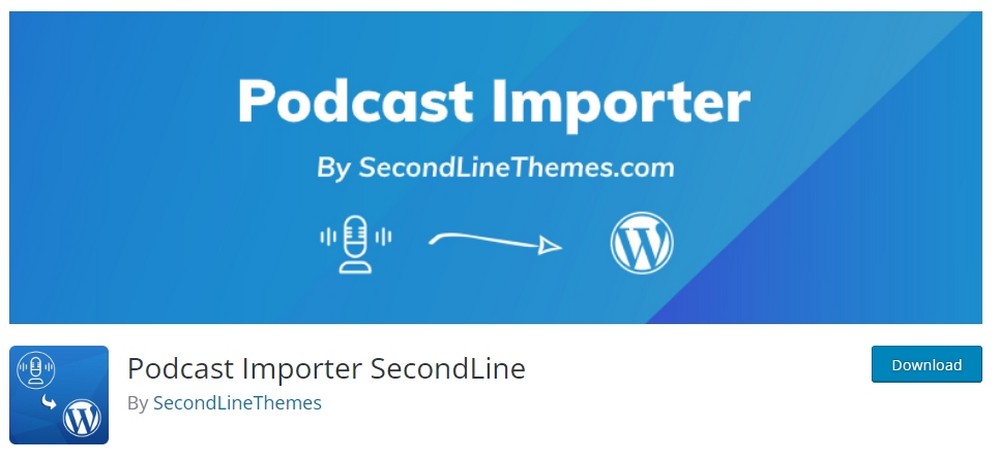 If your podcast episodes are already uploaded to other platforms, you can use Podcast Importer by Secondline to pull them to your website. You simply need to provide the podcast feed, and the plugin will do the rest.
The plugin works with all popular podcast platforms and can optionally import podcasts as blog posts.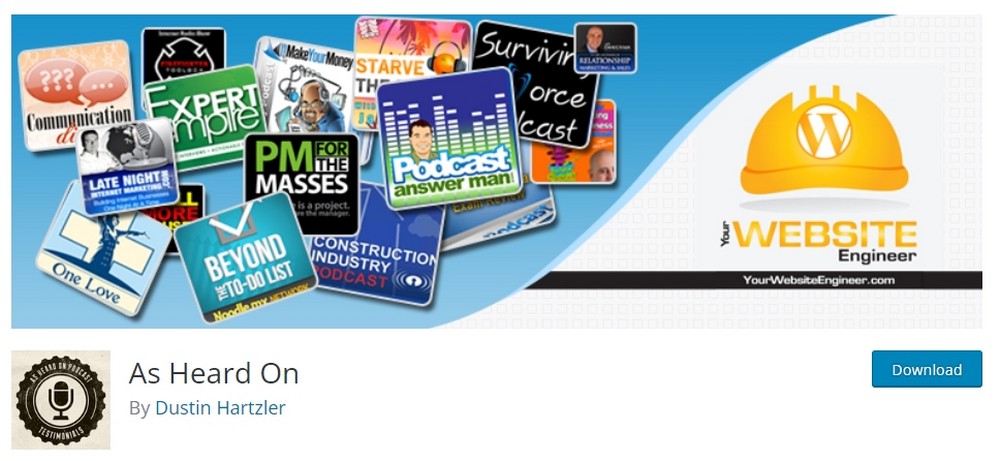 As Heard On is for experienced podcasters who have been featured around other podcasts. If you have been around the block, you can leverage the power of social proof to present your brand to visitors.
The plugin requires a bit of work in adding podcast information, features images, and album artwork. Once you have the information, you can add the list as a sidebar widget or a separate Featured On page.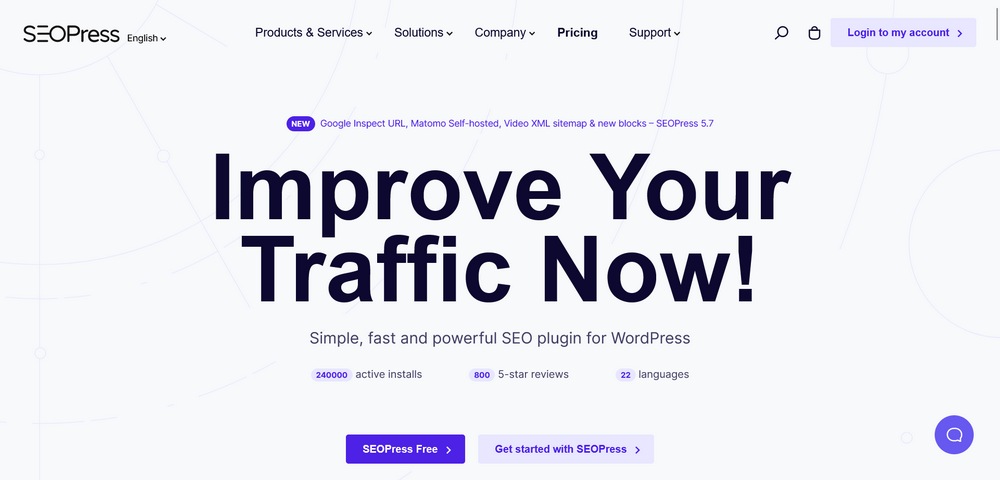 Given the competition, it is imperative that you optimize your website to rank higher in the search engine's results pages.
When it comes to optimizing your website for search engine rankings, you have several great options. In our opinion, SEOPress offers the best mix of features you need to bring in more traffic to your website.
The plugin covers all aspects of website SEO, from sitemap creation to optimizing the descriptions for episodes and pages.
We like the emphasis on keyword placement, breadcrumbs, and easy editing options for crucial robots.txt and htaccess files.
Overall, SEOPress is a great option for beginners and experienced podcasters who need a no-hassle WordPress SEO plugin to help them rank higher in the search engine results.
Conclusion
A website is perhaps the best thing that could happen to your podcast.
Setting up a website brings a sense of order to the creative efforts, centralizes everything for easy marketing, and builds a brand for your podcast.
We covered the benefits of having a website for your podcast and then went over the essential website building requirements. You can select the best combination of these elements based on your skills and budget.
We hope that this article will be enough to get you started on your website-building journey. Let us know how you fared and how you cracked the challenges along the way.