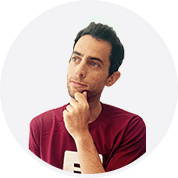 .
Astra is simple, fully customizable & fast theme that I can wholeheartedly recommend to all Elementor users. I love the fact that it comes with dozens of pre-built sites that were built using Elementor and that can be used to create a full website with one click.
Readymade Website Demos
Get a huge library of readymade websites created using Astra with Elementor page builder. Import them for free with the Astra Starter Site plugin. Simply tweak and go live!
What Makes Astra Best Theme for Elementor?
Astra and Elementor are indeed a match made in heaven. While developing Astra, we have taken special efforts so the theme goes a step ahead and works seamlessly with Elementor.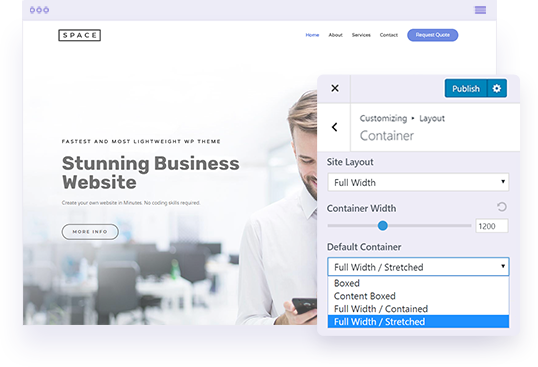 Full Width / Stretched Layout
Astra offers a Full Width / Stretched Layout that's made especially for Elementor. When this layout is selected, Elementor gets the edge to edge control of your layout. That way, you don't have to rely on the hacky JavaScript method to stretch your rows or sections full width.
Disable Title / Featured Image / Sidebar
Most themes output Page Title, Featured Image, Sidebar, Breadcrumb and other data by default without offering any control to the users. And, while designing pages with Elementor, you need a clean slate or a blank canvas with required restrictions. With Astra, you can disable these items easily and get full freedom to design with Elementor.  
Building a custom landing page? You can even disable the header and footer of Astra and let Elementor take full control of the page!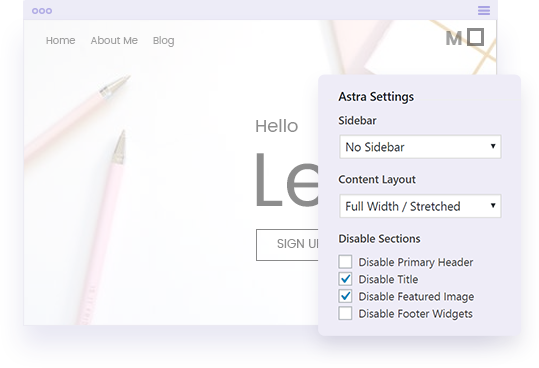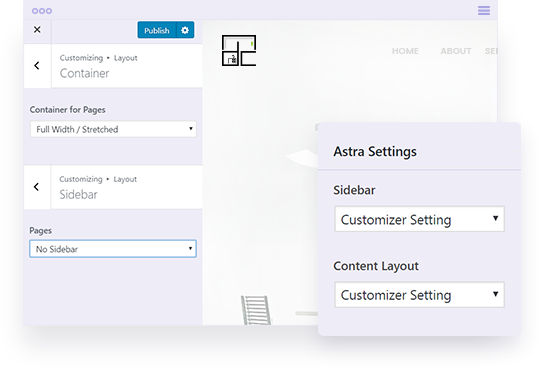 Global Options From Customizer
If you're building a website where most pages are designed with Elementor, Astra global options give you the convenience to set required layout, sidebar and other settings that are suitable for Elementor right in the Customizer. However, these global options can be overridden on individual pages using page options to set title, sidebar, header, footer etc.
Elementor Pro 2.0 Compatible
Astra is one of the few themes that are fully compatible with Elementor 2.0 Theme Builder. Using Astra and Elementor Pro 2.0 Theme Builder, you can literally design each and every aspect of your website such as header, footer, blog templates, dynamic pages and so on!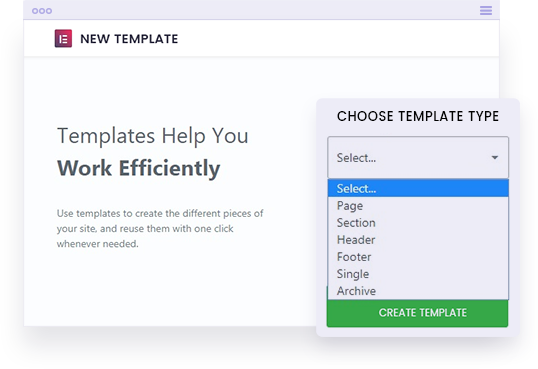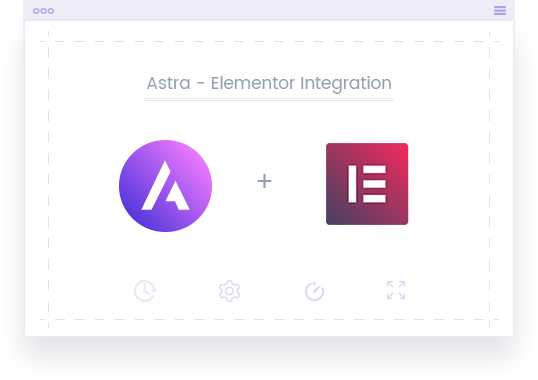 Smart Elementor Integration
Astra understands if you're building a page with Elementor and automatically sets the options that are best for Elementor. This saves you many unnecessary clicks and time!
Amazing Header and Footer Options
With Astra, you can literally build 30+ types of headers and 10+ kinds of footer easily. You can even make your header transparent or sticky. And if you have a very custom requirement, with Astra Pro addon so you can build your entire header or Footer with Elementor!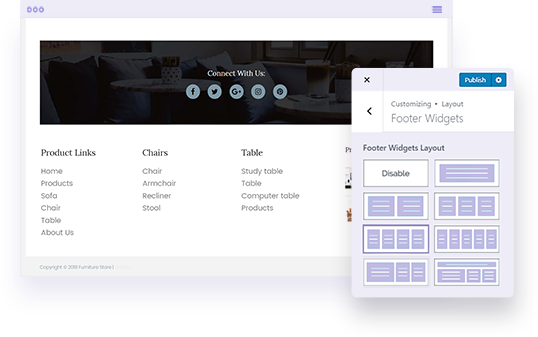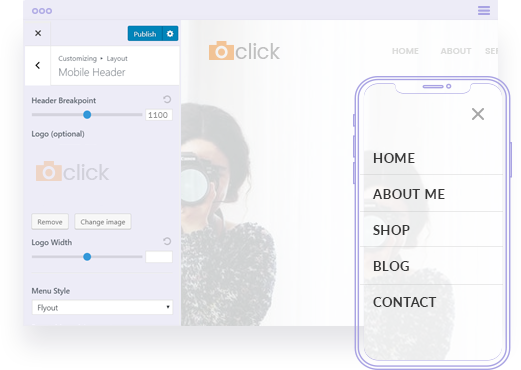 Mobile Header Options
Astra offers a complete solution for a mobile responsive menu with easy settings in customizer you can control and design beautiful mobile menu. Using the break-point setting you can choose when to enable mobile menu and with different style options, you can build the entire menu with without any custom code.
Lightweight & Bloat Free
Astra is a theme made for the Elementor! Rather than duplicating the functionality Elementor already offers, Astra is developed lightweight, bloat-free and modular out of the box. It takes care of global colors, typography, overall styling and integrations with other third-party plugins and let Elementor handle the page building part.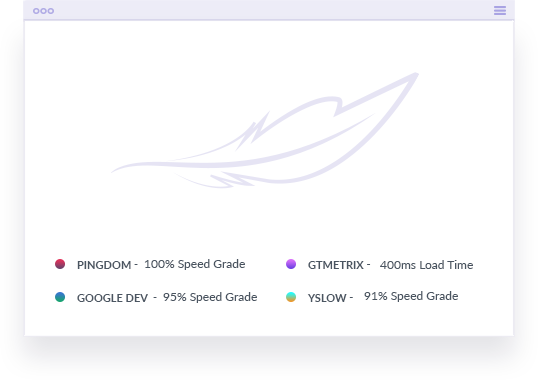 Extensive WooCommerce Integration
Everything you need to build a high-performing WooCommerce Store.
Handy Layout Options
Astra gives you the freedom to work with any layout you wish to use on your website. Whether it is a blog, a business website, etc. you have a layout that will fit your needs for sure! 100% Full Width

Right Sidebar

Boxed

Blog Layouts Blank Page

Left Sidebar
Fastest WordPress Theme
Every single line of code in Astra is profiled for fast performing websites. We have numbers to prove that.

100%
Speed Grade

95%
Speed Grade

400ms
Load Time

91%
Speed Grade
More Power With Astra Pro
The Astra Pro addon enhances the possibilities of Astra. With advanced addons and customization options, you get more power to create a beautiful website.

Transparent Header
You can add stylish transparent headers that make your website pages look trendy and attractive!

Hooks & Filter
With a combination of easy-to-use hooks and filters, you can customize everything on your website.

Blog Layouts
With a number of blog layouts to choose from, Astra lets you decide and design the blog page on your website.

Mega Menu
Add WordPress widgets and trendy stuff that make your menus look attractive and trendy on your website.
Coming Soon

Header Sections
You can add a top header and a below header apart from the normal primary header seen on your website.

Page Headers
With Astra Pro, you get options to format your page headers and make them look attractive and good.

Better Typography
Manage the typography of your website with better and much advanced typography options with pro.

Custom Layouts
Select from a wide range of custom layouts and design your website according to your needs.

White Label
White label the theme with the addons, so as to call it your own and take complete credit for all you've done.

Footer Widget
You get a collection of several widget layouts for your website footer. Select the one that best suits your needs.

WooCommerce Designer
Design and build an attractive online store that works great with WooCommerce templates and all essential plugins.

Spacing Control
Manage the spacing between layouts on your website, so as to make things look clear, readable and pretty!
More Love from Elementor Users
Astra is being loved by thousands of Elementor users like you! Take a look at what some of them have to say.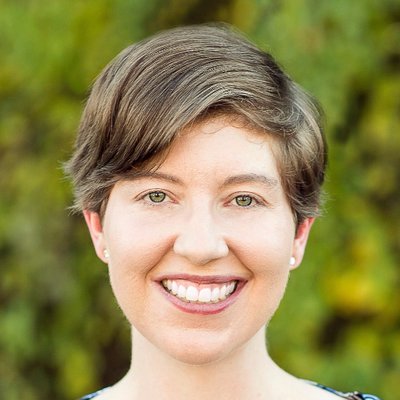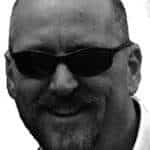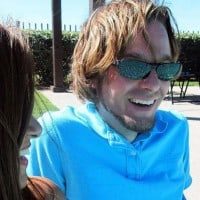 Frequently Asked Questions
The Astra theme is 100% free to download and use.
To install readymade demo sites, you'll need to install Astra Starter Sites plugin from WordPress.org. After installing the plugin you can import demo sites with a few clicks.
You will get a notification in your WordPress backend whenever an update is available. You can update it automatically with just a click.
Astra has an active Facebook group of 4300+ users. You can join the group for theme related discussions.
Astra is Free. Now & Forever.
We believe creating beautiful websites should not be expensive. That's why Astra is free for everyone. Get started for free and extend with affordable packages.
Beautiful sales pages and better learning experience.
Unlimited Websites.
Updates & Support for lifetime.
No renewals. One time payment.
Top Features of Astra Pro:
Everything necessary for running a successful web agency!
Everything in Astra Pro with: