Hello, guys! ?
The holiday season is here and everyone is getting busy with Black Friday sales, Thanksgiving, Christmas, and year-end sales.
Our Black Friday Sale just went live and we are offering the highest discount ever! This time, you can get up to 40% OFF in our store. ?
Doesn't this sound appealing after the year we've had?
There is a lot to cover in this post. The Astra team continues to grow and I'm excited to see us develop into a close-knit family. We're also growing our product line, and have recently announced the release of the Header Footer Builder for the Astra theme.
There is also news about our contributions to WordPress, some product updates, and enhancements to our support system.
So, let's get on to it…
Astra – The Only WordPress Theme with 1 Million+ Active Installs!
Our biggest achievement this year was to achieve 500,000 active installs within just 8 months! ?
It was in October 2019 that we celebrated Astra's 500k+ installs and saw a steep rise in installations thereafter.
Astra, is the only WordPress theme to have crossed this milestone of powering 1 million+ active installs and 4700+ five-star ratings.

This shows the love and trust you all have in us. It feels great to receive all the love! Thanks to you! ?
Our Team is Growing!
We started as a small team of developers who built WordPress plugins and offered support for them. Today, we take pride in our growing team of WordPress enthusiasts who love what they do.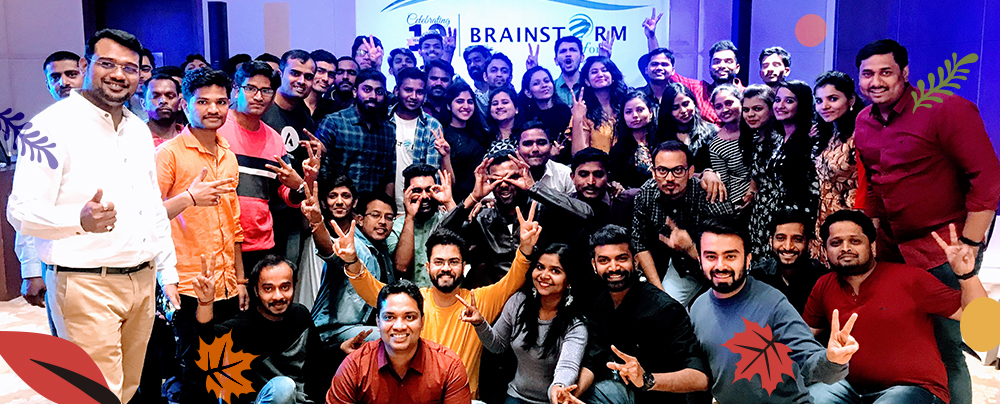 This year, we've welcomed 25 new members on board. So, now we have more developers, designers, writers, and support agents with us than ever before.
We aren't just an organization made by employers for employees and customers. We are a family that shares a special bond of love and concern for every team member and customer working with us.
And, we aim to take this further.
Astra – An Epitome of Dedication
With new themes being introduced every day, we come across questions like 'Which WordPress theme is the best' or 'How Astra is better than the rest'. We've answered them before. But I wanted to share a few things that people rarely speak about while advertising a product.
Our mission is to help every web professional, freelancer, and agency – large or small to succeed in all they do. There's a different joy in helping people reach their goals and being a part of their success stories. This is what Astra is made for!
I am proud to acknowledge all the love and support Astra and our other products have received all these years. The increasing number of downloads and public ratings show us the love and trust you all have for us.
Every new feature and improvement reflect our dedication to the growth of Astra and its users.
Here are a few worth mentioning –
Enhanced Website Building Experience!
Speed and performance have always been our focus. But, keeping it simple and fast is even better for users to deliver more in less time. So, we introduced a more optimized customizer in Astra 2.0, Astra 2.2.0, and enhanced it further in the recent Astra 2.6.0.
These updates were more user centric since they focused on the loading time and the user interface of the customizer. Building websites with Astra is now faster than ever!
Better User Experience with Starter Templates 2.0
We are committed to saving time – ours and yours! The Starter Templates were built with a view to reducing website building time.
And, we were overwhelmed to see them reduce website build time by almost 40%. A tremendous improvement!

Today, the Starter Templates plugin offers over 300 website templates and comprises the largest library of complete website templates built with Gutenberg.
We know they are popular so we won't stop working on them! ?
Building Websites Is Made Faster and Better in Astra 2.6.0
Our most recent update introduced a more optimized customizer that reduced website building time and gave a better experience with new color controls and other enhancements.
This made the customizer even faster and gave users better color controls, website background options, and automatic styling of Gutenberg blocks throughout the theme.
Taking Astra's Compatibility with Gutenberg a Step Higher
As Gutenberg is the default WordPress editor, many users prefer building websites using Astra and Gutenberg. We recently released a BUNCH of new Starter Templates made with Gutenberg in our library.
You can now import and use these complete websites built with Astra, Gutenberg and the Spectra. For free!
Check out some of the templates made with Gutenberg here!
Custom Layouts is one of the most popular features of the Astra Pro addon. In a recent update this year, we made it possible for users to build custom layouts with Gutenberg. Previously, that was only possible with page builders like Elementor and Beaver Builder.
Astra 2.6.0 also made sure that Gutenberg blocks are now styled automatically by the theme. So, which is the best theme you can use with Gutenberg? Astra!
Our Contributions to the Community!
We are overwhelmed to be a part of the vibrant WordPress community. We also believe that as a member of an amazing community like this, it is our duty to work together with others towards the success of the entire WordPress ecosystem.
We aren't all about building our own business. We have created over 40 free WordPress plugins. Each of them reflects the same quality and usability as our premium products.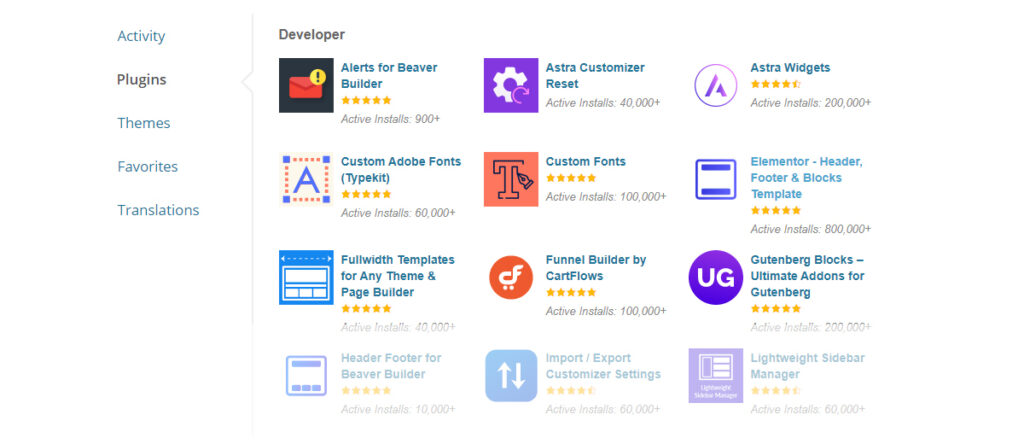 We are also regular contributors to the development of WordPress itself. We make sure we do our bit to make it better every day. Monika Rao from our team has contributed to WordPress 5.5 and has been selected as a Test Lead for WordPress 5.6!

So, it's not just Astra, but the entire ecosystem that we want to make better. ?
What's next in Astra?
From everything that I mentioned above, there's one thing I'd like to say – We are here to stay!
We are continuously working towards making Astra better day by day.
Intuitive Drag and Drop Header Footer Builder – Beta Version Out!
We have just released the first beta version of the most intuitive drag and drop Header and Footer Builder we have ever made. This will let you build multiple headers, footers, add different elements, and customize them to match the look and feel of your website – in no time and with absolutely no coding!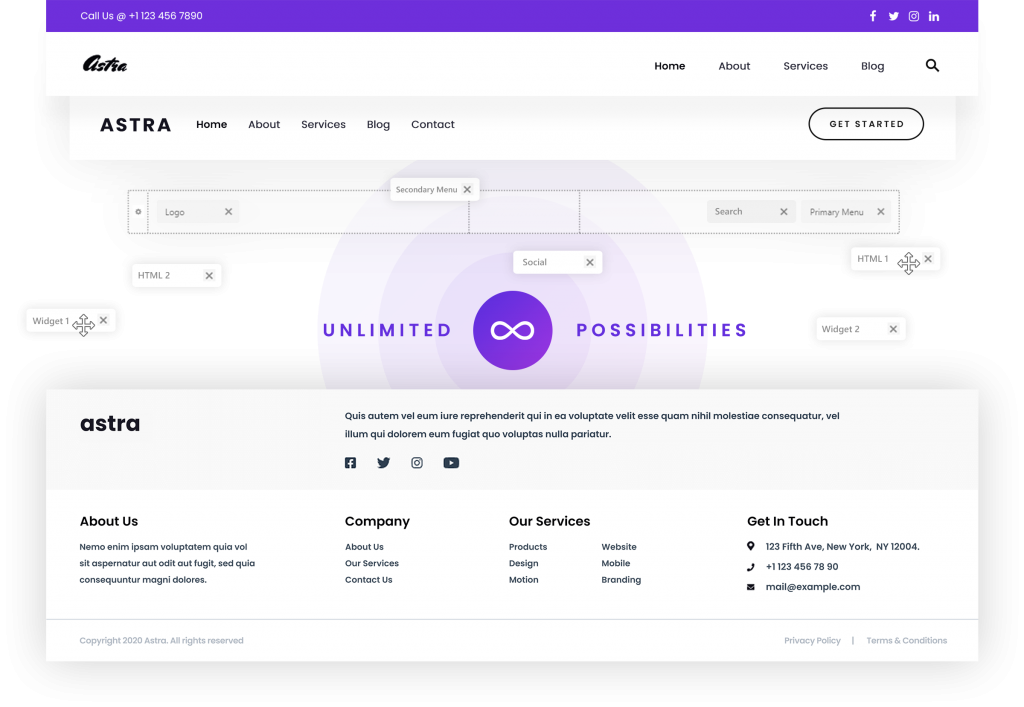 Astra's Header Footer Builder will enable you to –
Build customized headers and footers with a drag and drop live editor.
Take complete control of their design with a wide range of styling options.
Design transparent headers
Add sticky headers
Add above and below headers if needed
You can download the beta version of the Astra theme from here. Download the Astra Pro addon from the downloads page on our store.
Here's a video that will walk you through this Header Footer Builder.
We Are Here – Always!
There's a different kind of joy you experience when you help someone in need. And this is exactly what we want to do – whether it's through our products or the support we offer.
We are expanding our team of friendly support agents to ensure our support is as exceptional as our products. We want to make sure you always have the support when you need it.
Our Special Black Friday Offers!
Since the Holiday season is here already, we have the biggest discounts of the year on our store!
We are offering –
40% OFF on the first 300 purchases of the Growth Bundle
30% OFF on all other purchases and upgrades
This is the largest discount we have ever offered and it won't be here forever. So, don't wait for Black Friday to make a purchase or upgrade, do it now!
Is there anything else you want help with or would you like to know more about us? Feel free to drop a comment below.