Welcome, willkommen, or bienvenido to the ultimate guide to translating your website into multiple languages. In this article, you'll learn about the different translation options and plugins for your WordPress site, and how to use those tools to set up a multilingual website.
With the world now more interconnected than ever, companies, brands, and influencers are looking to reach global audiences. A lot of the time, that means the person you are trying to reach does not read the language you are writing in. You can gain access to a much larger audience with just a few easy steps.
There are a lot of benefits available to having a multilingual website and you can get started with an approach that suits your needs. There are different ways to go about translating your content, ranging from using professional translating services to automatic translation.
You will be able to compare and contrast each of the tools and methods included in this article as well as our favorite pick.
Benefits to Having a Multilingual Website With WordPress
International Value and Visibility
The world is big and most of it is outside North America. It's estimated that only a quarter of the world's internet users use English, and Chinese web users alone account for about 20%. If you are only reaching English speaking users, there is a large part of the world you are missing out on communicating with.
Whether you are translating blog posts, product descriptions, reviews, or education articles, you can immediately get access to a larger audience by having a multilingual website.
To be a little bit more specific, let's break it down:
Ability to tap into new and global markets – While it will never hurt to expose your website to a market that may not need it, you will often find that markets other than yours find your offering more popular. You will also learn how to adapt your product to a market that responds to it differently. Sometimes spelling, word usage, and local colloquialisms make enough of a difference.
Become an International/Multinational Brand – Having access to a global market makes your brand international and that can open up a number of opportunities. Sometimes we are so focused on the competitive environment we are in that we might miss or not see an opportunity elsewhere.
SEO Boost – Having a multilingual website will give you high rankings on search engines , which can improve your web visibility a lot. Traffic to your website will also increase, quite quickly, as you 'automatically' publish a lot of valuable content on the web when you translate it into multiple languages.
Less Competition – A lot of the time, there is also a lot less competition on content keywords in other languages, since everyone focuses on English. You may rank higher, simply because you are one of the first to have the content in that language.
Since you've done the hard work of writing the content, translating it will let it exist in how many languages you choose to translate it to. Your keyword dense article on how to create a photography portfolio, will start to rank for new keywords such as portafolio de fotografía, fotograferingsportefølje, and even 摄影作品集.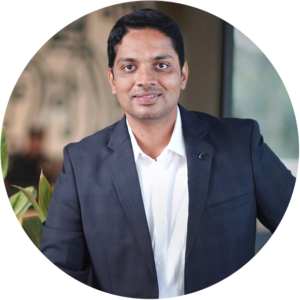 Hello! My name is Sujay and I'm CEO of Astra.
We're on a mission to help small businesses grow online with affordable software products and the education you need to succeed.
Leave a comment below if you want to join the conversation, or click here if you would like personal help or to engage with our team privately.
User Experience
You may ask, why not just have the user translate the website in their browser? After all, most of us have seen a website that wasn't in our language at some point and had to translate it. It is an extra step, and one that doesn't always work the way you want it to.
By anticipating these users' needs, you can create a properly translated page for them to access. That way you know what they are seeing and how, and forgo risking any potentially embarrassing mistranslations.
Overall, providing a positive user experience makes your customers happy, and keeps them coming back. When you offer both a seamless experience and your authority is different languages, you can begin to build trust and brand recognition with a much larger portion of the world.
A better user experience makes international customers feel that they are being addressed personally, rather than having to translate it themselves.
This can help greatly when selling products, as an international user may trust buying it if they feel that they have a good understanding of what it is.
Sales and Conversions
Having a conversation in their language helps you understand new users better and be able to carry on a more long term discussion to provide them with products and services they need. Email follow ups, promotions, ads, and direct communication all happen on your new customer's terms, making sales and conversions easier.
Choosing Your Method of Translation
There are a few different ways you can go about actually translating the content. This will depend largely on the nature of your content and your intended audience.
A medical website may opt for professional manual translation, as their content is highly sensitive and should be translated very carefully.
However, a small business selling a line of products may opt for automatic translation for their product descriptions.
The different options will suit different purposes and you will find a lot is possible with automatic translation plugins, and that manual translation is still essential where content is sensitive.
When choosing your method of translation, the most important thing to consider is if you want a human's eyes on it. A lot of times, this is not necessary or too expensive for some companies. However, sometimes it's absolutely worth it, and can make a difference in how the product is received.
While automatic translation can accomplish quite a bit, it may not accurately convey expressions, culture specific idioms, or word usage differences. It may be a simple change that an automatic translation might miss.
If your content uses mostly general language and is pretty easy to understand, automatic translation may sufficiently accomplish what you need. Product descriptions and general articles may be translated correctly with a click of a button. General descriptions, colors, and basic language can be translated easily. You can even try and translate your own content automatically into a new language and back, and see how close it is.
Manual Translation
There are a number of ways to get your content manually translated. From local translating businesses to hiring a freelancer to using an online service, you will find a variety of options of expertise, price points, timelines, and value.
In House and Outsourced Translators
By far the most in-depth route is to hire a translator to manually translate your content. Depending on the services you use, this often results in the most well written version of translation because someone will be doing it word by word, sentence by sentence, to create the most cohesive version in that language. Hiring a contractor will likely be the more expensive option but also the most comprehensive.
A similar approach is to a lower workload is to outsource the work to a company who does translation. They have professional translators employed and able to handle workloads of different sizes. You can find a local company through word of mouth, local postings, or using online resources.
You can also use a number of online translation services to complete these tasks. There are a variety of types of companies that do this and some even able to do so in a 24 hour turnaround. If you choose this option, be aware that you get what you pay for.
There are also a number of freelancers who can perform translation work, especially if your content is not technical or very difficult to translate. If your content is simple and conversational, it can be translated by freelancers offering their services on platforms such as Fiverr freelance services or People Per Hour.
A good rule of thumb to follow when using a range of online services, you'll usually have to pick between good, cheap, and fast, and decide which of those is most important for you.
Automatic Machine Translation
A lot of content can simply be translated automatically, especially if the nature of the material is easy to understand or if a small translation error will not impact the content matter much or at all. Many WordPress users may use this for personal blogs, product descriptions, or websites with light text.
There are two approaches to displaying the content in different languages and two types of plugins that behave slightly differently. The first is a multilingual plugin, which allows a WordPress user to translate the entire website, including the actual content, menu items, and theme.
The second uses online translation software to translate our web pages as part of your website. Depending on how in depth your translation needs are, you may find that one suits you better.
There are a lot of great multilingual WordPress plugins that can help you accomplish your translation goals. This article will discuss a few of the leading plugins that use automatic machine translation to change the language of your entire website at the click of a button. Polylang, WPML, Weglot, and Multilingual Press are all great tools that can translate your website into a bilingual or multilingual WordPress website. We will discuss them all in detail, as well as how to set and configure each one on your WordPress site.
Top 6 Multilingual Plugins
Below is an overview of some of the leading plugins and their features. Each will have pros and cons for your specific purpose and all of them successfully accomplish the important features of having a multilingual WordPress site. They are all great tools and after reading about them in detail, you will be able to pick the one that works best for you.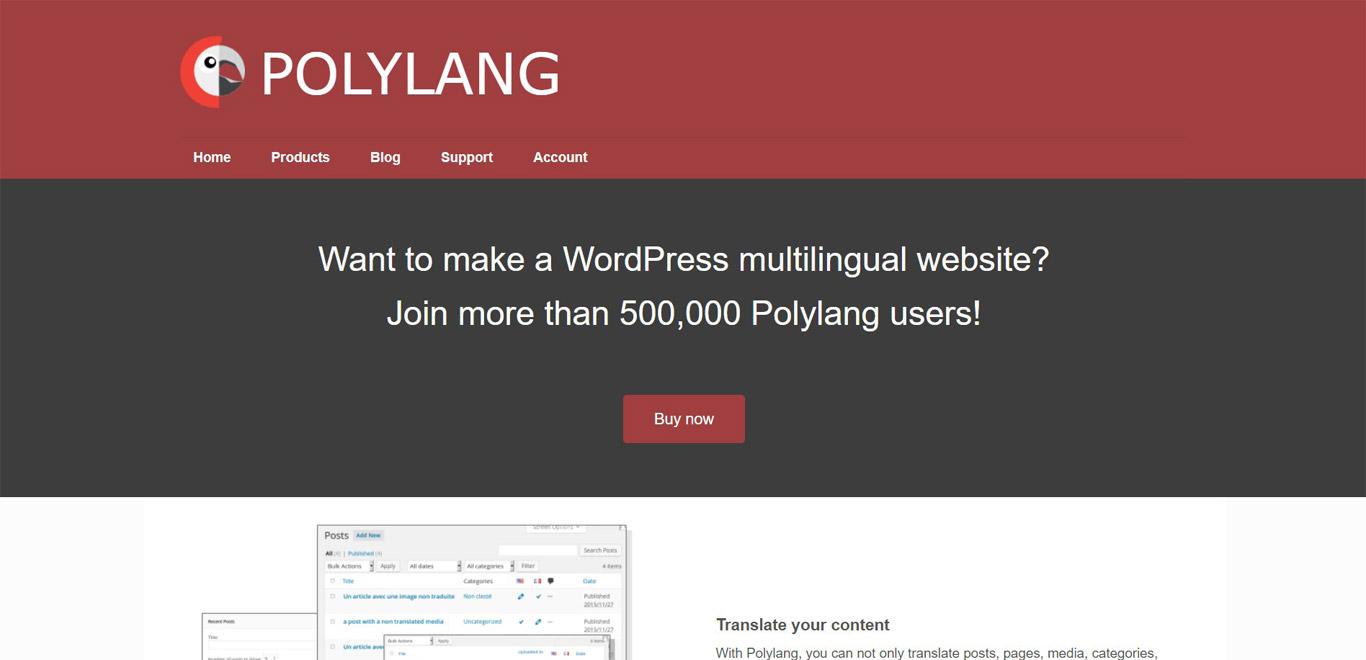 Polylang is a powerful plugin that you can use to easily and quickly create a multilingual WordPress website. It features an easy to use interface where you can add translations for your posts, pages, media, categories, tags, custom post types, widgets, and navigation menus.
This plugin relies on an internal translation tool. To select a language, you can add a language switcher widget to your website. Polylang uses subdirectories, subdomains or separate domains to manage translations. You create one post per language and Polylang will link them all together.
All of these features are available with the basic free version. The Pro version costs €99 for a single site license and provides you with extra features such as URL and slug translation, eCommerce features, and premium support. You can setup SEO friendly URLs for each language and Polylang works well with common WordPress SEO plugins.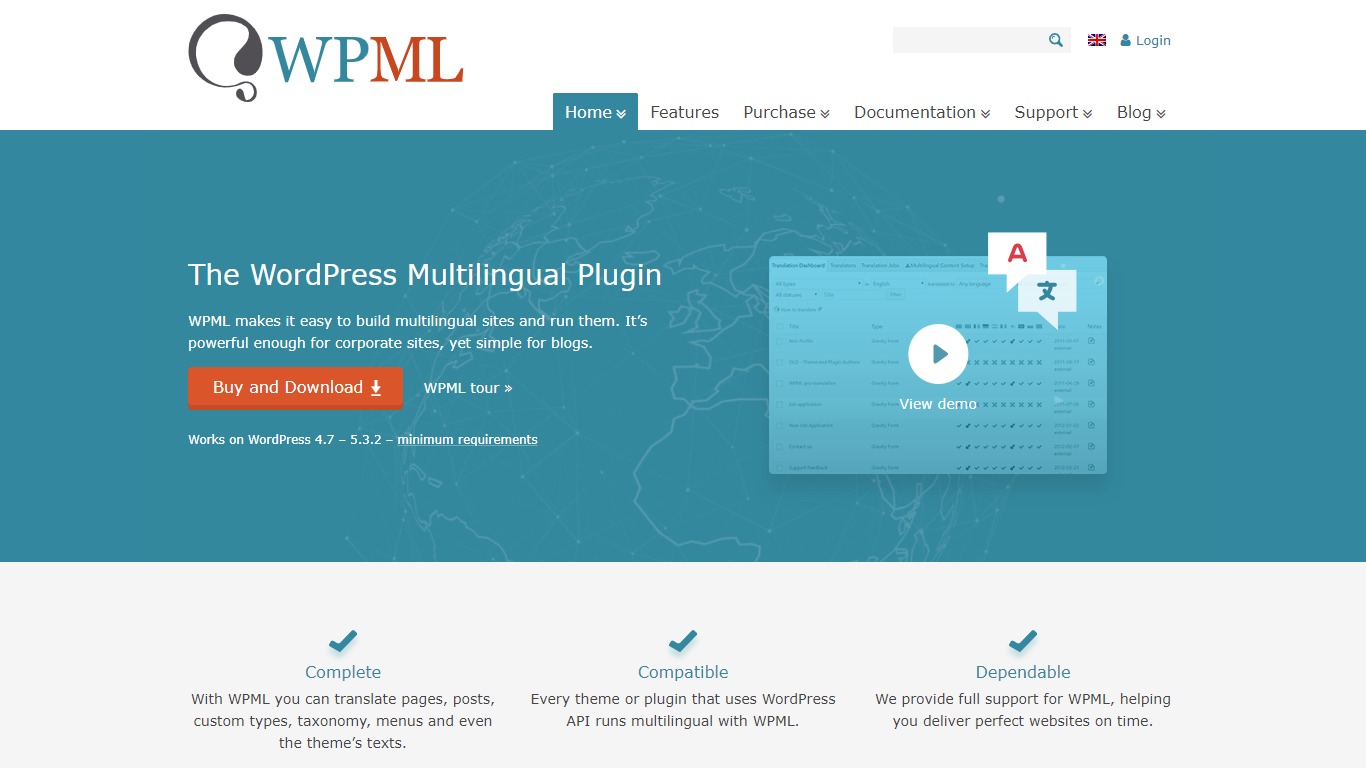 WPML is another popular WordPress multilingual plugin and one of the most powerful. It has a lot of great features that allow you to translate the entirety of a website. WPML lets you install multiple languages in one WordPress installation so no subdomains are needed. It also features a great user interface and allows users with little coding experience to quickly get their multilingual website set up.
WPML offers two plans at two competitive price points. The Multilingual Blog Plan costs $29, and provides you with great core features. The Multilingual CMS plan costs $79 and offers additional features for eCommerce, custom fields, page builder support, external translation service management, as well as some additional premium features.
Connecting your website to third-party translation service providers is an important feature for some WordPress users, especially if higher quality translations are needed. It allows you to pick which content you would like to get translated and have it directly posted onto your website.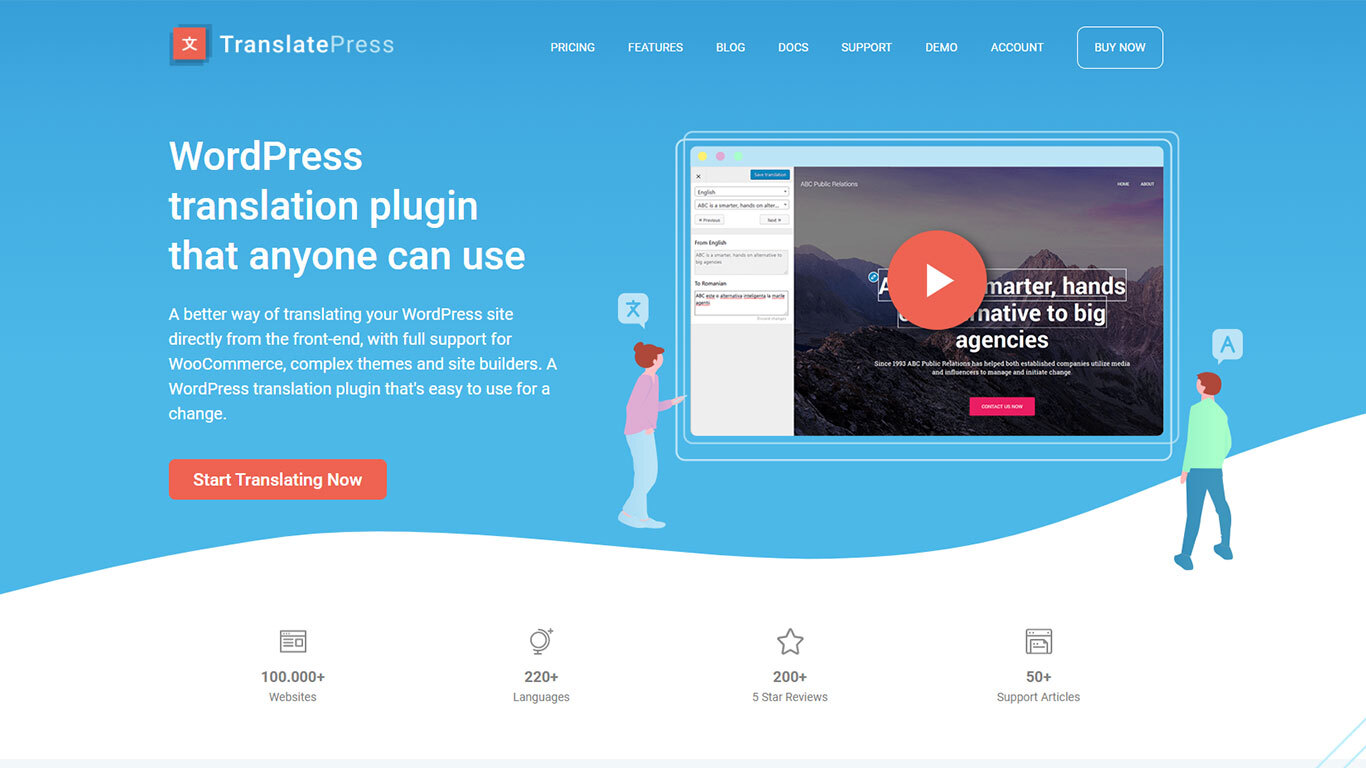 TranslatePress lets you translate your entire WordPress site visually, directly from the front-end. The unique thing about this plugin is its intuitive visual translation interface, where you can translate everything you see and see changes in real-time. You simply navigate the website and enter translations as you go.
TranslatePress works out of the box with any theme or plugin, including WooCommerce and page builders. Besides standard text, the plugin lets you translate things like images, sliders, popups, forms & more. The plugin is GPL and self-hosted, so you'll own all your translations forever and you won't need to keep paying to access them.
To speed things up when translating your site, you can use the built-in automatic translation options available in the plugin (using services like Google Translate or DeepL), and then simply manually refine what's not perfect.
TranslatePress comes in a free version that's available on WP.org, as well as a premium package, which includes advanced translation modules like automatic user language detection, translator accounts, SEO pack & unlimited translation languages support.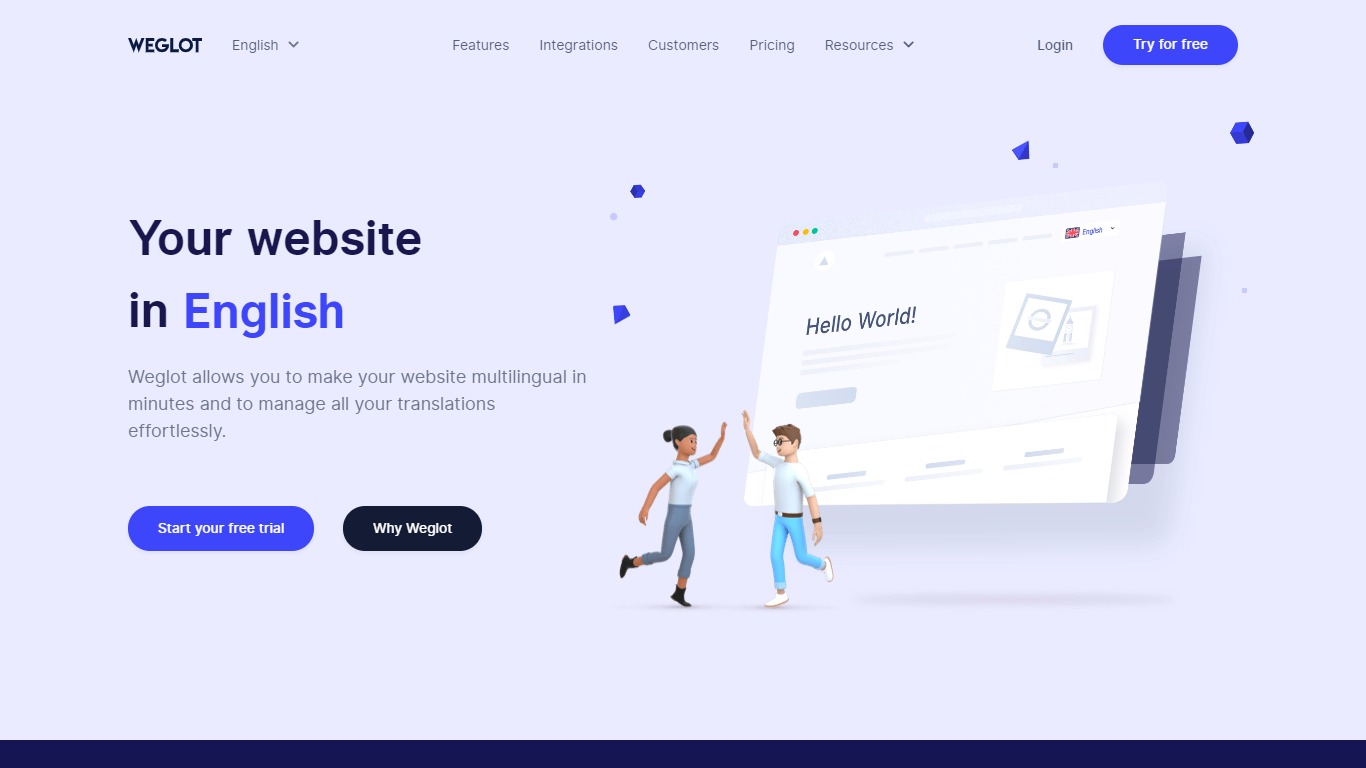 Weglot is another popular website translation plugin that offers a cloud-based experience.
The plugin connects to the Weglot API and when setting up, you can choose your main language and the language you want to translate to. You can use the plugin or the web interface to access your dashboard, and manage translations and content from there.
Their pricing structure is pretty straightforward, and they offer plans based on word count and number of languages translated. For free, you can get started with up to 2,000 word translated into one language, and their €99/year basic plan increases that limit to 10,000 words.
Weglot also has great features such as SEO-friendly URLs recommendations,, WooCommerce support, language switcher button, and access to third-party translation services. We already covered a detailed tutorial on Weglot; check out that!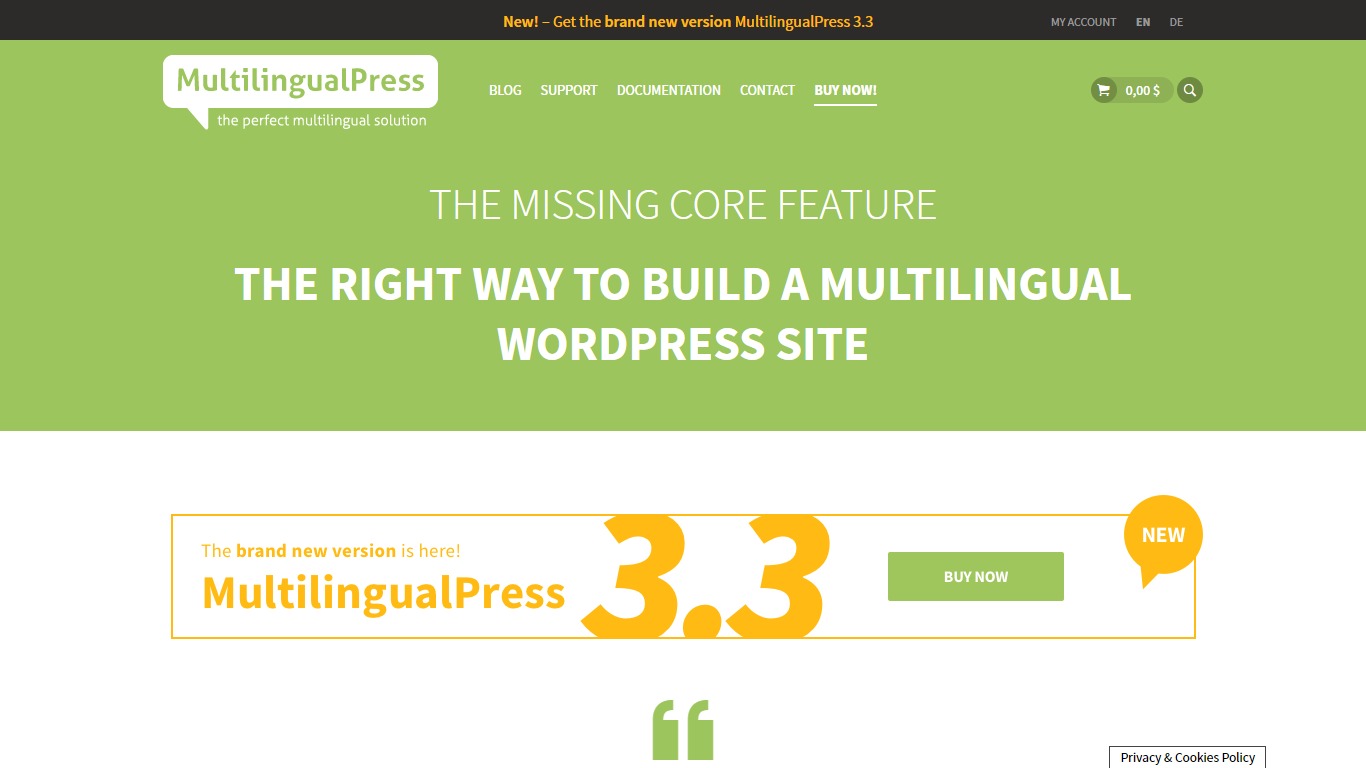 Multilingual Press is a plug-in that uses a different approach to create multilingual websites with WordPress. It uses the built-in WordPress multisite network to create sites for every language.
This approach allows more efficient performance as it only loads one language at a time.
This can be helpful for users that have content-heavy web pages. Websites for each language can be on its own subdomain, directory, or even a custom domain name.
Multilingual Press supports translations for posts, pages, custom post types, taxonomies, and more, offering a starting subscription of $199/year.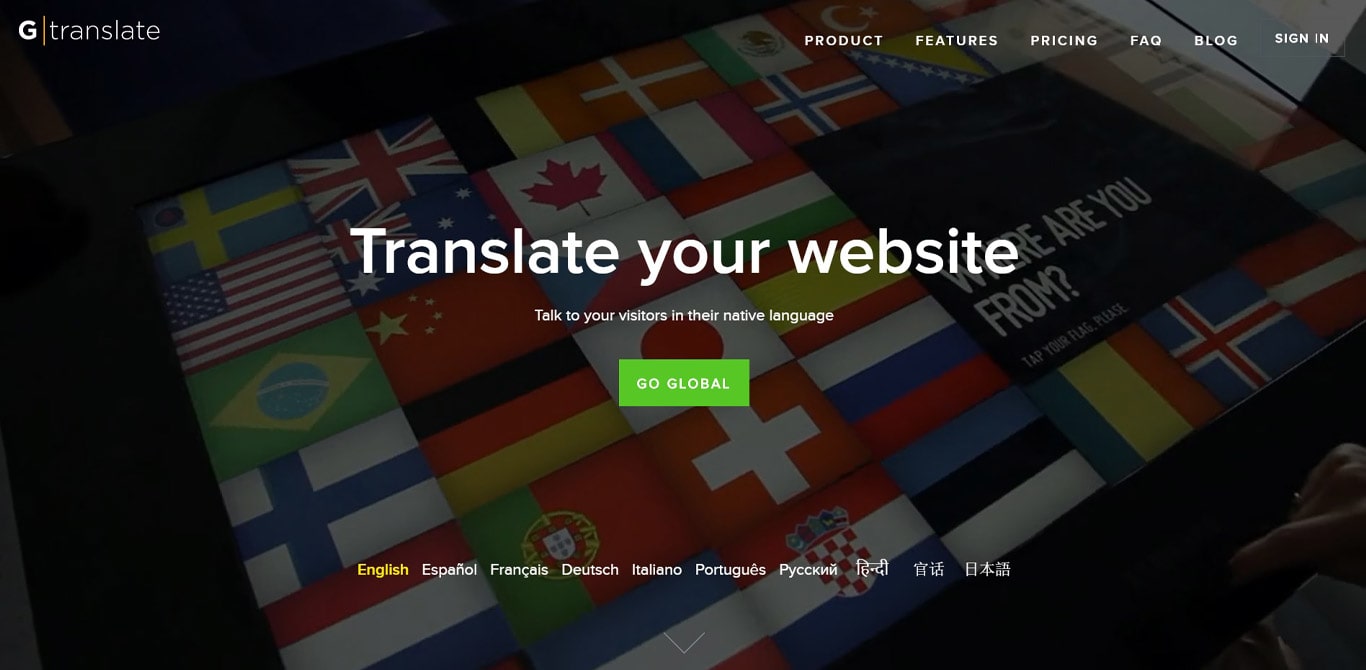 Some of the above plugins have different translation options, from built in translator to access to third party translating service. One commonly used automatic translator is Google Translate and its corresponding WordPress plugin Translate WordPress with GTranslate. These features rely on the powerful Google Translate engine and can quickly create translations for all supported languages.
The plugin allows you to add a language switcher to quickly translate web pages or automatically translate the content based on the user's browser language.
In addition to these free features, the plugin has a paid version which recommends SEO-friendly URLs for you to use and gives you access to search engine indexing. You can discover if search engine indexing is right for you later in this article.
Activating and Setting up Your Plugin
Settings and Configuration
Once you've selected your plugin of choice, you'll need to install and activate it in WordPress. You may need to enter a license key or connect an API to validate your plugin and the plan you purchased. Once you have done this and your plugin is verified, you are good to go.
Also, if your plugin offers it, you can also opt to create subdirectories or create multilingual websites on a different domain.
Front End Translations
You will first have to configure your default content language as well as what languages you would like to translate to. You will also be able to configure your language switcher menu and order. This will set the translation settings for the bulk of your user facing content.
Remember, you can decide if you would like to use the automatic translator, manual translations, or a combination of the two for your purposes.
On your webpage, users will be able to select language options based on what you have selected to be translated. You can set that up in your back end settings
Back End Settings
You can also customize strings, custom fields, URLs, and other back end features as well. This allows for URLS, categories, and tags to be translated efficiently, so that they can be searchable and function correctly. It allows users browsing in different languages to see your site labels, categories, and tag in their language rather than in your default language.
To translate these correctly, go to the 'Taxonomy Translation' tab in your plugins menu and select the ones you want to translate.
To translate other parts of your website and theme, go to the 'Themes and Plugins Localization' page. By default, the plugin's string translation may be turned off. We recommend you turn this on, unless you have manually translated the theme and plugin elements.
Menus
You can set up translation options for menus as well. Simply go to Appearance » Menus page on your WordPress and click on the 'Language Switcher' tab in the left column. Choose the languages you want to display and add them to the menu button. Select your primary language if necessary.
Winner of the Best Multilingual WordPress Plugin
While all of these plugins offer valuable tools and resources for getting setting up a multilingual WordPress website, we felt there was one that stood out from the rest.
WMPL offers a great variety of features, flexible plan options, great third-party support, and an intuitive user experience.
WeGlot deserves an honorable mention as well, as their platform is quite nice to use and its features provide a lot of options for different kinds of users.
Below are some of its outstanding differences highlighted, as well as a more in-depth look at the WPML plugin.
Comparison
WMPL offers two plans, the Multilingual Blog Plan and the Multilingual CMS Plan, aimed at two different kinds of users. The basic plan offers a lot of strong features for most users and the CMS plan includes a robust and organized content management system and translation management module.
It also provides great third-party service support, allowing you to add users, authors, and even subscribers as translators. This feature is great if you are working with content that is translated through different means, or if you have a lot of authors.
WMPL offers a great user experience within WordPress and its features work seamlessly once configured. It offers several options to create a multilingual website, but not an overwhelming amount of settings to configure.
In-Depth Look
WPML makes it straightforward to set up a multilingual website under one WordPress installation. Its setup process is easy, letting you quickly choose languages for your site and start translating your content. WPML translates over 40 languages and allows you to edit language variants with their built in editor. You also have the option to organize different content in directories under the same domain, sub-domains or in different domains entirely.
WPML is equipped with a powerful translation management system, and allows you to let WordPress users to be translators, and they can only access what managers assigned to them. It is a great way to manage and post translations all inside WordPress. You can also easily connect any other third-party translation service.
WPML also does a good job of showing you what text still need to be translated and makes sure that everything your users are seeing is properly translated. They offer reliable and helpful support in multiple languages and have a dedicated development team working to troubleshoot issues.
Set-Up
To get started with WPML, first install activate the plugin. Once it is activated,
WPML will appear in your WordPress menu. The first time you click on it, it will guide you through the wizard. The plugin will detect your WordPress site's default language. You can set a new default language here if you would like. Then continue.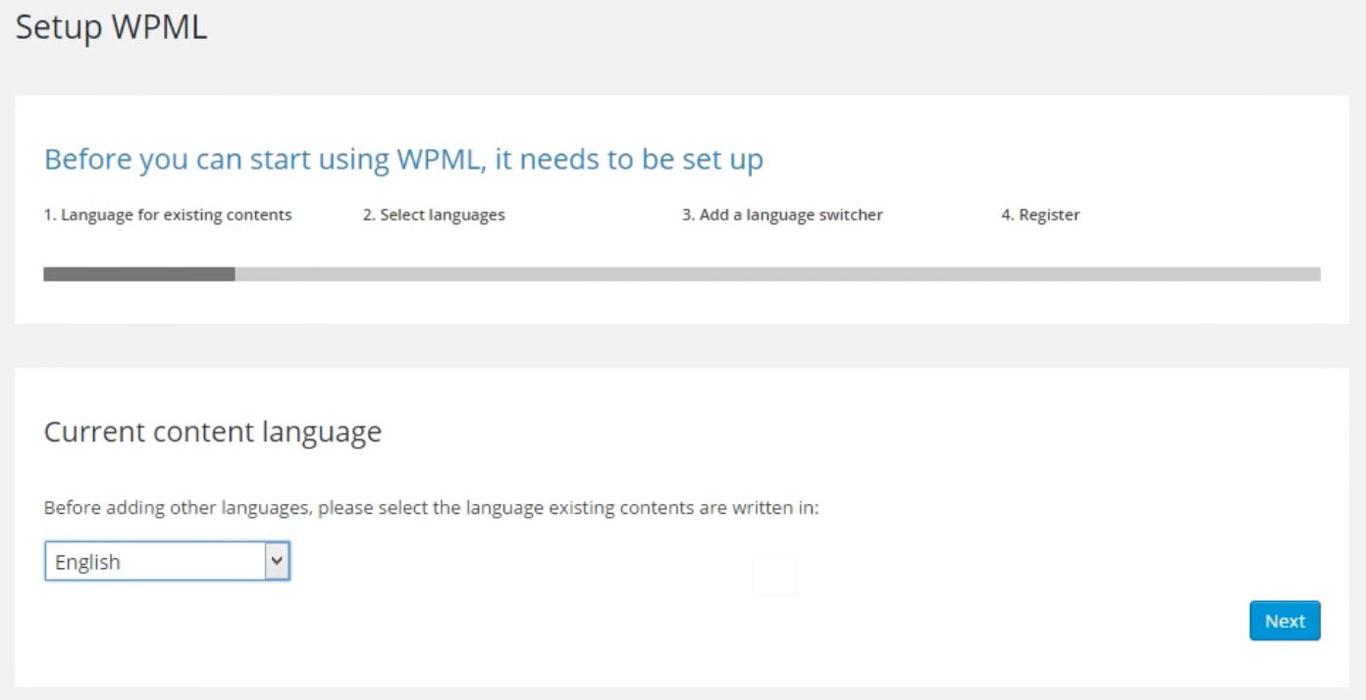 You will next select the languages you want to enable translations for on your site. Click on the ones you want to include. Keep in mind, you can easily add or remove languages later if you need. After selecting your website translation languages, click on next.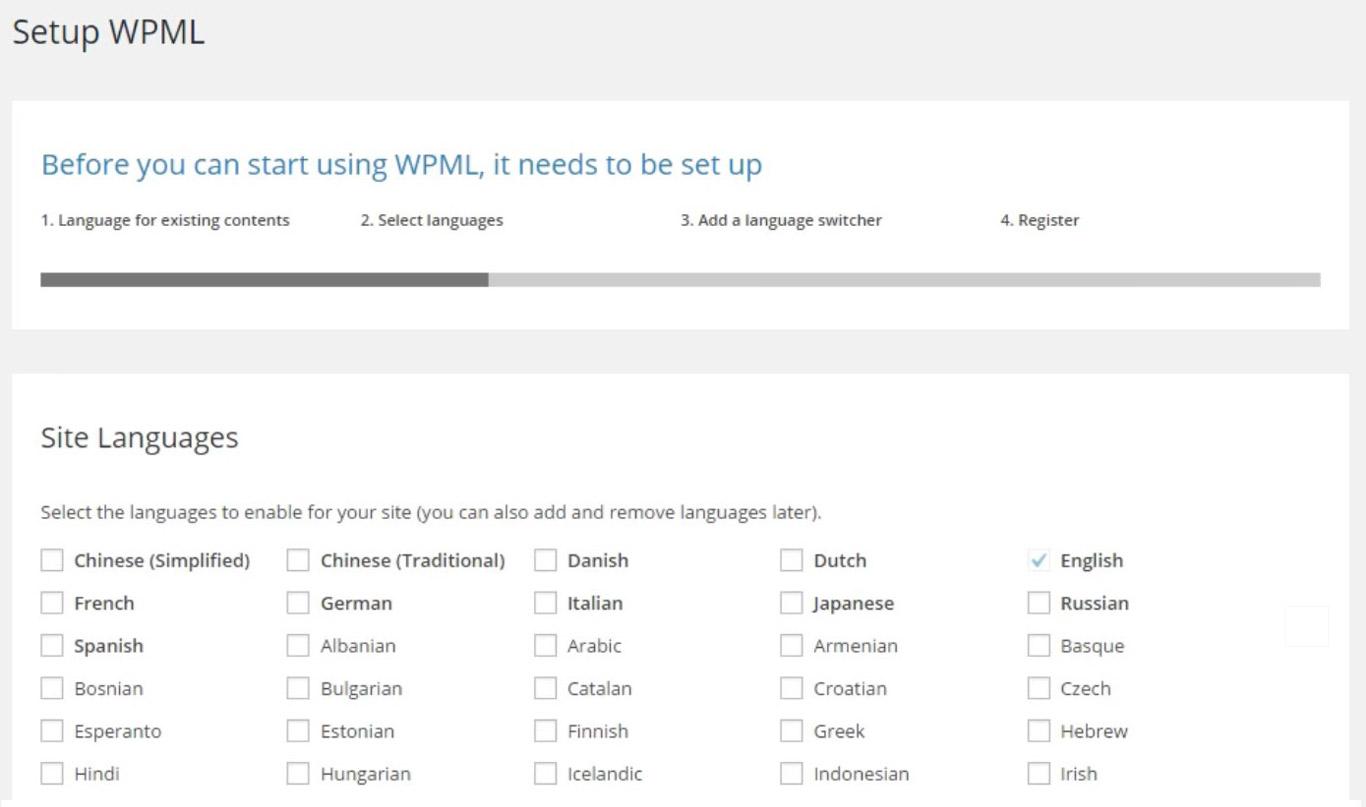 Now you can add a language switcher to your website. This language switcher allows your users to choose a preferred language to view content in. WPML gives you the option to automatically add a language switcher as a sidebar widget, in your navigation menu, or display as a list. You can also select flags or text for language switcher. Once you choose, click next.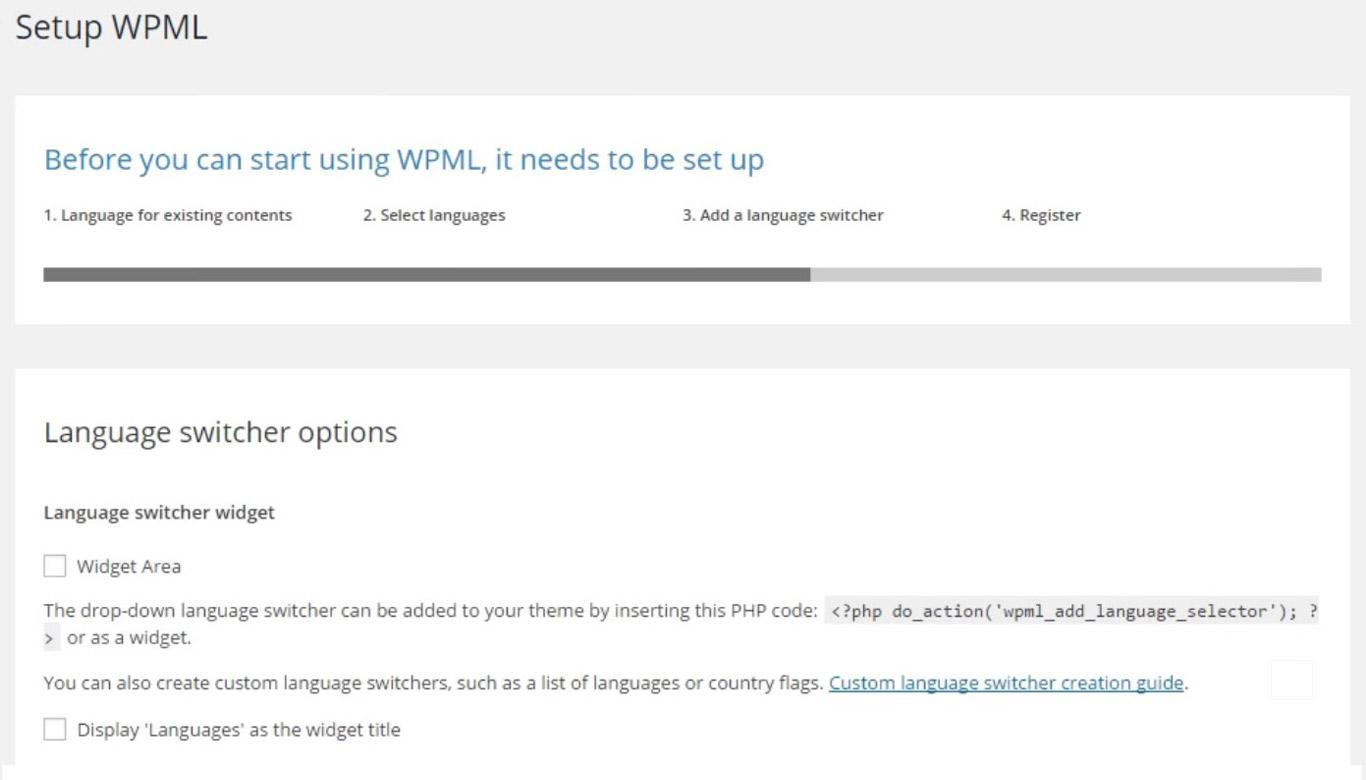 Once you select your language options, you will have to enter your registration key. You can get this from your original WPML purchase. Enter it in a register.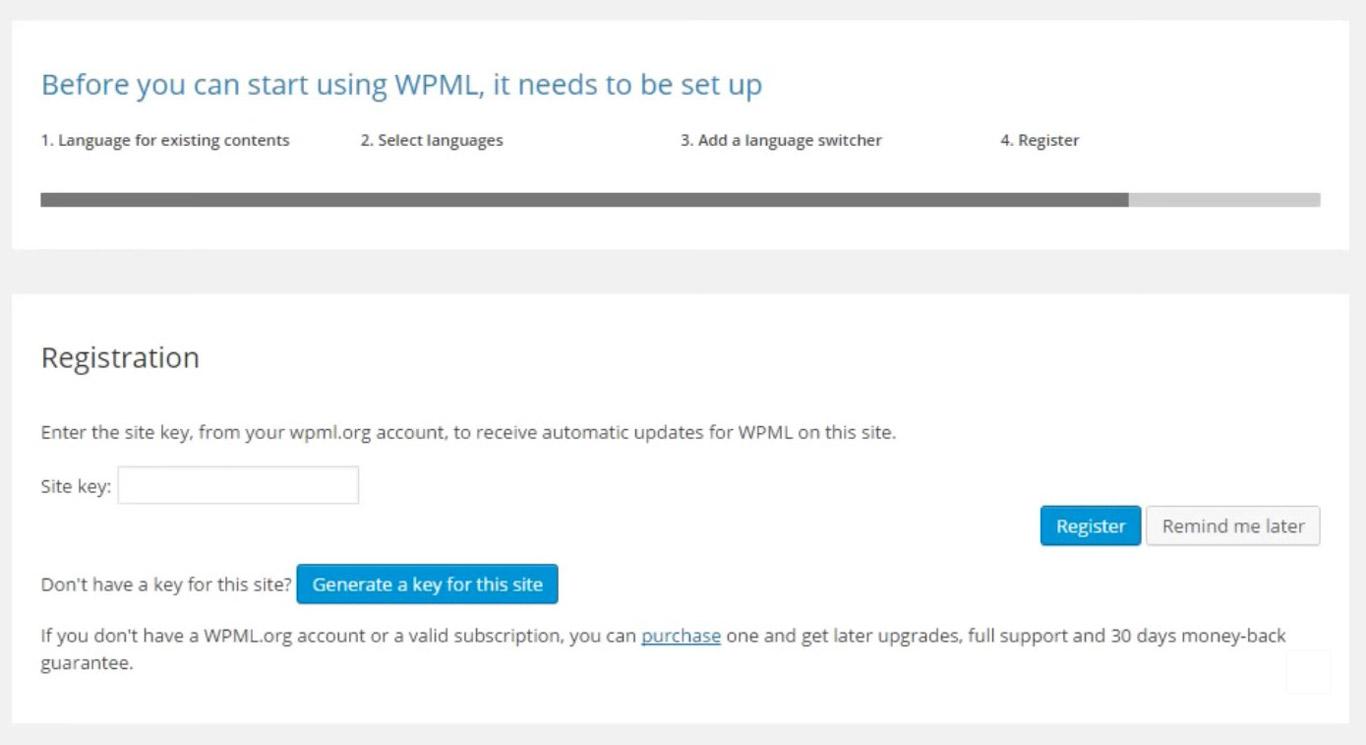 To translate pages on your website, you can navigate to the pages or posts you want to translate. Under 'Language,' you will see the language options you selected earlier. Click the corresponding language for each translation you would like to make.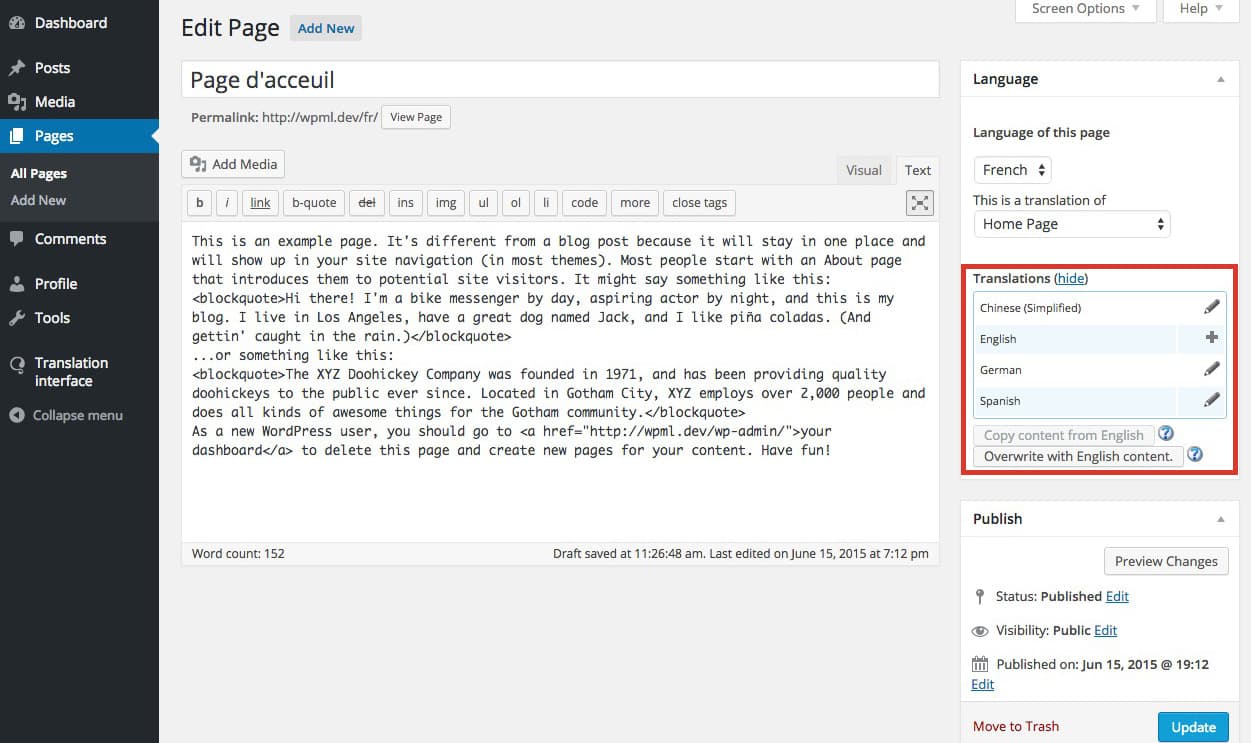 Under 'Translation Management' you can set up third-party translation services and assign contributing editors and translators content. You can manage and update all translation content from here.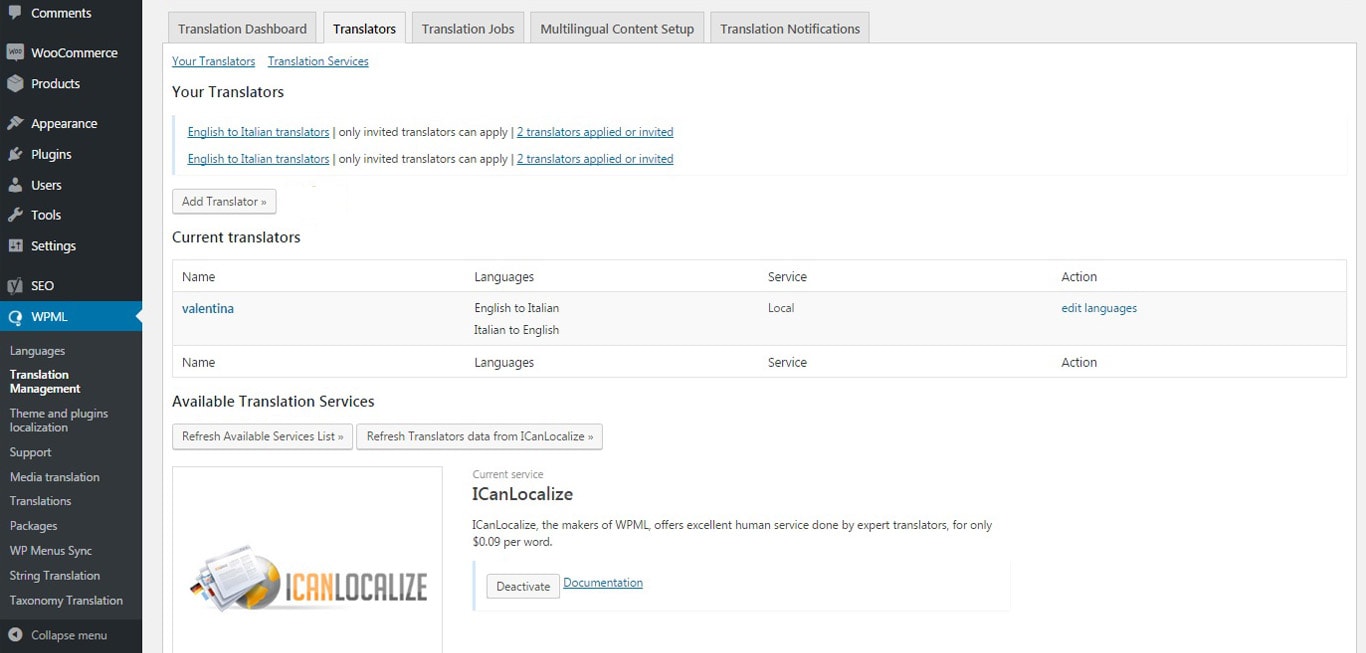 Wrap-Up
As you can see, there are a lot of great plugins that can help you create a multilingual WordPress website. All of them have their own set of attractive features and provide great user experiences. Considerations such as price, the amount and type of content needed to be translated, or the number of websites you are translating may play a factor in your decision.
In addition, you would also benefit from making sure that your website, as a whole, is ready for the world, since after all, you'll be showing it to a lot more people
Before you go and hit "Publish" check out this checklist to see if you're really ready, here's our Website Launch Checklist.
Ultimately, there are a lot of benefits to having a multilingual website with WordPress and you can see how easy it is to set up. Whether you go with a manual translation service or an automatic translation process, you can easily integrate it into your WordPress with any of these plugins.
We hope this guide provides you a good background into helping you make a decision on how to set up your multilingual WordPress website. For more detailed information on each of these plugins, visit their websites to learn about all of their features, the differences in the plans they offer, and the user support they provide.