If there's one thing to never forget when having a website is backups. It might mean the difference between keeping your business online or losing it forever when something unexpected happens.
WordPress, being the robust platform that it is, has made it extremely easy to backup your site. I'm talking about plugins, of course. Sure, you may have backups with your hosting provider or something like that, but check out this article that we made explaining why that might not be enough.
With the hundreds of backup plugins out there, it may be hard to find the best one, or a more common theme is that you don't know what you're missing. In this article, we've done the hard work, we've listed out the best backup plugins out there and what they offer.
Why Back Up Your WordPress Website?
You never know when you might run into an error that breaks your site or an update affect its functionality. It is essential for everyone who has a WordPress website to create their backup ahead of time just in case this happens!
If you are making some changes to your WordPress website, backups allow you to roll back to an older version. Downtime is minimized, service impact is reduced and you don't lose all your hard work!
A stored backup also helps you protect your data in case you become the victim of a cyber attack. While these are relatively rare, if you're pouring your heart and soul into your website, you want to protect it.
What Should You Look for in a WordPress Backup Plugin?
There are hundreds of backup plugins out there with a wide variety of features. In this section, we help you go through some of the essential features you should look for while picking a WordPress backup plugin.
Storage
Look at how much data the plugin can back up. Some plugins offer just partial backups of your WordPress database, while others give you complete backups. The latter involves backing up your whole website and your database and WordPress files, like posts, pages, media files, plugins and themes. That all takes space, which some plugins limit.
Complete Website Backup
A WordPress website contains many files and tables, including posts, pages, site settings, plugins, themes, media, and more. Your WordPress backup plugin must back up the entire website, including all these things.
Not all backup plugins are capable of doing that.
Incremental Backups
While taking backups regularly is a good idea, taking full backups every time takes up a lot of time and storage space. Instead, you can go for incremental backups. This means, instead of taking a complete backup of your website every time, they take backups from the last saved checkpoint.
This is an intelligent and more efficient way to back your website up.
Taking a full backup once a week or month and incremental backups at all other times is a good strategy to use.
Safe Storage
What if you lost the drive where you take website backups. Or what if your hosting account gets hacked? How would you recover your website then?
Your website backup location should be safe. Most backup plugins can store your backups on web servers. However, it increases the load on your server performance and still has a single point of failure.
Some plugins also have their own servers to keep your website safe while others support cloud storage. Consider your storage options when selecting a plugin. The more the better!
Cloud Backups
Some plugins help you save encrypted versions of your website in third-party cloud storage such as Amazon AWS, Google Drive, Dropbox, or another reliable storage service. Using cloud storage alongside local or downloaded copies of your site adds an extra layer of security to your website.
Scheduled Backups
Pick a backup plugin that takes backups automatically at a scheduled time. This is an essential feature because you don't have to remember and can be busy doing other things while your backup takes care of itself.
Real-time Backups
If you run an online store in WooCommerce, you should look for real-time backup plugins. In the case of online stores, every single order matters, and losing even one transaction can lead to a significant financial loss.
A robust backup plan may save the day in these cases! However, taking frequent backups becomes resource-intensive. The good news is that some backup plugins offer real-time backups where every little change in the website is tracked.
The plugin can sync up these minor changes with the primary backup file and keep it updated.
Reliable Support
One of the most important things to consider when choosing a backup tool is reliable customer support. Even if you have the best-performing plugin out there, you may face issues at some point.
At such times you need some support from the developers to help you out of the trouble. Investing in good support goes a long way!
Top 10 WordPress Backup Plugins
Knowing which backup plugin to use for your WordPress site can be a little overwhelming. So let's go through the top 10 and you can pick the one that fits your needs.
Here's a quick overview for you: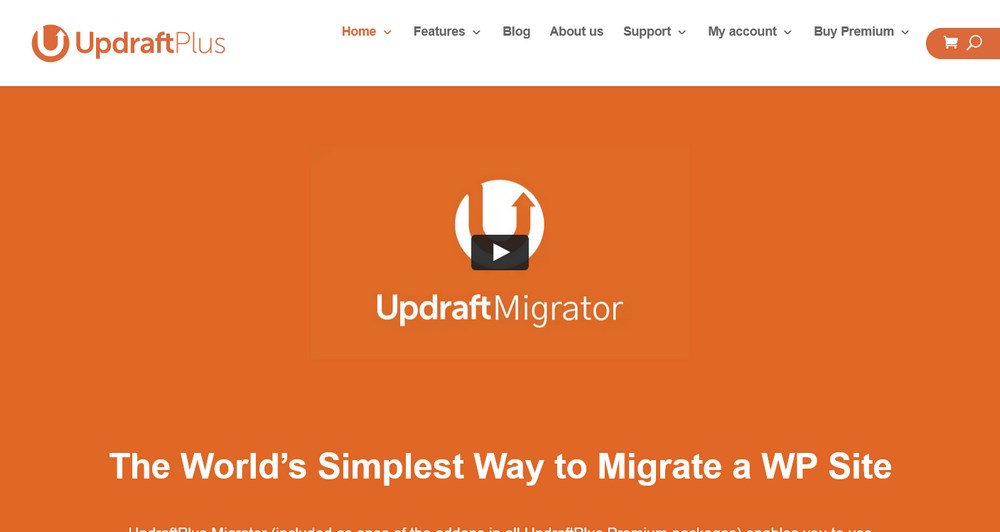 UpdraftPlus is one of the most popular and efficient backup plugins available. Even the free version does a pretty good job. It offers many features such as automatic scheduled backup, cloud storage, and complete backup.
The premium version unlocks many more features such as incremental backups, customer support, multiple cloud storage destinations, website migration, and many more.
Pros of UpdraftPlus
It lets you do a complete backup of your site
You can store that backup on the cloud or your computer
The plugin can do scheduled and immediate backups
Choose which files will be backed up
Quickly restore backups from the admin panel
Cons of UpdraftPlus
It does not provide real-time backup
It gets pricey for multiple domain licenses
Pricing
The UpdraftPlus Plugin is free to begin with. Premium price starts from $70 for the first year and then $42 from the second year onwards.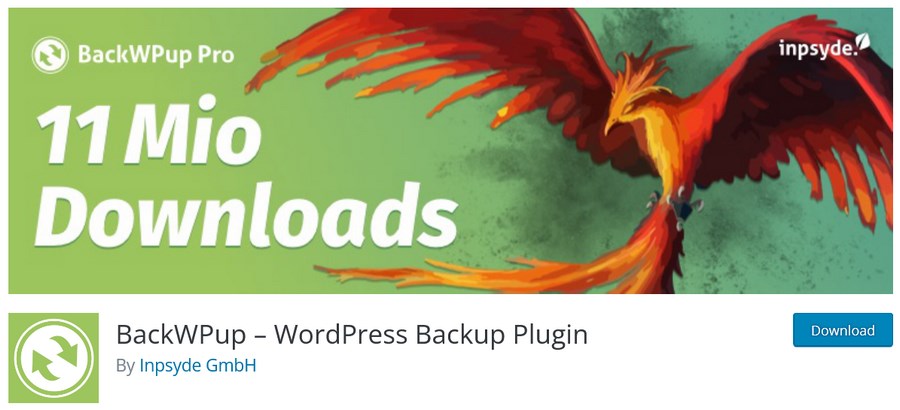 BackWPup is a free WordPress plugin with a premium option that offers complete backups and storage in the cloud, on your computer, via email, or FTP. You can also schedule backups based on how often your site is updated.
The thing that stands out about this plugin is its ease of use. More than 600,000 websites also use this plugin, so lots of people love it.
Pros of BackWPup
The plugin offers manual backups
It provides easy website migration
Seamless integration with cloud services
Supports multisite networks
You can schedule separate database and file backups
Cons of BackWPup
It does not provide automated backups
Cloud backups are available in the Pro version only
Pricing
The free plugin is available to download on the WordPress repository. Whereas premium BackWPup costs you $69 per year.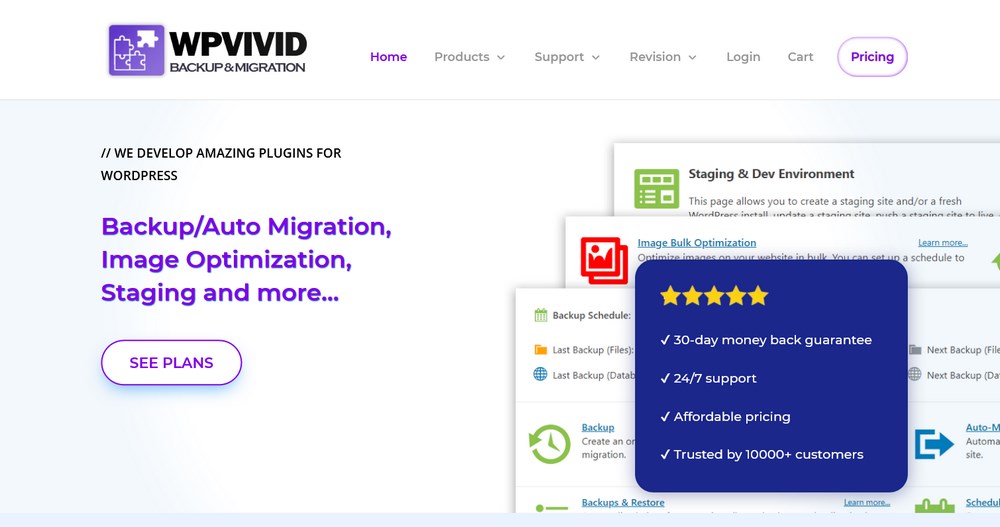 The WPvivid plugin allows you to back up, restore, and migrate quickly and easily. You can automate the backups, restore with one click, and use the cloud for storage.
The plugin is excellent, with a free trial for new users and a premium version, WPvivid Backup Pro, with a lot more customization options. It includes features that allow you to create staging sites, do incremental backups, and display only certain sections/features based on user roles.
Pros of WPVivid
Offers scheduled automatic backups
Supports website migration
Helps create a staging environment for your site
Offers incremental backups
Helps back up multisite networks
Cons of WPVivid
It does not support real-time backups
Pricing
WPvivid is a one-time payment of $99 after your 14-day free trial.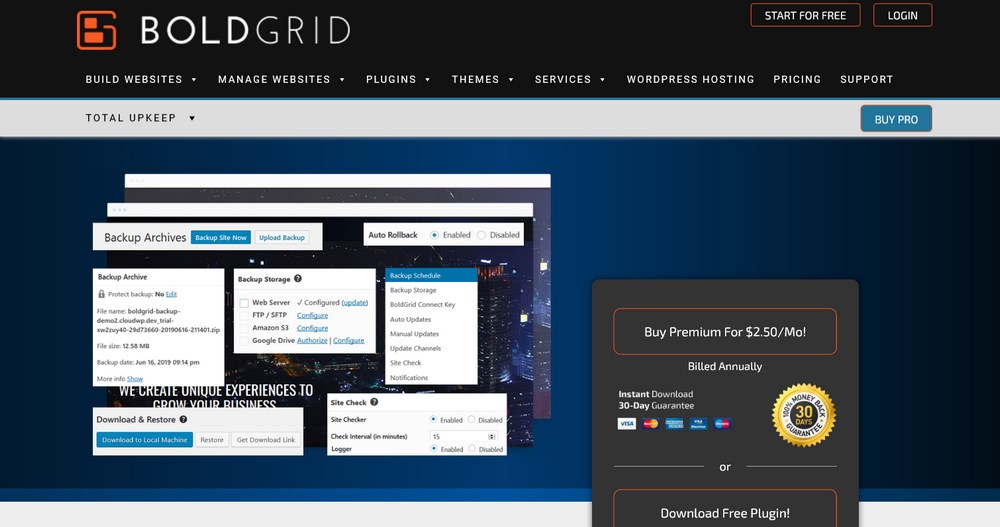 Total Upkeep is a backup plugin by BoldGrid, the website builder powered by WordPress. It's an automated backup plugin that allows you to quickly restore your site after a crash or migrate your site to a new host. You can also complete manual backups with one click.
"Automated backup," in this case, means that this plugin auto backs up before each update. And if the update fails, the plugin will revert your site to the previous backup. In other words, it provides extra layers of surety.
Pros of BoldGrid Total Upkeep
It offers site migration in the free version
It provides easy automated backup
It supports remote backups to different cloud storage providers
It also monitors your site for errors
Its restoration script helps fix crashed websites
Cons of BoldGrid Total Upkeep
It does not support real-time backups
It does not offer backups for multi-site networks
Pricing
BoldGrid Total Upkeep costs $2.50 a month.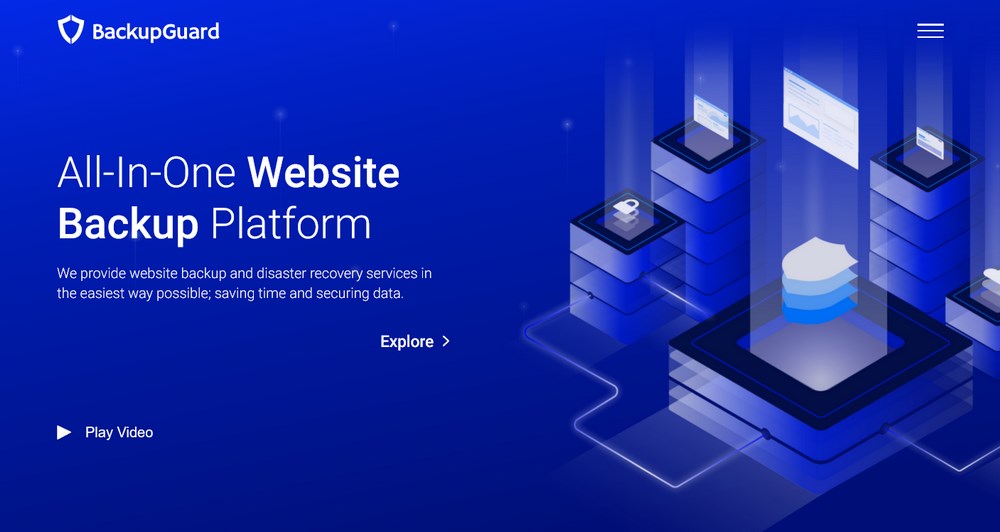 With the free version of the BackupGuard, you can back up, restore, and save your WordPress site to the cloud. You can also choose which files, folders, and databases to back up and exclude any paths or log files.
With the premium version, you can migrate your WordPress site, schedule multiple backups at a time, and decide how many backups you want to keep on your server.
Pros of Backup Guard
It offers fast and automated backups
It supports easy migration of websites
You can also take partial backups with Backup Guard
Easily integrates with cloud services and stores your website files externally
Quickly restores backed-up websites to any date of the backup
Cons of Backup Guard
It does not support real-time backups
It does not offer backup for multisite networks
Pricing
BackupGuard costs as little as $25 a year up to $99 a year.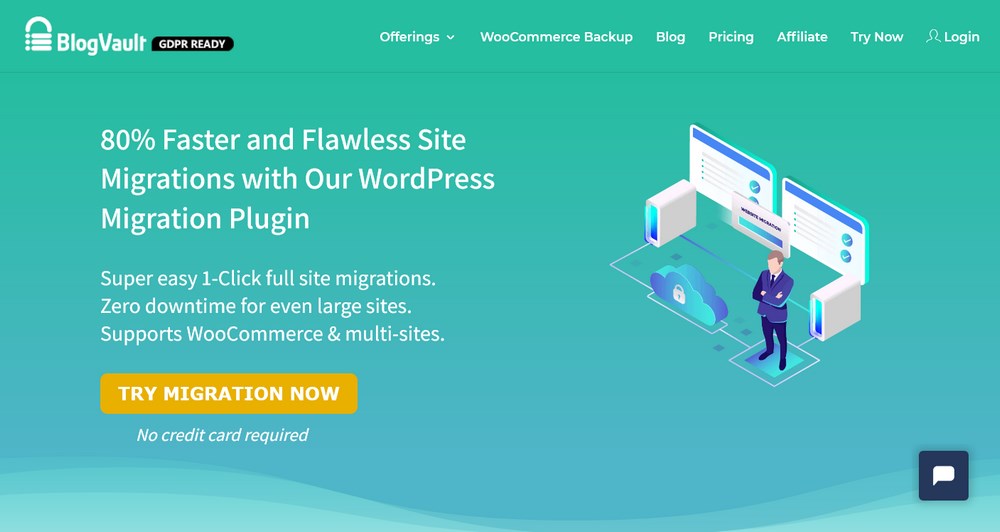 BlogVault claims a 100% success rate with website restorations, and it says it's the fastest backup plugin out there. The free version gives you incremental backups, cloud storage, and even a one-click staging environment.
It's worth checking out as there are nearly half a million sites backed up with this plugin. They also provide customized support in case you run into any issues or questions.
Pros of Blog Vault
It helps with easy backup and restoration of websites
It supports multisite networks
It supports website staging and migration
It monitors the website and alerts in case of any issues
It supports cloud backups
Cons of Blog Vault
It does not take partial backup
It is cloud-only and does not support local backup
Pricing
Premium BlogVault costs anywhere from $7.40 a month (one personal site) to $149 a month (Advanced plan for developers with up to 20 sites).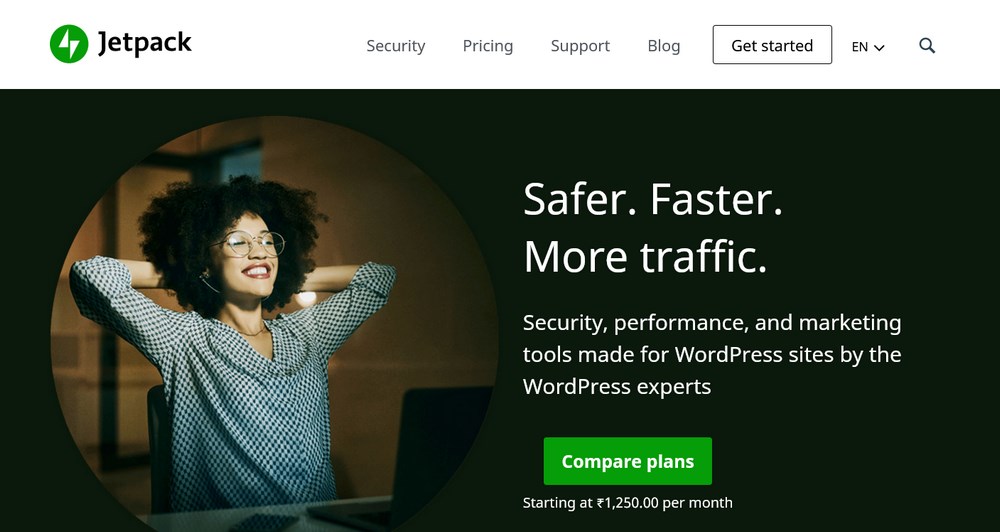 Jetpack is probably the most well-known plugin on this list, and for a good reason. The co-founder of WordPress developed this backup plugin with his team at Automattic.
This plugin offers a lot, but the thing that stands out is its backup features. You get automatic backups in real-time, and it's the perfect plugin if you already need its other services.
Pros of JetPack
It offers schedules automatic backups
It provides quick restore
It supports real-time backups
It offers responsive customer support
Comes with a ton of other WordPress features
Cons of JetPack
Most features come with the paid plan only
Pricing
Jetpack's backup premium service is priced at $3.50 per month.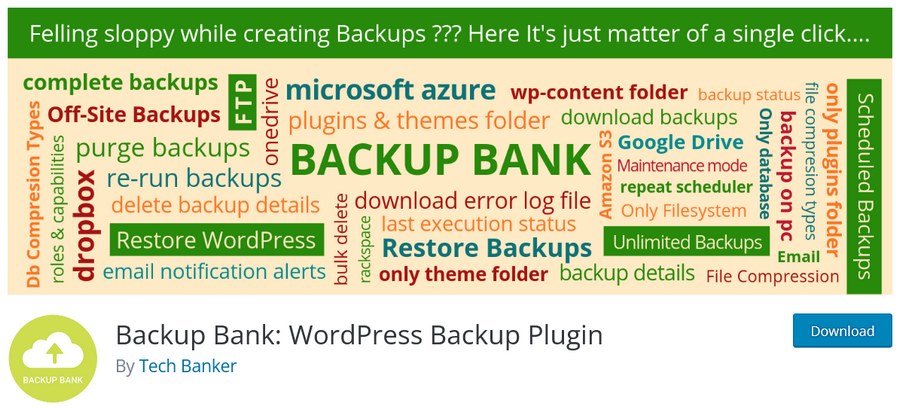 ​​The Backup Bank plugin lets you download your backups to your computer, store them on a server, email them to yourself or put them on Dropbox.
You can back up files, folders, and databases with plenty of customizable options. It lets you restore specific previous versions of files that have been lost, changed, or damaged. You can also choose your compression file type (.Tar, .Zip, Tar.Gzip, and Tar.BZip2).
Pros of Backup Bank
It supports local and cloud backups
It auto-uploads backups to dropbox
It sends regular backups to emails
It allows easy restores
The free version also supports remote file access
Cons of Backup Bank
It does not support real-time backup
It also does not support incremental backups
Pricing
You can get Backup Bank Pro for just under $33 a year.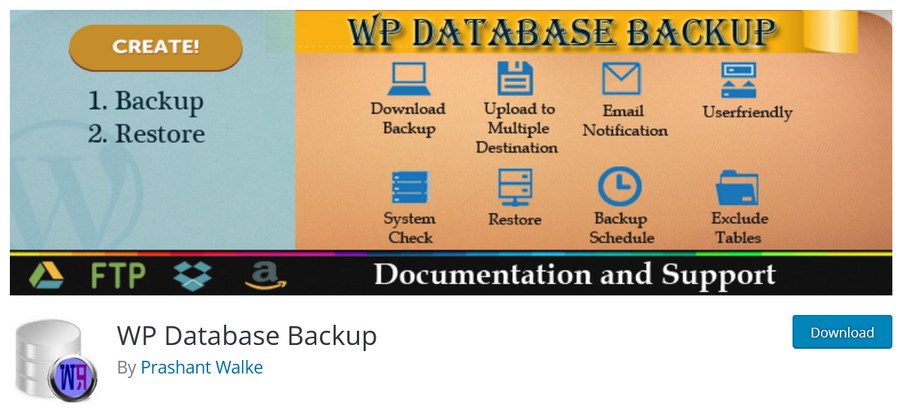 The list of free features you get with WP Database Backup is exhaustive, so it's a good option if you're on a budget. WP Database Backup helps with automatic backups, scheduled backups. cloud storage, local backups, simple restores and so much more.
The premium version adds one click backups, multisite support, one click restore, FTP integration, cloud storage support, email notifications and other useful features.
Pros of WP Database Backup
It supports scheduled and automatic backups
You can store backup files in the cloud
You can import the backups manually to your local computer
The backup and restore process is fast
The plugin is easy to use for beginners
Cons of WP Database Backup
It does not take complete backups
Most features don't unlock in the free version
Pricing
The premium version of this plugin, WP All Backup, costs between $22 and $49.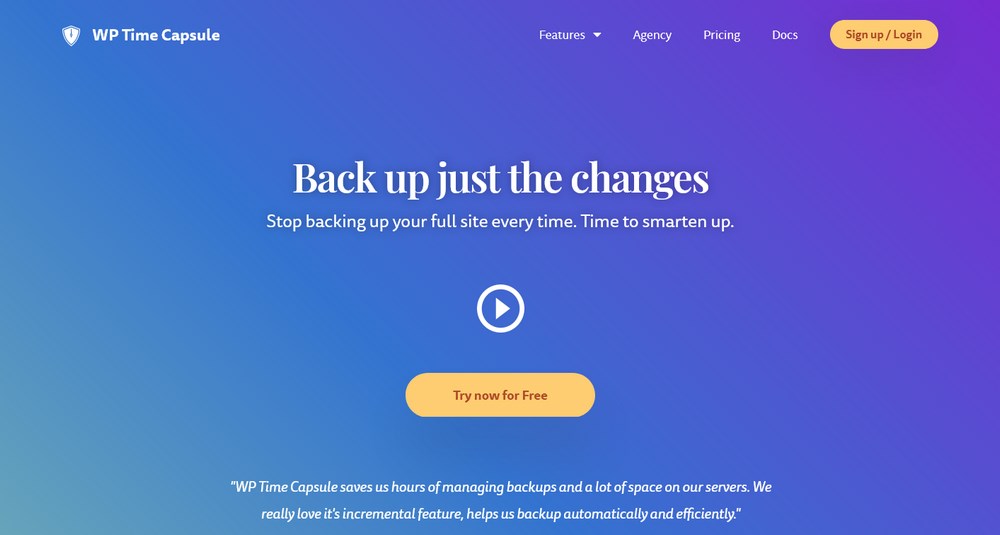 WP Time Capsule is an excellent backup plugin because it auto-detects updates and then backs up your site.
You also get one-click staging to test changes, and every backup is an encrypted database backup. Plus, you can easily clone or migrate your site to a new location, which just adds to the goodness!
Pros of WP Time Capsule
It provides schedules automated backups
It supports incremental backups
It integrates easily with cloud drives
It supports a calendar view of the backups
You can restore the website to any calendar date of the backup
Cons of WP Time Capsule
The backup and restore process takes a long time
It does not support multi-site networks
Pricing
WP Time Capsule plan costs from $49 a year.
Where Should You Store Your WordPress Backups?
Many of the plugins listed offer different storage options, like on your computer or on the cloud. So how do you know where to put your backups?
The short answer: use every option you have available.
The longer answer: find a plugin with a remote backup option, like Dropbox, Google Drive, or Amazon S3.
Why? Because these companies' servers are safer than your computer. If your backup is only on your computer or an external hard drive, that's dangerous. One ounce of water or one accidental drop could wipe out your entire backup.
The reason you backup your site is to avoid problems like hardware failure. So storing your backup files in as many places as possible is your best bet.
FAQs About Backups
Backing up your WordPress site can get complicated, so it's very possible you still have questions. So you may want to check out our complete guide on how to back up a WordPress website.
Back It Up
The main takeaway here is that you need to back up your WordPress website. And although you'll need a basic knowledge of this topic, there are plenty of WordPress backup plugins that make it way easier to ensure your site stays in good hands.
Which one of these plugins are you using? Let us know in the comments.