Subscriptions are a popular way of increasing sales and maintaining sales figures for eCommerce websites. It helps build up your store's marketing email list that can be ideal for repeat sales. It also improves the scope of your business model and assures you of recurring income.
Subscription models are everywhere. They range from books to SaaS (Software as a Service), dog food to magazines, and everything in-between.
Consumers prefer subscription models due to their regularity and simplicity. Retailers love subscription models because it can mean easy recurring income.
Starting a subscription feature on your WooCommerce store is a must-try.
If you're still not into WooCommerce and want to learn more about creating a WooCommerce store, we created a separate article on our website about WooCommerce and why should you use it. In this detailed guide, I will walk you through the entire process of selecting the right subscription plugin and integrating it into your store.
This article will look into the benefits of a subscription-based website and discuss eight of the best WooCommerce Subscriptions plugins.
Using these plugins, you can quickly sell subscription-based products or services with a recurring payment option. These plugins allow you to collect subscriptions on downloadable, virtual, and physical products at a fixed interval. Payments may be daily, weekly, monthly, or annually, depending on your needs.
What Is a WooCommerce Subscription?
Subscription is also a valid sales option for recurring billing for your physical products. A popular business scenario is offering clients products or services that they can use only if they are members. In this model, the customers buy subscriptions and renew their subscriptions as required.
The following are the common types of subscriptions:
Product subscriptions: Subscription for products include recurring orders for items that customers used and delivered at fixed intervals.
Membership subscriptions: In membership subscriptions, your customers will have to purchase a membership, which has to be renewed at regular intervals to have access to your products and services. These subscriptions are often for longer durations.
Email subscriptions: Customers sign-up for email subscriptions for communications containing updates, promos, news, and new products. These are usually free subscriptions, but you can also make some paid subscriptions. You can choose to send emails on a schedule that suits your needs.
Benefits of Subscription-Based Sites
There are several benefits of subsctriptions, they include:
Attracts More Customers
Subscription-based websites provide customers a more convenient and easy way of accessing their favorite products and services. They also provide access to recent products, promos, and updates, which attracts more customers to your store.
Charging customers a lower staggered monthly payment is more attractive than charging a higher priced one-time payment. In general, The lower the price of a product or service, the lower the barrier to entry.
Growth Can Be Exponential
Using subscription features can bring exponential growth to your business as it builds subscribers and brings recurring income to your store.
Recurring Billing Offers Predictable Revenue
Once you have subscribers and recurring income, it is easy to predict your revenue, giving you more power over your business and future expansion.
If you use the one-time payment model, you must continuously attract and convert new customers to maintain sales. You may experience some setbacks due to the irregularity of sales volume.
In the subscription-based model, you are guaranteed monthly payments from subscribers automatically and only need to attract and convert them once.
Since the amount of recurring payments is determined already during the subscription, you can easily predict your revenue each month.
Given this information, you will have good predictions and informed decisions along the way, like ordering just enough supplies or stocking just enough inventory.
You can also use billing automation tools for recurring payments for faster and more efficient ways of running your store.
Billing Increases the Returns on Customer Acquisition Costs
There is a set rate of return on Customer Acquisition Cost (CAC) in one-time payment models. But with the subscription model, there is no standard return on CAC.
The CAC may remain the same, but its customer lifetime value (CLV) will increase depending on how long they stay with your organization.
The less it costs you to acquire that customer and the more overall value that customer provides, the more profit you make.
You can establish both CAC and CLV, use that as baseline data, and then work to push CLV higher than CAC over time.
You can also segment your calculations through upselling—one CLV for your product's basic version and another CLV for the more upgraded version.
This will allow you to track customers' value over time and focus on which products provide your business with the most value and which ones are dragging down your overall CLV.
Earn More Through Cross-Selling and up-Selling
The longer customers are subscribed to your website, the more it builds a strong bond of trust between the customers and the quality of products and services you provide.
You can efficiently cross-sell additional and complementary services that may also offer them value.
Upselling is also more comfortable with a subscription business as the customers already established relationships and trust with your business. They will usually be more receptive to any added value or improvements you can provide.
WooCommerce Subscription Plugins
Now let's look into the best WordPress subscription plugins for WooCommerce.
In choosing the right plugin, you should look for the following features:
It should support significant payment gateways.
It should manage product subscriptions for customers to upgrade.
It prompts automatic email notifications for subscription expiration.
It can provide both automatic and manual billing.
It can manage billing cycle length.
It can stop, pause, cancel, or suspend subscriptions based on terms.
It provides a log of all payments on a customer dashboard.
Here is the list of WooCommerce subscription plugins of 2023 :
WooCommerce Subscriptions
Subscriptio
SUMO Subscriptions by Fantastic Plugins
Subscriptions for WooCommerce by WebToffee
WP Simple Pay (Built for Stripe)
Paid Memberships Pro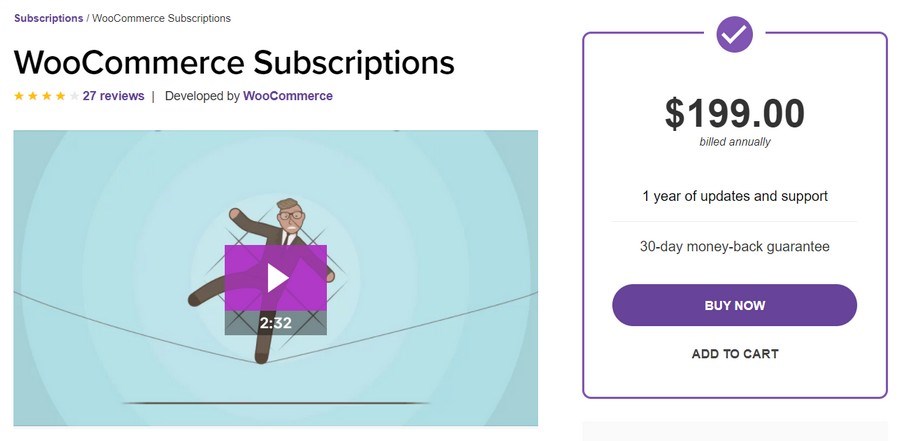 WooCommerce Subscriptions, as its name says, is WooCommerce's very own subscription plugin. It is an excellent tool with unique features that helps you manage variable subscriptions simultaneously.
The WooCommerce Subscription plugin adds functionalities like automatic invoice generator, drip content setup, periodic billing schedules, front-end subscription management, multiple subscriptions setup, and so much more.
WooCommerce Subscription is a feature-rich plugin that supports over 25 payment gateways for automatic recurring payments and manual renewal payments.
With the WooCommerce Subscriptions plugin, you can set different billing periods to renew subscriptions daily, weekly, monthly and annually.
The top features of this plugin are:
Automatically initiates rebilling for failed subscription payments.
Automatically sends renewal notifications to keep customers well informed.
Provides various subscription products to give customers a choice.
It gives customers the freedom to choose their subscription schedules.
Allows customers to have multiple subscriptions in a single transaction.
Pricing:
The plugin is a premium add-on for WooCommerce and can be purchased for $199 per year.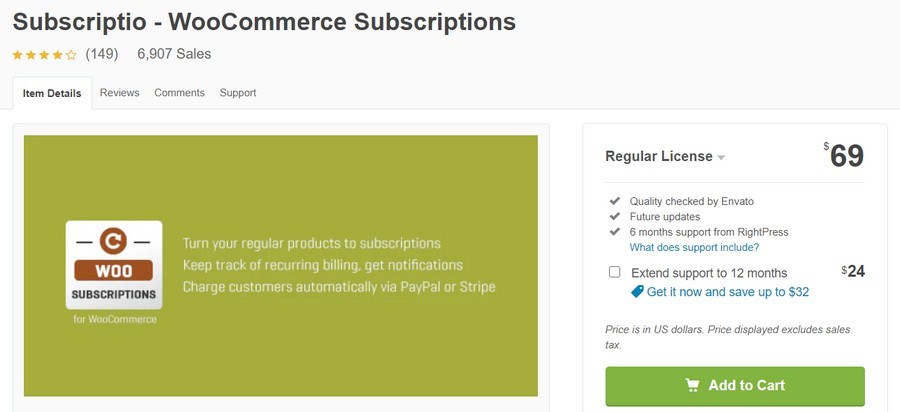 Subscriptio is a subscription plugin for WooCommerce that allows users to sell subscriptions and activate recurring revenue schemes. With this plugin, you can sell eLearning packages, online memberships, magazine memberships, and more.
This plugin comes with functionalities like multiple billing, flexible billing cycles and automatic renewals. It also comes with variable product subscription support.
Once you install this plugin, it will delineate the flow of subscription processing.
The top features of Subscriptio are:
It creates subscription lists and subscription management tools for your customers.
It sells online memberships with recurring charges.
It configures your subscription trial period.
It is fully compatible with PayPal and Stripe.
It allows customers to have multiple subscriptions, and there is no limit on quantity.
It makes the subscriptions available for intangible as well as tangible products.
It sends regular reminders for payments to subscribers.
Pricing:
The Subscriptio – WooCommerce Subscriptions plugin is available on Envato and is priced at $49 for a regular licence and $249 for an extended licence.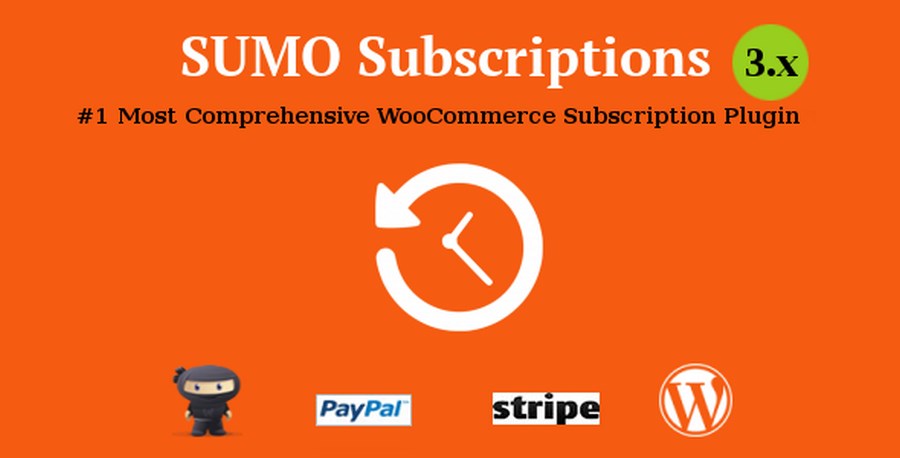 SUMO Subscriptions is a fantastic plugin that creates recurring payments for a WooCommerce subscription system.
This plugin has four built-in payment gateways, including automatic renewals with PayPal and Stripe. It helps you create a simple, variable subscription and grouped product subscriptions on your WooCommerce store. It also lets users select subscription duration and the frequency of renewals for order subscriptions.
SUMO Subscriptions plugin is a complete subscription solution for your WooCommerce store.
The top features of SUMO Subscriptions are:
It supports free and paid trials.
It has in-built PayPal recurring payments and Stripe subscriptions.
It offers automatic subscription renewal using SUMO Reward Points Payment Gateway with SUMO Reward Points Plugin.
It can send multiple payment reminder emails.
It has a master log to record all the transactions throughout the site.
It also offers recurring donations with the SUMO Donations Plugin.
It is compatible with WooCommerce and WordPress updates.
It allows customers to choose subscription duration and renewal cycle on the checkout page.
It works seamlessly with all themes that support WooCommerce.
It offers automatic subscription renewal with multiple payment gateways.
It provides an option for a trial and signup fee.
Pricing:
Sumo costs between $49 and $490, depending on what options you choose.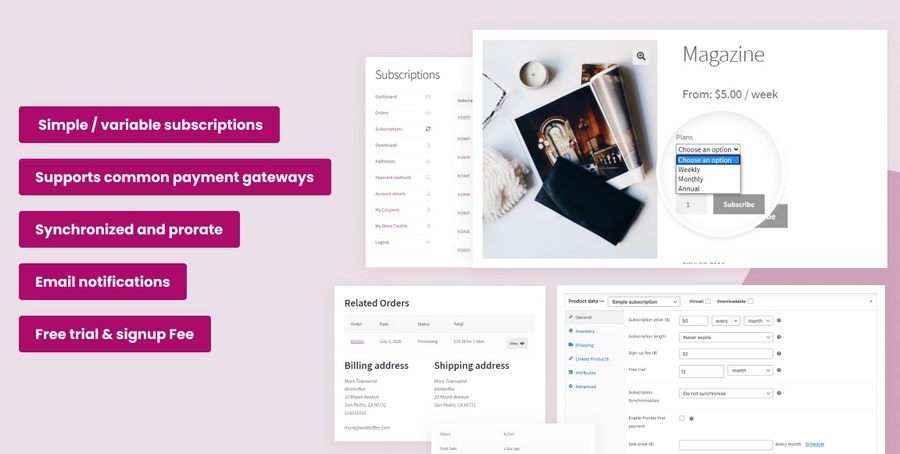 WebToffee for WooCommerce Subscriptions is a simple, out-of-the-box WooCommerce subscriptions plugin that lets you set up and manage recurring payments and billing for your WooCommerce store.
It comes with a free trial and can be used to create simple subscriptions with price, length, interval, and variables related to your subscription products or services.
WebToffee for WooCommerce Subscriptions plugin supports major payment gateways such as PayPal and Stripe. This plugin is designed with all the essentials for easy subscription.
WebToffee for WooCommerce subscriptions is another excellent plugin for recurring payments and billing at your WooCommerce store. It is a paid plugin, but it offers a free trial before buying the full licence.
The top features of WebToffee are:
It set up variable subscriptions for both physical products and digital products.
It supports synchronized renewal.
It offers multiple billing schedules.
It offers a free trial and signup fee and recurring subscription discount coupon.
It automatically sends email notifications.
It synchronizes the dates of the subscription products to a specific day of the month.
It is fully compatible with multiple payment gateways.
It automatically initiates re-billing of the failed subscription payments so that the owner never suffers a loss.
Pricing:
WebToffee offers a personal single site licence – $89/year and a business licence for five sites – 129$/year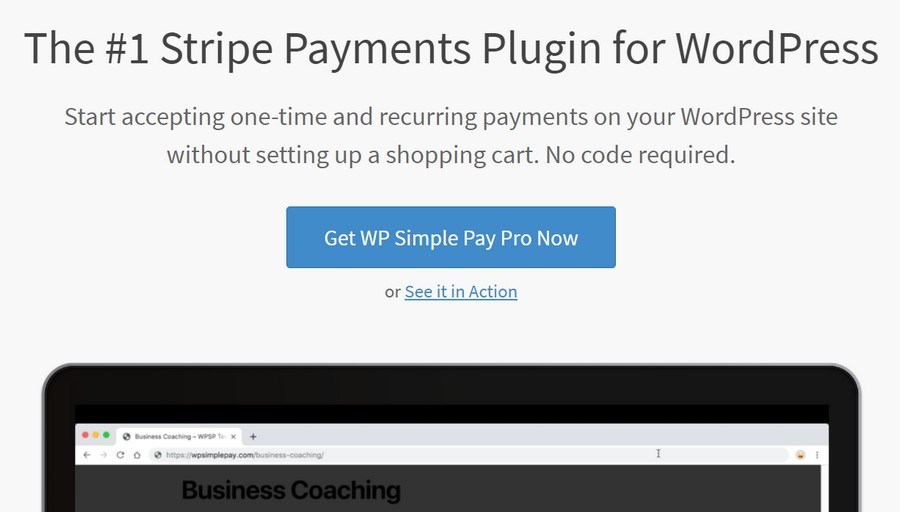 WP Simple Pay Subscription plugin is an elegant, dependable and seamless way to accept both one time payments and recurring payments without using any code.
With WP Simple Pay, you need to create subscription plans with your Stripe account, link your products or services to WP Simple Pay Pro and start your subscription business. You can also create installment plans, trial periods and initial setup fees.
Businesses come in all shapes and sizes. You have the option to use custom fields for forms and gather all that data into Stripe including numbers, custom text entries using dropdowns and more.
WP Simple Pay supports non-card payment methods through Stripe, such as Apple Pay, Google Pay, ACH debit, and iDEAL.
The top features of WP Simple Pay are:
It offers a simple payment collection for services, single products, or donations online.
It provides secure payment processing and data storage using Stripe's ultra-secure servers.
It also supports Secure Customer Authentication (SCA).
It is optimized for mobile.
It supports subscription integration.
It allows you to customize payment forms with an easy-to-use drag and drop builder.
It allows your site visitors to pay what they want by entering an amount.
It gives your customers an amount or percentage off discounts.
It supports multi-language and currency. It is also fully WordPress-translation-ready.
It accepts non-card payments.
Pricing:
WP Simple Pay is available from $99 per year for one site, $149 per year for three sites, $249 per year for unlimited sites, and a one-time payment of $499 for unlimited sites.

Paid Memberships Pro is a plugin for membership sites and not physical or digital products. In addition to the necessary features of a membership plugin, Paid Memberships Pro also has dozens of integrations with notable email marketing, networking, and social integration plugins.
Paid MembershipsPro is a famous memberships plugin with 90,000+ active installs and supports 75 addons and integrations.
The Paid Memberships Pro plugin is ideal for memberships and subscription-based sites. With Paid Memberships Pro, you get an alternative to WooCommerce Subscriptions and a full suite of features to support your WordPress-based subscription business.
Paid Memberships Pro comes with addons to extend your subscription business' functionality, such as invite-only memberships, PayFlow recurring orders, group discounts, donations, and several others.
The top features of the Paid Membership Pro are:
It creates a complete membership offering with special pricing and content access for each level.
It offers multi-tiered membership, including child accounts linked to a paying parent account.
It customizes the content and design of every message sent to members.
It syncs member roles and levels.
It provides eCommerce, payment options, and invoicing.
It provides recurring payments and subscriptions.
It integrates with Stripe, PayPal, Braintree, 2Checkout, Authorize.net and offline payments.
It allows members to choose their payment method.
It allows trial periods that automatically convert to a paid membership after a specific timeframe.
Customization of renewal dates.
It offers rolling membership or forces all memberships to renew on a specific day of the month or year.
Pricing:
You can buy Paid Membership Pro for $297 per year for 1 to 5 sites; or $597 per year for unlimited sites.
How to Add Subscription in Shopify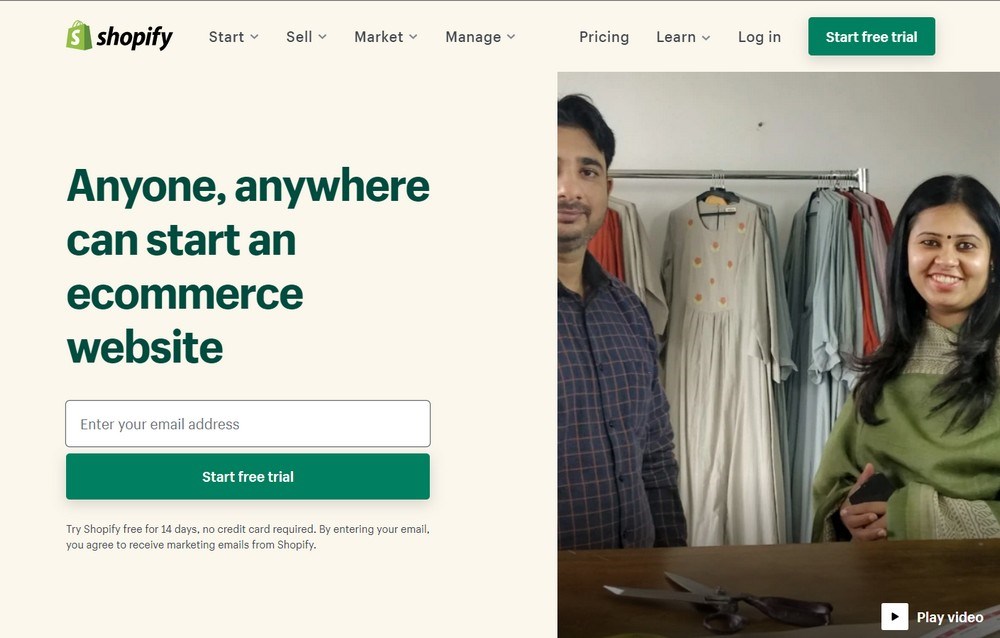 Shopify is an eCommerce platform, but unlike WooCommerce, Shopify doesn't handle recurring charges as part of their core product. If you want to make a subscription business model using Shopify, you have to use an app.
The two best subscription apps in the Shopify ecosystem are Subscriptions by ReCharge and Bold Subscriptions.
These two apps help you create recurring orders and subscriptions to boost your sales. It increases customer retention and lifetime value KPIs.
Bold created some of the best Shopify apps, including the Recurring Orders.
ReCharge, on the other hand, focuses on creating the best Shopify subscriptions and the only recurring billing app platform approved by Shopify Plus. This makes them focus on improving and supporting the core ReCharge product instead of expanding related features.
WooCommerce Integration With the Free Astra Theme
Now you have a good idea of your WooCommerce subscription plugin options, it's useful to use a theme that works well and integrates with the plugins mentioned above and your WooCommerce site.
Astra is an industry-leading WordPress theme that integrates perfectly with WooCommerce. I've written a detailed article on Astra's integration with WooCommerce. It's incredible how Astra seamlessly integrates with all the WooCommerce elements automatically, and takes colours and fonts out of the box from the theme customizer settings.
Use Astra and Starter Templates you can have your WooCommerce shop up and running instantly with minimum setup!
Recommended Astra's templates:
The Astra Pro Addon extends the features with WooCommerce Module. In Astra 2.0, we have combined WooCommerce default settings with Astra WooCommerce settings in the Customizer. You will find the combined settings of Astra WooCommerce in the first panel of WooCommerce.
Wrap Up
Selecting the right plugin for your subscription-based WooCommerce store is a delicate process. In this article, I walked you through the fundamental steps in selecting the right subscription plugin, the top subscription plugins' critical features, and how you can integrate them into your subscription website.
By understanding the benefits of a subscription-based website and how these eight best WooCommerce subscriptions plugins work, you may have a better idea of which plugin to use in your WooCommerce store.
Using these plugins, you can quickly sell subscription-based products or services with a recurring payment option. These plugins allow you to collect subscriptions on downloadable, virtual, and physical products at a fixed interval. Payments may be daily, weekly, monthly, or annually, depending on your needs.
Whichever plugin you choose, you'll need the fast and lightweight Astra theme that integrates seamlessly with WooCommerce.
What's your favorite WordPress subscription plugin? What do you look for when you choose a subscription plugin? Let us know in the comments below.