All lawyers need a website. Whether you're a decades-old established firm or just starting out, a good website is a must for any serious professional. But what should you include on your law firm's site?
In this post, we'll help you answer that question. First, we'll cover seven different things that you should always have on your law firm website. Then, we'll showcase 26 of the best law firm websites from around the world, examining them to see what makes them unique. We'll cover every type of legal practice, from business law firms to trial lawyers.
Finally, we'll talk about using Astra, the most popular WordPress theme, to create your own website.
Let's get started!
If you're unfamiliar with WordPress, give this guide a quick read. You'll learn how to set up a WordPress site in a matter of minutes.
Elements to Include on Your Law Firm Website
Before we delve into the sites themselves, let's briefly cover some of the elements that you should have on your law firm website.
Be Accessible: Don't Use Legal Jargon
You should always aim to have your website be free of legal jargon. While it depends on your particular legal specialty, it is likely that your potential clients don't understand the nuances of the legal profession.

Instead, try to use simple language. Frame your legal services in terms of problem-solution, emphasizing the real world problems that your clients likely have. And use call-to-action buttons, not confusing multi-step forms.
Be Professional
It goes without saying, but everything on your website should be written in a professional and serious manner. Don't use slang, link to your personal social media accounts, or add jokes to your site.
Additionally, you should opt for muted colors and standard fonts. This means dark blue (not hot pink) and Helvetica (not Comic Sans.) Just as with banks, architects, accountants, and other professionals, law firm websites should create a calm, serious mood.
As you'll see in our featured sites below, most law firms also have photos of themselves working in professional environments. This helps convey authority and that you will take your clients' issues seriously.
Highlight Your Specialties
Do you specialize in business law? Divorce and family issues? International trade? You should highlight your specialties in a direct and obvious way. Don't make potential clients search for what you can offer them.
We recommend doing this in at least two places:
On the home page
On a separate page accessible from the menu bar
For example, the law firm Barr and Young Attorneys (mentioned below) has a menu item linking directly to their practice areas:

Present Testimonials and Client Reviews
Have you gotten good results for your clients? Share them! You don't need to reveal any personal information, just refer to your successes in more descriptive terms.
If your clients are willing, it can also definitely help to have examples (with photos) of real-world cases, especially if they are famous or well-known. Having social proof can dramatically improve your conversion rates, so don't leave it out!
Offer Educational Materials
Publishing educational content on your website is a great way to draw in traffic and gain potential clients.
There are many different approaches to creating relevant content.
For example, this legal firm analyzed the legal situation of Britney Spears. Other firms opt to have educational videos, how-to guides, and FAQs that explain common legal terminology. Some have free downloadable ebooks or video tutorials, as in the image below.
The possibilities for educating others are endless!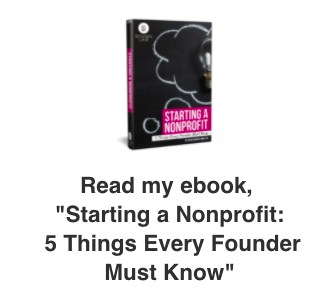 Show Your Success: Awards, Accolades and Media Mentions
Have you won any awards? Received accolades for your work? Been mentioned in the local newspaper or on social media? Share them on your site!
Awards and accolades help potential clients quickly understand that you're a professional capable of handling their legal problems.
Make It Easy to Contact You
Finally, it's important to be easily reachable. Don't make it difficult to contact you. Add email forms, phone numbers, and anything else that lets potential clients get in touch.
Many sites also use a live chat feature. Check out our guide to the best live chat plugins in WordPress.
The 26 Best Law Firm Websites in 2022
Now that we've covered what you should include on your law firm's website, let's look at some of the best examples on the web. We cover multiple fields of law, including divorce and family law, business law, nonprofit law, and more.
Divorce, Child Support and Family Law
Does your firm specialize in divorce, child support, or family law? These two sites are our favorites.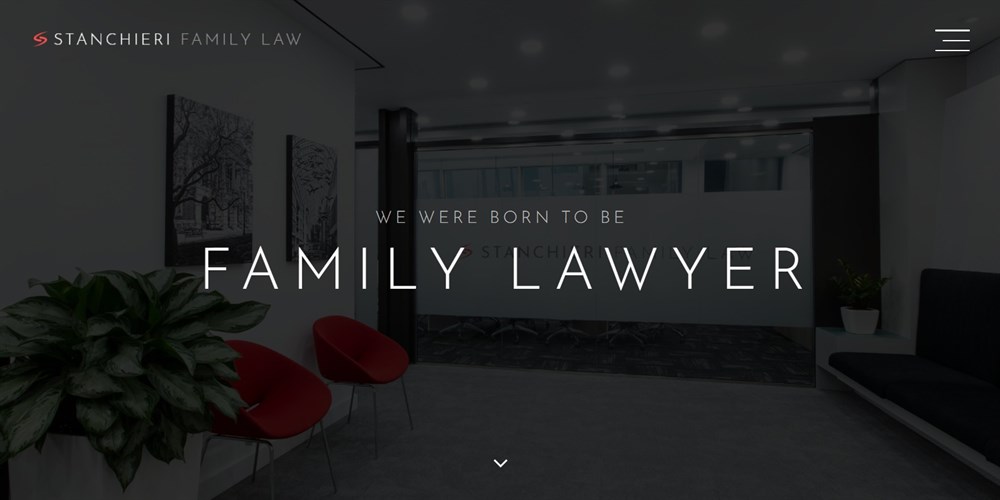 This Toronto, Canada-based law firm has an elegant, minimal website. It's also designed to be viewed on all devices, with the default navigation menu being "hamburger" style.
Specializing in family law, their website is simple and straightforward, with only about six pages in total: Home, Team, About, Careers, Contact, and Book Consultation. By keeping everything as simple as possible, they make it easy for potential clients to read about their services.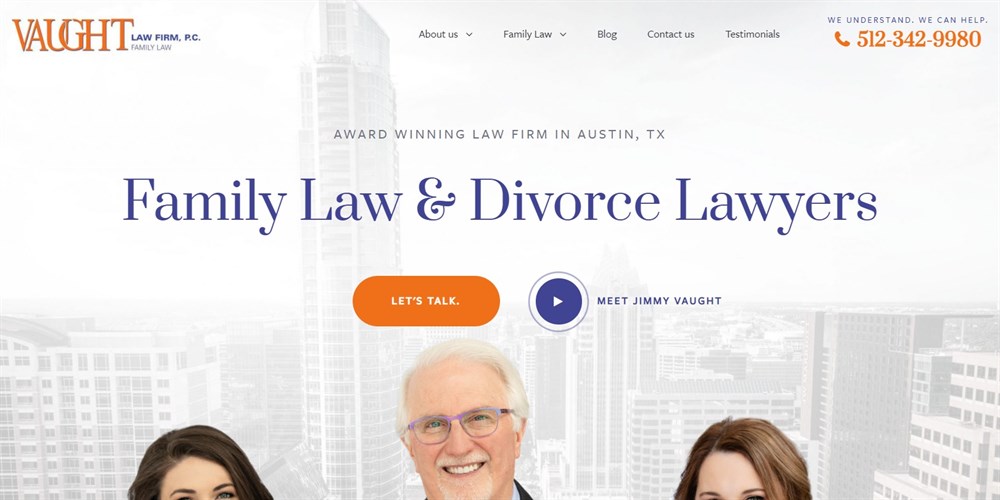 This law firm's site is very personal, which can be a fantastic differentiator. On the home page, just above a photo, there are two large calls to action: Let's Talk, which links to the contact page; and Meet Jimmy Vaught, which loads a one minute introductory video. In the video, Jimmy Vaught, the founder of the firm, briefly introduces himself and his services.
If your law practice involves dealing with individuals' personal issues (e.g. divorce), a personal approach like Vaught Law firm's can be a great move.
Business, Employment and Workplace Law
These law firms specialize in business law, employment law, and other areas focusing on the workplace.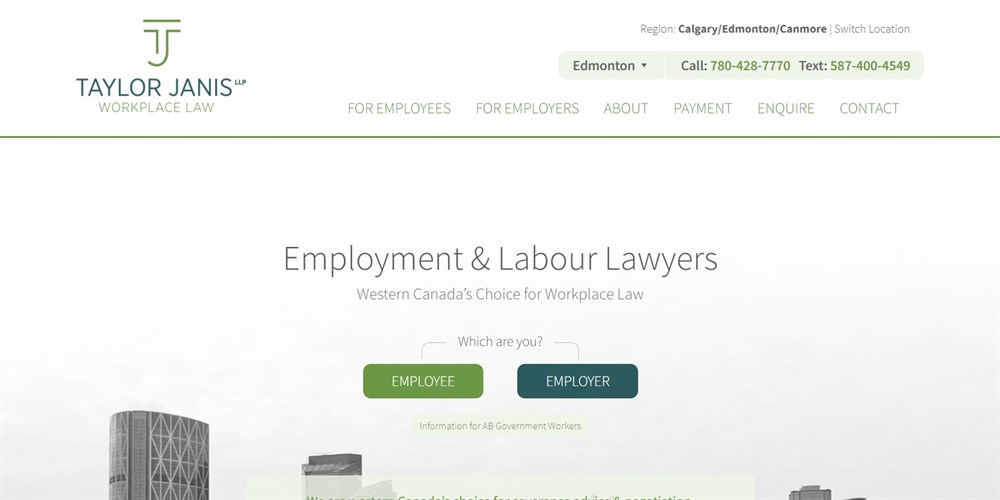 Specializing in employment and labor law, Taylor Janis has a clean, easy to understand website with contact information in prominent locations. On the home page, there are answers to common questions like What is severance pay? and What is considered harassment? These help potential clients quickly get answers to their issues.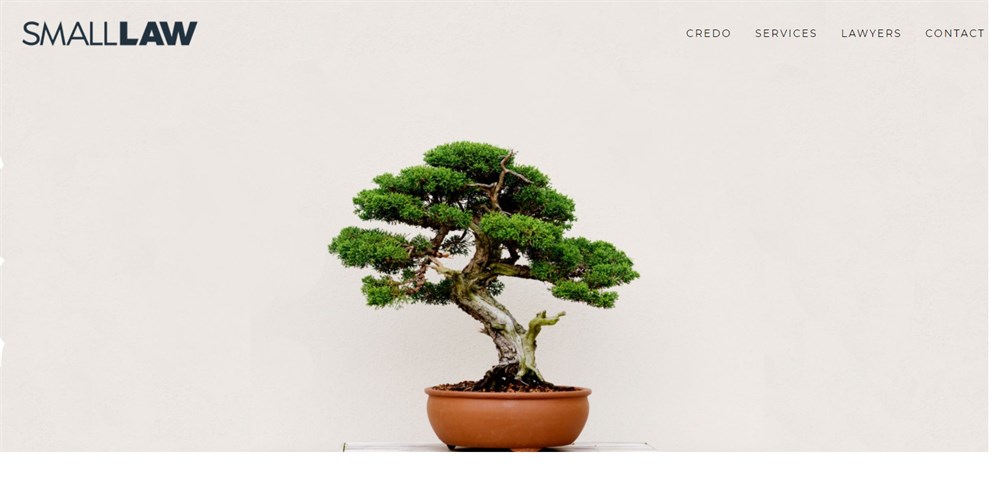 Small Law, in line with its name, has a very minimal website and branding. The site only has a few pages, which all clearly explain exactly what the firm can do. Although the company is only a single person, this is presented as a strength, since clients will receive more focused attention.
If you're a small firm, you too could try to turn your lack of resources into an advantage!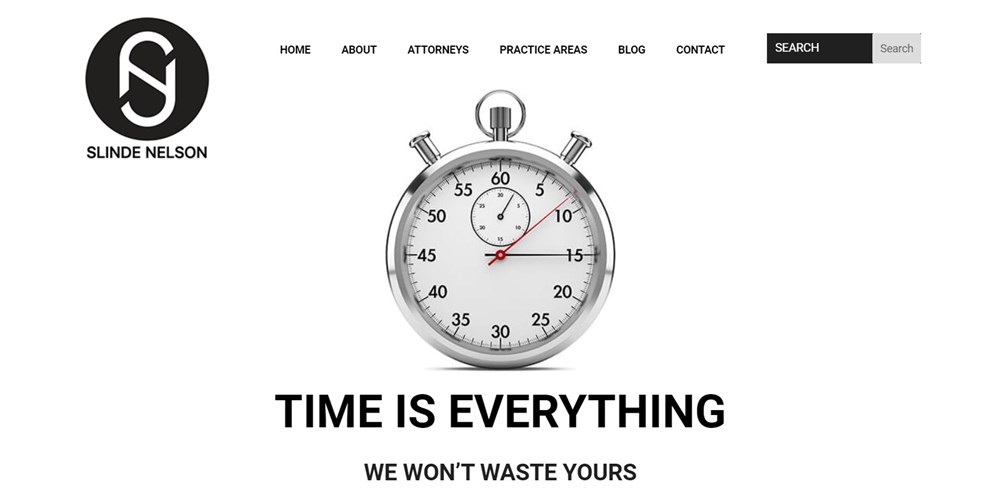 As the home page of this firm suggests, time is everything. When a potential client visits your site, they probably have a real problem to deal with. After all, they're hiring a lawyer.
So, you shouldn't make them read long introductory paragraphs or hide your contact information deep on a different page. Make it easy for visitors to your website to quickly understand what you offer and how to contact you.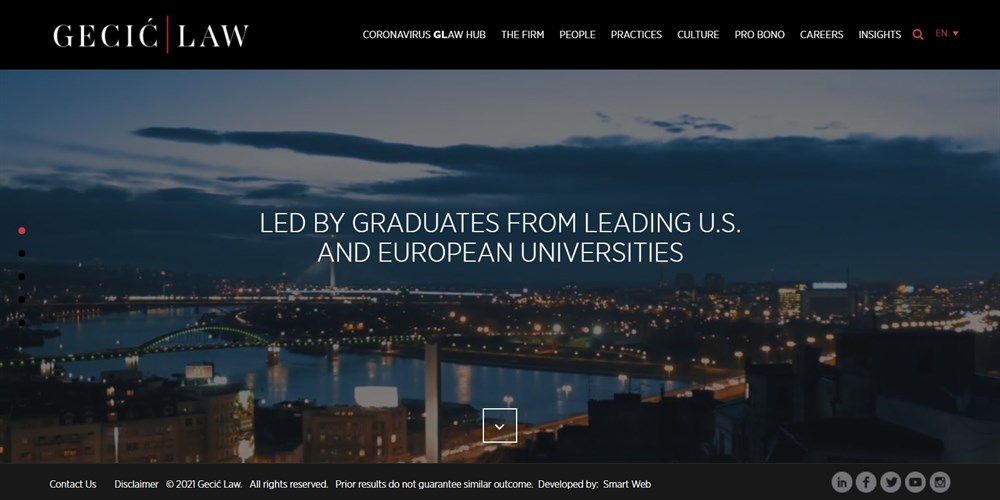 Gecić Law is a firm based in Belgrade, Serbia. Their aim is to provide a variety of legal services to Serbian clients, including banking and finance, EU trade law, and corporate law.
If you focus on a particular country, city, or other regional area, be sure to highlight it prominently on your website.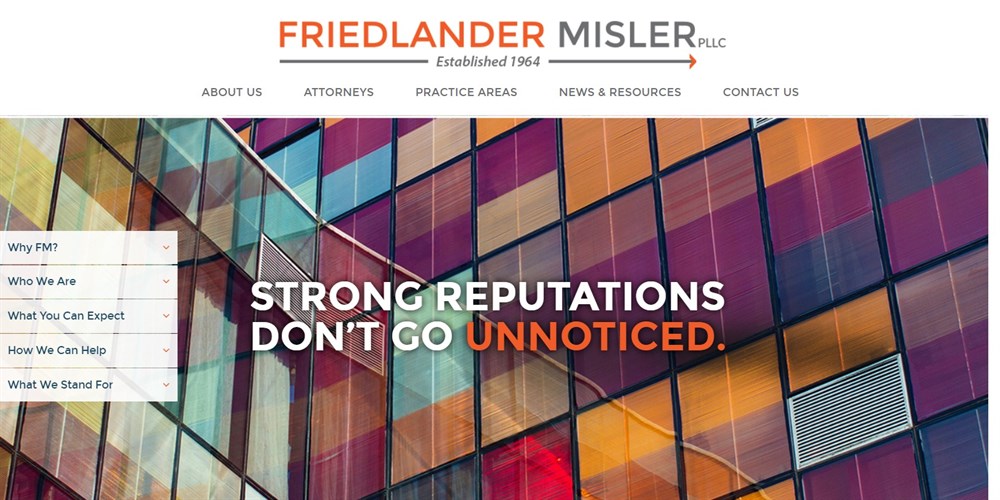 This law firm has a straightforward and easy to use website. The home page items answer common questions using simple question words Why, Who, What, and How. This is an effective way to cut through legal jargon and get straight to the point.
Notably, the firm uses the domain dclawfirm.com. This is helpful both for gaining clients in the Washington, D.C. area and for having an easier to remember domain name. For example, friedlandermisler.com is rather long and difficult to spell, especially over the phone.
If your law firm derives much of its revenue from local clients, try to get a domain name that includes your city or state name. This is especially important if your firm's name is long or otherwise difficult to remember.
Multidisciplinary Law Firms
Are you a law firm that offers many different types of services? Check out the following sites. They all manage to showcase their disparate services in an organized and coherent manner.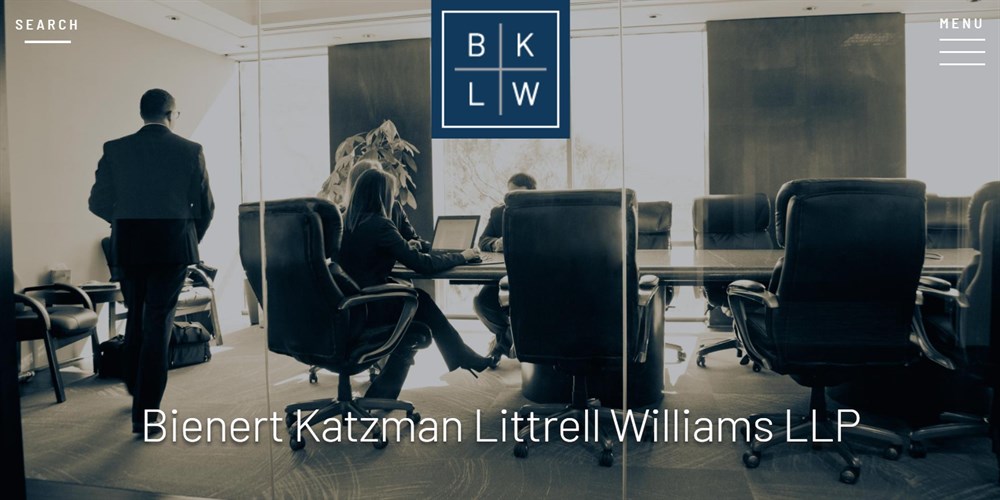 BKLW's website is minimal, professional, and uses a number of full-width images. This gives the entire site a modern, but reserved feel, which is exactly what a law firm is usually aiming for.
In addition, while the actual firm's name is rather long, the domain (bklwlaw.com) is short and easy to remember. If your firm has a long formal name, opt for an abbreviated domain name. In general, the shorter, the better!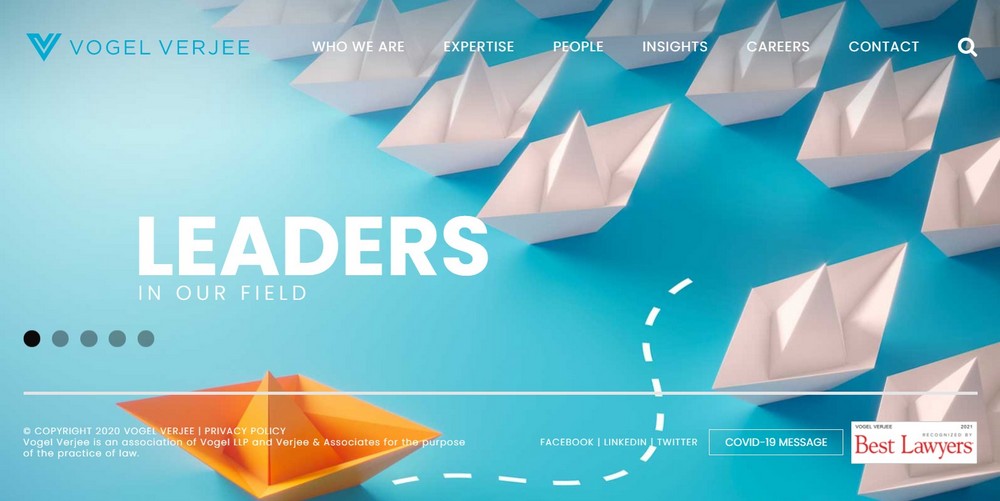 This law firm, which is based in Calgary, Canada, uses an image-heavy design. Pages are designed to be as specific as possible, which makes the process of reading them much easier. To access these different pages, you use the megamenu in the header.
The megamenu allows potential clients to quickly find whichever specific issue they need help with. These range from Oil and Gas Legislation to Pedestrian Accidents.
If you have a wide range of specialties, consider using a megamenu. They can help potential clients find their highly specific issue before needing to contact you.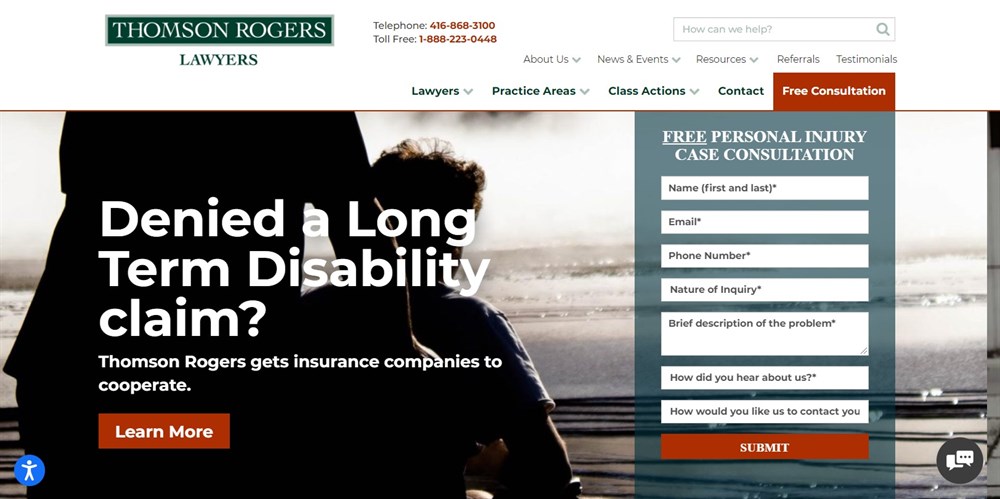 Thomson Rogers is a personal injury lawyer based in Toronto, Canada. Their site is designed to make it easy to get in touch. The header has two phone numbers, a Free Consultation button is highlighted, and a pop-up chat window appears on every page.
These are excellent ways to let clients contact you immediately, without forcing them to read anything else on your website first.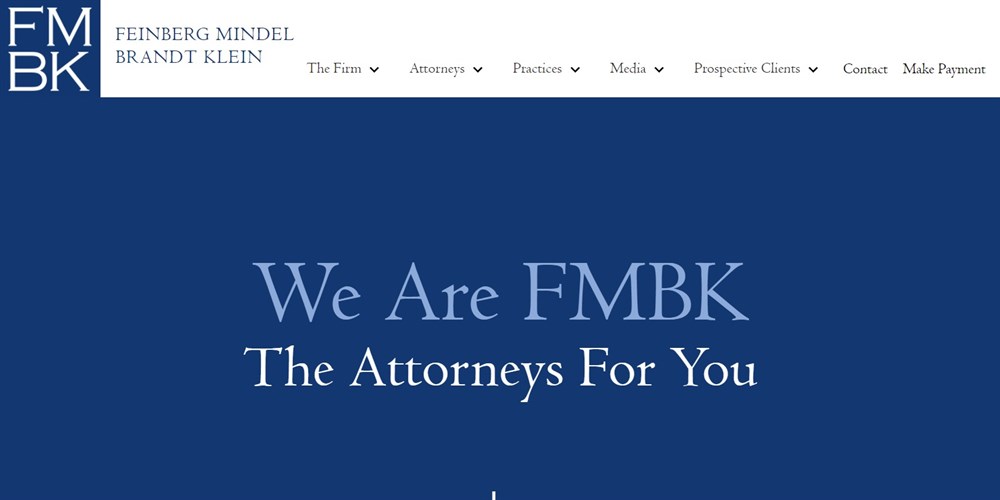 FMBK (short for Feinberg Mindel Brandt Klein) is a California-based law firm that specializes in a number of areas, including family law, civil litigation, probate and trust litigation and estate planning. Their site is formal and reserved, which is a good choice for any professional services firm.
On the whole, FMBK's site is well-designed, easy to use, and doesn't have too many distractions. They also have a section for press/media mentions, which is great for building social proof.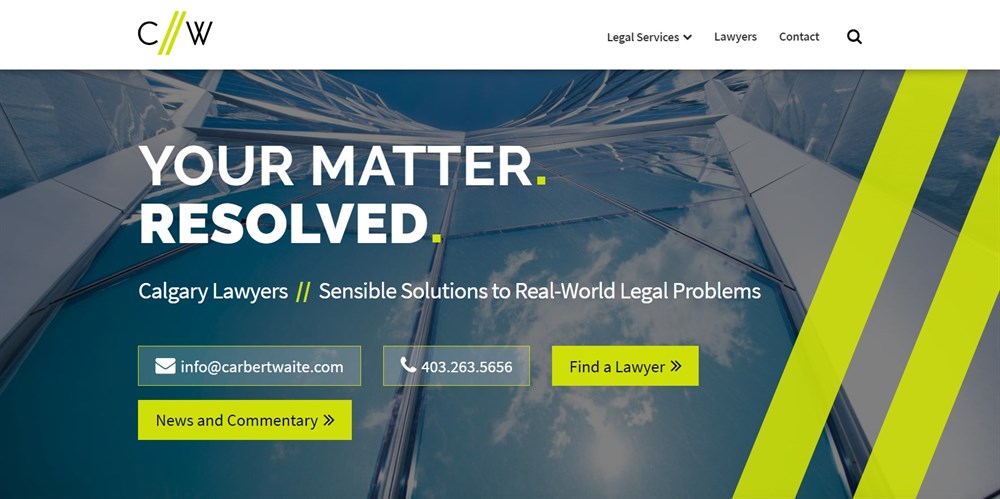 This firm, which is based in Calgary, covers a variety of legal specialties. The contact information is placed front and center, which is an excellent way to let users immediately get in touch with you.
In addition, the site also has only three top-level items in the navigation bar. This is another excellent way to reduce complexity, especially for multidisciplinary firms.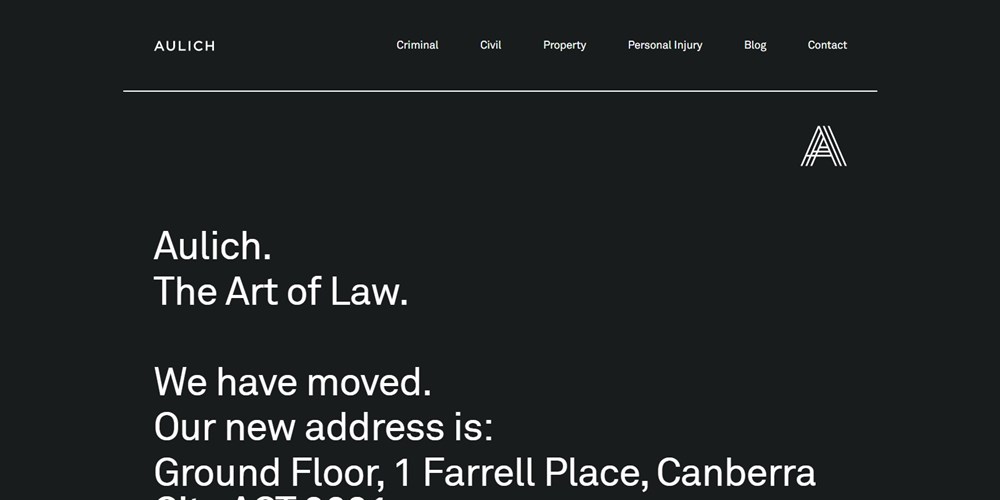 Aulich has a dynamic, well-designed site that is full of color. This gives it a very modern look, which no doubt helps it attract new clients.
The firm focuses on four broad areas: criminal law, civil law, property law, and personal injury law. When you hover over each section in the navigation bar, the background image and color changes. This is a nice touch that helps conceptually separate the areas from each other.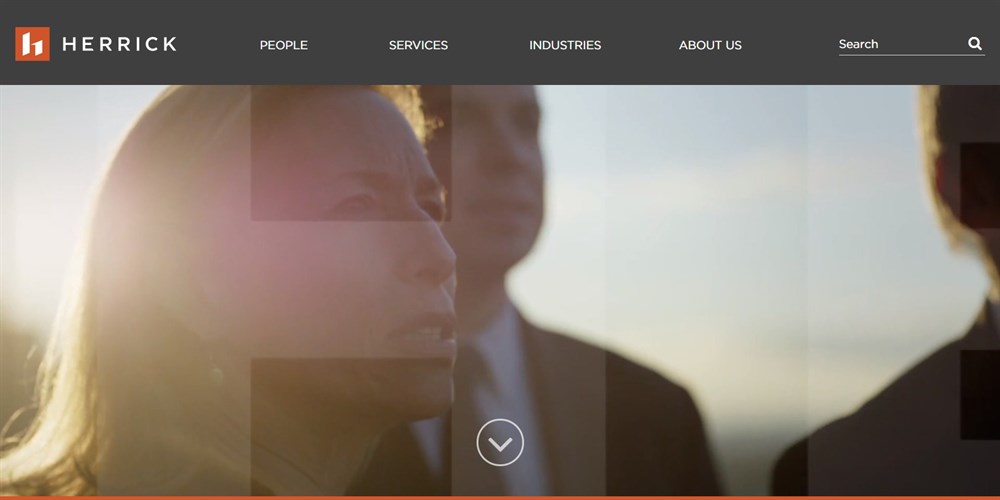 Herrick, a firm that covers over a dozen different areas of law, has a very minimal site, which helps make sense of it all. While they cover many different types of cases, each section is organized in a straightforward manner, making it easy to navigate and find exactly what you are looking for.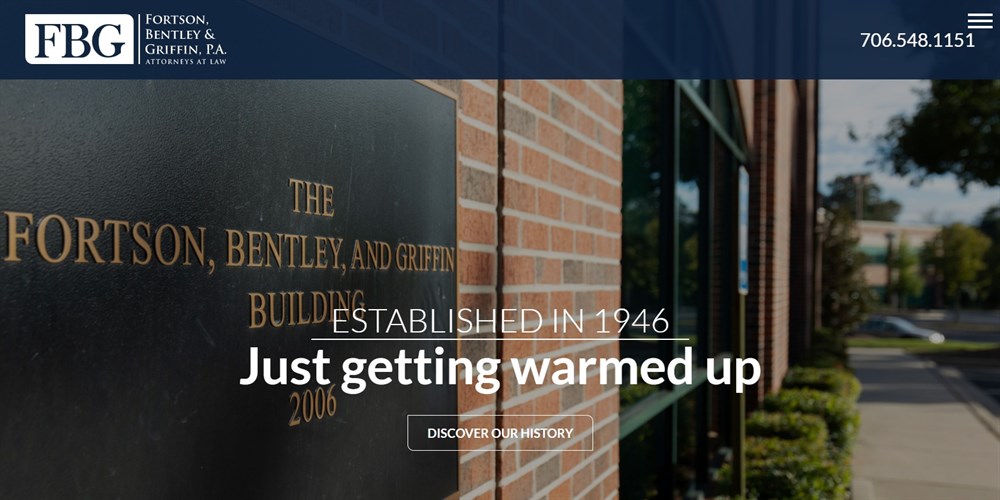 Fortson, Bentley and Griffin is a law firm based in Athens, Georgia, United States. They have four main specialties: corporate law, real estate, litigation, and trusts and estates. Their site has a professional and simple design and is arranged to make it easy to navigate.
The choice of dark blue also emphasizes the professional nature of the firm. Blue often represents a calm, muted, and serious tone, which makes it ideal for law firms.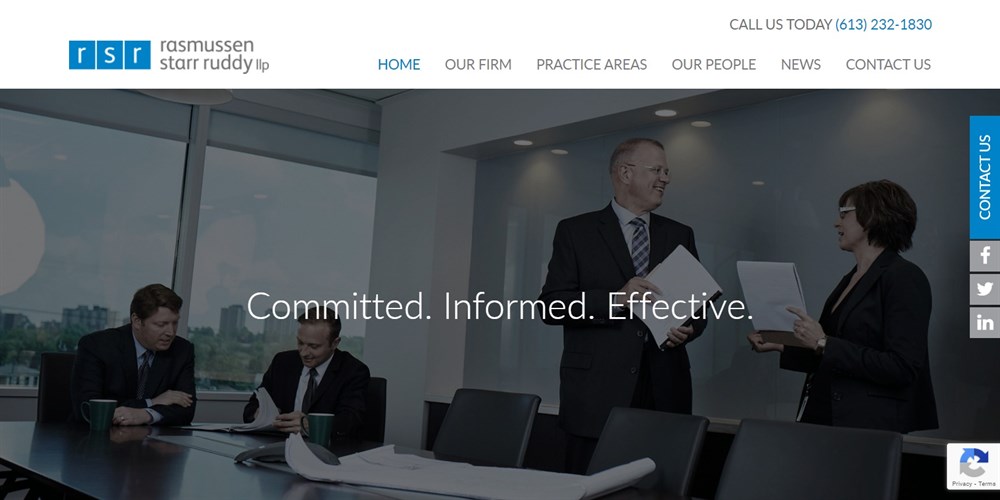 Based in Ottawa, Canada, Rasmussen Starr Ruddy has a very simple and straightforward design for its website. Seven large icons on the home page help visitors navigate to the correct section: Construction, Corporate and Commercial, Family and Divorce, Labour and Employment, Litigation, Real Estate, and Wills and Estates.
On the whole, the firm's website is very easy to understand and navigate, which is a must for any large law firm that covers a wide variety of specialties.
Nonprofit and Civil Rights
Does your firm specialize in nonprofit law, civil rights, or a similar field? Check out these sites. They all use imagery in effective ways to stand out.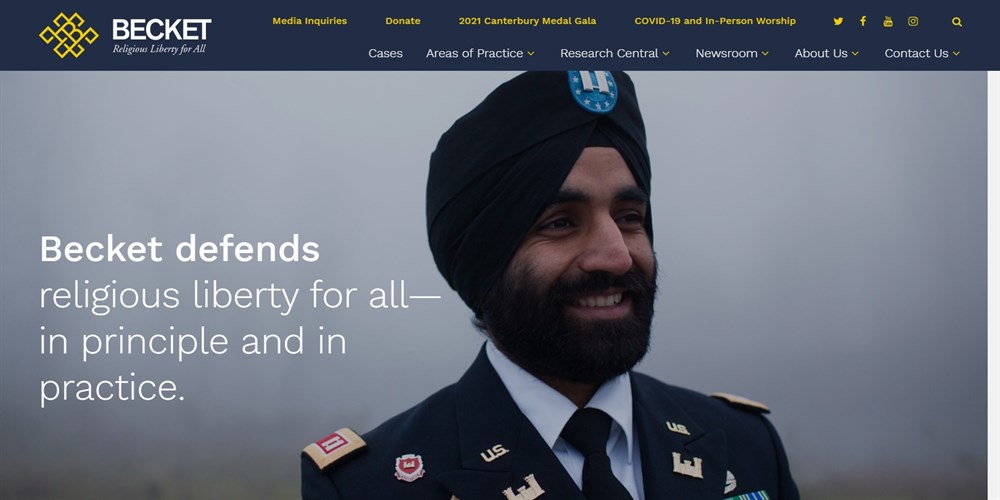 Becket Law defends religious liberty in six areas: education, free speech, individual freedom, property rights, the public square, and religious communities.
Their website highlights their work, especially successful cases. By using a number of photos and commentary, these cases are made easy to understand and to relate to. Becket also explains their nonprofit status and their overall mission on nearly every page of their site, which helps them gather more support and donations.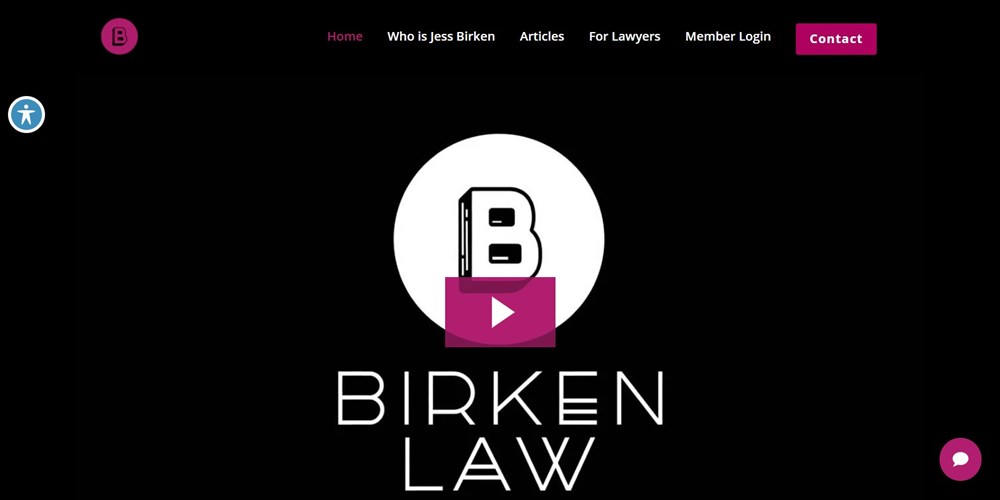 Birken Law is a firm run by Jesscia Birken, an attorney that specializes in assisting nonprofits. The firm helps nonprofits launch, manage crises, handle risks, and other tasks. Their website helps convey this expertise, especially through their large list of clients and helpful blog articles.
Accident, Injury, Malpractice and Litigation
Building a site for an accident, injury, or malpractice law firm? Check out these sites. They are some of the best of their type on the web.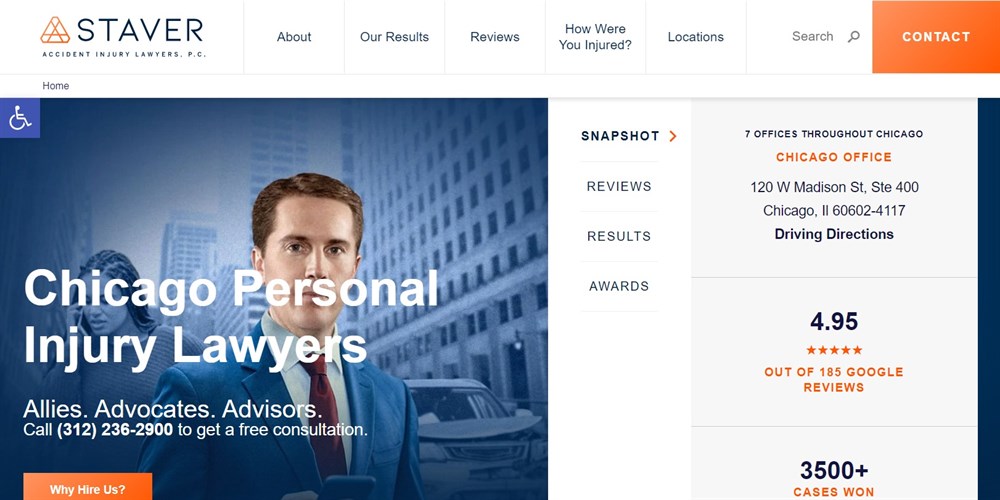 A personal injury lawyer, Staver has a unique "tab" section on their home page. By clicking through the items on the right, you can view information without having to reload the page. This makes it easy to quickly review the firm's reviews, awards, results, and other information.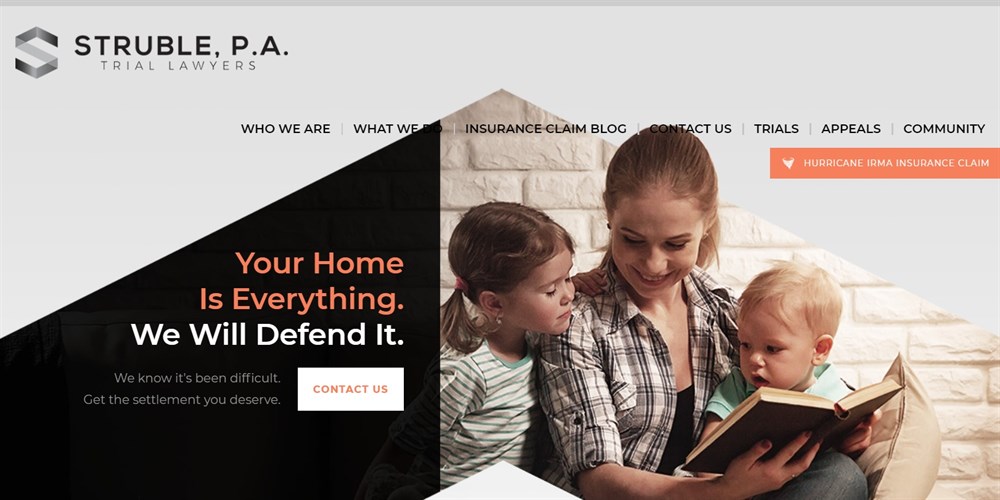 This law firm specializes in insurance and property damage claims. The website's color scheme matches the "emergency" brand and the layout is very straightforward.
There are also sections for very specific issues, like damage from Hurricane Irma or Hurricane Matthew. Having these individualized pages is a great way to target potential clients that only want help with a particular scenario.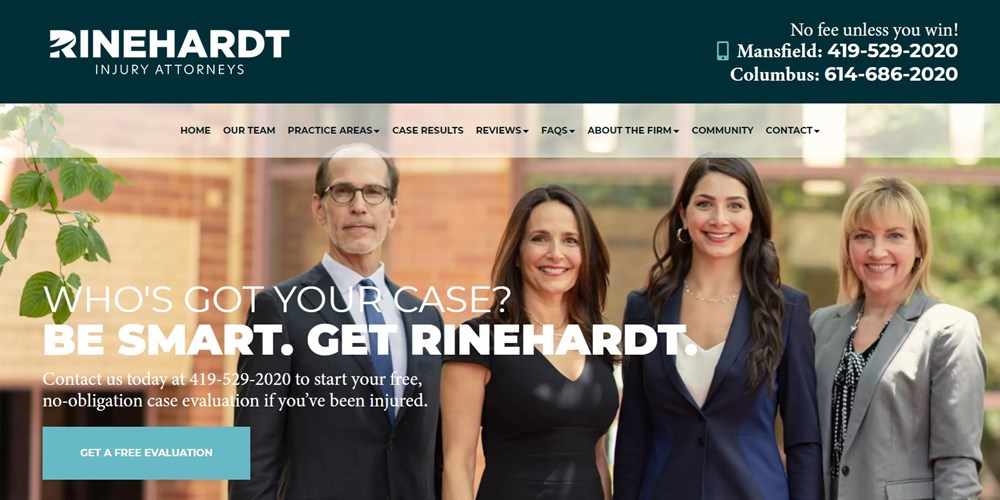 Rinehardt, a personal injury law firm, has a professionally-designed website that is easy to navigate. Perhaps its most noticeable feature is the Live Chat feature, which allows you to quickly ask questions about your case.
This is no doubt much easier than sending an email or making a phone call.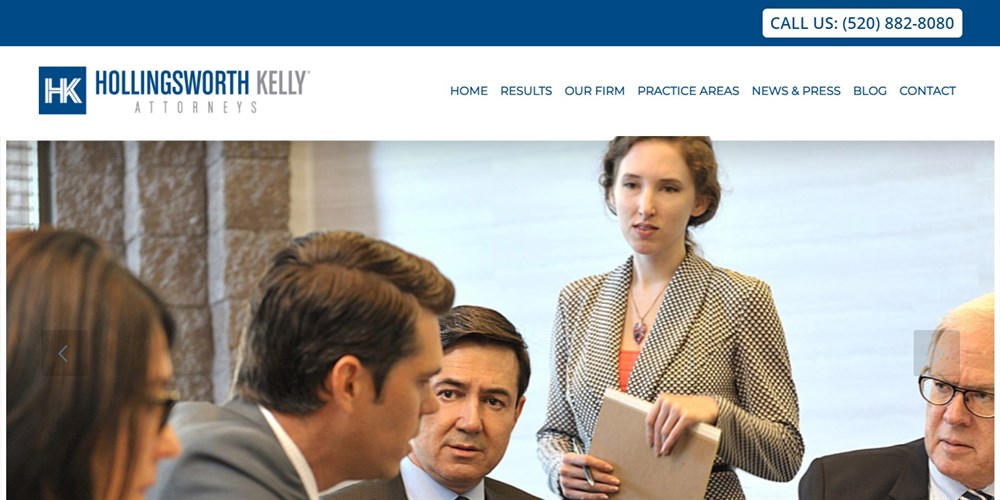 Based in Tucson, Arizona, this law firm has a very minimal and simplified website. On the home page, there are four large blue images, each of which are labeled with simple, actionable terms:
Our Firm
Recognition
Practice Areas
Results
This all helps potential clients quickly find answers to their questions. Additionally, a contact form is on the home page, making it easy to reach out and contact the firm.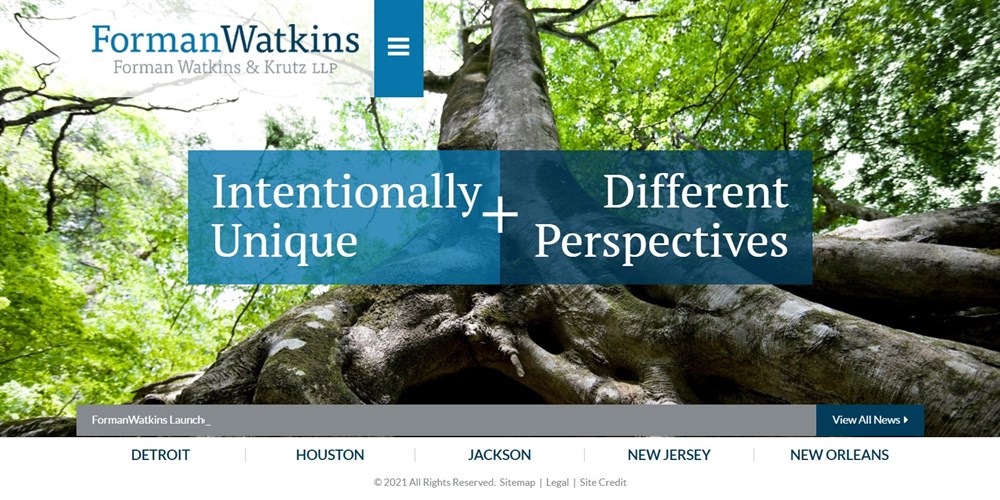 Forman Watkins, a law firm with offices around the United States, has a uniquely designed website. It has very little scrolling and displays most content on a single page. This makes it especially easy to browse on mobile devices, which make up over half of all web traffic worldwide.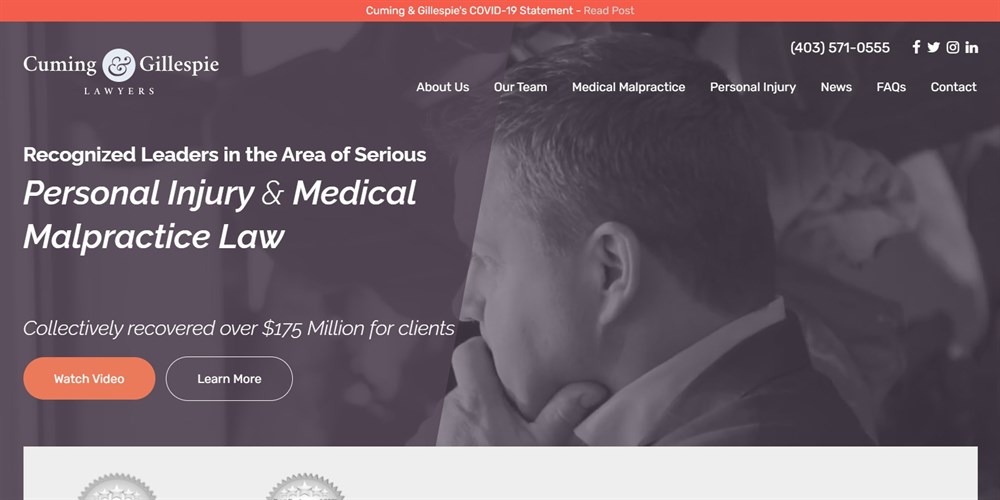 This law firm, which specializes in personal injury and medical malpractice law, has a video background on its home page. This gives the site a modern, dynamic feel, which makes the law firm stand out from competitors.
Another unique element is the megamenu. There are specific sections for medical malpractice and personal injury, each of which has subpages. This no doubt helps potential clients quickly find the right information.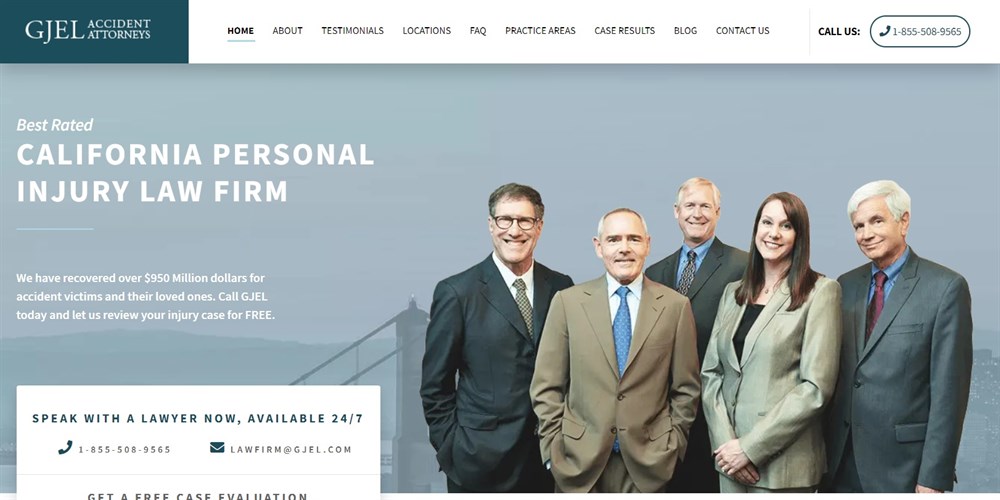 GJEL is a personal injury law firm based in California. Since they have recovered nearly a billion dollars for their clients, they highlight this fact immediately on the home page. They also have a contact form and a large testimonial, which both help convince potential clients that GJEL is a reliable and accessible firm.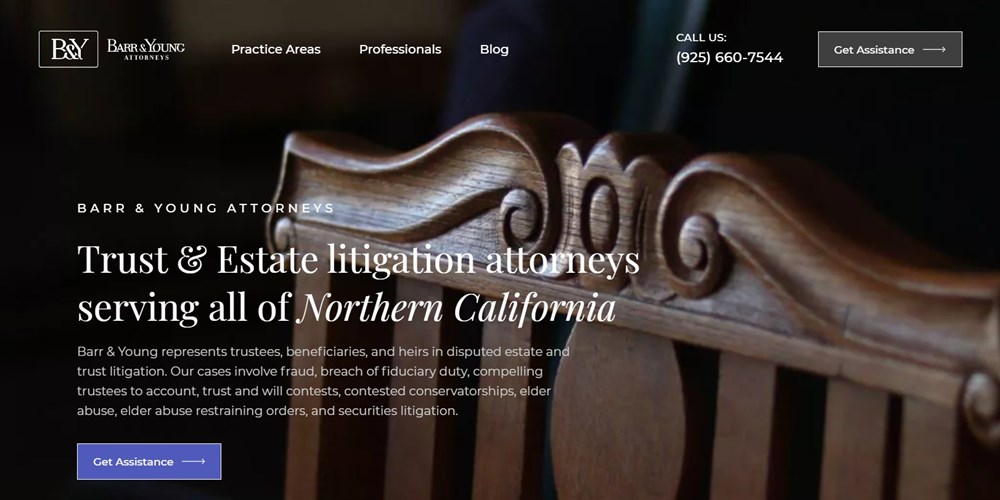 The website of Barr and Young Attorneys is dark, elegant, and uses an abundance of text. This works well, as it helps potential clients quickly understand the nature of the firm and the services they offer: trust and estate litigation. These services are listed both on the home page and on the Practice Areas page, which is accessible from the main menu.
Another strong point to notice is the prominent Get Assistance buttons. One is immediately visible on the home page, while the other, a part of the navigation menu, is always in the top right corner of the screen. They both make it easy to reach out and contact the firm.
Using Astra to Create Your Own Law Firm Website
Looking to build your own law firm site with WordPress? With Astra, it's easy! Astra comes with over 150 premade templates, 5 of which are designed specifically for lawyers and legal professionals.
With one of our Astra premium plans, you'll get access to these 5 templates, plus over a hundred others.
Astra is also full of tons of other features and functionality, including:
Build your own headers and footers
Customize your colors, typography, font size and more
Design layouts to be masonry, grid, or in other configurations
Mobile-optimized with only 50KB file size ensures that your site will load quickly
Read a full list of Astra's features on our site.
Astra Lawyer Starter Templates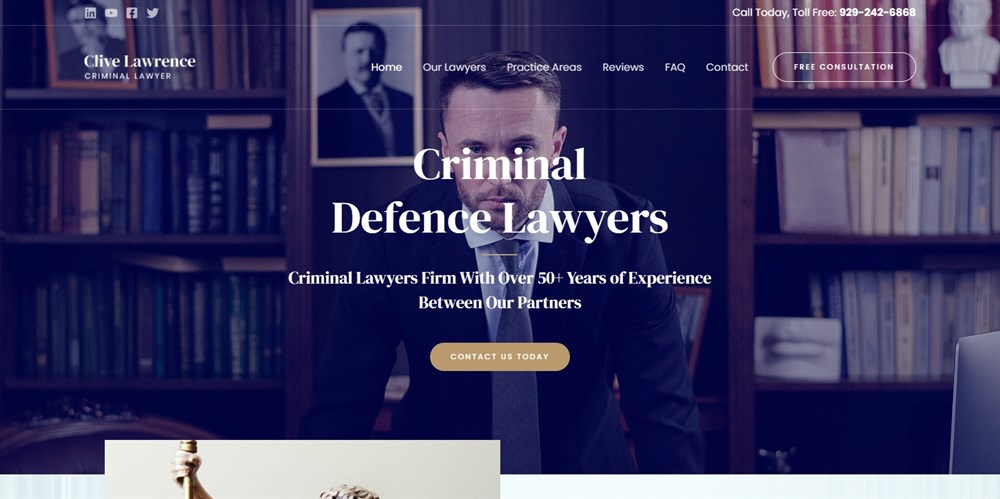 This template is perfect for criminal and defense lawyers. It has sections for showcasing your legal team, highlighting your practice areas, displaying reviews, answering FAQs, and other items. The large free consultation button is also a great way to let potential clients quickly get in touch with you.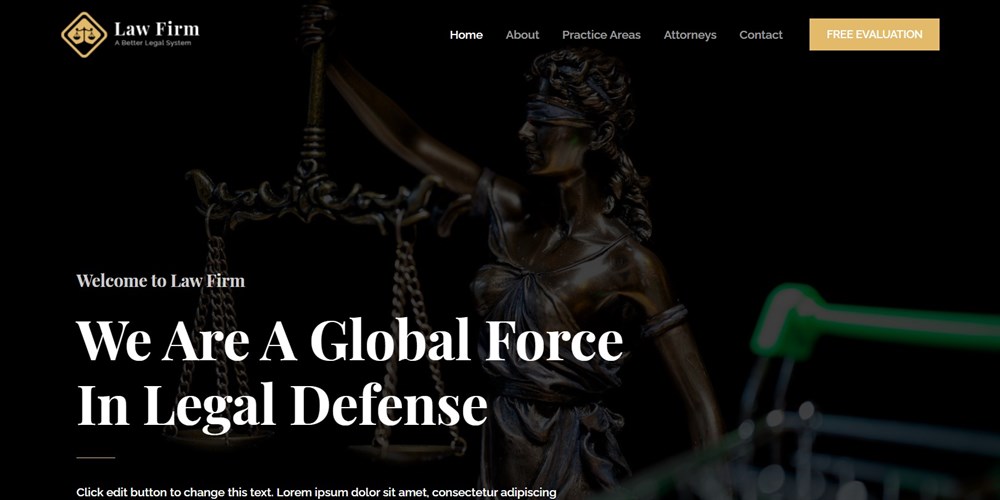 The Law Firm template is a great starting point for any kind of law firm. It lets you easily focus on your firm's practice areas, add profiles for your attorneys and other staff, and display a large free evaluation button to quickly get in touch with your potential clients.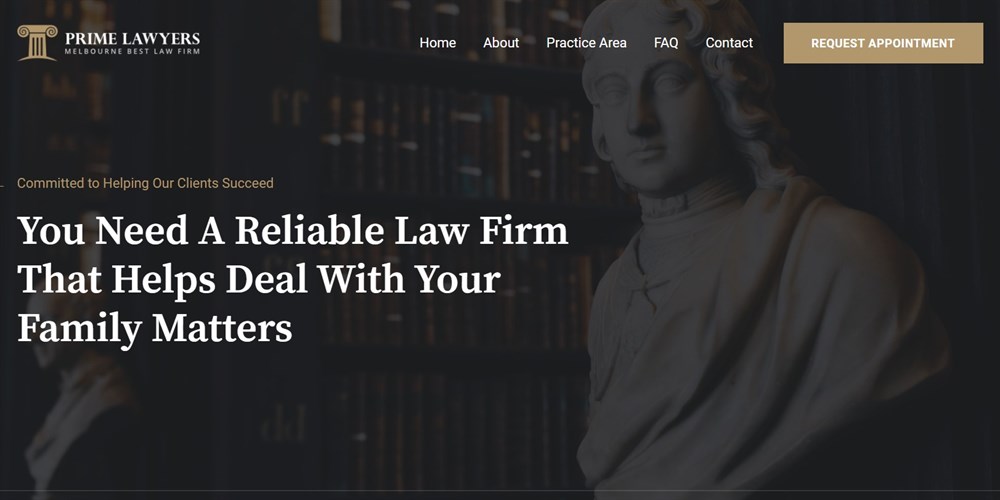 Prime Lawyers is another template designed for any type of law firm. With sections for showing your areas of expertise, a FAQ, a contact page, and other features, it's a solid choice for getting a law firm website up and running quickly.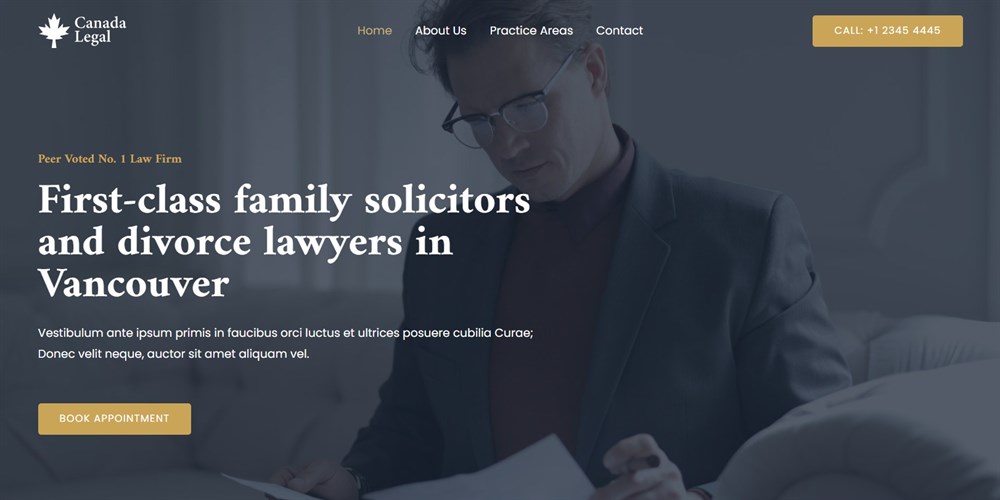 Family law is a very popular field and the Family Lawyer template is ideal for firms that specialize in it. You can display your awards and achievements, practice areas, testimonials, office locations, and use a call-to-action button to let potential clients call you.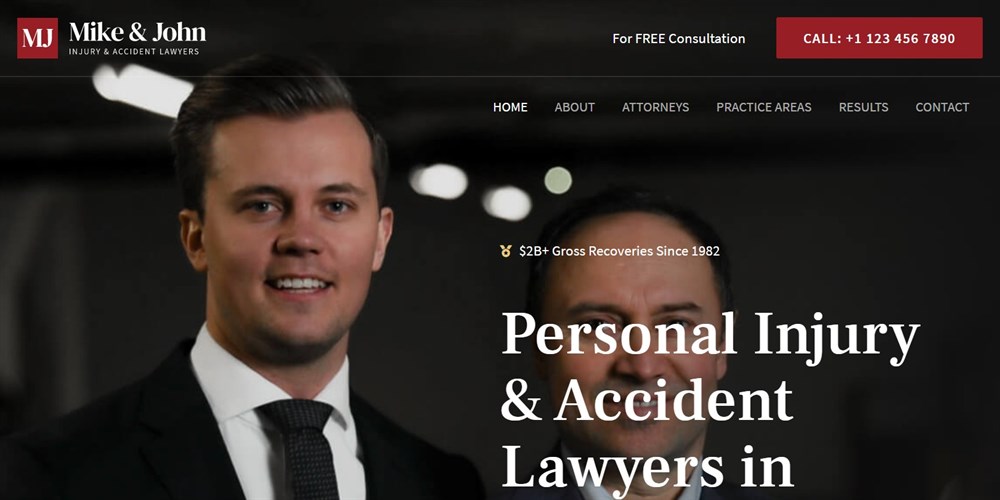 Starting a law firm that specializes in personal injury and accidents? This template is tailor-made for you. Highlight your practice areas with a designated page, showcase your team's experience on the Attorneys page, and share your successful results and testimonials. The top bar also features a prominent call-to-action button, which is essential for bringing in new clients.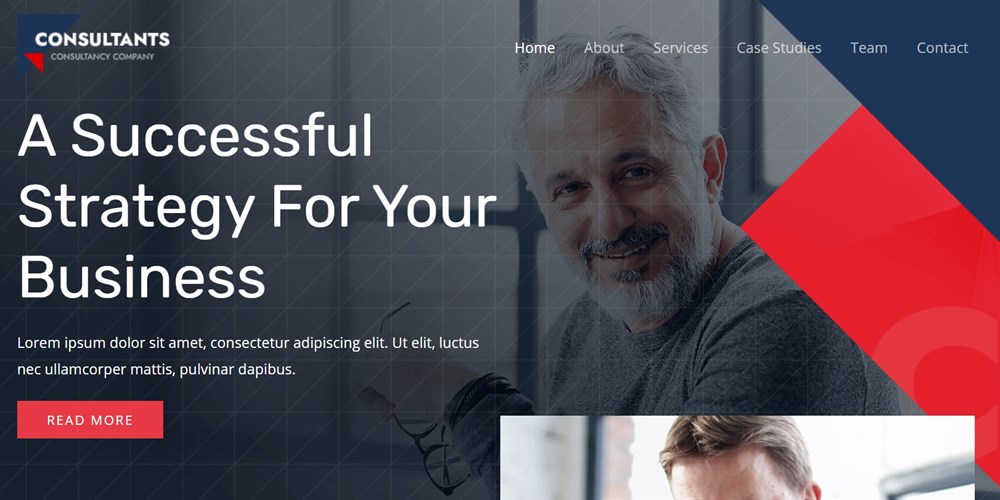 The Consultants Firm template is a solid choice for any multidisciplinary law firms that cover a variety of specialties. It has areas for displaying your services, introducing your team members, presenting case studies, and other elements that will increase your bottom line. The international-themed design makes it especially ideal for firms that work across borders.
Conclusion
Whether you've recently passed the Bar or are an experienced law firm looking to create a website, the options are truly endless.
In this post, we first covered the different elements that every law firm should have on their site.
Then, we examined some of the best real world law firm websites from around the world. Finally, we talked a little about using Astra to create your own law firm site using our premade templates.
Are you a law firm creating a site with WordPress? Which sites do you find inspirational? And which theme are you using to create your own? Let us know in the comments!