Looking for a ClickFunnels alternative that won't break the bank or skimp on functionality?
You want to start selling and marketing your products…but staring at those ClickFunnels prices is enough to ruin your day, right? Or maybe you're fine with the prices, but want a platform that you'll truly own and be able to extend to meet your needs.
No matter why you're looking for a ClickFunnels alternative, the approach that I'm going to show you can help.
In this post, you'll learn step-by-step how to set up a ClickFunnels alternative for WordPress that is:
Cheaper
More flexible
100% your own
Most importantly, as with ClickFunnels, you don't need to be a developer to follow these methods – and I'll show you everything you need to get started to prove it.
What Does a Good ClickFunnels Alternative Need?
In this tutorial, my goal is to show you how to set up a ClickFunnels alternative with WordPress that captures all of the good stuff, while leaving behind the not-so-good stuff.
So before we get into the tutorial, let's briefly talk about the pros and cons of ClickFunnels itself, as well as the functionality that a good ClickFunnels alternative needs to capture.
In a nutshell, ClickFunnels is basically an all-in-one combination of:
Hosting – you can sign up and start creating funnels right away – no need to mess around with website hosting.
A drag-and-drop editor (Etison) – you can build your pages and funnels using simple drag-and-drop editing.
Email marketing automation – you can send automated emails and grow your list.
Forms – you can collect information from your customers as needed.
Payment processing – you get a secure, reliable way to accept payments (including an option to set up automatic subscription payments, if that fits your goals).
The ClickFunnels alternative for WordPress that we're going to build will check all those boxes, plus handling optional extras like an affiliate program and a learning academy.
What's Great About ClickFunnels?
Look, ClickFunnels is popular for a reason, and there are definitely things to like about it:
Because it's a hosted platform, it's super easy to get started with (though this is also a negative, because it means there's a degree of lock-in).
All the features are already built-in and connected. That makes things a little simpler than the method I'll show you, which is basically piecing together different tools.
Russell Brunson, the co-founder of ClickFunnels, is himself a draw, and the training that you get along with ClickFunnels is quite valuable as well.
Why Do People Look For a ClickFunnels Alternative, Then?
Despite those positives, you're still here reading a post about an alternative to ClickFunnels, so it can't be all good, right?
There are definitely some drawbacks to ClickFunnels:
Because it tries to do so much, a lot of people find ClickFunnels to be a buggy platform, which is one of the biggest reasons that people leave.
The templates are often ugly and look spammy/scammy, which can turn a lot of people off.
While there are a lot of features built in, you don't really have many options if you want to add functionality beyond that.
Because it's a hosted platform, you lack true ownership and there's a degree of lock-in. Basically, you're renting your funnels – you don't own them.
Similarly, if you sell subscriptions, you're always locked into ClickFunnels because you'll lose your subscriptions if you try to leave.
And finally, there's the big one – price! At a whopping $297 per month for all the functionality, ClickFunnels is the equivalent to taking on a new car payment! That price can be a tough pill to swallow, especially when you're just getting started.
Here's Why WordPress Makes a More Scalable, Cheaper ClickFunnels Alternative
WordPress is the world's most popular way to build a website. It powers a whopping ~34% of all the websites on the Internet. And yes, that sentence means what you thought it means – more than one-third of all the websites on the Internet use WordPress.
While WordPress started as a blogging platform, it's long since moved into a full-scale content management system, and you can use it for everything from blogs to eCommerce stores to membership sites and more. In fact, WordPress and WooCommerce are also the most popular way to build an eCommerce store!
And here's the cool thing:
With the right set of extensions, you can make WordPress do everything that ClickFunnels can do…at a cheaper price and with more flexibility.
Now, don't get me wrong – WordPress is not some ultimate solution that has zero drawbacks and is better than ClickFunnels in every single aspect.
The big one is that, while you can make WordPress do everything ClickFunnels does, you'll need to put it together with different extensions, and that's undeniably a little more complicated than ClickFunnels' all-in-one approach where you just sign up and start building funnels.
But that's where this post comes in:
I'm going to show you step-by-step on how to use WordPress as a ClickFunnels alternative. And no – you don't need to be a technical user to follow along.
Ready to go?
Let's build some funnels!
What You Need to Set Up an Alternative to ClickFunnels for WordPress
Below, I'll show you how to set up everything. But before I get to that, let me give you a quick rundown of what you'll need to create a ClickFunnels alternative for WordPress, as well as what you should expect to pay:
All in, you're looking at a minimum cost of about $400 for an entire year of this setup, Given that a similar setup at ClickFunnels would cost a whopping ~$3,500 for a year, that's a pretty significant saving, right?
Here's a table to summarize the cost difference:
Price for the entire year:
| | | | |
| --- | --- | --- | --- |
| Basic WordPress Setup | Advanced WordPress Setup* | ClickFunnels Limited | ClickFunnels Etison Suite |
| $398 / yr | $996 / yr | $1,164 / yr | $3,564 / yr |
*Includes a paid email marketing service, WooCommerce Subscriptions, and AffiliateWP. Basically, if you want to use every tool on this list.
So no matter what, you're saving money. And the functionality that you'll get with this WordPress setup is similar to the ClickFunnels Etison Suite, so the difference is pretty huge.
How to Set Up a ClickFunnels Alternative for WordPress: Step-by-Step
Enough talk – let's dig into the tutorial and actually build the dang thing…
Step 1: Sign Up for Hosting and Install WordPress
To get started, your first step is to sign up for WordPress hosting. Again, this is the engine that powers all of your funnels' functionality and makes them available to visitors.
Whether you're just getting started or need the highest tire of server resources, we recommend SiteGround.
SiteGround hosting plans…
Makes it really easy to install WordPress, which is great if you're not a techie.
Offers stellar performance for the money, which is super important because your site's page load times will affect your funnels' conversion rates.
Is affordable and transparent with its pricing (no lies about "unlimited" like other hosts).
Has some of the best support in the business, which is also great if you're not a techie
Come with free CDN, pre-installed SSL and daily backups of your website
If you purchase SiteGround today through a link here, you can get up to 70% discount on your first bill.
StartUp plan ($14.99) – Suitable for beginners. You can host 1 website and can manage up to 10,000 visits per month. Easy to get started.
GrowBig plan ($24.99) – It gives the option to host multiple sites along with the SuperCacher plugin. This plugin is built in-house by SiteGround that helps speed up a website up to 4 times. You also get access to premium support and a nice one-click staging feature.
GoGeek plan ($39.99) – If you are planning to work with a number of resources you can go for this plan. It comes with advanced priority support, the fastest speed for a website (with SuperCacher plugin), white-label site management and much more.

To get started, head to SiteGround and purchase a suitable plan –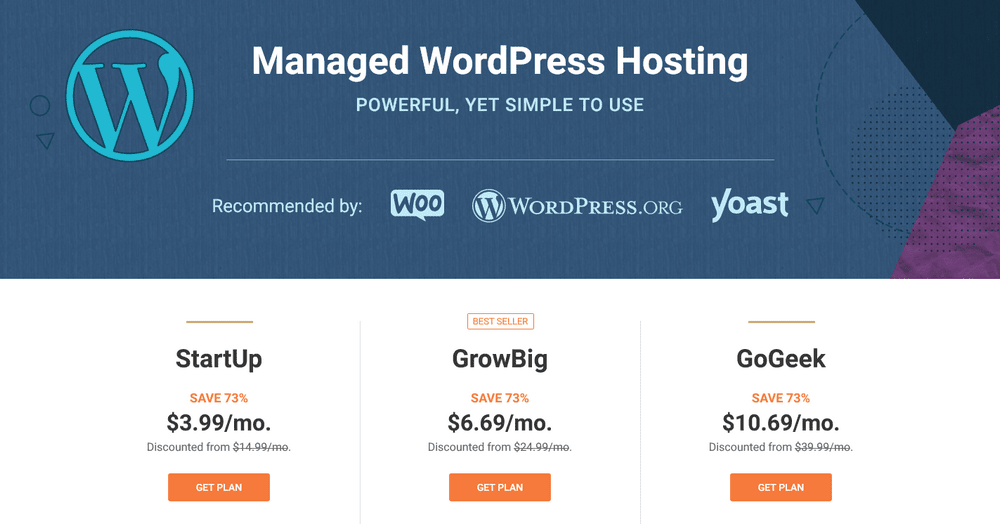 Then, fill in your account details and payment information.
After you pay, you'll be able to log into your customer area. When you do that, you'll get a nice setup wizard that helps you set up your website.
At this point, you can also install an SSL certificate to keep your site secure. Because you're going to be processing payments on your site, this is a necessity. If you're at all confused by the process, you can reach out to SiteGround's support to get some help.
Step 2: Install WooCommerce and Add Products
Next, log in to your WordPress dashboard using the credentials you entered in the SiteGround setup wizard.
You can access your dashboard by appending /wp-admin to the end of your domain name – e.g. yourfunnelsite.com/wp-admin
First, you'll want to install the free WooCommerce plugin. Again, WooCommerce is the most popular way to build an eCommerce store ( yes – more popular than Shopify )
Now, for an alternative to ClickFunnels, you're not going to make use of all of WooCommerce's functionality, but you are going to use it for one very important piece of the puzzle:
Payment processing
WooCommerce provides a secure, reliable way to connect to a bunch of different payment gateways.
So rather than fiddling with that stuff yourself, you can just use WooCommerce as the foundation and get on with the more fun parts of building your funnels.
Install the WooCommerce Plugin
To install it, go to Plugins → Add New and search for "WooCommerce". Then, click the buttons to Install Now and Activate: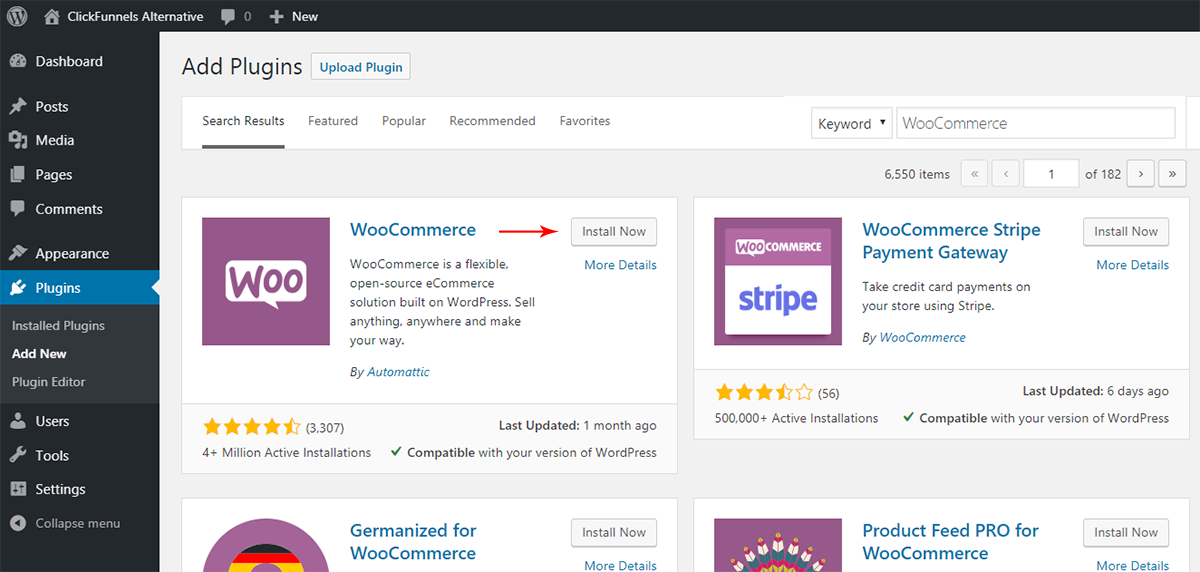 Complete the Setup Wizard
Once you activate it, WooCommerce will give you a setup wizard that will take you through setting up all the basics: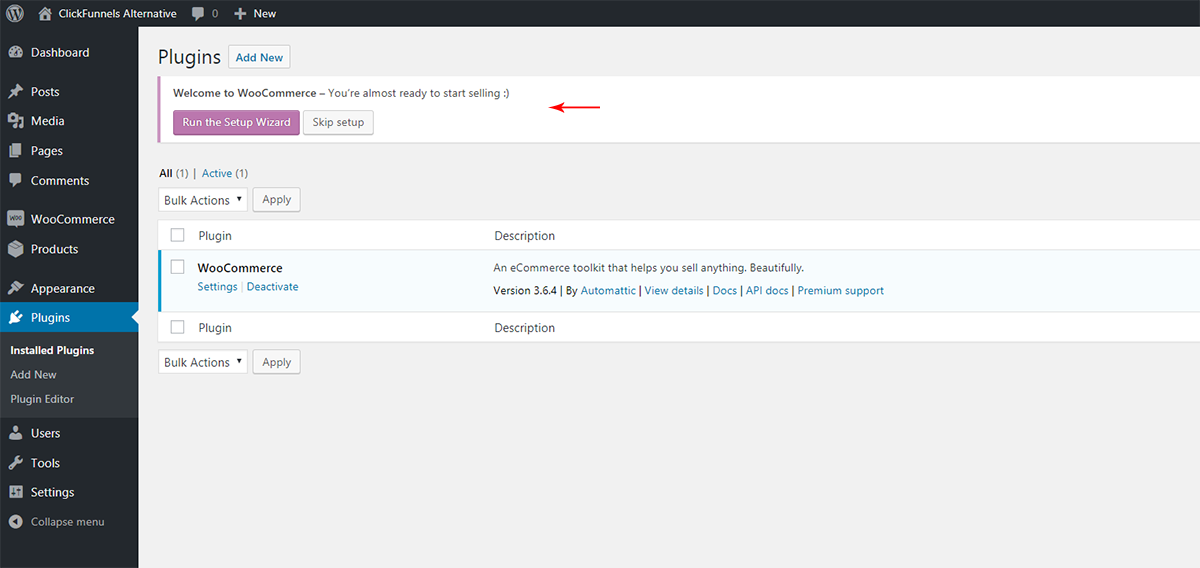 Go ahead and Run the Setup Wizard and then fill out the various settings, most of which are self-explanatory: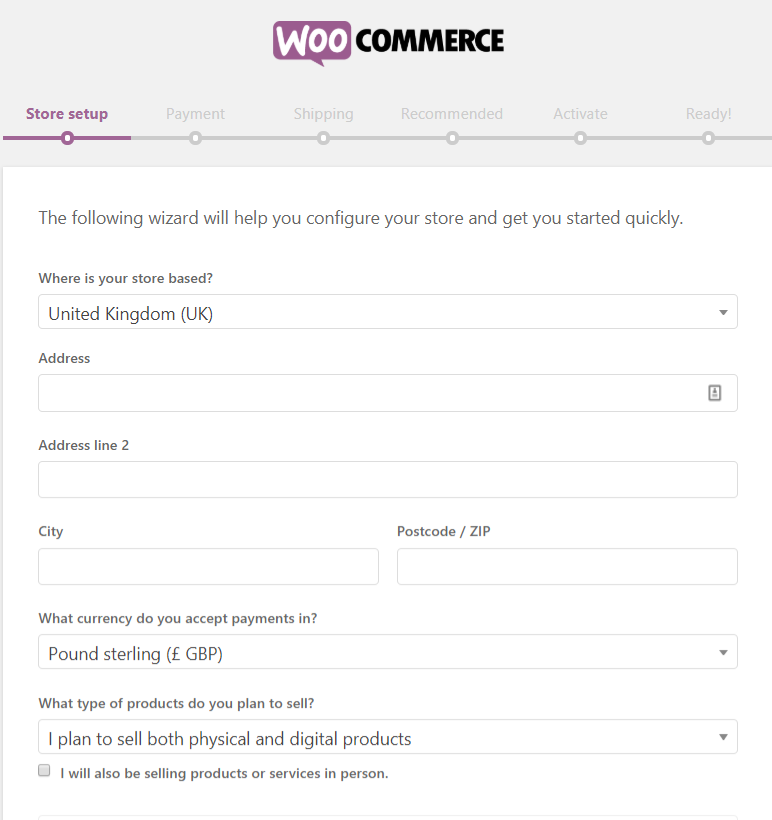 One of the most important choices here is your payment gateway(s). Two good options are always going to be Stripe or PayPal, especially if you're planning to set up automatic subscriptions.
Add Your First WooCommerce Product
Once you've completed the WooCommerce setup wizard, you're ready to add your first WooCommerce product. This is the physical or digital product that you're looking to sell via your funnel(s).
For example, it could be an eBook, a downloadable video, a weight-loss supplement…anything. To create your first product, go to Products → Add New in your WordPress dashboard: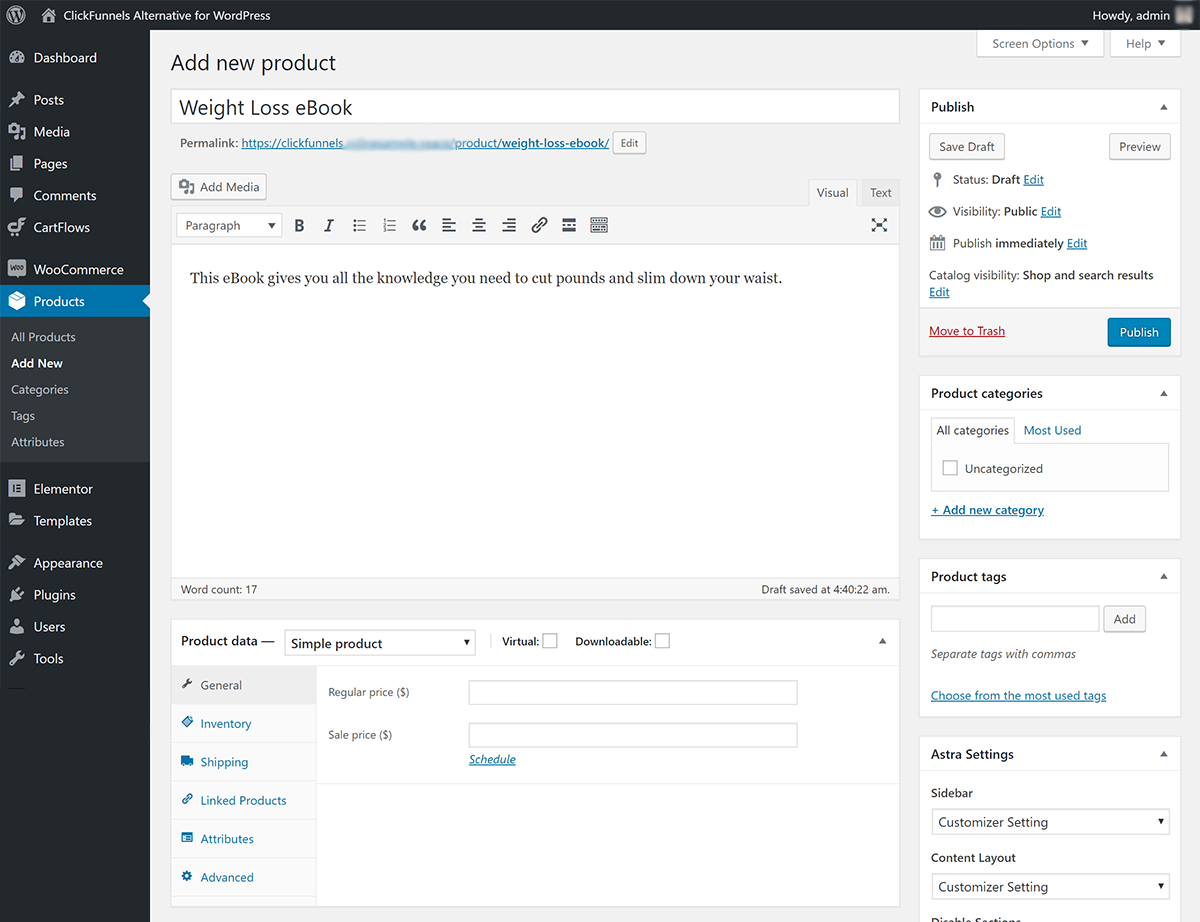 There, you'll see an interface where you can add the product's:
Title
Description
Images
Etc.
Now, that basic information isn't really important for this specific implementation because you're going to be designing your own funnel pages with drag-and-drop, rather than creating a "normal" eCommerce store.
However, one area you'll still want to pay attention to is the Product data box. This is where you'll configure the nitty-gritty details for your product – like its price and whether or not it's a digital product.
If you're selling a digital product – like an eBook or a video download – you'll want to check the boxes for Virtual and Downloadable. You'll then be able to upload the actual digital file that shoppers are purchasing: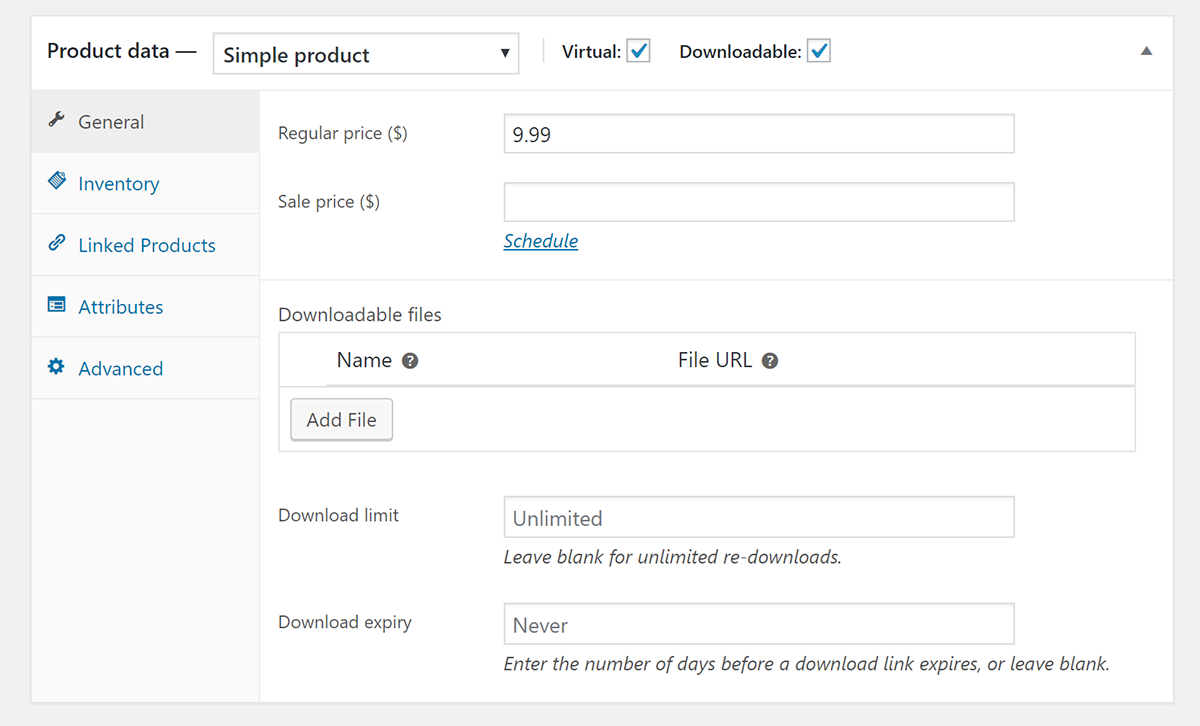 For physical products, you can leave those boxes unchecked, but you'll want to fill in the product's weight and dimensions to help calculate accurate shipping rates.
Repeat the process for each individual product that you want to sell as part of your funnel(s), including any upsells, downsells, or order bumps that you plan to offer.
Step 3: Install the Astra Theme and Import Demo Site
Next, you'll want to install the Astra theme, which provides the base design for your entire website.
What's more, Astra integrates really well with a lot of the other tools that we're going to use, and it's also available for free.
Again, this is especially important if you plan to build a complete website around your funnels. For example, Astra can help you create a really great-looking blog that's customized to your needs.
Install the Astra Theme
To install it, go to Appearance → Themes → Add New in your WordPress dashboard. Then, search for "Astra" and click the button to install it: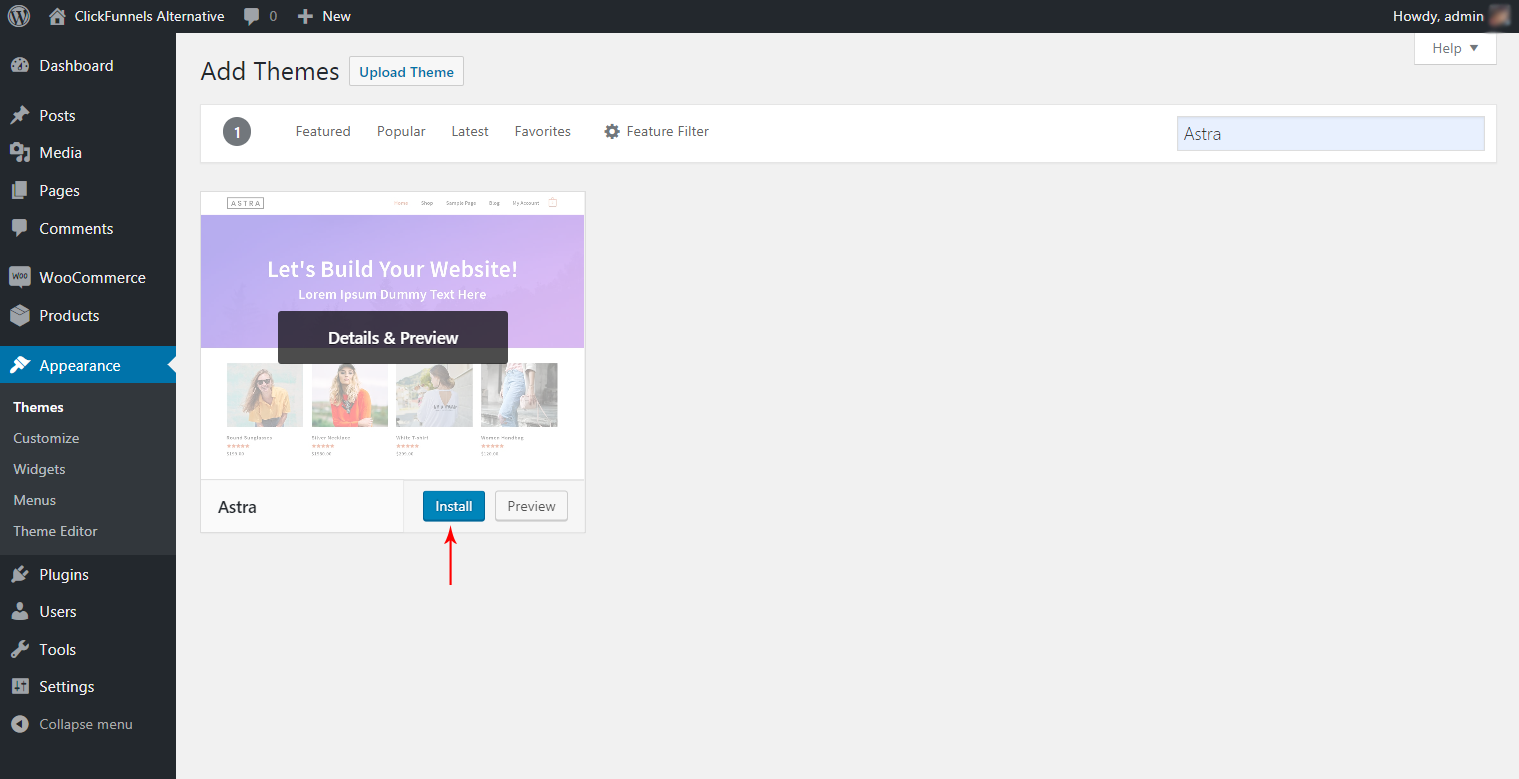 Import a Demo Site (Optional)
Once you install Astra, you can go to Appearance → Astra Options to view its options. One helpful feature here is the Starter Site templates, which you can access by clicking the Install Importer Plugin link on the right: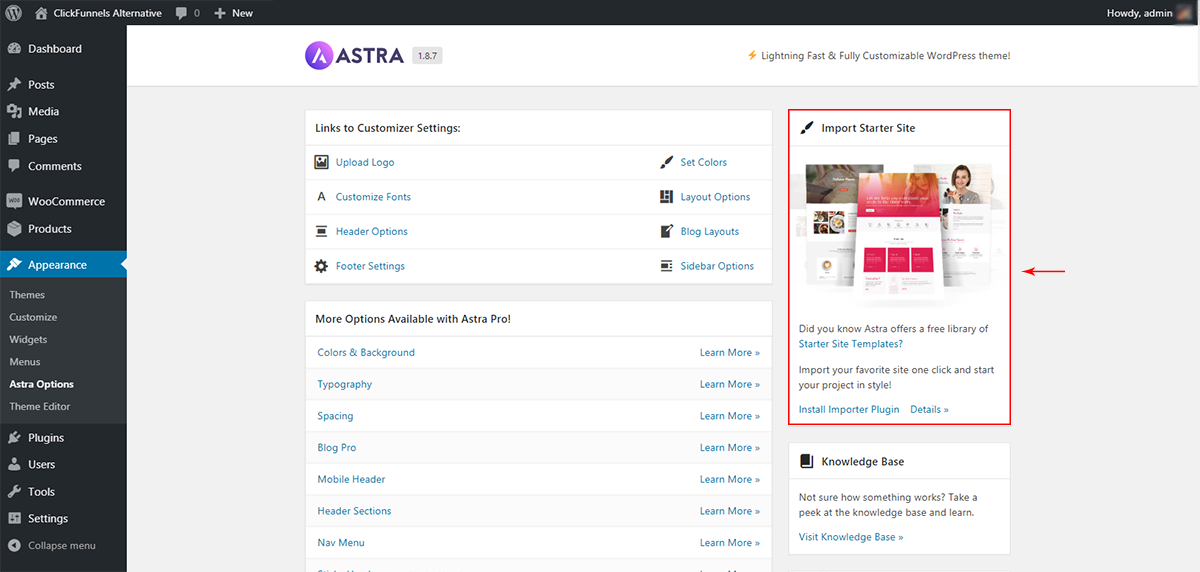 If you do this, you'll be able to import pre-built demo sites that look great from day one.
Now, if you're just looking to create funnels and don't care about having a "full" site, you can skip this.
But if you want your funnels to be just a part of a complete site, these starter templates are a great option: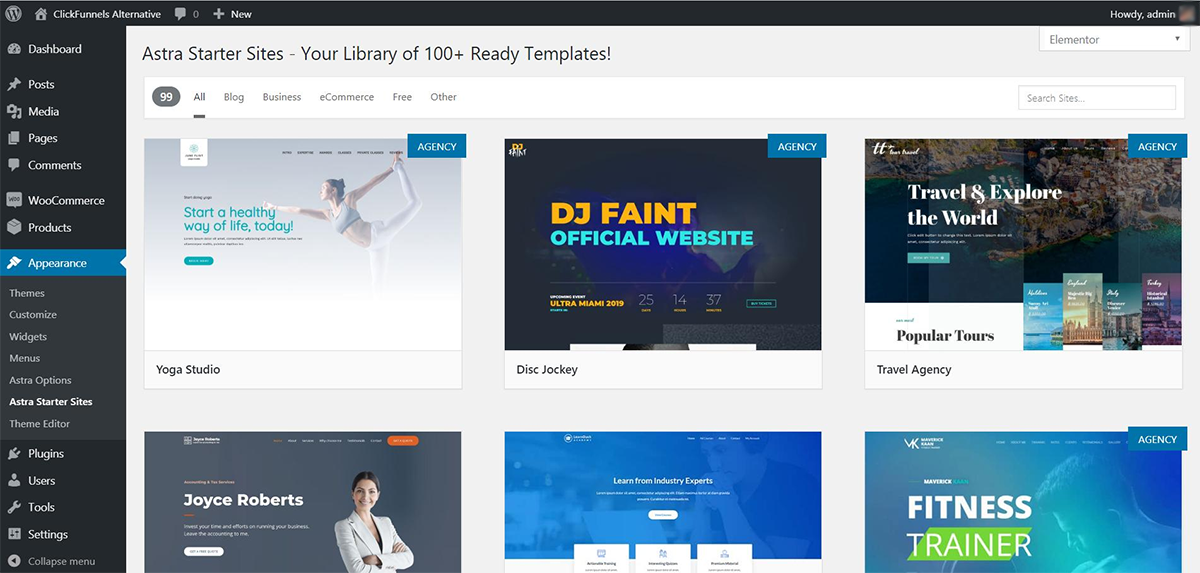 Step 4: Install Elementor and Elementor Pro (Plus Learn the Basics)
Elementor is a popular WordPress page builder that offers visual, drag-and-drop editing. If you're familiar with ClickFunnels, it's kind of like the Etison Editor…but on steroids because you actually get a lot more design options than ClickFunnels gives you.
Now, you won't use Elementor to design your funnels just quite yet. But in this step, you'll want to install it and familiarize yourself with its interface so that you're ready to use it to build your funnels in the next step.
Install the Elementor Plugins
To get started, you'll need to install two plugins:
Elementor – the core Elementor plugin is available for free at WordPress.org.
Elementor Pro – the official paid add-on. It adds necessary funnel features like forms widget and popups builder.
To install the free core plugin, you can go to Plugins → Add New and search for it by name:

Then, you'll need to purchase the premium version from the Elementor website – it costs $49 for use on a single site and one year of support and updates.
Then, you can install it by going to Plugins → Add New → Upload Plugin and uploading the ZIP file that Elementor gives you.
Familiarize Yourself With the Elementor Interface
Again, you're not ready to build your funnel content quite yet, but now is a good time to familiarize yourself with the Elementor interface so that you're ready to go when it's funnel time.
If you're not sure where to get started, we recommend this 17-minute introduction video from Adam at WPCrafter, where he'll take you through all the basics of using this tool:
You can skip to the ~3-minute mark to go right to the design part.
In the next step, you're going to take your newfound Elementor knowledge and apply it to design your funnels.
Step 5: Install CartFlows to Set Up Your Actual Funnels
Now, it's time to start really digging into the meat of what makes this WordPress setup a good ClickFunnels alternative.
CartFlows will help you set up your funnel's checkout process (powered by WooCommerce), complete with all the important funnel functionality like:
Order bumps
Upsells
Downsells
It also includes a variety of checkout styles, the ability to add custom fields to collect more information from your customers when needed, and lots of pre-made templates that make it really easy to get started.
Install CartFlows and CartFlows Pro (Best ClickFunnels Alternative)
Like Elementor, CartFlows comes in both a free version at WordPress.org and a premium add-on, and you'll need to install both to set up your ClickFunnels alternative.
To install the free core version, go to Plugins → Add New and search for it by name:

Then, you can head to the CartFlows website to purchase the premium version and upload the ZIP file to install it.
The premium version will only cost you $299 for the entire year, which is a fraction of what ClickFunnels charges for its funnel functionality.
Create Your First Flow
Once you've installed and activated both plugins, you're ready to create your first "Flow", which is basically CartFlows' name for a funnel.
To do this, click on the CartFlows option in your WordPress dashboard sidebar and then select Add New: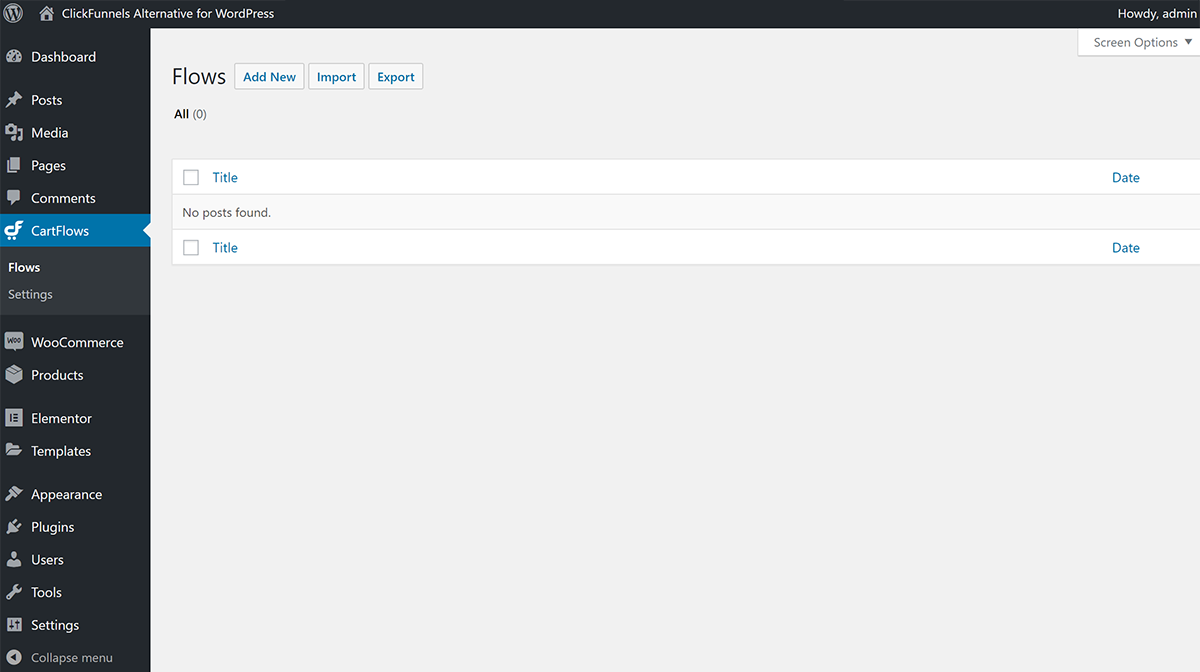 Now, you can choose from a template library with a variety of pre-made flows/funnels. Or, you can create your own flow from scratch.
While you might want to create your own flow from scratch in the future, I'd recommend starting off with one of these templates as it will make it easier to understand what's going on and help you when you want to build your own flow from scratch.
I'll choose the Weight Loss Flow template for this example, but feel free to choose whichever one applies to your product(s):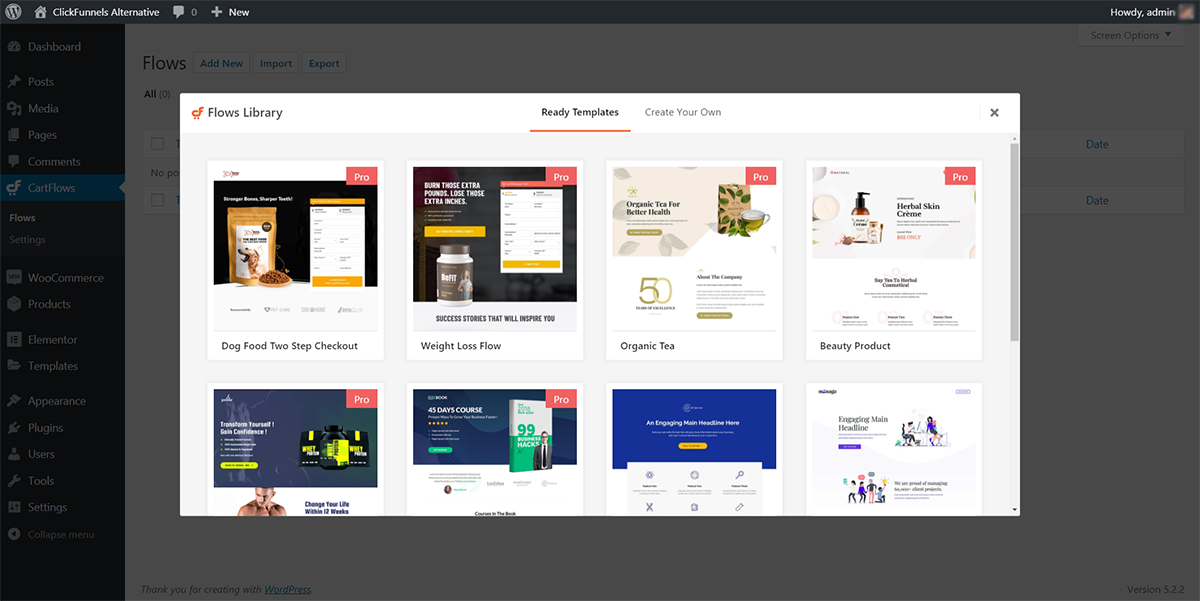 If you're using the Weight Loss Flow template, you'll see that the flow is built with three separate steps:
The main checkout page
A one-time offer upsell
A thank you page
Changing the order of your funnels is super simple – you can just drag the different content items around.
Let's go through what else you can do here…
Add New Steps to Your Funnels
If you want to add a new step to your flow/funnel, you just click the Add New Step button.
This will open a popup where you can again choose from a variety of templates or create your own. Notice how the templates are divided into five different categories:
Landing
Checkout
Upsell
Downsell
Thank You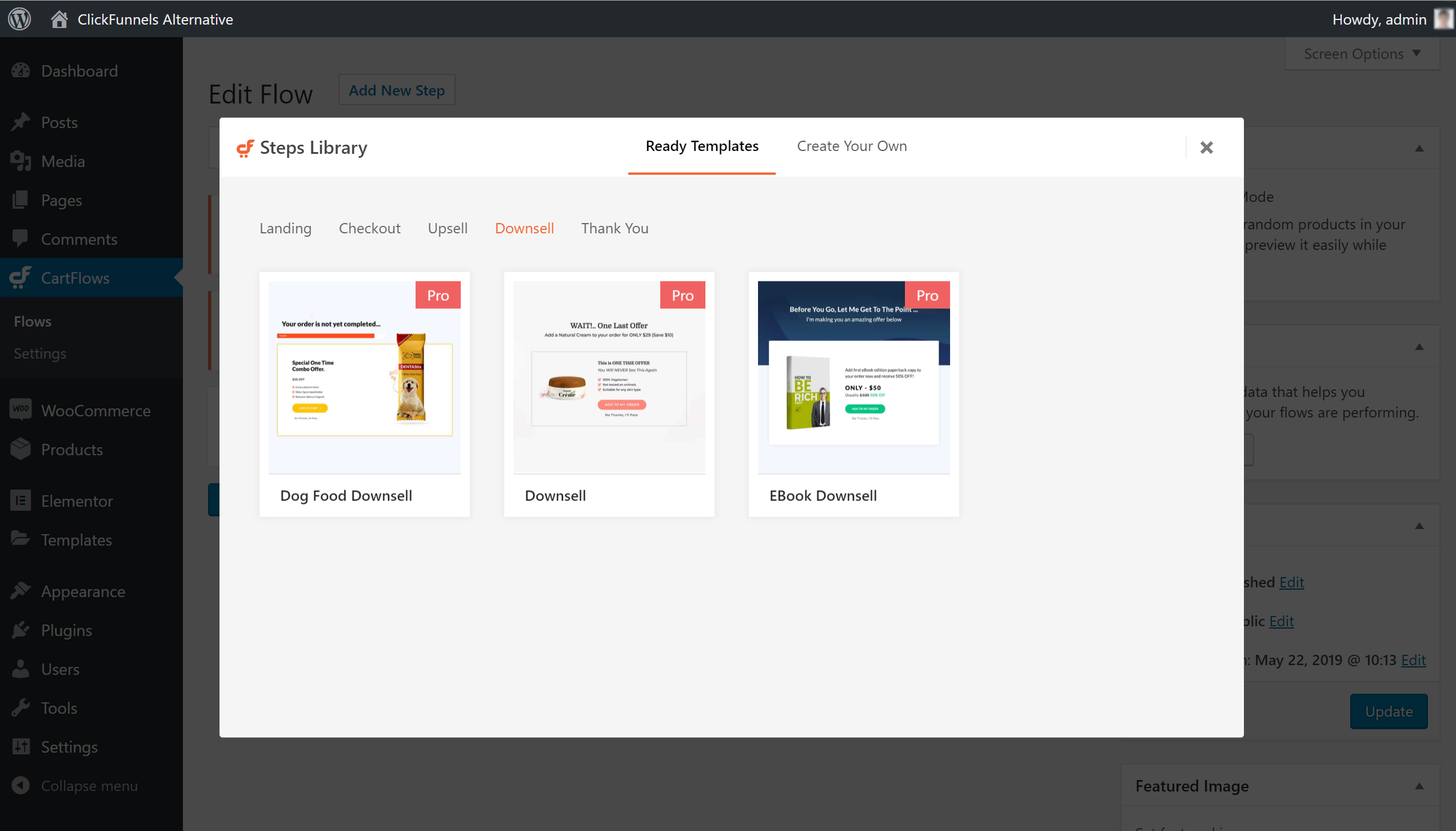 Edit Individual Steps in Your Funnel
To edit an individual step in your funnel – like the main checkout page or an upsell page – you can click the Edit link for that step.
Here, you have two ways to edit your funnel step: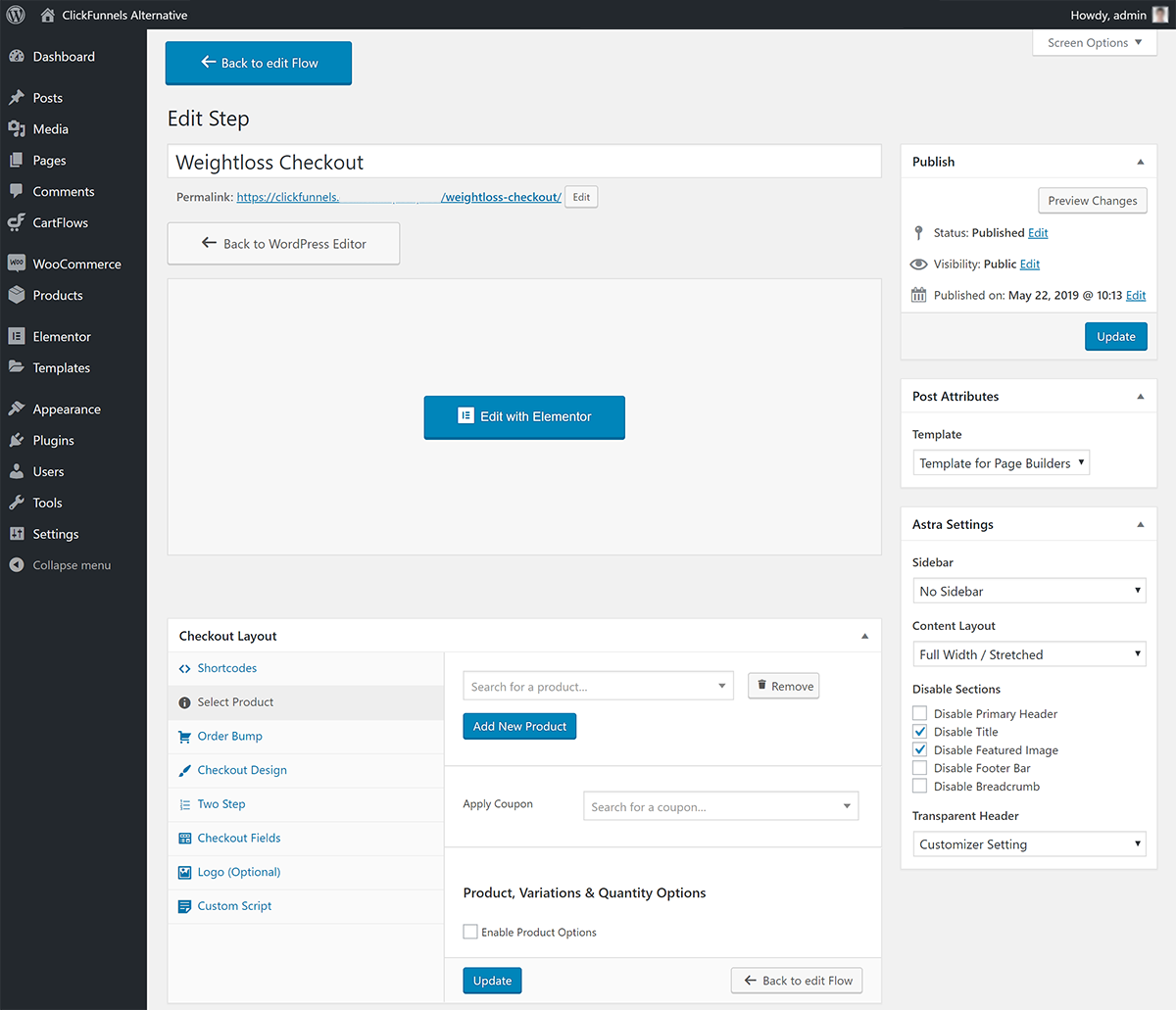 First, you can click the Edit With Elementor button to launch the drag-and-drop Elementor interface and customize the design and layout of this step in the funnel.
Second, you can use the settings box (e.g. Checkout Layout) to configure other important settings, like any order bumps that you want to add, how your checkout functions, what information to collect, and more.
Elementor
Let's start with the Elementor interface. As you learned when you installed Elementor in the previous step, you can:
Click and type to edit any of the text
Use drag-and-drop to rearrange the layout
Add new Elementor widgets to add additional content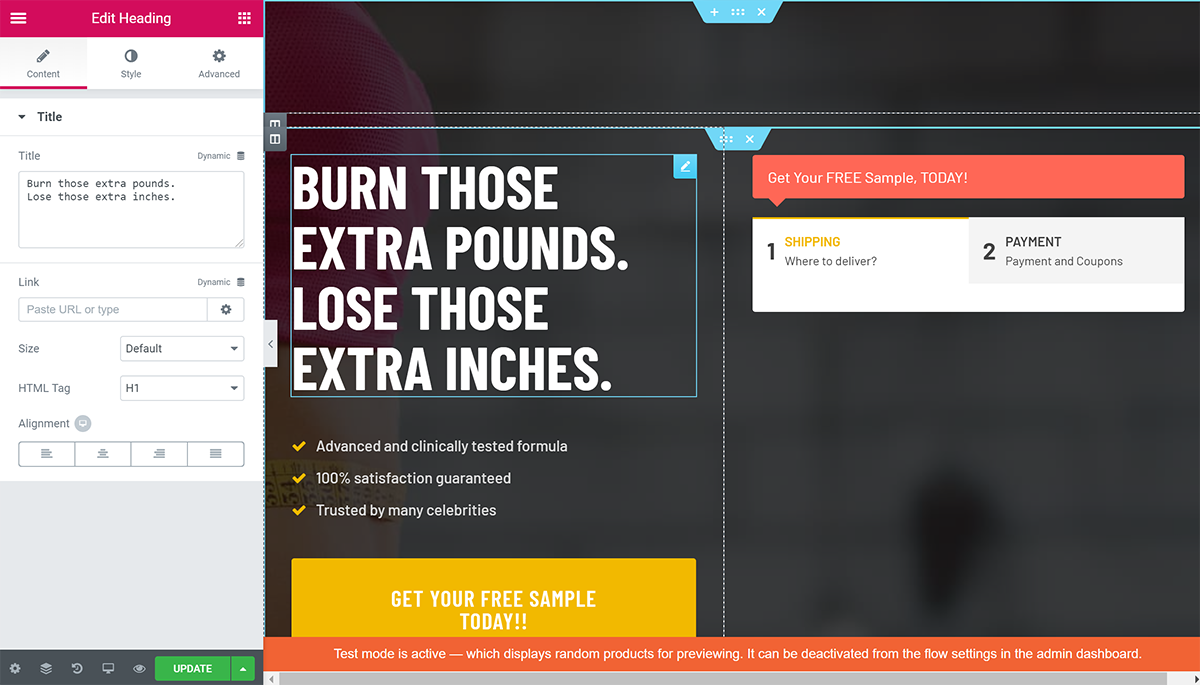 The one thing you won't customize in Elementor is the actual checkout form (that's the form on the right in the example above).
Settings Box
To customize the checkout, you'll use that Checkout Layout box.
First, you'll use the Select Product tab to choose the WooCommerce product that you want to sell (or offer as an upsell/downsell, for other steps). This is one of the products that you created earlier in Step 2. CartFlows will use that product's price in the checkout: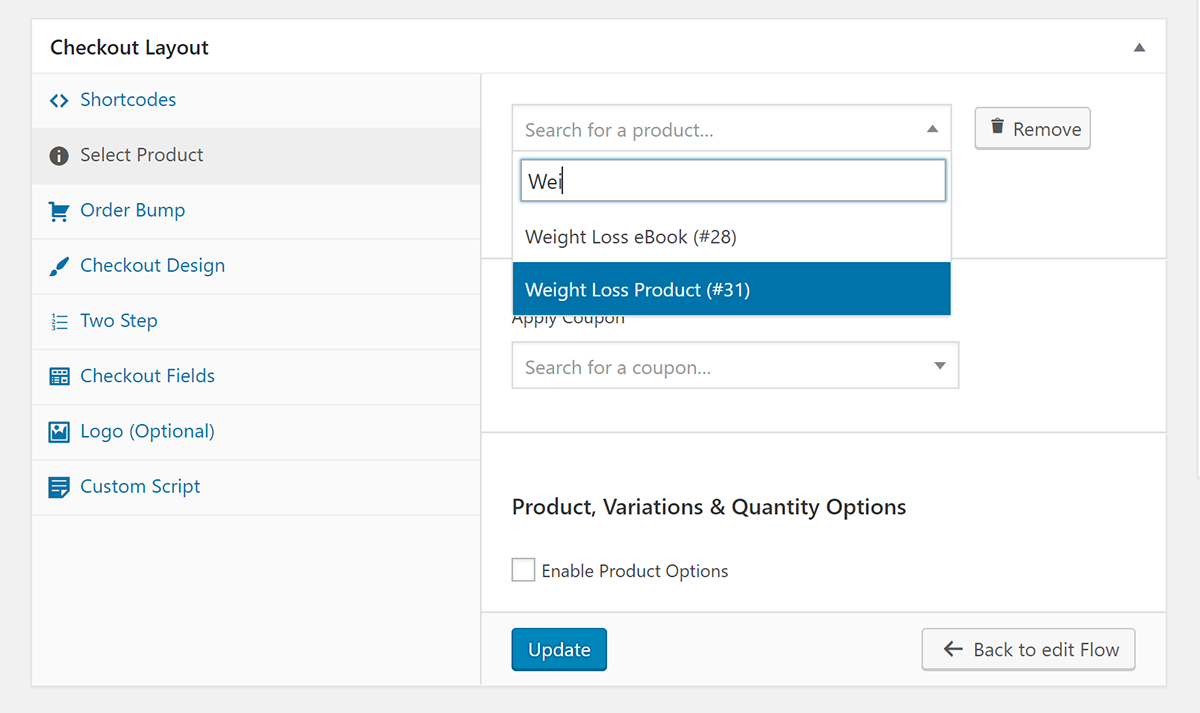 If you want to add an order bump, you can use the Order Bump tab to select another WooCommerce product to use as an order bump. You can also choose your order bump's position:
Before checkout
After customer details
After order
After payment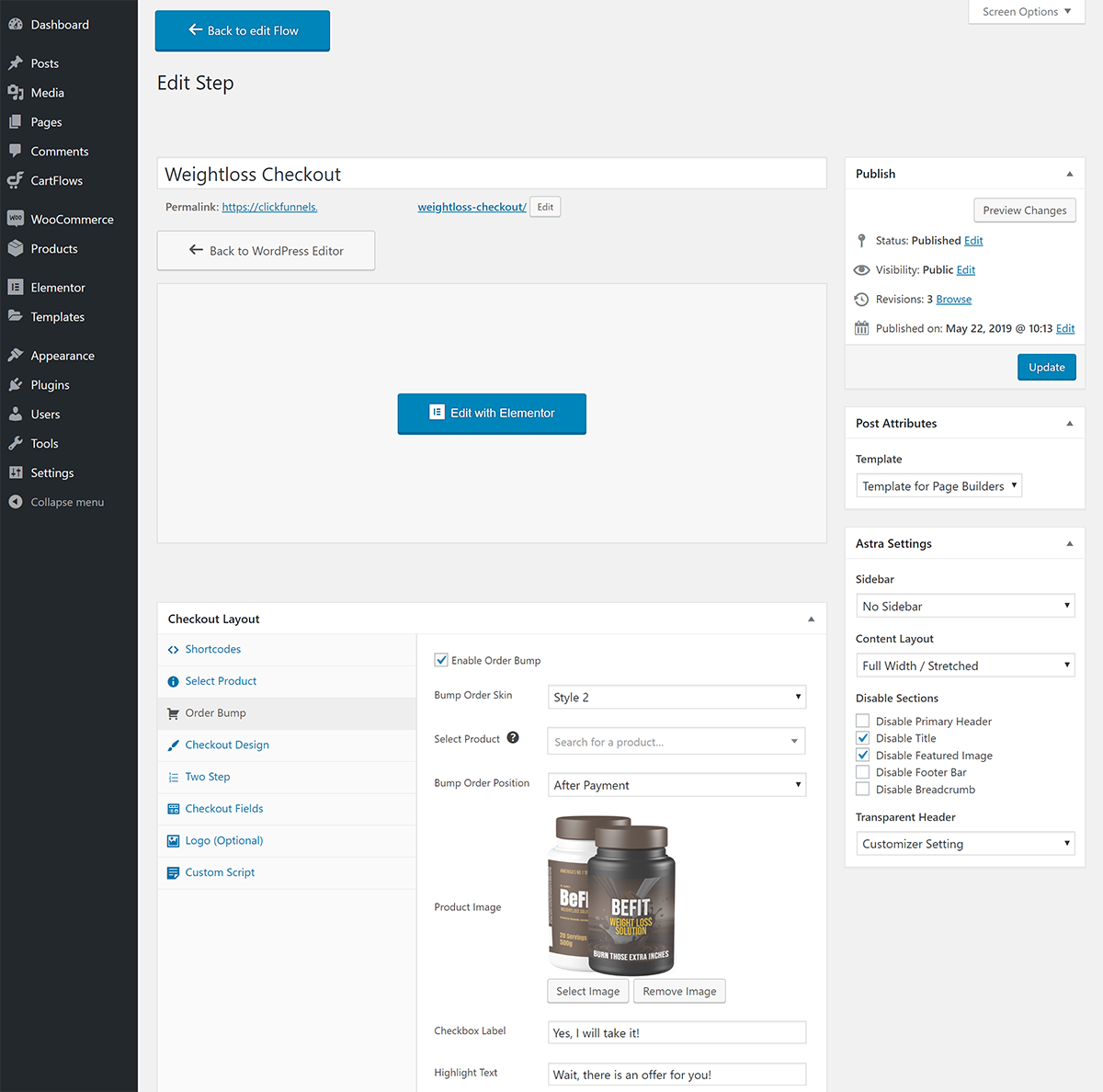 In the Checkout Design tab, you can choose between a two-step or multi-column checkout. And the Checkout Fields tab is another important option as it lets you choose what information to collect from your customers.
For example, if you're selling a digital product, you can reduce friction by turning off the detailed address fields and only collecting a zip code. Or, you can also use custom fields to collect additional information about your shoppers: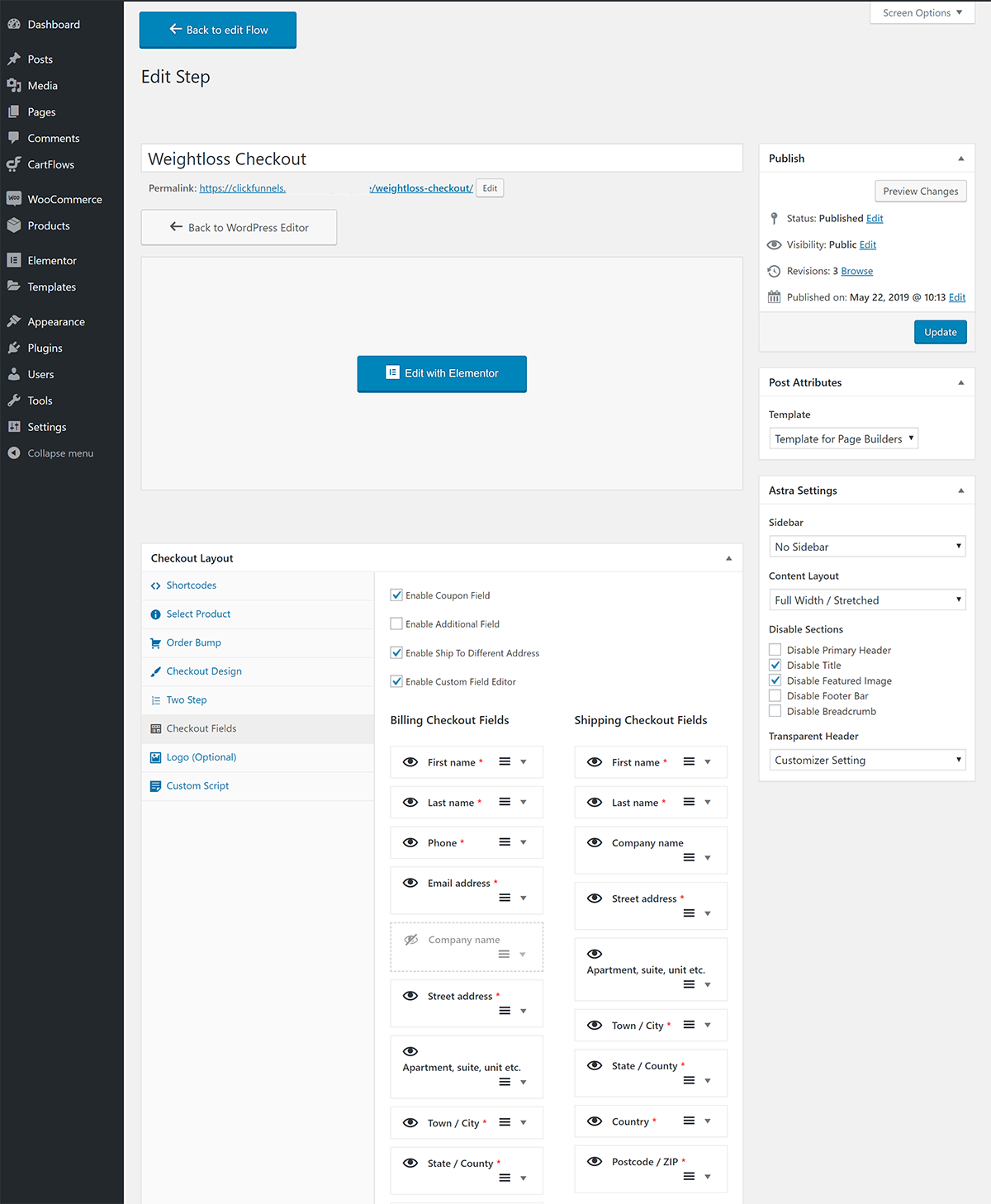 Repeat for Other Steps in Your Funnel
Once you finish, you'll want to complete the same process for other stages in your funnel.
You can use the same Elementor approach to customize the design for other steps, but you'll get slightly different options in the settings box for other parts of your funnel.
For example, when you edit an Upsell, you'll be able to choose which WooCommerce product to upsell, as well as an optional discount to apply: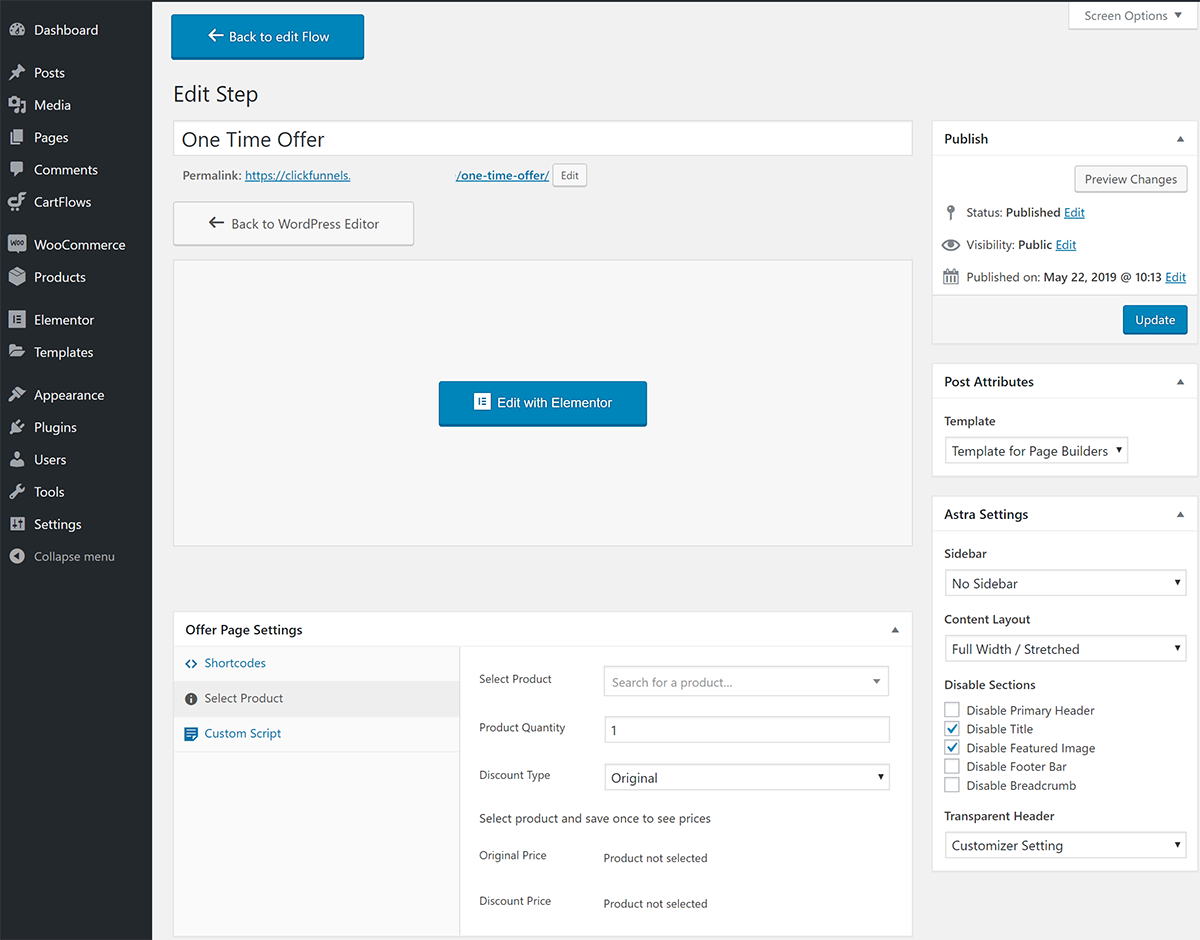 Putting Your Funnel Together
Congratulations – you just built your own funnel for a fraction of the cost of ClickFunnels!
To give you an idea of how everything comes together, let's look at the real example.
To refresh, we have a simple funnel with three steps:
A checkout page, complete with two-step checkout and an order bump
An upsell offer
A thank you page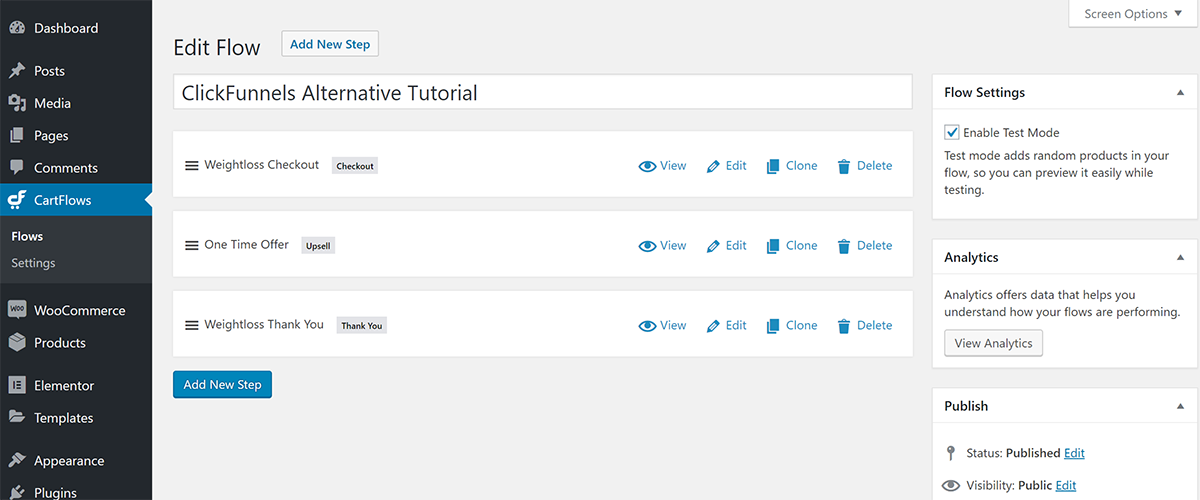 Here's how the funnel will work for visitors.
First, they'll land on your checkout landing page, where they'll be prompted to enter their shipping information: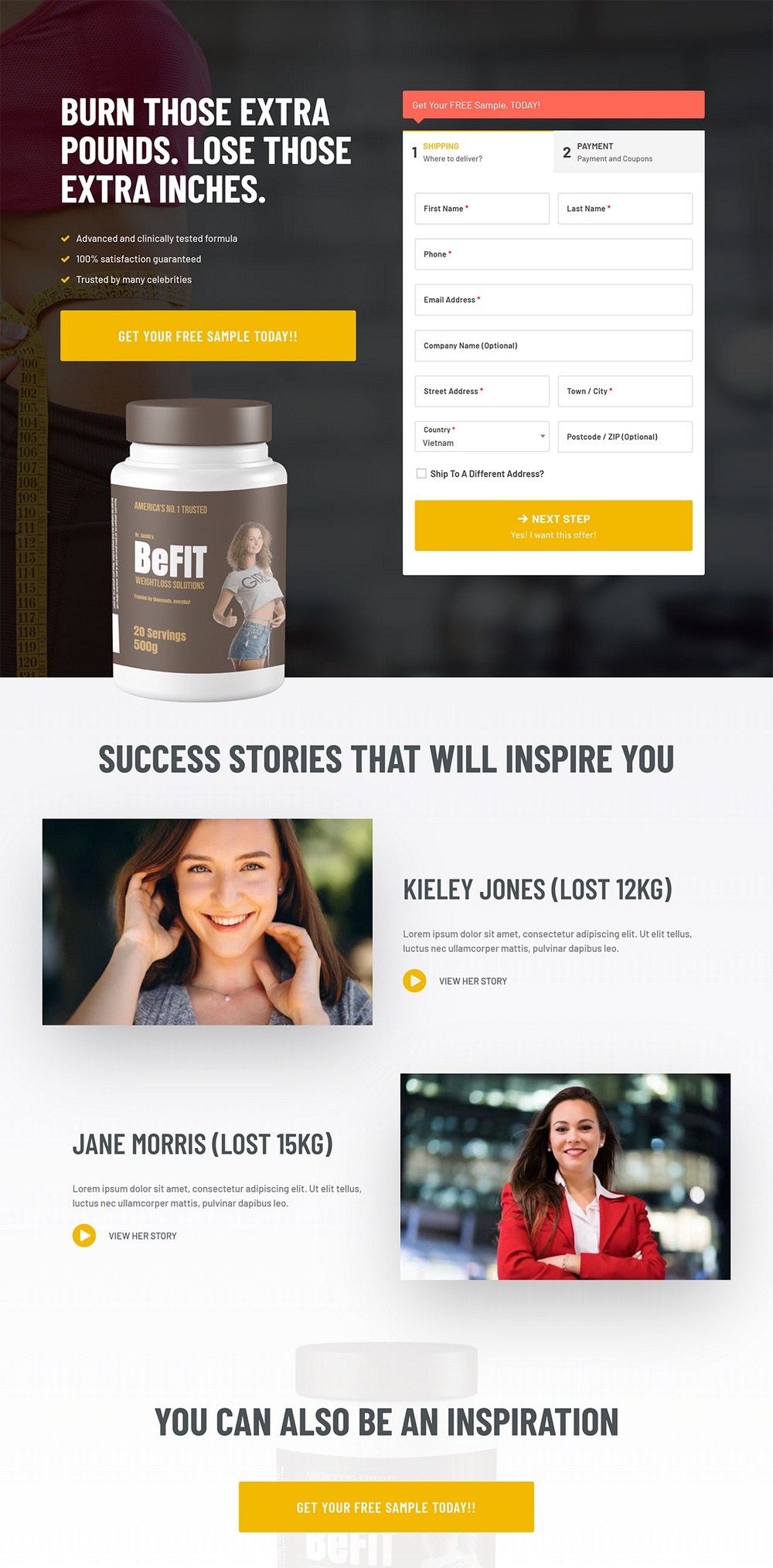 On the second step of the checkout, they'll see an order summary and choose their payment method/enter details. This is also where the order bump appears (though you can place your order bump in other locations):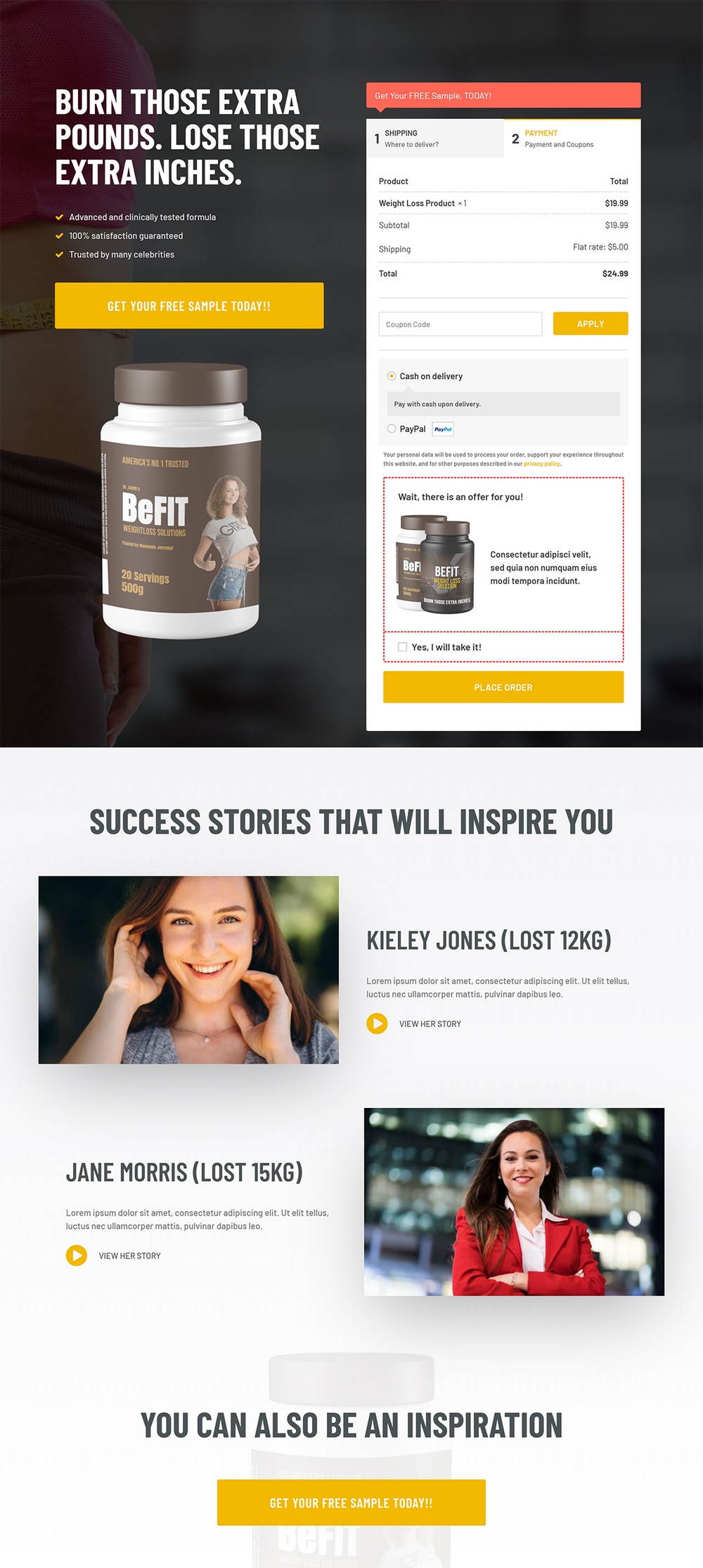 Once they place their order, they'll see the next step in the funnel – the upsell offer: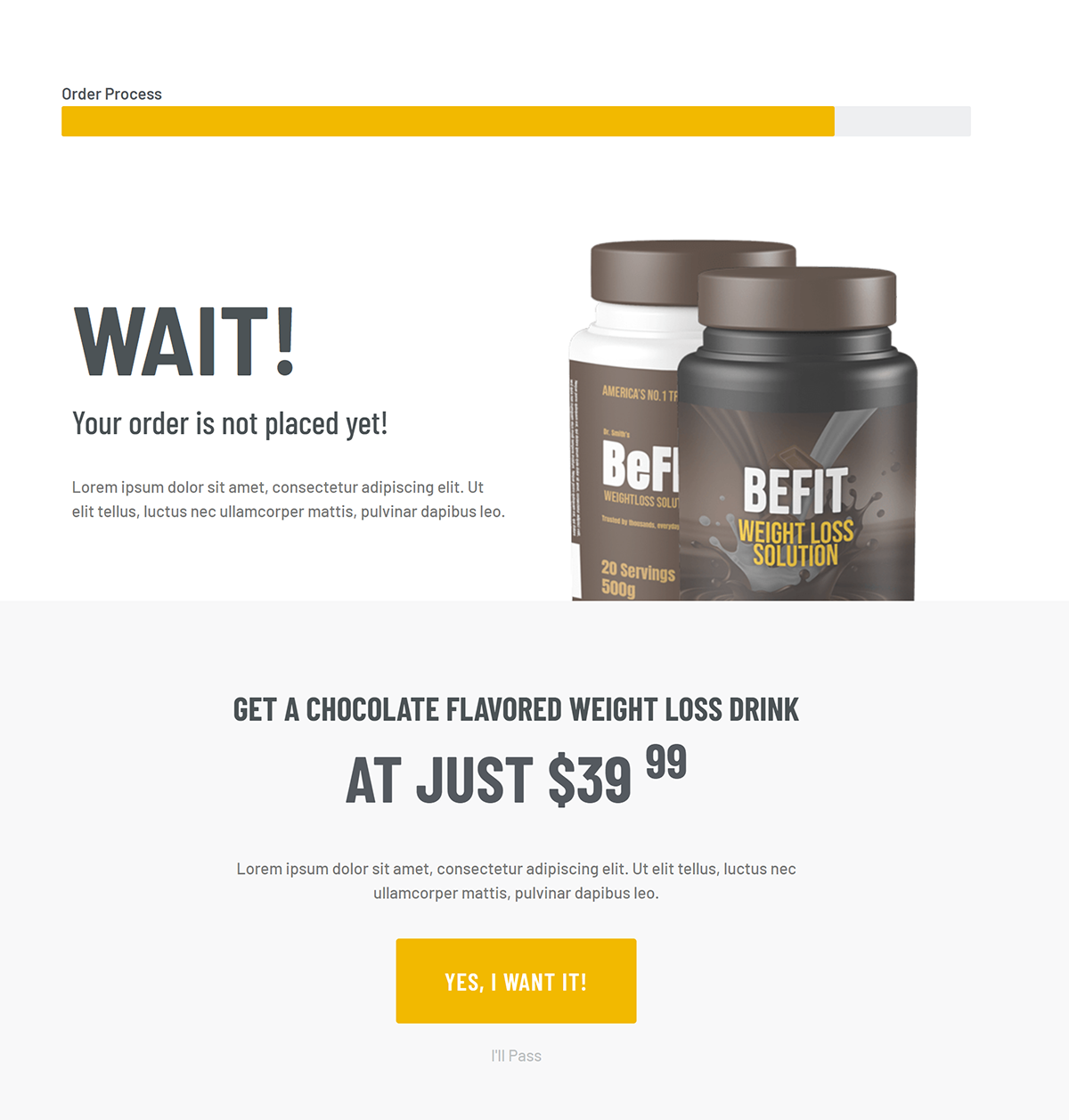 They can either accept the upsell offer or reject it.
Then, they'll see the last step in the funnel – the thank you page – which summarizes exactly what they've ordered: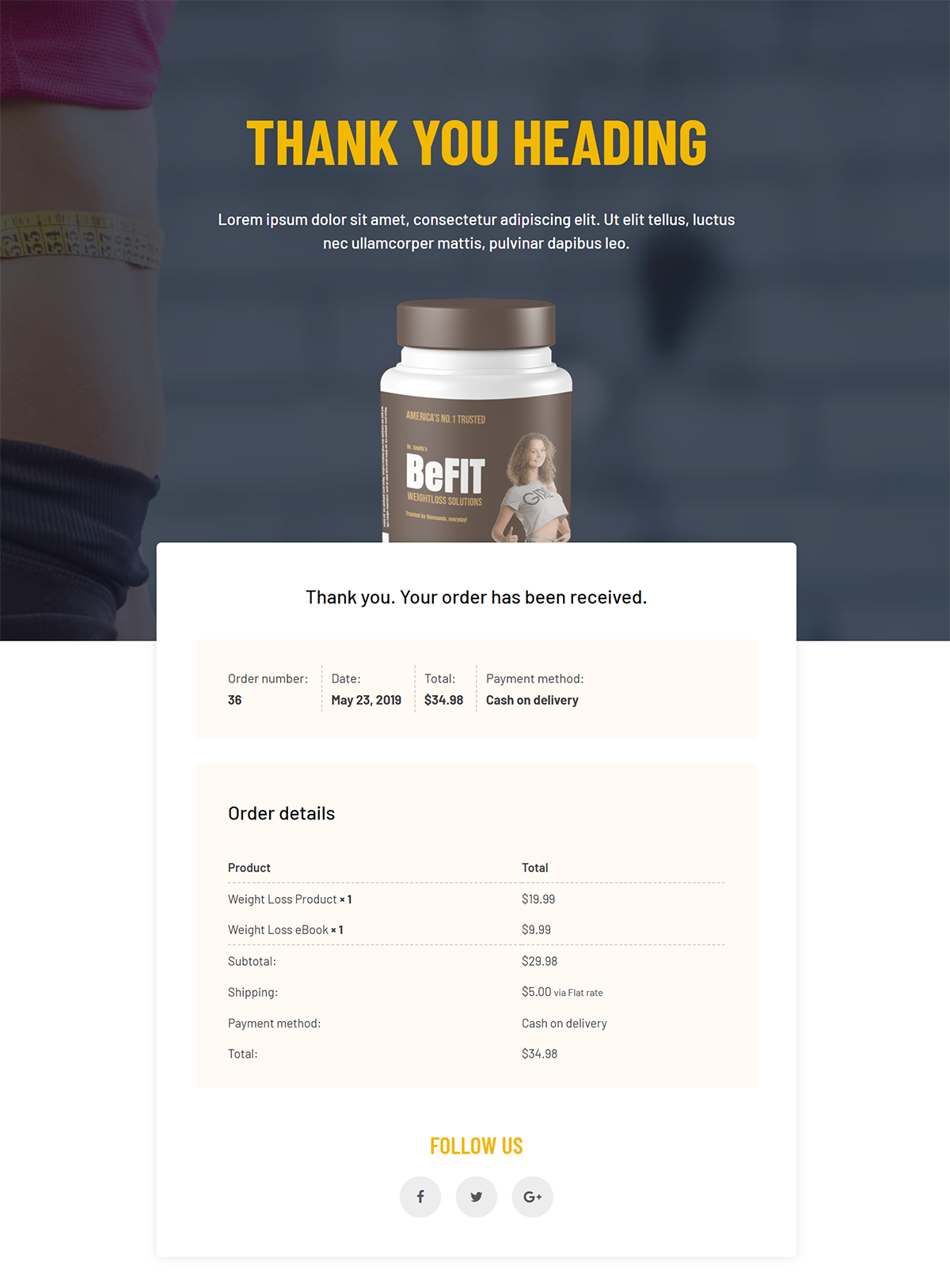 And that's it for this funnel – but remember, using CartFlows, you could easily add or remove steps in your flow as needed.
How to Enhance Your Funnels With Other Functionality
By following the steps above, you can create detailed, conversion-friendly funnels that rival the funnels you build with ClickFunnels.
However, if you still have a need for more functionality, you can further stack on some additional tools that I mentioned above.
Use HubSpot for Abandoned Cart Follow-Up
One feature that ClickFunnels users enjoy is the ability to send automated emails to contacts who didn't complete purchasing an item.

With the HubSpot for WooCommerce plugin, you're able to add this functionality to your WooCommerce store. Automatically track the items that customers are most frequently leaving in their carts, and create follow up sequences to make sure those carts turn into revenue.
Setting up the connection is easy, and once installed, you can view each contact's abandoned cart details, orders, website activity, email interactions, and more in the HubSpot CRM. And the best part? It's all free.
Use SendinBlue for Email Automation
One of the nice things about ClickFunnels is that it helps you set up email automation to go alongside your funnels.
If you'd like to add something similar to your WordPress ClickFunnels setup, you can use SendinBlue.
In addition to just generally being a great email marketing service, SendinBlue also includes a detailed WordPress plugin that helps you set up your own email automation flows from inside your WordPress dashboard.
SendinBlue has a limited free plan to get you started. After that, the pricing depends on how many emails you'll send and what functionality you want.
Use WooCommerce Subscriptions to Charge Recurring Subscriptions
In the tutorial above, we focused exclusively on one-time payments. However, with the WooCommerce Subscriptions plugin, you can also use your funnels to sign people up for automatic recurring subscriptions.
It's really simple, too. Basically, this plugin adds a new Subscription product type to the WooCommerce interface (the one you use to create products). You can then add these subscription products to your flows in CartFlows, just like you did the other WooCommerce products.
The cool thing is that you can mix-and-match subscriptions and one-time payments.
For example, you could offer a subscription membership as your main product and then include an upsell or order bump to sell an eBook for a one-time payment (or vice versa).
WooCommerce Subscriptions starts at $199 per year.
Use AffiliateWP to Create Your Own Affiliate Program
ClickFunnel's Backpack functionality helps you create your own affiliate program to promote your funnels, which is something lacking from the tutorial above.
However, by using the AffiliateWP WordPress plugin, you can add that same functionality and create an affiliate program for your WordPress funnel site.
AffiliateWP has a built-in integration for WooCommerce, so it's super easy to set up. And you'll also have detailed control over commissions, including an option to set different rates on a per-product basis, control how long the tracking cookie is valid for, plus a lot more.
AffiliateWP starts at $99 per year.
Create Your Own ClickFunnels Alternative for WordPress Today!
ClickFunnels is popular for a reason, but it's not the only way to market your products with funnels.
While the methods in this post do require a little bit more setup, you still won't need any special knowledge to get started. And with the end result, you'll:
Save a bundle of money vs paying for ClickFunnels (you'll only pay ~$33-$85 per month for this WordPress setup, vs $297 per month for ClickFunnels).
Have 100% ownership over your content, which means you're never locked into a platform like you are with ClickFunnels.
Be able to extend your website as much as possible. Want to add a blog? Easy. Membership site? You can do that too. eCommerce store? You betcha. The sky's the limit when it comes to extensibility and scalability.
Find tons of resources and WordPress developers if you ever run into problems and need a helping hand (or want to add some custom functionality).
In the end, you don't need to pick up the equivalent of a monthly car payment just to start selling with funnels. Instead, build your own ClickFunnels alternative with WordPress and enjoy more flexibility at a lower cost.
Do you have any further questions about how to implement this setup? Ask away in the comments!