If there's one eCommerce technique that's important to any online store, from a brand new startup to a booming business, it's sales funnels.
Knowing what the sales funnel is, how it works, and how to take advantage of it is key to growing your business and best utilizing the leads you're creating.
Whether you know it or not, the sales funnel exists and your customers are journeying through it every day.
By optimizing the process, you can shepherd more users towards a sale and lose fewer along the way.
Established businesses can use this information to grow their user base, but if you haven't started yet, all the better. You can go into setting up your store knowing all about sales funnels and what you need to do to take advantage of the process.
Here's everything you need to know about sales funnels: What they are, how to set one up step by step, and a few plugins to help you get started.
What Is a Sales Funnel?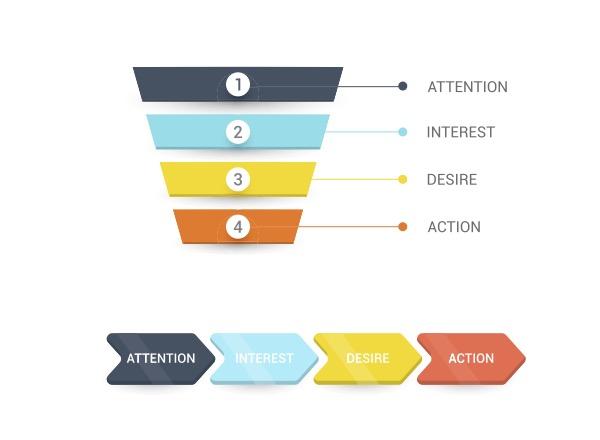 To understand what a sales funnel is, you first need to understand the customer journey. The process every buyer, more or less, goes through whenever they make a purchase.
One common way to represent this journey is called the AIDA model, Awareness, Interest, Desire, and Action.
Here's how it works.
In the Awareness stage, potential customers first become aware of your brand or product. Through marketing efforts, a good SEO strategy, or just sheer luck, someone now knows that your product exists.
Next is the Interest stage, where people seek out more info about your product/brand and its benefits.
Then they move into the Desire stage, where through establishing a connection with someone you make them want to make a purchase.
And then finally, there's the Action stage, where the customer finally goes through with it – if you can make the buying process smooth enough and maybe do a little more convincing.
Sometimes, a final and very important step is added to this model: Retention.
This is where you put in the work to encourage brand loyalty and get your customers to continue making purchases.
So how does a sales funnel interact with this?
You can view this whole customer journey as a funnel that gets narrower and narrower as people drop out of it.
Not everyone who learns about your brand will move on to the Interest stage. And even people who get all the way to Desire may still decide to back out.
The purpose of a sales funnel is to optimize for every step of the customer journey to retain as many people as possible, locking them into the funnel until the very last step.
Why You Need a Sales Funnel
Companies large and small use sales funnels to nurture leads – people who are interested in your brand and could potentially become customers.
The reason: Sales funnels are a customer-focused marketing concept. It's all about the customer journey and how to make the process smoother and build trust.
Just knowing about funnels can help you make better decisions and learn a bit more about what your leads are thinking.
If you have no idea how to convert more customers, setting up a sales funnel is a great place to start.
It's easy for any business, even small businesses, to implement, and requires no expensive marketing or analytics software.
You can set it up entirely with free WordPress plugins and inexpensive web hosting.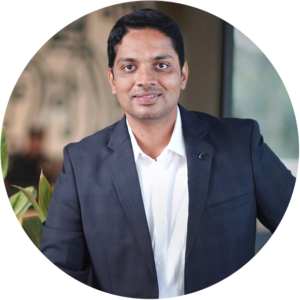 Hello! My name is Sujay and I'm CEO of Astra.
We're on a mission to help small businesses grow online with affordable software products and the education you need to succeed.
Leave a comment below if you want to join the conversation, or click here if you would like personal help or to engage with our team privately.
How to Optimize Each Step of the Sales Funnel to Increase Conversions
It's good to understand the customer journey and how it works, but what's most important is knowing what you can do about it.
These are ways to optimize your branding, marketing, products, and even your website itself to keep users going down that funnel until the sale is made.
Top of the Funnel
The top of the funnel corresponds to the "Awareness" stage, but it also covers what happens before then. That can include your marketing and outreach efforts that draw customers in.
Optimizing for the top of the funnel involves gathering interest in as many ways as possible.
Advertising, social media, SEO optimization, collaboration, and all forms of marketing intended to attract people to your brand.
Here are a few suggestions to optimize for the top of the funnel and generate awareness:
Make a marketing plan and decide what channels you want to advertise your brand in.
Get on social media and start generating content people will want to share, especially video and image content.
Optimize your site for SEO in order to generate organic traffic through search engines.
Start a blog related to your products and services, and use it to promote solutions to potential problems that you can solve.
Release helpful tools to the community. A popular choice is ebooks, but depending on your industry, there could be any number of options.
Middle of the Funnel
The middle of the funnel corresponds to the Interest and Desire stages. It's all about connecting with your leads and creating informative content that will push them towards a purchase.
Sometimes the customer journey can take days, weeks, or longer, so it's also important at this stage to get users on board with you with email marketing or on social media.
This way you can keep engaging with them and they won't forget all about your brand.
Focus on creating strong, memorable branding that customers will remember weeks down the line.
Good email marketing is key to keeping on users during their Interest and Desire stage. Start a newsletter they can sign up for as they exit the Awareness stage.
Promote your social media pages and use them to build relationships with your users.
Use retargeting in your advertising to create tailored ads that will re-engage those who visit your site.
Optimize your product pages, FAQ, knowledge bases, and other important pages on your site to make them helpful, interesting, and informative. Buyers begin to do research at this stage, and you want to provide them with enough information.
As you optimize and engage, remember to show why your brand is trustworthy and the best solution to the problem they're trying to solve.
Bottom of the Funnel
Finally, there's the bottom of the funnel, or the Action stage. Don't think your work is done here, you still need to give them that last little push.
Make sure your site is beautiful, but more importantly clean and easy to navigate. Avoid clutter or too many levels of navigation, and have others test it out so you know where the stumbling blocks are.
Optimize your checkout process. Make it easy and quick to add products to the cart and get through checkout.
Create landing pages with a clear call to action, and promote them on your social channels.
Use strong calls to action on landing pages, product pages, and elsewhere, to subtly guide users towards checkout.
Implement retargeting, such as with abandoned carts, to offer coupons to last-second abandoned carts.
If applicable, offer demos or samples of your product or service.
Use testimonials and case studies to prove your product is as good as you say it is.
Retention and Re-Engagement
It's also key to consider what you're going to do with the customers you manage to get. You could let them slip away, or you could foster a relationship that keeps them coming back to buy from you again and again.
Lead nurturing doesn't end when the buyer's journey does.
Here are a few ways to re-engage your customers:
Use your newsletter to target past customers and encourage them to buy again.
Take customer feedback and use it to improve your product.
Start a loyalty program to reward repeated purchases and long-standing customers.
Focus on providing good customer support through traditional mediums like email and live chat, social media, and forums.
If possible, create a community around your brand that will grow and thrive on its own. Encourage it by hosting events, starting a brand hashtag, and setting up a forum so your users can communicate with each other.
Important Elements of an Effective Sales Funnel
What makes a sales funnel work in practice? There are several elements you'll want to implement.
The most basic component is an online store to run your sales funnel through.
If you haven't set up online store yet, you're in luck. It's very easy and inexpensive to do with WordPress.
You'll also want to pick out a WordPress theme that's well-made and suited for eCommerce.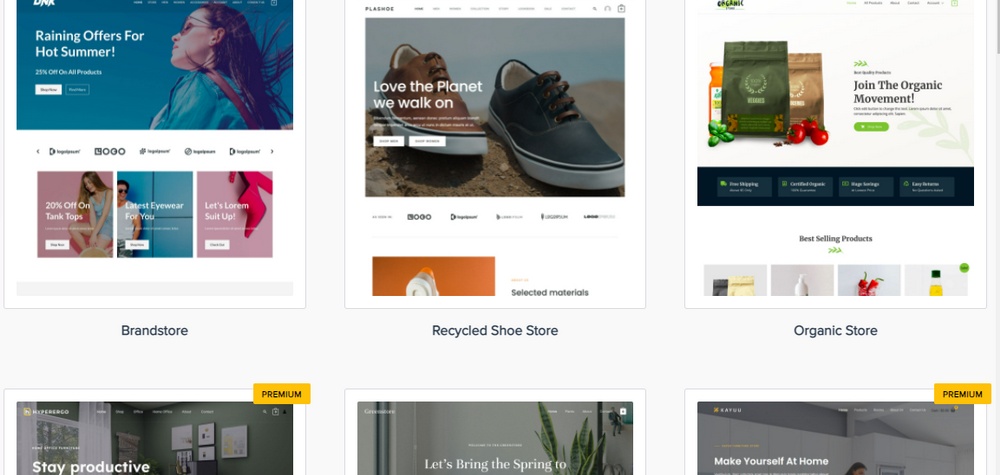 Another step you should get to as soon as possible is setting up a marketing strategy.
What are your branding guidelines? What channels will you advertise in? What is your Unique Value Proposition and how can you apply it to your branding? What tools will you use to keep track of your marketing metrics?
These are some questions you should be answering.
With a marketing plan, you can move on to creating and optimizing several important pages in the customer journey with the guidelines and branding you set out in mind.
These include landing pages, thank you pages, product pages, and shopping cart/checkout pages.
Give all of these special attention and make sure every word and element is made to guide customers towards loyalty and a sale.
Lastly, a good sales funnel website incorporates analytics and A/B testing, especially on landing pages.
You should always be looking for ways to boost conversions. Try out different copy, images, positioning, and CTA text.
See which performs better, or what elements aren't doing so good, and keep on optimizing to generate more leads.
The Best WordPress Sales Funnel Plugins – Build Funnels Using the Best Funnel Builders
You can make a sales funnel on your own in WordPress, but a good funnel builder will help make the process easier.
They can guide you through creating landing pages, directing customers through their journey down the funnel, and optimizing important pages.
Here are four of the best ones. Most of these are freemium plugins, where the core functionality is free of charge, but there are some paid features too.
1. CartFlows – Pre Built WordPress Funnel Templates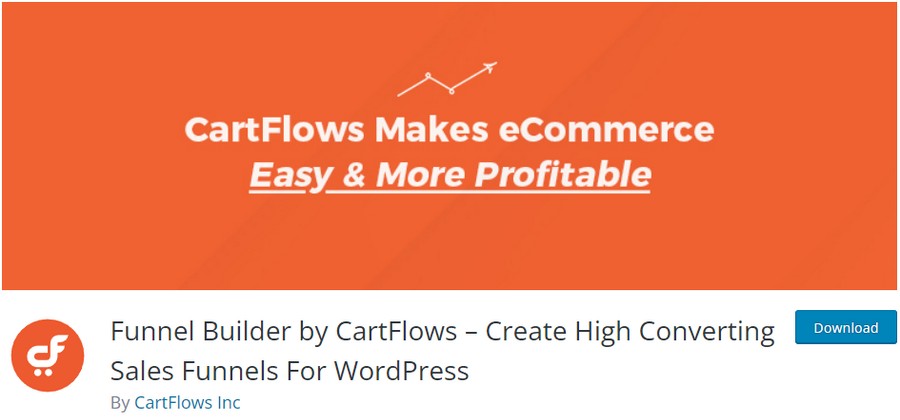 CartFlows is a sales funnel builder created to help you build funnels for any imaginable purpose. While it does have a paid premium version, the main plugin is free.
It integrates seamlessly with all major page builders (Elementor, Divi, Beaver Builder, or the core Gutenberg builder). It comes with several built-in sales funnel templates, so setting up a funnel is fast and easy.
CartFlows also allows you to create custom thank you pages, checkout pages, and more – all optimized for the proper stage of the sales funnel. You can assign steps to your sales funnels either linearly or with a drag and drop canvas editor.
The free version of CartFlows lets you have up to three sales funnels, which is perfect for most small businesses.
The premium version adds more WordPress sales funnel templates and helpful features like one-click upsells/downsells, A/B testing, and order bumps.
2. WooFunnels – Offers Dozens of Templates for Sales Funnel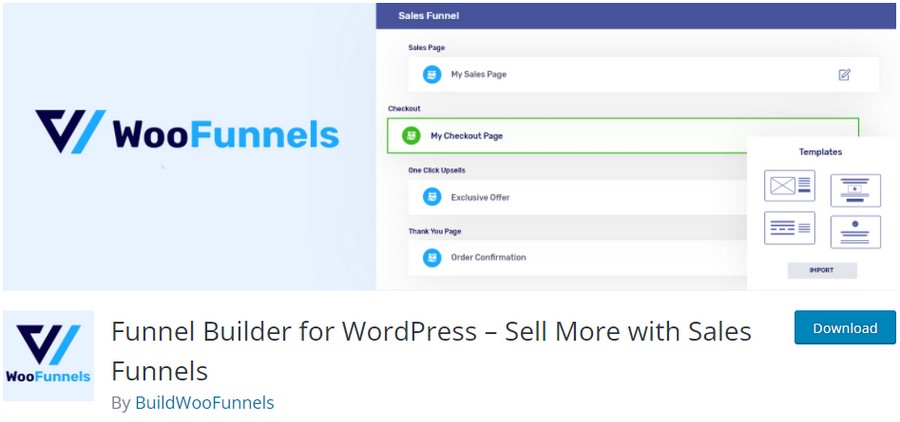 Like CartFlows, WooFunnels is a freemium funnel building plugin designed to help you make conversions.
It integrates with WooCommerce and Elementor (you can also use it with other page builders) to help you build landing pages, thank you pages, and checkout pages. It also offers minimalist templates to help you get started.
The pro version gives access to order bumps, opt-in popups, A/B testing, and upsells.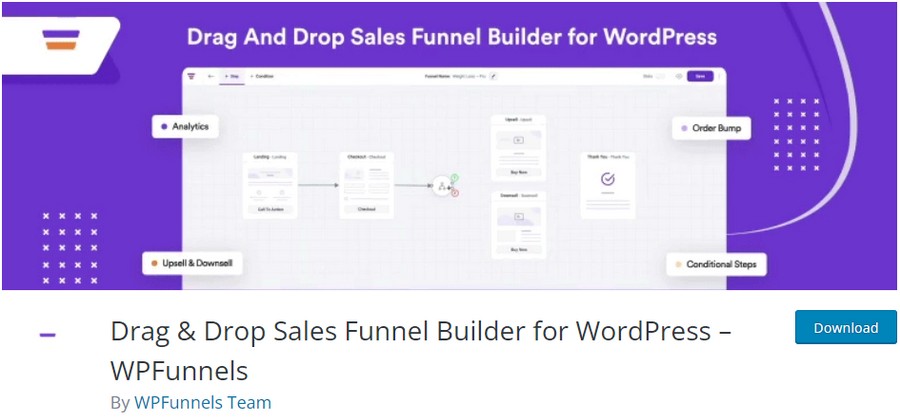 WPFunnels takes a different approach with its canvas-based funnel builder.
It works by using a planning canvas that lets you drag and drop each step of the funnel exactly where you want it. Connect each step as you wish with conditional logic and move them around for more flexibility in the process.
Then integrate with a page builder plugin to design the pages for each step of the funnel and launch.
With the free version of WPFunnels, you get the canvas builder and opt-in forms.
The pro version includes upsells/downsells, more conditional logic, and analytics.

Upsell Plugin is a paid plugin designed to help you create sales funnels and sell more products. Uniquely, it's entirely a standalone plugin that integrates with Stripe and Paypal on its own, so you don't need to install WooCommerce.
You can think of it like a funnel-focused WooCommerce alternative. It comes with a bunch of necessary eCommerce features like taxes, coupons, and subscription and digital download support.
And of course, it lets you set up sales funnels and order bumps.
How to Create a Sales Funnel in WordPress
It's time to set up a sales funnel for real using WordPress and a handful of plugins. That's really all it takes to get everything up and running.
For this, you'll need a website and domain (if you don't have one already), an eCommerce WordPress theme of your choice, WooCommerce, and CartFlows.
Optionally, you can also install a page builder plugin and newsletter plugin.
Step 1: Set Up an Online Store

If you don't yet have a WordPress site, there are a few things you'll need, most notably web hosting and a domain.
Most web hosts will provide a free domain for a year, so all you need to do is brainstorm ideas that fit your branding.
When picking web hosting, no one host is best, so make sure you do research and find unbiased reviews and metrics.
Check out our recommended resources for a few ideas. Many web hosts come with a one-click WordPress install or provide resources that teach you how to install WordPress on your server, so it shouldn't be long until you're up and running.
Once you have WordPress up and running with your own custom domain, the next step is to pick an eCommerce theme that is well-designed, easy to navigate, and memorable.
Here are two good places to start. The WordPress repository, which contains free themes, and ThemeForest for paid themes.
You can also try the Astra theme, which has nearly 200 website templates to cover any type of store.
Finally, you'll need to install WooCommerce.
This tool is all you'll need to create an online store, and it's required by CartFlows to create product-based sales funnels.
Download WooCommerce from the WordPress repository and activate it.
You'll be prompted to follow the Setup Wizard, which will walk you through the basics of setting up your store.
Spend time creating products and categories if you wish so your sales funnel will be ready to go.

Step 2: Use CartFlows to Create a Sales Funnel
With a theme picked out and WooCommerce set up, you're ready to start building a sales funnel.
For this, let's use the free version of CartFlows.
You can download it through the Plugins > Add New page in the WordPress dashboard.
As soon as you activate the plugin, you'll see a pop-up on the Plugins > Installed Plugins page prompting you to start the setup wizard.
One step mentions page builders. You can go ahead and pick one now and it will be installed for you, or choose Gutenberg to stick with the WordPress editor.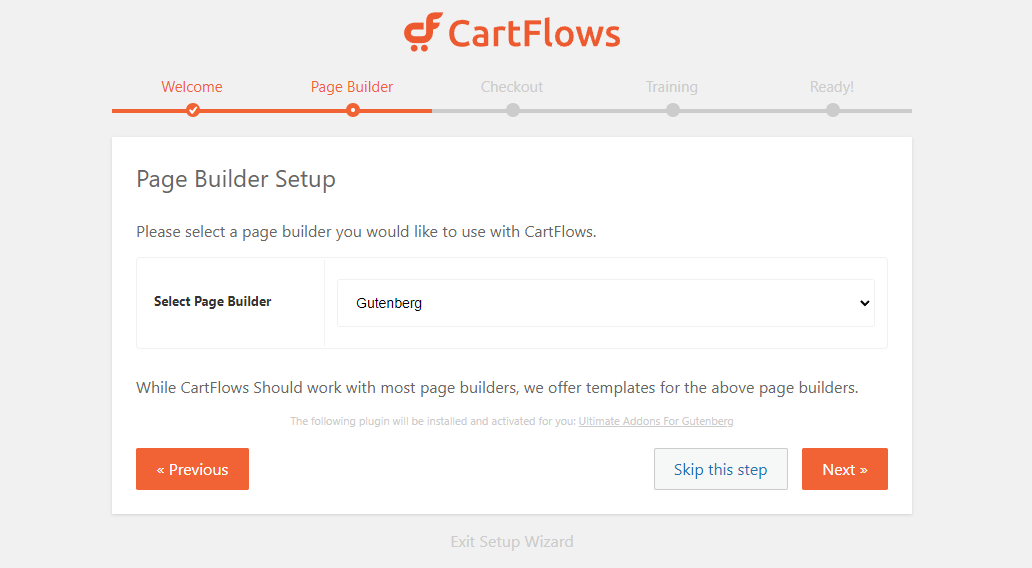 When you're done, you'll be directed to create your first flow.
Navigate to CartFlows > Flows.
Click Add New to get started, then pick a template you like. It will show you the Steps, or the pages you'll need to create.
Click Import Flow if you're happy with it.
You'll end up on your new flow's page, ready to fill out each of the steps. You likely have some variation of a landing page design, checkout page, and thank you page.
These can be dragged around (or go to the Canvas tab for a full 2D map of your sales funnel), and you can also add your own steps with the Add New Step button.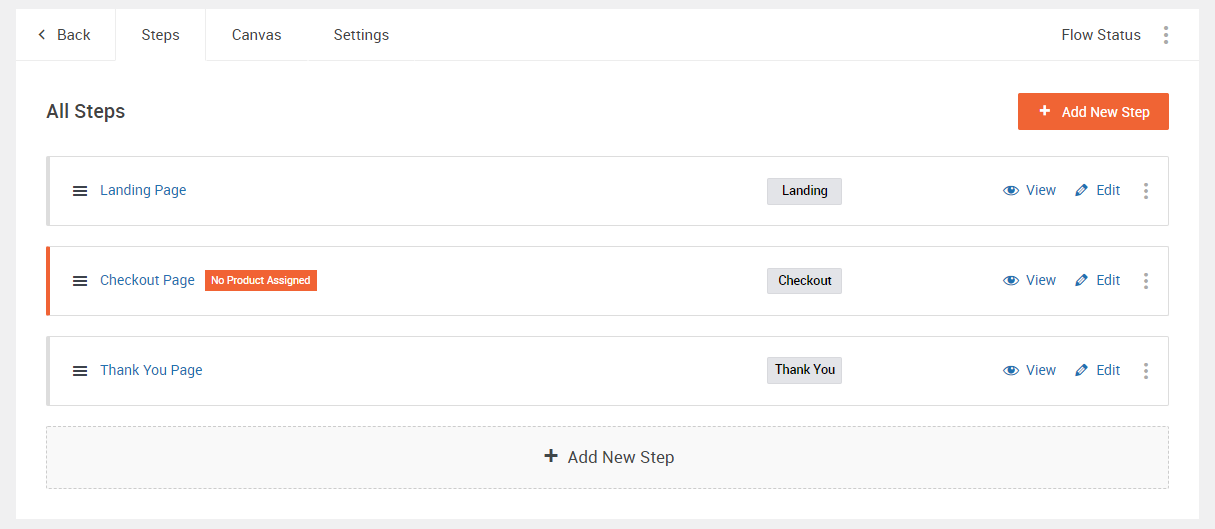 All the pages have been created for you, so now it's time to edit them by clicking the Edit button.
You can then click Edit with… to start designing the page with your page builder of choice.
Every page has settings you can change through the Edit screen, but checkout pages in particular have a few special options.
On the free version, all you can do is assign a product to the page.
The Pro version of CartFlows lets you add coupons, order bumps, dynamic or set upsells and downsells, special form fields, and special product options.
Once you have your sales funnel all set up, CartFlows will automatically guide you through each of the steps.
You just need to get to work marketing your landing pages.
Step 3: Optimize Your Design With a Page
CartFlows supports three third-party page builders: Elementor, Beaver Builder, and Divi.
Additionally, it supports the default Gutenberg editor that comes with WordPress, though it requires the Spectra plugin to use templates designed for it.
To work properly with CartFlows, you'll need to pick one of these, as each comes with its own set of special sales funnel templates.
While you can use CartFlows without importing a template, they really cut down on time.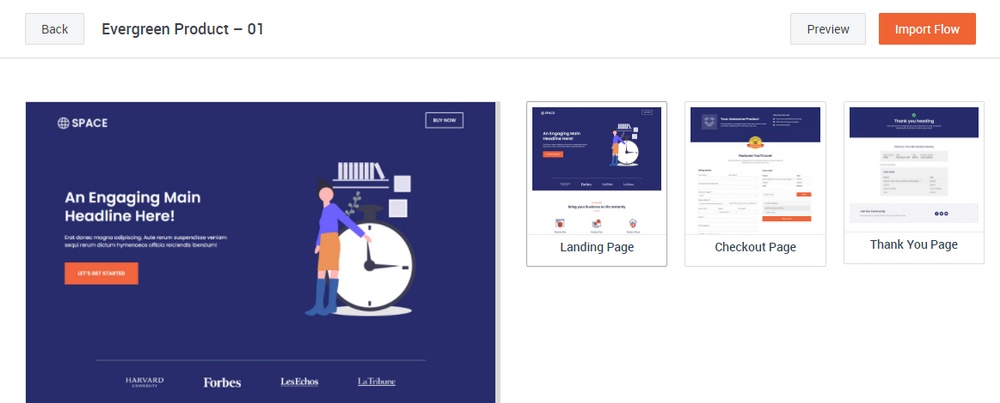 It's a good idea to use a page builder of some sort.
They offer finer control over how your site looks and additionally come with extra little features like timers, Google Maps embeds, sliders, and galleries.
You can always just use Gutenberg however, and while it doesn't provide the same pixel-perfect precision as a page builder plugin, there are plenty of Gutenberg blocks to work with.
You can change your default page builder in CartFlows by going to CartFlows > Settings > General Settings, and clicking the Show ready templates for dropdown.
Your sales funnel pages can be edited by going to CartFlows > Flows, selecting your flow.
Then click Edit next to the page you want.
On the editing screen, just click the Edit with… button to launch your page builder and start designing.

Step 4: Enable Split Testing in CartFlows
A/B testing, or split testing, allows you to swap out different elements for visitors and use analytics to determine which one leads to more conversions.
You can even overhaul the entire page's design and see what one the customers find more appealing.
Split testing is a pro feature for CartFlows, so you'll need to upgrade your account if you're using the free version.
Start by going to CartFlows > Flows and opening up your flow.
Click the three dots next to any page you want to split test and click A/B Test.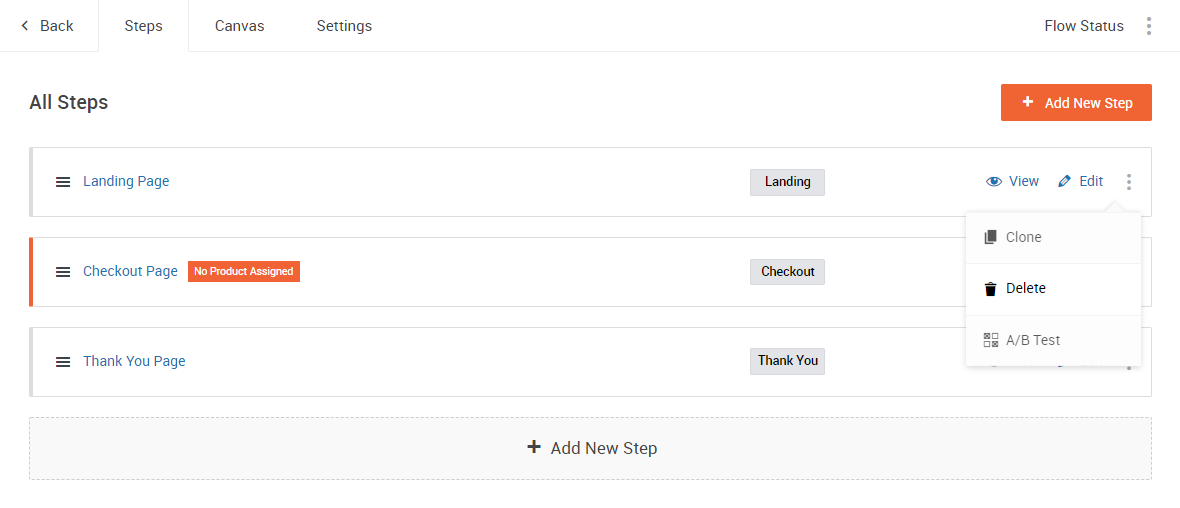 This will create a clone for you to begin editing.
You can also click the three dots and click Clone if you want to have even more split test pages.
Edit the clone and change the design however you want. Change the background color, the wording of the CTA button, or just overhaul the whole thing.
Now click the cog icon across from Split Test to adjust the percentage of users who see each version of the page.
Then click Start Split Test to go live.
To see how it's going once you've had some visitors, open your flow and click the Analytics tab to see each page's conversion rate.
Step 5: Add Google Analytics to CartFlows
You can also enable Google Analytics for CartFlows to more accurately track certain events.
This is really easy if you already have a Google Analytics account, but if not, set up a Google Analytics account and get your ID.
Then go to CartFlow > Settings and select the Google Analytics tab.
Click the Enable Google Analytics Tracking For CartFlows Pages checkbox. Put in your ID and tick what settings you want CartFlows to track.

Step 6: Create a Newsletter
The last step to creating a basic sales funnel in WordPress is to set up a newsletter.
This is key for that Retention stage, as a good email campaign with rewards for loyal customers will encourage them to buy again.
There are several newsletter plugins for WordPress, many of which offer free plans with monthly resource limits.
These include MailPoet, MailChimp, and Email Subscribers. For simplicity's sake, let's use MailPoet.
To integrate with CartFlows you'll need to create a form in MailPoet > Forms.
Select the template you want and design it to your liking.
To place the form, you have two choices.
The first: Scroll down to the Form Placement tab, click the gear on your template, and select the pages you want to display it on.

Or click the Shortcode & other box and copy the shortcode.
Go to your flow on CartFlows, edit the page, and insert the shortcode. Most page builders have a shortcode block or widget you can put it in.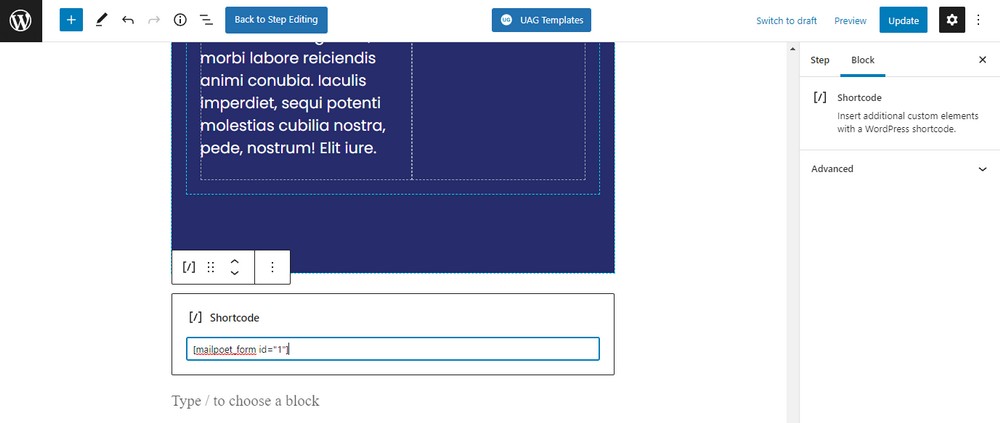 For example, try inserting a form on the thank you page, but avoid the distraction on landing and checkout pages.
You can then design any of the emails on the MailPoet > Emails page you want, as well as create different lists and segments for your subscribers.
Final Thoughts
Now you know all about sales funnels and how to apply the knowledge to your own WordPress store.
Sales funnels are effective ways to guide customers towards a purchase. We regularly pass through them when we buy online, often without even realizing it.
Knowing how your customers think, how to build a landing page, and how to retain customers once they're through the sales funnel, will help you not just in understanding sales funnels but in keeping your store thriving throughout its entire journey.
Marketing and sales funnels are big topics. Did we miss anything important? Let us know what you think in the comments.