So you have a WordPress website, but do you want to keep your audience coming back for more?
Of course, you do!
An email newsletter might be the solution. Newsletters are a great way to retain your audience and keep them hooked to your content and keep them coming back for more.
The best thing is, you can easily create a newsletter from within your website. There are a ton of WordPress newsletter plugins and tools available that help.
As well as engagement, the return on investment you get out of a newsletter is very high.
In fact, email marketing can give you as much as 3600% return on investment (ROI). That is as high as it gets!
And the best place to start is to have an email newsletter.
However, many beginners find it challenging to create their first email newsletter. Well, rest assured, we are here to help!
Having built an email list of half a million subscribers and publishing regular newsletter updates, we are well placed to guide you step by step through the process of creating your very own newsletter.
We'll show you how to create an email newsletter that will help you achieve your goals.
We'll also share some tips to help make sure your newsletter is successful.
If you're ready to learn more, keep reading!
6 Reasons to Start an Email Newsletter
If you're not currently using newsletters as part of your marketing strategy, here are six reasons why you should.
Higher ROI Than Any Other Marketing Channel
Here are some interesting statistics regarding email marketing vs. other marketing channels:
This is likely because email subscribers are more engaged than other customers but there are likely to be a number of reasons why it's so successful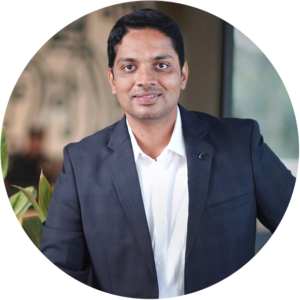 Hello! My name is Sujay and I'm CEO of Astra.
We're on a mission to help small businesses grow online with affordable software products and the education you need to succeed.
Leave a comment below if you want to join the conversation, or click here if you would like personal help or to engage with our team privately.
Newsletters Help Promote Your Blogs Efficiently
If you've ever written a blog post, then you know how hard it is to get people to read it. It needs to be indexed in the search engines and shared on social media to stand even a chance of getting some clicks.
A newsletter can help solve this problem by sending links to posts directly to an inbox.
That way, your readers can just click the link and visit your blog.
The easier you make it for people to take any action, the more likely they are to take it.
This is why newsletters are so effective.
Email Is a Great Way to Build Trust
When someone subscribes to your newsletter, they're essentially saying, "I trust you enough to give you my email address."
This is an excellent opportunity for you to build relationships with customers and keep them coming back for more.
When you deliver valuable content to your email list, you build trust. This helps sell your products and services.
As long as you don't do anything to betray that trust, it will keep on building.
Advanced Personalization Options
Many newsletter providers offer various advanced personalization options that allow you to target your audience in different ways.
For example, you can segment subscribers by demographics (age, gender, location), interests (hobbies, music preferences), or purchase history.
This allows you to create precise marketing campaigns that resonate with each subscriber. You can even personalize your emails with the names of your subscribers for extra engagement.
Easy to Measure Performance
Like all forms of marketing, it's essential to track the performance of your newsletters to determine their effectiveness.
Most newsletter providers offer detailed analytics that allows you to see how many people opened your email, clicked on links, and subscribed or unsubscribed from your list.
This information can help you make necessary changes to improve the performance of your newsletters.
If people are subscribing, you know you're doing something right. If people are unsubscribing, you know you have some tweaking to do.
Promote Your Products or Services
Newsletters are a great way to keep in touch with your customers and remind them of your products or services.
They also provide an opportunity for you to offer exclusive deals and discounts to subscribers.
As long as your newsletter is about much more than just selling and includes genuinely useful content, you should see an increased uptake over time.
If you are an affiliate marketer, newsletters are a great way to drive traffic to your landing pages with affiliate links too.
Who Should Start an Email Newsletter?
If you have a message to share or a product to sell, you should create an email newsletter.
This section will go over some of the different types of businesses and professionals who should start an email newsletter and what they can do to make sure their newsletters are successful.
Businesses
If you have a business and want to keep your audience coming back for more, you should start a newsletter.
Email newsletters are an incredible way to keep in touch with customers and generate qualified leads. They're also a great way to promote new products, services, or blog posts.
Finally, they can help you build relationships with your audience by providing valuable content that people will want to read.
If you have any type of business, you can use email newsletters to drive traffic back to your website, increase sales, and build customer loyalty.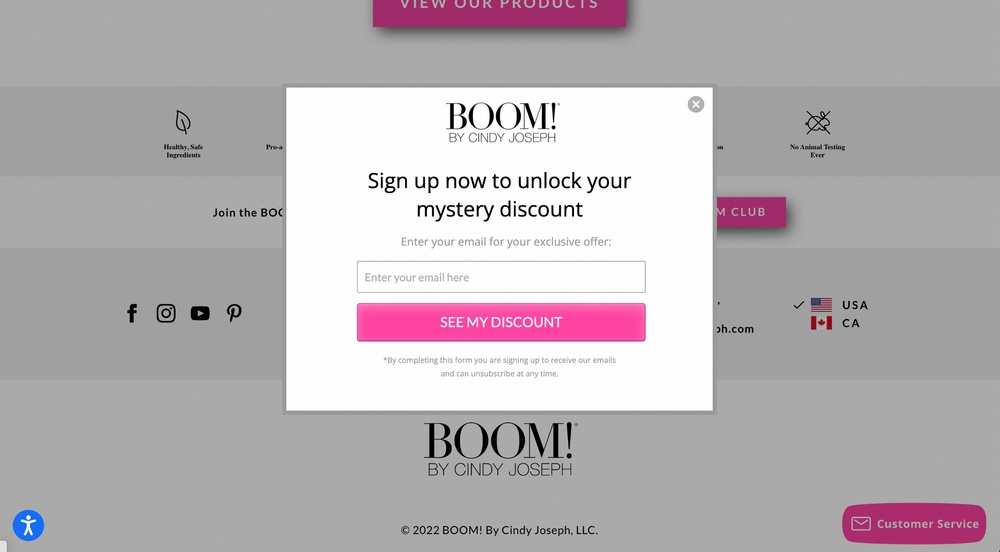 You can also use newsletters to keep subscribers up to date on new features and releases, as well as build trust and authority with potential clients.
Just like the Astra newsletter. If you have not subscribed to us yet, do subscribe. It's well worth your time!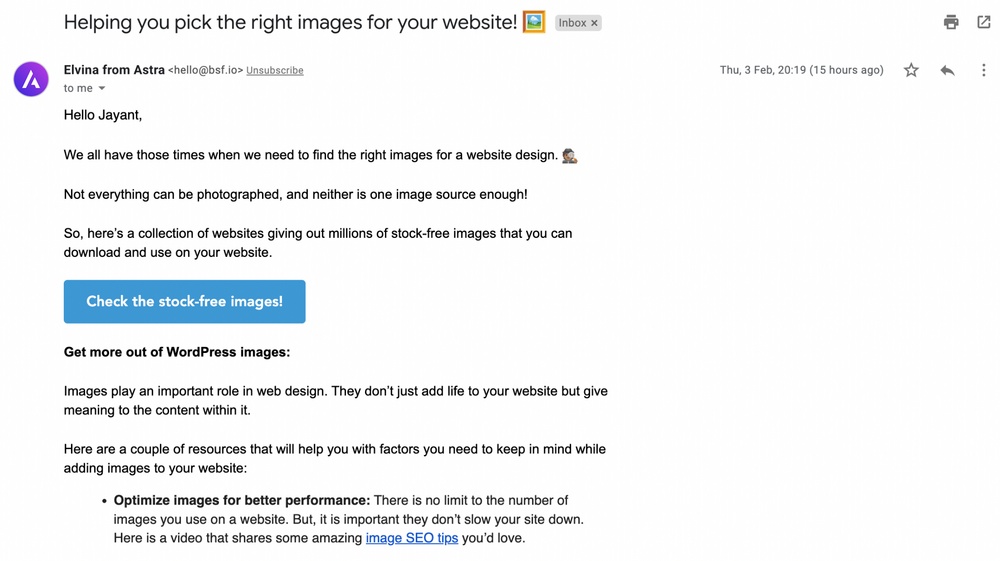 Bloggers and Affiliate Marketers
If you have a blog, you can use email newsletters to drive traffic back to your articles and promote new content.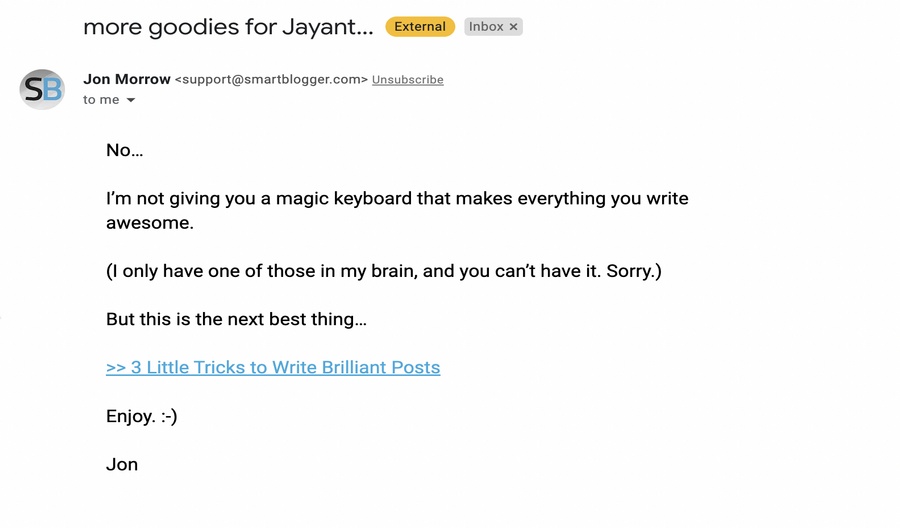 In addition, email newsletters are a great way to make money through affiliate marketing and product promotion.
Coaches, Trainers and Consultants
If you are a coach, trainer, or consultant, a newsletter is a great way to build rapport with your leads to help build trust.
You can also use newsletters as a way of promoting your training or consulting programs. Aside from the online course website you build, your email newsletter is your best asset.
The sky's the limit for what you can do with an email newsletter, so if you're not already using one, it's time to start!
8 Best WordPress Newsletter Plugins
We have already covered the best email automation tools in a previous blog post. So, instead of repeating ourselves, let's cover the best WordPress email newsletter plugins.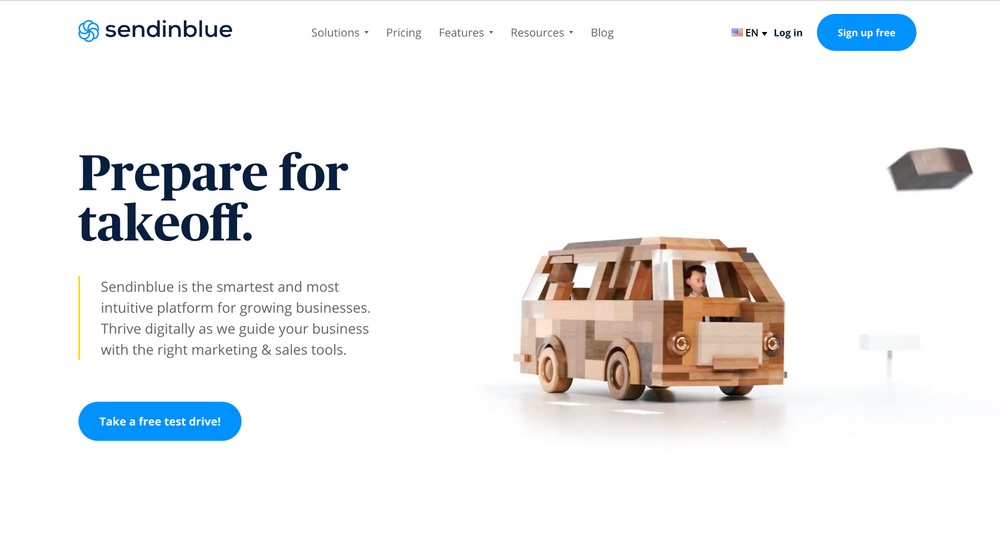 SendInblue is an email marketing service designed to automate most of your tasks. You can send broadcasts, create automated sequences, conduct A/B testing, and even segment your list based on user behavior.
You can also send beautiful newsletters to your segmented audience.
SendInblue also comes with its own CRM, SMS automation, and live chat features, making it one of the most powerful tools you can use.
You can create your landing pages or integrate with WordPress using the SendInblue WordPress newsletter plugin.
Price
Free to send up to 300 emails per day, then starts from $25 per month to send 10,000 emails per day.
SendInblue is our favorite one on the list. Later, we will show you how to craft beautiful newsletter sequences with it.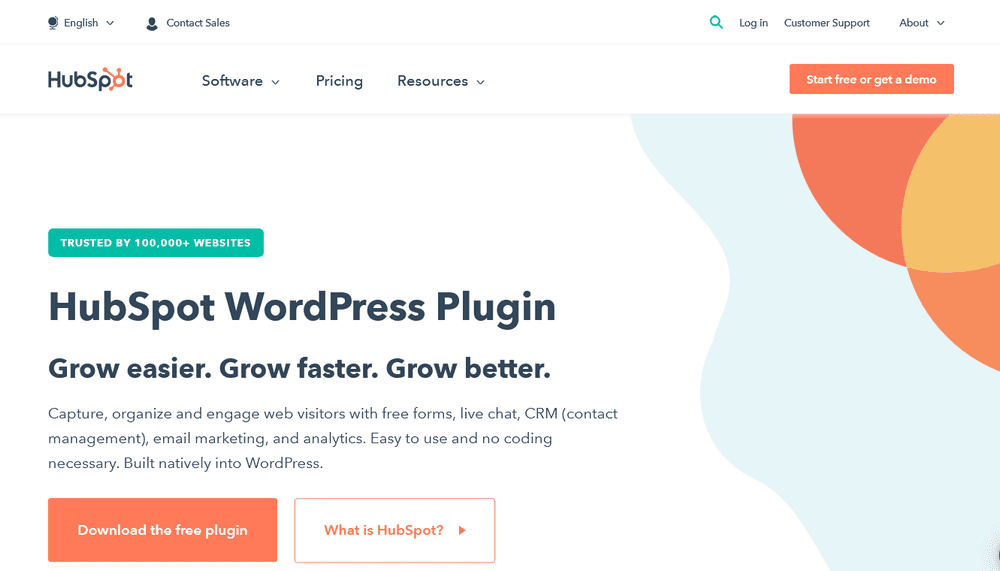 HubSpot is an all-in-one CRM and marketing platform that comes with powerful and free email marketing functionality.
Build beautiful, responsive newsletters to send with HubSpot's drag and drop email builder. Choose from 20+ email templates (such as Welcome, Product Launch, Thank You, and more) — or build your own design from scratch.
HubSpot lets you personalize your subject lines and email content. A/B testing helps you optimize your campaigns and see powerful insights on how your messages are performing.
Price
HubSpot is free to get started. Send up to 2000 email sends per month, use live chat, CRM, forms, and analytics. Paid tiers with additional functionality start at $45/month.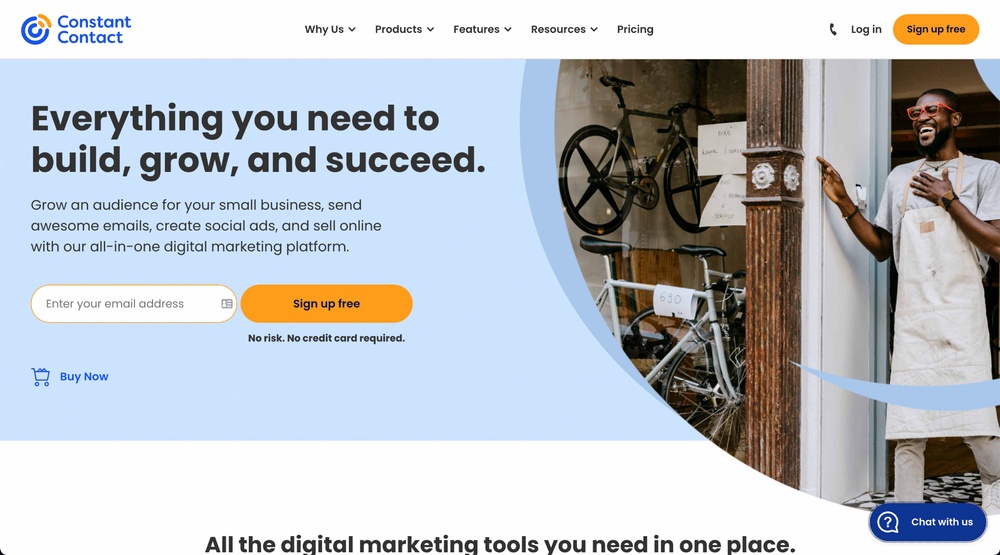 Constant Contact is a service that lets you build an email list and send email newsletters from your WordPress dashboard. It has great built-in integrations and does pretty much everything an email marketing tool should do.
You can segment your audience and create personalized email sequences. It also has a ton of prebuilt templates that are perfect for everything from product launches to event invitations!
Price
Constant Contact is a freemium plugin. The premium version starts from $20 per month for up to 500 contacts.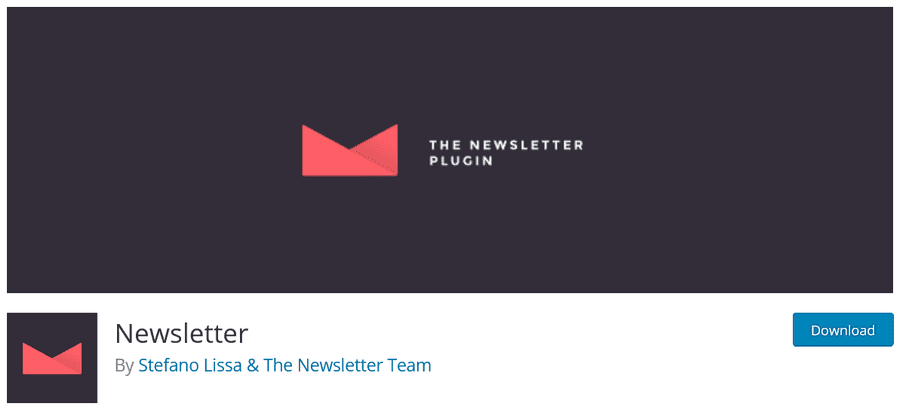 Newsletter is a free WordPress email newsletter plugin that helps you send out emails easily. It has tons of powerful automation features, including scheduling your email in advance to a segmented audience.
You can also create welcome emails following up on purchases and set up follow-ups based on customer lists. It is a great way to reach targeted customers. It also has advanced reports that show open or click rates as well.
The premium version unlocks automation and integrations with WooCommerce and Easy Digital Downloads.
Price
The Newsletter plugin is free from the WordPress repository with basic features. The price of the premium plugin starts from $69 with one year of updates and support.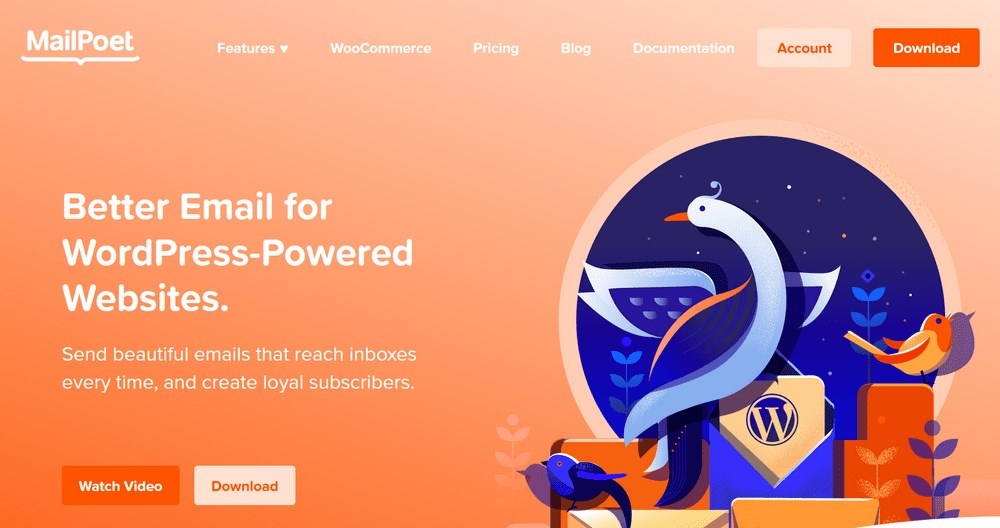 MailPoet is a simple option for managing your email marketing campaigns entirely within WordPress. It comes with all the necessary features, including post notifications and welcome emails.
It's completely free to download, and you can create some stunning newsletters.
MailPoet premium offers advanced analytics like open rates, link clicks, unsubscribes, and much more. You can also track segments based on various criteria – including who interacts most frequently during certain points in time.
Price
MailPoet is free for the first 1000 subscribers then starts from $15 per month for 1350 subscribers.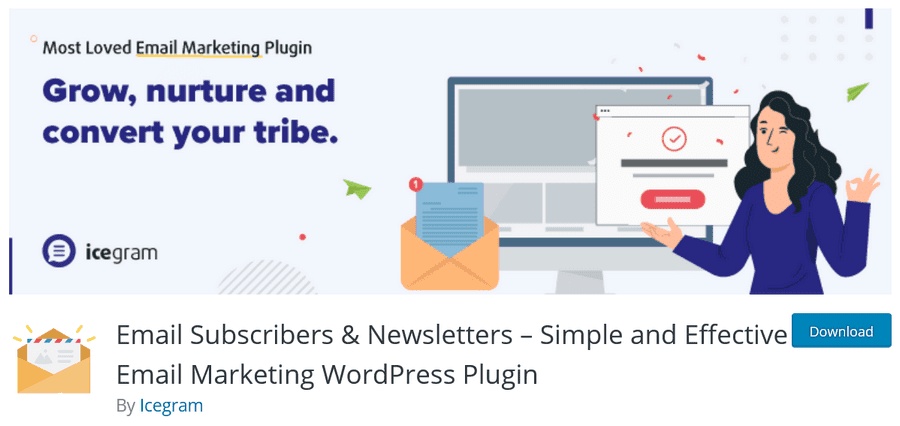 The Email Subscribers & Newsletters plugin is free and full of features. You can collect emails, send automated blog post notifications and broadcast regular broadcasts to your lists. All of this without any limits on numbers of email sent.
It also has an automatic list cleaning feature which helps remove subscribers who never open their inboxes in the first place.
Price
The Email Subscribers & Newsletters plugin is completely free to install. Email Subscribers Pro starts from $6.50 per month.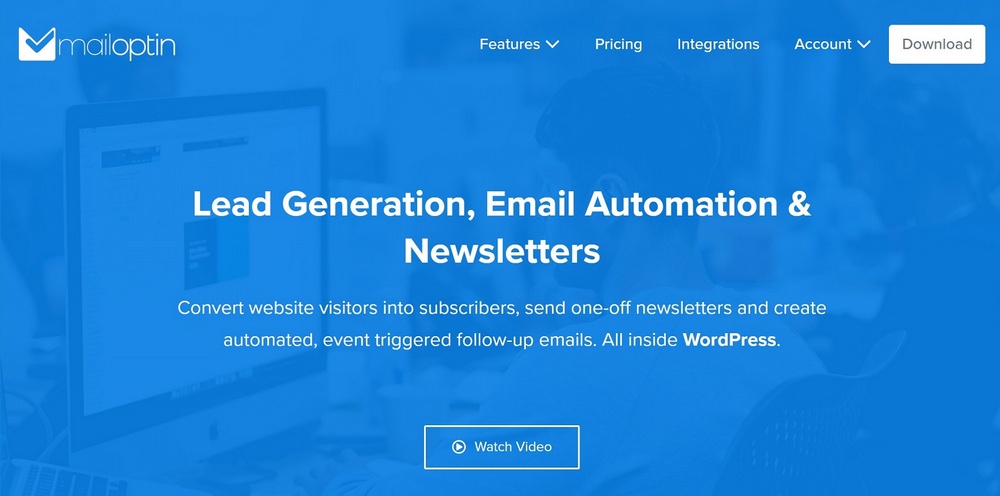 MailOptin is an all-inclusive WordPress newsletter plugin that offers many features to create successful newsletters. It uses the WordPress Customizer as its form builder, which allows you to customize as much as you want.
You'll also find features like A/B testing, scroll triggers and exit pop-ups that help test and convert more visitors into leads. It integrates well with many popular email marketing services like Aweber, SendinBlue, ConvertKit and others.
You can schedule, customize, personalize your newsletters right within the plugin as well as create beautiful designs.
Price
The Newsletter feature unlocks for $199 per year. You can also get a lifetime deal at $999.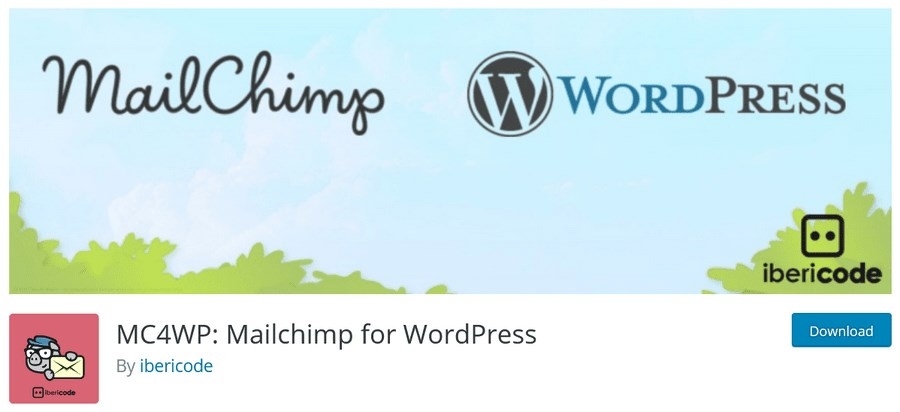 Mailchimp offers a powerful combination of features and ease of use. It's no wonder they are one the most popular email marketing companies around!
With their automation tools, you can send abandoned cart emails to remind people about your products or services and target customers based on their behavior in addition to their previous purchases.
Combined with MailChimp's powerful automations, this plugin helps you craft and send email newsletters with ease.
Price
Mailchimp is free for the first 2000 subscribers then starts from $29 per month for 2500 subscribers. The MC4WP plugin is free to install.
Before You Start a Newsletter
Now that you know the tools that can help you start a newsletter, let's learn the steps you need to follow before you begin setting up a plugin and starting your campaign.
Define Your Goals
It's important to have clear objectives when creating a newsletter. A successful marketing strategy is goal-oriented, audience-specific, and supports the larger goals of your business.
Ask yourself these questions while planning your newsletter strategy:
Who is going to read my newsletter and what are they going to get out of it?
What are my goals through this newsletter? Examples can be building trust, selling products or services, building better relationships with leads, or generating web traffic.
What type of content would my subscribers appreciate? Examples include helpful articles, exclusive deals, and updates regarding the product.
How frequently should I email them?
Once you have defined these clearly, you are ready to create content that your audience will appreciate.
Research What Your Audience Wants
What's in your email? It could be anything from promotions to calls-to-actions and everything between!
The content will vary depending on what kind of business you have.
For example, an eCommerce store might send information about their latest products while bloggers share new posts.
However, it is essential to figure out what your customers want. Conduct surveys and polls through email and social. Or simply ask your audience what they want.
Knowing what exactly your audience needs helps you craft content accordingly and will make a huge difference to engagement.
Create Valuable Content
Now that you have done your research, start creating value-driven email newsletters. This way, your customers will reciprocate with more trust and more engagement.
It will also make your customers look forward to your emails rather than leaving them unopened.
Here are a few ideas to create such content:
Share helpful content such as how-tos, guides, and more that help your customers with their goals.
Personalize offer and discounts and offer based on the audience earlier purchases
Downloadable content like eBooks, training materials, checklists, and more
Share your promotional emails after every few value-driven emails. This way, you avoid the spam box.
Write Compelling Headlines
The right headline will make the difference between an email that gets opened and one that doesn't.
Here are a few tips for creating compelling headlines for your emails:
Explain benefits and outcomes in the subject line instead of features. This lets people see how it will help them achieve their goals. (Example: Outrank your competitors in 30 days)
Include curiosity elements. (Example: You are losing money this way, or did you know?…)
Personalize as much as you can or use recommendations based on previous behavior or purchase history. (Example: Special offer just for you!)
Use urgency to drive more opens (Example: Don't miss out! This deal is expiring soon)
Make sure your subject lines are under 50 characters long so they show up on all devices without being cut off.
Write Smart Preview Text
You've got a lot of competition in your inbox. With all the emails coming at them from every direction, it's hard for anyone to stand out and get read!
Fortunately, you can use email preview text to grab the reader's attention before they move to another email.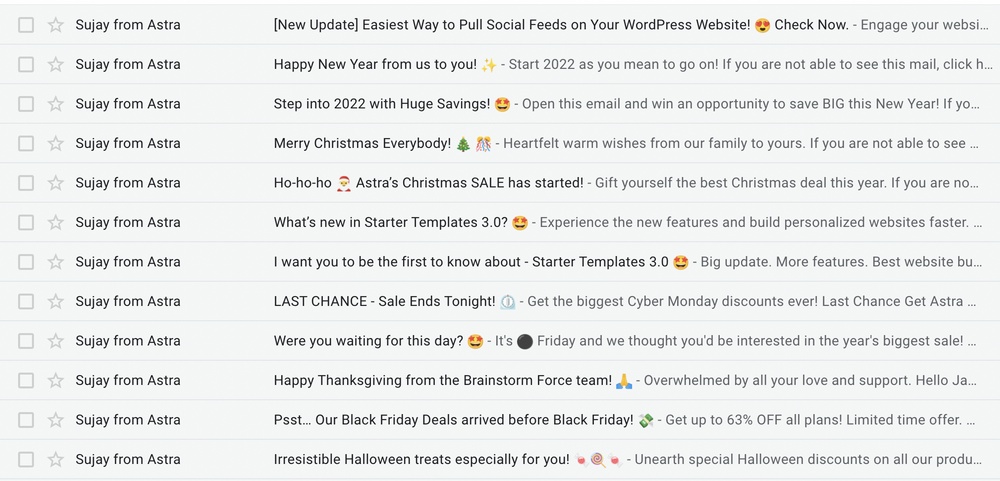 Remember, the purpose of the headline and the preview text is to get the email opened. It also needs to stay in context with the email body and headline.
Write Newsletter Body Copy
Your body can be the deciding factor between whether or not a subscriber opens your newsletter.
Make sure that all of this important information about different topics is packaged well enough to catch their eye, while still containing relevant details they'll find interesting!
Start your newsletter with a quick introduction, possibly with content that lets the reader know what they are going to get.
Just like The Tilt does.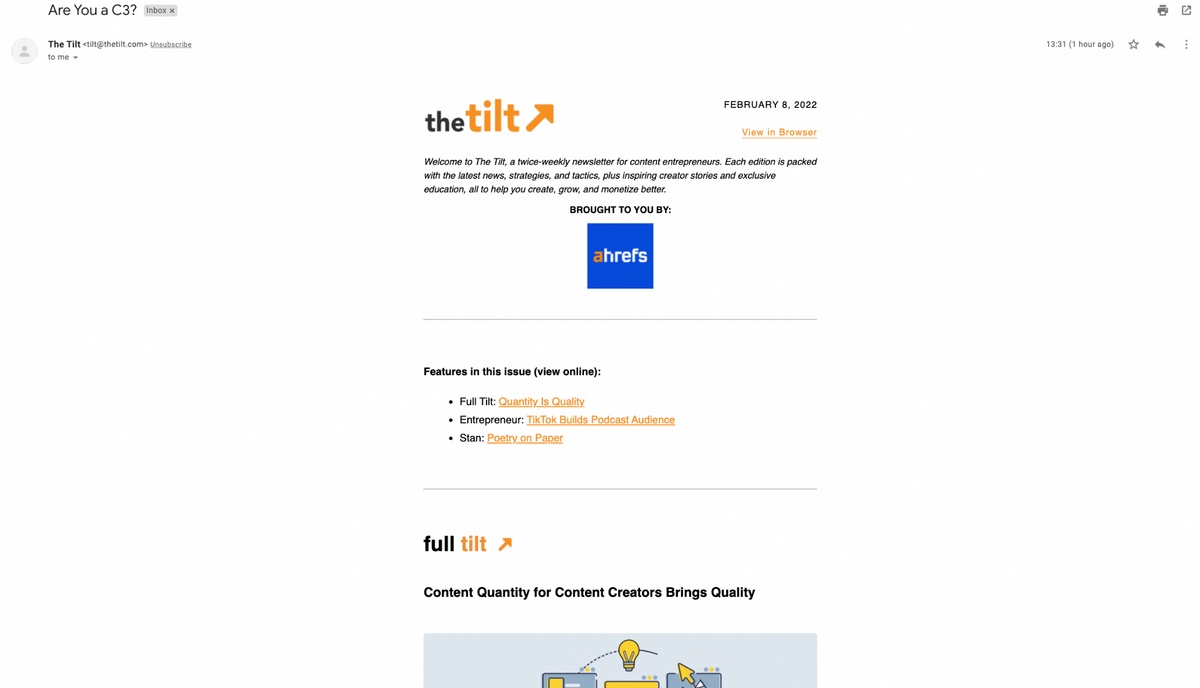 Start by defining what the email is about.
This might be a new blog post, an upcoming event, or a promotion you're running. Define whether you are writing a story or a narrative in your email instead of just listing the benefits.
Write as if you are talking to one person and not an entire group (use second person).
Use short paragraphs, lists or invite readers to scan through headings and links for information they're looking for.
Breaking your newsletter into sections of different articles. Each article can be about something different, but they're all united under the theme of that specific section.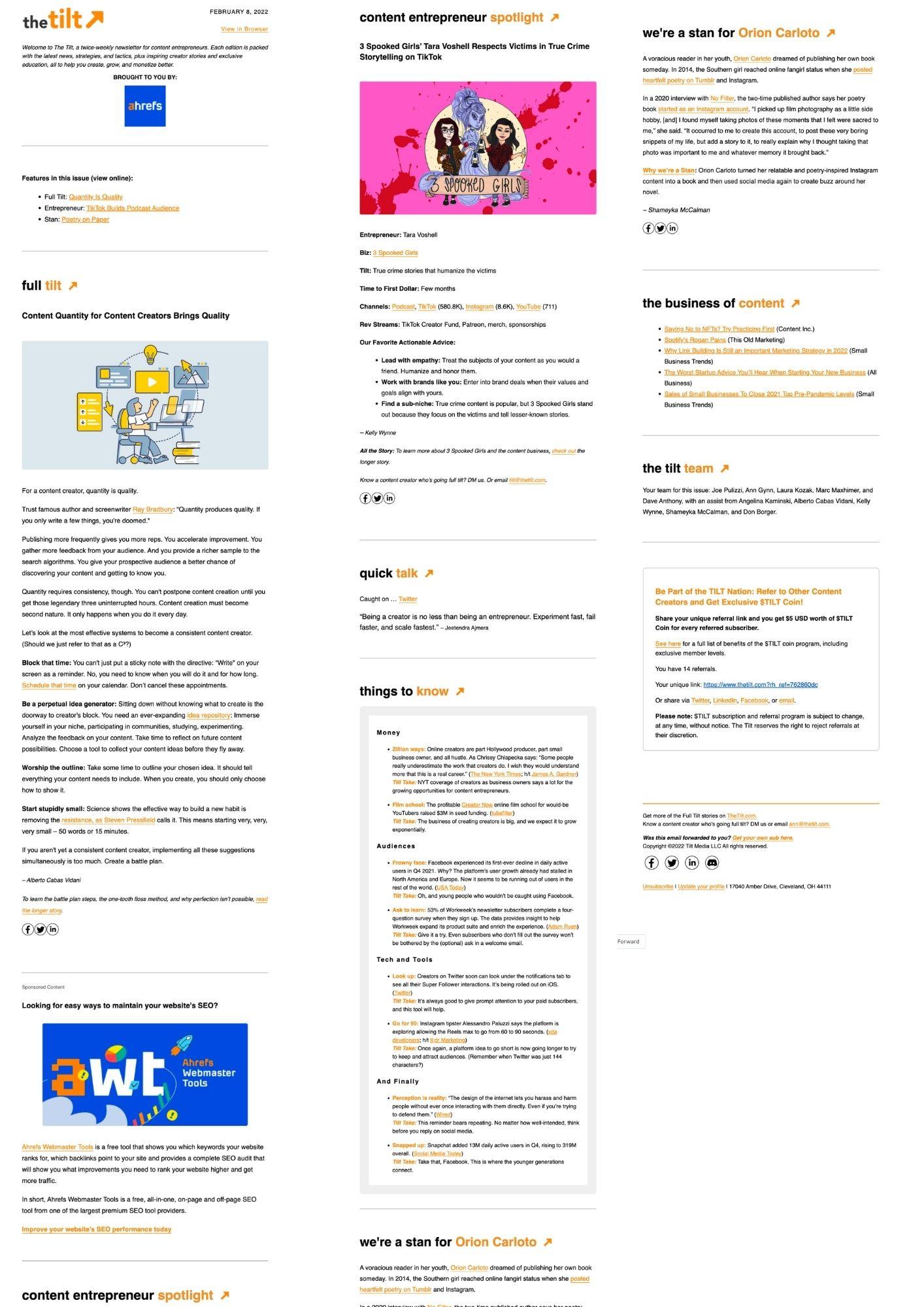 Take a look at the newsletter of The Tilt above. They have broken down their articles into concise readable sections.
Consider Your Call-to-Action (CTA)
Now that you got someone to read your email newsletter, what's next?
You'd want them to keep consuming your content.
Include a CTA in your email that encourages people to take further action.
The action depends on your strategy, and it can be as simple as a reply or purchase of a product.
In any case, have a CTA to get the most out of your emails.
How to Create a Newsletter in WordPress Using Sendinblue
Once you have planned the newsletter, crafted the headlines, and created the email content, it's time to set up the whole thing.
Here's how you go about creating a newsletter in WordPress.
We will use Sendinblue for this tutorial. However, the steps involved here are pretty much similar anywhere you go.
Let's get started.
Installing the Necessary Plugins
To set up a newsletter in WordPress, you will need two plugins:
ConvertPro: To create subscription forms and pop-ups
Sendinblue: To manage your newsletters from your WordPress dashboard
Download and Install ConvertPro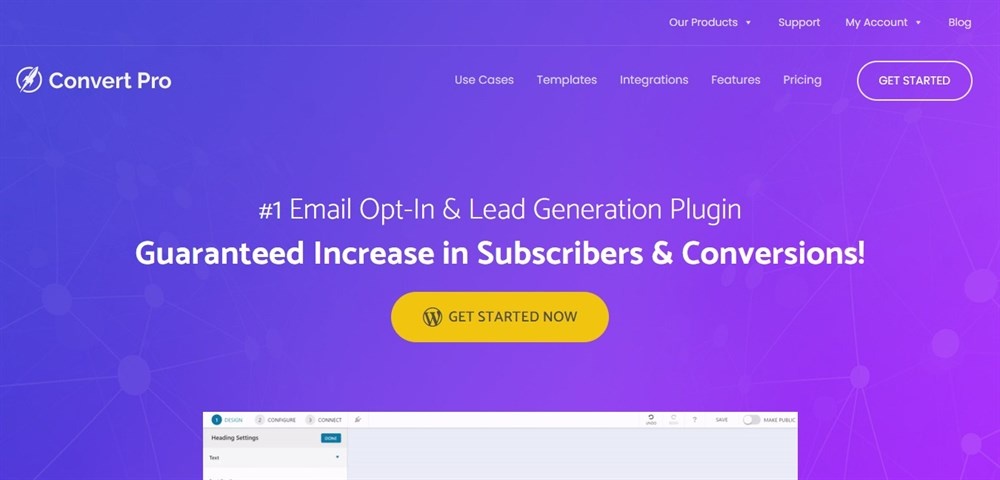 ConvertPro is our very own email marketing plugin that helps you turn your visitors into leads with attractive optin forms, pop-ups, and banners.
It's easy-to-use and comes equipped with attractive templates that get your work done quickly.
Here's how you install the ConvertPro plugin:
Log in into our store
Navigate to My Accounts > Downloads
Download the plugin to your computer as a zip file
On your website go to WordPress Dashboard > Plugins > Add New > Upload plugin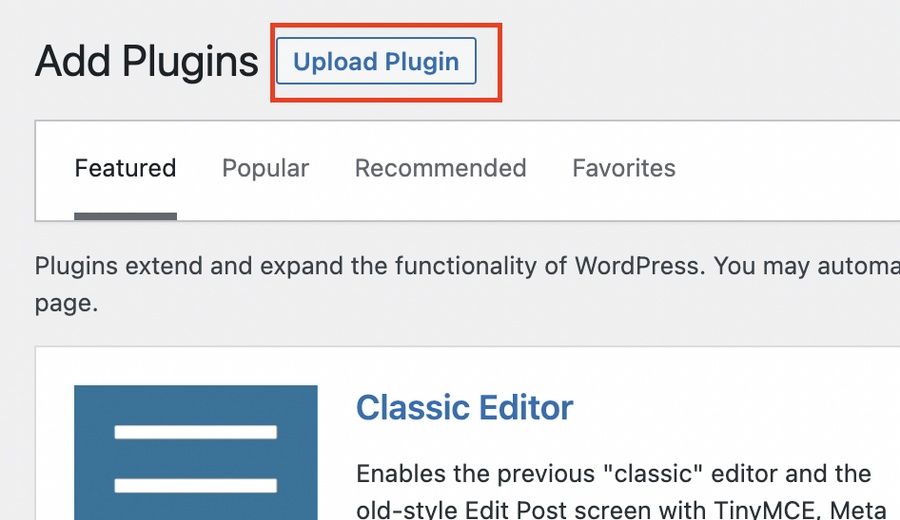 Upload the ConvertPro plugin file
Install and Activate the plugin
You will need the license key to use the plugin so grab one from our store
Download and Install the Sendinblue WordPress Plugin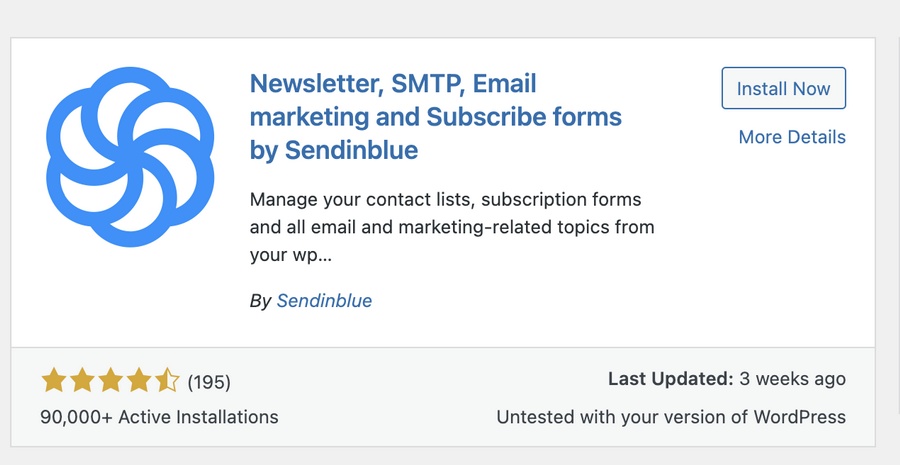 The Sendinblue WordPress plugin helps you manage your campaigns and track them from your WordPress dashboard.
Installing the plugin is the same as any other. Here's how:
WordPress Dashboard > Plugins > Add New
Search "Sendinblue" and find the plugin named "Newsletter, SMTP, Email marketing and Subscribe forms by Sendinblue"
Install and Activate the plugin
Sign up for a Sendinblue Account

Once installed, you'll see the Sendinbue tab in the WordPress sidebar. Click on it to start setup.
If you don't have a Sendinblue plan, you can start from there.
Simply click on "Create an account" and create an account in the next steps.
Connect the API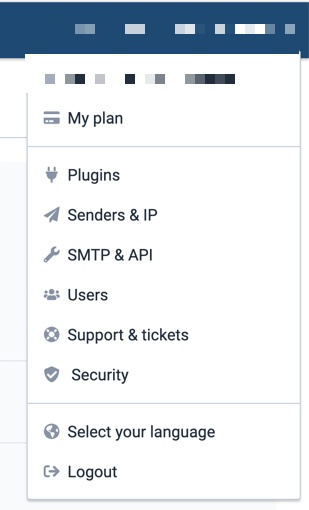 Go to the Sendinblue website and log in to your account. Click on your name on the top right corner of the dashboard.
This opens a dropdown menu.
Click on the "SMTP & API" option.

Next, click on the "Create a new API" button to create your API.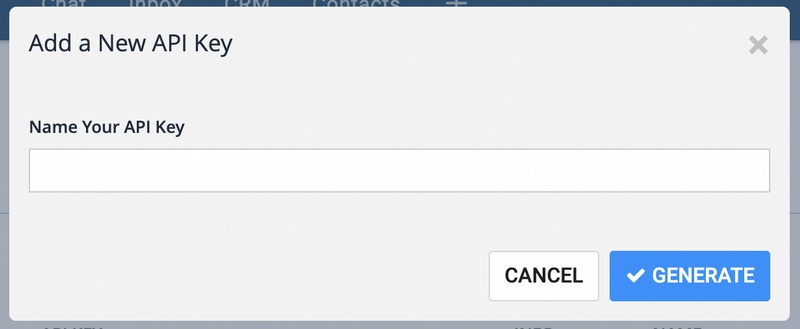 Now, name your API key and click "Generate". This name can be anything for your reference. This will generate the API key for you.

Copy this key, return to the plugin setup page to enter your API key, and click "Login".

Add an Optin Form to Your Website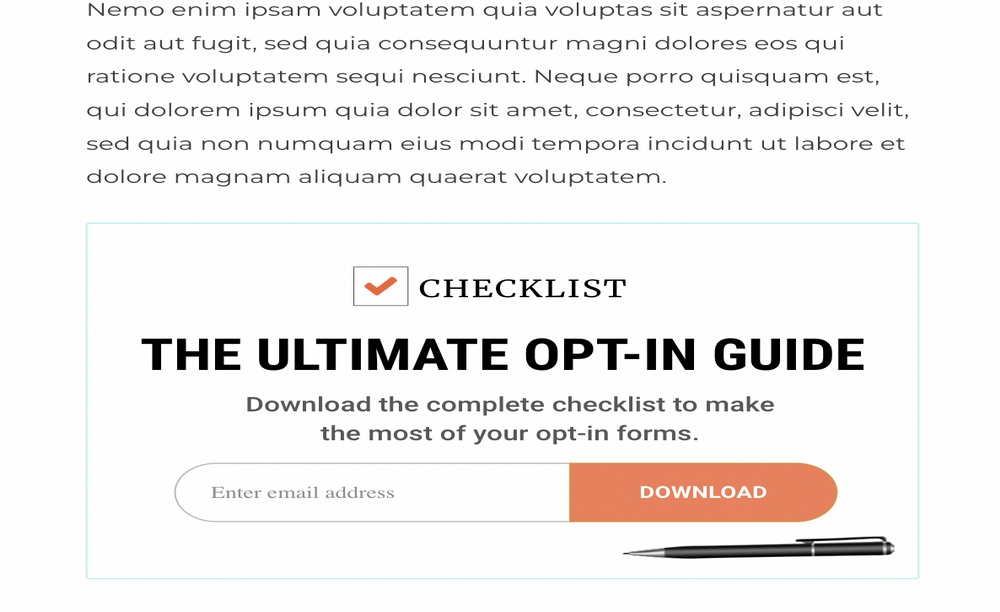 You need to have an audience before you send out your newsletter.
Here we'll show you how to create an email subscription form in WordPress to collect signups.
Go to the ConvertPro tab in your WordPress dashboard and click on "Create New".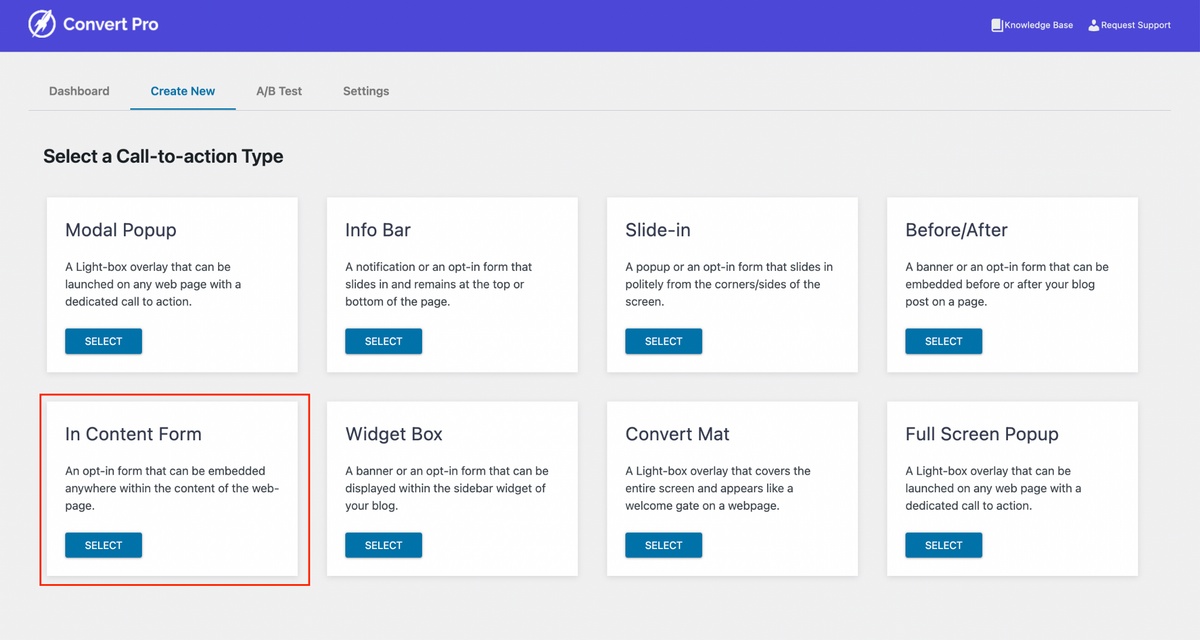 Select the type of form you want. Convert Pro offers eight different types of forms that you can add to your website.
For this exercise, let us pick the "In Content Form".
It will open the templates gallery.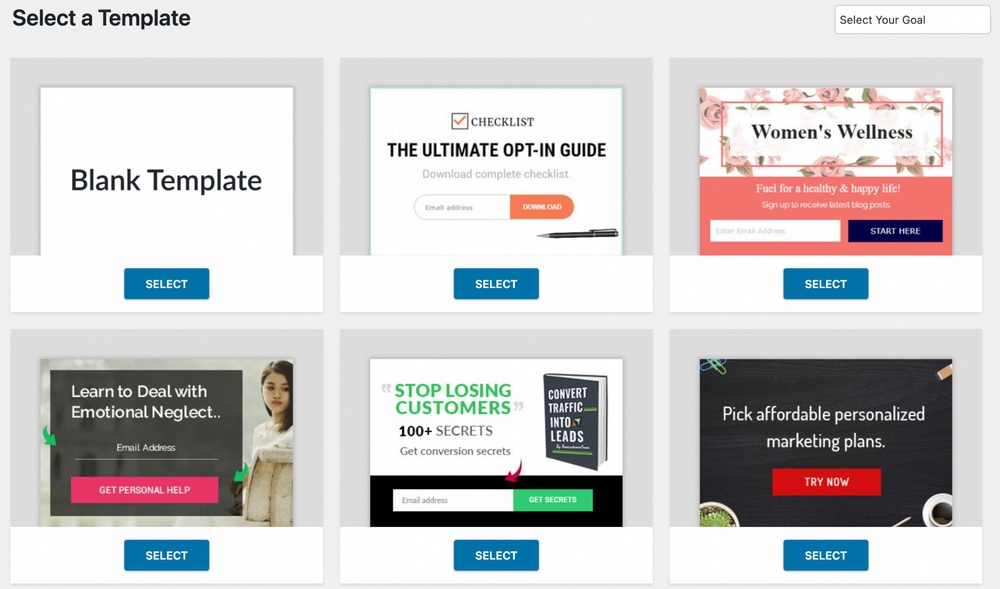 Here you can redesign, configure and connect your optin form to the email service provider.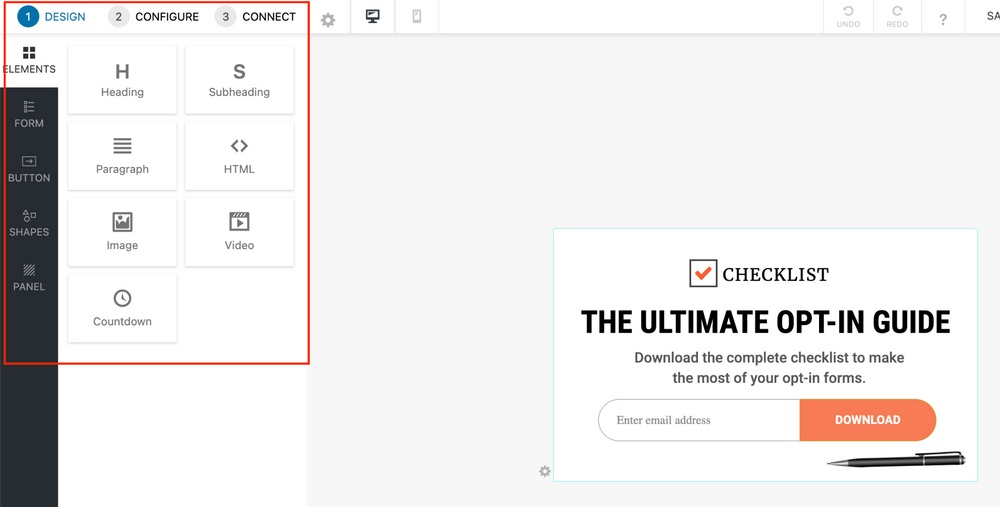 Next, click on "Connect" to start the connection.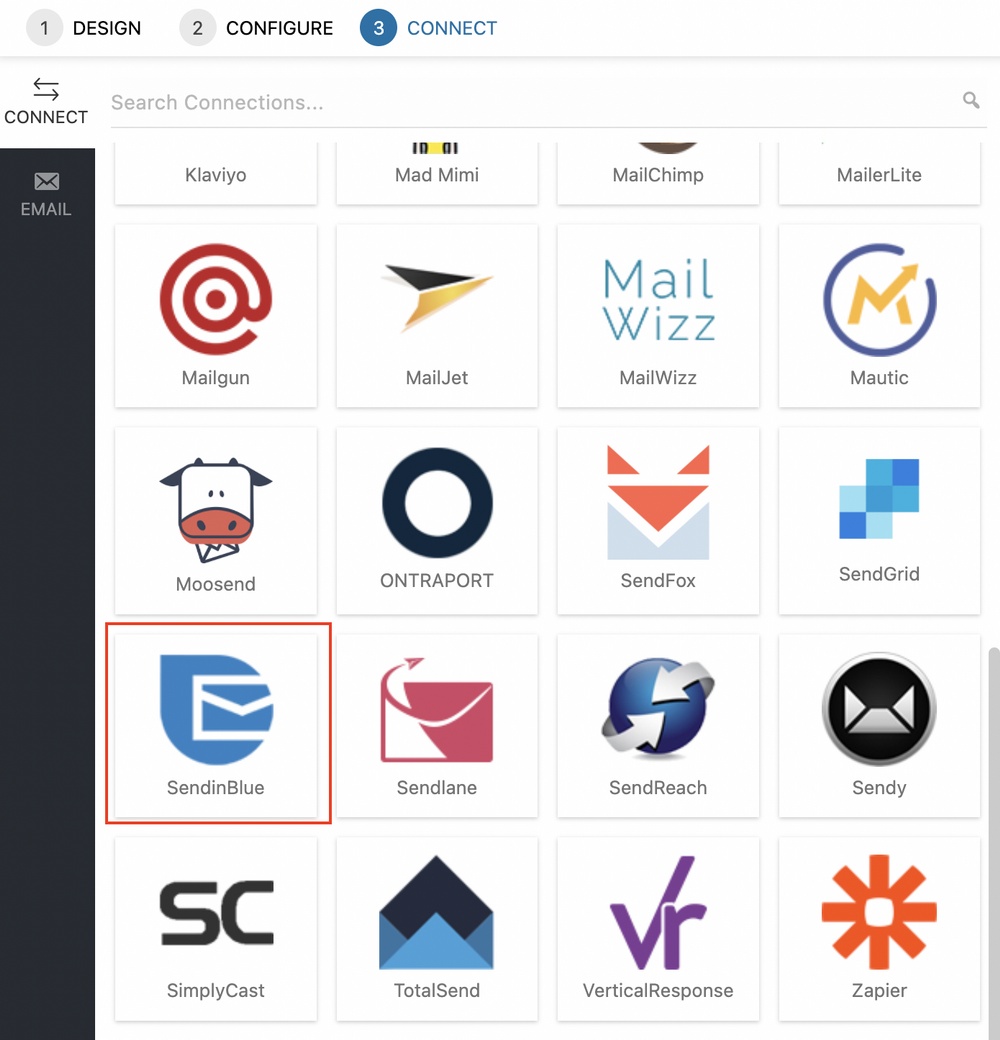 Once you are here, select the SendInblue Option. Next, add new integration and enter the API key you created earlier.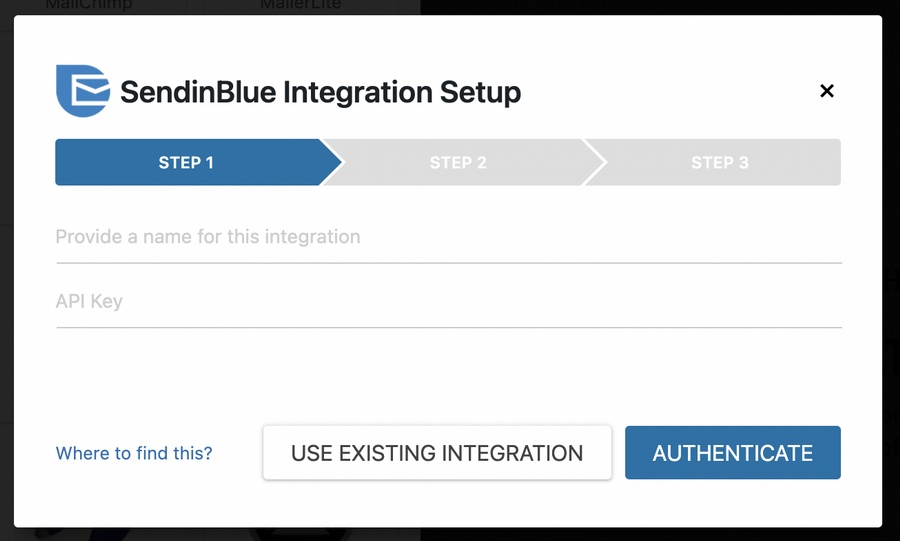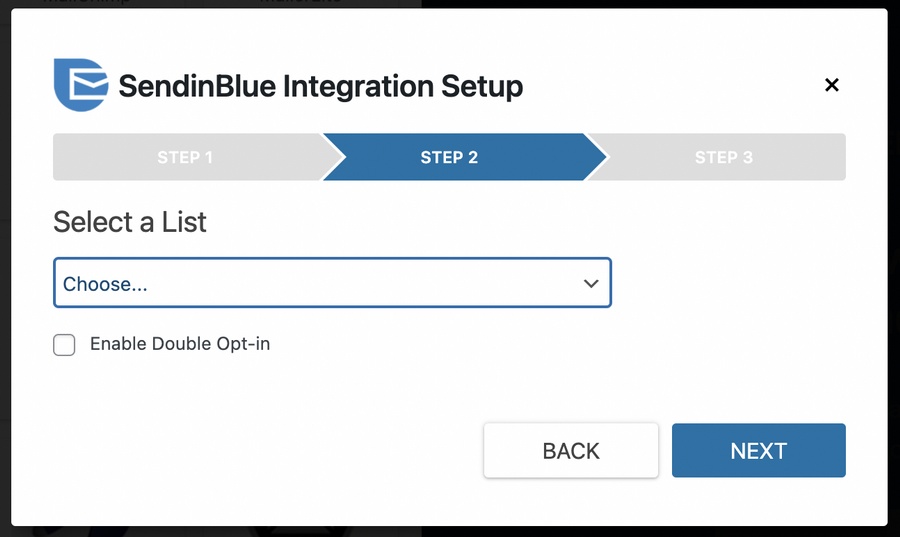 Once the API key is set up, select the list you want to have your contacts in SendInblue and save the integration.
Next, just save the connection and you are good to go.
To add the form within a content piece, just head over to the configuration tab and copy the shortcode.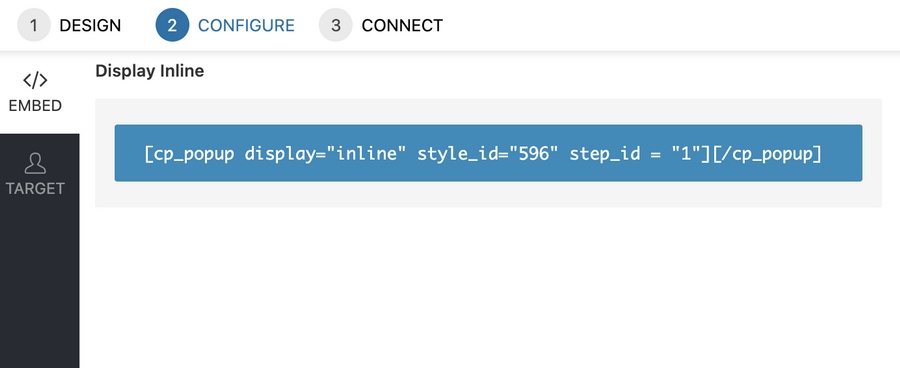 Next, go to any page or post where you want to add the optin form and paste the shortcode in the relevant places.

The optin form then beautifully shows up in the blog post or page, wherever you want.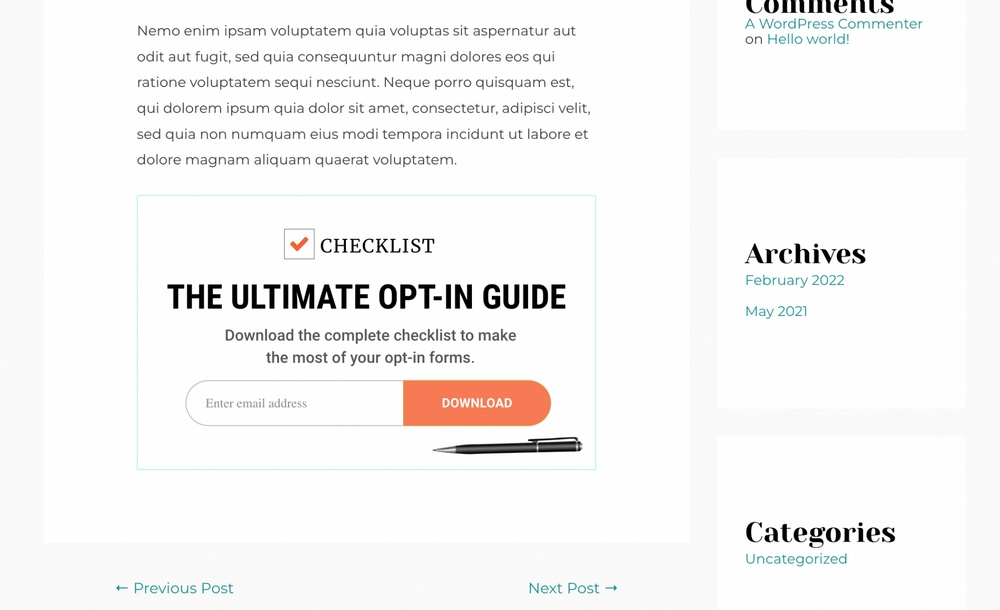 Create Your Newsletter Campaign
Once you have started getting subscribers for your newsletter, send them regular campaigns to keep them engaged.
To start running a campaign go to the Sendinblue dashboard and go to campaigns.
From here click "Create an email campaign".

Now, you will see a setup page where you can create your newsletter campaign. Define campaign settings on this page that includes:
Campaign name
The subject line and preview text
From email and name
You can personalize your email subject line and preview text by clicking on the "Add Personalization" button.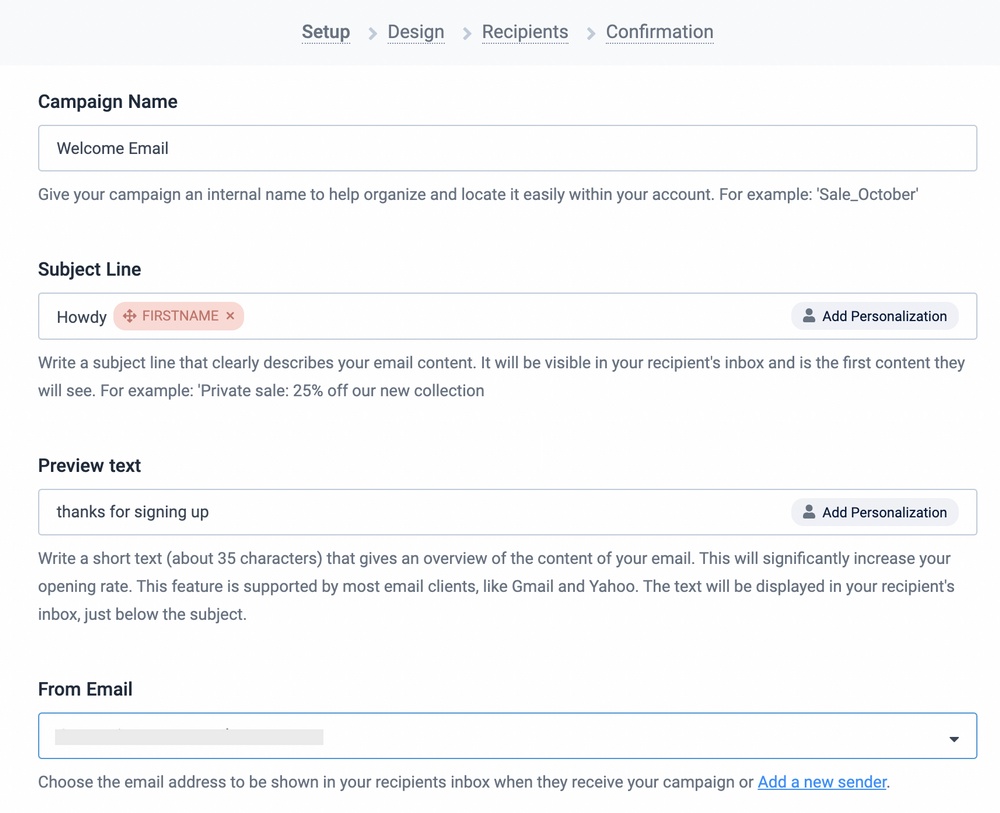 Now the fun part. Once you have set the campaign objectives, you can design your email newsletter.
Here you can either design the newsletter from scratch or grab a prebuilt one from the template gallery.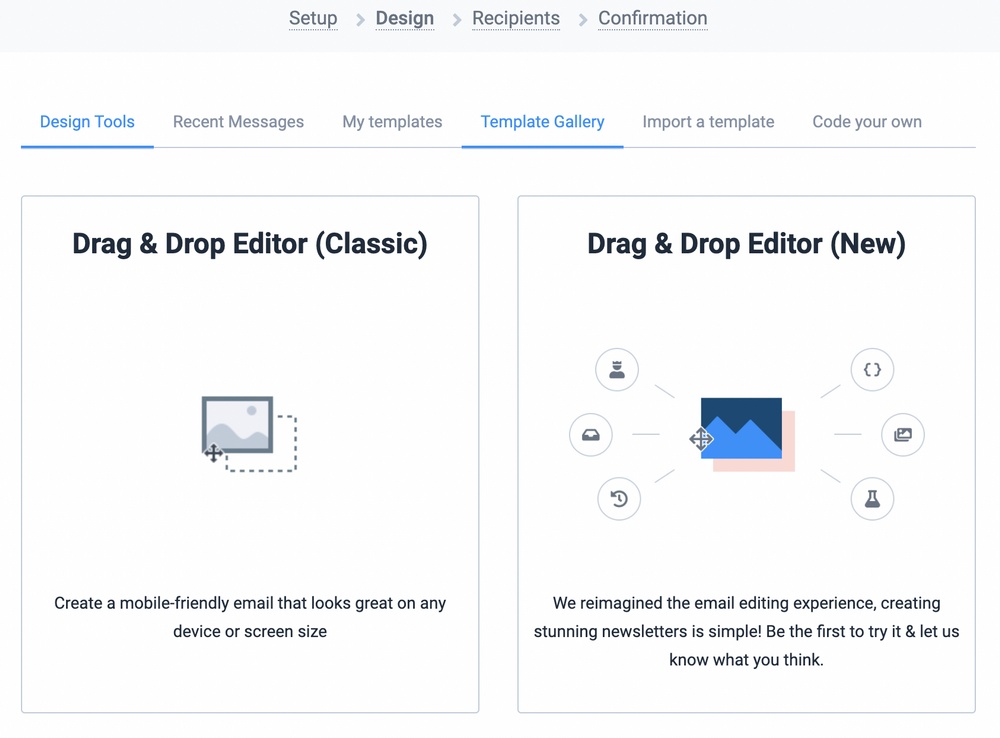 Select template gallery to get the pre-formatted newsletter templates.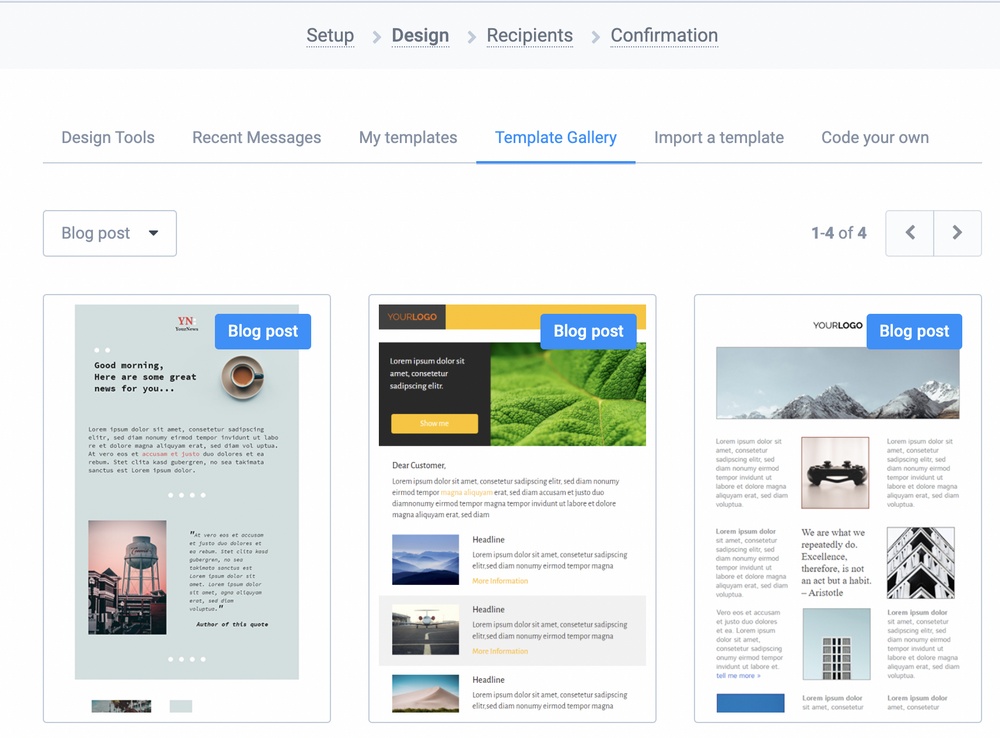 Pick one and start editing the content in the drag and drop editor.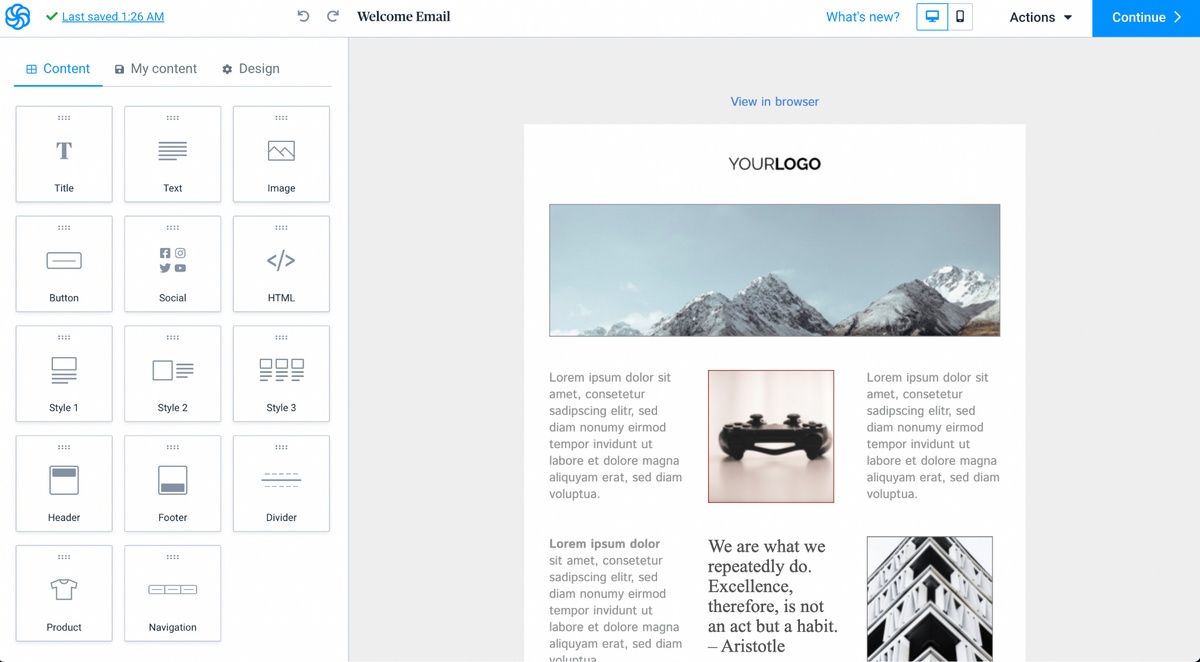 Once you are happy with the design and the content, click Continue.
Here you will have a preview of your newsletter. If it looks good, click on "Next Step".

One of the best things about Sendinblue is that you can segment your audience into different folders.
In this step, you can pick the folder containing the audience list you want to send the newsletter to.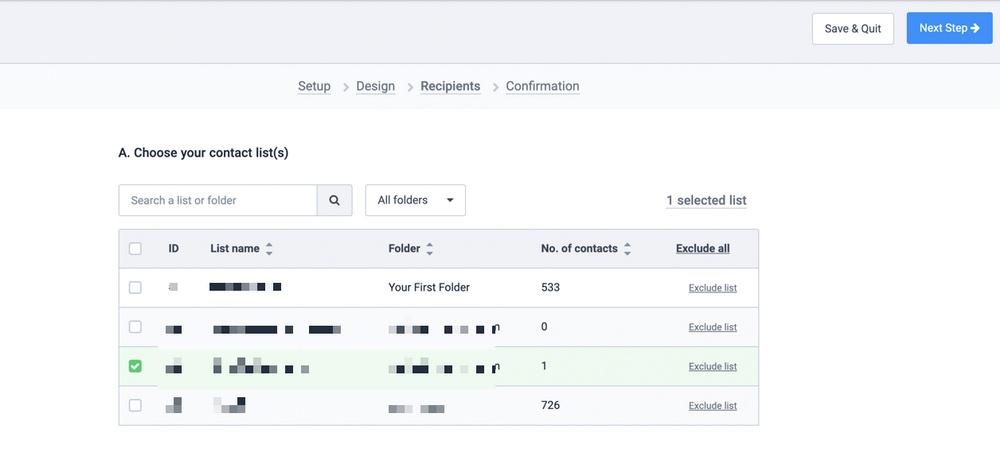 Finally, the last step is to see a summary of your campaign.
Check everything for a final time. Once you are happy with the email and the audience, click the "Schedule" button to schedule the newsletter.
Create Workflows
You can also schedule a sequence of newsletters through a Workflow. This way, you don't have to schedule each newsletter for every new subscriber manually.
Once subscribers enter a workflow, they can start receiving emails from your first newsletter instead of just the latest one.
This way, your audience does not miss out on your previous newsletter.
You can start creating Workflows right from the Sendinblue WordPress plugin.
Here's how:
Go to WordPress Dashboard > Sendinblue > Workflows.
Here you can see a bunch of prebuilt workflows.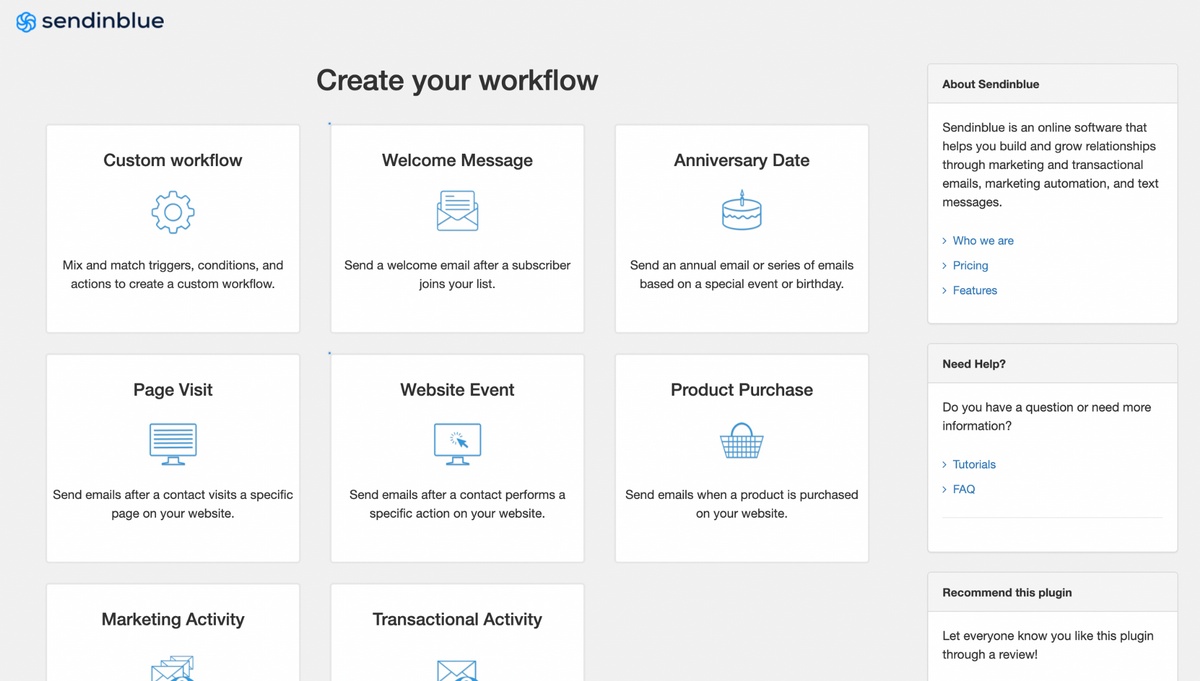 Click the type of workflow you want to be based on your goals.
This will take you to the Sendinblue dashboard where you can create the sequence. Click on the "Create a workflow" button.

Here you can pick your flow based on your marketing goals and hit Create.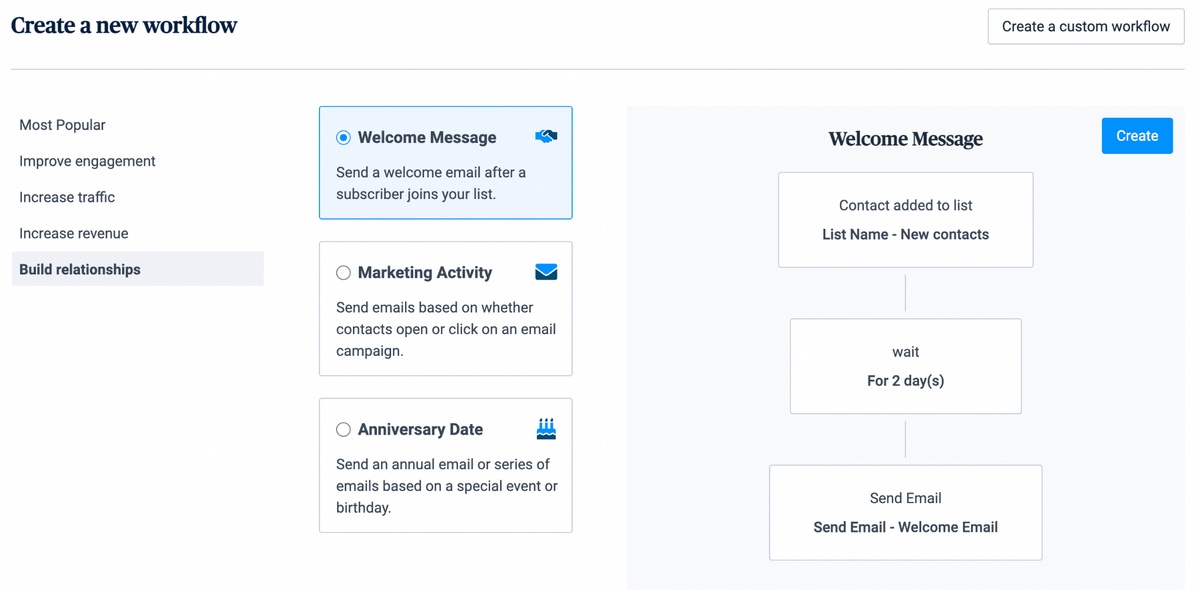 Next, select a list to which you want to send the sequence of emails.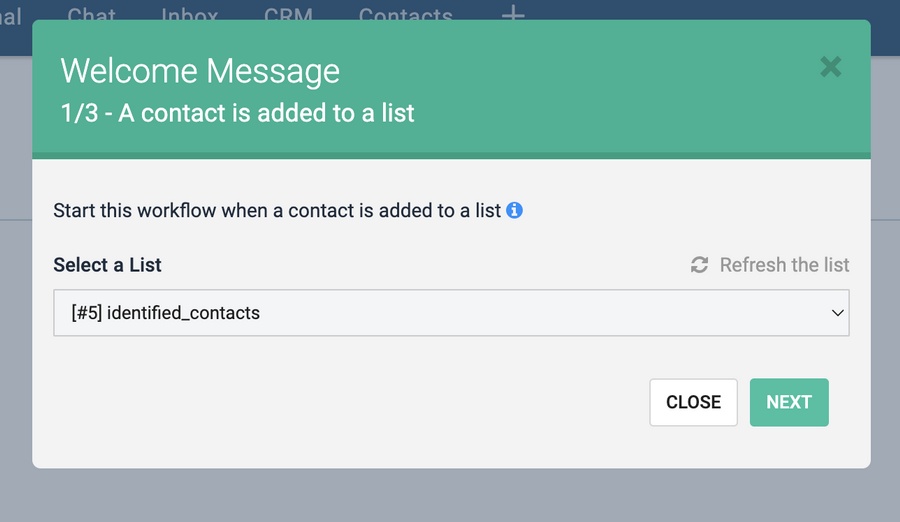 Next, select how long you want the contacts to wait before they receive the emails.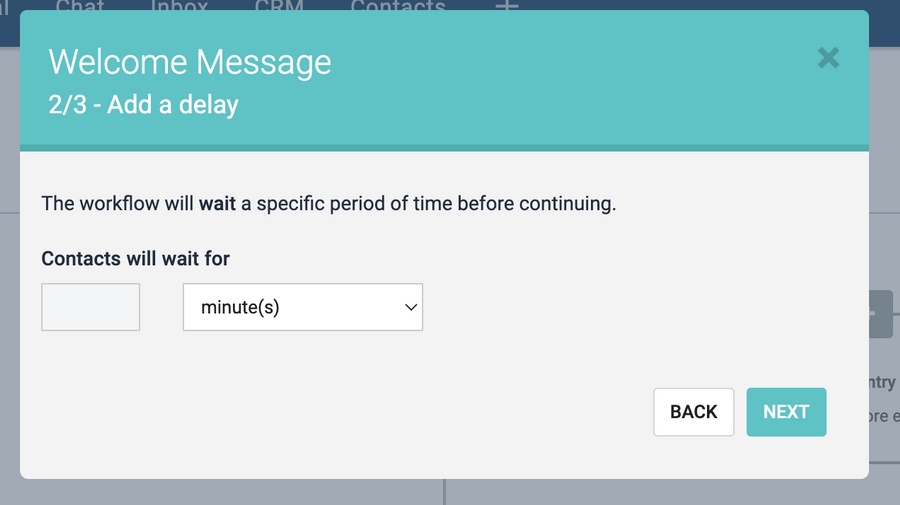 Next, you can select a previously created campaign or create a new one just like the previous section.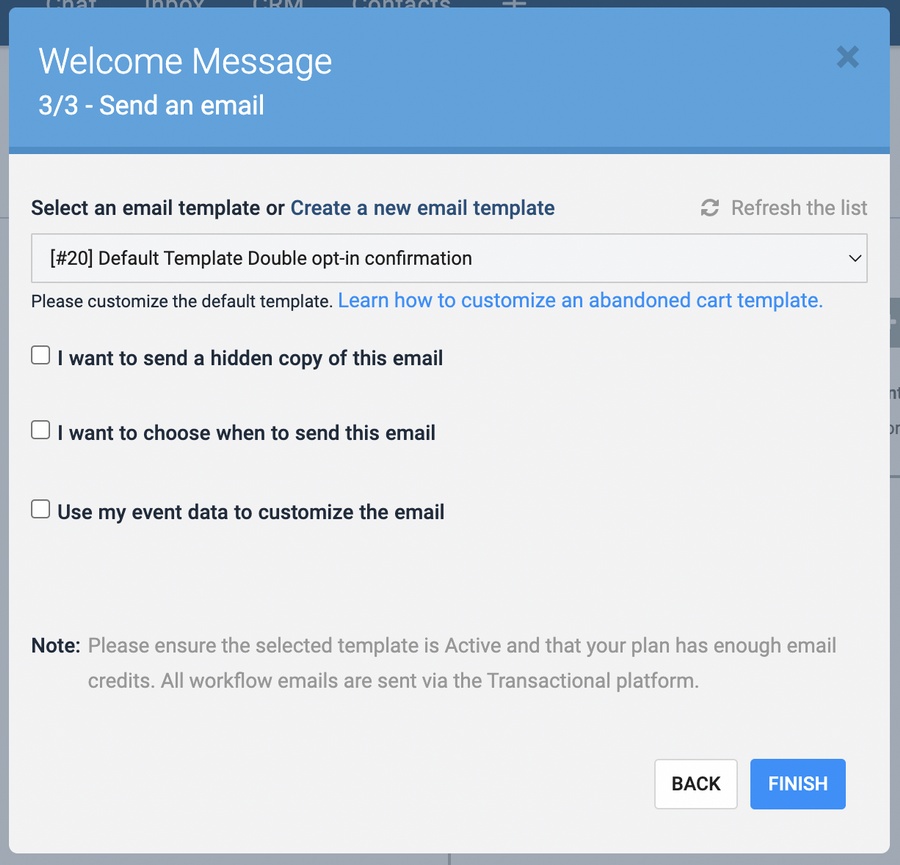 You can add multiple campaigns at once to create a workflow.
Click Finish once you're done.
Monitor Campaigns
Congratulations. You have now successfully created a newsletter campaign and created automated flows for yourself!
Now's the time to monitor your campaign performance. Keep an eye on email performance metrics to find any issues with the deliverability or message of your email.
Here are some of the metrics to track:
Open Rate: Shows how many people opened the email
Click Rate: Shows how many people clicked through the link you provided in the email
Unsubscribes: Shows how many people unsubscribed from the newsletter and doesn't want to hear from you
Bounces: Shows how many emails got bounced. This may happen because of inactive email servers or wrong email addresses
Ideally, you want to keep your open rate and click rate high while aiming to keep unsubscribes and bounces low.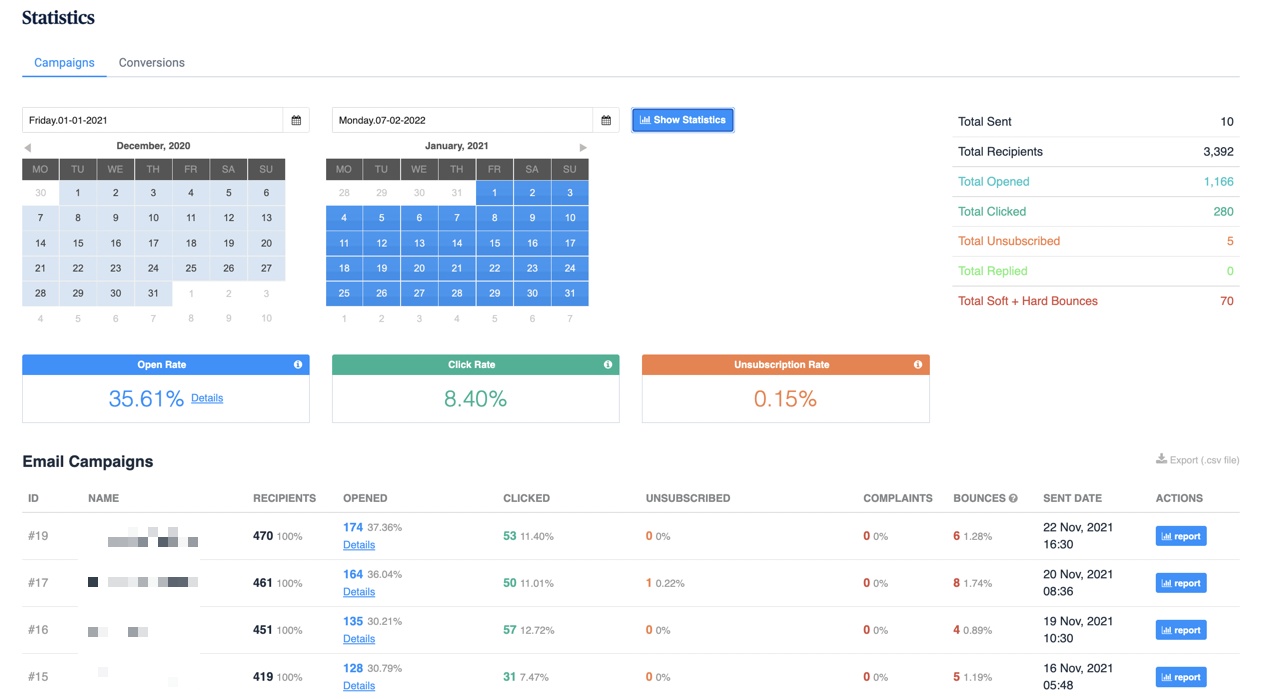 You can measure these metrics from within the WordPress plugin or from the Sendinblue dashboard.
Up Your WordPress Newsletter Game
Email marketing is a great way to connect with your customers and generate more sales for your business.
However, if you want to get the most out of your email campaigns, you need to follow best practices.
In this section, we will discuss some of the best ways to improve your email marketing results.
Optimize Newsletter Frequency
How often should you send the email? It is an important decision to make.
Send too few newsletters and your audience forgets about you. Send too many and they start to ignore them or unsubscribe.
A good rule of thumb is to send one email per week.
Though it may not be best suited for every business, you can start there and keep tweaking the frequency till you hit the sweet spot.
Here, the sweet spot means you get the most open and click rates.
Segment Your Email Lists
One of the best ways to improve your newsletter readability is to segment your email lists. You can divide your subscribers into different groups based on their interests or demographics.
Segmenting them based on interests allows you to send them a personalized newsletter crafted just for them.
For example, if you have a website on pets. You can have separate newsletters for dog owners and cat owners.
By dividing your subscribers into different groups, you can better target them with relevant content and increase your chances of converting them into customers.
Personalize Your Emails
Another great way to improve your email marketing results is by personalizing your emails. This means adding the recipient's name and other personalized information to the email.
For example, you could include the following in your email:
"Hello, [name]!
We hope you're having a great day! Thanks for being a valued customer!"
For a person named Mark, this email appears as such
"Hello, Mark!
We hope you're having a great day! Thanks for being a valued customer!"
Personalizing your emails will make them more relevant and interesting to recipients, resulting in better open rates and click rates.
Try it and see for yourself.
Always Be A/B Testing
One of the best ways to improve your email marketing results is always to be A/B testing. This means that you are constantly trying different versions of your email campaign and measuring the results.
For example, you could test the following:
The subject line
The headline
The body text
The call to action
By testing different elements of your email campaigns, you can find what works best for your audience and increase your chances of achieving better results.
Conclusion
Email newsletters are a great way to connect with your audience and build relationships. They're also an opportunity for you to promote new products, services, or blog posts that might be of interest.
Even if you don't have the budget for marketing, email is still one of the most effective ways to grow traffic without spending any money at all!
And remember – always make sure your content speaks directly to what people want in their inboxes (i.e., exclusive deals or other valuable content).
If you want to get more tips on learning about WordPress, subscribe to our own newsletter. We'll even send them straight over to your inbox (no spam!)