Welcome to Chapter 14, and Congratulations, you have made it this far!
In the previous chapters, we learned:
You have taken all the steps necessary to build a professional blog. Now you can begin to grow it.
We know you want to see some sweet, sweet money flowing in, which is what this article is all about.
Before we begin, here's what you need to know about blog monetization.
It takes time, consistency, and patience to start seeing results.
That's the only difference between people who do make it big in the blogging world and those who don't.
As long as you are willing to invest your time and effort, you will see great results.
In this article, you will learn about several methods through which you can start making money from blogging.
We have surveyed and tested multiple methods for bloggers to earn. Here are 15 strategies that help you start making as little investment as possible.
How Much Money Can You Make From Blogging?
The sky's the limit when it comes to earning money from blogging. You can easily make a few thousand dollars through blogging within your first year.
Many income reports reveal that successful bloggers earn more than $100,000 a year through blogging alone. Glassdoor also reports an average monthly income of bloggers as $51,906 per year on average.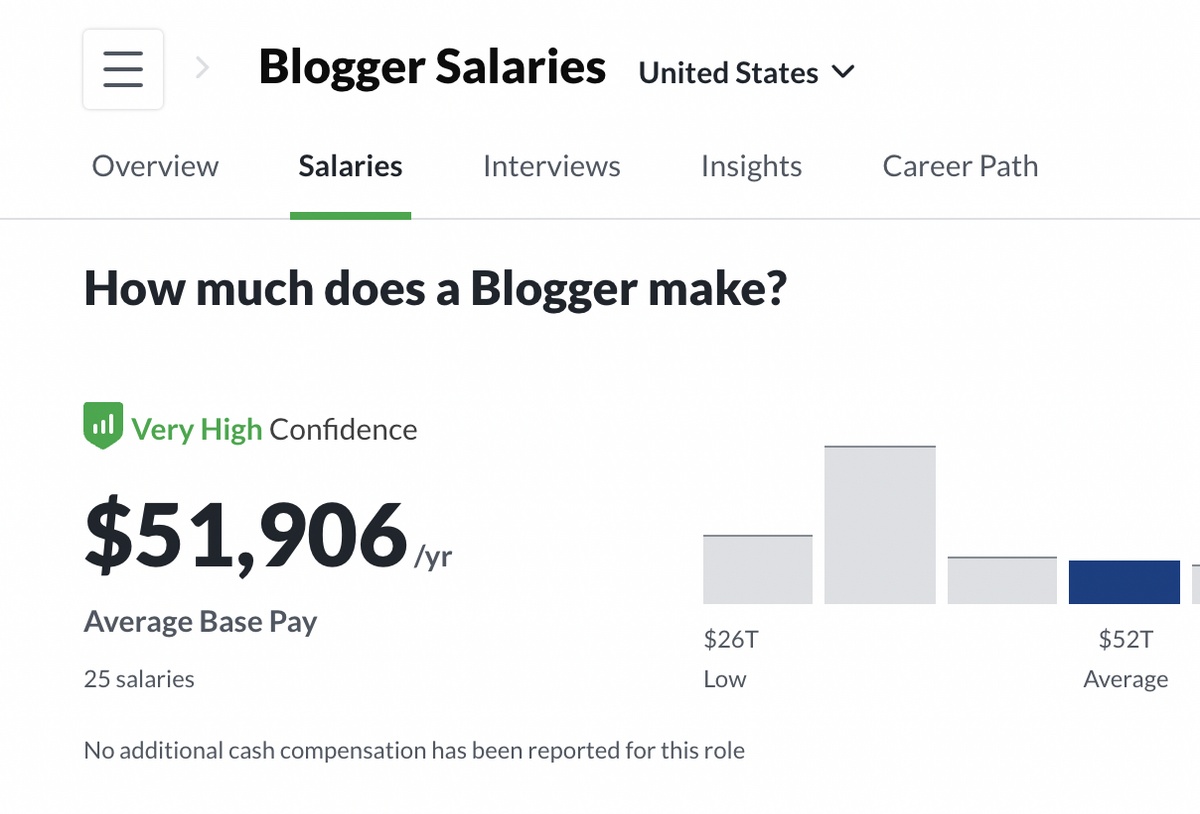 If you are serious about blogging, you could even exceed these figures.
11 Best Ways to Make Money From Blogging
Now that you understand the potential, let's look at some of the easiest ways to make money from your blog.
Use display ads to monetize your blog
Affiliate marketing to earn money through blogging
Get paid to write product reviews
Accept paid guest posts
Sell digital products with WordPress (5 high ticket digital products to make money blogging)
Sell physical products to make money online
Create a paid community website
Become a trainer and produce premium content
Create value-driven content and earn through premium newsletters
Accept donations
Create and sell your blog to cash out
Displaying Ads
Displaying ads is the easiest way to monetize your blog. Once your blog gets enough traffic, you can connect with a media partner and display their ads on your website.
Whenever your visitors click on these ads, you get paid per click. Every ad has a specific Cost per Click (CPC) that a business owner pays to the media agency.
When you allow the ads to show up on your website, you get a share of that revenue when visitors click on those ads.
Most media buying companies have a certain threshold to approve the display of ads on your website. Make sure you have enough traffic coming into your website before you apply for the display of ads.
Here are three top media buying companies that let you display ads on your website.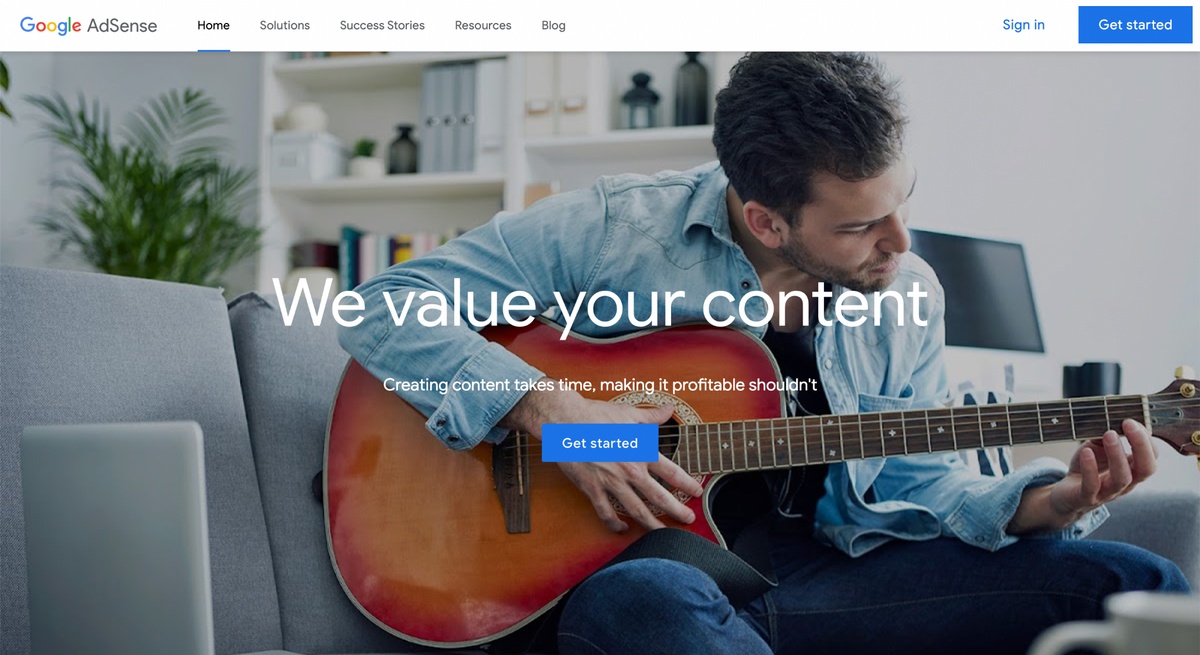 Google Adsense is probably the most popular media buyer in the blogging community. It is very easy to get approval from them.
These ads will be shown on your blog. They will be targeted based on your blog content and your audience.
Google Adsense is an excellent way to start earning money from your blog. And there are dozens of AdSense optimized themes for WordPress you can install to start making money.
But Google is not the only option. Here are two more such media buying companies that let you display ads.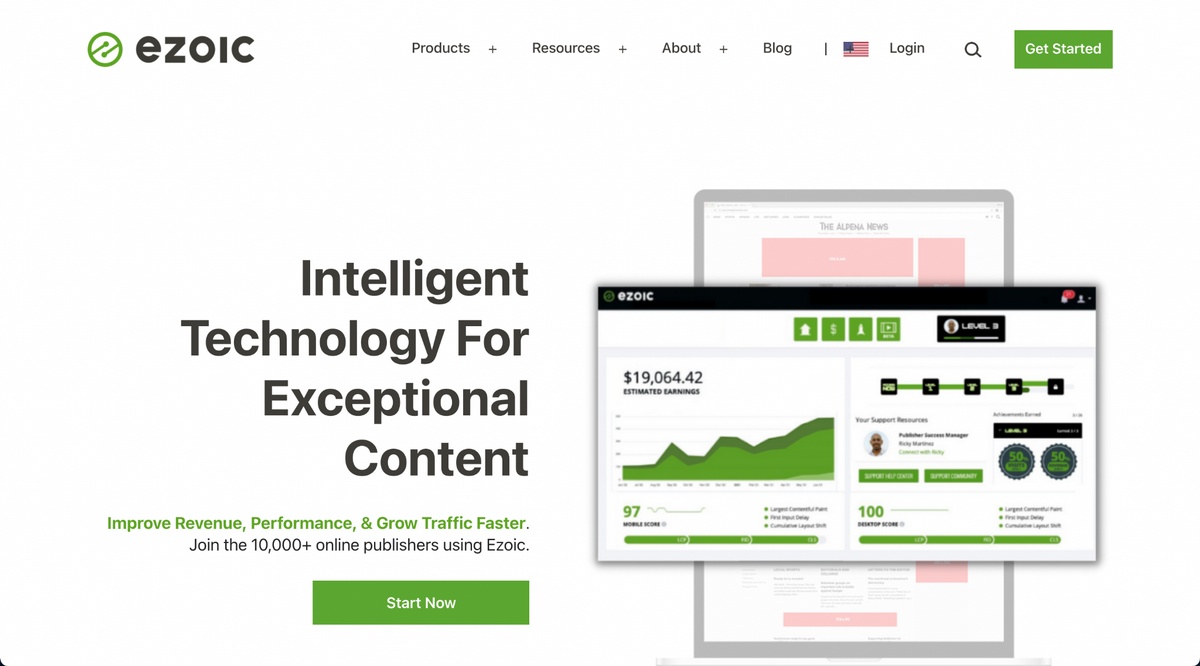 Ezoic is a powerful ad platform that uses machine learning to optimize the placement and content of your ads. This helps manage ads and the user experience.
The best part about using Ezoic is that you don't need to worry about manually selecting ads once it's set up. Ezoic automatically split tests ad location, user behavior, ad density, and much more.
They also help you with some powerful tools that allow you to reap the best benefits of the tool.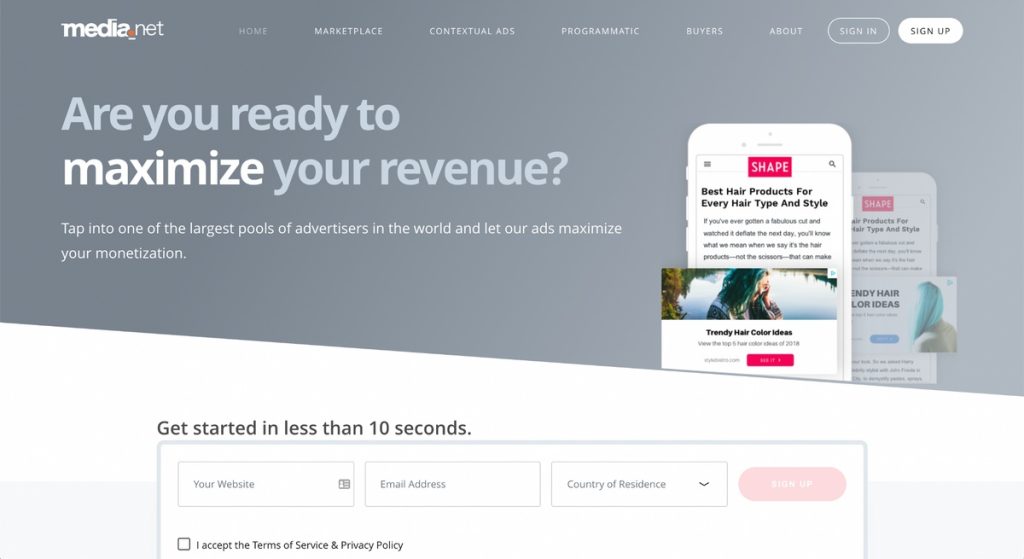 Media.net is one of the highest paying media buyers in the industry. You get paid higher than Google Adsense. But, as with any premium media buyer, they have their quality checks. They will add you as a partner only when the content you produce is of a high enough quality.
They are also specific about their niches. You become a partner working in the finance, gifting, lifestyle, parenting, credits, and gadget niches. You also need to generate your primary traffic from Canada, the USA, and the UK.
The high paying rates of Media.net make them super lucrative if you can qualify for them though.
Affiliate Marketing
Affiliate marketing is a marketing method to recommend a product to your audience. The recommendation uses special tracking links known as affiliate links. Once someone purchases the product from your link, you get a percentage of the revenue generated.
When you write about a particular topic in your blog, you will start finding some existing products or services in your field. You can use these products or take the services.
You can recommend them to your audience if you like them. This makes your audience's buying decision easier, and you get a commission from the sale.
The growing number of affiliate marketing themes has made it easier to kick start your website and promote anything, starting from a physical product, SaaS products, online training or course, apps and games, platforms, and many others.
You can find affiliate registration pages in the specific websites. Alternatively you can take use of some affiliate networks.
Affiliate networks a marketplace where merchants can host their affiliate programs and publishers (like you) can become their affiliate.
Here are some of the popular affiliate networks.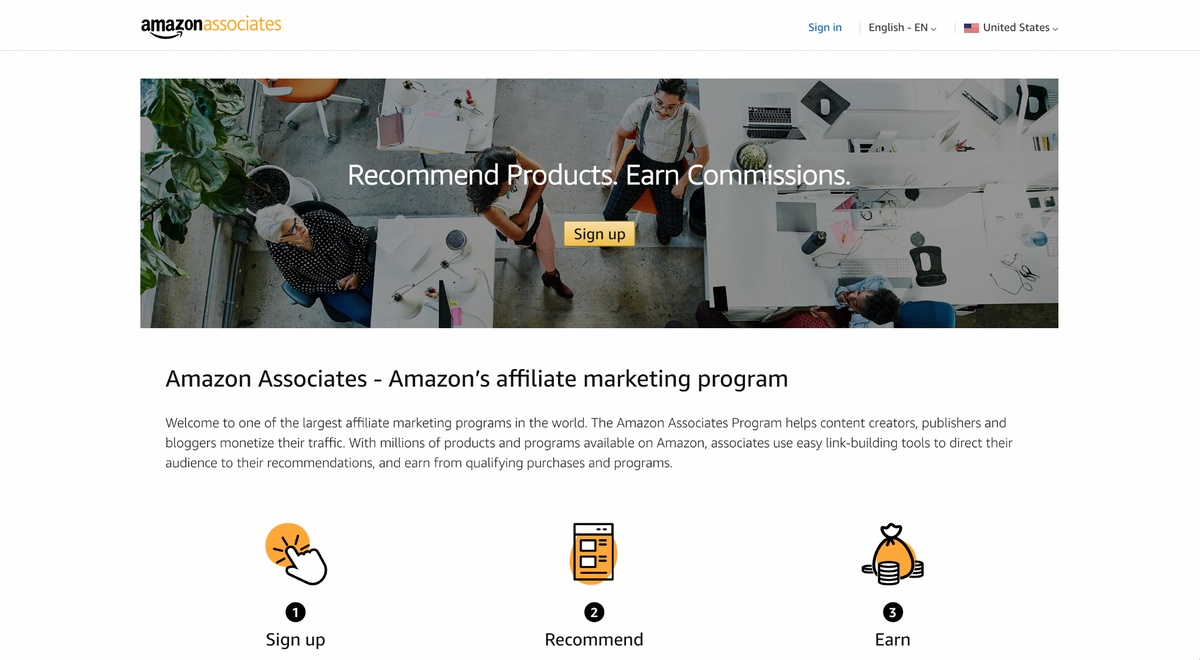 The Amazon affiliate program (also known as Amazon Associates program) is the world's largest physical product affiliate networks. If you blog about household products or physical products in general, this is the best place to start.
This affiliate program is completely free to start. Simply sign up and receive immediate approval. Best part of this affiliate program is that Amazon has already done the brand building for you. People are already used to purchasing from Amazon so conversion should be easy.
You just need to promote your blog posts and recommend the products to your audience.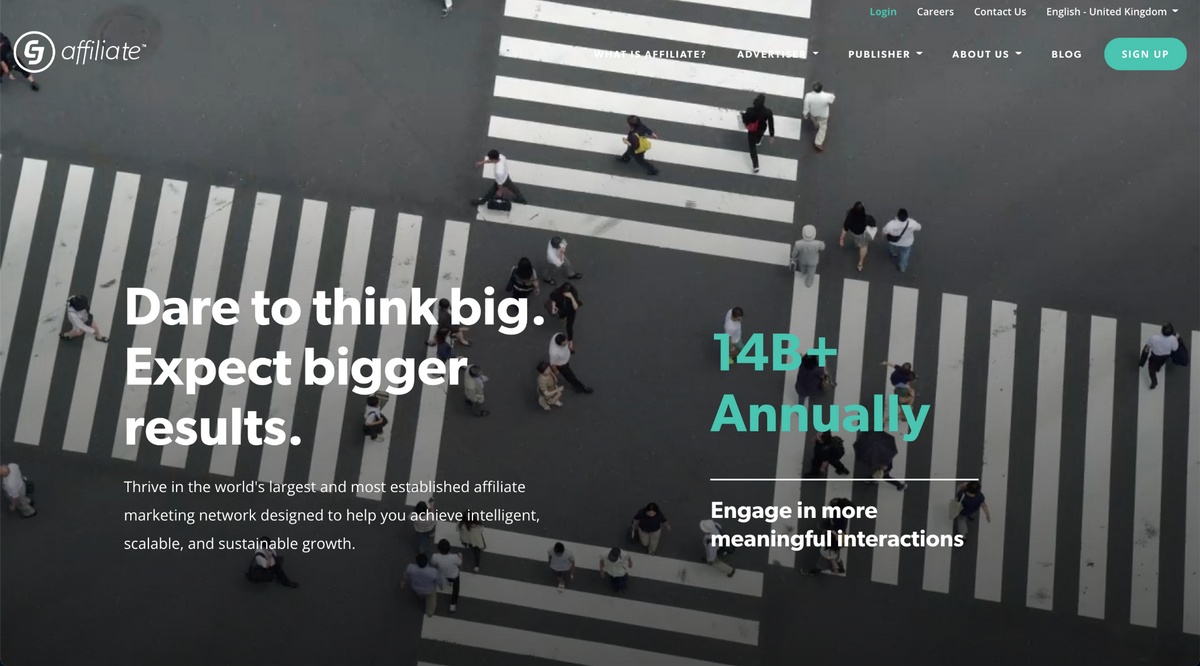 Commission Junction (also known as CJ Affiliate) is one of the largest and the oldest affiliate networks in the world. It has a reputation of paying really well to their star publishers.
They do have a strict affiliate policy and not everyone can become a CJ affiliate. But here you get a lot of good products to promote.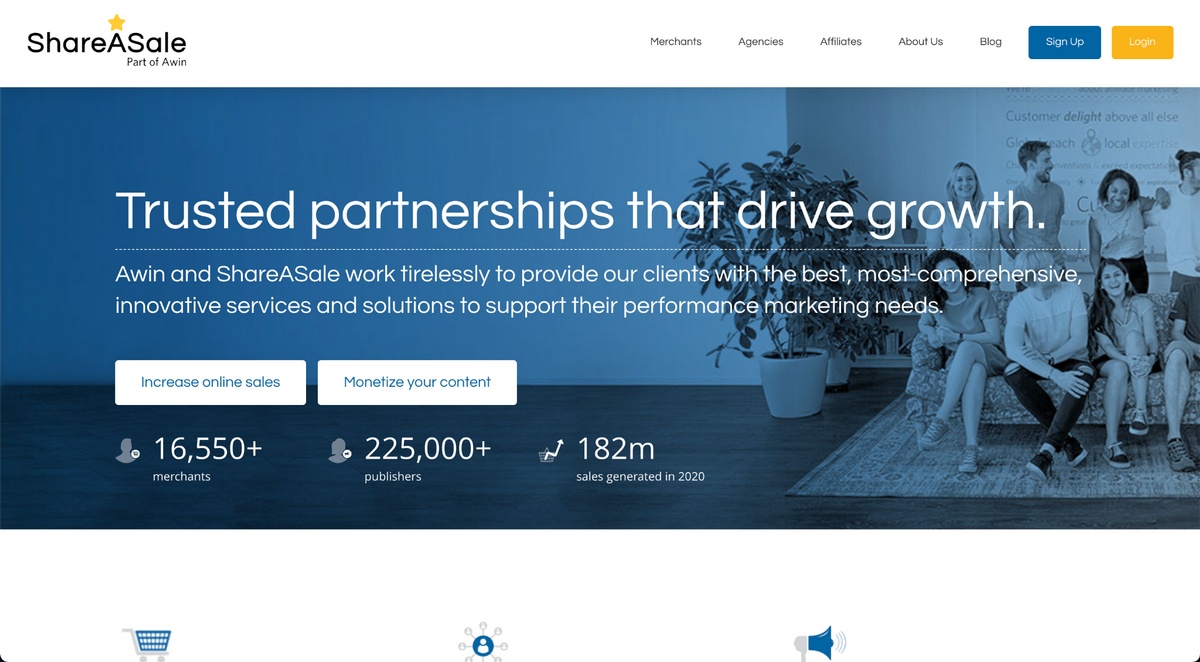 ShareASale is a popular affiliate program for physical products. When you become an affiliate of ShareASale, you get access to more than 16,000 brands that listed their products in this program. You can find a product in pretty much any niche.
The trade-off is that they have a strict affiliate recruitment policy. This is also a good thing because companies who list their products here are usually high-paying. They trust ShareASale because of this vetting system, so are willing to pay more.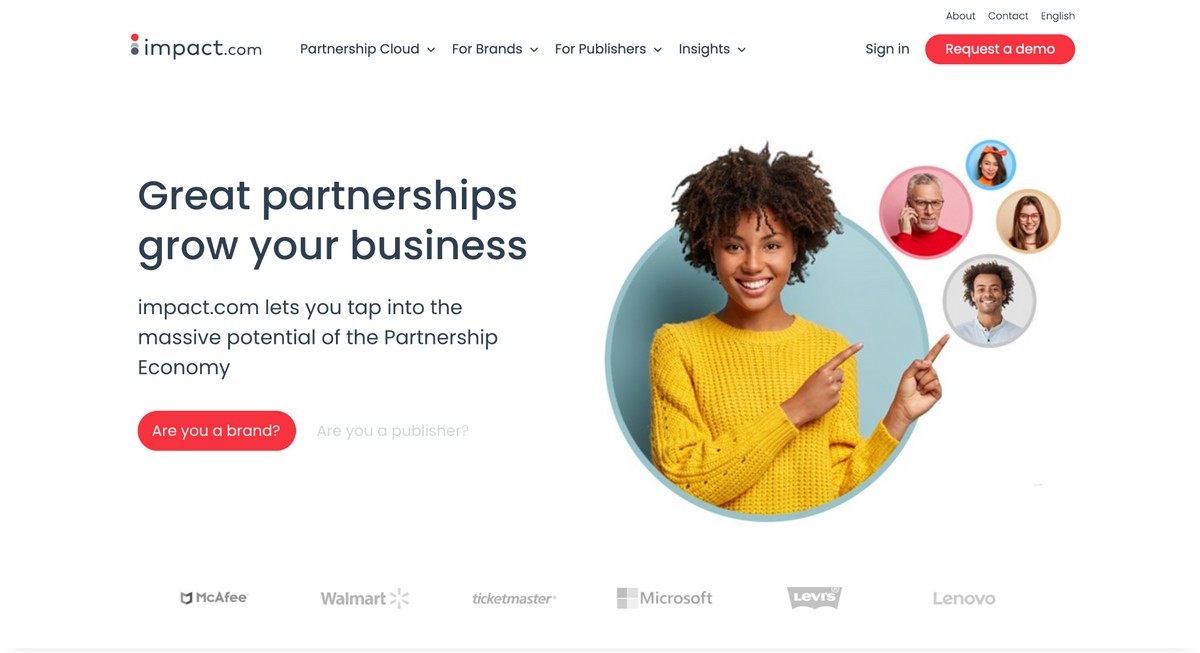 If you are writing on software as a service (SaaS), then impact might be a great place to start. They do have physical products and services as well. Some of the well-known companies that have partnered with them are Appsumo, Canva, Razer, Apollo, and McAfee.
You are vetted based on your content and traffic. Impact products also give a larger commission to their affiliates.
Individual Affiliate Programs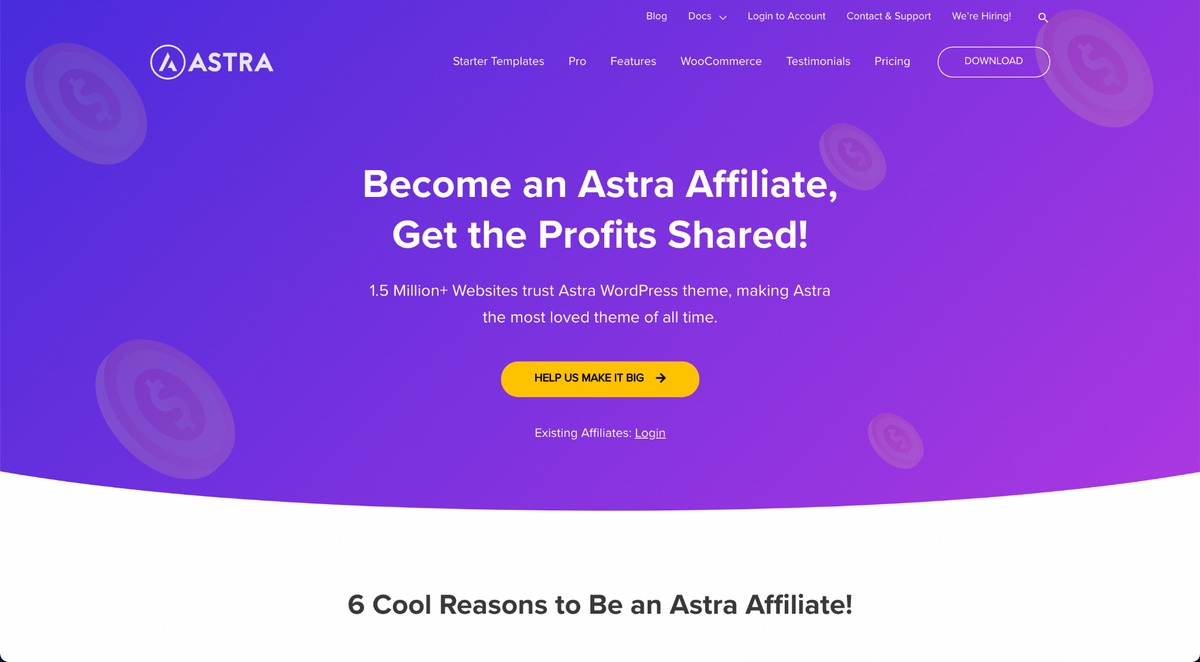 Aside from networks, you can also look for individual affiliate programs. We have our own affiliate program here in Astra. In fact, if you blog about website building and WordPress, we have compiled a list of WordPress affiliate programs for you.
You can apply to these companies individually and promote them on your blog.
Sponsored Reviews
Truth be told, ad networks do make the website look a little messy. Look at any newspaper website, they are full of ads.
Over the years, regular readers have also developed a tendency to ignore the ad banners. This is known as banner blindness. This is a case where your users selectively choose to just read the content and ignore the ads.
On top of it, with all the ad blockers, some of your visitors may not even see the ads. Though ads are still a great way to generate income, there are more alternatives of advertising brands in exchange for money.
One such way is sponsorships. Meaning, a company pays you to write a review of one of their products and you get paid for trying and writing it.
It is similar to affiliate marketing except here you don't need any tracking links.
You will need some really lucrative and high quality traffic from your website to start doing it though!
Accept Paid Guest Posts
What if you could make money when other people write in your blog? Well, Entrepreneur magazine is a well-known example that does this.
If your blog becomes an authority in your topic, many other bloggers will show interest to publish in your blogs.
When your blog becomes an authority, many other bloggers want a link directing to their website. This link is called a 'backlink'. Backlinks are essential when it comes to SEO.
Many bloggers accept guest posts for free, while others charge money. Whether you decide to monetize your blog this way or not, you need to make sure that the guest bloggers follow your writing standards.
Only accept the content that is of high quality and contains appropriate links.
Sell Digital Products With WordPress
If you want to boost your blog income, try selling digital products. Digital products can be anything that can be used online.
It can be a SaaS product, eBook, template for presentation, online course, or any type of product.
Usually, digital products face one of the biggest challenges with traffic. You have already solved the traffic problem when you blog and start ranking your articles.
Selling digital products is super easy with a plugin.
We recommend going with the Easy Digital Downloads (EDD) plugin. It is easy to use and is built solely to sell digital products. Here's an in-depth guide on using EDD.
Once you set up the EDD plugin, you are ready to sell digital products.
Here are a few digital products to sell on your blog.
Sell WordPress Templates
There are templates for almost anything imaginable. For example, you can sell your website templates, video editing templates, infographic templates, slide deck, or spreadsheet templates. These can be anything that your fellow professionals can use in their field.
These templates sell well because they make processes faster for your audience.
Sell Reports and Ebooks on WordPress
Reports and ebooks are pretty easy to create and sell. When you solve some of the burning questions of your readers, you can sell it at a premium.
Reports contain cold hard facts and data. They are worth more than a simple infographic or an ebook.
A great example is Statista. Though it is not a blog website, it has premium data that reveals details about certain markets. The quality of data it produces makes it a go-to solution for market research.
Sell Music and Artwork
If you are an artist and blog about it your blog can become a potential traffic source to sell your artwork online. You can sell digital versions of your work.
Your work can include music, videos, photographs, gifs, or any graphic design work. You can even sell licenses of your work just the way stock images, or music sites do.
Many businesses are often on the lookout for the suitable graphics for their presentation and are ready to pay a reasonable price for the right fit.
Sell Online Courses
If you are skilled at what you write about, you can also coach other people on the topic. The coaching industry has reached $15 billion and is continuing to grow.
As long as there is a specific knowledge that you have to share, you will have demand in the market. Courses are usually consumed better than books because they are in audio and video format.
You will need to create a plan on what you will teach in the course. Then develop lessons for your course and add supporting documents like checklists, templates, and other downloadables.
Once your course is ready, you can set up a learning management system (LMS) and host your lessons. For the best experience, we recommend going with LearnDash and Presto Player.
Here's a complete guide to creating an eLearning website with LearnDash.
Sell Your Freelance or Consulting Services
If the topic that you write on is worthy, you can start selling your services as well. Freelancing does not require any upfront investment of money. You can start offering your services to your very own email list.
When your blog starts getting traffic, it becomes a great tool to bring in qualified leads for your business. You can design your blog to generate more leads. Then, nurture your leads over email and sell them your services.
You can use our plugin Convert Pro to generate quality leads.
Sell Physical Products Online Using WordPress
The retail industry is as big as $4.8 trillion as of now. And it is projected to grow to $5.4 trillion in the next few years. Now, this is a great market to be in.
If you can blog about physical products, why not source and sell them on your website? The math is pretty simple. When you become an Amazon affiliate, you get 9% or less of the revenue share.
However, when you sell your own products, you get to keep the entire profit!
As of now, it is very easy to source products. You can find pretty much anything in local wholesale places or platforms like Alibaba. You can order a product in bulk at a lower price and sell them at a higher price in your store.
WordPress is versatile and makes it easy to turn a blog into an eCommerce website. All you need is to install the WooCommerce plugin to add eCommerce functionality.
Here's a detailed guide for you to turn your blog into an online store.
This does not come without the commitment cost, though. When you sell physical products, they require packing and shipping. But once you set up systems and processes around it, you can pretty much automate and delegate every part of your business.
Other Ways to Earn From a Blog
There are a few other ways you can generate income from blogging.
Create a Paid Membership Website
If you have an email list, you can create a forum on your website where your audience can hang out. Similar to Reddit, but specialized to your audience.
When you start blogging, building a community can be a powerful medium to spread the word about what you do.
If your content is valuable, people will be happy to pay to be in the forum. Forums are a great place to interact, and people can help each other out as well.
If this is something you are interested in, we have curated a list of 13 different forum plugins for WordPress users.
Become a Trainer
The way the internet is growing, there is no skill in the world that is not monetizable. When you develop a specific knowledge around a topic, you can train others with the same skill.
You can host online webinars, offline events and even have your mastermind sessions to train people on the same skill.
Premium Newsletters
Premium newsletters include some value-driven content that your consumers can pay to receive in their emails. Some of the examples include Category Pirates and Trends.co.
These websites are geared towards a specific audience and deliver a value that is not easily available elsewhere.
Trends.co study popular market trends and suggest a market that is about to rise in demand based on their analysis.
Similarly, Category Pirates publish valuable insights into category creation and marketing strategies. Both these companies help businesses save time and money by doing market research for them.
Because of their exclusivity, they have maintained quality work and generated consistent revenue for themselves.
When you have some specific insights to share with your audience that can help them, you can easily.
Accept Donations
One of the methods is also to accept donations on your website. When you produce valuable content, people love to respond with value.
Several WordPress donation plugins are available that let you accept money from your visitors. If your website is a non-profit, or good cause, you can easily take donations from your visitors.
Sell Your Blog and Cash Out
There might come a time when you feel like your blog is not growing beyond a point. Or you might be interested in starting another business.
In such a case, you can sell your blog to gather seed money for your next venture.
Don't know how much your blog is worth? Try Flippa's free website valuation tool to get an idea.
3 Best Performing Assets of Successful Bloggers
There are three basic assets that successful bloggers create that help them monetize their content, product, or service.
Content
One of the biggest sources of income for bloggers comes through display advertising. Any average blog usually makes between $0.01 to $0.25 per page view through display ads.
Now, this might seem small, but imagine a blog getting 10,000 page views on that particular page. You can earn about $100 just from one blog post. With 100 such blog posts, you could hit the $10,000 mark quickly.
The other stream is affiliate marketing. When you get more traffic, you also get more buyers for the product that you promote. This significantly increases your earning potential per page.
Email List
As a blogger, you can earn a significant amount from page views and affiliate purchases. However, nothing comes close to the power of email marketing.
The average return on investment (ROI) on email marketing is about 3600%. That's $36 earned for every $1 invested!
Just to demonstrate, you will be lucky to get a 5-6% click-through rate with SEO (CTR). Click-through rate is the percentage of people who visited your page compared with those who saw your search listing.
Similarly, with social media sharing, you hardly get about 5% people to share your post that sees your post. The number of visitors who click your post and come to your landing page is even less.
With platforms like Facebook and Instagram, this reach is going down over time.
However, when it comes to the email list, you can send one email and it reaches everyone on your list. With new and more advanced email marketing tools out there, you can automate the email process for every new visitor.
Building Communities
Apart from email marketing, communities are another highly underestimated and underutilized form of marketing your blog.
A community of people who love your content, trust you, and see you as an authority figure. You can nurture your community by sharing the best advice with them.
You can also recommend products that suit their needs. When nurtured well, people from this community become your biggest fans, which increases the potential to earn.
The discussion from the community becomes topics for your blog post. It is the best place to share your posts. Here, they are most likely to read through the post completely without bouncing off.
FAQs on Making Money With WordPress
Here are some of the most common questions our users have received.
Which method is best for me?
It completely depends on which topic you choose. Every monetization method may not work for you while others may derive significant revenue. It also depends on the effort that you put in.
When you build your audience, you will figure out which methods work best for you. And you can start creating assets for yourself.
How much can I make from blogging?
The right answer is, again, it depends on your topic and the effort you put in. We have seen bloggers generate well over $100,000 a month with consistent effort. You will earn money based on the traffic that you get, the methods you have in place.
The more effort you put in, the more profit you could get out.
How long would it take before I start making some serious money from blogging?
It takes quite a while to see some results. Many bloggers give up halfway through the journey. But if you are consistent enough, you can start seeing results within the first year. The trick is to keep doing simple, yet consistent things for a long time.
There is no easy way to tell you how soon you would start making money. Some bloggers start making money right away while others take years. There is no formula for this unfortunately.
Start Earning From Your Blog Today
If you want to start earning money from your WordPress site, we hope this article has given you plenty of ideas and inspiration on how to get started.
We've included the basics and some more advanced strategies for those who want a challenge or looking for ways to make their online business grow.
There may be one (or many) that resonate with you and help bring in an income stream while doing something enjoyable!
Let us know which of these tactics work best for you in the comments below so others can learn too. After all, knowledge is power!