Looking for a WordPress theme for affiliate marketing? Need help filtering the many hundreds of themes that support passive income? If so, you're in the right place. This page is going to highlight the best WordPress themes for affiliate marketing right now.
All are designed with affiliate marketing as its primary goal.
Affiliate marketing is an effective method for businesses, agencies, and bloggers alike to expand their reach and promote and sell affiliate products. To make this process even more seamless, a WordPress theme tailor-made for affiliate marketers can be of great help.
Here's what we cover in this article:
The best WordPress themes for affiliate marketing
You choose a theme – What's next?
The themes covered in this article are designed to be well-coded, lightweight, and fast, ensuring optimal performance and maximum earnings.
Additionally, these themes for affiliate marketing come equipped with features such as reviews and ratings, multi-vendor options, video and image galleries, and effective product reviews that help to boost conversions and drive more sales.
Best WordPress Themes for Affiliate Marketing
The best WordPress themes for affiliate marketing combine product showcasing with supporting content and the ability to add reviews and support content to help conversion. All these themes offer that and a whole lot more!
Theme Name
Active Installs?
Pricing
Our Rating
Astra
1,653,898+
Free / Starting from

$47

€44

⭐⭐⭐⭐⭐
Binder Pro
NA
Starting from $129/year
⭐⭐⭐⭐⭐
AReview
NA
One-time fee of $199
⭐⭐⭐⭐⭐
Magazine Pro
NA
$360/year for unlimited websites
⭐⭐⭐⭐⭐
MoneyFlow
NA
$49/year for unlimited websites
⭐⭐⭐⭐
Here are 31 WordPress themes for affiliate marketing that can help you make money through affiliate marketing on your WordPress site.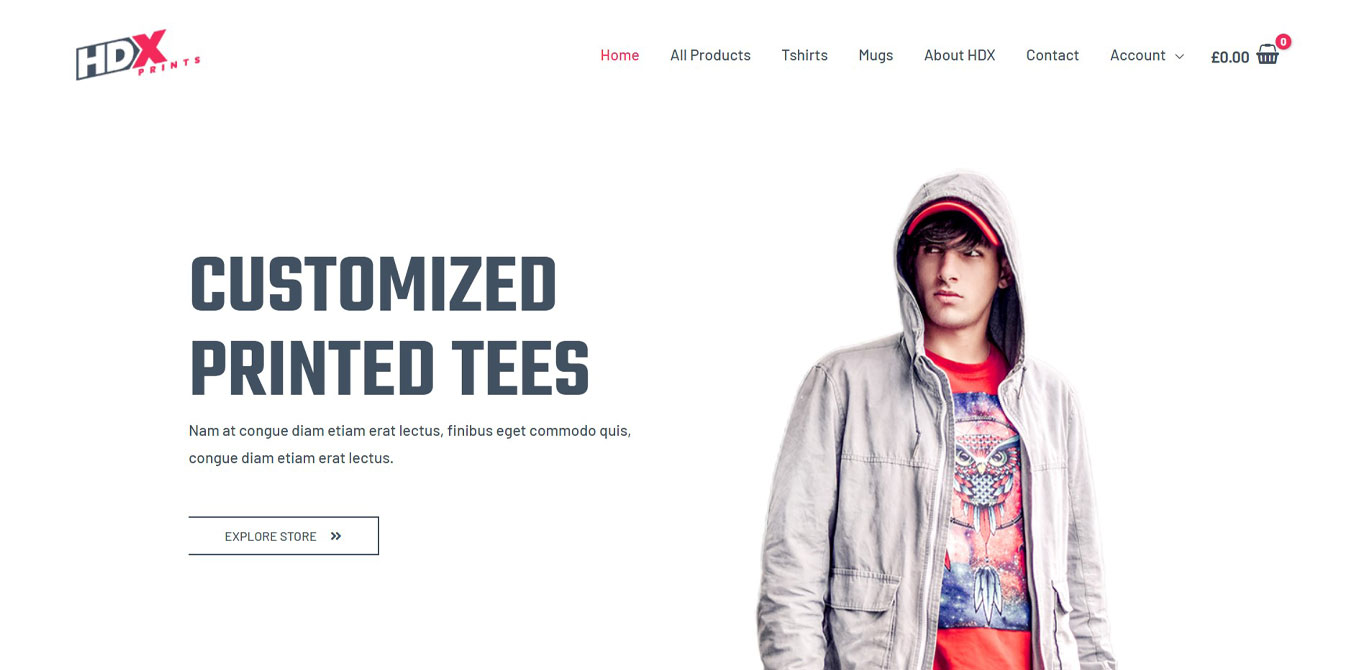 We think Astra is an exceptionally popular WordPress theme thanks to its flexibility, attractive demos and ease of use. It provides a range of designs that showcase products and the ability to add content blocks wherever and whenever you like.
You can customize a demo website to your own requirements or build a page from scratch with the included page builders. We made sure Astra is compatible with Elementor, Beaver Builder, Brizy Builder, Gutenberg Blocks so you can use whatever tool you're most comfortable with.
Astra is also compatible with WooCommerce, LearnDash, Toolset and Yoast as well as most other WordPress plugins.
There are hundreds of page elements to choose from and those demo designs really hit the mark. Demo templates look and feel professional yet can be installed in seconds and modified without having to know a single line of code.
We think Astra is a top pick for new affiliate marketers or for those who just want to launch an affiliate website that looks the business in the shortest possible time.
Speed is at the heart of Astra. Not only the speed at which you can set up and launch a website but also the speed at which a page loads. We built Astra to use less than 50KB of resources and without render blocking jQuery. This means your pages load quickly and seamlessly with the obvious user and SEO benefit.
Finally, Astra has been designed from the ground up to be simple to use, RTL-ready and ready to earn. All you need to do is select one of the hundreds of pre-built themes, add your content and you're ready to go!
Recommended Astra's templates:
Tech Blogger Template
Are you a tech blogger looking to create the perfect website? Try the Tech Blogger template.
It features a beautiful hero section that delivers an instant impact and creates curiosity in visitors. Enough to read a blog or two, perhaps click an affiliate link or two and subscribe to your newsletter. Ideal for any tech affiliate!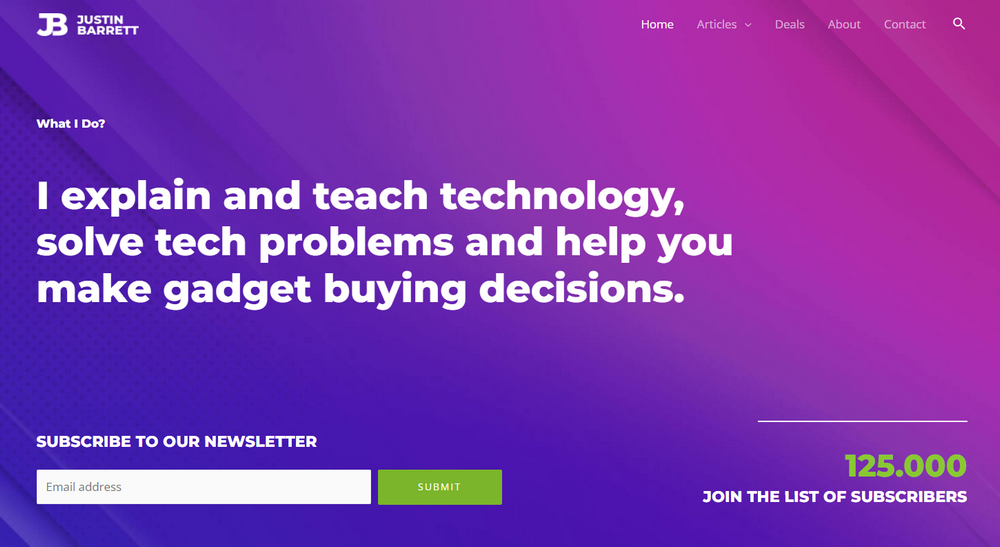 Business Blogger template
Writing a blog to appeal to businesses? The Business Blogger template is the perfect fit.
With a grid layout for all your latest affiliate posts, get your visitors to click through multiple blogs from your home page and other pages too. Capture the eye with large featured images and get visitors to subscribe to your newsletter with a simple click!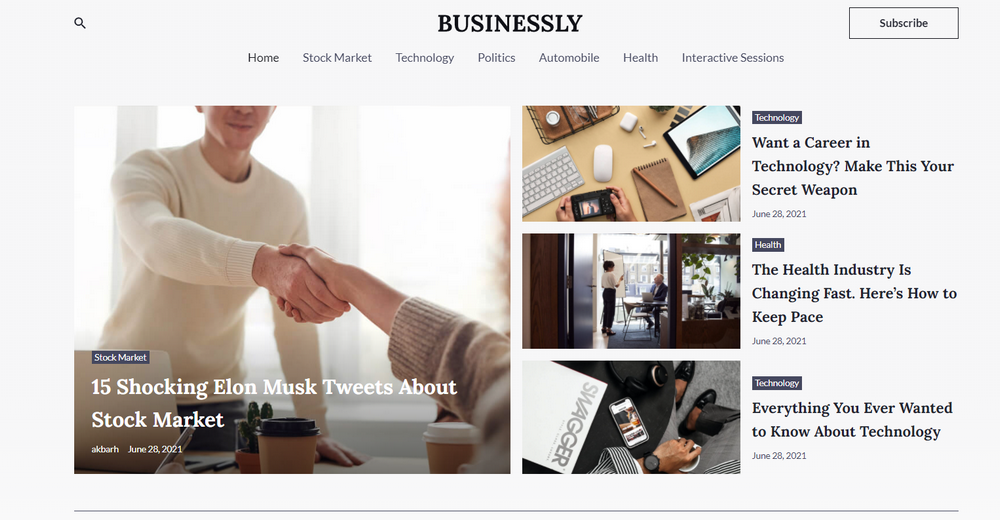 Astra Pricing
Astra has a free version and three premium versions that cost from $47 €44 per year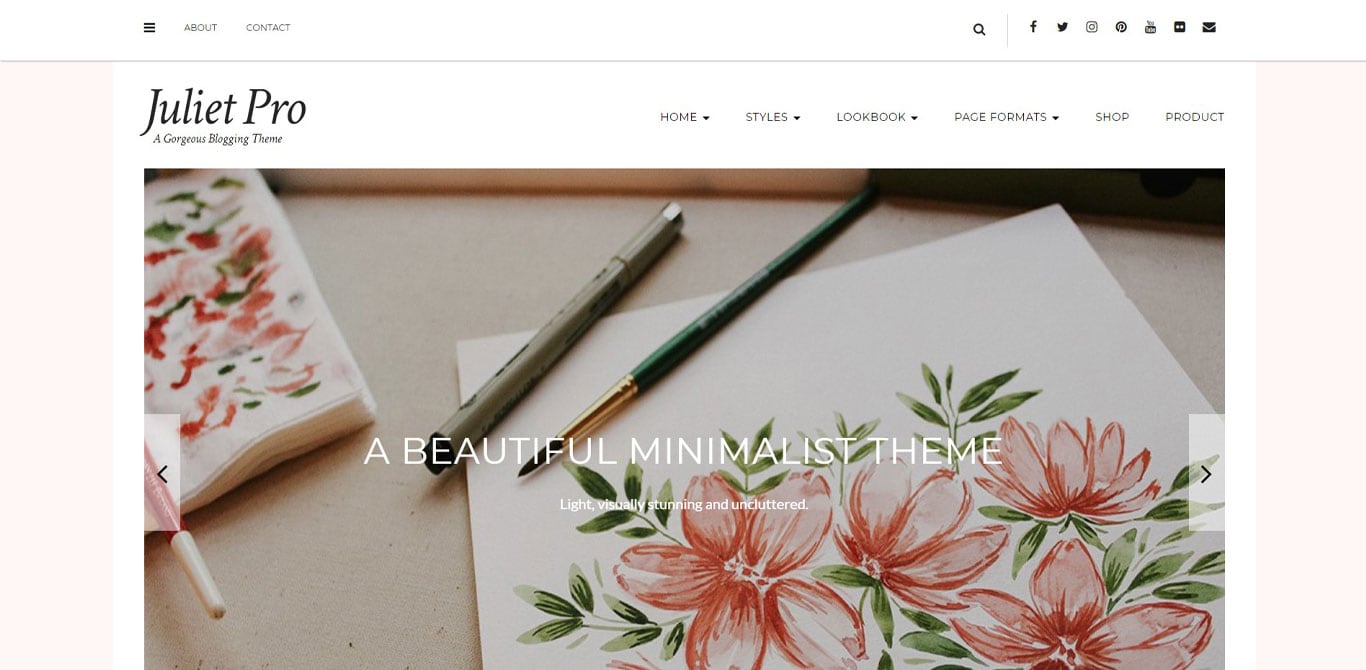 Juliet is a fantastic looking WordPress theme for affiliate marketing. It's a feminine design that uses images to great effect. While already ideal for certain niches, it can be fully customized to suit any industry. The demo has several layout and design options built in so you might not even have to do anything to make it fit your niche.
The theme uses a strong main image with sticky header and some subtle fonts to create a classic feel. Subtle colours, easy going headline fonts and the opportunity to showcase products in a low key but still effective way makes for a very effective theme.
Juliet Pricing
Juliet charges a one-time fee of $35 for the theme and $8 per month for support and updates.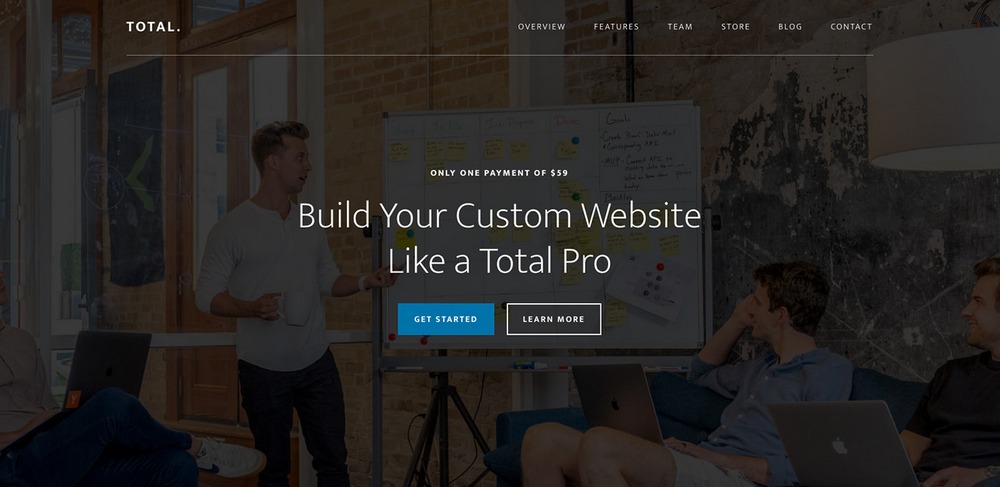 The Total theme can help affiliate marketers promote and earn with a range of powerful features. The theme includes an extended version of the WPBakery front end drag and drop page builder, 500+ live customizer settings, website templates and supports most popular WordPress plugins including WooCommerce.
In addition the theme is optimized for speed, using clean semantic code and vanilla Javascript. Total offers plenty of features for promotion and provides the flexibility to use design, hooks, filters and more. Ideal for use in promotion!
Total Pricing
Total theme regular license cost from $59.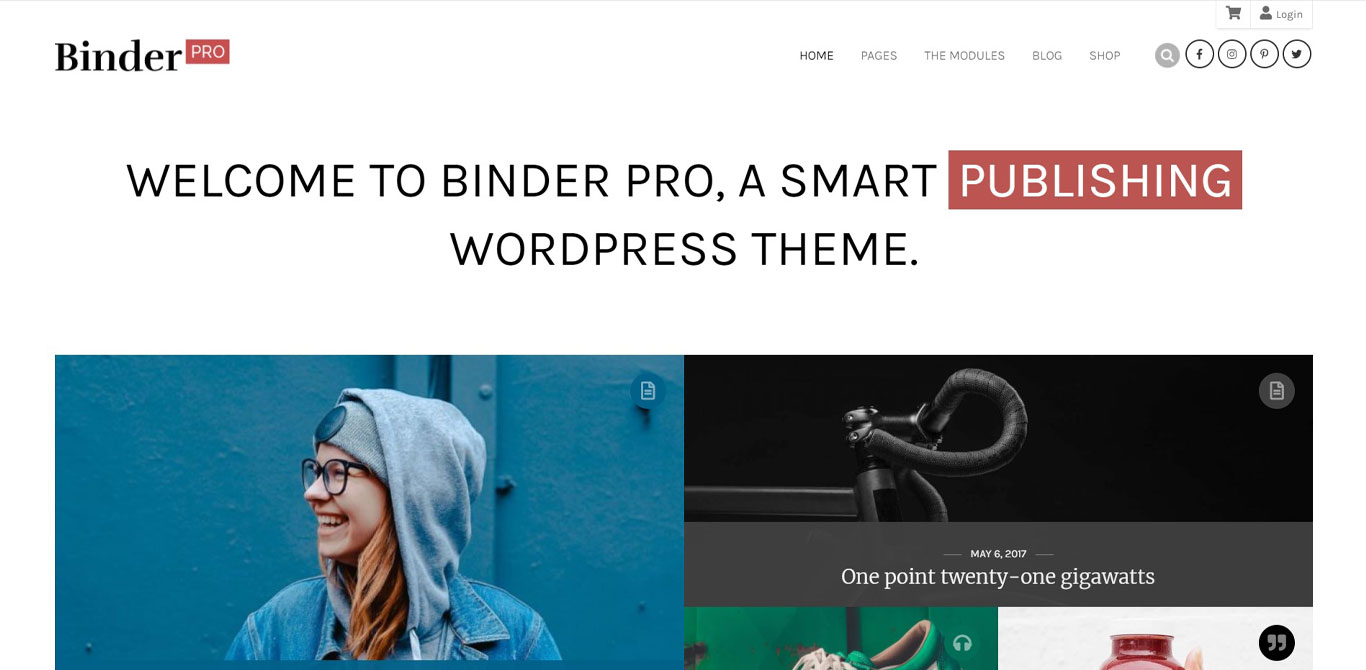 Binder Pro is a contemporary design with lots of white space and pops of color from images. It's a magazine-style design with a grid layout with content blocks and sidebar and a store further down the page.
It's a very useful design for affiliate marketing as it enables you to build authority and trust with cornerstone content. You can then promote products using posts or news and sell them in the built-in store. It's a very usable theme that is as powerful as it is flexible.
Binder Pro Pricing
Binder Pro is a premium theme that starts at $129 per year for one site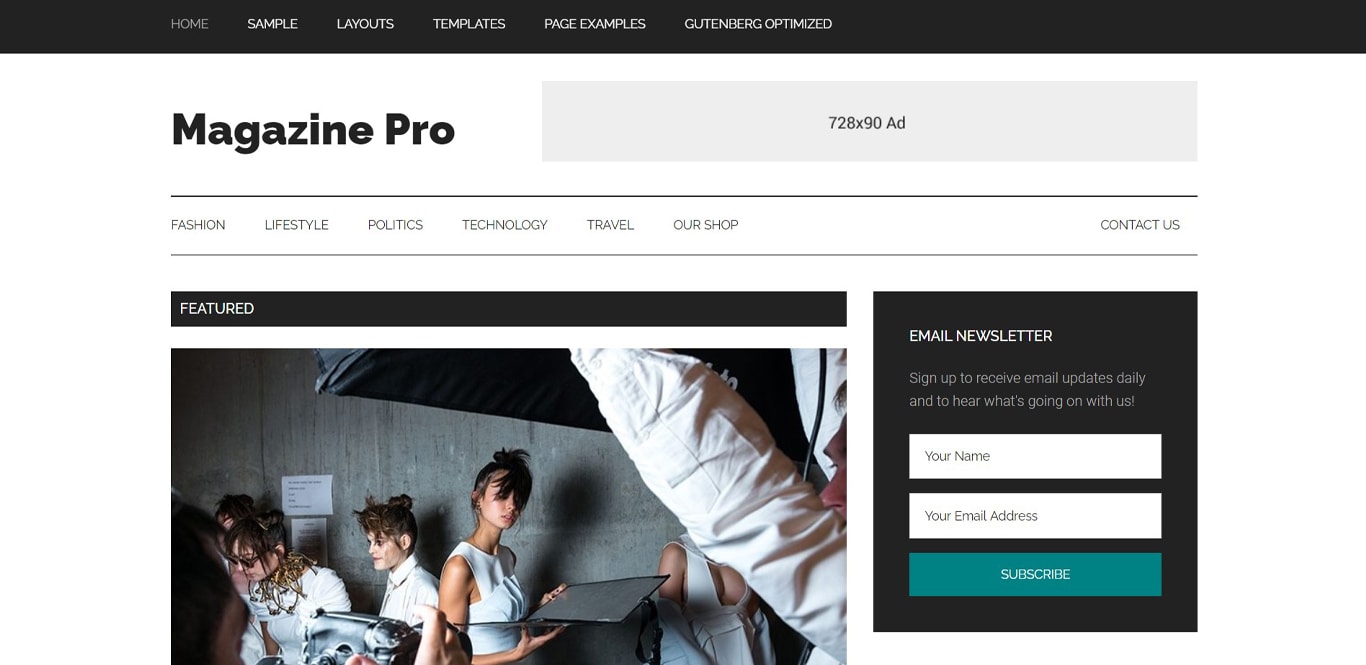 Magazine Pro is the opposite of AReview. This template maxes the monochrome with subtle colour pops to draw attention. It's an excellent design with a completely different look and feel. It's a newspaper-style layout that could do wonders for building authority in a niche alongside promoting products
Magazine Pro uses white space well and has very strong header fonts, subtle fonts for navigation and body content alongside darker dividers and page elements. The theme supports WooCommerce, is fully responsive and translation ready. It's a very effective design that is built with the all-powerful Genesis Framework.
Magazine Pro Pricing
Magazine Pro is available for $360 per year for unlimited websites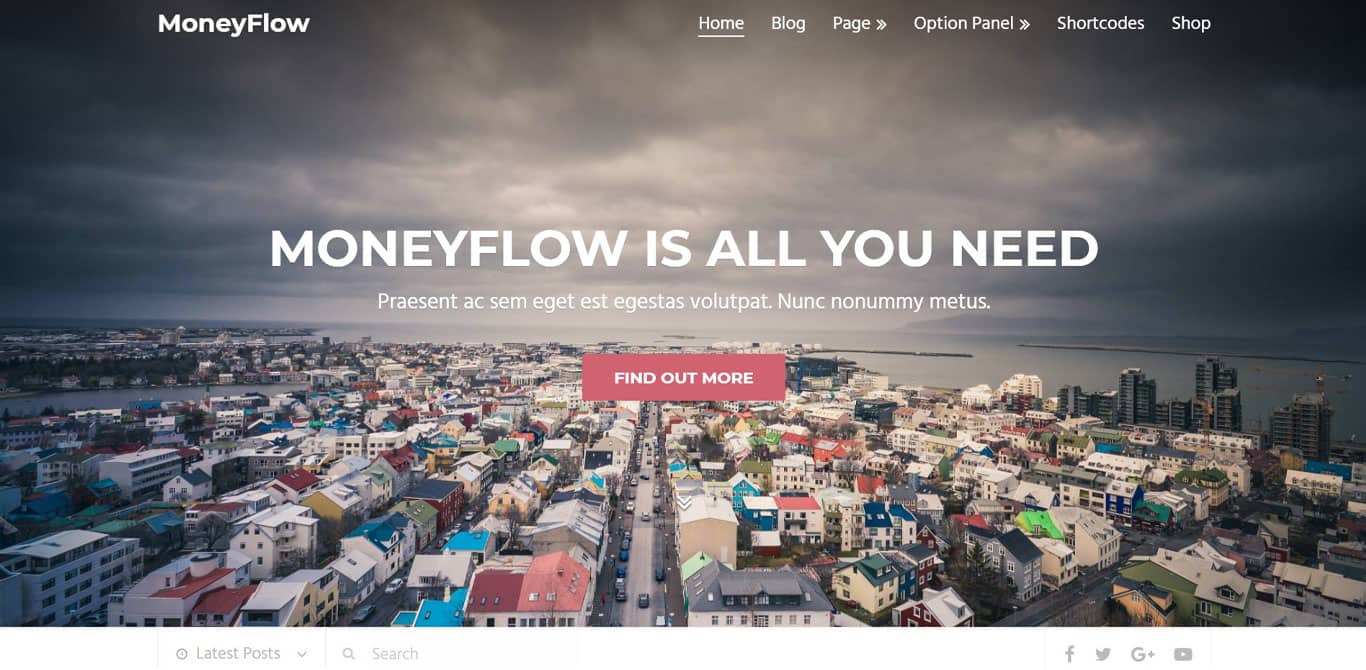 Moneyflow is a dedicated WordPress affiliate theme. It has a magazine layout with strong header image, boxed layout and elegant design. It could be built as a news site with supporting affiliate products or used as a dedicated product site built entirely around affiliate links.
The template flows well with white content blocks over a slightly darker background. Colour pops on buttons and highlight elements pull your attention where required while allowing the images to tell your story. A very slick shop page can then help sell your products with the minimum of fuss.
MoneyFlow Pricing
MoneyFlow is available for $49 per year for unlimited websites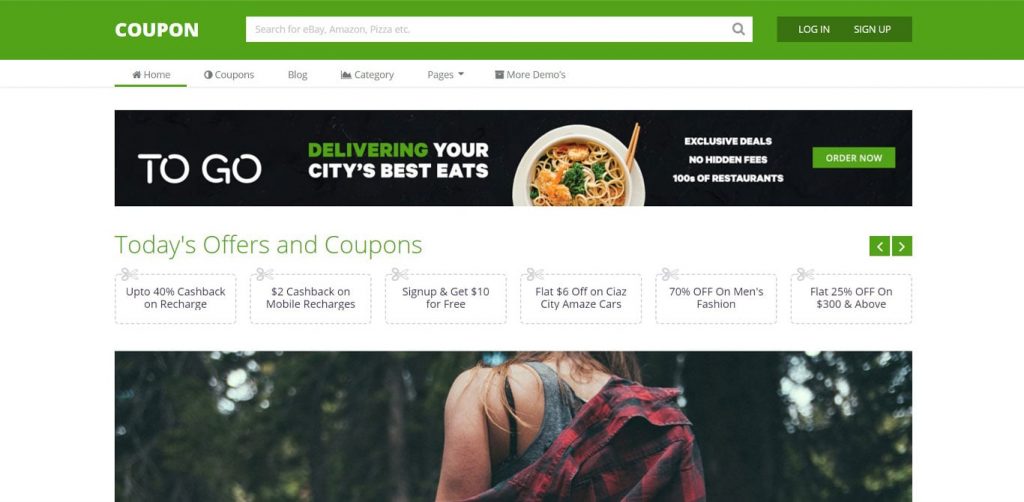 Coupon is from the same developers as Moneyflow but has a completely different look and feel. It is built around couponing, which could work on its own for affiliate marketing or could be customized to sell products without coupons with the minimum of fuss.
The design is clean with lots of white space, the coupon element under the navigation and a strong slider in the centre. The theme comes with a built in store and a huge range of design elements to experiment with. It is also responsive, loads quickly and comes with all the tools you expect to build a fully operational WordPress website.
Coupon Pricing
Coupon theme is available for $49 per year for unlimited websites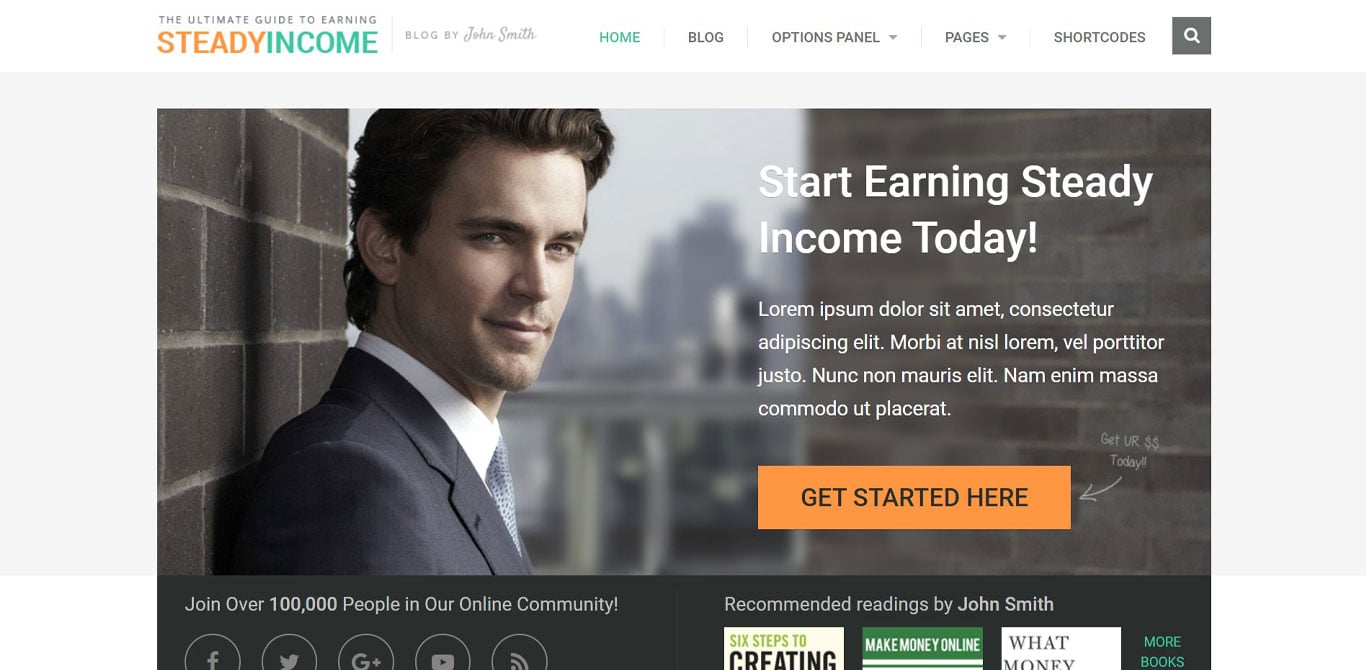 Steady Income is another dedicated affiliate marketing WordPress theme. This design has more of a brokerage or banking feel but could be made to fit any niche with minimal customization. It's a modern theme with colorful navigation, strong header, contrasting dark and light content blocks and prominent social media elements.
The demo page is short and to the point but could easily be built out to suit your own tastes. Simple add more content blocks or page types and you're good to go. The inclusion of a logo slider can help for product promotion or for brand awareness. A small but useful inclusion in what is an effective affiliate comparison site theme WordPress.
Steady Income Pricing
Steady Income theme is available for $49 per year for unlimited websites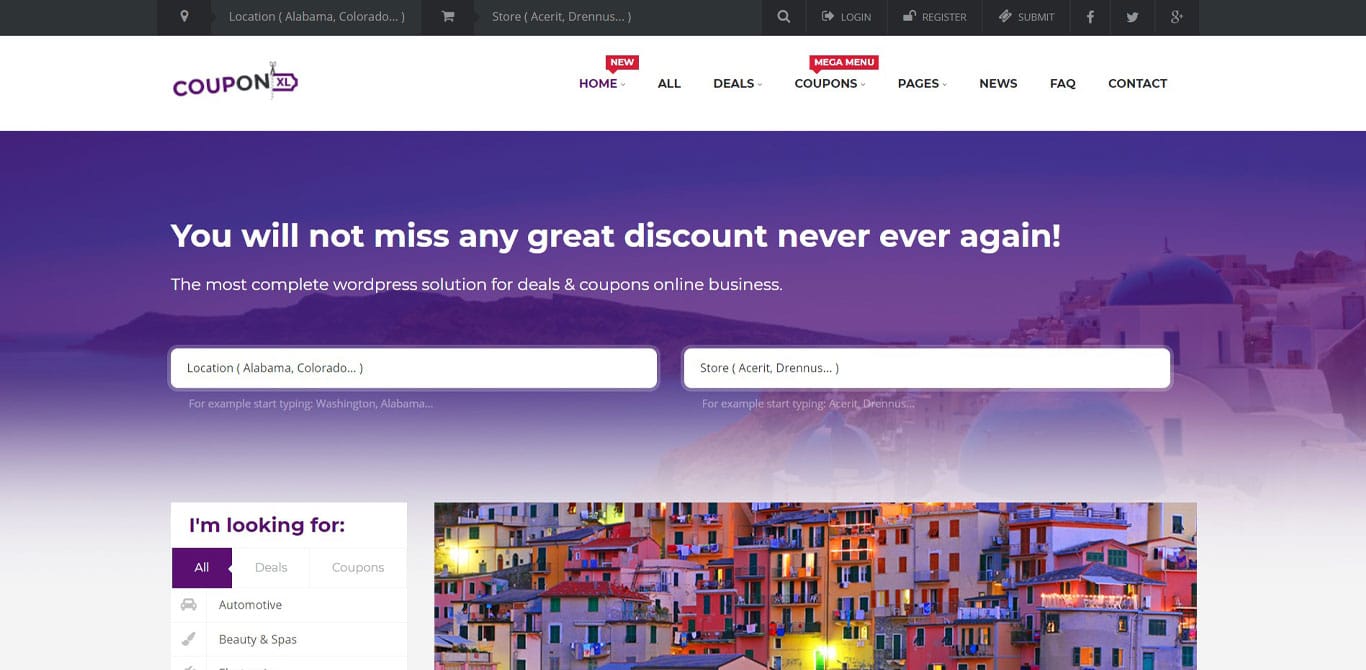 CouponXL is a product showcase design that could also work exceptionally well as a WordPress affiliate theme. It's modern, colourful, includes a sticky header, contrasting light and darker backgrounds, strong sans serif fonts and nice flow down the page.
CouponXL deserves its place in this list of best WordPress themes for affiliate marketing. It has all the ingredients you need to promote products, including membership options, user submissions, coupons, special offers and all those tricks retailers use to part us with our money. Add a neat tool for hiding your affiliate links and you have everything you need for your passive income!
Coupon XL Pricing
Coupon XL starts at $39 per year for unlimited websites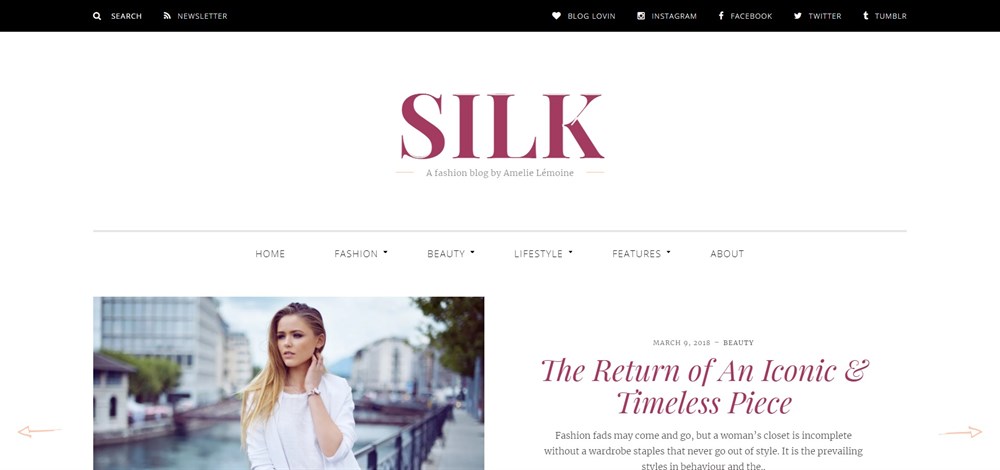 Silk is a fashion template aimed at affiliates that work with bloggers and magazines. It has a minimal, elegant design that features images attractively in posts. There are also a variety of layouts and design features, including a featured posts slider, typography customization options, social media tools, mega menu, Instagram sharing feed, and more.
Everything is extremely customizable and can be fine-tuned to your exact needs. Finally, Silk comes with premium customer support and very detailed documentation, making it easy to fix any problems should they arise.
Silk Pricing
The Silk theme starts at $75 per year for 1 website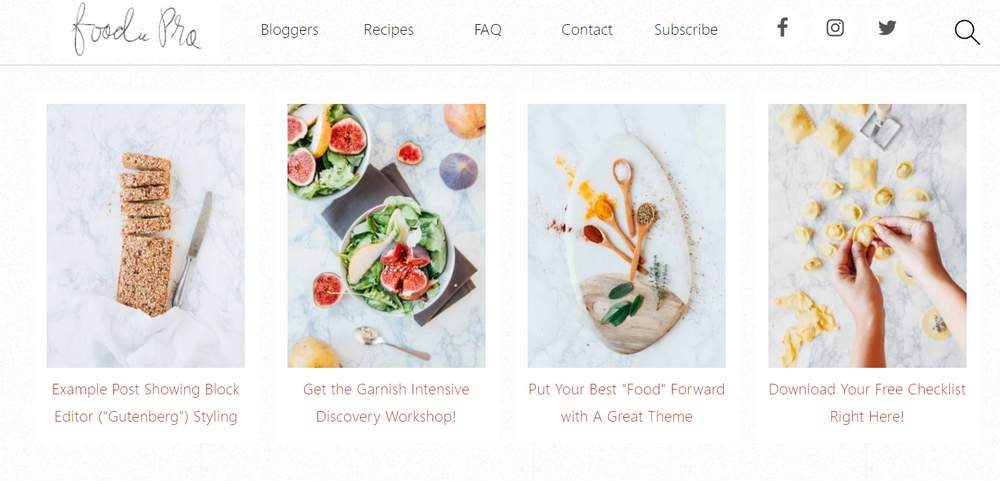 Are you looking for the perfect theme to create your next food affiliate website? Look no further than Foodie Pro. This theme is perfect for recipe blogs that have sponsorships from different products or food product affiliates.
The colorful yet minimalist design with a lot of white spaces make it a great choice for those who do not like to clutter their websites. Foodie Pro also lets you display your social icons right in the header to further encourage social media sharing. All in all, if vibrant websites are your thing, Foodie Pro is a great choice.
Foodie Pro Pricing
Foodie Pro is available for a one-time payment of $9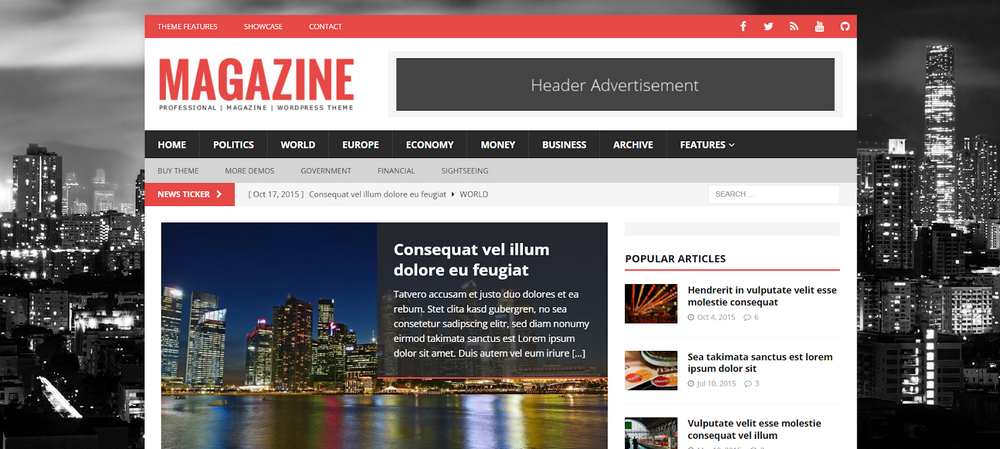 MH Magazine is a great theme to display all your affiliate posts in a perfect grid-style. It grabs the attention of visitors with large featured images and overlay text. With the flashy visuals that resemble big news websites, MH Magazine theme can help your visitors feel familiar with your brand while offering great value.
You also get a header sponsor section where you can constantly display a banner for your sponsor across all the pages. Its header menu also features a "news" section that keeps displaying headlines of your latest blog posts. The perfect theme if you're looking for a more info-styled blog!
MH Magazine Pricing
MH Magazine theme starts at $49 per year for single site license.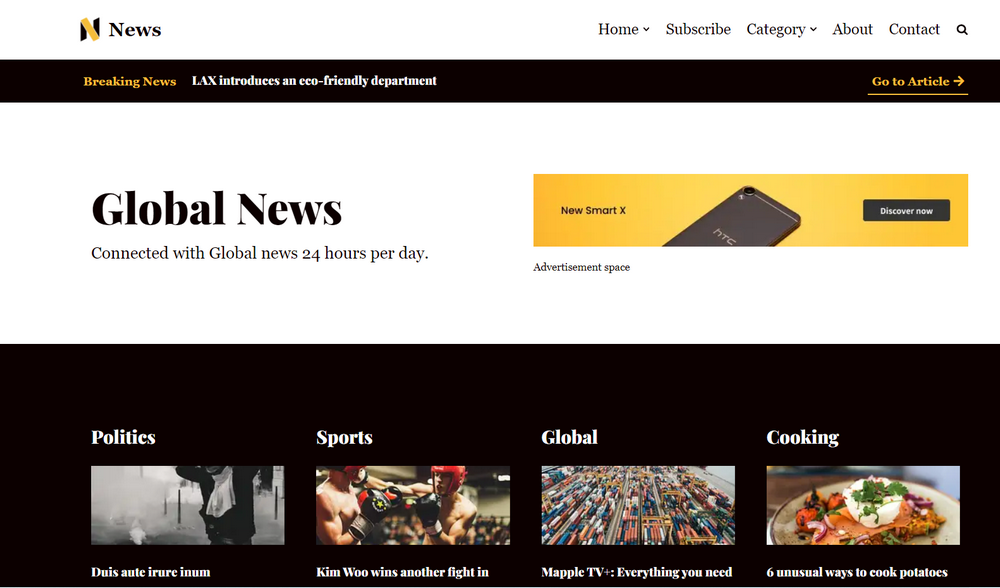 Neve is one of the few multipurpose themes that allows you to design a website the way you desire! With hundreds of prebuilt templates, you can create the perfect affiliate marketing website with ease. Just browsing through its template library gives you design inspiration or you may find a template that just fits right for your website by default.
It is a goldmine for creating the perfect affiliate marketing website in WordPress. It lets you customize your header, blog layouts, single post layouts, fonts, and much more. Being a multipurpose theme, you can continue to customize the theme and styling as your website continues to grow. If you enjoy playing around with settings, then give Neve a try!
Neve Pricing
Neve is a free theme with premium version that starts at $69 per year for unlimited websites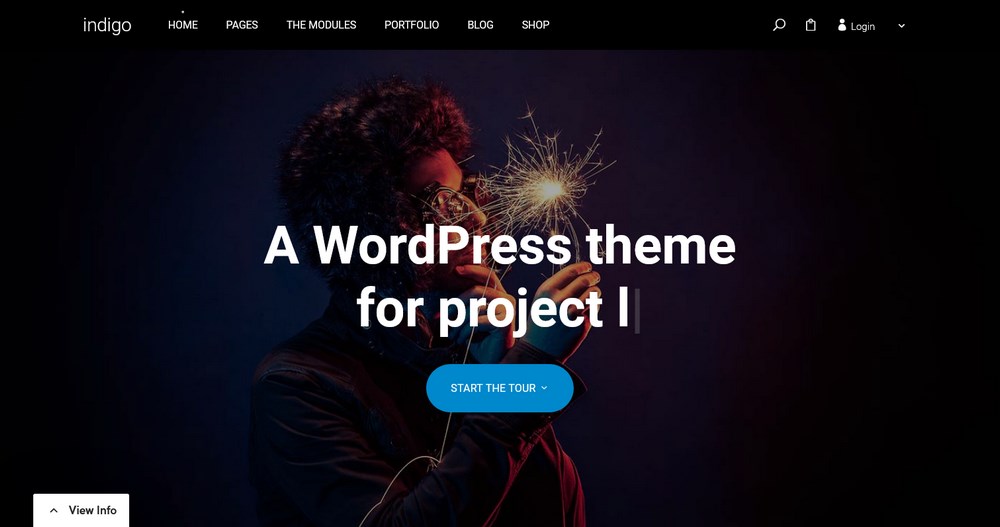 Indigo lets you create an affiliate site via modules, which are tiny pieces that have specific functions. These include subscription forms, video backgrounds, portfolios, ads, testimonials, and more. Using these modules, you can easily create a site in a matter of minutes, similar to the way a page builder works.
The theme itself is quite flexible and can work for consultants, designers, bloggers, and pretty much anyone. It works well with popular plugins like WooCommerce, WPForms, and other must-haves. On the whole, Indigo is a very solid multipurpose theme with a great design.
Indigo Pricing
Indigo starts at $129 per year for 1 website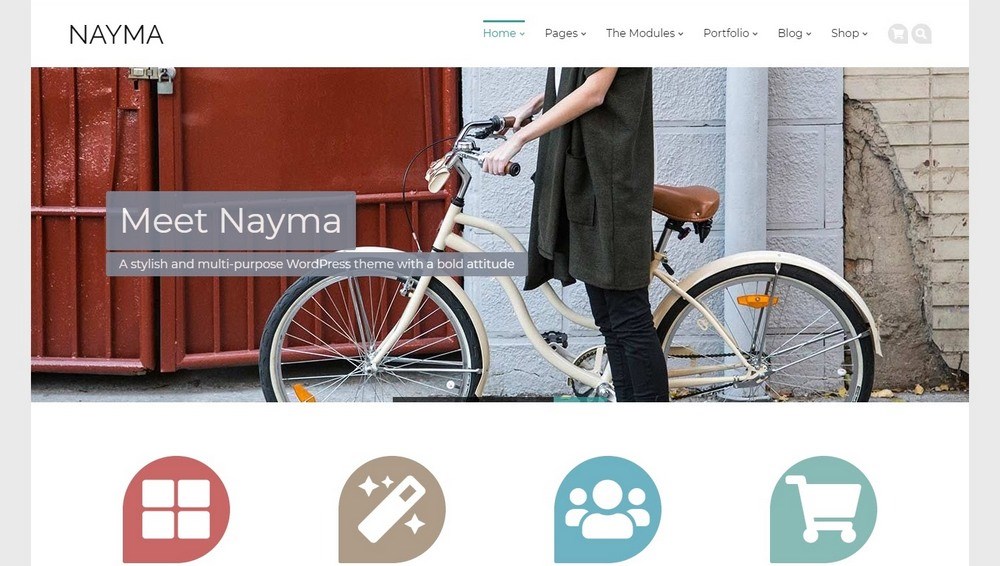 Nayma is a theme with a bold design and prominent typography. It allows you to build your site using modules similar to Indigo. These elements include subscription forms, headlines, paragraphs, image galleries, and many more.
The theme works well with WooCommerce, Gutenberg, WPForms, and all of the other essential plugins that you'll want to use. Everything is edited via a front-end interface, making it simple to see exactly what your website will look like. It's another great opinion that should work well for affiliates.
Nayma Pricing
Nayma starts at $129 per year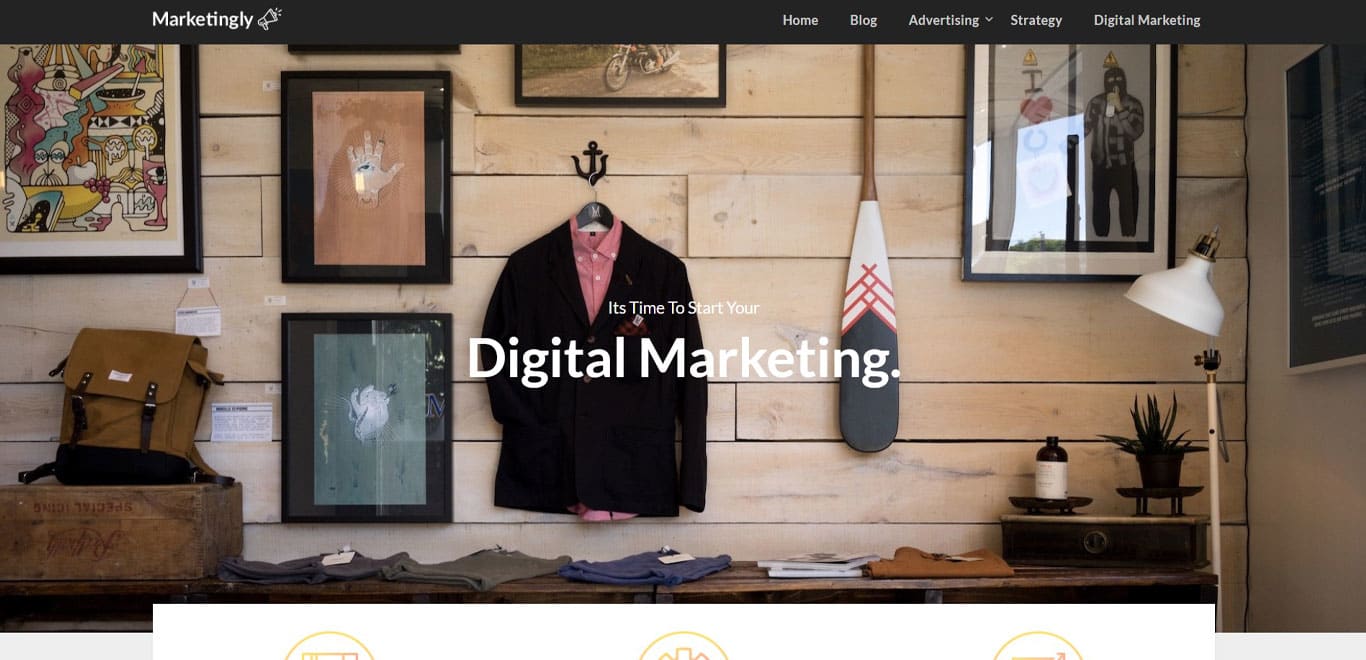 Marketingly is a clean, modern WordPress theme for affiliate marketing with a free and a premium version. It uses a blog layout with crisp content blocks and fonts with colorful images, an off-white background and minimal navigation. It's a great-looking template that could work for many niches.
Marketingly is modest in its ambitions but does what it does exceptionally well. There is something about the balance of the pages, the use of color and modern fonts that lends themselves well to engagement. When built with affiliate marketing in mind, this could be a very strong contender!
Marketingly Pricing
Marketingly starts at $39 per year for 1 website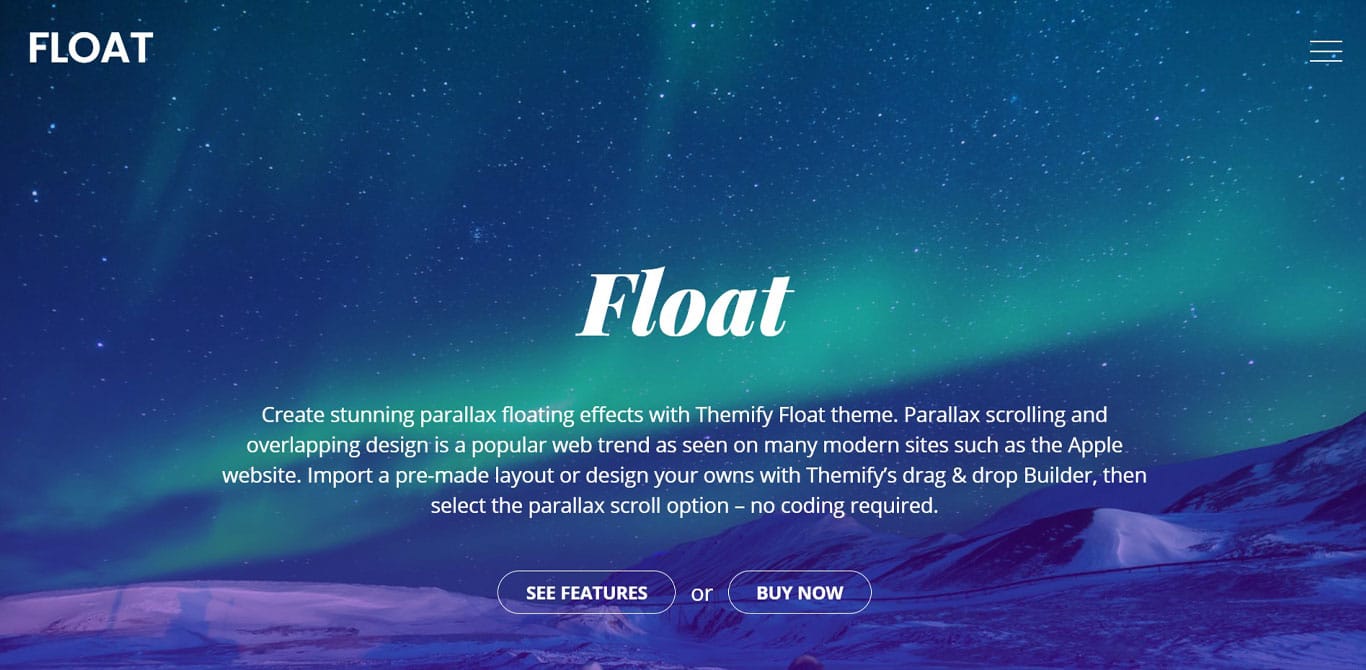 Float is something of a Marmite WordPress theme for affiliate marketing. Some of you will love it and some won't. It's a nice and colorful design with unique floating elements, hence the name. It uses floating effects when you scroll to highlight images and headlines which adds a little interest to an already strong design.
The theme comes with several demos covering different niches. You can also customize the default to suit your own. Each comes with parallax effects, overlapping page elements, very legible fonts and a range of colours that make this theme stand out. With support for social networking and WooCommerce, this theme has everything.
Float Pricing
Float starts at $59 per year for unlimited websites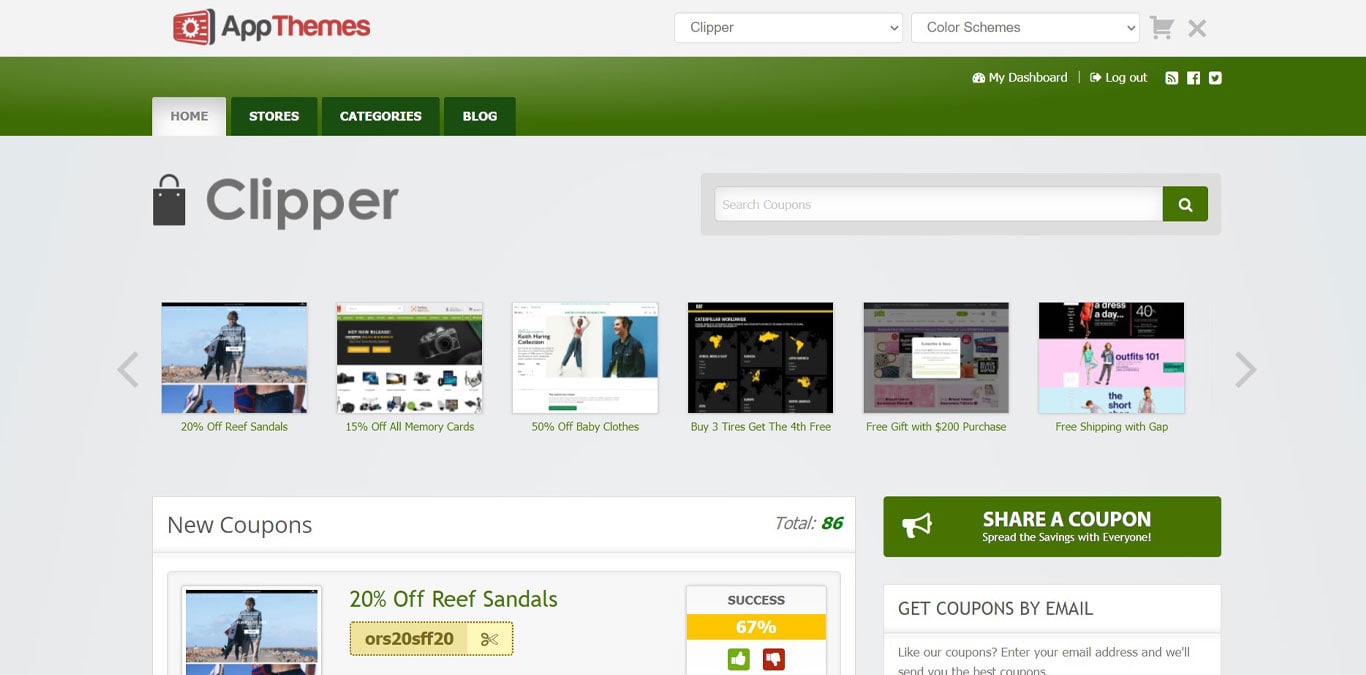 Clipper is a WordPress affiliate theme built around coupons. It can also be customized to suit other methods of selling if you prefer. It's a classic design with off-white background, colored navigation section, scrolling coupon slider and blog-style layout with sidebar.
The design is simple but effective. While the demo uses green and looks like some existing deal or coupon websites, that could be changed in seconds. The theme comes complete with its own built-in payment gateway, link cloaking, analytics tools, store and category pages and custom email tools. That's why it's in this list of the best WordPress themes for affiliate marketing.
Clipper Pricing
Clipper theme costs $69 per year and can be used on unlimited websites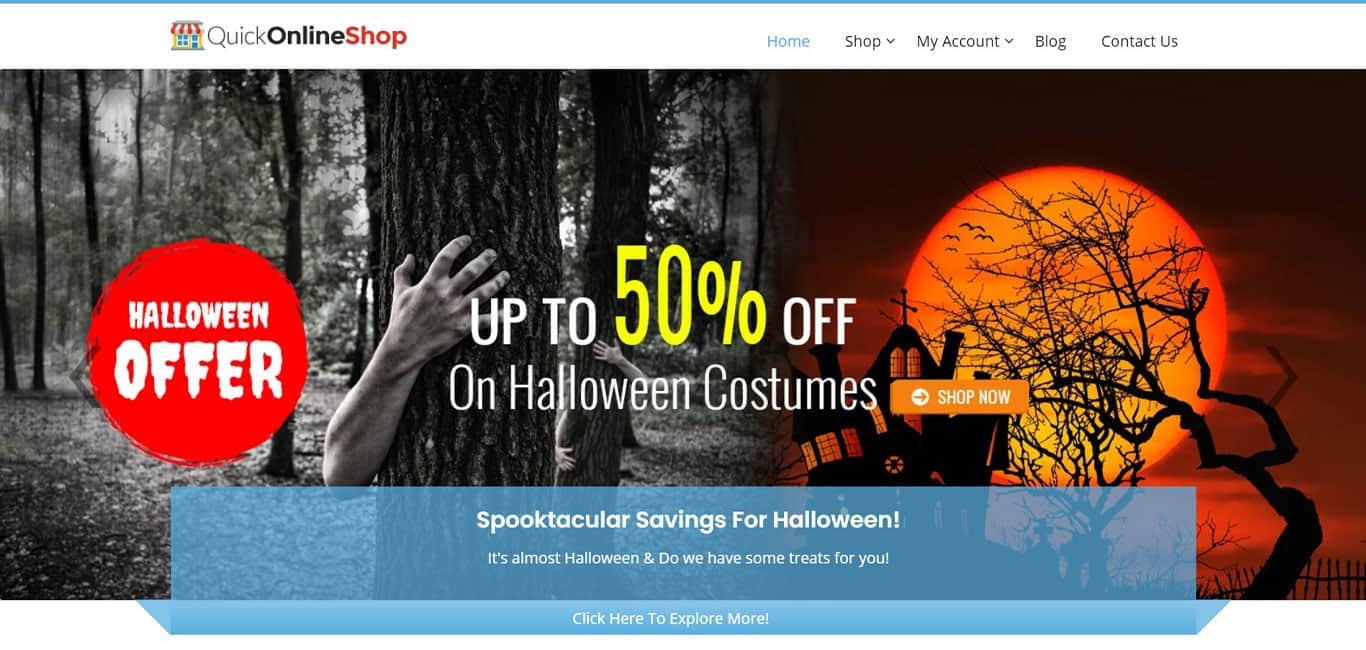 QuickOnlineShop makes a strong first impression. A full screen image slider with colorful images and strong fonts immediately grabs your attention. Further down the page we have a more traditional online store layout with product blocks, content blocks, calls to action and a nice blog section.
The design of QuickOnlineShop is clean and modern and makes short work of building an affiliate website. The theme comes with smart product import tools to make building your website simple, you can also use WooCommerce, use cross-selling tools, add discounts or offers on the fly.
Quick Online Shop Pricing
Quick Online Shop theme starts at $97 per year.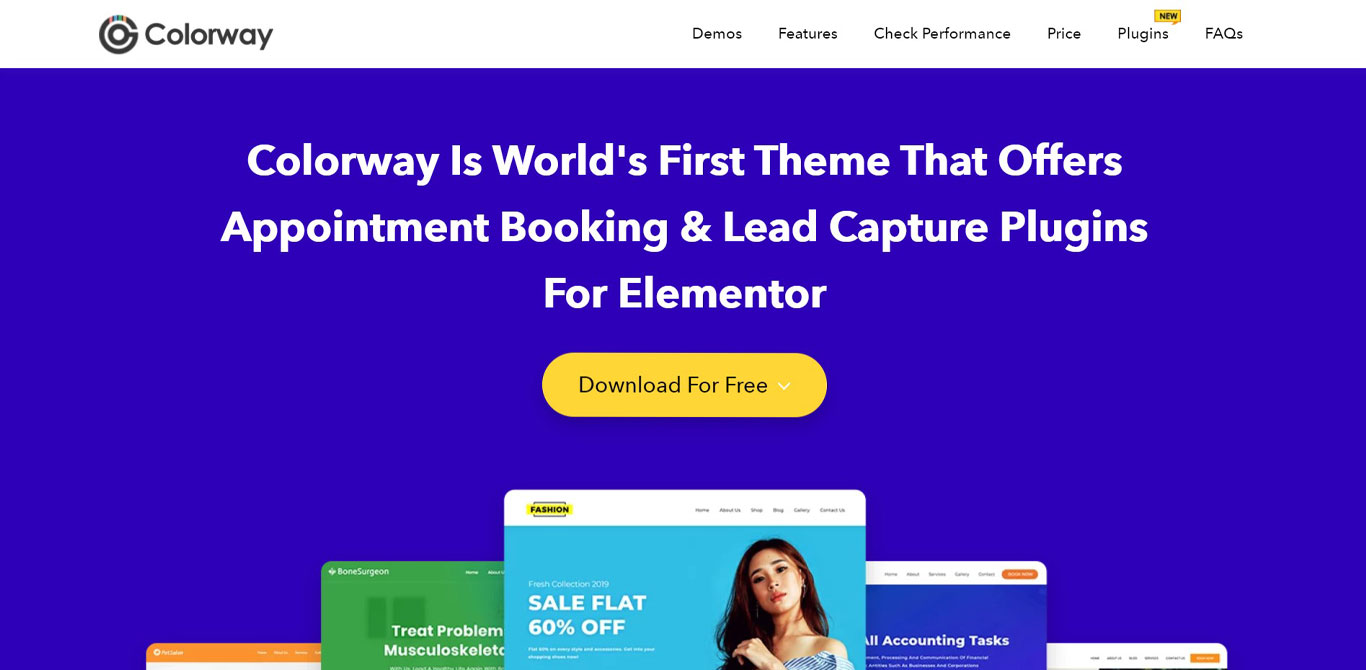 Colorway certainly lives up to its name. The theme comes with over 40 demo websites and each is colourful and pleasing to the eye. The demos cover many niches so could require minimal work on your part to begin earning passive income. Customization is made simple with Live Customizer should you want to make changes.
This is a useful WordPress theme for affiliate marketing. It includes a strong design, fast performance, a wide range of demo templates and is compatible with Elementor drag and drop page builder. It also supports WooCommerce, has an integrated payment gateway and appointment booker. Useful elements for some affiliate niches.
Colorway Pro Pricing
Colorway is a free theme that offers a premium version starting at $79 per year.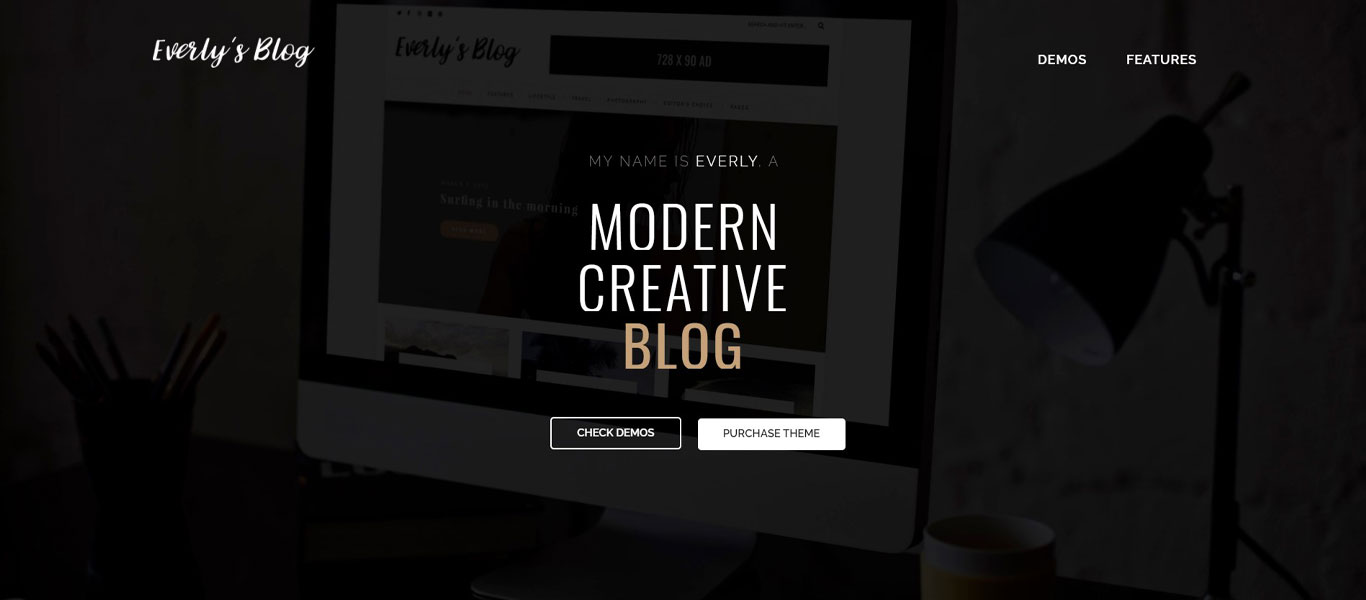 Everly is a chic blog design that could work exceptionally well as an affiliate website with a personal touch. This is another of those themes ideal for marketers who want to build more of a personal relationship with customers. Who want less of an online store feel and more of sharing a lifestyle kind of vibe.
The design is clean, subtle and uses imagery effectively. It's a boxed design with a nice mix of sans serif and handwritten fonts within a blog layout. The category pages provide affiliate opportunity while the sidebar and blog design means you can integrate products and links wherever you like.
Everly Pricing
Everly starts at $59 per year for one website

Growth Press is a mix of WordPress theme for affiliate marketing and direct sales website. We feature it here because combining a sales funnel or landing page with affiliate elements could work very effectively in the right hands. This design has been built specifically to sell and it does that with style.
The design is clean, modern and uses a limited colour palette to best effect. The demo comes with a selection of page types that cover most needs. Page elements include videos, images, products, blog posts and the option to add more. The theme loads quickly, supports SiteOrigin drag and drop page builder and is translation ready too.
Growth Press Pricing
Growth Press theme starts at $67 per year for 1 website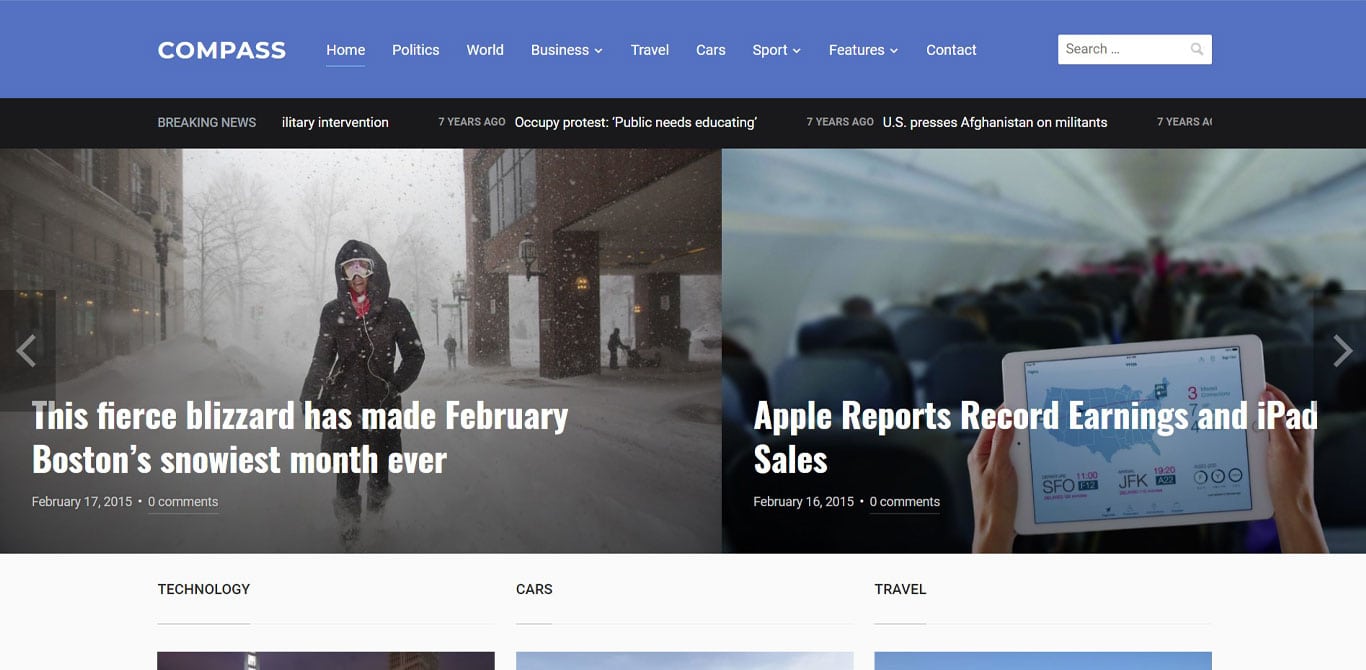 The Compass WordPress affiliate theme, like Alpha, uses news to sell. It's another magazine theme with a modern design, strong images and fonts and a range of layouts to suit any niche. With a little work, this could be an awesome website for both news and for affiliate marketing.
The design is modern and uses a very effective news ticker and header slider alongside minimal navigation and category blocks. Subtle use of colours throughout the page keeps things interesting while a sidebar could be personalized however you like. Compass uses the Live Customizer to make easy work of personalizing this theme and comes with a selection of real life examples of the theme in use to provide inspiration.
Compass Pricing
Compass starts at $69 per year for one website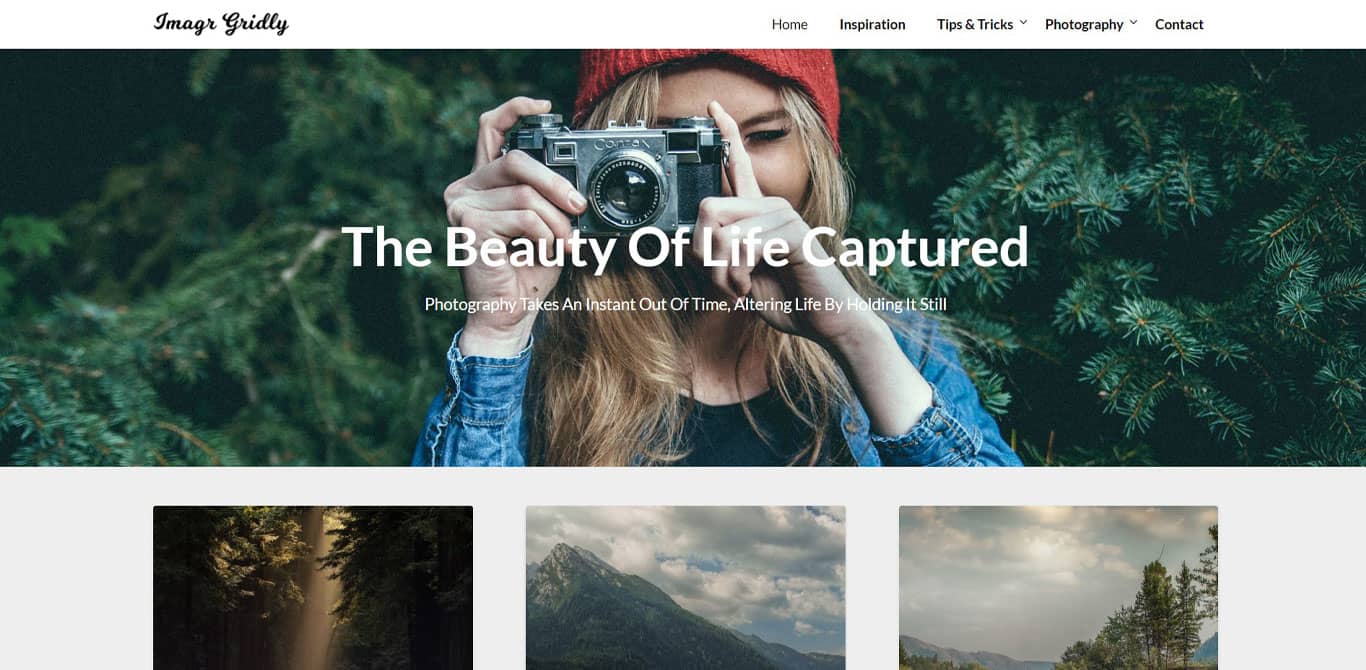 ImageGridly is actually built as a portfolio but we think it could be one of the best WordPress themes for affiliate marketing. It's clean, flat, modern and uses imagery to great effect. Alongside sans serif fonts, an off-white background and great page balance, we think this could be a top performing affiliate template with a little work.
ImageGridly has a range of child themes available and comes with the tools to customize every element of the page. It is compatible with the Elementor drag and drop page builder too, so making those changes would be a breeze. While not a dedicated affiliate theme, we think ImageGridly has all the ingredients you need to begin selling with the minimum of effort.
Image Gridly Pricing
Image Gridly theme starts at $39 per year for one website.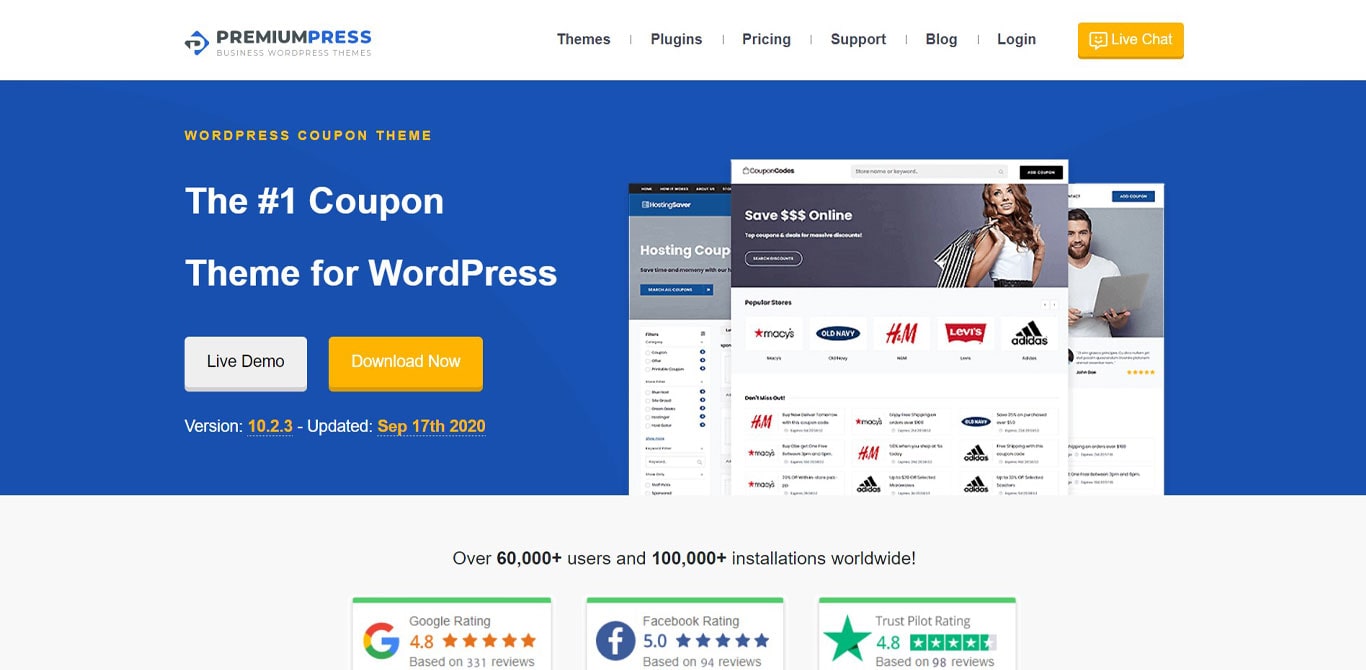 Coupon PremiumPress is a very flexible affiliate marketing WordPress theme. Despite the demo being locked behind a login, the designs themselves make that inconvenience worthwhile. Templates are clean, modern and offer a range of affiliate options depending on your niche.
Coupon PremiumPress comes with a couple of demos, a coupon site, standard company site or one that promotes products. You could combine all these approaches to deliver exactly the affiliate experience you want with the minimum of fuss. The theme uses its own page builder and comes with a wide variety of features including coupons, offers, affiliate code popups and store pages. It's a very versatile theme.
Coupon PremiumPress Pricing
Coupon PremiumPress charges a one-time fee of $99 for unlimited websites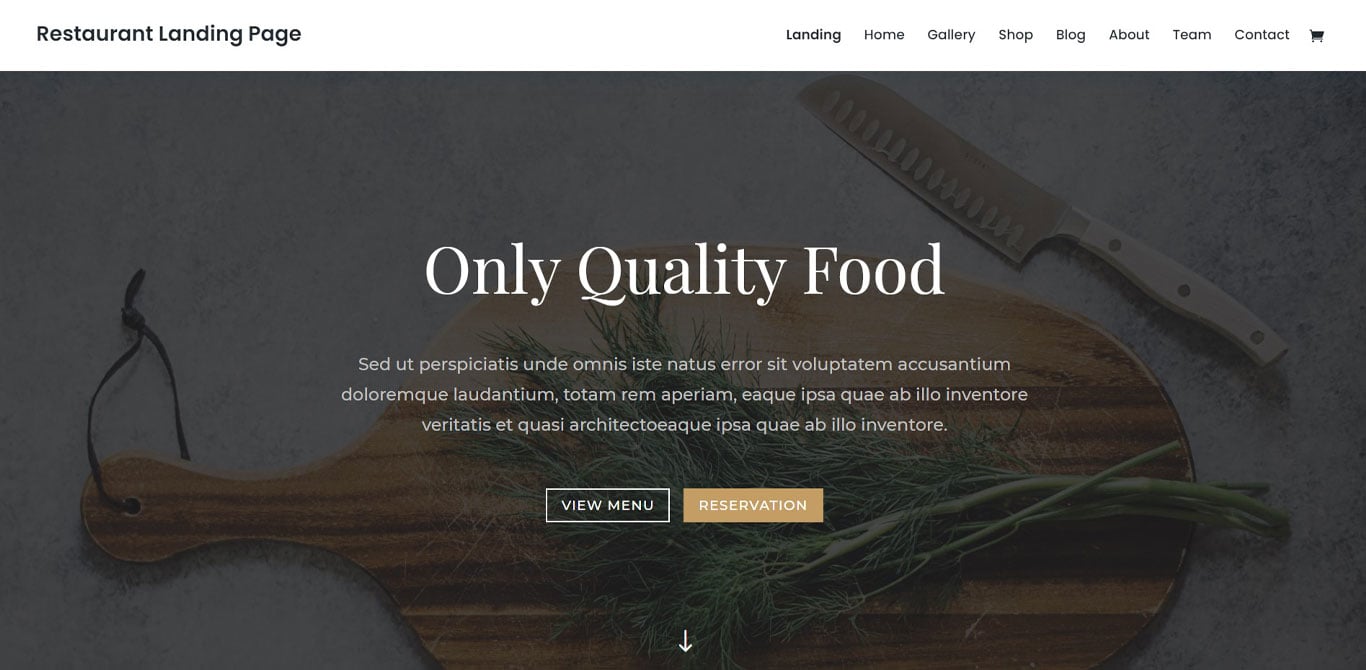 Divi is a very powerful multipurpose WordPress theme that could work very well for affiliate marketing. The sheer volume of demo websites means there is every likelihood that you could build affiliate websites with the minimum of customization.
Divi uses its own drag and drop page builder along with dozens of optional page elements to create an environment where you can build whatever website you like with the minimum of fuss. Many of the demos include unique graphics and fonts while the page builder has a ton of modules including calls to action, forms, testimonials and store elements for you to use as you see fit.
Divi Pricing
Divi starts at $89/year for unlimited websites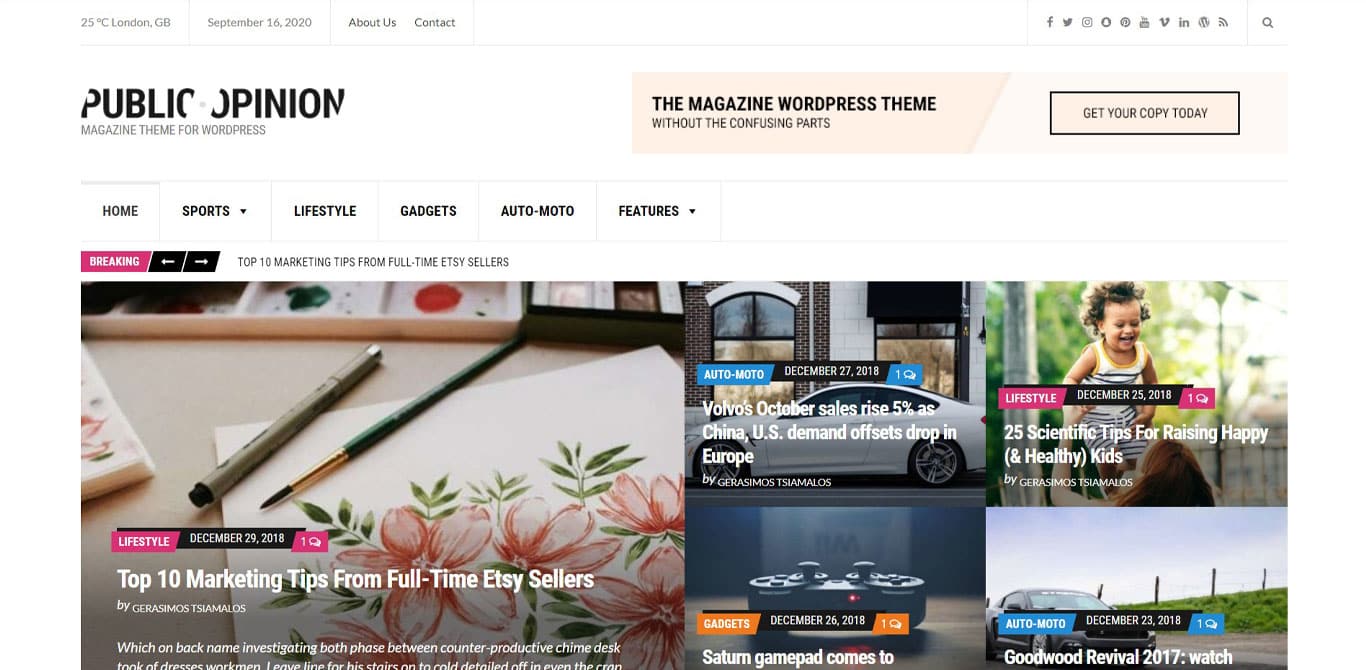 Public Opinion is a magazine theme that could easily be used for affiliate marketing. The demo is a standard magazine website template that showcases your options while leaving nothing out.
The design is modern, uses white space very well and uses pops of colour effectively. This would be the ideal WordPress affiliate theme for those who want to combine news, reviews or current events alongside affiliate products. The theme uses Elementor for codeless customization and supports video, reviews, weather, news tickers and, most importantly, WooCommerce and affiliate marketing tools.
Public Opinion Pricing
Public Opinion theme starts at $49 per year for unlimited websites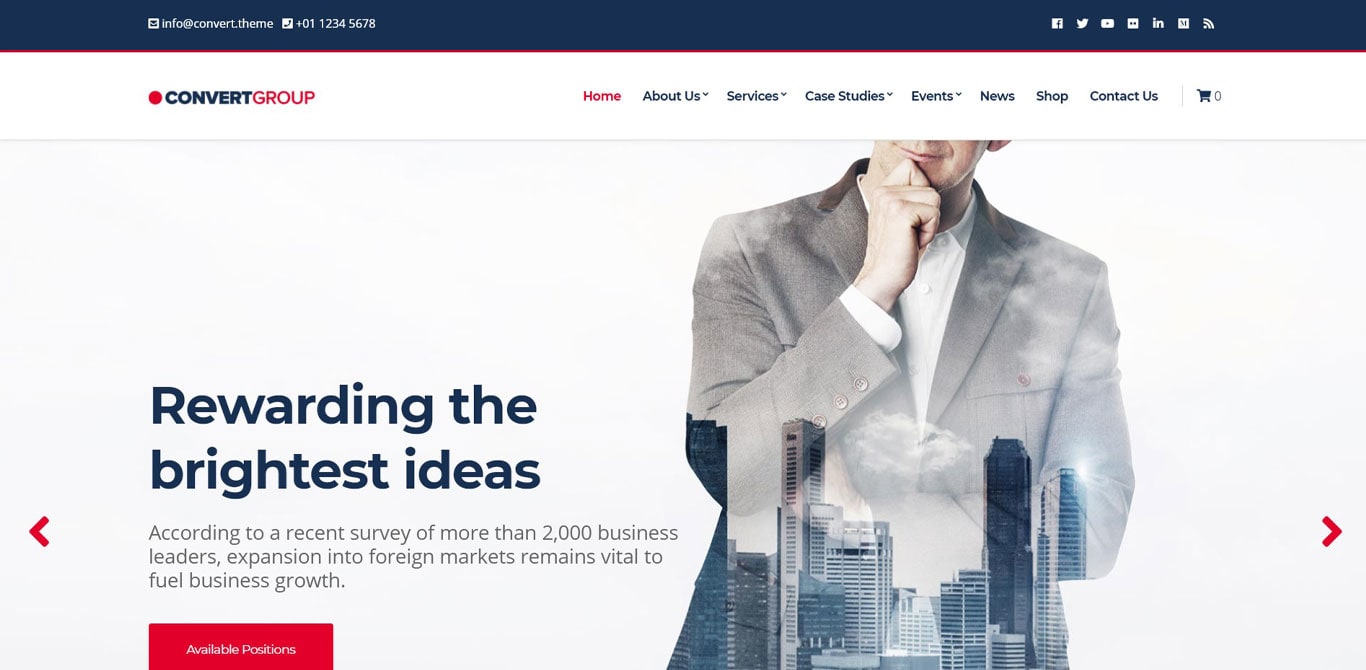 Convert is a standard business website with a few tricks up its sleeve. Alongside modern design, strong visuals and a flexible layout, you also get a store, custom post types, Elementor compatibility and full support for the majority of existing WordPress plugins.
Convert is an attractive design with bold header slider, strong contrast colours and nice flow down the page. It's a convincing website that creates authority before you even say a word. The included store pages and store builder make short work of building the affiliate part of the site while being boosted by your content. It's a great combination!
Convert Theme Pricing
Convert theme starts at $49 per year for unlimited websites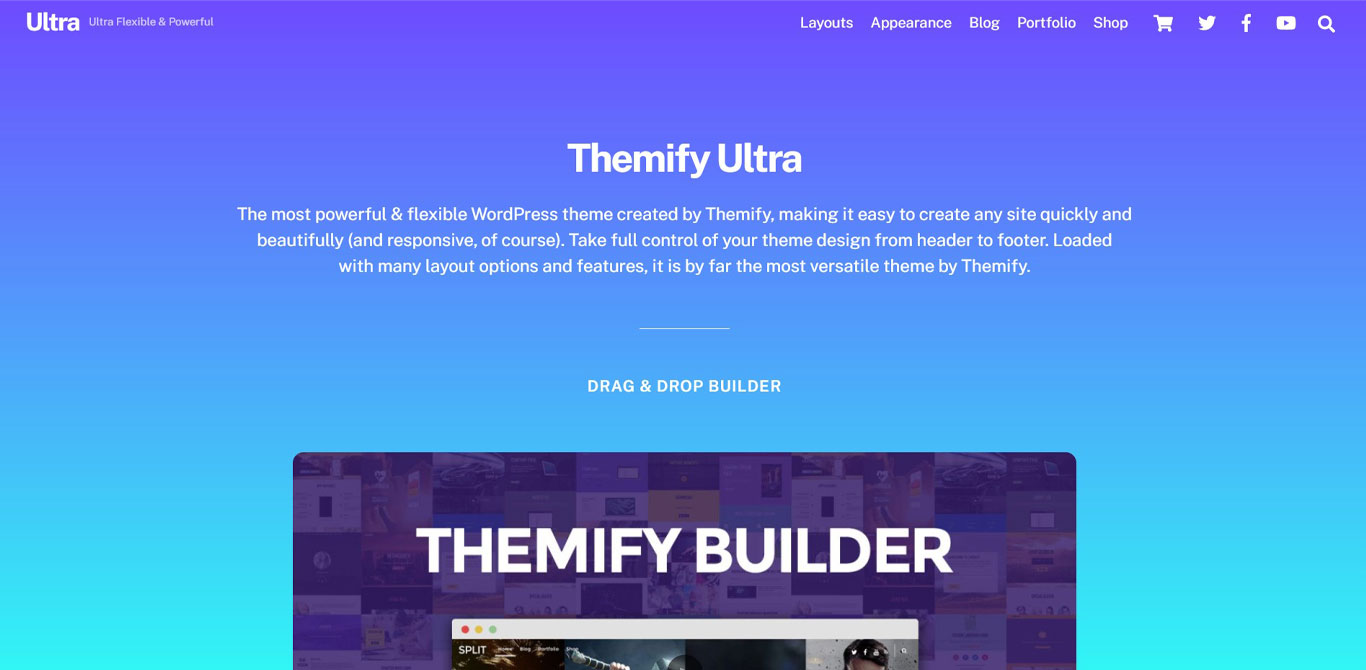 Ultra is a multipurpose WordPress theme that could service affiliate marketers with ease. It comes with a range of demos that cover everything from weddings to eCommerce and everything in-between. Even though it isn't a dedicated affiliate template, it deserves its place in this list of best WordPress themes for affiliate marketing because of its flexibility.
Choice is one thing you're not short of with Ultra. There are 15 headers, 6 footers, 5 post layouts and a whole raft of other options. The theme also comes with its own contact form, image highlighter, WooCommerce tool, pricing table, countdown, counter and progress bar apps. All can be used to help affiliate sales. That's why Ultra is in this list.
Ultra Theme Pricing
Ultra theme starts at $59 per year for support and updates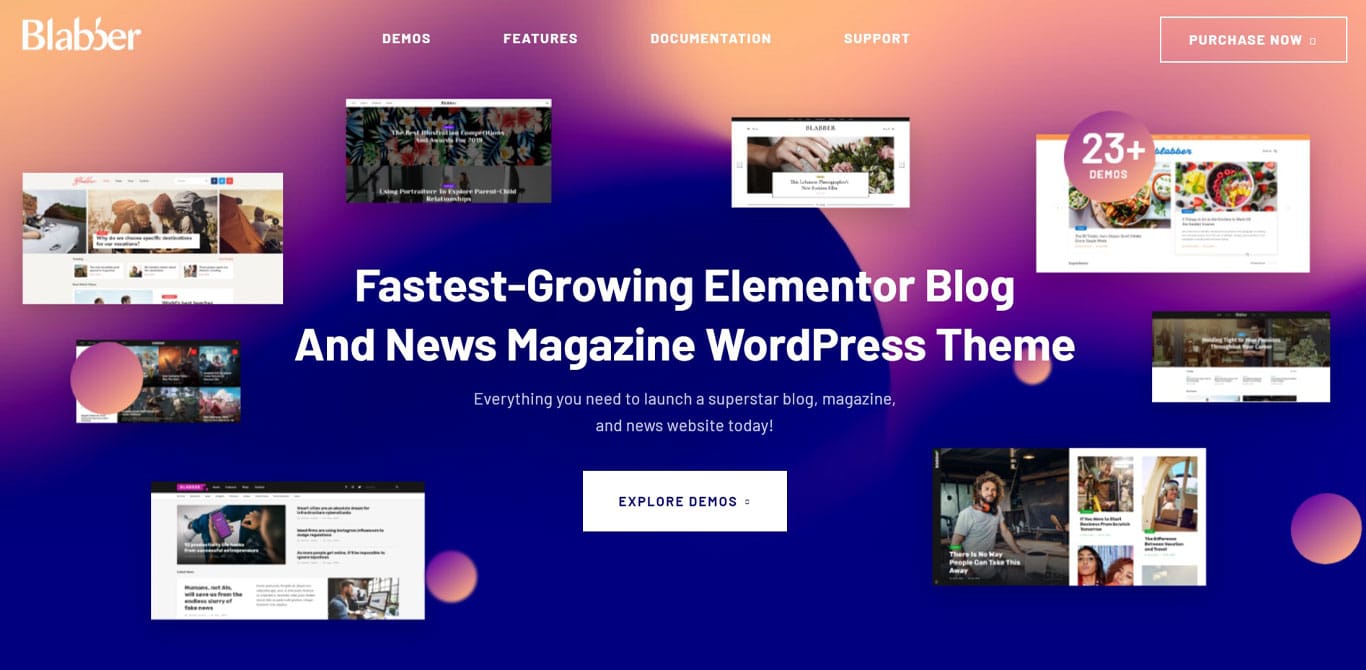 Blabber is a striking magazine theme that could easily be used for affiliate marketing. The theme comes with a selection of demos with different designs, impactful landing pages and lots of optional page elements. Each design is attractive and can be customized to match your own tastes.
Blabber is useful for affiliate marketing because it loads quickly, uses Elementor or the WordPress live customizer, has eCommerce support, social media integration and a great mix of post types to cover most niches. It's a wide ranging theme but has huge potential.
Blabber Pricing
You can buy Blabber theme at $59 which includes 6 months updates and support.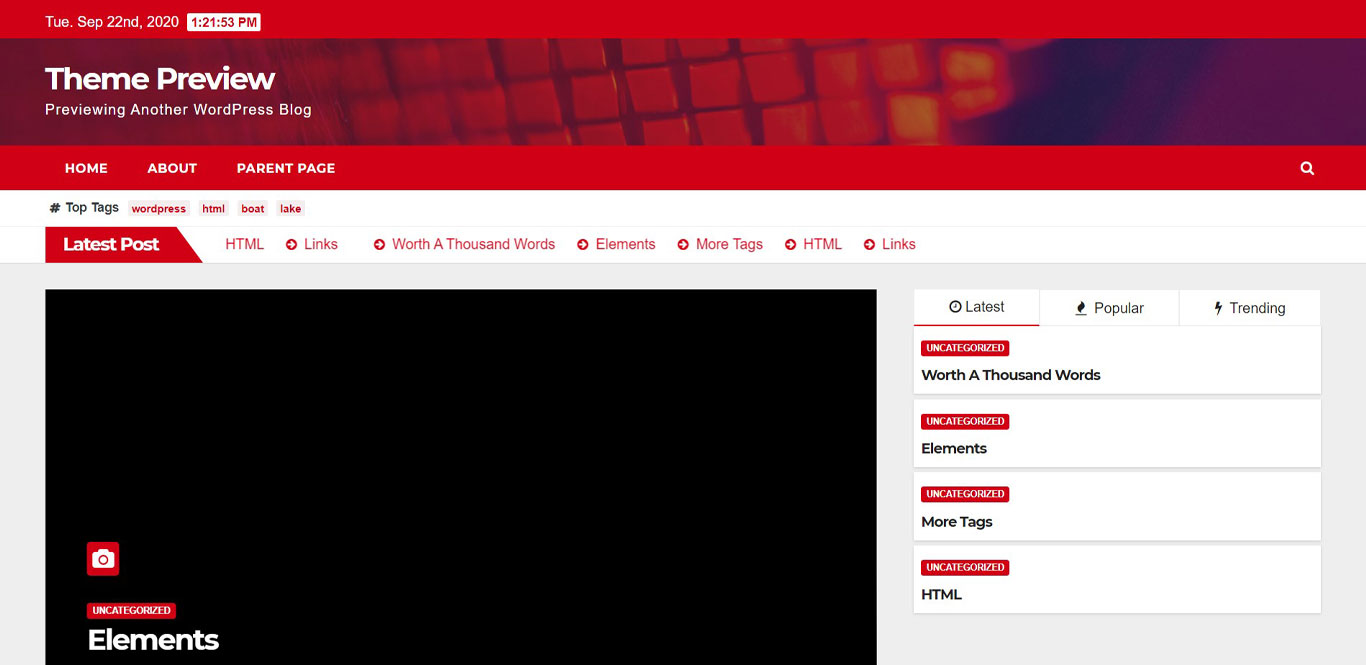 Newsberg is a magazine theme that makes a genuine visual impact. There is a free and a premium version and both use a traditional magazine layout to create immediate interest. This would work exceptionally well for affiliate marketing when done right.
The design uses a strong contrast colour to make that impact. Alongside strong imagery and the prominent news slider, the template then evolves into category sections and a tidy sidebar that could be utilized in any way you needed. The theme comes with support for Elementor, WooCommerce, Contact Form 7 and will support most other WordPress plugins.
Newsberg Pricing
Newsberge is a free theme
You choose a theme – What's next?
Affiliate marketing is an incredibly popular method of building an extra income. The theory is simple. Build a website, review some products, use your affiliate links for each product and hope a reader will be inspired to buy.
You will need a few things to build your own affiliate marketing website:
Domain and web hosting
Affiliate plugins for WordPress
Caching and performance plugins to make WordPress faster
Affiliate accounts with relevant retailers
Once you have all these things, you can look at the promotion of the affiliate website to add that layer of loveliness to your profits.
Conclusion
As you can see, our list of the best WordPress themes for affiliate marketing is made up of a wide range of templates. Each works well in its own right while offering the opportunity for creative marketers to leverage the many page elements to help create passive income.
All the WordPress affiliate themes here are well-designed, great to look at, support the latest version of WordPress and the vast majority of plugins. All work well on mobile too which is an incredibly important part of marketing.
In a world where the attention economy is evermore competitive, these standout WordPress affiliate themes will make you stand out for all the right reasons!
Althought, simple themes also work for websites that rely heavily on content and affiliate marketing. We suggest checking the following articles as well!