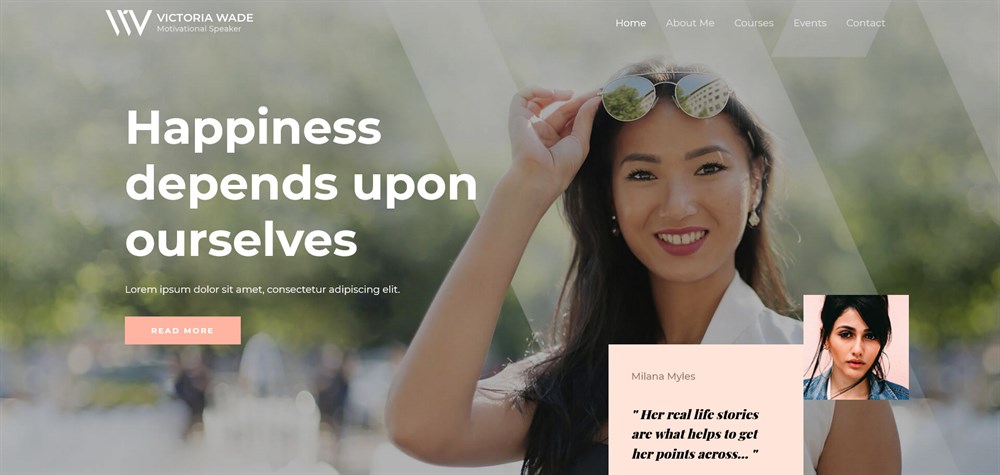 Looking for a softer, more approachable WordPress theme? Want wide appeal that lets your content shine without alienating any potential readers? Want to create a lifestyle or fashion blog? One of these feminine WordPress themes could help!
Whatever your reason for looking for a feminine WordPress theme, there are thousands of high quality examples out there.
That's what this post is all about. We have scoured the internet for the best feminine WordPress themes around. Themes that look amazing, work flawlessly and provide the features and freedom you need to express yourself online.
This list of the 30 best feminine WordPress themes is the result.
30 Best Feminine WordPress Themes 2023
Astra – Offers the biggest collection of feminine templates
Chicserve – Comes with attractive colors and fonts
Blossom Feminine Pro – Offers a wide variety of layout options
Girlie – A well-balanced theme for females
Activello – Free feminine WordPress theme
MTS Feminine – Subtle and feminine designs
Fascinate Blog – Flexible and pretty WordPress theme
Sarada – A lively feminine theme
Ashe – Comes with a minimal look and a sense of warmth
Isabelle – A welcoming theme designed for chic
Allure – Offers nice feminine styling
What Is a Feminine Theme?
A feminine WordPress theme can be a full-on theme about makeup or hair. It could also display simple feminine characteristics or sophisticated elegance. There is much more to feminine design than gender!
It can be as simple as pastel colour choice or the type of font being used. As in your face as cute images of babies or makeup or as sophisticated as the use of curved or rounded shapes in the design.
Feminine design is about how it makes you feel as much as what it looks like.
Why Choose a Feminine Theme?
Did you know that 36% of small businesses are owned by women? Or that the number of women owning businesses in the US has grown by 114% in the past 20 years?
You might choose a feminine theme because you're one of these women and want a theme that reflects your personality.
You could also be someone who just wants a softer web design with properties that reflect femininity.
Either way, you're in the right place.
The Best Feminine WordPress Themes
Whatever your reasons for wanting a feminine WordPress theme, this list has some of the best examples you can find anywhere!
We cover a lot of ground in this post and include lots of themes. If you don't have time to check them all, here are 5 of the best.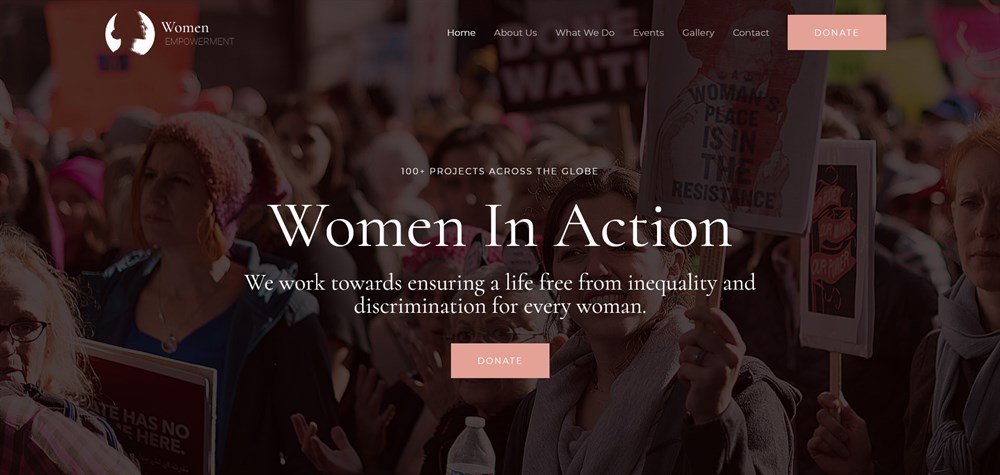 Astra is one of the world's best selling WordPress themes with over a million active users. Some of that is down to the clean design that makes it a pleasure to work with and the exceptional quality of the website templates that come with it.
There is a free and a premium version of Astra. Both include clean code that helps pages load with lightning efficiency, full compatibility with drag and drop page builders to make building websites a breeze and a selection of top quality templates you can use out of the box.
In particular, Astra has a few feminine WordPress themes to choose from. Themes such as Inspirational Speaker, Hairdressers and Hair Salons, Life Coach and Women in Action.
Recommended Astra's templates: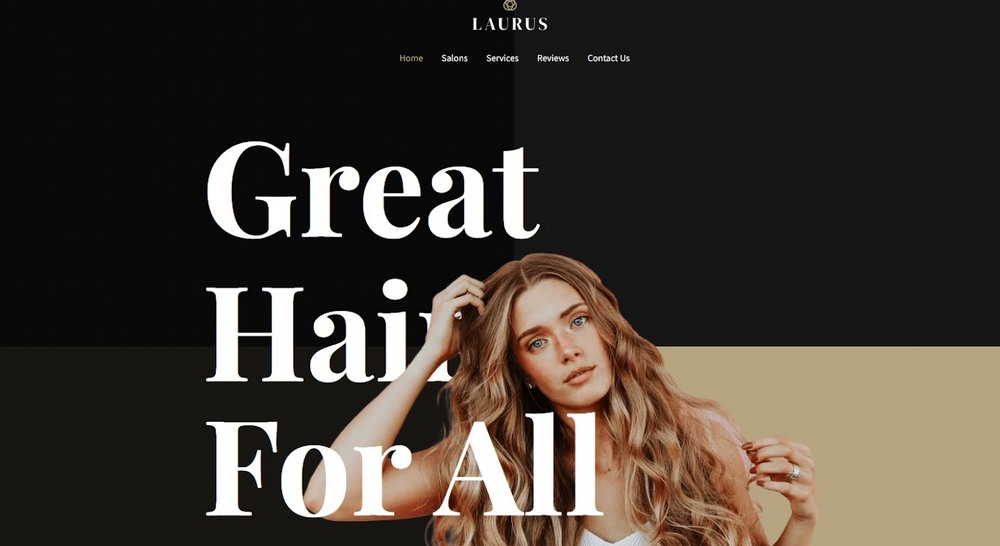 The Hairdressers and Hair Salon template is a dark theme that helps paint the picture of a lifestyle. It uses imagery everywhere, luxurious colors and serif fonts to deliver just the right impression to attract business.
The template includes a section for treatments, bookings and content blocks for anything else you might like to include.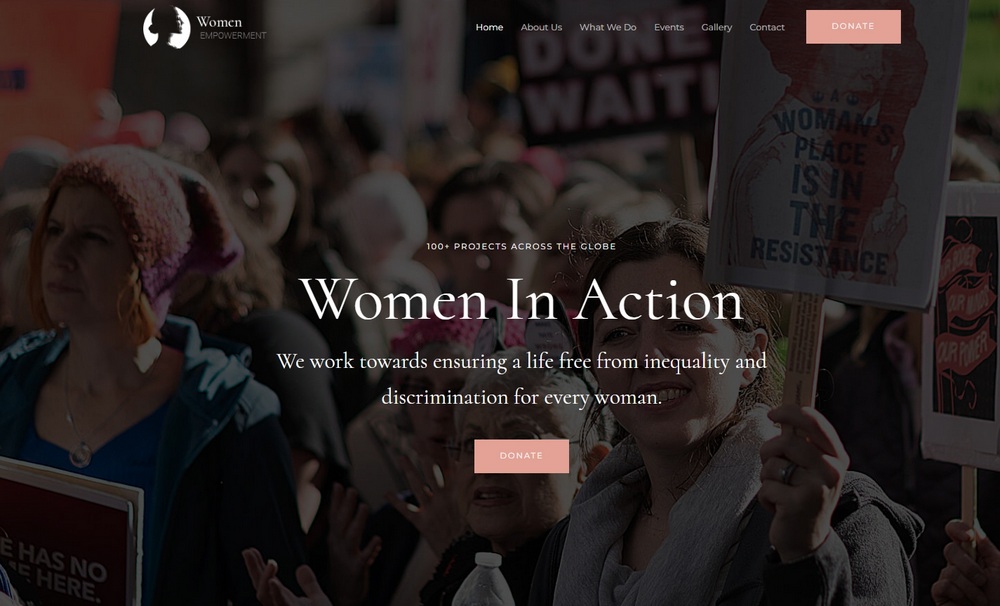 The Women Empowerment template is set up as a campaign website but could easily be customized for almost any use. It combines light and dark with pastel colors and welcoming fonts to deliver a friendly, welcoming impression.
The page also includes blocks for any type of content, headlines, calls to action, a blog, contact form and anything you like.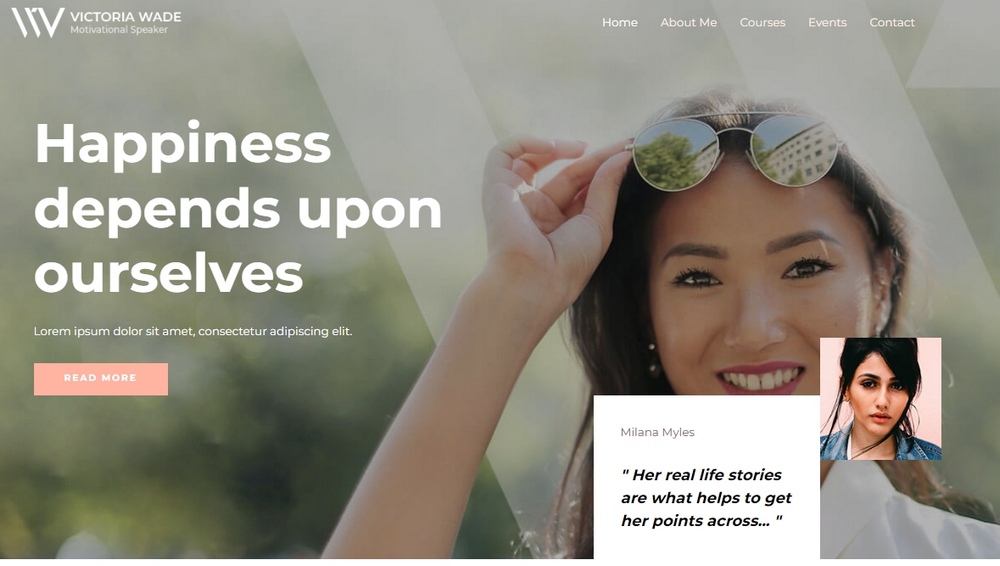 Inspirational Speaker is an excellent feminine template with soft pastel colors, nice imagery, modern fonts and a very clean design. While set up for a motivational speaker, you could use this template for any type of website with minimal effort.
Pages are light and well-balanced and the templates include all the core pages a website needs.
Pros of Astra:
A huge collection of professional looking templates
Clean code that loads pages fast
Compatible with Elementor, Beaver Builder, Brizy and other page builders
Can integrate seamlessly with WooCommerce, LearnDash and other plugins
Full training, documentation and support
Cons of Astra:
Choosing from the extensive range of themes can be tough!
Astra Pricing
There is a free version of Astra while premium costs between $47 €44 and $187 €174 .
Opinion of Astra
We consider Astra to be the easiest WordPress theme to use and to customize. We also think it's the most generous in terms of features and the sheer volume of templates it comes with. We may be biased, but we think it's the ultimate theme!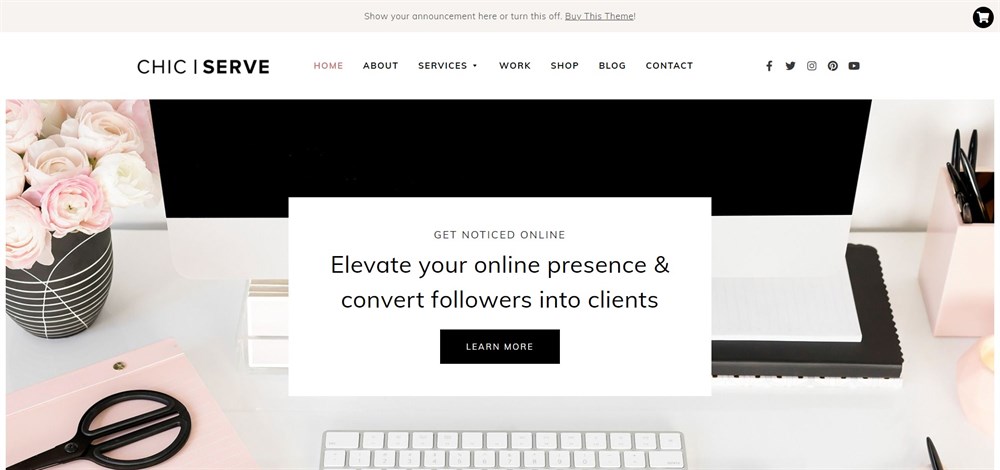 Chicserve is a pretty WordPress theme that uses soft pastels and fonts to create a very comfortable first impression. A first impression strengthened by a nice header image, impactful headline and confident navigation.
This is a business website template that covers all bases. While the demo is configured for a service business, it's easy to use how you could customize it to suit almost any use. Pages are well balanced, it uses lots of white space and has lots of scope for making it your own.
Pros of Chicserve:
Attractive colours and fonts
Business-oriented while still approachable
SEO-friendly and fully responsive
Demo website could be installed and ready to go in an afternoon
Cons of Chicserve:
Chicserve Pricing
Chicserve costs $149.
Opinion of Chicserve
Chicserve is a superb feminine WordPress theme. It is well designed, has a great colour palette and inspired choice in fonts. The price is rather excessive though.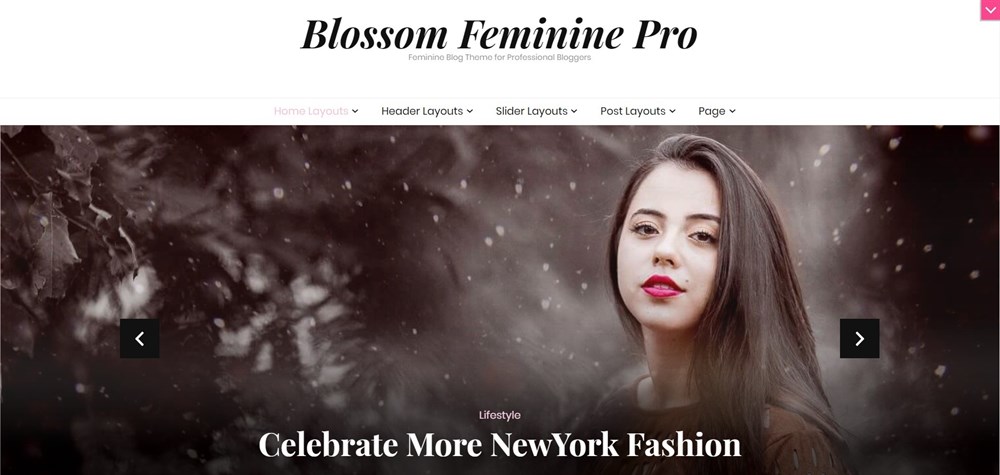 Blossom Feminine Pro is a blog theme with an understated elegance we like very much. It uses a mixture of font types to create a very appealing first impression. Along with a full width image slider and contrasting headline fonts, the theme starts as it means to go on.
The page unfolds into a standard blog layout with a single column in the demo and sidebar. Other layouts are possible with the theme. The category list is particularly notable, as is the use of white space and subtle colours. It's an attractive feminine WordPress theme!
Pros of Blossom Feminine Pro:
Great first impression in the demo
Ideal for a wide range of blogs
Great font and colour choices
A wide selection of included layout options
Cons of Blossom Feminine Pro:
Not as much design freedom as other themes
Blossom Feminine Pro Pricing
There is a free version of Blossom Feminine Pro and premium versions costing from $49 per year up to $198.
Opinion of Blossom Feminine Pro
Blossom Feminine Pro is ideal for blogs with an audience that would appreciate the feminine design.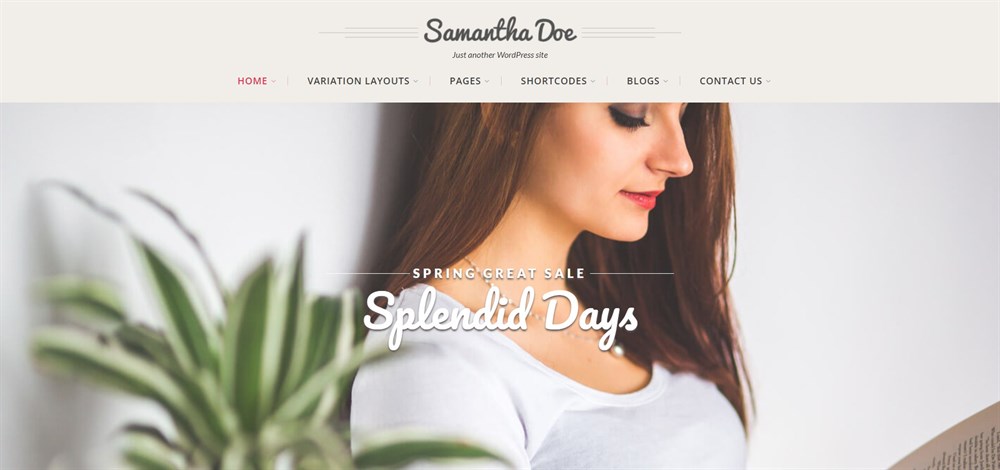 Girlie is a low key feminine WordPress theme and that's just fine with us. It's a well balanced theme with soft top navigation contrasted by a bold full screen header image. The mixture of fonts works well, as does the light putty coloured background.
The overlapped content elements in the demo site adds character to the page. Some smart animations and parallax effects further down showcase what's possible and elevates the theme nicely.
Pros of Girlie:
Subtle but very effective design
Compatible with Elementor and WooCommerce
Tons of customization options covering every part of the design
Compatible with the latest version of WordPress and its plugins
Cons of Girlie:
The design doesn't really have a wow factor
Girlie Pricing
Girlie costs $39.
Opinion of Girlie
We like Girlie. It has a genuine appeal and is low key but not invisible. It's also very flexible and is compatible with most plugins you're likely to use. There is no real standout feature but it's a good design overall.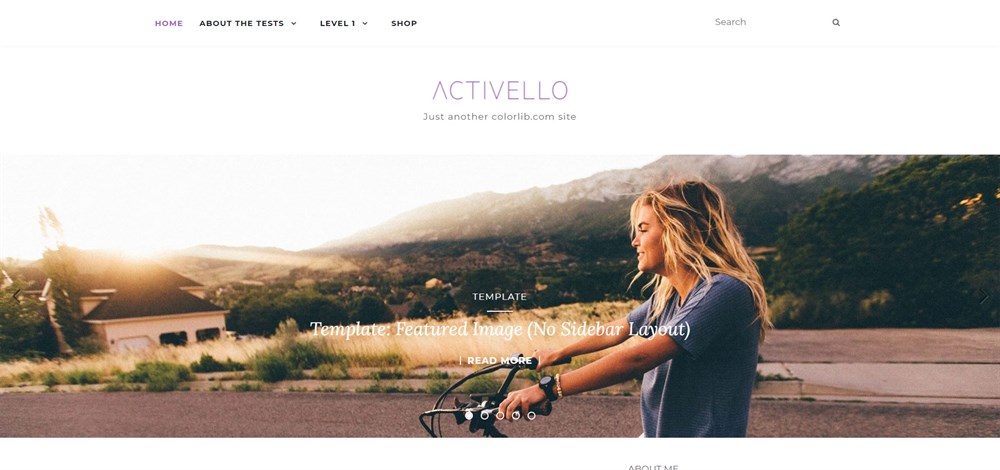 Activello is a free feminine WordPress theme that uses imagery to set the tone rather than fonts or colour palette. That makes it a very flexible theme that could easily be transformed into something completely different without lessening its appeal.
Activello is a blog design with a nice full width image that switches to a single column layout with sidebar and then switches into a two column layout to show what it's capable of. It has nice fonts, good balance and lots of white space. It's a very simple design that has been done well.
Pros of Activello:
It's free
A nice blog theme with lots of scope for personalization
The flat design is very contemporary
Compatible with the WordPress Theme Customizer
Cons of Activello:
Without the images, this theme could be anything
Activello Pricing
Activello is free.
Opinion of Activello
We like Activello because it's subtle and ripe for customization. That con also works in its favour as it is a genuinely flexible theme with a liberal dose of minimalism thrown in.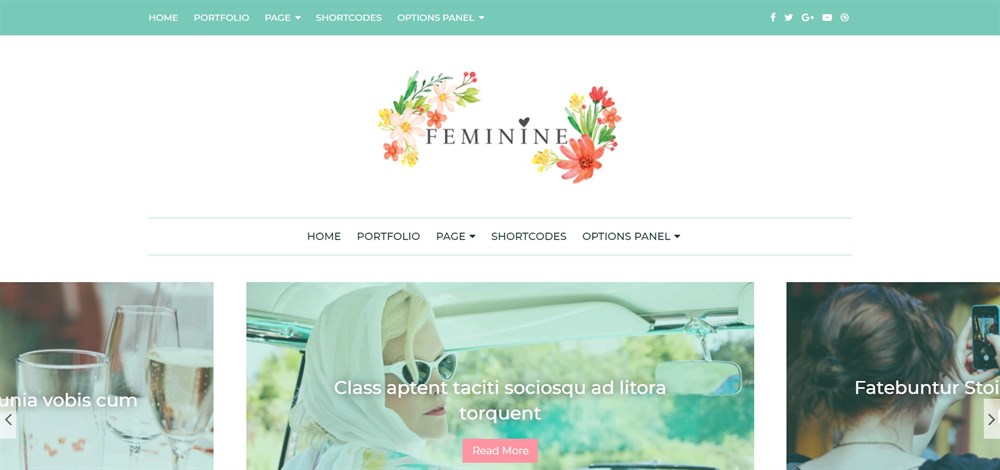 MTS Feminine has a series of demo websites covering a range of niches using either a magazine-style or blog layout. All offer a lot of scope for expressing yourself online.
Some designs are subtle and feminine while others are bolder. Each offers the chance to showcase yourself or your business in a range of ways. Each is easy to use, has a great eye for design and delivers the high quality experience that could do you justice.
Pros of MTS Feminine:
A selection of predefined layouts ready to go
Designed to be fast loading
Social media widgets included
Compatible with WooCommerce and other plugins
Cons of MTS Feminine:
Doesn't use a drag and drop page builder
MTS Feminine Pricing
MTS Feminine costs $39/year.
Opinion of MTS Feminine
MTS Feminine can be many sites to many people. It is flexible enough to customize to suit any brand or niche and mixes bold and elegant well. You don't get the benefit of Elementor or another page builder but the theme shouldn't prove too difficult to master.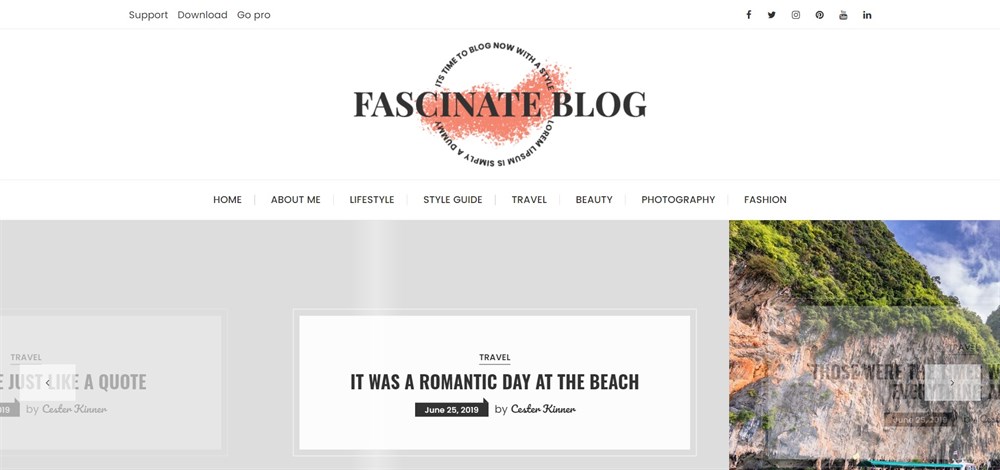 Fascinate Blog is a smart and pretty WordPress theme that could be used for almost any niche. It has definite feminine characteristics but is flexible enough to handle any customization you throw at it.
The demo design is a standard blog layout with a bold logo, neat navigation and full width header slider. The page unfolds into a single column layout with a sidebar. Colours are kept minimal and the main interest is provided by the images. It's a very contemporary theme that works very well.
Pros of Fascinate Blog:
Flexible yet characterful design
Fantastic use of white space
Inspired font choices
Could suit many blog niches
Cons of Fascinate Blog:
The majority of this theme's character comes from its images
Fascinate Blog Pricing
There is a free version of Fascinate Blog and a premium version costing $49.
Opinion of Fascinate Blog
Fascinate Blog is a clean, modern design with a lot of flexibility to do whatever you like with it. The free version is viable if you know what you're doing but the premium version is where it's at.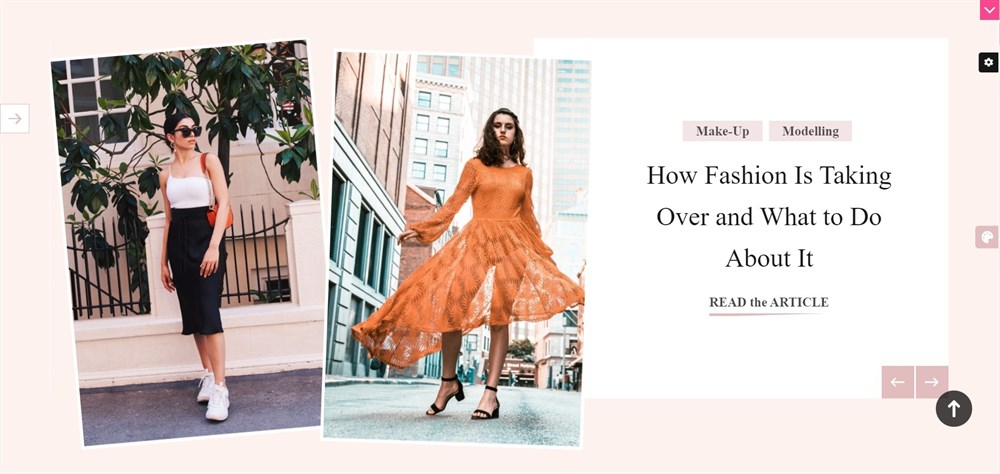 Sarada is one of the more impactful feminine WordPress themes in our list. There are three demo websites included and each makes a statement, in a good way. Each uses colour and fonts effectively and has a unique character all of its own.
We particularly like the Travel demo for creating a travel website. It makes an impact with that header slider and has a subtle colour palette and nice selection of fonts. The layout of images and animations are also very effective. Further down, the blog and sidebar give you another hint at what's possible with this theme.
Pros of Sarada:
Very smart design with some lively touches
Feminine palette and font choices
Nice eye for design in each of the demos
Flexible enough for a range of niches
Cons of Sarada:
There's nothing to criticize here
Sarada Pricing
Sarada costs $49.
Opinion of Sarada
If the design appeals, there are no downsides to Sarada. It's a flexible theme with interest in each of the demos and the flexibility to take the design in your own direction should you want to.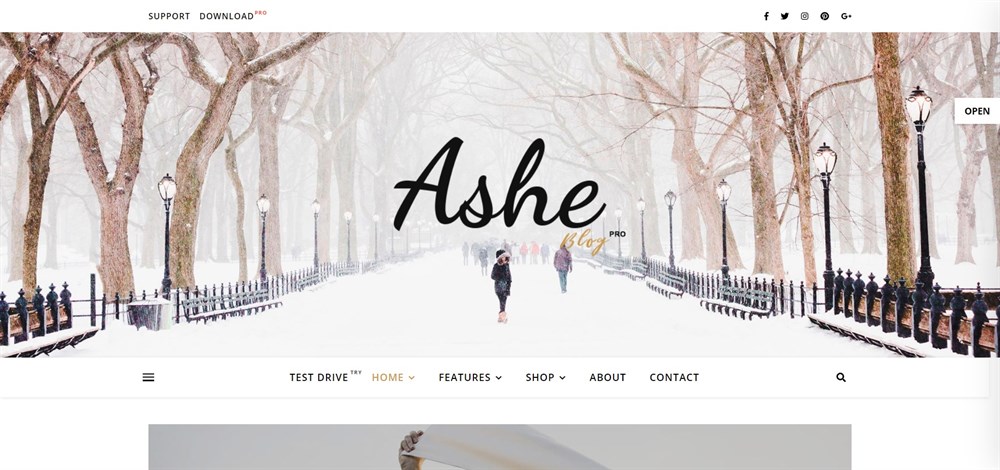 Ashe is a more subtle feminine WordPress theme that uses white space and a refined colour palette to stand out. It's a blog theme with a nicer opener with characterful image header with integrated logo and modest navigation.
The rest of the demo has a nice feature slider, understated sidebar and attractive borderless layout. There is a real sense of style here that is immediately obvious. It's a little minimalist, a little feminine, a little modern, a little heritage. It's very well done!
Pros of Ashe:
Minimalist feminine design
Starts off well with the headers and sliders
Nice font choices
Good use of white space
Cons of Ashe:
Ashe Pricing
Ashe costs $29.
Opinion of Ashe
We feature Ashe in our list of feminine WordPress themes because of its potential rather than its demo. Without images, the demo is nothing to shout about but in the right hands, it is flexible enough to be literally anything you want it to be.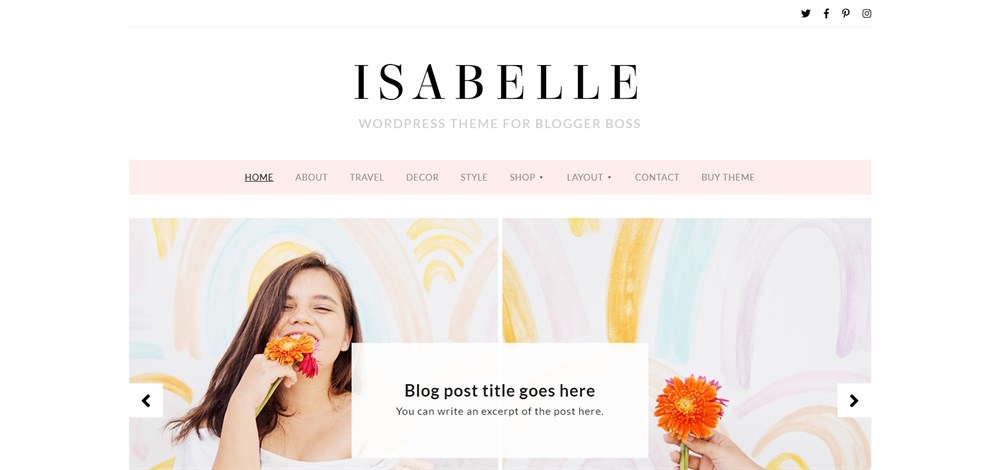 Isabelle is a light and breezy theme that lends itself well to feminine niches. It's a very smart blog template with a pastel palette, soft yet strong fonts and good use of imagery throughout.
Isabelle uses a boxed layout with lots of white space to create a great first impression. A restrained series of images and content boxes showcase the wares without being in your face. The pink colour may be an obvious choice but the tone matches the design incredibly well.
Pros of Isabelle:
Refined design with a welcoming appeal
Great use of fonts and colour
Simple things like pink borders add character
Fully responsive and SEO friendly
Cons of Isabelle:
Isabelle Pricing
Isabelle costs $79.
Opinion of Isabelle
Isabelle is a refined blog theme that does feminine well. It's also flexible enough to be tweaked to suit a number of niches and personalities. It's hard to fault design this good.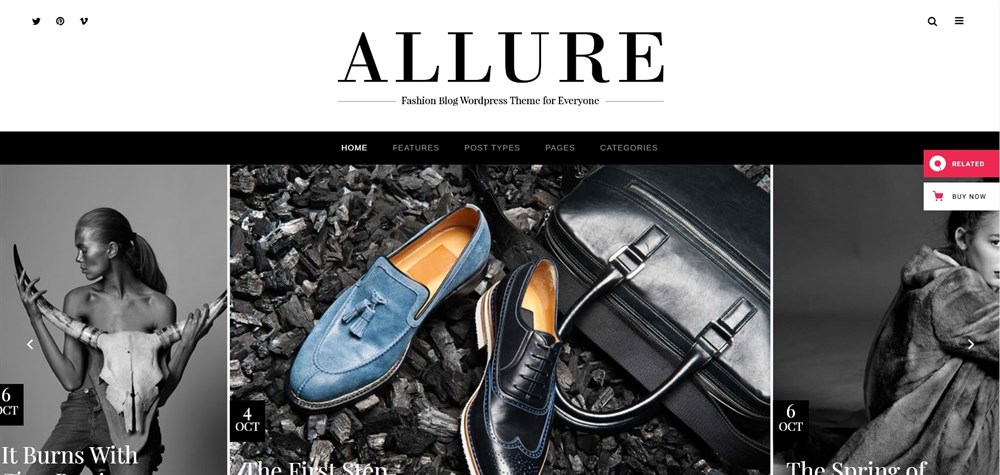 Allure manages to be one of the best feminine WordPress themes but also not. The demos are mainly monochrome with a mixture of sans and sans serif fonts, strong images and a selection of layouts. There is nothing overtly feminine about them, yet they absolutely are.
The various demos showcase a range of blog layouts that could be tuned to suit any niche. Each contains a slider of some kind, some emotive imagery and a mixture of dark and light fonts contrasting their backgrounds. It's a completely different take on feminine design but one that works incredibly effectively.
Pros of Allure:
Contemporary design with some nice touches
Largely monochrome which stands out
Inspired font choices across all demos
Flexible enough to handle almost any customization
Cons of Allure:
It's a ThemeForest theme so support will be limited
Allure Pricing
Allure costs $75.
Opinion of Allure
Allure is definitely well named. It does have a definite allure along with some strong design elements that prove that feminine design doesn't have to be girly.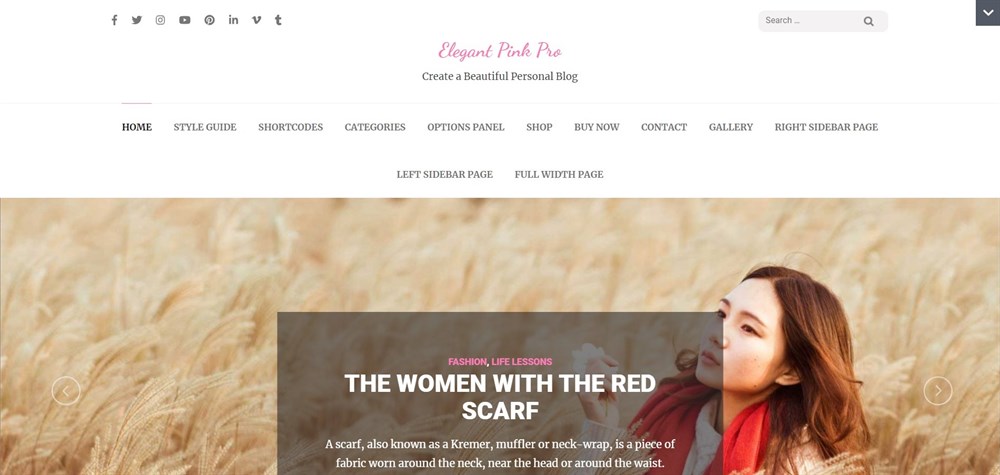 Despite its name, Elegant Pink Pro isn't overly pink. Thankfully it uses pink as a contrast colour rather than making this theme a cliché. It's actually a very good design with a nice layout, appealing navigation and an attractive grid layout below the fold.
This is a design of two halves. The demo opens with heritage fonts and a refined look and then switches to modern fonts with a flat, contemporary layout. This is something you could easily even out but does showcase how flexible the design is.
Pros of Elegant Pink Pro:
Pink but not too pink
Nice layout with lots of white space
Social media elements included in the theme
Compatible with most WordPress plugins
Cons of Elegant Pink Pro:
Doesn't use a page builder
Elegant Pink Pro Pricing
Elegant Pink Pro costs $59.
Opinion of Elegant Pink Pro
Elegant Pink Pro lives up to its name. It's only slightly pink but is very definitely elegant. It is also flexible and has enough customization options to be able to suit almost any use you care to put it to.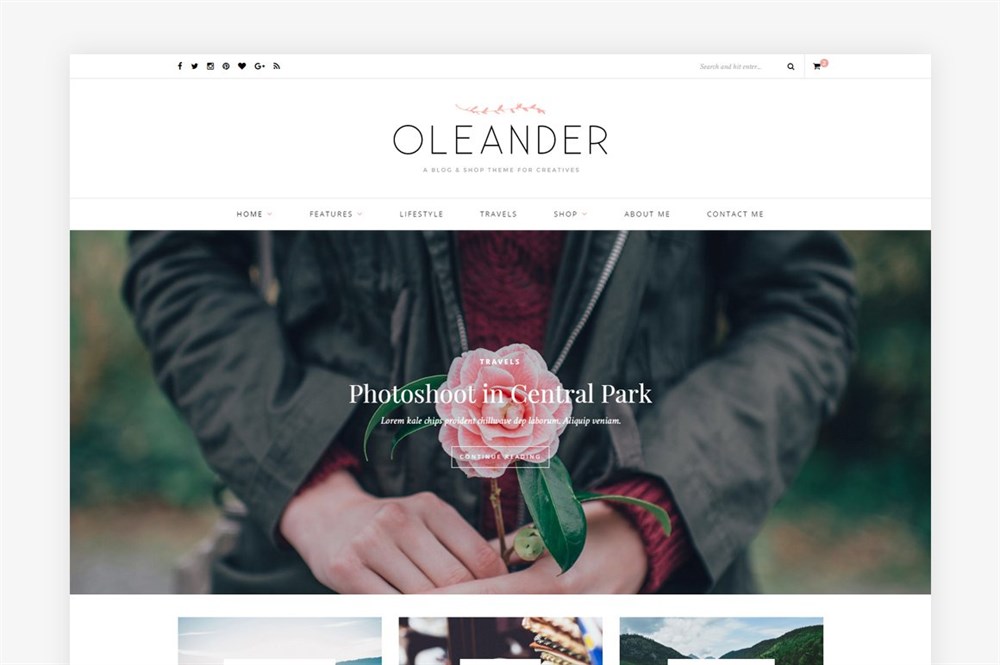 Oleander is a feminine WordPress blog theme that oozes style. It opens with a large image header and top navigation section and then flows effortlessly into a blog layout.
The demo has a subtle layout with lots of white space, colourful images and smart white overlays for content section images. The sidebar is subtle but clear at the same time and the overall impression is of cool, calm elegance. It's a very accomplished design that could work well for certain niches.
Pros of Oleander:
Effortlessly cool design
Good use of images throughout
Lots of white space to keep things balanced
Gutenberg ready
Cons of Oleander:
While consistently updated, this is a four year old design
Oleander Pricing
Oleander costs $39.
Opinion of Oleander
Oleander is a lovely theme that dips a toe into femininity while also keeping a wider appeal. It's a very light and modern theme that could work for many types of websites.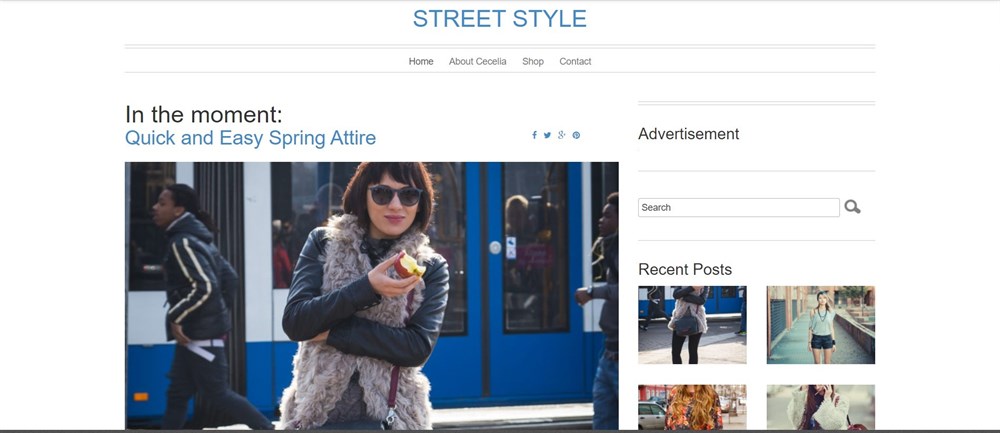 Nimbus Street Style is a combination of contemporary, lifestyle, urban and feminine and manages to combine all of these characteristics very well. That's why it's in our list of the best feminine WordPress themes.
At first glance, the demo is a plain blog layout with simple blue colour. Look a little deeper and you see some subtle touches that make this theme stand out. Simple separators, social media integration, a slimline sidebar and the opportunity to customize to your heart's content are just a sample of what's possible.
Pros of Nimbus Street Style:
Simple and unfussy design
Huge scope for customization
Great base from which to build a unique design
Comes in a pack with 9 other themes
Cons of Nimbus Street Style:
This is a foundation theme so you're going to have to add the flourishes
Nimbus Street Style Pricing
Nimbus Street Style costs $49 and includes access to 9 other themes.
Opinion of Nimbus Street Style
We like Nimbus Street Style because it provides a base from which you can express yourself in your own way. It will require a little more work than some of these others but the reward is a unique site that could genuinely stand out.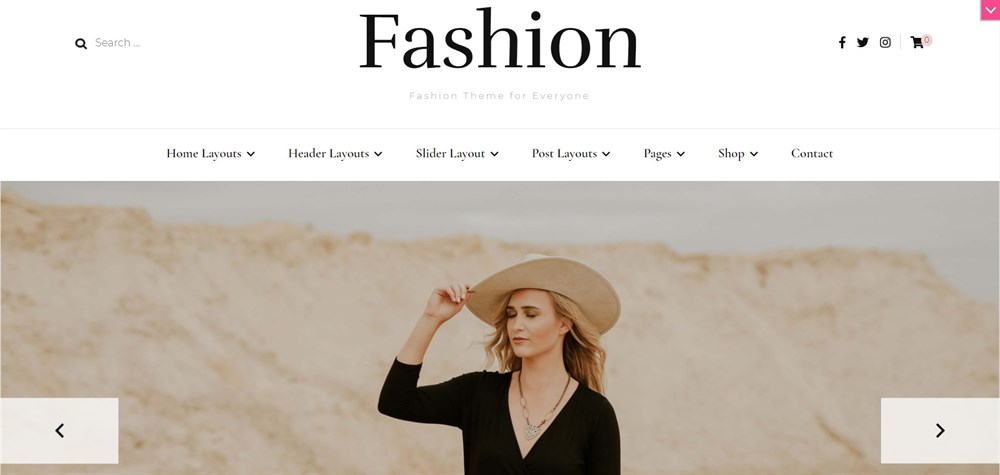 Blossom Fashion Pro is exactly what it says on the tin. It's a feminine WordPress theme designed around fashion. The good news is that it could be tweaked easily to suit a range of other niches.
The demo opens with a flourish. A large logo and header section and a strong image slider draws your attention right away. A mixture of pastel colours and colourful images keep your attention while some inspired font choices give an upscale look that's hard to quantify.
Pros of Blossom Fashion Pro:
Effortlessly stylish theme
Uses colour and fonts well
Could be tweaked to suit any niche
Cons of Blossom Fashion Pro:
Not as flexible as some themes here
Blossom Fashion Pro Pricing
Blossom Fashion Pro costs $49.
Opinion of Blossom Fashion Pro
Blossom Fashion Pro is very feminine but also very stylish. Effortlessly modern yet accessible to a wide audience. Not much more need be said!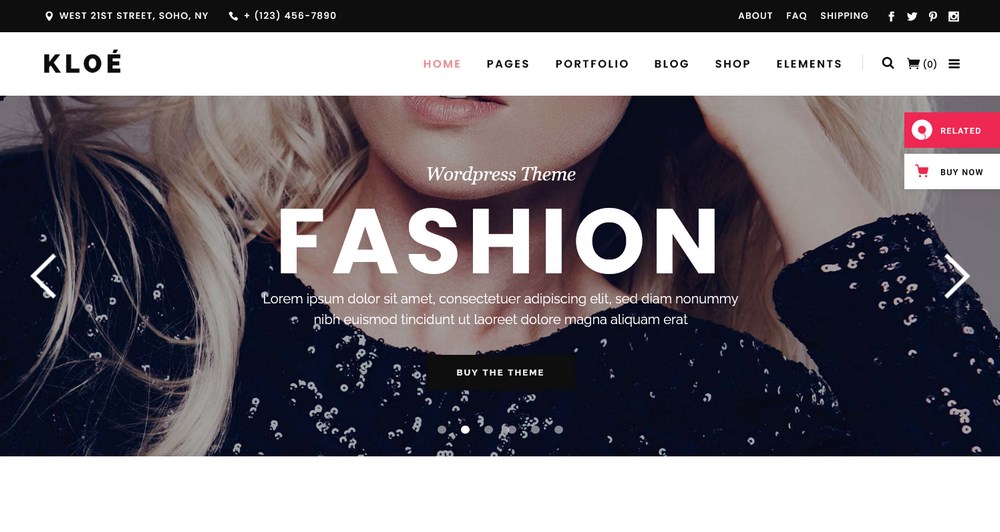 Kloe is a WooCommerce compatible WordPress theme built around feminine design. It includes blog, eCommerce, agency templates and a wide selection of layouts for a range of situations. There is something here for any conceivable use.
All templates concentrate on using creative layouts with lots of imagery, modern fonts and colors, smooth scrolling and some interactive elements such as parallax scrolling, slideshows or video.
Pros of Kloe:
Wide range of attractive layouts
Modern design aesthetic
Good use of colors, layout and fonts
SEO-friendly and fully responsive
Cons of Kloe:
Kloe Pricing
Kloe costs $69.
Opinion of Kloe
Kloe is a modern, classy feminine theme for WordPress that has the power and flexibility to deliver almost any type of website you could need.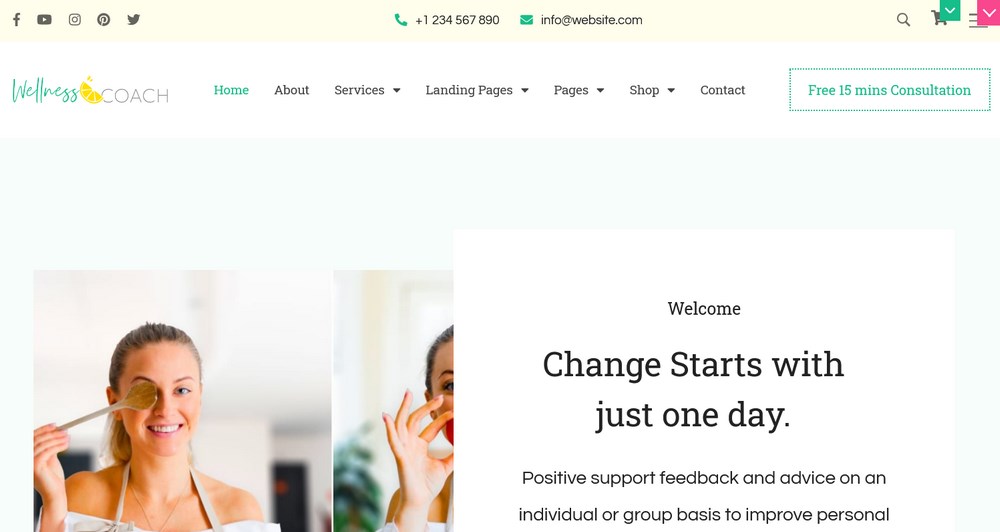 Wellness Coach is a bright and breezy WordPress theme with a welcoming appeal. While set up as a wellness website, it's flexible enough to be tweaked to suit a range of purposes and still deliver that approachable vibe.
This is a single template designed with pastel colors, friendly fonts, lots of whitespace and some well chosen images. If you have the same eye for detail as the designer, this could be a quick and easy way to build a website!
Pros of Wellness Coach:
Bright and breezy WordPress theme
Nice balance of content and whitespace
Pastel colors work well for the target audience
Lots of opportunity to customize
Cons of Wellness Coach:
One click demo import is premium only
Wellness Coach Pricing
There is a free version of Wellness Coach and a premium version that costs $49.
Opinion of Wellness Coach
Wellness Coach was obviously designed with its target market in mind. It's light, welcoming and contains all the elements you would expect from the niche.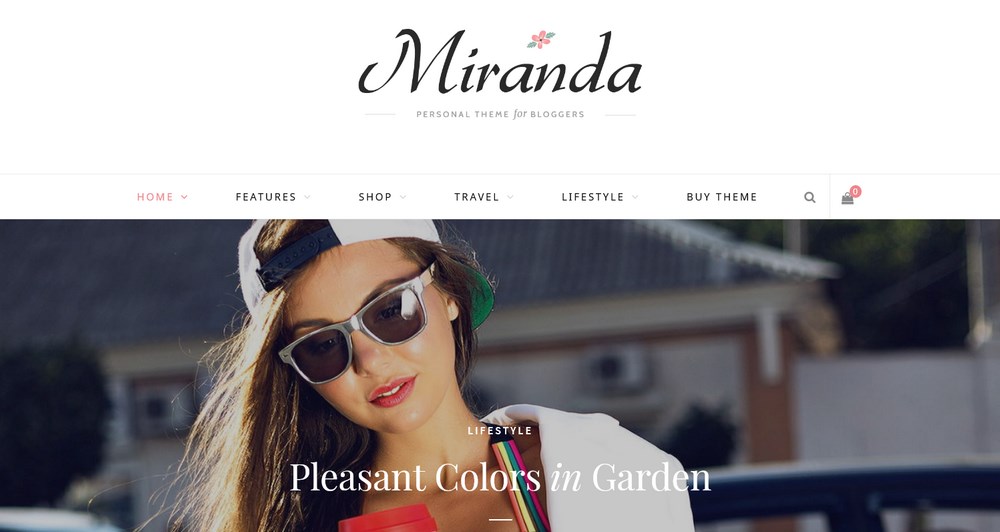 CheerUp is a blog and magazine template that offers a selection of ready-made designs covering fashion, food, health, travel, parenting and more. Each design is well balanced, offers lots of space for images and content and plenty of whitespace.
Most layouts include a central content section with sidebar, with a wide variation on colors and fonts to differentiate between them. The theme includes one click installation and has just been overhauled to improve page load times, which is great news for users.
Pros of CheerUp:
Range of blog and magazine website templates
Great use of colors and fonts
Plenty of options for all kinds of websites
Recently updated to improve page load times
Cons of CheerUp:
All templates are minor variations of a single design
CheerUp Pricing
CheerUp costs $59.
Opinion of CheerUp
CheerUp offers a decent selection of blog and magazine layouts that load quickly and can be tweaked to suit. They will need more creativity than other feminine WordPress themes to make them unique though.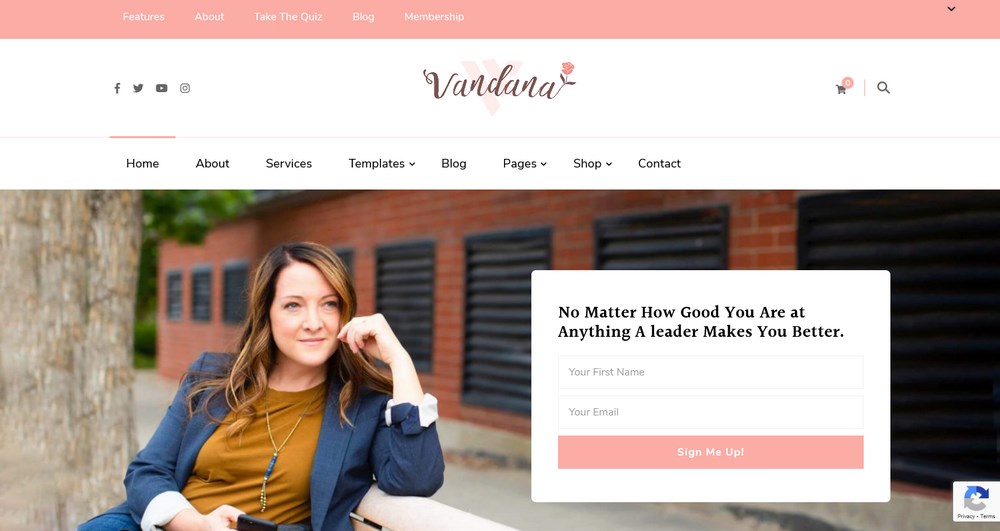 Vandana is a simple feminine WordPress theme that could be taken much further with minimal effort. Templates are a variation of the same design using slightly different colors and elements but are capable of a lot more if you're familiar with WordPress.
Layouts are attractive and inviting and the colors and fonts are well-chosen. Layouts are well spaced and offer lots of whitespace between page elements. Overall, if you have the skills to take them further, Vandana offers everything you need.
Pros of Vandana:
Colourful and welcoming WordPress theme
6 predesigned templates
Free and premium version
WooCommerce compatible
Cons of Vandana:
Will need some creativity to make them stand out
Vandana Pricing
Vandana costs $49.
Opinion of Vandana
Vandana is nice in all senses of the word. It's inoffensive, friendly and appealing but doesn't stand out in any particular way or appear very memorable. You could definitely change that with a little creativity though.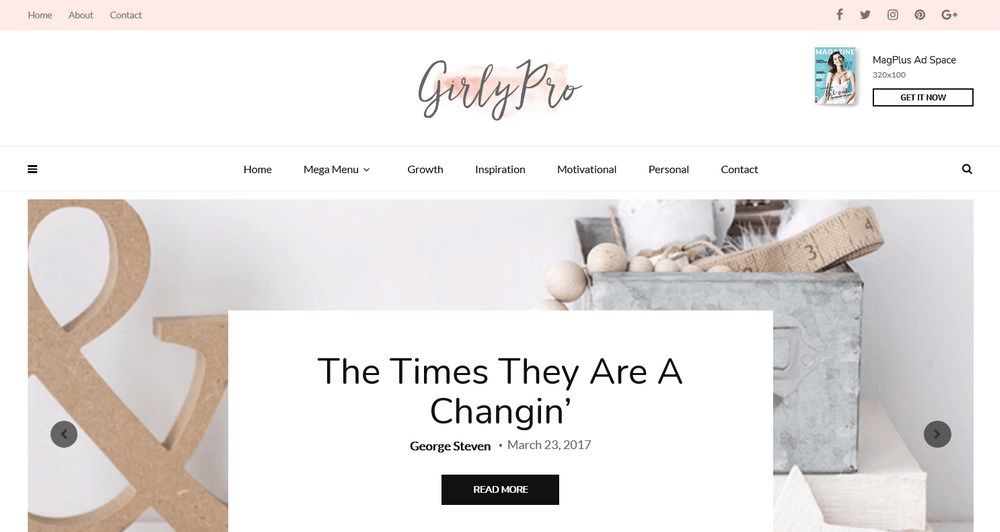 MagPlus is a multipurpose WordPress theme with a wide range of feminine designs in the mix. The theme comes with over 43 templates with 270 layouts that provide the means to build something truly unique.
Designs are well done on the whole with good choices in terms of colors, fonts, page elements, layout and whitespace. As the themes are compatible with Elementor and Gutenberg, customizing them should be easy.
Pros of MagPlus:
Lots of feminine WordPress themes to choose from
Wide range of layout types from blogs to newspapers
Compatible with Elementor and Gutenberg
One click installation
Cons of MagPlus:
All designs look similar and will take work to make them original
MagPlus Pricing
MagPlus costs $59.
Opinion of MagPlus
You get a lot for your money with MagPlus but every design looks very similar. Good job then that you have Elementor or Gutenberg with which to express your creativity!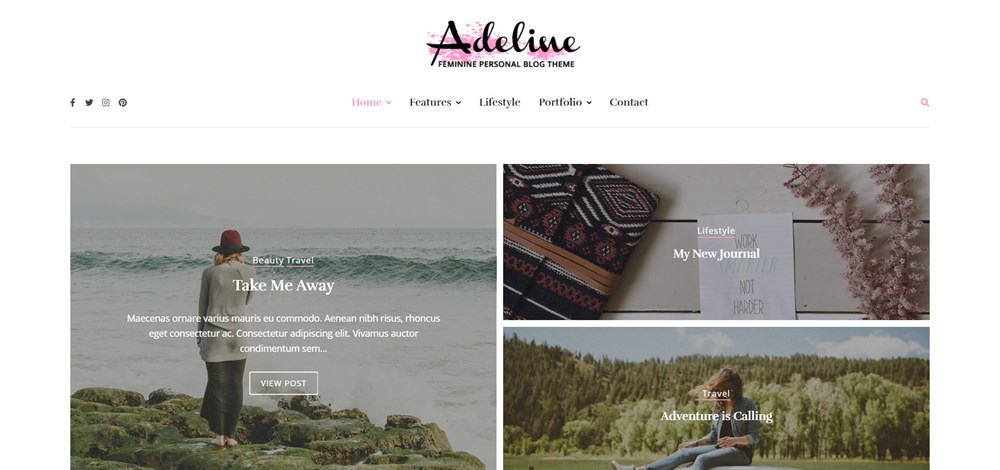 Adeline is a minimal blog theme with some subtle feminine touches. It uses a lot of white space and a few pink flourishes to create its identity and then relies on imagery to carry it through.
The Adeline demo has great balance with good spacing, great use of white space and distinct content areas. It's a good mix of modern and chic and while it relies a lot on those images, it doesn't leave you wanting. Inspired design done well!
Pros of Adeline:
Cons of Adeline:
Relies heavily on imagery to carry the design
Adeline Pricing
Adeline costs $49.
Opinion of Adeline
Adeline is simple but effective, chic and stylish and flexible too. It offers more potential than the demo delivers and could become anything you want in the right hands.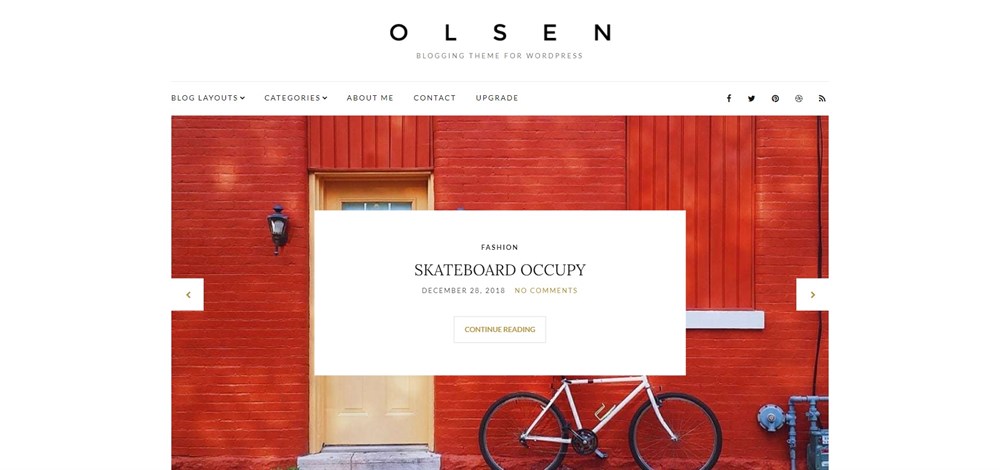 Olsen is a free, pretty WordPress theme with a genuine minimalist appeal. It's a simple but very effective theme with lots of white space and a largely monochrome design with the main interest provided by images.
The demo uses a boxed layout with contained image slider, some modern fonts and slim dividers throughout. A tidy sidebar and subtle complementing colours complete the look. It's a chic design that could be tweaked to suit any niche.
Pros of Olsen:
Simple but very effective
Modern, flat and attractive
Uses a responsive boxed layout
It's free
Cons of Olsen:
It's another design that relies heavily on imagery to carry it
Olsen Pricing
Olsen is free.
Opinion of Olsen
Olsen is another foundation design that could be the basis of something special. You will have to put the work in to get it there but the rewards are there for the taking!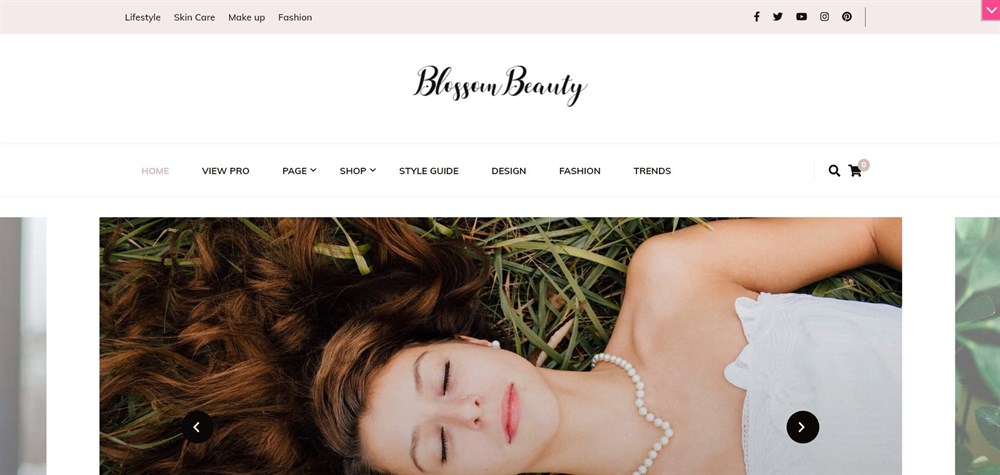 Blossom Beauty is a colourful full width design that has a lot of elements that make it stand out. It's a very accomplished theme that combines strong features with more subtle ones.
Blossom Beauty uses images for colour supported by a pastel palette. It's a nice combination that offers a comfortable, relaxed experience throughout the site. With some full width content sections, good design choices and the flexibility to make it what you like, it's hard to criticize this theme.
Pros of Blossom Beauty:
Colourful and attractive demo template
Nice designer touches throughout the theme
Good use of layout and white space
Could be tweaked so suit any niche
Cons of Blossom Beauty:
Better features restricted to the premium version
Blossom Beauty Pricing
Blossom Beauty has a free version and a premium version that costs $49.
Opinion of Blossom Beauty
Blossom Beauty has a modern yet relaxed feel with enough flexibility to be usable in almost any situation.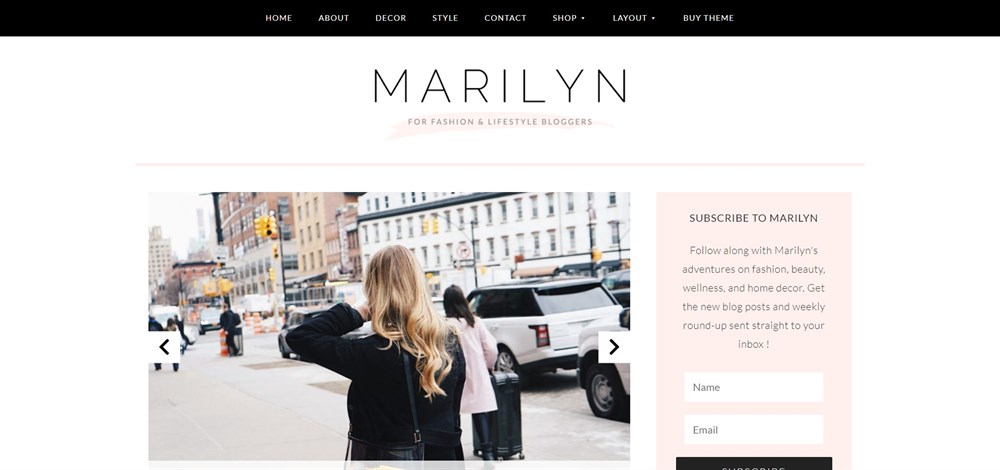 Marilyn is another contemporary theme with feminine touches. It's a flat and modern theme with lots of white space and a nice peach/pink colour and black detailing. It could be useful as any type of blog.
The theme opens with a subtle boxed layout with small image slider, modern top navigation and plenty of white space on display. It uses subtle fonts that look good, although we would make the body font stronger and some nice touches to ensure its place in our list.
Pros of Marilyn:
Stylish contemporary theme
Well balanced pages
Good choice of complementing colour
Could be turned into any type of blog
Cons of Marilyn:
An accessible but not amazing design
Marilyn Pricing
Marilyn costs $79.
Opinion of Marilyn
Marilyn is another of those feminine WordPress themes that provides the foundations from which you can build your own brand. For that we recommend it.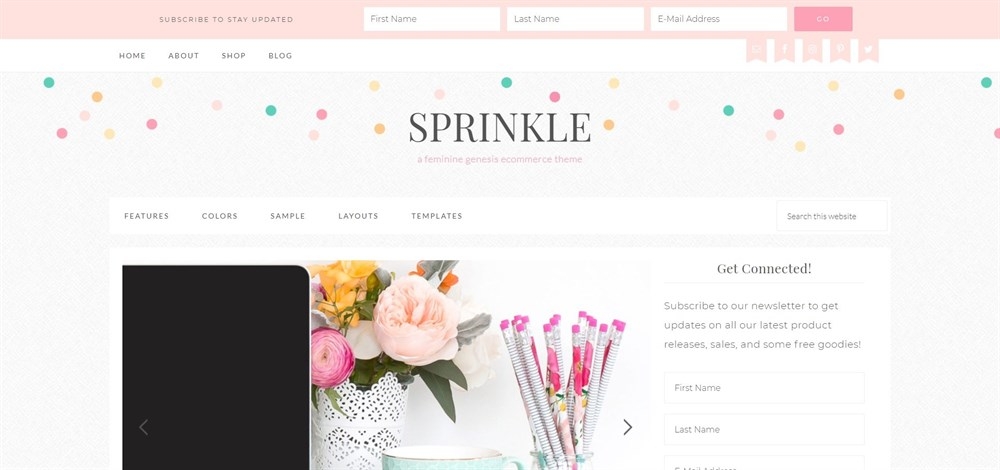 Sprinkle takes us back to pretty WordPress themes. It's a light hearted design with pink and peach colors, a textured background and attractive boxed layout.
Sprinkle is mature yet modern with some nice touches. The colored content boxes and shaded sidebar elements stand out for us. It's also nice to see a textured background, which may be a small thing but can make a big difference.
Pros of Sprinkle:
Very attractive theme
Definitely feminine in its appeal
Smooth flow and nice layout
Colour palette has been well chosen
Cons of Sprinkle:
Requires the Genesis Framework
Does not make it clear you have to pay extra for the Genesis Framework
Sprinkle Pricing
Sprinkle costs $75 on its own or $147 alongside Genesis Framework.
Opinion of Sprinkle
Assessed on its design alone, Sprinkle is superb. It's a colourful, easy theme to use and could work exceptionally well in many situations. It's a shame you need to have or pay for the Genesis Framework for it to work though.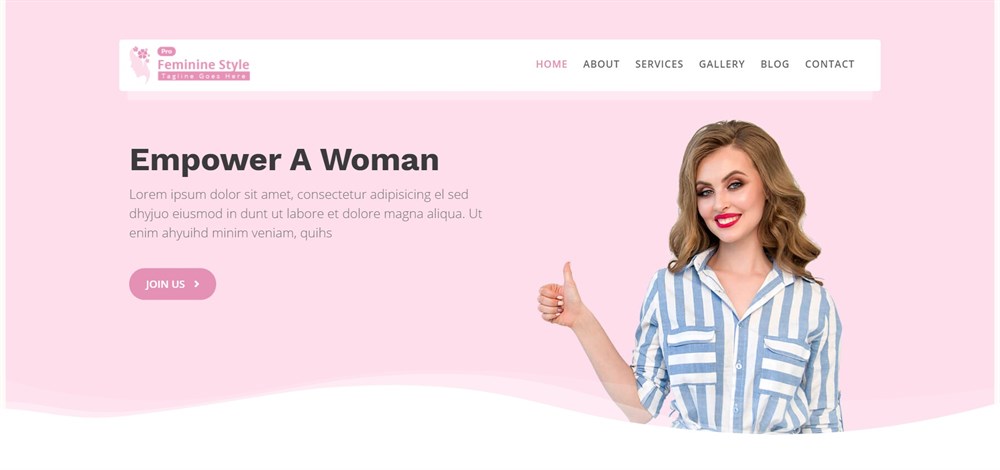 Feminine Style Pro moves away from blogs and gives us a workable corporate template with a definite feminine touch. It's a nice design with some fabulous features.
The demo opens with a full width image and graphic with hover navigation. It expands into service boxes below the fold that have some subtle animations. Further down you see forms, FAQs, counters, a gallery and all the elements you would expect from such a theme.
Pros of Feminine Style Pro:
Very stylish company theme
Feminine but still conveys a message
Subtle but effective animations
Great use of colours and fonts
Cons of Feminine Style Pro:
Such a feminine design may not be ideal for a corporate site
Feminine Style Pro Pricing
Feminine Style Pro costs $44.
Opinion of Feminine Style Pro
The design and layout of the Feminine Style Pro demo works exceptionally well. Some of it may have to be toned down for a universal audience but otherwise there is nothing to criticize here.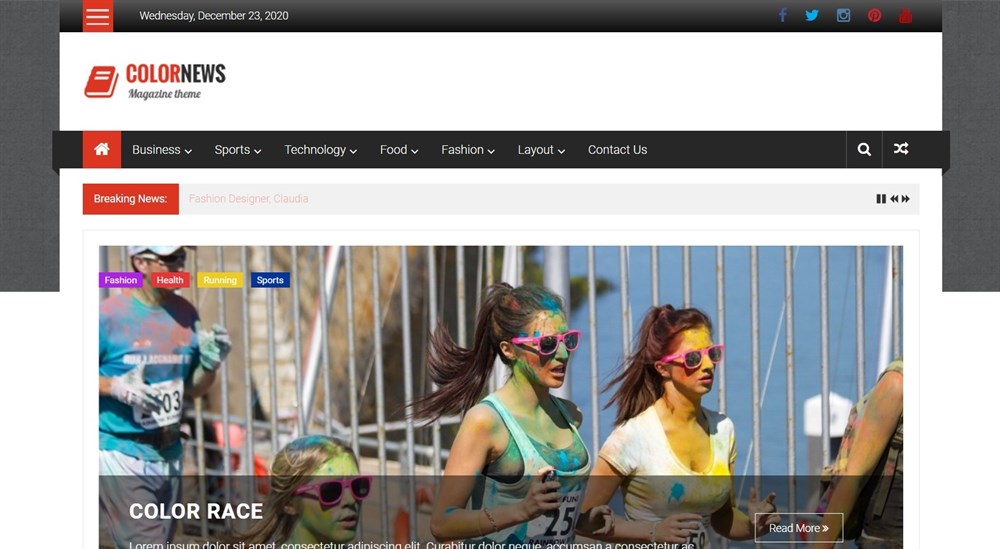 ColorNews also leaves the blog layout behind to give us a magazine style theme. It isn't overtly feminine but has the opportunity to be with the range of colours and background image options it comes with.
If you're looking for a magazine theme that could work in literally any niche, you're in the right place. This is a boxed layout with simple navigation, logical content sections and everything you're likely to need to get started.
Pros of ColorNews:
Fully fledged magazine theme
Flexible enough to be as girly or as inclusive as you like
Boxed layout works very well
Has the backing of a very respected developer
Cons of ColorNews:
Not feminine out of the box
That price
ColorNews Pricing
ColorNews costs $199 or $299.
Opinion of ColorNews
Aside from the price, there's nothing we don't like about ColorNews. It's not the most feminine theme out there but is flexible enough to handle any customization you care to throw at it. That's why it's here.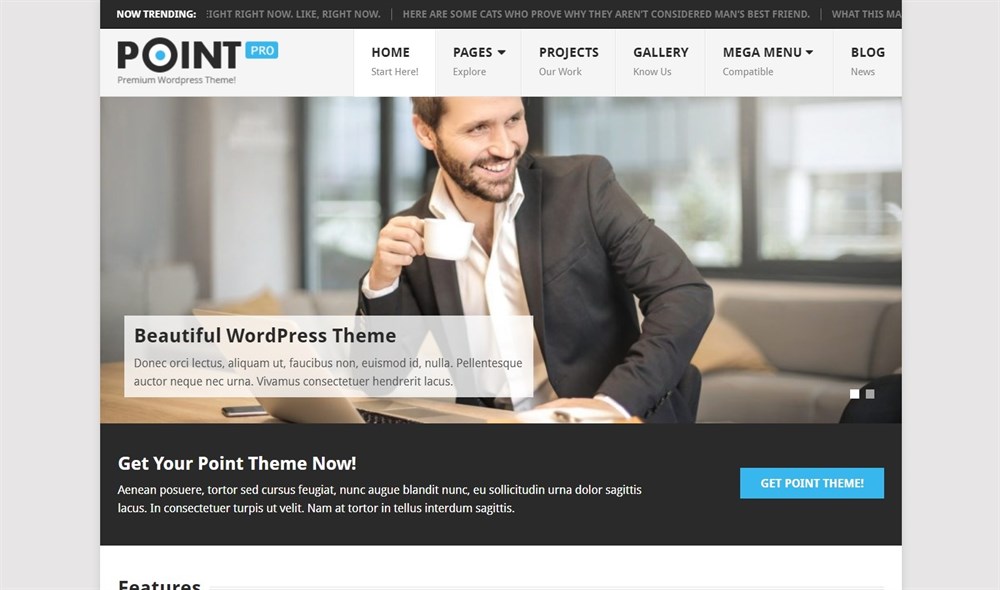 PointPro is not a girly WordPress theme, but it could be. It's another corporate theme that shows what is possible with a basic design. It is easily flexible enough to take any kind of customization without losing its character. That's why it's in this list.
It's a boxed design with a small header and nicely worked navigation. Below is a typical corporate layout with service boxes, a gallery, blog and nice footer. Corresponding pages are equally well balanced and could be tweaked to suit any brand. All good reasons to like it.
Pros of PointPro:
Very flexible corporate theme
Could be focused to almost any niche
Has the basis for a solid company website
Lots of nice touches
Cons of PointPro:
Not feminine out of the box
PointPro Pricing
PointPro costs $59.
Opinion of PointPro
PointPro is a great theme that doesn't immediately make you think feminine. We think that provides the freedom and scope to make it exactly what you want without the restrictions an existing design can provide.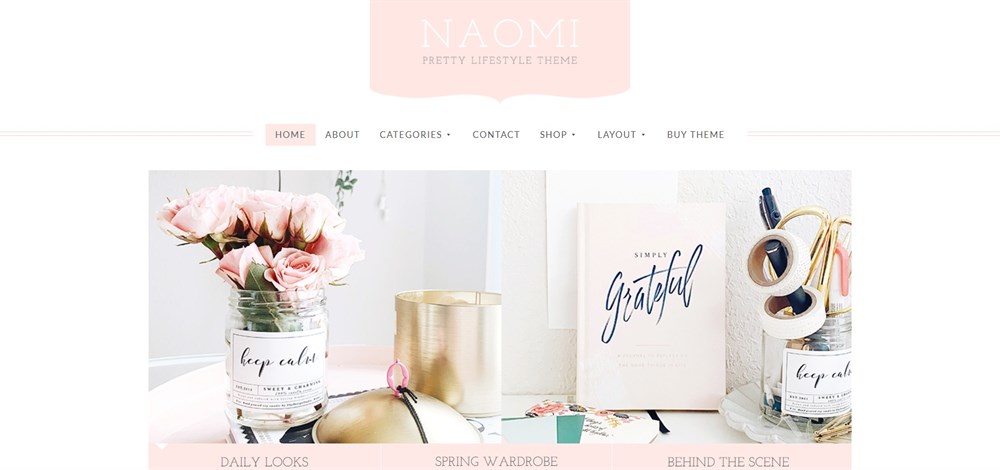 Naomi is a soft, pretty WordPress theme that is all about femininity. It's a very stylish design with pink elements, plenty of white space and some well chosen images. It could be very effective in the right hands.
The demo site is laid out as a blog with a calm entrance thanks to pastel colours and soft fonts. Further down is a single column layout with sidebar and attractive colours throughout. Some nice touches like the graphics and complementing colours makes this a very attractive design to behold.
Pros of Naomi:
Very soft and feminine theme
Calm and welcoming first impression
Great font choices
Smooth flow down the page
Cons of Naomi:
The extent of its femininity may limit its appeal
Naomi Pricing
Naomi costs $79.
Opinion of Naomi
Naomi is a lovely theme with an easy going vibe and attractive colours. All that may limit the niches you could apply it to but get that right and this theme has everything you need.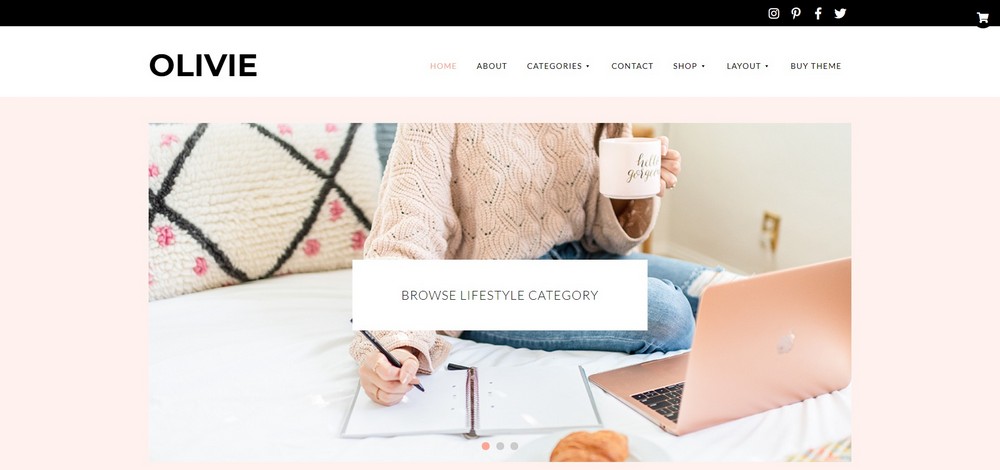 Olivie is more subtle compared to Naomi with similar pink colours and that soft, welcoming introduction. It's an attractive theme with a light aesthetic. One we think could work well for many types of websites.
The demo begins with a full width image slider and modest navigation before flowing easily into a single column blog with sidebar. It's well designed with nice balance, plenty of white space and some superb design touches.
Pros of Olivie:
Simple, easy going feminine design
Free flow down the page
Nice entrance that welcomes you in
Thoroughly modern without being harsh
Cons of Olivie:
Not the cheapest theme here
Olivie Pricing
Olivie costs $79.
Opinion of Olivie
Olivie is an accomplished feminine WordPress theme that could have wide appeal. It has a free spirit that welcomes you in and that alone makes this theme worth exploring further.
Summary
Those are what we think are the best feminine WordPress themes around right now. There is a real cross-section of designs and intent. None of which go over the top or let us down in any way.
Some are free, others are paid for. All are well worth exploring if you're in the market for top performing feminine WordPress themes!
Do you use any of these themes? Have any feminine WordPress themes to recommend? Tell us about it in the comments!