2020 has been one of the longest and toughest years the world has seen and experienced.
It has been a roller coaster year for all of us. 2020 was a year of surprises and the unexpected that none of us ever planned for. But, hey… all of us got through it; and now here we are in 2021, wishing better things to come for our community.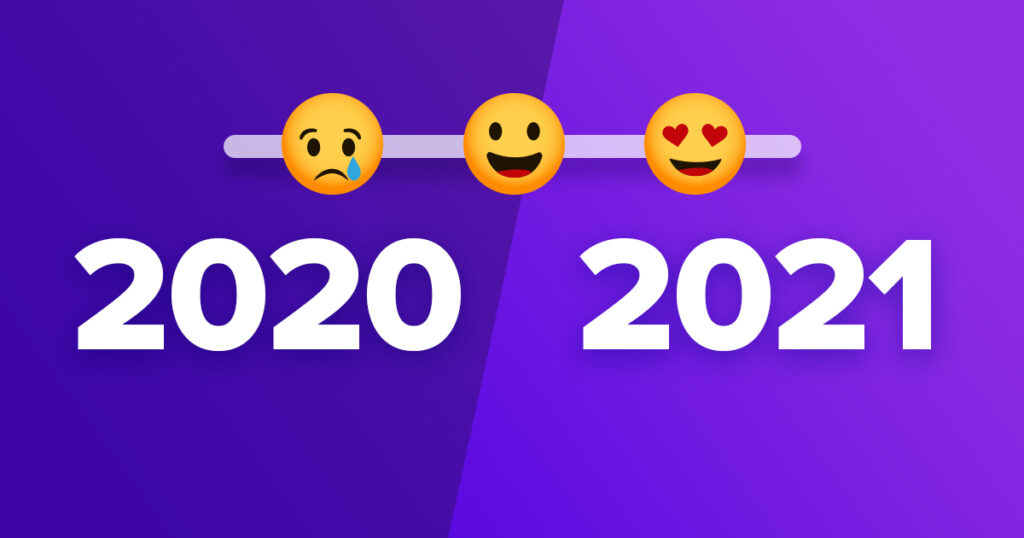 But we must look on the bright side of things! There is always a silver lining, no matter how dark the situation seems.
Here at Brainstorm Force, we will remember 2020 for many reasons. While struggling with the impacts of COVID-19, our team showed tremendous courage and delivered the best — as promised to our customers, partners, and the community.
We are delighted that Astra reached the coveted 1 Million+ active installs in 2020. A proud moment for all of us! We also received 4700+ five-star ratings and so much love, encouragement, and support from the community.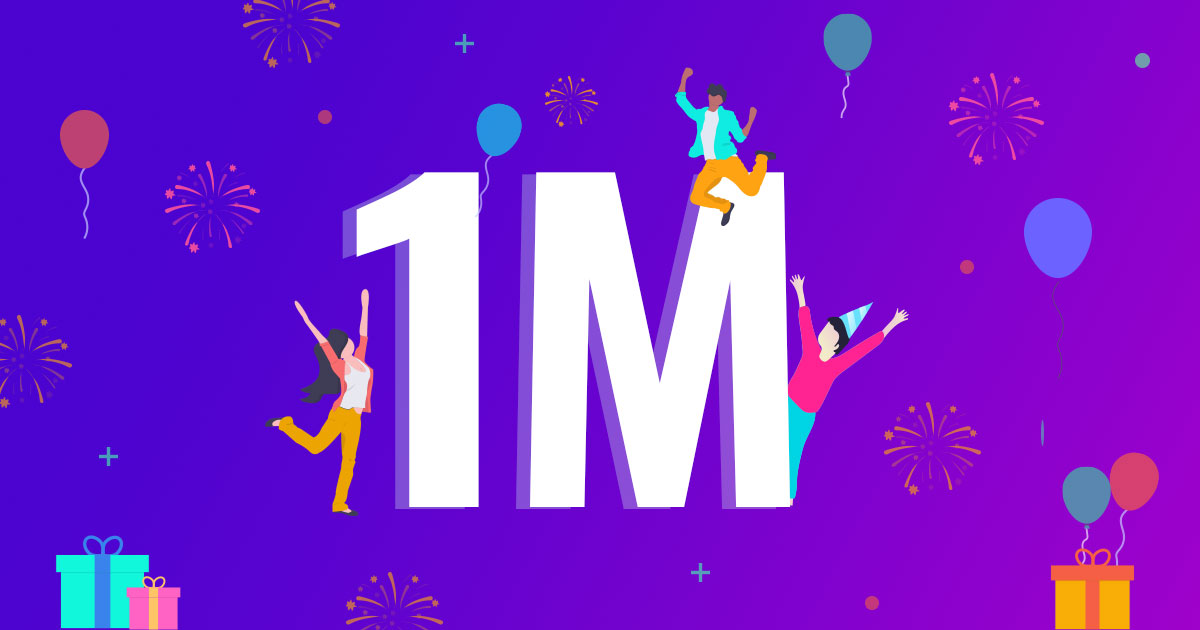 As I always say, none of this would have been possible without you — our users.
Thanks for being part of this journey.
Here, I am sharing the lessons & insights from 2020 and everything that has helped us move forward and have a momentous year. I hope that these lessons can help you grow your business too.
Always Maintain a Long-Term Perspective
2020 felt like the longest year on record. And yet, here we are in 2021!
Whether dealing with COVID-19, building a business, or anything else — it's critical always to think long term. That means planning for the next decade, not just next month.
From my personal experience, having a high-level view of things makes today's problems seem less daunting and more manageable.
So, when thinking about 2021, play the long game:
What will your life or business look like in the distant future? And what do you need to do today to get there tomorrow?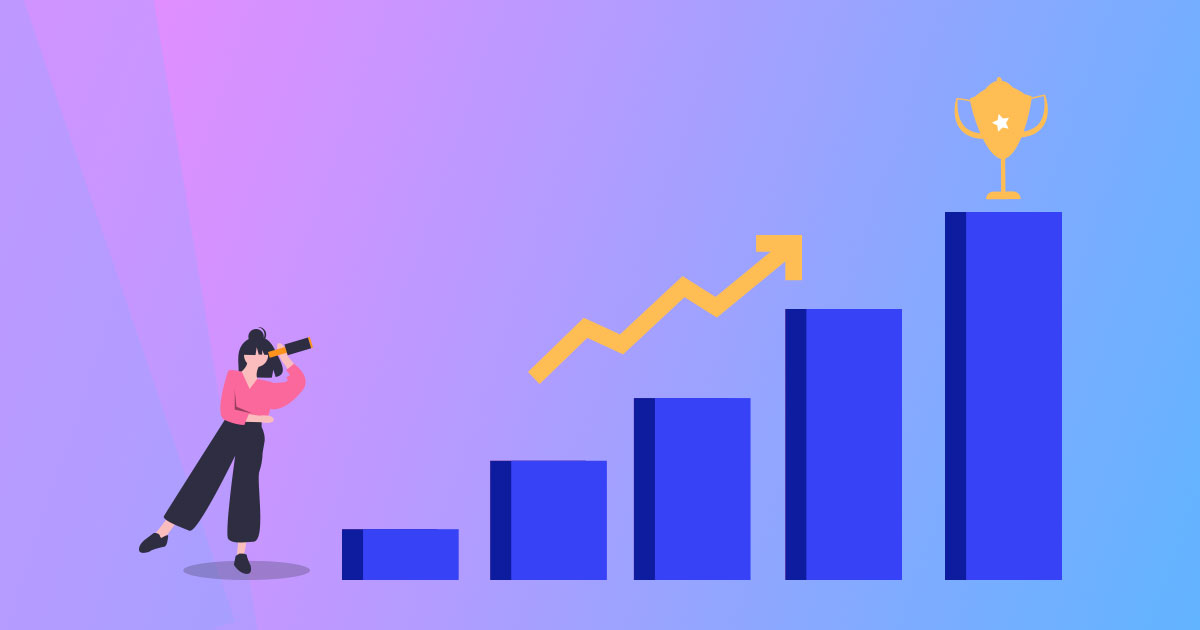 At the beginning of 2020, our team was aware of everything we planned for the year. And by collective action and cooperation, we have managed to get there before the end of the year.
Focus on Building a Solid Team
Companies are made up of people — and not products, websites, factories, or anything else.
The best investment you can make in your business is hiring intelligent and trustworthy people. Then focus on their continual and never-ending development.
It is especially important when things don't go as planned, such as what happened in 2020. A few of our Brainstorm Force team members got infected with COVID-19. But thanks to all of us having each other's back and the constant support — our business didn't suffer.
We implemented a successful internal training program for our team members. Even when something went wrong, the team managed to pull everything together, and we were able to keep moving forward.
In 2021 and beyond, think about how to invest in your team. Look into training programs, books, and other learning resources that strengthen your team and prepare them for current and future challenges.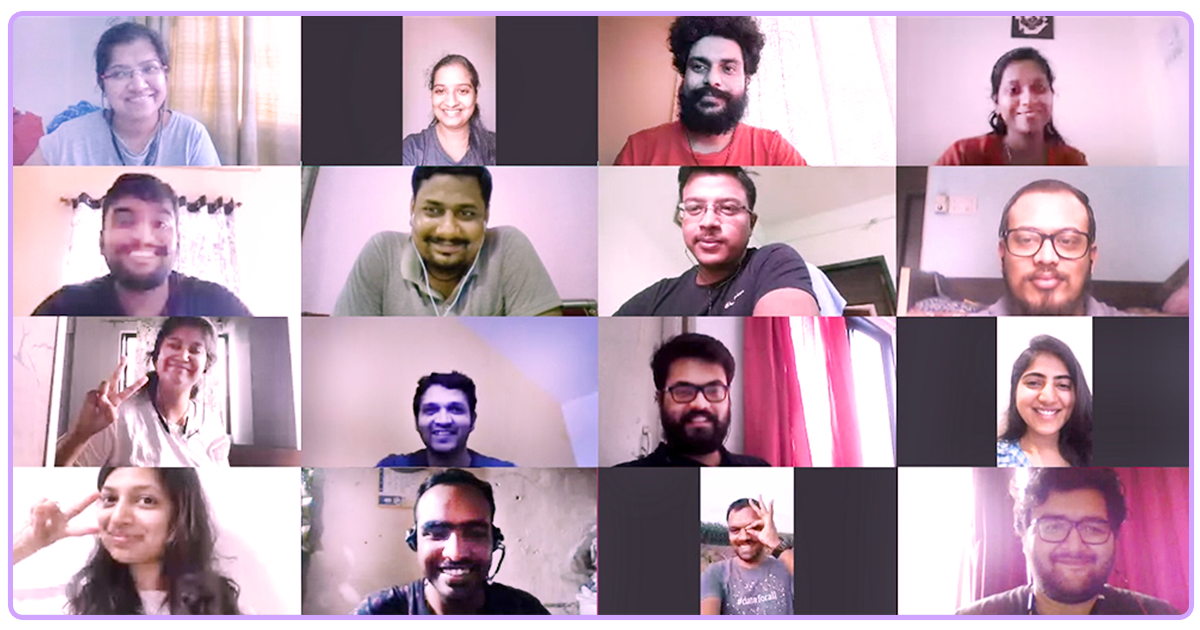 Automate, Automate, Automate!
A business, just like you or any other human, will encounter many unexpected interruptions. If you're not careful, these distractions can consume all of your time and leave you scratching your head, wondering, "What happened to the last six months?"
That's why automation is critical. When you automate systems and processes, you don't need to think about them constantly. It frees up your mind to focus on more urgent and important issues. It is especially useful during crisis, when you're stressed out and overwhelmed with doing just the daily tasks and projects.
While dealing with a challenging time last year, we started setting up and documenting every little process that we needed. We automated everything we could possibly think of. It made our team stay on the same page, and we never felt stuck as we were working remotely.
In 2021 and beyond, automate as much as you can, both in your personal life and in your business.
What can you set and forget?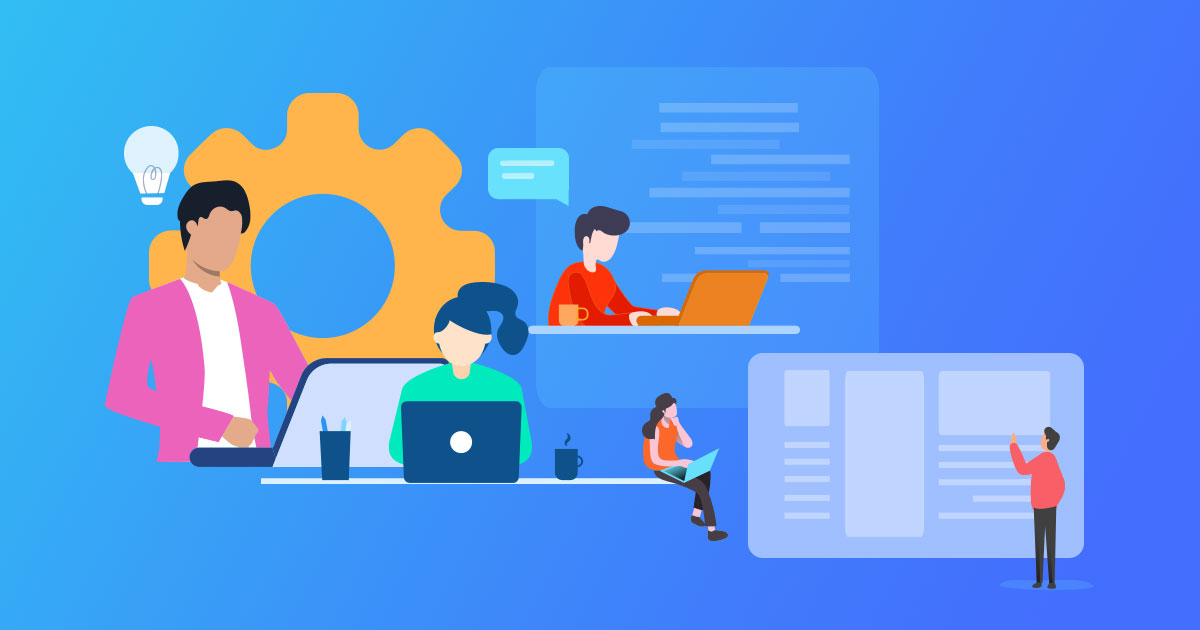 Don't Ignore Your Health
Before 2020, this advice was just a cliche that we all knew about but never really took seriously..
How surprised and wrong were we!
As seen with COVID-19, unexpected health problems can arise and cause severe damage to businesses, people, and society. In the Tech community, we've been fortunate enough to avoid many issues facing other industries like travel, restaurants, or retail.
Nonetheless, there have been some significant shifts. As an employee, you probably had to adjust and adapt to working remotely quickly. And as an entrepreneur or manager, you had to learn how to manage your new remote team quickly.
Before you prioritize anything else, make sure that you pay attention to your's and your team's health and wellness.
We started an internal chat group to motivate teammates to exercise regularly. The group not only focused on physical fitness but also helped keep everyone mentally strong. We also held a few online challenges and sent surprise gifts to the winners. 🙂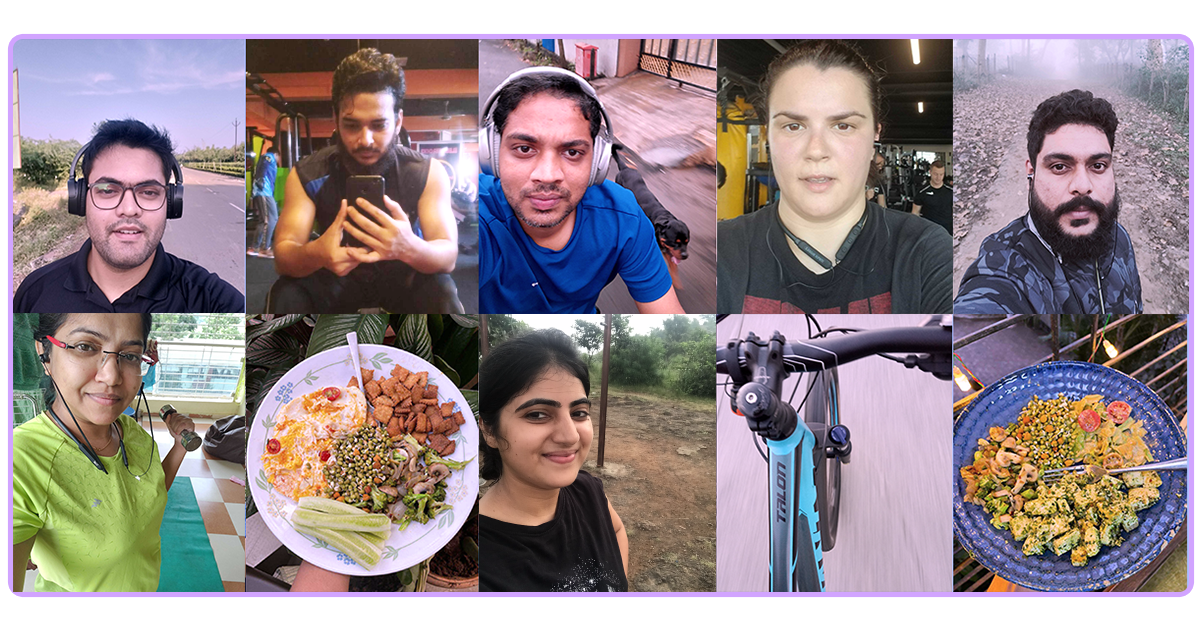 Tough Times Don't Last; Tough People Do!
Remember that no matter how daunting the situation may be, it's only temporary. Things will always get better.
The important thing is to be resilient and look forward to the future. New opportunities will arise. Tomorrow's winners are those tough enough to endure today's problems.
What's Ahead for Astra and Brainstorm Force
2021 is going to be an incredible year! We have some exciting announcements about our plans for the upcoming year. We'll share more details in the coming weeks, but here is a quick overview:
Even Faster Astra
Astra is already popular in the WordPress community for its unparalleled speed. It's impressive to see a Astra site loading in less than 0.5 seconds with default WordPress data and using less than 50 KB in resources. Astra was the first WordPress theme not to use jQuery and thus serving the fastest loading speed amongst most themes.
We are obsessed with speed, and through several updates, we keep optimizing the loading time for Astra. And yet, we are not done!
To make Astra Customizer even lighter and quicker — we are incorporating react JS. It will provide a faster performance and an enhanced user experience when you are designing a website.
We are also optimizing the frontend HTML code, CSS, and Javascript delivery to further improve Astra.
Upcoming Astra updates will reduce your website development time and improve website loading as well.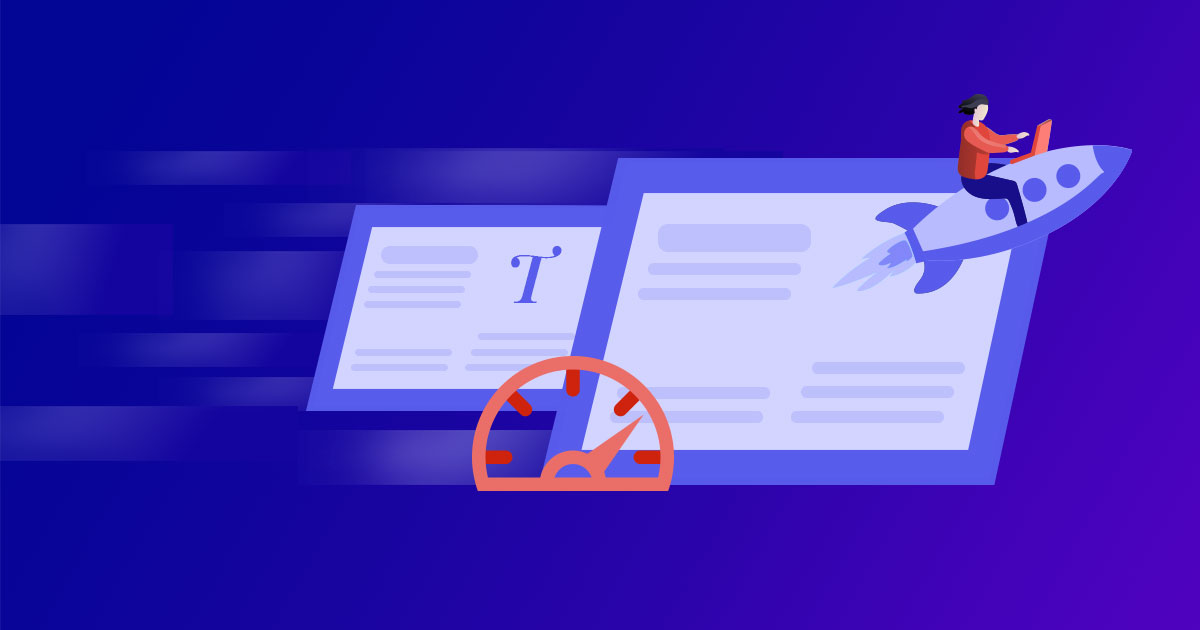 So stay tuned for more speed! ?
Header Footer Builder
The header is usually the first thing that your website visitors notice when they land on your pages. And the footer is essential too.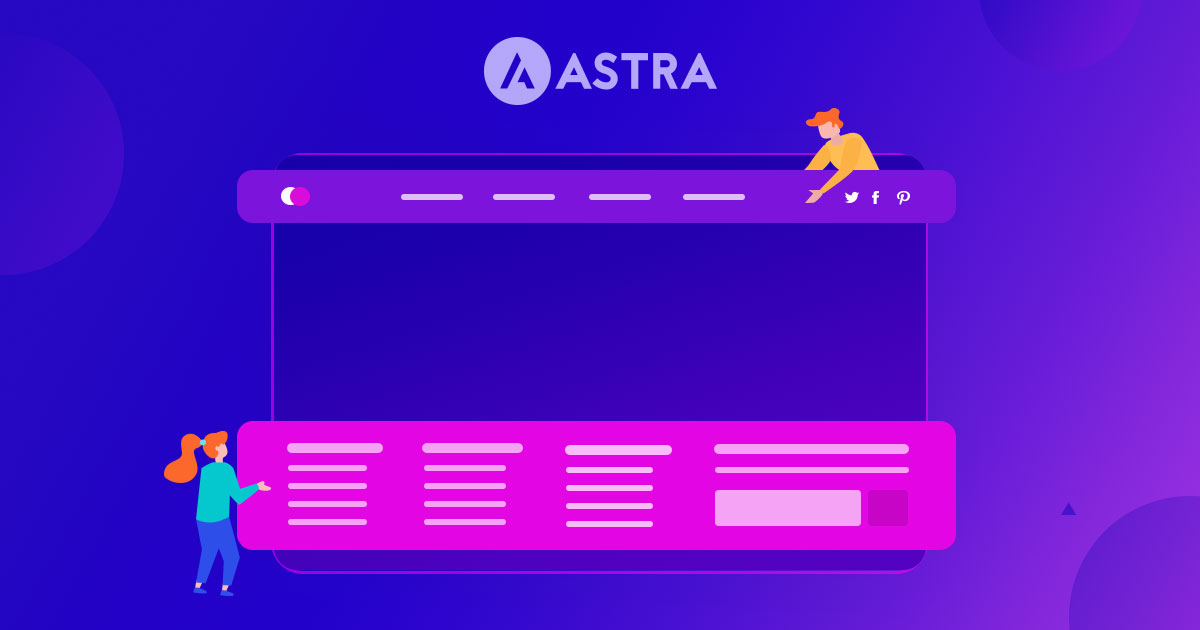 Astra already has a range of options to design beautiful headers and footers. With different header layers like the above header, below header, and primary header — you would be able to design advanced structures. With different footer layouts and column structures, designing footers will become even easier.
In future Astra updates, we are bringing a more powerful and flexible Header Footer Builder. It's a visual builder with an ability to drag-n-drop elements. You can easily add required information, manage its structure, customize it with colors and spacing.
The new Header Footer builder will offer dedicated options to design mobile headers as well. Sticky and transparent header designing will be easy too. Footers can be arranged and designed faster than ever before.
Header Footer Builder will deliver a refined user-experience to create advanced and beautiful header/footer design right inside the customizer.
New Useful Features in Astra
Astra includes many useful features that makes your website designing process easy. We continuously run internal A/B testing to add new useful feature that come in handy.
Keeping up the trend we will be bringing many new features:-
Clone/reset/delete Elements: This will bring more control over elements in Header Footer Builder. You can copy elements within the visual builder, reset their styling, or even delete them easily. It will save your time in duplicating already designed elements.
Global color palette: Every website has its color pattern. We spend much of our time deciding what colors to use for our website. Using Astra, you can set global colors. But with the upcoming global color palette, you can enter your color code at once and use that palette with all color settings across the customizer. It will save your time in pasting website color code every time. You can just go to the color setting and choose your set color.
SVG icons: SVG icons are lighter and look more clear on all devices. Astra will be using SVG icons internally, giving you crisp, clear, and faster loading icons in upcoming updates.
Language switcher: Multilingual websites are one of the essential parts of growing business. Users are more comfortable browsing websites in their regional language. Astra will be bringing an easy language switcher feature. With this, you can add navigation for your website in different languages, that too in style!
Deeper Integration with WooCommerce
Astra is one of the most popular themes for building and designing WooCommerce stores.
You can build customized, beautiful, and secure stores with Astra effortlessly. It offers advanced options like an off-canvas sidebar, checkout options, product catalog customizations, grid layouts, color variations, and much more.
Taking a step further, we are focusing on more customization options, such as new store controls for WooCommerce.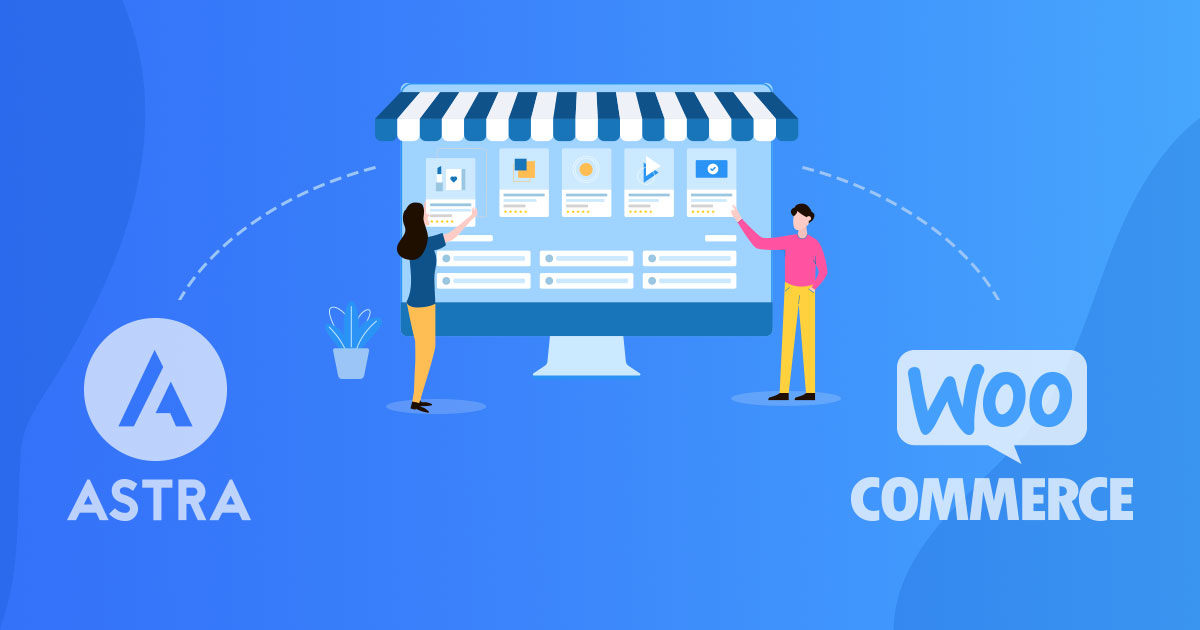 Gutenberg & Full Site Editing
In 2020, we focused on making Astra a fully Gutenberg compatible theme. As a result, Astra is the most used theme for Gutenberg sites.
You can easily work in Gutenberg editor with Astra and use all the excellent features Gutenberg has to offer. Not just the editor but Gutenberg pages look more refined with the Astra theme.
To make the website building process easier in Gutenberg, we launched more than 50 starter templates last year. These professionally designed templates are available for FREE.
Our featured pack Ultimate Addons for Gutenberg plugin is already popular on the WordPress repository, and it provides a modern block to power-up the Gutenberg editor.
We are excited about the upcoming full-site editing feature. We are watching it closely. As the feature work proceeds, we will be bringing the required updates to Astra as well. You will have full freedom to use this feature with Astra.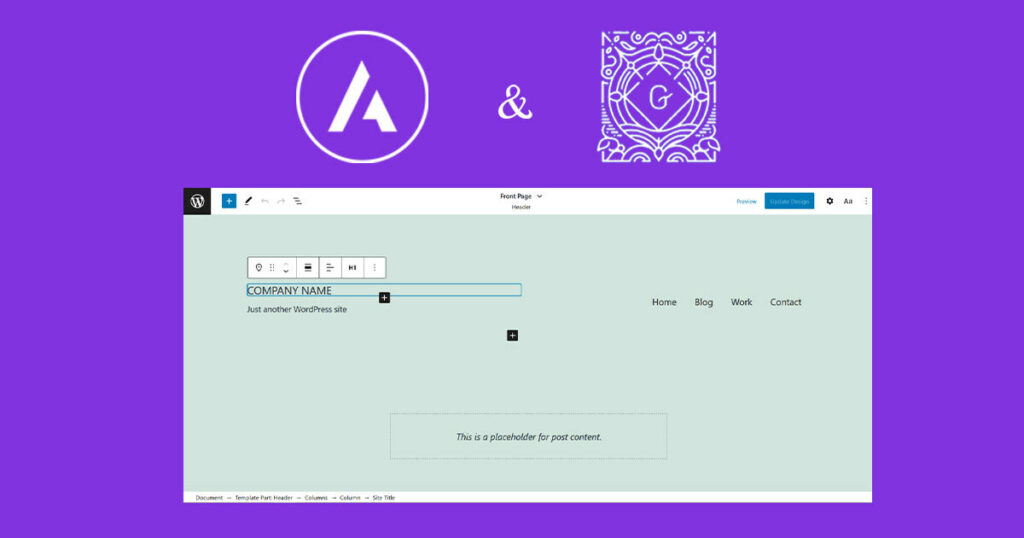 Our talented engineering team is also working on bringing block patterns to Gutenberg. It will make your designing work so much easier, and we are sure you will love it. 🙂
React Powered Interfaces
React is a JavaScript library for building amazing, fast user interfaces. We invested heavily in training our team React JS.
In 2021, you will experience better editing on React interfaces. Astra Customizer will soon work on 80% of React JS, thus delivering a faster loading time.
More Expert Educators on SkillJet
Millions of websites use our WordPress themes and plugins! We are now on a mission to deliver helpful educational content for WordPress users to help them be more successful.
SkillJet will continue to be even more valuable for our customers in the upcoming year. We will partner with more WordPress and Business experts who will share their valuable knowledge to help you grow your WordPress business.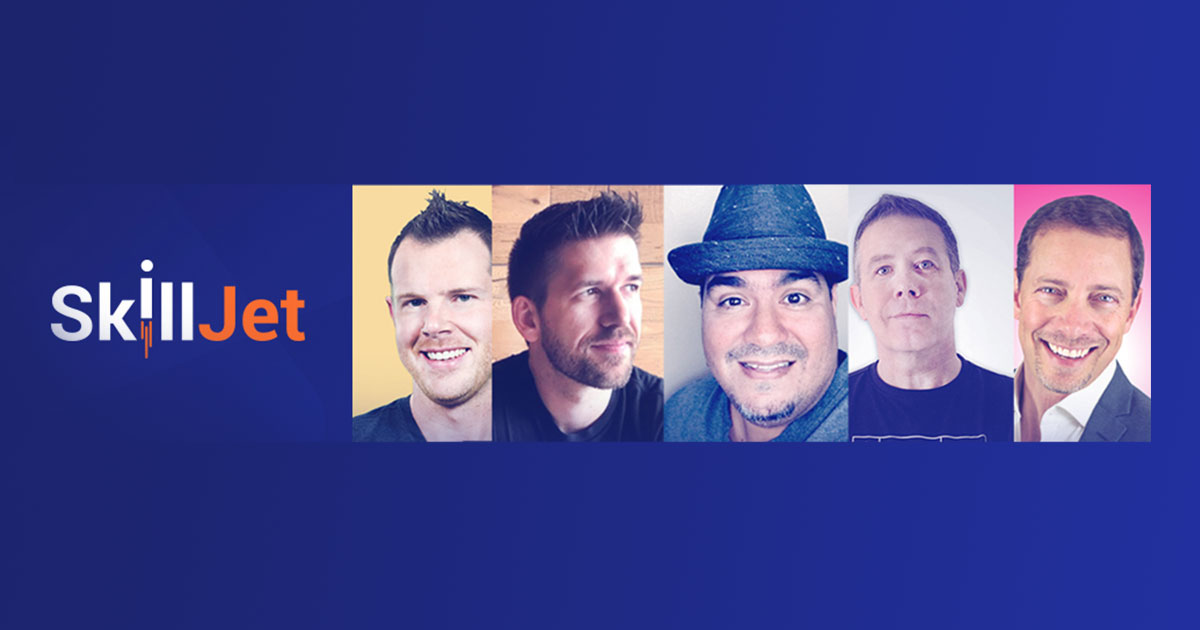 Growing Our Support Team
We take support seriously. Customer experience is our top priority, and we work hard for it. Astra offers 24*7 support with a promising response time of about 4 hours.
In 2020 we have 8 new members who joined us from different countries. We cover different time zones effectively and are available 24*7.
Helping over 50073+ customers through our support portal and more across WP.org Portal for our different plugins.
Here are few happy reviews from our customers –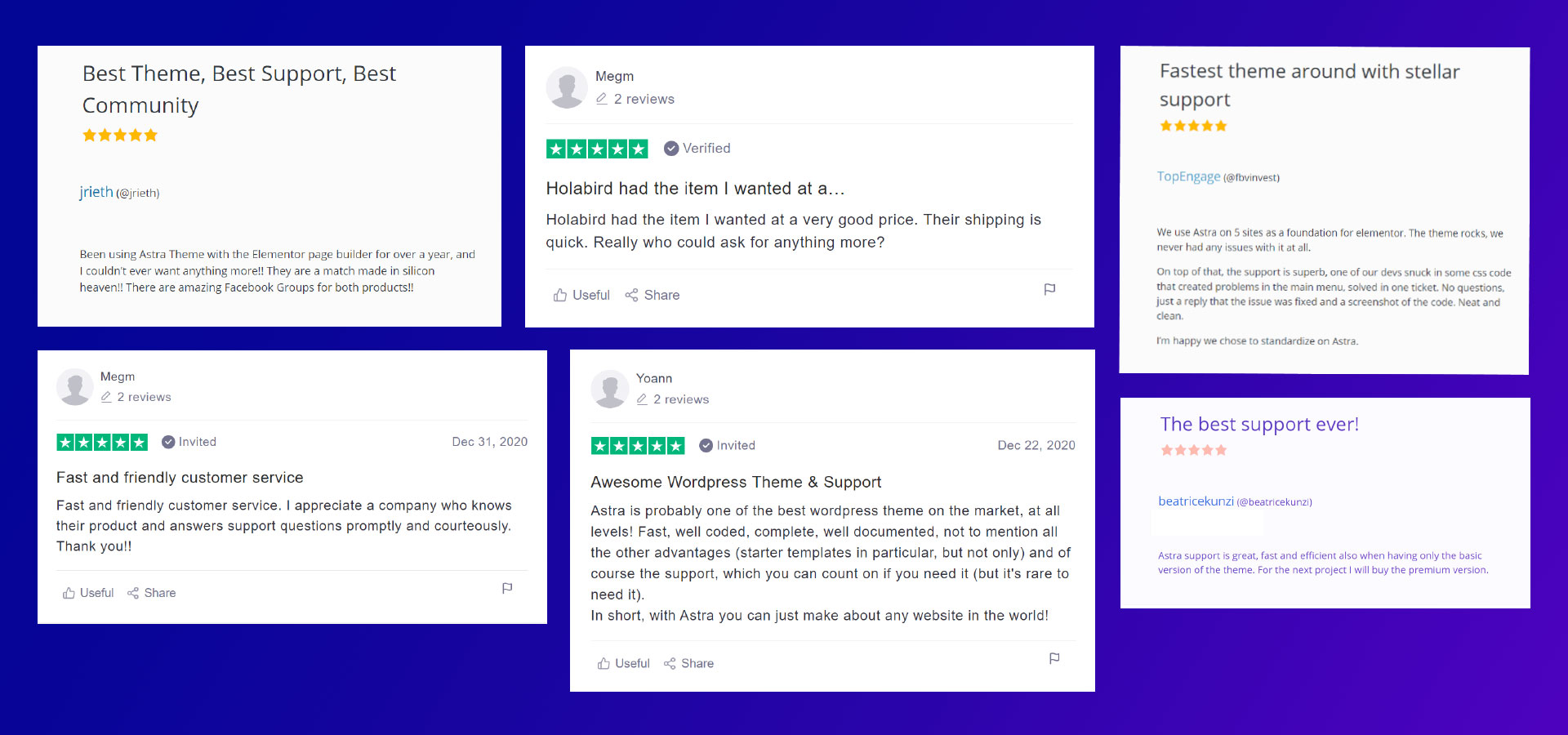 We are investing heavily in our support team in 2021. We are expanding our phenomenal support team so that we can help our customers succeed even better.
New Starter Templates
Starter Templates is a growing library of more than 250 templates – including Elementor, Beaver Builder, Gutenberg & Brizy.
It is popular among the community, with over 800,000+ websites using it. These professionally designed templates save a lot of your time when you are creating websites from scratch.
We will be introducing more visually appealing Starter Templates to the library soon. Our goal is to fulfill all business niches' website needs and use cases with our modern templates.
In short, Astra will be much better than it was in 2020, and you and our customers will benefit more than ever before.

Well these are only sneak peaks of coming updates. Many more exciting features are coming your way in new year.
Wish You a Happy Year!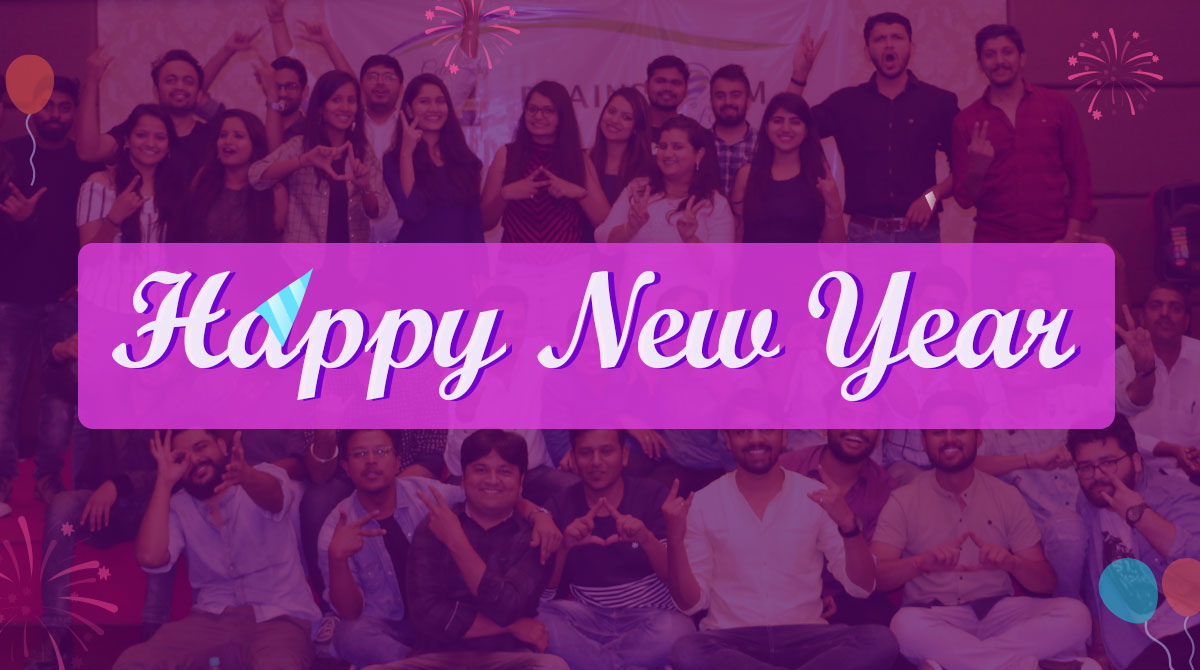 From myself and the Brainstorm Force family (now almost 80 people worldwide), we wish you a healthy, creative, and prosperous year ahead.
2020 was challenging and gave us some bitter memories. But I am sure that 2021 will be fantastic for all of us.
Thank you for all your support in the past year, and we look forward to an exciting new year.
I'd love to hear how you think we could help your business in the comments below.