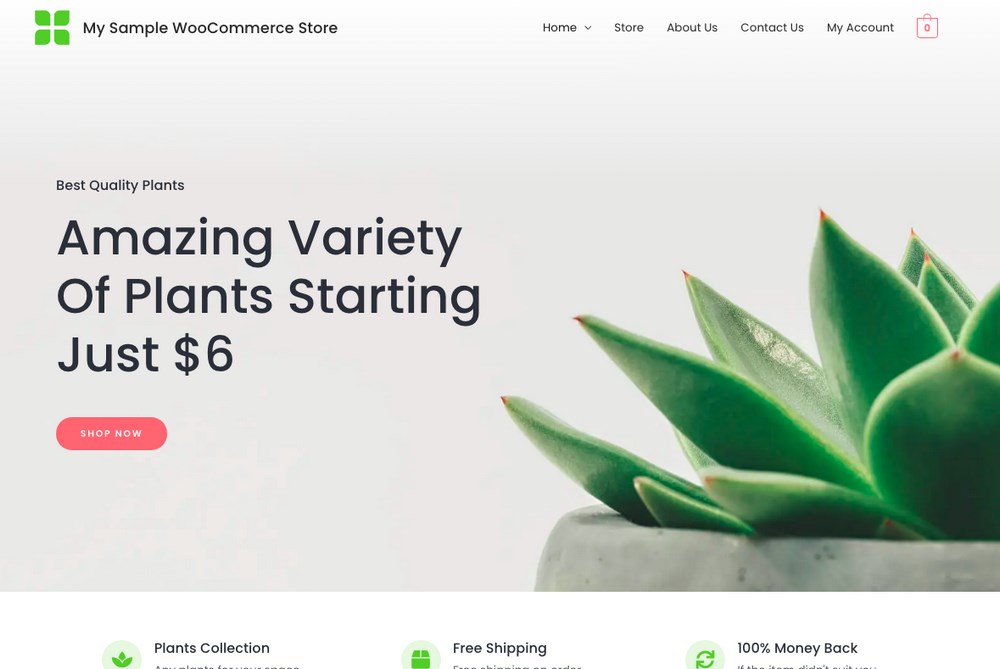 Together, WordPress and WooCommerce are an eCommerce powerhouse. Both are super easy to use, simple to set up, a breeze to manage and to run.
One key element of running a WooCommerce store we all need to get to grips with is cross-selling. It's the practice of marketing similar or related products to your customers while they are on a product page. WooCommerce grouped products can help with that.
Grouped products do not have to be bought as a bundle but could benefit the shopper, and you, if they are.
You know those parts on a product page that say 'Customers who bought X also bought Y' or 'Products frequently bought together'? That's grouped products in action.
Most leading retailers use this method in conjunction with upselling to maximize the profit they make from shoppers.
This article is going to show you how you can use WooCommerce grouped products to do the same for your own online store.
WordPress, Astra and WooCommerce
WordPress is a free database-driven Content Management System (CMS) that powers an estimated 455 million websites. That's around 37% of the internet.
A key strength of WordPress is that it is free and open source. Not only is the core system very straightforward to get to grips with, it's also open for others to develop their own plugins and expand existing WordPress features or add news ones.
There is also a huge market in WordPress themes.
Astra WordPress Themes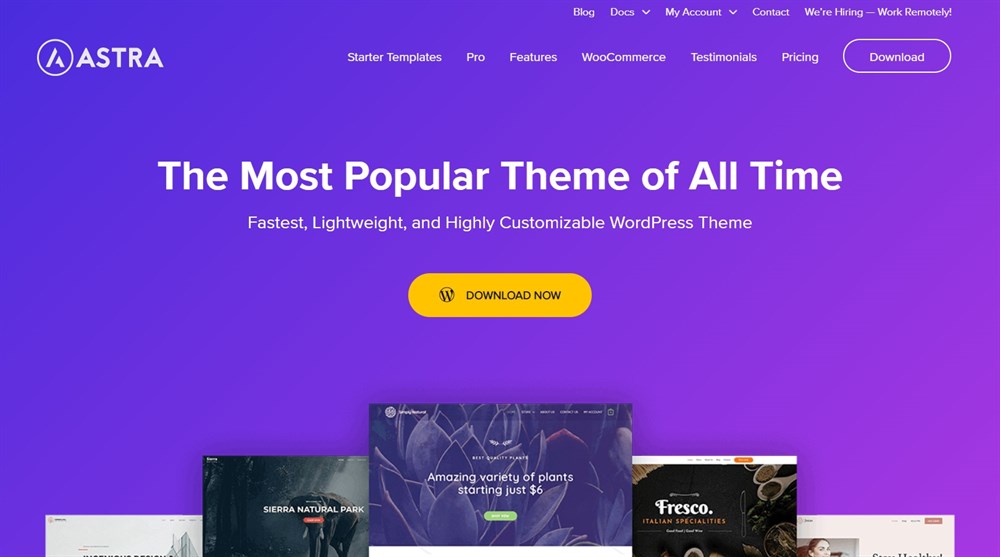 Astra is one of the world's most popular WordPress themes. With over a million active users, it's an excellent option for WordPress websites and online stores.
Like WordPress itself, Astra is free. It comes with a range of theme templates that are also free. Each has been designed to be attractive, easy to use, load quickly and complement your content perfectly.
The premium version of Astra takes all those qualities and turn them up to 11!
What's more, Astra was designed with WooCommerce in mind. The clean code ensures WooCommerce and any plugins work seamlessly and pages load quickly to assist the customer journey.
It's the perfect combination!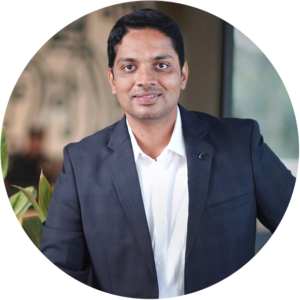 Hello! My name is Sujay and I'm CEO of Astra.
We're on a mission to help small businesses grow online with affordable software products and the education you need to succeed.
Leave a comment below if you want to join the conversation, or click here if you would like personal help or to engage with our team privately.
WooCommerce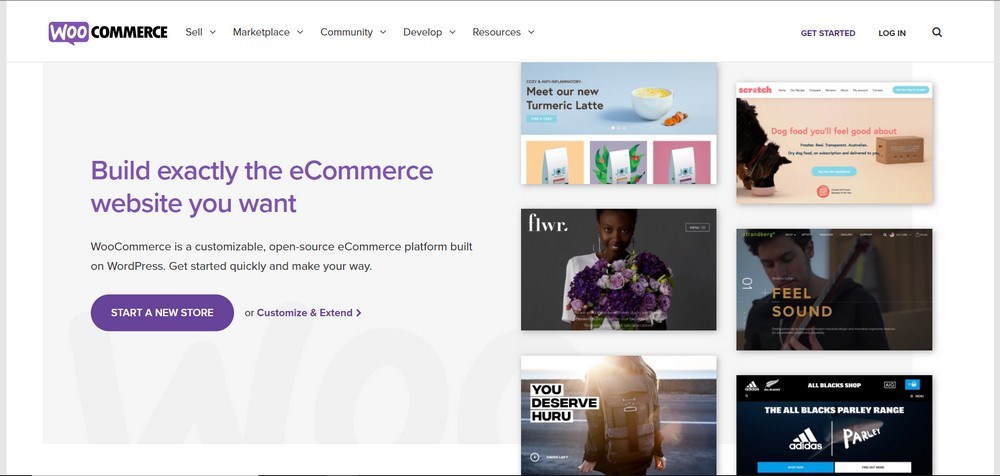 WooCommerce is an eCommerce plugin for WordPress that turns your blog or website into a fully operational online store. It is free to use, simple to set up and makes it as simple as possible to set up your very own online store.
Like WordPress and Astra, WooCommerce is completely free to download and use. It does have premium plugins to add valuable features but the core plugin is completely free.
When Should You Group Products in WooCommerce?
Ideally, you should group products when it makes sense to do so. When the products you group together complement each other or when one product might depend on the other.
Use the feature well and you can enhance the customer journey. Use it without considering the relationship between those two products and you could lose a potential sale.
For example, you're selling torches in your store. A logical grouped product would be batteries to power the torch and perhaps a lanyard so you don't lose the torch.
Or, if you're selling a pair of leather shoes, you could add spare shoelaces and leather cleaning products as groups products.
You can also use WooCommerce grouped products to offer bundle deals to customers.
For example, deals such as 2 products for the price of one or buy X product and get 25% off Y product.
Both situations can utilize the power of WooCommerce grouped products for your benefit.
How WooCommerce Grouped Products Can Increase Sales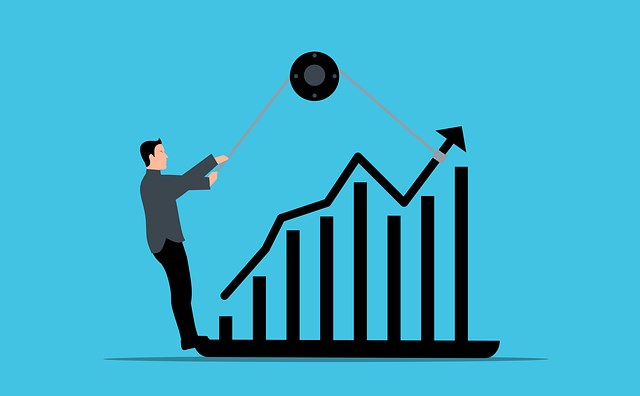 Steve Jobs is credited with saying that people often don't know what they want until you show them.
A WooCommerce grouped product can work wonders for your profit margins. A simple mention of a product that can complement the one your customer is looking at can be enough to prompt them to purchase.
A purchase they may not have made otherwise.
A WooCommerce grouped product can benefit the you in two ways:
Adds Value to Customers
Grouped products can offer genuine value for customers. In the examples above, a torch needs batteries, so linking directly from the torch to the batteries benefits the customer. The same as having spare shoelaces around is beneficial to anyone who owns shoes.
Adds Profit Opportunities for You
Using a small area of your product page real estate to cross-sell is a very good use of space. Amazon and other online retailers use this to great effect by suggesting other products that are similar enough to the primary search to interest to pique interest.
If that customer purchases the primary product and a product linked with the WooCommerce grouped product, you earn more profit.
If the customer doesn't buy the primary product they searched for but does buy a grouped product, you have saved a potentially lost sale.
There are three other benefits to using WooCommerce grouped products:
Let consumers know they need something else to use a product. For example, batteries for powered products.
Let consumers know they will enjoy a product better in combination with another product. For example, a mascara in a colour that complements an eyeliner.
Let consumers know they will find it easier to use a product if it is purchased together with another product. For example, a laptop and a laptop bag.
A Brief Introduction to WooCommerce Product Types
WooCommerce has four main product types.
Simple product
External/Affiliate product
Variable product
Grouped product
Simple Product
A simple product is a single product with no variations in size, colour or features.
External/Affiliate Product
An external or affiliate product links to a third-party who sells the product where you earn a commission on every sale.
Variable Product
A variable product has a selection of options for the same core product. Clothing is a prime example of a variable product where you would have different sizes and colours.
Grouped product
Grouped products are what we have been discussing in this blog post. A collection of products that are linked in some way but are available separately.
How to Set up Grouped Products in WooCommerce
If you're already familiar with adding and customizing products in WooCommerce, grouping them should be no problem. It is slightly more involved than adding simple or external products but there is still a logical flow to the process.
You can create grouped products in two ways:
You can add separate versions of the product and immediately set them as grouped products.
Or you can create individual products and then clone them so they also become grouped products.
As the principle of grouping is to complement individual products, let's clone our individual products.
You will need some simple or variable products to be able to clone group them. Just in case you're new to WooCommerce, we will walk you through adding those simple products first.
If you already know how to do that, feel free to skip ahead to Grouping Your WooCommerce Products
Adding Products to WooCommerce
To be able to group products in WooCommerce, you first need individual products to group. We'll quickly cover adding products here so you have a full idea of what's going on.
If you haven't added a product before, it's very much like adding a blog post. Just with a few more steps. There is also a WooCommerce wizard that can walk you through the entire process.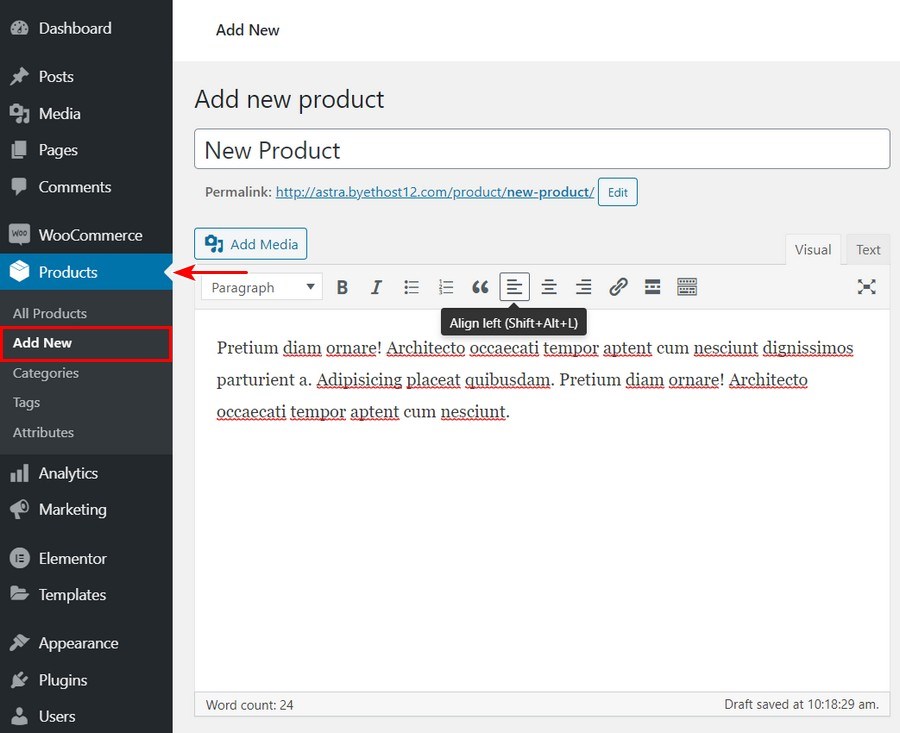 Do it once or twice though and it will quickly become second nature!
1. Log into your WordPress website.
2. Select WooCommerce from your WordPress Dashboard.
3. Select Products and Add New from the left menu.
4. Enter your product title and description in the main section.
5. Scroll down to the Product Data section on the page.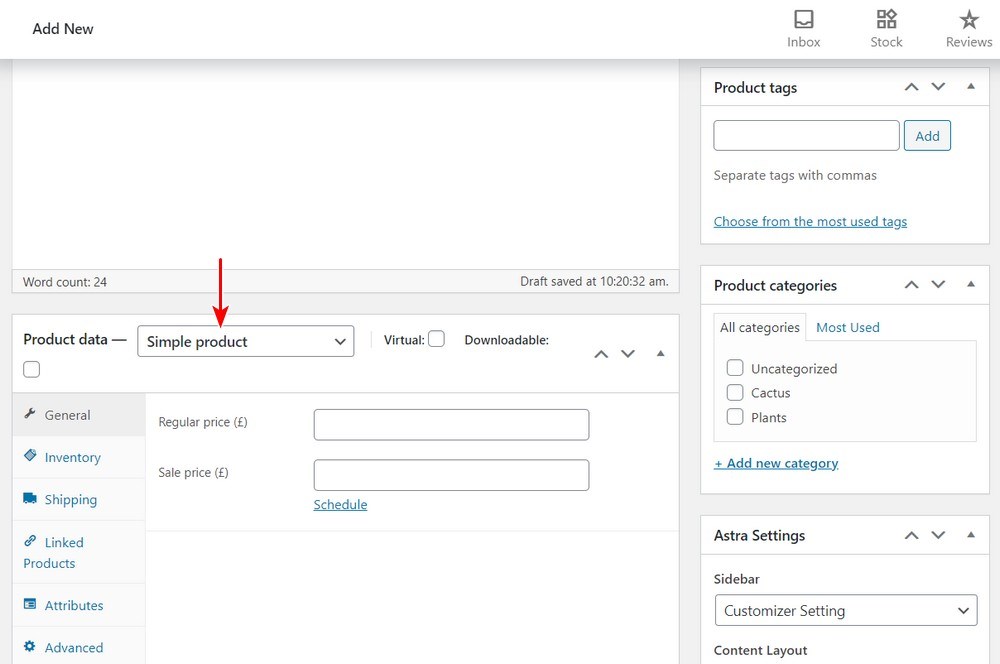 6. Add the product type in the dropdown box. We chose a simple product.
7. Add your price and an optional sale price.
8. Add a Product Short Description at the bottom of the page.
9. Add a Product Image in the right menu.
10. Add any extra images in the Product Gallery section under the Product Image.
11. Scroll up to Product Tags and add any quick search tags you want to use.
12. Add a category to list the product as required.
13. Select the blue Publish button at the top right of the page.
That's it. You have added your first product to WooCommerce!
That's only half the process though. You will also need to add inventory, shopping, attributes and other details but this is enough for our use so we'll leave it here.
If you're adding products in order to group them, you'll need a few more of these for it to work.
Grouping Your WooCommerce Products
Adding a grouped product in WooCommerce is just as straightforward as adding new products so won't take a minute.
As we are going the cloning route, you should already have your individual products all ready to go.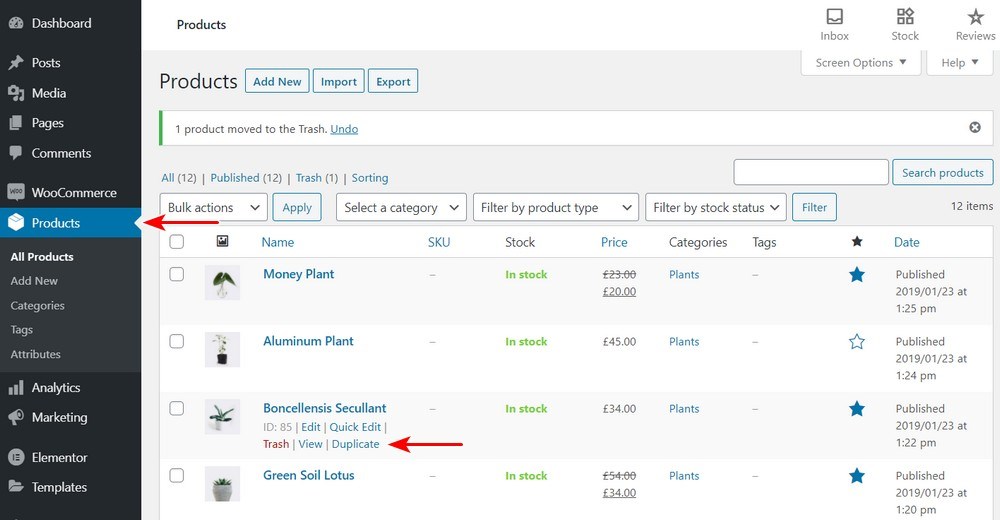 1. Select WooCommerce and Products.
2. Hover over a product listing you want to add to your group.
3. Select Duplicate in the text link that appears.
4. Open that product in a new browser tab.
5.Scroll to the Product Type and select Grouped Product.
6. Add a unique SKU or Stock Keep Unit so you can keep track of items. Grouped items benefit from a unique number even if you're also selling the same item as an individual product.
7. Select the Linked Products tab in the Product Data box.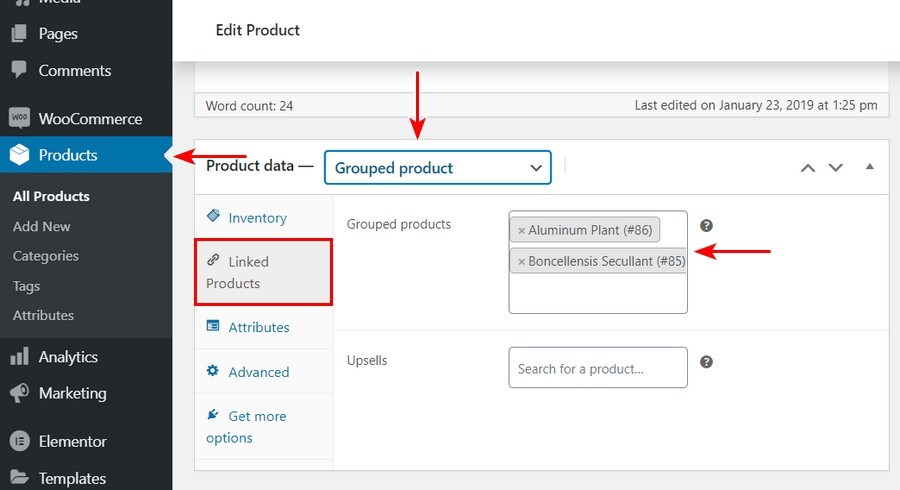 8. Type in a unique SKU for the products you set up for grouping. You should see WooCommerce search for the item and add it to the grouped list.
9. Select Update to save your product group once complete.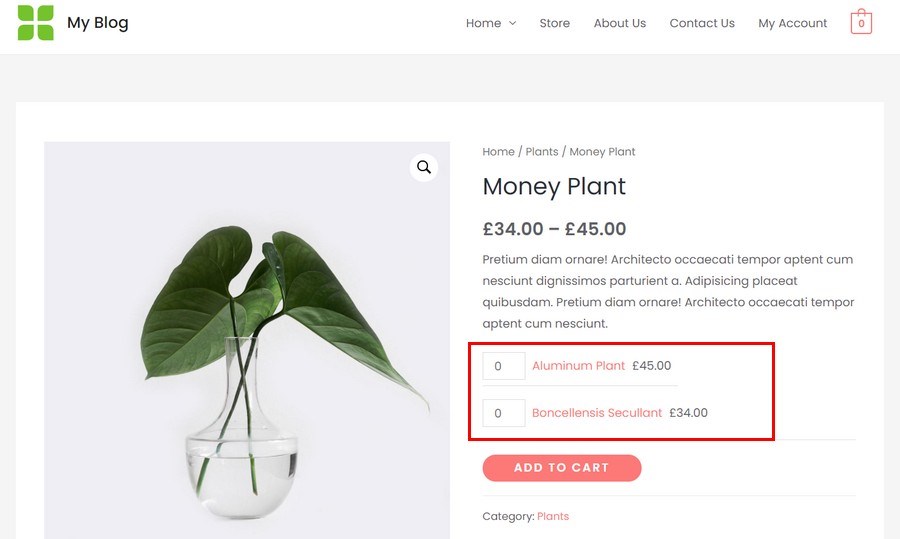 That's all there is to adding grouped products in WooCommerce!
If you want to change the order that products appear in your group, drag and drop them within the Grouped Products box in the Linked Products tab.
You don't have to assign a unique SKU to a grouped product if you don't want to but it does make life a little easier. You could also use the Item ID instead of SKU when grouping products if you prefer.
Simply hover over an item in your product list and the ID will be highlighted. Add that to the group window instead of the SKU and it should work perfectly.
Add an Existing Item to WooCommerce Grouped Products
In the above example, we created a WooCommerce grouped product from scratch. But what if you already have a group set up and want to add a new product to it.
It's super-simple and something you can do in seconds.
Identify the SKU or ID of the product you want to add to the group.
Select the product which you have set up the group. This is the 'parent' product where you added the SKU or item in the process above.
Select to edit that product and scroll down to the Product Data box.
Add the SKU or ID into the Grouped Products box in the Linked Products tab.
Add any images or details you need.
Scroll up and select the blue Update button in the top right of the screen.
That's it!
Once you have saved your changes, view your product page to make sure the grouped products appear where and how you want them.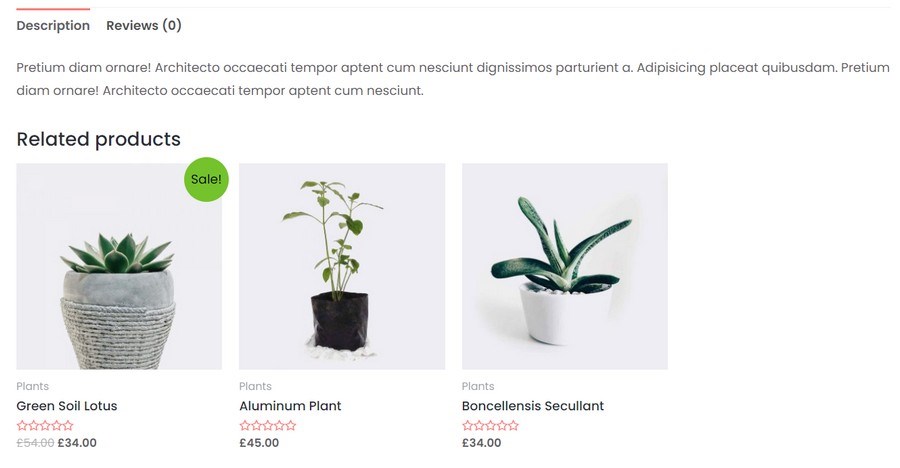 Organizing WooCommerce Grouped Products
While optional, you can add more detail to your grouped listing should you wish. The following sections can all add value to a grouped product page.
You'll find them all in the Product Data section where you set the item as a grouped product.
Upsells – This is underneath Grouped Products in the Linked Products tab. This is your opportunity to promote other items in order to encourage an impulse purchase. The products you add here should be linked to the original searched item in some way.
Attributes – This is a tab section under Linked Products for variable products. Here you can add any attributes you may have configured for those products such as size, colour or configuration.
Advanced – The Advanced tab section allows you to control in what order your grouped products appear on the page. It's a minor change but might be beneficial in certain situations.
There is also a checkbox under the Menu Order section where you allow reviews or not. This is a surprisingly small section for what is a major element of an online store. We would suggest leaving the box checked so customers can leave reviews if they wish.
Get More Options – This tab section suggests WooCommerce extensions that feed into your product listing. Extensions like One Page Checkout, Name Your Price and others.
FAQs for WooCommerce Grouped Products
What Is a Grouped Product in WooCommerce?
A WooCommerce grouped product is an item used to cross sell. It is linked to another product and will be displayed on that item's product page in the hope the user is encouraged to buy the suggested product as well as the primary one. It's a very useful technique in retail and works exceptionally well.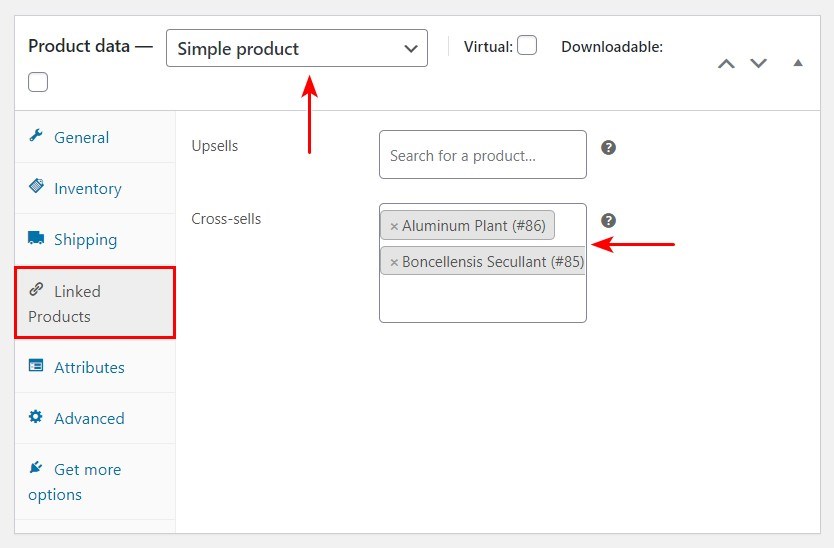 What Is a Variable Product in WooCommerce?
A variable product in WooCommerce is an item with several variations. For example, clothing sizes and colours, shoe sizes and so on. You can define exactly what variations you offer and add individual prices for every single variation. It can be detailed work adding variable products but it offers maximum flexibility for shoppers.
How Do I Create a Bundle Product in WooCommerce?
You create bundle products in WooCommerce by following the process above. Bundled products are similar to grouped products and are added in the same way. Add an item, select it as a grouped product, add your images and details and save the change. Your bundled product should appear immediately.
How Do I Get Product Categories in WooCommerce?
You get product categories in WooCommerce by creating them in the dashboard. You can create as many as you like but they should always be logical and hierarchical. Select WooCommerce > Products > Categories to add product categories in WooCommerce.
How Do I Add a Linked Product in WooCommerce?
You can add a linked product in WooCommerce in seconds. Open the product you want to link and scroll down to the Product Data box. Select the Linked Products tab and add the unique SKU or item ID into the Cross-sells box. Select each item as it appears to add it as a linked item. Select Update once done.
Final Thoughts on WooCommerce Grouped Products
WooCommerce grouped products work. It's a way to cross sell in a store without being too pushy. It's also a way to promote items and expose the customer to products they may not have seen during their visit.
It does all this without forcing the customer to do anything and without being too in their face. In an age when internet users are increasingly weary of marketing and promotion, this is a superb way of handling it.
If Amazon and other retail giants are anything to go by, the method works too!
Do you use WooCommerce grouped products? Do you handle them differently than usual? Have any advice for new WooCommerce users? Tell us your thoughts below!