LearnDash is a popular WordPress LMS plugin that helps you create, sell, and manage online courses. As part of that functionality, LearnDash includes its own built-in payment functionality to help you charge your course-takers for one-off or subscription access to your courses.
While this functionality works in a pinch, we're going to argue that you might be better off skipping LearnDash's core payments functionality and taking advantage of the official LearnDash integration for WooCommerce instead, which syncs your courses up with WooCommerce.
WooCommerce is the most popular WordPress eCommerce plugin ( and the most popular way to build an eCommerce store – even more popular than Shopify ). It offers a number of benefits to your online course site over the built-in LearnDash system, and that's what we're going to cover in this post.
Nine Reasons to Use WooCommerce With LearnDash
At a high-level, you should use LearnDash with WooCommerce because it helps you optimize your checkout process and improve your bottom line. Here are nine reasons why that's true…
1. WooCommerce Is Built for Payments
LearnDash is built to help you create and deliver online courses to your visitors. As part of that, it includes its payment features. But LearnDash's number one priority is still delivering course content and that's what it excels at.
WooCommerce, on the other hand, is geared for eCommerce and accepting payments. That's its focus and what it excels at.
So, rather than using a hammer to screw in screws, why not use a hammer to drive in nails and a screwdriver to screw in screws?
That is, you're much better off using each tool for what it excels at – LearnDash for courses and WooCommerce for payments.
WooCommerce is just plain going to give you a more robust experience when it comes to coupons, taxation, and anything else relating to payments. That's going to give you more flexibility for making your online course site work how you want it to.
2. You Can Extend WooCommerce in a Ton of Ways and Use Any Payment Gateway
When you use LearnDash's payment system, you're pretty much limited to what the LearnDash developers have built into the system. For example, you only get two choices for payment gateways – Stripe or PayPal.
When you use WooCommerce, it's the opposite. You'll instantly get access to the 100+ payment gateways that WooCommerce supports. What's more, you'll also be able to extend WooCommerce in lots of other interesting ways.
If you search "WooCommerce" at WordPress.org or browse the official WooCommerce extensions library you'll find thousands of free and premium plugins that let you further extend all aspects of WooCommerce, which will give you a lot more flexibility now and in the future.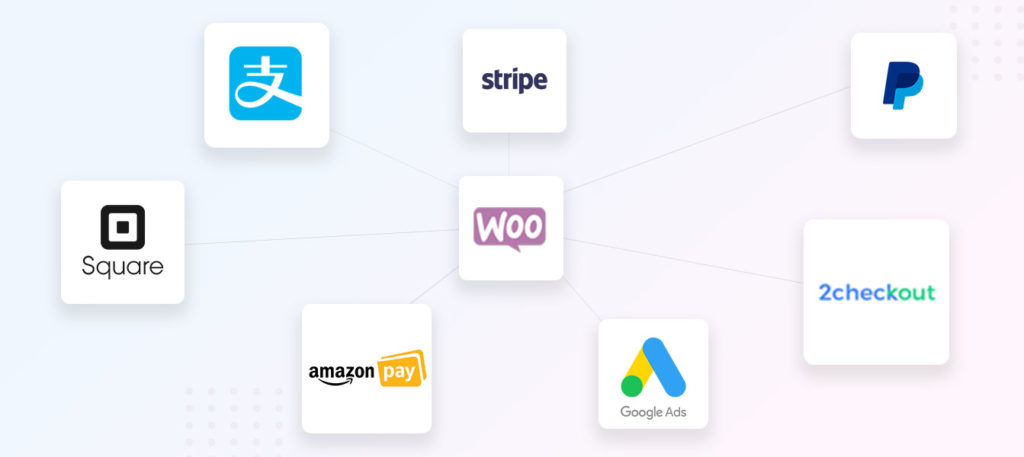 3. WooCommerce Integrates With Most CRM Platforms
A customer relationship management (CRM) tool helps you better connect and manage all of your course-takers. By storing important data for each user in your CRM, you're able to create automated email marketing campaigns and just generally optimize your website and connect with your students.
When you use WooCommerce, you're able to take advantage of WooCommerce's integrations with most popular CRMs to easily get your students' data into your CRM of choice.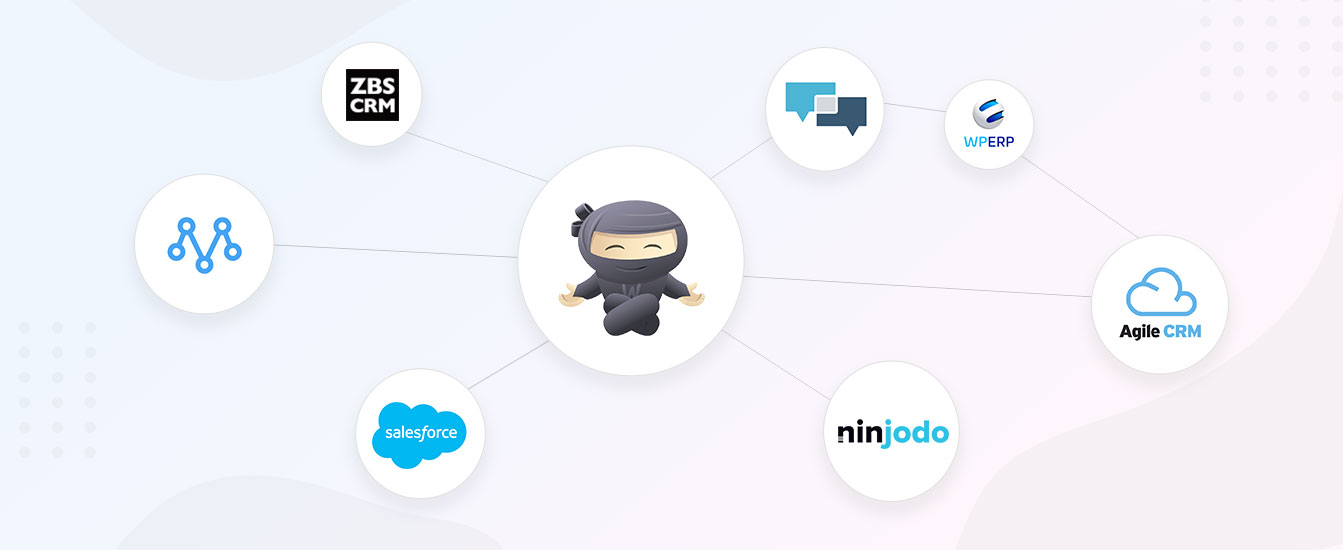 With the CartFlows plugin, you can even tell your CRM when a student fails to finish the checkout process so that you can send off an automatic email and get a chance to recover that abandoned cart, which is helpful all by itself.
4. WooCommerce Lets You Sell Physical Products (or Other Products)
With LearnDash's built-in system, you can only sell digital courses.
With WooCommerce, though, you get the ability to sell other types of products, too.
One big example is physical products. What if you want to sell physical learning materials or merchandise to your fans? With WooCommerce, you'll be able to sell those products right from your existing payment system, rather than needing to find another solution.

What's more, you can also sell other types of digital products, too. For example, you could sell eBooks or even sell coaching sessions that course-takers can book via an appointment calendar.
5. Most Affiliate Platforms Integrate With WooCommerce
Affiliate programs are a great way to grow your course. Instead of you being the only person advocating for your course, you can recruit an army of affiliate marketers to help you spread the word.
Well, if you want to create an affiliate program, the LearnDash team themselves recommend using a third-party payment system like WooCommerce or Easy Digital Downloads.
The benefit here is that, because WooCommerce is so popular, it's super easy to integrate with pretty much all the popular affiliate platforms.
Not only can you use WordPress affiliate plugins like AffiliateWP, but you'll also find it easy to connect to third-party affiliate platforms like ShareASale.
6. You Can Add Order Bumps, Upsells, and Other Revenue Boosters
If you're serious about growing your course's revenue, order bumps and upsells are one of the best ways to do it. You might know these techniques by another term – "funnels".
For example, you could use an upsell to push people towards purchasing a bundle of courses, rather than just a single course.
When you use WooCommerce with LearnDash, it's super easy to integrate these types of funnels into your course with the CartFlows plugin.
Not only will CartFlows help you add order bumps and upsells, but it can also help you customize your entire checkout process and just generally decrease shopping cart abandonment.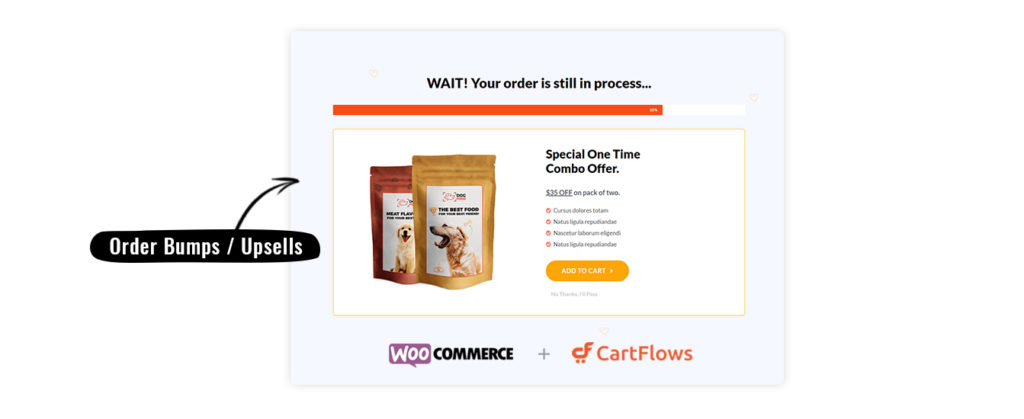 That alone is a huge incentive to use WooCommerce because it will have a big impact on your bottom line and revenue per student.
7. You Can Create a Custom-Designed Checkout Process
With LearnDash, your only option is to use the LearnDash checkout interface.
With WooCommerce, your checkout process is determined by your theme which gives you a little more flexibility, especially with a WooCommerce-friendly WordPress theme like Astra.
However, where you can really achieve flexibility with your checkout process is when you add that same CartFlows plugin to the mix.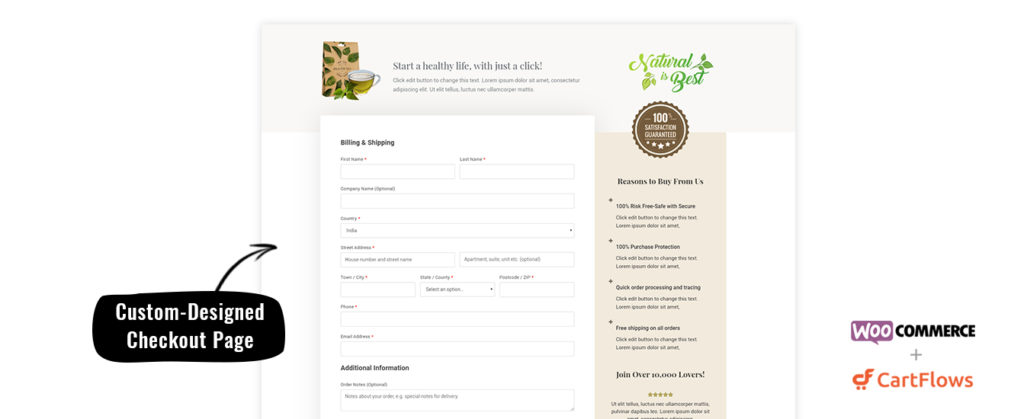 Using a mix of detailed interface settings and the visual, drag-and-drop Elementor website builder, you'll be able to use CartFlows to create beautiful, customized checkout pages for your courses.
What's really neat is that you can actually create unique checkout systems for each individual course if you want, which lets you optimize your checkout process on a course-by-course basis.
8. You'll Have Full Control Over the Entire Checkout Process
Beyond design flexibility, WooCommerce and CartFlows also give you full control over other aspects of the checkout process for your LearnDash courses.
You can create custom landing pages to house your checkout system. You can control the exact URL structure that your checkout uses. You can add your own custom thank you pages. You can even add custom fields to collect additional information from your visitors.
You get the idea – you'll be able to customize your checkout process in a way that the default LearnDash payment system just doesn't allow.
What's more, these customizations can actually make a meaningful difference in the conversion rates for your courses.
9. You Can Combine Physical Products With Your Digital Courses
You already learned that WooCommerce lets you sell physical products. But with CartFlows, you can actually take this one step further and include physical products as part of your courses' sales funnels.
For example, if you have a course on how to manage a WordPress website, you could offer an upsell for a physical book related to the course, which is a great way to increase your revenue per order.
This can also help you establish additional revenue streams beyond just selling access to courses, which is great for diversification.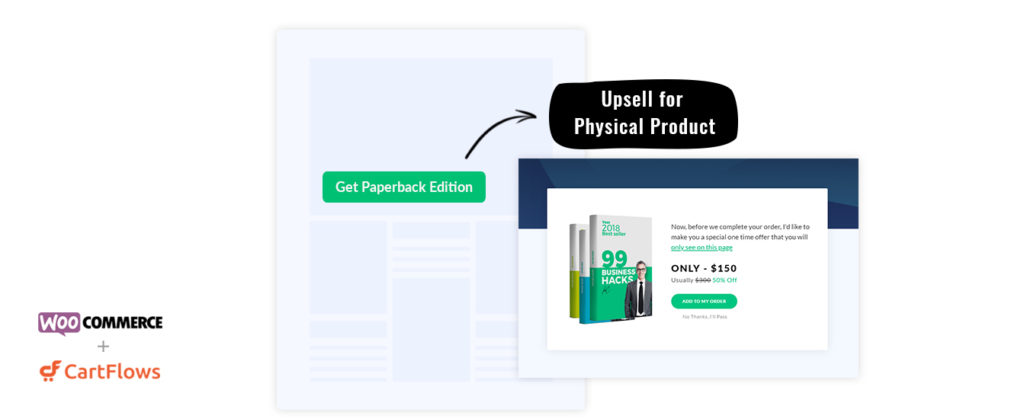 LearnDash and WooCommerce: Better Together
LearnDash is one of the premier WordPress LMS plugins and WooCommerce is the premier WordPress eCommerce plugin. Pairing them together lets you benefit from all of LearnDash's powerful course functionality while also benefiting from WooCommerce's powerful payment flexibility.
Using WooCommerce also lets you add a third player to the mix – CartFlows – which helps you optimize your checkout process with funnels, custom designs, order bumps, upsells, and more.
Put them all together and you can create awesome courses that your visitors love while also developing a healthy revenue stream so that you can keep sharing your content with the world.
If you are new to LearnDash, see LearnDash Tutorial: Everything You Need to Get Up and Running!