Are you looking to build a WooCommerce store to serve your wholesale customers?
Market trends reveal that online shopping has exploded in the past decade. There were as many as 1.9 billion digital buyers in 2019 alone. However, the majority of these buyers are from the retail sector.
The good news for wholesalers is that the online Business to Business (B2B) sector is experiencing significant growth as well. In its research report, Forrester expects online B2B sales to reach a record high of $1.8 trillion by 2023. If you don't want to be late to the party, now is the perfect time to set up shop!
Whether you're entirely new to WordPress or already own a WooCommerce retail store, running a wholesale store is a brilliant idea. With the help of some WooCommerce plugins we'll share later in this article, you can efficiently serve both B2B and B2C customers with one site.
But before showing you these plugins, let's examine why having a WooCommerce wholesale store makes sense.
Why You Might Want to Create a WooCommerce Wholesale Store
When it comes to building a WooCommerce wholesale store, there are often two sides of the divide. You're either a wholesaler looking to move your business online or an online retailer trying to cater to wholesale customers too.
In both cases, there are a lot of benefits of having a WooCommerce B2B store.
Here are some of the primary reasons why you may want to create a WooCommerce wholesale store:
A WooCommerce online store helps to reduce administrative workload. Running a wholesale business can be challenging. An automatic online ordering system saves you a great deal of time and resources. Your clients from different time zones can also order around the clock.
Wholesale customers can quickly learn more about your products. An online store lets you adorn your product pages with all the necessary information the buyer needs to make a purchase decision.
Support is accessible at any time. You can as well integrate chatbots and live chat software. This way, site users can get help 24/7. Similarly, you can include a knowledge base with articles and guides to help clients navigate the ordering process.
You get to move your inventory faster. Online wholesale is an easy way to increase your order size and volume. You can even leverage this by implementing tiered pricing. We'll talk more about this later in the article.
There's an increase in promotional opportunities. Are you thinking of sharing your products on social media? Having your online store sets you up to enjoy all the possibilities of digital marketing.
No doubt, running an eCommerce B2B store is a great business move. Irrespective of your business goals or niche, it's an option that's rather hard to overlook.
Prerequisites: Everything You Need to Know About WooCommerce
As a business owner looking to move your trade online, making the right technical choices can be quite challenging. Among several other options, WooCommerce has proven to be the ultimate way to launch an online store.
With over 5 million active installations, the eCommerce solution makes a good case for itself.
However, because the tool relies on WordPress, you'll need to have a WordPress site to get started.
Here are the essential elements you need to build a WooCommerce site:
There are other plugins such as page builders and security plugins you need to run a WooCommerce wholesale store successfully. However, the major limitation with WooCommerce is that you only get retail features out of the box.
This means you'll need an additional WordPress plugin to create a WooCommerce wholesale store.
Recommended WordPress Plugins for Building a WooCommerce Wholesale Store
Traditionally, marketers and business owners have approached wholesale and retail markets as entirely different terrains. This approach seems logical considering that by default, WooCommerce mainly targets retail businesses.
Fortunately, the large WordPress plugin repository offers solutions that extend the platform's functionality. A lot of these plugins make it possible to combine a wholesale and retail store in one website.
It is important to note that not all WooCommerce wholesale plugins are the same.
Let's take a look at five wholesale plugins we recommend based on the functionality they offer.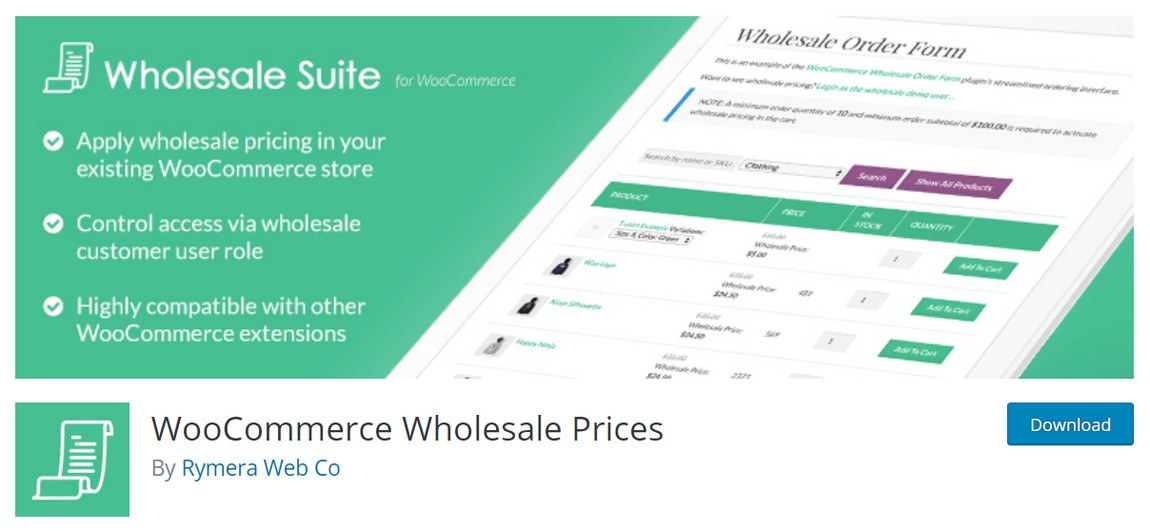 Our first pick for this list is a popular product by Rymera Web Co. The premium version of WooCommerce Wholesale Prices packs an extensive offering of features. available on the free version. The plugin is a business owners' favorite because of the decent number of features
Without paying anything, you can add a default wholesale user role and also sign up B2B buyers. However, if you want to get the best of the plugin, you'll need to purchase the premium version.
The Wholesale Suite package is even better. It comes with a complete wholesale store experience including the Wholesale Prices, Order Form, and Lead Capture plugins.
The Order Form plugin is a responsive tool that simplifies the order process for your wholesale customers. Lead Capture, on the other hand, makes wholesale customer registration seamless and efficient.
Some key features that make Wholesale Prices so powerful include:
A myriad of pricing options. Discounts could be percentage-based, product-based, and category-based
Tax-adjusted B2B prices
Ability to limit specific shipping and payment methods to different groups of wholesale customers
In a nutshell, if you're in search of the most advanced features for your wholesale store, this plugin is one you want to consider.
The Single bundle (for one site) will set you back $49.50 annually. The Unlimited bundle (for unlimited sites), on the other hand, goes for double the price. For the more loaded Wholesale Suite bundle, pricing starts at $148.50/year.

Barn2 is a development team that is focused on delivering helpful tools for extending your WooCommerce store's functionality. The major plugin among its offerings is the WooCommerce Wholesale Pro. This tool helps you add a dedicated wholesale area to your retail store.
With WooCommerce Wholesale Pro, you get the essential features you require to run a professional wholesale store. You can:
Create an unlimited number of B2B user roles
Offer different types of pricing and associate them with user roles and a couple of other relevant conditions
Regulate product visibility
Add order forms to maximize your conversion rate
Just like Rymera Web Co, Barn2 also has other additional plugins on offer. Particularly, WooCommerce Private Store and WooCommerce Protected Categories let you hide your new wholesale area from your existing retail customers. An option that could come in handy!
Wholesale Pro integrates seamlessly with WooCommerce Product Table. The tool adds Gutenberg blocks that make it easy to display multiple products in the simplest user-friendly ways possible. Likewise, you can use it to create quick order forms for your wholesale customers.
To use Wholesale Pro, you can either pay for the individual product or purchase it with the Product Table plugin. On its own, the plugin costs $99/year for one site, while the bundle costs $149/year. There are also other pricing options for up to 20 sites and lifetime usage.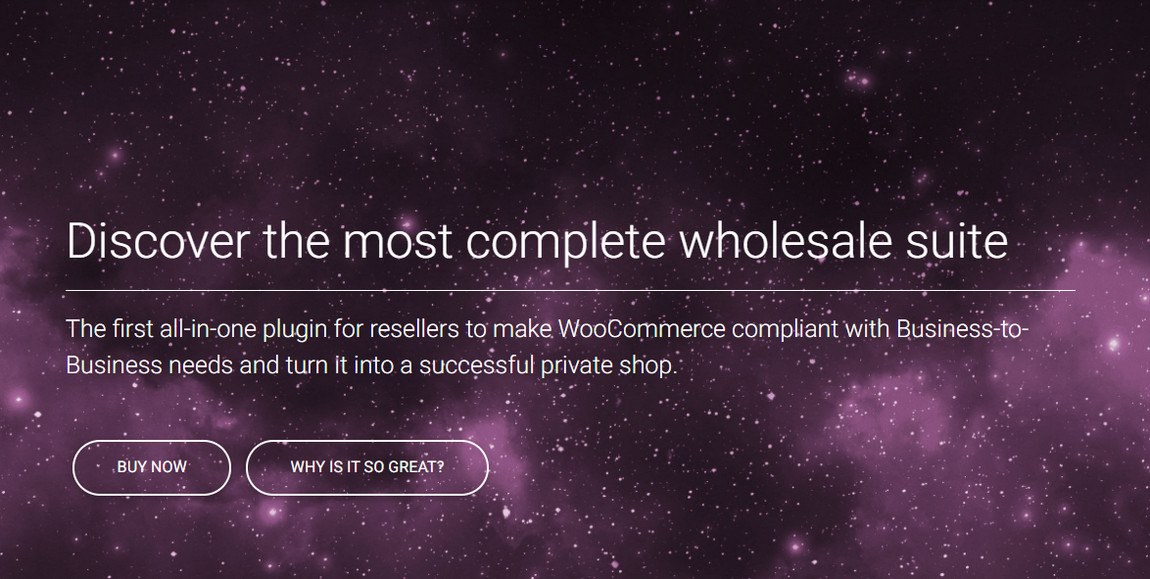 WooCommerce B2B poses to be the "most complete wholesale suite" in the market. And for the most part, it's quite hard to contest this bold claim.
One thing is sure – the plugin packs a lot of solid WooCommerce features. Additionally, you get all these features in one plugin. This is a welcome development for those looking to set up their B2B store in no time.
Let's take a quick look at the most interesting features this plugin has to offer:
Different pricing options assignable to specific products and customer groups
Visibility control for prices, product categories, and entire pages
Ability to create user roles and add wholesale users to customer groups
You can also exempt certain users from taxes and fix minimum order and package quantities. Likewise, you can include packaging fees and terms and conditions.
WooCommerce B2B is perfect for store owners who want the convenience of using just one tool to create unique experiences for retail and wholesale customers.
The good news is that compared to the previous products on this list, you get all this functionality for quite a bargain. All you need is a one-time payment of $69 for a regular license. For an extended license which lets you charge other end users to use the product, you need to pay $149.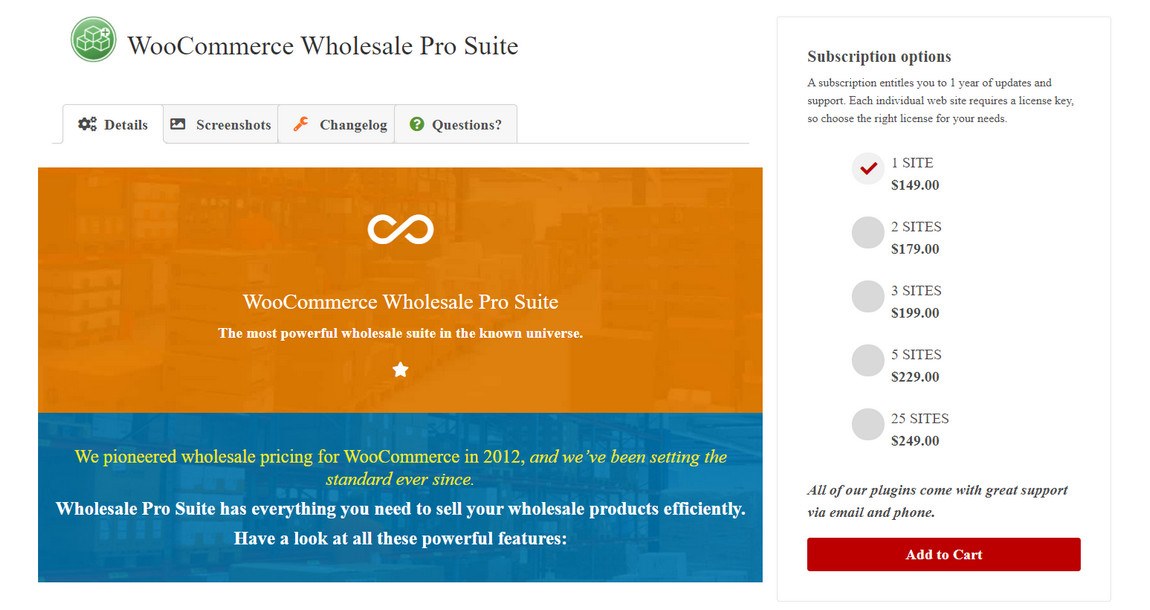 Another equally powerful WooCommerce wholesale plugin worthy of mention is the WooCommerce Wholesale Pro Suite by IGNITEWoo. The suite ships with a ton of powerful plugins that can supercharge your WooCommerce wholesale store. Wholesale Pro Suite only ranks fourth on our list because of its rather high price point.
Think of almost any feature you need for your store's success and this plugin places it at your fingertips:
Multiple tiers of role-based prices (specific to buyer groups, memberships, and other criteria)
Access restriction of all pricing details to only logged-in users
Dropshipping options compatible with UPS, FedEx, USPS, and other dropshipping extensions
Ability to backorder out-of-stock products
The available wholesale features are pretty extensive. These come at a premium price. A single-site license will set you back $149 annually while the top-tier 25-site subscription costs $249/year. Touted as the "most powerful wholesale suite in the known universe", the plugin's pricing will have you weighing your options.
The suite is more suited to enterprise-scale stores who are after the most powerful wholesale features. To emphasize this, IGNITEWoo promises a lot in the support department. Its team of experts can help you with troubleshooting and issue resolution either via email or phone support.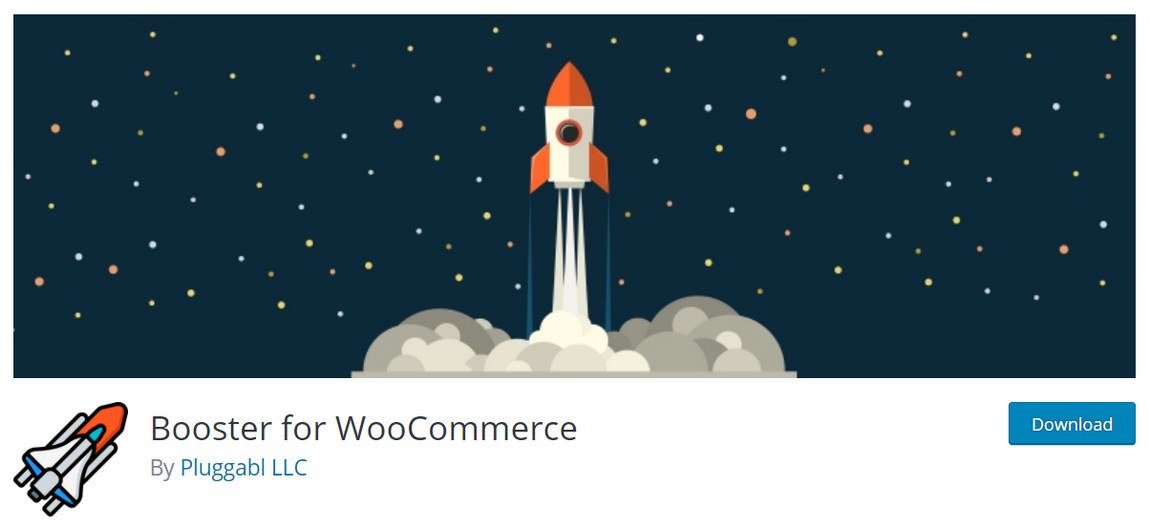 Unlike the other mentions on this list, Booster for WooCommerce is more of a multi-purpose solution for WooCommerce. Originally known as WooCommerce JetPack, Booster is a powerful utility software solution for WooCommerce sites. The decent functionality of the Wholesale Price module makes it a solution that's hard to leave out.
In general, the plugin packs similar wholesale features we've seen in other products. The basic ones include:
New wholesale pricing for existing WooCommerce products
Advanced discounted pricing determined by base product quantity and total cart quantity
Discounts can also be enabled or disabled based on interdependent cart conditions
Linking wholesale pricing to specific products or users
It's important to bear in mind that Wholesale Price is only a module of the more generic Booster plugin. As such, it may not offer as many advanced features as the other tools on this list. Considering that the base plugin is free, it's always a good place to start. It's ideal for experimenting with WooCommerce wholesale features.
For a more complete experience, you'll need the Booster Plus version. There are four pricing plans which start at $69.99/year for a single site up to $169.99/year for unlimited sites.
Apart from these powerful wholesale plugins, your wholesale store needs other handy features for maximizing conversion.
CartFlows is an ideal funnel builder that can bring a lot of utility to your store. Using the plugin, you can simplify checkout globally, set up custom thank-you pages, and maximize your store's profits in general.
How to Build a WooCommerce Wholesale Store
For this tutorial, we'll be illustrating the process with WooCommerce Wholesale Prices by Rymera Web Co. The plugin packs an extensive offering of features. Interestingly, a good number of these features are available on the free version as well.
Let's take a quick look at the five simple steps you need to set up your wholesale store.
Step 1: Install and Activate a WooCommerce Wholesale Plugin
To set the ball rolling, you need to first install and activate your chosen wholesale plugin. In our case, we'll locate the plugin by searching for "WooCommerce Wholesale Prices" in the plugin repository.
To do this, navigate to Plugins > Add New in your WordPress dashboard.

Once you locate the plugin, click Install Now and Activate consecutively. Now, the plugin should display the "Active" status.
Step 2: Create New Wholesale User Roles
The next thing you need to do is create new user roles for your potential wholesale customers. This step is crucial for running your wholesale store. Wholesale user roles help you manage access to different pricing, shipping, payment gateway, and tax-exempt status options.
Once you've activated the Wholesale Prices plugin, it automatically enables the default wholesale role.
You can find this role by navigating to WooCommerce > Wholesale Roles.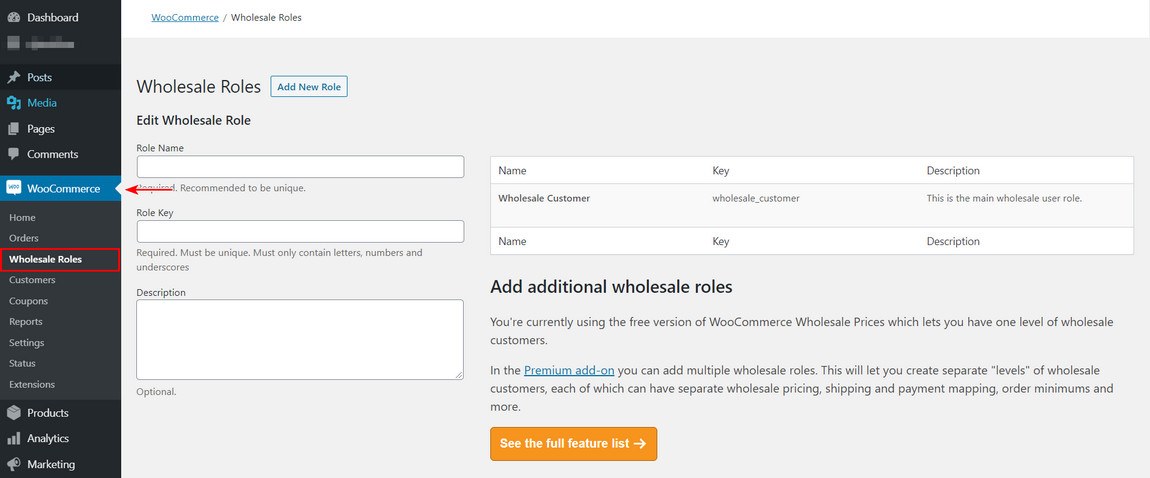 Here, you can only edit the role name and description. Only the default wholesale role is available on the free version. If you want to add other levels of wholesale customers, you'll need to purchase the premium add-on.
With WooCommerce Prices Premium, you can add multiple customer roles by clicking Add New Role. Moving forward, you can connect pricing structures and several other settings to these roles.
For example, you can limit some tax exemption options to certain user roles.
To do this, navigate to WooCommerce > Settings > Wholesale Prices > Tax.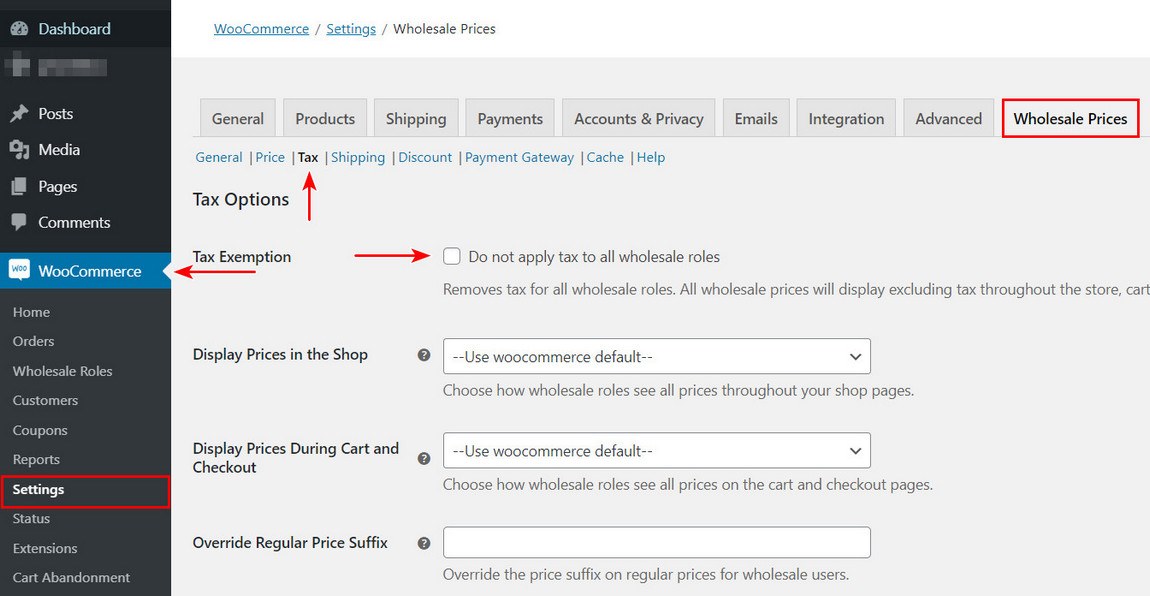 When you check the "Do not apply tax to all wholesale roles" box, you exempt some users from taxation. Similarly, you can decide how you want each role to see product prices, with or without taxing information.
As a site administrator, you can sign up new B2B user accounts for these wholesale roles in a couple of ways. You can either edit each new customer's user role manually or set the wholesale role as default for all new accounts.
However, neither option is suited to large stores with a lot of user traffic.
In this case, the WooCommerce Wholesale Lead Capture plugin comes in useful. The plugin offers customizable signup email sequences you can use to create a comprehensive registration form. If you purchase the Wholesale Suite bundle, you'll find the plugin included.
Step 3: Set Up Wholesale Pricing
Having created new wholesale user roles in your store, the next move is to set up new B2B prices. These prices will apply only to your wholesale buyers.
The main idea behind wholesale pricing is to offer an incentive for buyers to purchase products in larger quantities. In other words, the higher the product quantity, the lower the unit price.
You can assign different price tags to different wholesale user roles as you wish.
To do this, navigate to Products and click Edit under the product you wish to tweak.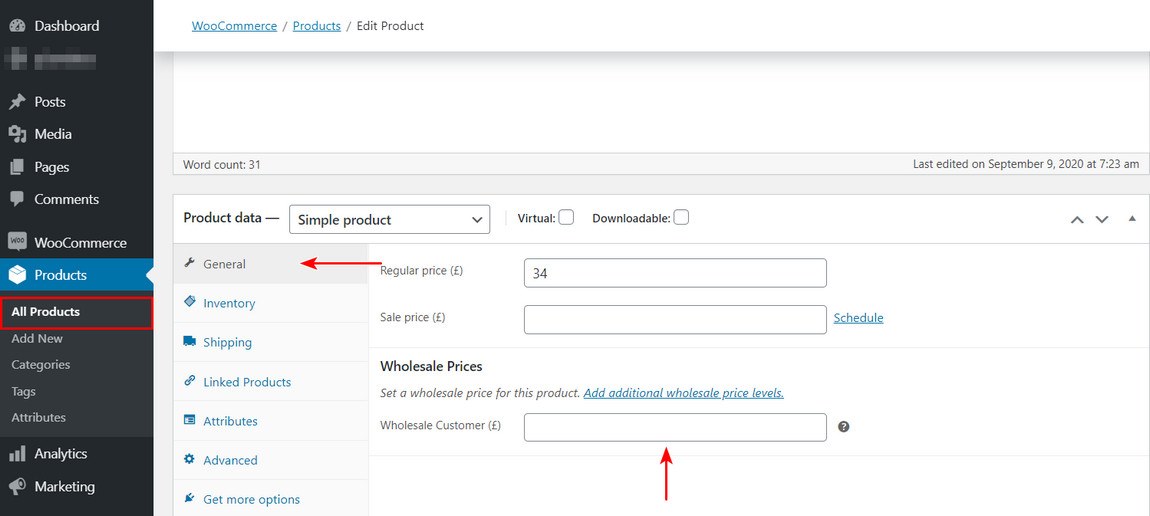 Under the Product data section, there are a couple of options for adjusting inventory, shipping, and other settings. You can change the wholesale prices for that product in the default General tab. Depending on the number of user roles you created previously, you'll see different pricing fields for each of them.
Likewise, you can create role-based discounted pricing options.
For this, go to WooCommerce > Settings > Discount.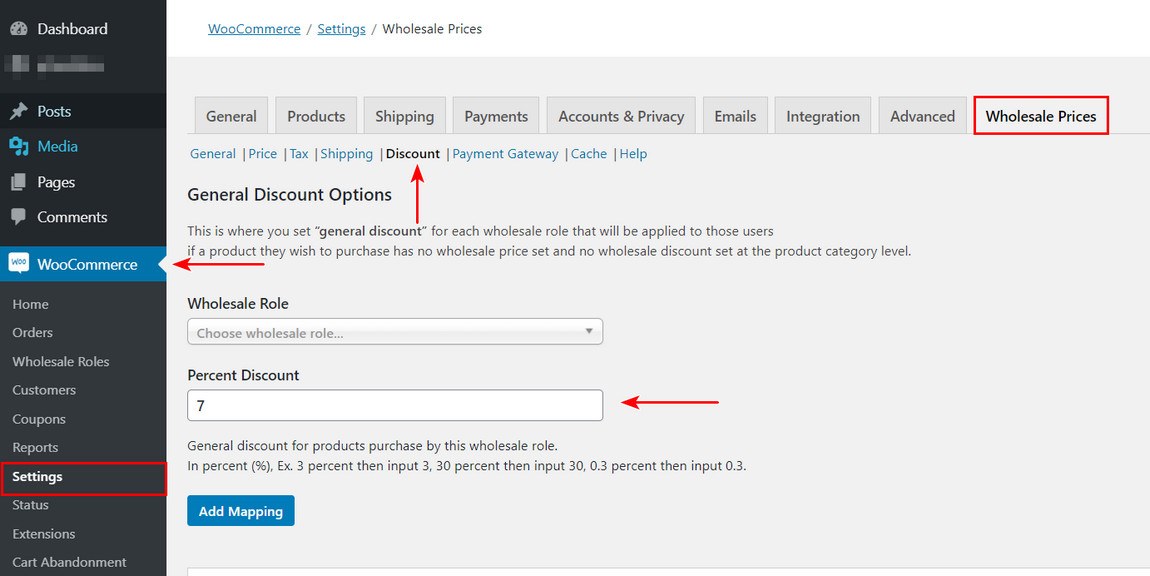 Global discounts apply site-wide to all products visible to the user based on their assigned roles. However, there are other options for you to try out.
For example, quantity-based discounts let you offer different prices based on the size of a buyer's order. You can scroll down on the Discount page to reveal the General Quantity Based Discounts section.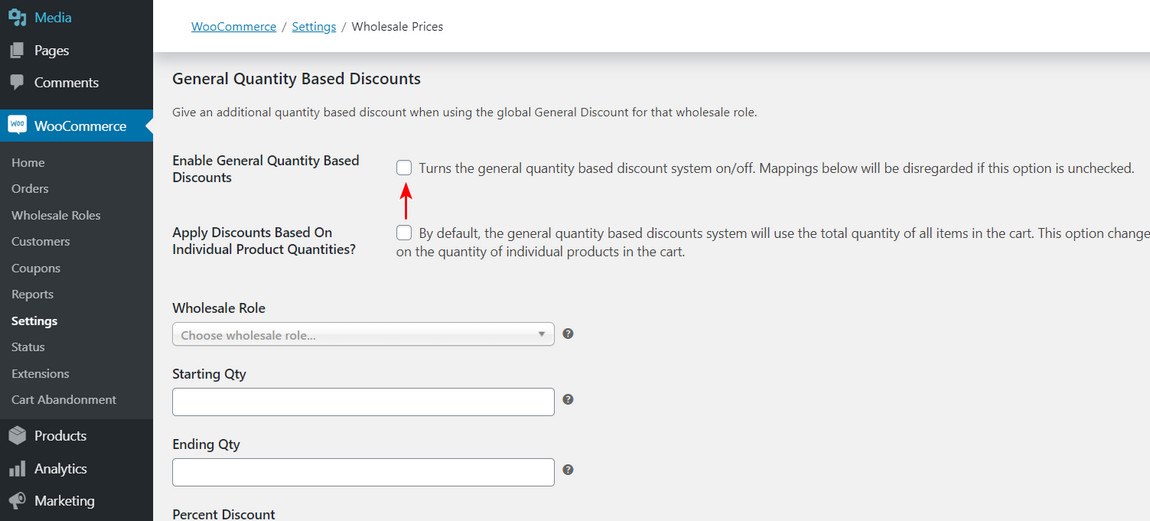 Check the Enable General Quantity Based Discounts box to toggle the discount on and off.
The second box lets you choose whether to apply the discount based on the individual product quantity or entire cart quantity.
Finally, you need to select the desired user role and assign a starting and ending quantity.
Click Add Mapping and Save Changes once you're done.
Among other options, you can set category-based pricing and minimum order requirements as well.
Step 4: Control Wholesale Products' Visibility
Normally, once you've set up your wholesale roles and B2B pricing, your WooCommerce wholesale store is ready to roll. You can also choose to hide wholesale products and their prices from retail customers. This way, you get to market similar or different products to your wholesale and retail audiences.
If you want to make a product visible to only wholesale users, go to WooCommerce > Products. Then, click Edit to modify the product.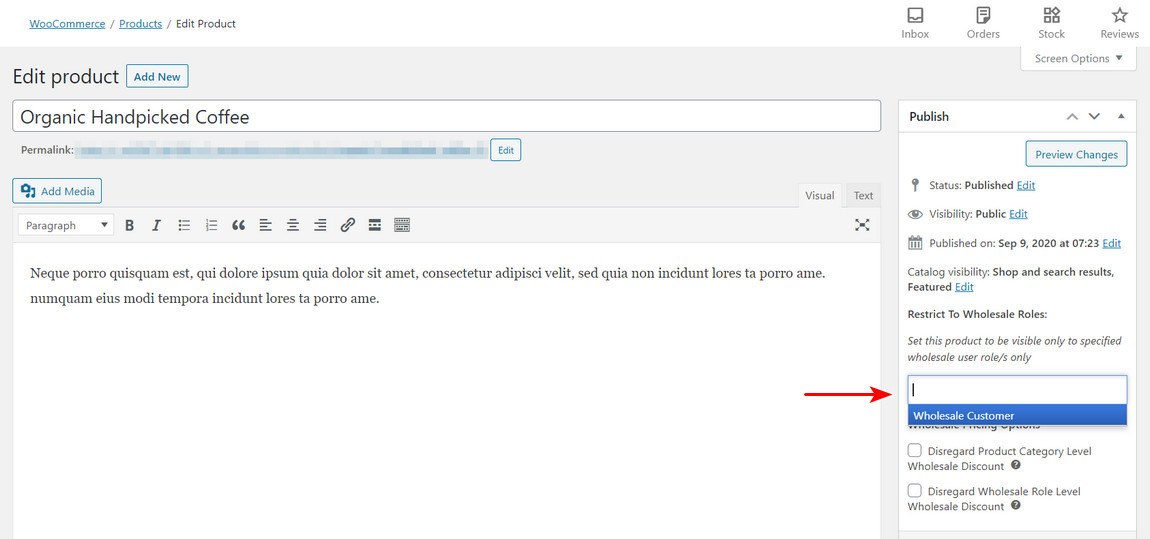 On the edit page, scroll down to the Wholesale Exclusive Variation setting. This setting makes the product visible to only users with the role selected from the dropdown menu. Similarly, you can hide new and existing product categories from retail users while editing the category.
You may want to hide retail products from wholesale users as well.
To do this, go to WooCommerce > Settings > Wholesale Prices.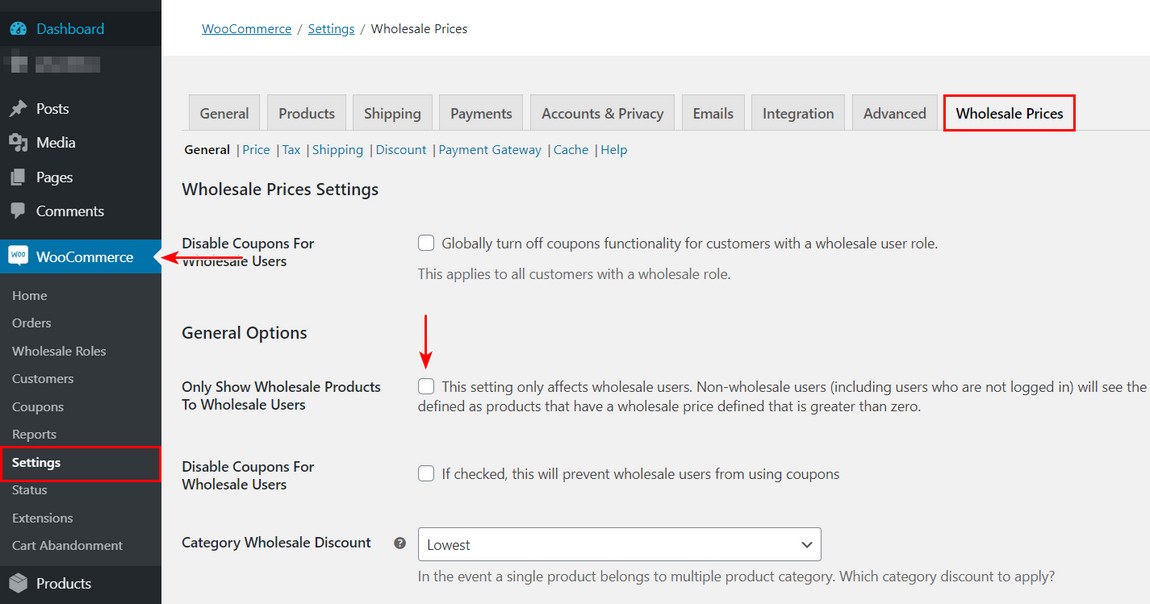 On this page, check the Only Show Wholesale Products to Wholesale Customers box.
In general, WooCommerce Wholesale Prices hides all wholesale prices from retail customers by default. There's no need to worry about confusing your customers, provided you assigned your user roles appropriately.
Step 5: Test Your New Wholesale Store
Now that your wholesale store is up and running, it would be smart to test it before making it available to the public. This way, you get to review all your settings and make changes where necessary.
You want to log out of your admin profile and visit the store as a guest. Review all the product areas, ensure that the pricing and discount information is accurate. You can also try to sign up either as a retail or wholesale customer. If you observe any errors, go on and rectify them.
You can also get people to test your site's 'beta' version. With an extra pair of eyes, it's possible to locate errors that you probably missed before.
Other Advanced WooCommerce Wholesale Features
Running a WooCommerce wholesale store is a serious business. Even the best WooCommerce wholesale plugins with the most robust features are not magic wands that solve all your problems.
There are instances when you may need other advanced WooCommerce wholesale features. In such cases, additional WordPress plugins can save the day.
A very good example of such plugins is CartFlows. As mentioned earlier, CartFlows is a powerful free funnel builder for improving your store's checkout experience and conversion rates.
Having talked about wholesale user roles and tiered pricing, let's take a look at two other interesting wholesale features.
Coupons
Another strategic marketing tool you can use to drive the growth of your wholesale store is a coupon. Beyond the tiered pricing structures available on Wholesale Prices Premium, coupons let you offer your buyers even more interesting pricing deals.
For example, a coupon deal can offer pricing discounts to certain wholesale users based on specific cart conditions.
The major bottleneck B2B buyers experience with coupons is having to locate the right one for each purchase. Fortunately, with WooCommerce plugins, you can easily apply these coupons programmatically. This way, you get to save your customers the stress of hunting for coupon codes like an extreme sport.
One plugin we recommend for implementing coupons in your store is Advanced Coupons. The tool allows you to apply coupons based on a variety of conditions.
Some of them include:
Cart quantity
Customer login status
Total customer spend
Shipping zone and region
Customer order history
There are a whole bunch of them!
One of the pricing deals we particularly like is the Buy One Get One (BOGO) deal. A BOGO deal lets you reward a buyer for buying a certain quantity of the same product. For example, a plugin developer may want to offer its buyers a free year of subscription after purchasing a three-year subscription.
Implementing this type of deal is an easy way to attract more site traffic and drive customer interest.
Wholesale Order Forms
The process of completing a wholesale order differs significantly from that of retail orders. Most wholesale customers do not browse your catalog in great detail. They often want to make a quick bulk order and get the process over with.
A WooCommerce order form can help you deliver this smooth experience.
When building an order form for your wholesale store, there's plenty of room for flexibility. Generally, you want to create a form that is intuitive, user-friendly, and blazing fast.
To achieve this, we recommend using Wholesale Order Form. It's one of the plugins included in the Wholesale Suite bundle.
Wholesale Order Form lets you:
Choose between two display styles
Decide how you want your pages to load. You can either split products into different pages or have them load as the user scrolls down
Select search/filter options
Add extra columns to the form
Creating a truly seamless shopping experience for your store shoppers is vital in achieving high conversion rates. For WooCommerce wholesale stores, you'll need some plugins to deliver this experience.
Frequently Asked Questions
Do you need a plugin to create a WooCommerce wholesale store?
You need an additional WordPress plugin to create a WooCommerce wholesale store. By default, WooCommerce offers features suited only to online retail stores. Fortunately, there are a lot of powerful feature-packed plugins in the WordPress repository. These plugins extend WooCommerce's functionality and help you build a fully functional wholesale store.
Are there free WooCommerce wholesale plugins?
There are free WooCommerce wholesale plugins available in the WordPress plugin repository. However, most free plugins offer limited WooCommerce wholesale features. The majority of wholesale plugins use a freemium subscription model. If you want the best user experience for your wholesale store, you'll need to upgrade to the premium version.
Can you set wholesale pricing based on location or shipping methods?
WooCommerce wholesale plugins allow you to set wholesale pricing based on location and shipping methods. Among other options, you can also set different pricing structures for wholesale buyers based on cart conditions, and preset user roles.
Can I show the same products to wholesale and retail customers?
You can show the same products to wholesale and retail customers. Ideally, you want to assign different wholesale and retail prices to the same products. On the flip side, wholesale plugins also support advanced product visibility settings. These settings help you to hide certain products from either wholesale or retail buyers.
Ready to Build?
WooCommerce is a powerful must-have plugin for building an online store using WordPress. Though it doesn't offer wholesale features out of the box, additional WordPress plugins can make up for this.
After locating the right WooCommerce wholesale plugin, you can use the following steps to build your wholesale store:
Install and activate a Woocommerce wholesale plugin
Create new wholesale user roles
Set up wholesale pricing
Control wholesale products' visibility
Test your new wholesale store
If you're stuck in your search for an ideal wholesale plugin, we recommend you to take a look at Wholesale Prices. The plugin packs a lot of powerful features. You can try out the free version to get a feel of how it works.
Do you have any questions about WooCommerce, wholesale stores. or anything related to WordPress at all? Let us know in the comments section below!