WordPress and WooCommerce do a pretty good job of helping you manage the many elements of running an online store. If you want more information and more tools to leverage that information to grow your store, you're going to want to explore WooCommerce CRM.
CRM, Customer Relationship Management, makes managing customers and customer data easy.
A CRM is a suite of tools you can use to collect information on customers, create customer profiles, track what they buy, how much they spend, what they look at, whether they abandon a cart or not and every interaction they make while in your store.
You can then use that data to provide a seamless customer experience. You can also reach out, send marketing emails, abandoned cart emails or discount offers depending on the situation.
Some of the WooCommerce CRM in this list will even automate this for you!
If a CRM sounds like something you would want for your WooCommerce store, read on!
What Is a CRM?
CRM stands for Customer Relationship Management. Technically, the term CRM can mean a strategy used within a business, a process for handling customer data and a technology or software product to help manage customer relationships.
For the purpose of this article, CRM is the latter. Software that helps manage contacts, orders, purchase history, emails, social media and a lot more besides.
Anything you do that interacts with customers or potential customers can be managed by a CRM.
A CRM can record everything about your customers. Their contact details, order history, address, phone number, any account notes, any discounts and any special offers you provide for them.
It can then link all those data points into a cohesive dashboard so you can see the who, what, when and how of customer interactions in your store.
You can use this data to better understand your customers. To identify their pain points and offer solutions, to provide a higher level of customer service and to appear larger or more professional than your competition.
When used correctly, CRM is an incredibly powerful tool for managing a business!
Why You Should Use a WooCommerce CRM?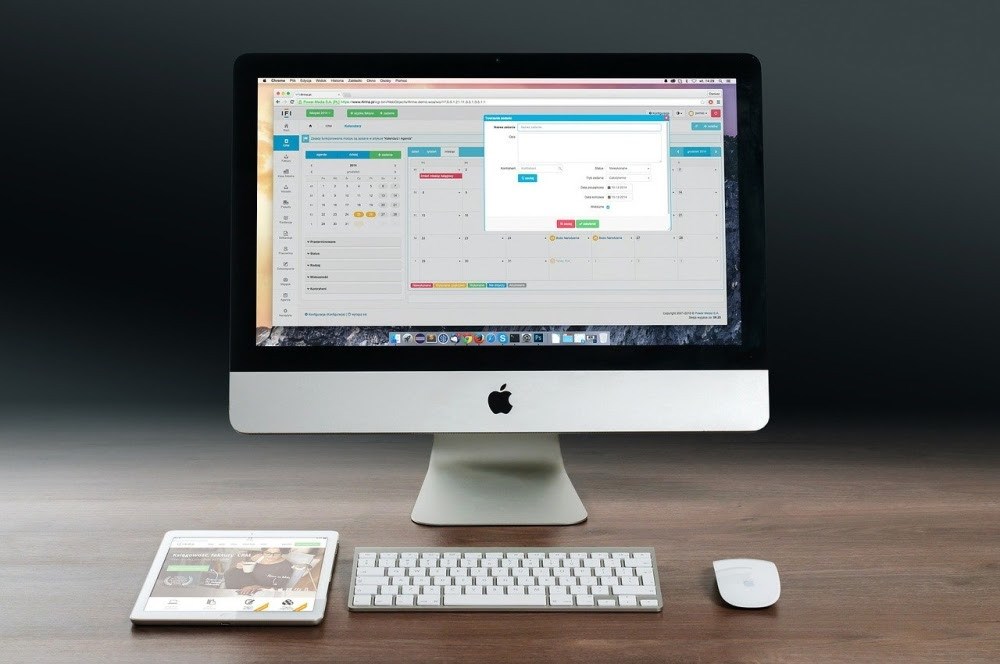 As you probably already know, there's a lot to managing an online store. You have to manage stock, orders, monitor special offers, keep an eye on the competition, perform marketing, social media outreach and be constantly on the lookout for opportunities.
A CRM can help you with all of that.
A CRM can:
Manage Customer Relationships
Having data on all customers and prospects offers a lot of scope for segmentation and management.
For example, if you have customers that buy from you regularly, you can segment them as regulars. If you have customers that bought once and never again, you can segment them into a leads category.
You can send discount offers to your regulars mentioning frequent customer rewards or other friendly messages. You can also send different inducements to those customers who haven't bought for a while to entice them back.
Track Customer Interactions
Tracking customer interactions can be very useful for an online store. For example, say a customer has been in contact several times as they had a problem with a product or issues with packaging or delivery. When noted on your CRM, you, or your staff will be able see this note and can handle interactions accordingly.
Interaction tracking can also keep track of any email marketing messages sent, any discounts offered and any other communication. That way, you reduce the risk of repeating yourself or offering the same discount over and over.
You can also use it to add a more personal service.
For example, a customer had an issue with a previous purchase. They contact you through web chat on an unrelated matter. Their details appear in your CRM and you see they had a problem with their last order. You can address that quickly within the new chat and create an instant connection.
Customer: Hey there, I'd like to know more about product X.
You: Hey, thanks for getting in touch. What would you like to know about product X? By the way, how is the replacement product Y we sent you last month going? Everything okay with it?
Customer: Yes, it is thank you!
While a very simple example of an interaction, you can see how having that data on hand can provide valuable opportunities to offer a personal service with very little effort!
Track Conversations Across Channels
Leading on from interaction management is the ability to track customer conversations across channels. This creates a very professional impression and prevents the customer having to repeat themselves.
For example, a customer engages you on Facebook about a product and then talks to one of your team on web chat. That team member will be able to see the previous Facebook chat and use it in any subsequent conversation.
This feature is useful for generating leads, objection handling, customer support and other areas of running a business.
Identify Areas of Growth
Having customer data can help identify areas to exploit for growth. You have a good idea of who buys what, where they live, perhaps have some details on who they are and even their age, gender or other supplementary information.
For example, say you sell baby clothes and particular lines were sold more to men between 20- 25 years old. You could market to that demographic to improve sales or change your marketing to appeal to other demographics to round out sales.
Without a CRM, this type of data may not be obvious. With a CRM, this kind of data could be readily available.
Help with Sales Forecasting
If your CRM tracks everything you sell, when and for how much, you will gradually develop insight into trends. You will also be able to predict when you may need to order new stock, prepare for an influx of orders or ease back on certain lines.
A CRM is not a dedicated sales or stock management tool but it can be very useful in giving you an idea of how and when products sell.
Those are just some of the many features of CRM, but you get the idea!
What to Look For in a WooCommerce CRM?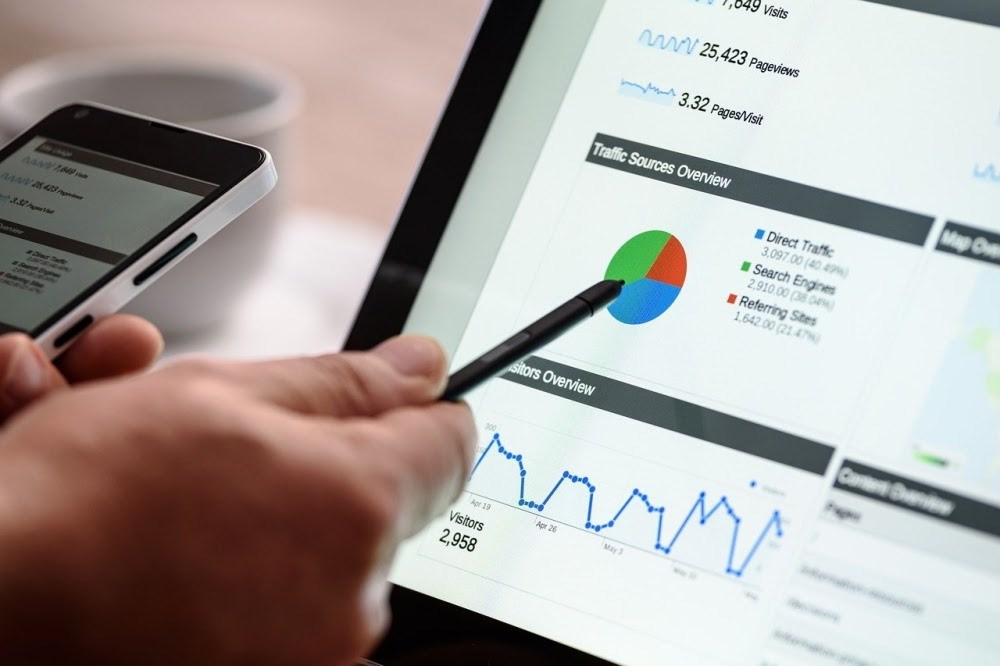 The best CRM for WordPress and WooCommerce should have several core features:
Activity Tracking
The ability to see who bought what, when and how they paid can offer insights into customer behavior. It can also help predict stock requirements, how many customers abandoned their cart, when they abandoned it, what emails you have sent and what discounts have been offered.
Using this data intelligently can help you create that essential impression that gives customers confidence in your store. Trust is everything in retail and this is exactly the type of activity that helps create it.
Automation
A good CRM tool will automatically collate as much data as possible from as many sources as you have. Once configured, the tool should just work, collecting and analyzing data and providing the insight you need to run your business efficiently.
Some WooCommerce CRM can even send automatic abandoned cart emails and perform basic outreach tasks too!
Customer Segmentation
Remember we said earlier about being able to segment customers depending on how often they buy or where they are in the sales funnel? We consider the ability for segmentation to be an essential part of that.
Segmentation enables you to communicate with different types of customers in different ways. In the example we shared earlier, you could create a 'regular customer' group, a 'one-time order' group or any type of group you like and communicate with each in a different way.
It's a key part of marketing and can influence how effective your marketing efforts are.
Ease of Use
It doesn't matter how powerful or how useful a tool is, if it's difficult to use it isn't worth using. Ease of use includes initial configuration, daily use and how easy it is to access data on a daily basis.
CRMs can be complicated platforms to master at the best of times so we want the software itself to be as easy as possible to use!
10 Best CRM for WordPress and WooCommerce
So that's the why and how of WooCommerce CRM. Now let's get onto the what. Here are what we think are the top performing CRM tools around right now.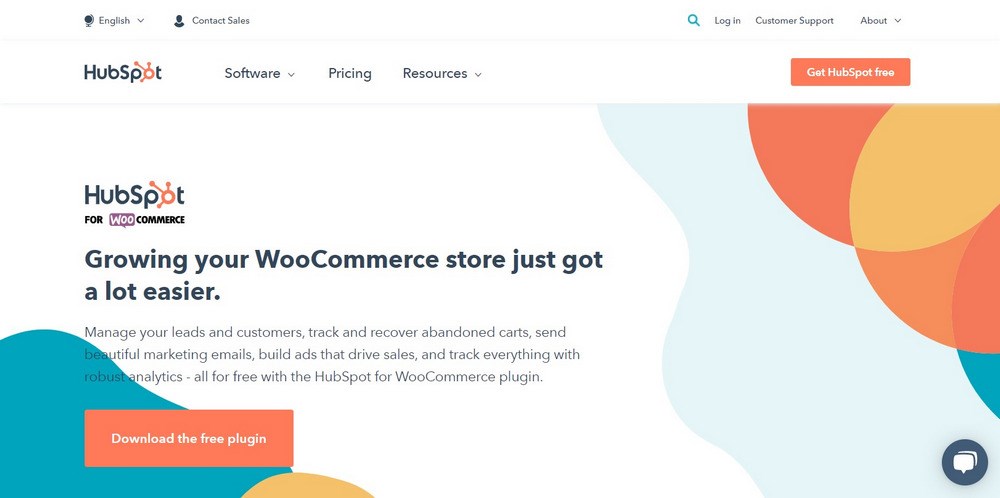 HubSpot for WooCommerce is an integration plugin that joins the powerful HubSpot CRM to your WooCommerce store. HubSpot offers both a premium and a 'free forever' CRM that provides valuable insight into your business.
The plugin enables automatic syncing of data between WooCommerce and HubSpot. It also enables segmentation, abandoned cart tracking, email automation, analytics and reports and the ability to create and place PPC and social media ads and track their performance.
HubSpot is a very powerful platform and even the free version has many of the tools that could seriously benefit your store.
Pros of HubSpot for WooCommerce:
Free plugin and 'free forever' CRM
Provides visibility of orders and customer behavior
Reporting and analytics tools
Segmentation tools with customization criteria
Abandoned cart recovery tools
Cons of HubSpot for WooCommerce:
Requires the HubSpot CRM to work
HubSpot for WooCommerce Pricing
HubSpot for WooCommerce is a free plugin. The CRM has a free version and a premium version that costs from $50 per month.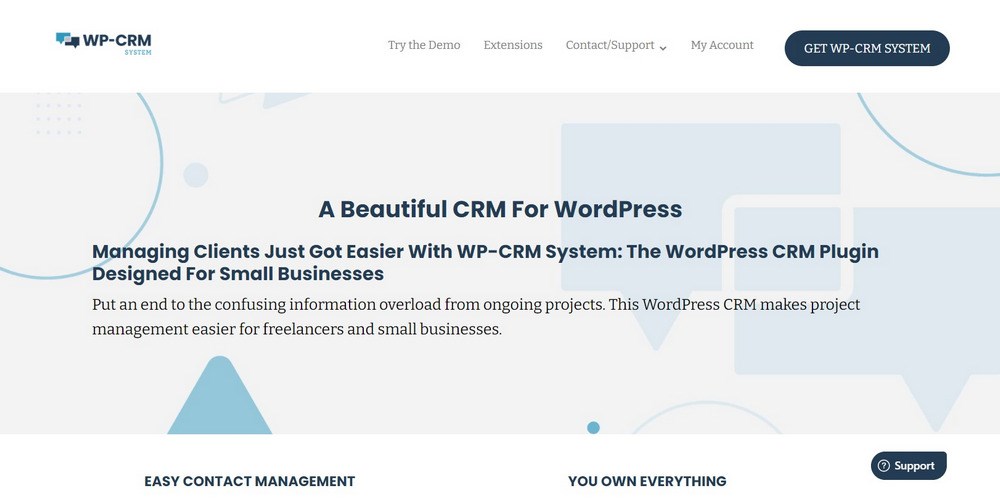 WP-CRM System is a complete WooCommerce CRM designed for freelancers or small businesses. Its strength is that it works in your website and stores all data on your database. There is no exporting data or using cloud platforms so you remain in control of everything.
The plugin provides contact management, project management tools, invoicing tools, reporting, simple data import tools, marketing and email tools and integration with some premium plugins like Zendesk, Slack, MailChimp, Ninja Forms and others.
The basic tools should be enough for many small businesses but you may require one or more premium plugins for extra features. You can pay for them individually or use a subscription.
Pros of WP-CRM System:
The core plugin is free
Simple but effective contact and interaction management tools
Lean enough for small businesses with little bloat
Integrates with popular third-party tools
Easy to learn and to use
Cons of WP-CRM System:
Many more useful tools are within the premium plugin or version
WP-CRM System Pricing
The WP-CRM System is free but has premium versions costing from $99 up to $249 per year.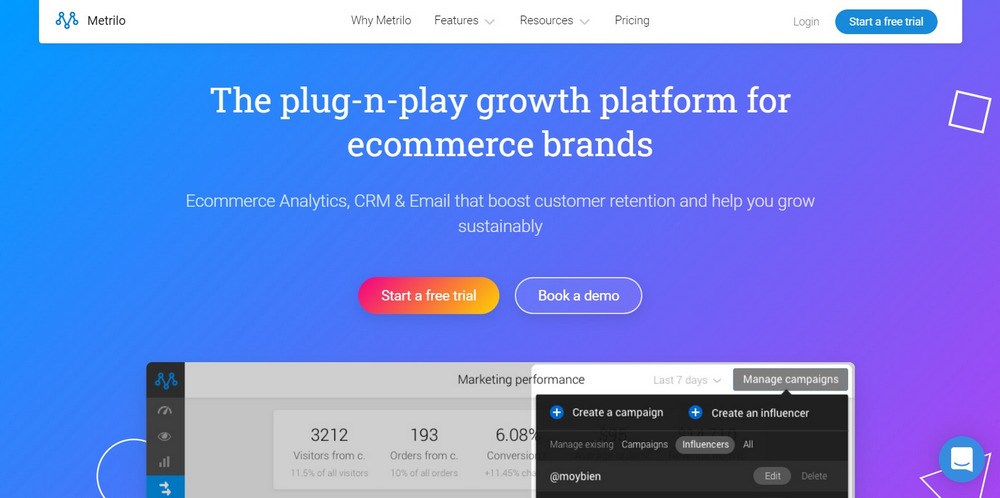 Metrilo is a dedicated WooCommerce CRM. It's a premium product designed specifically as an eCommerce CRM so has the tools you need to make your store work better.
Those tools include email marketing tools, customer retention, analytics, a smart reporting dashboard with insights, store performance table, customer profiles, segmentation options, customer activity tracking, order placement, email automation and a whole lot more.
The setup wizard is a standout feature of Metrilo. It's no secret that setting up a CRM can take time but the wizard can have you up and running in around 15 minutes.
Pros of Metrilo:
Automatic abandoned cart and marketing email tools
Superb store performance dashboard
Customer activity tracking tools
Works with WooCommerce, Magento and Shopify
Simple setup with an intuitive wizard
Cons of Metrilo:
Premium only WooCommerce CRM
The Metrilo website is flagged by ad blockers
Metrilo Pricing
Metrilo costs from $99 per month up to $299 per month.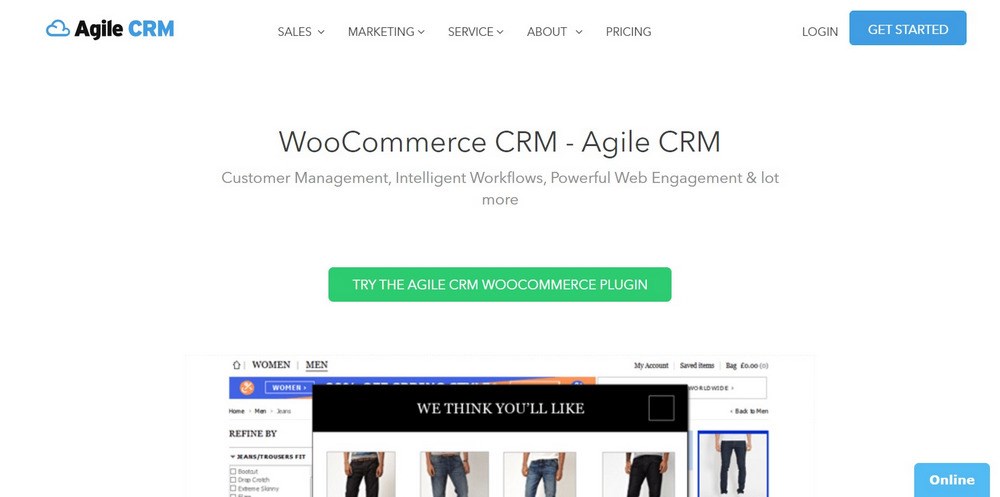 Agile CRM is a powerful platform with a dedicated WooCommerce CRM plugin. It has a free plan with up to 10 users and well-priced premium plans for larger organizations.
Agile CRM is easy to use as it is split into four distinct areas, sales, marketing, service and extras. Each is further divided to include relevant tools for each area such as email tools, abandoned cart recovery emails, customer profile creation, quick social media views and order tracking.
Agile CRM doesn't have the same powerful setup wizard of Metrilo but is logically laid out and easy enough to find your way around. It will still take a little while to get to grips with though.
Pros of Agile CRM:
Complete WooCommerce CRM integration
Well organized and easy to use
Smart Campaign feature can be very powerful
Support features will add value to many stores
Good looking dashboard with lots of information
Cons of Agile CRM:
Takes a little while to set up and learn
Agile CRM Pricing
Agile CRM is completely free for less than 10 users while premium plans start at $8.99 up to $47.99 per month.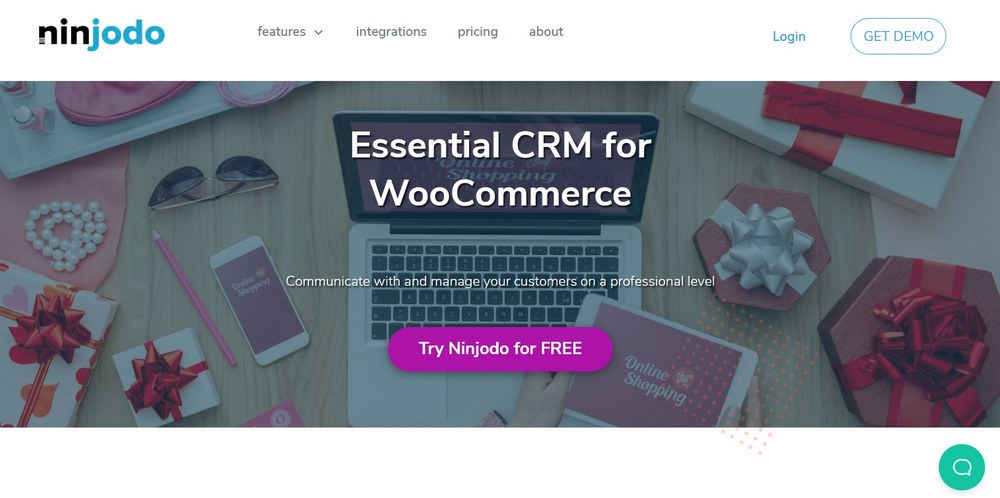 Ninjodo is another WooCommerce CRM designed specifically for smaller organizations. It has a clean, crisp design with simple navigation, primary colors and a very straightforward layout. It's very easy to learn and to use.
Ninjodo enables you to capture and sync your customer and order data, provide real time notifications, send automated emails, include upsell or cross sell emails, segment customers using tags, analyze orders and behavior and build entire automated workflows if you wanted to.
Ninjodo includes full WooCommerce CRM integration and is one of the easiest platforms here to learn and to use. It has been very well thought out and designed!
Pros of Ninjodo:
Well designed and attractive dashboards
Simple layouts and navigation
Powerful automation tools
Customer support and outreach features
Upsell and cross sell email sequences
Cons of Ninjodo:
It's premium only and not cheap
Ninjodo Pricing
Ninjodo costs $49 or $99 per month.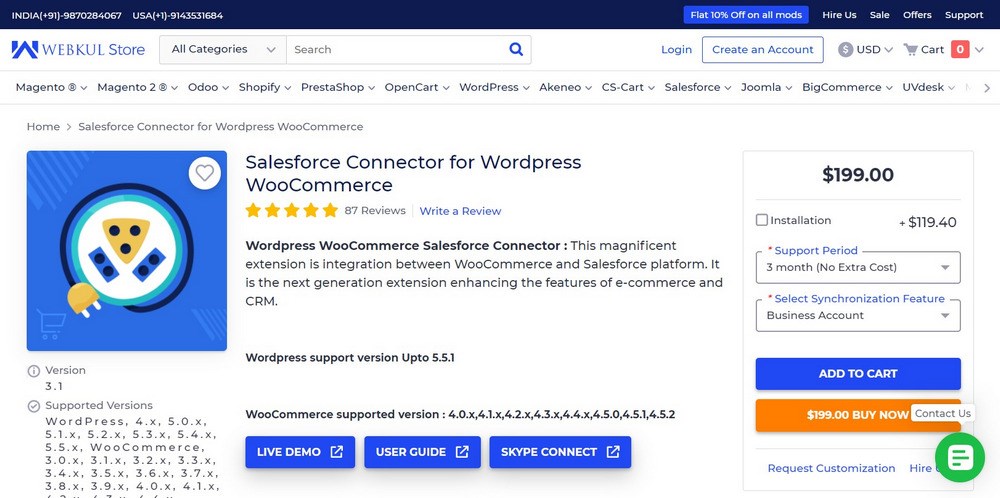 Salesforce Connector for WordPress WooCommerce provides WooCommerce CRM integration for the all-conquering Salesforce CRM. It's a premium plugin that bridges the gap between the awesome cloud-based Salesforce and WooCommerce.
It enables two-way communication between WooCommerce and Salesforce and enables you to fully utilize the CRM's features. The plugin mainly supports field mapping where you can link WooCommerce fields to Salesforce. It's a manual process but necessary for Salesforce to be able to read and interpret data from WooCommerce.
You can also set up sync triggers for specific events, conditions for data syncing, create logs for troubleshooting and error reporting functions.
Pros of Salesforce Connector for WordPress WooCommerce:
Handles every possible interaction between WooCommerce and Salesforce
Helps map fields and objects between the two systems
Allows control over triggers for data syncing
Great demo to explore before you buy
Logs and error tracking
Cons of Salesforce Connector for WordPress WooCommerce:
Salesforce Connector for WordPress WooCommerce Pricing
Salesforce Connector for WordPress WooCommerce costs $199.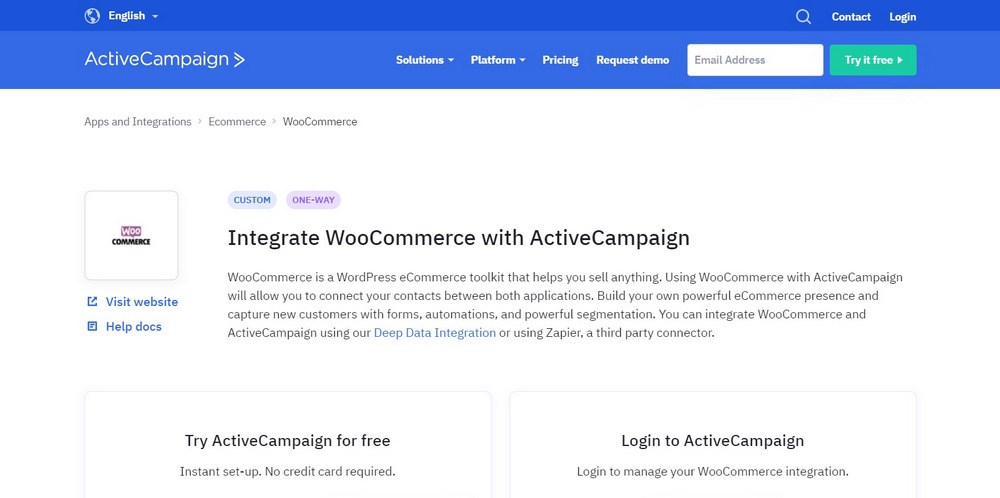 ActiveCampaign is another well-known CRM platform. It began as purely email and expanded to offer a wide range of management tools. The plugin links your store with the ActiveCampaign CRM so you can utilize the power of one to develop the other.
ActiveCampaign is more about relationship management than order tracking but has some powerful email automation tools to help outreach, develop prospects, track and capture customer details, segmenting and targeting tools, event tracking, conversation tracking and many more advanced tools around relationships.
ActiveCampaign also links with Salesforce so you can combine WooCommerce, ActiveCampaign and Salesforce into a triumvirate should you want to.
Pros of ActiveCampaign:
Customer data import tools
Activity and browsing tracking
Segmentation tools and targeting
Sales funnel tracking
Lots of automation tools
Cons of ActiveCampaign:
There is a lot to learn to get the best out of ActiveCampaign
ActiveCampaign Pricing
ActiveCampaign costs from $9 up to $229 per month.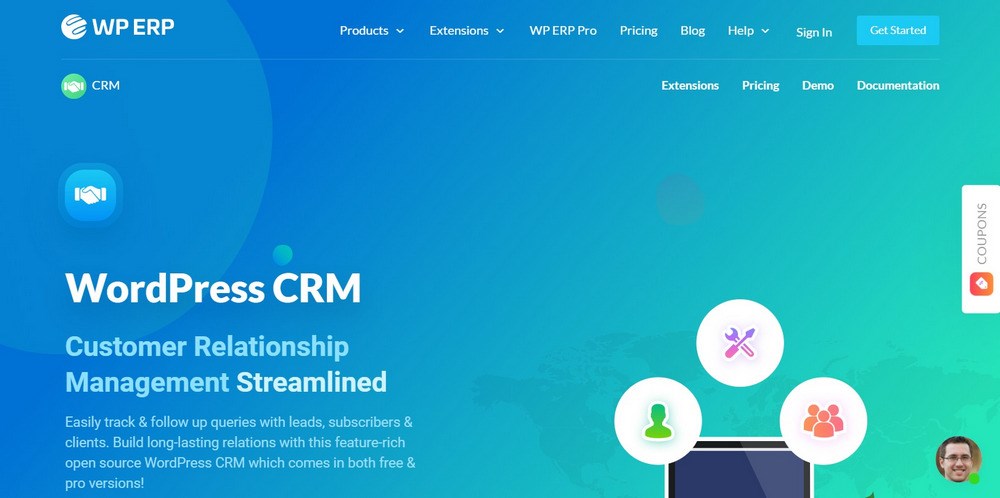 WP ERP is another attractive WooCommerce CRM with simple dashboards, logical navigation and some powerful tools for eCommerce stores. It works within the WordPress dashboard and provides valuable insight to every aspect of running your store.
WP ERP includes some smart contact management tools with the ability to segment, add notes, email directly from the dashboard, log activity and even schedule meetings or calls. It can also assign tasks to staff for follow up, categorize contacts with your own criteria and generate reports on activity, growth and more.
WP ERP isn't as deep or as big data as Salesforce but it provides enough insight to be valuable to WooCommerce users. It's definitely worth a look!
Pros of WP ERP:
Simple to use and to navigate
Well-designed dashboard that clearly communicate information
Customer information management tools
Segmentation and reporting tools
Meeting and call scheduler within the CRM
Cons of WP ERP:
Many useful tools are premium only
WP ERP Pricing
WP ERP has a free version with premium costing from $155 per year.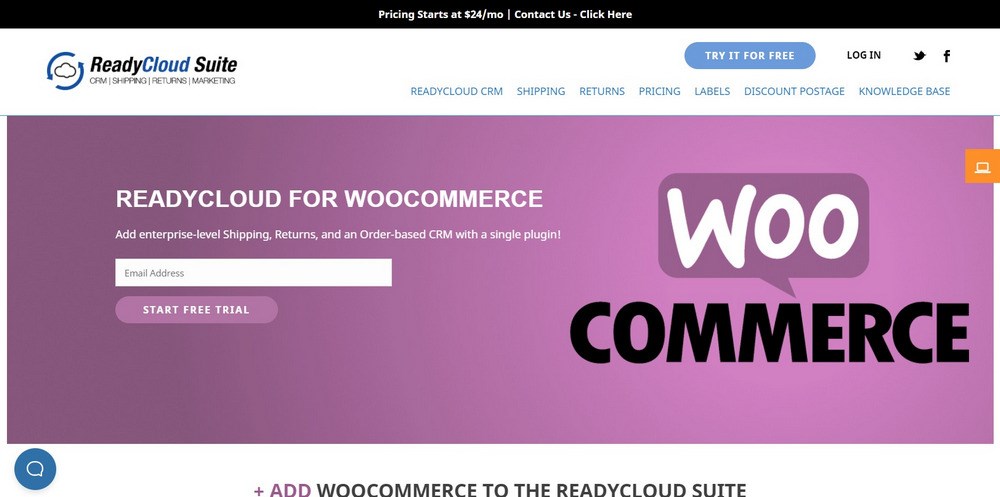 ReadyCloud CRM is a powerful WooCommerce CRM plugin that links your store with the ReadyCloud platform. The plugin itself just enables communication between WooCommerce and ReadyCloud. All the work is done by the platform in the cloud.
ReadyCloud CRM is an eCommerce system that provides easy to read dashboards for every store activity. Those include the ability to view order details, costs, order status, add notes, create alerts for actions or other triggers, track shipping and returns, manage contacts and generate reports on everything that goes on.
The ReadyCloud CRM uses the REST API to keep the overhead on your site low while delivering all the data you need. It will also integrate with your email tools for extra automation.
Pros of ReadyCloud CRM:
Links your WooCommerce store with the ReadyCloud CRM
Uses the REST API to minimize resource requirements
Works with MailChimp and other email tools
Attractive dashboards with clear layouts
Steadily developed with good support
Cons of ReadyCloud CRM:
ReadyCloud CRM Pricing
ReadyCloud CRM costs from $24 per user per month.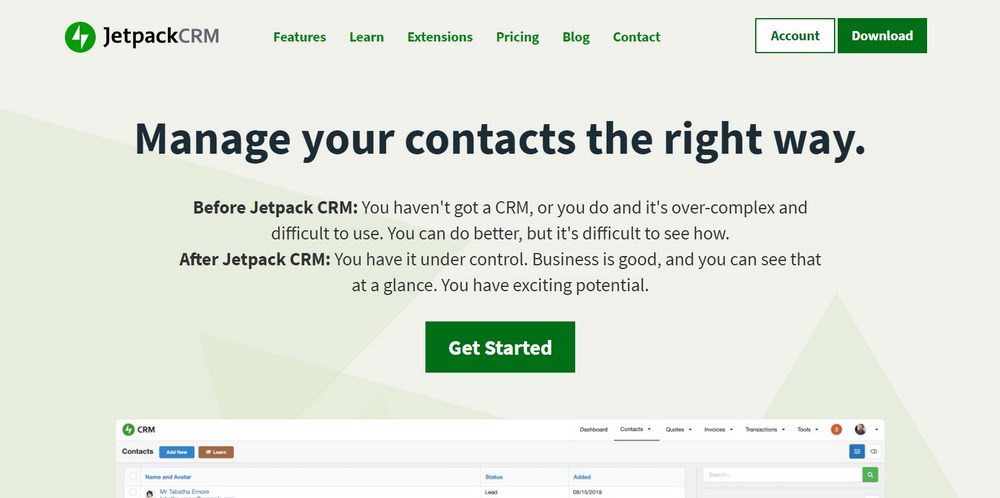 Jetpack CRM may be our last WooCommerce CRM but it certainly isn't the least. Jetpack is an exceptionally useful WordPress suite but the CRM is a separate plugin. It's a premium addon to the free tools but could be well worth the investment.
Jetpack CRM is made by Automattic, the same people behind WordPress.com and WooCommerce. This was once Zero BS CRM but was bought by Automattic and rebranded.
The tool is capable of managing customer data, tracking purchases, track activity, segmenting them for outreach, viewing and managing orders, viewing order values, shipping status, generating quotes, creating invoices, tracking transactions and creating reports too.
Pros of Jetpack CRM:
Works with a range of other plugins like Contact Form 7, Convert Kit, MailChimp and others
Very easy to use
Works within WordPress so data is not exported
Works seamlessly with WordPress and WooCommerce
Very usable setup wizards
Cons of Jetpack CRM:
Premium only
Not part of the standard Jetpack suite of tools
Jetpack CRM Pricing
Jetpack CRM costs from $11 to $17 per month.
WooCommerce CRMs
Customer Relationship Management is a rather cumbersome term for effectively managing information. That information can include every piece of data generated by WooCommerce and can be used to build relationships, manage sales funnels, reach out to customers and rescue abandoned carts.
A CRM isn't necessary to run a store but if you want to grow, engage more with your customers, drive sales and conversions and communicate an impression of a professional store, they can really help.
You may not think you need a CRM in your life but if you run an eCommerce store, we dare you to try one and not find it useful!
Do you already use a CRM? Is it one of these? Have any others to suggest? Tell us your thoughts below!