There is no doubt that every startup has either a huge dream or tight finance. Balancing dreams and reality is a skill every new business owner has to contend with. We know from experience!
Are you hesitant to start just because you have no idea how to set up your eCommerce website on a limited budget? Think you need a big budget to set up an online store?
We can help!
You don't need a huge budget. You don't need to know code and you don't need to hire specialists to build your store. With time, a willingness to learn and this guide, you can build your own online store without spending much at all!
We're confident that by the end of this article, you'll be well on your way to launching an eCommerce store.
The Power of eCommerce
Did you know that with an eCommerce platform, you can realistically expect retail sales to increase by over 22% in the next couple of years? For once, those get rich quick schemes can really work! We'll show you how.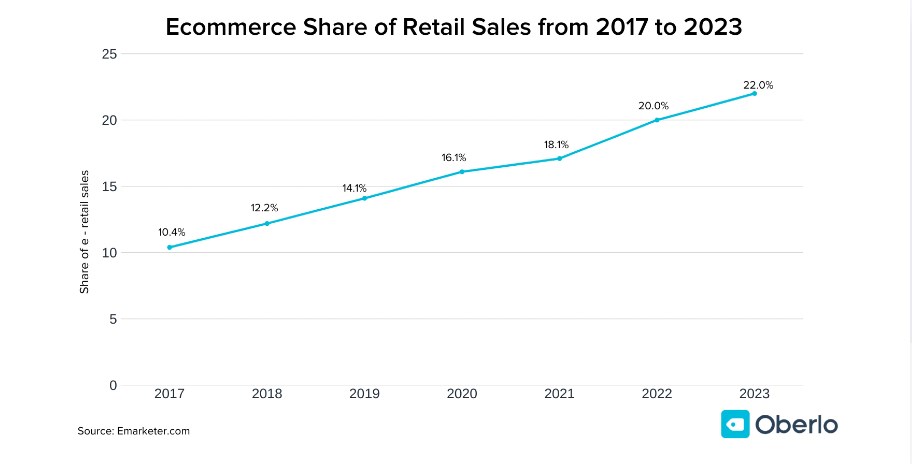 (Source: Oberlo)
Selling online is the way forward. We are all comfortable with buying over the internet and the pandemic has forced a lot of traditional brick-and-mortar stores to consider going digital and selling online.
They all see the huge potential that comes with having an eCommerce store.
With an online store, you have no geographical boundaries. You are online 24/7, all year round. You can move away from being just a local store and have a broader audience to cater to. You are literally opening yourself to a whole new world of opportunities!
And are you wondering how to start an eCommerce store in the most economical way possible?
Read on to find out!
What Is eCommerce?
eCommerce is made up of two terms where e stands for electronic and the commerce should speak for itself.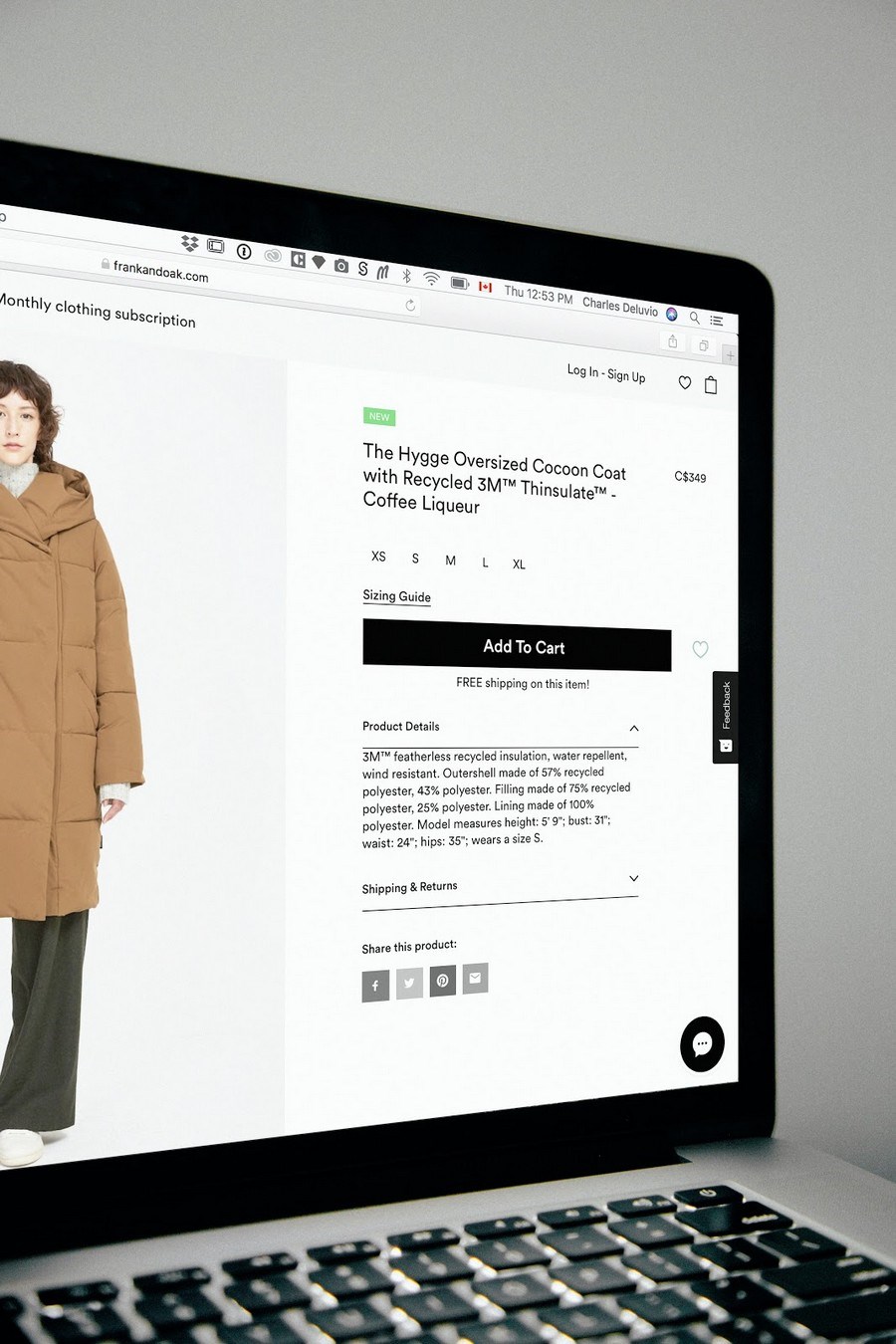 It's the process that describes the buying and selling of products online.
You cannot deny that eCommerce is one of the most successful business models of current times.
While we are on this topic of what eCommerce is, it's only right to touch upon the different types of eCommerce business models.
Depending on the nature of exchange, eCommerce can be classified as:
1. Business to Business (B2B)
B2B stands for business-to-business. In this model, a commercial transaction occurs between business organizations, such as suppliers, manufacturers, wholesalers, and retailers. A typical example is a manufacturer supplying to supermarkets.
2. Business to Consumer (B2C)
B2C, which stands for business-to-consumer, is a business model that we are all so used to. In this model, commercial transactions take place between businesses and customers. It's where businesses market their products and services directly to the end-user. For example, heard of Amazon? (Of course you have!) or selling plants online.
3. Consumer to Consumer (C2C)
Ever used a listing service? For example, a listing website to sell used goods such as eBay, Craigslist, and so on?
In the C2C model, consumer to consumer, a customer advertises their products and services, and another customer purchases the product (or service) utilizing the eCommerce framework.
4. Consumer to Business (C2B)
The C2B (Customer to Business) model is an inverted type of business to the B2C model. Here, a consumer or an individual offers products or services to an organization. For example, you could be offering professional services to an organization via your online store.
With eCommerce, everyone can enjoy the freedom to sell anything from anywhere, at any time!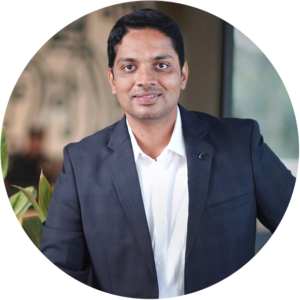 Hello! My name is Sujay and I'm CEO of Astra.
We're on a mission to help small businesses grow online with affordable software products and the education you need to succeed.
Leave a comment below if you want to join the conversation, or click here if you would like personal help or to engage with our team privately.
How Much Does an eCommerce Website Cost To Build?
One common misconception is that an eCommerce website is expensive to create and maintain.
Compared to the expenses incurred creating a physical shop, from paying rent, paying a deposit, and overhead expenses such as electricity, maintenance, and salary to the maintenance staff, eCommerce websites are very inexpensive to set up.
Thanks to free platforms like WordPress, free plugins, eCommerce and WooCommerce templates it offers, you might have to pay around $35 per year only for the domain and hosting service you select.
Let's talk about the cost of building an eCommerce website.
First and foremost is the domain name and hosting.
When choosing a hosting provider, we suggest selecting one that offers great security and speed to your website, an SSL certificate, and friendly support.
Here's the list of the 12 best eCommerce hosting providers. Generally, a domain name and hosting cost between $15 to $80 per year.
The next element you need is a platform to build your online store. We have the list of the 23 best eCommerce platforms for you to select from.
This article mentions four different platforms: WordPress, Shopify, BigCartel, and Ecwid. While all these platforms except WordPress have free as well as paid versions. WordPress is completely free to use.
If you decide to choose a premium platform like Shopify, BigCartel or Ecwid, you're looking at around $30 per month.
Next is the theme and plugin for your website. Themes provide a design and layout to your online store. Plugins add functions or enhance features.
Many free eCommerce themes are available with great features. You also have the option to explore premium themes. These can cost about $50 per year depending on which you choose.
We strongly recommend going with themes that offer pre-built eCommerce website templates. It provides an appealing eCommerce layout to your website, which you can easily tweak and customize according to your needs. 
Starter Templates has a library of 230+ professionally designed templates compatible with the most popular page builders, such as Gutenberg, Elementor, and Beaver Builder.
We have a list of the best eCommerce plugins to help you build an outstanding online store.
There are thousands of free plugins and lots of premium options too. Premium plugins can cost anywhere between $5 to $100 per month or year.
So all in all, an eCommerce website could cost as little as $20 – $500 per year.
Advantages of eCommerce Over Traditional Commerce
Picture this.
You have a local brick-and-mortar store. Your customers are from your neighborhood. Your store opens from 10 am to 9 pm, Monday to Saturday.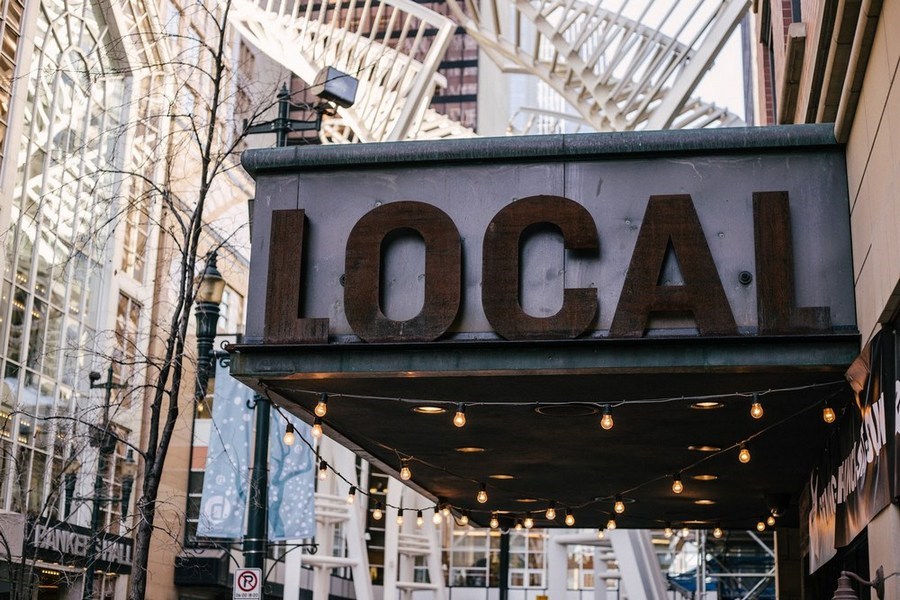 You pay a monthly rent for the premises and may have paid an advance as a deposit too. You've got your monthly overheads such as electricity, maintenance, and so on. Additional expenses could be the salary towards maintaining staff.
You've factored all these early on and completely aware that these expenses will be covered from the profits you earn.
What if you could eliminate all those expenses? Wouldn't that mean a higher profit for your business? Not to mention the added advantage of having your store open 24/7, 365 days a year.
Well, that, in short, is the flexibility an online business provides!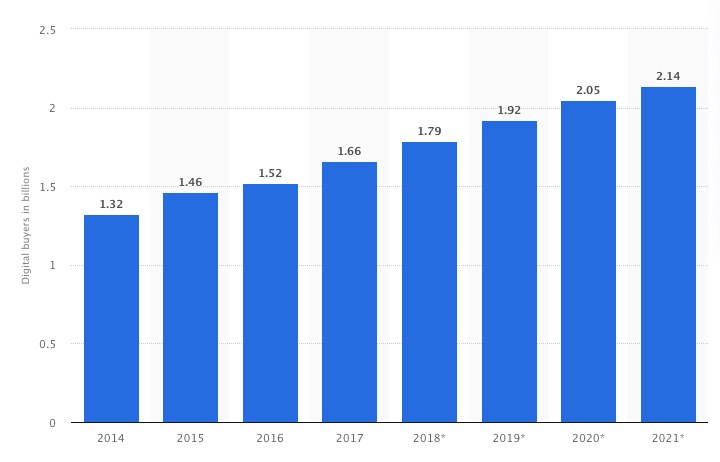 It's estimated that around 2.14 billion customers are likely to buy goods via eCommerce in 2023. (Source: Statista)
Purchasing products and services online has become second nature to most people around the world. Some choose to purchase online for convenience, while some due to competitive prices.
Here are some of the significant benefits of having an eCommerce store against the traditional brick-and-mortar one.
1. No Geographical Boundaries
As mentioned in our example, as a local store, you are limited to your neighborhood. Yes, you may work with local delivery providers and offer services across your city. But beyond that, not many traditional retailers would cater to.
However, that is not the case as far as an eCommerce store is concerned. For an eCommerce store, the whole world is your playground!
As long as you have the ability to deliver, your customers can order products from anywhere in the world. That's the ultimate in convenience!
2. Minimal Investment
Starting an online store requires minimal investment and we'll explain why.
Physical store – not necessary when running an online store not applicable
Staff – you can operate solo
Monthly bills – there will be running costs but tiny compared to a physical store
Security deposit – with a physical store not in picture, you don't have to block capital into paying a security deposit and also monthly rent
This is a big one, isn't it?
All the more reason to launch an eCommerce store!
One of the significant reasons for opening an online store is that it requires minimal investment.
The only upfront investment is towards purchasing a domain and hosting for your store. Depending on the plan and service provider you opt-in for, the domain and hosting put together will cost you as little as $35 per year.
Considering how easy it is to create an online store using WordPress and WooCommerce, you can do it yourself in a few hours. If you'd prefer to engage a professional, costs can range anywhere from $300 to $400 per day.
Once set up, all you've to do is monitor the orders that come in and fulfill them.
3. Open 24/7, 365 Days
Before you think 'how is working 24/7, 365 days a year an advantage?' relax. We're not asking you to work that much!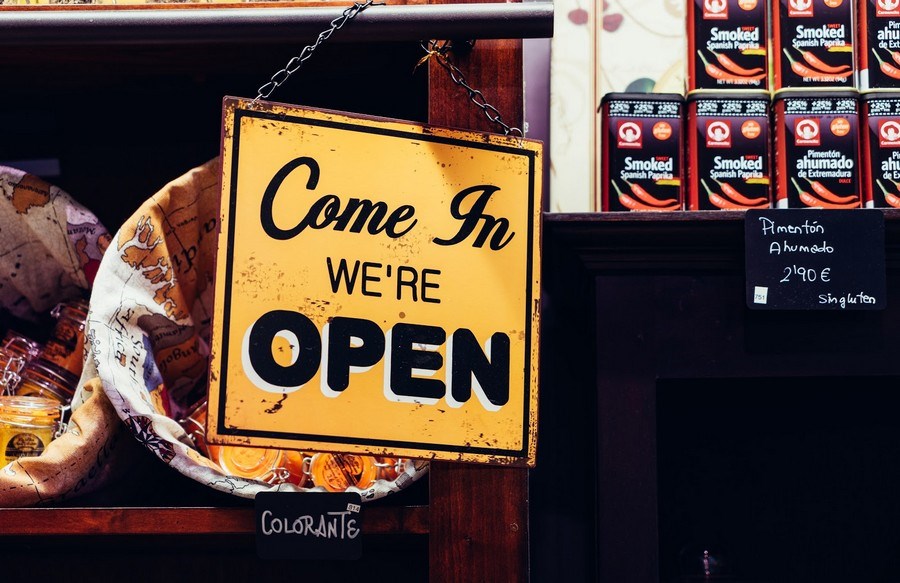 As your store is always online, you are technically open all the time. Your customers visit your store whenever they wish to, from any part of the world. They view your store products and services and place an order. You receive the payment, and you fulfill the order. Simple!
This is yet another advantage of launching your online store. You may be on vacation or asleep, but your store is always open for business!
4. Gain Customers From Search Engines
How do you, as a brick-and-mortar store, get customers? We guess through word of mouth, flyers, advertising in local newspapers, billboards, and so on. Right?
Ever used Google to find a product? (OK, we know that's a dumb question!)
With an online store, you can be found on popular search engines such as Google, Bing, and others. The process of getting your store up on the top of search results is called search engine optimization (SEO).
Did you know?
Search engine optimization (SEO) stats suggest that 39% of global eCommerce traffic comes from search results. (Source: Serpwatch.io)
The leads from search engine results have a closing rate of 14.6% compared to the 1.7% closing rate for leads from direct mail or cold calls. (Source: Serpwatch.io)
In comparison to social media, search engines drive ten times more traffic to shopping sites. That is why you need to include SEO in your marketing strategy (Source: 99firms.com)
By including SEO in your marketing strategy, you leverage the huge volumes of traffic coming to search engines. And the best bit, it's quality traffic who are already looking for what you sell.
Yes, the SEO process and showing up on search results does take time. In some cases, up to a year. But, continually working on optimizing your online store will be highly beneficial in the long run. After all, who's complaining about more customers visiting your store!
5. Target the Right Customers
How would it be to have the ideal buying customer walking into your store every single time? You can achieve just that by running targeted ads and also maintaining an email list.
As mentioned earlier, SEO takes time. Showing up on search engines is a process and when done correctly, it takes time. However, if you'd like to show up on the search results page to your ideal customers right away, consider going in for paid ads.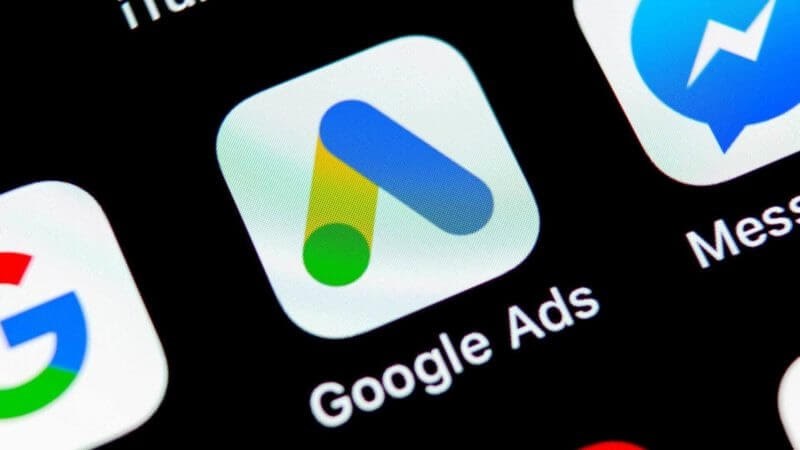 Not only on search engines but also consider running ads on social media. The benefit of running ads on such platforms is that you can choose to target these ads to your ideal audience.
For instance, let's say your store has products meant for newborn babies. Who is your ideal customer?
You'd agree there's more probability of closing a sale if you were to target customers in the age group of 28 to 35. Or you could also target parents with newborn babies.
With more and more ideal customers coming on to your online store, you can set lead magnets to capture the customer details.
A lead magnet is a popular marketing tool used to get customers into providing their details. You typically provide a freebie such as a discount code, a voucher, a free consultation, an ebook, among many more options.
Slowly but surely, you're building an email list of potential customers. And every time you've launched a new product, guess what?
Send across a mail announcing the arrival of a new product line. There's a higher chance of a sale going through when you are targeting the right customers!
6. Easily Locate Products
How easy is it to locate a product in a hypermarket? And what happens when you can't find what you're looking for? You either walk down long aisles guided by signs, or you end up asking a store assistant, if you can find one.
Compare that to an online store. You have very clear navigation based on category and products. You can also have a search field through which you can locate products quickly.
All these add to an enhanced customer shopping experience.
7. Save Time
Take your pick!
Two hours shopping at the local supermarket/hypermarket on a Sunday
Two hours of quality time with family and friends on a Sunday
We're guessing the choice is pretty obvious.
A significant advantage of an online store is the ease at which you can place orders from the comfort of your home, couch, or wherever you are.
You'll instead be spending quality time with your family and friends than driving up and down to the store and spending hours shopping!
To summarize…
There are numerous advantages to creating an online store. We've listed some of the main benefits of creating one. If this got you all charged up, let's look at the various options available to create and launch an eCommerce store.
Cheap and Best Way to Launch an eCommerce Website
Contrary to the popular belief that creating an online store is complicated, the truth is far from it. Creating one is way simpler than you might think.
Considering the number of platforms available for you to create an online store quickly, we've listed some of the best options for you to create and launch an eCommerce website for cheap.
Method 1: WordPress With WooCommerce
When it comes to creating a standalone website, a membership site, a learning management system, or in our case, an online store, our first choice is WordPress.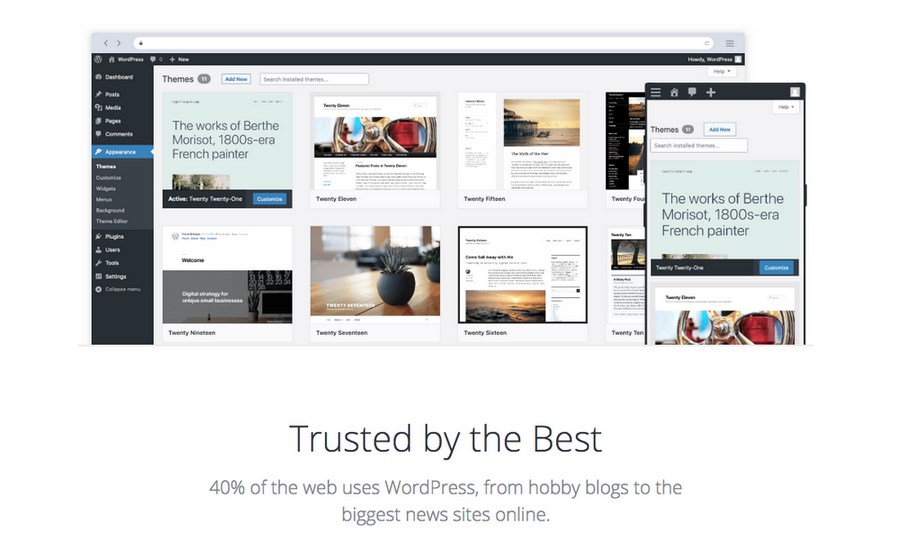 After all, 40% of the websites worldwide are powered using WordPress. (Source: WordPress)
And just in case you'd like to learn how to create a website using WordPress, we've got a detailed step-by-step article where you can set up a WordPress website in minutes.
Once you've set up and installed WordPress, all you need to do now is install the very popular eCommerce plugin, WooCommerce.
Plugins help you enhance your website functionality. That's precisely what WooCommerce does. It converts an otherwise simple website into a full-fledged eCommerce store.
No other eCommerce platform allows you to start for free. It also allows you to scale your store with added extensions and functionality as your business grows.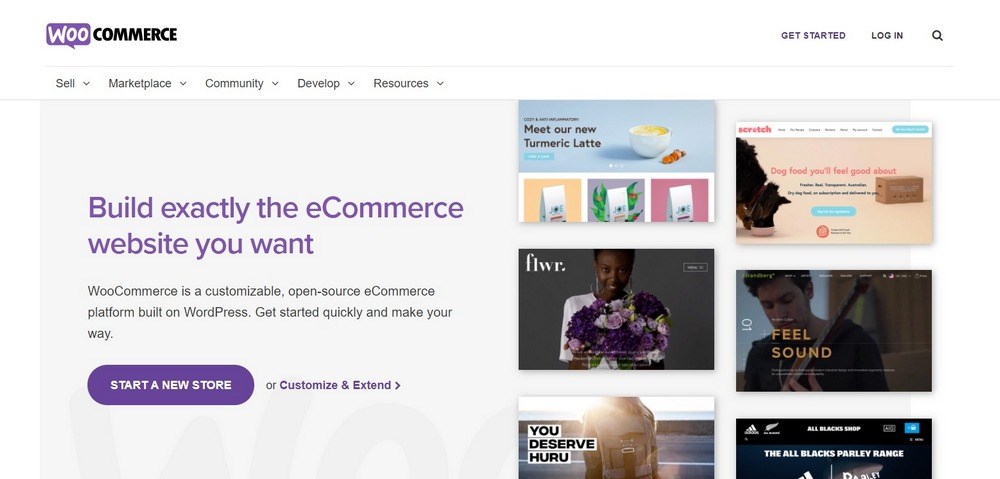 WordPress is an exceptional suite that covers all the aspects of a website. WooCommerce is open source, which means it's free for all and a popular choice for eCommerce store owners.
Here are some WooCommerce facts:
WooCommerce is currently used by 4,414,537 live websites
7.4% of all websites use WooCommerce
28.19% of all online stores are powered by WooCommerce
Out of the top 1 million eCommerce sites, 22% uses WooCommerce
The WooCommerce plugin is used by 93.7% of all WordPress eCommerce sites
With a 68% usage distribution, WooCommerce is the most popular plugin on the internet
(Source: Hosting Tribunal)
By picking this method to launch your eCommerce store, you will get the power of WordPress and the ease of WooCommerce.
WooCommerce Features in Free and Premium Plans
We've listed some of the features and compared them between free and premium plans. This should help you decide on going with the free or premium plan up front.
| | | |
| --- | --- | --- |
| Features | Free | Premium |
| Sell unlimited products | Yes | Yes |
| Sell physical and digital products | Yes | Yes |
| Basic live chat support | Yes | Yes |
| Instantly download digital products | Yes | Yes |
| Offer free/flat-rate shipping costs, or calculate costs in real-time | Yes | Yes |
| Integrate popular payment gateway providers such as PayPal, Stripe, and more | Yes | Yes |
| Complete control of your store | Yes | Yes |
| Integrate with other plugins to create invoices, packing slips, and more | Yes | Yes |
| Membership | No | Yes |
| Dynamic pricing | No | Yes |
| Smart coupons | No | Yes |
For a complete list of the features, visit the WooCommerce features page.
Building Your eCommerce Store
You will need to purchase your domain and hosting before you do anything else.
While it may be natural to want to start with the most economical plans out there and later shift to a better hosting service provider as the business grows, we highly recommend evaluating the various options at this early stage.
Consider a hosting service provider that offers features such as SSL, backups, CDN (Content Delivery Network) like Cloudflare, and secure hosting. Most importantly, consider a hosting service provider that offers excellent customer service.
One that fits the bill is SiteGround. In addition to having all the above features, we recommend SiteGround due to their excellent customer service.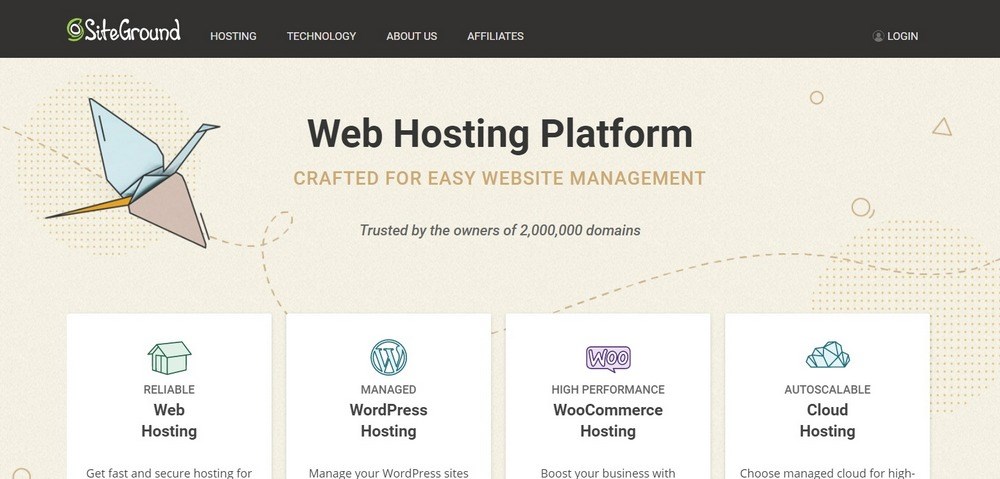 When you are starting solo, it helps to have a world-class support team helping you out!
Also, using SiteGround's auto-install feature, you can easily install WordPress in a matter of a few clicks. It's that simple!
Once you have WordPress installed, the next step is to install and activate the WooCommerce plugin. To complete this step, search for WooCommerce under Plugins > Add New.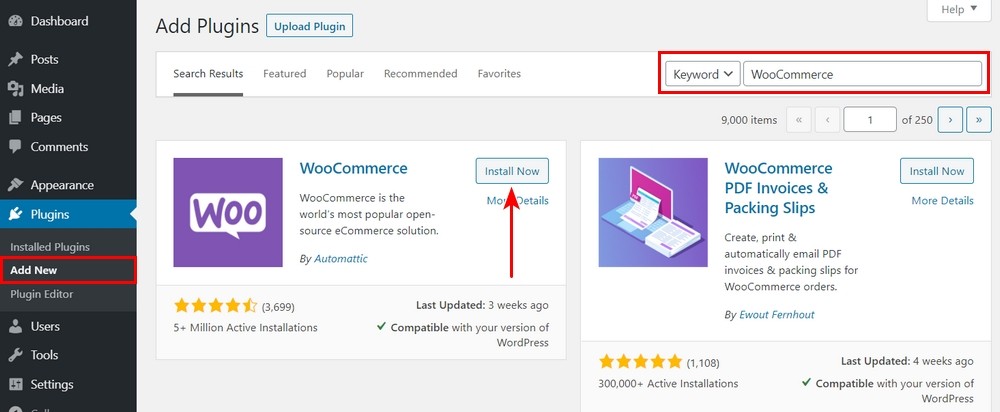 Once WooCommerce is installed, you can install a theme for your online store.
The theme is how your website will appear to your users. It contains the fonts, the colors, and the general layout of your website.
To install a theme, head over to Appearance > Themes > Add New. Install and activate the Astra theme.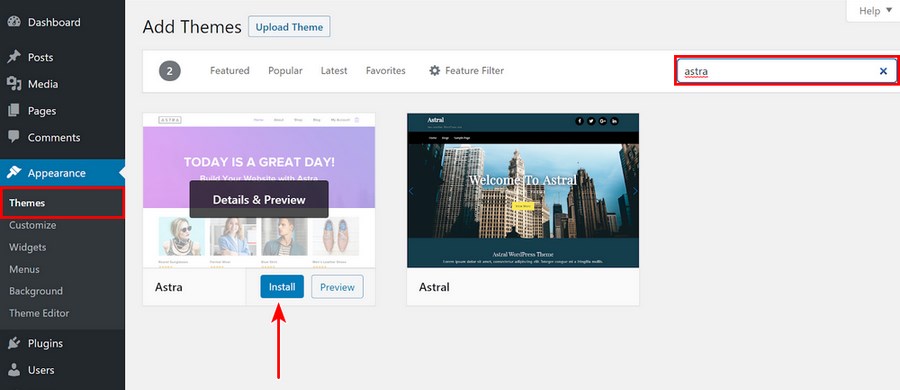 Once you have installed the Astra theme, head over to Appearance > Astra Options and click on import Astra Starter Templates under the Starter Templates tab.
Based on the page builder and your niche, you can select from the available starter templates. Starter templates are readymade website templates. Just select a starter template and import the entire template. And just like that, your website will be live.
Yes, you'll need to add the actual content and images. But, you get the point. Your website is more or less ready in just a matter of seconds!
For instance, in our case, we are creating an online store. So, if you were to filter out templates based on your preferred page builder and use the search field for the term 'online store,' you'll notice a set of eCommerce store templates.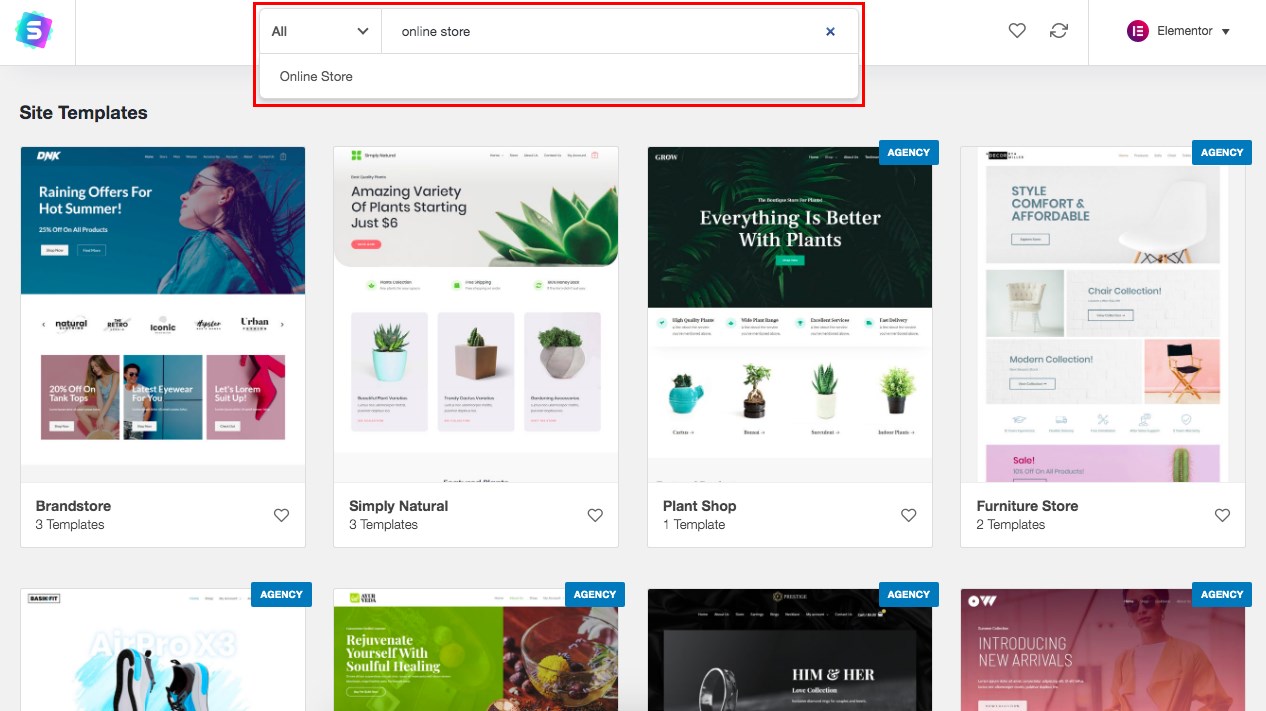 When you install (import) the eCommerce starter template, you'll notice the WooCommerce and the page builder plugins would also be installed, if they haven't already.
Just in case you are wondering what a page builder is?
A page builder is a plugin that lets you create pages and posts with minimal effort. It's a WYSIWYG (What You See Is What You Get) page editor that allows you to easily drag-and-drop content, images, elements, and widgets to easily and quickly create pages and posts on your website.
In addition to the default Gutenberg page builders, the other popular ones are Elementor, Brizy, Beaver Builder and WP Bakery.
Once activated, you'll notice a new set of links on the left-hand side of your WordPress dashboard. From WooCommerce, Products, Analytics, and Marketing, you now have many options to play around with.
A WooCommerce setup wizard will walk you through the various options available to you. With any new installation of WooCommerce, we recommend you go through the options under settings.
For this, head over to WooCommerce > Settings.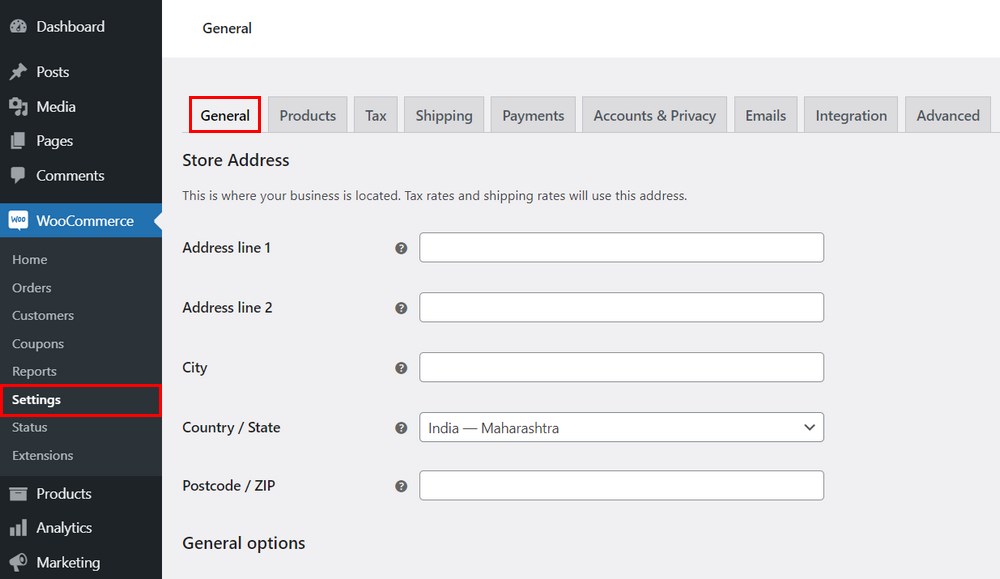 Among the various tabs under settings, you can include your store details, customize your product pages, add shipping details, integrate payment options, set email preferences and notifications.
Once you've completed the setup process and configured your settings, go ahead and add your products. For this, simply click on Products > Add New.
Include all relevant information concerning your products. Add high-quality images, detailed descriptions to help your customers make that all-important buying decision.
Cost Breakdown of Creating a Store With WooCommerce
| | |
| --- | --- |
| Elements | Pricing |
| Hosting | $35 per year onwards |
| Themes | Use a free one or a paid option starting from $35 onwards |
| Domain Name | $15 per year |
| Plugins | Free or starting from $25 per year |
| Security | If your hosting service doesn't provide this in the package, it could vary from $10 per year onwards |
| Total Estimated Cost | Starting from $60 per year onwards |
Our Verdict
We would strongly recommend that you go with WordPress and WooCommerce. Considering the low entry point yet the enhanced flexibility and functionality the two platforms offer, launching your eCommerce store using WordPress with WooCommerce is a very attractive option.
Method 2: Shopify
We understand there's a certain learning curve associated with WordPress and WooCommerce. Platforms such as Blogger, Wix and Squarespace are similar to creating an email account on Google. Simply register, create an account, and you're good to go.
While there are those early limitations in WordPress, the platform gives you unmatched flexibility and functionality that other platforms do not.
If you are looking for an option that gives you a fair amount of functionality yet is a 'done for you' solution, you have Shopify.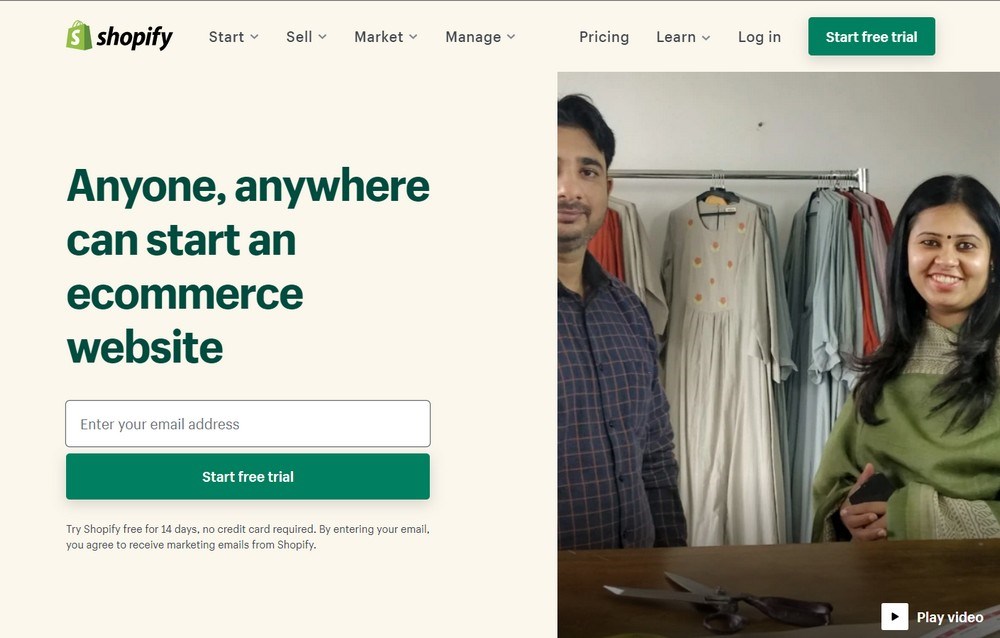 Shopify is a popular eCommerce SaaS platform that allows you to build a full-fledged online store. It's one of those platforms that allows you to create a store in a matter of minutes.
Simply create an account, answer a few setup questions, and voila, your store is ready!
However (yes, there's a 'condition apply' to this), you will have to opt-in for one of the payment (subscription) plans to use the platform. You could start with a 14 day trial period, play around with the platform, and select from one of the payment plans before you launch the site.
Shopify Features in the Free and Premium Plan
| | | |
| --- | --- | --- |
| FEATURES | FREE | PREMIUM |
| Validity | 14 day trial period | Monthly/yearly plans |
| Themes | Ten free themes | Numerous themes |
| Products | Limited | Unlimited |
| Hosting | Yes | Yes |
| Print shipping labels | Yes | Yes |
| 24/7 support | Yes | Yes |
| Mobile app | No | Yes |
| Analytics | Yes | Yes |
| Email forwarding | Yes (with domain name purchase) | Yes (with domain name purchase) |
| SSL certificate | Yes | Yes |
| Digital products | Yes | Yes |
| Product variations | Yes | Yes |
| Accept credit cards with Shopify | Yes | Yes |
| Flexible shipping rates | Yes | Yes |
Check out the Shopify features page to explore the complete list of features offered.
eCommerce Store Building Steps
Creating a Shopify store is really simple. We've listed below how you can create an online store in just four simple steps.
Step 1: Sign up and Create an Account
Start by creating a free account on Shopify. Enter your email address and click on Start free trial.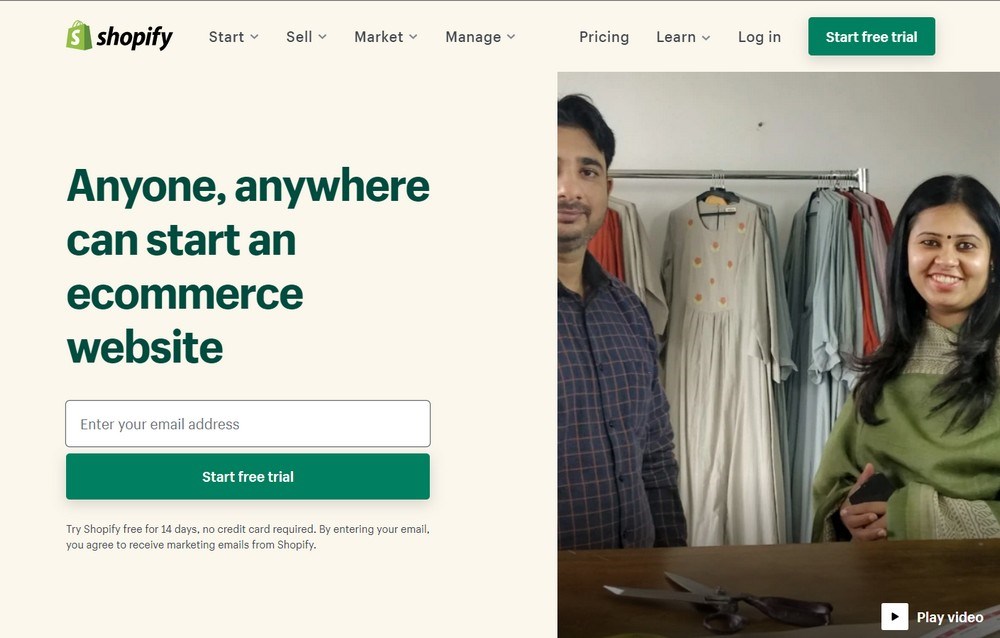 Step 2: Enter Your Store Name
Enter a store name of your choice and click on Create your store.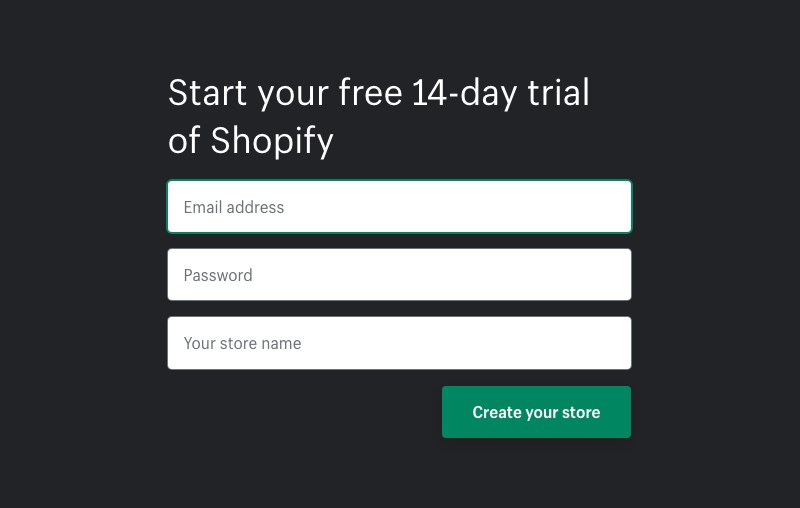 Step 3: Provide Your Store Details You'll need to provide some additional information about your store in the next couple of steps.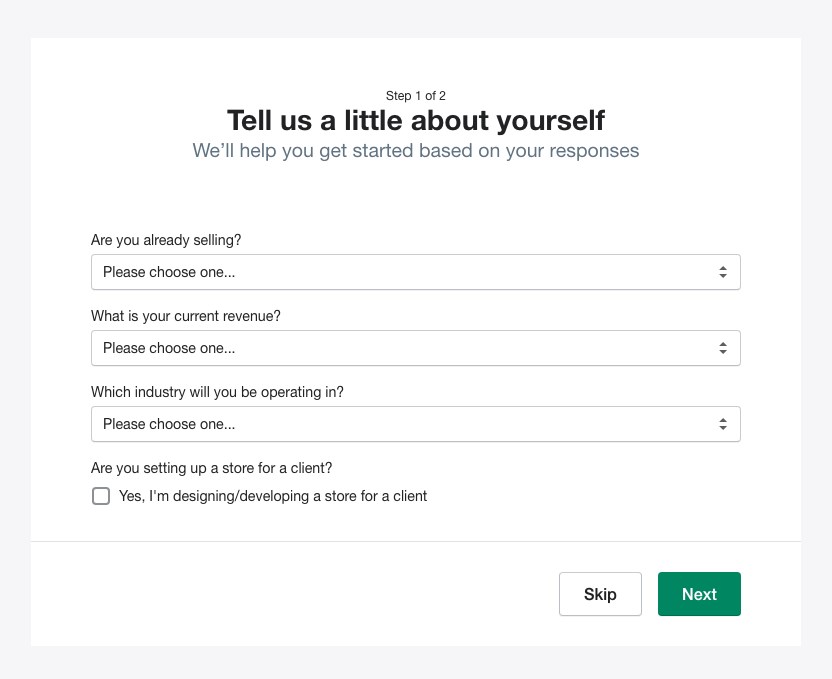 Select what's appropriate for your business.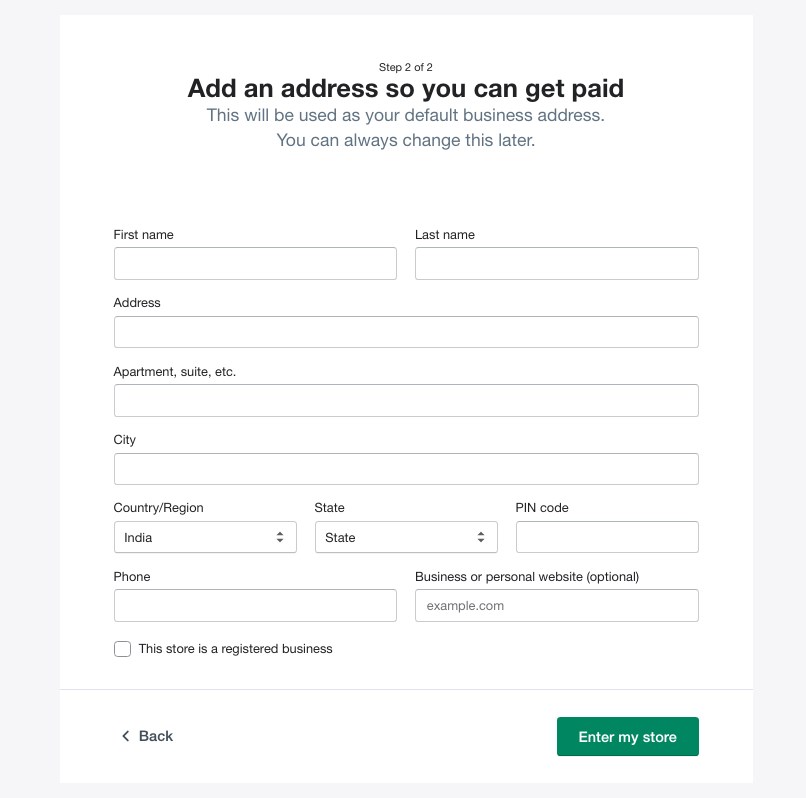 Once you've completed adding the details required, click on Enter my store.
Step 4: Your Shopify Store is Ready!
And just like that, in a matter of a couple of minutes, you are on your store dashboard.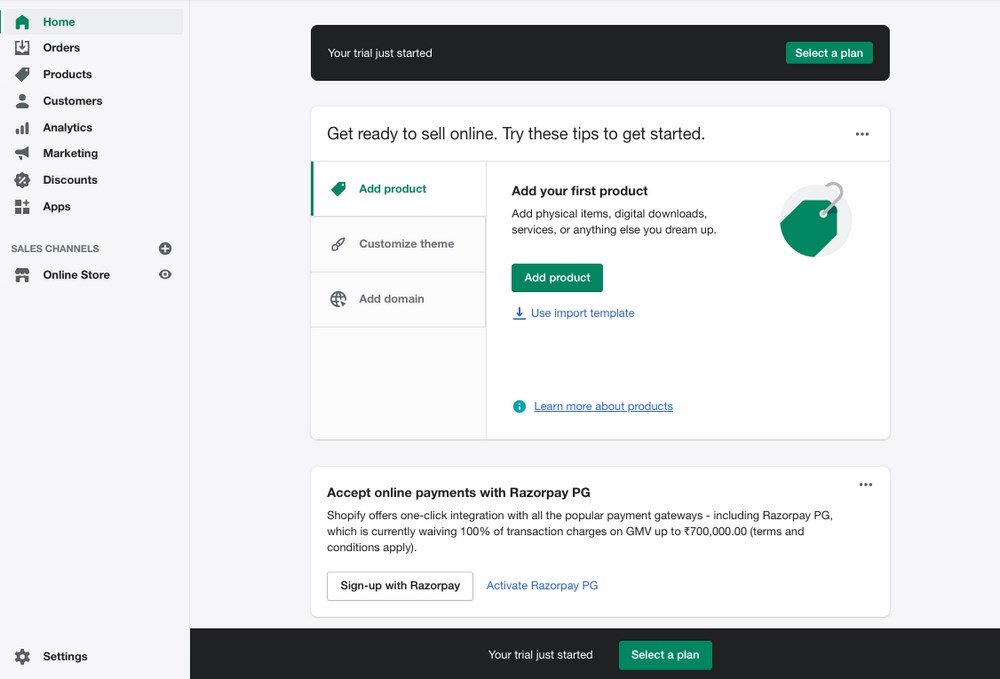 To view your online store, click on the icon against Online Store on the left-hand menu links.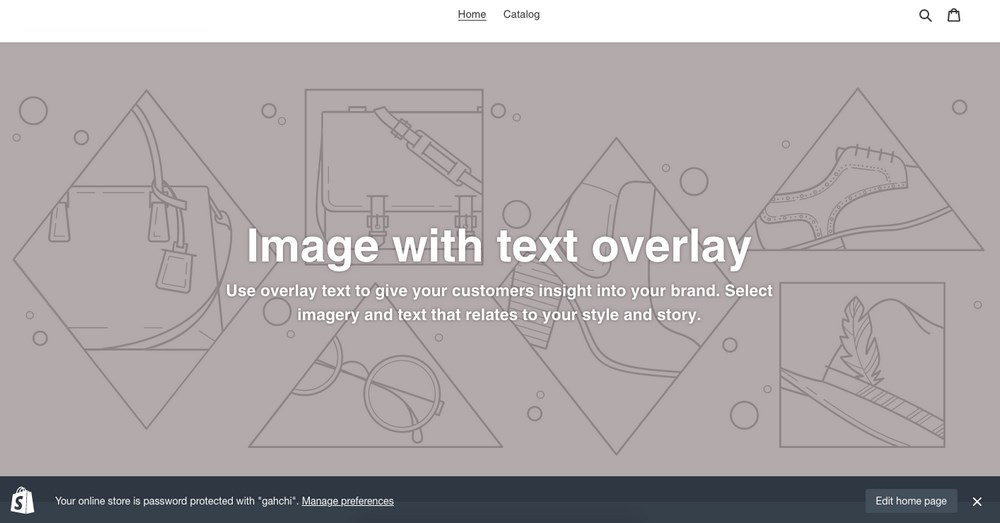 Your store is currently password protected. It can be removed once you've opted in for the paid plans. To change the current theme, click on Online Store and scroll down.

You can select from several free and paid themes available in the Shopify Theme Store. To view a list of the free themes, Click on Explore free themes.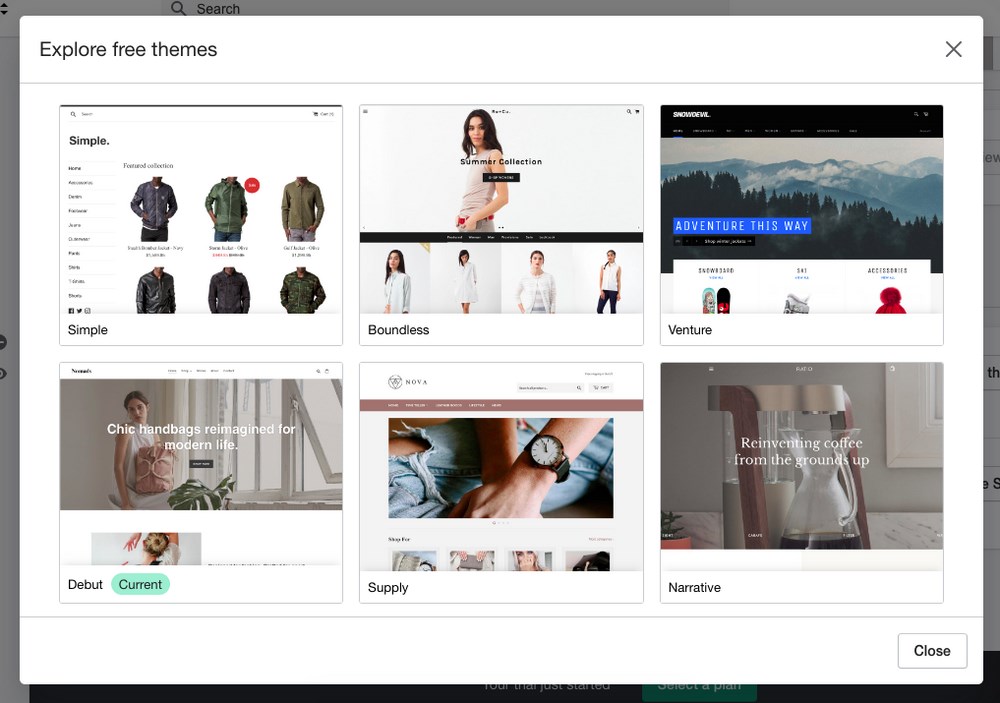 Select a theme of your choice. We'll go ahead with the Simple theme.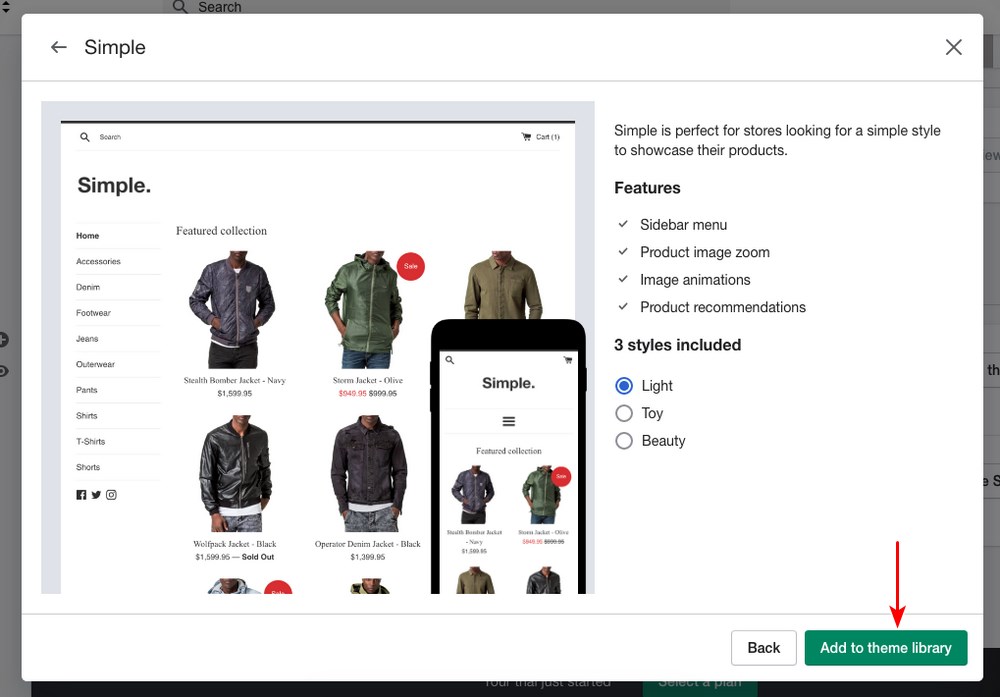 Then click on Add to theme library.
Once your theme is added to the library, you can publish it to reflect on your store by clicking on Actions > Publish.

Confirm the change in the current theme by clicking on Publish again.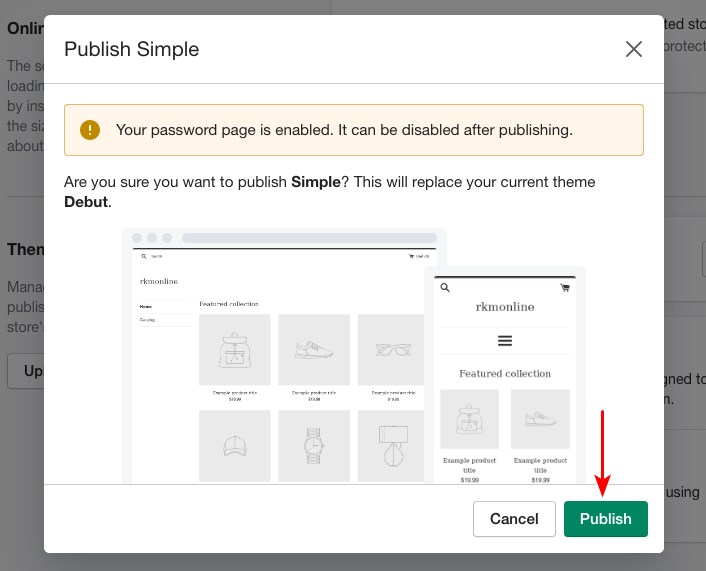 This will apply the changes to your online store.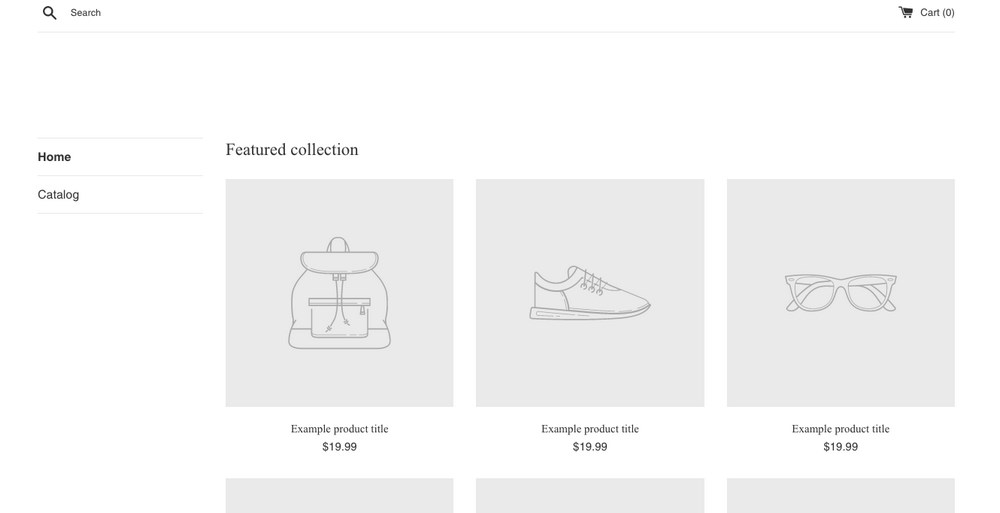 Your store is now published and reflects your selected theme.
And that's how simple it is to set up an online store using Shopify. You can now add products and collections to your store by navigating through the links available on your dashboard.
Curious to know which is the better platform? Shopify or WooCommerce? We've created a detailed comparison between the two in our article on Shopify vs. WooCommerce.
Cost Breakdown
| | | | |
| --- | --- | --- | --- |
| Elements | Basic Shopify Plan ($29/month) | Shopify Plan ($79/month) | Advanced Shopify Plan ($299/month) |
| Online stores | Yes | Yes | Yes |
| Unlimited products | Yes | Yes | Yes |
| Staff accounts | 2 | 5 | 15 |
| Locations | Maximum 4 | Maximum 5 | Maximum 8 |
| Advanced reportbuilder | No | No | Yes |
| 24/7 support | Yes | Yes | Yes |
Check out the detailed features for each of the plans on the Shopify pricing page.
Based on the plan you go for, you are looking at a minimum annual cost of $310. This is taking into consideration a 10% discount on the annual payment plan. Over and above this cost, you have the cost towards purchasing a domain name, which boils down to an annual cost of $325 to run an online store using Shopify.
Our Verdict
If you are a newbie with a limited number of products and who'd like to give the eCommerce business model a shot, Shopify is a platform you could consider. Being beginner-friendly, with its done-for-you solution and hassle-free maintenance and updates, you can focus on the business aspect of setting up your online store.
That said, as your business grows, you may be better off considering WordPress and WooCommerce as it gives you far greater flexibility and customization.
BigCartel is another popular platform when it comes to starting an eCommerce store.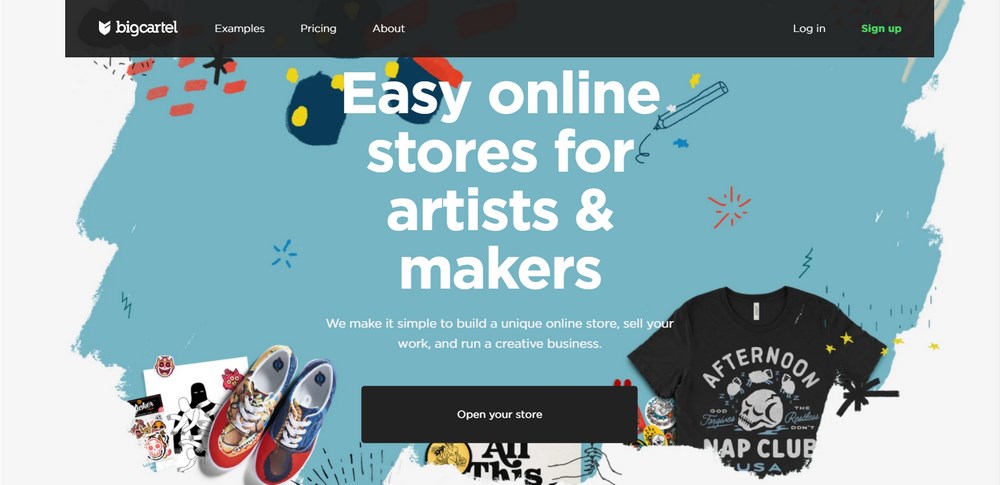 Did you know that you can start a store absolutely free if all you have is up to five products to promote?
Once you've signed for a free account, you get a subdomain that includes bigcartel.com.
For instance, if you've named your store 'mystore' during the setup process, then your store URL will be https://mystore.bigcartel.com.
And if you are okay with this, you needn't even invest in a custom domain.
BigCartel Features in Free and Premium Plan
| | | |
| --- | --- | --- |
| Features | Free | Premium |
| Max products | 5 | Up to 500 products |
| Free themes | Yes | Yes |
| Google Analytics | No | Yes |
| Inventory tracking | No | Yes |
| Bulk editing | No | Yes |
Visit the BigCartel features page for a detailed list of features.
eCommerce Store Building Steps
Creating an account in BigCartel couldn't be easier. Simply register for an account, and you are directed straight into your dashboard.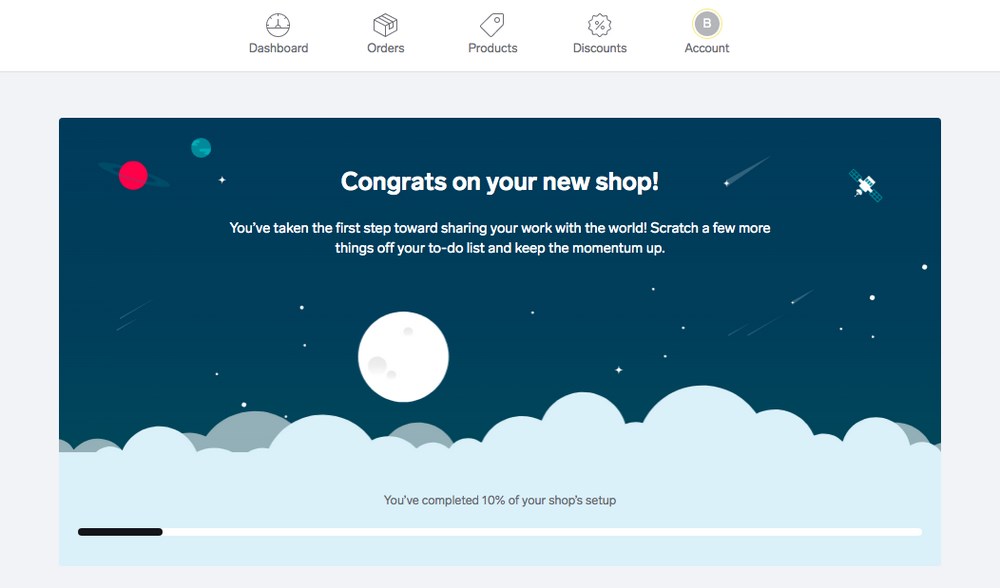 From the dashboard, you can customize your store, add products, set up the payment provider, integrate apps, and more.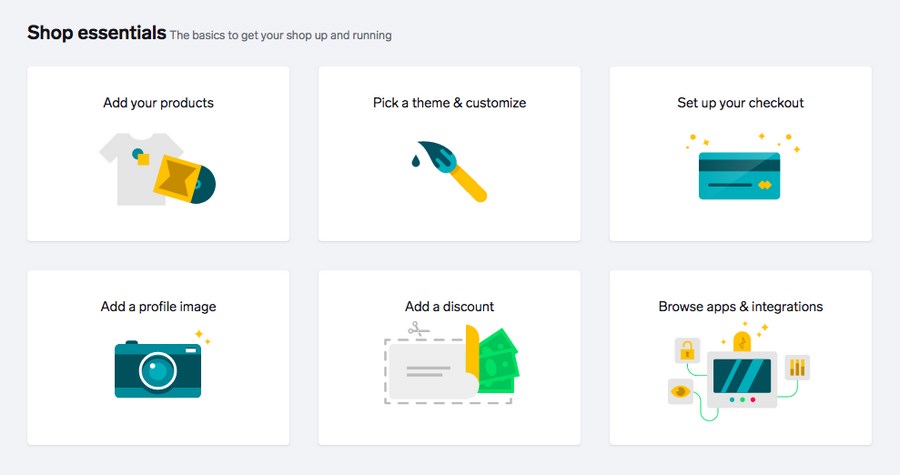 Cost Breakdown
| | | | |
| --- | --- | --- | --- |
| Elements | Platinum | Diamond | Titanium |
| Cost | $9.99/month | $19.99/month | $29.99/month |
| Products | 50 | 250 | 500 |
| Per product images | 5 | 5 | 5 |
| Product option groups | Yes | Yes | Yes |
| Rest features | Same | Same | Same |
The above is in addition to the free plan in which you can add up to five products.
Based on the plan you select and considering you have to purchase a domain, you are looking at an annual cost of $130 onwards.
Our Verdict
For all small-scale online business owners, BigCartel will prove to be a highly economical eCommerce platform. BigCartel may not be the best option for the bigger businesses considering the limited features and integrations. But for newbies, this works just fine!
If you are looking for a platform that allows you to start for free, promote on social media, offer various features such as marketing, analytics, SEO, and more, Ecwid is definitely worth considering.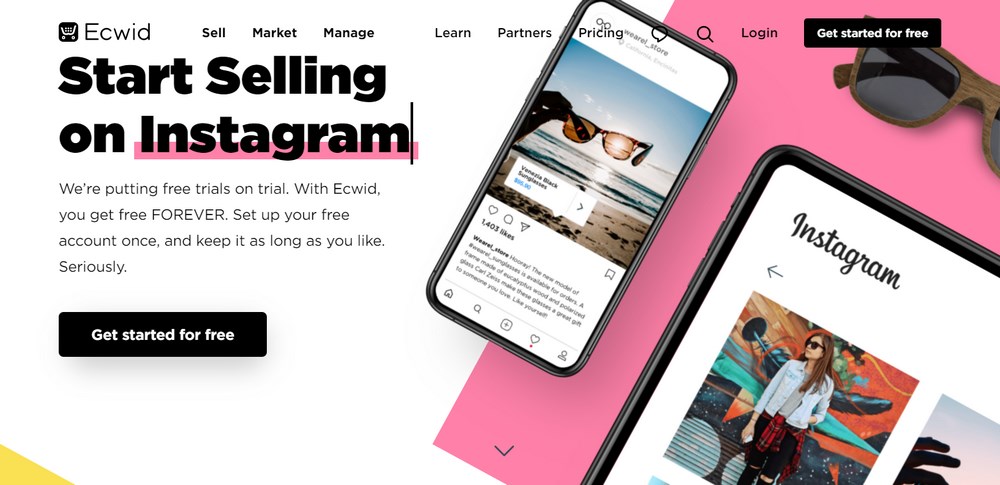 Ecwid Features in Free and Premium Plan
| | | |
| --- | --- | --- |
| Elements | Free | Premium |
| Online store | Yes | Yes |
| Facebook shop | No | Yes |
| Instagram store | No | Yes |
| Advertising | Yes | Yes |
| Number of products | Max 10 | Unlimited |
| Discount coupons | No | Yes |
| Unlimited bandwidth | Yes | Yes |
Check out the complete list of Ecwid features.
eCommerce Store Building Steps
On similar lines as our previous two platforms, creating an online store on Ecwid is quite straightforward.
Simply register for a free account, answer a few questions about your business, and there you go. You've reached your store dashboard.

From your dashboard, you can navigate through the various options available to you. From adding the products to marketing and generating reports, there are several options for you to explore.
Cost Breakdown
| | | | |
| --- | --- | --- | --- |
| Elements | Venture | Business | Unlimited |
| Cost | $15/- month$12.50/- monthpaid annually | $35/- month$29.70/- monthpaid annually | $99/- month$82.50/- monthpaid annually |
| Facebook shop | Yes | Yes | Yes |
| Market places | No | Yes | Yes |
| Product filters | No | Yes | Yes |
| Priority support | No | No | Yes |
Unless you consider using the free plan, the basic Venture plan along with your domain will cost you an annual fee of $165.
Our Verdict
Considering there is a free plan to start out and with the number of features Ecwid provides, such as managing sales, abandoned cart recovery, social media integration and marketing, SEO options, marketing, reporting, and a whole lot more, this is surely an option to consider.
Things to Check Before Launching Your Store
Are you ready to select your ideal eCommerce platform? Great!
There are a few key elements you must consider before launching your store. Creating an online store is easy. But ensuring you have a sustainable business that brings in sales all year long is essential for any business.
Listed below are a few points to ponder over before launching your eCommerce store.
Market Research
You may have a great product. You've gone the extra mile in packaging it in the best possible manner. You are ready to launch the product in the market.
But what if there are no takers?
While we may feel our product is the best in the market, it's important to gather insights to see if the product actually solves a problem. Is there even a demand for the product?
It helps to invest time early on into obtaining market insights into the potential demand for your product. If there is a demand, are there reliable suppliers for the product? Is the product in demand throughout the year, or is it seasonal?
Coming up with data to back your plans will help develop the roadmap for you and your product. After all, we wouldn't want to be left with unsold inventory and locked capital!
Competitor Analysis
There's nothing wrong with keeping a close watch on your competitors. Rest assured that your competitors will have a close watch on you when you edge them out of the market!
Keeping a watch on your competitors helps you understand their USPs (Unique Selling Points) and what they are doing right in terms of marketing strategy, price points, features and benefits, and so on.
More importantly, it helps you understand what they are doing wrong and how you can better it.
Planning and Research
Planning and research go hand in hand. Conducting proper market research assists in your creating the ideal business plan. It is all about collecting information that gives you an insight into your customer's buying patterns, their thought process, and how they make buying decisions.
Businesses conduct research periodically to identify their potential new customers, learn about their existing customers, identify and test new markets, understand their competitors, and a whole lot more.
Inventory Management/Stock Tracking
Inventory management or stock tracking, as the name suggests, is the sourcing and storing of products.
It's all about knowing how much stock you have, how much money is tied up in stock, where to place it, and how long you should keep it.
Stock control is an essential part of running a business and something you're going to need to master quickly!
Determine Profitability
How good (or bad) are you when it comes to monitoring your business's overall financial health? With the various reports to run and the numbers to check, it can be overwhelming to keep up with everything.
That being said, if we are in business, running reports has to be second nature. We've got to learn to love our numbers!
Here are two basic numbers you should check.
The first is to check your company's profitability by calculating the net profit margin. This is done by using a simple formula, 'Revenue – Expenses = Profit.'
A positive number indicates you're running in profits, while a negative number indicates your business is running in losses. Your business has broken even if your net profit margin is zero.
Another key number is gross profit.
If you are selling physical products, then an important indicator of your profitability is the gross profit margin. This can be calculated using a simple formula, 'sales revenue – cost of goods sold = gross profit.'
The higher the gross profit percentage, the higher your profit is compared to the product cost. A lower gross profit percentage is fine provided your sales volume is high enough to meet your expenses.
FAQs
Which is the cheapest eCommerce platform?
WordPress is the cheapest eCommerce platform because it is completely free. While you might have to pay for the domain and hosting services, WordPress is free, and it offers hundreds of free eCommerce themes and plugins to select from. 
What is the cheapest way to build an eCommerce website?
The cheapest way to build an eCommerce website is paying only when necessary, i.e. domain and hosting is a paid service. You need to pay for those, but hundreds of themes and plugins are available for free of cost.
How do I create a free eCommerce website?
You can create a free eCommerce website with WordPress using a lightweight, free theme Astra, pre-built templates using Starter Templates and the eCommerce plugin WooCommerce.
How long does it take to set up an eCommerce site?
It takes a few hours of time and dedication to set up an eCommerce website. There's much more to running one, but that's all it takes to build one!
Wrap Up
Whether you are starting out or already own a brick-and-mortar store, creating an online store is imperative if you want to add a new dimension to your business. With more and more sales happening online, why would you want to miss out on the opportunity?
The added incentive is the number of eCommerce platforms available that make creating and launching an online store easy. From WordPress and WooCommerce, Shopify, Ecwid, BigCartel to the various other options available, there's no reason why you shouldn't start an online store.
While the eventual decision depends on your store requirements, starting an online store using WordPress and WooCommerce is the cheapest option at a minimum investment of $60 per year.
Considering the overheads you are eliminating by having an online store, this cost is negligible.
So, what's it going to be? Which platform have you narrowed it down to? Or is there a cheaper option? We'd love to know your thoughts!