Did you know WordPress has more than 10,000 free themes? Some of them have been downloaded over a million times!
Each theme provides a different look and feel to your website. You can change how your website looks simply by installing a theme and customizing it to fit your brand. All for free!
In this post, we will look at some of the best free themes available for WordPress.
We will discuss what makes them stand out from each other and why you should use them.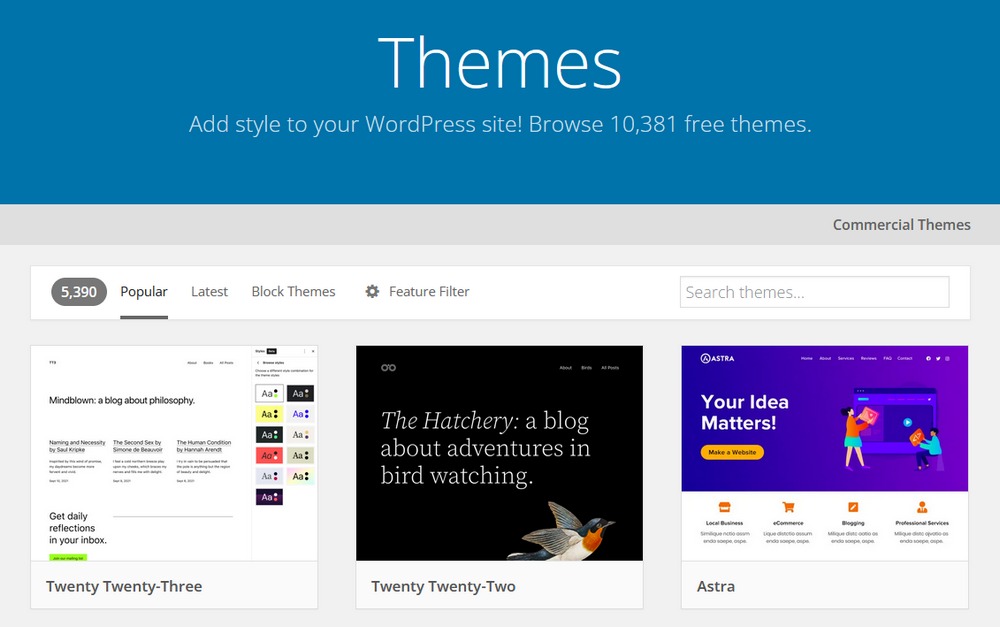 If you're looking for a free WordPress theme that delivers high-performance, is highly customizable and offers free support, you're in the right place!
What You Need to Be Aware of When Using a Free Theme
While some of these themes require an email address, that's usually all.
So what do you need to be aware of when using a free theme?
Maybe an older design – Some free WordPress themes used to be premium themes before a newer model replaced them. This isn't a bad thing. It just means you may not get the latest material or flat design. Nothing is stopping you from adding it yourself though.
Little or no support – Free themes are usually provided 'as-is'. Some developers will offer assistance and some will have forums where users help each other. You won't get the same level of support with a free theme as with a premium though.
Slower updates – Developers have to pay the bills too, so they will rightly prioritize their premium themes first. That means free themes may not receive regular updates or any updates.
If you know your way around WordPress and know a little about CSS and how the web works, nothing is stopping you from using one of these top free WordPress themes for your next project.
We recommend checking a few things before choosing a free WordPress theme.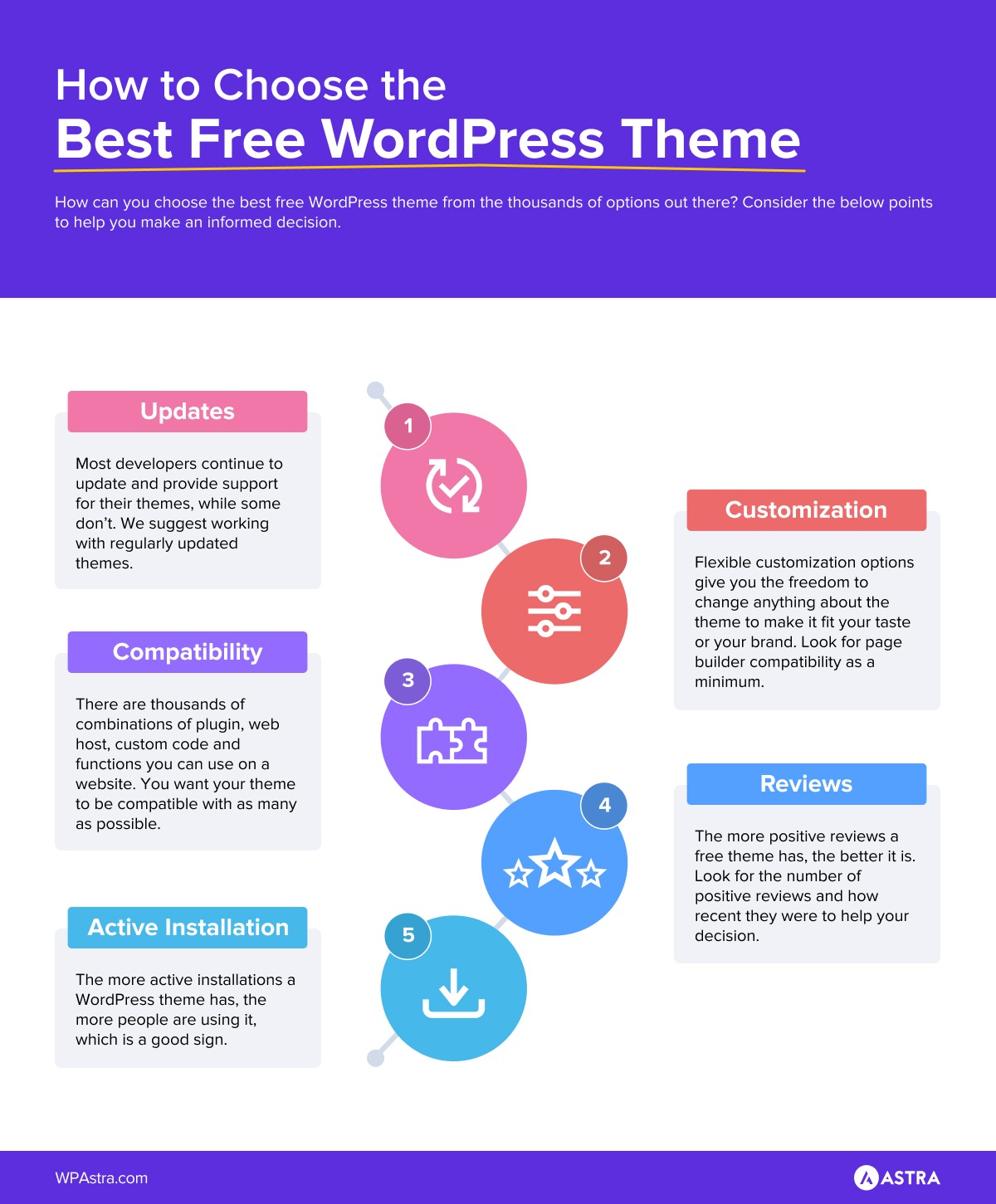 Best Free WordPress Themes
We've done the hard work by listing the most popular and responsive free WordPress themes available on the market. All these themes ensure great features and functionalities to help you create a beautiful website.
In a hurry?
Here's a table of the list of 5 best free WordPress themes you can use!
| | | |
| --- | --- | --- |
| Theme Name | Pricing | Our Rating |
| Astra | Free / Starting from $44 | ⭐⭐⭐⭐⭐ |
| Neve | Free / Starting from $69 | ⭐⭐⭐⭐ |
| Ocean WP | Free / Starting from $54 | ⭐⭐⭐⭐ |
| Zakra | Free / Starting from $69 | ⭐⭐⭐⭐ |
| Storefront | Free / Starting from $69 | ⭐⭐⭐⭐ |
Handpicked Free WordPress Themes
It is hard to choose one theme from thousands of good free themes right?
The good news is, we have done the hard work for you. We have handpicked a few free WordPress themes that can make your website stand out for all the right reasons..
You can use them for eCommerce stores, a business website or any type of website you want to create!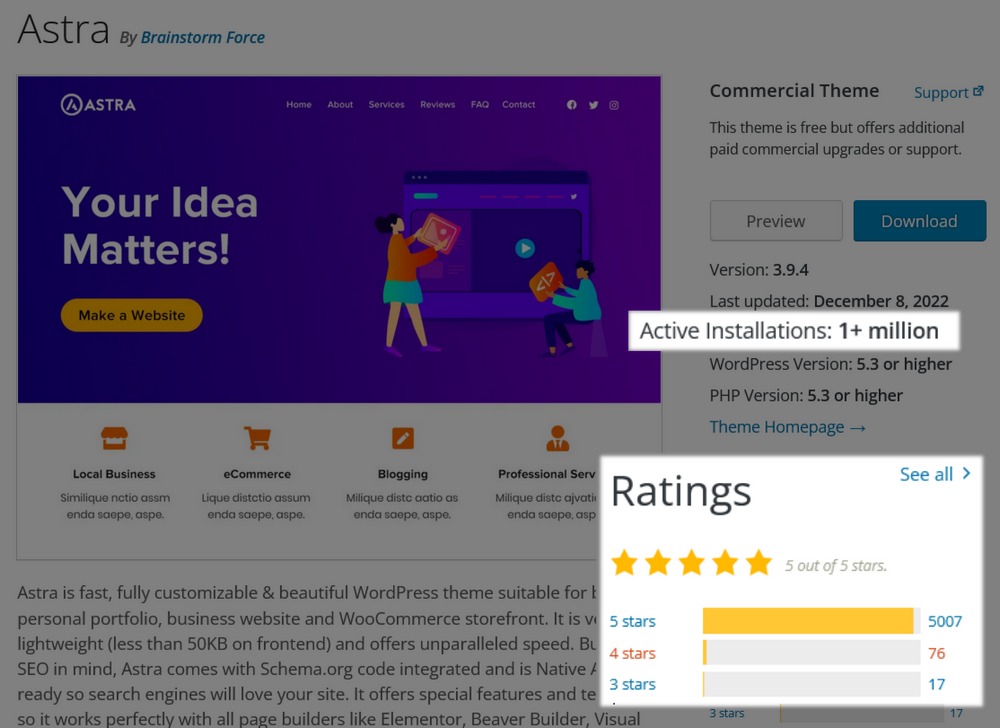 Astra is the best free WordPress theme out there.
Don't just take our word for it though. More than 2,369,964+ active users and 5,000+ 5 star reviews can't be wrong!
Astra delivers professional-quality designs for no money down. It offers features that you would normally expect from a premium theme.
It integrates seamlessly with plugins like Elementor and WooCommerce and offers a ton of free website templates you can install in seconds. You can create any type of website with Astra!
Why Astra?
Customize everything easily
Unparalleled performance
Full integration with your favorite tools (WooCommerce, Elementor, LearnDash)
Largest library of pre-built websites
Header footer builder
Free support and regular updates

What top influencers think of the Astra theme
At WPBeginner, Astra is one of our top WordPress theme picks because not only does it look great, but it's also optimized for performance. The best part is that Astra comes with hundreds of professionally designed templates for just about every industry, and it integrates with popular drag & drop page builders which makes it super easy for non-techy users to build a website.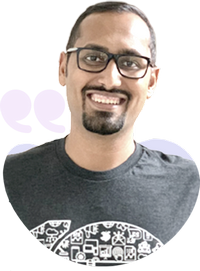 Astra is a simple, fully customizable & fast theme that I can wholeheartedly recommend to all Elementor users. I love the fact that it comes with dozens of pre-built sites that were built using Elementor and that can be used to create a full website with one click.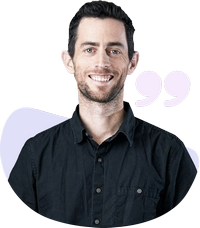 Changing themes is something that I have been wanting to do for some time and when I saw Astra, I knew that was going to be the theme for me. Its focus is on performance and it is built to work with all page builders. Moreover, Astra is built by Brainstorm Force, a team of developers you can trust. They make several very successful products for WordPress and have the experience to build things the right way.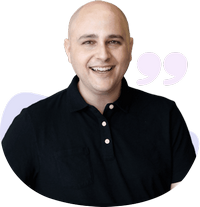 As your business grows, you can always upgrade to Astra Pro for more features and priority support.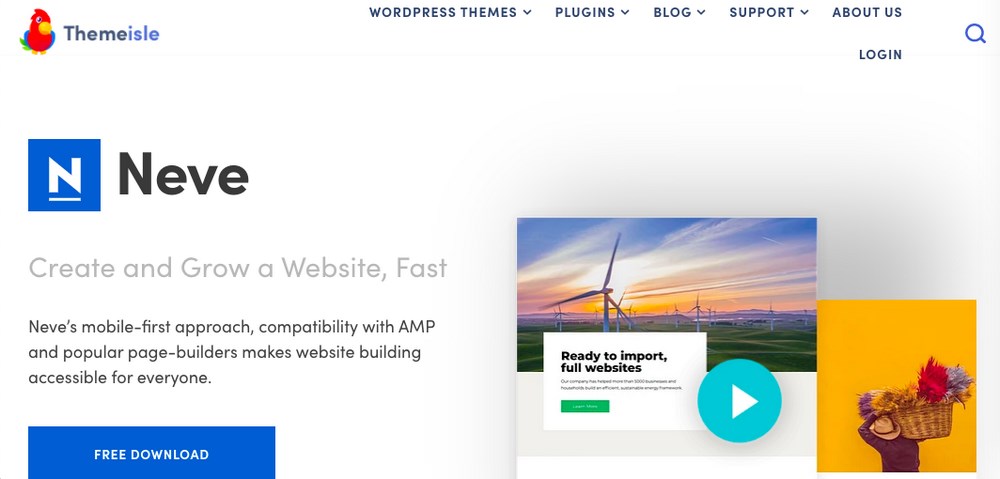 Neve is a WordPress theme family with free and premium templates. The collection is wide, with a range of page types covering most uses and industries. Neve is designed to be lightweight, load quickly and be easy to set up. We think it delivers on all those things.
The free themes are pretty good but would need more effort to make them really stand out. That said, Neve is compatible with Gutenberg, Elementor, Brizy, Visual Composer, Beaver Builder and other page builders too so it wouldn't be difficult to make something original.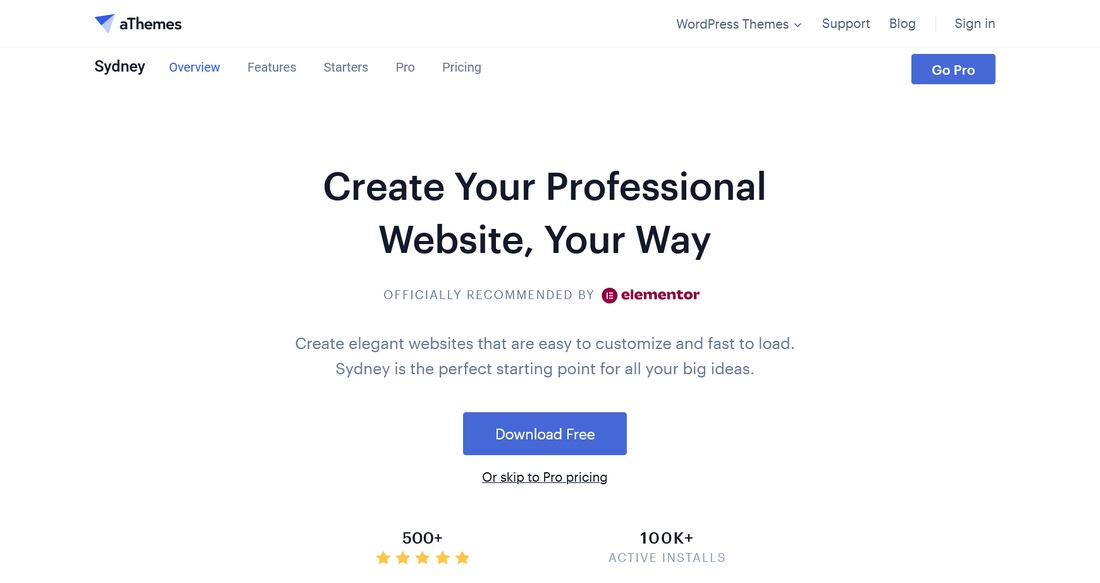 Sydney is a free version of Sydney Pro, a highly rated business theme from aThemes. This is a good looking template with full size header image, restrained design with a nice blue and red combination and a mixture of dark and light colours down the page.
This is a standard layout with main header, navigation and service elements underneath. Sydney also incorporates modern fonts, some animations, graphics and the usual elements you would want to see on a business website including portfolio and blog. Take one look at Sydney and you wonder how this could be a free WordPress theme.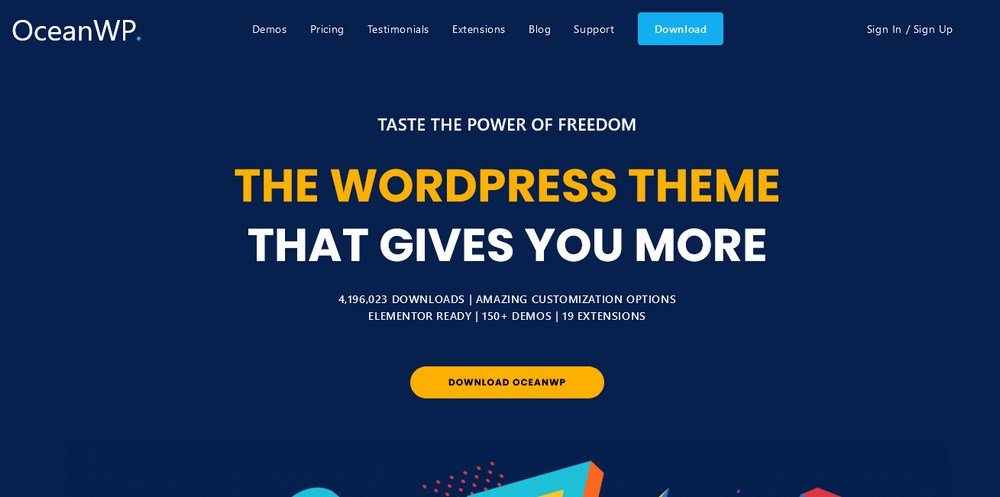 Ocean WP is a free theme for WordPress promoting a premium version. You're not sold short with the freebie though as this is a fully functional template. The free themes are business oriented and use a header image, service blocks and a series of content elements to tell your story.
Pages are well balanced and use simple but effective design cues. Along with clever imagery, nice layouts, parallax effects and complementing colours, these themes deliver a professional-looking website which cost nothing but a few hours of your time. It's hard to argue with value like that!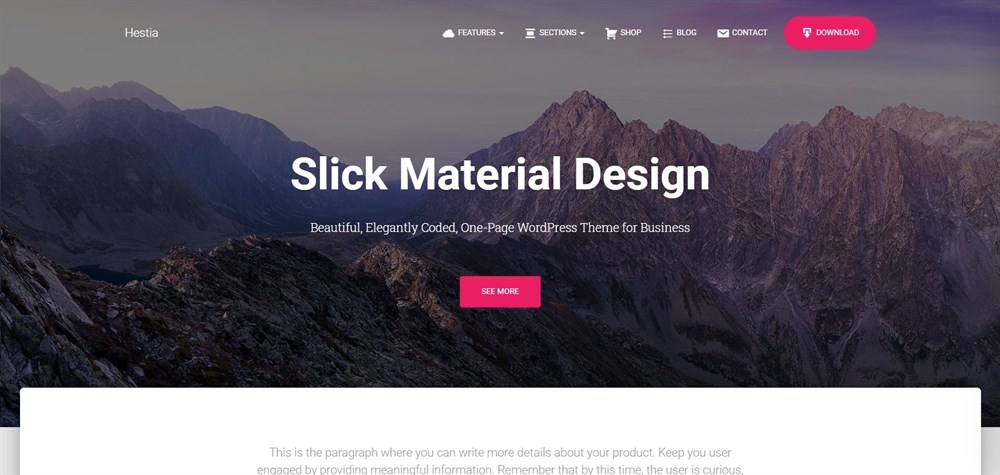 Hestia is a top performing WordPress free theme with a lot to recommend it. We have used and recommended Hestia before and for very good reason. The design is simple but effective, the balance of content, colour, white space, images and layout makes it well worth trying.
Hestia is also SEO-friendly, works with the WordPress Customizer, supports WooCommerce, is compatible with leading WordPress page builders and it is also translation-ready. It's a very competent theme that could be so many things to so many people. It is definitely worthy of its place in this list of the best free WordPress themes.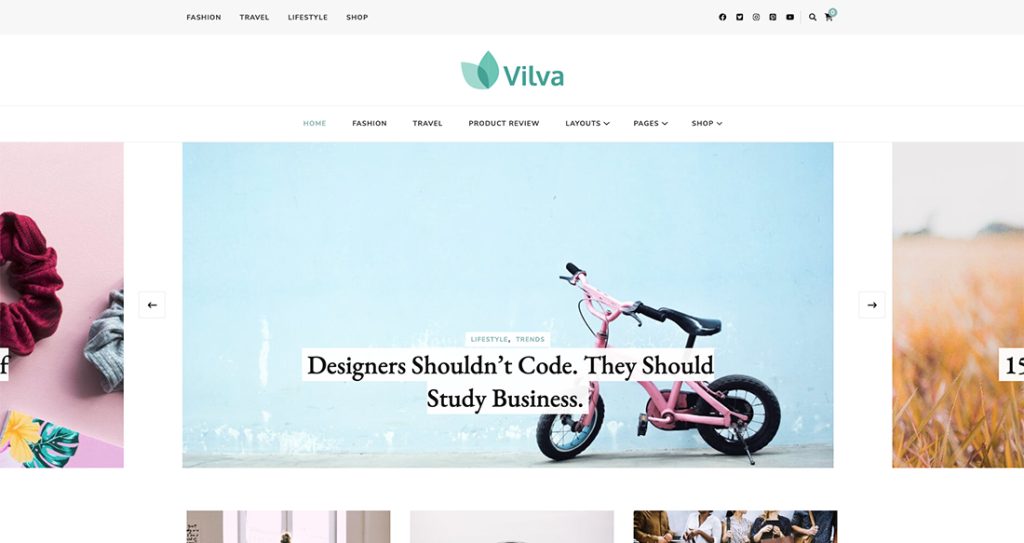 Vilva is an easy-to-use multipurpose free blogging theme suitable for all kinds of blogging niches. The theme offers multiple customization options such as unlimited colors, sidebar layouts, 1000+ Google fonts and more. It also includes newsletter integration to allow your readers to easily subscribe to your site. Further, the Instagram integrations help you to grow your followers.
The theme is SEO optimized to help you rank your website higher on search engines. In addition, this speed-optimized theme will also give a boost to your site ranking. This theme is also WooCommerce-friendly so you can set up an online store with minimal effort.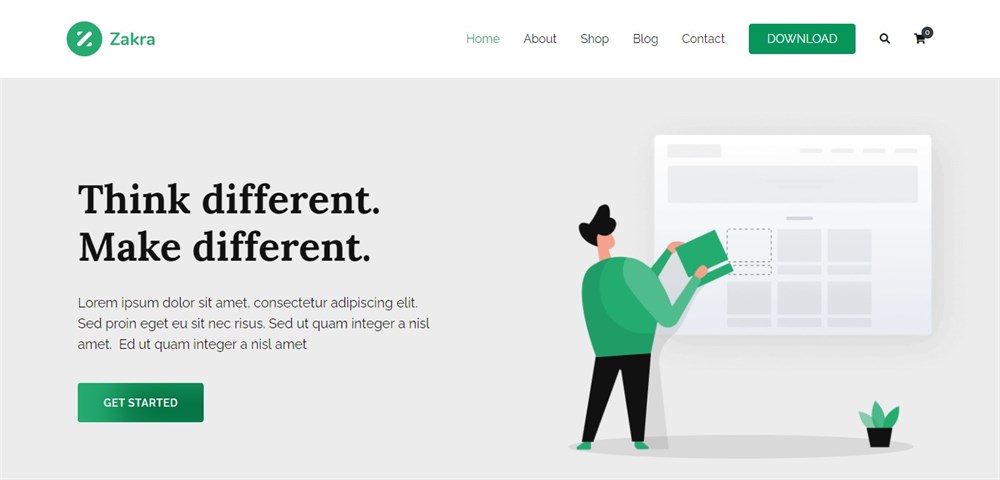 Zakra is an excellent multipurpose and simple WordPress theme that can be used to create any kind of website. The number of professionally designed starter templates allows you to easily install a demo and jump-start your website design right away.
Using the customizer and the individual page settings, you can customize the theme just the way you want. This theme is compatible with popular page builders such as Elementor and is also Gutenberg-ready.
The responsive and SEO-friendly theme is translation-ready and seamlessly integrates easily with other popular plugins.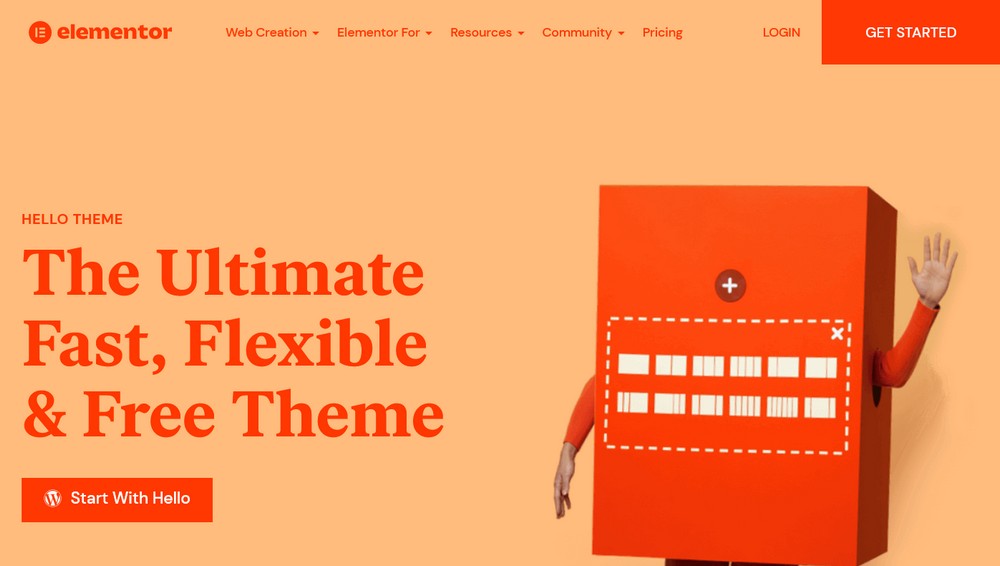 Hello is a free WordPress theme from the people behind Elementor, the page builder. It's a barebones theme designed to provide a framework from which you can build almost any page you like using the page builder.
Hello is a minimal WordPress theme designed to be the foundation of a website, not the finished article. It is fully compatible with Elementor as you might expect and with WooCommerce and other WordPress plugins. It's a very simple template that could be ideal for anyone who wants to experiment with or learn Elementor.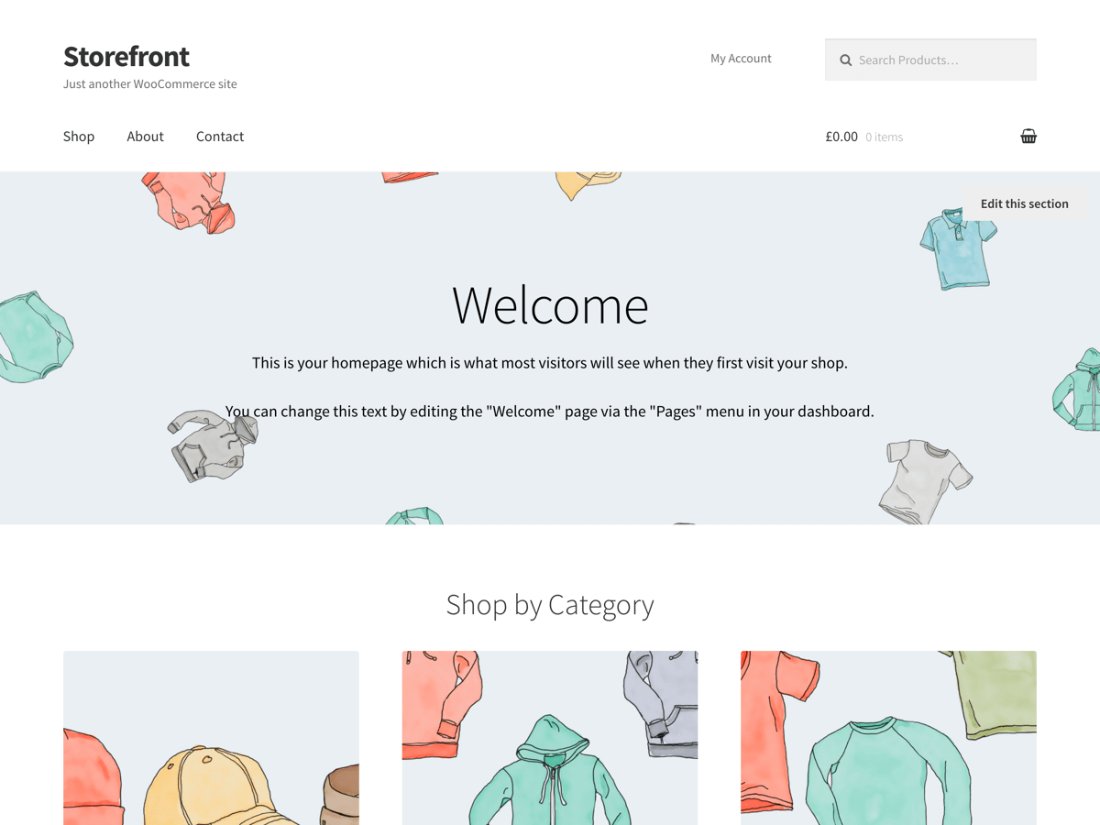 Storefront is a free WordPress theme from WooCommerce designed to enable you to launch an online store in the shortest time. It's a simple but flexible theme with a demo to show you exactly what is possible.
You have the option to use a header slider or not, to use white backgrounds or images, the full range of font types, forms, popups and everything you could need to create a fully functioning eCommerce store. The theme works quickly, loads fast and delivers on every count. If you're building a store, this could be all the theme you need if Astra's dedicated WooCommerce theme doesn't suit.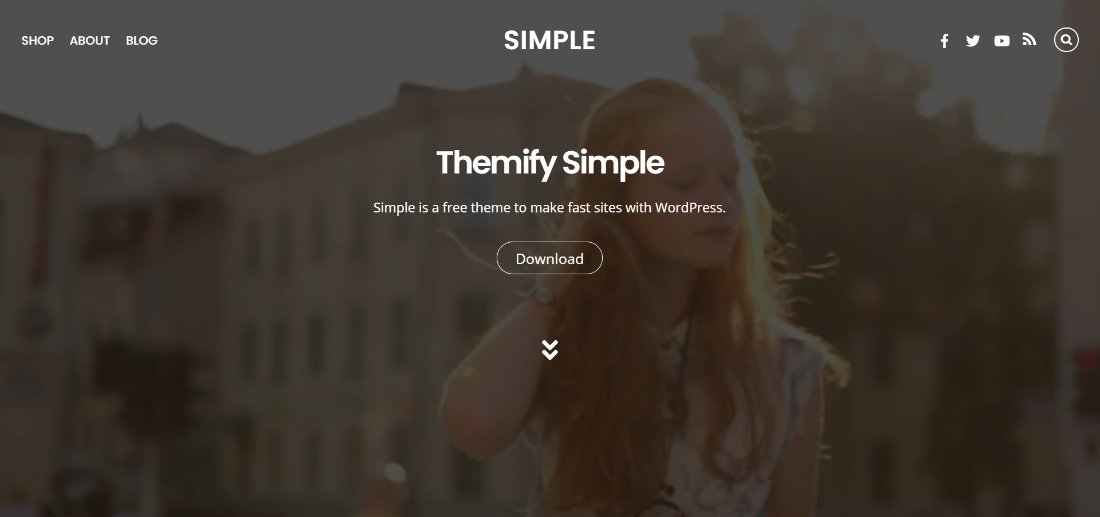 Simple actually looks anything but. It's a full page theme with no white space at all until you get to the footer. Instead, it uses full page images throughout the demo to showcase products and services and highlight just what this template can do.
You're going to need serious image handling skills to make the most free WordPress themes like this, but if you do, you're onto a winner. While the demo is built around a store, you could conceivably build any type of website you like with it.
Free ECommerce Themes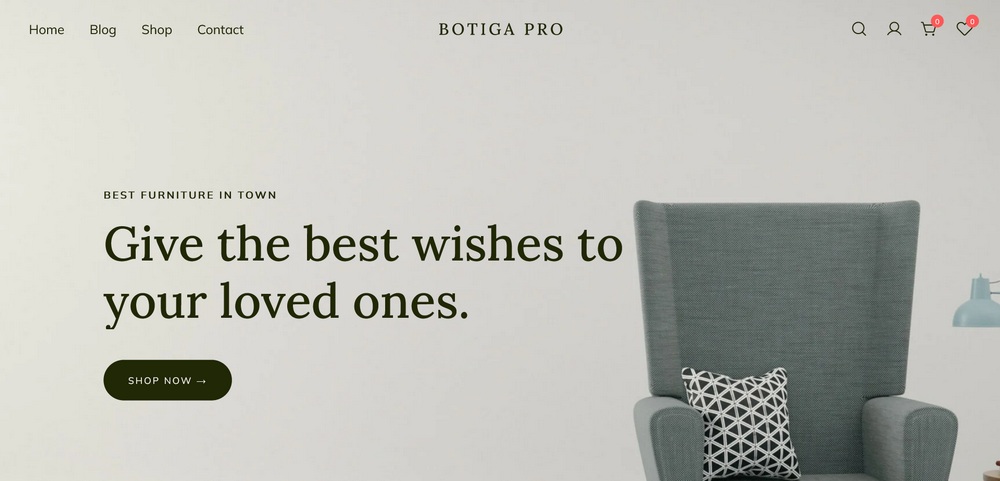 Botiga is a modern free WordPress theme for eCommerce. It has a clean design with three demo templates, all of which can be imported and installed quickly. Pages are well laid out, contain lots of store elements and can be customized to suit any type of product.
Botiga has a well-designed home page with product areas, optional highlight areas for special offers or sales, configurable hero image section for branding and a smart cart and favorite element in the top navigation. It loads quickly and performs well in speed tests too, which is great to see considering this is a free theme!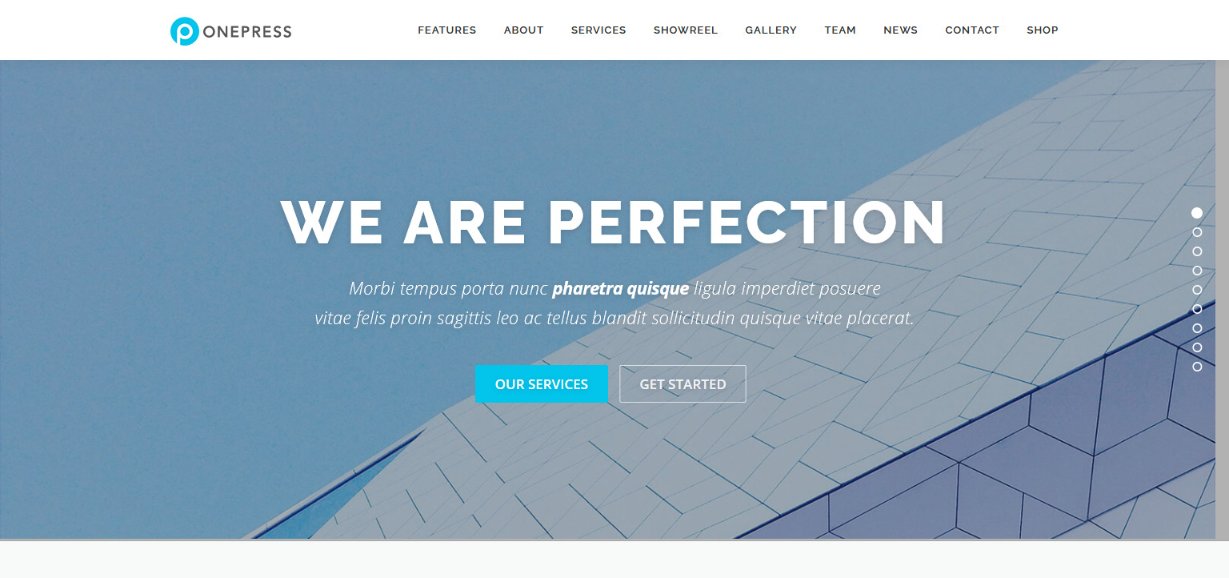 Onepress is a one page theme designed with business in mind. It's a very good free WordPress template with calm design, great use of white space and fonts, a smooth header image and a wide range of page elements you can use however you like.
Onepress works because of its ease of use. The blue colour is very welcoming and combines with dark font and imagery to create a relaxed atmosphere while on the page. Along with flexible content blocks, parallax effects, forms, galleries and animations, it creates a professional-looking website for almost any use.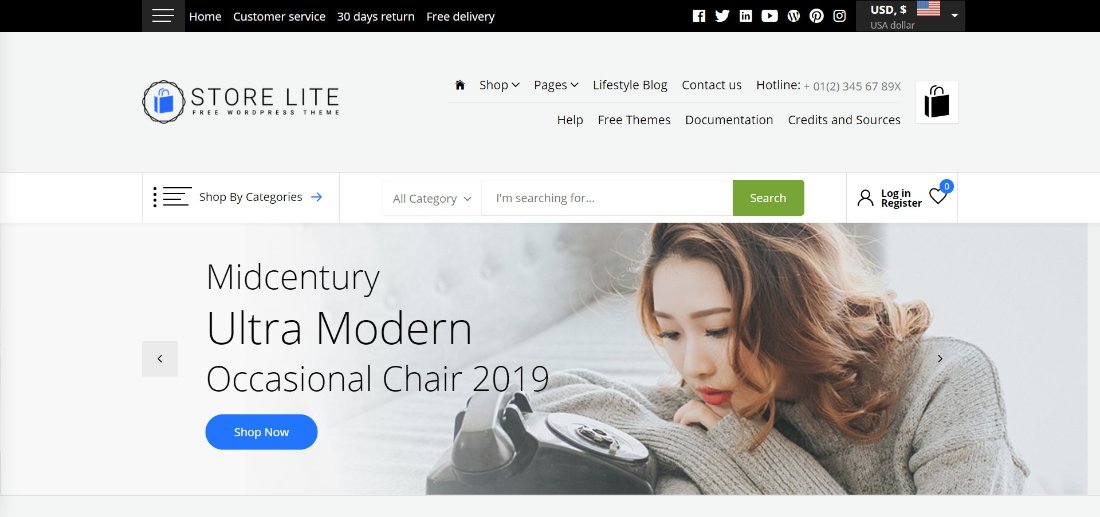 Store Lite is a classy free WordPress theme for eCommerce. It has a lot going on but manages to retain an effortless feel as you navigate the page. It uses calm colours, a grey background and strong header image to build character and then transitions to a traditional store layout further down.
Store Lite is a great store theme. It mixes magazine elements up top in the demo to great effect while switching to standard category layouts further down. While you could customize the demo to your needs, very little actually needs to be done here to make it a fully operational online store. That's why it's in our list of best free WordPress themes!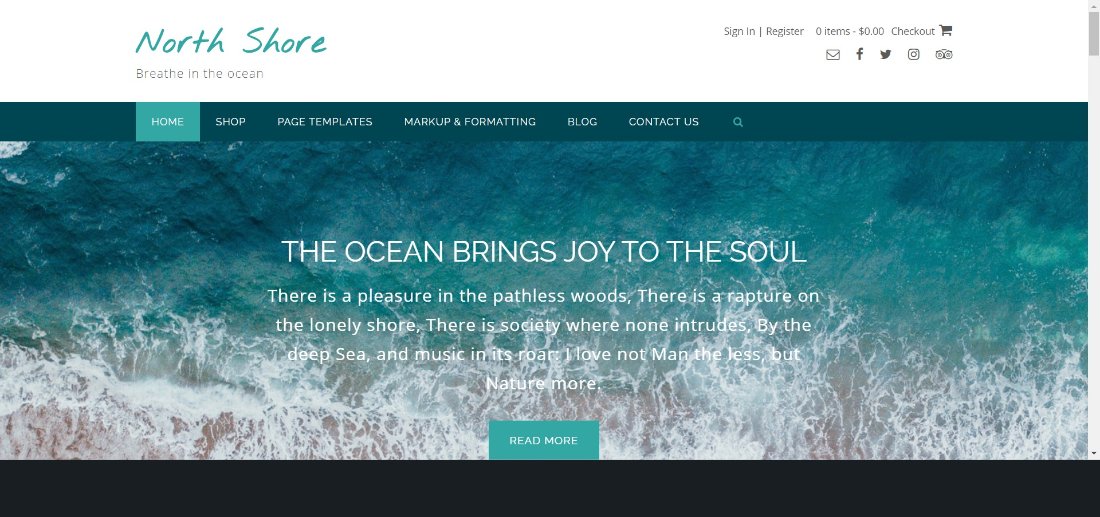 North Shore is a very light, calm theme that uses a serene header image to set you at ease. Scroll down the page and a cool foreground parallax effect slides up to provide the usual page elements with colourful images, service boxes, forms and navigation.
This is a very chilled theme that could work for a number of niches. It includes a store and is fully responsive, both of which are useful. North Shore is a child theme so has a dependency on another free theme, CityLogic. You will need to download and install both to get this working.
15. Pinnacle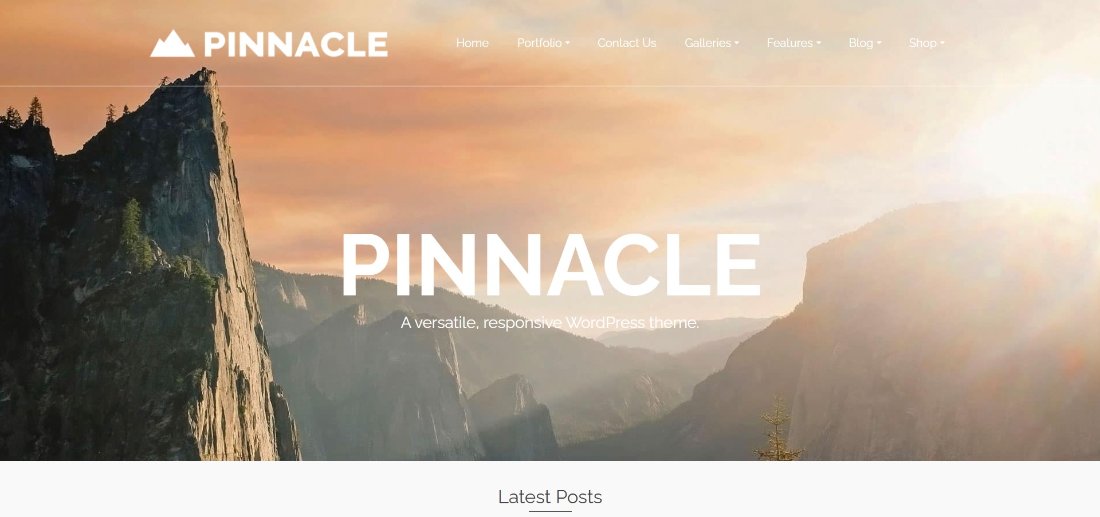 Pinnacle looks and feels completely different to Sabino. This design is lighter, freer and could work for any type of blog. It's another of those free WordPress themes that uses the header image to set the scene while backing it up with solid colour and font choices. Change those, change the entire character of the design.
Pinnacle provides several layout options, different headers, support for WooCommerce, portfolios and features you usually only get with premium templates. The entire design is responsive and works smoothly, offering a professional-standard website for no outlay.
16. Shopay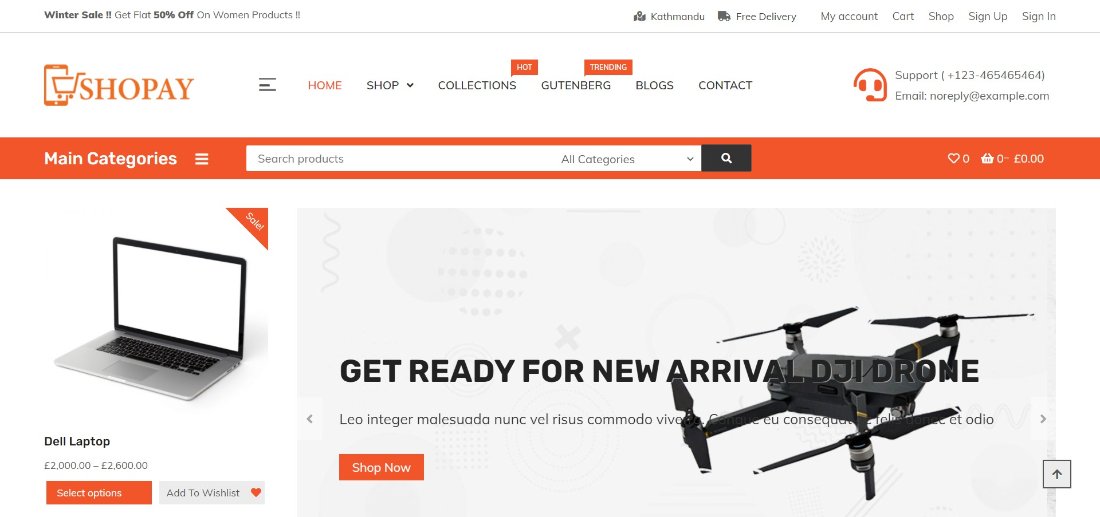 Shopay is a free WordPress store theme that offers an inviting design that immediately grabs your attention. The design itself is modest, with lots of white space, an engaging orange colour and good use of white space. Strong imagery showcasing products also makes an impact.
Shopay is a free design with a premium version. This freebie still offers most of the features you'll need including compatibility with page builders and WooCommerce, responsive design and the opportunity to build your store in whatever manner you please. We think this has to be one of the best free WordPress themes for eCommerce!
17. Fashionable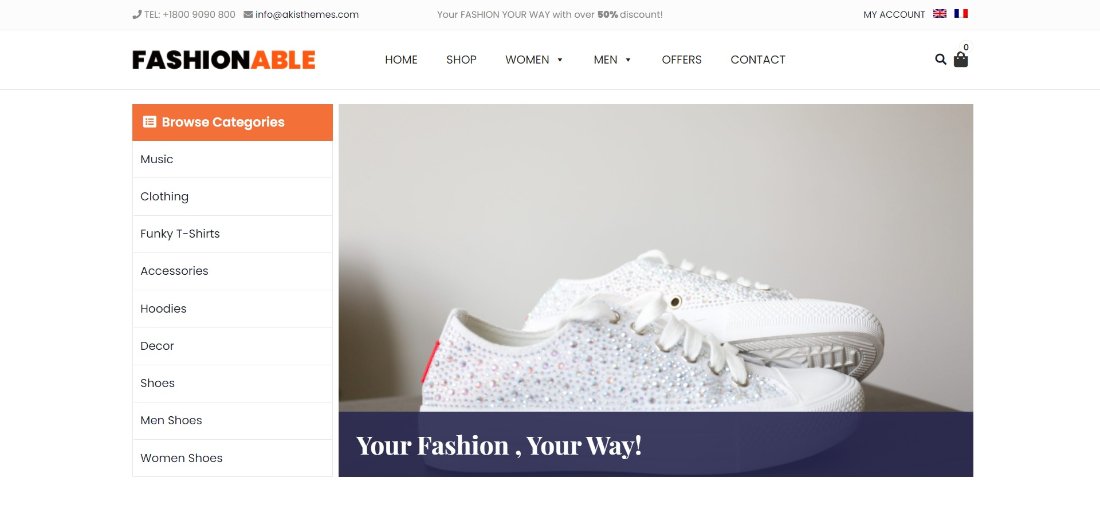 Fashionable is a simple but very effective free eCommerce theme for WordPress. It uses magazine influences with its layout, with a sidebar menu to accompany the top navigation. A strong orange highlight colour grabs your attention while the product slider and images keep it.
This is a very flexible theme fully compatible with WooCommerce, Mega Menu and other WordPress plugins. It is also responsive and offers search, a shopping cart, Ajax elements and everything a new online store would need to get up and running.
18. eStar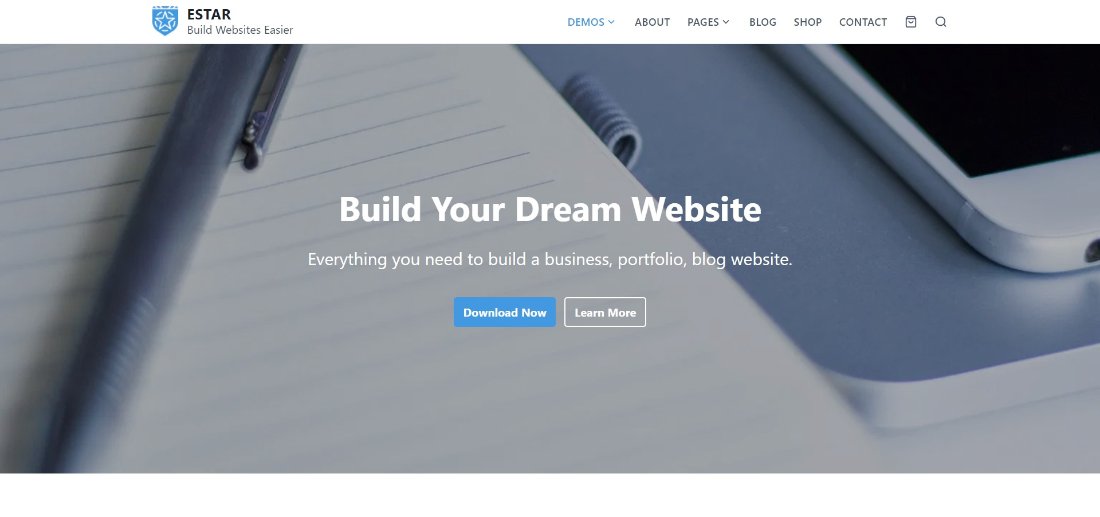 eStar is a lightweight minimal theme designed for businesses. It uses a standard layout with header image and headlines and content blocks underneath to tell the story. It exhibits great design with that calm blue colour in the demo and a composed layout with a selection of content blocks.
eStar plays nicely with drag and drop page builders like Elementor and Brizy, has been designed to load quickly and is fully responsive. It is also translation ready and relatively light on resources so should perform well in Google PageSpeed or GTMetrix.
19. TopShop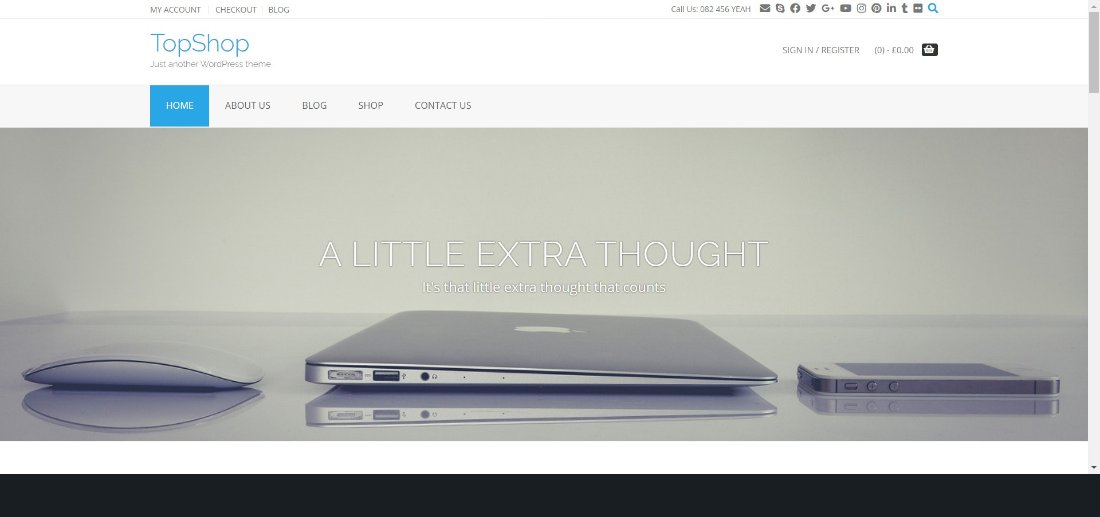 TopShop is an eCommerce theme that offers a combination of business layout and online store layout. The demo site opens with a full width image and subtle blue colour. A double navigation header keeps things simple while adding a lot of features.
Further down the page you have content blocks and the store elements. Each uses the same blue colour and lots of empty space to let the content stand out. TopShop supports WooCommerce and is fully responsive. You can also modify the layout to become a pure store or business site with attached store, whichever works best for you.
20. Belini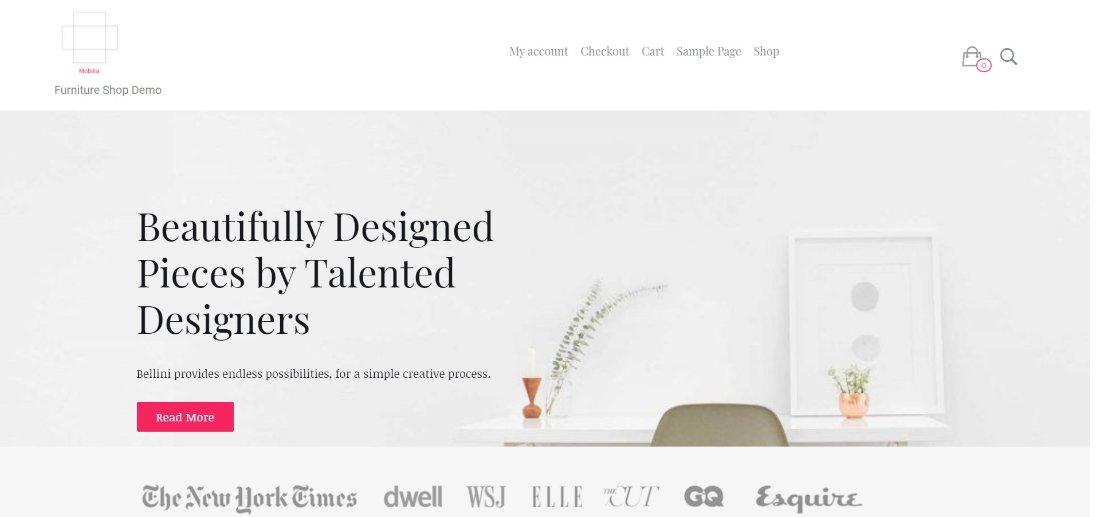 Belini is a colourful eCommerce template with WooCommerce at its heart. There are a couple of demos for the free version of this site and a premium version too. Each demonstrates great design and an eye for layout while providing the flexibility you need to build an online store.
The template comes with a series of layout options built in, support for WordPress plugins and Elementor as well as translation. The premium version adds more customization options but if you know your way around CSS, you could do whatever you like with this theme.
21. Tyche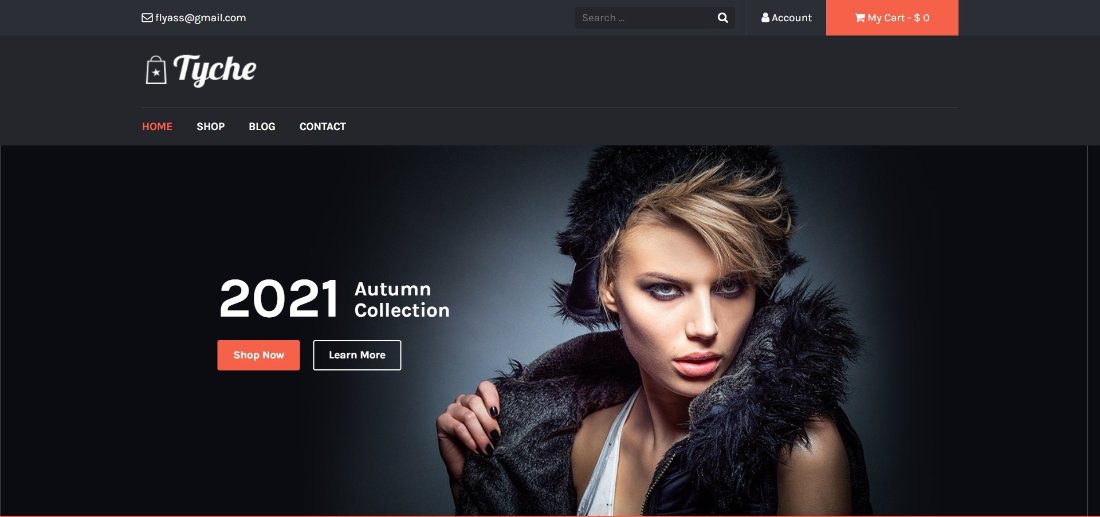 Tyche is also an eCommerce design but one that makes much more of an impact. A dark header image provides a premium feel while the bold red colour adds character and interest. Further down the page, an off-white background allows images to shine through.
This is a different take on eCommerce than the minimalism of TheShop. It's not a better design, just different. With support for WooCommerce and other WordPress plugins, this is a genuinely usable online store theme for bolder brands or those who like to make a statement.
22. Flash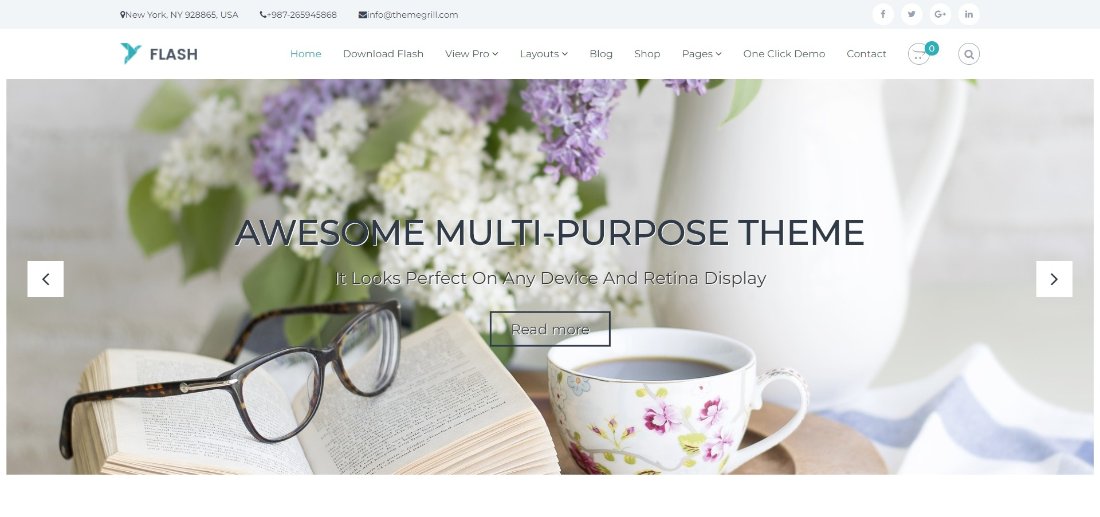 Flash may look and feel premium but is definitely a free WordPress theme. It's a multipurpose theme that could be used for all types of websites, including online stores. The demo website uses a header slider to create the atmosphere along with subtle highlight colours and sans serif fonts. It's a good look.
As Flash is relatively new, it is compatible with Elementor, Brizy and other page builders. It also supports WooCommerce for store elements and other WordPress plugins too. It's a very flexible template with all the elements you need to build your pages as you see fit.
Free Multipurpose Themes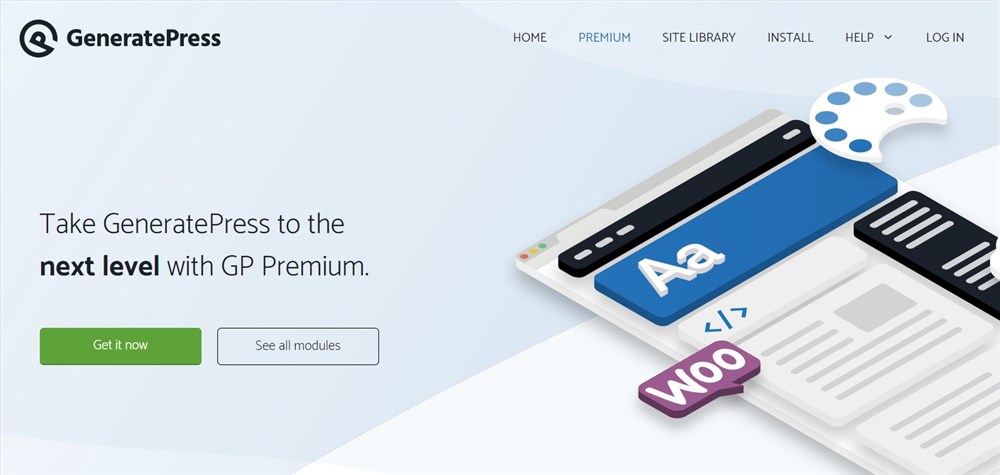 GeneratePress is a lightweight WordPress theme that focuses a lot on page speed and user experience. Additionally, GeneratePress follows WCAG 2.0 standards, ensuring that your website is accessible by all. The responsive theme is entirely compatible with the Gutenberg block editor and works great with other leading page builders. You also have complete design freedom using the dynamic block elements.
GeneratePress is optimized for SEO, making your site search engine friendly. An extensive library of professionally pre-designed website templates allows you to get started on your new site quickly. All this without having to touch a line of code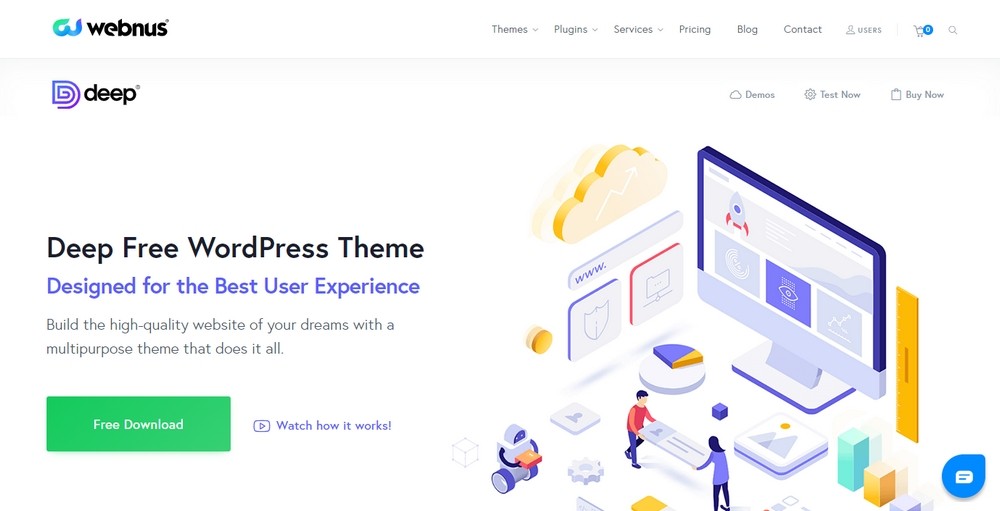 Deep is a free multipurpose theme for WordPress with dozens of professional-quality templates covering many business types. Pages are light, fluid and have a relaxed, inviting feel. They also load quickly and provide all the elements you would expect to see on a modern website with the convenience of a one-click demo importer.
Deep has 28 free demo templates and comes with over 45 widgets, support for Elementor, WooCommerce and most leading plugins. There is also a premium version of Deep that adds a further 96 demo templates and over 60 widgets.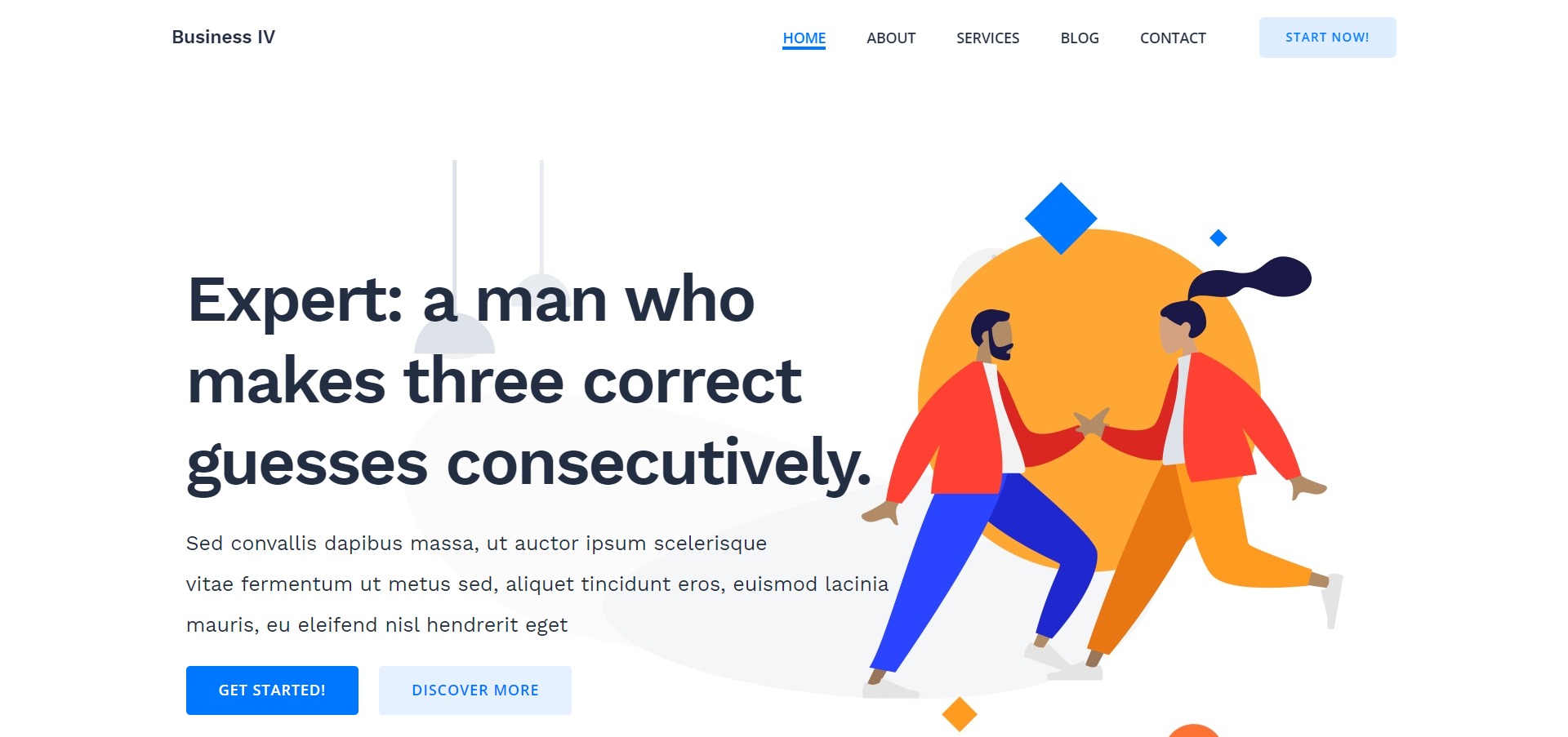 Colibri WP is a unique take on free WordPress templates. It uses the WordPress Customizer to help you build out your pages and offers a fully interactive demo hosted online.
Designs are attractive and support images, video, audio, sliders, effects, animations and come with a number of free demo templates to use. The range of those demos is wide and of a high quality. Most would be worthy of publishing for all but the most established business or hobby website.
26. Blocksy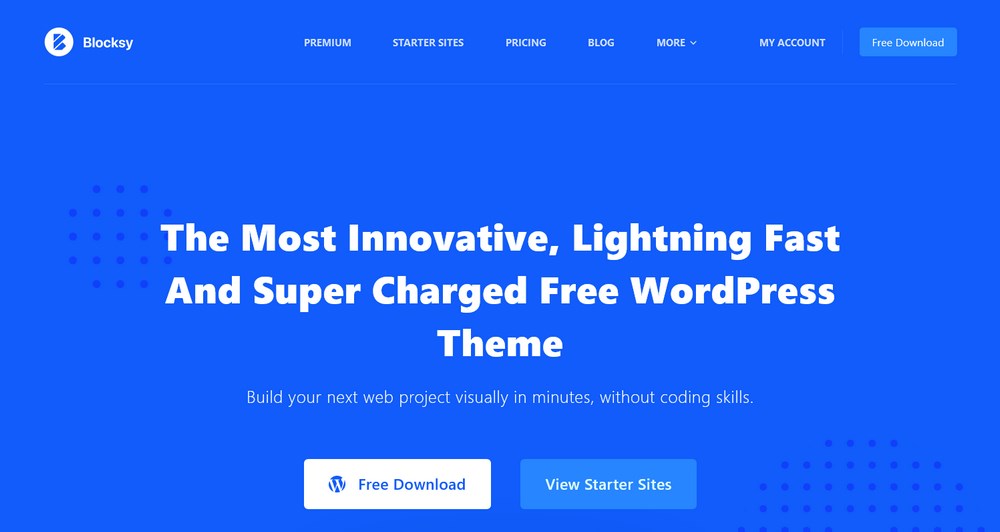 Blocksy is a very popular free lightweight WordPress theme best suited to work with the default Gutenberg editor. From the layout settings to the header, footer, sidebars, and more, you have complete control over every aspect of your website.
It works well with the other leading page builders, such as Elementor, Brizy, and Beaver Builder. Blocksy also has a bunch of ready to import starter templates. Using their one-click import feature, you can have a professionally designed and SEO-optimized site launched in no time.
With seamless WooCommerce integrations, you can set up your online store and start selling products online too.
27. Customify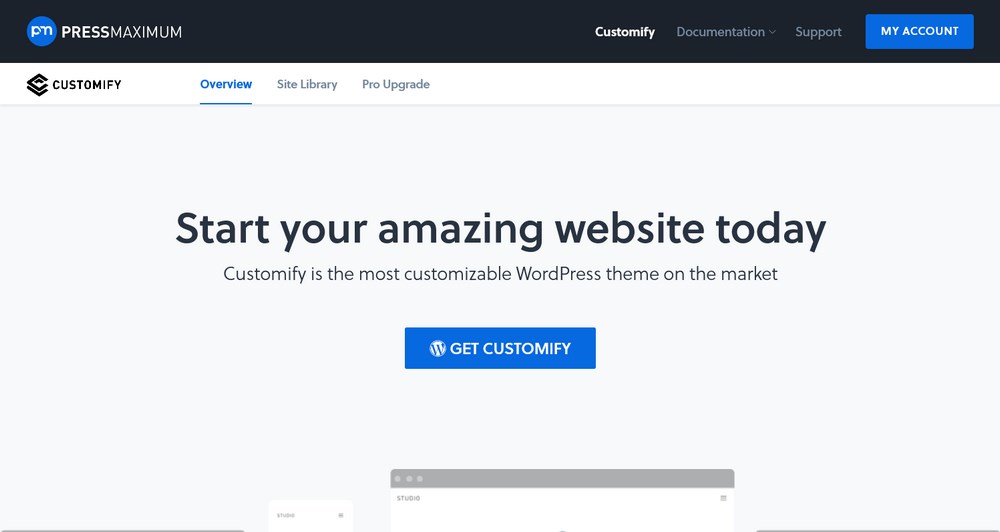 Customify is a multipurpose WordPress theme that is lightweight and optimized for speed, SEO, and mobile devices. You can customize the header and footer just the way you want from within the WordPress customizer using a comprehensive header and footer builder.
Launch your website quickly by selecting from a bunch of pre-built website demos that you can easily import. The demos are made for page builders such as Elementor, Beaver Builder, SiteOrigin, Thrive Architect, and others.
Free Business Themes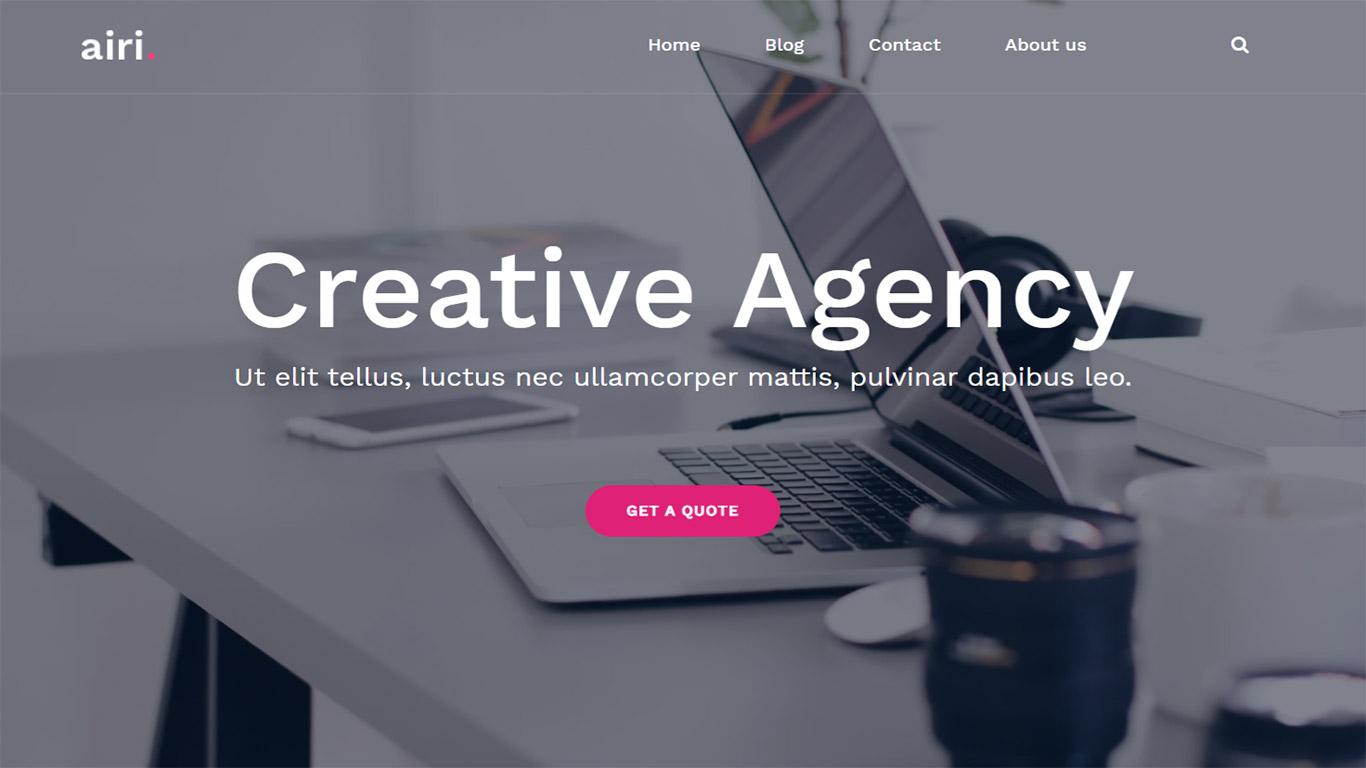 Whether you are creating a website for your business or showcase your portfolio as a freelancer or consultant, Airi is a minimalist and straightforward theme to consider. It's a lightweight WordPress theme that can be easily customized to create any kind of website.
Airi comes with a bunch of ready-made demos that you can import, tweak, and quickly launch your website. The layouts are built using Elementor and can be easily customized. Using the theme customizer, you can change the colors, typography and do more.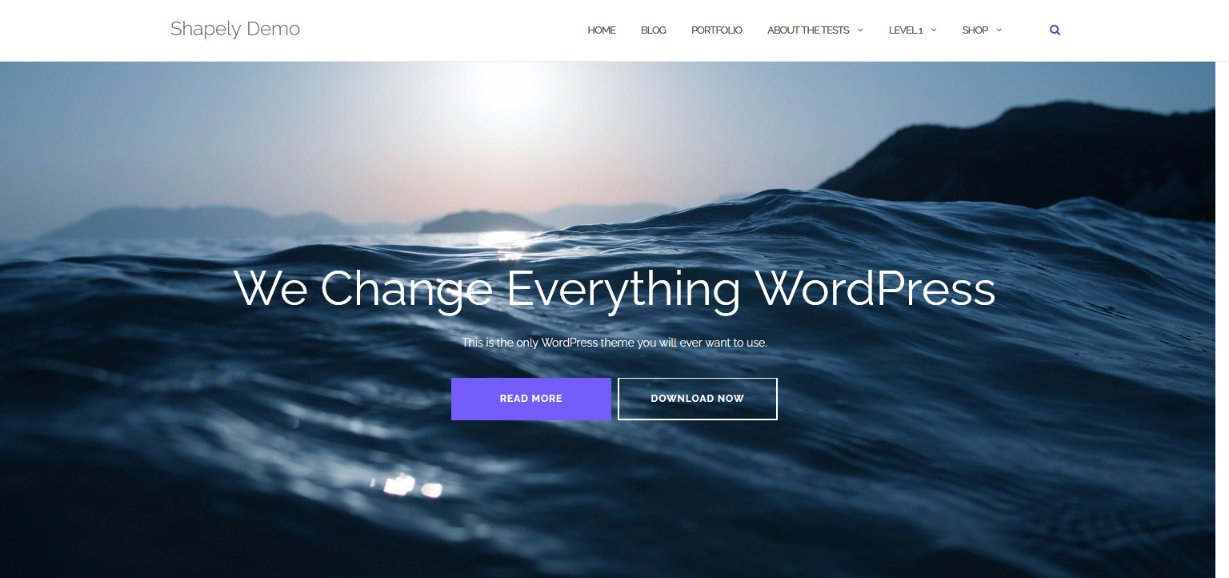 Shapely is another template that uses a full size image as the header. This time it's a calm image of the ocean but could be changed to literally anything you like. The rest of the theme is just as attractive and well worth its place in our list of best free WordPress themes.
We see alternating full width rows with white and grey backgrounds, parallax sections with calls to action and a very smart portfolio section down the page. Along with high quality images and that purple colour for buttons, this is a very competent design that could be used anywhere.
30. Ascend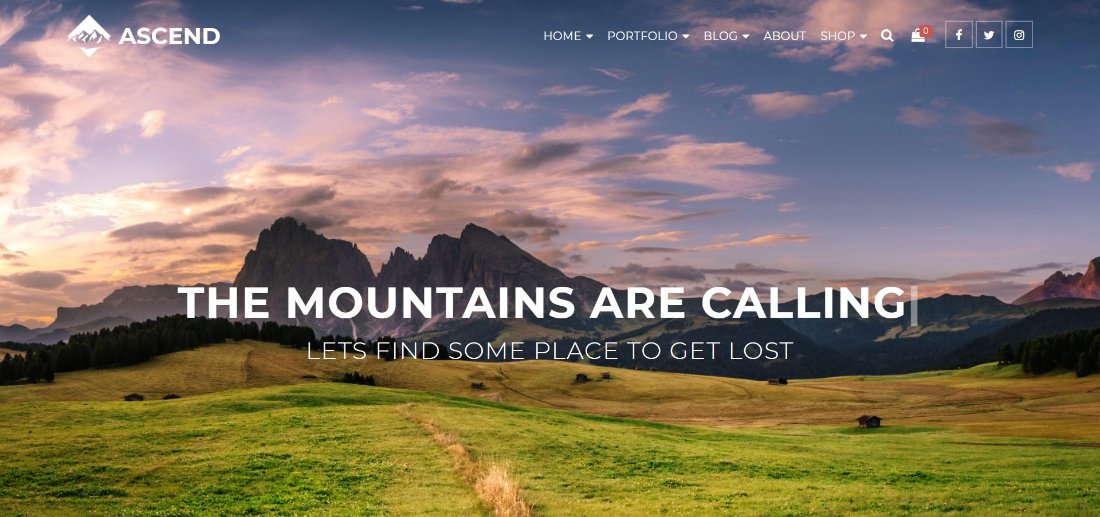 Ascend is one of the best free WordPress themes for stores. There is a more full-featured premium version but this free offering works admirably. It's a very stylish design with a strong header image, great font choices and a well put-together store. It includes a featured product slider, standard store layout options, blog, social elements, product showcase, portfolio and search.
You will need to integrate this with WooCommerce but otherwise Ascend is ready to go. You still have the option to fully customize the layouts, headers, footers, colours and everything about the pages if you like though.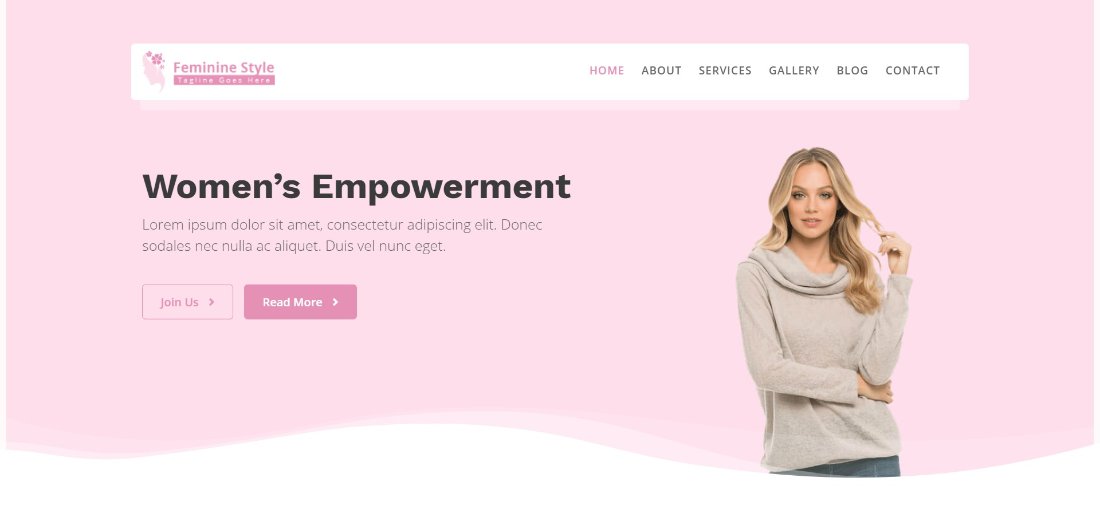 Feminine Style is an aptly-named feminine WordPress theme with a corresponding Pro version. The design uses soft colours and attractive modern fonts to give you the initial impression. Complementing colours, easy imagery and good use of white space continues the look.
This is a standard business theme with some subtle but effective shadow effects. It's a small thing that makes a big difference. If you like the layout but not the colours, you can change everything about it with the WordPress Live Customizer.
32. Business Owner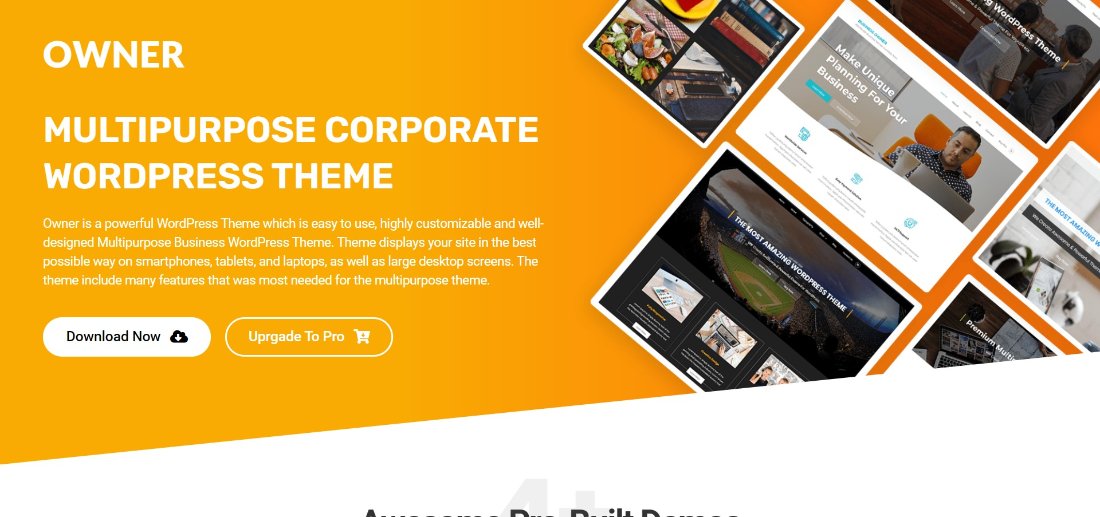 Business Owner is a very clean, modern template for WordPress. There is a free and a premium version offering different levels of features but the core design remains largely the same.
The design uses flat design with a colourful header image on a white background. Stark white fonts make up the headline and a complementary blue colour adds interest. Simple navigation, multiple content elements and a contemporary aesthetic prevails throughout the page. Other demos use different colours but all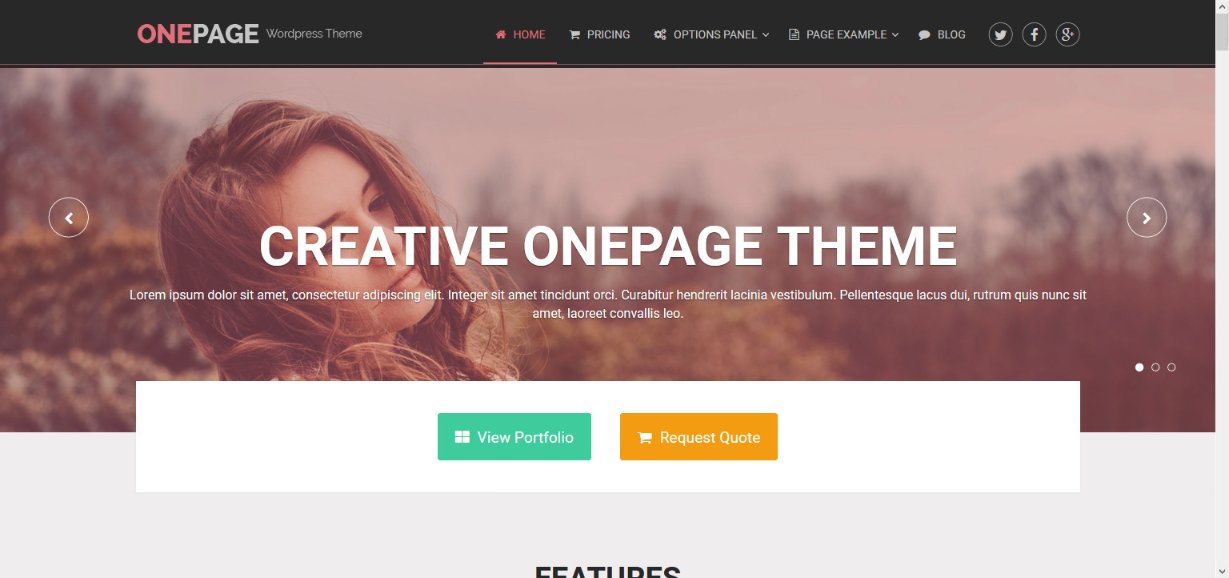 Are you looking for a single-page WordPress theme? If so, the OnePage Lite WordPress theme is a must-have. OnePage is a lightweight free WordPress theme that can be used to create any kind of website. Be it a personal website or even a business site.
Onepage features a drag and drop homepage layout that is fully customizable and offers several theme options to get creative with your website design. One such option is a neat parallax effect that allows you to use multiple backgrounds on your site. Want to include some animations on your website? CSS3 animations will enable you to do just that. Other features include a floating menu, one-click install, twitter-feed integration, and much more.
34. Total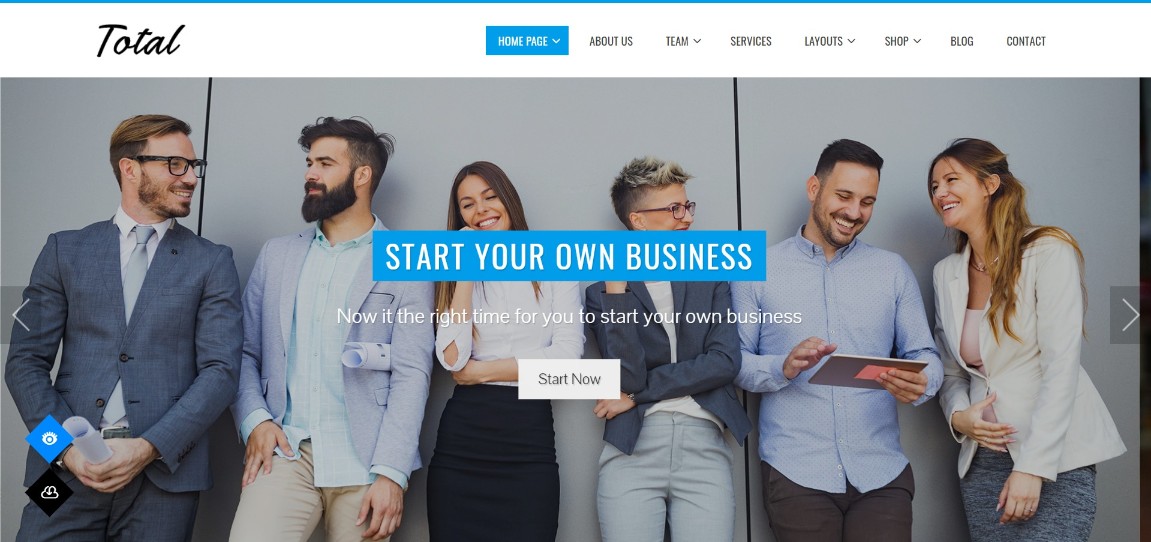 Total is a free multipurpose WordPress theme with multiple pre-built website templates that can be used to create any website. You can easily install a demo and jump-start with website design and customization right away.
The theme offers a customizer and multiple page settings to help you redesign the theme any way you like. Total is compatible with popular page builders Elementor and Gutenberg, allowing you to create unique and complete layouts and customize your website content effortlessly.
35. Screenr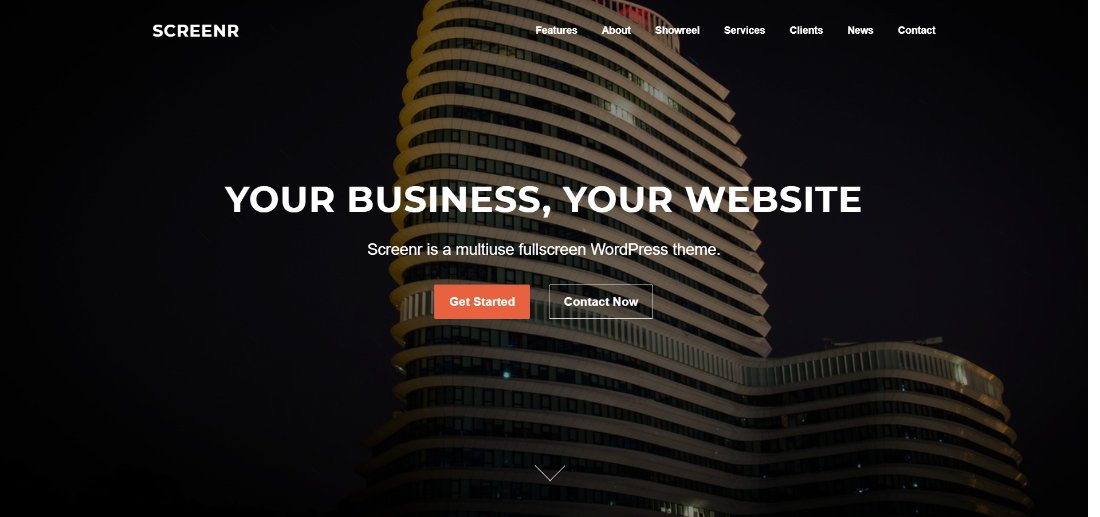 Screenr is a business theme with dark tones and a nice parallax background made up of a couple of images. It's a colourful design that makes a bold statement with stark contrasts, bright colours, lots of black and white and a calm oasis of grey in the middle around the content.
The Screenr demo is a single page theme that could work well for small businesses. It is fully responsive, flexible, has a built-in customizer and works with most WordPress plugins. This is a fully featured website just waiting to go and is what WordPress free themes are all about as far as we're concerned.
36. Splash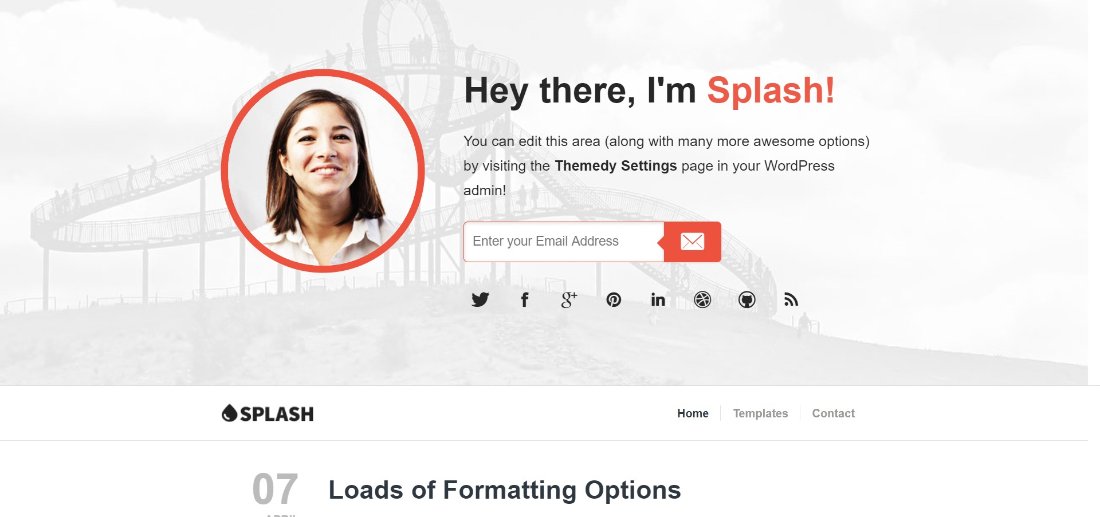 Splash is a free WordPress landing page template with a clean design and instant appeal. The demo showcases a mixture of ideas with a corporate-style header that switches to a single column blog layout further down the page. This could offer a lot of flexibility in terms of how to build out your pages.
The overall design is clean and modern. Dark fonts with a grey shaded image header and orange contrast colour are very now. The page uses white space well, includes sticky navigation, a nice timeline layout to the blog header and a smooth flow down the page. It's a very competent theme.
37. Restaurant Recipe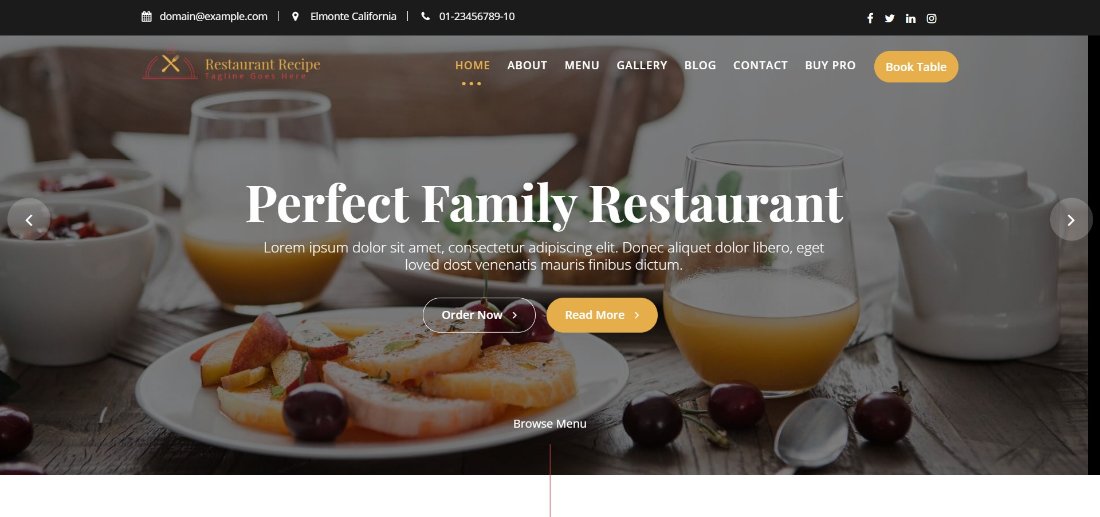 Restaurant Recipe is another of those free WordPress themes that looks premium. Restaurant Recipe is a good choice if you are looking theme for a restaurant website. This is a food website with a full screen header image slider, mixture of dark and light colours, a pop of colour from the orange and the images and a smooth flow down the demo page.
The theme also includes elements you want from a restaurant website including a menu section, info boxes, a food gallery and a booking option. The premium version adds more features but this free theme delivers just about everything you're likely to need.
38. Medzone Lite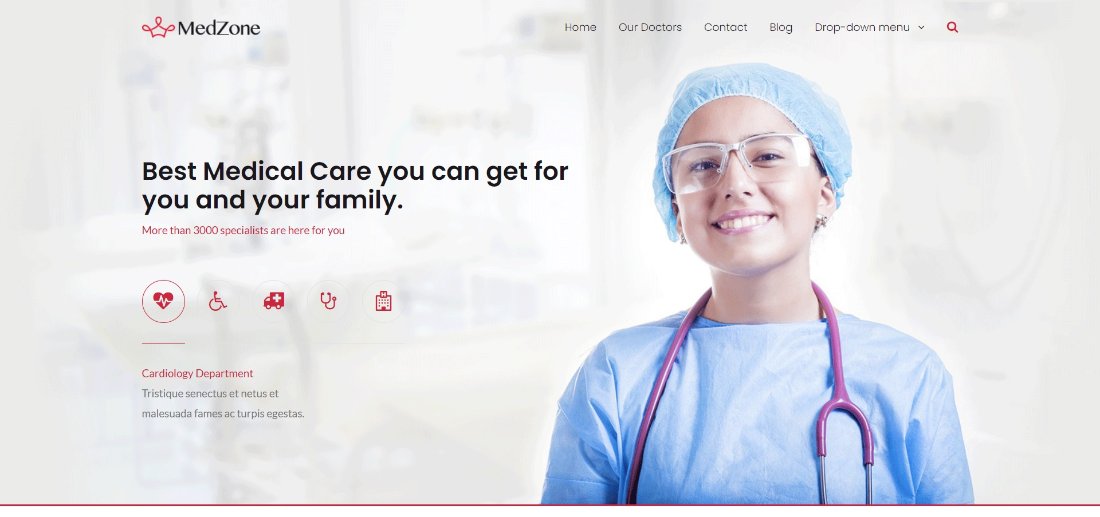 Medzone Lite is pitched as a medical theme and the demo bears that out. Yet it's another of our free WordPress themes whose character could be transformed simply by changing the images and icons.
The overall look and feel of Medzone Lite is slightly corporate but could easily be tweaked to suit any niche. It's a composed design with great balance, good use of white space and the very popular red, white and blue colour scheme. Plus, the design is competent enough that you would never know this was a free theme, which is all part of its appeal.
39. Cafeteria Lite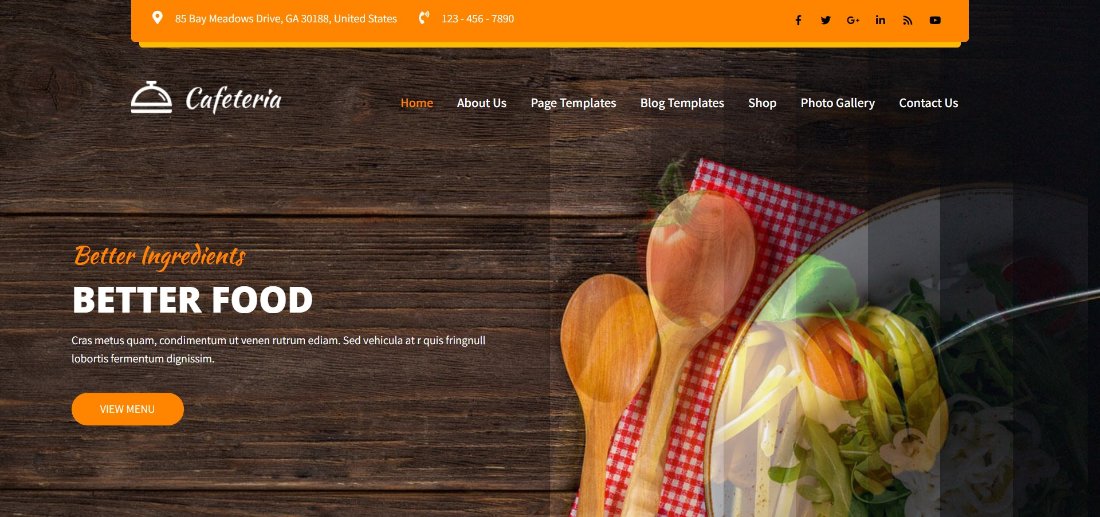 Cafeteria Lite has a vibrant demo that lends itself well to food. It's a design full of stark contrasts. Dark and light, bold orange, strong images and then lots of empty space. It's a very effective aesthetic that could work perfectly well with minimal customization.
This is a top quality free WordPress theme with a nice layout and composed feel. It includes a wide range of content blocks, support for custom widgets and fonts, support for page builders, responsive design and fast loading pages. This is definitely worth checking out if you're looking for a food theme.
40. Illdy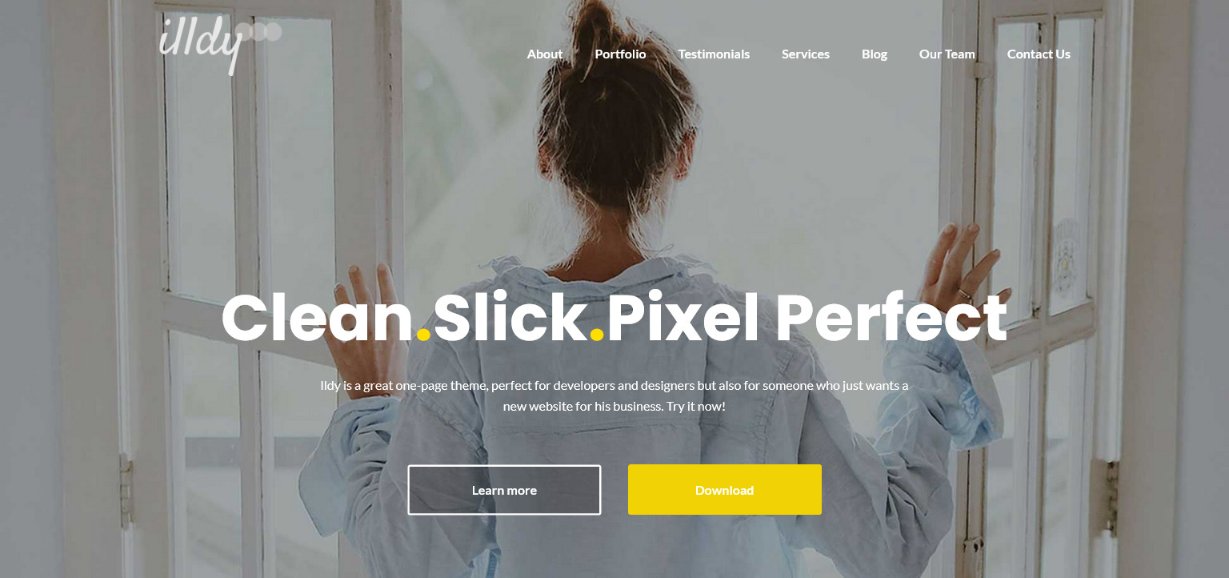 Illdy is a free WordPress theme. It's a contemporary flat theme with a definite Scandi influence. The use of colour, white space, fonts, alternating dark and light backgrounds and imagery make this one of the most attractive free WordPress templates here.
Illdy is responsive, compatible with the WordPress Customizer and WooCommerce and could be built as a single page or multipage website. It uses colour well and provides the range of content blocks you'll need to build this site to match your own tastes.
41. Regina Lite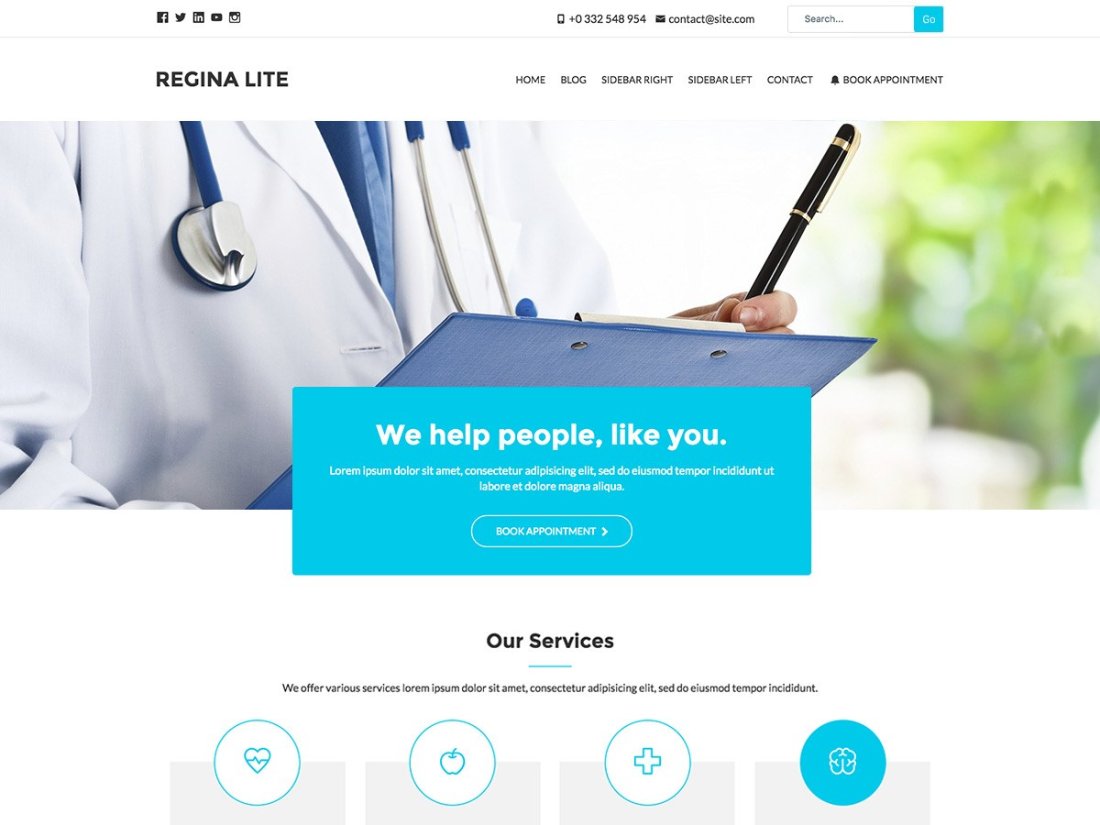 The Regina Lite demo is set up as a medical theme but in truth, it could be converted to suit any niche. It's a light and free-flowing layout with mainly monochrome design and colour provided by images and that calm blue highlight colour.
The main page of the demo doesn't render properly but it gives you an idea of what is possible with the design. If you're looking for something clean, minimal and yet maintains your interest on the page, this free WordPress theme could be it.
42. Glow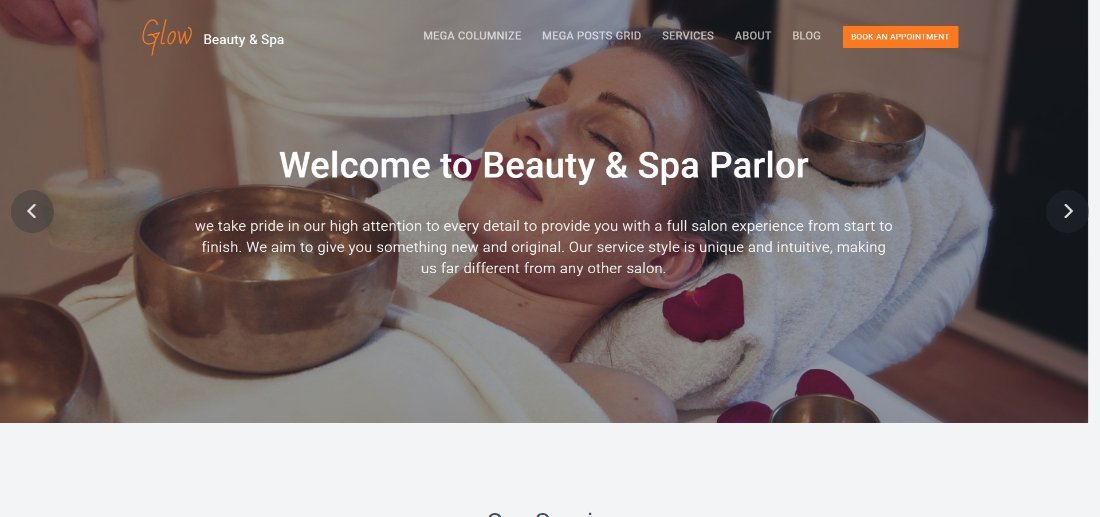 Glow is a well-chosen name as this free WordPress template does seem to glow thanks to the orange colour. The demo is set up as a beauty theme but could be changed with ease with the built-in theme customizer.
Glow is a free WordPress theme with a premium sibling. It's a clean layout with nice flow down the page, a selection of content blocks, crisp sans serif fonts and everything you would expect to see on a business page. The free version is surprisingly feature-rich offering almost as much flexibility as the premium theme.
43. Online Consulting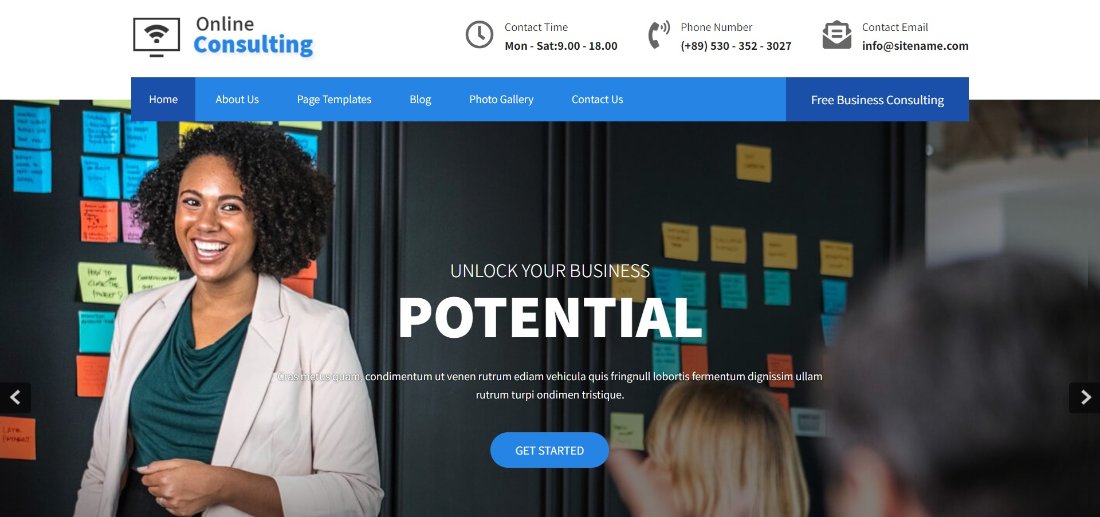 Online Consulting may be a typical business theme but it is no less compelling than ePortfolio, just in different ways. A full screen image slider grabs your attention while the top bar with contact information is a small but very effective touch, especially with the blue highlight colour.
This free consulting website template contains all the usual page elements and content blocks along with animations, Font Awesome and Google Font support, WooCommerce compatibility, responsive design, social elements and full browser compatibility. The premium version adds more customization options should you need them.
44. Allegiant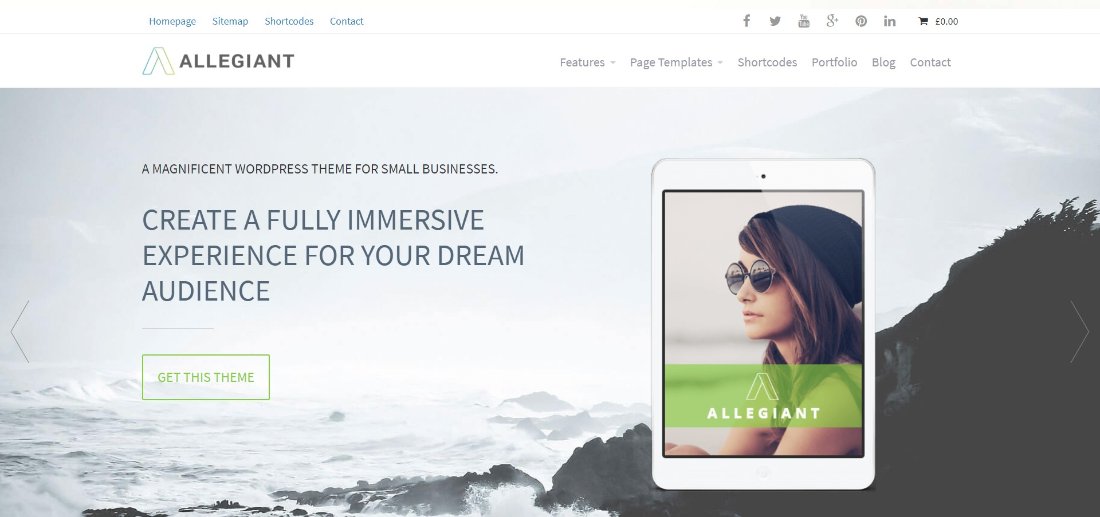 Allegiant is a very calm, competent design that earns its place in our list of best free WordPress themes with ease. It looks premium but costs nothing, has a great flow and feel and works very well for business or pleasure.
This is a refined design with header slider, composed fonts and a nice green highlight colour. The page unfolds to include common content blocks, services, portfolio, reviews and biographies and more. If you didn't see a price, you would genuinely think this was a premium template.
Free Blog, Magazine Themes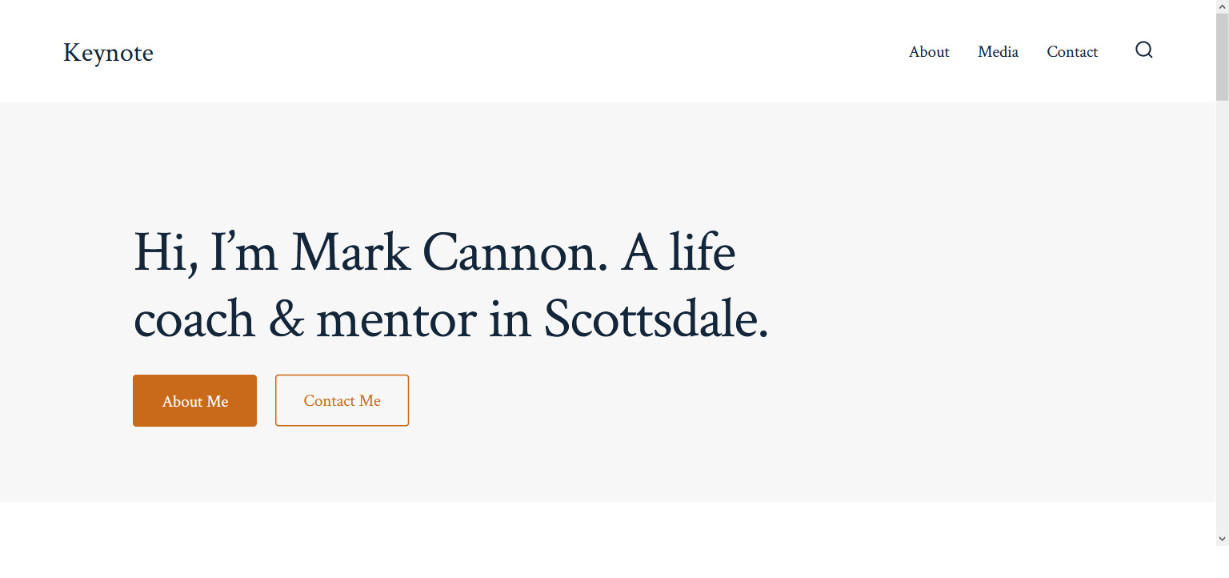 Go is a GoDaddy theme that is listed on WordPress.org and GitHub. It's a very straightforward theme with minimal navigation, a large text banner at the top and a standard layout below. You have to use your imagination here as the demo doesn't really showcase what is possible.
Go is compatible with Gutenberg and is fully responsive. Despite being an older theme, it is regularly updated. You will need some basic WordPress skills to get the best out of this template but it is a very viable option if you have them.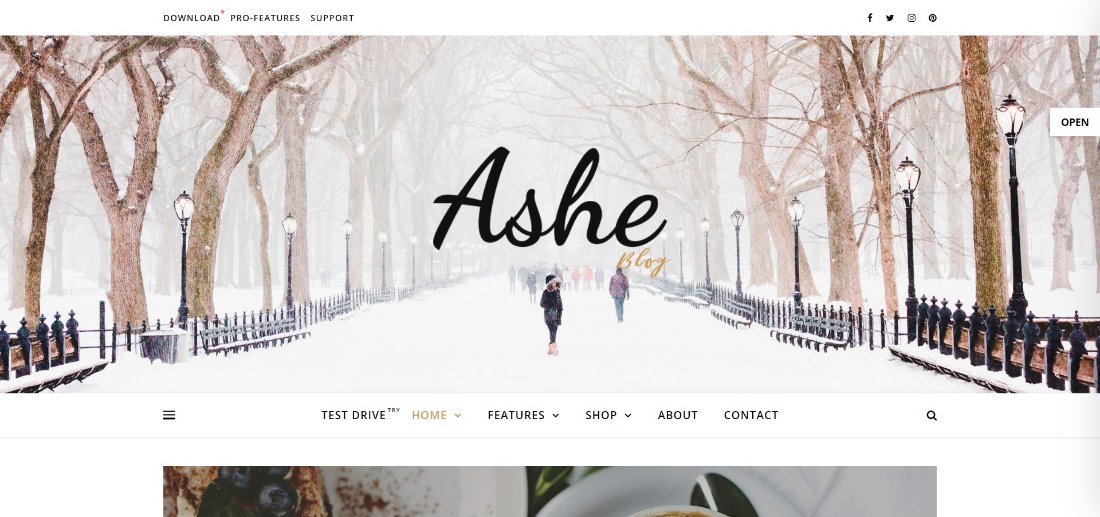 Ashe is a much more lively design. The demo sets the scene perfectly with that wintry header image but the rest of the page steps up too. It uses a boxed layout to deliver a blog with a mixture of single column and featured post elements alongside a simple sidebar.
Ashes is another of our free WordPress themes that genuinely looks and feels as though it should be premium. The colours, white space, layout, features and smooth operation all give the impression of something much more than a giveaway. That definitely works to your benefit!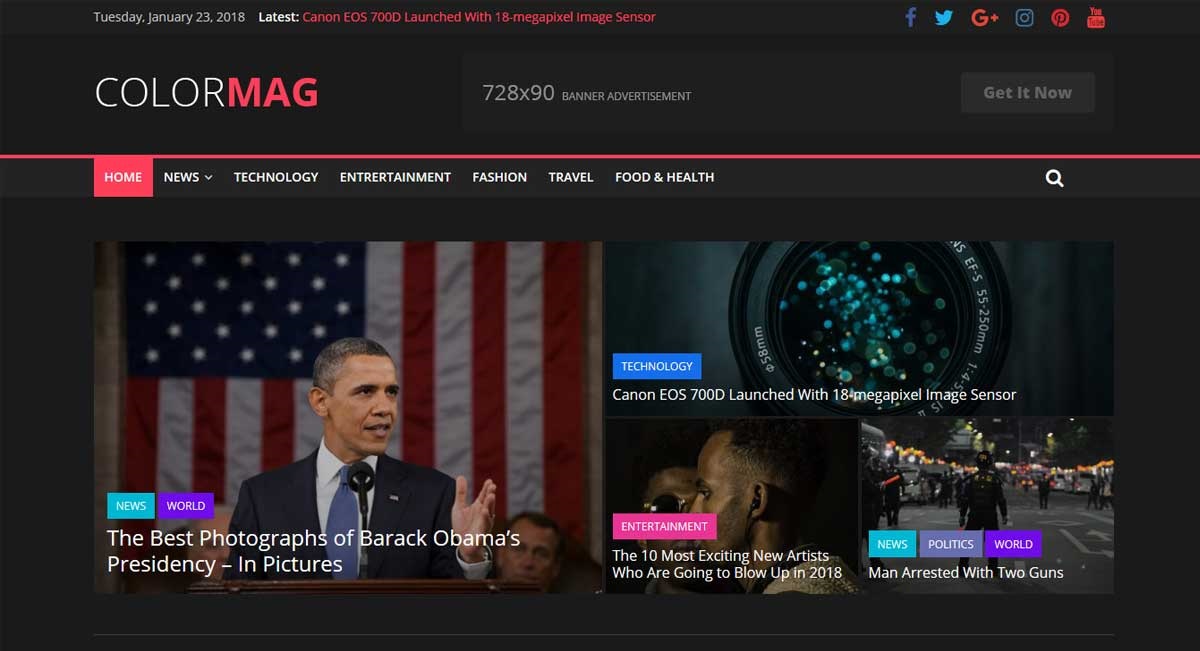 If you are looking at creating a news website, or any kind of publishing site, ColorMag is a theme you should definitely check out. The responsive theme is optimized for speed and loads in under one second.
ColorMag has a library of 25+ pre-built starter templates that you can import and use with just a single click. The theme is fully compatible with leading page builders such as Gutenberg, Beaver Builder, SiteOrigin, Elementor, and more.
Want to facilitate online shopping on your website? With easy integrations with WooCommerce, you can start selling products on your website in no time!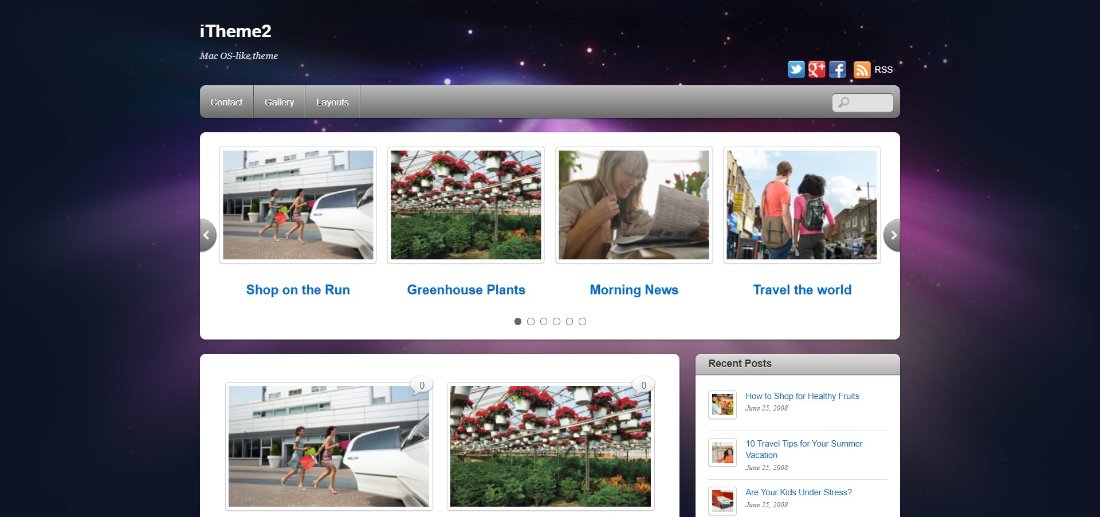 iTheme2 looks and feels like Mac OS. It's a blog theme with a dark constellation background reminiscent of older Mac wallpaper and colouring to match some Mac menus. It's a workable theme and offers the same contrast between dark and light that is popular today.
The theme comes with two skins, a range of layout options, support for child themes, slider and forms. The theme is also fully responsive so can deliver the same standard of performance we expect.
Grind is a free Genesis template for WordPress. It's a business theme that could be utilized for almost any use and is flexible enough to cope with a multitude of customizations. The core theme is responsive and loads quickly. It doesn't look like a free WordPress theme either, which is to its credit.
Grind uses a dark slider with customizable contrast colours and a strong header to grab your attention. Further down the page, it turns into a standard template with light background, dark font and the page elements you expect to see on a business website.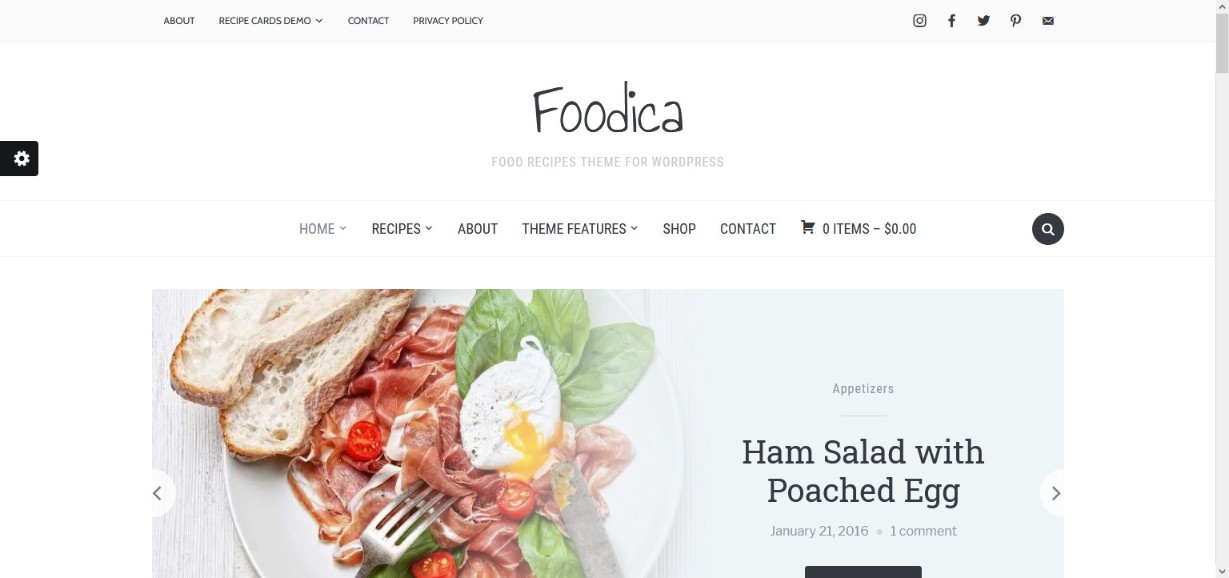 Foodica Lite is a free version of one of our favourite food blog themes, Foodica. Foodica Lite looks and feels largely the same as its premium sibling with a nice white appearance, a mix of modern and handwritten fonts and colours mainly provided by images.
The layout is a standard blog structure with a post slider, widgets, sidebar and contact form. If you know how to add features using plugins, you can easily make the free version look exactly like the premium. Even if you don't, Foodica Lite is a great template on its own merit.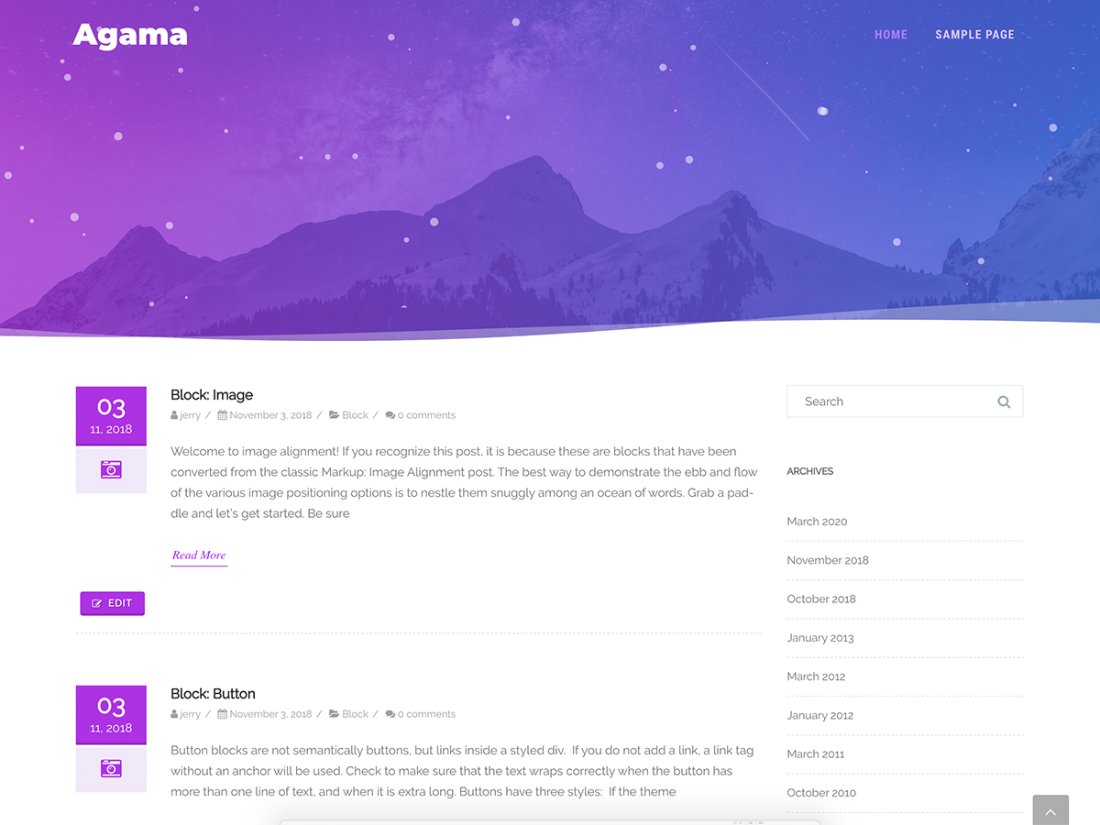 Agama is a free WordPress theme that uses the Bootstrap framework. It's an attractive business template with a white background and almost minimalist feel. A nice header image in the demo gives you an idea of what to expect while modern fonts and subtle green contrast colour sets the scene nicely.
The theme is compatible with current versions of WordPress and its plugins, WooCommerce and Elementor, Brizy, Beaver Builder and other page builders. Agama is free but opens the door to the Agama Pro Plugin which is purely optional.
52. Primer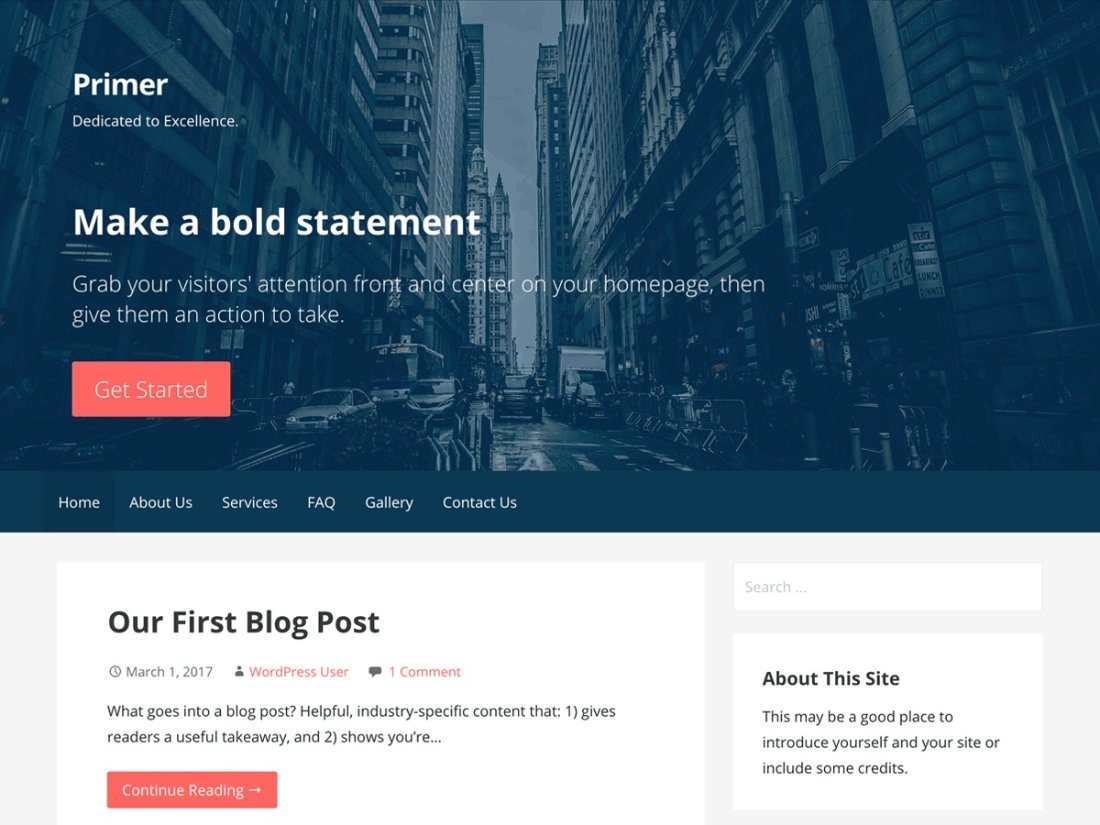 Primer is another free WordPress theme from GoDaddy hosted on WordPres.org and GitHub. This is a more colourful design with a shaded image header with strong headline and contrast colour and a standard blog layout below. Other layout options are possible if you know what you're doing.
As with many free WordPress themes, you have to use your imagination a little when checking out the demo. However, just a quick glance shows the great choice of colours, grey background and white content blocks. While you could change these to anything you like, we think this combination works fine as it is.
53. Mesmerize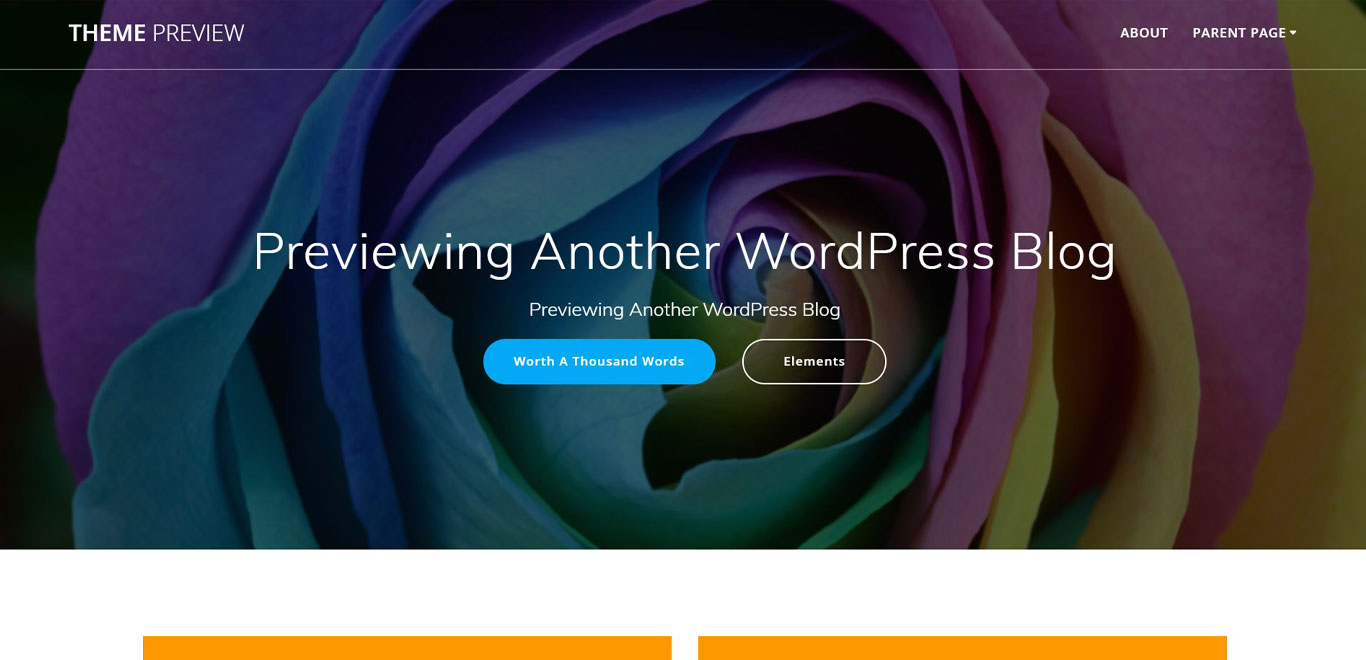 Mesmerize is a free WordPress theme with a premium version. The free template comes with a selection of demos covering different niches. The pro version covers even more.
The demo we like best is Travel Agency. It's a very colourful design that paints the picture of a lifestyle with ease. It includes holiday listings, calls to action, animations, graphics, a blog, forms and everything you need to build a holiday website. Simply change the imagery and navigation to showcase any product or service.
54. Overlay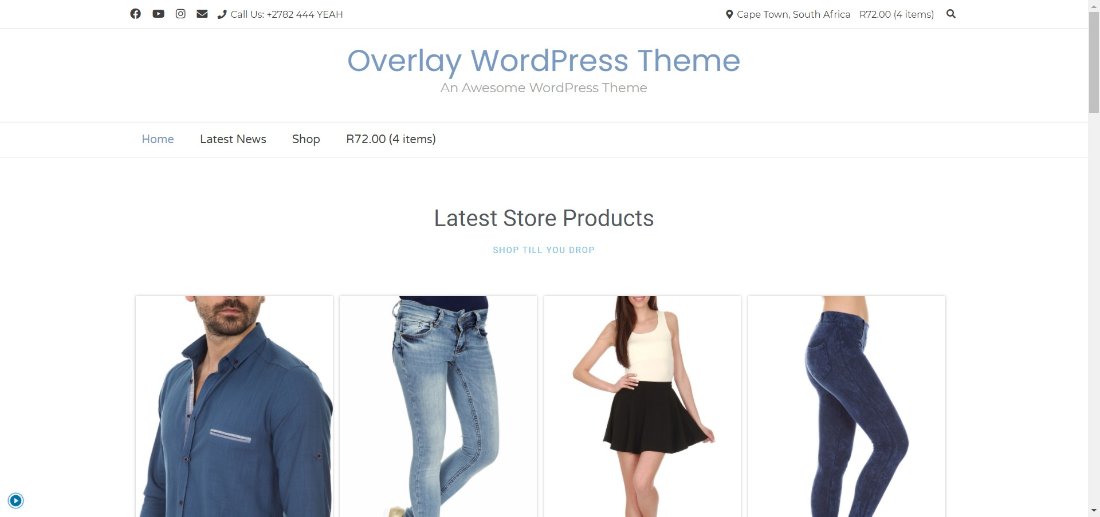 Overlay is a super simple eCommerce theme for WordPress with a free and a premium version. It's also a very effective eCommerce theme. It's a clean, minimal design that allows products to shine while containing enough to keep you oriented and stop you getting lost. This could be ideal for a new online store using WooCommerce.
The design uses a lot of white space and very simple navigation. It comes complete with search, category listings and everything you need to build a store. All you need to do is install it alongside WooCommerce and add your products. How easy is that?
55. Vlogr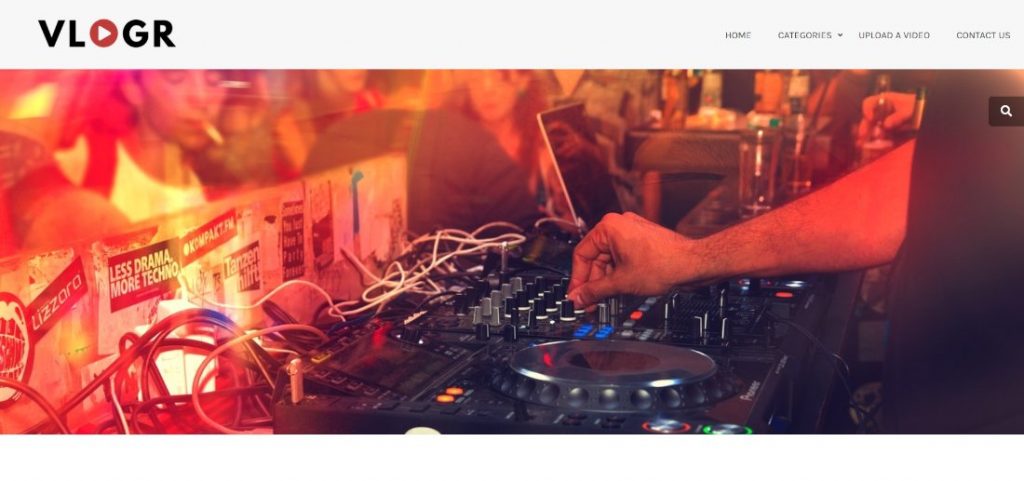 Vlogr is a smart free WordPress theme for video. It has a basic design that allows the video content to take centre stage and seems content to sit in the background looking good while you look at the videos.
The design uses an image header and alternating white and grey rows with video content in each. A strong coral contrast colour keeps the buttons in sight while a mixture of fonts maintains interest. The theme can be customized to fit almost any layout or design if the demo doesn't work for you.
56. Kale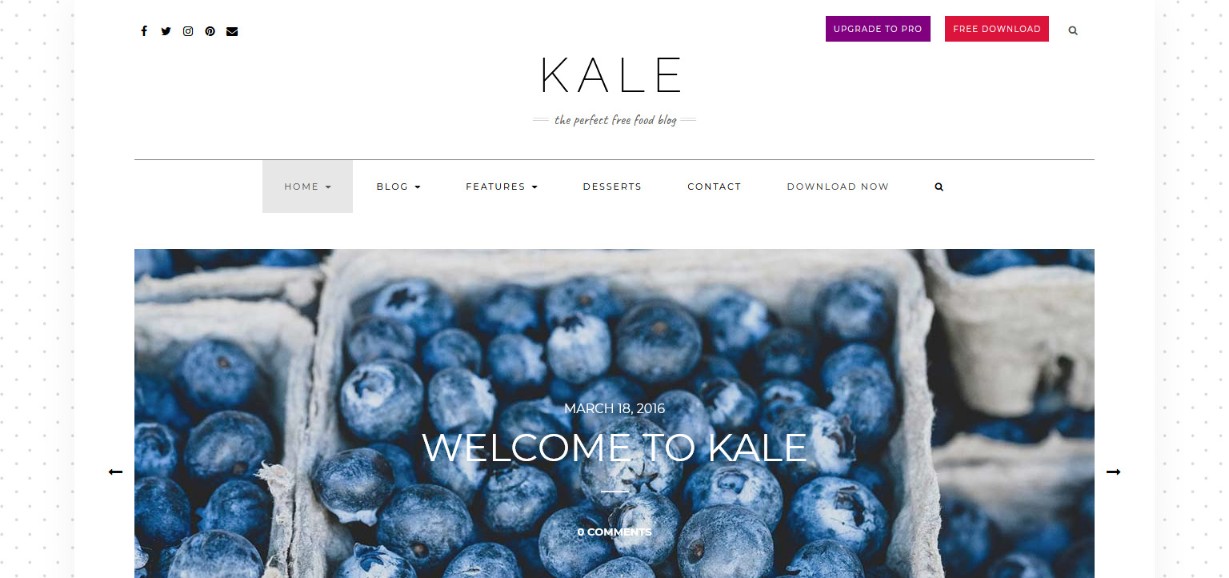 Here's one for the food bloggers. Kale is a free WordPress theme that is ideally suited for food and lifestyle bloggers. A clean and minimalistic design that ensures your content stands out and is the main focus of your blog.
Kale comes packed with several features to display your content. From selecting a post that you'd like to highlight to enticing readers with a banner and slider option, you'll find yourself with a range of options. It also allows you to integrate social media into your website easily.
57. Gist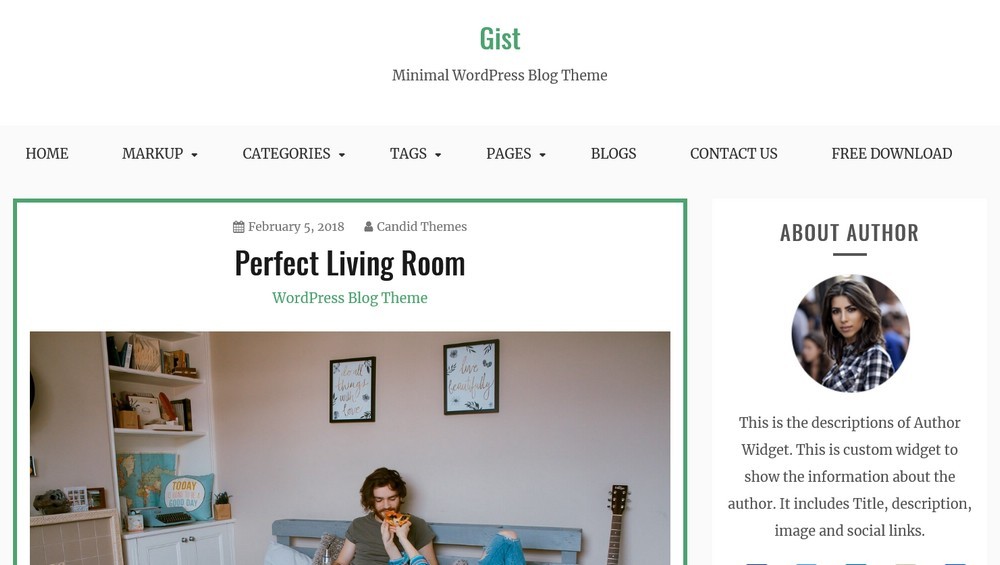 Gist is a simple yet effective free lightweight WordPress theme that works best for news, magazine and publication-related blogs. It's an easy-to-use theme that lets you get started right away.
The responsive theme comes with several custom widgets such as social media options, sticky sidebar, author, footer widget, and much more. Being a completely translation-ready theme, you can go ahead and create a blog in any language you please.
58. Nothing Personal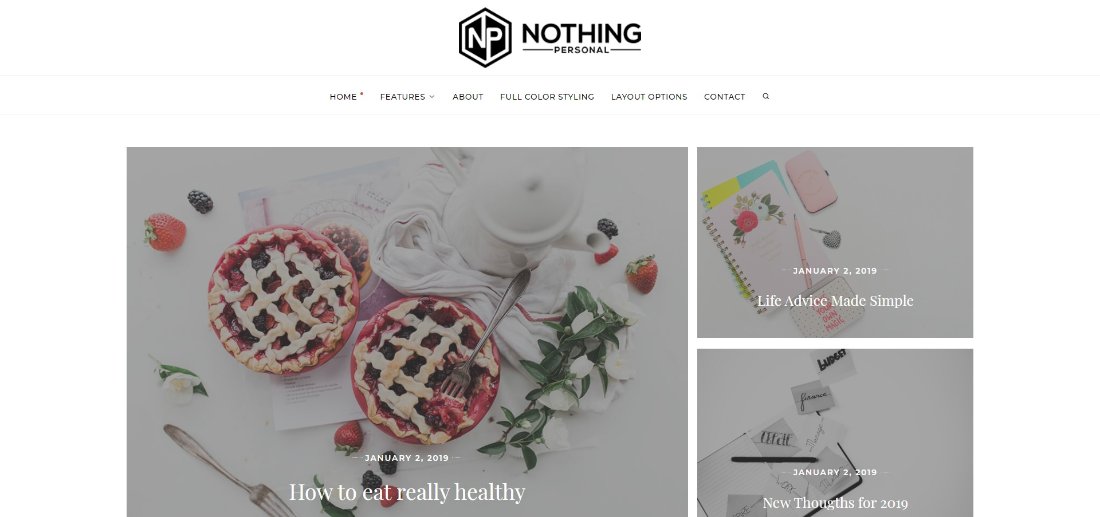 Nothing Personal is reminiscent of Foodica Lite in that it's a simple, minimal blog template that uses monochrome design and relies on imagery to add colour. It is equally well designed with genuine appeal and is all the better for it.
Nothing Personal is fully featured, with the full range of colours, layouts, sliders, optimizations and compatibility. It is almost as compelling as a premium theme. The demo is just one way to go about building your page but certainly shows you what is possible.
59. Biscuit Lite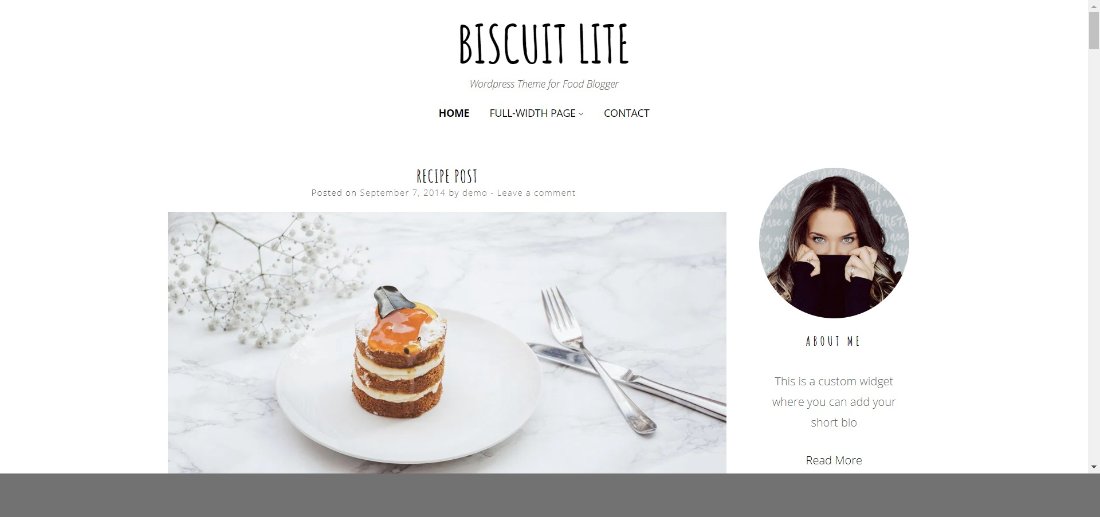 Biscuit Lite has a similar look and feel to Foodica Lite. It's a minimal theme with handwritten text logo and san serif body fonts, lots of white space, very little colour and a smooth feel down the page. This differs in that it's a single column layout but presumably could be configured to include more.
Biscuit Lite is a free WordPress theme designed to promote the premium version. It's responsive, easy to set up and lets your content stand out on its own. A composed design with a lot to recommend it.
60. Riba Lite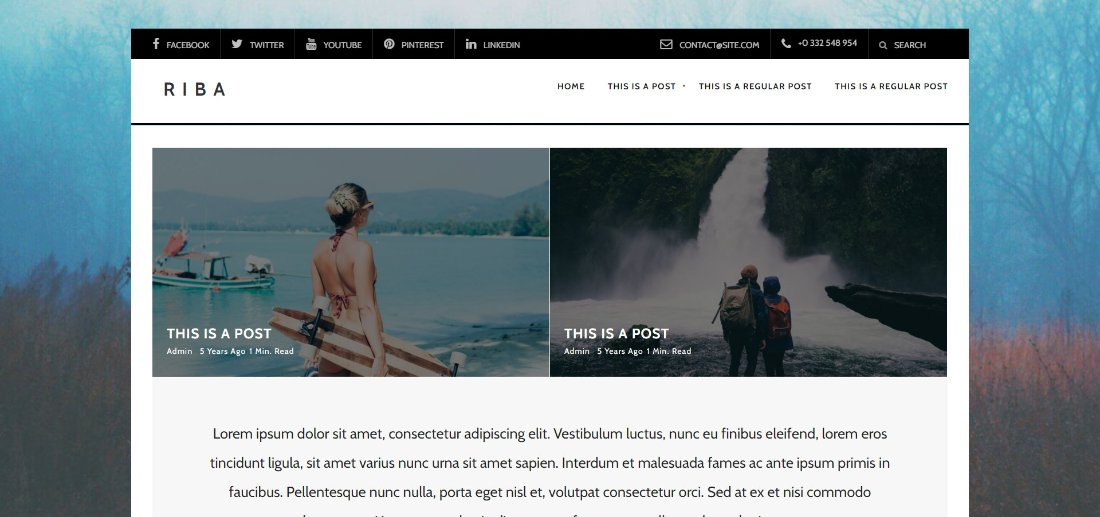 Riba Lite goes in the other direction. It uses an atmospheric image background with boxed white content area, dark navigation with light font and a mixture of light and grey backgrounds down the page. There is also an animated post area with minimal white borders that change the look completely.
This free WordPress template promotes a premium version that has a very similar design but more features. Both themes are well put-together and deliver a smooth, composed experience when on the page.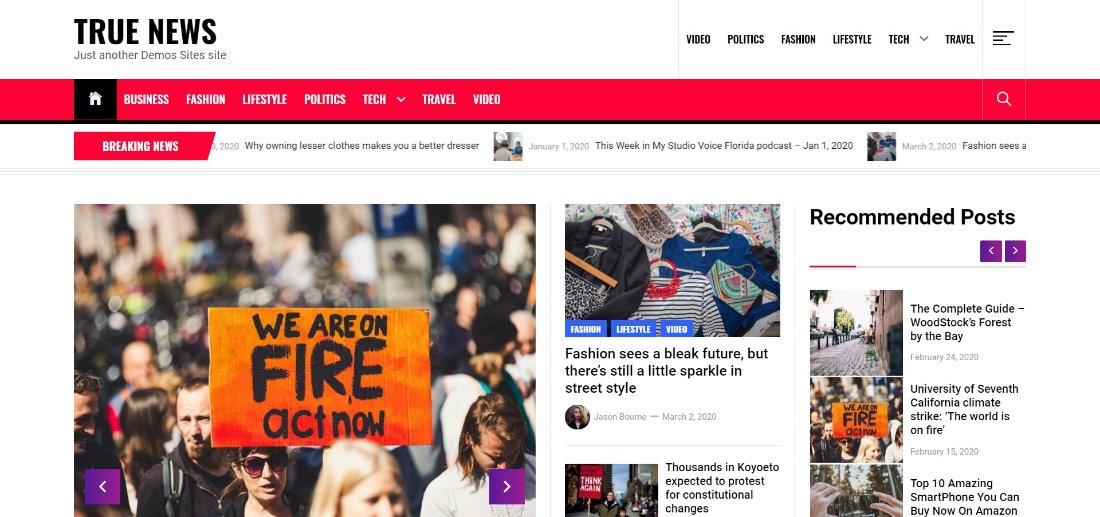 True News is a bright, bold magazine theme reminiscent of many premium versions we see across the internet. The bold red navigation bar sets the stall out early while the scrolling news ticker adds engagement. A series of colourful content sections keep things organized and minimal frippery means that content stands out.
This is a high quality theme that epitomizes what we look for in free WordPress themes. It offers the same benefits as a premium theme but doesn't cost a thing. We know of paid magazine themes that don't offer the same quality of design and features as True News!
If you like magazine style design to create a magazine website, then check out magazine website templates.
62. Hemingway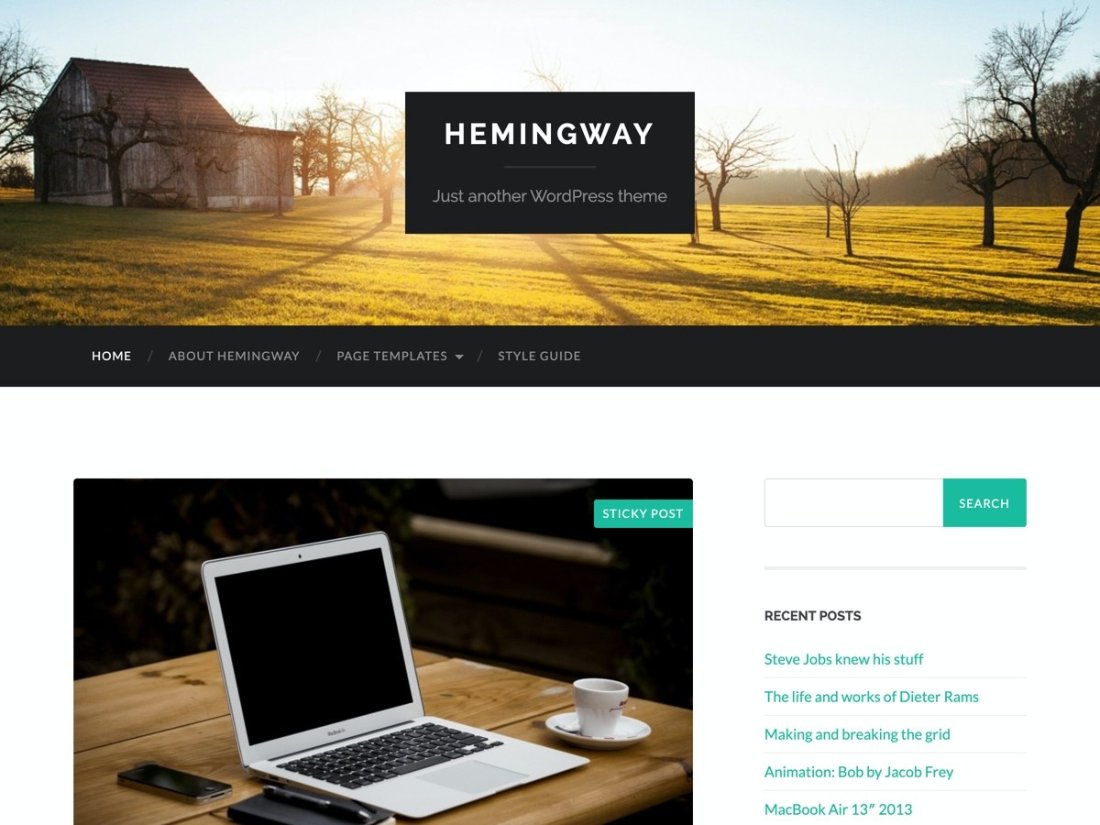 Hemingway is a typical blog theme done well. A colourful header image sets the scene with a strong black header block in the centre. Down the page, stark contrasts, lots of white space and that calm green colour all combine to deliver an authoritative feel many blog themes struggle to deliver.
Hemingway is a simple, effective design with single column layout for blog posts with a modest sidebar. If this is how you want to display your work, this template is fast enough and well-designed enough to deliver the experience your readers will appreciate without taking anything away from your work.
63. Fascinate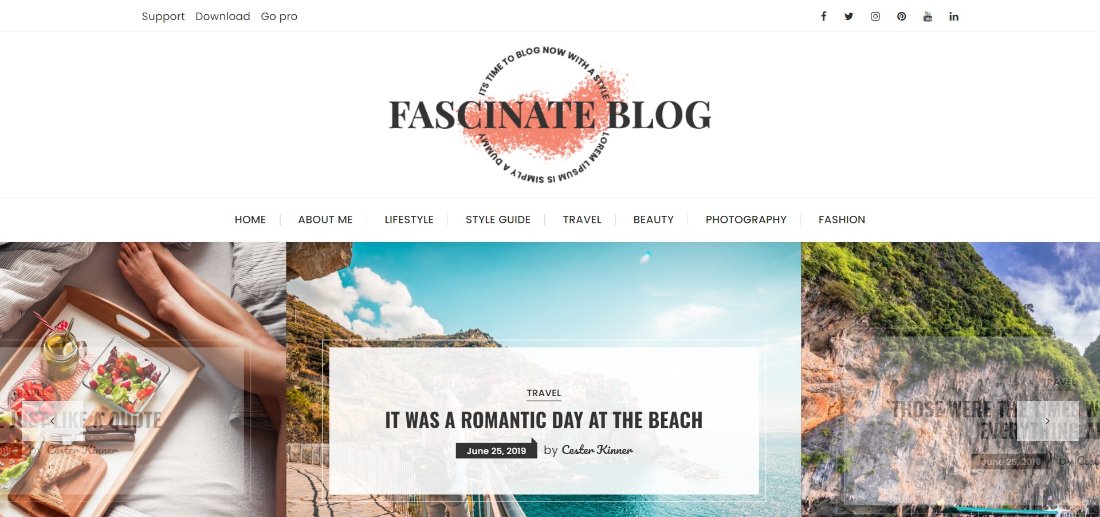 The Fascinate demo is built as a fashion blog but is another template that could be transformed into anything by just changing the images. Those images are going to need to be of a high quality though, as this entire design hangs upon them.
We rate this theme among the best WordPress themes for flexibility. The image slider has great proportions, the navigation is perfectly positioned, fonts and white space perfectly balanced. You get the idea. This is a blog layout with a premium version but honestly, this freebie could be everything you need.
64. Baskerville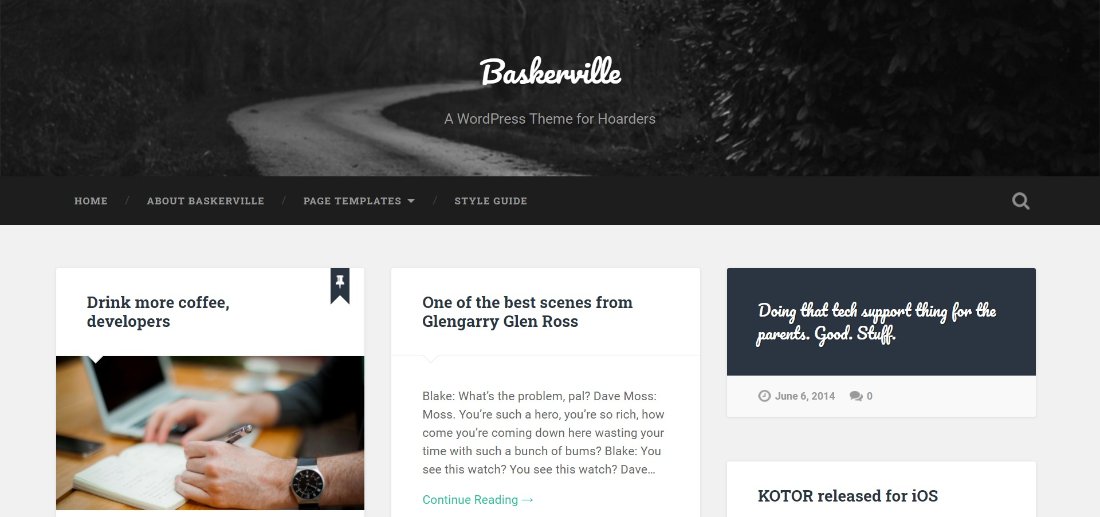 Baskerville is a composed masonry theme for blogs. It uses dark and light well with a dark image up top, light grey background and white content blocks with start black fonts. The colour balance is nicely done and the modest dark blue colour compliments it well.
Baskerville is simple but effective and that's why it's here. The page balance works very well, even the spacing between the blocks is great. The mix of modern and handwritten fonts is also worthy of note. There are no bells and whistles here but we think the theme is better for it.
65. Hiero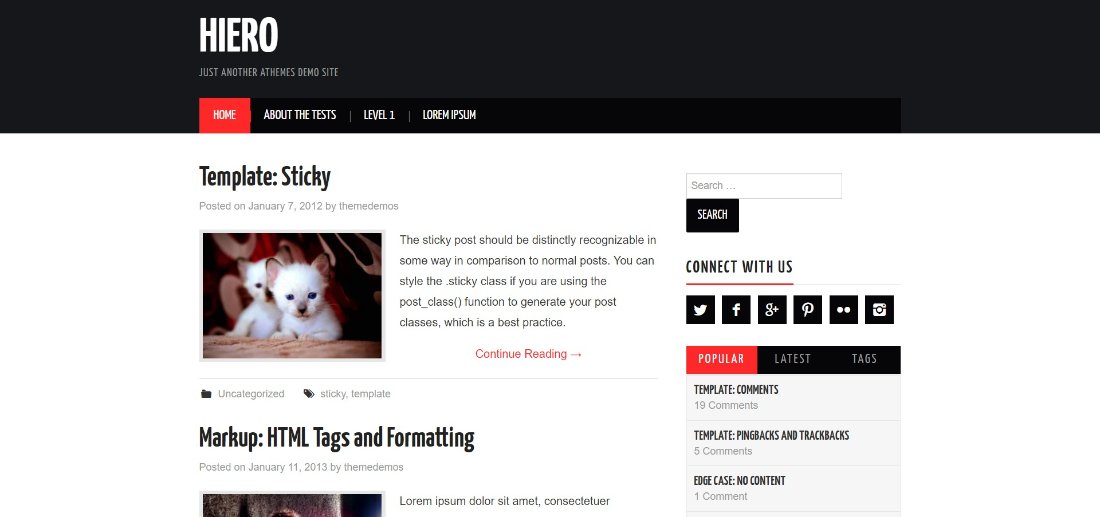 Hiero is built upon the effectiveness of contrast. The contrast between the black header and white background. The contrast between the black and red contrast colour and the contrast between the white background and red elements. It's an attractive design that works well.
Hiero uses a single column layout with a mix of magazine and blog in the design. A characterful sidebar adds interest to the page while the blog layout lets your story unfold. It's a very effective way to deliver a page, one that looks more like a premium theme than a free one.
66. iFeature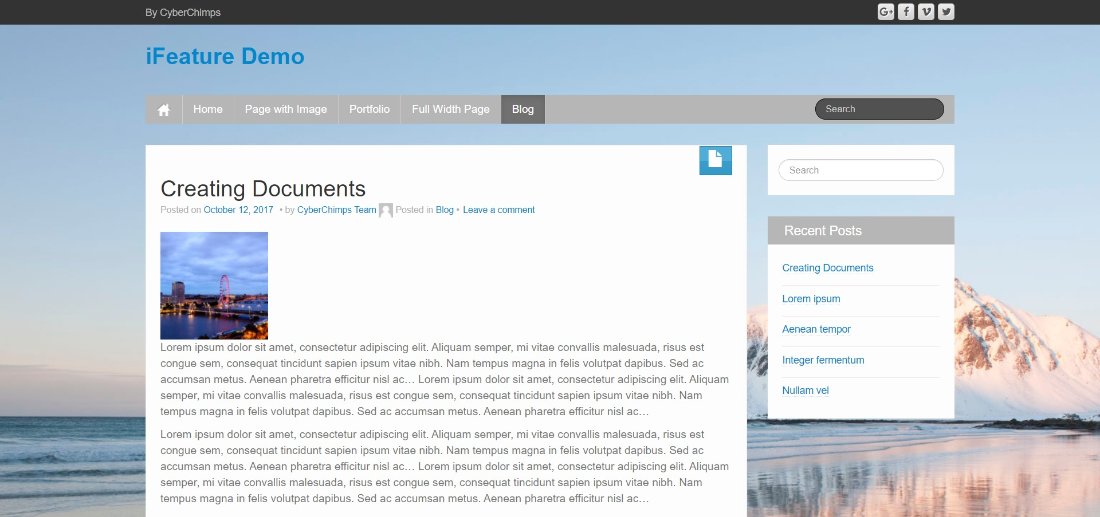 iFeature is a free WordPress theme with a plain design that delivers the foundations from which to build something great. It works with the Gutenberg editor so is very simple to customize, making this a viable theme if you don't mind a little work.
iFeature offers a lot of flexibility in how it is laid out. While the demo uses a single column, the theme can be built with more columns and laid out however you like. This theme is in our list of best free WordPress themes mainly for its potential and the fact it is compatible with Elementor, Brizy, Beaver Builder, Visual Composer, SiteOrigin, Divi and other page builders.
67. City Logic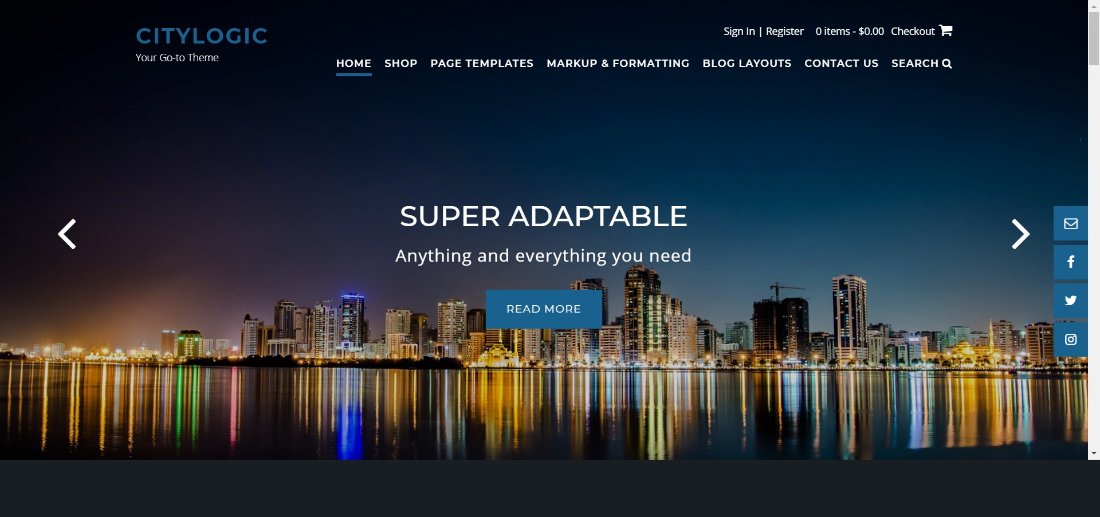 City Logic is a very competent free WordPress theme with a modern appeal. From the huge cityscape header to the well chosen fonts, the sticky header to the alternating white and grey backgrounds, this whole theme shouts quality.
It's a flexible theme that could be a blog, hobby site or business website. It includes a range of page elements, a store, blog, portfolio and attractive contact form. While not as detailed as some premium themes, considering this is a freebie, it offers a lot.
68. Reactiv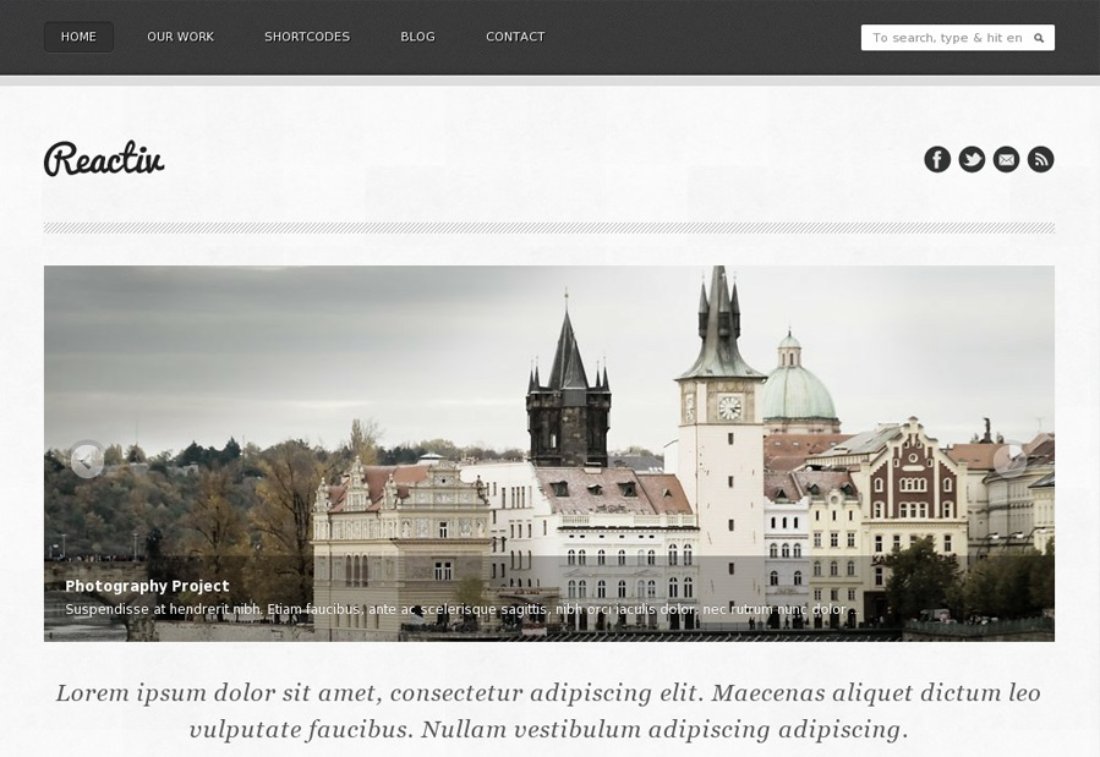 Reactiv is one of the few free WordPress themes here that works with the Genesis Framework. This is a contemporary blog theme with dark header, image slider and four column layout with the option of changing it up to deliver whatever experience you're looking for.
The theme itself is largely subdued with dark grey fonts, grey backgrounds and what looks like sepia-toned images. While this is just a demo, it creates a nice atmosphere that could work for some types of website. You can completely change it up if you prefer though.
69. Meeta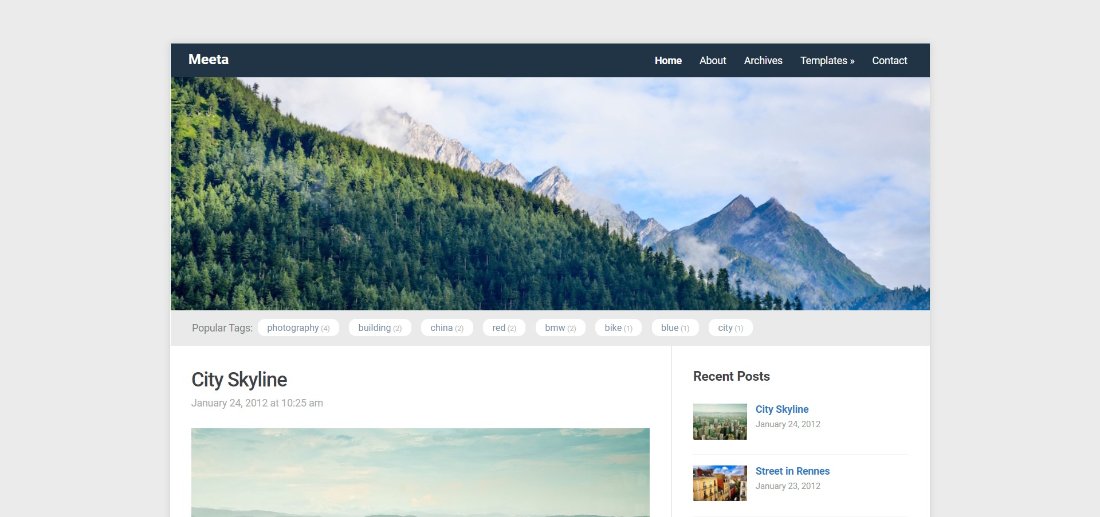 Meeta is a smooth template with instant appeal. The demo is built out as a travel website but could be turned into anything. This is a very flexible theme with support for custom headers and widgets and unique templates, so could be so much more than the demo shows.
The simple grey background and blue and white colour scheme works well here but could be customized as you like. The tag bar under the header image is a very effective feature while the subtle sidebar could work well for blogs. This is a very malleable theme that could be truly unique in the right hands.
70. Sabino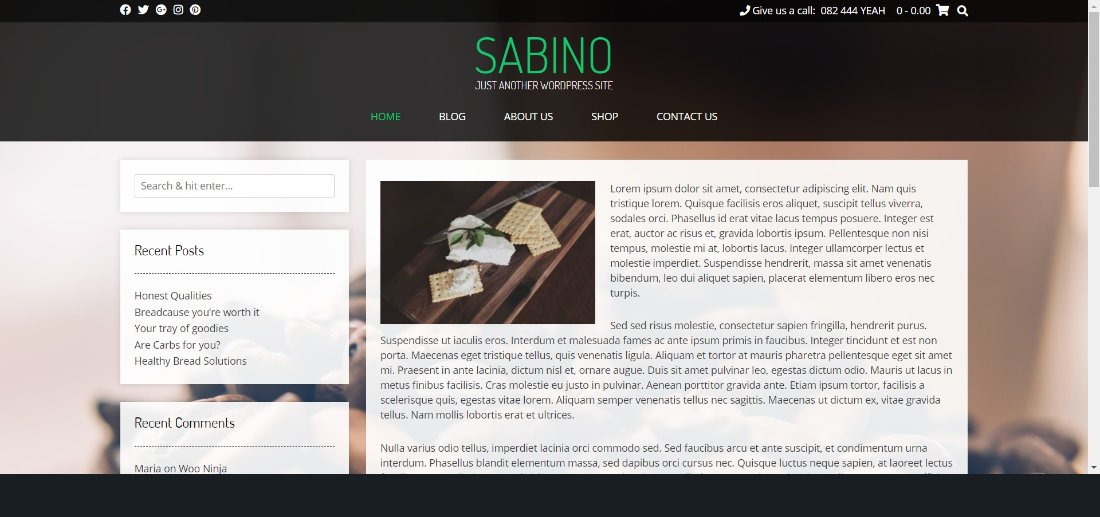 Sabino is a free WordPress template that makes a simple switch of the sidebar position seem much more powerful than it is. Alongside a nice background image and parallax effect, the design creates a very professional feeling that could be utilized for almost any niche.
Simply change that background image and the colours and you can transform the appeal of this theme. It could genuinely be that simple. The framework works well, provides a smooth, responsive experience and having the sidebar on the left instead of the right is a small thing that makes a huge difference.
71. Foody Lite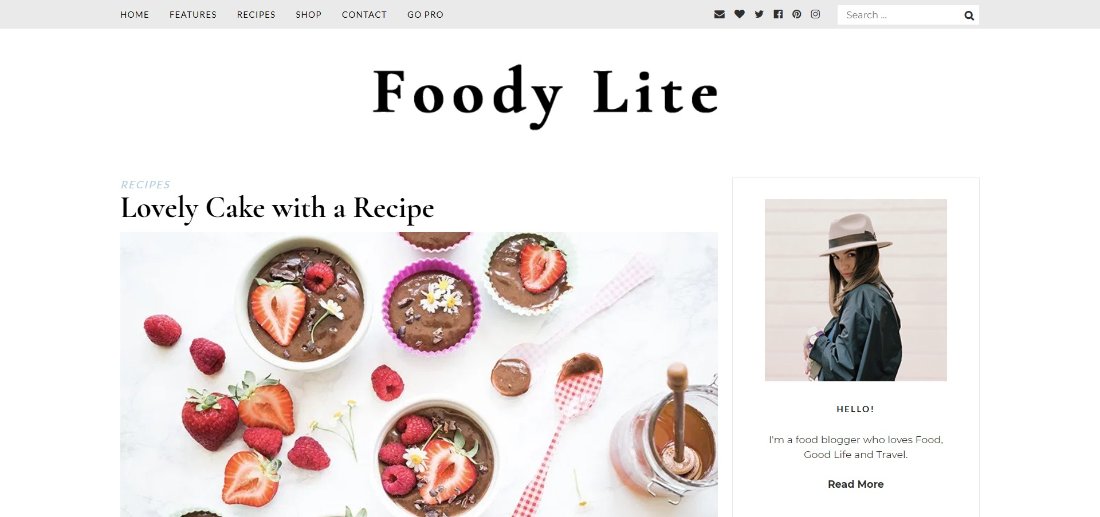 Foody Lite continues the trend in free WordPress themes for minimal design and a mix of fonts to create a very modern aesthetic. Like Foodica Lite, this demo keeps things effortless with minimal page elements, modest sidebar and a single column layout where the images sing. The simple grey navigation and footer make a statement too.
This design is light, easy to use, includes WooCommerce compatibility and works with the WordPress Live Customizer. It's a breezy theme that is proving very popular with lifestyle and food blogs right now and could be all the theme you need if you want to share your own passions with the world.
72. Bard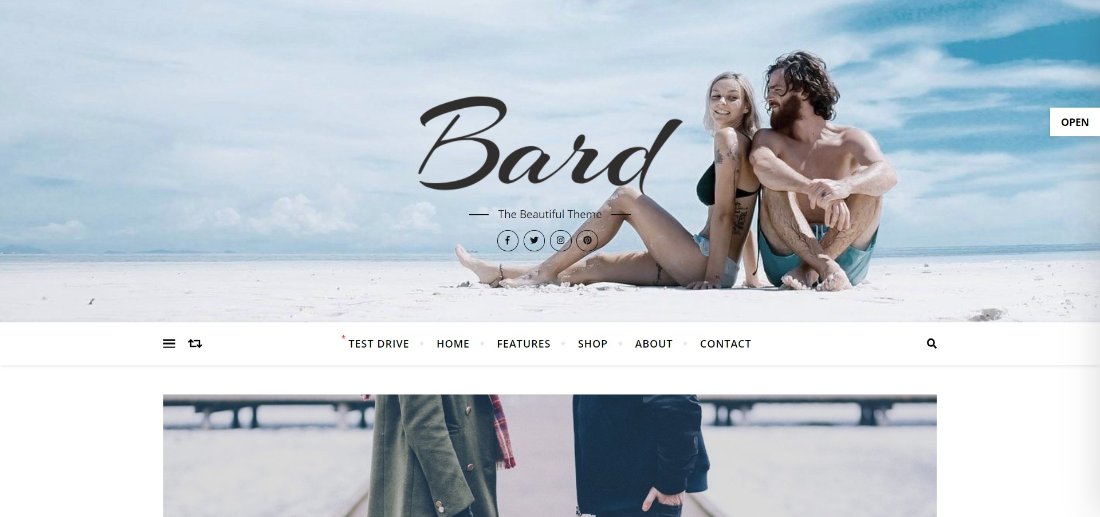 Bard has a very easy going aesthetic, created in part by that header image and soft colour palette. This is a typical blog layout with good quality imagery, lots of white space, a modest sidebar and excellent font choices throughout.
This is another of our free WordPress themes that could be used with minimal customization. Should you want to make changes, the theme is compatible with the WordPress Customizer to make short work of them. The theme also supports WooCommerce, RTL translations and other features too.
73. Basic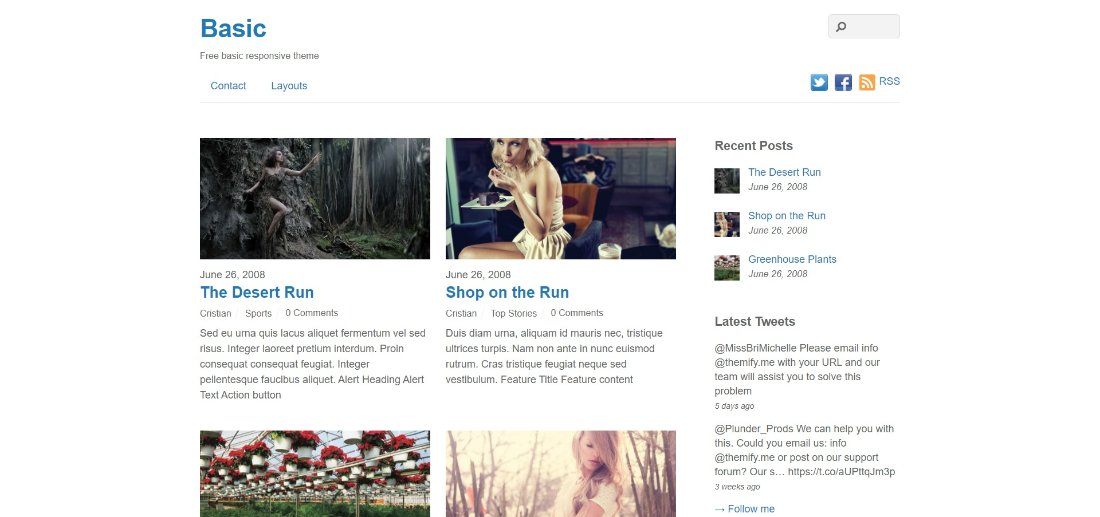 Basic is a free-flowing blog theme designed to stay out of the way while your audience reads the page. There is minimal design here, hence the name. Minimal navigation, minimal sidebar and dividers and minimal anything that would take your attention away from the content.
Basic has anything but basic features though. It is fully responsive, includes a Lightbox gallery, social elements, different layout options and five predesigned skins. You can of course adapt the template to your particular needs with a little HTML 5 or CSS knowledge.
74. Academica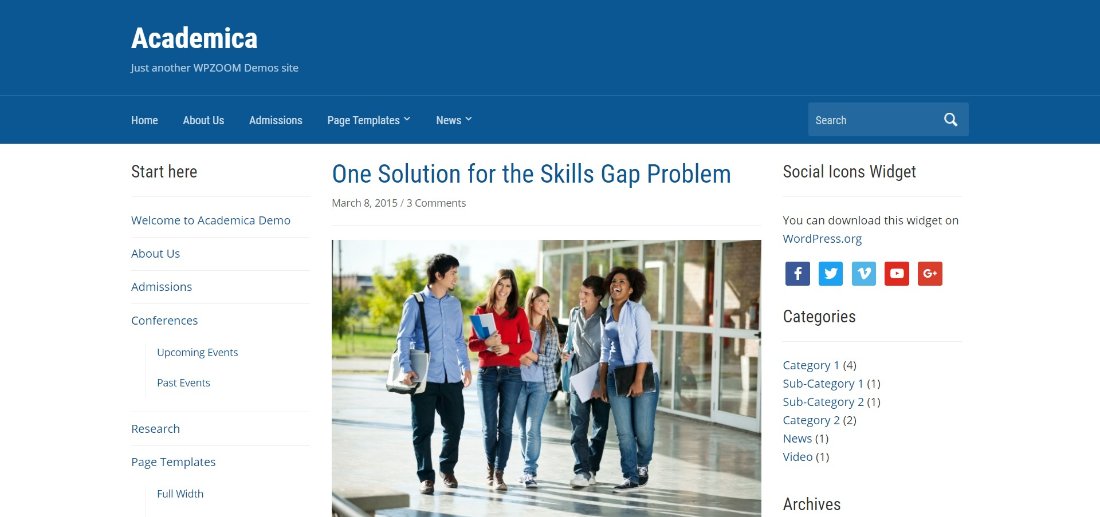 Academica is a free education theme for WordPress. It uses a single column blog layout with sober red, white and blue colour scheme to deliver a coherent design ideal for education or something similar.
The design is very easy going with lots of white space, minimal header and footer, a subtle sidebar to each side. It isn't designed to showcase the institution but rather as an educational blog. That said, if you have the skills or upgrade to the Pro version, you can change the layout at will.
75. Virtue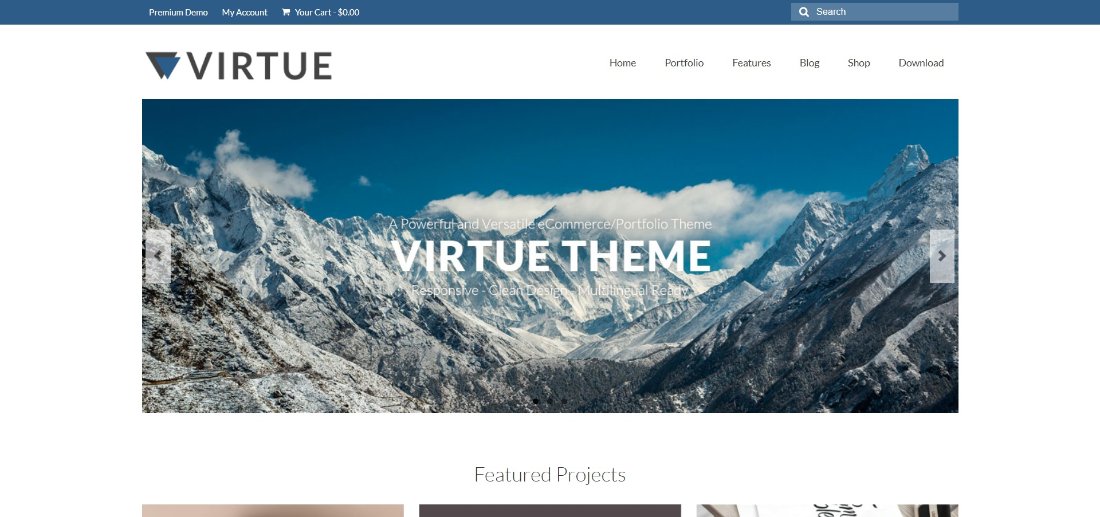 Virtue is an unambiguous design that could also be used as a business website or online store. The main demo could be either and that offers real scope for experimentation. The design is flat, modern and well balanced and could easily be customized to suit any brand or purpose.
The template uses a bold header image with headline to create the initial impact. It then transitions into standard blocks including a slider, blog posts, graphics and footer. The theme supports other block types too, including WooCommerce, portfolios and others. While the demo is neither one thing nor the other, it shows just how flexible it could be in the right hands.
76. Mismo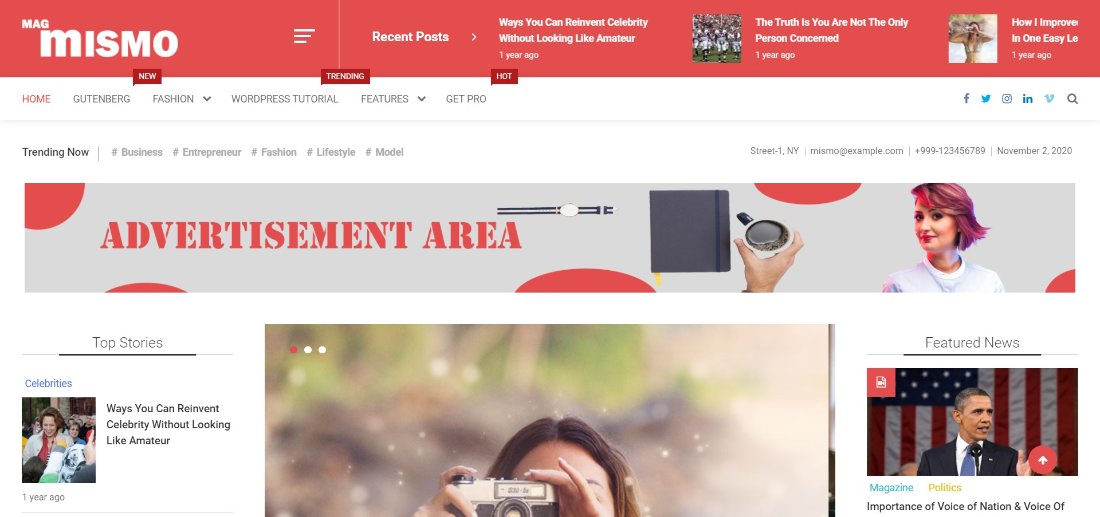 Mismo is one of the most impactful free WordPress themes in our list. It's a full page magazine layout which grabs your attention immediately and doesn't let go. There are three demos for the free version and easy has a similar layout, just with different colour palettes.
Each design offers a premium feel within a very organized layout. That organization is essential as there is so much going on. The theme includes support for ads, pre-loading, translations, deep customization and is Retina ready. It also works well with the WordPress Customizer for when you want to make it your own.
77. ePortfolio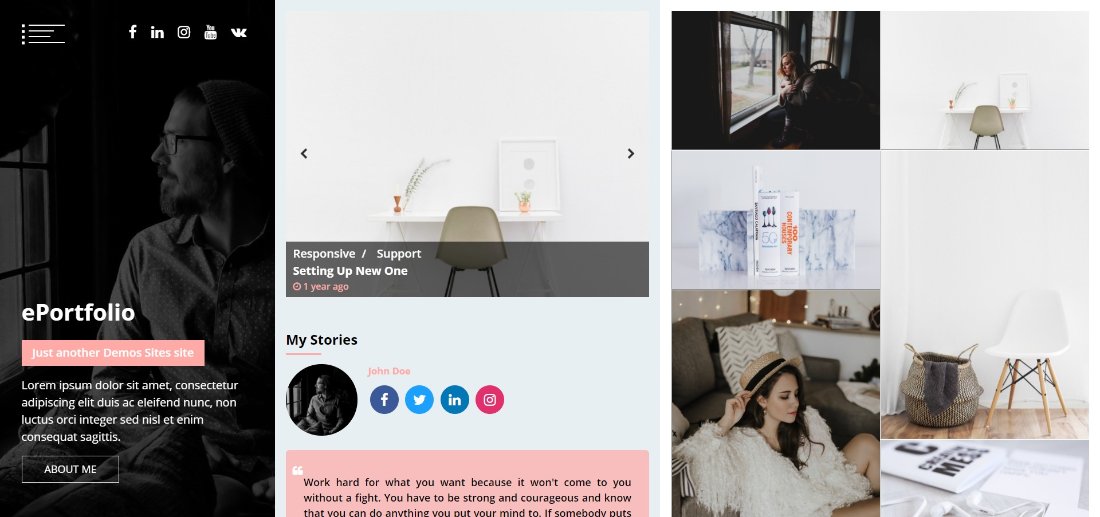 ePortfolio is counted among our best free WordPress themes for portfolio because it dares to be different. That difference may be as straightforward as side navigation instead of top but it makes a huge difference to how we perceive the page.
One other standout feature is the individual scrolling of the two main columns. Scroll the middle and it moves alone. Scroll the right column and it does the same. That, alongside excellent imagery and a real eye for design makes this a compelling template for creatives of all kinds who are showcasing their work.
How to Choose the Best Free WordPress Theme
When selecting a free theme for your WordPress website, you need to consider a few things, and they are:
Updates
Most developers continue to update and provide support for their themes, while some don't. We suggest working with regularly updated themes.
Compatibility
A compatible theme minimizes risk and helps your site run smoothly with all your plugins and addons you may have installed.
Active Installation
The more active installations a WordPress theme has, the more people are using it, which is a good sign.
Customization
Flexible customization functionality in a free theme is a must if you want to create a website as you wish. Look for page builder compatibility as a minimum.
FAQs
Here are a few frequently asked questions related to WordPress themes asked by our users.
How to get free WordPress themes?
There are lots of free themes available on the WordPress website. Visit the themes section, and you'll find yourself with an extensive library of free themes. At this point, there are 8832 free WordPress themes available. 
You could also select a free theme from your WordPress dashboard. Go to Appearance > Themes > Add New and choose from a range of themes based on your niche.
Are free WordPress themes any good?
Yes, free WordPress themes are great to start with. Themes such as Astra even help you with several pre-built Starter Templates that you could choose to create a website of any kind. While the free themes are great by themselves, there are features in the pro version that you could consider.
Which is the best free WordPress theme and why?
The best free WordPress theme depends on your requirements. We assume that some of the prerequisites when selecting a WordPress theme are that it must load fast, be mobile responsive, SEO optimized, easily customizable, and most importantly, look great. 
Once your theme meets these, you'd probably then look for one that matches your niche. Maybe a travel theme, eat-outs, online courses, real estate, freelancers, agencies, and so on.
We've covered some of the best free WordPress themes in this article to help you decide on one. While we could be biased about our Astra theme being the best option for you, we can back our claim with a million-plus users who share the same sentiment!
Is it worth paying for a WordPress theme?
Short answer is yes, it is worth paying for a WordPress theme. Long answer is that it depends on what stage of the website development process you are at.
Free themes have a lot to offer. Some of the free themes may also provide you with features that certain premium ones don't. When you are starting, it's recommended that you install a free theme, play around, get used to the various features and build your website. As you start scaling, you'll probably want some additional features and layout customization options.
Above all, you may also want some premium customer support to assist you if the need arises. All these and more will be available with the premium version of your theme. So, if you've reached a stage where the premium features can help enhance your user experience and speed up workflow, yes, it's undoubtedly worth investing in a WordPress theme.
Where can I get free WordPress themes?
The best place to get a free WordPress theme is on the WordPress (WordPress.org) website itself. Head over to the themes section on the site, and you'll be flooded with a range of themes to choose from. You could also head over to Appearance > Themes and add a new theme from within your WordPress dashboard.
Alternatively, you could head over to your favorite theme's website and download the free version. For instance, you could download the free Astra theme from the Astra website and have or load it via your WordPress dashboard.
Which WordPress theme is the best for beginners?
The best WordPress theme for beginners depends on your specific requirements. Themes allow you to add style to your website. The look and feel, colors, and typography. While they all have more or less the same features, some WordPress themes may offer you additional customization possibilities.
Themes such as Astra also offer some pre-built website templates that you could easily import and launch your website in a matter of minutes. All this makes the website development process really simple. So, while most themes work fine for beginners, it's more a matter of what kind of website you are creating. Is it a simple static website or an eCommerce website? 
How do you find a good free WordPress theme?
Various individual developers create free WordPress themes. Most continue to update and provide support for their themes, while some don't. In such a case, we must install and use a theme that is regularly updated. Most importantly, look out for a theme compatible with the current version of WordPress and the several installed plugins.
Here are a few pointers to consider when narrowing down on a good WordPress theme.
Check the number of active installations. The higher, the better. This way, you know how many websites are using the theme and how popular they are
Look for a theme that is being updated regularly
Check on the WordPress version compatibility
Finally, look out for a theme that has a high rating. 5-star would be ideal!
Are Free WordPress Themes Good for Your Site?
Yes, free WordPress themes are good for your website!
Themes such as Astra even help you with over 250+ pre-built Starter Templates that you could choose to create a website of any kind. 
If a free version of a theme has everything you need, there's no reason to move to a premium version. 
Final Thoughts
As you can see, our list of the best free WordPress themes includes a wide range of designs. Each is a little different and has its own strengths and weaknesses but offer amazing value considering they cost nothing.
Every single one of the 77 free WordPress templates looks and feels different. We think all of them offer sufficient scope to customize and personalize and could be tweaked to suit almost any use!
Do you use any of these free WordPress themes? Have others you want to suggest? Tell us your thoughts below!