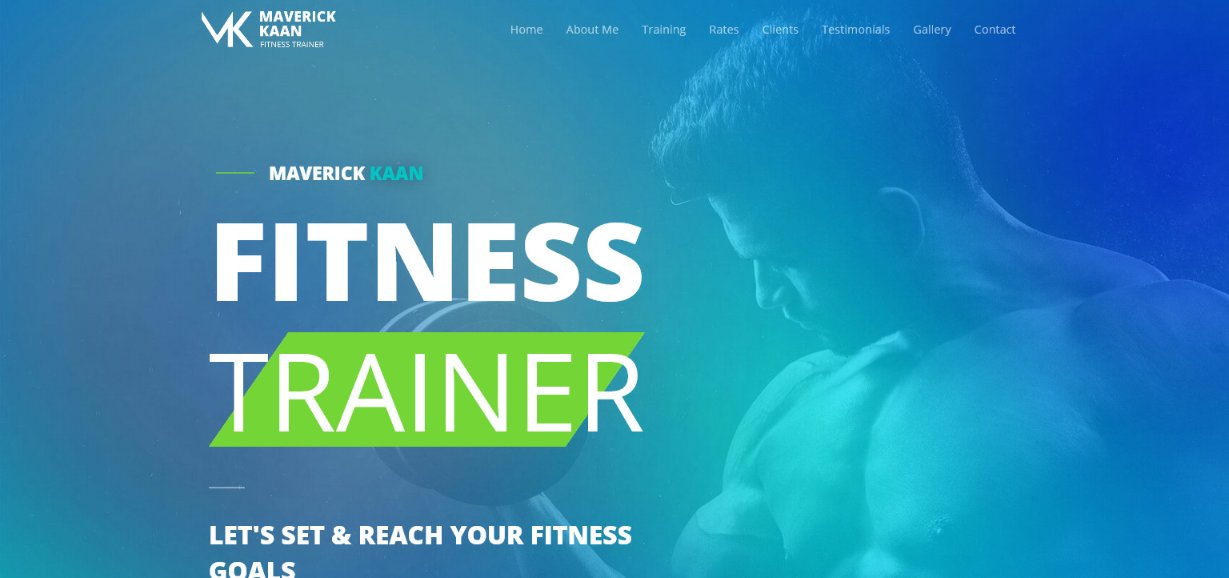 The traditional multi-page website is just one way of building a web presence. It is not the only way. One page websites are also a viable way to promote your business, hobby or interest.
If you can tell your story in a few words and know how to quickly grab attention and keep the audience scrolling down the page, there are few better methods of engagement than a one page website!
One page websites can also be used for sales funnels, resumes and other uses aside from businesses. Many hobby websites and blogs also rock the one page layout. They can tell a story in a linear way down a single page and can be ideal for smaller businesses, freelancers and creatives who prefer this method of storytelling.
With that in mind, we have curated this list of the best one page WordPress themes around. Each delivers high quality visuals, fast loading pages and all the ingredients you need to deliver an exceptional user experience.
What You Need to Build a One Page WordPress Website
A one page WordPress theme is only part of the story when launching a WordPress website. You will also need:
Domain
Hosting
Themes
Plugins
Domain
A domain is your website URL. The www.websitename.com the user will type into the browser to arrive at your site. For businesses, the domain should include the business name. For other uses, the domain name should reflect the purpose of the site as closely as possible.
Hosting
Web hosting is the server space we load a website onto to make it available to the world. You rent this server space from a web host on a monthly or yearly basis. The web server will have a direct connection to the web, allowing users to visit the site.
Themes
Here's where your one page WordPress theme comes in. It's a graphic layer installed onto WordPress to add a new look, new features and those attractive appeal we like to see on a website.
Plugins
WordPress plugins add features that the system doesn't have or improves those it does. There are thousands of free and premium WordPress plugins available covering everything from backups to security and everything in-between.
These four things depend on each other to provide the overall user experience we are looking for. Now you have the basics, let's take a closer look at the themes.
Best One Page WordPress Themes
If you are in a hurry, these five themes below will provide many one-page website templates. That you can edit as you wish.
Theme Name
Active Installs?
Pricing
Our Rating
Astra
1,653,898+
Free / Starting from

$47

€0

/year
⭐⭐⭐⭐⭐
Hestia Pro
100,000+
$81/year
⭐⭐⭐⭐⭐
Neve
300,000+
Free / Starting from $81/year
⭐⭐⭐⭐
Divi
NA
Starting from $89/year
⭐⭐⭐⭐
Zakra
60,000+
$69/year
⭐⭐⭐⭐
This list includes what we consider the best one page WordPress themes around right now. The list covers business, blogs, hobbies and all kinds of uses. If you're in the market for a single page WordPress theme, you'll find it here!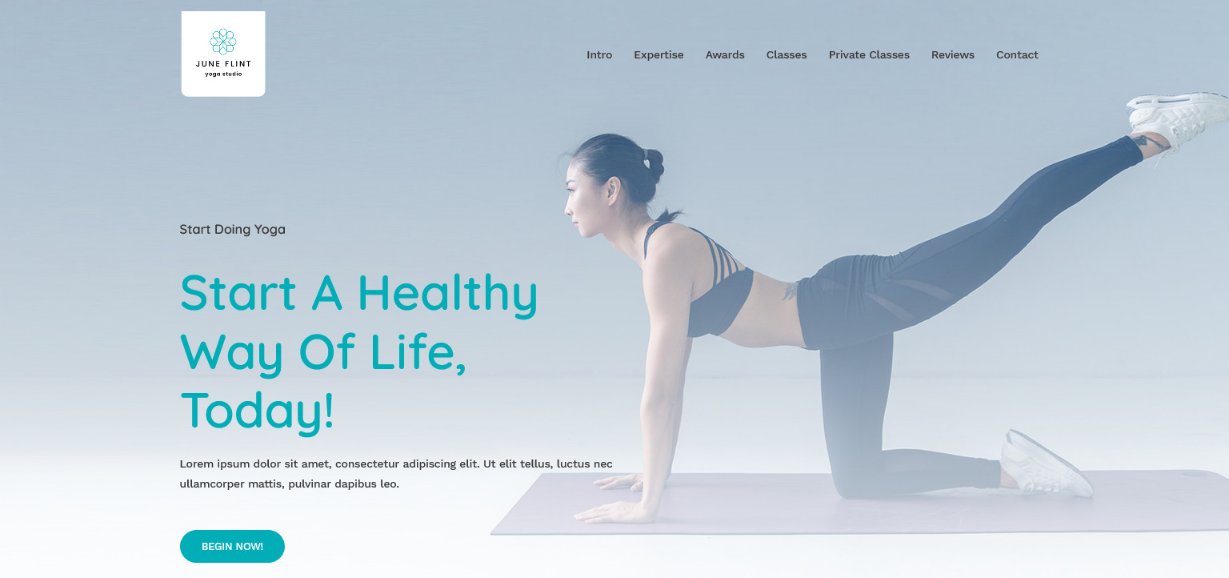 Astra is one of the world's best-selling WordPress themes. It has dozens of demo websites you can use, is compatible with most WordPress plugins, loads quickly and uses drag and drop page builders so you can create your website without having to learn code.
Astra has a wide selection of WordPress themes covering most niches. There are some dedicated WordPress one page themes and some standard themes that could easily be used to create a one page website. Each offers modern design, a wide range of page elements to use and all the ingredients you need to build a top performing website.
The use of Elementor, Brizy Builder, Gutenberg and Beaver Builder page builders means anyone, of any skill level can create an amazing website with minimal effort. The ability to load a demo website and customize it to your own needs means there really is no limit to what you can achieve with Astra!
Astra has demo websites covering every conceivable use. Demos can also be fully customized to a different purpose with ease.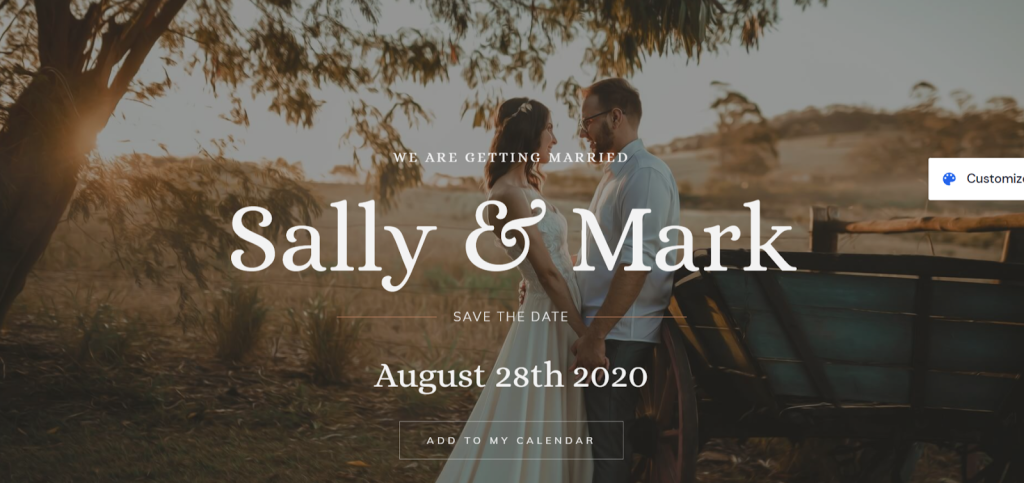 Wedding Invitation is a classic-looking Starter Template. It's a perfect match for creating stunning online wedding invitations.
It features an elegant layout, calendar, and other event attraction features. The template also has an amazing RSVP feature and a well-organized photo gallery to showcase your memorable wedding moments.
Astra offers many wedding website templates, check that out.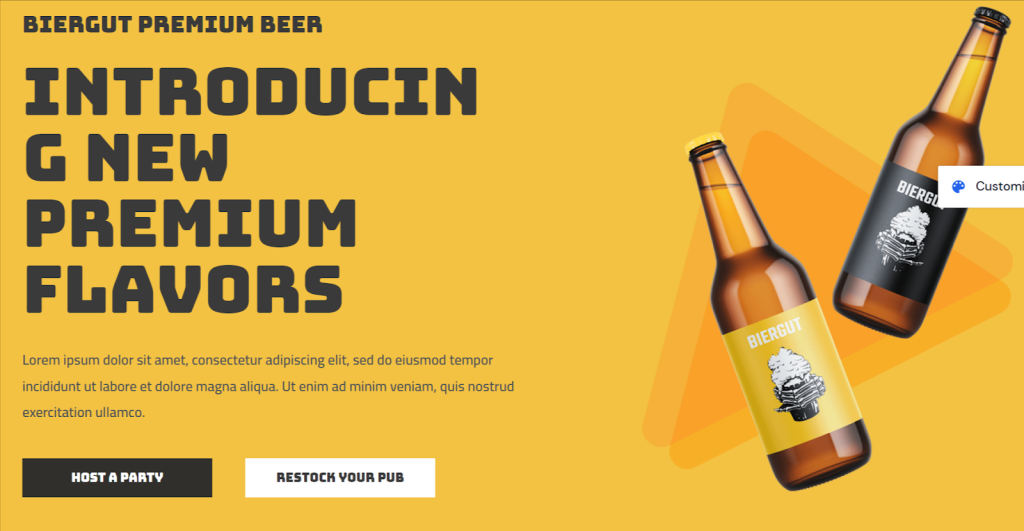 Beer launch is a landing page template designed to launch events and host parties.
This event template has compelling call to action and contact forms. It is responsive and responds elegantly to different screen sizes, from the desktops to latest smartphones.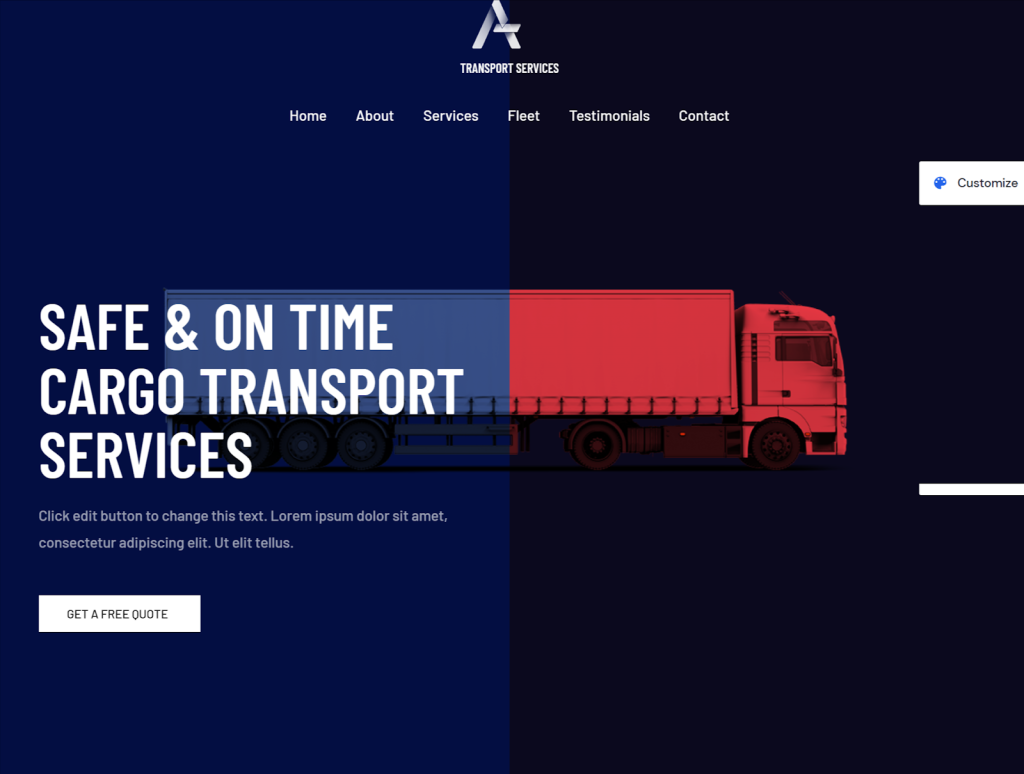 Transport Services is a great template suitable for any logistic business. The template is clean and displays your different services on the homepage.
You can also talk about your business, share reviews, and fill out contact forms for better conversations. Try this template because it offers a blue color palette with minimal design and seamless user experience.
Astra Pricing
Astra is a free theme with premium versions starting from $47 per year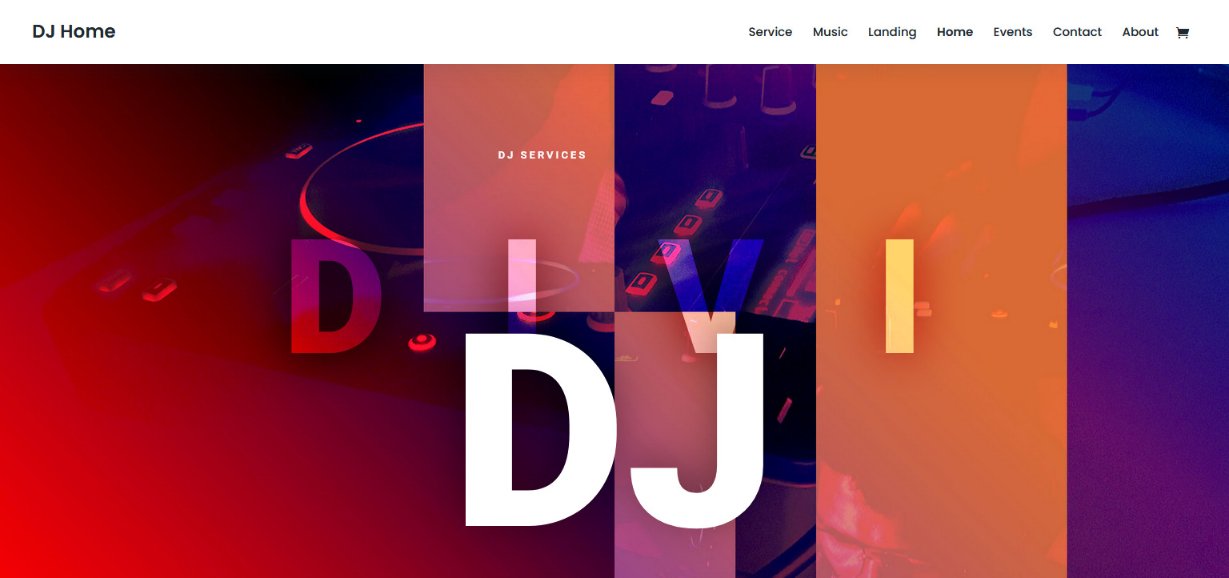 Divi also has some one page WordPress themes worth exploring. Like Astra, there are some dedicated single page themes and some standard web themes that could easily be turned into a single page website. All offer attractive designs that cover a wide range of niches.
Divi also uses a drag and drop page builder, the Divi Builder. It provides the same advantages as Elementor, Brizy Builder, Gutenberg and Beaver Builder. It also integrates other WordPress plugins, works fluidly and has been designed with SEO in mind.
Divi could be useful for businesses, hobbies, clubs and almost any conceivable use.
Divi Pricing
Divi costs $89 per year.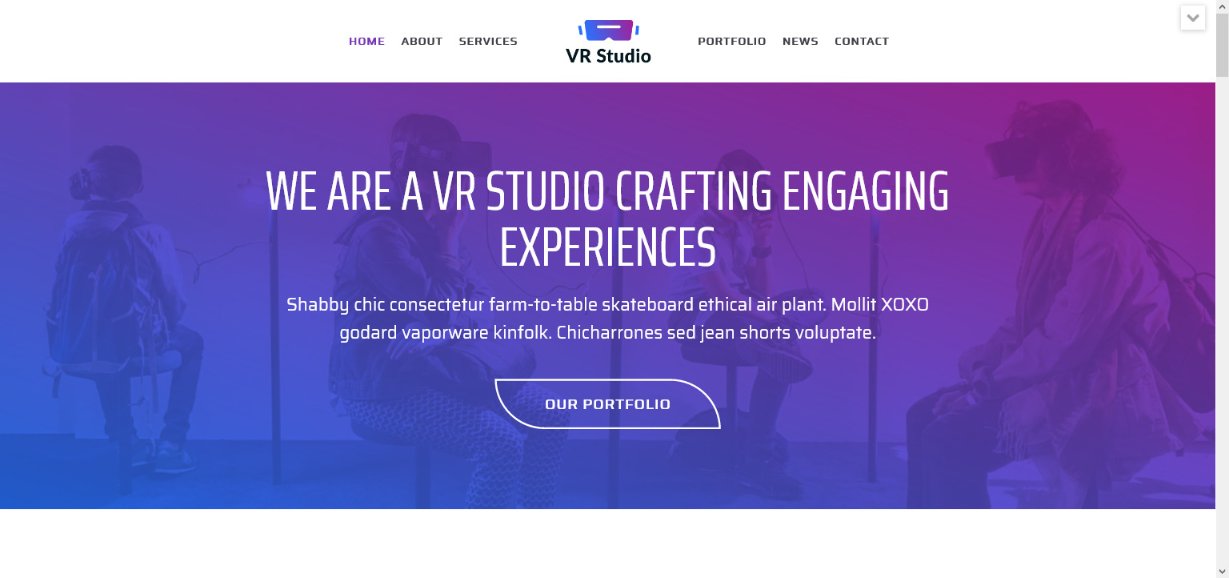 Neve is another theme family with dozens of templates to choose from, including WordPress onepage themes. The quality and variety of demo themes is superb and covers almost every niche. Each is a little different and offers bold colours, good use of white space and the power to customize as you see fit.
Neve offers free and premium themes with a range of templates for both. Each is designed for maximum flexibility, fast loading and reliability. While the designs may take more work to make them unique than others here, the inclusion of page builder compatibility should make it easy.
Neve could be suitable for corporate websites, freelancers, hobbies, stores and any use you put it to.
Neve Pricing
Neve is a free theme with premium versions starting from $89 per year.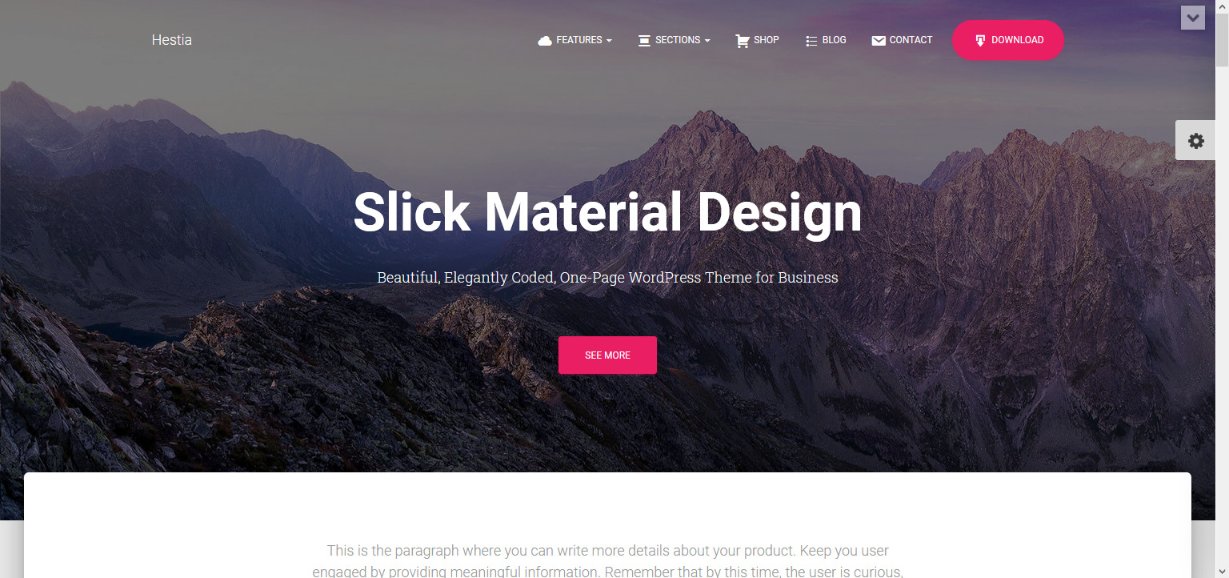 Hestia Pro is from the same developer as Neve and looks slightly similar. This is a dedicated WordPress one page theme though. It uses a similar design scheme as Neve with bold colours, good use of white space and strong fonts to create instant engagement.
Hestia Pro has been designed to work fast, be SEO friendly and uses the Live Customizer function in WordPress to make changes. It is compatible with page builders too so all bases are covered.
Hestia Pro is a good looking theme that doesn't have a distinct character of its own. It could be useful for companies or those in more traditional industries with a little work.
Hestia Pro Pricing
Hestia Pro costs $89 per year.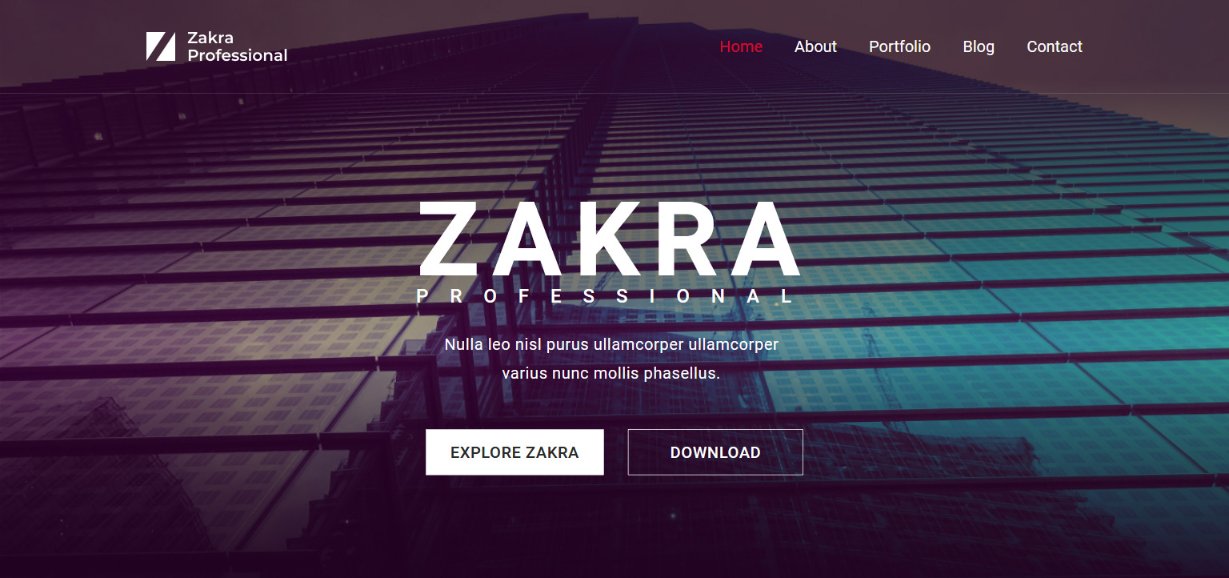 Zakra is another theme with a free and a premium version. The free version has two dedicated single page WordPress themes while the premium version adds another. Both versions offer standard layouts that could be tweaked to create single page website.
Zakra stands out for the cleanliness of its designs. All demos offer a clear intent with functional navigation and logical flow down the page. Each uses colour, white space and imagery well to create that professional look you're after. All demos are worth checking out.
Zakra covers all bases and has corporate themes as well as those suitable for hobbies, freelancers and other industries.
Zakra Pricing
Zakra is a freemium WordPress theme with premium versions costing $69.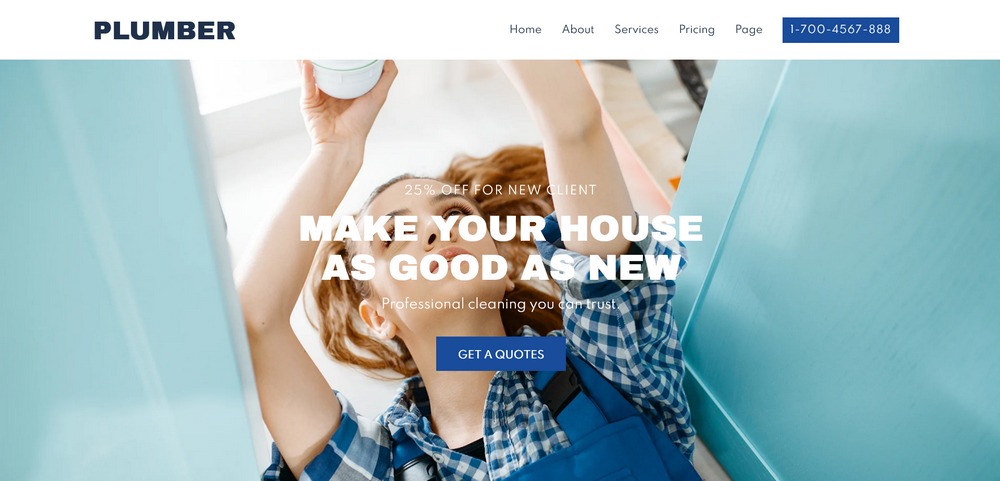 Sydney is a very well-known multipurpose WordPress theme that can be used as a one page design or multi-page website. It's a very flexible theme that's fully compatible with Elementor and its popularity is partly down to ease of use alongside some impressive templates.
There are free and premium versions of Sydney. Both provide the tools you need to build attractive websites along with some very usable demos. Pages load fast and provide the foundations from which you can build something truly unique.
Sydney could be ideal for small businesses, agencies, freelancers and almost any type of use you can think of.
Sydney Pricing
The premium version of Sydney starts at $69 per year.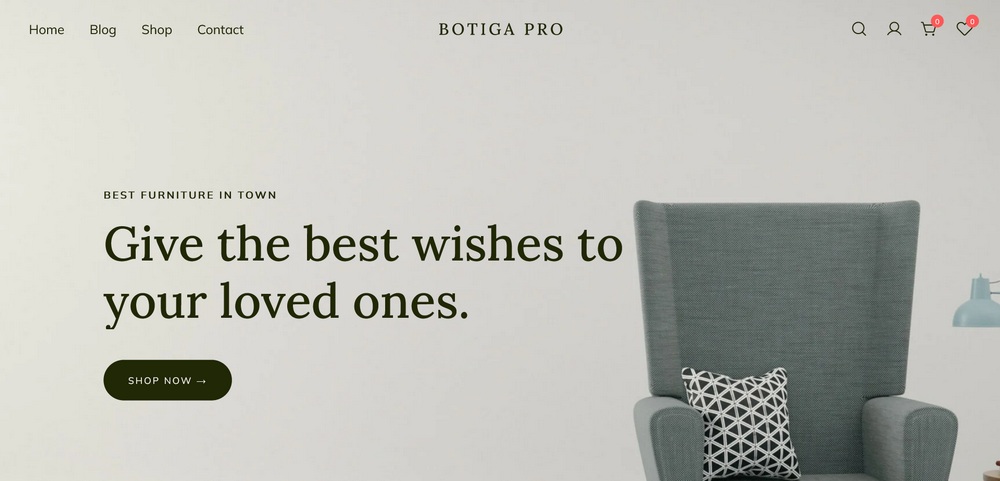 Botiga is an eCommerce theme that provides a very attractive one page option that you can expand further with product and supplementary pages if you wanted to.
The layout is very attractive, using a well-designed main page with lots of content areas, strong image placeholders and customizable content areas. The side menu makes a refreshing change and should help your website stand out.
Botiga has a free and a premium version and comes with a straightforward customizer that allows you to tweak every element of the store regardless of your skill level. It's a very compelling package, whether you pay for premium or not.
Botiga Pricing
Botiga is free to use.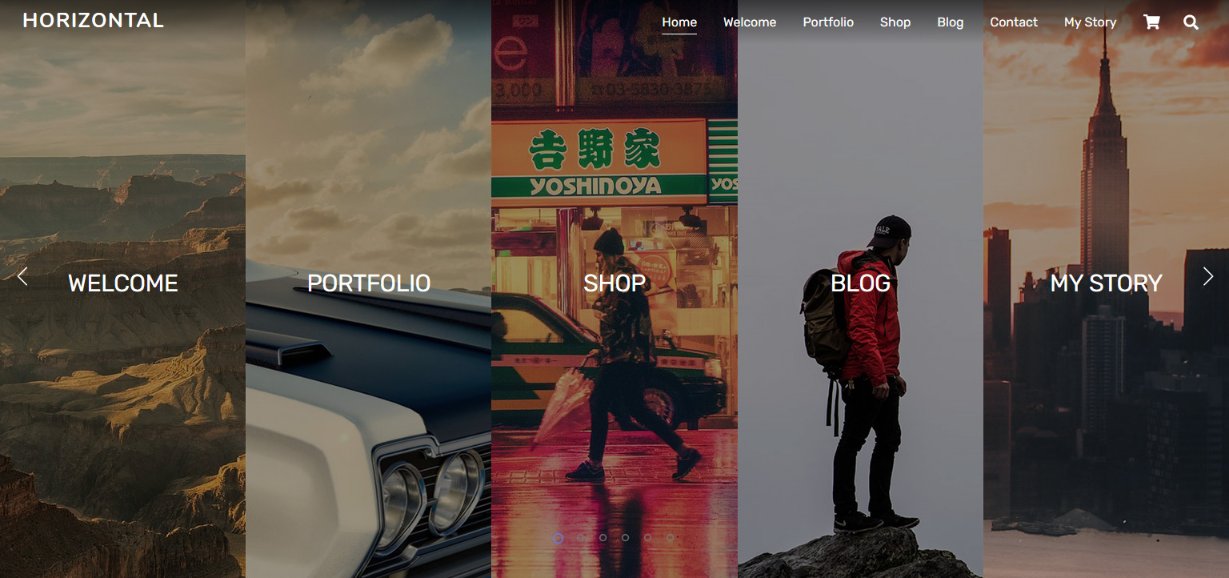 Ultra is another firm favourite of ours because of its elegant designs, usability and flexibility. One theme stands out as a one page WordPress theme, Horizontal. Where most themes flow vertically down the screen, this scrolls horizontally left to right. It's a unique take on the single page theme and we like it a lot.
Other Ultra demo websites could also be used as single page themes and reflect the same quality of design that Horizontal does. All use the Themify Builder to customize pages, can utilize parallax layouts and are designed to be responsive and load quickly.
Ultra themes cover a wide user base from business to hobbies, news to general interest.
Ultra Pricing
Ultra costs $59 per year.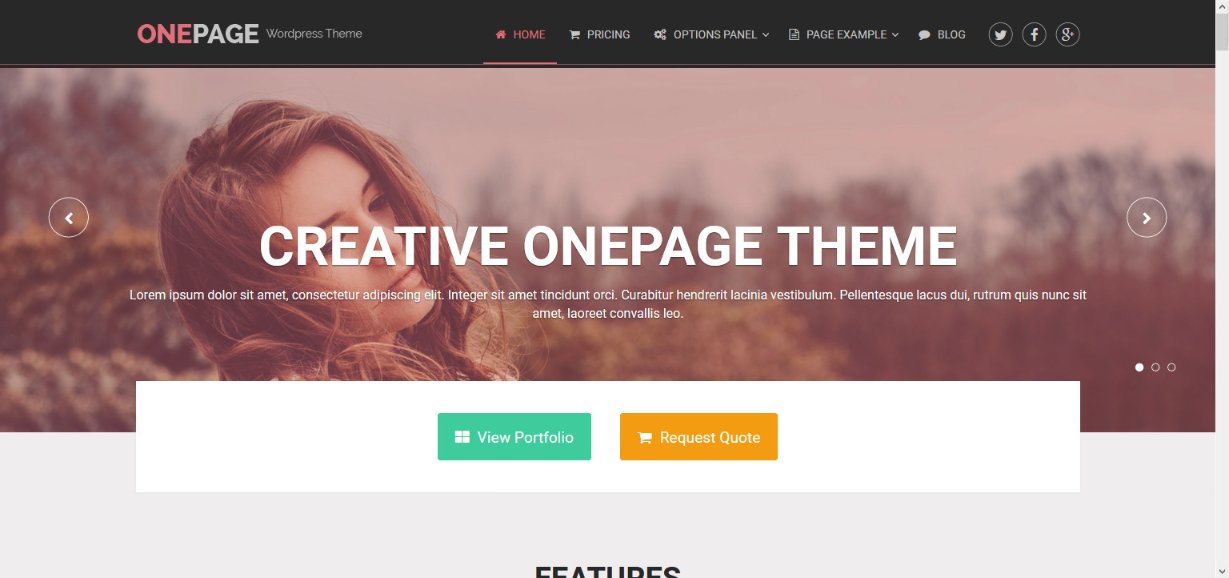 OnePage is a dedicated single page WordPress theme with a standard business layout. There is a blog demo too. Both provide the basis for you to build your own pages using a selection of page elements covering services, portfolio, testimonials, image galleries, forms and everything you're likely to need.
The designs are attractive with a good mix of colour, graphics, images and white space. Pages scroll smoothly and could allow you to tell a story with ease. The theme has a useful customizer to change colours, fonts, page elements and everything you see on the page. It's a very user friendly template.
OnePage doesn't make an instant impact but grows on you the more you look at it. The design could work for businesses of all kinds.
OnePage Pricing
OnePage offers free and premium versions starting from $49 per year.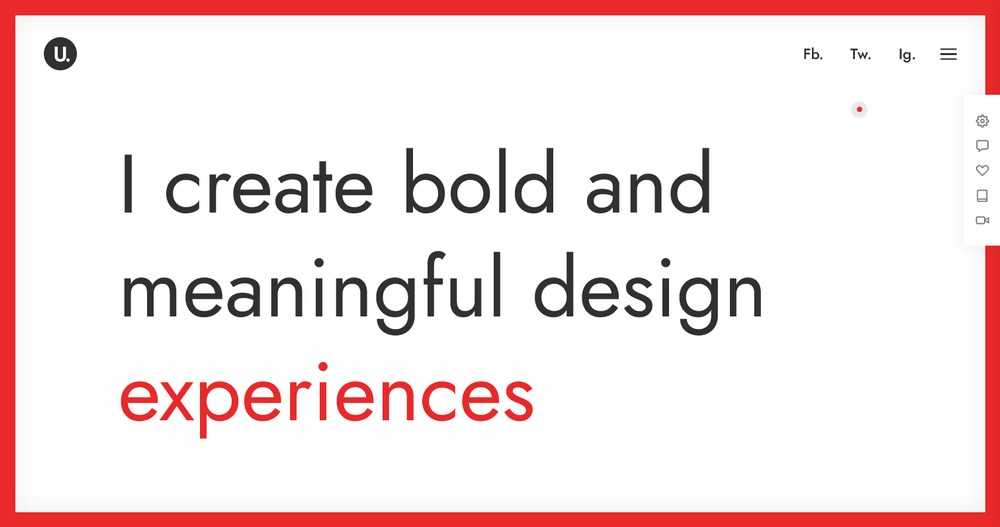 Uncode‌ is a one-page website theme starting at $59. With over 85,000 users, it is one of the bestselling one-page WordPress themes on the market.
This theme is feature-packed and gives you the option of importing over 70 pre-designed templates that help speed up your web design. It also comes with native integration with several premium plugins including WPBakery and Wireframes.
Regardless of your skill level, this easy-to-use theme allows you to take complete control of your web design resulting in a unique, professional-looking one-page website.
Uncode Pricing
A regular license of Uncode costs $59 per year.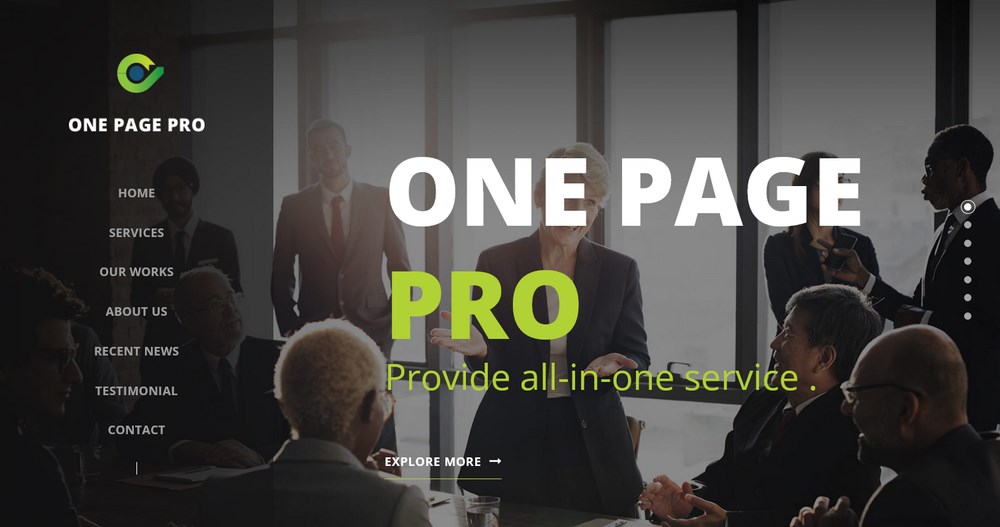 One‌ ‌Page‌ ‌Pro‌, as the name implies, is a theme exclusively dedicated to building one-page websites. Priced at just $59, it has an impressive collection of features including a three-view mode (live, preview, and block), inbuilt icons, animated counters, and custom skin color.
One Page Pro has up to 14 blog, nine portfolio, and six gallery layouts you can pick from to design any type of site. Additionally, all changes you make while designing your site can be viewed instantly via the live customizer.
Specially created for one-page websites, this theme is one of the best options you can use to build an attractive and highly responsive website.
One Page Pro Pricing
One Page Pro costs $57 per year.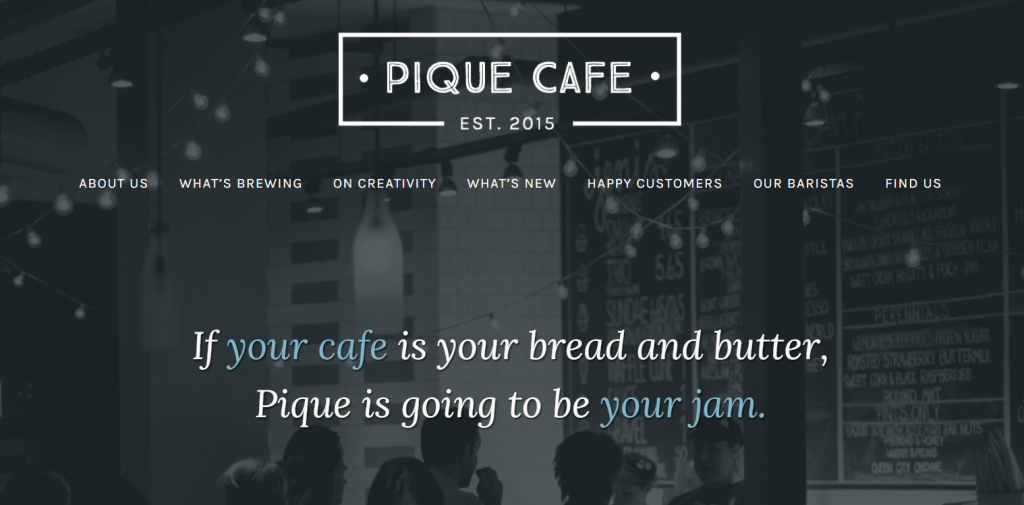 Pique is a free WordPress theme that builds one-page website for cafes, bakeries, shops, and saloons. This single-page theme keeps you focused while customizing your website with fonts, logos, and images.
The theme is simple, lightweight, and offers a clean design. Pique is SEO friendly and its one page layout features with hours, menus, and location options. If you want to showcase your most popular eateries and beverages, Pique is an excellent choice.
Pique Pricing
Pique is free to use.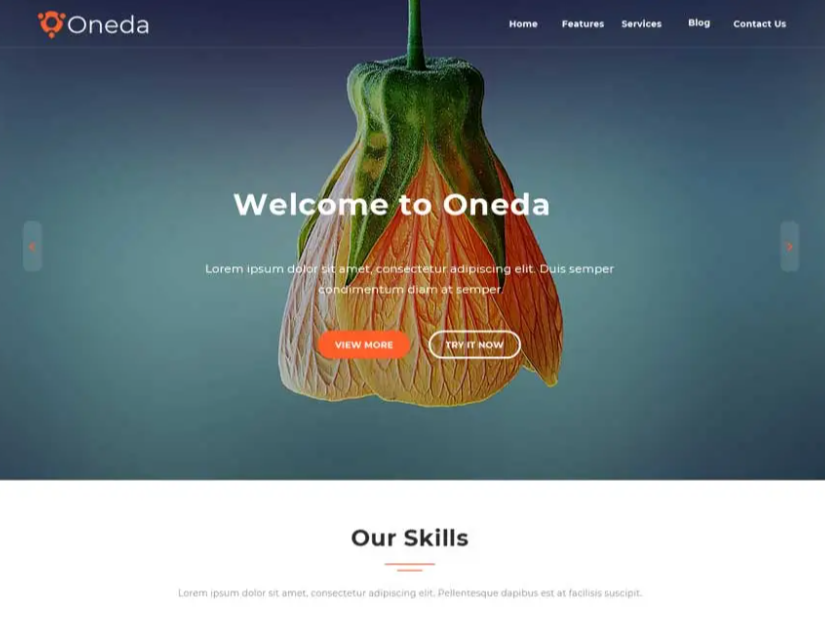 Oneda is a multipurpose one page WordPress theme. The theme is easy to customize and built with SEO functionality. Oneda helps you build an awesome website using the drag and drop feature. Using its 17+ pre-built pages, you can build all sorts of websites, including blogs, websites, and online stores.
Special features include Testimonials, pricing, team, Google Map, gallery, and call to action. It is fully customizable and allows you to mix and match different elements to create beautiful designs.
Oneda Pricing
Oneda is free.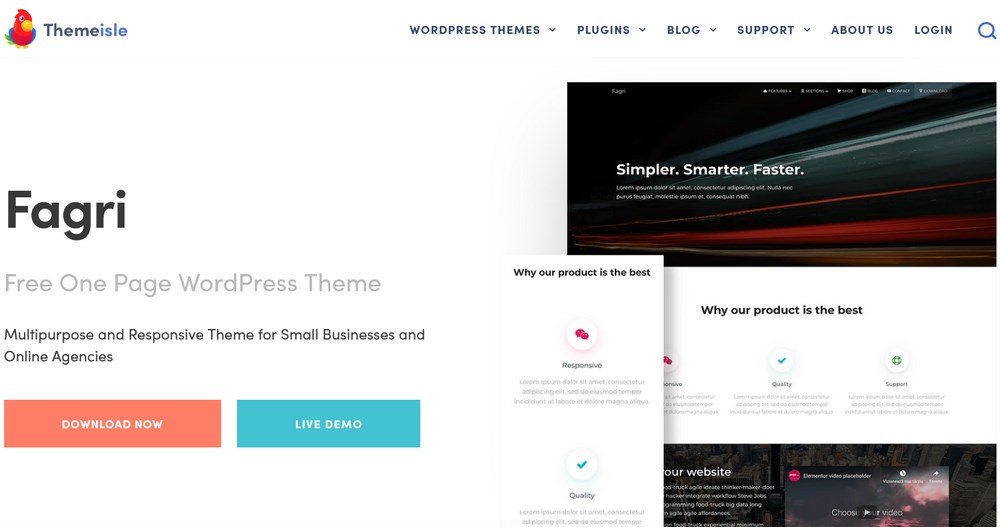 Fagri‌ is a free WordPress theme that creates one-page websites accentuated by parallax effects and subtle hover animations. This theme was designed with businesses in mind. Its lightweight, simple and clean designs coupled with its SEO-friendly features help create super responsive websites that are easily accessible to a target audience.
Fagri's compatibility with WooCommerce will allow you to design an attractive online store within minutes. Because of this, the theme is great for a wide variety of businesses and particularly suitable for eCommerce.
If you would like to create a simple but elegant one-page business website, Fagri is an excellent option.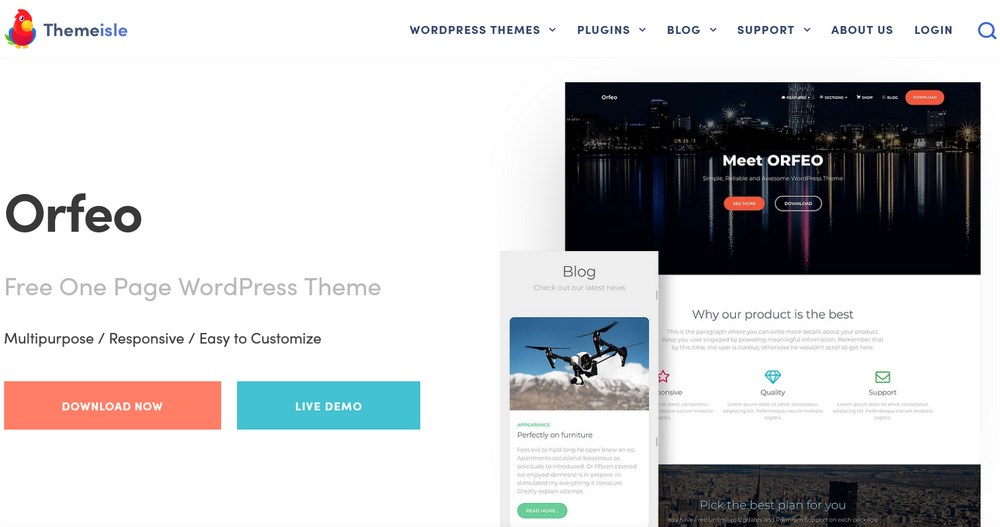 Orfeo‌ ‌is a multipurpose WordPress theme that is highly customizable, free, and easy to use. This theme allows you to build fully responsive sites that automatically detect and adapt to the screen size and orientation of a visitor's device.
Special features include Sendinblue newsletter integration, a widgetized footer, 1-minute setup, demo content availability, and WooCommerce compatibility. Orfeo is fully customizable, allowing you to mix and match various elements to create distinctive designs.
With this feature-rich, flexible theme, you can build all sorts of websites including eCommerce stores, personal blogs, and one-page websites.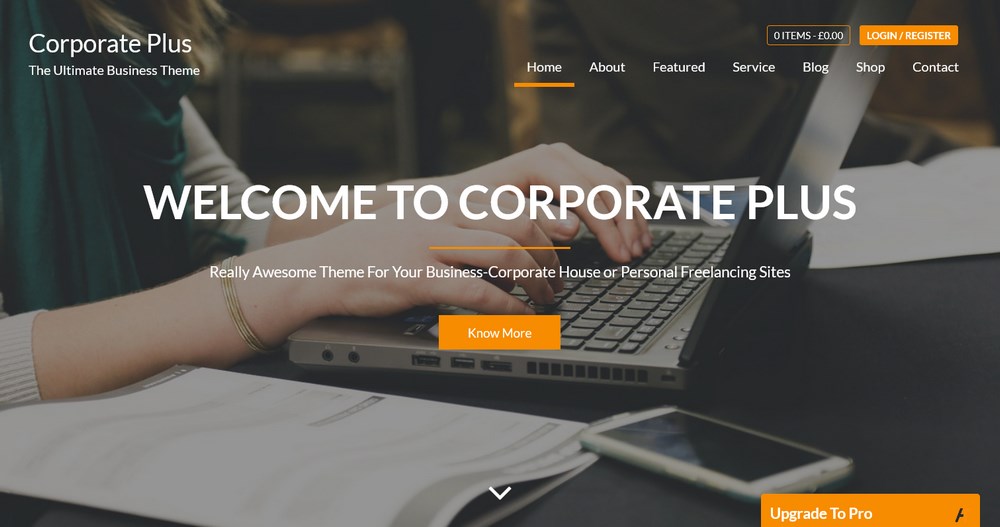 Corporate‌ ‌Plus‌ is a theme that helps you create modern and professional-looking websites that are great for business.
Without having to pay a single cent, you get access to features such as a unique slider section, footer widgets, WooCommerce compatibility, cross-browser compatibility, translation-ready code, and much more.
Corporate Plus is fully customizable with many advanced options that allow you to create unique designs. It is also a very lightweight theme built with speed taken into consideration. While this theme is a great choice for any skill level, it is a particularly good option for experienced users who can extend its features through hooks.
Corporate Plus Pricing
Corporate Plus is free to use.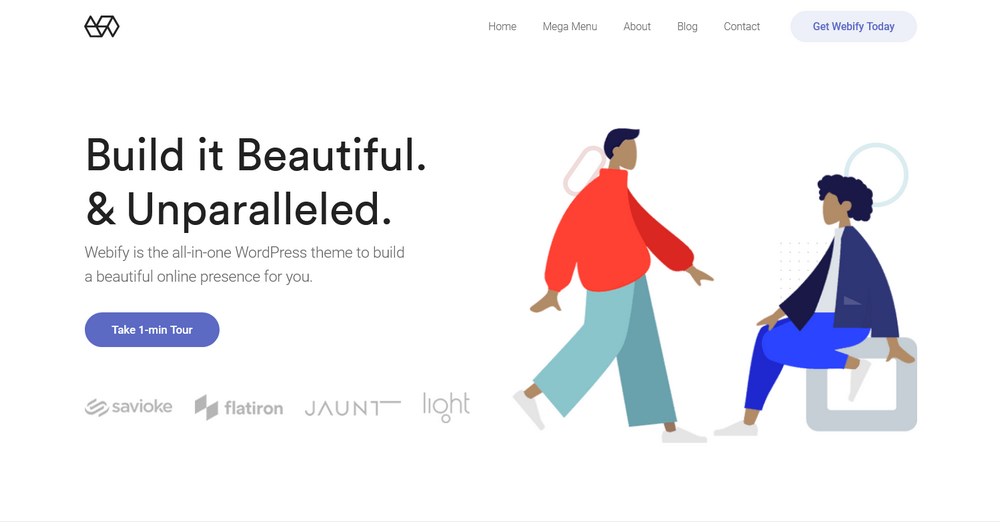 Webify‌ ‌is an extremely flexible, highly responsive theme with a rich collection of features. This superb theme costs a mere $59.
With over 50 pre-designed layouts that span across a wide variety of niches, Webify is great for any type of website you want to build. The abundance of font, color, widget, and background options allows you to create fully customized websites according to your specific needs.
Featuring more than 10 portfolio layouts and Instagram integration that allows you to display your feed on your site, Webify is especially great for creative professionals.
Webify Pricing
Webify costs $59.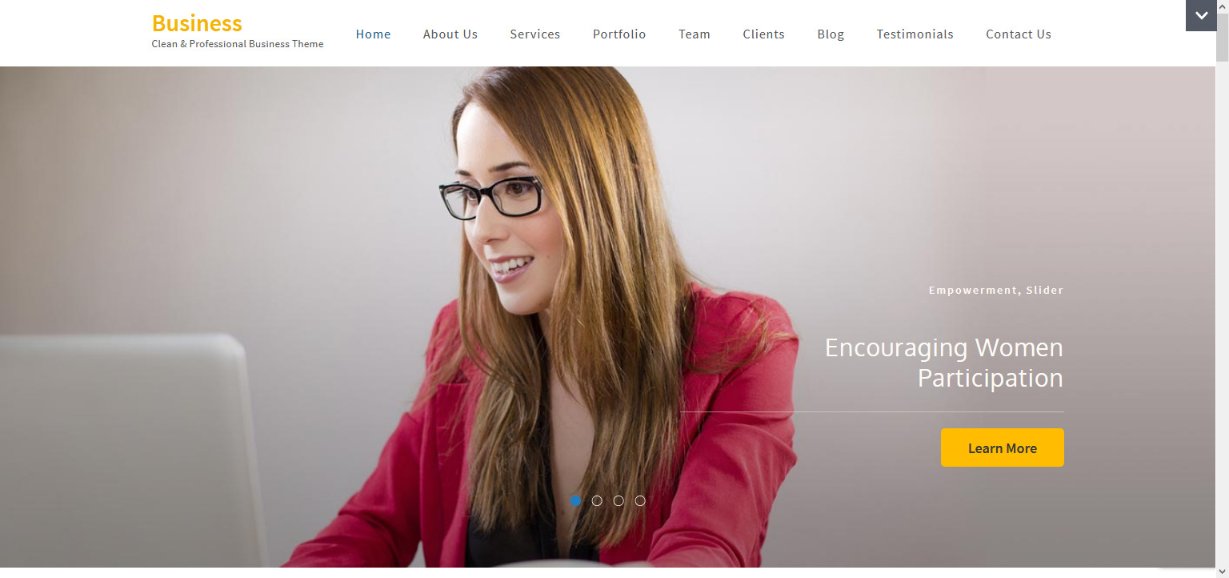 Business One Page is a standard corporate layout built as a one page WordPress theme. There is a free and a premium version that look very similar to each other. Each uses a full page slider as the intro before evolving into a standard layout with service boxes, alternating light and dark backgrounds and content elements.
The demos use a calm blue colour with a pop of colour from orange buttons. It could work very well as is, or be customized to suit your brand. Page elements can be added, changed or removed as required and everything you see on the page can be tweaked to suit your exact needs
Business One Page is designed to be a turnkey business page and delivers on that promise.
Business One Page Pricing
Business One Page is free.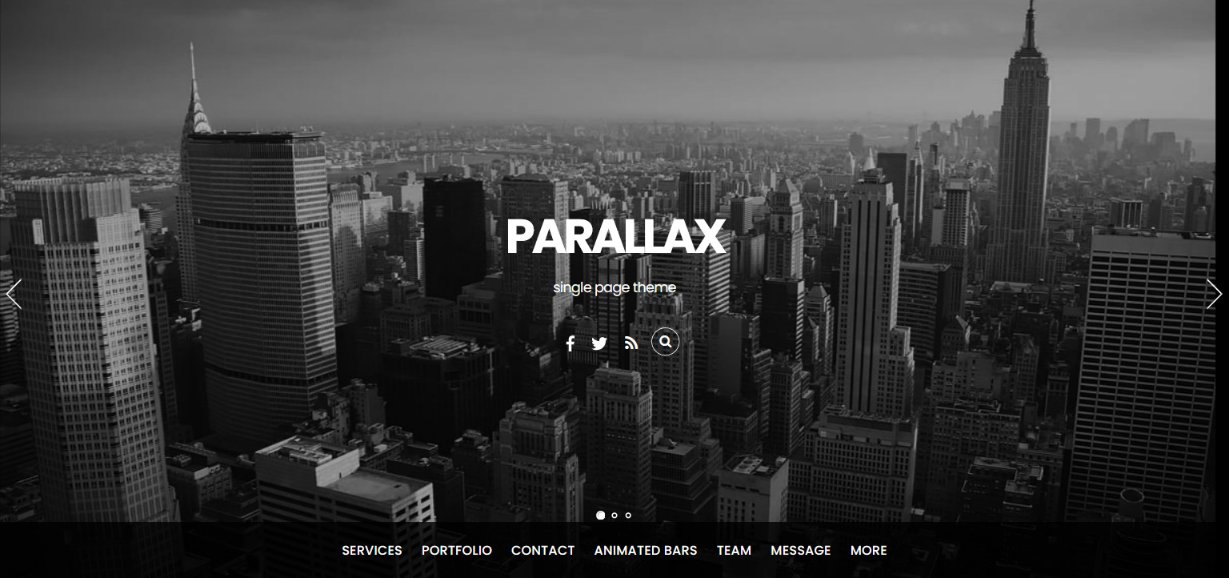 Parallax is a standout WordPress theme. It uses a monochrome image header to make the impact and interesting lower navigation menu underneath. The page then transitions to a dark and light layout with parallax image background and alternating light and dark backgrounds and fonts.
This is a very contemporary theme with flat design, modern fonts and a cool aesthetic that could resonate with a wide audience. The theme comes with a myriad of layout options, infinite scroll and a number of features you could use on your page.
Parallax would be ideal for photographers, artists, musicians, bars, barbers and any niche where contemporary design would appeal.
Parallax Pricing
The standard version of Parallax costs $59 per year.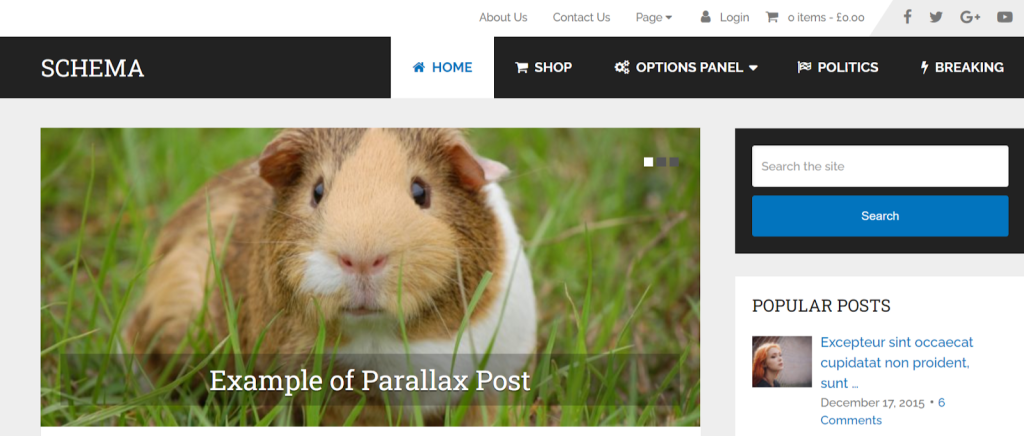 Schema is a free one page WordPress theme. The theme is fast loading and compatible with SEO functionalities. Using custom option panel and shortcodes, you can create unique website in minutes. The theme has a well-considered design that offers the flexibility to build your page however you like.
The theme unfolds to show more colorful graphics, colored backgrounds and animations that create interest. While a lot of color is used, the tone has been carefully chosen to be attractive rather than off-putting. It's a well-balanced design.
Schema App Pricing
Schema has free and premium version starts from $49 per year.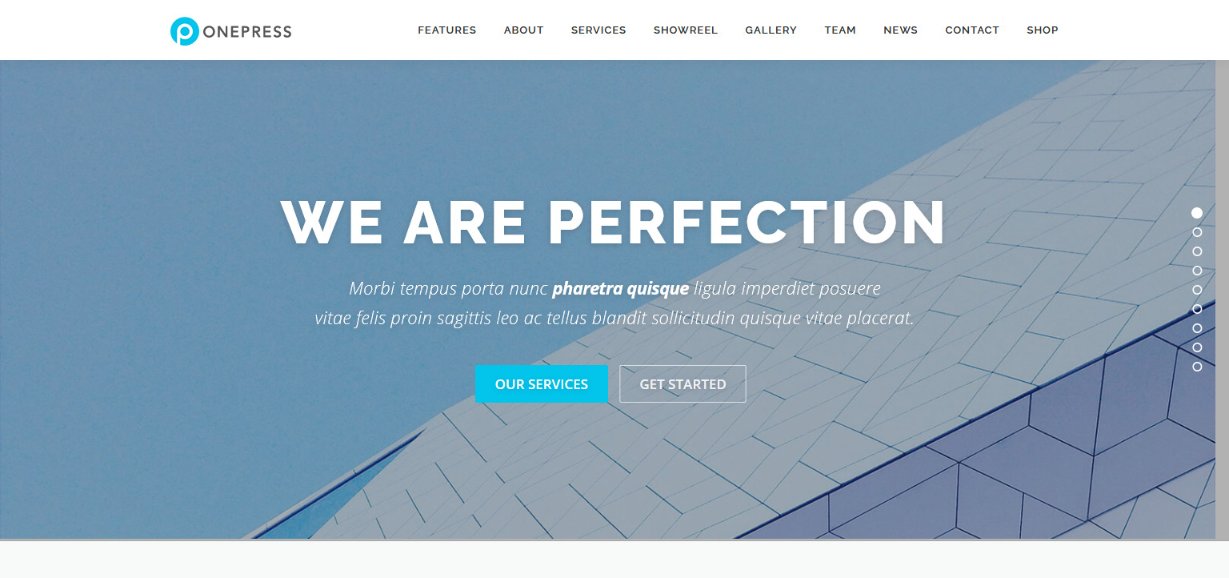 OnePress is a free one page WordPress theme that takes us more into the light side. This template uses white and off-white backgrounds, a light blue colour scheme and lots of images to paint the picture. Subtle sticky navigation and smooth scrolling creates that feeling of effortless cool.
Considering this is a free theme, the quality of design is superb. Font choice is excellent, pages scroll smoothly, you can use parallax effects if you like and utilize a range of custom widgets. It's a feature-rich template that delivers a very similar experience to premium ones in this list as long as you know what you're doing.
OnePress is a traditional business layout but includes elements that could be useful across industries including bars, hairdressers, beauty, travel and other niches.
OnePress Pricing
OnePress is free.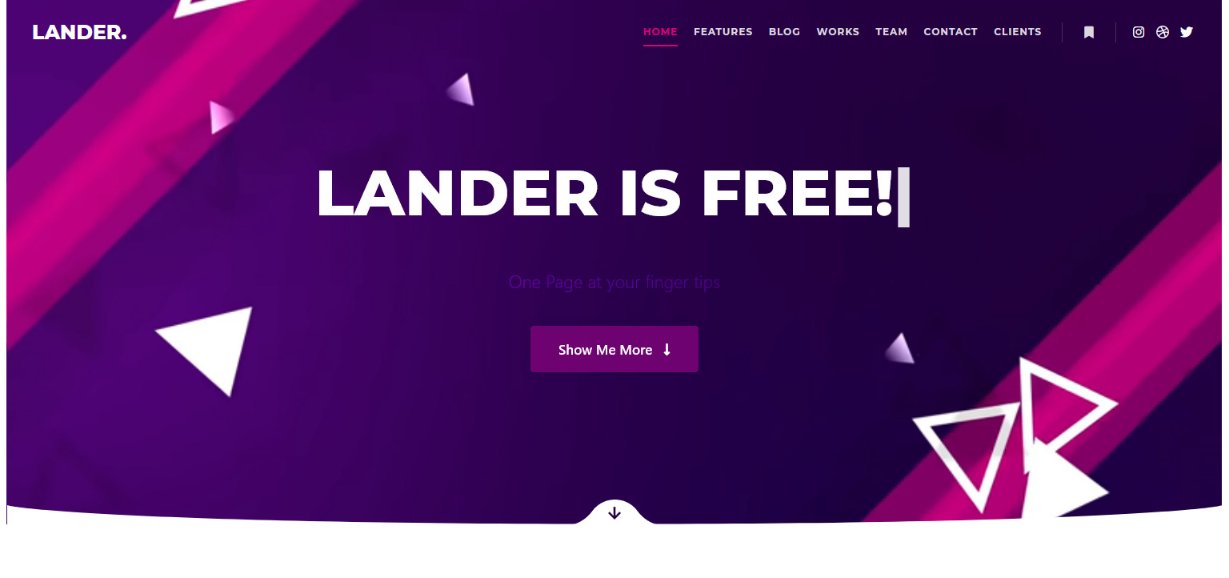 Rife is another free one page WordPress theme that looks anything but. It comes with a selection of demo sites you can use as you see fit. We chose Lander as it's already configured as a one page website but also because it uses strong colour contrasts to create an impact.
Rife begins with an animated header with scrolling text and a button that sends you down the page. It's quite a statement and one this template can back up. The page transitions to a white background with stark black font and icons before switching to a parallax background. This is a very competent design with a real eye for detail.
This theme has everything you need to build any kind of website. Elements work for companies, agencies, freelancers and every type of use.
Rife Pricing
Rife is free to use.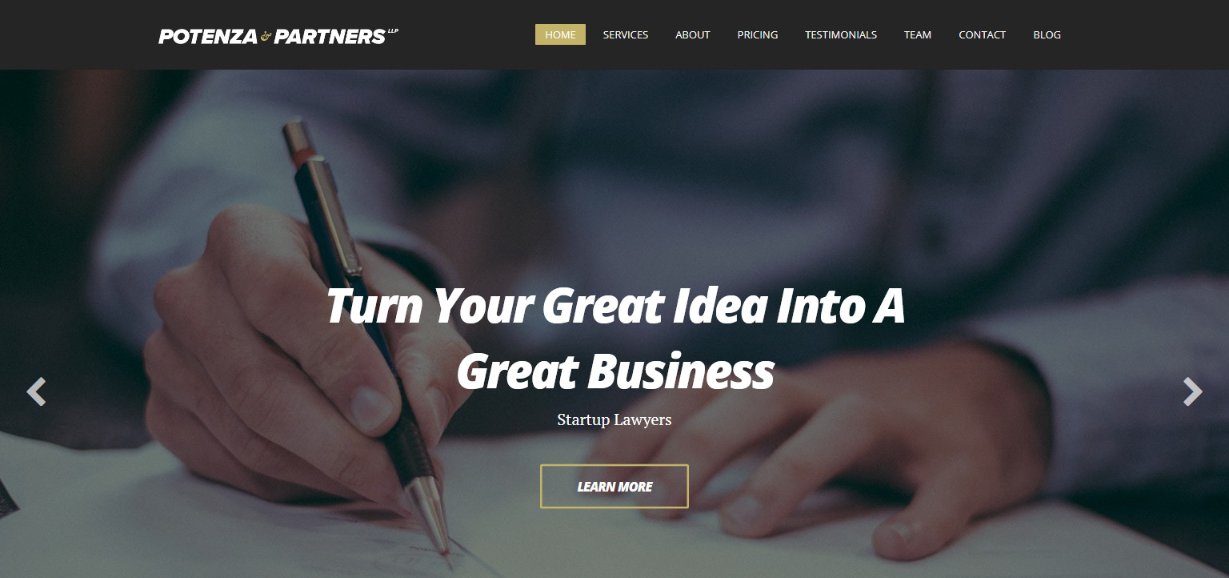 Potenza is a strong theme that makes an instant impact. While not designed specifically as a one page WordPress theme, it could easily be built as one. The demo begins with a strong statement header with image slider and strong headline font. A black navigation bar helps create the character of the page.
Further down the page of the demo site, it transitions to alternating dark and light blocks with parallax effects and contrasting fonts. The page includes service blocks, pricing blocks, testimonials, biographies and a very attractive contact form. Everything a business needs in a website.
While flexible, Potenza is primarily a business theme. That doesn't mean it won't work elsewhere but might take some effort!
Potenza Pricing
Potenza starts from $49 per year.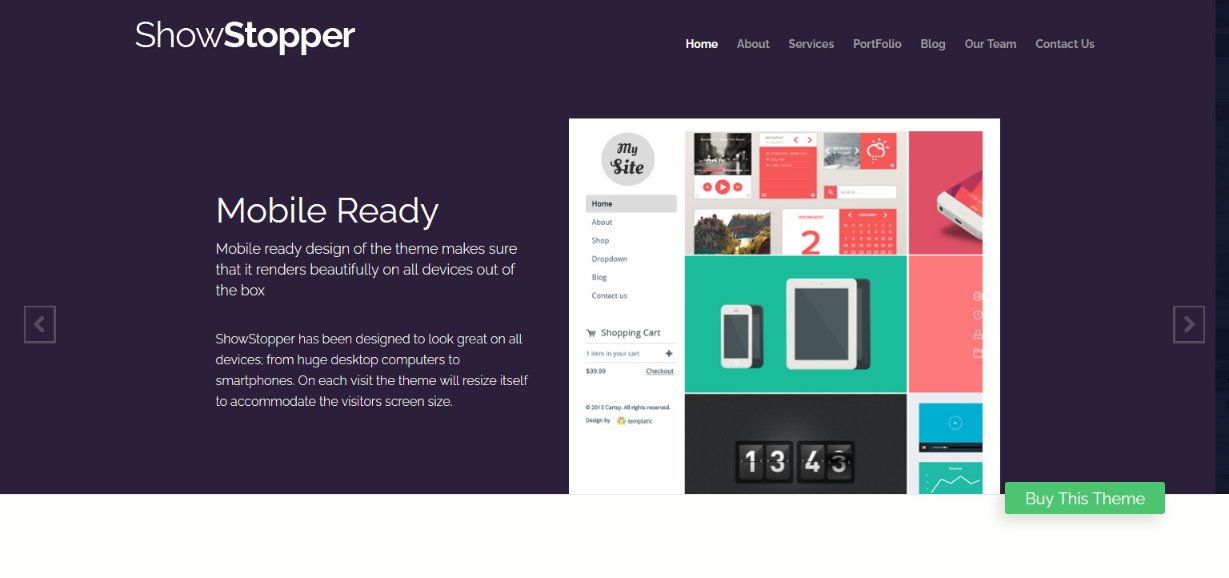 Calling your product ShowStopper is a real statement of intent. Fortunately, this one page WordPress theme delivers. It's a very composed design with header slider, subtle sticky navigation and a mixture of colours throughout the page.
ShowStopper includes all the page elements you'll need along with colourful icons, a portfolio section, a WooCommerce store section, blog and contact form. The page flows smoothly and creates a relaxed feel as you explore. This offers real potential in the right hands.
ShowStopper is a flexible theme that could work for many businesses or online stores.
ShowStopper Pricing
The regular license of ShowStopper starts from $69 per year.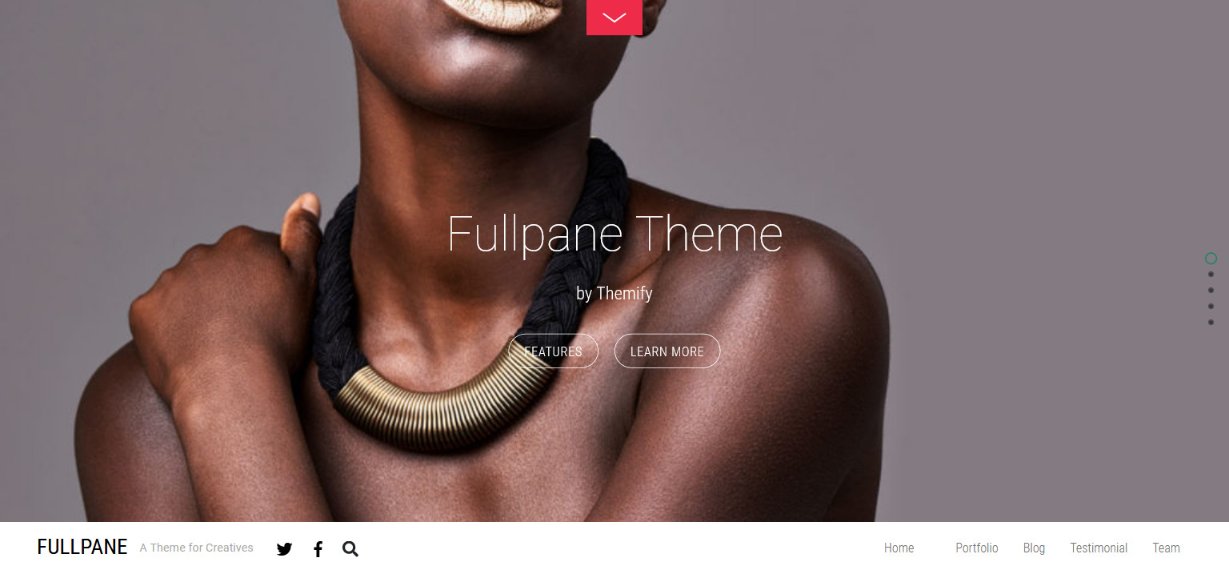 Fullpane is a unique theme that uses a combination of minimal design and one page to deliver something quite different. There is no top navigation and there are no dividers or bordered page elements. Instead, there are full page images with overlaid text, pulldown top menu and footer navigation instead.
The overall effect is a very good one. Images slide both horizontally and vertically and you could easily create a very impactful one page website just with the demo website. Other page elements, colours, menus and other features are available, not really necessary in our opinion.
Fullpane would be ideal for photographers, artists, models and anyone who wants to showcase visual work.
Fullpane Pricing
Fullpane costs $59.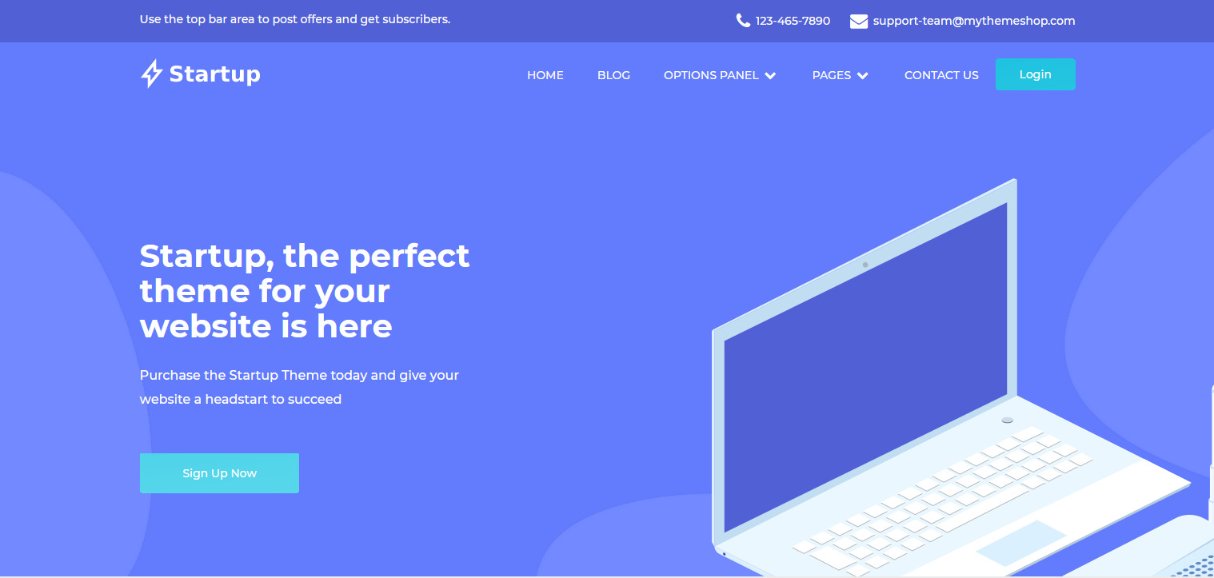 Startup is a smart modern theme that foregoes images in favour of graphics. This is a very current trend that features on many websites. Graphics, combined with a strong colour and stark modern fonts combines to create an accessible design for a wide range of niches.
The demo website is set up as a one page website. It uses a range of blues throughout to create a cohesive palette and a mix of graphics and copy to tell the story. The theme includes all the page elements you need along with compatibility with WooCommerce for a store. It's a well thought-out design that we thoroughly recommend.
Startup could be useful for startups, new businesses, graphics designers and any other business for whom modernity sells.
Startup Pricing
Startup costs $49 per year.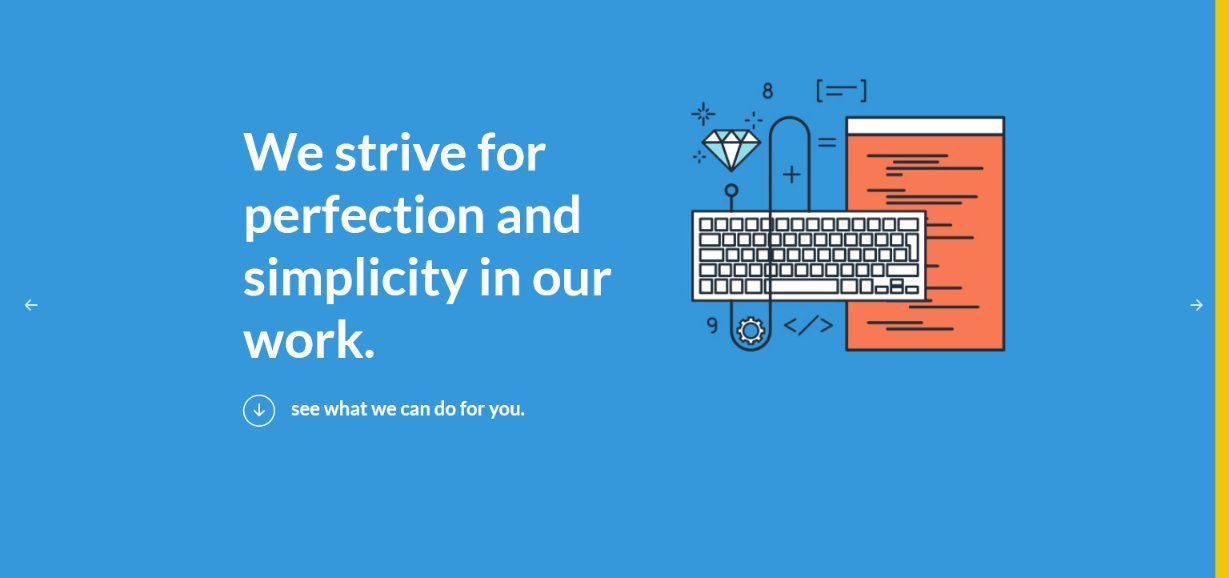 OneEngine is a colourful one page WordPress theme that sets its stall out nice and early. That full screen header tells you exactly what to expect with a couple of lines and a simple graphic. That story is borne out further down the page as you scroll.
Below the fold, the template takes on a more traditional look with light backgrounds, service blocks, biography, skills graphics, a portfolio section, blog and form. Other page elements are also available to tell your story however you like. The overall look and feel of this theme is of calm competence and that's a great characteristic to have.
OneEngine would be ideal for anyone in creative industries or whose audience will respond to a bold introduction.
OneEngine Pricing
OneEngine is free to use.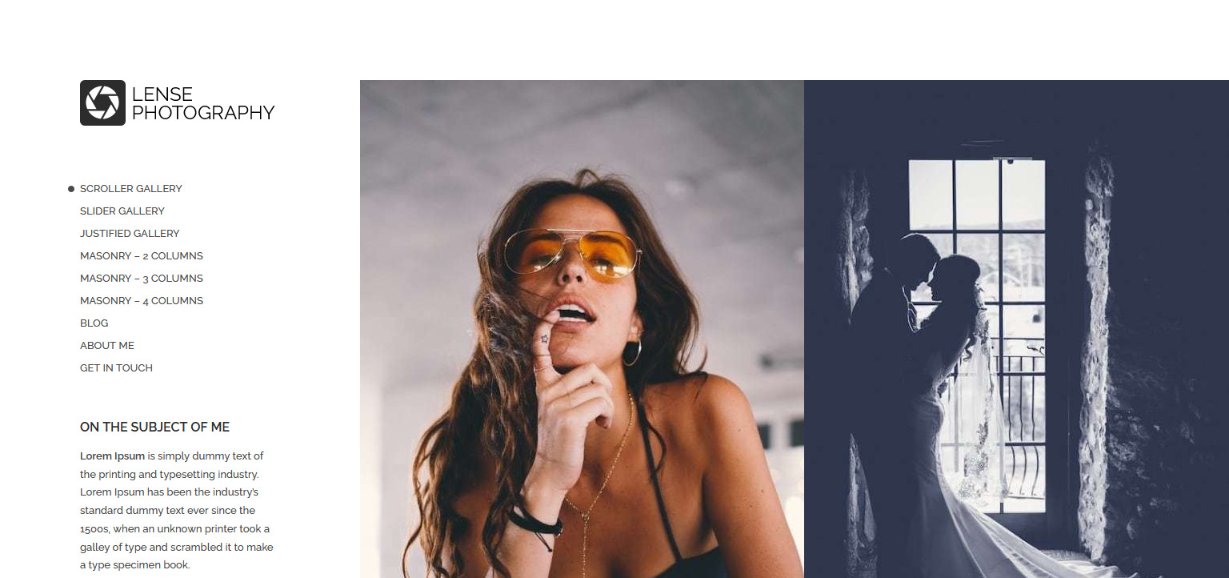 Lense is another take on the single page WordPress theme. It's another horizontal scrolling page with imagery at its heart, but a much lighter version than we have seen previously. It's a cutting edge design that keeps things simple while not missing anything out.
Content is kept minimal with Lense but the template supports traditional layouts as well as the side scrolling Scroller Gallery. While each has minimal copy and page elements, each allows images to shine and would be perfect for portfolios or image-heavy websites.
Lense would be ideal WordPress theme for photographers, graphics designers or artists who want to showcase their work.
Lense Pricing
Lense starts from $49 per year.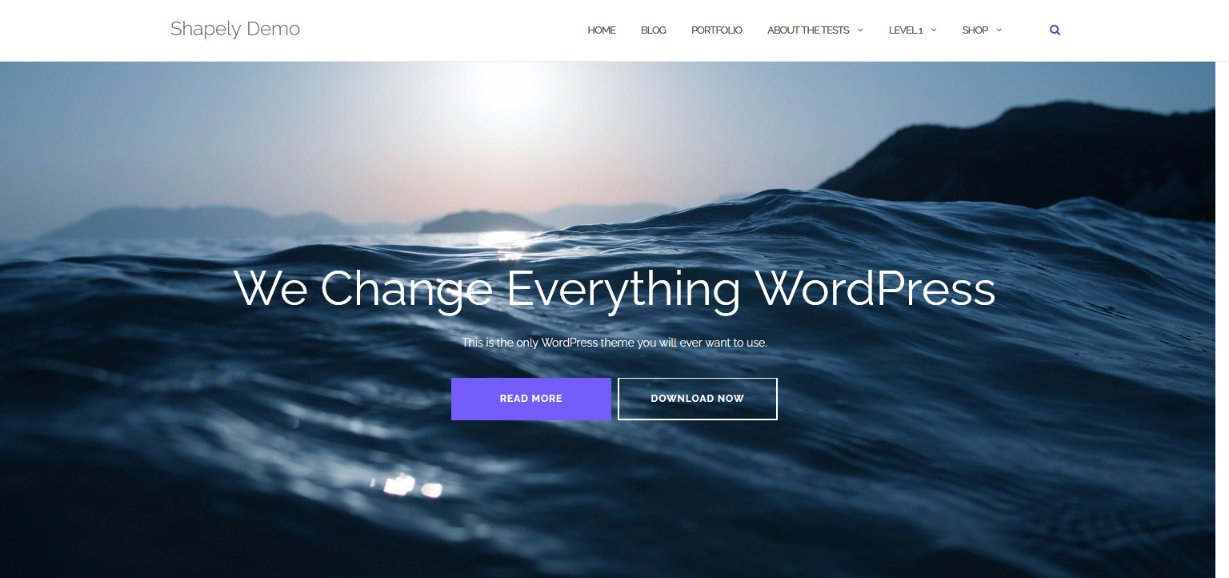 Shapely is a free one page WordPress theme that looks premium. That header image is everything and serves to set the scene for the rest of the page. Alongside a modern headline and buttons, gives you all you need to know before scrolling down.
The page quickly transitions into a light and accessible design with white and grey backgrounds and black modern fonts. A simple layout allows you to tell your story without any fussiness and the parallax sections would work well for calls to action. While you could customize this page as you like, the default works very well.
Shapely is a flexible theme that could genuinely be used for any type of niche.
Shapely Pricing
Shapely is available for free at wordpress.org.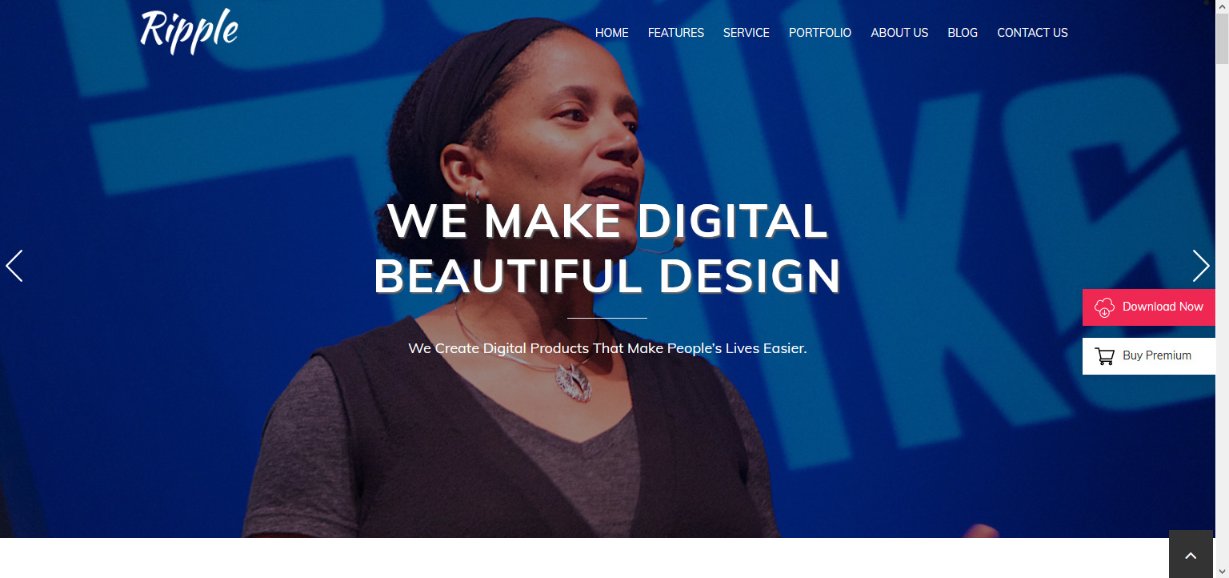 Ripple is a smart modern WordPress one page theme. It's also free, which is surprising given the quality. If you didn't know it was free, you genuinely wouldn't believe it. The design is that good.
Like many in this list, it opens with a full size image slider with headlines and modest navigation. It then opens up into a smooth-scrolling page that includes service blocks, calls to action, testimonials, portfolio, biography and the usual content you want to see.
Ripple will take more work than premium themes to customize and won't come with support so would be useful for more experienced WordPress users.
Ripple Pricing
Ripple is free.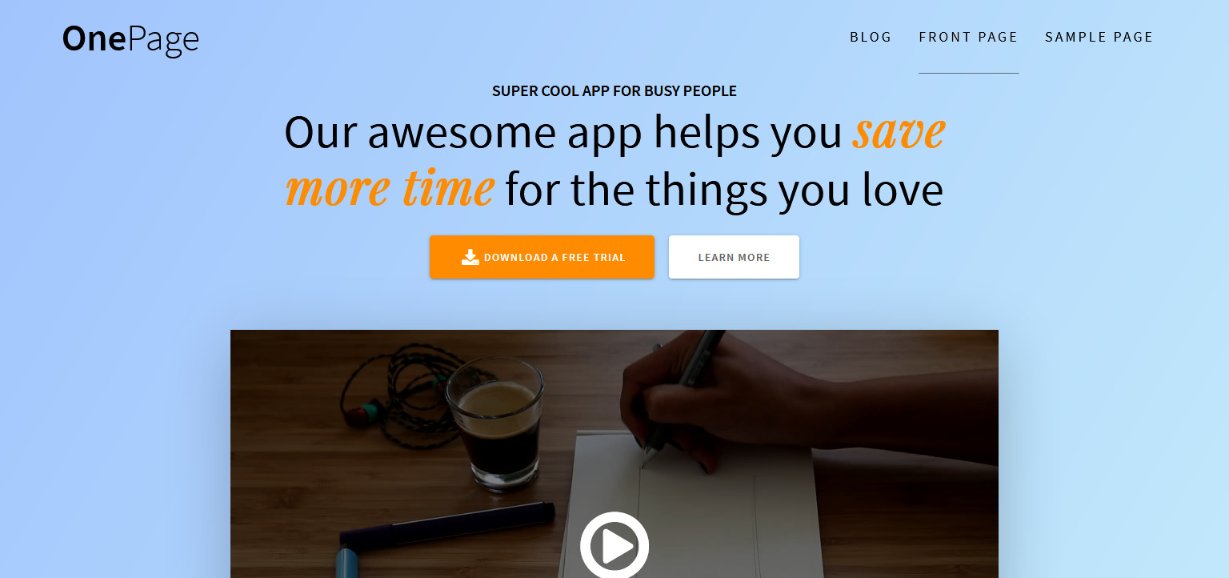 As the name suggests, OnePage Express is a one page WordPress theme. It's a bold design with striking header image and a selection of demo themes to choose from. Each does its thing slightly differently so there should be one here that's perfect for your needs.
Pages unfold smoothly into alternative content rows with different backgrounds. There are service elements, blog, portfolio, testimonials, calls to action and some clean forms. Each demo page is slightly different but all create the same professional yet accessible appeal.
OnePage Express has a youthful vibe so could work for education, training, agency or something else entirely!
OnePage Express Pricing
OnePage Express costs $79 per year.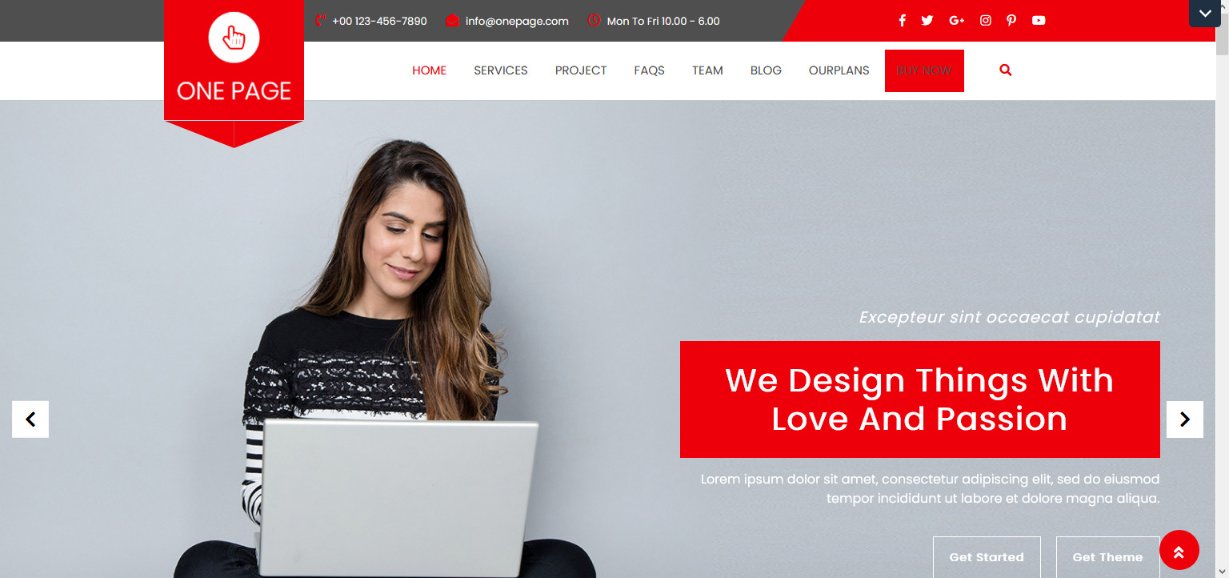 VW One Page is another of those themes that you would never believe was free until we told you. Well it is. This is a very competent single page WordPress theme designed for business websites. It uses bold colours, strong graphics and some neat effects to get its point across.
This is a strong theme that could easily be toned down simply by changing the red. Or ramped up, depending on your needs. The strength of the template is that it could easily cope with any of these changes without losing its core character. With all the page elements you'll need and some optional ones besides, this is definitely a theme worth trying.
VW One Page would be ideal for upstarts, freelance designers and anyone who isn't afraid to make an impact.
VW One Page Pricing
You can try VW One Page for free.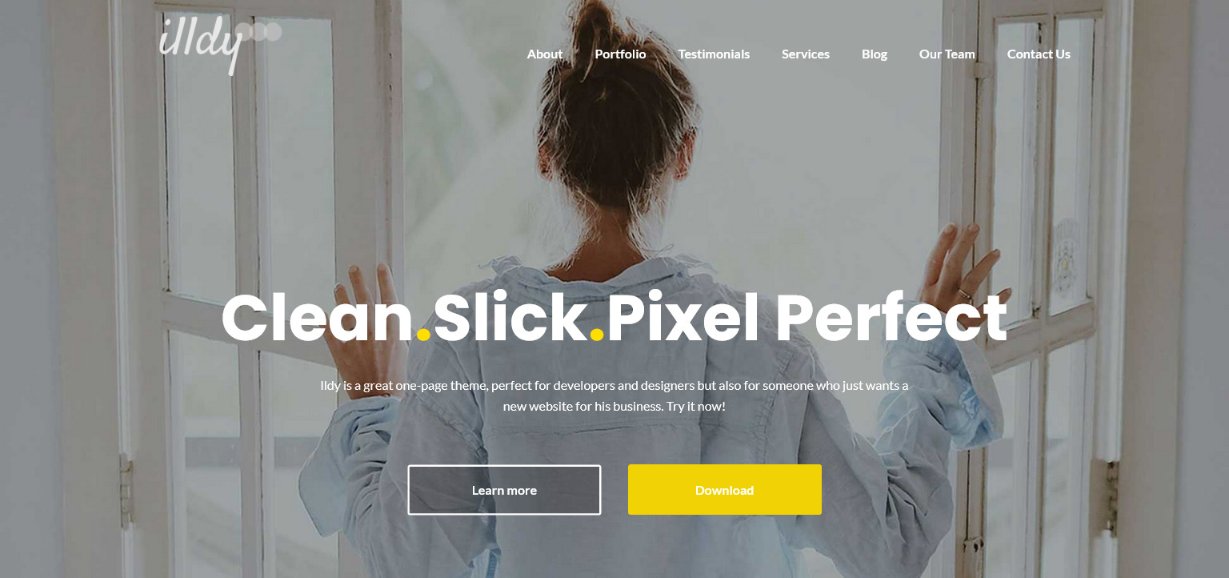 Illdy is a calm and collected free WordPress one page theme with a little Skandi influence. The demo template starts with a full size image with grey filter and stark white font. A modern yellow contrast colour adds real interest while doing very little.
The rest of the page adds more colours and content blocks as the page unfolds. Each is clear, modern and accessible while telling the story. A mixture of content blocks covers all the features you'll need.
Illdy is a clean, crisp design with a very modern aesthetic. It will need more work than premium themes to customize but could work for many types of use.
Illdy Pricing
Illdy is free to use.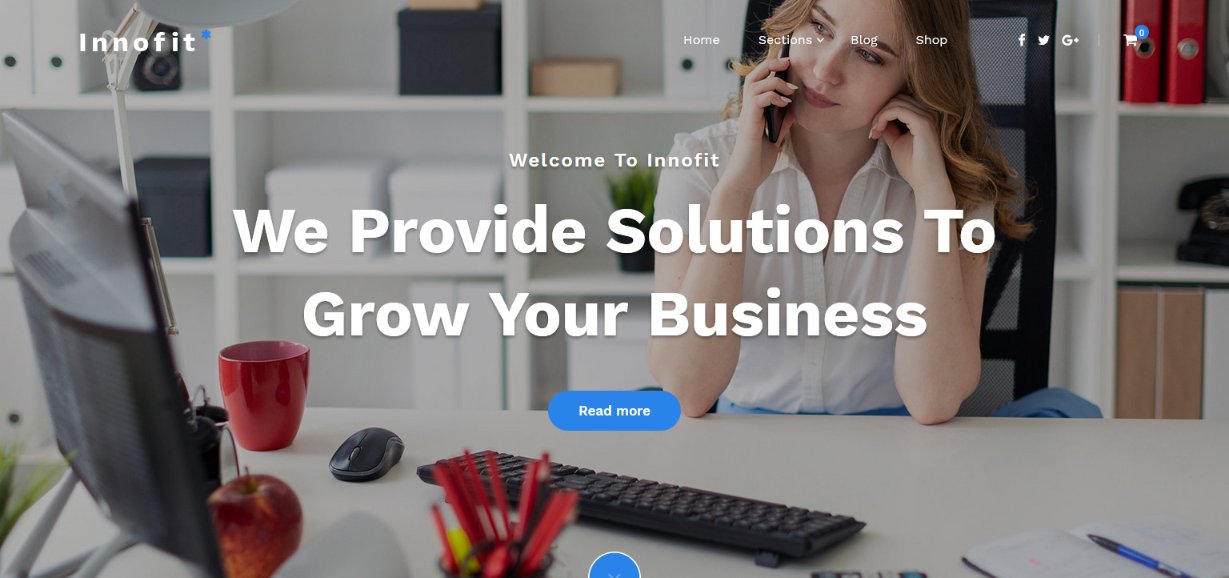 Innofit may be last but it is certainly not least. This is a very strong template that is completely free. It uses solid design to deliver a modern corporate website that scrolls smoothly and provides everything you need to tell the brand story. It's a surprisingly complete theme considering it costs nothing.
The page uses contrast for effect. Bright white backgrounds with bright contrast colours and off-white backgrounds with dark contrast colours. Alongside some nice icons and imagery, the theme creates a standout page. A nice blog layout, subtle shadow effects, an attractive form and the option to add a store all add to the appeal.
Innofit is a very flexible theme but is largely corporate in its appeal. Therefore we think it would be ideal for small businesses.
Innofit Pricing
Innofit is available for free.
Final Thoughts
One page design is alive and kicking and can make a real impact in the right hands. The one page WordPress themes in this list prove that you can be a little different in your approach to your website than the norm while still appealing to your core audience.
We think any one of these one page WordPress themes are worth checking out!
Which WordPress One Page Theme Should You Choose?
This is always the million dollar question. How can you choose a standout single page WordPress theme from the carefully curated list of 34? With difficulty!
Astra stands out from the crowd thanks to its ease of use, integration with leading page builders, compatibility with WooCommerce and the quality of the designs.
The greyscale palette of Corporate Plus is another standout theme that does one page design very well. Rife and VW One Page both stand out because of the quality of design and features while being free.
Finally, Fagri is worth checking out thanks to the page balance, soft colour palette and that patterned background.
So that's what we think are the best one page WordPress themes around. What about you? Do you have any to suggest?