Trying to find the best WordPress Photography theme that suits your business isn't an easy task. Luckily we've done the leg-work for you. In this article we've rounded up the best WordPress photography themes on the market.
No matter if you're an amateur or professional, if you are a wedding or nature photographer, blogger or just someone looking to display their photos.
With such a vast array of options, we're sure you'll find something suitable for you.
What Makes a Good WordPress Photography Theme?
Some years ago, photography wasn't accessible to everyone. Nowadays, it has become a trending topic. You can share your photos across social media thanks to the rise of platforms like Instagram. Making yourself visible online is almost mandatory nowadays to even get a shot at a decent business.
But Instagram Isn't your only option. You can host your photos yourself too. Since social media platforms compress most of the image's quality, hosting your photos yourself will give you the much needed freedom on how you want them displayed.
For that, you'll need a WordPress photography theme that makes the difference. But, what makes a good WordPress photography theme?
The first thing to have in mind is to choose an easy theme to use. Features like being fully responsive, fast loading, and well-coded are valued. A good WordPress photography theme also offers multiple gallery layouts and customization options.
You'll also want to look out for themes that receive regular updates.
Design & Customization
A good WordPress photography theme should have a clean minimalist design. No one wants to enter a confusing website. It's essential for visitors to be engaged, and to have a friendly experience.
Colours, font, text and portfolio galleries will have a role in the behaviour of the users of your website. So. customization is an important factor. If a photography theme gives you lots of options and features, you'll have a good opportunity to create something amazing.
Keep an eye on characteristics like multiple gallery types; photography-enhancing effects; social media integrations, if you want to boost your traffic and if you intend to sell your photos, look for integration with eCommerce plugins such as WooCommerce and Easy Digital Downloads (EDD).
Performance
Let's be real, who wants to visit a website that takes ages to load? No one wants this. More and more performance is another critical aspect of a website.
Be careful when searching for WordPress photography themes, many include unoptimized galleries that slow down your website. And how fast your website loads on different devices matters more than ever. Google now includes the speed of a website as a ranking factor for search results.
Premium vs Free Photography WordPress Themes
The big question when you have to choose WordPress photography themes is between free and premium themes.
For a better understanding, let's break down some of the key differences between each of the themes below:
| | |
| --- | --- |
| Free themes | Premium themes |
| Totally free. | Requires spending some money. |
| Download from official WordPress.org, needs a review process. | Do not need a review process before downloading, except for themes on ThemeForest. |
| Normally with minimal features. | Built with more options. |
| Limited support. | Great personalized support. |
| Usually don't come with package documentation. | Documentation provided to guide in the setup process. |
| Less customization options, sometimes you will need coding knowledge. | More features to customized and app integrations to extend functionalities. |
| Updates can be limited, this can lead to secure vulnerabilities. | Typically more regular updates to keep the theme secure. |
| Searching and installation of the themes are simple. | Themes are available from a wide range of independent shops or marketplaces. |
Free WordPress themes are a great option if you don't want to spend a lot of money. They usually came with a great range of features that you will need to get started with your business.
However, premium WordPress photography themes usually get much more functionality and support.
So, what's the best WordPress photography theme for me? Free or premium? When you're choosing a theme, it'll help to ask yourself some questions.
Do I really need lots of features? Customs options? Or other functionality? Do I want a professional look or a basic layout? Can I fix issues along the way or will I need extra support?
Of course, for some of you, money to invest also counts. Always remember, if you're starting and new to the business, maybe one of the free WordPress photography themes is more suitable.
Best WordPress Photography Themes — 10 Great Options
Every photography theme in this list is worth exploring and will definitely deliver the quality of website you're looking for. However, if you're looking for specific recommendations, the 5 themes below deliver everything you're looking for with a little something extra.
Theme name
Price
Our rating
Astra
Free / From

$47

€0

⭐⭐⭐⭐⭐
Image Gridly
Free / From $39
⭐⭐⭐⭐
FotoGraphy
Free / Premium – $55
⭐⭐⭐⭐
Ultra
$59
⭐⭐⭐⭐
Phlox
Free/ From $39
⭐⭐⭐⭐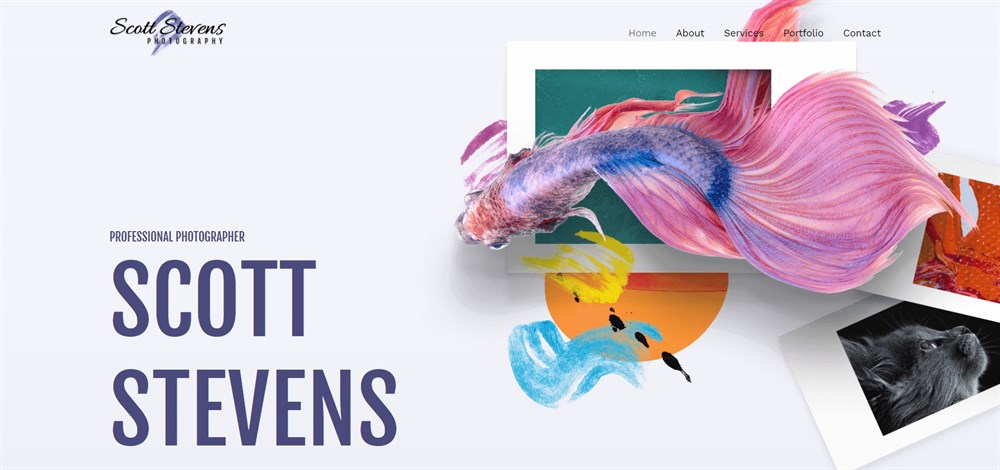 One of the best WordPress themes out there is our very own Astra. It's a multipurpose theme that can be used for various types of websites.
One of the main reasons to use Astra instead of other WordPress photography themes is speed. Your portfolio will load faster than ever thanks to this speed-optimized theme.
Astra comes with tons of options, some of them are exclusive to the theme. It is possible to personalize almost everything. Different colours, typography, landing pages, portfolios, layout and many more.
The widgets and sidebar can also be personalized with alternative choices for the whole site or individual pages.
Another great thing is the features and templates could work with most page builders, like Elementor, Visual Composer or Beaver Builder.
Astra was made and is maintained by your very own Brainstorm Force team. Currently, it has 1,653,898+ active installs, with more than 4,976 reviews on WordPress.org.
Astra Photography templates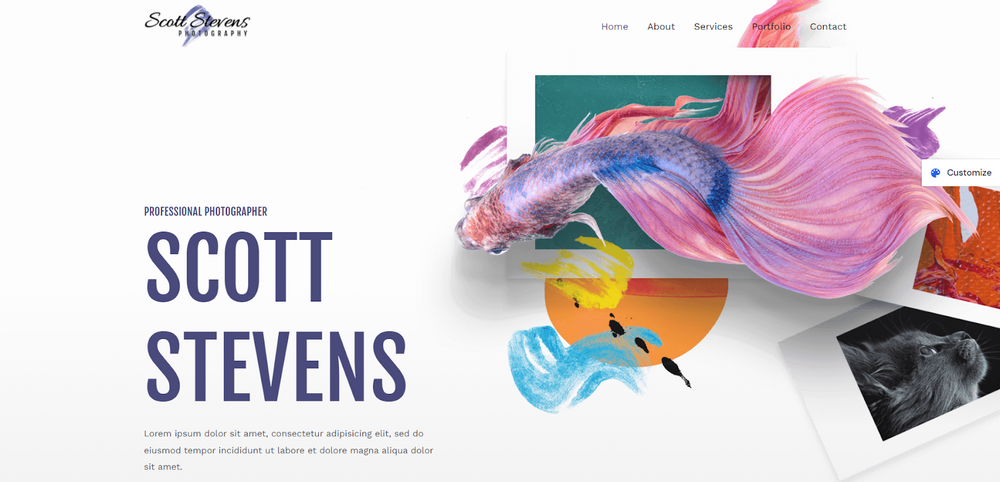 The Photographer template starts as it means to go on, by making an instant positive impression. It's bright, engaging and delivers the kind of experience a visitor to a photography website would expect.
It's a very modern theme with lots of options to showcase your work, tell your story and entertain visitors. Clever use of white space, colors and typography adds a touch of class that can engage or convert in equal measure.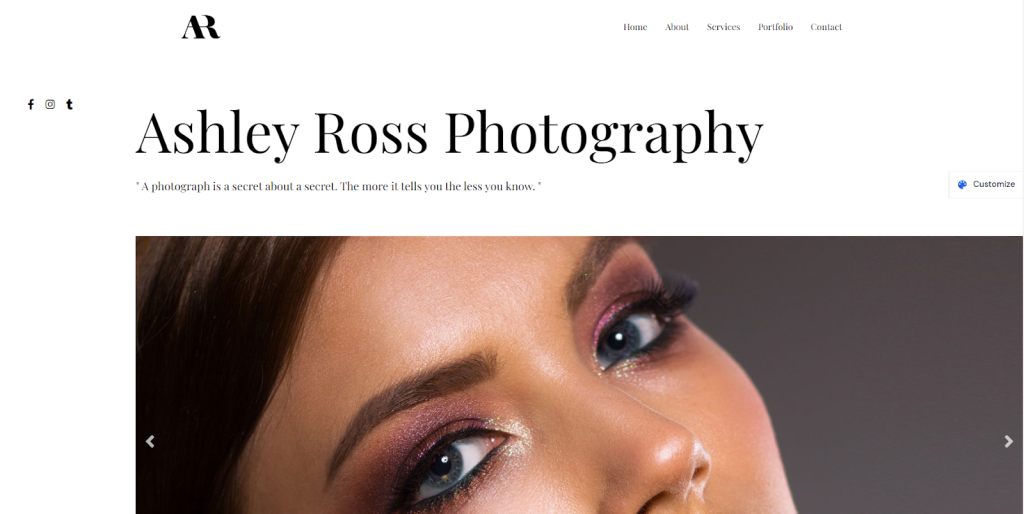 The photographer template offers minimalist and clean design. You can easily showcase yourself and your work on the homepage with slide image functionality. The template uses a drag and drop page builder to edit and customize pages as per your need.
It has an inbuilt social share feature and predefined layouts to add content. The template is highly responsive and brings out your best work to your visitors.
Some of the great features of Astra are:
Responsive design
Custom colors and backgrounds
Variety of multipurpose starter sites
Optimized for high performance
Site and blog layouts
Built-in settings specific for WooCommerce
If your main goal is to sell your photos and make a profit from your hard work, Astra comes built with WooCommerce in mind. It's packed with tons of functionalities specific to making your shop look great and feel right.
Mobile-Friendliness
To ensure the best experience for your users, Astra is fully responsive out of the box and works across all different device types (computer, laptop, desktop, and mobile).
This means it comes with different sites layouts with full control of width, padding, and spacing so you can achieve a fully responsive and astonishing looking website.
Astra also offers mobile headers, so you can edit header break-points, have a different logo and site for mobile devices.
Image Portfolio
The Essential Bundle comes with WP Portfolio plugin. With this fantastic plugin, you can create incredible portfolios to showcase your photos.
The Astra theme includes different layouts to showcase your portfolio. You can use the grid, list or masonry layouts combined with full control of the style and infinite loading to achieve a stunning looking gallery.
Performance
Astra performance is incredible, it is a theme built for speed. Clean and optimized, ensures a fast loading time. Weighing in at less than 50KB in resources. This is also a well-coded theme for SEO.
Astra Theme – Price
You can have Astra as one of the free WordPress Photography Themes. But, there are some paid options available too.
The paid options are:
Annual Pricing – Astra Pro:
Astra Pro – $47 €0
Essential Bundle – $137 €0
Growth Bundle – $187 €0
One-time Lifetime Pricing – Astra Pro:
Astra Pro – $227 €0
Essential Bundle – $677 €0
Growth Bundle – $937 €0
In both packages (annual or lifetime), all customers have access to personalized support, unlimited website usage and extensive training.
Also, Astra Pro users get unlimited admission to SkillJet for free. SkillJet is the newly launched e-learning platform, where you can improve your skills towards a growing business, in a short amount of time.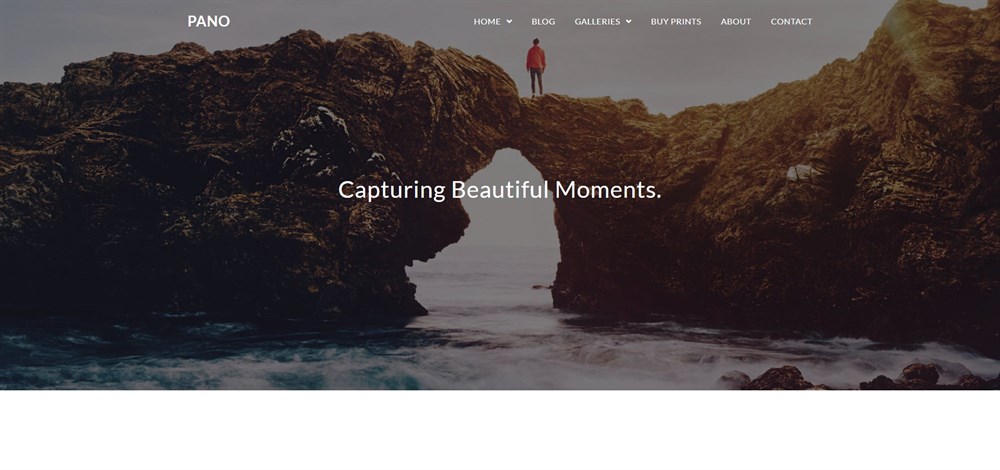 Having more than 60 starting designs, Photocrati is responsive and multifunctional. The unique templates permit limitless customization possibilities. You can even create your own WordPress photography themes designs, save and share with others.
The theme has integrated with eCommerce, meaning that you can sell your original artwork and prints right from your website. This is a substantial improvement, so you don't need to share any profit with a third party. Built into the framework you also have options for PayPal, taxes, shipping and handling.
No wonder that Photocrati is a theme used by more than 18,000 active users. Is one of the most well-received WordPress photography themes.
Made by Imagely professional photography team, had experienced incredible growth in download.
A few of the Photocrati features are:
a built-in gallery management
built-in Ecommerce
diverse slideshow galleries
print orders automatically printed and shipped to customers
Thumbnail galleries
lightboxes options
filmstrip and blogstrip galleries
multiple blog templates styles
great widgets areas for site customization
featured posts widget
disable right clicks
Mobile-Friendliness
As other WordPress photography themes, Photocrati is fully responsive in both desktop and mobile devices.
Image Portfolio
One of the best advantages of Photocrati is the diverse variety of choices for your galleries. It offers multiple layouts like slideshows, filmstrip or blog style.
It also features a gallery management system and a built-in lightbox function with customization.
Photocrati Theme – Price
As a WordPress Premium theme it's not free. To use the theme you can choose from three types of packages:
Plus – $99
Pro – $149
Unlimited – $249
The price is on an annual fee basis. All of them include pro support, all theme designs, an extensive gallery displays and eCommerce functionalities.
The difference is in the number of sites which one can support. For the Plus is one site, three for the Pro and unlimited sites for the Unlimited version.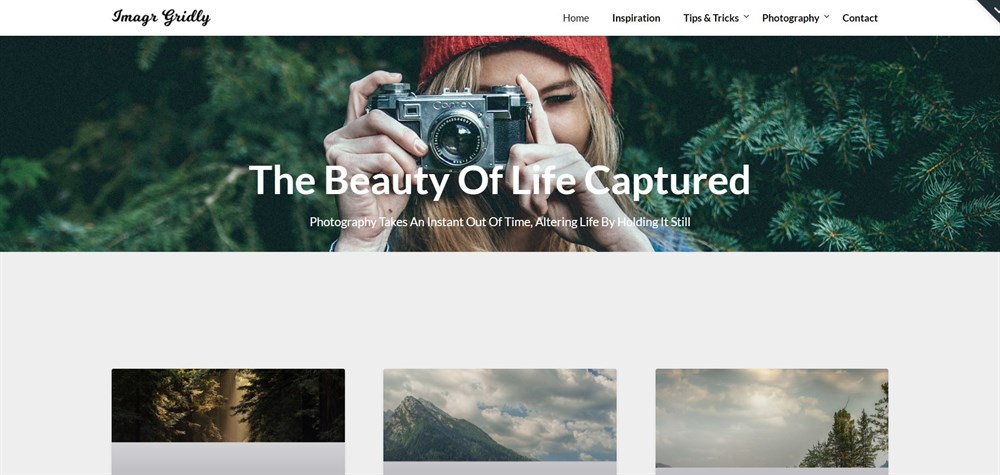 The team behind the establishment of this theme is ThemeEverest. They love working on simple and clean themes. Image Gridly is no exception, with a quick and load fast page speed.
Image Gridly is, in fact, one of the WordPress photography themes fully SEO optimized. Built with page speed and SEO plugins that'll help you increase your rank on search engines.
The drop-down menu, drag and drop page building and other custom features are handy to define the default layout that you want.
Although the theme comes with great function if you want more options, they are only available with the premium version. So, you really have to consider this issue.
Image Gridly features are:
SEO optimization
custom site title & tagline
custom navigation colors
custom background image/color
custom logo and favicon
Mobile-Friendliness
Additional to all the features you can get, Image Gridly is a responsive theme. On desktops, tablets or mobile devices, the theme works well.
Image Portfolio
As some of the free WordPress photography themes, in Image Gridly, you have a few customization options.
This way, you can wait for lots of custom background images, colour customization and widgets. All of this, it is a plus for anyone who wants to showcase their work in unique ways.
Image Gridly Theme – Price
Like other themes, Image Gridly is on a free basic plan. The premium version comes in at $29.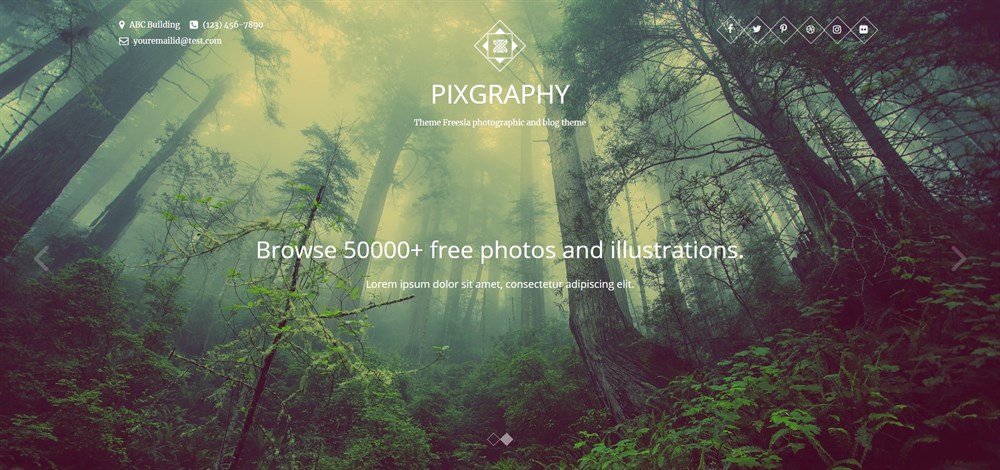 Freesia Team is the responsible behind Pixgraphy. This WordPress Photography Theme is designed to be responsive and can easily help users to set all they need.
If you want to create a professional photography website, Pixgraphy can be easy to customize. Suitable also for first-time users of WordPress. The theme can fit all devices and have a responsive design.
One of the notable characteristics is cross-browser compatibility. This means the ability to function across different browsers.
Pixgraphy doesn't have numerous reviews but has an average of 4.9 scores out of 32 reviews on WordPress.org.
Pixgraphy have some amazing features like:
multiple layouts
SEO friendly
Social media integrated
cross browser compatibility.
compatibility with wooCommerce
Mobile-Friendliness
Pixgraphy is one of WordPress photography themes optimized for different screen sizes like Android, iPhone, iPad or even Windows Phone.
You can expect compatibility across browsers like Google Chrome, Mozilla Firefox, Safari, Internet Explorer or Opera. The page load time is optimized to be fast, as it must be in a simple theme.
Image Portfolio
Pixagraphy is one of the few WordPress photography themes that allow you to get a large full-screen header image. This is something that captivates anyone from the very start when entering on the website.
You will have the practicability to pick multiple layouts to your gallery and adjust then to what you want to create.
Pixgraphy Theme – Price
Available as a free version, Pixgraphy also has a Plus version with three different packages.
Personal – $59
Business – $79
Developer – $99
The paid option includes more google font features, more font size, colour customization, footer layouts and multiple footer layouts, slider settings, more sidebars, widgets, social icons and a footer editor.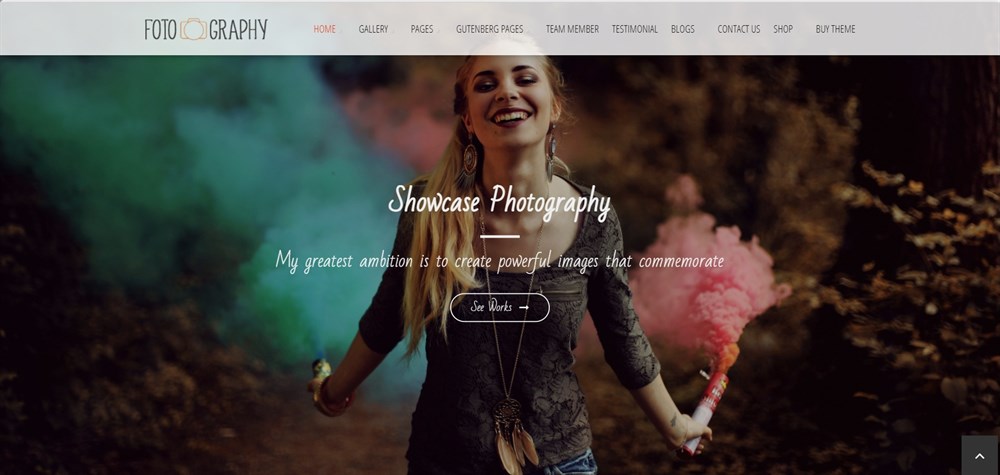 Designed by Access Press, FotoGraphy is one of the most complete WordPress photography themes.
Flexible, modern, with latest features, it's perfect for those who want to customize everything on their website. Actually, the theme is based on the WordPress customizer tool. Meaning that you can see live previews as you make the changes.
FotoGraphy theme is ideal for everyone in the Media industry. The visitors of your website will be impressed by the captivating design.
The main features of FotoGraphy theme involve:
multiple layouts
preview live as you build
4 different gallery page layouts
single gallery layout
multiple category to show sections
multiple blog layouts
multiple team member layout
view on lightbox
social media integration
cross browser compatible
Mobile-Friendliness
The company behind FotoGraphy have always concern about responsive issues. This theme had designed to be one of a fully responsive WordPress photography themes.
It will open correctly in different devices. It doesn't matter if it's desktop, laptop, tablet or mobiles. The mobile-friendliness will increase the number of your website users.
Image Portfolio
As the theme name emphasizes, FotoGraphy accentuates a professional-level gallery presentation. It will display more than 40 different layout options.
The amazing designed slider will let you share all the pieces you want. The portfolio section has Thumbnail images and title descriptions of what's are showing on each folder.
The full-screen header slider, split-screen and parallax viewing option will make the difference.
FotoGraphy Theme – Price
Another free WordPress photography theme accessible to everyone. Although, you can upgrade the free version to Pro from $55 fee.
The Pro gives you unlimited domain licence, for use on as many websites as you want, along with free lifetime updates.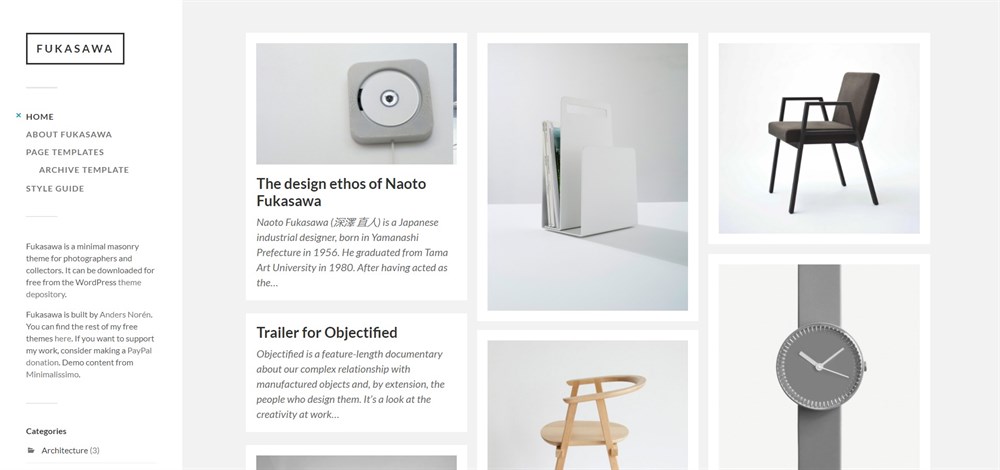 Sometimes, efficient WordPress Photography Themes are minimal and free. Fukasawa is one of these cases.
Developed for the photographers (amateur or professionals), it's a minimal masonry style blog theme. Fukasawa is designing to be responsive and retina ready. In the end, you will have a spectacular website with little effort.
This free WordPress Photography theme has good support for the Gutenberg and Jetpack. You would be able to choose from multiple post formats including, gallery and video posts. This way it's free to share photos and videos.
Created by a Stockholm based designer and developer Anders Norén, the theme rates an average of 4.8 out of 30 reviews.
Main features of Fukasawa comprise:
clever responsive design and retina friendly
customizability with 5 custom widgets
minimal Masonry Layout
support for the image, video and gallery
Gutenberg Support
Jetpack Infinite Scroll
translation ready
Mobile-Friendliness
Fukasawa is one of the minimal WordPress photography themes that tick all the boxes of the mobile-friendliness unit.
Being responsive and retina ready allow the smooth adaptation to all the devices, even if it is a 27 inch iMac or a 3.5 inch iPhone.
Image Portfolio
Having a masonry Thumbnail layout simple and efficient could help a lot. The individual image pages are dynamic and clean, doing a good job when you have to present your photos portfolio.
When the images are displayed, handing over the relatively full screen, the corresponding text will be added.
The Jetpack tiles galleries are one of the main features of this theme. This is important to submit images in an elegant grid. A feature not many WordPress photography themes have built-in.
Fukasawa Theme – Price
Fukasawa is one of the free WordPress photography themes available on the repository. You can simply download it, at no cost and use it to create your photography portfolio website.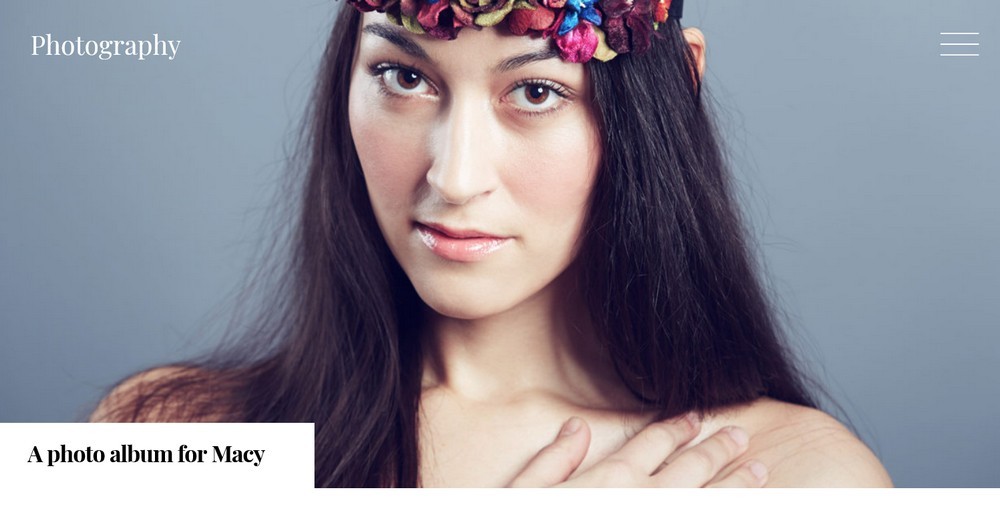 The Ultra theme, created by Themify, makes it easy to quickly create beautiful, responsive websites. You can customize virtually every aspect of the design, from the header to the footer. It's ideal for those that want a very customizable theme and are on a deadline.
It comes with over 50 pre-made templates that make it easy to quickly create a website with minimal effort. There are also tons of other features that help you add different functionalities to your site.
Ultra features are:
Dozens of pre-made templates to easily create site designs
Smart layout options
17+ header layouts, 5+ post layouts
12 builder add-ons
Typography and other customization options
Skins
Ultra comes with pre-made "skins" or templates. They help you create a premade site in a matter of minutes, saving you a ton of development time. It only takes one click to import the demo, which includes blog content, widgets, theme settings, menus and more.
Builder Add-ons
The theme also comes with access to 12 builder addons. These make it easy to add things like a countdown, contact form, maps, image slider, and other design elements.
Ultra – Price
The standard version of the theme starts at $59, while the complete package is $89.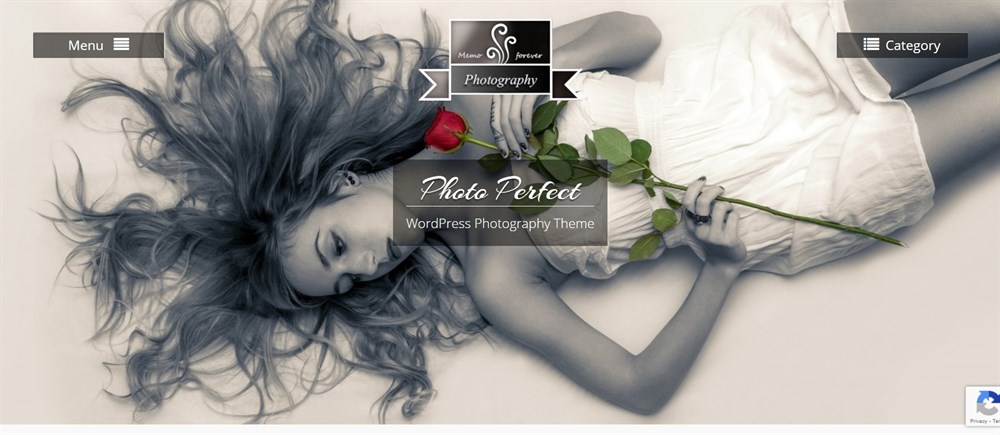 Wen Themes offers simple and clean themes. For that, they have created Photo Perfect, one of the free WordPress photography themes.
This theme delivers you plenty of customization options. It is ideal for those who search for a professional website to show an extensive portfolio. The custom CSS and widgets can make the final result of your website look incredible.
Overall, it's a nice, clean and responsive theme. The elegant and minimalist design, handing over a full-width header will add value.
Photo Perfect initially launched in 2015 but, only in 2019, the theme gained visibility. Therefore if you look in the review page, you only find 10 comments on an average of 4.9 ratings.
Photo Perfect has the basic features of:
custom CSS Option
custom widgets, header Image and menu
lots of modification options
archive layout options (post excerpt and masonry)
4 layouts sidebars options
pagination options
Mobile-Friendliness
As the name indicates, Photo Perfect theme will make your photos look perfect on different devices. In fact, if you tested the mobile-friendliness, you will notice the adjustment to any size of the screen. Just ideal for use daily, on desktop or mobile.
Image Portfolio
The image portfolio of the free version has some limitations. In the premium version, you can get more slider options, a featured slider and more custom widgets.
Both of them have a custom header image with a stabilized menu and a category navigation area. Photo Perfect has an incredible portfolio-style layout, and you can get your images on the website in a matter of minutes.
Photo Perfect Theme – Price
Accessible as a free theme or in a Premium version. Photo Perfect will cost you $49,99 in the upgraded category.
There are some substantial differences between the two versions, as you can see on their website. If you are looking for WooCommerce Support and more features, consider buying the Premium instead of using the free one.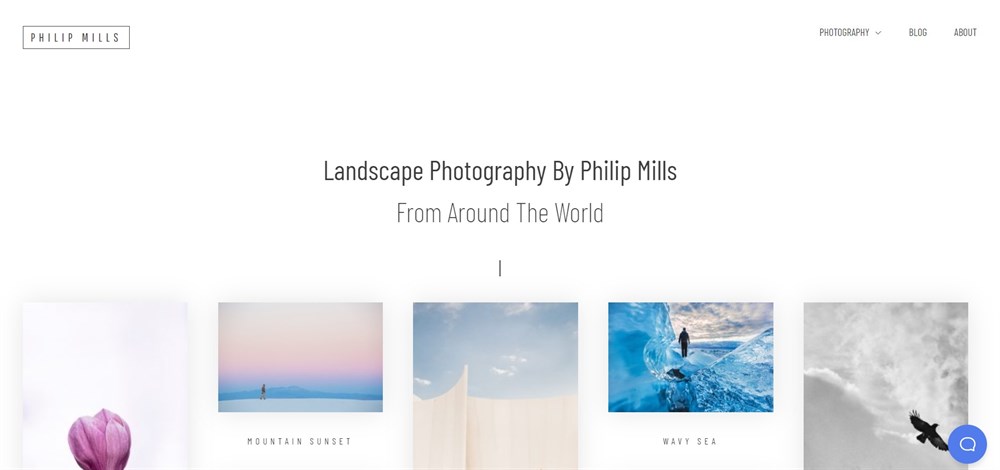 Phlox is one of the most acclaimed WordPress photography themes. It is a multipurpose theme, giving you the ability to build any kind of page for different purposes.
Lightweight, stylish and powerful, working with Phlox is easy. As a matter of fact, it doesn't require any programming skills to understand the backend. You can simply design and see changes in real-time, using the WordPress customizer tool.
To be even more complete, Phlox integrated with Elementor, Visual Composer and SiteOrigin page builders. Having plenty of options and providing the best user experience, no wonder this is a great theme among the WordPress photography themes.
As a very credible theme, on the WordPress.org rate 4.8 out of 312 reviews. It also has more than 30,000 active installs.
Major features of the Phlox theme are:
page builder compatible
posts slider option
custom widgets option
improved image Gallery
compatible with lots of plugins
WooCommerce optimized
Mobile-Friendliness
Phlox is a responsive theme that can adjust on almost any devices. Doesn't matter the screen size, it will adapt the visual content.
You can also have different options on desktop and mobile when you are building the website. Giving you greater control and flexibility.
Image Portfolio
Phlox comes with a modern image portfolio gallery with diverse layouts where to choose. It offers ajax loading for animated galleries.
It is also an Elementor based theme. This allows you to create any kind of pages with an intuitive drag-and-drop builder.
Phlox Theme – Price
The professional theme is available free of charge to download on the WordPress theme directory.
Phlox also has a premium version, with more demo options for $29,99.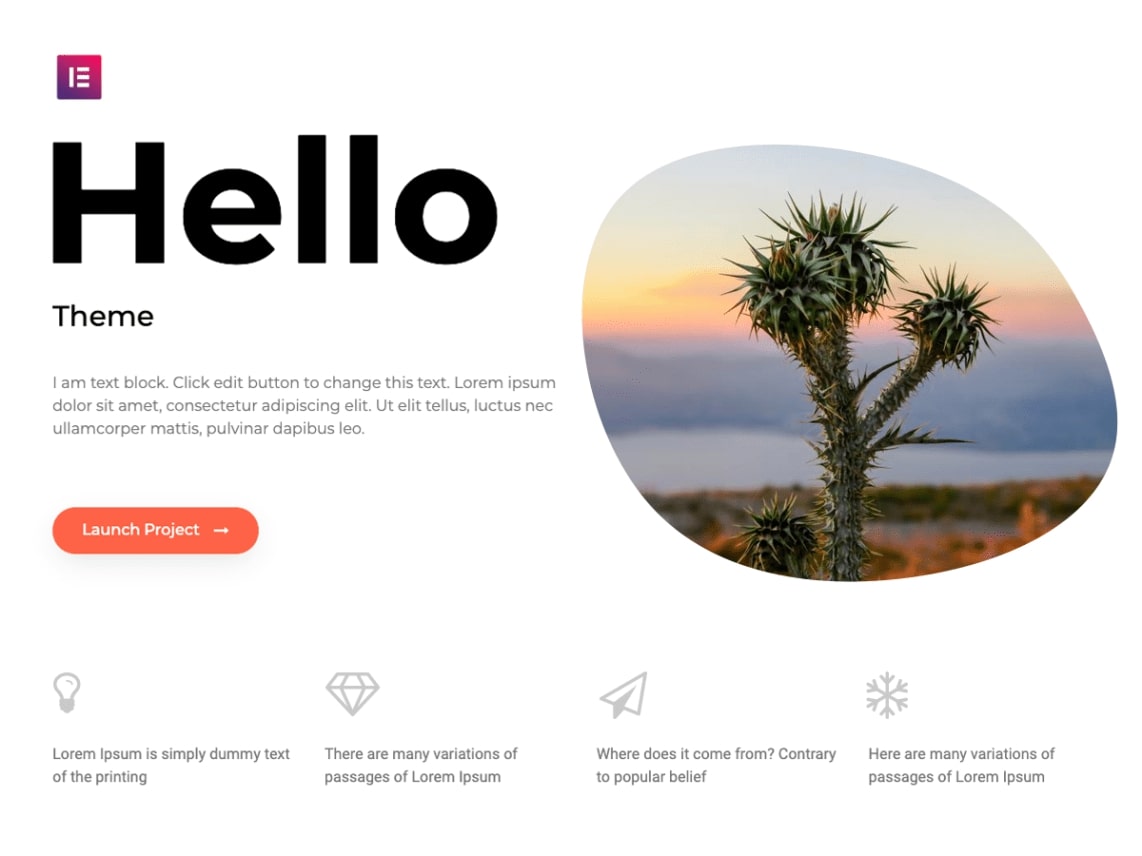 Hello Theme is a plain and lightweight theme created by the Elementor team. This isn't like other themes. The Hello Theme was created for page builders.
This theme doesn't have predefined features like others. In spite of that, when combined with Elementor, you can have a great choice of possibilities. This allows you to construct the website of your desire.
In this line, Hello Theme can be utilized for any kind of website. Being one of the best WordPress photography themes.
The theme has more than 800,000+ active installations and it is one of the most coherent themes to be commercialized recently.
Major features of the Hello Theme contemplate:
responsive design
a fast and lightweight theme
developer friendly code
free and open source
integrated with Elementor WooCommerce Builder
Mobile-Friendliness
As this theme is built-in with Elementor it permits to adjust the layout of the website for different devices.
Elementor can also grant you customization for desktop, tablet and mobile. So you can have a different way to present the same content.
Image Portfolio
When you are designing your website with Hello Theme, you can create a personalized gallery with the available widget in Elementor.
This basically gives you much more possibilities to choose from.
Hello Theme (for Elementor) – Price
The Hello Theme (for Elementor) is free and available to download from the WordPress repository.
Conclusion: Some final considerations
Now we've explored 10 of the best WordPress photography themes on the market, it's time for you to decide which one you want to use for your WordPress website.
What's your favourite WordPress photography theme? What do you look for when choosing a photography theme? Let us know in the comments below.