Video has taken over the internet.
YouTube, Vimeo, Dailymotion, TikTok, and similar video platforms dominate their niche with one common thing among them – they feature hundreds of thousands of videos and count views by the millions, or even billions.
If you want a piece of that, WordPress has the power, flexibility, and capability to help.
Use any of these great-looking WordPress video themes, and your website will look amazing!
We have collated a list of the best WordPress video themes around right now. Each can showcase videos and be customized to suit your brand.
The Best WordPress Video Themes
If you're short on time, you can just pick a WordPress video theme from the list below.
Theme Name
Active Installs
Pricing
Our Rating
Astra
1,653,898+
Free / Starting from

$47

€44

⭐⭐⭐⭐⭐
Videozoom
75,000+
Starting from $69
⭐⭐⭐⭐⭐
Inspiro
75,000+
Starting from $79
⭐⭐⭐⭐
SKT Filmmaker
1000+
Free / Starting from $39
⭐⭐⭐⭐
EDigital
400+
Free
⭐⭐⭐⭐
This list is what we think are the best WordPress videos themes.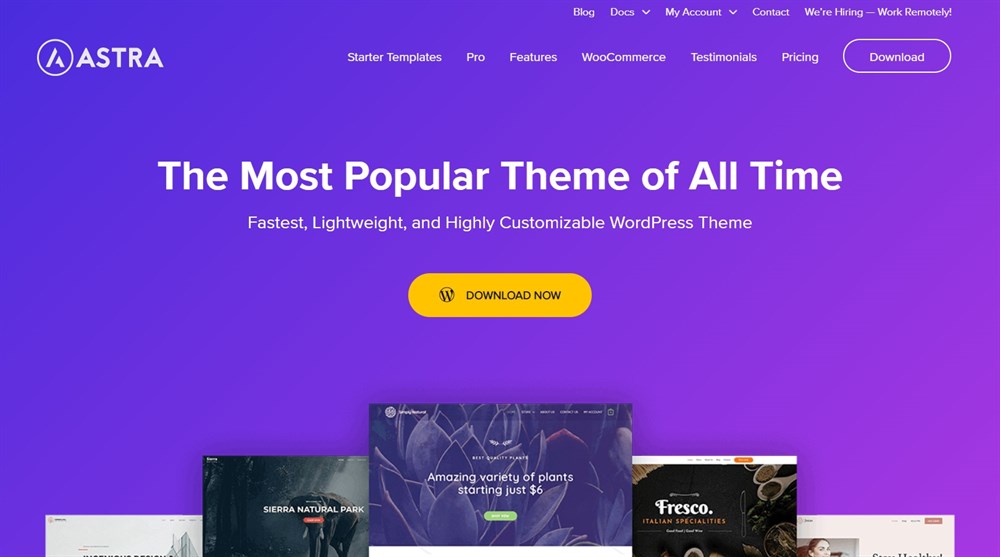 Astra is so flexible it could be turned into literally any type of website. It has been designed to be light and fast loading, uses drag and drop page builders to make customization easy and is cheap enough to be accessible to anyone.
Astra has some exceptional video website templates all ready to go. Install Astra, select a demo and import everything with a single click. It couldn't be easier!
Astra is compatible with Elementor, Brizy, Beaver Builder, Gutenberg, WooCommerce and every major WordPress plugin out there. It is genuinely difficult to buy a better, more complete WordPress theme. With all the amazing features, Astra tops the list of fastest-loading WordPress themes.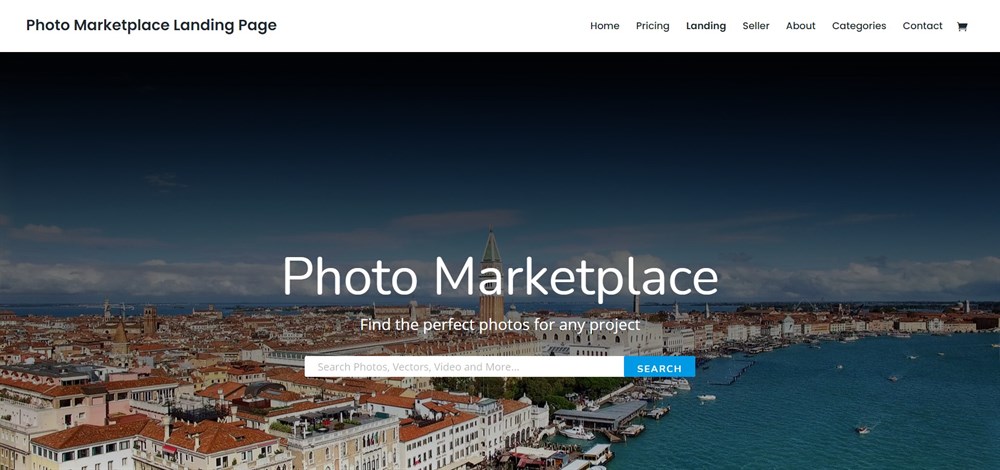 Divi is another WordPress theme well worth checking out. The designs aren't as immediately attractive as Astra's but the overall experience is very similar. Divi is also built to load quickly and provide the flexibility you need to be able to create any website you like with minimal effort.
Divi is compatible with major drag and drop page builder plugins, most WordPress plugins and is designed for ease of use and the widest appeal.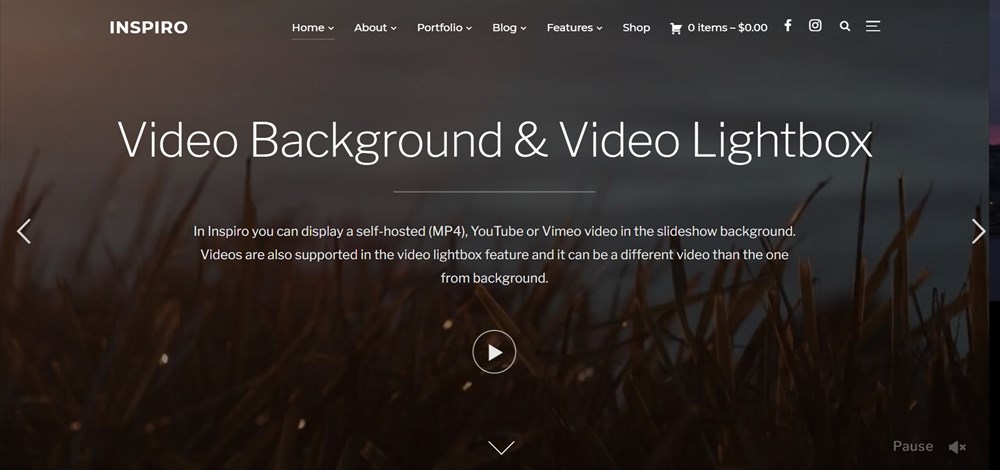 Inspiro is a superb WordPress theme with a couple of specially-designed video demos. Both video demos are dark themes with video players embedded in the page and both open with a full screen video before switching to a tiled layout.
There is white space further down the page, a smart category filter with animation and some nice fonts throughout. Despite committing the cardinal sin of autoplaying videos (which you can disable), we think this is a superb way to build your very own competitor to YouTube.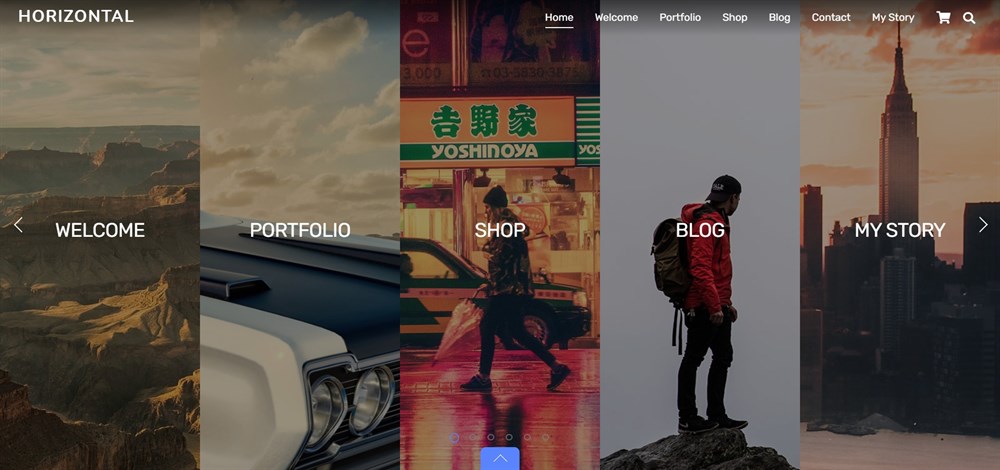 Ultra is a multipurpose WordPress theme with many tricks up its sleeve. It's a very competent theme with a wide range of features, including support for video. It comes with the Themify Builder which is similar to Elementor so customization should be very straightforward.
Designs are a mix of corporate and magazine and we think the Games demo works well for video. It's a magazine layout with support for video and the framework from which you could build your own videos website with ease.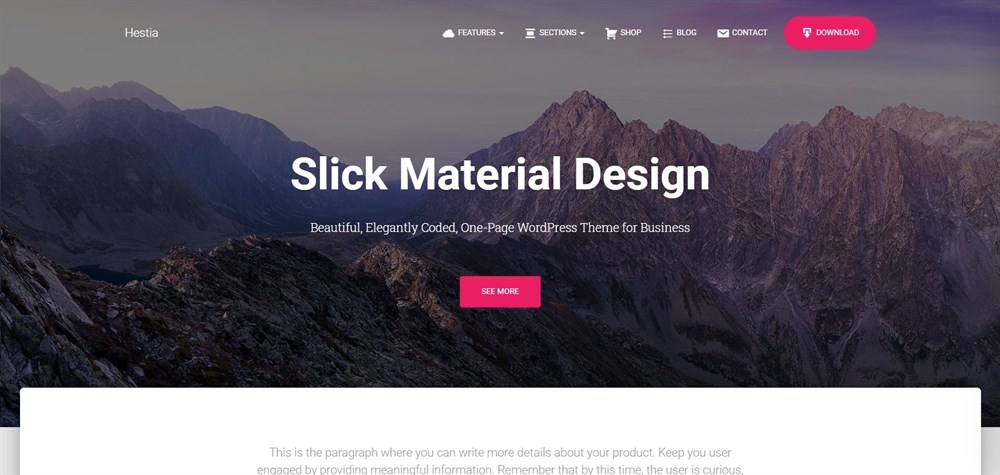 Hestia Pro is another multipurpose WordPress theme that delivers that modern aesthetic we all like to see. It's flat and colourful with strong elements and lots of white space to offset them. It is well balanced and works incredibly well.
The demo isn't set up as a video website but has video features. The theme is certainly flexible enough that you could easily build your own site to your own specifications. There are the tools, the builder and the flexibility to do whatever you like with it.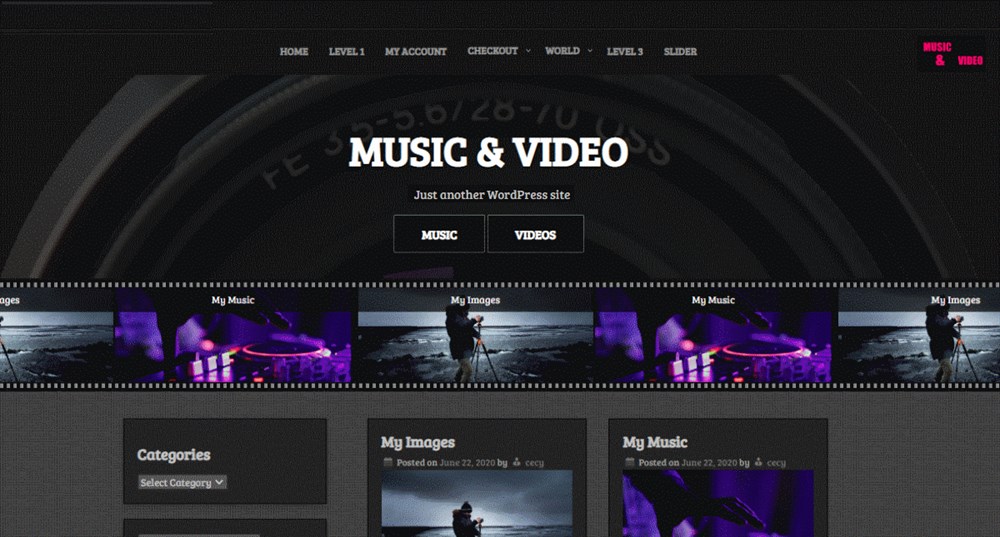 Music and Video is a WordPress video theme of two halves. Some of the design we really like and some we really don't. However, the fundamentals of the site are polished and capable so we can put up with a little dated design. You can always change how it looks!
This is a dark magazine style layout with featured video sections, a textured background and a bold pink contrast colour for buttons. It's a bit of a dated design but could be easily updated with a more contemporary look.
Otherwise, there is everything here you could need for your music website.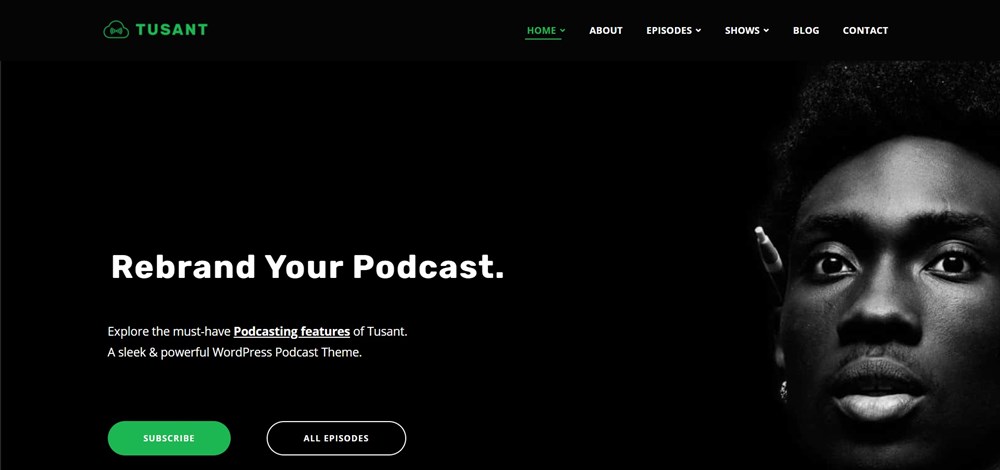 Tusant is a podcast theme that could work equally well for videos. It's another dark theme with inline header image and headline that makes an instant impact. The page unfolds into a single column layout with integrated player, small image and short description.
The design is instantly accessible and brings the videos directly to the audience with a single click. This can make a huge difference to engagement and could work in your favour. We would perhaps change the green highlight colour though as it doesn't work so well here.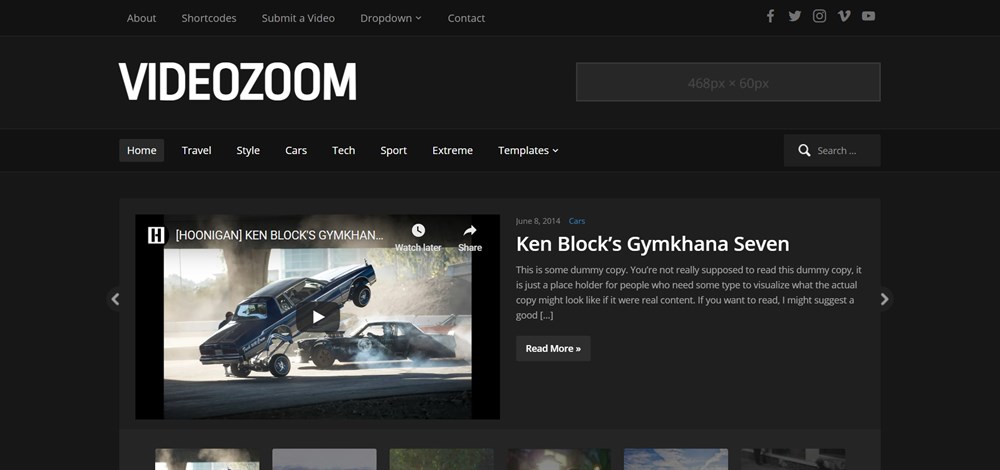 VideoZoom is a dark WordPress video theme that manages to be so very simple yet so very effective at the same time. Many cinematic themes use dark colours as it reminds us of the movies and this is no exception.
It's a straightforward boxed layout with dark background and white fonts. Any colours are provided by the video stills and a blue highlight colour for links. The page is laid out magazine-style and delivers the perfect showcase for your videos.
There is everything here you could need if you're planning your own video website.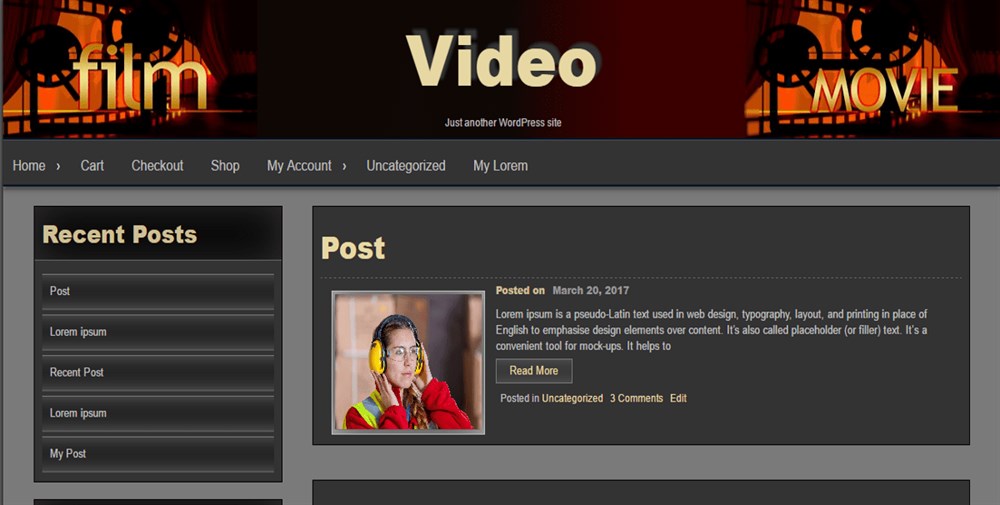 Seos Video is a slightly different WordPress videos theme. We feature it not for its looks but for its function. There is a free and a premium version and both scream 1990s in design but work so well that we just had to feature them here. You can change the look of this theme in minutes, the framework that enables the site would take much longer.
This is a dark theme with grey background, dark grey content areas and gold/brown fonts. It's a curious mix but spend a few seconds with the demo and you see why we included it.
The site is fast, very easy to use and includes everything you could possibly need from a video website.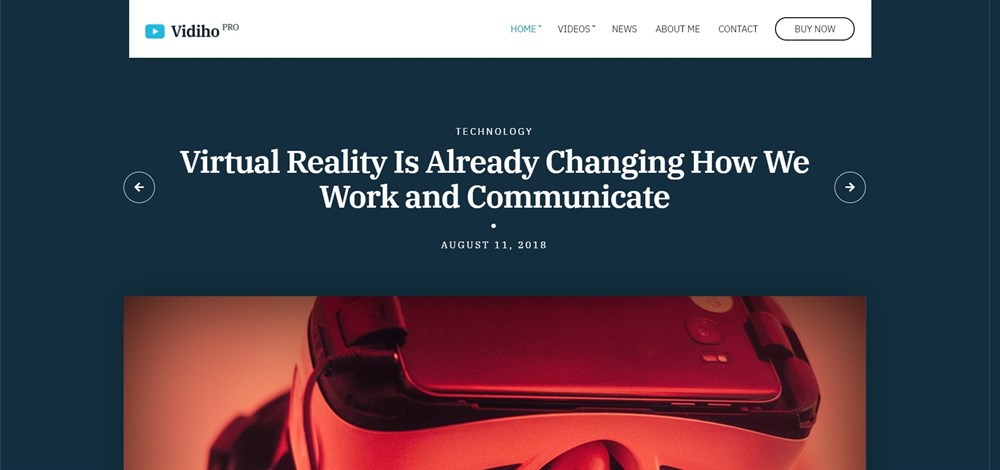 Vidiho is a simple but very smart WordPress video theme. It opens with a full screen video and dark background before opening up into a masonry grid with white background and a relaxed feel. It's a nice combination and one that works well.
Simple hover animations are very effective while the clear play icon appears immediately as you hover. Both combine to make the demo website a pleasure to use that should engage and showcase in equal measure.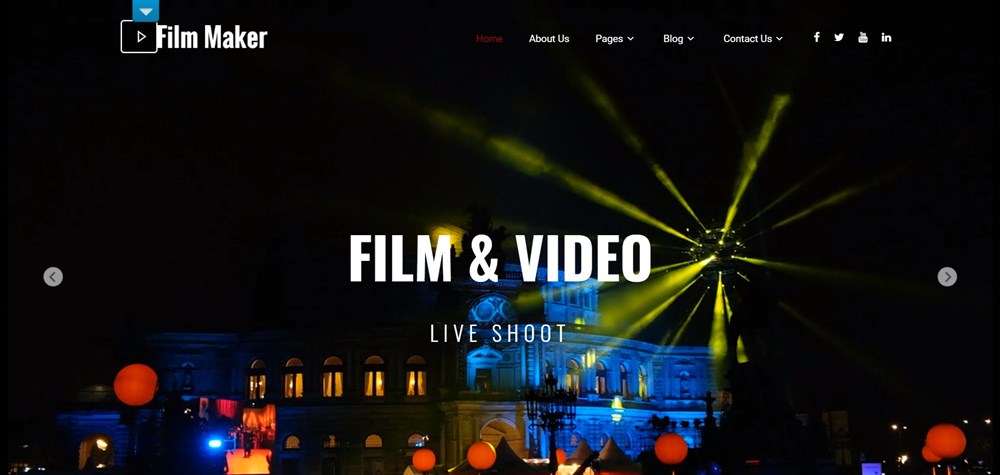 SKT Filmmaker has a free and a premium version available. It's a characterful dark theme that uses colour and images well. The design uses a dark background with lots of imagery, white fonts and a red contrast colour.
It opens with a strong header before unfolding into a standard business layout that could easily be reconfigured as a showcase, video blog, magazine layout or anything you like.
Further down the page you see the showcase of exactly what this theme is capable of and that's a lot!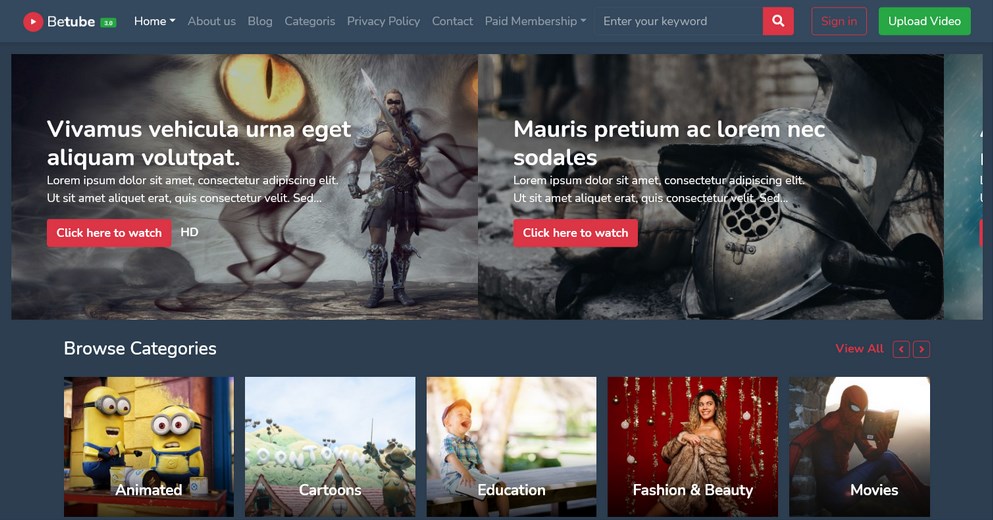 Betube is a fantastic video WordPress theme designed exclusively to create a video portal or video blog. With the one-click demo import feature, you can set up and get started with your responsive video website in no time. You also get to choose from ten different homepage designs when creating your website.
Want to embed videos in WordPress from platforms such as Youtube, Vimeo, or even Dailymotion? Betube lets you do that effortlessly. You can also upload the videos and self-host them quickly, regardless of the format.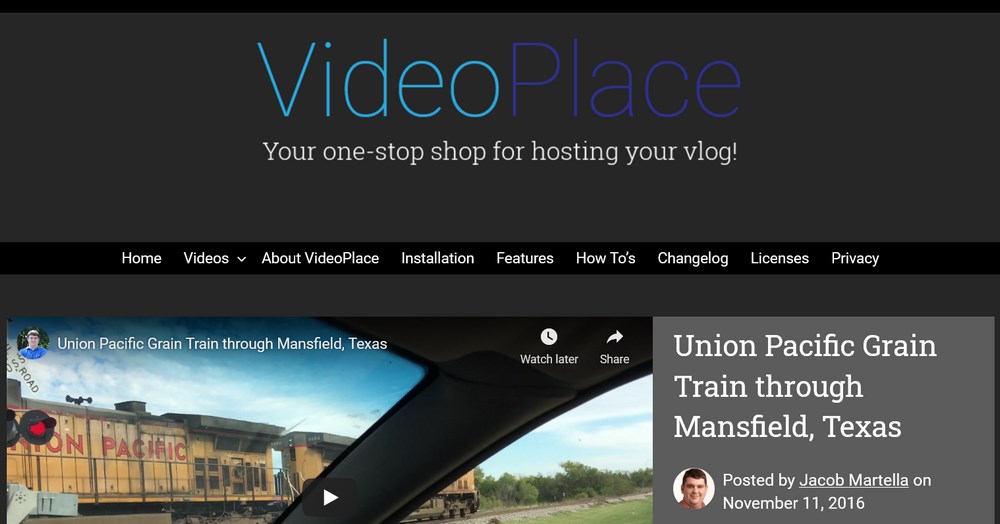 If you upload videos to YouTube but find yourself limited when it comes to customization and monetization, VideoPlace is the WordPress video theme for you. It's a theme that finds its place in our list purely from a useability standpoint.
While the dark WordPress video theme offers customizations that otherwise are not possible on Youtube, you'll need to do most of the work yourself. As long as you put in the effort, this theme could be an excellent showcase for your videos.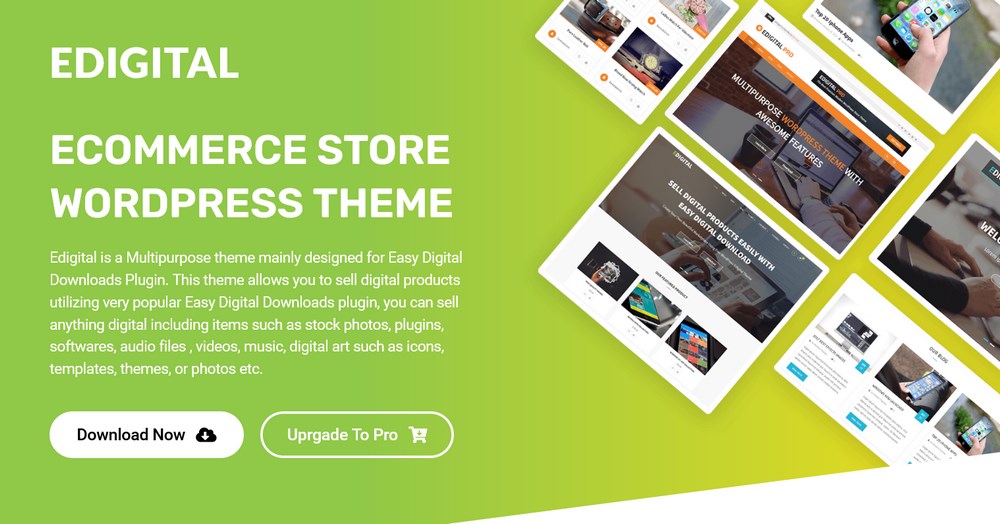 Want to set up an online store and sell digital products? EDigital is a multipurpose WordPress theme where you can sell anything digital, such as audio and video files, plugins, stock photos, software, templates, themes, and much more.
This free theme is compatible with the Easy Digital Download plugin that powers the entire store. EDigital is SEO friendly and fully responsive, SEO-friendly, making your website look great across all devices. With a built-in customizer, you can customize your pages just the way you want.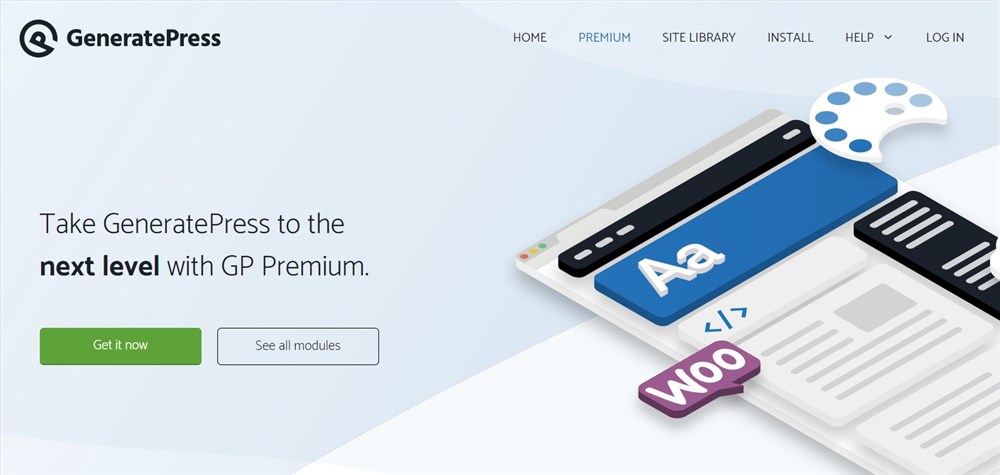 GeneratePress is a multipurpose WordPress theme that can be used for just about any niche. With a bunch of professionally designed starter sites, you can import one based on your preference and get started quickly.
You can customize the GeneratePress themes easily, and it works with popular page builders such as Beaver Builder and Elementor. The themes are lightweight and optimized for speed, which makes them load quickly, even when featuring video.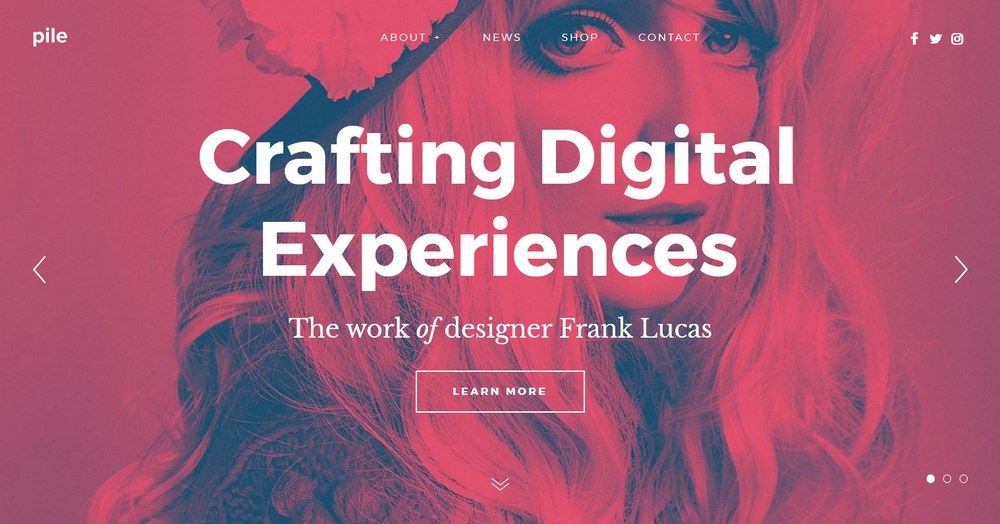 Ideally suited for a video portfolio website, Pile is a fantastic WordPress theme used for just about any creative website. Showcase your portfolio or embed videos, the Pile theme makes them look great.
Using Pile's portfolio grid tool, you can create exciting layouts to showcase your portfolio, be it images or videos. Want to incorporate downloadable files? Pile has the tools you need!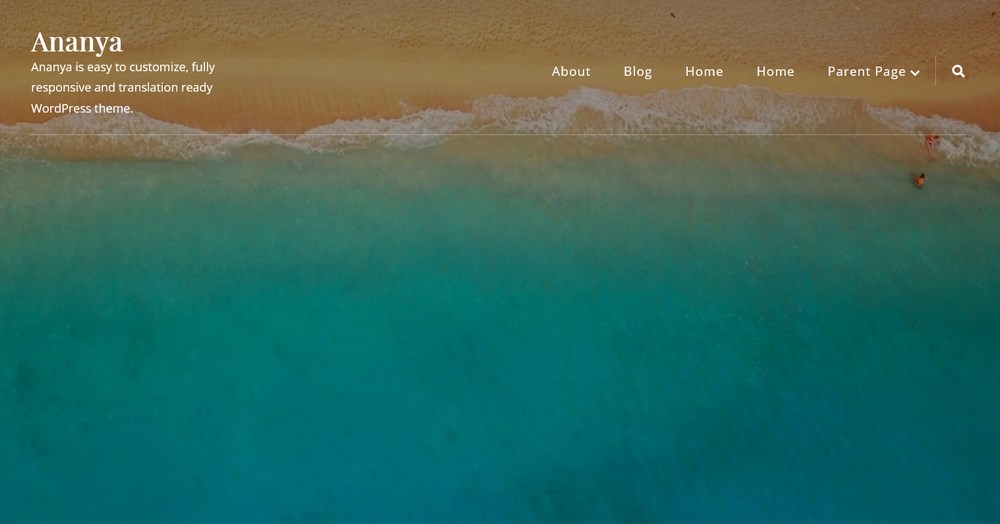 Ananya features in our list of best WordPress video themes due to the ease with which you can create a website. The theme is easily customizable, and you can create a website to showcase your videos and blogs easily.
Ananya is a fully responsive WordPress theme and is translation-ready. The massive hero area can be used to display an introductory image or a video. You can further customize the theme by customizing the background color, custom menu, social media icons, and other options.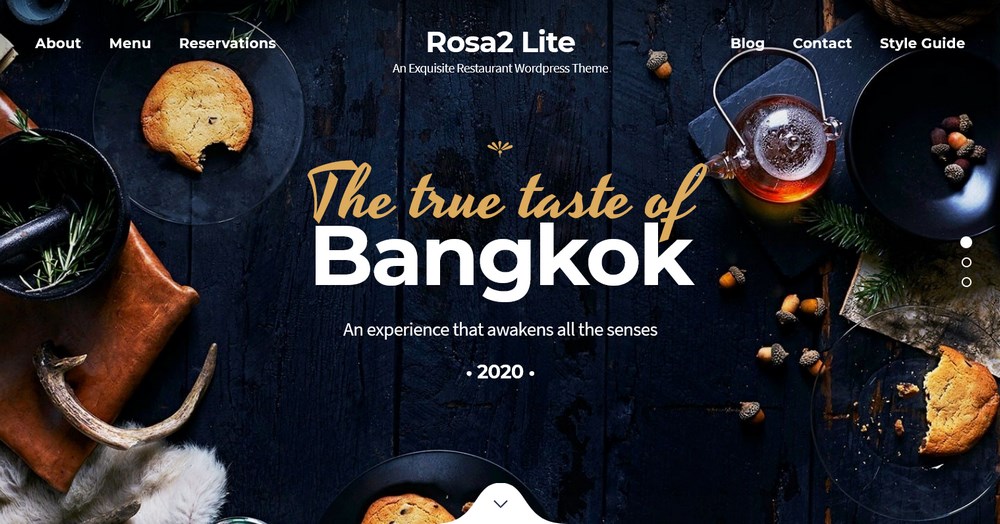 Rosa2 Lite is a free restaurant WordPress theme that's built for restaurant websites but can feature video too. A huge hero image paired with some sleek parallax effects will leave your website visitors impressed.
The theme is fully responsive, making it load properly on any device. Customize the website to match your brand identity with the theme's Style Manager. Add videos, audio and other content with ease using default WordPress tools.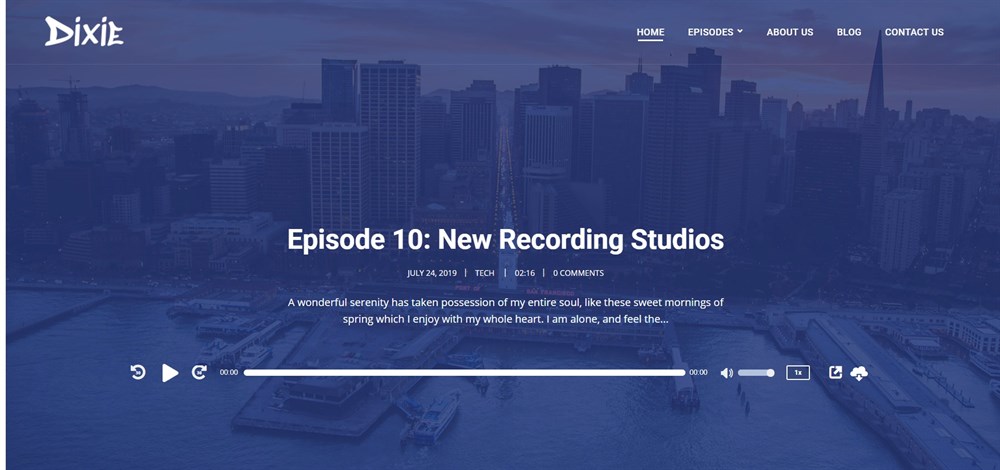 Dixie is designed for podcasting but could easily be repurposed as a video theme. It's light and clean and uses a dark blue colour for fonts and graphics instead of black. It's a small thing but makes a huge difference to the look and feel of the site.
The layout is very simple with a large header with embedded player and a single column layout underneath. A player is embedded into each element enabling visitors to access content directly without having to go anywhere or do anything except hit play.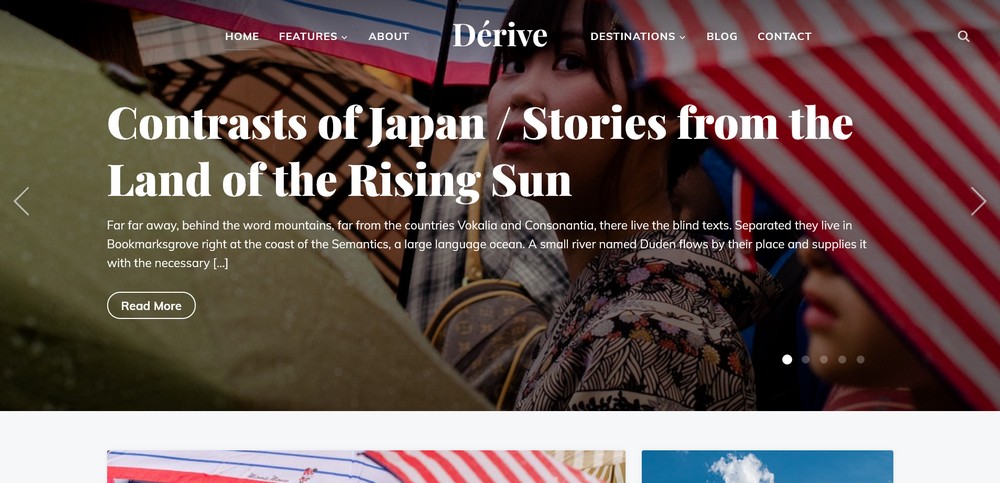 Dérive is a great theme for building travel-focused websites that tell stories through visuals. The theme's customizable header is ideal for presenting your hero images in full glory.
Thanks to a Slideshow Beaver Builder module, you get a versatile option for displaying your latest (or greatest) posts or videos.
The visual customizer allows you to change the color scheme and fonts to fit your design. The colors are really vibrant, and you get to preview the impact of your choices immediately.
Further down the page, you can experiment with various widgets that you can use to set up subscription boxes and forms.
Dérive is a flexible theme that works well with all media types, including videos. The design is fully responsive, and the theme is compatible with WPML to speed up theme translation and localization.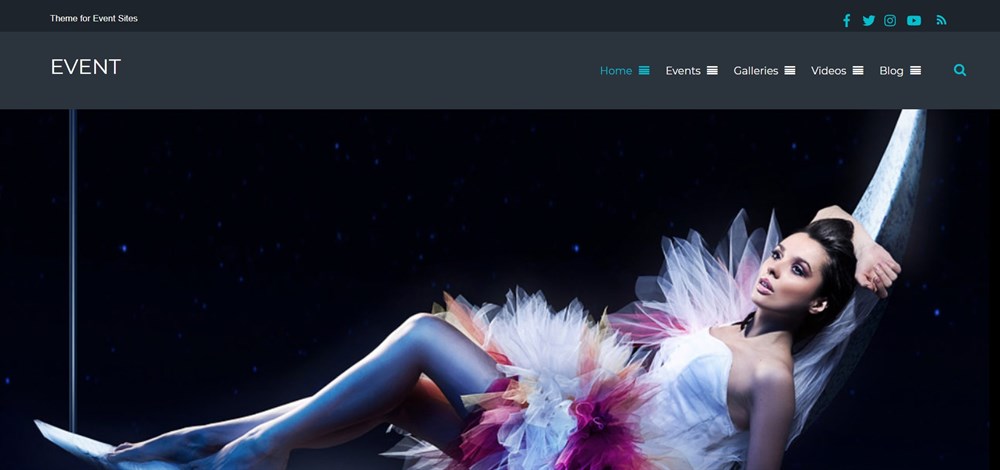 Event is a beautiful theme ideal for a event specific website even though it is set up as an events demo website. The theme is colourful, enigmatic and uses some superb images and design cues to draw you in.
Under the huge header slider is a video section with a large slider and a smaller slider underneath. Further down the page are more video display options and layout options. Select Videos from the top navigation to see even more video display options.
You're definitely not short of choice with this theme!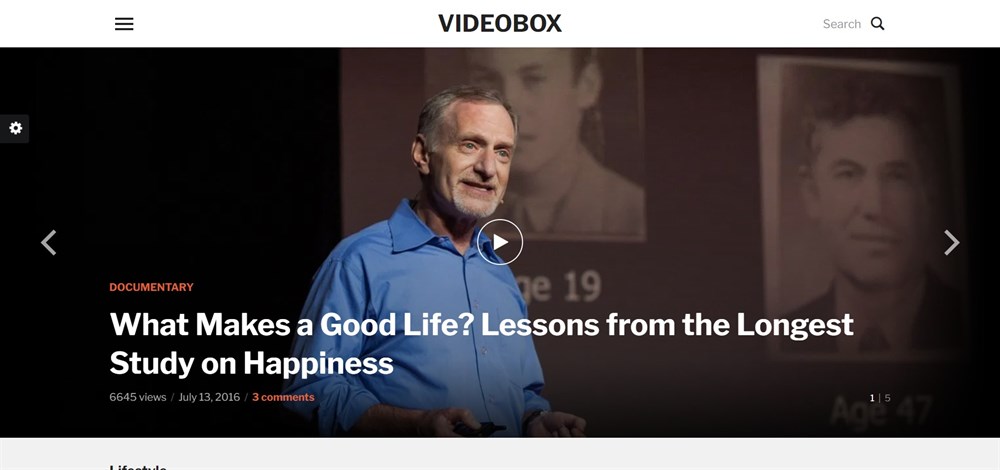 Videobox is a premium WordPress videos theme designed specifically to showcase audio and video. It's a magazine-style layout with a boxed configuration and large video header. The design is clean, modern and very accessible and does what it needs to do and then gets out of the way.
Videobox has a wide appeal but customization is simple with the included customizer. The layout works great as it is but you can change colours, fonts, add a store and add your own branding with ease.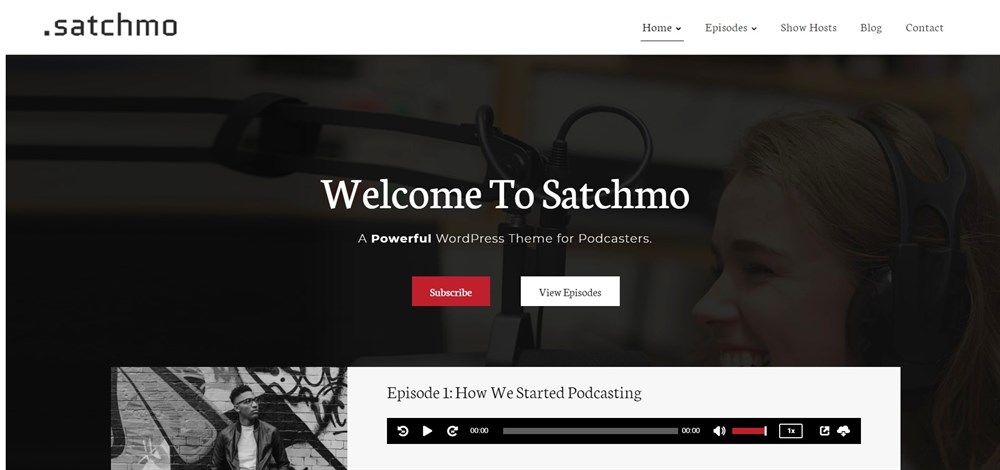 Satchmo is a premium WordPress video theme that has a certain style about it. It's a black and white theme with red as a contrast colour. It works well and has a definite appeal that could work across many niches.
The demo layout uses a large grid to outline the videos with a small content area underneath. It's the ideal opportunity to make your videos stand out. As Satchmo uses Elementor, building and customization should be simple to change if you wanted to.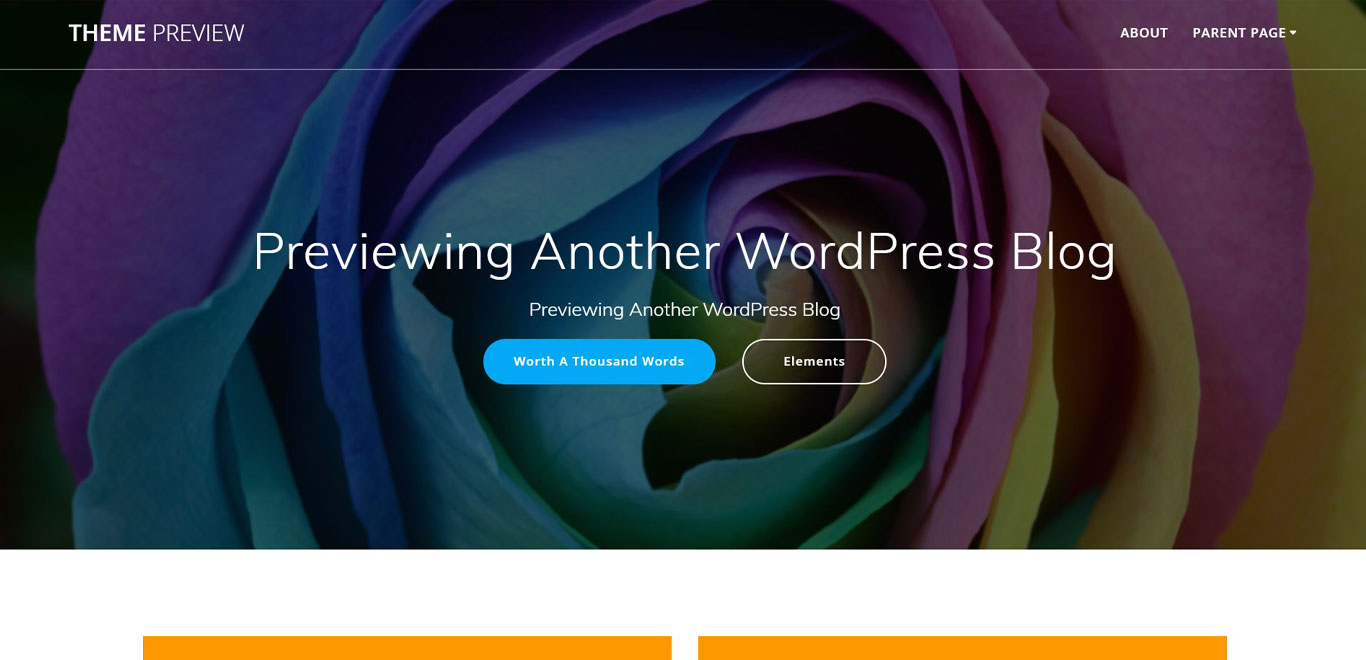 Mesmerize is a multipurpose WordPress theme that has a range of layout options. We particularly like Pro Fashion. While not set up for video specifically, it fully supports video and has a very modern appeal that would resonate well with most audiences.
The demo is a mixture of dark and light with a fullscreen header slider with dark filter and pink and white overlay. The page switches to a light background with overlaid content elements, a store layout and some video elements.
It's a flexible theme that could be anything you want, hence its place in our list.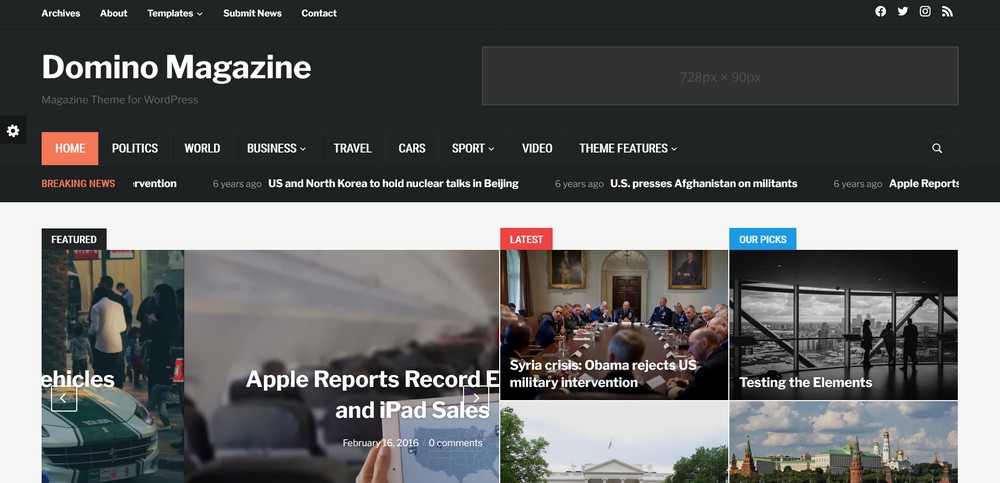 Domino Magazine is a great fit for websites that experiment with homepage layouts a lot. The theme comes with a custom homepage builder to mix and match widgets and categories to find that perfect homepage layout.
The header area is fully customizable and allows you to pick the right combination of colors, fonts, and menus to reel in the visitors. Right underneath the header, you have areas where you can display categories and included posts.
This theme is perfect if you have multiple categories and have mixed post types on your magazine type website.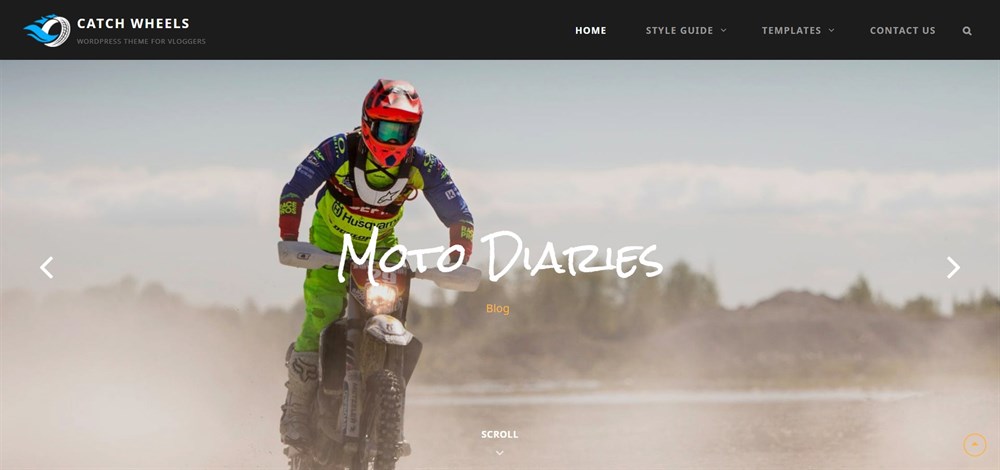 Catch Wheels has both a free and a premium version and is an excellent choice for a video website. The premium demo opens with a fullscreen image slider which can feature video too. It uses dark design and tiles to create the look with a good mix of fonts to add to the appeal.
The demo website showcases exactly what's possible with a number of layout options. We particularly like the tiled layouts as they would work exceptionally well for video.
The free demo has a very similar look and feel but will require more work from you to make it look as good.
How to Choose a WordPress Video Theme?
The official WordPress repository and third-party marketplaces offer thousands of WordPress themes. This makes shortlisting just a few themes a serious challenge!
To help simplify the selection process, here are some important factors you should consider when evaluating a theme:
The Look and Feel
The look and feel of a theme makes visitors stay and explore your website. It is all about presenting your content in a way that visitors find intuitive and easy.
The best WordPress video themes are simple – they focus on presenting your videos and other content without clutter and distractions.
Another important consideration is accessibility. You want all visitors to have a great experience on your website and be able to consume your content regardless of ability or device they are using.
A great way to test the look and feel of a theme is to check out the demos available at the official website or marketplace.
You can see the various features in action and see how content would look on a live website.
Customization Options
It's often the case that the theme that catches your eye often doesn't offer the exact layout or color scheme to match your requirements.
All themes come with some customization options, but few offer extensive control over changing the design elements, colors, and fonts.
Certain themes come with a customizer panel that allows you to change the colors and fonts of the demo sites. Others use page builders like Elementor, Brizy and Beaver Builder.
If you can't or don't want to write code to change these options, look for a theme that integrates well with your preferred page builders. This way, you can drag-and-drop to change the theme's design elements.
Responsive Design
Do you know that more than half of the global internet traffic originates from mobile devices?
Given this, a responsive theme design that automatically scales to fit the user's screen is a must-have requirement.
That's why all modern WordPress themes have responsive design. However, you shouldn't take their word for it.
A simple way to test theme responsiveness is to open a demo website in a new browser tab. Next, simply resize the tab to half of the original width and length by dragging back the lower-right corner. If the theme is responsive, all the design elements will rearrange to fit the reduced tab size.
Another simple test is to press F12 (in Chrome) and select 'Toggle Device Toolbar' in the top of the new navigation bar that appears. You can then select from a range of popular mobile devices to test.
Cross-Browser Compatibility
While Google Chrome has more than 60% market share, there is no guarantee that all visitors will use it. You need to ensure that the theme you select looks and feels good in all major browsers.
The simplest way of testing browser compatibility is to open up the theme demos in multiple browsers and do the responsiveness test to ensure the theme works in all browsers.
Plugin Support
You might already have your preferred set of plugins that help take care of business.
All top theme developers extensively test their themes to ensure they are compatible with popular plugins but you should test before you commit
When you are considering a theme, check the documentation to see if the developers have listed compatible (or incompatible plugins). If it's not there, it never hurts to ask for support.
SEO-Friendliness
A good portion of your website's search engine optimization (SEO) efforts are directed toward optimizing the theme.
The reason is simple – the theme is responsible for presenting the content to the search engine bots. As such, if the theme doesn't have clean code or doesn't adhere to SEO best practices, chances are it could hurt your SEO scores.
When considering a theme, check the reviews for SEO best-practice compliance to save yourself a lot of headaches later on.
Performance
A theme's performance is such an important aspect of SEO that it merits a special mention.
Performance is all about the page load speed.
Google considers it a vital factor in ranking websites. The common wisdom is that if your website doesn't load up in under three seconds, the visitors would leave your website for the competition.
That's why you should use a theme that emphasizes speed and performance and doesn't slow down your website in any way.
Speed is a huge bragging right for WordPress themes. You'll find almost every top theme mentioning the page load speed and related metrics prominently on the documentation and landing pages for that reason.
Updates
WordPress is an evolving ecosystem. Things are constantly changing as new ideas are introduced, and outdated ideas are deprecated.
Themes need to remain current with the latest WordPress version. Between the WordPress versions, theme developers release regularly updated versions that take care of bugs and performance issues.
All themes have a Last Updated attribute in their description. When considering a theme, make sure the theme has been updated in the last few months.
A good rule of thumb is to use a theme that has been updated over the last month. Any date beyond six months is a red flag that should make you consider your choice carefully.
Customer Support
Customer support is what distinguishes good themes from great ones. From the initial setup to the regular use, things can go wrong. This is where you'll realize the importance of customer support.
Support that helps you deal with the issues and keep your website ticking.
Generally, six to 12 months of customer support is included with the initial purchase. You can often then buy a subscription that extends the support and updates to a year.
Whether that extra subscription offers value or not depends on your experience level and ability to respond to issues.
While it costs money, it may be money well spent!
Translation Support
WordPress users come from all over the world. Similarly, you might need to operate in a non-English market. These are just two scenarios where you need your website to be multilingual.
All popular themes are translation-ready and are already available in major languages. If that's not the case, you need to ensure that the theme can be easily translated into the target language with minimum effort.
Creating a Video Website With WordPress
Creating a video website with WordPress is very straightforward. Since WordPress is designed to work with all kinds of content, it can handle all media types, including video
Alongside a great-looking WordPress theme, a fast web host, and some hard work, you could have your very own video website up and running within a couple of hours.
You will need:
A domain name and web host
A WordPress video theme
A Domain Name and Web Host
A domain name is the www. name you put into your browser to visit a website. A web host is where you rent server space to install your website for the world to see.
Both can be acquired from a single company and should not cost much at all.
There are hundreds of web hosts out, there but we recommend the following:
SiteGround
InMotion
BlueHost
HostGator
Hostinger
Check out the top fastest managed WordPress hosting companies of 2023 here.
A WordPress Installation
Some web hosts will automatically install WordPress on your hosting while others will provide software installers to make it easy to do it yourself.
Either way, for you to be able to create your video website, you will need a fully functioning copy of WordPress.
If you haven't done this before, our complete guide on building a WordPress website might come in useful.
A WordPress Videos Theme
A WordPress theme is a graphic layer you add to the system to make it look unique.
WordPress has some free basic video themes to get you started, but it's only when you add third-party themes that it really comes alive.
Third party themes like Astra, with over 250 website templates for you to use!
As with everything else, installing a theme is very straightforward:
Buy or download a WordPress videos theme from this list
Log into your WordPress website
Select Appearance and Themes from the left menu of the WordPress dashboard
Select the Add New button and select Upload
Select the theme file you downloaded and upload it to WordPress
Select Activate once the button becomes available
That's it!
So, now you know how to set up your video website and upload a theme.
Ifyou think the player included with the theme doesn't help you with the execution of your marketing strarties, we recommend you check out Presto Player, a WordPress video player plugin that fits seamlessly into your design and offers powerful tools to make the most of your videos.
Final Thoughts
The breadth and quality of WordPress videos themes available are impressive. It was genuinely difficult to choose between those available but we think the 26 themes here represent the cream of the crop.
If you're planning your own video website, for whatever purpose, you could do a lot worse than using one of these!
Each is flexible, compatible with video, fully responsive, and offers great value. What more do you need from a WordPress theme?
Astra provides some of the best website templates, check that out.
Do you use any of the WordPress video themes in this list? Have others to recommend? Tell us your thoughts below!