According to the e-tailing group, companies that implement tactics like order bumps generate as much as 10-30% of additional revenue.
Amazon revealed in 2014 that 35% of their revenue is generated through upsells, cross-sells and order bumps. Now that's huge!
It's no wonder that all the fastest growing companies are using these tactics to get higher conversions.
If you are not one of them, you are leaving easy money on the table. But it doesn't have to be that way. You can start implementing order bumps in your eCommerce store from today and this guide will show you how.
Order bumps, when used right can not only take your profit margins to the next level but also greatly enhance customer satisfaction.
Want to know how?
In this guide, we will cover in-depth about order bumps, and how you can start using them to grow your eCommerce conversions, sales, and customer loyalty.
Here's what we will be discussing in this guide:

There's a lot to cover, so let's get started.
What Is an E-commerce Order Bump?
Let's start by understanding what an order bump really is before we delve into some powerful examples and strategies for using them effectively.
Have you ever walked into a McDonald's restaurant for ordering a burger and you were asked this question, Would you like some fries with that?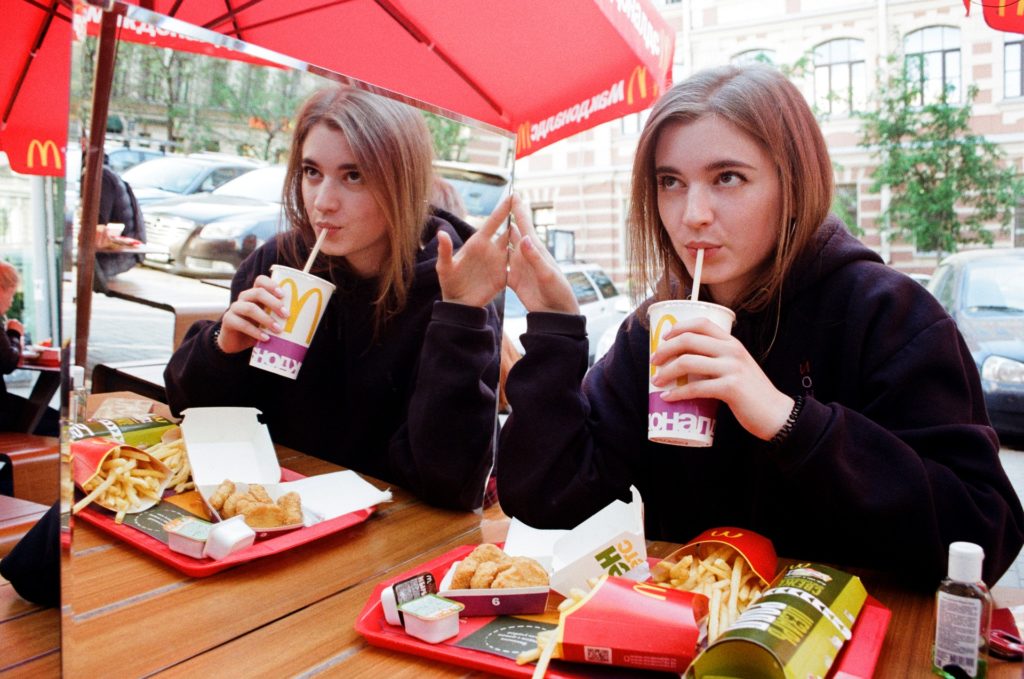 If so, you just experienced an order bump.
Based on your response, the McDonald's employee will also pop in a few other questions, like, 'would you like to add a drink?' or 'if you would want larger sizes', etc.
More often than not, you will say yes to the fries and also the drink because you realize that these additions will enhance your overall dining experience. In fact, you feel a sense of gratitude toward the employee for suggesting you these options.
By doing this, McDonald's not only increased their overall order value but also succeeded in enhancing the customer experience.
By the way, did you know that Mcdonalds sells a whopping 9 million pounds of fries globally every single day! And most of that with just a single question?
Such is the power of order bumps!
Now let's see how an order bump works in the world of E-Commerce.
In E-commerce, an order bump is no different. Similar to offline retail, it involves presenting your customer with a complimentary (add-on) product or service, right before they complete their purchase.
For example, if the customer purchases a piece of software, you can offer them training and installation as an order bump.
Think about this – what good is software if the customer cannot use it effectively?
Here's another example; if the customer buys a guitar, you can sell them guitar strings (perhaps of higher quality) or customizable picks or even a higher quality guitar bag. As you can see, all of these recommendations will enhance the overall experience of the original product.
What's The Difference Between an Order Bump and an Upsell?
So now that we know what an order bump is, let's see how it differs from an upsell.
In offline retail, both these terms can be used interchangeably as they mean the same thing. But when it comes to eCommerce, the difference arises on where promotion is being used.
Let's see how.
In a typical sales funnel, an order bump is generally used on the shopping cart page or the checkout page, just before the customer has made the payment.
Also, an order bump generally does not require a dedicated sales page. On the other hand, an upsell is used after the customer has made the payment. It requires a dedicated sales page.
So once the customer has made the payment, they are shown the upsell offer and if they take up the offer, they are automatically charged and taken to the 'thank you page'. If not, they are taken to the thank you page without any additional charges.
So as you can see, an upsell adds an additional step to your sales funnel as opposed to an order bump.
You can use both order bumps and upsells/downsells together to boost your e-commerce revenues.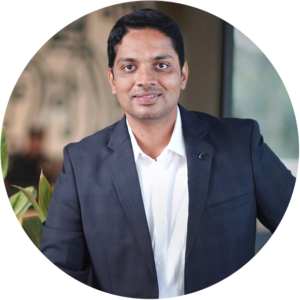 Hello! My name is Sujay and I'm CEO of Astra.
We're on a mission to help small businesses grow online with affordable software products and the education you need to succeed.
Leave a comment below if you want to join the conversation, or click here if you would like personal help or to engage with our team privately.
The #1 Reason Why Order Bumps Are So Effective
Here's the single biggest reason why order bumps are effective.
Your customer is presented with an order bump right when they are about to click the 'buy' button.
At this point, you know exactly what the customer is about to purchase and hence you can show them a customized offer as an order bump.
For example, if the customer has purchased a pair of shoes, you can offer them a shoe protector spray that is customized for that particular shoe.
The personalized nature of an order bump is what makes it so compelling and effective.
Another advantage you have is the fact that most people are impulsive buyers and presenting an offer right when they are about to buy vastly increases the chance of it being accepted.
Also, remember that the customer is already psychologically primed to purchase from your store. They are already in the final stages of their purchase.
Since the product you are offering compliments what they wanted to originally purchase (and the amount is smaller) – they are more likely to add this to their cart and complete the sale.
8 Scenarios Where You Can Use an Order Bump
You can use order bumps in a variety of ways to bump your order value. Here are a few ideas on how you can use them on your e-commerce store.
1. Provide a Complementary or Add-on Product/Service
Simply put, complementary products are those that add value to the main product.
For example, if the customer has purchased a digital copy of your book, you can offer them a physical copy or an audio version at a discounted rate as an order bump. The audio version or physical copy is not a requirement but they do add value to the original product.
Another example would be to offer related accessories that enhance the functionality of the original product, like shoes and shoe protectors/polishes.
Coupling products this way is also known as product bundling and it has a high potential of working because shoppers perceive that they can save money by buying products as a bundle as opposed to buying them individually.
2. Provide an Option for Faster Delivery
For physical products, you can offer expedited shipping at a higher rate as an order bump. This can work great because who wouldn't want to get quicker access to their favorite product?
Amazon is excellent at doing this. They always provide an option for expedited shipping at a small added cost.
3. Offer Auto-Delivery Through Subscriptions
Let's say you have a product that requires repeat purchases. For example, supplements, medication, food items, household supplies, etc.
You can offer your customers an option to subscribe for weekly or monthly delivery through an order bump.
This can be a great value-added service to your customer as they do not need to manually carry out the buying process every month. You now have a repeat customer who could be purchasing from you on a regular basis.
4. Offer On-Going Maintenance, Training Or Support Contracts
If your product requires maintenance or support on a regular basis, then you can offer a maintenance/support plan as part of the order bump.
For example, when you purchase a laptop/desktop on NewEgg, they offer you an annually recurring data recovery service plan. Considering how valuable data is and how easy it is to lose it, a lot of buyers would be more than willing to take up this offer.
5. Offer to Join Membership Program
If you have a membership program on your site that gives the customer additional benefits like free shipping, discounted products, exclusive deals, private group invitations, etc. then you can pitch this program using an order bump.
Amazon Prime is an excellent example of this, and you can see how Amazon uses order bumps to push this program on their checkout pages.
6. Offer Warranties Or Protection Plans
If the product is on the expensive side then your customers will love a plan that can protect their device without incurring further expenses. This is why offering a warranty makes for a great order bump.
A good example of this is 'Applecare', which is a protection plan that Apple pitches as an order bump on the purchase of any Apple device. At a fraction of the cost, Applecare offers insurance coverage against damage, theft or anything bad that might happen to the device and hence is a popular option among buyers.
7. Offer an Upgrade
Upgrades work amazingly well as order bumps as they make the existing product even better.
For example, if a customer buys a base model iPad, you can offer them the top-shelf version as an order bump.
Here's another example; if someone has bought a standard license to your product, offer them an upgraded license that allows them more freedom to use the product.
8. Offer Bulk Discounts
People will always be interested in buying additional quantities of their favorite product if they can get it at a discount. This is why offering bulk discount can work great as an order bump.
For example, if they buy a bottle of olive oil, offer them a percentage discount if they buy 1 more additional bottles. Or if they buy two bottles of olive oil, they get the third bottle free.
What Makes For The Perfect Order Bump?
A perfect order bump is of-course the one that attracts the customer's attention and offers them something of value that will enhance their experience of the original product or service. Based on this premise, here are a few pointers that will help you create high converting order bumps.
1. Keep it simple
A clear and concise message makes decision making easier. Try to explain the features and resulting benefits of your product/service to your customer in under two to three lines.
2. Write a copy that sells
You can follow successful models like the AIDA model while writing the copy for your order bump. AIDA stands for Attention, Interest, Desire and Action. Here's a brief explanation of each step.
Attention: The first step is to get your prospects to see the bump. You can do that by writing a headline that uses power words and/or an image that draws the user's attention.
Interest: Once you have their attention, generate interest by telling your customer what you are offering them. You need to ensure that your copy is precise and to the point so they stay interested.
Desire: Show your customer how your offering can solve their problems and make their lives easier, simpler and happier by explaining the features of your product/service and the related benefits. Evoke desire in them by creating a sense of exclusivity or scarcity.
Action: Include a call to action that encourages your customer to take up your order bump offer.
Keep A/B Testing your copy, until you get it right.
3. Offer special deals or discounts
Over 92% of consumers look for deals or discounts when shopping.
Therefore, offering a discount on the order bump can encourage undecided customers to take up your offer. This is especially true if the discount is exclusive or has a limited time offer.
4. Keep the cost lower than the original product
Based on the product your customer is purchasing, you already know the kind of money they are ready to spend. Therefore, there is a higher likelihood of your order bump succeeding if your offer is lower than that price limit; ideally 50-60% lower.
For example, if someone buys a guitar at $35, you can sell them a set of related accessories like guitar strings, string cutter and picks for $7. But if someone is just shopping for guitar strings, it won't be logical to sell them a guitar.
5. Offer value to your customer
People are most interested to buy a product when they find value in it. In fact, the more value you can offer, the more likely they will take up your offer. As already discussed in this article, you can add value by giving your customer exclusive deals and products/services that complement or enhance their original purchase.
11 Examples of Perfect E-commerce Order Bumps
Want to see some perfect order bumps in action? Here's a list of some really well thought out order bumps by some popular eCommerce websites out there.
Looking at these examples will help you brainstorm your own ideas and strategies on how you can effectively integrate order bumps in your sales funnel. So let's check them out.
1. Grant Cardone – Combining A Tripwire Offer With An Order Bump
A really innovative way you can get success using an order bump is to combine it with a tripwire (low priced) offer.
Here's an example of how Grant Cardone, a sales trainer and social media influencer does it.
On his website, Cardone has an irresistible tripwire offer where he gives away his best selling book (valued at $25) for free. All you need to do is pay for the shipping. But on the checkout form, Cardone smartly adds an order bump that gives the buyer instant access to his exclusive 'Rebuttal Manual' at a discounted price.
Carefully note the copy of the order bump.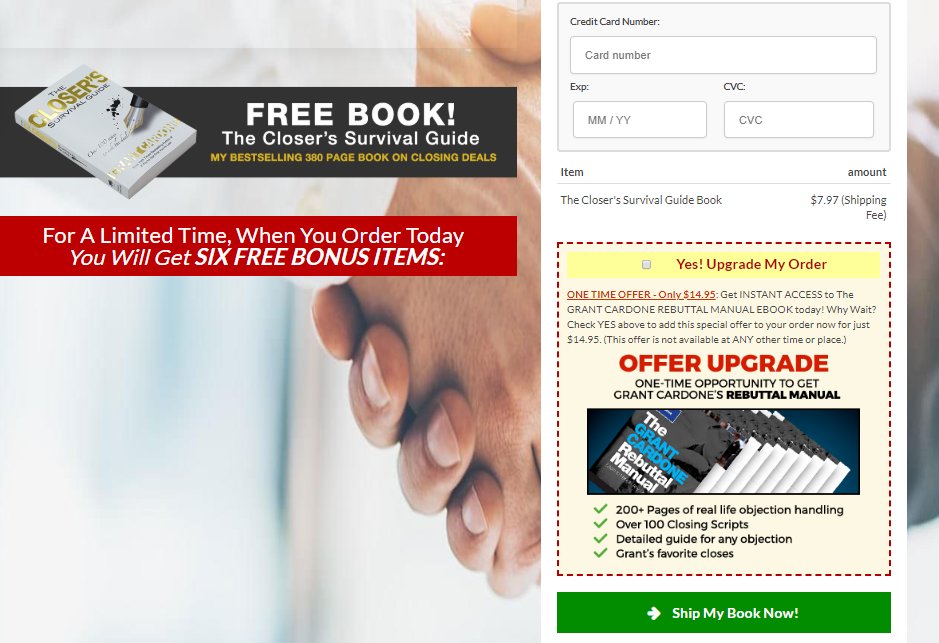 It creates a sense of scarcity and exclusivity by informing the buyer that this is a one time offer and that this offer is not available at any other time or place. Also, note that the order bump is reasonably priced making the deal even more attractive.
This is a perfect example of how you can couple a tripwire offer with an order bump to create a win-win situation. For one, you can use the tripwire offer to convert your audience into your customer and use a clever order bump to make a profit out of it.
2. Staples – Complementary Offers as an Order Bump
Another great way you can use an order bump is to present your customer with a complementary offer that in some way enhances the functionality of the original product.
For example, if the product is pricey and requires maintenance, offer a warranty or maintenance plan like in case of Staples.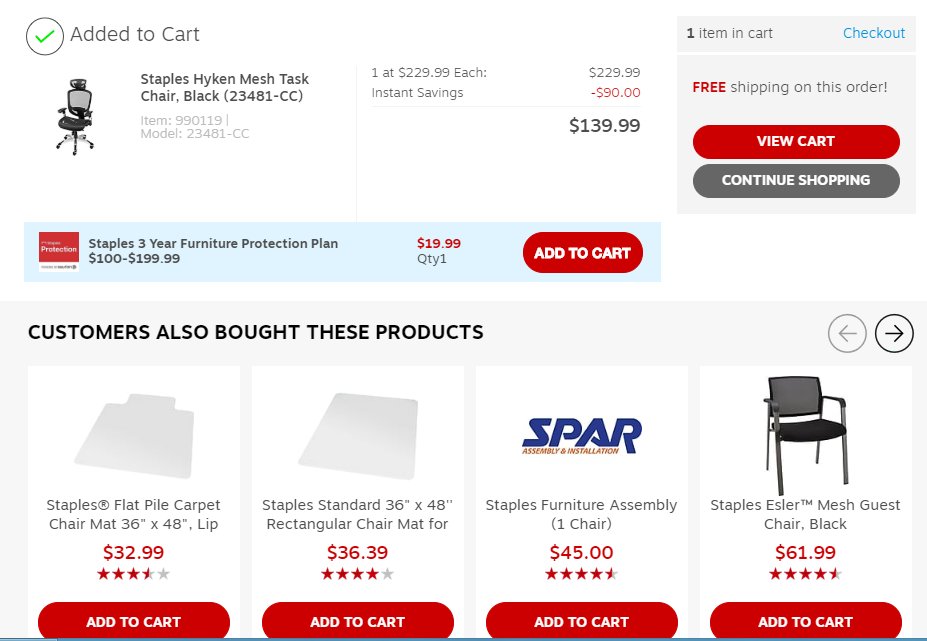 Whenever you purchase furniture at Staples, you are presented with a '3 year protection plan' at a very nominal rate as an order bump. Considering that furniture costs a lot of money and is prone to damage, this offer will seem lucrative to many customers.
In addition, as you will notice from their shopping cart page, the customer is also presented with a set of related products as a secondary order bump.
In our example, the buyer has purchased a Mesh Task chair and he is presented with related products like chair mats and guest chairs.
Note that all of these are lower in order value in comparison to the original order.
3. Petsmart – AutoShipping as an Order Bump
You can also use order bumps to get your customer to sign up for a subscription service. A perfect example of this is the autoship option offered by Petsmart.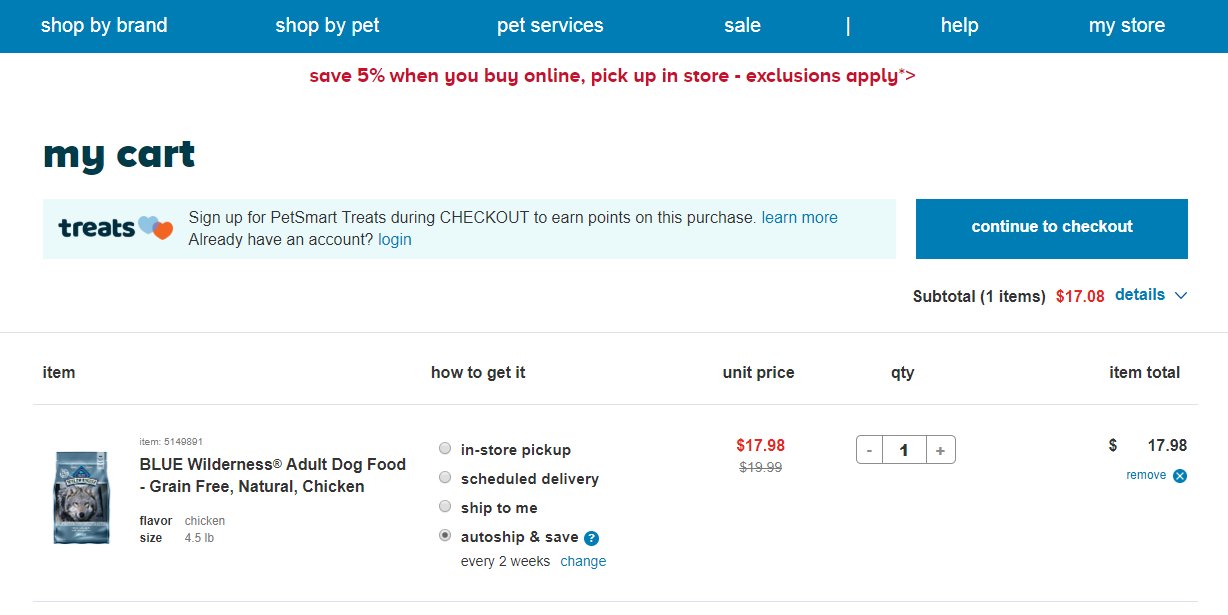 When a customer is about to checkout, they get an option of 'Auto-shipping' choosing which the product will automatically be delivered to them on a weekly or monthly basis. To make this option attractive, PetSmart also offers an additional incentive in the form of savings.
Even though the overall order value is reduced upon the customer choosing this order bump, the company still benefits in the form of customer retention. They get to lock in the customer and more than makeup for the discount by sending them products on a regular basis.
4. Tony Robbins – Special Offers as an Order Bump
Presenting your customer with a special offer based on their purchase is also a great way to make order bumps work for you.
Let's see how Tony Robbins, implements this on his website.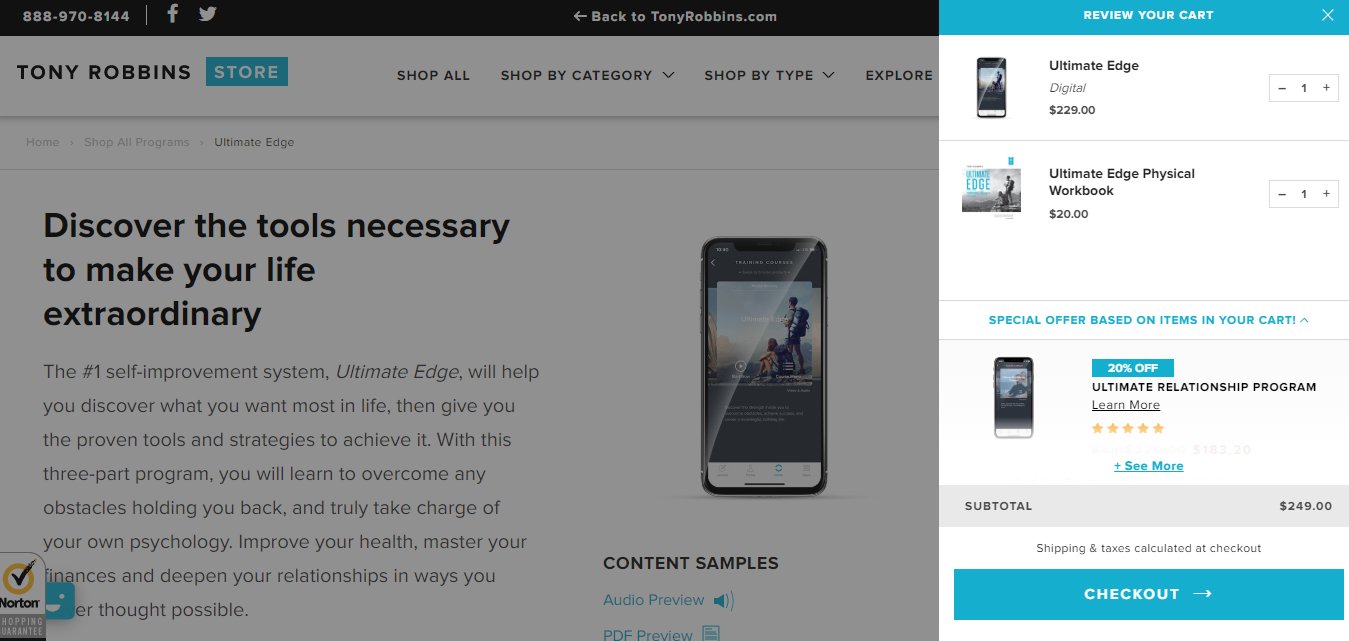 When you order a digital product from the store on his site, you are presented with an order bump in the form of a special offer. Note the copy of the bump, 'special offer based on items in your cart', that sounds not only personalized but also gives rise to a sense of exclusivity.
In addition, the 20% discount makes the deal ever more lucrative drawing in the customer's attention.
Here's another example,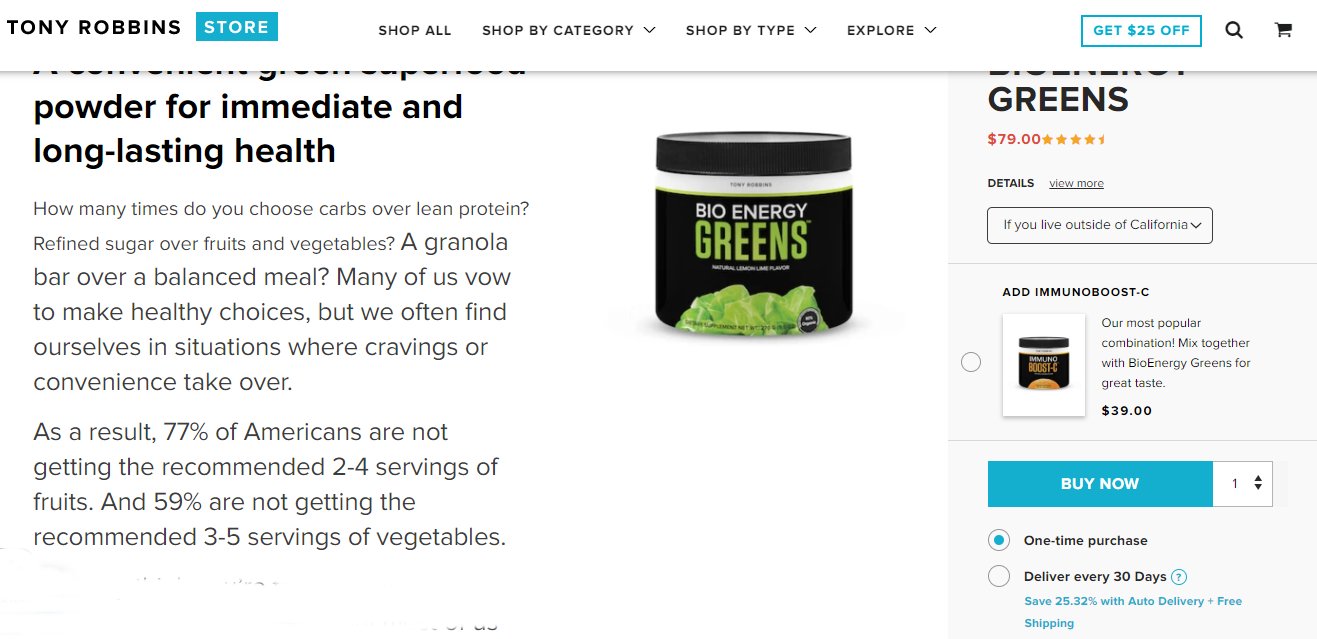 When you order a supplement from his store, you are presented with an order bump in the form of a complementary supplement. The copy makes the deal irresistible by suggesting to the buyer that the products mix together perfectly enhancing the taste and offering additional health benefits.
As you can notice, the buyer is also presented with another attractive order bump as an option to sign up for a monthly subscription (for auto-delivery). The buyer saves 25% by signing up into the subscription deal.
5. Wine.com – Membership Program as an Order Bump
Do you have a membership plan on your site? If so, order bumps can be a great way to get your customers to sign up for it.
Here's an example of how Wine.com sells its annual membership program which is called – StewardShip.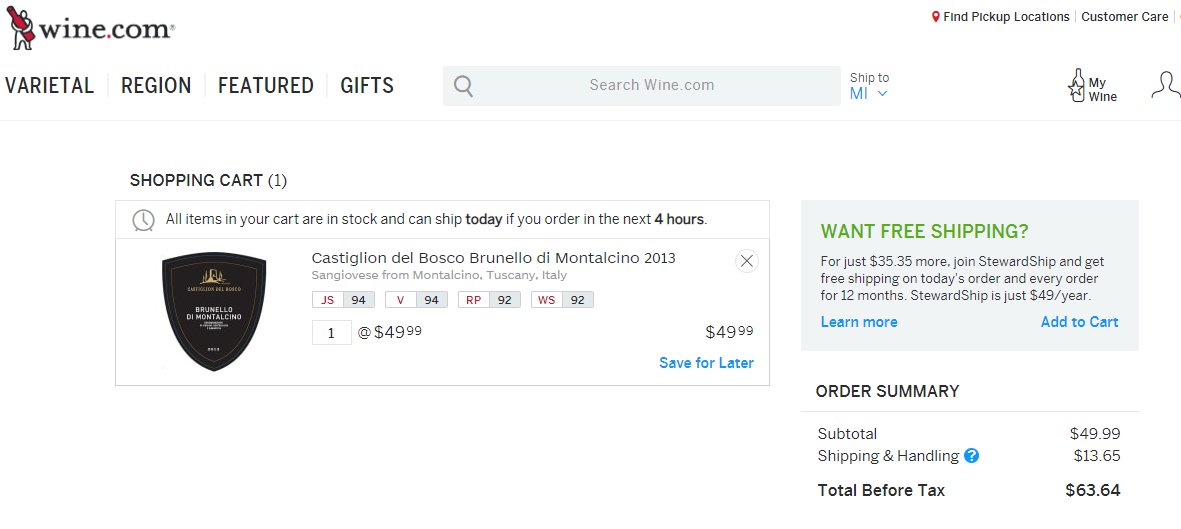 As you can see, on the cart page, there is an attention-grabbing headline followed by a great offer of unlimited free shipping for a year for just $49/year.
Since you are already paying $13.64 for shipping, you just need to pay an addition $35.35 to get into the membership plan and get free shipping for this and all future orders. Definitely sounds like an amazing deal.
6. Walgreens – Bulk Discounts as an Order Bump
Another fantastic way to use order bumps to increase your order value is to use them to sell more quantities of the same order.
You can see a brilliant example of this on the Walgreens shopping cart page. Once the customer is on this page, they are presented with a 50% discount if they increase the order quantity to two.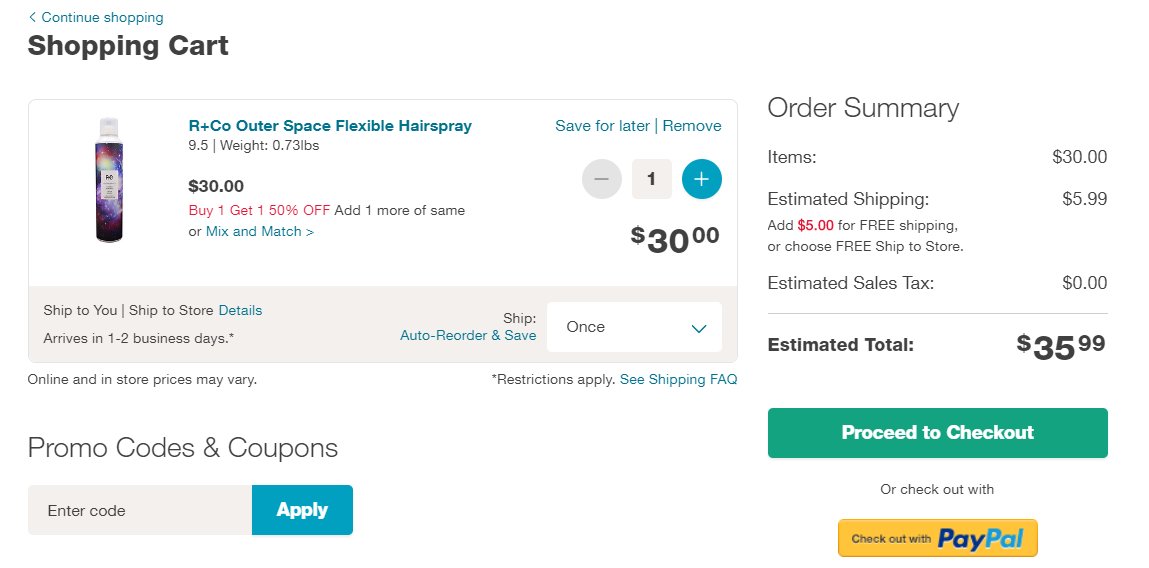 As you can see, you just need to click on the plus sign to add an additional quantity of the same product which makes it super easy.
This can work great for products that require recurrent buying.
7. BestBuy – Related Accessories as Order Bumps
Accessories enhance the overall experience of the product and hence make for great order bumps.
A great example of this has to be the Bestbuy shopping cart. With every order, they show you three related offers that are hard to resist.
When someone buys a camera, they are presented with a protection plan for 1 year and related accessories like a memory card and tripod as order bumps. Most customers will be interested in all three offers as they are directly related to the product.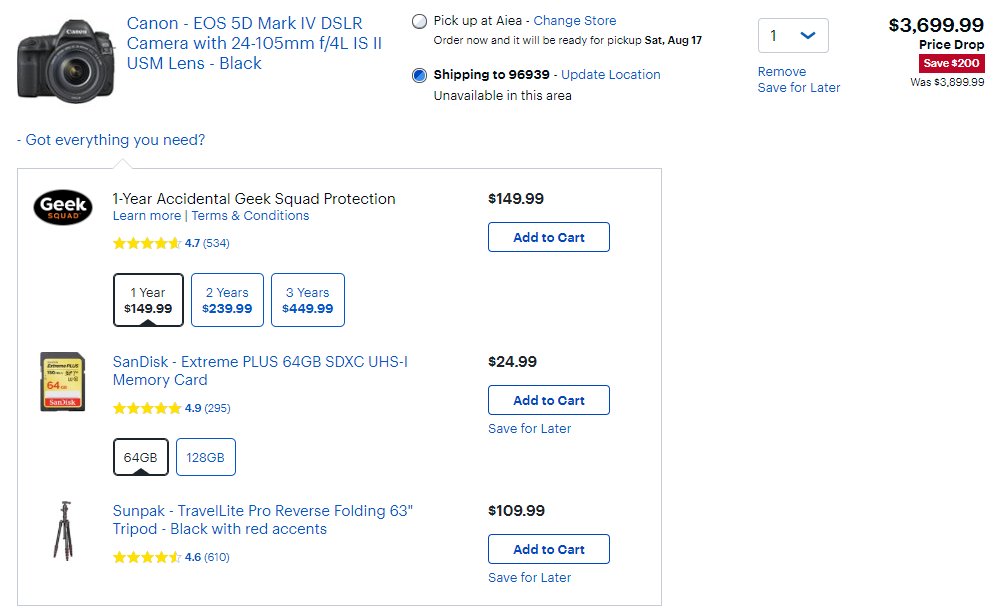 When using multiple order bumps, ensure that you don't overdo it as too much distraction can deter your customer from proceeding with the buy. So choose this route only if you believe your customer will find value in your offer and restrict your bumps to a max of 3.
A single order bump is still the best way to go as it reduces the likelihood of analysis paralysis on the part of your customer.
8. XenForo – Additional Features as Order Bumps
If you are selling a digital product, you can offer installation, added features or extended licenses as an order bump. This can even work with physical products.
XenForo (which is a forum software), does this to perfection. They offer value added features like enhanced search, resource manager and media gallery at an additional price. Anybody who runs an online forum would be interested in pretty much all of these features.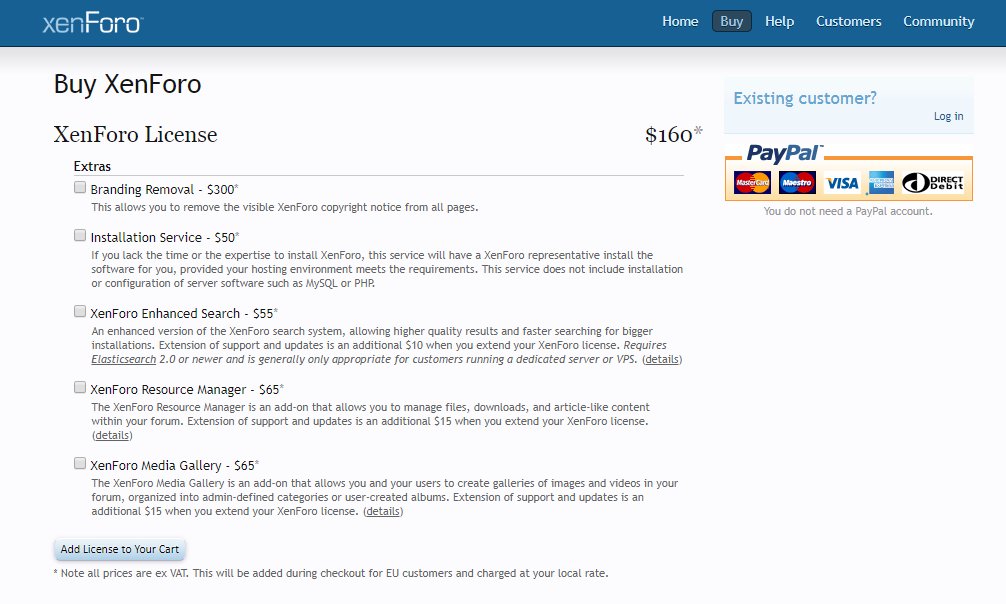 In addition, they also offer an installation service for anyone who is not tech savvy and a branding removal as part of their extended license plan.
9. NewEgg – Maintenance Plans as an Order Bump
If you sell products/services that require on-going maintenance, you can promote your maintenance plan using an order bump.
Here's an example. Whenever you buy a laptop/desktop on NewEgg, they offer you a 'data recovery service' which you can purchase for the duration of 1, 2 or 3 years. You get a higher discount based on the number of years you purchase.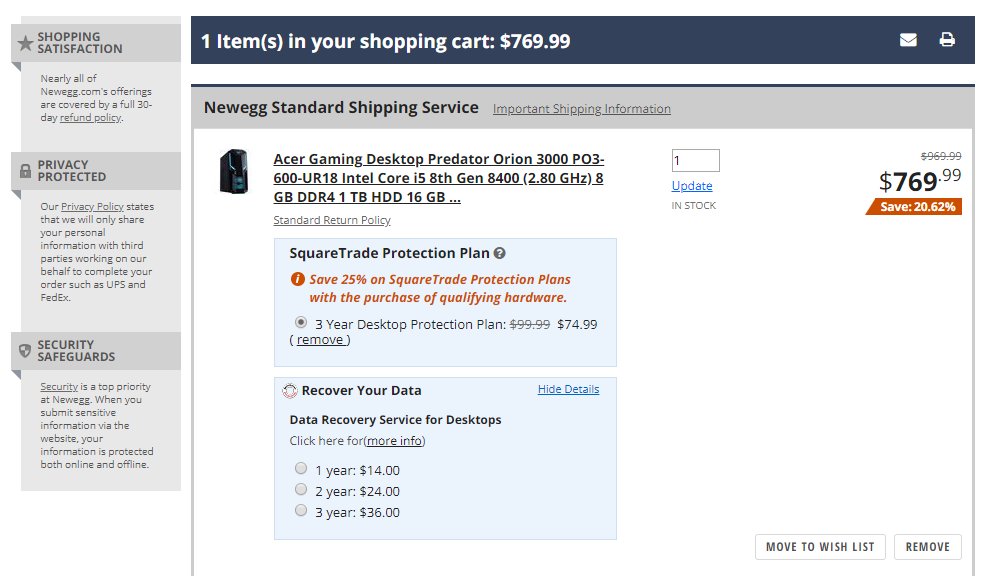 Considering that data is so valuable and how difficult and expensive it is to recover corrupt data, this is an option that many buyers would be interested in taking up.
10. Udemy – Best Selling Courses as an Order Bump
Product bundling can work great as an order bump. No wonder companies like Amazon have been doing it for ages.
Here's an example of how Udemy does it in a simple, uncluttered way.
Whenever you buy a course at Udemy, you are presented with a single related course as an order bump at a discounted rate making it an irresistible offer. The phrase 'frequently bought together' is definitely an attention grabber and acts as social proof.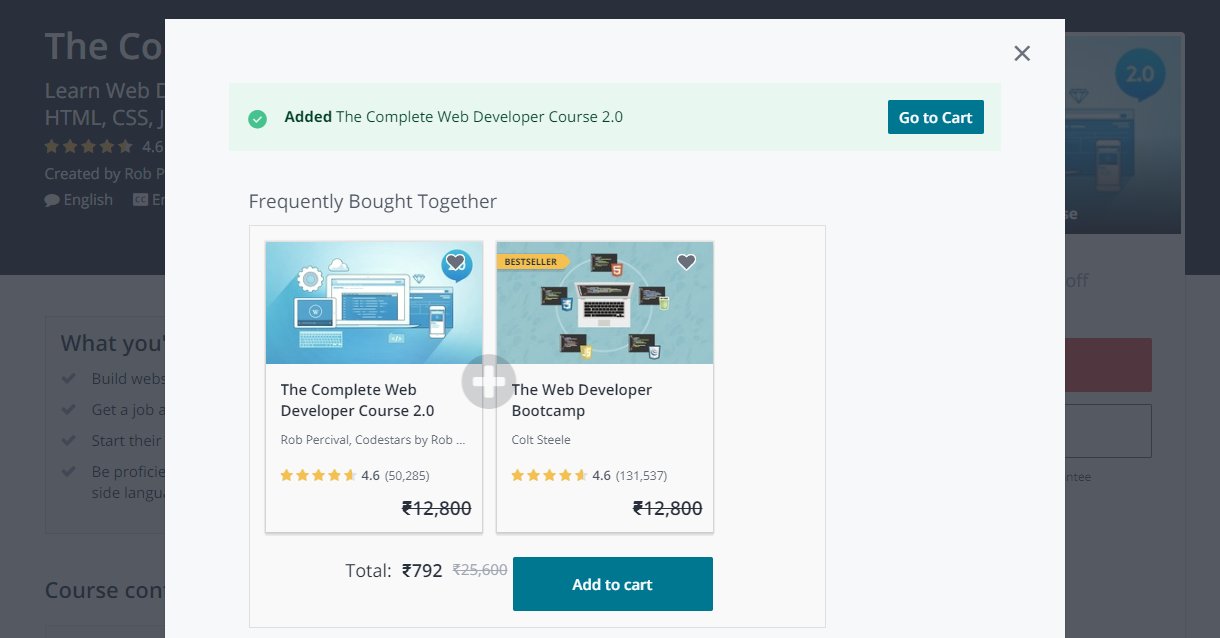 Also, as you would have noticed from the image above, the product that they recommend is a bestselling book that has very good reviews from a large number of buyers.
Presenting social proof such as this more than doubles the likelihood of the customer taking up your offer.
This is because from a psychological perspective, people generally tend to do what they observe other people doing. We find safety in numbers. For example, you are less likely to eat at a restaurant that is always empty and more likely to eat at a place that attracts a decent crowd.
11. StoicRings – Product Customization as an Order Bump
People love customized products and hence a customization service can work great as an order bump.
Here's a good example of this.
Whenever you buy a ring at StoicRings.com, they show you an option to engrave the ring with a custom text at an additional cost as an order bump. As you will notice, they also offer another order bump to add the 'stoic box', (which is a designer box for the ring) to the order.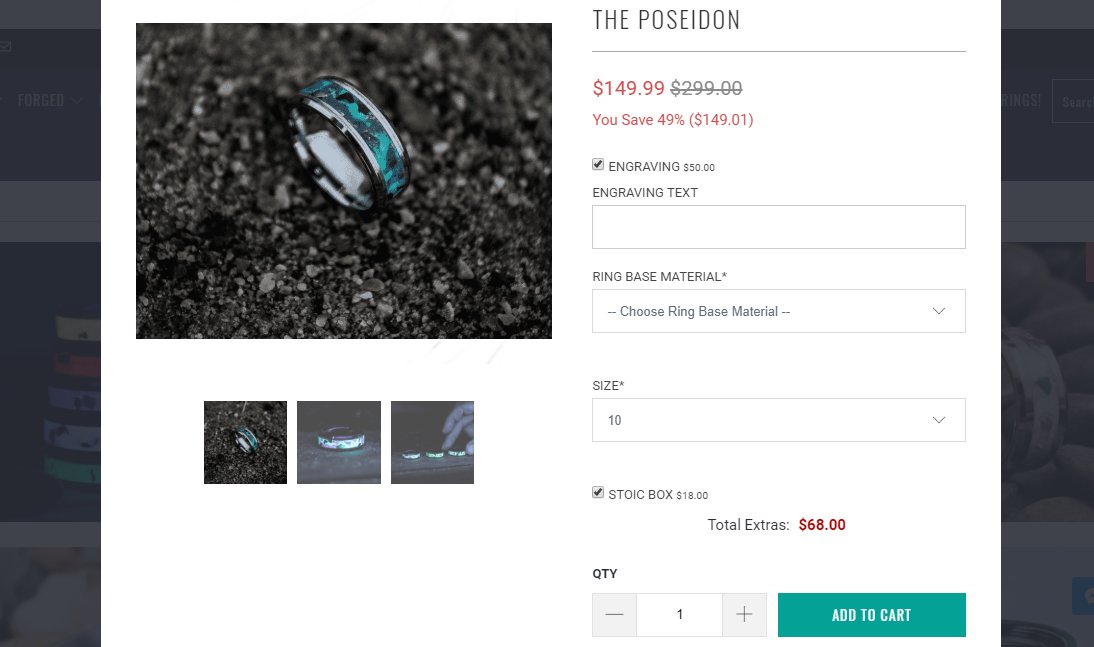 Anyone who is buying the ring for gifting purposes will most likely want to take up both these offers.
How You Can Add Order Bumps to Your Ecommerce Store?
If you run an eCommerce store and you have never tried using order bumps then you are missing out on a massive opportunity to increase your revenue and profit margins.
The good news is that there are many pre-built tools that you can use to easily add order bumps to your store. Some popular tools include ClickFunnels, Thrive Architect and CartFlows.
If you run a WooCommerce store, then you can use CartFlows to easily add Order Bumps, Upsells, Downsells and a lot more.
With CartFlows you can create simple as well as complex sales funnels in a matter of seconds. 
In addition to order bumps, CartFlows also allows you to create Upsell/Downsell pages as well as optimized landing, checkout and thank you pages. And you can do all these using pre-designed templates that can be easily edited using your favorite page builder like Elementor or Beaver Builder.
The best part is that CartFlows gives you access to built-in analytics so you can easily know what is working and what is not and make changes based on that to perfect your funnel.
Want to see how easy it is to create an order bump using CartFlows?
As you can see from the following image, you can create an order bump with CartFlows from within your WordPress dashboard with just a single click.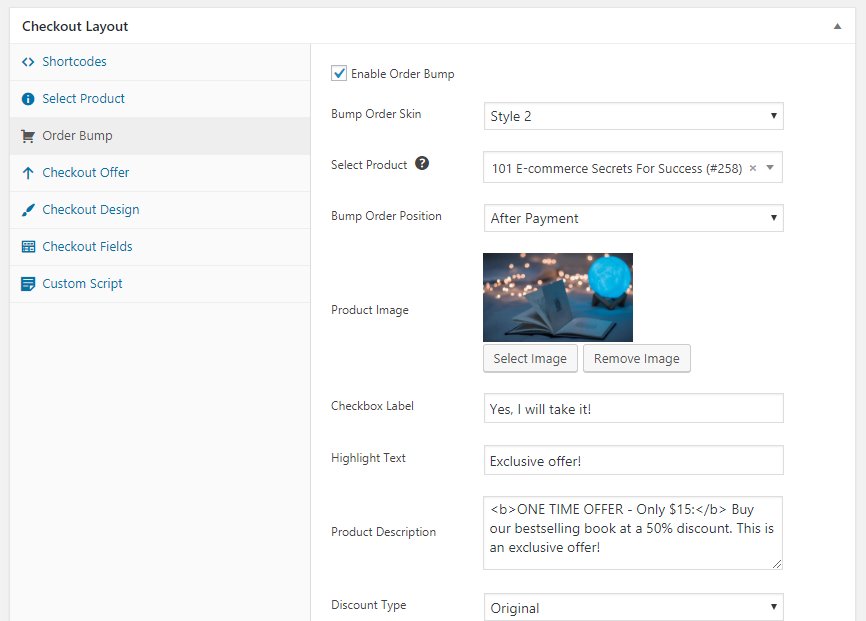 And in a matter of seconds you can have the order bump appear on your checkout pages. Every single integration is automatically made so you don't have to do anything on your part other than setting up the order bump, which can be done in a jiffy.
Here's how the order bump looks on your checkout page.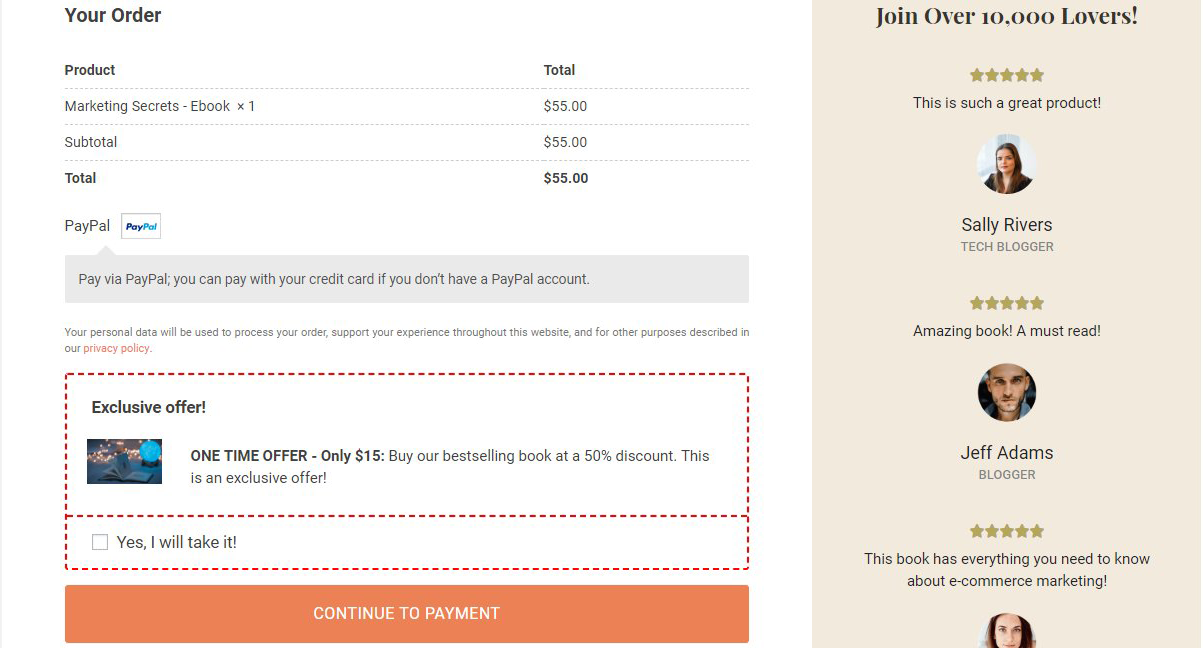 Take CartFlows for a test run by downloading the free version at WordPress.org.
You can further take advantage of our detail guide on – How to Build Funnels in WordPress and Save $3166 / Year.
Do let us know how you like this article in the comments below.