"OK, Google, how can I rank higher in voice search?"
That question might have seemed silly ten years ago, but the era of voice search has arrived, making this a very real consideration for your WordPress site.
Even back in 2016, voice search was powering 20% of Google's mobile searches. As virtual assistants have only grown and expanded (Activate estimates there will be 21.4 million smart speakers in the US alone by 2020), it's a pretty safe assumption that the voice search percentages are even higher today
The increase in people using voice search has led to a similar growth in people trying to optimize their websites for voice, as well as people investigating what that optimization actually entails.
Thankfully, that means we now have some data to go on. So…want to optimize your WordPress site for voice search? Here's what the data says to do…
1. A Quick-Loading Theme Can Set You Up For Success In Voice Search
Brian Dean and Backlinko recently analyzed over 10,000 Google Home voice search results and found this:
The average voice search result page loads 52% faster than the overall average page.
In Brian's own words: "PageSpeed appears to play a major role in voice search SEO".
Beyond Backlinko's research, Google also recently started using page speed in their mobile index in January 2018, which is where most voice search is happening.
It follows therefore that if you want your WordPress site to rank higher in voice search, you need it to load fast.
While there are all kinds of performance optimizations you can tweak on your WordPress site, your site's speed is always going to be limited by its foundation.
In WordPress, that foundation is your theme and your plugins.
Astra is built to cover the theme part. At less than 50 KB, it's about as lightweight a theme as you'll get. Plus, it uses Vanilla JavaScript instead of potentially render-blocking jQuery to make things even faster.
In fact, the base Astra theme will load in under 0.5 seconds with default WordPress data, giving your site a great chance to tick Google's boxes when it comes to voice search:

2. A Higher Percentage Of Voice Search Results Use Schema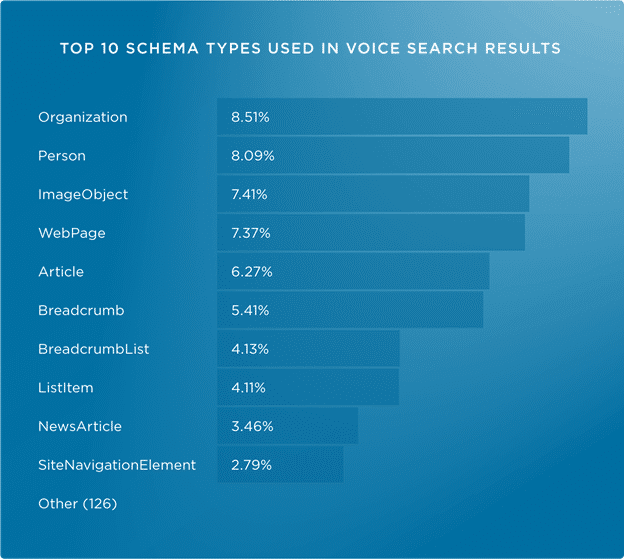 Beyond the heavy correlation with page speed, Backlinko also found "that 36.4% of voice search result pages used Schema markup (vs. 31.3% for the average page on the internet)":

While the Backlinko team did point out that the difference is not large enough to be significant, there is still an increase there. And, given all the other benefits of schema markup, it's more data pointing towards the importance of using schema markup on your site.
To use schema on WordPress, Schema Pro can help you automatically add proper JSON-LD schema markup to all the content on your site.
While schema might not be as dominant a voice search ranking factor as page load time is, it doesn't require any extra effort and might give you another small boost.
3. Short And Easy To Read Is The Name Of The Game
Beyond the technical aspects of page speed and schema markup, another way to help your content rank in voice search is to just plain make it easy to read.
Backlinko found two data points that tie to readability:
First, the average voice search result is just 29 words, which means that Google is looking for short, concise answers rather than a lengthy explanation. This makes sense – no one wants to sit around while their device reads out the entirety of War and Peace.
Note that, while the actual answers should be short, the overall page can be quite lengthy. The average overall page length in Backlinko's study was over 2,000 words.
Beyond length, you also want to keep it easy to read. The average voice search result is written at just a 9th-grade level.
This data jives with Google's official Evaluation of Search Speech Guidelines, where they're looking for good:
Length

Formulation

Elocution
To check your content for its reading level and style, you can use the free Hemingway Editor tool: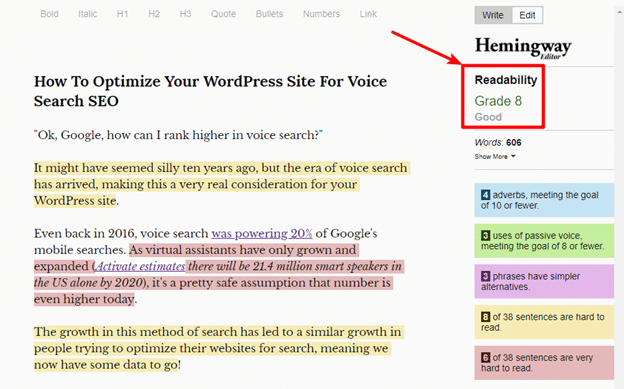 4. Featured Snippets Give You A Good Shot At Voice Search
Another interesting connection that Backlinko found is a strong correlation between the voice search result and the Featured Snippet for that same query.
In Backlinko's data set, 40.7% of all the voice search results were pulled from a Featured Snippet: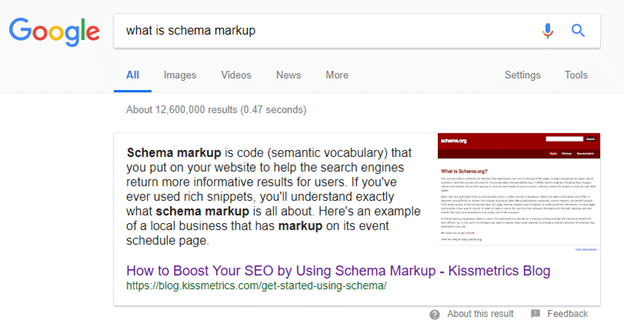 While there's no surefire way to get your content in a Featured Snippet, the way that you write and format your content can boost your chances:
Focus on question keywords in your content (and answering those questions)
Check out the People also ask box in Google search results for good Featured Snippet keyword ideas
Keep your answers short (again – notice the tie to voice search?)
Use formatting that's conducive to the question – like a list for questions about instructions for how to do something
This Search Engine Journal article has a deeper look at how to boost your site's chances of getting Featured Snippets.
Even if you don't get the Featured Snippet, formatting your content in this way is still optimizing it for voice search. For instance, FAQ-style pages often do well with respect to both Featured Snippets and voice search.
Start Getting More Traffic From Voice Search Today
If you want your WordPress site to rank higher in voice search, one of the best things that you can do is choose a theme that loads fast and then optimize the rest of your site to keep things loading quickly.
Beyond that:
Consider adding schema markup to your content, even if the effect on voice search isn't massive.
Keep your answers short and easy to read. Remember – around 30 words and 9th-grade reading level. Nothing super complex.
Try to optimize your content for Featured Snippets – not only is it already a good SEO practice, it will do double-duty for voice search.
Now get out there and optimize your WordPress site for voice search!