Welcome to the next chapter of our ultimate guide to blogging for beginners, choosing the best web hosting provider.
So far, we have discussed choosing your blogging niche, naming your blog and choosing a blogging platform. As we recommended self-hosted WordPress as the best self-hosted platform to host your blog, it makes sense to discuss the various web hosts out there that can help you with that.
This chapter will look at web hosting. What it is, what it does and what to look for in a web host. We will also look at some of the market leading hosts to give you an idea of what's out there.
By the end of this article, you should have all the information you need to make an informed decision about your next web host.
Definition of Commonly Used Terms
Before we get into the details of WordPress hosting, we should provide some explanations.
This chapter uses more technical terms than previous chapters so we have put together a quick glossary of some of the terms you may not be familiar with.
Server – A server is a computer designed for one specific task, serving files. In the context of this guide, a web server is designed to store your website files and serve them to browsers that request them. The design and configuration of that server is dedicated to fulfilling that task.
Domain name – A domain name is the www. name that you type into a browser to visit a website. The domain name is mapped to a particular server that hosts your website files using DNS (Domain Name System).
DNS – DNS stands for Domain Name System. It maps domain names to IP addresses. Servers work using IP addresses and the web works with domains. DNS is the middleman that connects the two. It works a bit like a phone book. You type a URL into your browser, it queries DNS to locate the IP address. DNS provides the IP address of your web server and your browser goes to that server and requests the web page.
Sub-domain – A subdomain is an additional domain hosted within a primary domain and is a method of utilizing the same domain for different uses. For example, www.wpastra.com is our primary domain. A possible sub-domain of that could be www.WordPresshosting.wpastra.com where WordPress hosting is the sub-domain.
SSL – Secure Sockets Layer is the technology that encrypts traffic between your browser and the web server for privacy. It's the extra 's' in https that means all traffic is encrypted for that session between your web browser and the website. It requires the installation of an SSL certificate on your web host to implement and is now regarded as mandatory.
Disk storage – Web servers use the same kind of storage as you have on your computer, just on a larger scale. They use a mixture of HDD (mechanical hard drives) and SSD (Solid State Drives) to store the various files that make up a website. SSD is faster so is the desired option. Some web hosting plans place limits on disk storage which you need to watch out for.
WordPress hosting – A web host that either specializes in the specific demands of WordPress or who has servers configured to deliver WordPress websites faster. As a database-driven CMS (Content Management System), WordPress requires fast servers with a superfast database to work effectively. WordPress hosting delivers that.
Bandwidth – Bandwidth refers to the amount of data transferred to visitors from your part of the web server. This includes visitors to your site, emails you've sent or received, and files uploaded or downloaded by you or your visitors. Some hosts limit bandwidth while others don't. Unlimited bandwidth is often referred to as 'unmetered'.
CDN – A Content Delivery Network (CDN) is a collection of web servers placed around the world in data centres, each with a copy of your website. When a browser visits your website, a CDN will automatically choose the copy of your site closest to the visitor to help speed up the experience. It is also useful if a server experiences downtime as your site will still be available in another CDN data centre.
Page load time – Page load time measures the time it takes from when a browser requests your website home page until that page is fully loaded. The faster it loads, the shorter the page load time and the happier visitors will be. Google also uses page load time to assess your site's SEO, so this is an important metric.
Server uptime – This is a measure of how long a web server is up and running. Downtime is when the server is not running, either for planned work or a fault. Uptime is the measure of when it works. We would expect a minimum of 99.9% uptime from a web host.
Web caching – A web cache is a stored copy of a file maintained in memory in case it is needed. All computers use caching to help speed up the experience and minimize the work a computer has to do.
You will come across most of these terms during your quest for a web host and we hope the glossary will come in useful!
What Is a Web Host and Why Do You Need One?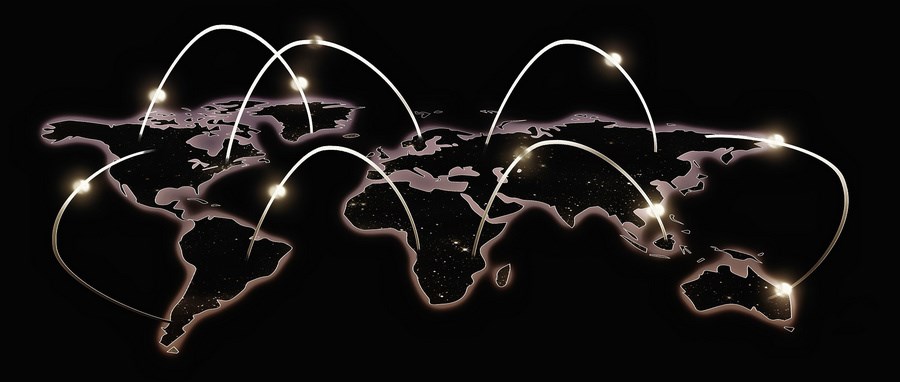 A web host provides the server space we need to install WordPress and build a website. That server space has a direct connection to the internet so anyone in the world can visit if they have the URL or a link.
We rent server space from a web host for a set fee per month or year. That server space will include a database or multiple databases and all the systems and software required for WordPress to operate.
The server may also include security and backup tools to keep your website safe as well as other functionality.
We need a web host because setting up your own web server can be expensive and time consuming. It isn't something you can do on a typical home broadband connection, so web hosts are the next best thing.
A web host can also help manage domain names. While you don't have to buy a domain name and web hosting from the same provider, it makes life easier if you do as they will automatically map the name to the IP address of the web server for you.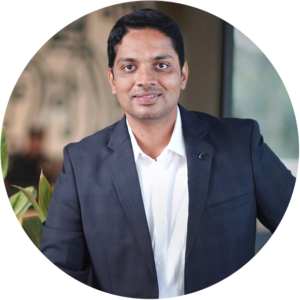 Hello! My name is Sujay and I'm CEO of Astra.
We're on a mission to help small businesses grow online with affordable software products and the education you need to succeed.
Leave a comment below if you want to join the conversation, or click here if you would like personal help or to engage with our team privately.
Shared Hosting vs Dedicated Hosting – What's the Difference?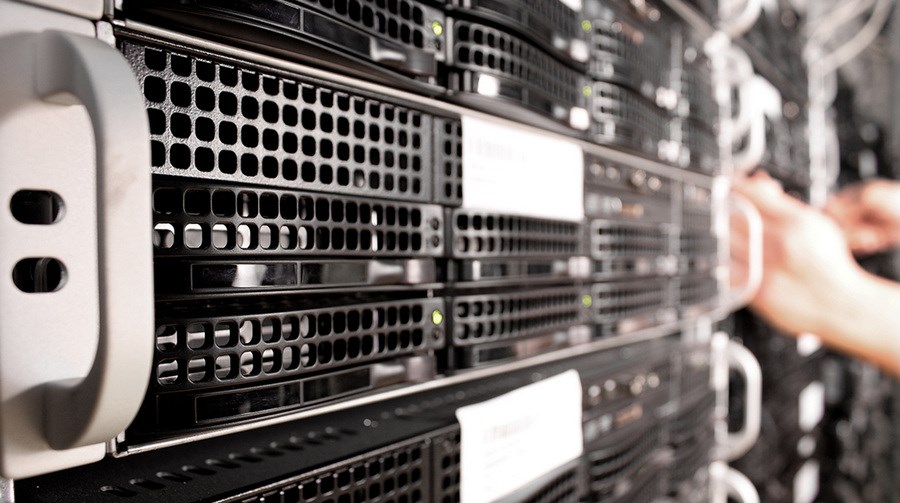 When shopping around for WordPress hosting plans, you will come across three main types, shared hosting, dedicated hosting and VPS.
VPS, Virtual Private Server is only really useful for medium sized businesses upwards so isn't really relevant here. Which leaves shared hosting and dedicated hosting.
Shared Hosting
Shared hosting is exactly that. Shared space on a web hosting server. You may be sharing that server with hundreds or thousands of other websites and will be allocated a set amount of disk space and server resources to run your website.
The upside of shared hosting is that it is cheap and readily available. The downside is that you have to share the server with so many other websites.
Most new blogs and smaller websites will be fine with shared hosting to begin with but may quickly outgrow it.
Dedicated Hosting
Dedicated hosting is also referred to as managed hosting or dedicated server. It is where you rent an entire web server for your own use. You don't have to share it with other websites and all resources are for your website's use only.
The upside of dedicated hosting is that all resources are yours to use and you have a lot more freedom over how the server works. The downside is that it is significantly more expensive to rent.
Dedicated hosting is ideal for busier websites or those expecting a lot of traffic.
WordPress hosting can be either shared or dedicated. The service outline should tell you which you're buying.
10 Best WordPress Hosting Services
Now you have an idea of what web hosting is and why you need it, let's take a look at some of the best hosting for WordPress around right now.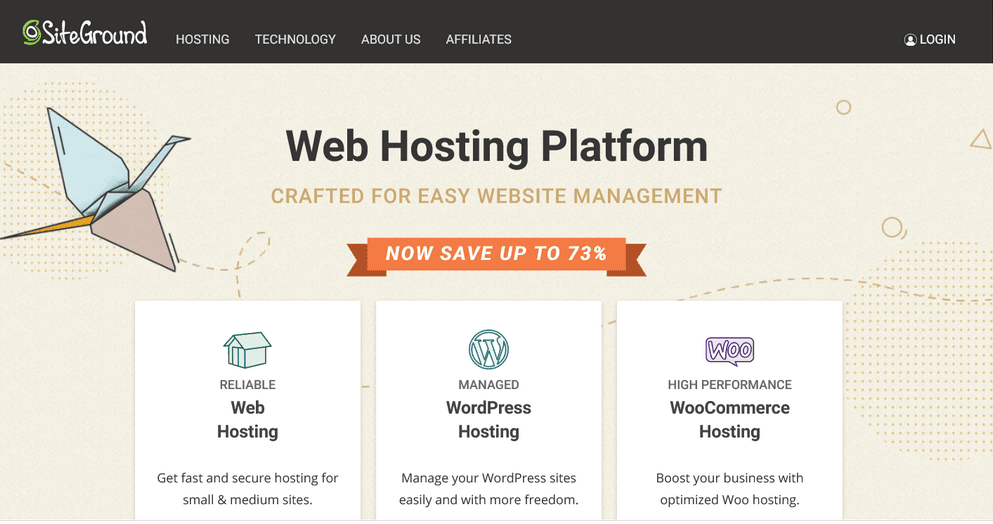 SiteGround is one of the most prominent players in the world of web hosting. With over half a million domains and six data centres on three continents, this is a company with a truly international flavour.
It balances price with customer needs and the result is a fantastic product. That's why it's one of the few hosting providers recommended by both WordPress.org and Drupal.org. The company servers continuously rank among the fastest and most reliable, and the technical support team is one of the best in the industry.
WordPress hosting plans include unmetered traffic, free SSL, daily automated backups, free migration, free CDN, managed WordPress option, 30-day money back guarantee and a ton of other useful features.
Key features of SiteGround:
99.9% uptime
Minimum of 10GB of web space
Free CDN and SSL
24/7 support
Distributed data centres in USA, Europe, Asia and Australia
Pros of SiteGround:
Free website migration
Fast servers with excellent uptime
Excellent support
Distributed data centres should mean faster load times
Money back guarantee
Cons of SiteGround:
SiteGround Price
WordPress hosting with SiteGround costs from $14.99 per month.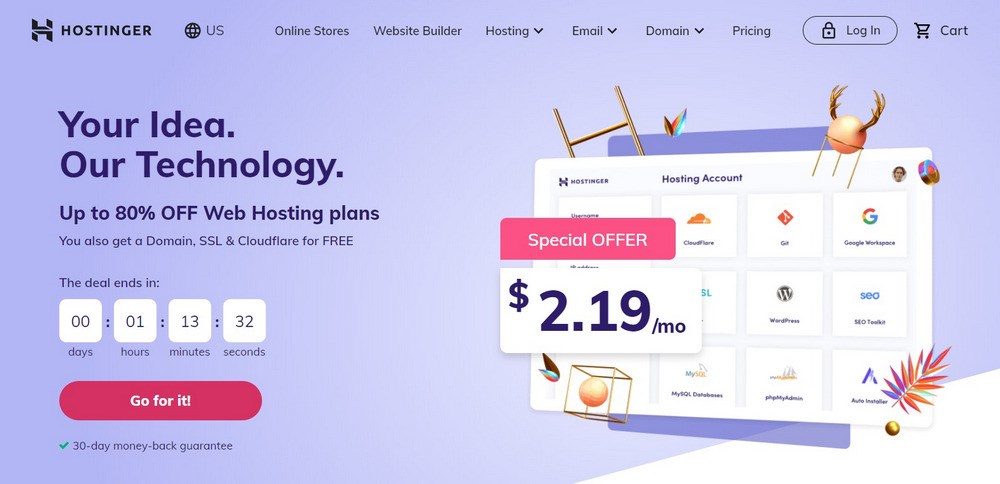 Hostinger is another highly regarded WordPress hosting provider. It has a good reputation and solid support.
Plans offer shared or dedicated hosting, free SSL, a minimum of 10GB of SSD storage, LiteSpeed caching for WordPress, 2 databases, automatic backups and Cloudflare integration.
The breadth of options is wide and includes a lot of useful features. However, Hostinger is one of the few hosts that still limit bandwidth and you only get 10GB of storage on the cheapest plan. Two things that are less than ideal.
Key features of Hostinger WordPress hosting:
99.9% uptime
Minimum of 10GB of SSD storage
1 website
Free SSL
100GB bandwidth
Managed WordPress option
Pros of Hostinger:
Cheap WordPress hosting plans
Includes a lot of useful features
Free SSL
24/7 support
99.9% uptime
Cons of Hostinger:
Storage limits are small
Limited bandwidth on cheaper plans
Hostinger Price
Hostinger costs from 0.99$ per month for shared hosting.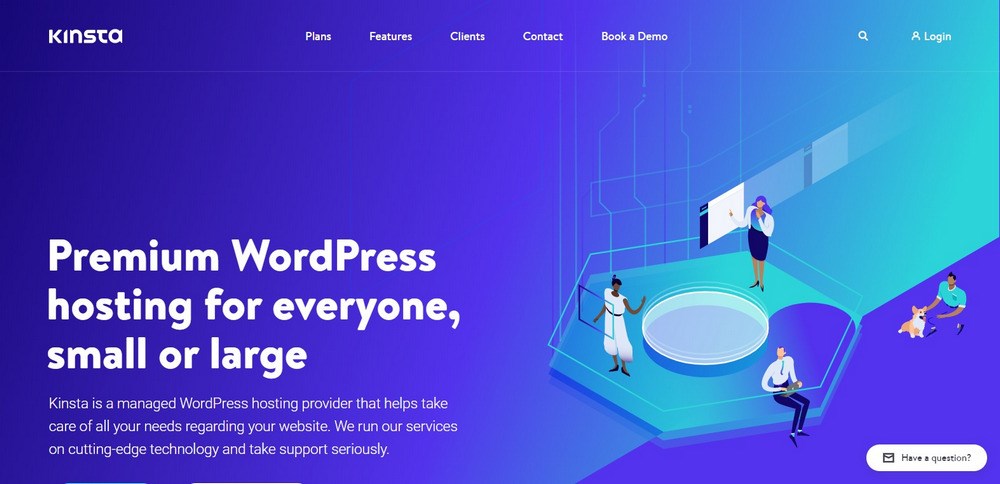 Kinsta was founded in 2013 by some WordPress developers who wanted to create the "best WordPress hosting platform in the world." Since then, the platform has catered exclusively to WordPress users and aims to deliver a flawless experience.
Kinsta uses the Google Cloud Platform to deliver services. It also provides a custom host dashboard, free website migrations, fully managed services, daily backups, excellent proactive and reactive security, 24/7 support and monitoring and a dedication to delivering exceptional service.
You do pay for all this though. Kinsta are one of the most expensive web hosts around but deliver impressive performance and security in return.
Key features of Kinsta:
99.9% uptime
SSD storage
Free CDN
Free website migration
Serious security
Pros of Kinsta:
Impressive server performance
Excellent security
30-day money back guarantee
Distributed data centres powered by Google
Automated backups
Cons of Kinsta:
Kinsta Price
Kinsta offers premium WordPress hosting costing from $30 per month.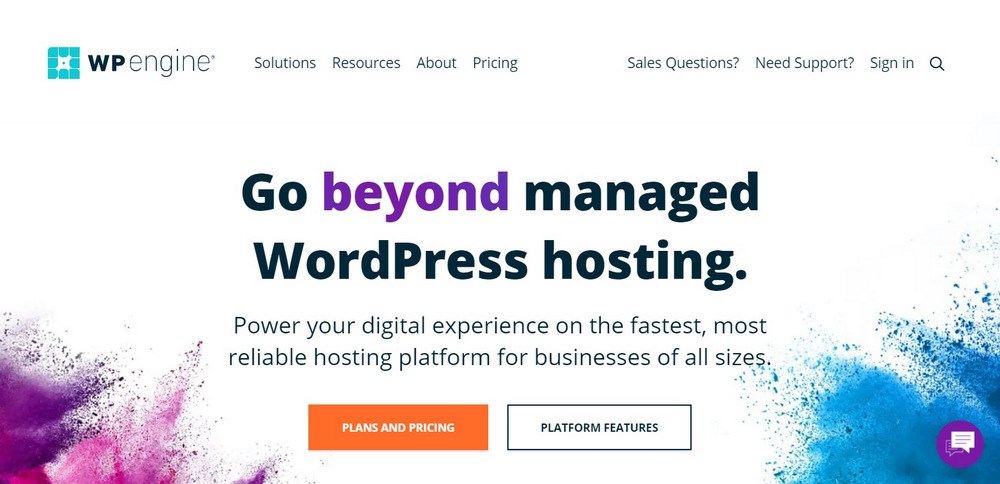 WP Engine specializes in managed WordPress hosting and therefore is more tuned towards the needs of businesses. Individuals can still use their services though.
WP Engine uses both Amazon Web Services and Google Cloud to provide hosting. This combined approach means you benefit from the power of two internet giants and your website performance should reflect that.
WP Engine offers free Genesis Framework and StudioPress themes, SSD storage, website migration, global CDN with AWS and Google, automated SSL, 24/7 support, server caching tools and optional extra features.
Key features of WP Engine:
99.98% uptime
SSD storage
Free Genesis Framework and StudioPress themes
Website staging tool
Automatic migration
Pros of WP Engine:
Designed specifically for WordPress
Distributed data centres across the globe
Uses AWS and Google
Automatic backups
24/7 support
Cons of WP Engine:
It is expensive
Limited storage and bandwidth
WP Engine Price
WP Engine WordPress hosting plans cost from $27 per month.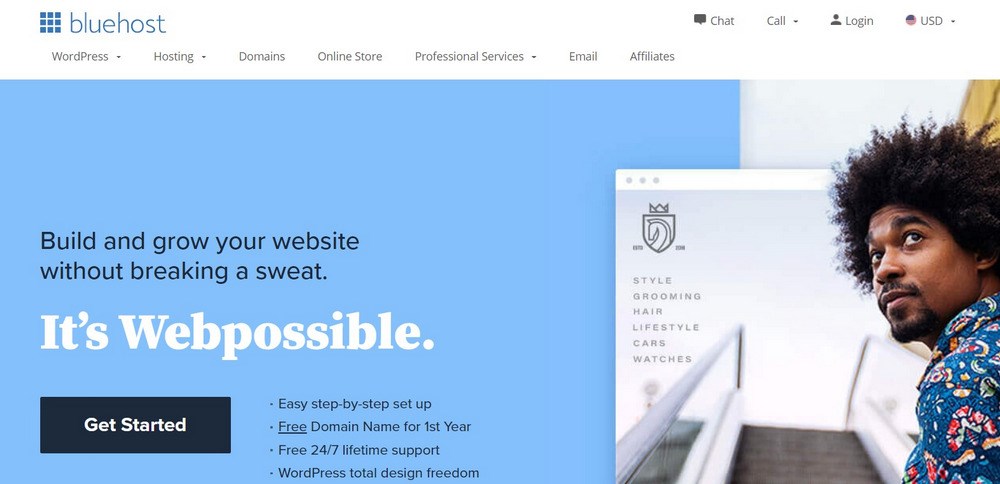 WordPress recommends Bluehost as a WordPress hosting provider. That's quite the accolade!
BlueHost is one of the most established web hosts in the market. They offer a free domain to new users for one year, a free SSL certificate, and a 30-day money-back guarantee. Reviews are usually overwhelmingly positive too.
BlueHost provides excellent shared hosting services, virtual private server (VPS) hosting and dedicated servers. With 24/7 support, automatic backups and updates, one-click installs, unmetered bandwidth and storage, there is a lot to recommend BlueHost as a WordPress hosting provider.
Key features of Bluehost WordPress hosting:
Minimum of 50GB of SSD storage
1 website
24/7 support
Free domain and SSL
Free CDN
Pros of BlueHost:
Well-established web host
Specific WordPress hosting plans
Automatic backups and updates
Free SSL and domain name
24/7 support
Cons of BlueHost:
Not the cheapest WordPress hosting out there
Uptime is not published
BlueHost Price
BlueHost is usually $8.99 per month for shared hosting but if you use our link, you get the seriously discounted price of just $2.95!
(We include an affiliate link but our review is still impartial!)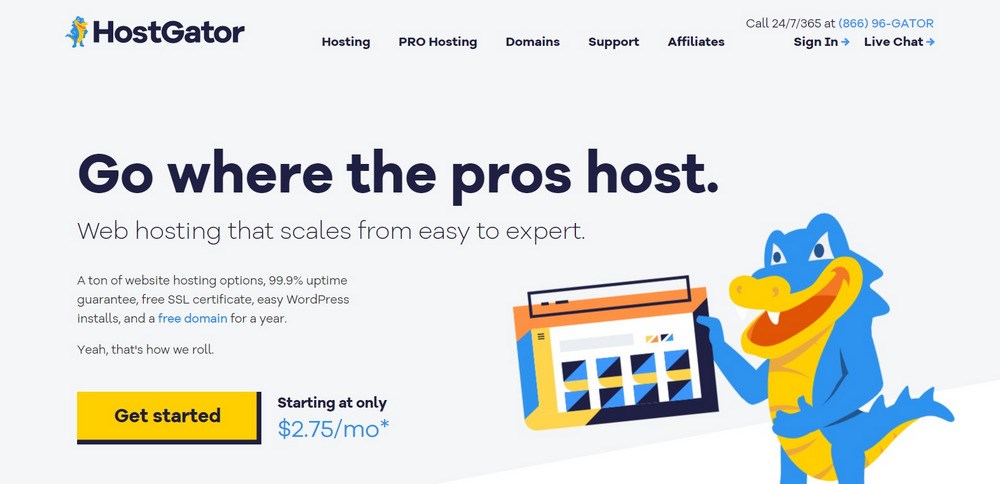 HostGator is a large WordPress hosting provider with over 2 million websites on its servers.
HostGator offers basic shared hosting and WordPress hosting as well as dedicated hosting and VPS. Each offers a free domain, free site migration, unmetered bandwidth, free SSL, one-click installs, 24/7 support and lots of resources for new users.
The hosting plans include lots of useful features you'll need to run your WordPress website. The free migration option is a useful addition if you already have a website elsewhere. Overall, the offering is generous and definitely worth checking out.
Key features of HostGator:
99.9% uptime
Free website migration from other hosts
Free SSL
Unrestricted bandwidth and disk space
24/7 support
Pros of HostGator:
Lots of useful features for WordPress users
Free site migration is excellent for existing websites
Unrestricted disk space and bandwidth
99.9% uptime guarantee on all plans
Includes money back guarantee
Cons of HostGator:
Web servers mainly hosted in US meaning potentially slower performance the further away you are
Hostgator Price
HostGator WordPress hosting plans start at $2.75 per month.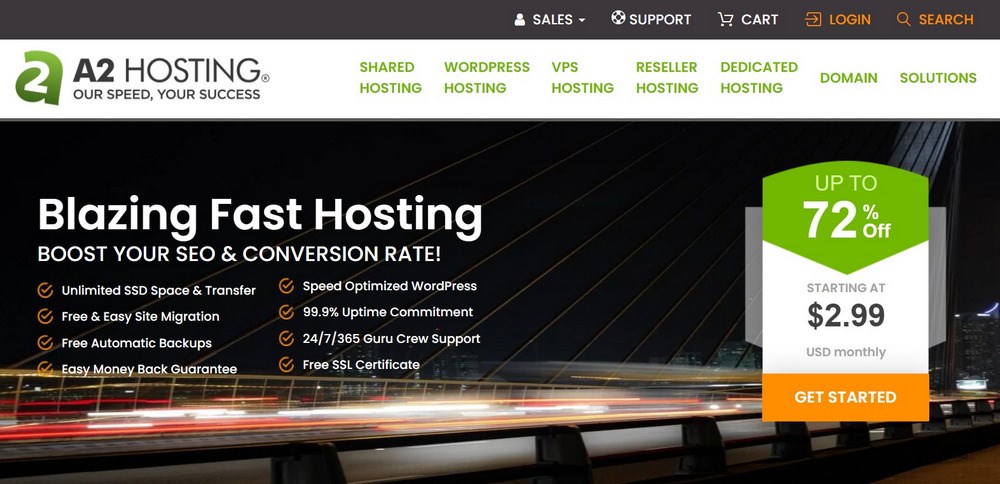 A2 Hosting is newer to the scene than Bluehost or SiteGround. It quickly proved itself as a reliable web host with performance to match, hence its place in our list of the best web hosting for WordPress.
A2 Hosting's motto reads "Our Speed, Your Success". The company consistently ranks among the fastest hosting companies on the web. They also claim that their hosting speed is 20x faster than that of their competitors because of their unique Turbo Servers.
WordPress hosting plans have a 99.9% uptime commitment, free automatic backups, and money-back guarantee. All WordPress hosting accounts with A2 Hosting come pre-installed with WordPress. They also have Softaculous one-click installer feature that you can use to install new instances of WordPress.
Key features of A2 Hosting:
99.9% uptime
100GB SSD storage
Free website migration
Free SSL
Free Cloudflare CDN
Pros of A2 Hosting:
Hosting plans can include WordPress pre-installed
Impressive uptime
Generous storage
Includes website staging
Active in the WordPress community
Cons of A2 Hosting:
Not the fastest page load times for visitors outside the US.
A2 Hosting Price
WordPress hosting plans start at $2.99 per month but the company regularly runs special offers.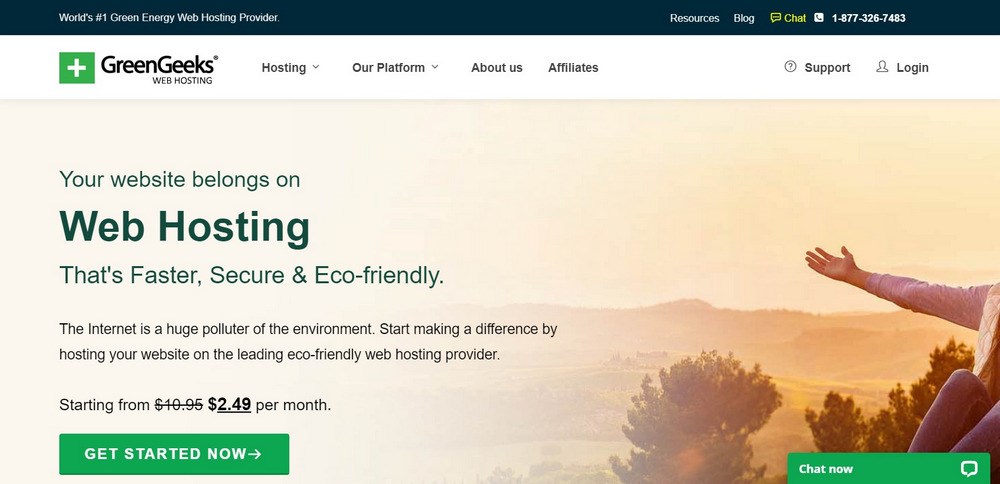 GreenGeeks is a WordPress hosting provider who puts environmental responsibility on an equal footing as server speed. They are an eco-friendly provider that uses renewable energy for its entire business.
Green credentials aside, GreenGeeks also provides fast SSD storage, LiteSpeed cache, free CDN, free SSL, free domain name, free daily backups, unlimited database and the commitment to repay 300% of the energy used to run your server.
GreenGeeks seem to balance the needs of WordPress hosting with the needs of the environment. While they have a genuine emphasis on being eco-friendly, none of the necessary services are compromised to deliver reliable hosting.
Key features of GreenGeeks:
99.9% uptime
Unlimited SSD storage
Unmetered usage
Free SSL and CDN
Fast page load speed
Pros of GreenGeeks:
A genuine green alternative
Unlimited disk space and bandwidth
Daily automated backups
Free Cloudflare CDN
Fast page load speed
Cons of GreenGeeks:
Not the cheapest WordPress hosting option
GreenGeeks Price
Shared hosting starts at $2.95 per month (reduced from $9.95 per month).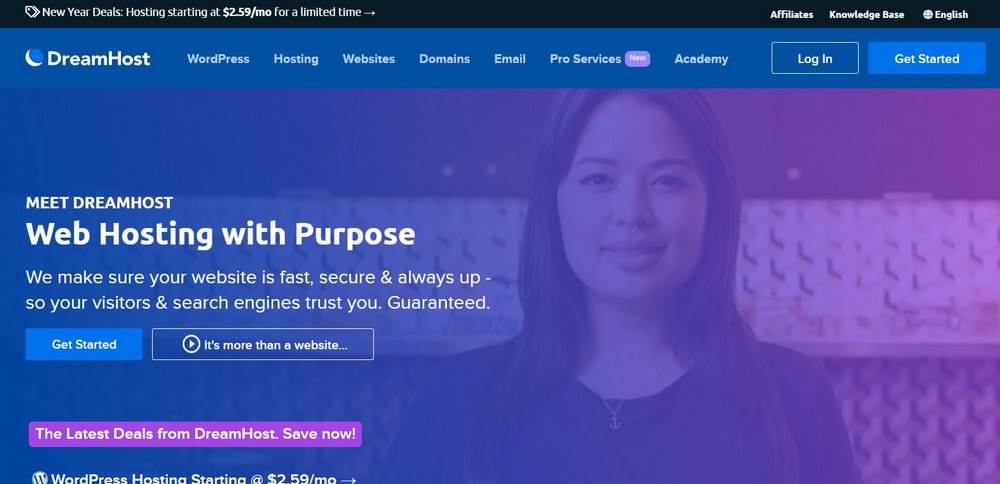 DreamHost has grown to be one of the most popular web hosting providers in the world. It is also one of the oldest, having been founded in 1996. It is also one of the hosting providers recommended by WordPress.org, which explains why they have over 750,000 WordPress installations.
DreamHost is trusted by over 1.5 million websites worldwide because it offers cost-effective WordPress hosting without sacrificing performance.
DreamHost's plans provide a free domain and SSL certificate, automated backups, instant one-click WordPress installation, unlimited SSD storage, automatic WordPress updates, free email hosting and award-winning 24/7 support.
Key features of DreamHost:
99.96% uptime
Free website migration
Unlimited SSD storage
Free SSL
WordPress can be preinstalled
Pros of DreamHost:
Free domain
Unlimited storage
Free SSL
Automatic WordPress setup
Automated backups
Cons of DreamHost:
Not the fastest page load times
You have to pay extra for email
DreamHost Price
WordPress hosting costs from $2.49 per month. Email costs from $1.67 per month.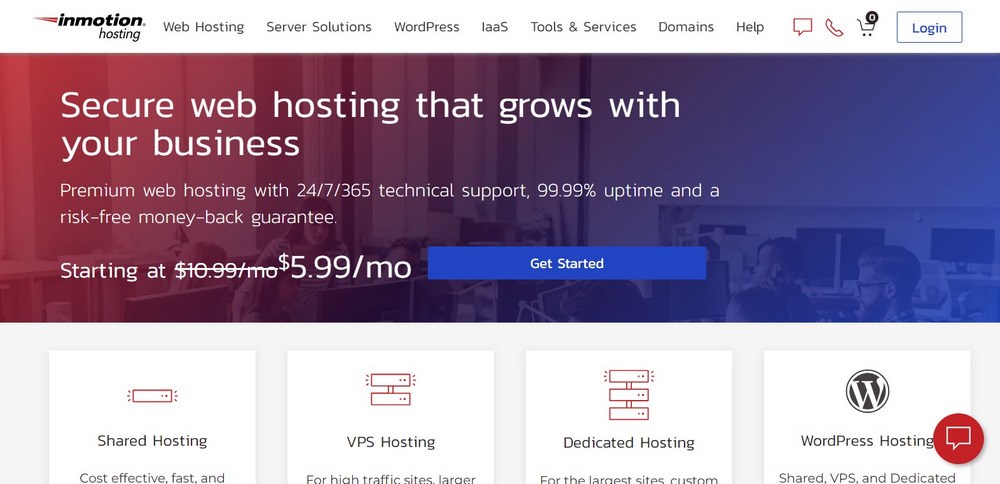 InMotion Hosting is one of the most popular WordPress hosting providers around and has been in the hosting business for over 15 years.
The company provides shared hosting, dedicated and WordPress hosting plans. Each uses SSD storage, free domain, unlimited bandwidth, Ultrastack servers for faster performance, free SSL, a security suite and marketing tools included in your plan.
InMotion also allows you to manually select your data centre, which could boost page load speeds for local traffic.
Key features of InMotion:
99.9% uptime
Unlimited SSD storage
Free domain and SSL
Security tools included in the price
One-click install for WordPress
Pros of InMotion:
Well-established WordPress hosting provider
Unlimited disk space and bandwidth
Free SSL
Free domain
Security tools help protect your website
Cons of InMotion:
Expensive compared to some of the other hosts
InMotion Price
InMotion shared hosting starts at $5.99 for the first year increasing to $10.99 thereafter.
How to Select the Best Hosting for WordPress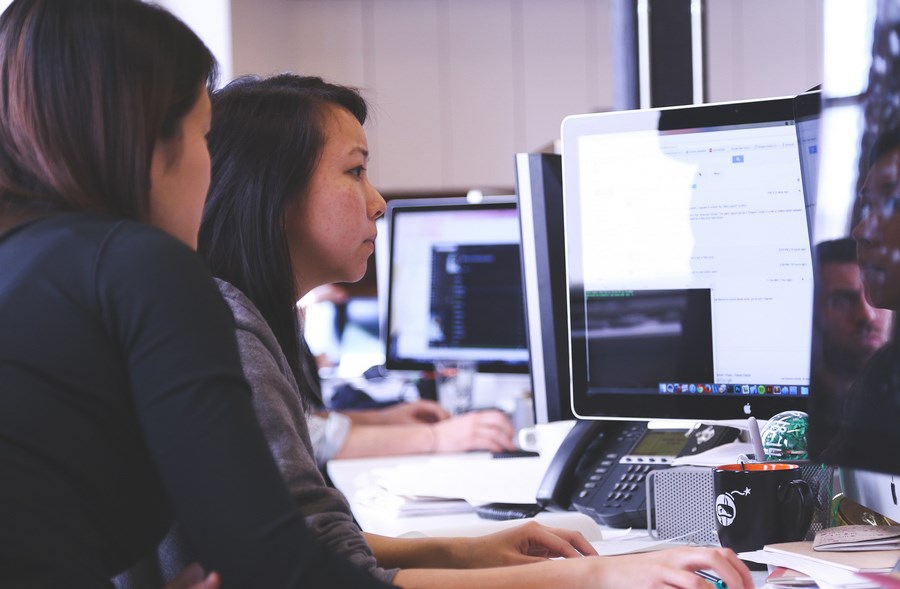 Now you have an idea of what's out there, how do you decide which is the best hosting for WordPress?
Everyone has different priorities when choosing web hosting. For some, having unlimited disk space is a priority while others will want 24/7 support in case something goes wrong.
Assess your needs first
Before you get into choosing from our list of the best web hosting for WordPress, you should first have a clear idea of your needs.
Consider the size of your website and its intended audience. Is it a hobby blog or business website? Do you envision counting your readers by the dozen or by the thousand? Do you have the skills to set everything up yourself or would you prefer everything done for you?
Also consider where in the world your visitors will come from. Providing your website local to your visitors means faster page loading, which benefits everyone.
Will visitors come mainly from Europe? Asia? The United States? If you're serving a local audience, it makes sense to select a WordPress hosting provider with a data centre in that region.
Hosts that include distributed data centres provide that, as do those hosts who offer CDN. Content Delivery Networks are also advantageous for those websites catering to a global audience.
Key Criteria for WordPress Hosting
We would suggest looking closely at the following when selecting your host:
Server uptime – The server hosting your website should always be ready to serve your visitors. There is no reason to accept anything less than 99% uptime.
Page speed – Each WordPress hosting provider will list the average page load speed on their website. You want the fastest page load speed possible within your budget.
Customer support – If you're new to WordPress, it helps to have good customer support available when you need it. We regard 24/7 customer support available via phone or web chat to be the minimum you should expect.
Free SSL – Your website has to use SSL if it is to rank in Google. You should also implement it as a benefit for your users as browsers now alert visitors to insecure websites. Therefore, we regard free SSL as a defining quality of a good web host.
Other features such as one-click WordPress installation, automatic backups, extra security, free migrations and other features are all nice to have but not mandatory.
WordPress can be installed easily and our next guide will show you how to do it. Backups and security can be provided with WordPress plugins.
Website migrations are also relatively straightforward and can be achieved with a plugin or manually.
Which Company Offers the Best WordPress Hosting?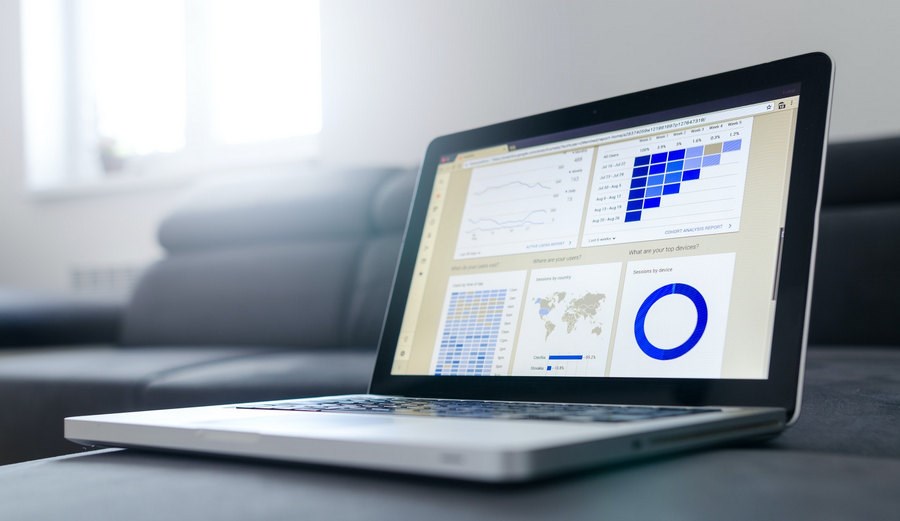 You are completely free to make up your own mind on the best WordPress hosting provider, but we highly rate Bluehost.
Since its inception in 1996, Bluehost has defined what it meant to be a hosting company. The company has enjoyed the privilege of being an official WordPress recommended hosting provider for many years.
Specifically, Bluehost designed their services to offer real value to users of all kinds. Whether you're new to WordPress and the web or are a seasoned business owner, your needs are covered.
Bluehost offers free domain registration, free SSL, free one-click installation of WordPress, 24/7 support and a 30-day money back guarantee. Their servers are also designed to be lightning fast and deliver superior reliability.
If you use our affiliate link to Bluehost, you'll get a discount on your first year!
Final Thoughts
There you have it. Our guide on selecting a web host and an overview of what we regard as the best WordPress hosting providers on the market.
We hope you now have a much better idea of what's involved, what to look for in a web host and perhaps have a good idea of which host you're going to choose.
Join us in chapter 5 where we walk you through setting up your domain, web host and WordPress!
Do you use any of these hosts? Have any feedback that could help new users? Have any other hosts to recommend? Tell us about it below!