This is a premium feature available with Astra Pro Addon plugin. To use these Pro features, you need to have the Astra theme along with the Astra Pro Addon installed on your website.
Astra theme provides basic options to style the blog archive and single blog page. Refer to the document here. While Blog Pro addon available with Astra Pro adds premium features to these options.
This module adds more options in the customizer for the blog layouts.
Quick Steps on How to Design Blog Page Using the Blog Pro Module
Step 1: Make sure you have the Astra Pro Addon plugin installed and activated. How to Install Astra Pro Addon plugin?
Step 2: Activate the Blog Pro module from WordPress Dashboard > Astra > Dashboard
Step 3: Visit customizer [ Appearance > Customize > Blog ] to edit module settings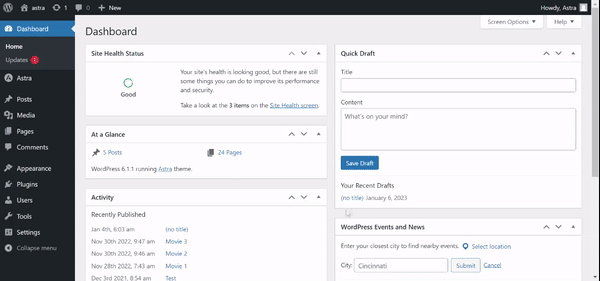 After activating the addon plugin, and activating the Blog Pro Module, you will see the additional settings under Appearance > Customize > Blog. Refer following documents to see detailed settings offered by the addon –